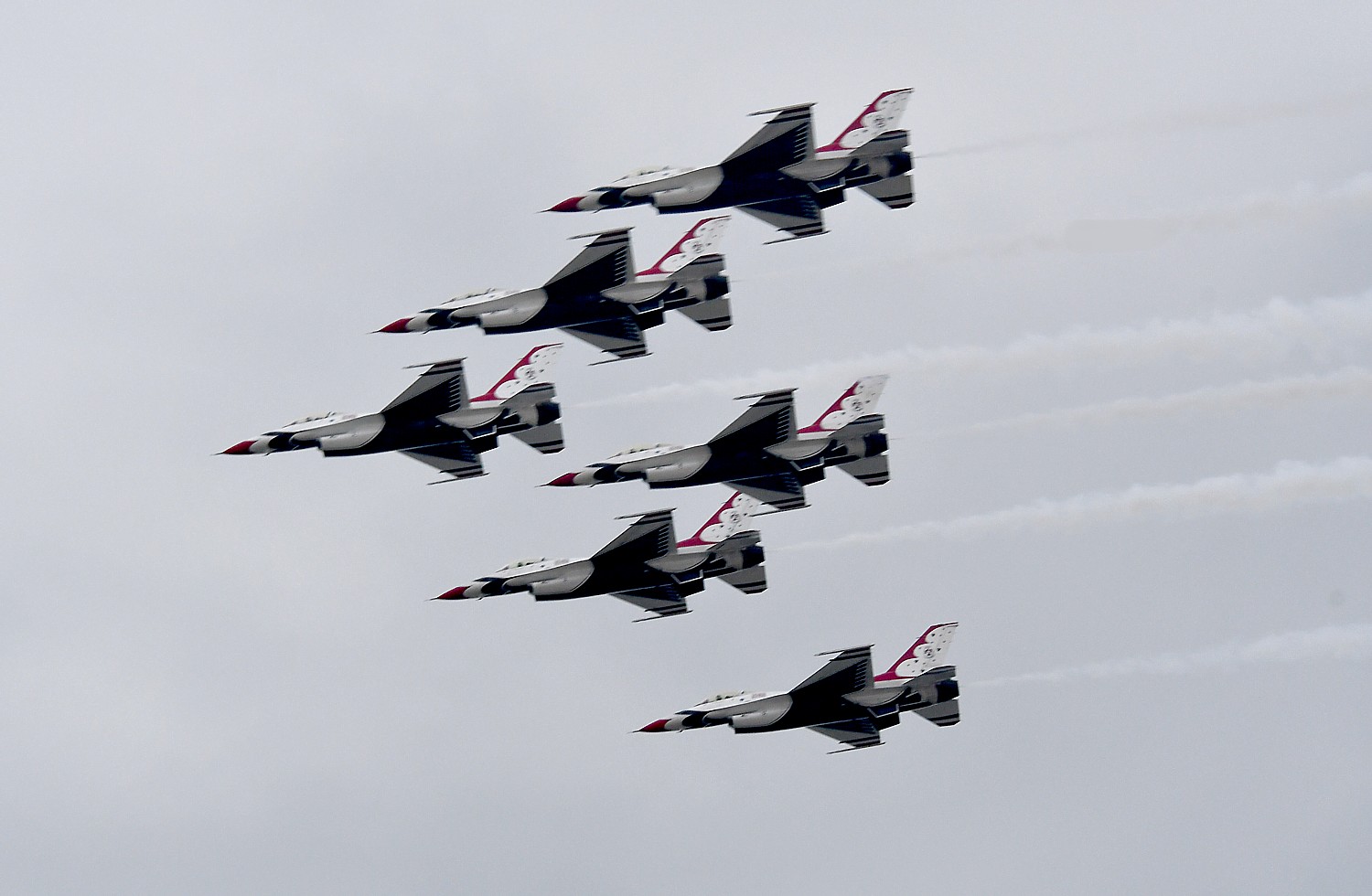 By Karen Rubin, Travel Features Syndicate, goingplacesfarandnear.com
The US Air Force Thunderbirds headlined the Bethpage Air Show at Jones Beach State Park, Long Island, flying the thrilling red, white and blue F-16s. The event over Memorial Day Weekend, May 27 and 28, honors those who have died in service to the nation and veterans.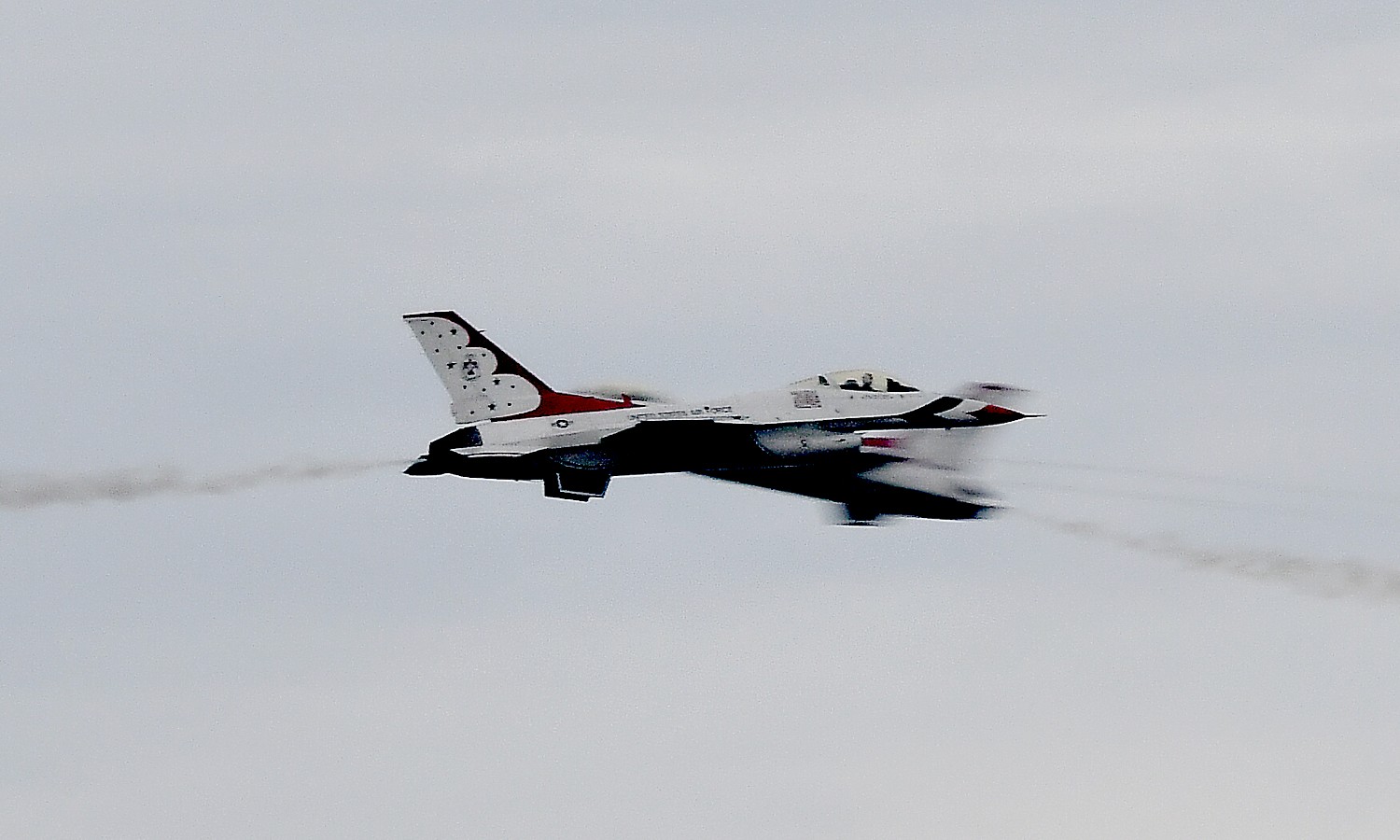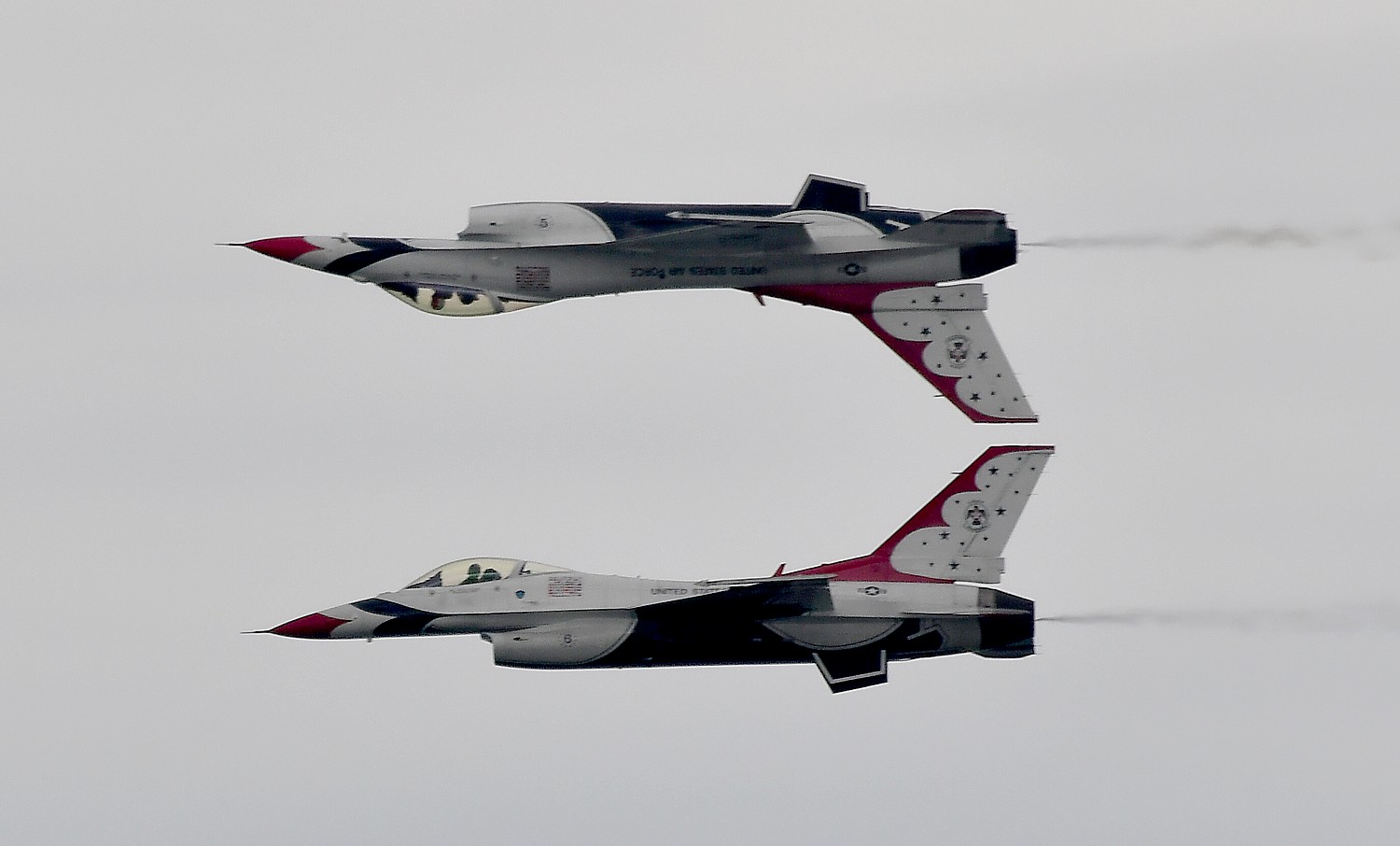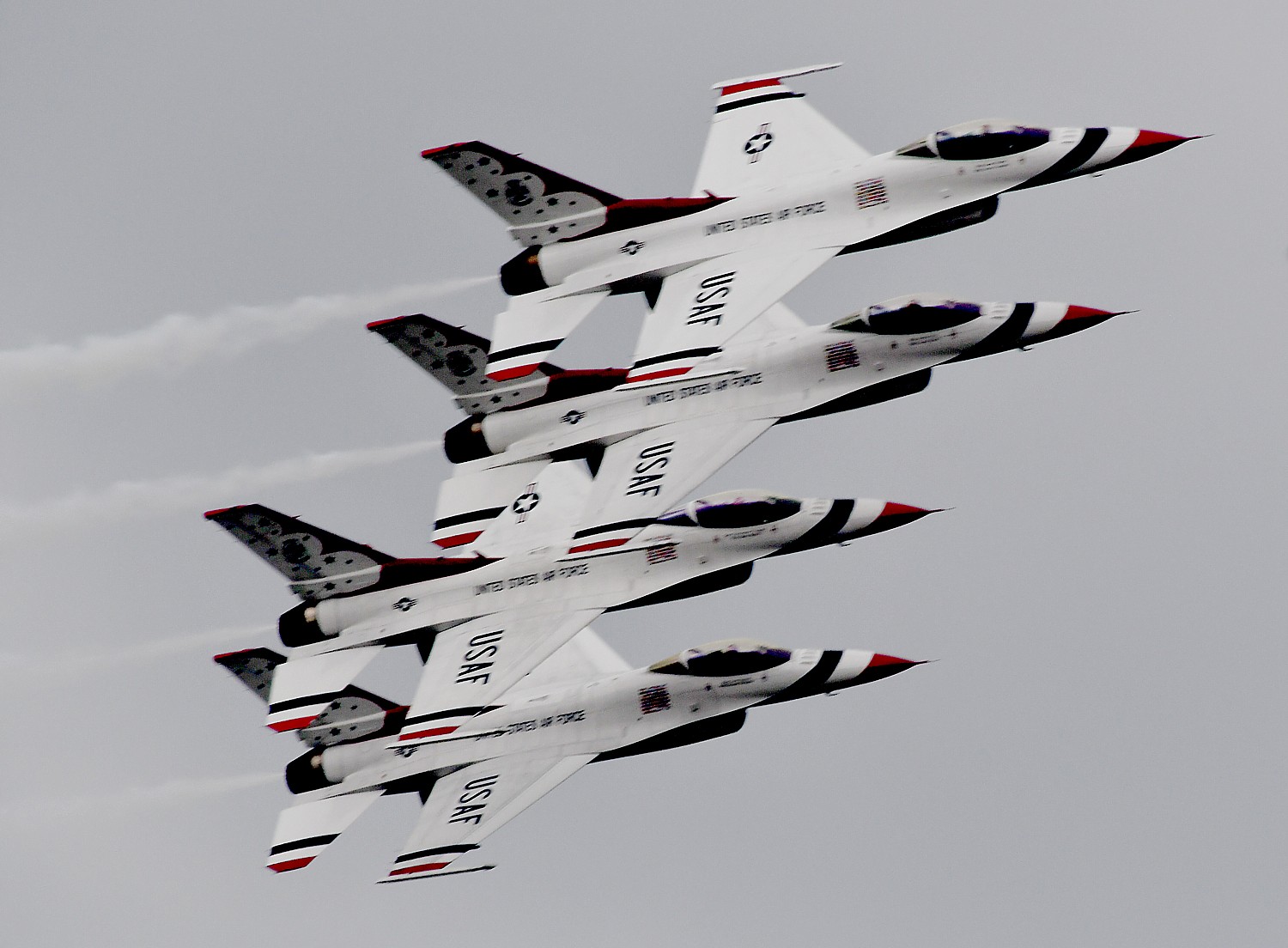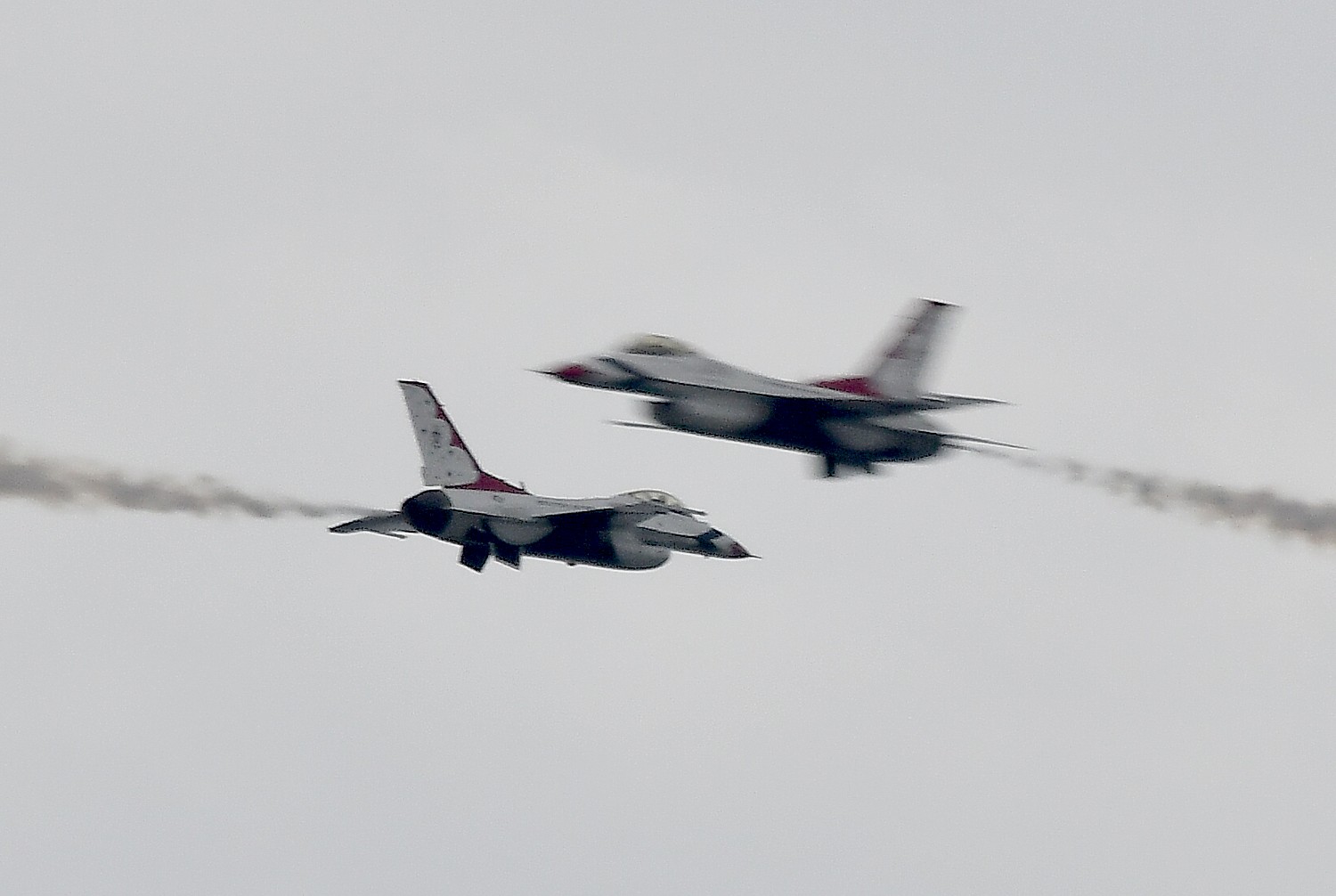 New this year was the Warrior Flight Team, a 501(c)(3) charity comprised of a team of all volunteers, which works to bring career opportunities to veterans. They brought two Soviet-era jets, built in Czechoslovakia (when they were put on the market, collectors could buy them for something like $75,000): Black Vandy 1 and Roman 86, raced around the sky at 560 mph showing precision flying and tactical maneuvers.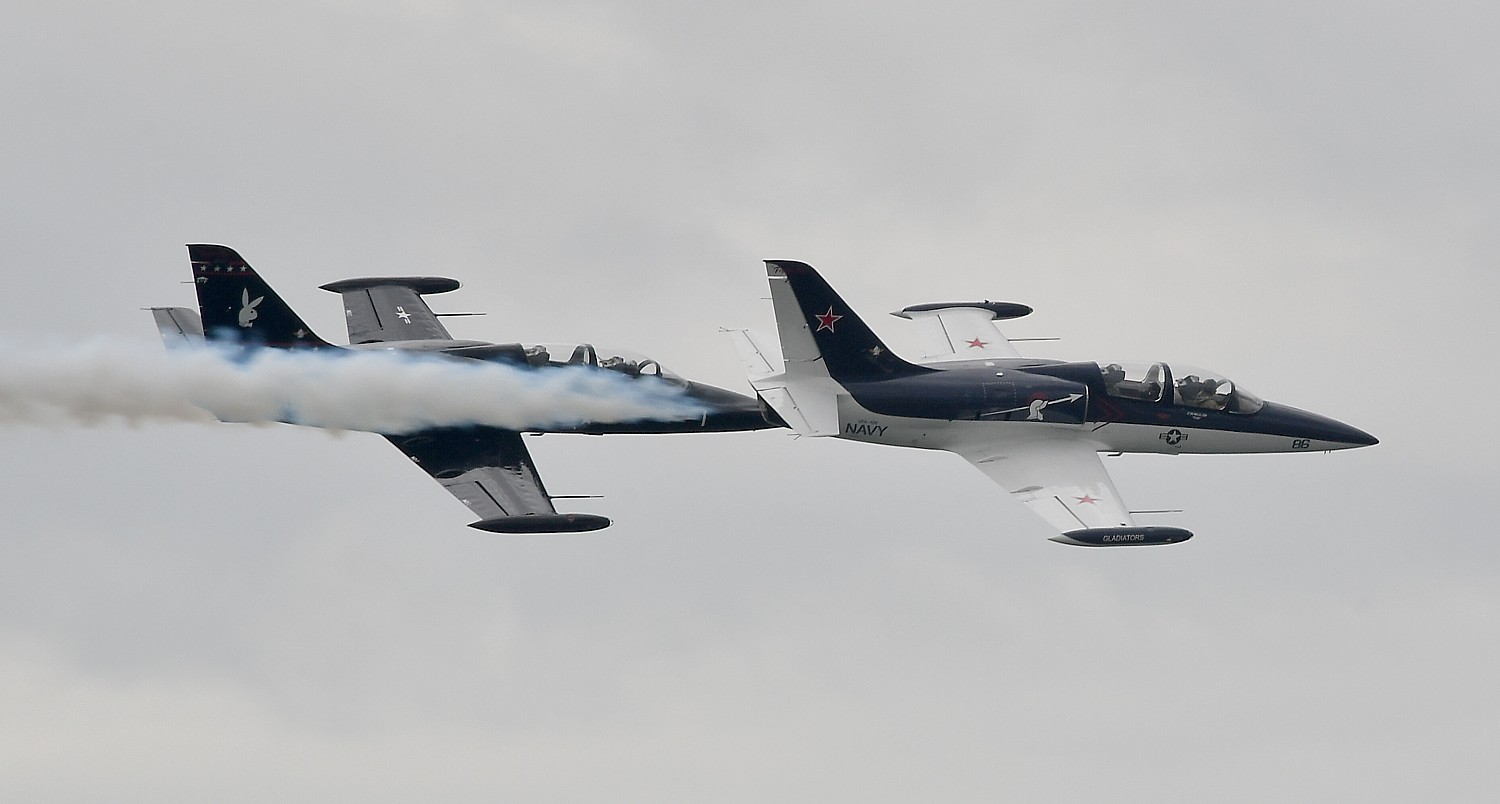 A personal favorite is the GEICO Skytypers Airshow Team, a flight squadron of six vintage WWII era U.S. Navy SNJ-2 trainers . The team performs a thrilling, low-altitude, precision-formation flying demonstration filling the sky and coming from all directions (even right at each other) to provide spectators a unique viewing experience while showcasing the tactics and maneuvers utilized during training during WWII.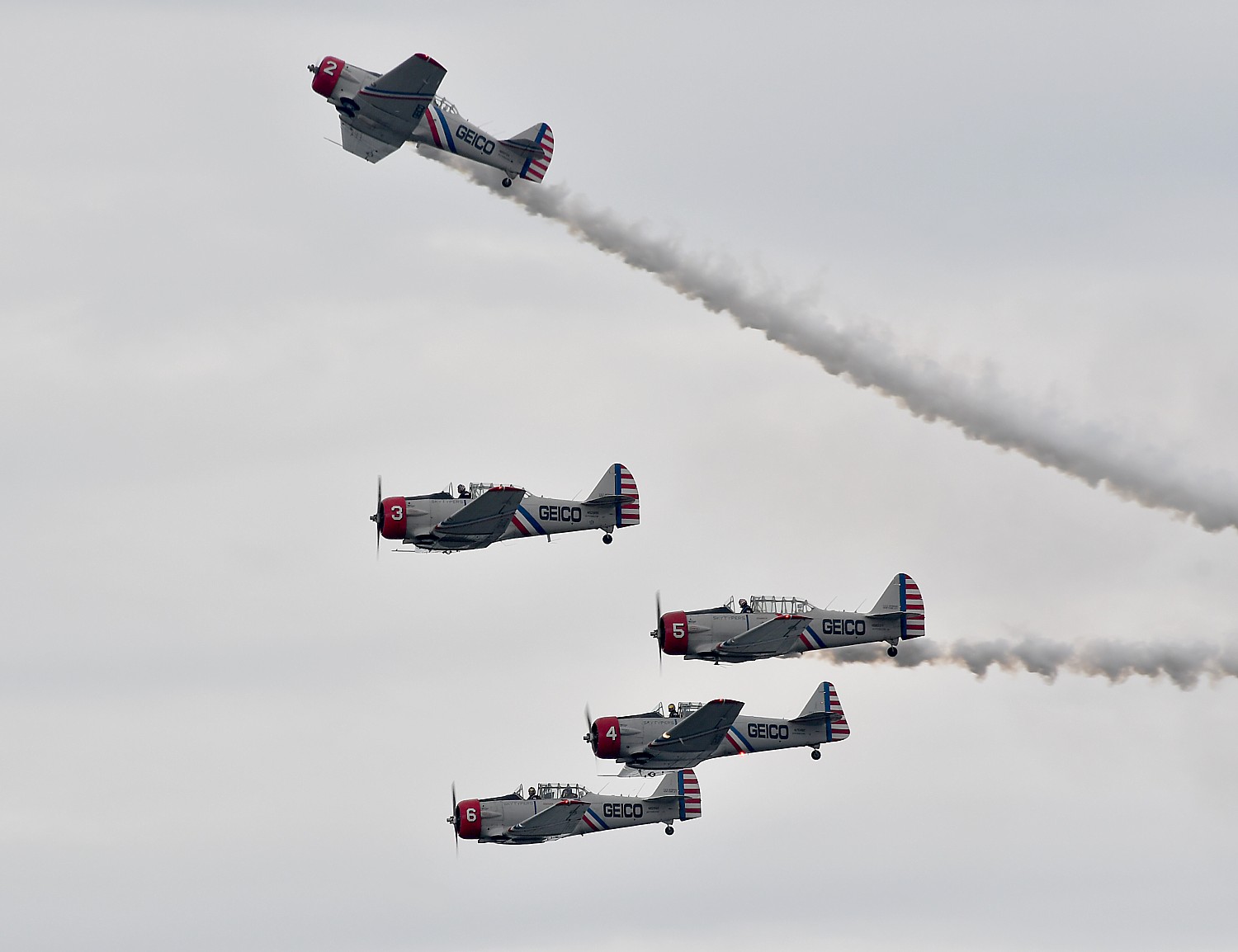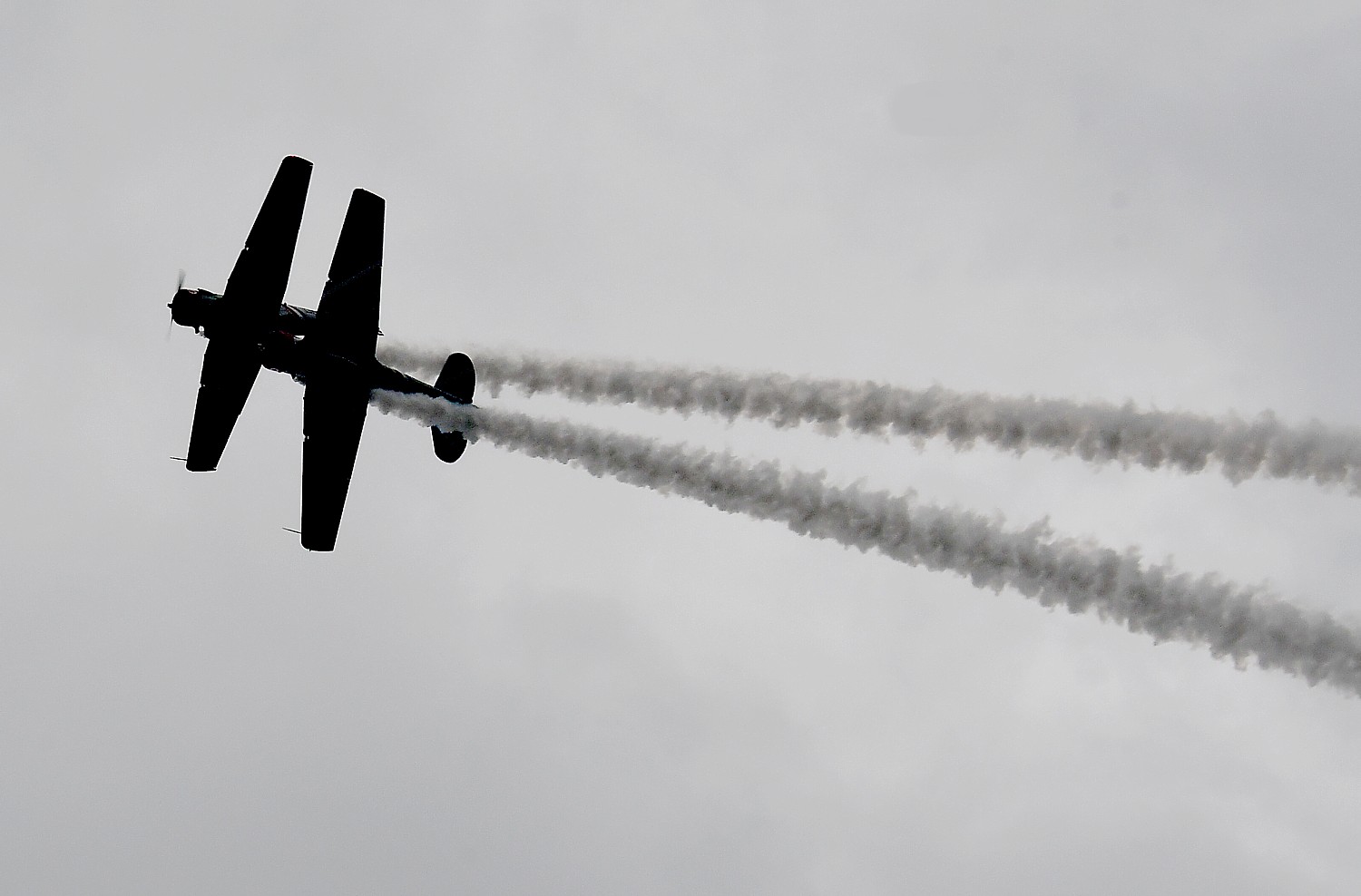 The airshow traditionally kicks off with a ceremonial parachute drop by a representative of the US Army Parachute Team, the Golden Knights, delivering the American flag to a tiny target on Jones Beach. The whole team then returns for a demonstration performance. They barrel out of their plane from an altitude of 12,500 ft, at a speed of 120 mph before pulling the cord to release their parachute; in one demonstration we see what happens when a chute fails at just 5,000 ft. (they have a spare chute). We learn that the parachutes they use, use the same aeronautical techniques as the original Wright Brothers plane in 1903.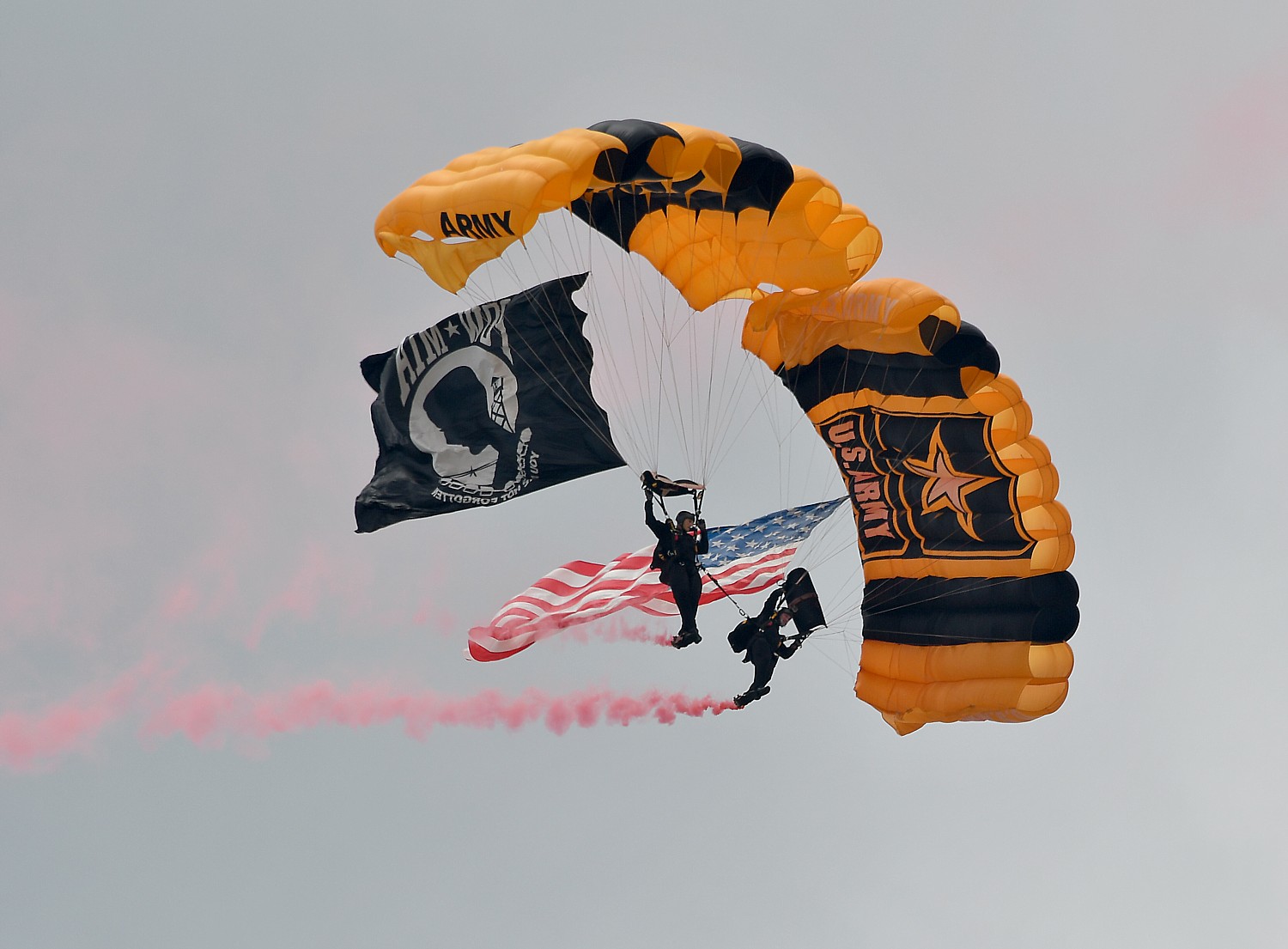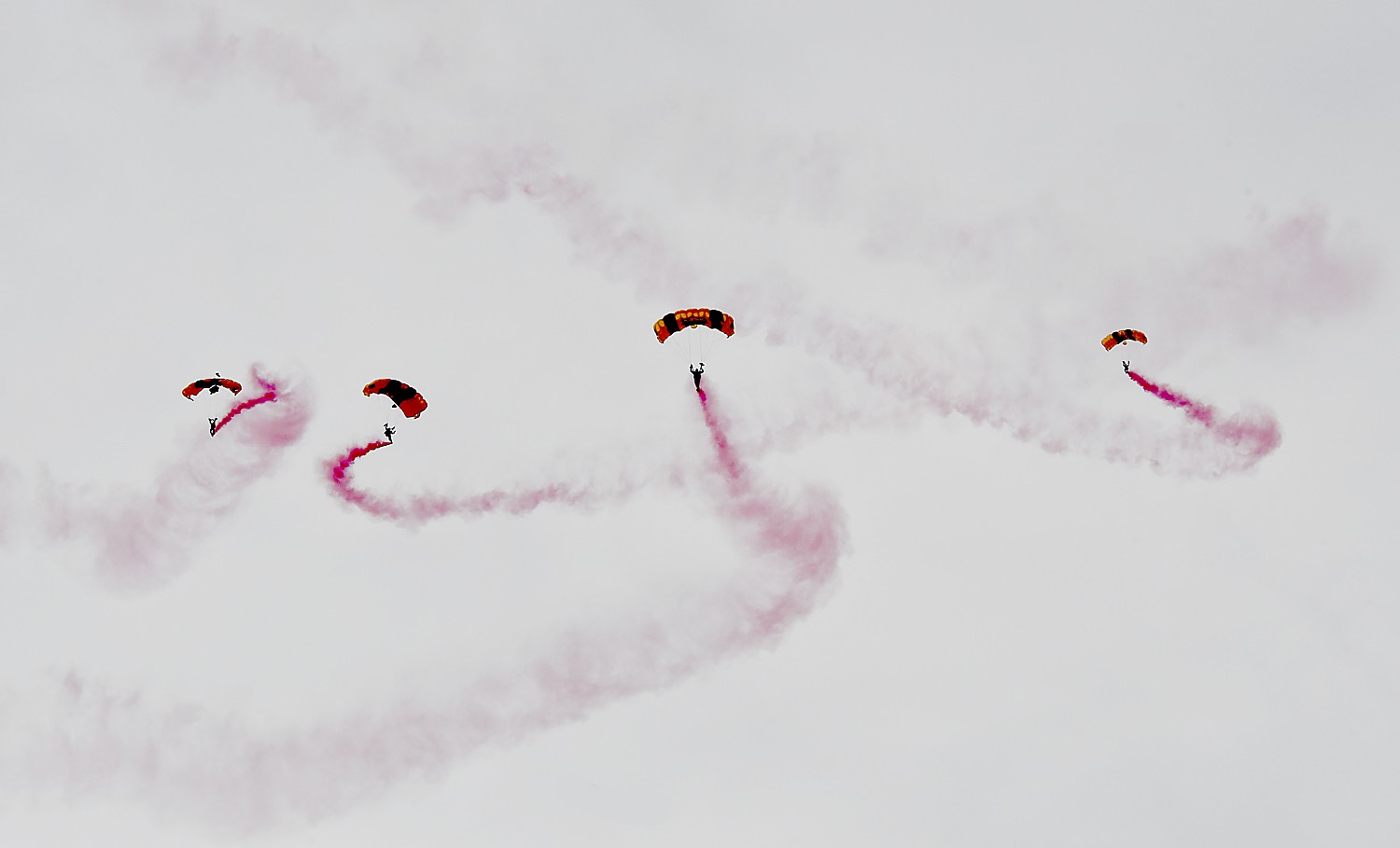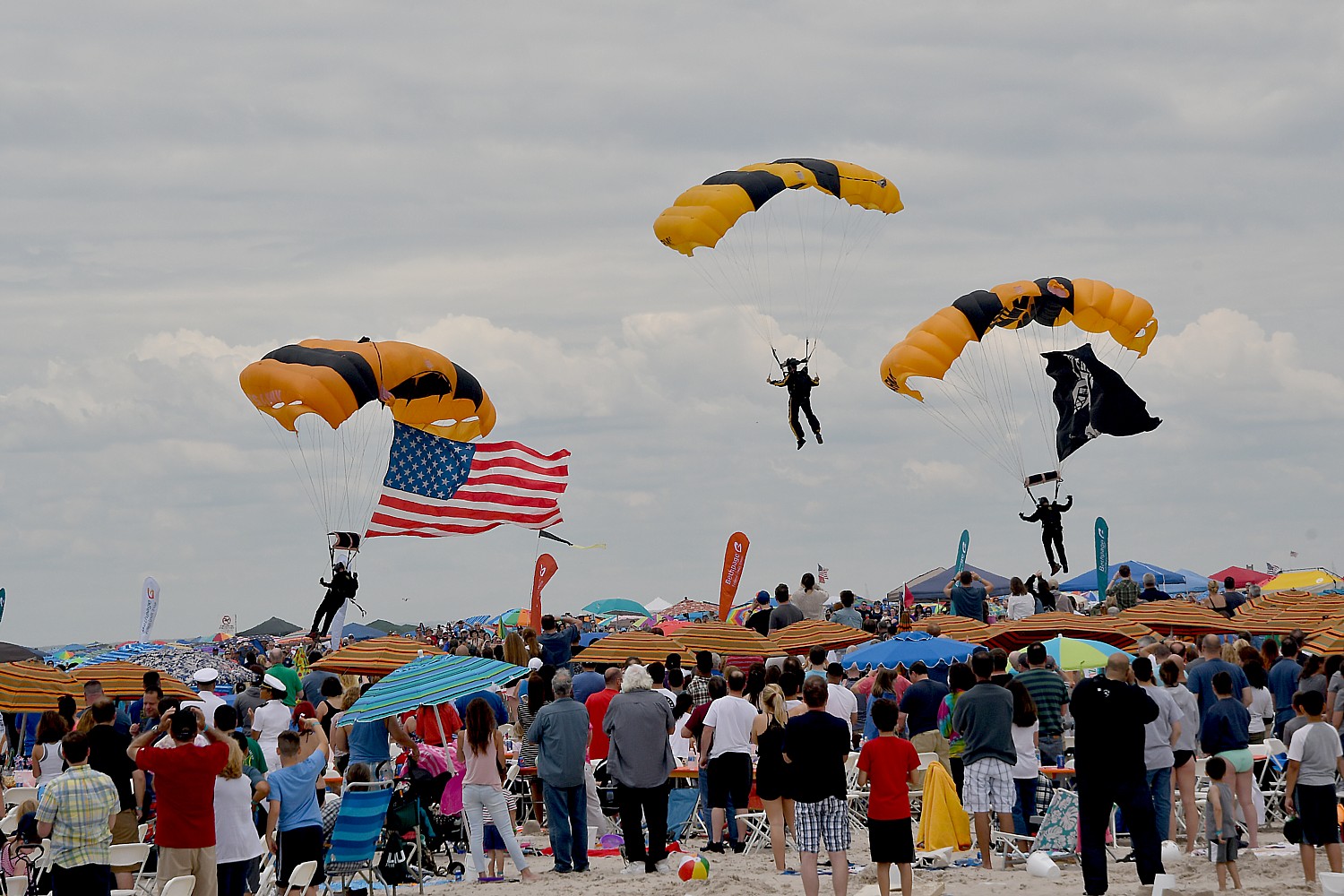 The line-up also includes many returning favorites, as well as some new entries:
106th Air National Guard Rescue Wing deploys worldwide to provide combat search and rescue coverage for U.S. and allied forces – indeed, only last month they rescued the cargo ship Tamar. They are a World-Class Team of diverse, adaptable personnel recovery focused war fighters with a mission to provide worldwide Personnel Recovery, Combat Search and Rescue Capability, Expeditionary Combat Support, and Civil Search and Rescue Support to Federal and State authorities; since 9/11, they have been deployed to Iraq, Afghanistan and East Africa. The 106th Air National Guard Rescue Wing provides Personnel Recovery to the state of New York. They demonstrate how they parachute into all sorts of conditions – today into the water, and how they are recovered into helicopters that follow along the C-130 (which can refuel planes in flight; the wingspan of the C-130 is so enormous – it is actually the distance the Wright Brothers flew on their first famous flight). Just how dangerous this is was demonstrated the next day when a US Navy Seal tragically lost his life in a parachute demonstration on the Hudson River for Fleet Week NYC.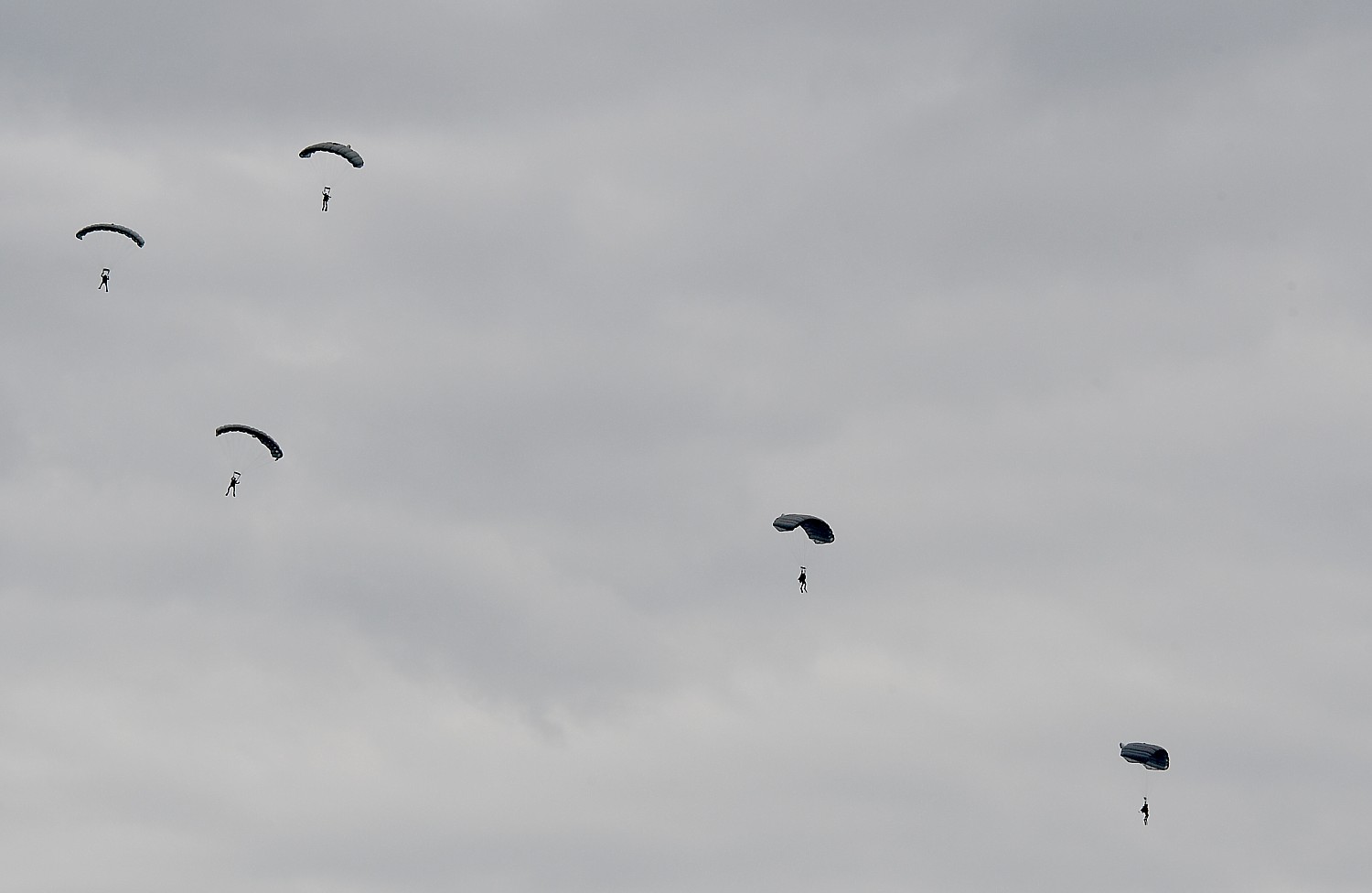 John Klatt Airshows and Jack Link's Beef Jerky teamed up to create a one-of-a-kind plane, the Screamin' Sasquatch, powered by dual powerplants: a Pratt & Whitney 985 Radial Engine and a General Electric CJ610 (J85) Jet Engine with 3,000 lbs of thrust. This system allows the plane to achieve feats other stunt planes are unable to do. During his performance, Ret. USAF Lt Colonel John Klatt experiences forces of plus and minus 4Gs, which means a 200 lb. man would weigh 800 lbs. He travels at 250 mph.Considering the ridiculous aerobatics Klatt performs in the plane, it is astonishing to learn that the plane is a Taperwing Waco made famous by the barnstormers of the 1920s and 1930s, and is based on a 1929 Waco, modified and "beefed up" big time.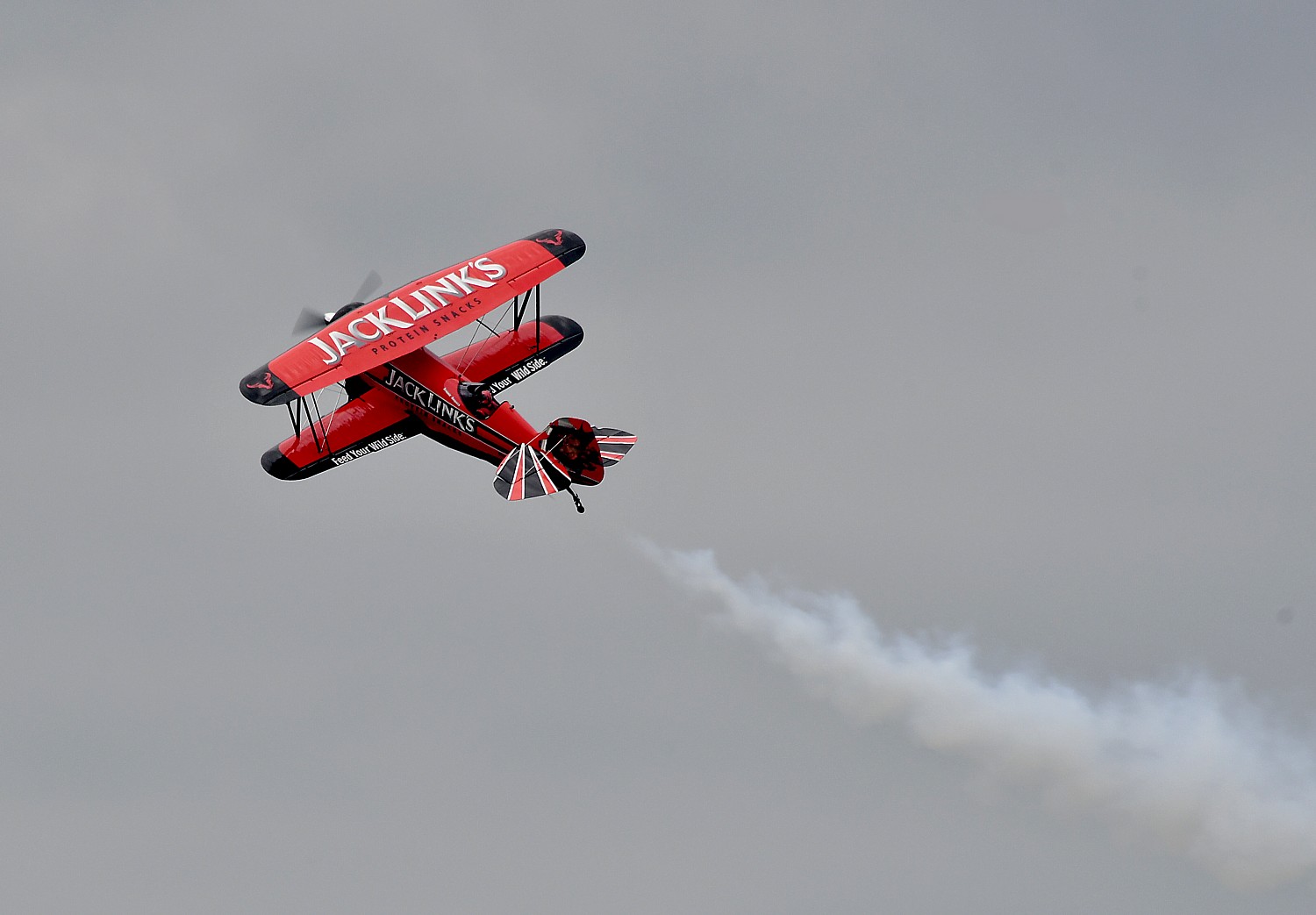 A perennial favorite at Jones Beach is Sean D. Tucker, who performs impossible feats in a specially built, one-of-a-kind, most high-performance aerobatic aircraft in the world, the Oracle Bi-Plane. It is a fire-breathing monster with over 400 horsepower, weighs just over 1200 pounds,has a revolutionary set of wings that use 8 ailerons instead of 4, and responds to the slightest pressure on the control stick even at 300 mph. Sean flies the aircraft backwards, straight-down, tail-first at more than 100 mph. At points, he experiences 6 negative Gs. There he is, doing the inside outside loop; two consecutive Hammerhead stalls; the spiraling tower. More than half of Sean's maneuvers are original and have never been duplicated by another aerobatic pilot. Amazingly, Sean started flying because he was afraid to fly, the long-time show announcer Rob Ryder notes.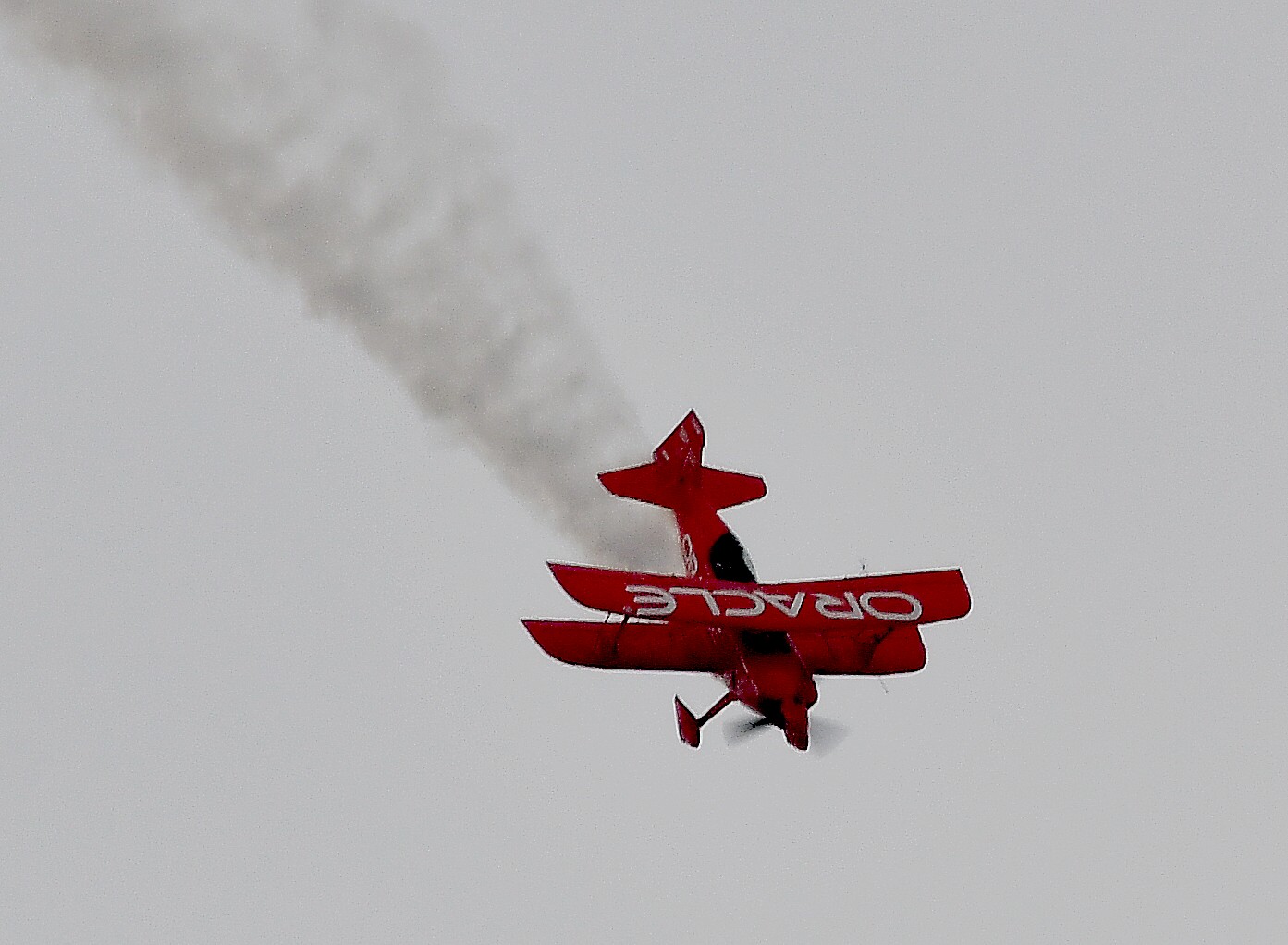 David Windmiller, Long Island's hometown hero (from Melville), thrills spectators in his Zivko Edge 540 aircraft, built especially for aerobatics, with seemingly impossible feats at speeds of up to 220 mph that keep his peers and his fans in awe. Windmiller has been flying since 14 year old, soloed at 16 year old and started aerobatic flying before he got his license and has accumulated 18,000 flight hours, including 8,000 doing aerobatics. He performs snap rolls, inverted flat spin (where the plane falls from the sky), 4 knife edge tumblers, inside-outside octogan loop.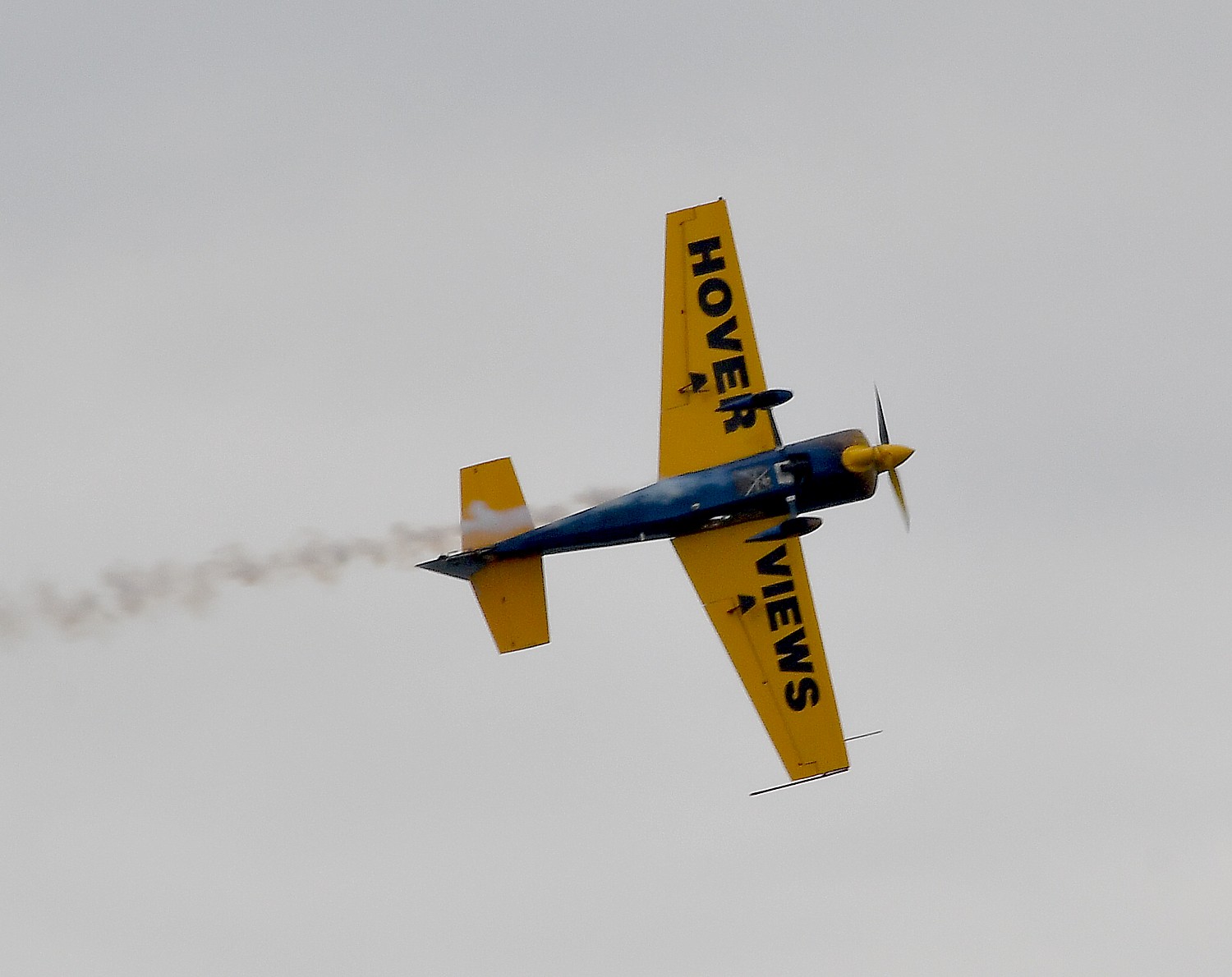 Matt Chapman, flying for Embry Riddle, performs maneuvers in which he experiences as much as 9 positive Gs and 6 negative Gs. His Eagle 180 plane has parts from 3 countries. He's also an American Airlines captain.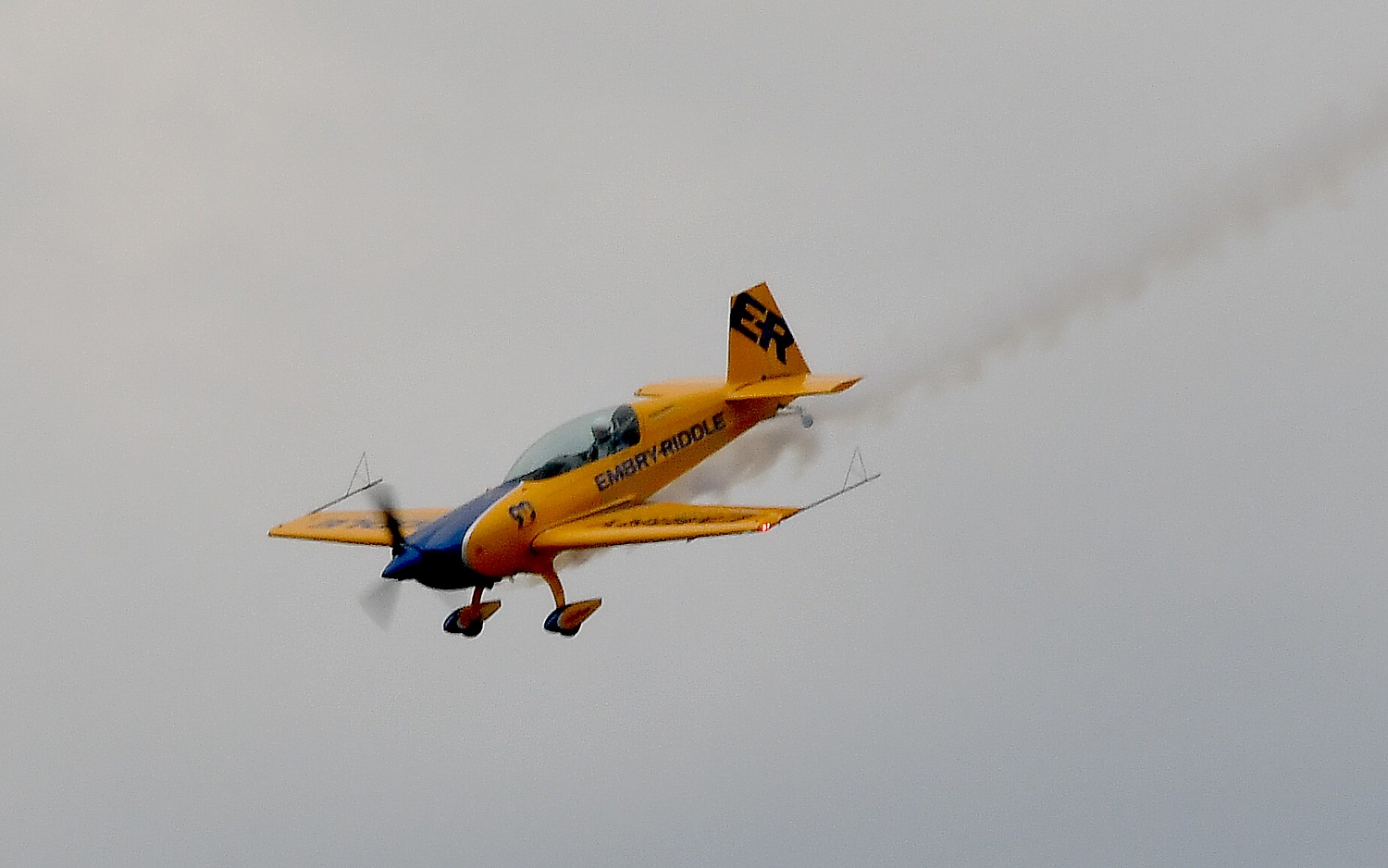 This year's air show marked the return of the American Airpower Museum Warbirds, which present historic aircraft in a moving display.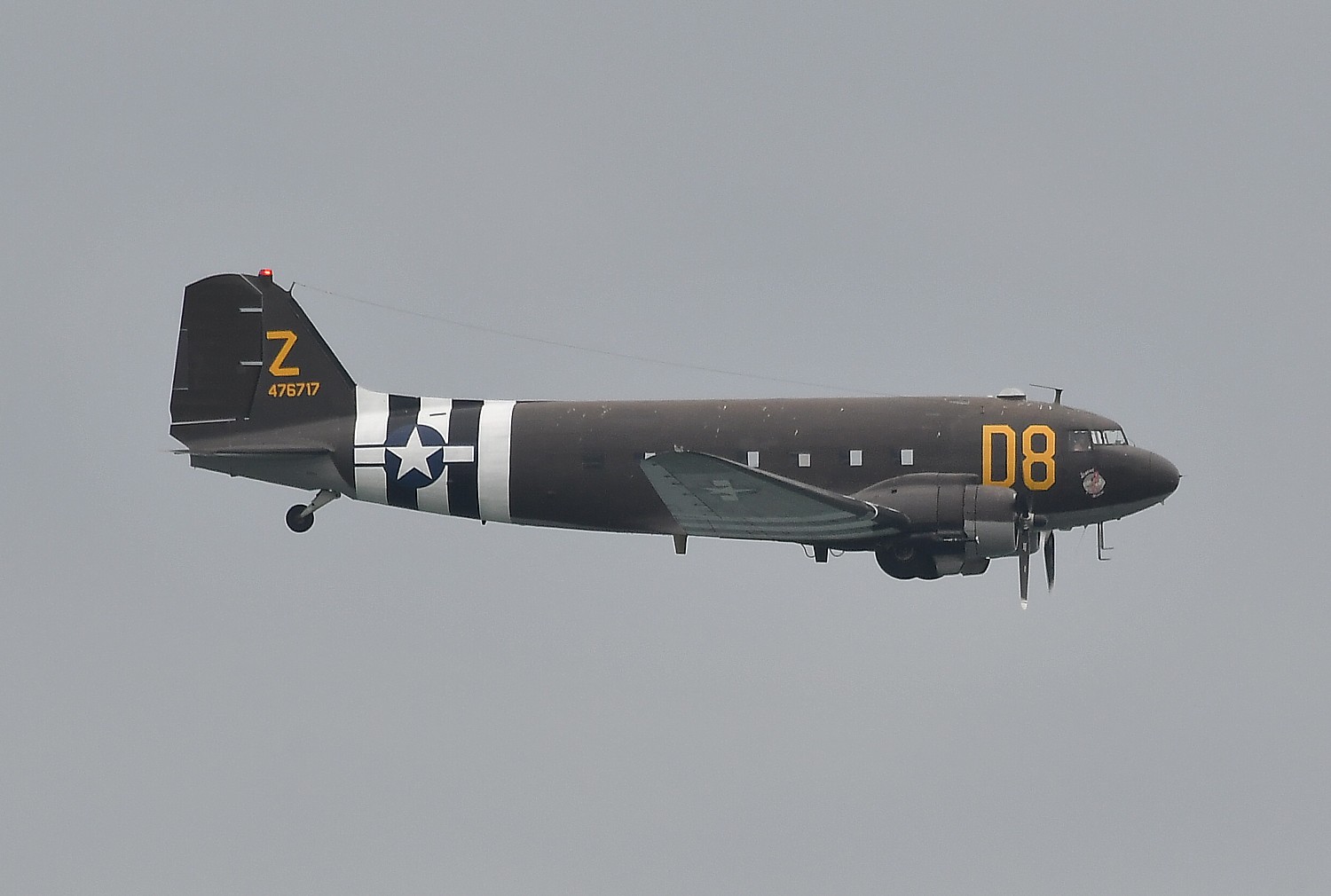 SUNY Farmingdale Aerospace's Flying Rams flew seven of their 22 college-owned aircraft in a fly-by piloted by their top academic Professional Pilot performers. The State University of New York (SUNY) Flight Center is a crown jewel of the SUNY system.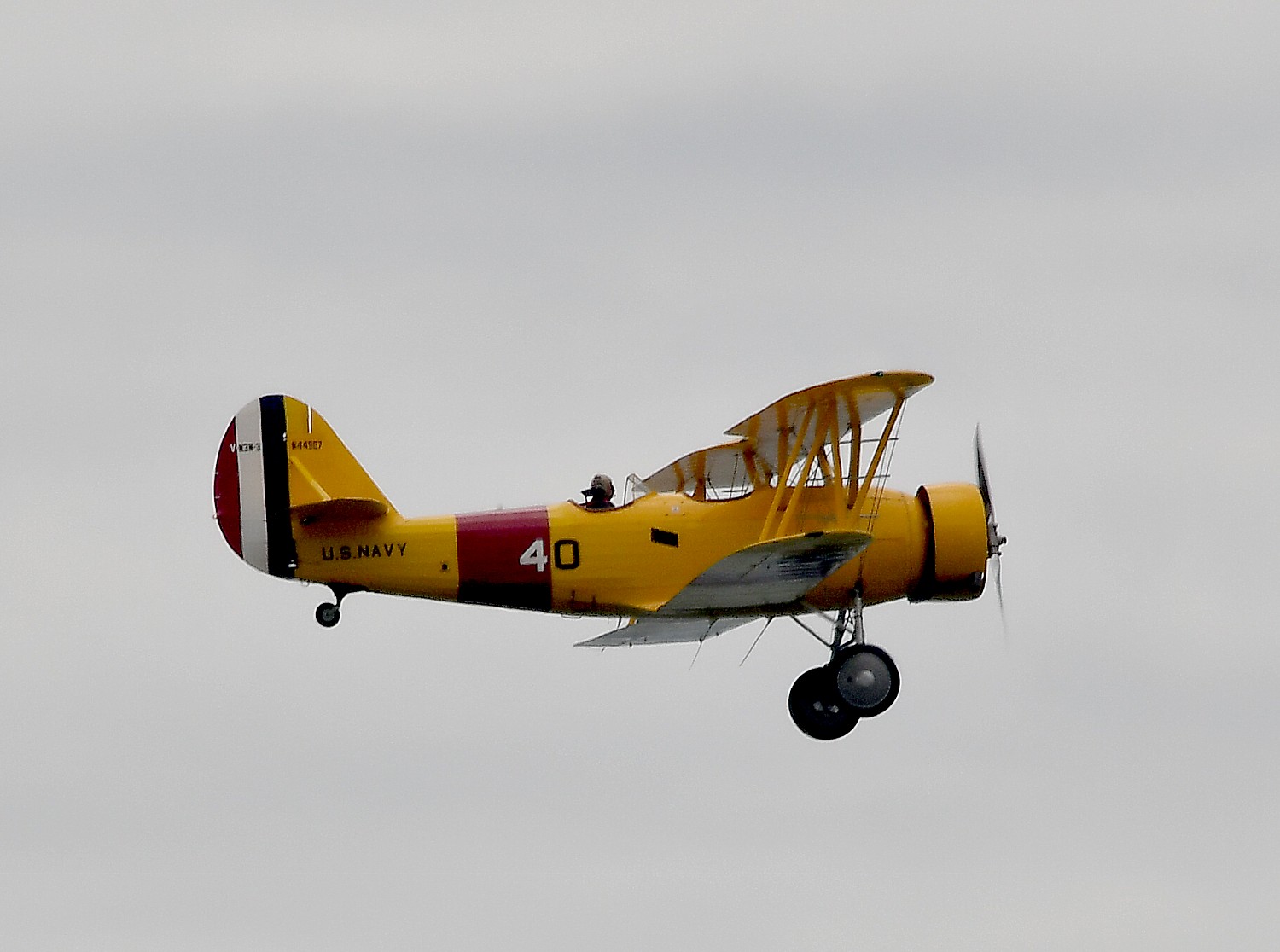 The Bayport Aerodrome Society, formed in 1972 is composed of aviation professionals, recreational pilots, and people interested in preserving aviation history. ​As a "living museum" they have a variety of antique aircraft flying on the field including Bi-Planes, Champs, and Cubs. This was their first time at the Bethpage Air Show. One of their pilots, flying the plane with "26" painted on it, is 90-year old pilot who served in World War II. Another of their Waco planes was flown by Anne Lindbergh (wife of Charles Lindbergh), and later, by Tom Cruise. These planes, made mainly of wood (to conserve steel for the war effort) were used as trainers.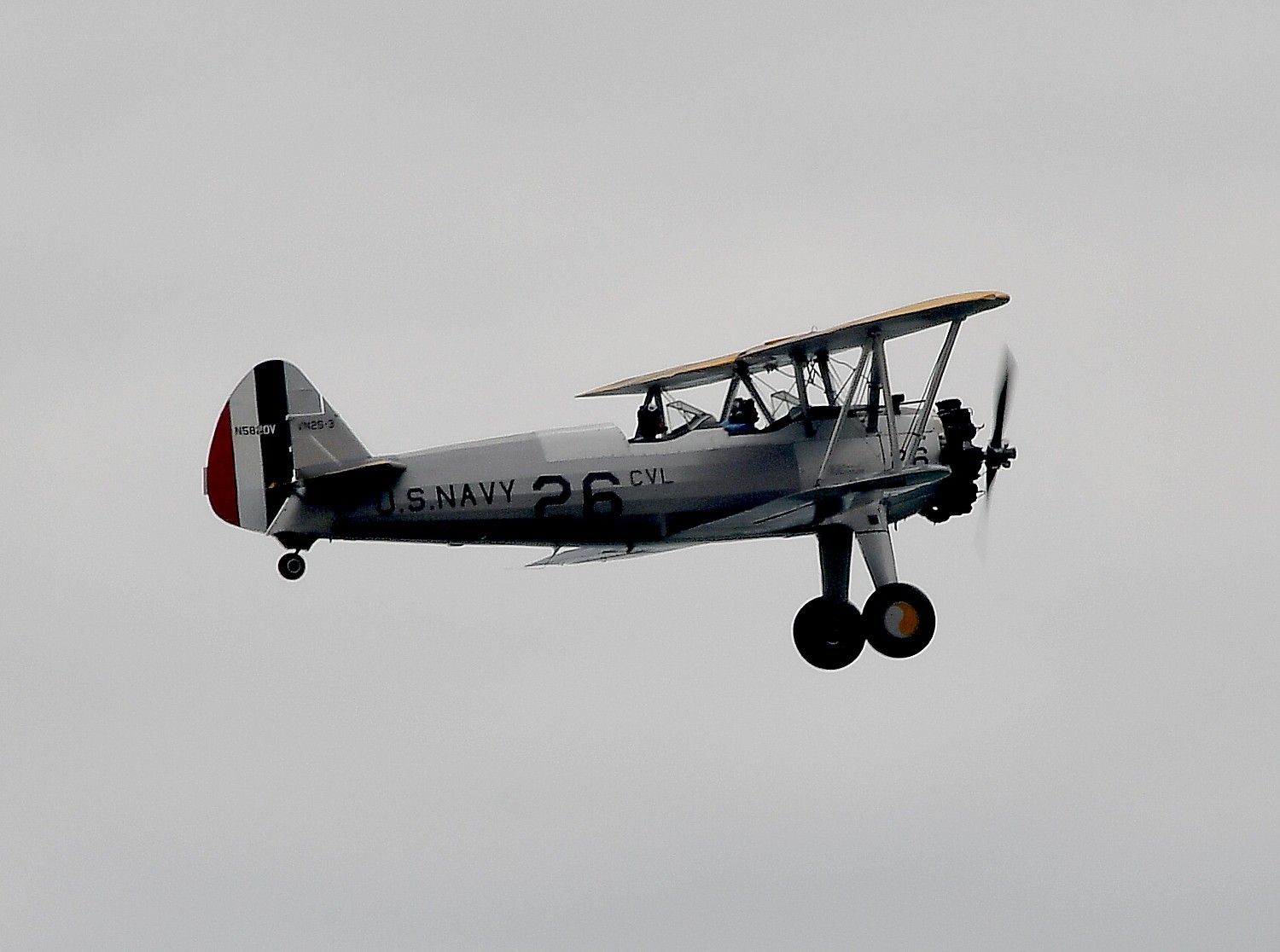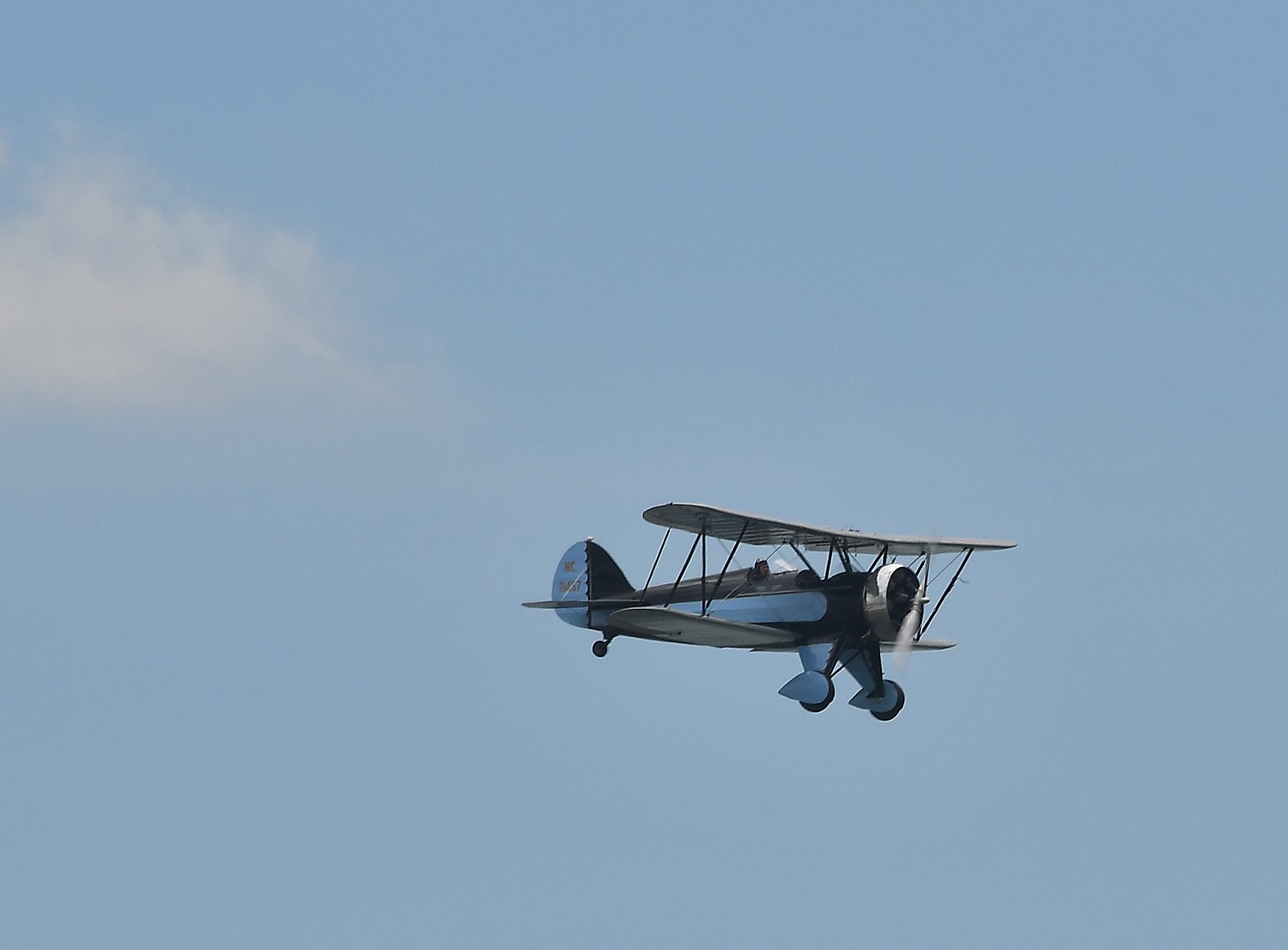 ________________
© 2017 Travel Features Syndicate, a division of Workstyles, Inc. All rights reserved. Visit goingplacesfarandnear.com,  www.huffingtonpost.com/author/karen-rubin , and travelwritersmagazine.com/TravelFeaturesSyndicate/. Blogging at goingplacesnearandfar.wordpress.com and moralcompasstravel.info. Send comments or questions to [email protected]. Tweet @TravelFeatures. 'Like' us at facebook.com/NewsPhotoFeatures