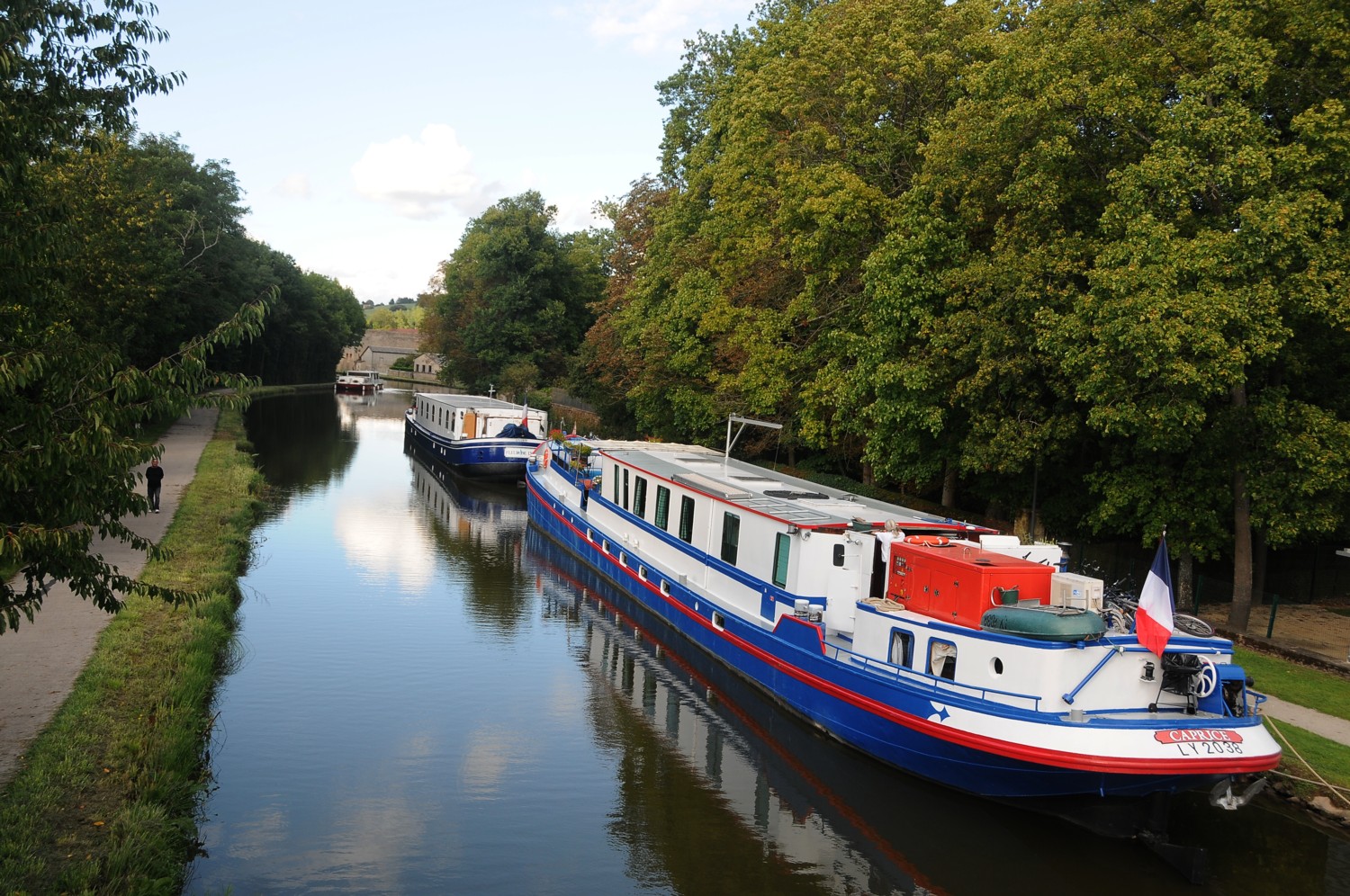 by Karen Rubin, Travel Features Syndicate, goingplacesfarandnear.com
It is late afternoon when we get our first glimpse of the Caprice, the barge hotel that will be our home for the next week as we cruise along the canals and River Saône through Burgundy.
I literally fall in love with the boat, looking much like a Monet painting on the mirror-still water of the canal. It is absolutely sweet, charming, inviting.
We have arrived where the Caprice is docked at St. Leger Sur Dheune after about 1 1/2 hour bus trip from Dijon. Dijon is an enchanting Old City, just a few hours outside of Paris, that I bless my good sense to have planned to stay over at the historic Sofitel Hotel when we return (the cruise alternates routes; this is the northbound route that ends back in Dijon).
During the course of the next week, the canal and river cruise of Burgundy on the Caprice proves to far exceed my hopes and expectations – everything from the creature comforts onboard, the fine dining and wining, the pleasant company of our fellow travelers, the picturesque landscapes and fascinating attractions, the opportunity to bike and explore storybook quaint villages, the relaxed and casual atmosphere that is eminently more satisfying than lounging on a beach.
The biggest surprise for me are the excursions. Each day we are taken by bus to some really fascinating place, with our own guide.
The Caprice was built as a commercial barge, carrying grain, timber and coal, and converted to a passenger ship 25 years ago. It has a "boatee" shape – not squared off, flat like other barges – designed for rivers as well as canals.
The upper deck of the Caprice has a two-tiered sundeck with tables, chairs and umbrellas. and is decorated with pleasing flower pots. The indoor salon has comfortable upholstered seating and large picture windows, and is separated from the dining area by a bar stocked with beverages and ice. The dining area has lovely picture windows that let in light and let you see the countryside float by as you linger over your meal.
We gather together in a comfortable lounge for an orientation to the barge and our cruise, meet the staff, enjoy a welcome drink of the traditional Burgundian Kir Royale and meet our fellow travelers.
Our group is extremely diverse and comes from all over: Colorado, Connecticut; Cleveland, Ohio, Detroit, Michigan; Ft Lauderdale, Florida; Vancouver, England, Australia, and New York.
Tina, the general manager, is from the UK, who we come to know as incredibly pleasant, efficient, and good-humored, welcomes us with a very helpful orientation to the boat and the program, and introduces the staff: Chef Herve, hostesses Sophie (who is now married to Herve) and Molly, Roger, the first mate and Captain Willy.
Tina gives us a wonderful orientation to what we will experience.
The boat floats so slowly along the canal, "a toddler can toddle at the same speed," she says, so we can walk along side, and get back on at the next lock, or bicycle the towpath that goes alongside, or take the bike to explore nearby villages. (We just have to give some advance notice to Roger, the first mate, to hand us down the bike).
During the course of our cruise, we will go through some 21 locks. Going through the locks is a main source of interest and excitement.
"We make it look easy but there is only two inches of space – so don't stick your limbs out." At the point the barge is level with the shore – just a few moments, really – that's when we can get off and walk or bike along the towpath, or even bike into nearby villages, catching up with the barge further on (they give us an approximate time schedule).
She warns us that some of the bridges we go under are extremely tight space – and may even brush the top of the boat, so if we are standing on the high terrace, "be aware, you may have to duck."
There are windows in cabins, but we need to close them when we are moving – because water will come in like waterfall.
The water on the Caprice is potable, but bottled water is provided, as well, and we can help ourselves to a chilled supply in the refrigerator, where there are also sodas and beer.
Wines – red and white – are served at lunch and dinner, and there is also a bar – you run your own tab by simply marking down what you have consumed.
Coffee and fresh fruit are set out all day long, and a platter of cookies is there for us when we return from our afternoon excursions.
A bell is rung 5-10 minutes before lunch and dinner, and to signal when we need to get ready for excursions.
Breakfast is more casual. We can help ourselves to a marvelous buffet, available from 7:30-9:30.
Everything is extremely well organized: Each day, they post the list of the locks we will be going through, with the distances to the next one, mostly half to one-mile apart (that lets you know when you can get on/off), and also post the menu, and the schedule for the day, and each day they tell us what we will be seeing the next day.
Each day, we arrive in our new destination for the night around 4:30-6 pm and dock, giving us time to explore these quaint villages and towns by walking or biking.
We will spend the first two days on the Canal de Sange – traveling about 8 miles – then join the River Saône, spend one full day on river, and then the next day, start on the river and end on the Canal de Bourgogne which will take us into Dijon.
Tina tells us that after 11 pm, the crew goes to sleep and "the last person in locks the door." If we want to stay out later, we need to take a key to open the door.
The decor on the Caprice is extremely pleasing – nautical with rich blues and polished wood and brass fittings.
Below deck, Caprice has 10 cabins averaging 82 sq. ft. with (big surprise) private bathrooms. The cabins are cozy and comfortable, with warm wood paneling, a window, decent lighting, and good storage.
Our bags have already been brought to our cabin – we spend just a couple of minutes and then rush off. We have just enough time before dinner to explore so we immediately take off on bikes and along the towpath. This turns out to be some of the most picturesque countryside of the trip, and the late afternoon golden light makes it that much more enchanting. The farms dot the rolling countryside, we come upon some of the most contented looking cows I have ever seen, and some donkeys. The evening is picture perfect as the sun goes down.
Everyone is seated at dinner by the time we return and we take the last open seats. Tina has waited for all of us before she starts the presentation of the menu, describing the courses and explaining the wines and the cheeses with fascinating insights.
This first night's dinner lets us experience Chef Herve's genius at combining flavors and textures: a salad of goat cheese with whole grain mustard greens, pine nuts and black current; the entree of Cod with balsamic reduction, red tomato (so full of flavor) and saffron risotto (texture is exquisite). The presentations are stunning – worthy of the finest restaurant. A feeling of absolute contentment rushes over me.
Indeed, the cruise is not just a "heart of Burgundy" itinerary, but a food and wine itinerary, and during the course of our journey, we really take a journey into French food preparation, and wines and cheeses (though I am pleased that the preparations are not as rich as they could be, and overall, you do not feel guilty enjoying the meals).
At lunch and dinner, there are both a white and a red wine and a couple of cheeses – different each time, so during the course of the cruise, we have had an amazing tour of French wines and cheeses.
This first night's wine selections are Sancerre and Brouilly, served with a flourish.
The cheese is a delectable Camembert, one of France's most famous, originating from Normandy, where cows graze on rich soil scattered with apple trees. Also, Fourme d'Ambert, from the Auvergne region, and one of the oldest cheeses in France, dating back to Roman times; it is one of the mildest blue cheeses with a creamy flavor and nutty finish. This cheese, Tina tells us, is injected with wine to help with ripening and for sweetness.
In these kinds of trips, the most interesting part is getting to know your fellow passengers, and each meal, we sit where we like (or where there is still an open seat) so over the course of the cruise, we get to spend time with everyone.
We meet Sidney, 90 years old, who tells us that she took her first trip to Europe when she was 16, in 1937, sailing across the Atlantic to Paris on the Bremen, a German war prize, operated by Cunard. She tells us how she arrived the day before July 14, Bastille Day, and stayed with a woman whose fiancé was killed in World War I. In Connecticut, she started a school, became a reading teacher, and then opened a bookstore. "Amazon.com killed it," she says, and that's when she started traveling again. At another meal, we learn that Sidney's aunt married Teddy Roosevelt's son; that one side of her family came on Mayflower while the other came in chains from Scotland.
Sunday, Market Day in Chagny
Breakfast is served fairly casually – a buffet that is set out between 7:30-9:30 am, satisfying both early and late risers.
We begin our cruise on the Canal until the bell rings signaling that we should assemble for the bus, and we are taken on our first excursion, to the charming town of Chagny, where the weekly Sunday market is underway (each of the cruises visits one of the local markets).
It seems everyone has come from throughout the region – there is every manner of food – cheeses, breads and pastries, luscious looking fruits and vegetables, meats, plus clothes, CDs, housewares. There are amazing aromas and sounds, colors and textures. There must be a mile of stalls. It is exciting, vibrant, and marvelously colorful.
At one stall, there is a selection of chickens still with the heads on, ducks, and some other unidentifiable fowl.
I love seeing the French words on signs, hearing French and feeling my French jog back to memory in my brain.
We return to the Caprice for a delightful lunch of baked ham with Chablis sauce, broccoli salad, prawn and pasta salad, and green salad. The food is all delectably fresh – Herve shops twice a week at markets such as these.
The wine is a Bourgogne Chardonnay, and a Saumur Champigny.
The dessert is a creamy but solid white cheese, doused with a currant sauce that is magnificent.
We notice many live-aboard barges – some are rentals – and have an amazing appreciation for their skill in managing going through the locks, which often are just big enough for the barge. Most of the locks are self-service – some of the locks open automatically but others have to be hand-cranked.
We don't stay on the barge long – every opportunity we grab the bikes and ride along the tow path or veer off into nearby villages.
In the afternoon, the Caprice ties up to give us time to explore a charming village, where we are able to bike around, enjoying the traditional architecture.
This evening's dinner: a quail salad (with beet shoot sprout that gives it a remarkable texture), delectable roasted lamb in a rosemary sauce with potato, all with a gorgeous presentation. The dessert, a passion fruit shortcake.
The wine selections are a 2010 Pouilly Fume, from the Loire, with a wonderful dry, citrusy, fresh taste, and an Hautes Cotes de Beaune (where we will visit tomorrow), a medium bodied wine from grapes grown on high slopes.
The cheese selections are Chaource, is a triple creamy cow's milk cheese that melts in your mouth like snowflake, and Cantal.
I am appreciating Chef Herve's cooking – a young fellow, he is a master at unusual combinations of flavors and textures – his selections are always surprising.
The Caprice is owned by Barging Through France, and represented by France Cruises, Inc, San Antonio, Texas, 866-498-3920,www.francecruises.com, www.FranceCountryTours.com.
(Originally published 2011)
____________________
© 2017 Travel Features Syndicate, a division of Workstyles, Inc. All rights reserved. Visit goingplacesfarandnear.com,  www.huffingtonpost.com/author/karen-rubin , and travelwritersmagazine.com/TravelFeaturesSyndicate/. Blogging at goingplacesnearandfar.wordpress.com and moralcompasstravel.info. Send comments or questions to [email protected]. Tweet @TravelFeatures. 'Like' us at facebook.com/NewsPhotoFeatures