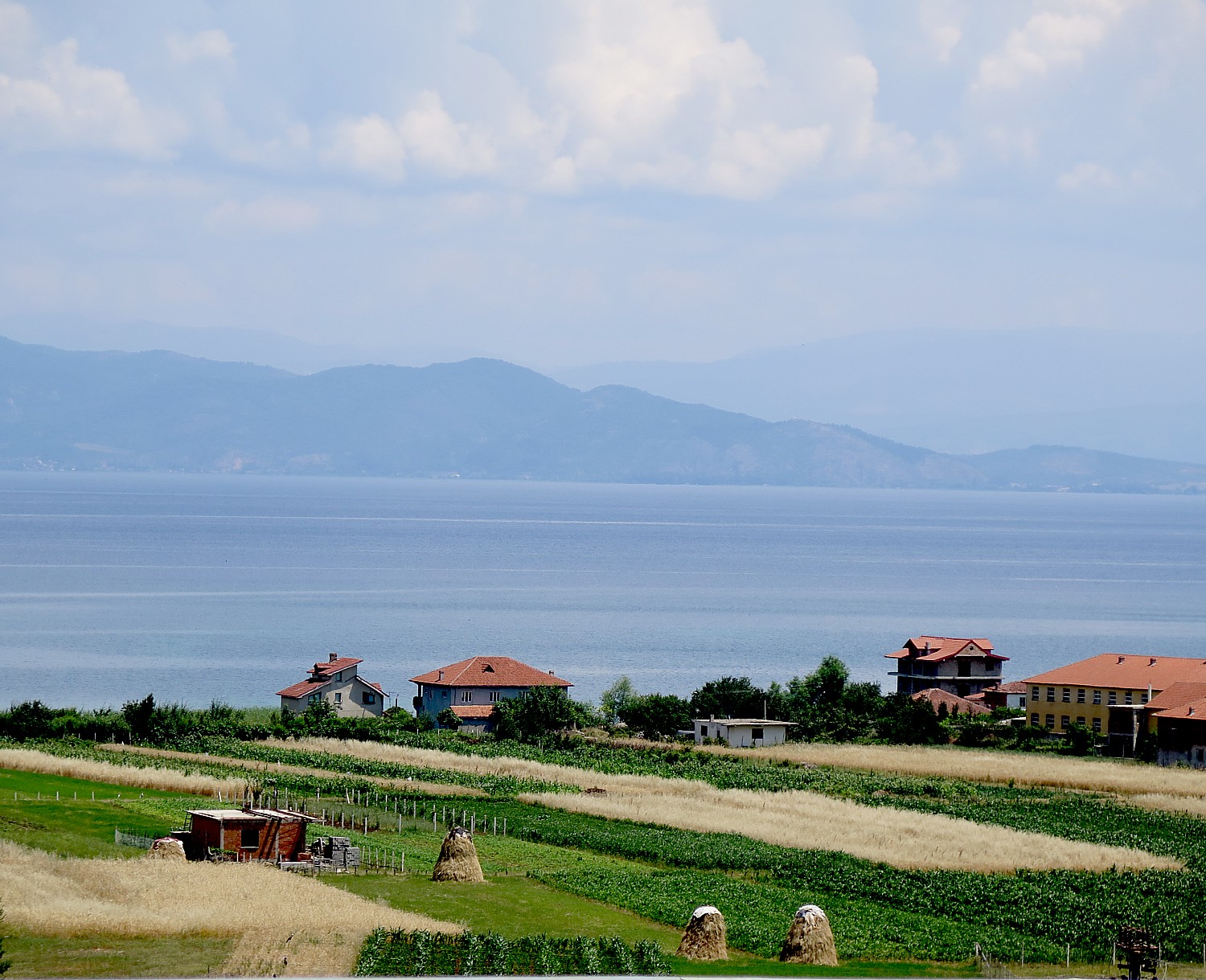 By Karen Rubin, goingplacesfarandnear.com
I travel to Albania with BikeTours.com's President Jim Johnson on a specially constructed "President's Tour" itinerary that modifies the regular "Albania's UNESCO Sites with Rivers, Valleys, and Gorges" trip.  (See: Come to Albania Now to See Emergence of a Young Country-Best Way to Experience Albania is on Bike Tour)
Johnson has been working with USAID and the Albanian government to help cultivate sustainable tourism – bike tours are the best form with the least adverse impact for return – to not only boost the economy but to bring Albania out of darkness into the world community. Americans, particularly, have either no impression at all about Albania or have woefully wrong impressions and stereotypes (myself included – that's why my visit here was so surprising, not for how exotic Albania proved to be compared to other "hot" off-the-beaten-track destinations like Myanmar and Cuba, but to see a young country emerging). What is more, tourism helps generate the funding to sustain important historical and heritage sites as well as infrastructure improvements that might otherwise be lost to time and future generations because of neglect (this is what "ecotourism" is about: sustaining heritage and environments).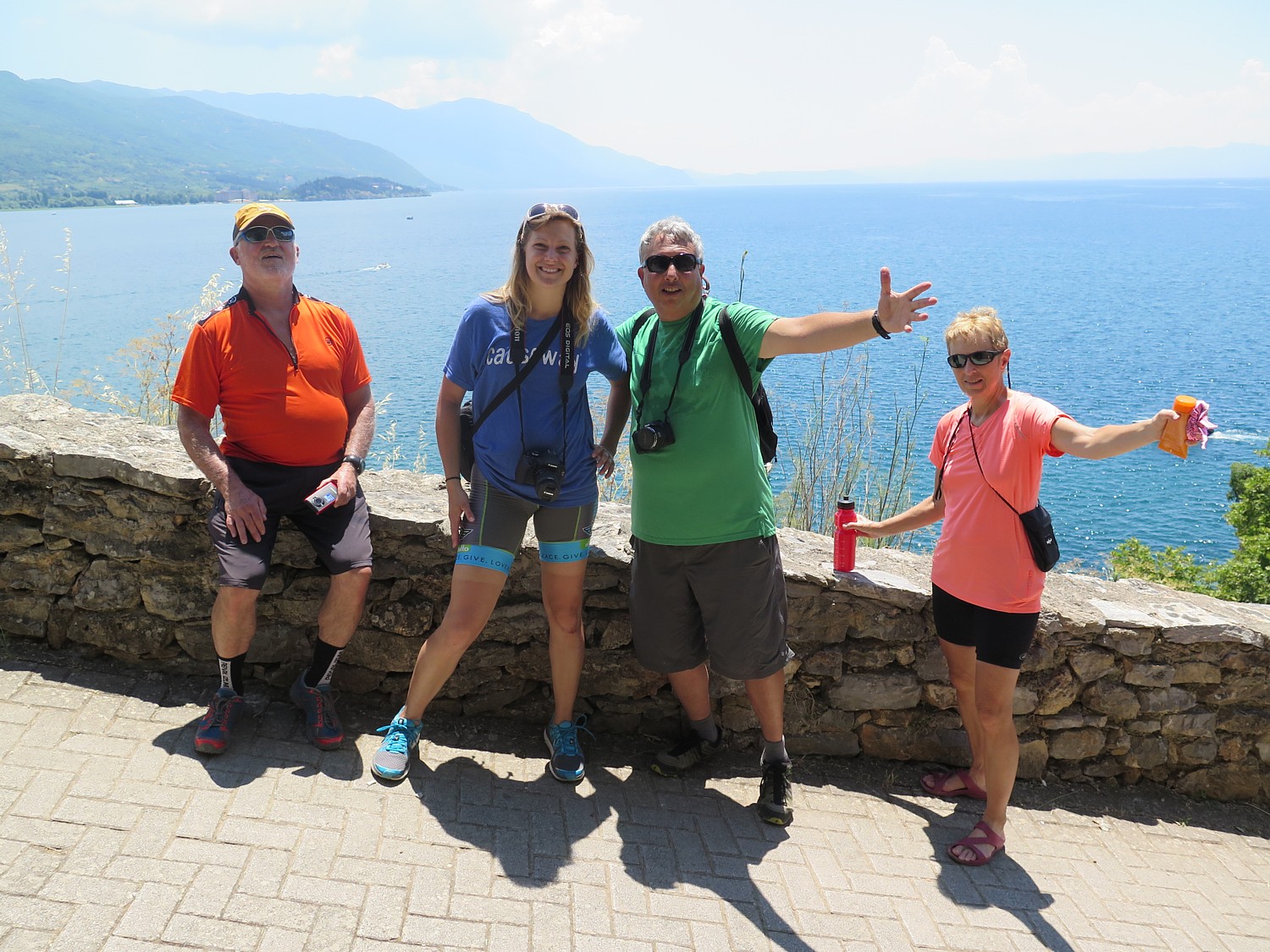 We could appreciate this aspect as we travel newly built and paved roads (as well as bike on the old battered or abandoned roads that make us really appreciate the quality hybrid bikes with hydraulic brakes and suspension), the hotels and inns and coffee stops along our way, and of especially, touring such extraordinary ancient sites as Butrint and environmental treasures like Lake Ohrid.
This was my third trip with BikeTours.com – essentially a broker that selects the best local cycling tour companies that give us the most "authentic" experience but also the best value and service. I had previously done a self-guided Danube Bike Trail trip with my adult sons, and a bike/boat trip of the Greek Islands and had every confidence that BikeTours.com would select the best operator.
Bike touring in Albania is a very new idea and unusual – indeed, our appearance with our helmets and state-of-the-art hybrid bikes (as well as the e-bike that I used) – draws attention since it is so unusual. After all, about 70% of the country is mountainous and our route takes us up and over mountain passes (the regular tour has as much as a mile-high climb in elevation in a day; our trip maxes out at about two-thirds of a mile elevation, but that's why I opt to try an e-bike for the first time, and I have no problem at all with the climbs). The local operator that BikeTours.com has enlisted purchased a fleet of Taiwan-based Giant bikes manufactured in the Netherlands.
But bike touring affords the opportunity to really explore, really discover a place. We travel through small rural villages, national parks, cities and along the coast to beach communities (a post-Communist creation). We travel at a pace and with the ability to stop and really look around (take pictures or even chat with a shepherd or a group of ladies sitting on a bench with their knitting) without the artificiality of staring through a bus window.
We get to see things that would otherwise sweep past our notice: a man sitting on a donkey cart loaded up with hay, chatting on his cell phone; a woman in the field leaning on a hoe also talking on a cell phone. The meticulously maintained farms remind me of Amish country, especially with the use of donkeys and mules and manual tools and a minimum of automated equipment. What is more, you feel part of what is around you – in the moment – more of a participant than a spectator.
Each evening we are given an orientation about the next day's ride, a map with the route outlined, showing the coffee stops, lunch place and endpoint, a diagram of the elevations– in essence, an graphic illustration of the ups and downs of the ride, as well as notes about the places we will be traveling. We are also accompanied by a van driver who keeps an eye on us even while trying to stay innocuous. And had the climb proved too difficult on any day, we could have just hopped into the van (that doesn't happen, though).
Our itinerary is modified from the regular Albania cycling trip because this is the President's Tour, and Jim Johnson, president of BikeTours.com, has requested certain special features. This trip includes a circumnavigation of Lake Ohrid, a UNESCO-protected lake that is shared between Albania and Macedonia, which enables us to visit the ancient town of Ohrid in Macedonia, plus two days of kayaking and a stay at Albania's #1 rated beach, added on to the end, for a total of 13 days versus 9 days.
Each day is characterized by a highlight, and in my mind, a different color: blue of Lake Ohrid, green/brown patchwork of the farms; grey of the ancient city of Butrint, aquamarine of the Ionian Sea.
Day 1: Arrival in Tirana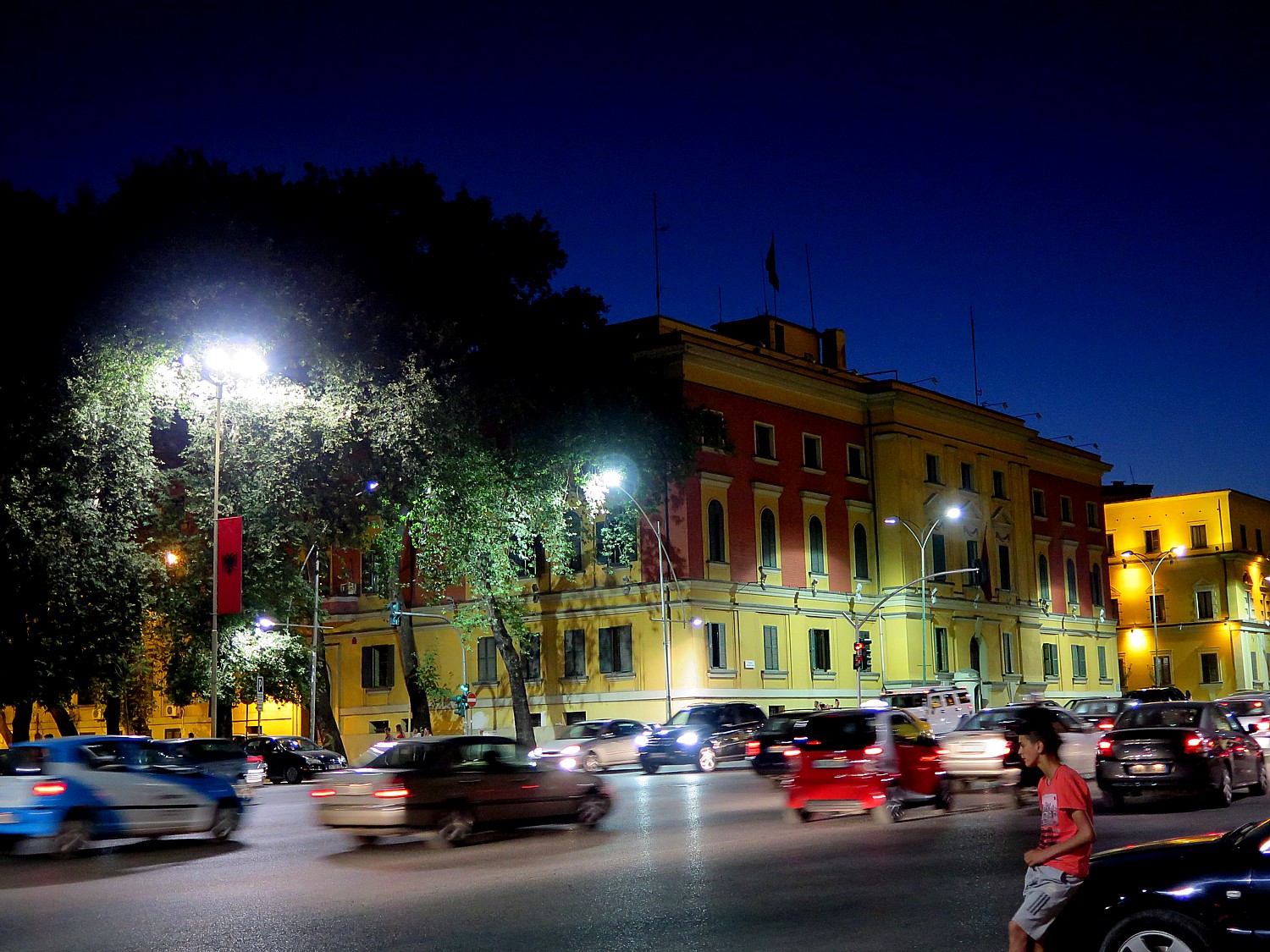 We arrive at the international airport in Tirana, named for Mother Teresa, perhaps Albania's most famous heroine, where we are met by Bato, who will be our van driver during the trip. I am immediately surprised as we drive into the capital city to see palm trees (this area is subtropical), mountains, and a bustling, if small scale, city. Our hotel in the center of town is only a short walk from the National Museum, but I do not know that and make a terrible mistake by not rushing out in the waning hours of the afternoon to visit the museum – it would have provided an excellent foundation for appreciating Albania's history and cultural heritage.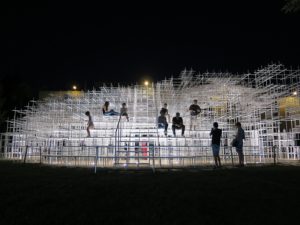 Our group of five meets up for an orientation with our guide, Junid Jegeni, at the hotel before walking over to a restaurant for dinner. After dinner, I walk about the city, amazed at how busy it is – it turns out that it is the custom of Albanians to come out in the evening – how pleasant and how comfortable I feel wandering around.
Day 2: Cycling to Lake Ohrid
After dinner and overnight in Tirana, we depart for a two-hour ride in the van to the northeast side of Lake Ohrid on the Albanian side. Our coffee stop is at a lovely hotel along a stream, where we chance to see a bride who we guess is there to take her wedding photos.
Our first day's ride is designed to be an  easy warm-up, beginning with a long downhill and mostly flat ride for 41 km, with a total elevation gain of 140 meters, but an elevation loss of 360 meters, taking us around one side of Lake Ohrid.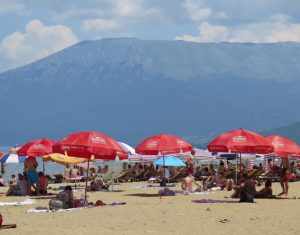 At the top of Qafe Thana Pass, Bato unloads the bikes (it takes me two minutes to learn how to operate the e-bike and three minutes to get comfortable riding it), and begin our 27.5 km ride, cycling counter-clockwise from the northwest side of the lake to the southwest side, to the city of Pogradec. We see gorgeous farms that hug the shore. It is very beautiful riding on the road alongside the lake. We have to avoid two donkeys that wander blissfully across the street as we reach a picturesque town of Tushemisht, a popular lakeside holiday village filled with bright-colored umbrellas and scantily clad beachgoers.
Lake Ohrid is one of Europe's deepest (at 1000 ft.) and one of the largest biological reserves in Europe. One of the oldest lakes in the world (1 million years), it has primeval life forms which no longer exist anywhere else or only exist as fossils. It is an aquatic ecosystem of such global importance, that Lake Ohrid is protected by UNESCO (on the Macedonian side, so far). It has more than 200 endemic species (like Belushka, which we get to savor for dinner).
The lake lies in a basin surrounded on all sides by mountains with peaks of over 2,000 meters: to the east, Mount Petrino and Mount Galacica; to the south, hills and lower mountains of Albania. Two-thirds of the lake surface belongs to the country of Macedonia and one-third to Albania.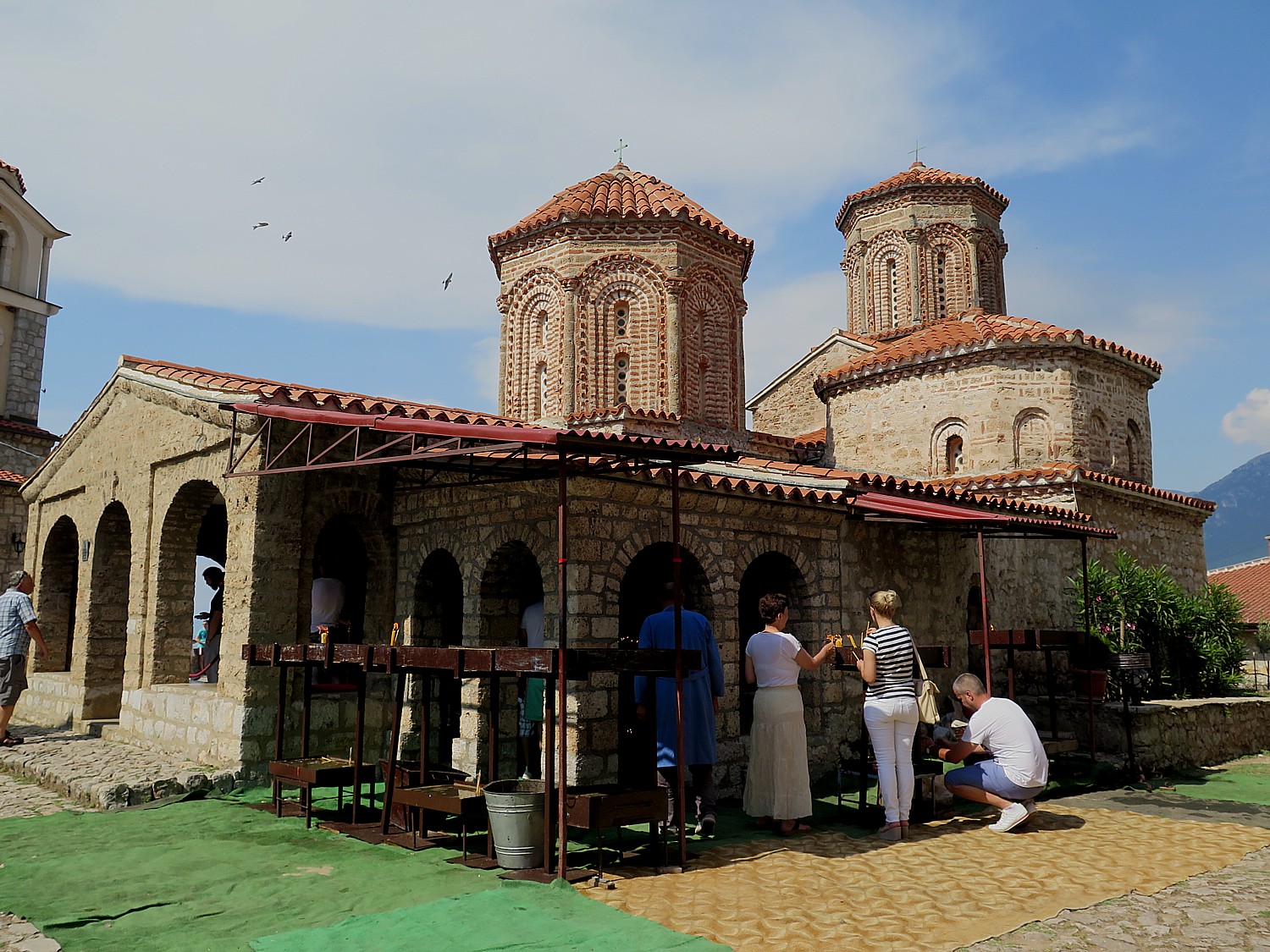 In the afternoon after a delightful lunch on the lakefront patio of our hotel, The Millennium, we cycle 4 km, taking us across the border into Macedonia (passports please!) to visit the 1000-year old monastery of St. Naum, where there is a small church that holds magnificent 500 year old frescoes.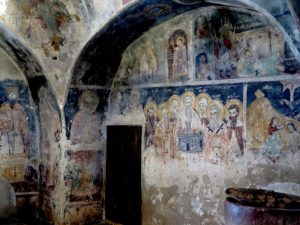 We are here at an auspicious time: it is the day before the annual festival to St. Naum, who is said to have built the monastery with his own hands, between 900-905, and is buried in the church.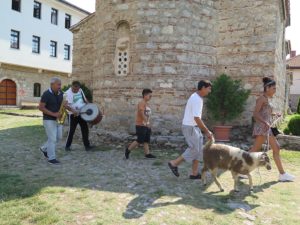 People have come from all over. We witness an interesting custom: people take turns parading a lamb around the church as they are followed by two men banging on a drum. The next day, the lambs (there are 2) will be sacrificed for a feast.
Another unusual feature of this place are peacocks that are everywhere.
There's a hotel right next to the church; a market as you walk up the cobblestone path to the church. There is actually a beautiful beach place at the foot of the walk up to the monastery at the top of a hill overlooking the lake. People line the lakeshore for swimming, boating, lounging, which strikes me as an odd contrast to the monastery.
We get back to our hotel with time to enjoy a swim in Lake Ohrid before a lakeside dinner that includes one of Lake Ohrid's unique fish, Belushka, while enjoying an exquisite sunset. After dinner, we gather in the hotel lobby to watch the Euro Soccer championships on TV.
Day 3: Cycling to Ohrid, UNESCO World Heritage Site
For our second day cycling, we complete the circumnavigation of Lake Ohrid, but start off with a transfer by the van back up to The Qafe Thana Pass where we had started cycling yesterday. But this day, we ride clockwise. It's also completely designed by Johnson, who is very anxious for us to visit Ohrid, a historic city on the Macedonia side of Lake Ohrid, and not part of the regular Albania cycling tour.
Today's ride is one of the longest, at 65 km, but mostly downhill or flat, with the three progressively higher climbs at the end of the day, for an elevation gain of 545 meter and elevation loss of 784 meters.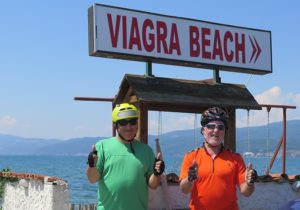 We start with a mild ascent to the Albanian-Macedonian border (passports please!), then a long, steep downhill ride to the road that follows the lake (passing Viagra Beach – a coincidence, but our guide, Junid remarks that Ferid Murad, an Albanian-American, won a Nobel Prize in Medicine in 1998 for discoveries that led to the development of Viagra to treat impotence (he was looking for a way of opening blood vessels to remedy cardiovascular conditions). It's irresistible not to stop to take pictures in front of the Viagra Beach sign.
We ride the beautiful (and flat) road – which has been largely replaced by a new road so it has very few cars – into the historic town of Ohrid. Johnson leads us on a fast-paced walking tour of the city (starting with his favorite baklava shop where we sample the pastry), walking up old, typical narrow cobblestone streets.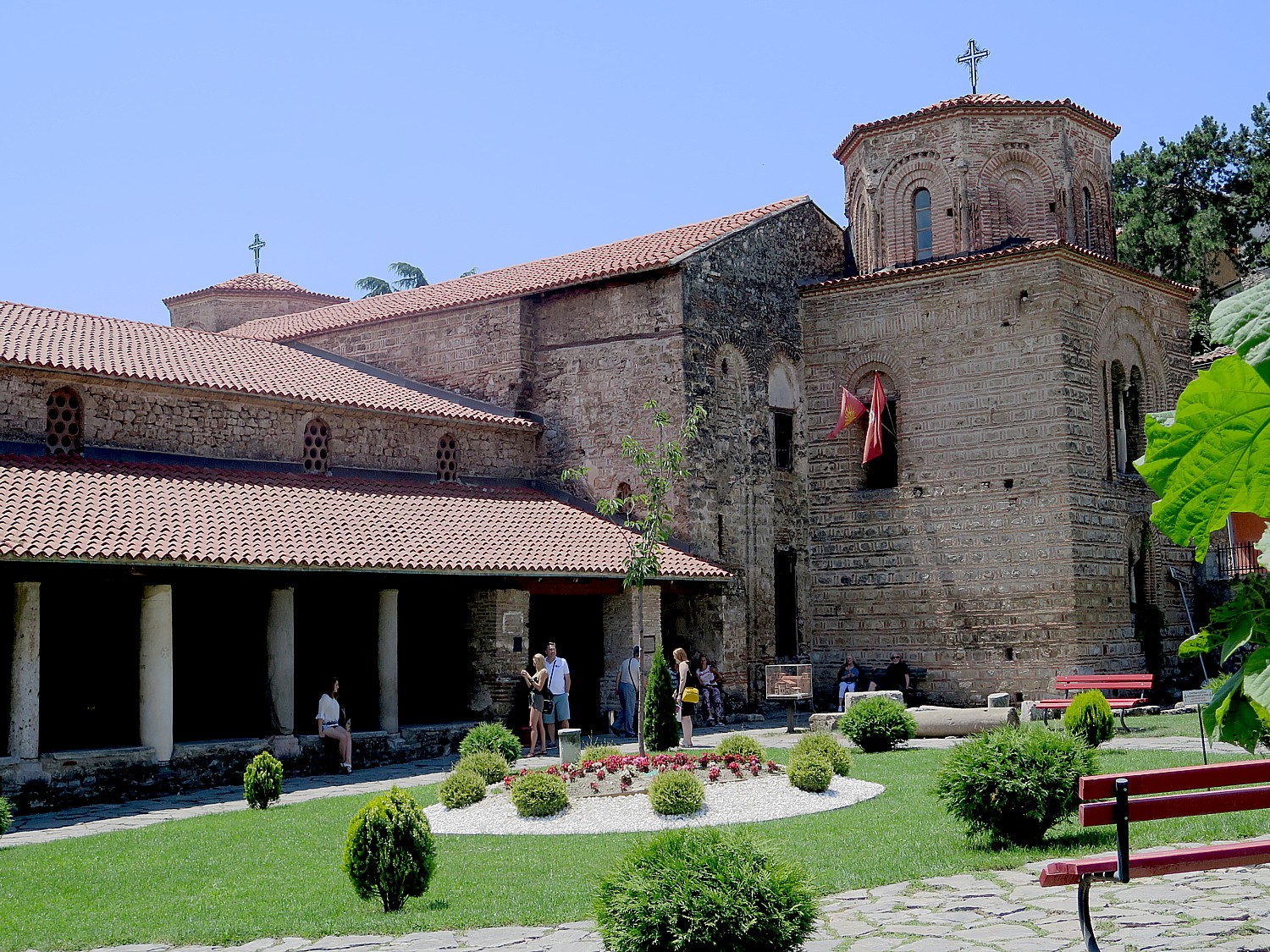 Ohrid, a UNESCO World Heritage Site, is one of the oldest human settlements in Europe, with a history extending back 2000 years. The city was built mainly between the 7th and 19th centuries and still preserves the most complete collection of ancient urban architecture of the Slavic lands (St Pantelejmon is believed to be the oldest Slav monastery). You can find more than 800 Byzantine-style icons dating from the 11th to the end of the 14th century, "which, after those of the Tretiakov Gallery in Moscow, is considered to be the most important collection of icons in the world," according to UNESCO World Heritage notes.
At one point, Johnson tells us, Ohrid had 365 churches, one for each day of the year.
One of the most impressive medieval buildings in Ohrid and a rare work of architecture of the Byzantine era, St. Sophia is a large three-nave cathedral with a dome at the center, built on the foundation of an ancient cult during the period of King Samuil. St. Sophia boasts the largest collection of 11th C frescoes in world, Johnson tells us (no time to visit inside though). With wonderful acoustics and a gorgeous garden, St. Sophia is the main stage festivals including the annual Ohrid Summer Festival.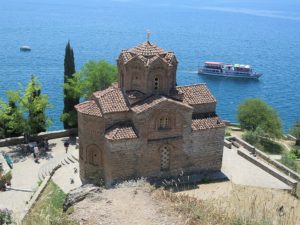 Other important monuments include Samuel's Fortress and a classical theater built 2000 years ago (in the late Hellenic period or shortly after the Roman occupation).
We also pass an intriguing National Workshop For Handmade Paper, where you can see a demonstration of paper making by hand, and a Gutenberg printing press (no time to stop, though).
After a delightful lunch al fresco on the lake, we get back on the bikes.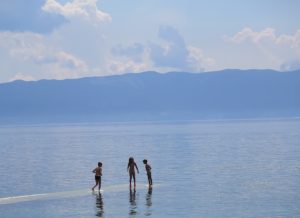 The end of the ride is the toughest, with a steep uphill climb, made unusually difficult because of the volume of traffic of people who have come for the festival of St. Naum. Normally there is hardly any traffic on the road, Junid tells us.
We pass an intriguing "bone museum" – a reproduction of an indigenous village which appears to float on the lake.
Completing the circumnavigation brings us back to the Hotel Millennium, the only hotel where we will stay two nights during the biking portion of our trip.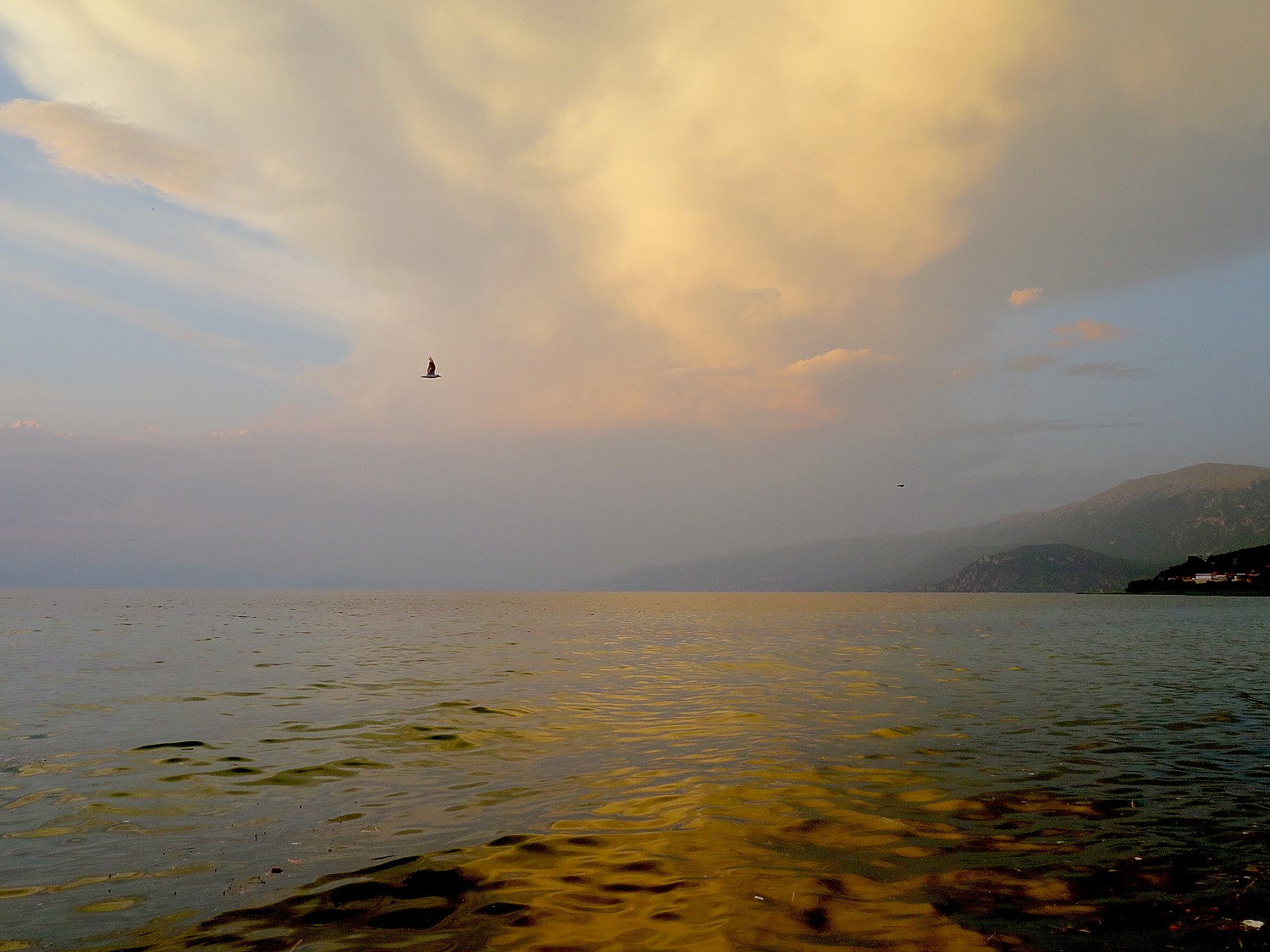 Dinner is at the Millennium hotel's lake-front restaurant with gorgeous views of the setting sun. The scene reminds me of Lake Tahoe.
There are still some scheduled departures left this year for "Albania's UNESCO Sites with Rivers, Valleys, and Gorges," 9 nights, Level 4, averaging 37 miles/day (950E or about $1050) (www.biketours.com/albania/albania-UNESCO-tour). 
BikeTours.com 1-877-462-2423 or 423-756-8907, 1222 Tremont St., Suite 100, Chattanooga, TN 37405, biketours.com. 
Next: Riding through Albania's 'Breadbasket' into Korca, the "Paris of Albania" 
See also:
Come to Albania Now to See Emergence of a Young Country – Best Way to Experience Albania is on Bike Tour
____________________
© 2016 Travel Features Syndicate, a division of Workstyles, Inc. All rights reserved. Visit goingplacesfarandnear.com and travelwritersmagazine.com/TravelFeaturesSyndicate/. Blogging at goingplacesnearandfar.wordpress.com and moralcompasstravel.info. Send comments or questions to [email protected]. Tweet @TravelFeatures. 'Like' us at facebook.com/NewsPhotoFeatures