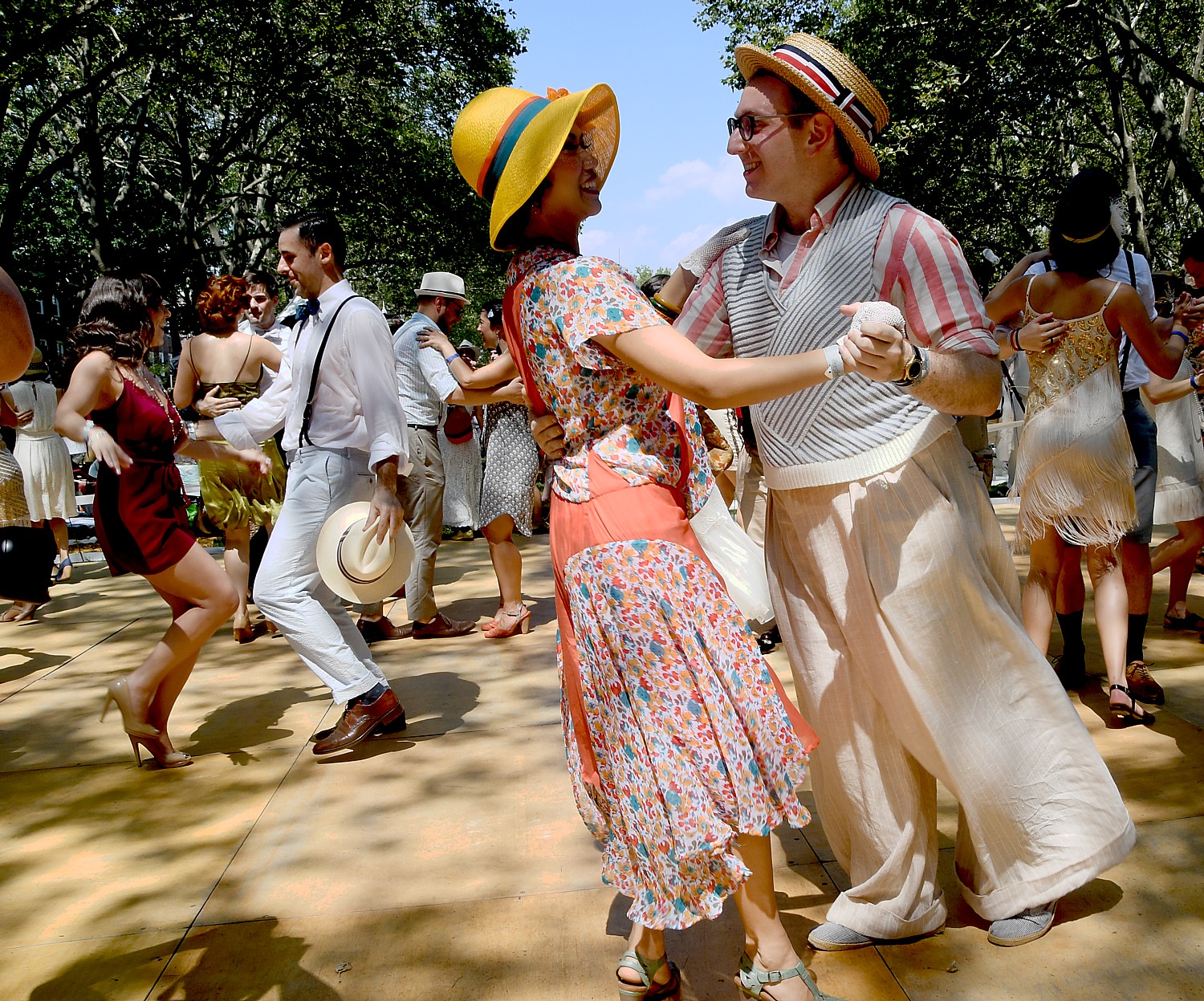 By Karen Rubin
Travel Features Syndicate, goingplacesfarandnear.com
Talk about Hot Jazz! The heat and humidity could not dampen the celebratory spirit for the final weekend of the 11th Annual Jazz Age Lawn Party on Governors Island, where the weather was hot but the jazz was hotter. People still turned out in their vintage 1920s outfits, re-creating the Gatsby-era.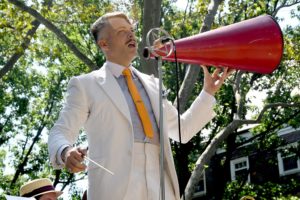 Michael Arenella and His Dreamland Orchestra sets the mood with music Arenella has transcribed from original recordings of the era. Arenella re-creates the role of a Big Band leader, taking on the inflection and look, and telling anecdotes about the music and the musicians as if it were now, when this music was all the rage and radio was a new (and dangerous) cultural phenomenon. Within moments, you are transported back to the romance and joie de vive of that time, leaving behind for these precious hours the hubbub of modern times (except for the constancy of cameras, smart phones and selfies).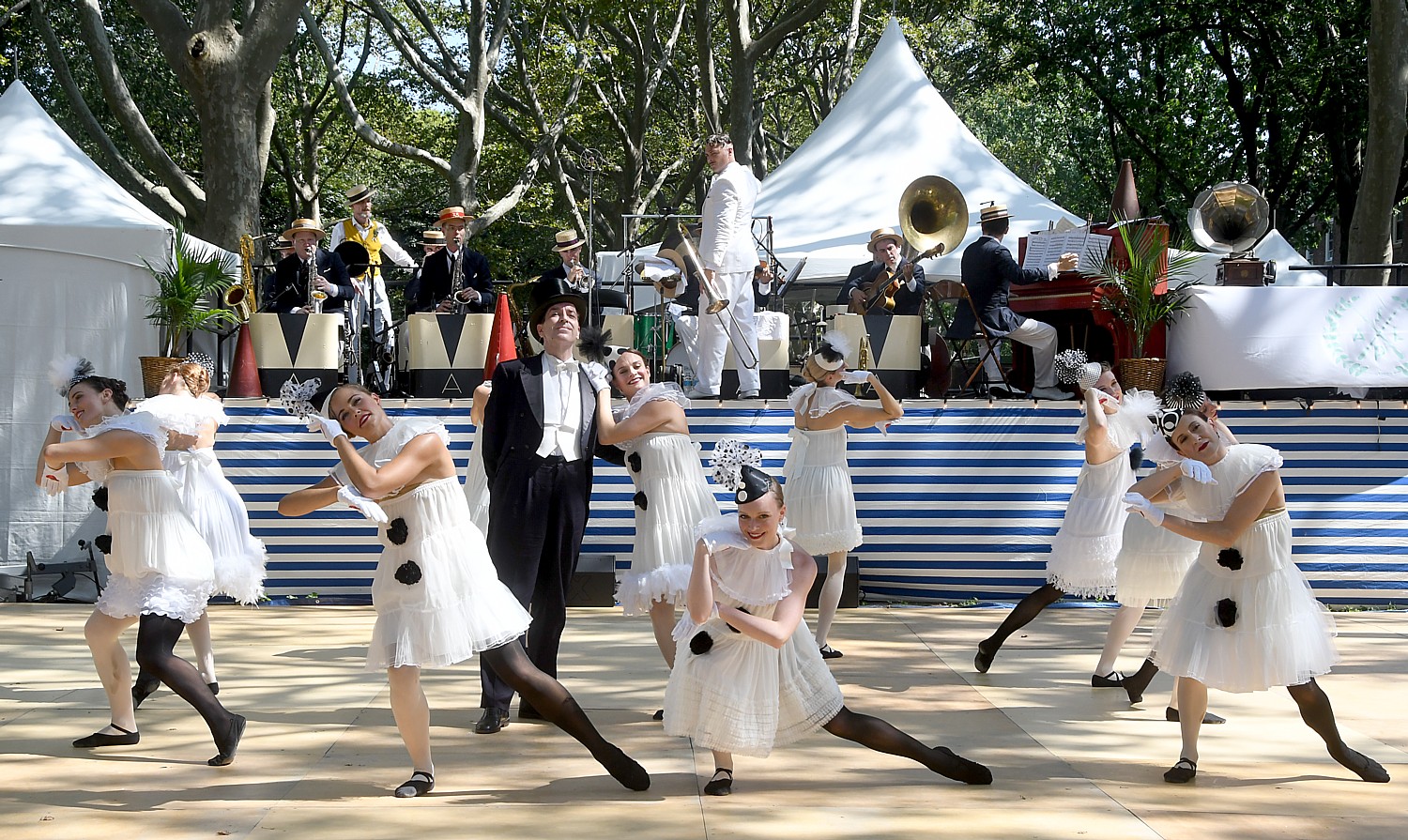 The entertainment throughout the day is topnotch: Gregory Moore and The Dreamland Follies, evoking the Ziegfield Follies, puts on stunning and sophisticated dance routines; Roddy Caravella & The Canarsie Wobblers  consistently wow with fanciful costumes and choreography;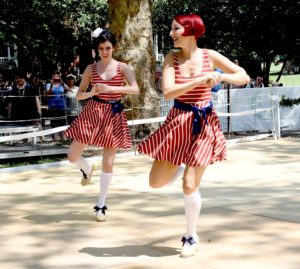 The Minsky Sisters, a 1920s-inspired sisters tap act in the tradition of classic vaudevillian family acts; Queen Esther, an award-winning vocalist with a four-octave range who is also a songwriter, actor, and recording artist performing regularly in NYC, who sets her own standard of Jazz Great while paying tribute to jazz royalty of yore with her jazz quintet The Hot Five; Peter Mintun, "world's greatest piano man" and Molly Ryan, known for her silvery voice and lush, elegant vocal style; plus musical interludes on vintage 78 records from the 1920s played on a 1905 antique phonograph.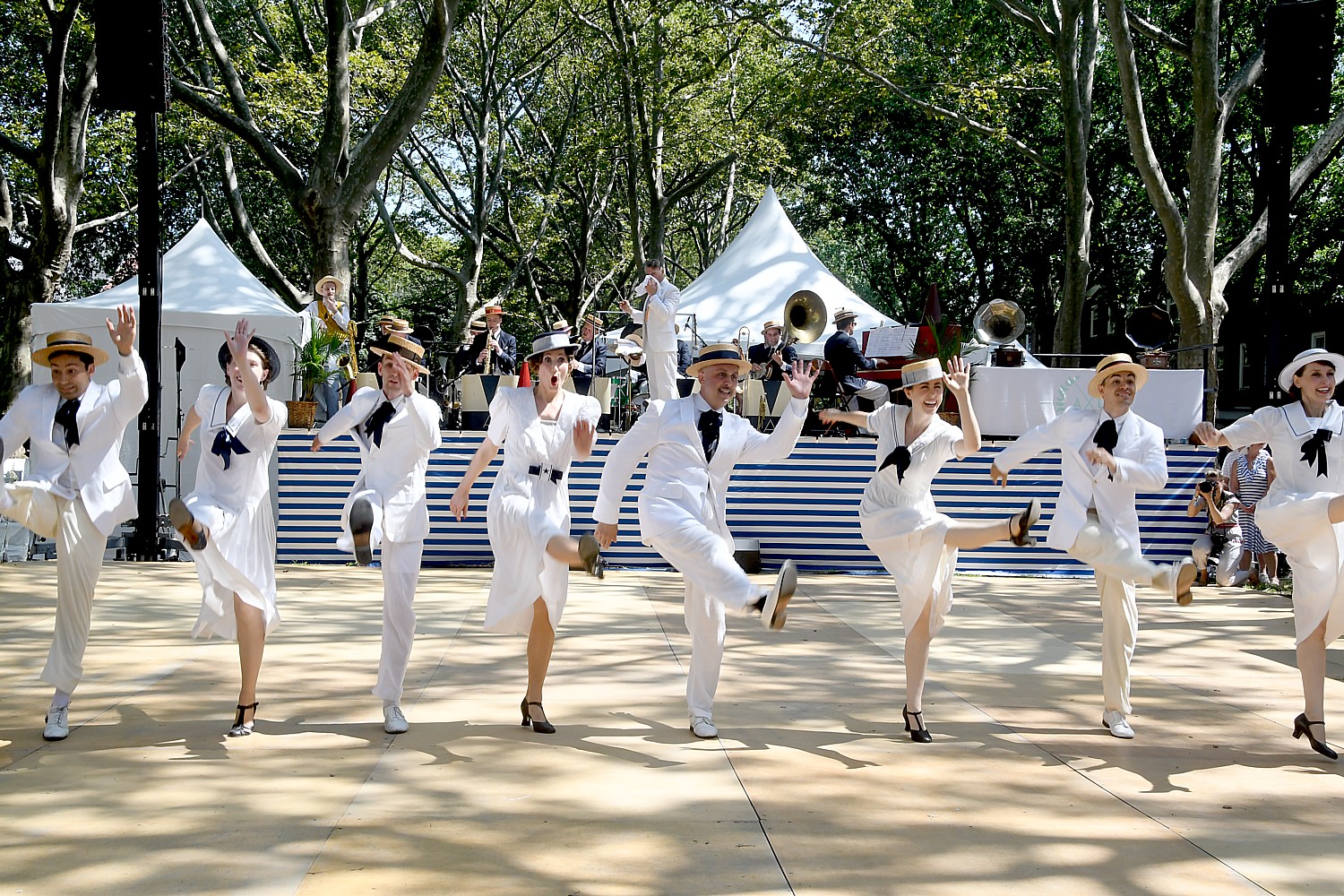 Roddy Caravella & The Canarsie Wobblers at 11th Annual Jazz Age Lawn Party on Governors Island © 2016 Karen Rubin/news-photos-features.com
There are special attractions, as well, starting with lessons in Charleston or the Peabody by Roddy Caravella and his wife; dance competition (in Charleston or Peabody); a "High Court of Pie" contest;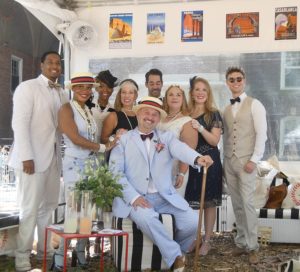 Bathing Beauties and Beaus Promenade; Kidland carnival games and prizes for junior gents and Flapperettes; 1920s Motorcar Exhibition (get up close and personal with flivvers, Tin Lizzies and "Buttercup," Gatsby's very own 1925 Rolls-Royce "Twenty"); Vintage Portraits  (immortalize yourself while perched upon a Paper Moon); and boutonnieres and mini floral arrangements bestowed upon guests from BloomThat, a flower start-up.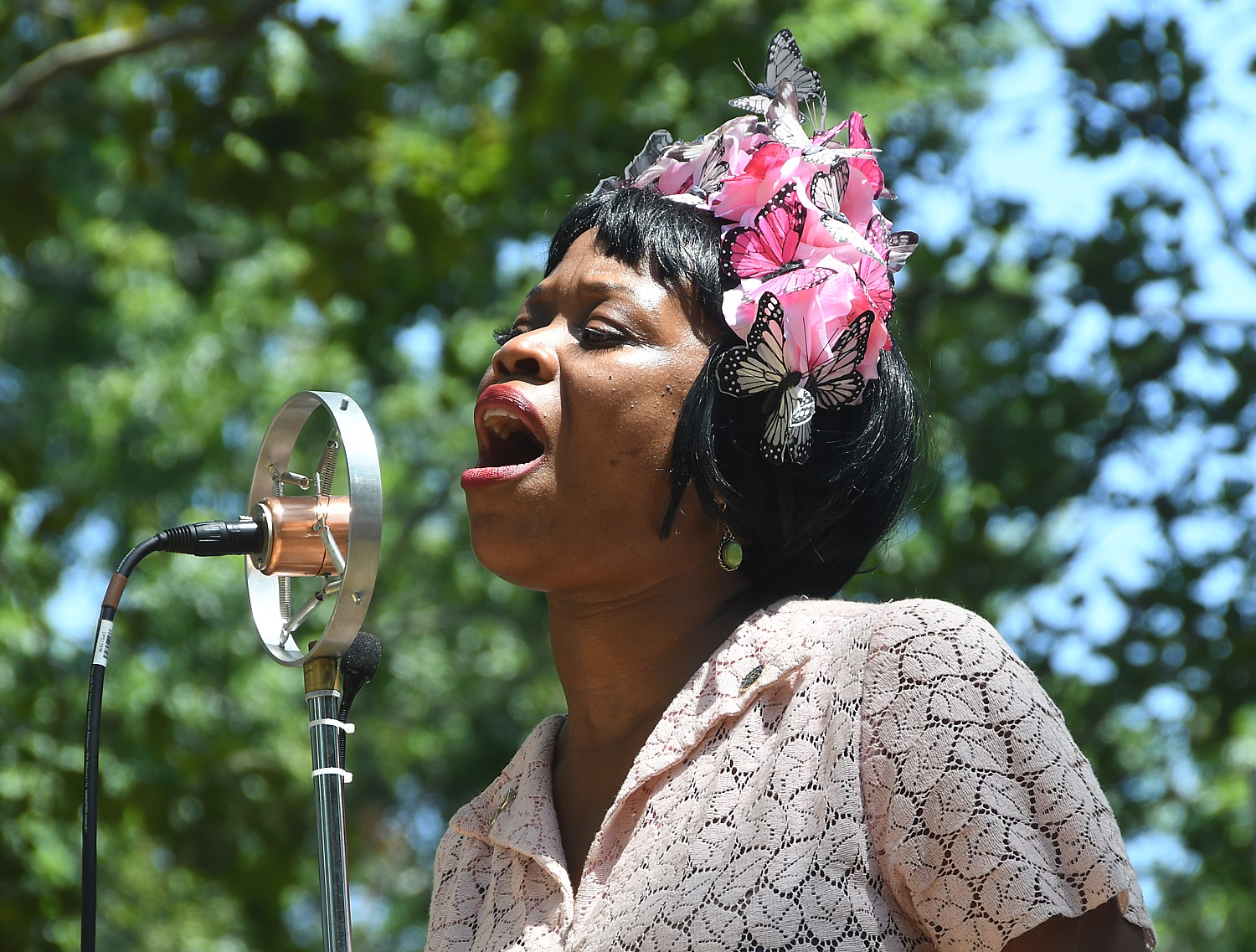 Scores of vintage vendors add to the atmosphere – if you didn't have your own vintage outfit, you can rent or buy, and if you didn't have your own picnic blanket, you could purchase from the General Store. Merchants include: Dora Marra, Toucan Hats, Prohibition Clothing, Noble Vintage Clothier , Wildfell Hall Vintage, David Owens Vintage, Howard's Entertainment, Penumbra Foundation, Zelda Magazine and Art Deco Society of NY.
The bi-annual daytime affair also features an array of Golden-Age inspired cocktails created by mixtress Julie Reiner (Clover Club, Leyenda, Flatiron Lounge) featuring the festival's signature spirit, St-Germain, including: The St-Germain Cocktail: an invigorating aperitif of St-Germain, sparkling wine, and sparking mineral water with a lemon twist; Strike Up The Band: a refreshing Collins-style recipe blending summer strawberries with gin, St-Germain and fresh citrus; and the Flappers Delight: St-Germain elderflower meets Juniper and mint in this tall summer fizz, and exclusively in " The Gatsby's Garden" VIP section: Americano de Robert: St-Germain, Campari, Dry Vermouth, lime, soda & orange peel, served up.
Ferry is Magic Carpet to Bygone Era 
The enchantment begins as you board the ferry from South Street or from Brooklyn for the short ride to Governors Island. You think you have stepped back to the 1920s – crowds of giddy people are dressed in flapper dresses and linen suits, caps and suspenders cram the ferry. And dancing shoes. And you realize this isn't just any ride in the park.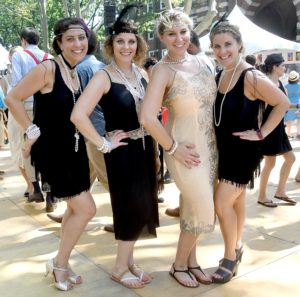 We are back in the Jazz Age, and the setting is perfect, a vast lawn set off by an arbor of trees, surrounded by buildings and forts that date back to the Civil War and World War II when Governors Island was used as a base and military prison (I even happened on Civil War re-enactors), now repurposed for arts and cultural programs.
People come and set out sprawling picnics – some with elaborate fixings like candelabras and crystal wine glasses.
The atmosphere is infectious. Fellows seem more civilized. Gals seem more sassy. And the good feeling just percolates to the beat from Michael Arenella's Dreamland Orchestra, as this fantastical community defying time forms.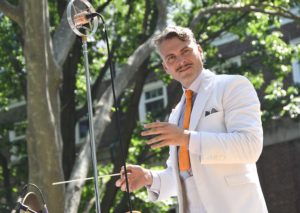 The unquestioned star of the day long festival is Michael Arenella and His Dreamland Orchestra, one of the world's great Jazz Age dance bands, specializing in the Hot-Jazz of the 1920s. "Conductor, composer, musician and singer Michael Arenella presents a personally transcribed songbook for your listening and dancing pleasure." (Michael Arenalla also can be heard Wednesday nights at the Clover Club, Smith Street in Brooklyn and at the Red Room, the last Thursday of the month, 85 E 4th St, NYC, and at the Clover Club, see www.dreamlandorchestra.com).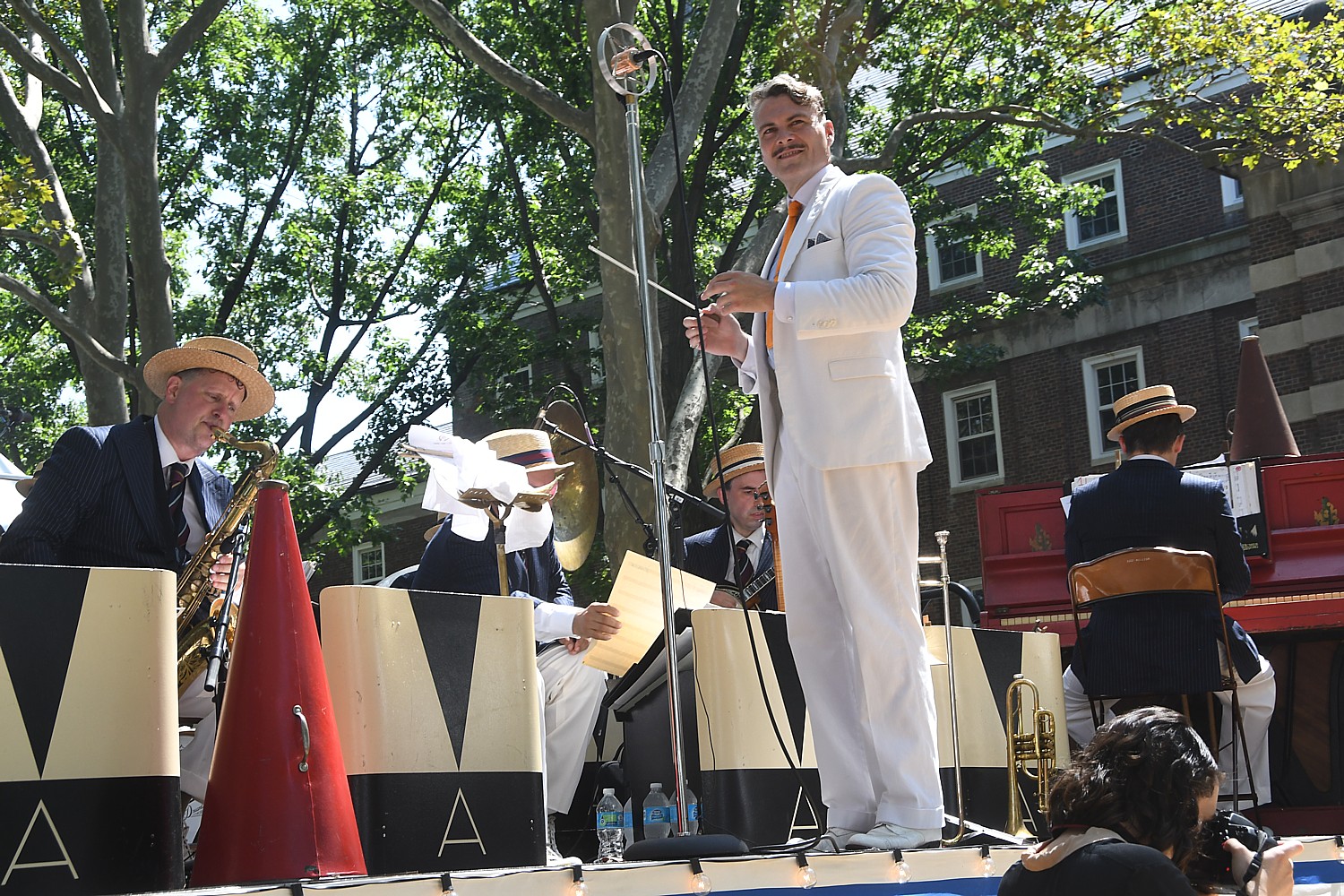 It isn't hard to believe you have returned to the Jazz Age because of the authenticity and attention to detail. Arenella "transcribes by hand their entire repertoire from period recordings. Their delivery, as well as their instruments, attire, and equipment — are faithfully accurate. Arenella's strong yet vulnerable baritone lacks pretense or sarcasm. He treasures each lyric, and has faith in the songs he sings. Even the most optimistic Tin Pan Alley tune has a disarming quality in his hands."
Even the 1928 Graflex, used to take period photos, is an original.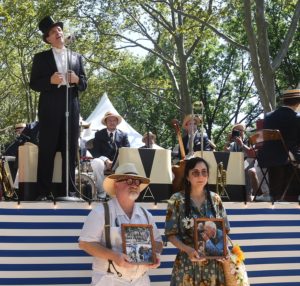 Now in its 11th year, the Jazz Age Lawn Party has built a history of its own. It started in 2005 as a small gathering of about 50 friends and fans of Michael Arenella and his Dreamland Orchestra and their version of prohibition-era music and fun. Not too many years after, it was drawing thousands of fans who revel in the music and zeitgeist of the 1920s and 1930s and has become what is arguably the world's largest outdoor musical celebration of the Jazz Age, but is undoubtedly one of the highlights in a crammed calendar of summer happenings in New York City.
For more information, visit: JazzAgeLawnParty.com.
_________________
© 2016 Travel Features Syndicate, a division of Workstyles, Inc. All rights reserved. Visit goingplacesfarandnear.com   and travelwritersmagazine.com/TravelFeaturesSyndicate/. Blogging at goingplacesnearandfar.wordpress.com and moralcompasstravel.info. Send comments or questions to [email protected]. Tweet @TravelFeatures. 'Like' us at facebook.com/NewsPhotoFeatures