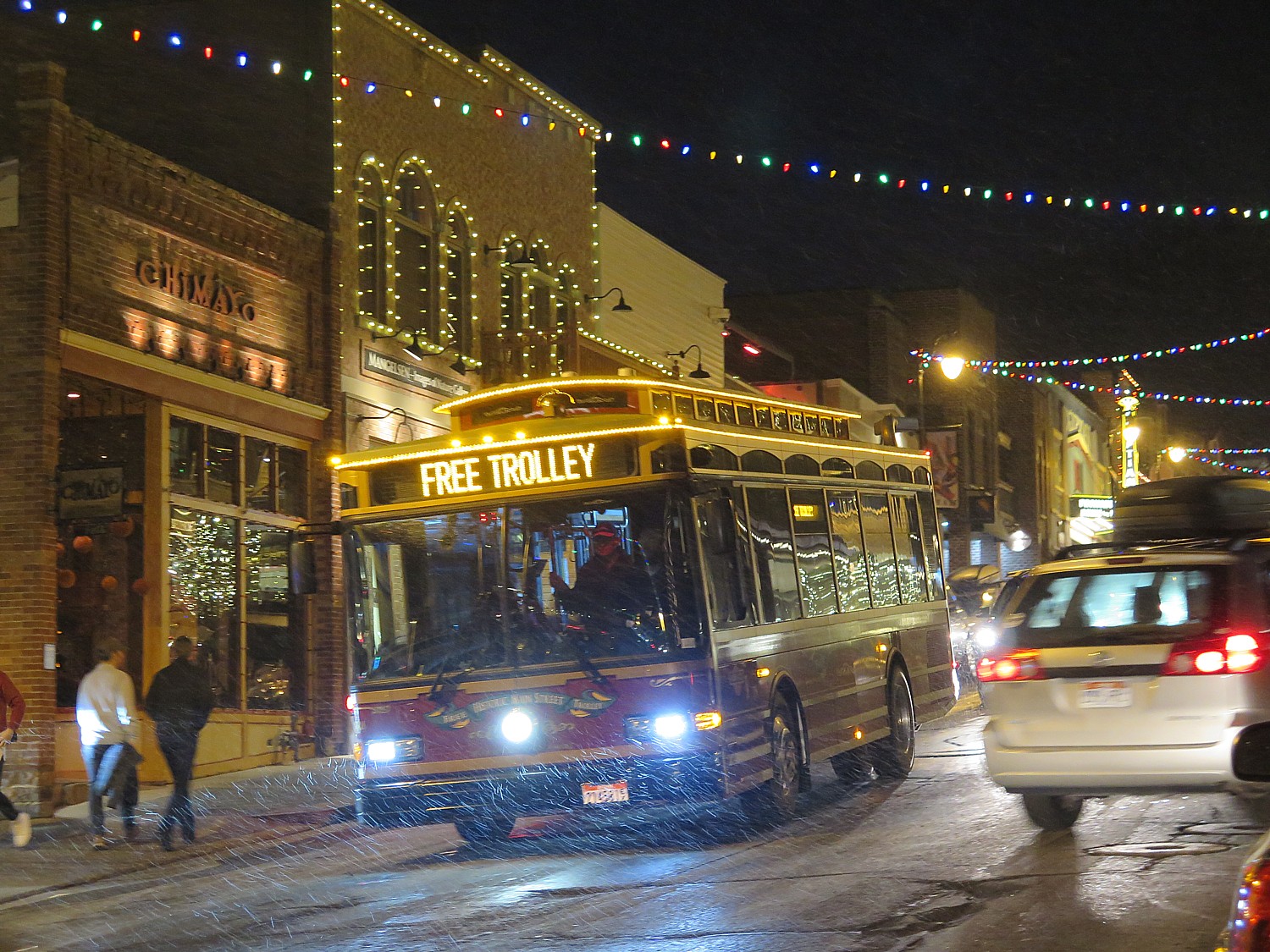 By Karen Rubin, Eric Leiberman & Sarah Falter
Travel Features Syndicate, goingplacesfarandnear.com
Like so many, we have come to Park City for its legendary powder snow and sprawling mountain peaks, home to two major ski resorts, Park City (which since Vail Resorts acquired and combined Park City and The Canyons has become the largest ski resort in the US), and the skiers-only, "retro" Deer Valley Resort.
And besides being one of the easiest world-class ski destinations to reach from every part of the country by air (I literally leave my home on Long Island in the morning and am skiing at Park City Mountain by the afternoon), it affords a perfectly delightful, charming historic town that rounds out the joyful experience.
Which is ideal because one of the major delights of a ski (or any outdoors) holiday is dining out. During our all-too brief stay in Park city, we get to sample the diverse venues.
Just a few blocks long, Park City's historic Main Street really packs it in: one phenomenal gallery, boutique, superb restaurant after another. I visit on three evenings of our four-day stay and find new treasures to explore each time.
Park City was born in a silver mining boom of the 1880s. – today, it extracts a different kind of silver, from tourism – indeed, we are told that Park City has been ranked the most expensive small town in America (surpassing Aspen).
But the 19th century past is still very much on display – I love reading the historic markers outside some of the buildings which collectively tell the story of a town that survived explosions, flooded mineshafts, a town-wide fire in 1898 which burned 200 of the town's 350 structures, snows heavy enough to collapse buildings, and a devastating downturn in silver prices that deflated the town's economy in the mid-1900s, so that by 1951, it was officially named a ghost town. (There is quite a good Park City Museum, 528 Main Street, allocate about an hour.) Sixty-four of the Park City buildings are listed on the National Register of Historic Places. Meanwhile, there are more than 1,200 miles of tunnels that wind through the mountains (Park City Mountain Resort offers an on-mountain Historic Mountain Tour on skis that goes to some of the mine shafts.). There are other charming touches, like the free old-timey trolley, and the decorative lights that are strung across Main Street and around many of the buildings.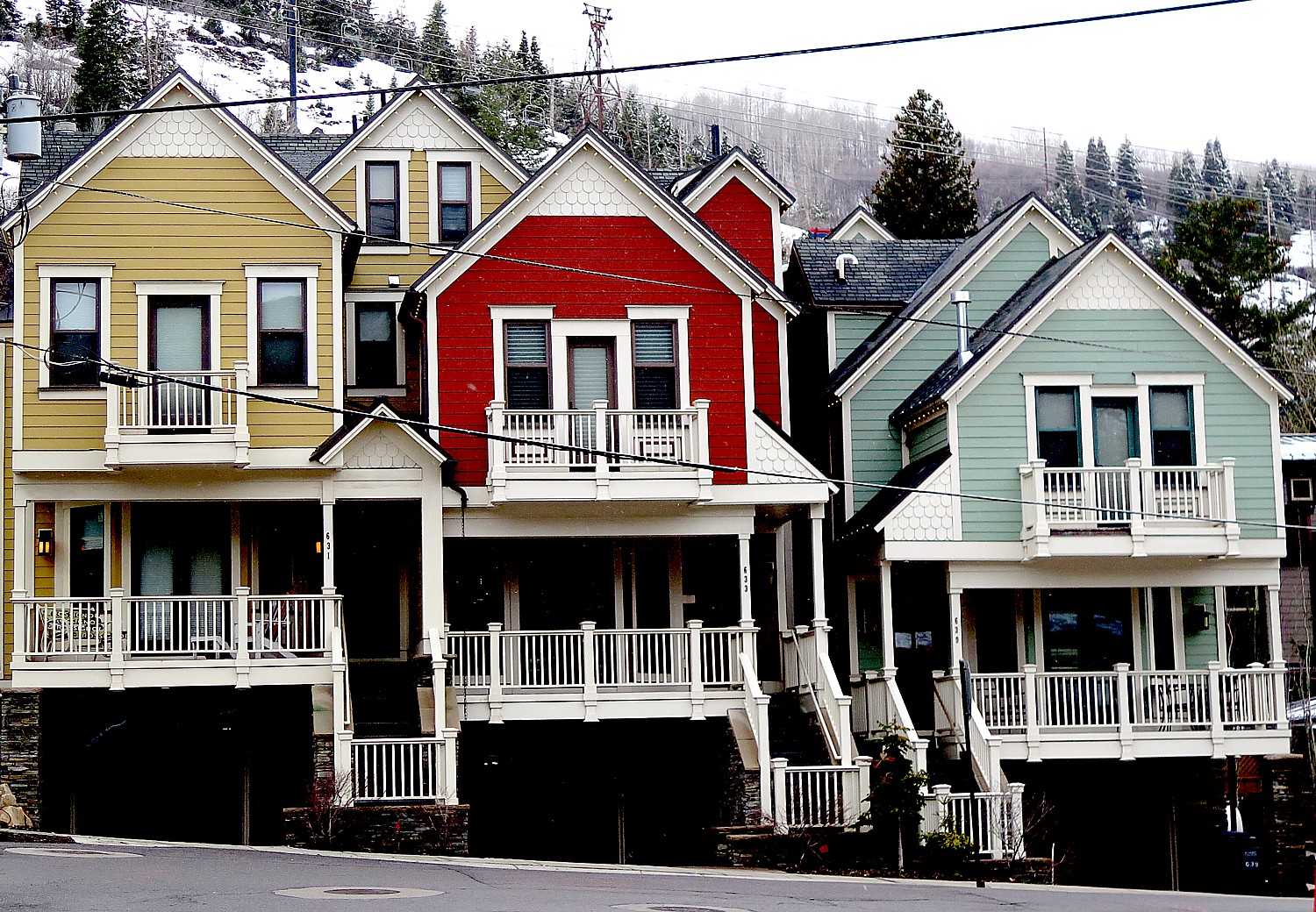 But out of a silver bust has come a new kind of cash boom: Park City today is considered the "most expensive small town" in America (actually surpassing Aspen) which you sense in the high-end galleries, shops and restaurants. Yet, the ambiance is not in the least snobby or elitist. We are struck by how very welcoming and friendly everybody is – from the shopkeepers to the visitors. The town is one perpetual smile.
There are a mind-boggling number of restaurants to choose from – nearly 150 in the area – from cozy bistros, casual eateries ideal for family gatherings, jazz and live-music venues, and fine dining establishments worthy of Michelin stars.
During our all-too brief stay, we get to sample Park City's diverse dining options. After all, a ski holiday is one of the few times you can tell yourself, "I'm on vacation, AND I've spent the day outside burning up calories."
The first place to replenish those calories is at Firewood on Main.
Firewood on Main should be a Park City institution. Though it only opened in December 2016, its chef/owner is John Murcko who is responsible for developing many of the fine dining restaurants throughout Park City (The Farm, in the Canyons village and was named one of "Utah's 25 Best Restaurants" in 2015, is one) and Sun Valley. This is his first restaurant of his own, and you get the feeling it just gives him the freedom to express his passion for culinary creativity. What we love about it is that although the selections and taste combinations are as sophisticated as you might find in the major capital cities of the world, it still is absolutely true, in ingredients and selections (not to mention décor) to its local surroundings. So there are taste sensations that evoke South America (particularly Argentina's penchant for grilling) and Asia, but that still feel right at home in Utah.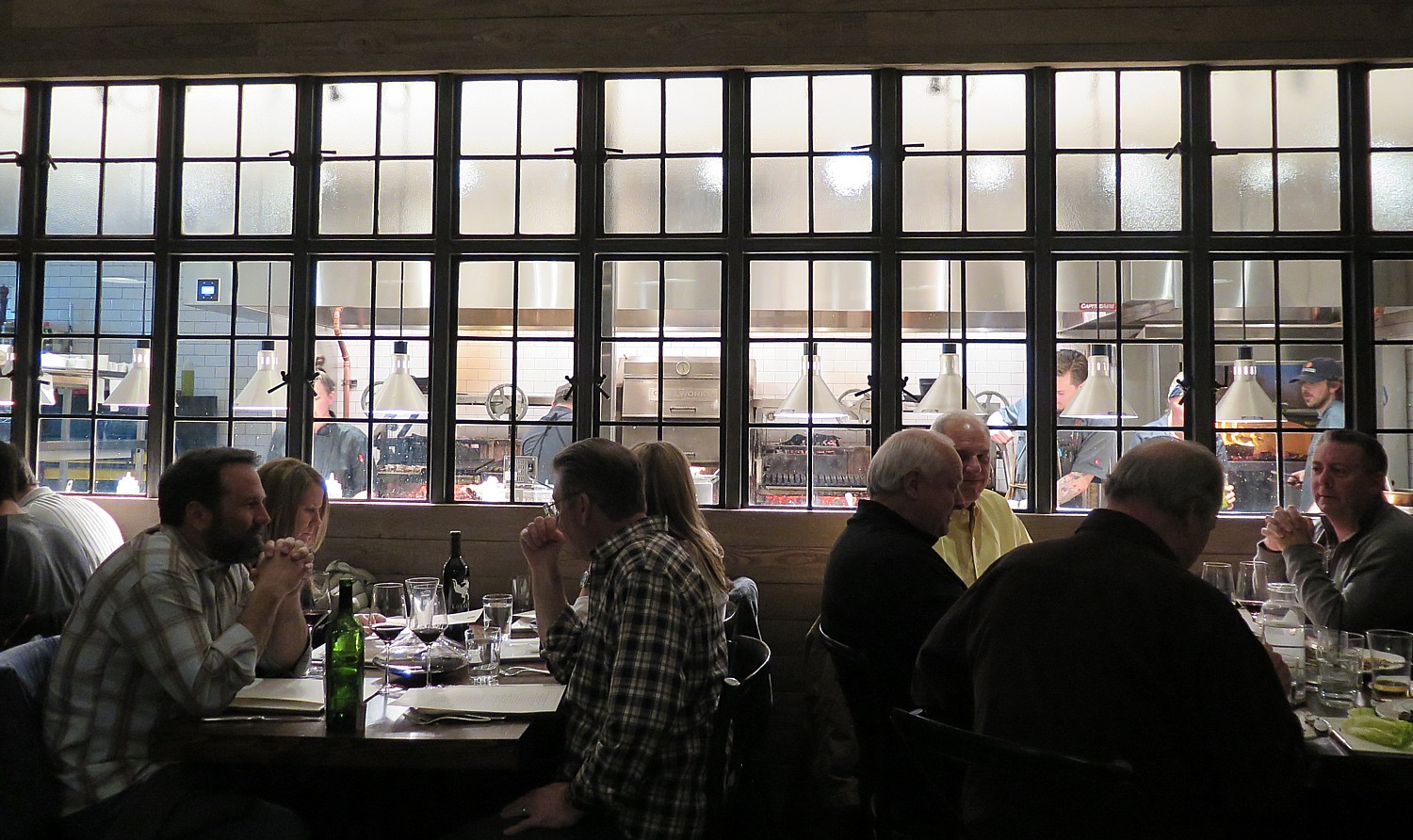 Chef Murcko has done some interesting things: like creating the Chef's Library – a literal tiny, private and separated room connected to the kitchen with a pass-through for the dishes – where you get to create a menu in collaboration with the chef.  There is also a second private dining room, and the Nickel Bar on the basement floor (named for the nickels that fill the bar tabletop) which is appropriately dark and woody.
The main dining room features a set of windows that let you see through to the sprawling kitchen (I like that better than when the kitchen is just open to the dining room). You get to see the activity, as well as marvel at the room-length long open grill, that was custom-built, "the Mazzerati of grills," our server, Sean, notes.
Just about everything is grilled or seared or fired or smoked in some fashion – even the lemon garnish on the cocktail, to enhance its flavor (more about that in a bit).
I love the décor, which I dub "Mountain Moderne." It has a quasi-agricultural/industrial heritage motif – clean lines but woodsy – that  summons Utah heritage with windmill fans that are used as ceiling fans and black-and-white photos that decorate the room. Chef Murcko even crafted the tables himself.
We start off with a batch of appetizers that we share: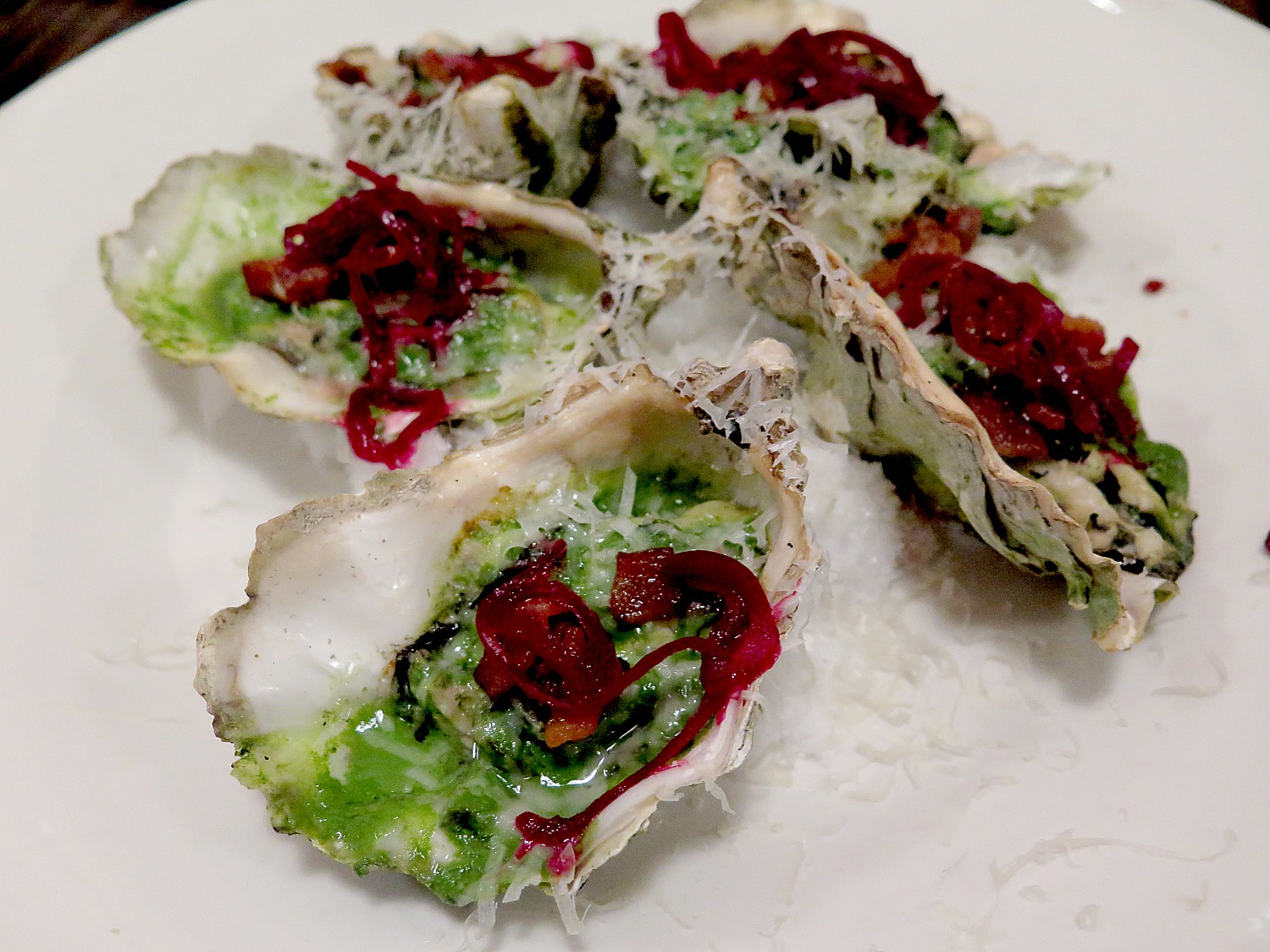 Grilled Oysters with spinach, wood roasted bacon and beet pickled shallot – the oysters are palm-sized huge and are brought in from Washington and Applewood Smoked Burrata with ash roasted beets and herbed pesto; pork belly (for which Firewood is known) prepared with honey wine apple vinegar, red pear and frisee; and fire-braised seasonal wild mushrooms (wood beech, royal trumpets, chanterelles) served with grilled bread. Delectable.
For our mains, we savor Port Short Rib, so succulent and perfectly prepared over creamy polenta, warm dried stone fruit chutney, and heirloom carrots fired on the grill; Rack of Lamb, with black lentil ragu, cipollini onion, eggplant and red chimichurri, had some wonderful Argentinian influences and it too was prepared and presented to perfection; and American Kobe New York (the best of both cultures!) showed off Murcko's penchant for grilling, was sensational, served with rosemary pave, baby shiitakes and duxelle jus.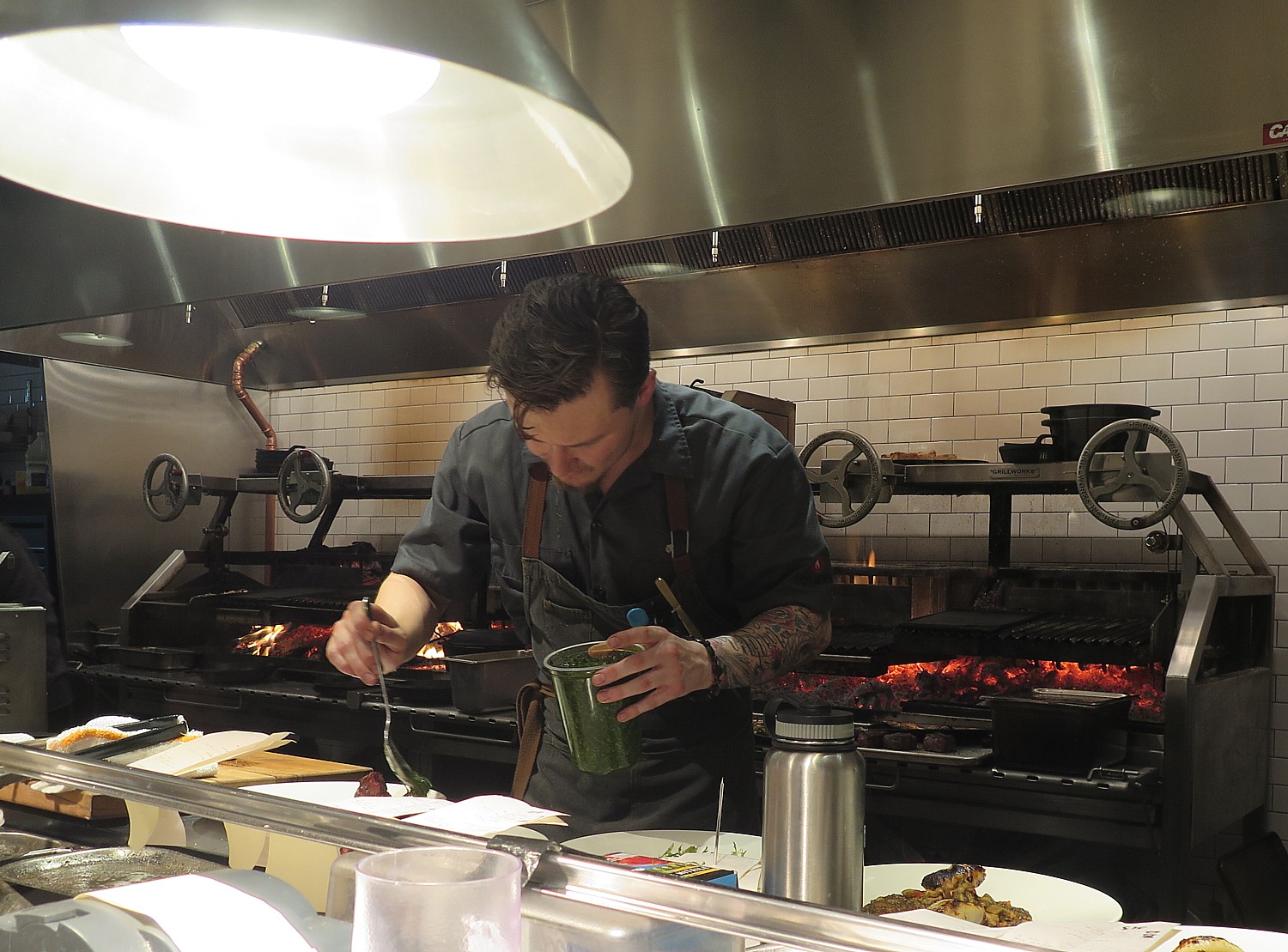 That being said, the menu (which basically touches all cylinders of offerings) shifts nightly to incorporate the freshest seasonal ingredients, locally sourced wherever possible. But the one constant is that everything is cooked over a wood fire. "Chef John Murcko's vision blends the most primitive of cooking methods—open wood flame—with an innovative menu." (Firewood On Main, 306 Main Street, Park City UT 84060, 435-252-9900, firewoodonmain.com).
High West Saloon and Distillery
One of the most popular places to be in Park City is High West Saloon and Distillery. It has the look of being around a century but was opened in 2006 by David Perkins and his wife, Jane. David, a former biochemist, was inspired to open his own distillery after seeing the parallels between the fermentation and distilling process and his own work in biochemistry during a trip to the Maker's Mark Distillery in Loretto, Kentucky. The old-timey look comes from the fact that Perkins opened with just a small, 250-gallon still and Saloon in an historic livery stable and garage.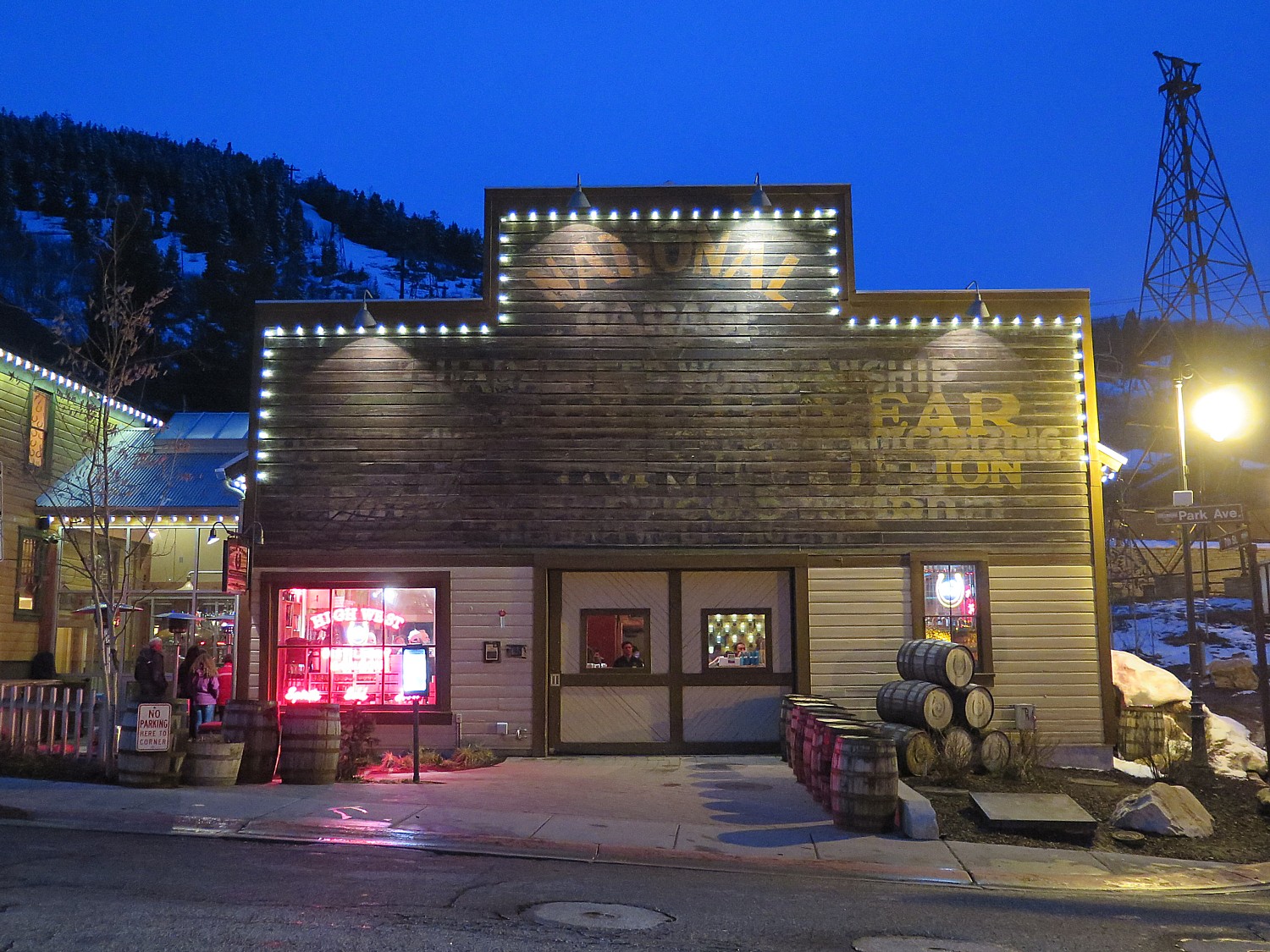 The Saloon features alpine-inspired western fare alongside the original still (you can see it) and the Nelson Cottage offering whiskey-paired dinners. It's  lots of fun and draws huge crowds willing to wait 2 ½ hours for a table (they don't mind sampling the product in the meantime and looking at the traditional 1,600 gallon copper pot still, or perusing the small "general store". Notably, High West was named 2016 Distiller of the Year by Whisky Advocate.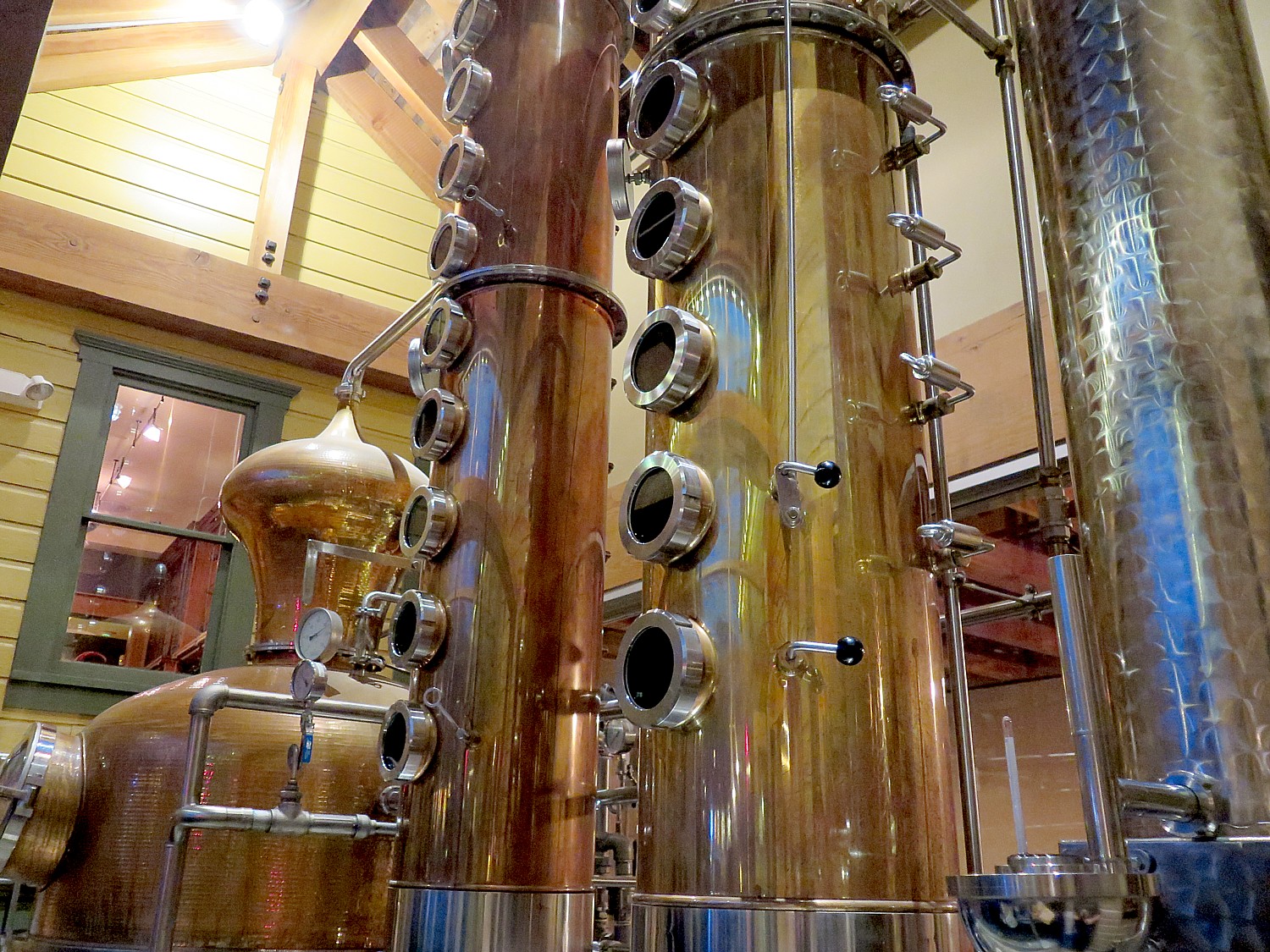 We had a fantastically fresh chicken noodle soup and amazing High West Burger 18, made with a bison and beef blend (wonderfully moist), "proprietary seasoning", broiled aged gruyere, blue cheese, BBQ glazed sweet onion, crispy fried shallots, served with fries. The Distillery also offers tours, which you can book in advance.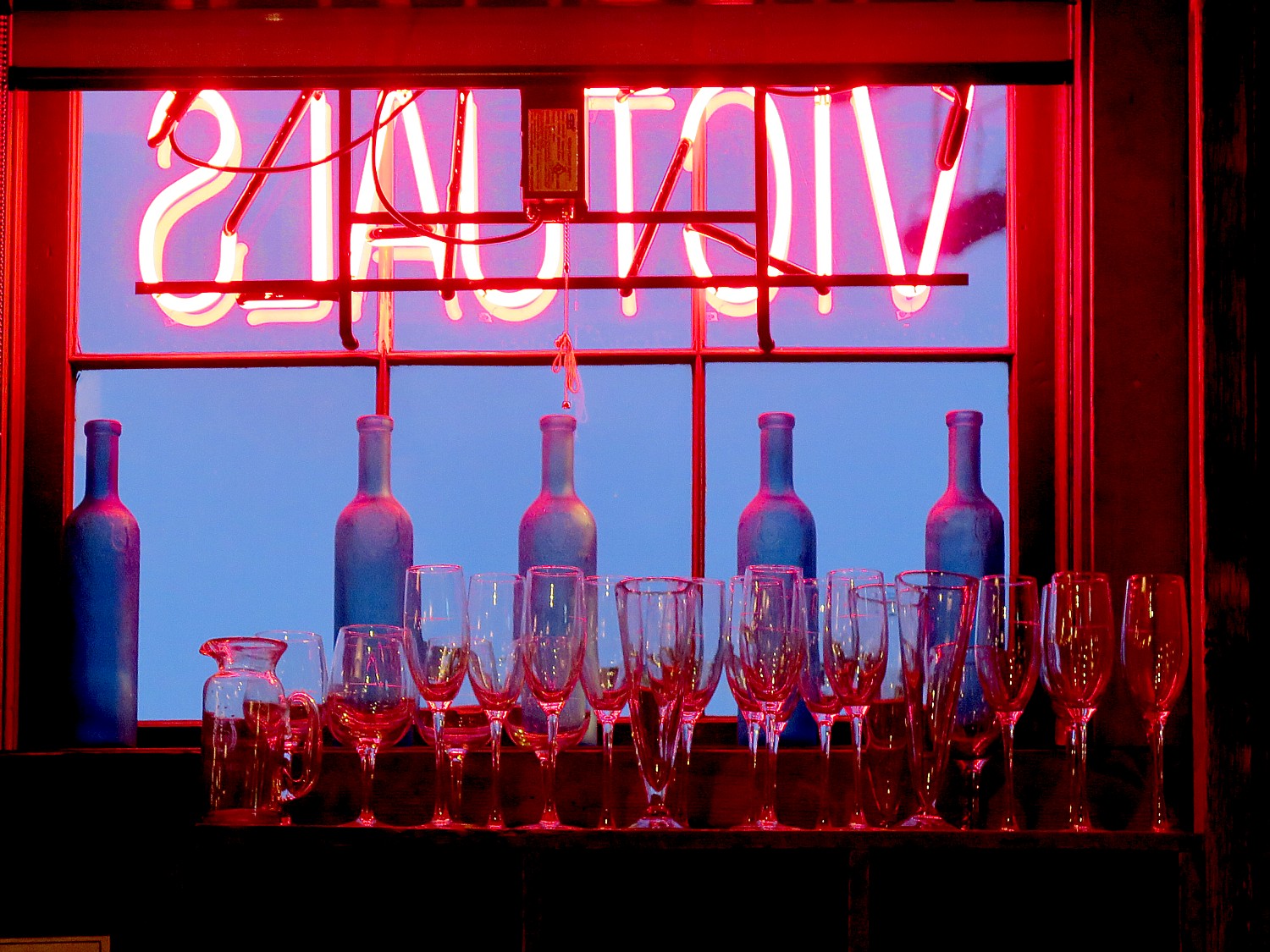 The new High West Distillery and tasting room is located "high in the Wasatch-Uinta Mountains," in Wanship, Utah, 25 minutes outside Park City and 40 minutes from Salt Lake City, and is open Wednesday-Sunday, 10 am to 5 pm).
(High West Saloon and Distillery, 703 Park Ave Park City, UT 84060, 435-649-8300, www.highwest.com).
Silver Star Café
We also got to sample Silver Star Café, which is located at one of the bases to Park City Mountain, one of the venues that regularly features live music.
Here, we enjoyed live jazz by the John Flanders Jazz Trio in a most comfortable dining room that made you feel more like being in a living room than a restaurant, with long banquettes and loads of pillows that is clearly a favorite with regulars and locals.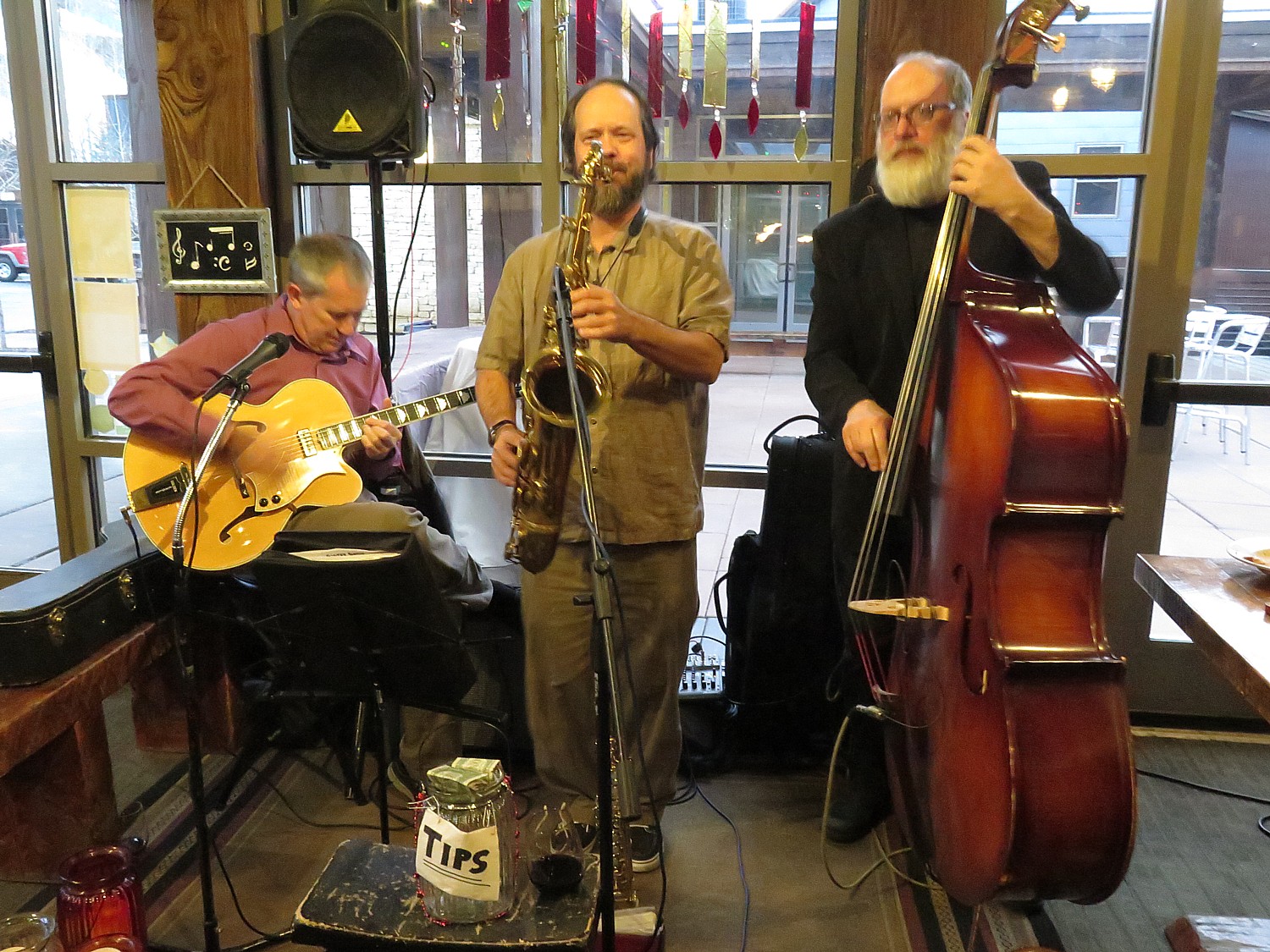 We thoroughly enjoyed the freshness and flavor combinations of the appetizers and salad: General Tso's Pork Belly Wrap prepared with Butter lettuce, pickled chilies, toasted peanuts; Warm Roasted Brussels Sprout Salad with pomegranate seeds, toasted hazelnuts, pickled onion, pomegranate-balsamic dressing; Winter Greens & Apple with radicchio, arugula, endive, candied pecans, grapefruit vinaigrette.
The mains offered wonderful choices:
Pork Osso Bucco (a house specialty), featured Niman Ranch pork shank, fresh tomatillo salsa, coconut creamed corn, Queso Fresco, pork jus; Boneless Buttermilk Fried Half Chicken is prepared in a distinctive way  and served with Red beans & rice, braised greens, Carolina BBQ; Seared Elk Burger, 8 oz. of our signature elk-bacon blend, fig-cherry mostarda, bacon burger sauce, served with hand-cut fries on a toasted Ciabatta bun.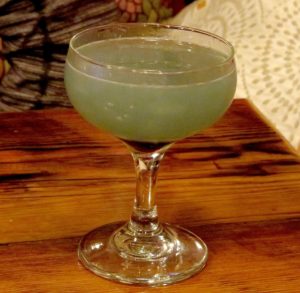 James Root, the manager who is an award-winning mixologist, let's us sample a cocktail he had only just devised: "Lost at Sea" contains Beehive Gin, Absinthe, lime and crème de violette with a cherry set at the base of the glass. It is built about Absinthe, a spirit with a colorful reputation of having been banned and therefore embraced by Parisian artists, bohemians and literati like Hemingway (it was falsely accused of having hallucinogenic properties). What I love about it is that it isn't too sweet but has an air of intrigue. (Silver Star Cafe. 1825 Three Kings Drive Park City, UT 84060. 435-655-3456. [email protected], www.thesilverstarcafe.com)
Galleries Galore
The art galleries are simply breathtaking. The last Friday of each month is a free Park City Gallery Stroll that lets visitors and locals alike the opportunity to enjoy light refreshments while discovering what's on in the galleries; from 6-9 pm, members of the Park city Gallery Association offer a showcase highlighting artists, special exhibits and art events.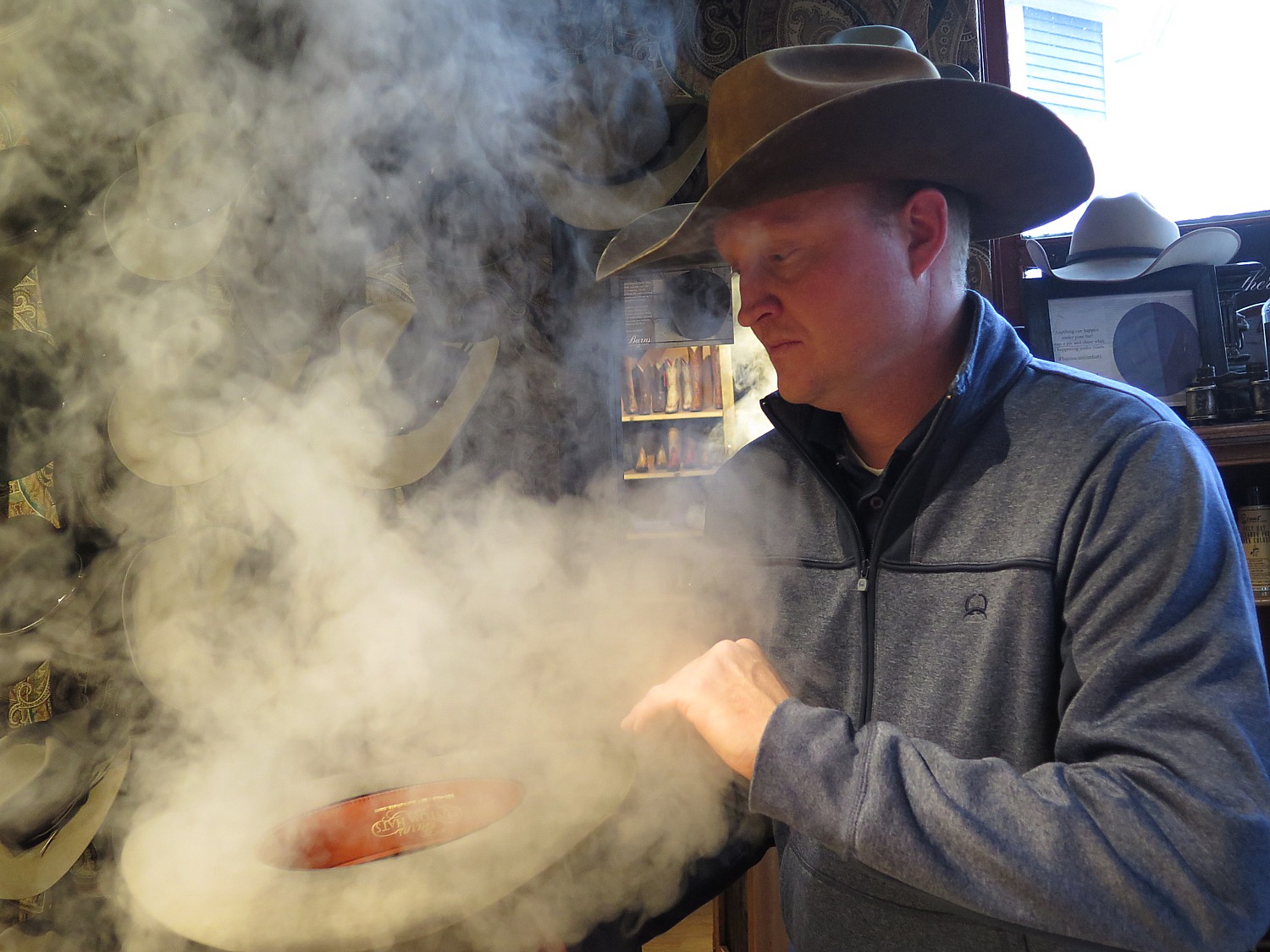 At Burns Cowboy Shop on historic Main Street, family owned since 1876, one of oldest family owned western shops in US (the boots just take your breath away),  I meet Jake Quarnberg, the hat shaper, who is steaming a hat and patiently explaining the process to two girls who listen completely enthralled. Quarnberg who used to be a cattle rancher in Utah, grew up with the 6th generation Burns.
Year-Round Destination 
Park City is very much a year-round destination – after the snow melts, the mountain bikers and hikers take over.
Park City offers festivities and festivals year-round, the most famous being the Sundance Film Festival when as many as 40,000 come to town each January (remarkably, few actually ski so the slopes are relatively empty).  But the whole calendar is chock-a-block with special events: beginning in June, the Park silly Summer Market festival, each Sunday, showcasing local produce and artisan crafts; in July,  Independence Day parade, and Park City Food & Wine Festival; in September, Autumn Aloft hot air balloon festival; in October, the Howl-O-Ween dog parade, to list just a few that have built the town's reputation as the "Festival City of the Rocky Mountains."  There is also the Park City Institute's concert series; performances at the picturesque Egyptian Theater ("Annie the Musical" was being performed during our visit).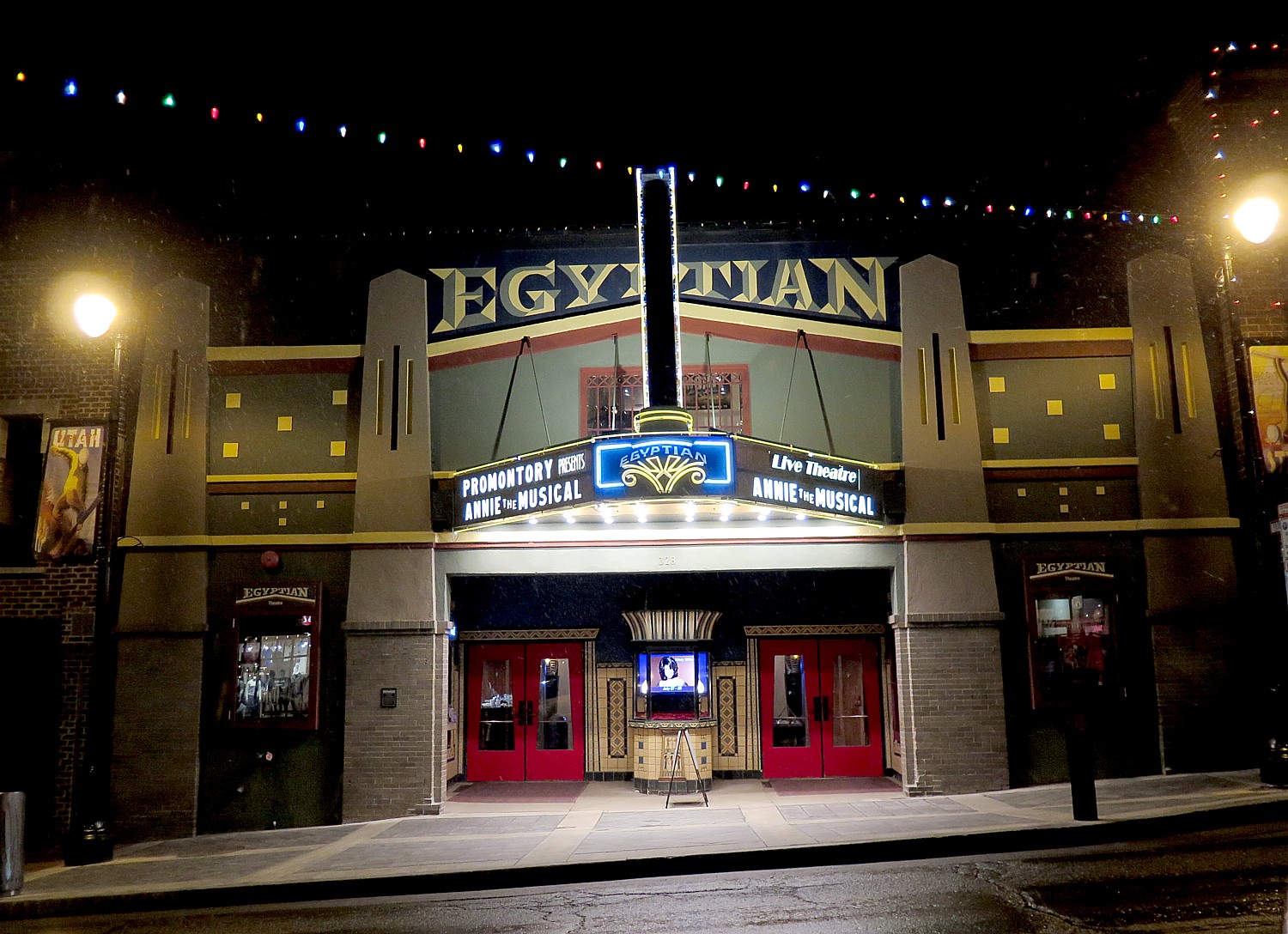 There are more than 100 lodging properties to choose, from on-mountain hotels, condos and full-service luxury hotels with ski-in/out convenience, to multi-family private homes, bed and breakfast inns, downtown properties (you can hop on the Town Lift to the Park City Mountain base).
Park City, Utah is arguably North America's most accessible mountain recreation destination, just 35 minutes from Salt Lake City International Airport with convenient service from everywhere. Park City – home to Deer Valley Resort and Park City Mountain Resort and the Utah Olympic Park – affords more than 400 miles of public trails offering year-round outdoor recreation.
Excellent travel planning assistance is provided by the Park City Chamber of Commerce, Convention & Visitors Bureau, 800-453-1360, www.visitparkcity.com.
See also:
Park City Mountain, Utah: Biggest Ski Area in US is One of Easiest to Reach
Deer Valley, Utah is Skiers' Only Paradise with Retro, Refined Vibe
____________________
© 2017 Travel Features Syndicate, a division of Workstyles, Inc. All rights reserved. Visit goingplacesfarandnear.com,  www.huffingtonpost.com/author/karen-rubin , and travelwritersmagazine.com/TravelFeaturesSyndicate/. Blogging at goingplacesnearandfar.wordpress.com and moralcompasstravel.info. Send comments or questions to [email protected]. Tweet @TravelFeatures. 'Like' us at facebook.com/NewsPhotoFeatures