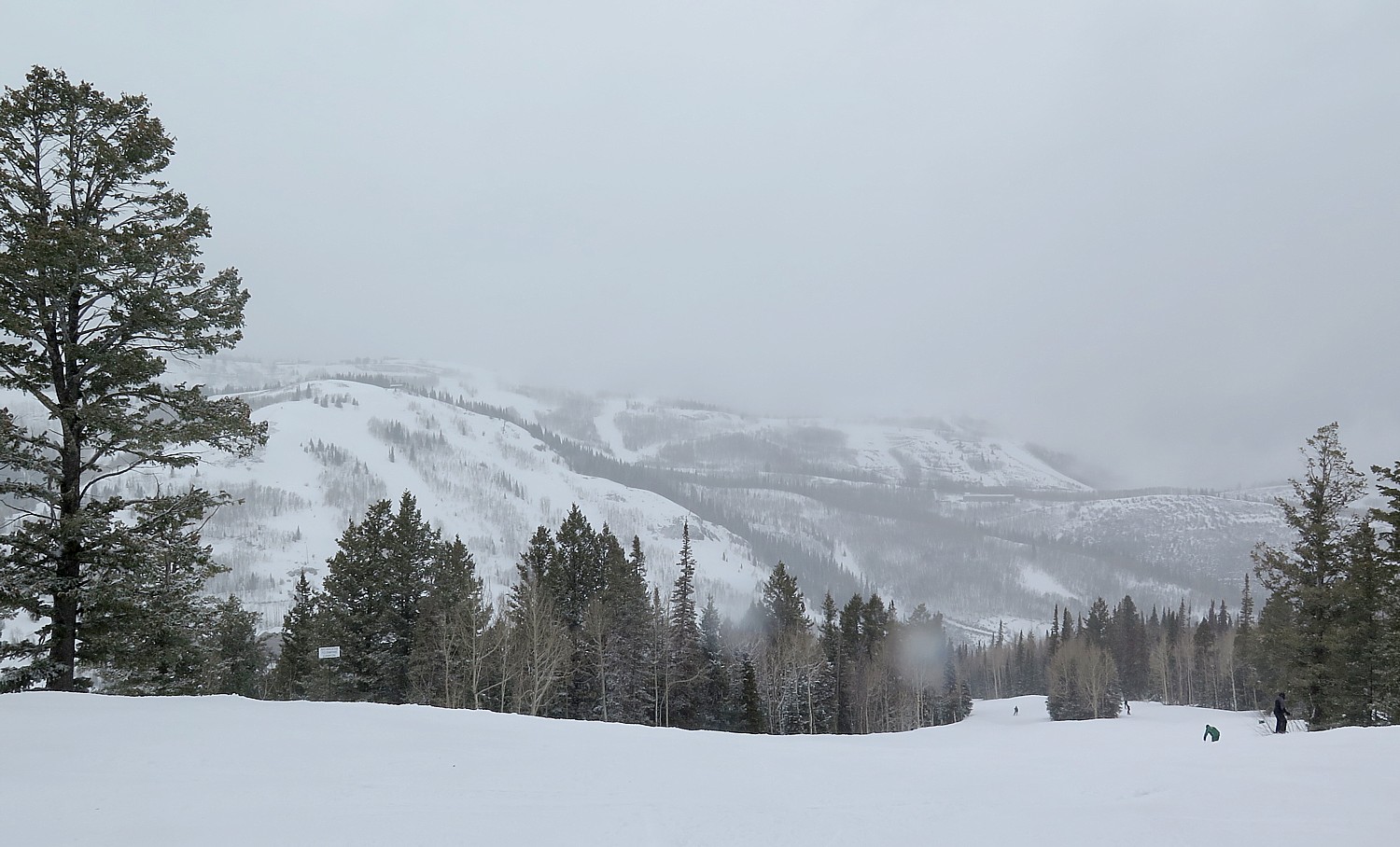 By Karen Rubin, Eric Leiberman & Sarah Falter
Travel Features Syndicate, goingplacesfarandnear.com
Park City is a veritable skiing metropolis so close to Salt Lake City (35-45 minutes drive), it may well be considered the suburbs rather than this vast Nature's playground. Not only do you have Park City and Canyons (now combined under the Vail Resorts OneParkCity banner, making it the largest ski resort in the United States), but literally next door is Deer Valley Resort.
Deer Valley Resort is one of the only ski areas in the country that is skiers'-only (Alta, Utah is another). This makes for an old-school, European, retro atmosphere – dare we say dignified? sedate? quaint? As a skier, you don't have that constant frantic feeling when you hear the looming scrapping sound building in intensity as snowboarders, tearing up the mountain, come upon you, like Jaws. You don't have that hip, counter-culture vibe that tends to surround snowboarders. It is frankly more peaceful, calm, quiet.
Deer Valley has a deserved reputation of being ultra-luxurious – there are uniformed ski valets to help you with your equipment, parking lot shuttles, free overnight ski storage, groomed-to-perfection slopes, fine dining experiences in three day lodges, complimentary tours led by Mountain hosts and limited lift ticket sales so that the slopes are never crowded. It feels less like a resort and more like a country club.
It also offers luxurious on-mountain accommodations – indeed, it is the home of the world-famous, five-star Stein Ericksen Lodge which has held the title of  "World's Best and United States' Best Ski Hotel" as well as the St. Regis Hotel, a Starwoods hotel, which is accessed by its own funicular from the parking lot.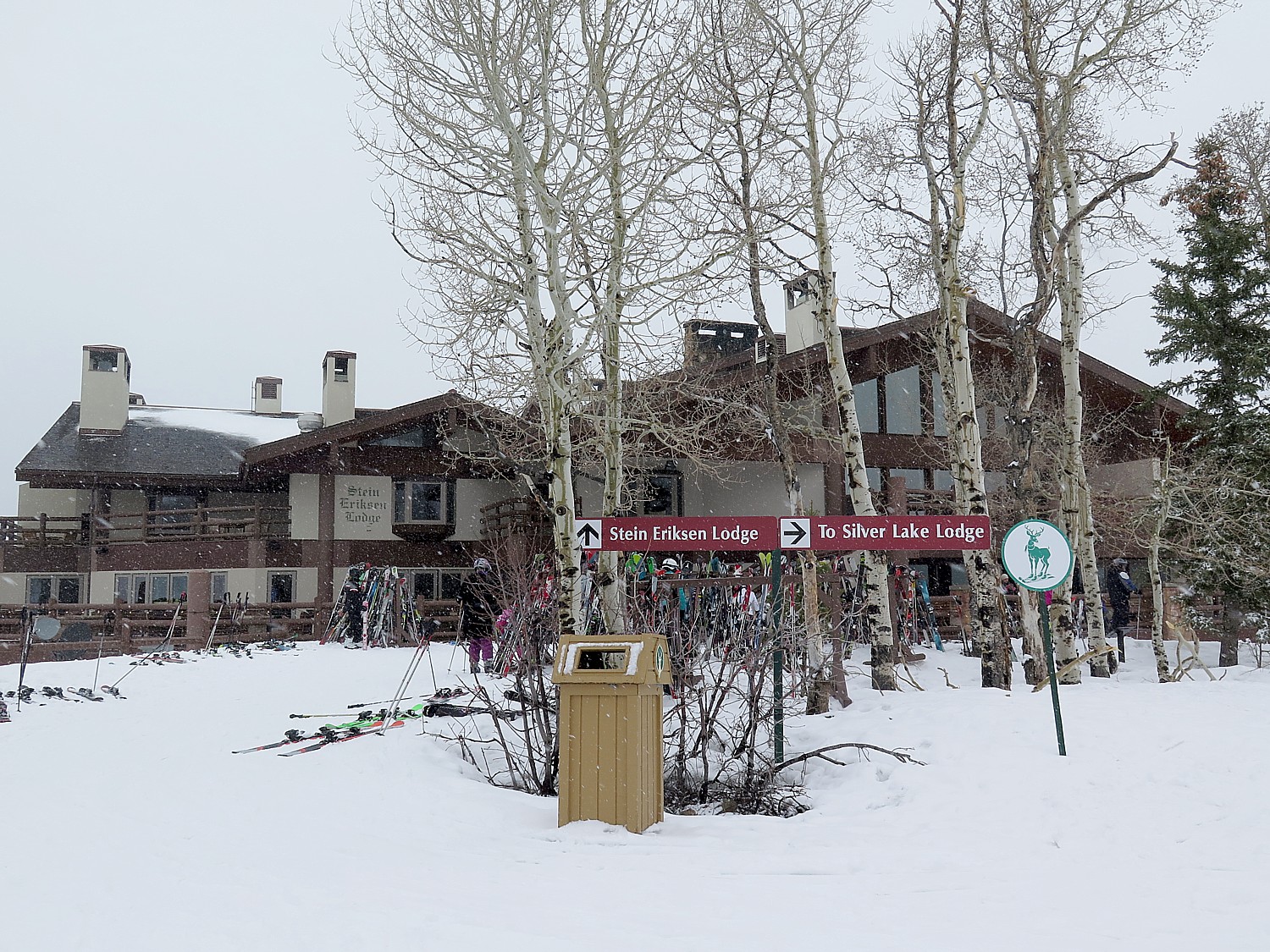 Yet, to our eye when we visited during the last couple of week's of the season, it seemed unpretentious. Or perhaps that is just because of the relaxed feeling that pervades.
Deer Valley affords 2,026 skiable acres over six mountains (about the size of Killington and Pico, Vermont, combined), six bowls, two chute areas. It offers a vertical rise of 3,000 feet to the highest summit, Empire, at 9570 ft. The longest run is 2.8 miles. There are 21 lifts including a high-speed gondola, 12 high speed quads, one fixed grip quad, five triples and two doubles.
Of Deer Valley's 101 trails, 27% rated "easier", 41% more difficult and 32% most difficult, making it ideal for families, new skiers and skiers of all abilities.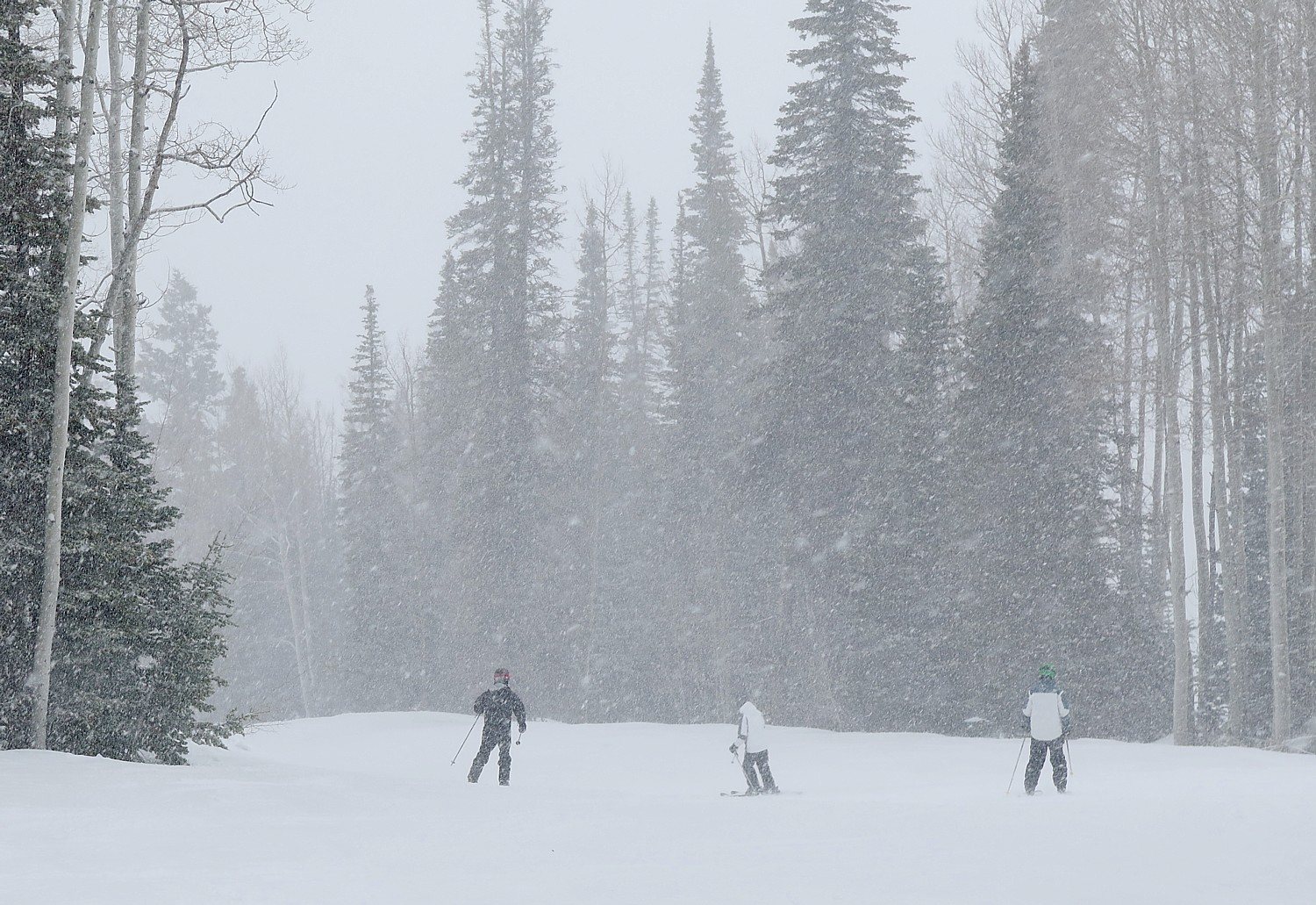 It is a snowy, foggy, generally wet day when we visit, but that doesn't interfere with the enjoyment. Here too, the mountain is so vast, first-timers to the resort need directions to get to the peak you want to ski if you are particular (I am still working out my confidence issues, especially when visibility is a factor). A mountain Ambassador helpfully maps out for us where we will find the peak with the best selection of intermediate trails to get me started. That's Flagstaff Peak, where we head.
Eric has exchanged his snowboard for skis – skiing for the first time in years – and immediately leaves Sarah and me in the proverbial "dust."
After a few runs, Eric and Sarah go off to the more challenging Empire Peak (summit at 9570 ft., highest among Deer Valley's six peaks), with only blue and black trails from the summit.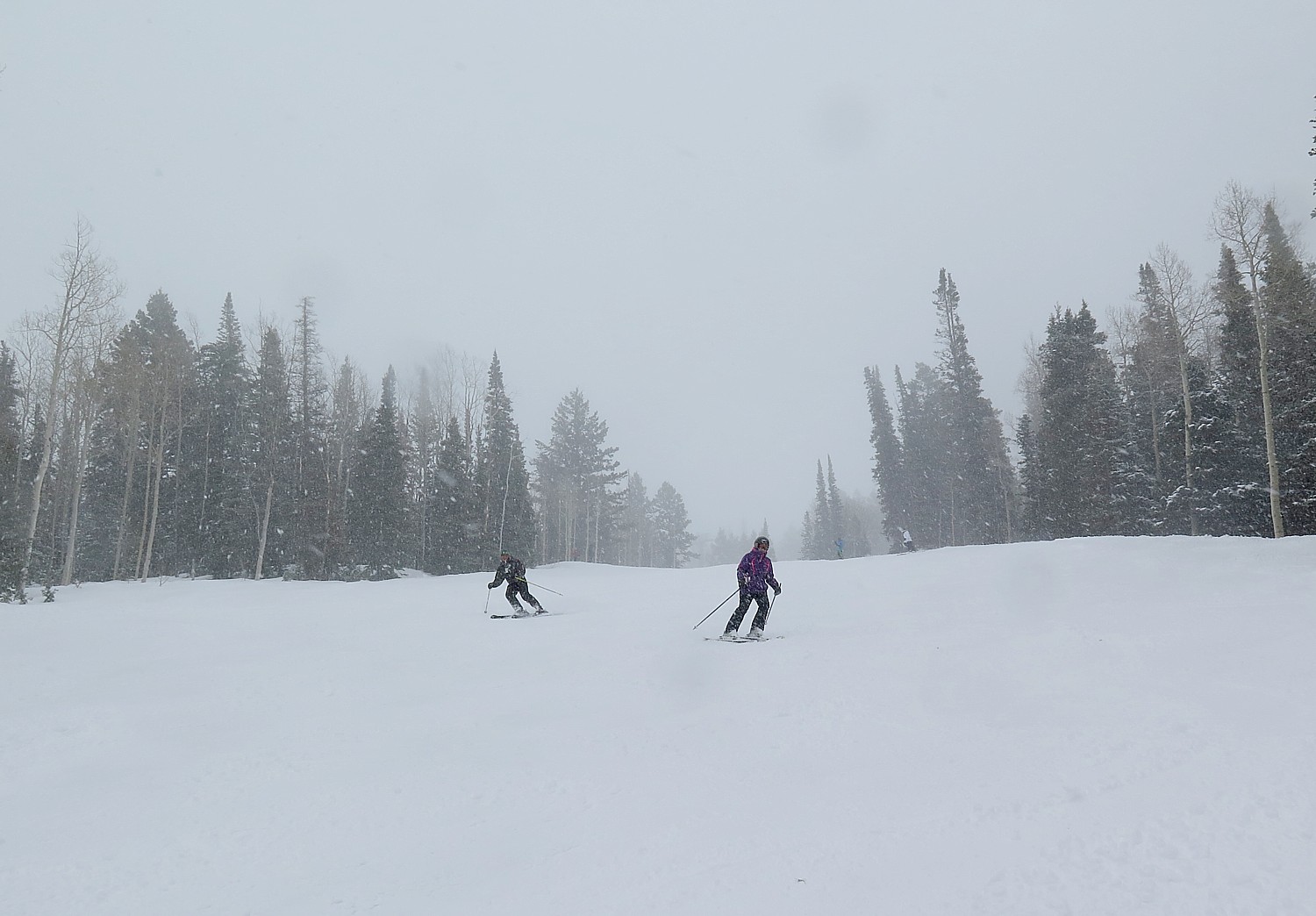 The Empire lift offers some wonderful intermediate tree skiing (not very steep, trees are nicely spaced), so Sarah, who had never skied through glades before, gives it a try. She absolutely loves the experience — it's so quiet and peaceful in the trees, and the snow tends to be the softest on the mountain. It really feels like it's just you and the mountain.
I continue to get my rhythm on Flagstaff (summit at 9100 ft.) with a delectable selection of blue and green trails.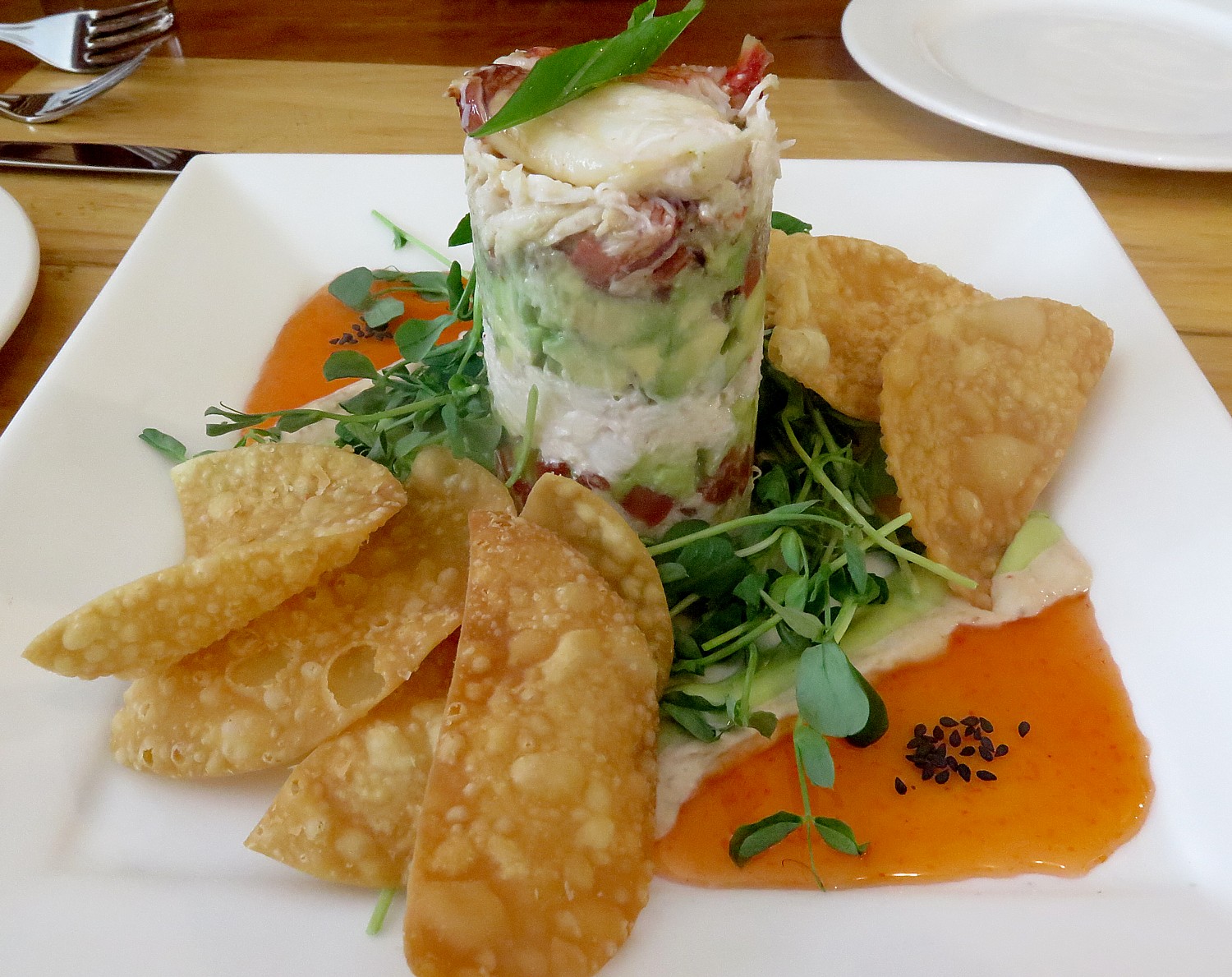 We meet for lunch at the Royal Street Café in the Silver Lake Lodge – a full-service restaurant with a lovely firepit in the middle, serving breakfast, lunch, dinner, snacks and après ski from 11:30 am to 8 pm. The menu is delightful – creative American and international casual cuisine. Our waiter, Alex, makes some marvelous suggestions and we start off with Fresh Dungeness crab tower, made with fresh crab from Washington, avocado tomato crispy spiced wontons, and sauces is wasabi, soy and sweet chili. Sarah and Eric share a Maple Bacon BBQ Bison Burger, made from scratch and served with smoked habañero cheddar, sautéed onions, guacamole, barbeque sauce, habañero aioli, Tuscan bun and garlic-herb-parmesan shoestring fries; and grilled fresh ahi served with mango-avocado salsa, southwest slaw, smoked habañero mayonnaise, crisp corn tortilla shells or grilled fresh white corn tortillas (www.deervalley.com/Dining/wheretoeat/RoyalStreetCafe).
Eric and Sarah go off for even more challenging runs while I happily keep putting on the miles on the blue trails on Flagstaff Mountain.
Another option would be to take the Silver Lake Express to the Sterling Express quad up to the 9,400-foot summit of Bald Mountain. There, you have your choice of runs down the mountain or take the Wasatch and Sultan Express quads at the base back up to this beautiful peak. Intermediate and advanced skiers will enjoy Little Baldy Peak and the long run down Jordanelle, named for its sweeping views of Jordanelle Reservoir on the resort's east face. Then, take the scenic gondola ride back up the mountain.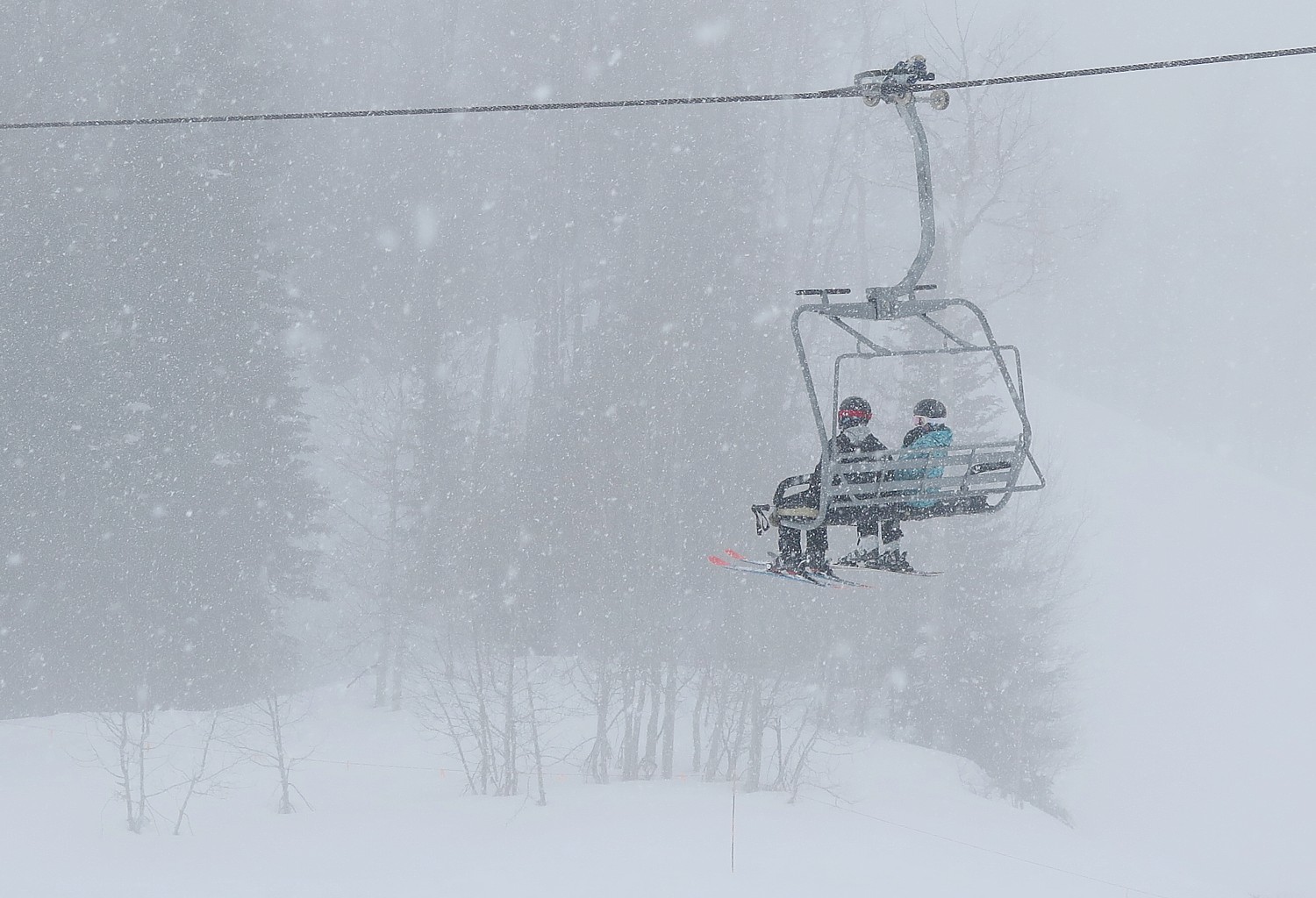 You can follow in the tracks of the 2002 Olympians. Know You Don't and Champion were sites for alpine slalom and freestyle mogul events. There's no need to pick one or the other — just ride back up on the Carpenter Express. Champion is where local skier Shannon Barhke won silver in 2002, and it's a favorite run for another local, 2010 mogul bronze medalist Byron Wilson. Deer Valley, like the other Park City-area resorts, also features the Nastar Ski Racing slalom experience.
Summer at Deer Valley
We are at Deer Valley in the closing days, but in mid-June, the mountain resort transforms for summer: pristine mountain biking trails, hiking, chairlift rides, al fresco dining, a children's adventure program, and outdoor concerts at the Snow Park Outdoor Amphitheater featuring headlining musicians, world-renowned artists and local bands.
Deer Valley Resort, 2250 Deer Valley Drive South, Park City, UT 84060. Where to stay, what to do, packages and deals and other visitor planning tools are at www.deervalley.com, 800-424-3337, 435-649-1000.

Park City, Utah is arguably North America's most accessible mountain recreation destination, just 35 minutes from Salt Lake City International Airport with convenient service. Park City offers over 100 lodging properties including bed and breakfast inns, condominiums and full-service hotels. Park City is home to Deer Valley Resort and Park City Mountain Resort and more than 400 miles of public trails offering year-round outdoor recreation. The area boasts 150 restaurants, stunning boutiques and galleries lining Historic Main Street, plus attractions such as the Utah Olympic Park.
For travel planning assistance, contact Park City Chamber of Commerce, Convention & Visitors Bureau, 1850 Sidewinder Drive #320, Park City, Utah, 800-453-1360, www.visitparkcity.com.

See also:
Park City Mountain, Utah: Biggest Ski Area in US is One of Easiest to Reach
See next:
Historic Park City, Utah Delights Diners, GalleryStrollers, FestivalGoers
____________________
© 2017 Travel Features Syndicate, a division of Workstyles, Inc. All rights reserved. Visit goingplacesfarandnear.com,  www.huffingtonpost.com/author/karen-rubin , and travelwritersmagazine.com/TravelFeaturesSyndicate/. Blogging at goingplacesnearandfar.wordpress.com and moralcompasstravel.info. Send comments or questions to [email protected]. Tweet @TravelFeatures. 'Like' us at facebook.com/NewsPhotoFeatures