By Karen Rubin, Travel Features Syndicate, goingplacesfarandnear.com
The results are in: Darkest Hour, a new film starring Gary Oldham as Winston Churchill, is the winner of Best Narrative Film at the 7th Annual Gold Coast International Film Festival. Best Documentary award was a tie: Underfire: The Untold Story of PFC Tony Vaccaro, the World War II soldier turned war photographer, who attended the sell-out screening, and the Long Island premiere of Dare to Be Different, about WLIR 92.7, the influential Long Island radio station on the cutting edge of music in the 1980s.
In all, the festival, now in its 7th year, screened more than 80 films from 12 countries – 36 of them Long Island premieres – with Q&As with dozens of visiting artists including directors, producers, and grandchildren of famous film subjects: Winston Churchill's granddaughter, the artist Edwina Sandys; Frank Sinatra's granddaughter, AJ Lambert who attended the 60th anniversary screening of the movie musical Pal Joey, and David Ben-Gurion's grandson, Alon Ben-Gurion, after the screening of an extraordinary documentary based on six-hours of recently uncovered candid conversations with Israel's founding father.
A record 15 of the screenings were sell-outs; the film-festival drew 4500 audience goers of all ages and backgrounds, from all over Long Island and the metro area – 175 different zipcodes.
"People think film festivals are elitist – but that's not what we're about," said Festival Director Caroline Sorokoff. The festival featured "Free Film Friday," with presentations of the movie classic "Sergeant York," starring Gary Cooper; family short films at the Great Neck Library, and film shorts at the Port Washington Library (with a Q&A with Israeli filmmaker Yaniv Segalovich, director of An Average Story, Letiferet, who joined Alexandra Gil, curator of the Gold Coast International Film Festival's short films; the film won an audience award).
"Hundreds of people took advantage." And this year, veterans could come to any screening for free, thanks to a grand from GEICO.
The Gold Coast International Film Festival is distinguished by the fascinating events that are organized with the screenings – Q&As with producers, directors, actors, experts and people associated with the films.
Indeed, a highlight of the festival was the Long Island premiere (two weeks before general release) of Darkest Hour, featuring Academy Award nominee Gary Oldman's brilliant performance as Winston Churchill and the terrifying early days of his appointment as Prime Minister as Hitler's forces were taking over Europe and threatening an invasion of the British Isles. It was Britain's darkest hour. And like the movie "Lincoln", and "Thirteen Days" about John F. Kennedy and the Cuban Missile Crisis, which shows the backstory of a key "moment" in pivotal history, we learn of how he had to overcome intense opposition from political rivals, and the diabolical choice he faced: negotiate with Hitler to save British lives at a terrible cost or rally the nation and fight on against incredible odds. Gary Oldman brilliantly portrays the first dark days of Churchill as Prime Minister. Directed by Joe Wright, the screening at the Soundview Cinemas in Port Washington, featured a Q&A with Churchill's granddaughter, the artist Edwina Sandys, a young child during this time, who spoke nostalgically and lovingly of her grandfather and grandmother, Clementine.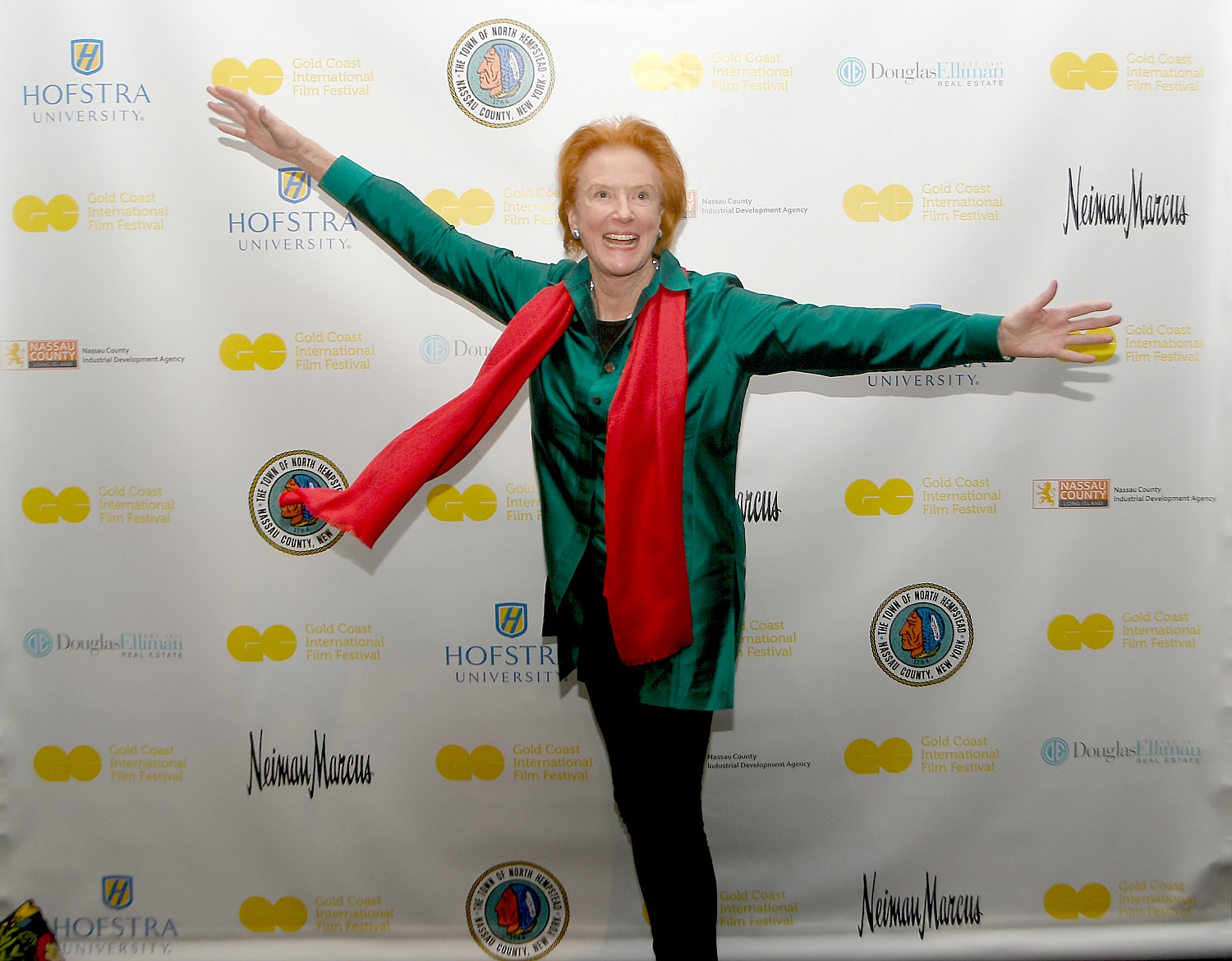 Underfire: The Untold Story of Pfc. Tony Vaccaro is the remarkable story of WWII infantryman and legendary photographer Tony Vaccaro, who created one of the most comprehensive, haunting and intimate photographic records of the war using a smuggled $47 camera while developing the negatives in his helmet at night. Tony Vaccaro, himself, along with Director Max Lewkowicz and Producer Valerie Thomas participated in a post-screening Q&A session, followed by the opening reception of Tony Vaccaro's acclaimed, wartime and celebrity photography at the Gold Coast Arts Center Gallery in Great Neck (on view through February).
The Long Island Premiere of Dare to Be Different had three sold-out screenings, and featured a Q&A with Director Ellen Goldfarb and Executive Producer and former WLIR Program Director Denis McNamara, plus a host of other special guests, including artists and DJs featured in the film. It was an event that could only happen on Long Island, where WLIR brought new wave music to America. WLIR helped launch the careers of U2, Talking Heads, Depeche Mode, Blondie, Duran Duran, Tears for Fears, The Clash, and The Cure, among others. Special guests attending the premiere include Larry "The Duck" Dunn, Michael "Eppy" Epstein, Max Leinwand, Steve North, Carol Silva, Donna Donna and "Malibu Sue" McCann.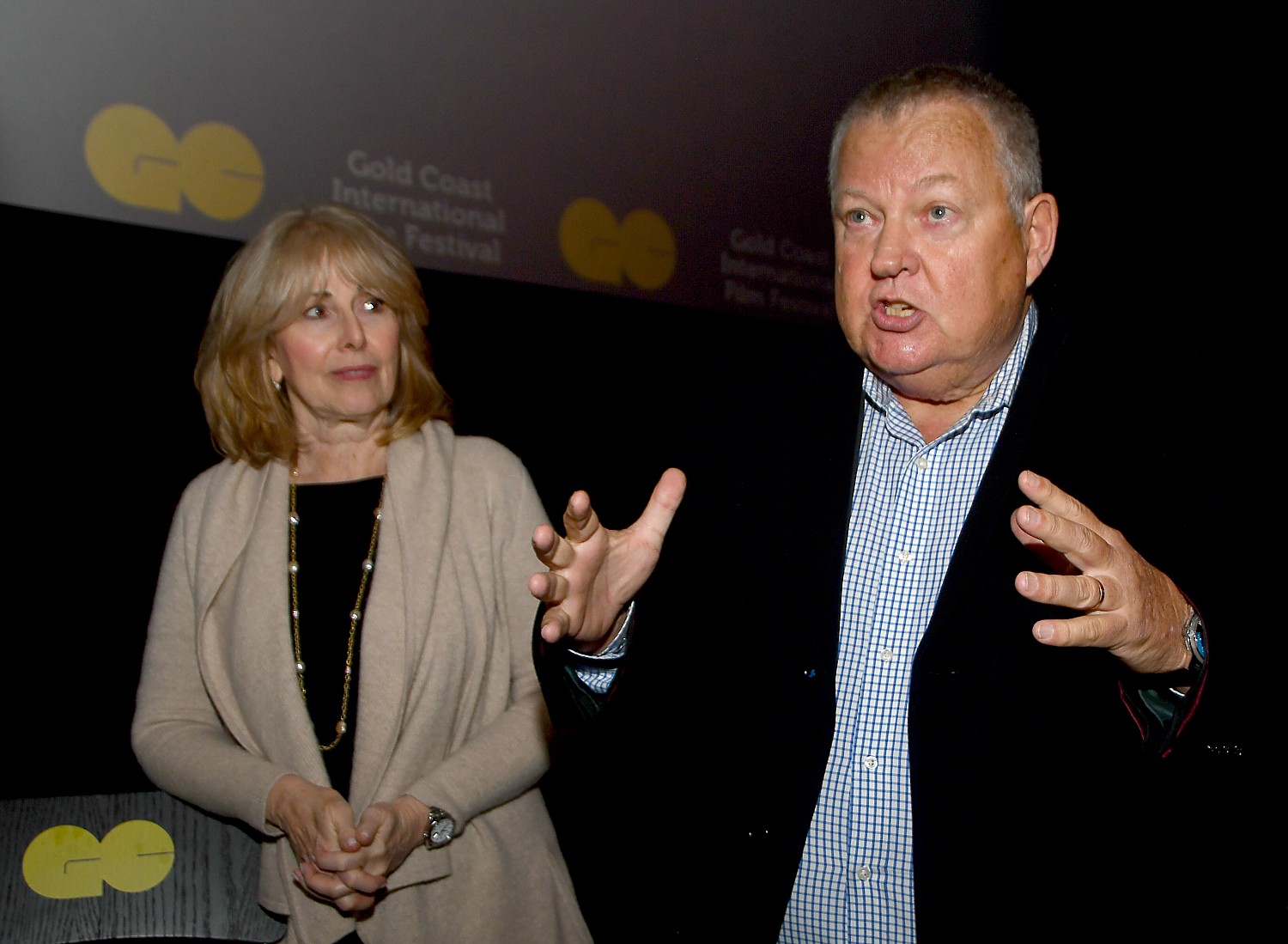 Ben-Gurion: Epilogue, a stunning documentary compiled from six hours of never-before-seen footage, of newly discovered conversations with Israel's founding father presents  a rare and fortuitous piece of cinematic archeology – it's as if film was found of candid conversation with George Washington. Watching, you realize you are seeing a work of undeniable historical significance with prophetic implications for Israel's future. Presented in Partnership with American Friends of Soroka Medical Center to a standing-room-only audience at the Bowtie Cinema in Great Neck, the screening featured an extraordinary Q&A with Ben-Gurion's grandson, Alon, who spoke personally of time spent with his grandfather.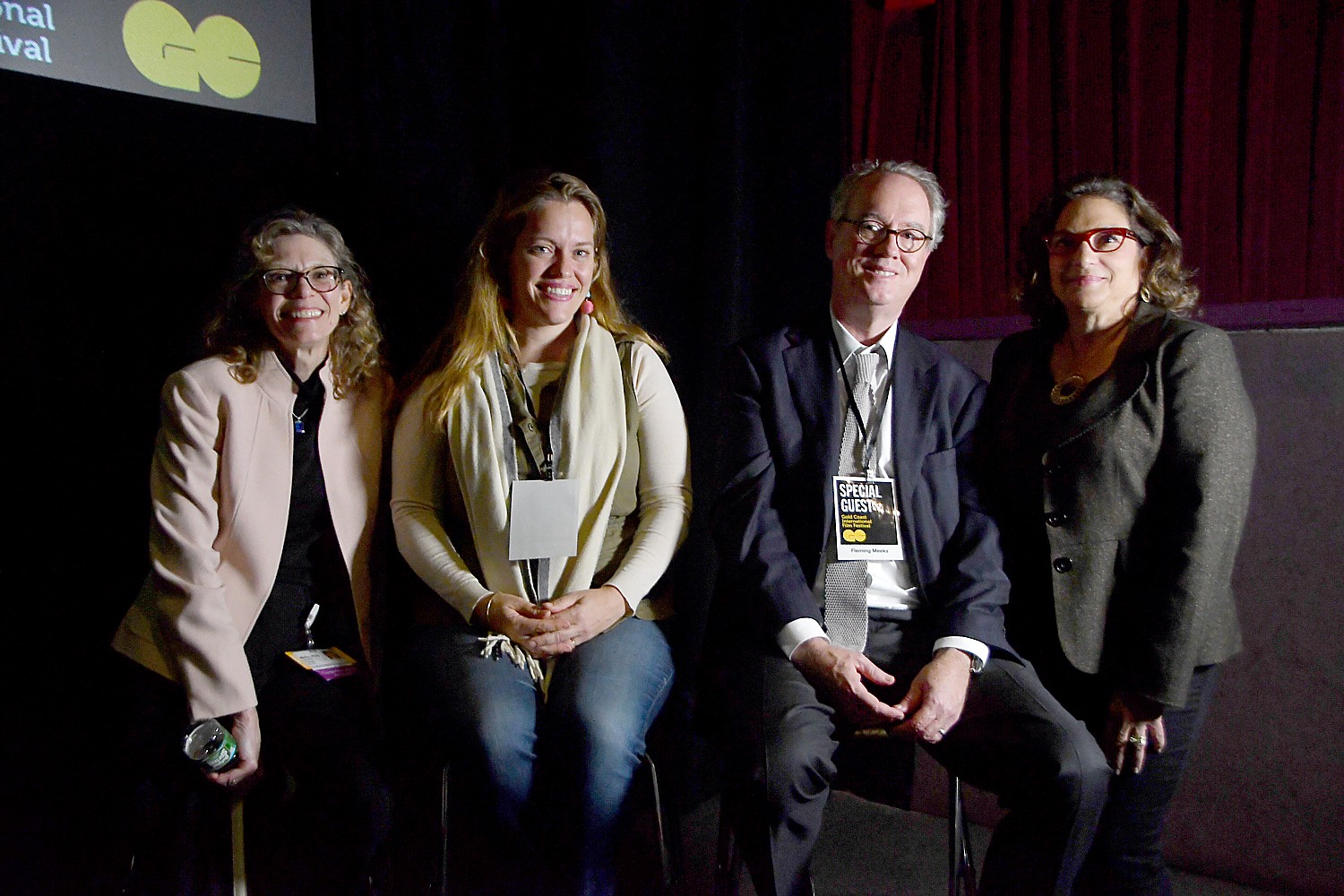 An extraordinary documentary, Bombshell: The Hedy Lamarr Story, was the first of a new "Science on Screen" series funded by a hard-to-win grant to the Gold Coast Arts Center to better communicate science to a general audience. The documentary finally credits the dazzlingly-beautiful actress as a brilliant inventor responsible for the innovation that made possible secure WiFi, Bluetooth and GPS communications (her intent was to make the Navy's torpedoes more effective in order to win World War II, but the Navy put the patent away in a drawer until it was rediscovered by another inventor devising military weapons). The Long Island premiere, featured a Q&A (sponsored by Edelman financial Services, LLC) with Director Alexandra Dean, Fleming Meeks, the Forbes journalist who scored amazing interviews with the reclusive actor late in life, and Dr. Christine Metz of the Feinstein Institute and was moderated by Diane Masciale of WNET.
Straight/Curve: Redefining Body Image, Long Island Premiere at the Gold Coast International Film Festival of the documentary examining the industries and obstacles responsible for the body image crisis and showcasing the dynamic leaders fighting for more diversity of size, race and age, featured a Q&A with Director Jenny McQuaile and Producer Yael Melamede and a panel of distinguished experts from Northwell Health: Dr. Gabriella Farkas, Dr. Bonny Patel and Nancy Farber, ND. The Q&A was sponsored by the Katz Institute for women's Health at Northwell Health.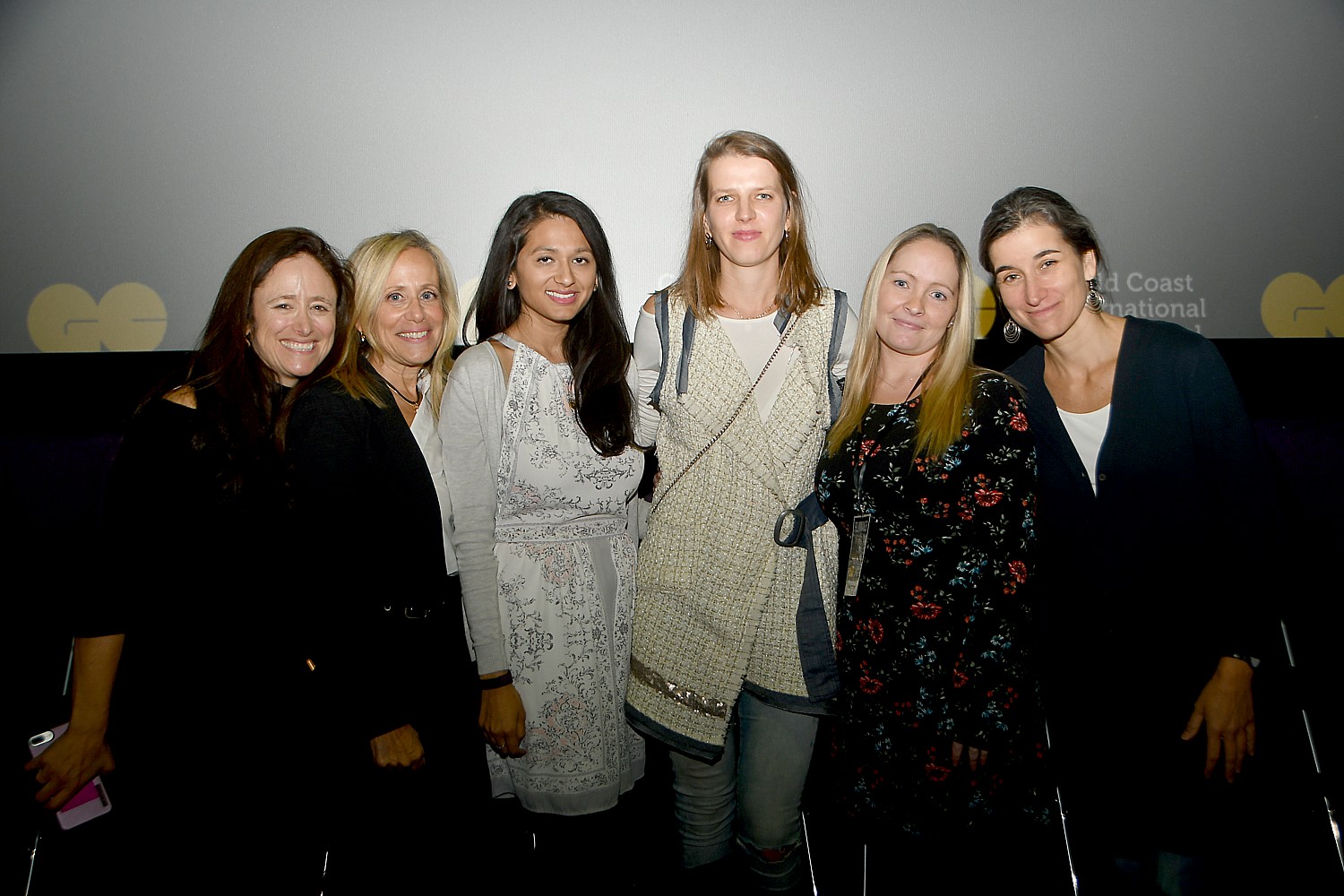 The 60th anniversary screening of Pal Joey, an Academy Award-winning musical gem, with famous classics by Richard Rogers and Lorenz Hart, celebrating its 60th anniversary this year starring Frank Sinatra, Rita Hayworth, and Kim Novak, featured a Q&A with AJ Lambert, Sinatra's granddaughter (Nancy's daughter) and Raj Tawney, a multi-media journalist/producer. Lambert spoke about her warm and loving grandfather.
Supergirl, the story of Naomi Kutin, an Orthodox Jewish pre-teen girl with an extraordinary talent – holding a world record in powerlifting, featured a Q&A with the film's director, Jessie Auritt and "Supergirl" herself, Naomi Kutin and her family.
The delightful documentary Hummus! The Movie, was followed by "The Great Gold Coast Hummus Taste-Off" at Lola restaurant next door to the BowTie Theater in Great Neck Plaza.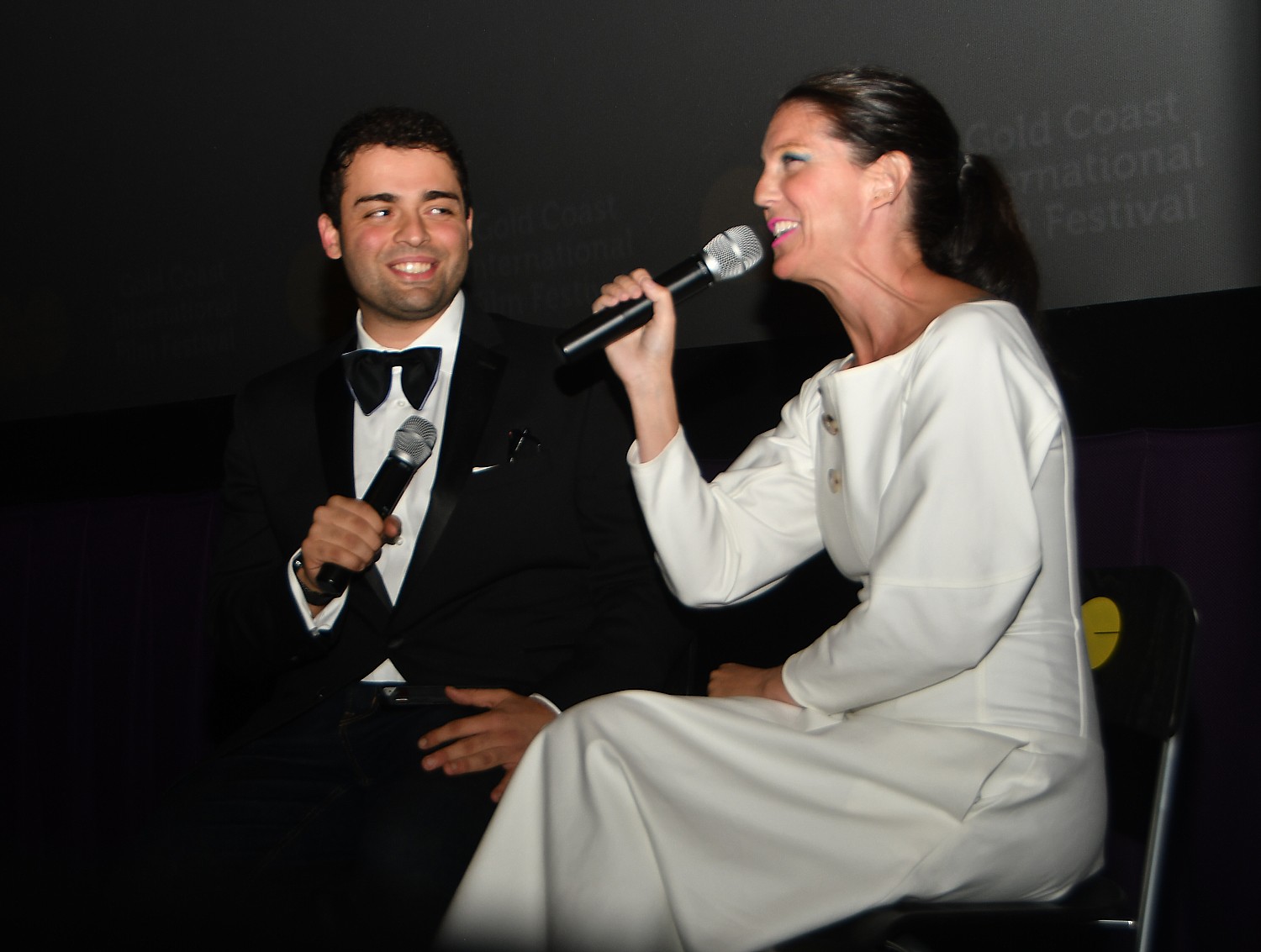 The seventh anniversary of the not-for-profit Gold Coast International Film Festival featured over 80 films and dozens of filmmakers at screenings and events at North Shore venues, including Soundview Cinemas in Port Washington, the Bow Tie Cinemas in Great Neck, Port Washington, Manhasset and Roslyn, and the Gold Coast Arts Center in Great Neck.
Films presented this year showcased major Hollywood actors, include Gary Oldman, Kristin Scott Thomas, Patricia Arquette, Burt Reynolds, Isabelle Huppert, Rainn Wilson, Bill Nye, Rosemarie DeWitt, Imogen Poots, and Shahab Hosseini, star of the 2016 Oscar-winning film, The Salesman, which premiered at last year's festival, featured in the East Coast premiere of the Iranian film Gholam this year.
This year's festival included more than 40 premieres, including French movie-star Isabelle Huppert's new film Souvenir; Burt Reynold's new film Dog Years; Bombshell: The Hedy Lamarr Story; Yellow Birds, starring Jennifer Aniston, Toni Collette, Alden Ehrenreich and Tye Sheridan, and the timely Bill Nye: Science Guy. Award-winning feature films from the world's most prestigious festivals (Cannes, Toronto, Sundance, Tribeca, Hamptons) were screened, along with dozens of excellent short films.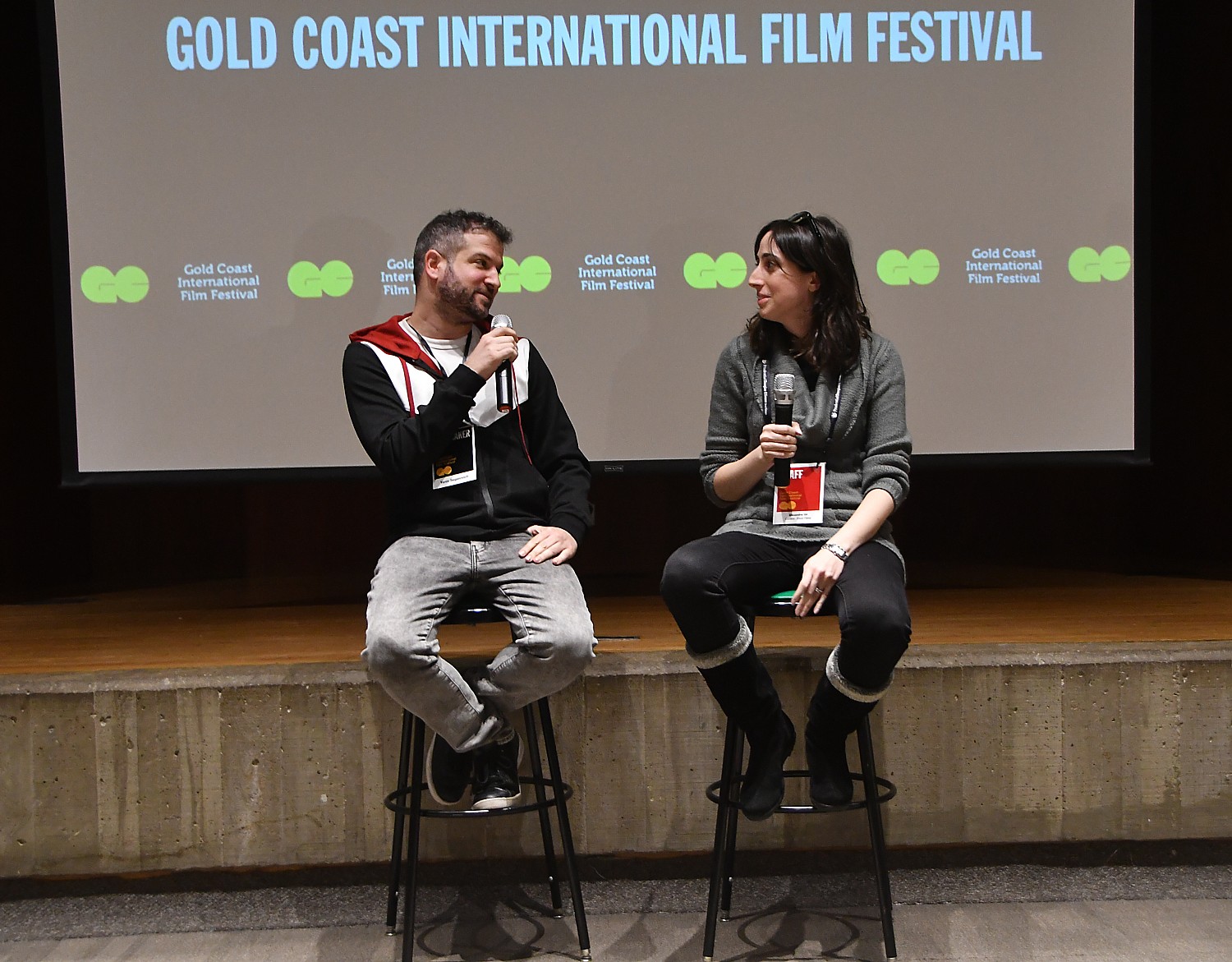 The festival featured films from 12 different countries – most that you cannot otherwise get to see – including 1945, from Hungary about a remote Hungarian town preparing for the wedding of the village magistrate's son, when two Orthodox Jews arrive at the village train station with two coffin-shaped wooden crates, supposedly filled with soaps and perfumes. Is this a harbinger of the return of more Jews? Led by the boorish village magistrate, the townspeople fear that these strangers may be heirs of the village's denounced and deported Jewish neighbors and have come to claim their family's stolen property. Paranoia runs rampant, leading to tragic events and a potent, unexpected ending. "While there have been many films about the Holocaust, there are few about its immediate aftermath, when greed and material gain from the Jewish peoples' demise was pervasive. Director Ferenc Török cleverly captures this often overlooked moment in history where one town's actions become a metaphor for the moral decay of the whole country. Shot in elegant black and white with an eye for exquisite composition and a minimal evocative score, 1945 is a subtle and nuanced study in the collective guilt and enduring anti-Semitism of postwar Hungary," wrote Jay Rosenblatt, San Francisco Jewish Film.
The Long Island premiere of The Insult, provided a rare look at modern-day Lebanon. The intelligent, rivetting and politically charged drama focuses on how a minor disagreement between a Christian Phalanges Party supporter and a Palestinian construction foreman sparks an unforgivable insult, which ignites a confrontation of national importance. Celebrity lawyers, TV news, and political leaders get involved in a trial that rips open raw memories of Lebanon's violent past
Paris Opera, from France, provided a  fascinating, candid behind-the-scenes view of a season at the Paris Opera, following the array of personnel – management, performers, costumers, cleaning crew – even choreographer Benjamin Millepied – who work night after night to bring breathtaking spectacle to this legendary setting.
The New York premiere of Back to Burgundy, from France, is a story of wine, family, family business, and more wine is set amid the gorgeous backdrop of Burgundy, and told with an assured mix of drama and humor. Jean, who had left his childhood home more than ten years ago, returns after his father's death to reconcile the future of the business with his brother and sister.
This year, GCIFF again presented the work of talented young filmmakers in grades K-12 in its Young Filmmakers Program, presented in partnership with Hofstra University, a festival sponsor.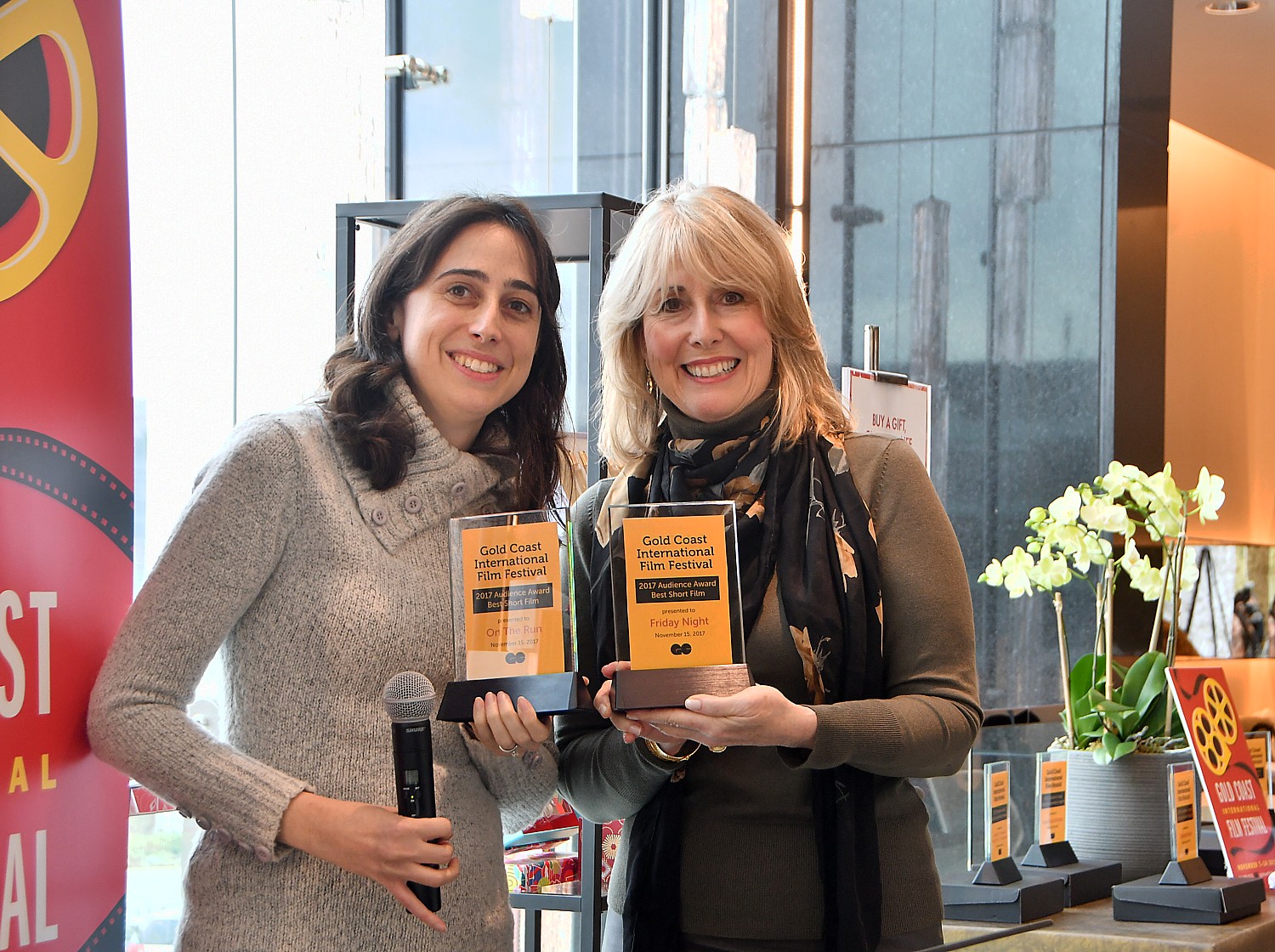 The festival finished on Wednesday November 15 with a Closing Awards Lunch at the cafe at Neiman Marcus Garden City (in Roosevelt Field). Neiman Marcus was a major sponsor of the film festival.  The lunch also launched the Neiman Marcus "Love to Give" Collection, where 10% of the proceeds from the sale of the "Love to Give" items goes back to the Gold Coast Arts Center, based in Great Neck, Long Island, which organizes the annual Gold Coast International Film Festival.
For the past 110 years since Neiman Marcus' founding, said Doris Wilshere, Vice President and General Manager, supporting the arts has been a priority. "It has been of particular interest to the founders. That's why our partnership with the film festival is important to us. It's the one budget we are encouraged to spend every $1 of, every year."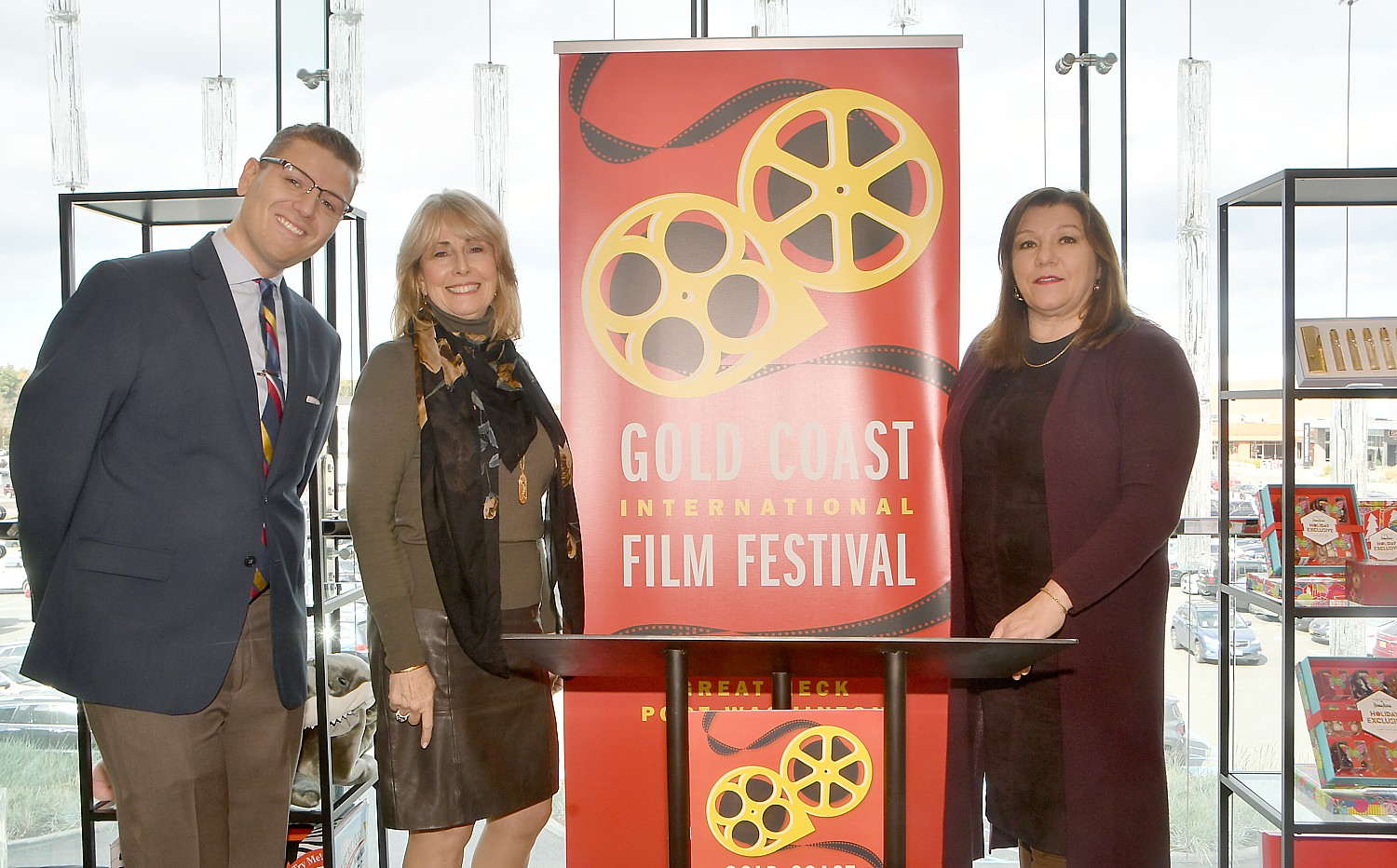 In addition to Neiman Marcus Garden City, sponsors and partners of this year's Gold Coast International Film Festival included: founding partners, the Town of North Hempstead and Douglas Elliman Real Estate; major partners, Hofstra University and the Nassau County Industrial Development Agency; GEICO; Deluxe Entertainment Services Group; AARP Long Island; A.L. Sarroff Fund; Katten Muchin Rosenman LLP; The Katz Institute for Women's Health at Northwell Health; St. Mary's Kids; Jet Blue; Biener Audi; LVR Rental; The Inn at Great Neck; The Andrew Hotel; WLIW21; Altice; New York Women in Film & Television; Anton Publications; Blank Slate Media; LI Pulse; Edelman Financial Services, LLC; and LOLA of Great Neck.
More information at www.goldcoastfilmfestival.org; facebook.com/gciff.
The Gold Coast International Film Festival is produced by the Gold Coast Arts Center, a 501(c)(3) not-for-profit organization dedicated to promoting and supporting the arts through education, exhibition, performance and outreach. Gold Coast Arts Center, 113 Middle Neck Road, Great Neck, NY 11021, 516-829-2570, www.goldcoastarts.org.
_______________________
© 2017 Travel Features Syndicate, a division of Workstyles, Inc. All rights reserved. Visit goingplacesfarandnear.com,  www.huffingtonpost.com/author/karen-rubin , and travelwritersmagazine.com/TravelFeaturesSyndicate/. Blogging at goingplacesnearandfar.wordpress.com and moralcompasstravel.info. Send comments or questions to [email protected]. Tweet @TravelFeatures. 'Like' us at facebook.com/NewsPhotoFeatures