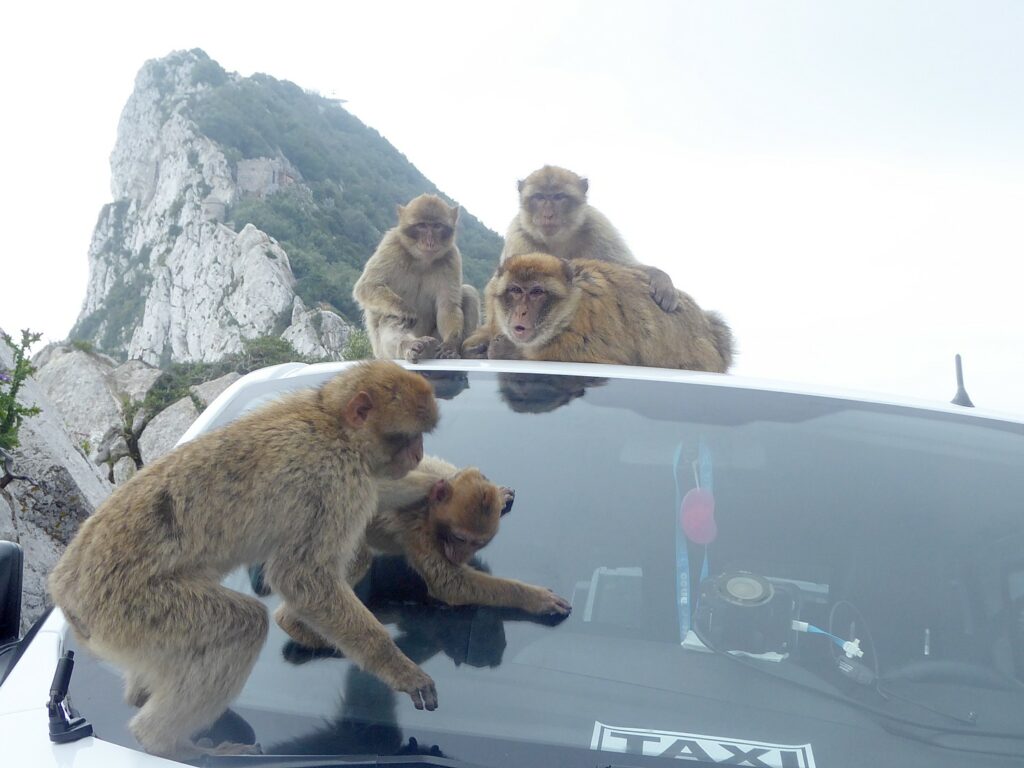 ­­­­­by Karen Rubin, Travel Features Syndicate, goingplacesfarandnear.com
It is clear why Bill Chalmers, the ringmaster of the Global Scavenger Hunt, inserted Gibraltar on the "final exam" in which we need to get ourselves from Marrakesh to Fez to Gibraltar to Seville to Porto in five days – it is a challenge to figure the logistics and prove ourselves as world travelers, let alone chalk up points by fulfilling the scavenges.
Some of the rules are relaxed for this, the most arduous of travel legs (a par 6) of the 23-day around-the-world mystery tour – the top 4 teams in contention for "World's Best Traveler" are allowed to team up together but only for one country; can rent a car but only once and in one country (not cross-borders); can use their cell phone for information and GPS. We are given an allowance to purchase transportation and to book the three hotel nights we will be on our own (there are extra scavenger points for booking an AirBnB and for the cheapest hotel night).
We are out of the Riad el Yacout in Fez, Morocco, at 9 am to catch the 10 am train to Tangier, where we will get a ferry to Algeciras, Spain, and from there get to Gibraltar, though we haven't quite figured out that part yet. As it turns out, there are three teams (six of us), following this same itinerary (not a coincidence – since none of us are in contention any longer, we are allowed to share information and travel together).
This day, the third in the Par 6 challenge, is all about travel. Again, the train through Morocco is comfortable, fast, and provides a wonderful view of the country.
But it seems unnecessarily difficult to figure out which of Tangier's ports to go to for which ferry. There are four different ferry lines, but two different ports. The group overrules me and decides to taxi 45 minutes to the Tangier MED port – a major cargo shipping port – instead of going to the Tangier Ville port just a few minutes taxi ride from the train station, where the ferry would have taken us to Tarifa (about 50 minutes away from Gibraltar, compared to 20 minutes from Algeciras).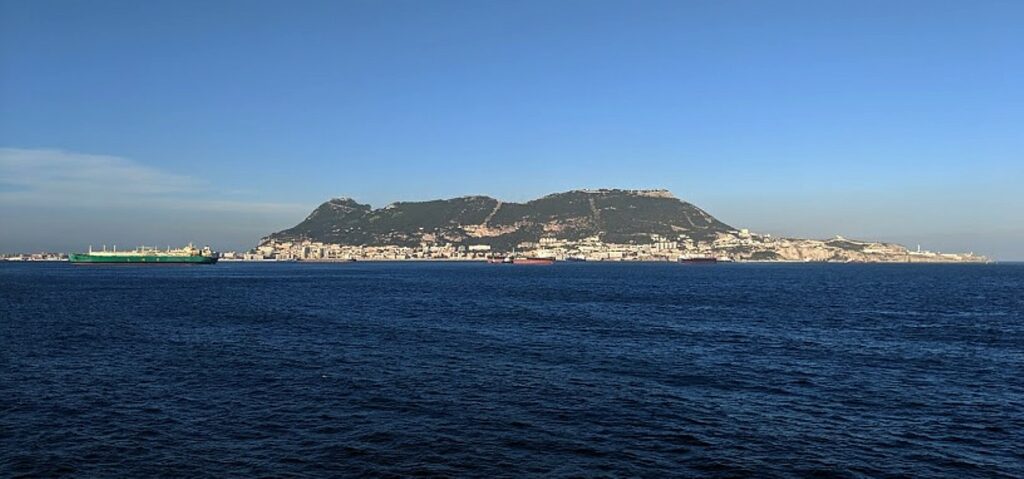 The taxi ride along the coast is gorgeous – reggae music is playing as we speed along coastal road to new port (this is a popular beach destination, after all). But the port is less suited to passengers than cargo. The immigration process takes forever. What we believe to be the 5 pm ferry leaves at 6 pm ferry (the way they handle or rather don't handle the baggage is a riot). The hour-long sail is a pleasant enough followed by a literal riot to recover our luggage from the POD everyone has stuffed it in. Because of the hour time difference, we arrive at 8 pm.
Then we have to figure how to get from Algeciras (Spain) to Gibraltar (an overseas territory of Great Britain), which, we discover, means the taxis can't cross the border.
A bus to Gibraltar border is a 15 minute walk and would leave at 9:30 pm so we decide to take the taxi, where, the driver tells us, we can walk across and get another taxi or a bus to The Rock Hotel. Sounds good, right? The cab drops us, we exit Spain (having just entered at the ferry terminal), and enter Gibraltar (darn, no passport stamp! You have to go to the tourist office!), but no taxi, no bus. We start walking about 1 ½ miles to the hotel – across an actual airport runway as it turns out.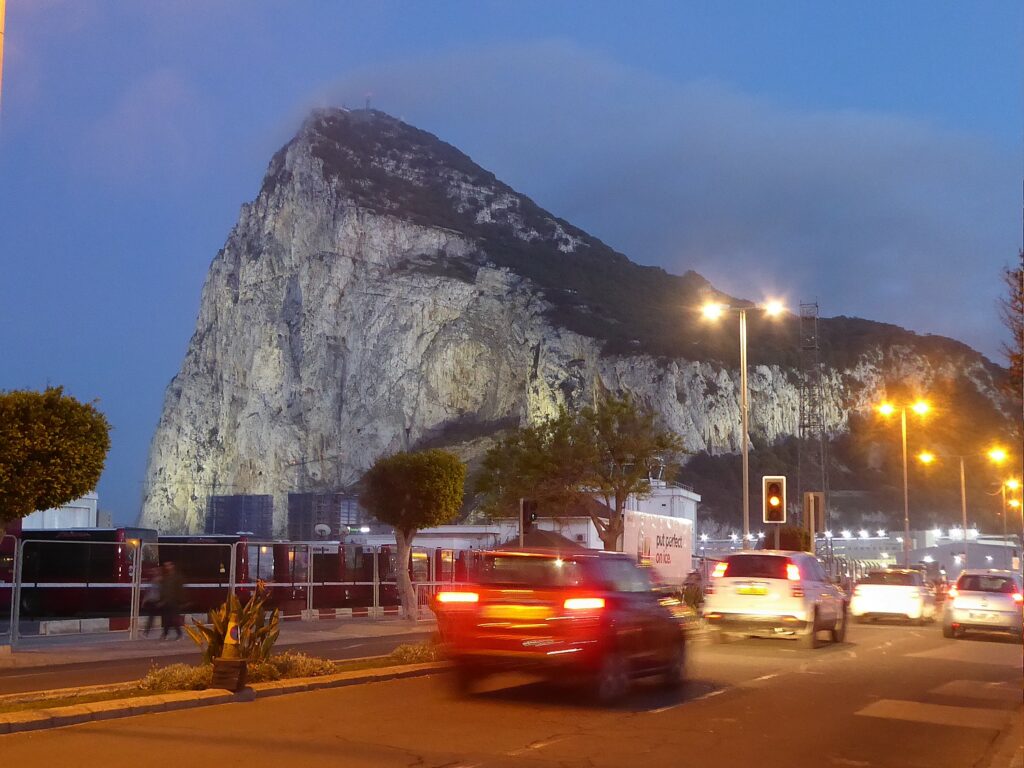 We have arrived so late, though, the small town (the whole country only has 36,000 residents) is shuttered for the night. Eventually, when we get to the heart of the village, we find one cab and two of us continue walking to the hotel.
The walk is absolutely charming – and also culture shock – having come from Fez, Morocco in the morning, put a toe into Spain, and now plunked down into this patch of Great Britain. There are red telephone boxes, Bobbies, English pubs. It almost looks like a movie set, and in fact, is not much bigger – or Busch Gardens Colonial Williamsburg.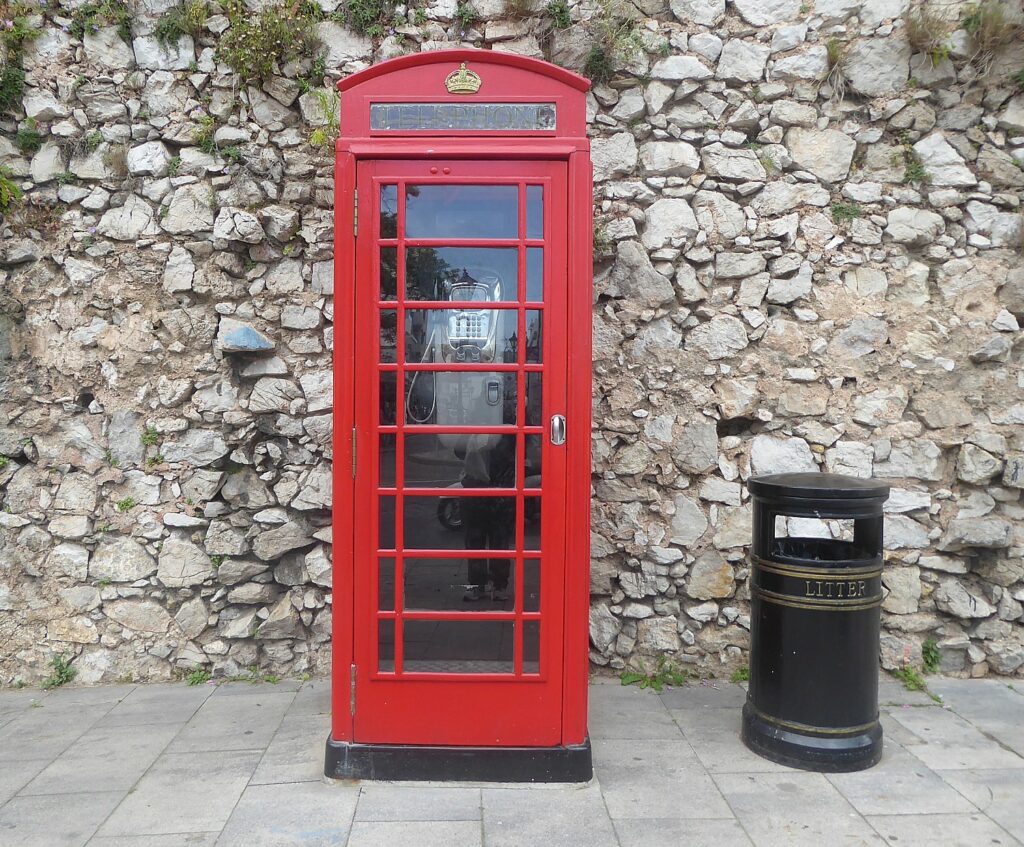 But walking in the quiet of the night through this place evokes in my mind an image of Brigadoon, a town from long ago that emerges from the mist.
Our hotel, The Rock (which another team found and I booked through hotels.com), is majestically set on the foothill of Gibraltar's famous rock with panoramic vistas of the Bay, the Straits of Gibraltar and the Spanish mainland. It's quite elegant – formal even, which I suspect is casual by British standards – and well situated, just opposite the Botanical Gardens, a very short walk to the main street. In fact, The Rock Hotel is a Gibraltar landmark, the oldest luxury hotel here, built in 1932. Its most recent refurbishment enhanced its colonial heritage and art deco style with contemporary comforts of a first-class hotel – it even has a pool. I can attest to the hotel's elegant and sophisticated ambiance and warm, personalized service. Ours, along with each of the other 94 guestrooms and suites, has a gorgeous view.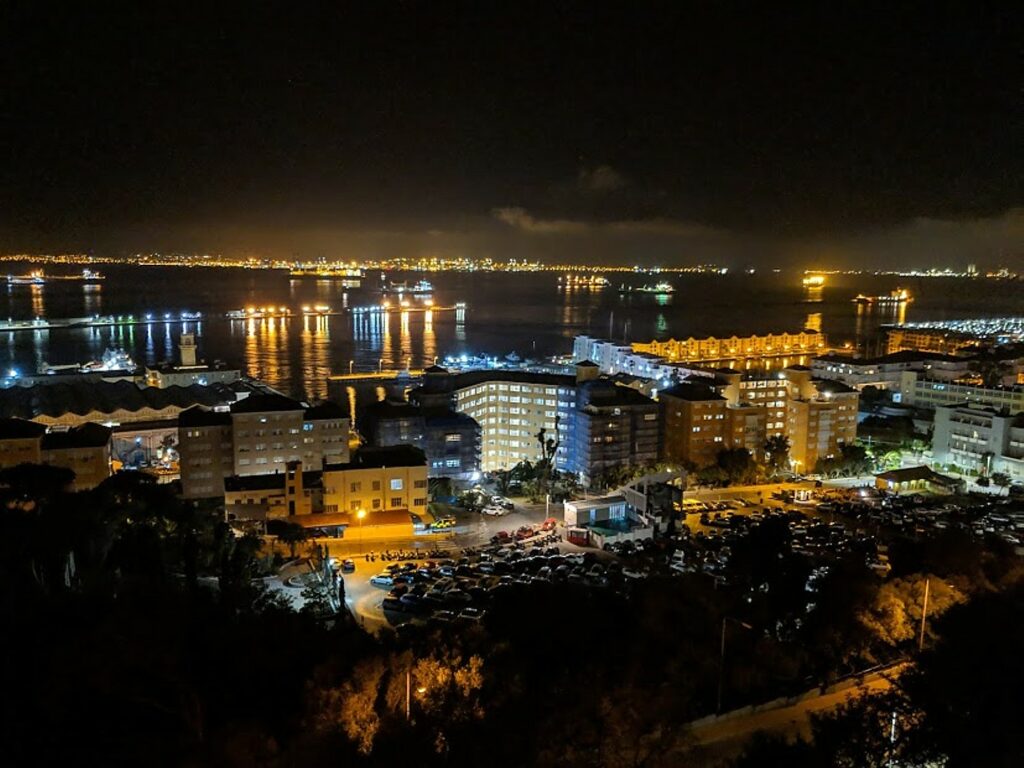 The hotel is filled with history. A Wall of Fame displays the royalty, world leaders, artists and TV, and film stars who have stayed here, most notably, Sir Winston Churchill, Errol Flynn, Alec Guinness, and Sean Connery as well as John Lennon and Yoko Ono when they married in Gibraltar.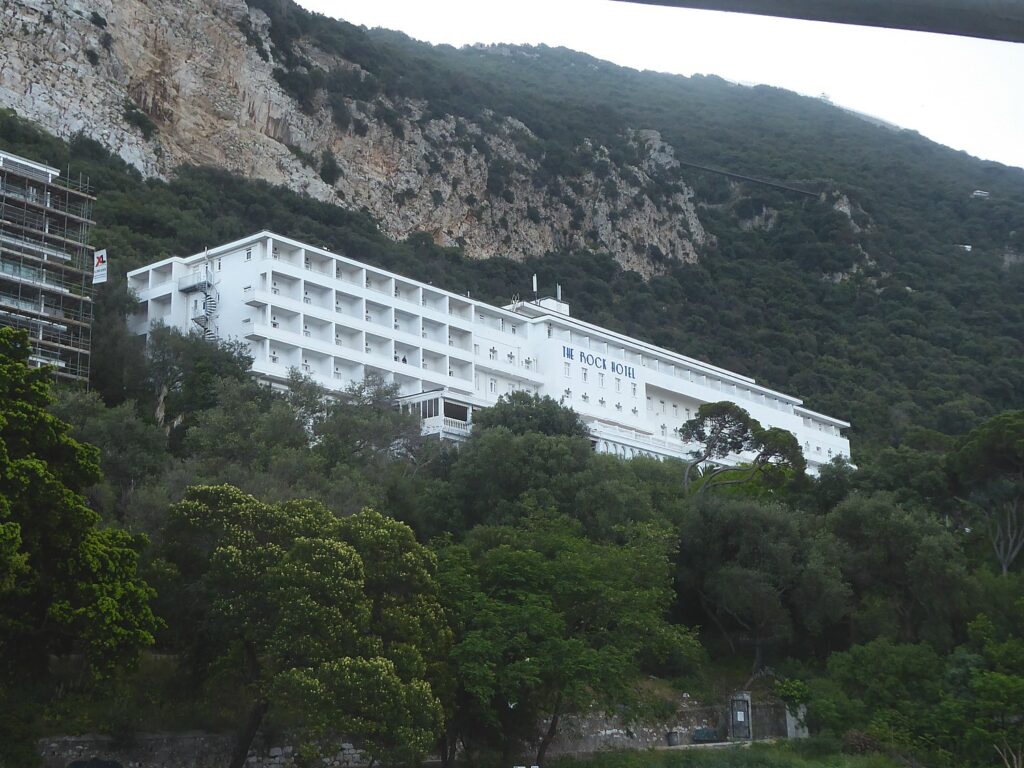 The Hotel has a fine dining restaurant serving Mediterranean cuisine – which was really handy since we all arrived very late when every other restaurant in Gibraltar, it seems, had closed. I find the rest of our Global Scavenger Hunt teams in the lounge, enjoying the hotel's signature cocktail (what else?) Gin on the Rock. There is nothing more quintessentially British than Afternoon Tea and The Rock Hotel offers this tradition daily.
I only have until early afternoon here to explore Gibraltar before having to push on to Seville, and then on to Porto, Portugal, to finish this leg of the Global Scavenger Hunt.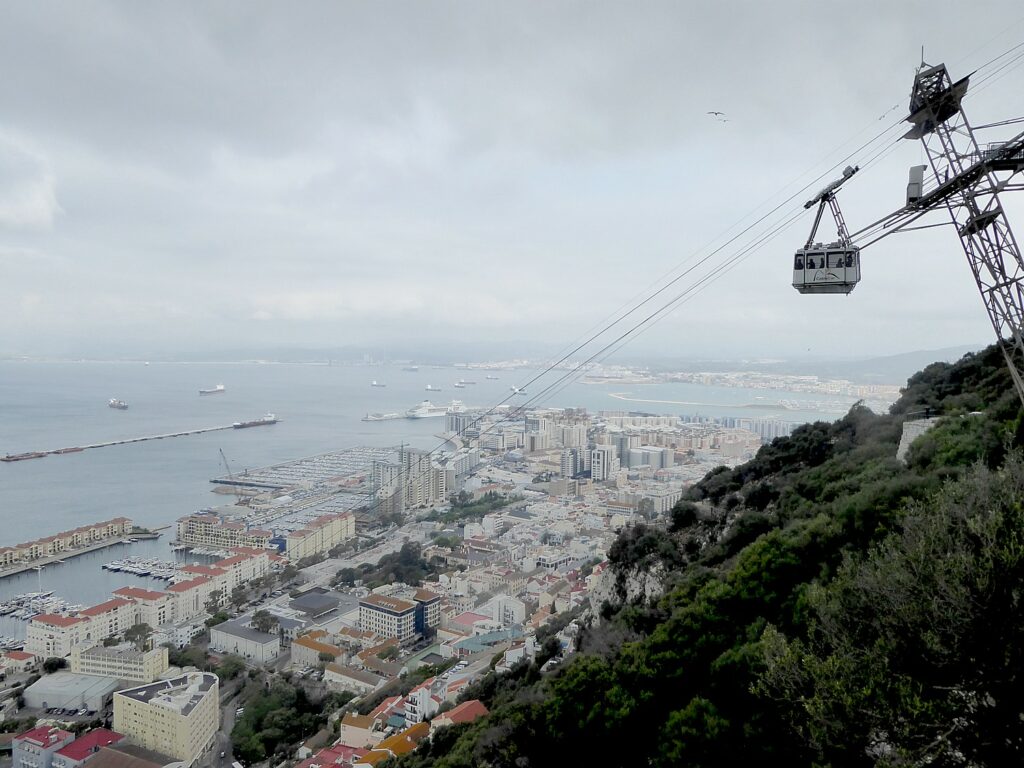 Early in the morning, I set out on an easy walk, through the Botanical Gardens, to the cable car that takes me to The Top of the Rock. I purchase a combination ticket (34E; senior rate is 25E) that gives me the ride up and entrance to the Nature Reserve as well as most of the key attractions that are all located along the road and trails from the top, hiking down to the village (the hike takes about 1 ½-2 hours, plus time to visit the key attractions; I give myself about 3 hours).
The cable car ride takes 6 minutes and immediately brings me to one of the highlights of Gibraltar: its Barbary Macaques (tailless monkeys). (I soon realize why the hotel concierge told me to wear my backpack in the front, watch for pickpockets and guard my passport.) They are there greeting tourists, even jump on people's heads, and display antics (in fact, I don't find any in the "Ape's Den" which is supposed to be their habitat).
The Barbary Macaques were said to have come to Gibraltar through a subterranean passage under the Straits of Gibraltar that supposedly linked the Rock of Gibraltar to Africa.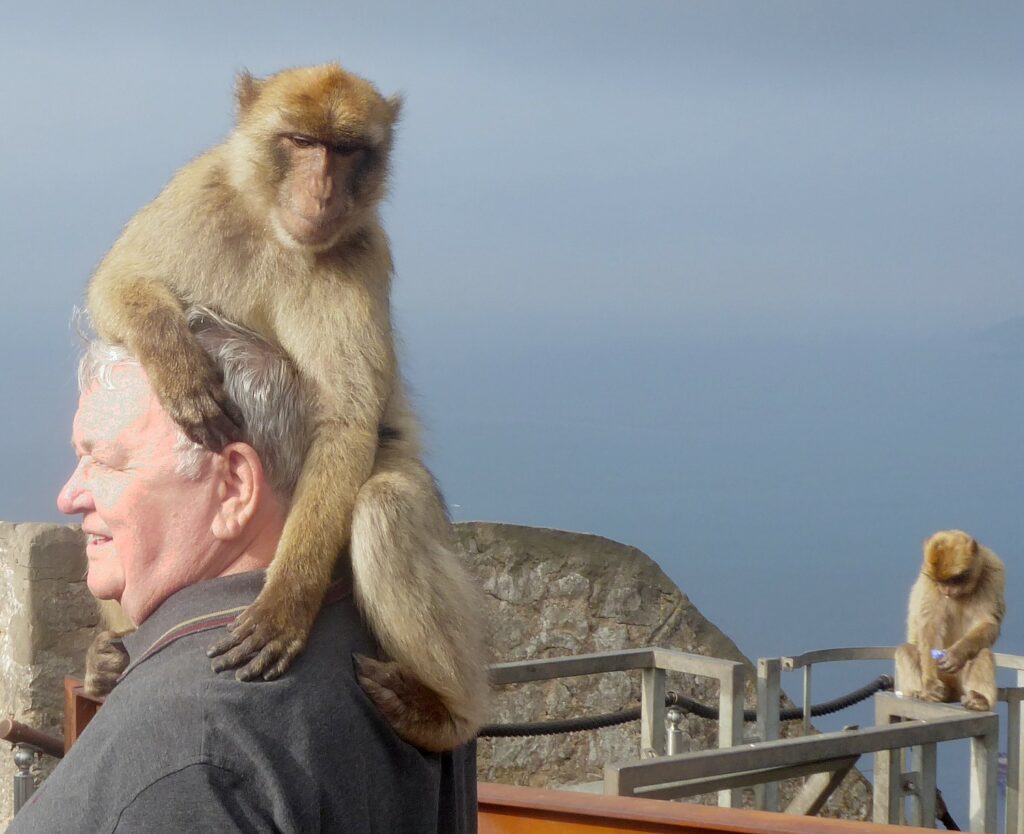 The Top of the Rock, it turns out, is an entire preserve with a series of Gibraltar's major attractions, and its entire, dramatic history spread on along its roads and walking paths.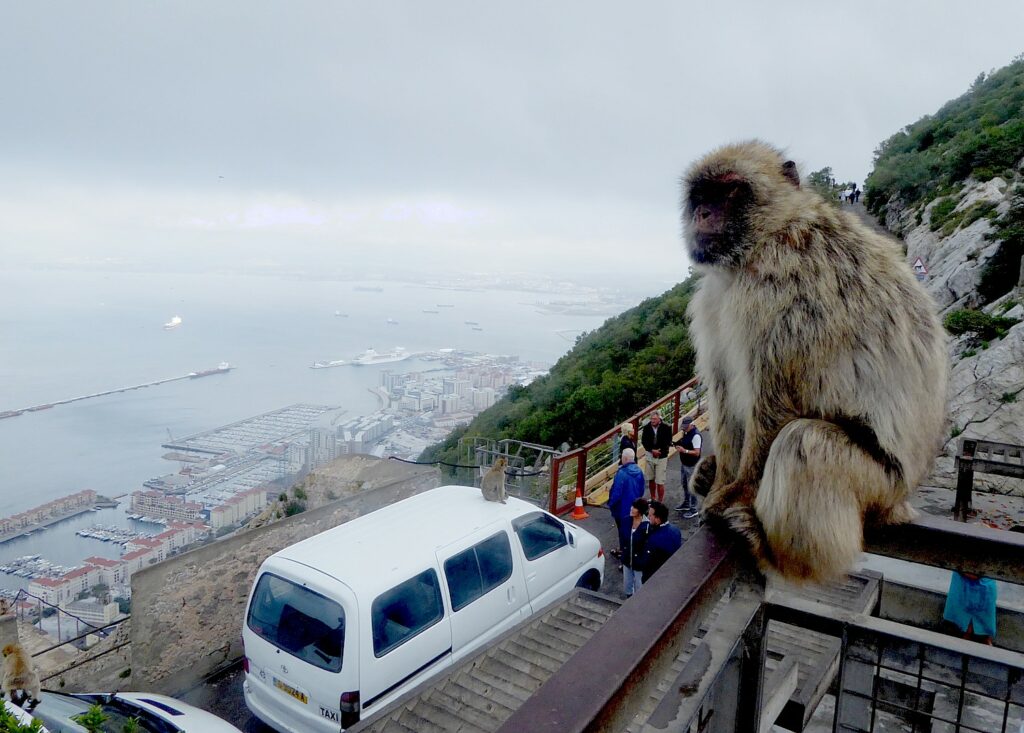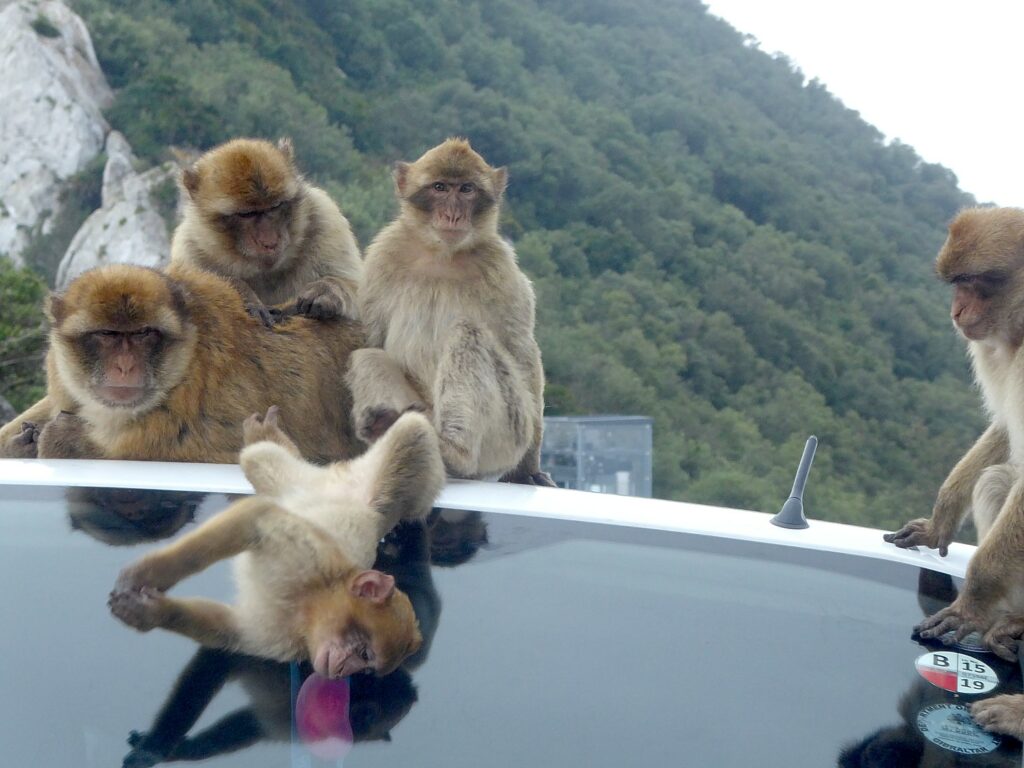 There is evidence of humans on Gibraltar going back 2000 years, and Gibraltar has been visited by mariners since the 9th century BC. The Muslim invasion of Europe started in the Bay of Gibraltar in 711; Gibraltar was under Moorish rule for over 700 years until Christians briefly took it over for 24 years in the early 14th century. Christians recaptured Gibraltar in 1462, and King Ferdinand and Queen Isabella secured The Rock for Spain in 1501. Gibraltar was ceded to Britain as a consequence of the War of Spanish Secession (1701-14); the Treaty of Utrecht formalized Gibraltar as Britain's territory. But that did not end the bloody conflicts by Spain to retake The Rock.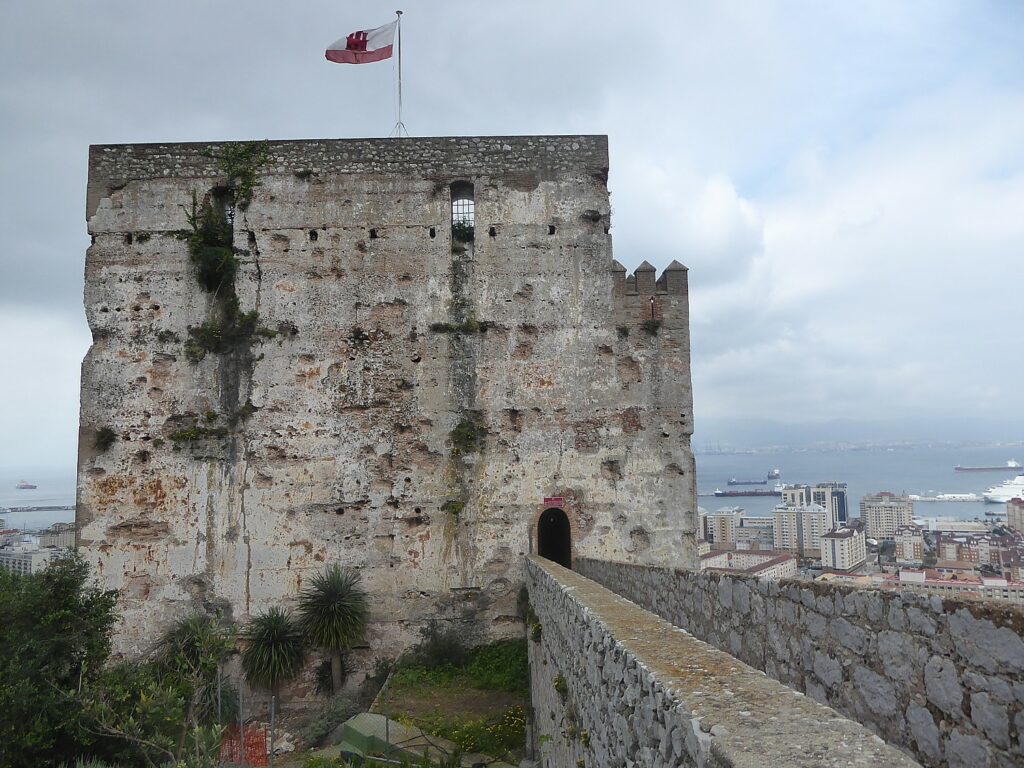 According to Visit Gibraltar (www.visitgibraltar.gi), "In 1779 Spain and France began the longest and bloodiest siege in Gibraltar's history, 'The Great Siege, 1779-1783'. In 1782 work began on the famous 'Great Siege Tunnels'. The Battle of Trafalgar was fought close to the Rock in 1805.
"The 19th century was Gibraltar's heyday, as a staging port on the vital route to India. Another series of tunnels were completed during the Second World War. Gibraltar became home to the Royal Navy's 'Force H' and the focal point from where Eisenhower controlled the North Africa landings in 1942. During the Franco era, Spain attempted to revive her claim for the reversion of the Rock to Spanish sovereignty, which culminated in the closure of the border for 13 years in 1969."
All of this history unfolds as you walk from the Top of the Rock, along its roads and paths spiraling down to Casement Square, once a site of public executions and today the hub of activity.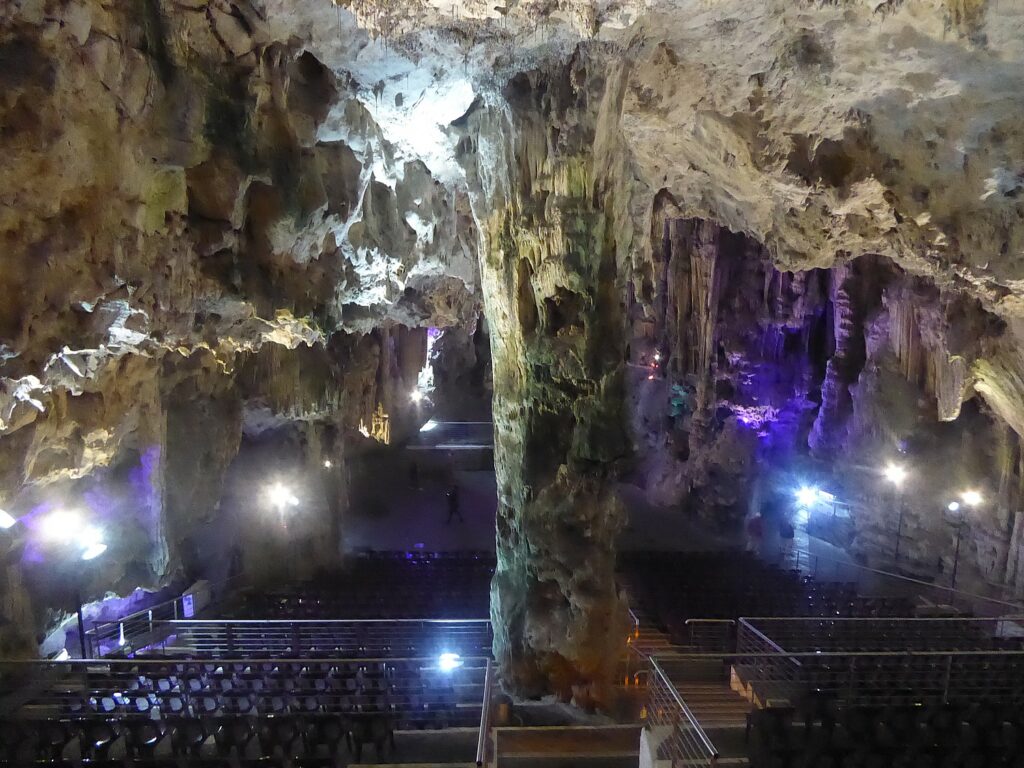 There is a whole chain of things to see and in the course of two hours I explore: St. Michael's Cave (way too touristic for my taste, it was developed in the 1950s – there is a plaque noting the visit of Queen Elizabeth to the caves in 1954- and used as a great theater since the 1960s, but the Lower St. Michael's Cave offers a much more intense experience, I later learn), Great Siege Tunnels that dates from 1779-83 to defend against the Spanish), World War II tunnels (I peek inside but I don't have time for the 45 minute tour of what amounted to an underground city that could accommodate 16,000 with enough food to last 16 months; there was also an underground telephone exchange, a power generating station, water distillation plant, hospital, baker, ammunition magazines and vehicle maintenance workshop; separate admission is 8E; it is recommended to pre-book tours at [email protected]).
There are also various military batteries, Gibraltar A City Under Siege Exhibition (set in one of the first buildings constructed by the British in Gibraltar, there are re-creations of scenes from 1726 as well as graffiti by bored soldiers from then) and a Moorish Castle, first built in 1160 (you climb into the tower of Homage that dates from 1333 when Abu'l Hassan recaptured Gibraltar form the Spanish).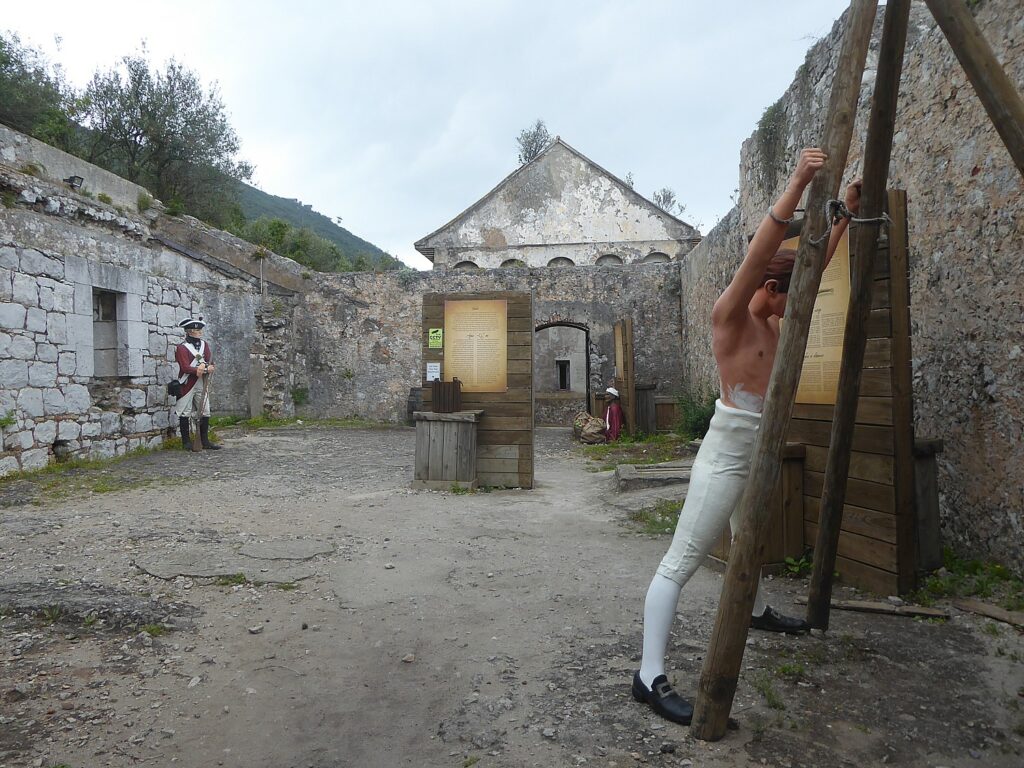 I don't have time to really explore the Lower St. Michael's Cave. I learn that while the upper section of St Michael's Cave has been known for over 2000 years and used for various purposes such as a hospital during World War II, it was only in 1942 that Lower St Michael's Cave was accidently discovered. The cavern is notable for the size of the main chambers, the profusion and variety of calcite formations and a lake of crystal clear water, nearly forty yards long, estimated to hold 45,000 gallons. There are organized tours into Lower St Michael's Cave that normally last around three hours, but because there is some scrambling and minor climbing with ropes involved, duration times may vary. The cave is totally in its original natural state (although it is fully lit).
You can also climb the Skywalk, 340 meters directly above sea level, where you are treated to 360-degree views spanning three countries and two continents. Skywalk links to other sites within the Gibraltar Nature Reserve, Upper Rock including the thrilling Windsor Suspension Bridge and the famous Apes' Den via a series of walking trails. Built on the foundations of an existing WWII base structure, the Skywalk is designed to withstand wind speeds of over 150km/hour and can carry the weight of 5 Asian elephants, or 340 people, standing on it at the same time (visitor numbers will be limited to 50 at any one time). The floor and balustrade panels are made up of 4 layers of laminated glass (with a total thickness of around 4.2cm). Laid out side-by-side, the 42 glass panels would cover more than 750m², roughly the equivalent of 4 tennis courts. The walkway is 2.5m wide and projects a maximum of 6.7m from the main structural support point. 70m of rock anchors and 30,000kg of steel secure the Skywalk to the Rock.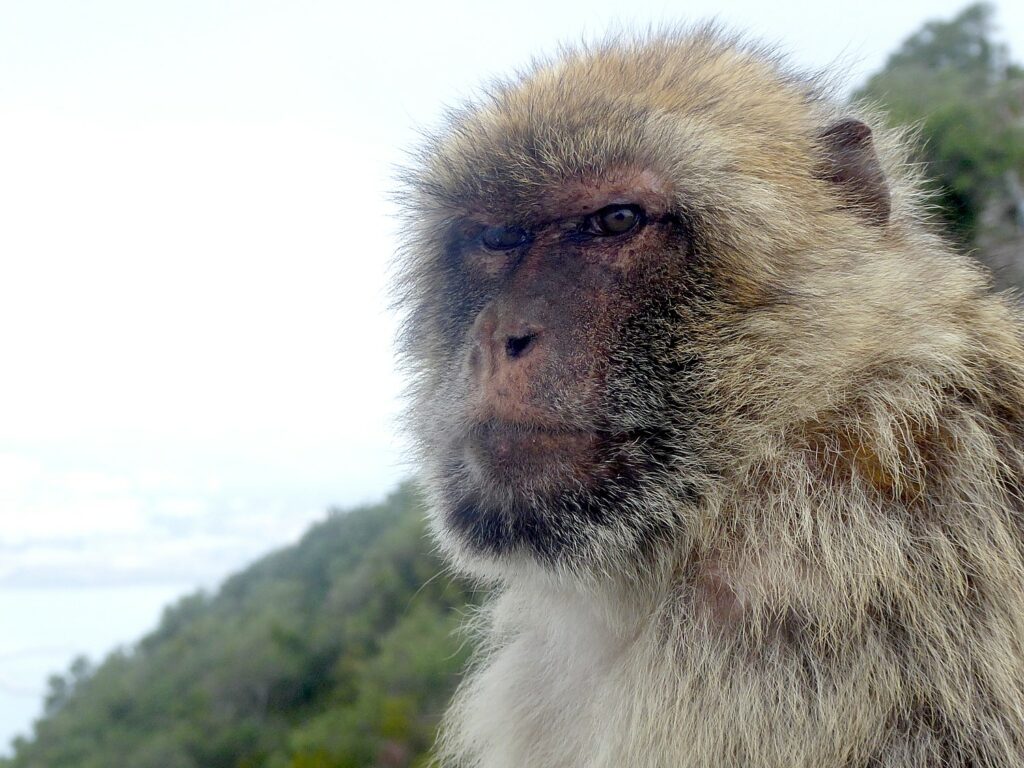 There's a lot I don't have time to get to which is interesting because before I arrived, I had thought I could just breeze through: The Military Heritage Centre in Princess Caroline's Battery. I am really upset that I do not have time to explore UNESCO Gorham's Cave Complex which contains evidence of Neanderthal and early modern humans. There is also a Gibraltar Macaque Experience, the only opportunity in Europe to spend time with a habituated troop of free-living monkeys, in a natural setting, away from other tourists. (Blands Travel, travel@blandstravel, www.blandstravel.com)
I take the road down but there are also many nature trails that meander through the extent of the Reserve. These combine the Nature Reserve's natural beauty and stunning views with some sites of historic interest that are much less visited. There are themed routes: History Buff, Monkey Trail, Nature Lover, Thrill Seeker. Notable trails include Mediterranean Steps, Inglis Way, Royal Anglian Way and Douglas Path.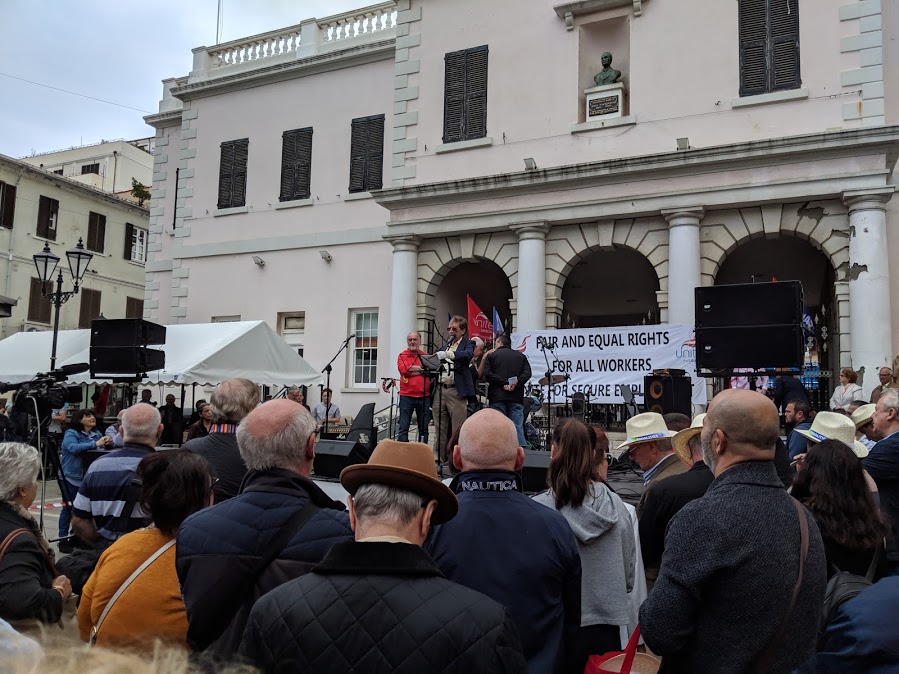 I make my way to the charming historic district. It's May Day and I come upon a labor rally in John MacIntosh Square. I can easily imagine the same speeches (Privatization. Nonconsultation. Unfair Distribution.) being made in New York City.
I am also surprised to learn of Gibraltar's sizeable Jewish community. On The Rock, you can take a trail to Jew's Gate which leads to the Jewish cemetery tucked away behind trees that was in use up until 1848; it offers "a fascinating piece of history that reflects the important role the Jewish people have played in molding Gibraltar's history"). I find four synagogues, including the Great Synagogue on Engineer Lane, one of the oldest on the Iberian Peninsula, dating back to 1724, and Flemish Synagogue.
Here in the town there is Casemates Square, Gibraltar Crystal Glass Factory, an American War Memorial, the Gibraltar Museum, Irish Town, Trafalgar Cemetery (where soldiers who died at the Battle of Trafalgar are buried), King's Chapel and King's Bastion can be visited (I don't have time).
I linger over lunch outside a pub, watching the world go by despite really chilly winds.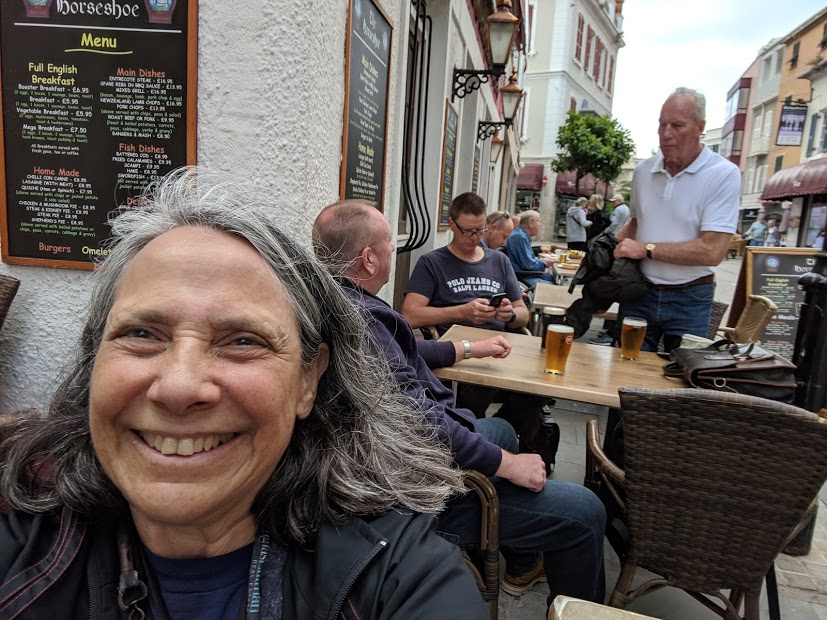 My brief time here has been really enchanting.
I've never walked an entire country (okay, territory) in a single day, before. Or for that matter, literally strolled through centuries of history in such a compact space.
I make my way back to The Rock Hotel to pick up my things, hastily write out postcards I purchased in town, which the kindly hotel staff mail for me.
The hotel, which has provided me with the information for the bus as well as a time schedule, calls a taxi which takes me to the Gibraltar border (still no one to stamp my passport and the tourist office is closed for May Day!). You have to allocate extra time for the taxi in case an airplane is landing on the air strip.
(The Rock Hotel, 3 Europa Road, Gibraltar, [email protected], www.rockhotelgibraltar.com)
See more at Visit Gibraltar, www.visitgibraltar.gi/
I walk the few blocks from the Gibraltar border to the bus station across the border in Spain in La Línea de la Concepción. (My difficulty in arranging travel from Gibraltar to Seville was not realizing that you couldn't travel directly from Gibraltar to Seville and I didn't know the name of the city to get the bus. It is an exceptionally pleasant bus ride through southern Spain into Seville, enjoying the lush landscape, the magnificent farms, and the hilltops dotted with wind turbines.
Still Seville and Porto to go before finishing this leg of the Global Scavenger Hunt.
The Global Scavenger Hunt is an annual travel program that has been operated for the past 15 years by Bill and Pamela Chalmers, GreatEscape Adventures, 310-281-7809, GlobalScavengerHunt.com.
Dates have just been set for the 16th annual edition of The Global Scavenger Hunt, April 17-May 9, 2020, Applications for the around-the-world travel adventure competition that crowns The World's Greatest Travelers are now being accepted at GlobalScavengerHunt.com.
________
© 2019 Travel Features Syndicate, a division of Workstyles, Inc. All rights reserved. Visit goingplacesfarandnear.com, www.huffingtonpost.com/author/karen-rubin, and travelwritersmagazine.com/TravelFeaturesSyndicate/. Blogging at goingplacesnearandfar.wordpress.com and moralcompasstravel.info. Send comments or questions to [email protected]. Tweet @TravelFeatures. 'Like' us on facebook.com/NewsPhotoFeatures