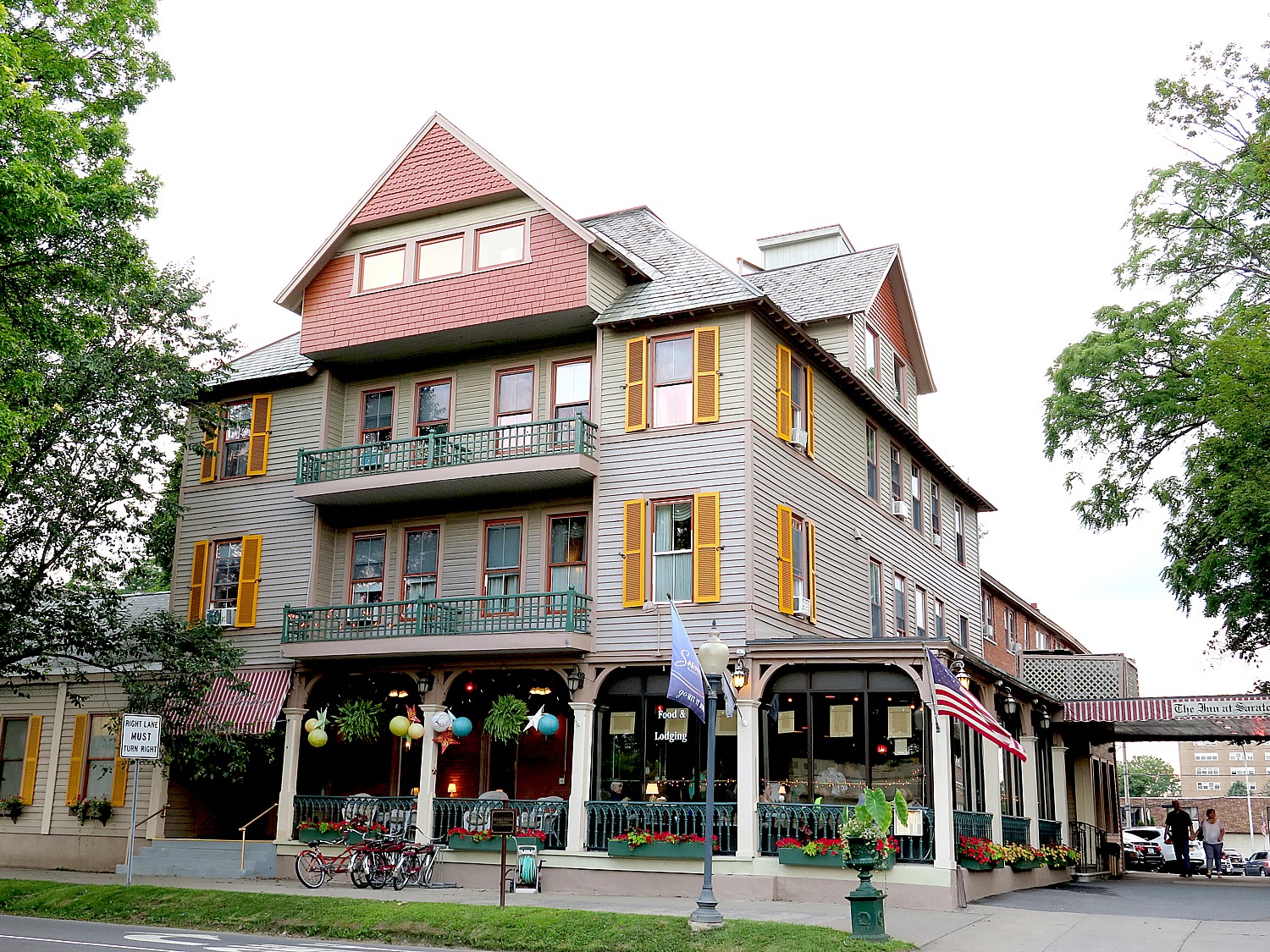 By Karen Rubin, Travel Features Syndicate, goingplacesfarandnear.com
Saratoga Springs, one of America's first tourist towns, has been drawing visitors since the 14th century when Native Americans discovered the mineral springs which still draw visitors today. But it is also where formal horse racing began, and over the years, has also developed an amazingly rich cultural menu of offerings, especially in summer, when its Performing Arts Center is home to the New York City Ballet and Philadelphia Symphony Orchestra. It is fitting that among its key attractions are the National Museum of Dance (who knew there was such a thing?) as well as the National Racing Museum (fascinating), historic racetrack, lively live-music venues, stunning boutiques (you know a top-notch town by its olive oil shop and haberdashery).
It doesn't take long, as you walk among the giant painted horses and ballet shoes to recognize this unbelievably charming town is a combination of Louisville, Kentucky and Lenox, Massachusetts, with a touch of a spa-wellness destination thrown in. And totally enchanting.
But walking around and taking in the breathtaking Victorian architecture, you also realize that Saratoga Springs has had its ups-and-downs. Indeed, the celebrated historic Racetrack even closed down in 1896 because of financial hardship, and historic markers on Broadway point to whole historic streets that were torn down in the 1960s until a preservation movement took root.
This makes you appreciate all the more the work underway ($30 million worth) on the historic Adelphi Hotel, where the colorful Irish-born prize-fighter, horse-racing impresario, gambling entrepreneur , New York State Senator and Tammany Hall enforcer John Morrissey, a regular of the hotel, died in 1878.
You get to live Saratoga Springs' history at the Inn at Saratoga, which has basically "seen" it all. Built around 1843, it is the oldest continuously operating hotel in Saratoga Springs, and its own history mirrors that of the village.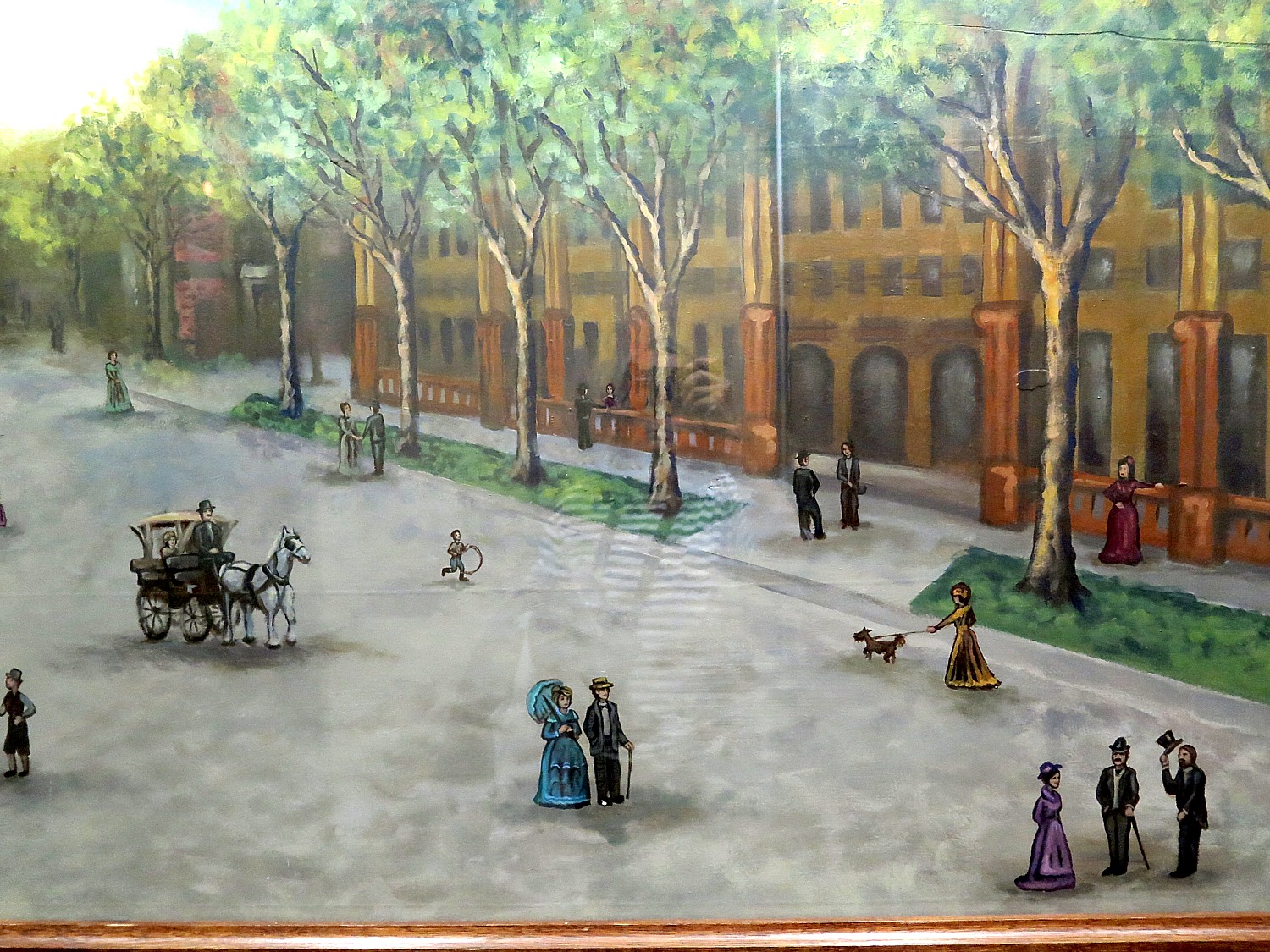 Anyone who appreciates as I do how a historic hotel is like a direct line to a place – putting you on the inside track rather than being an outsider merely passing through – seeks out historic hotels wherever possible. They have presence, and give you a sense of place.
These historic hotels immerse you into the collective memory and heritage of a place – like being inserted into the scene of the village as it might have been 150 years ago. They are so much more than brick and mortar – they have personality, character, even soul (not for nothing that many also harbor a ghost or two).
It is also about providing the gracious hospitality we associate with times past – the personal attention, the tranquil pace, a quiet calm.
So, coming to Saratoga Springs, I do what I always do when I plan a trip: seek out Historic Hotels of America website (historichotels.org, 800-678-8946), a membership program of the National Trust for Historic Preservation with nearly 290 historic hotels that have faithfully maintained their authenticity, sense of place and architectural integrity. I discover the Inn at Saratoga, which turns out to be the oldest continuously operating inn in Saratoga Springs, dating back to 1843.
Over the years, the inn's fortunes have had its ups and downs along with the city (now decidedly up in its fortunes)  and, like the city and hospitality industry, has gone through many incarnations – a physician tapped Saratoga Springs' legendary mineral waters for his patients and operated the inn as an early version of a spa hotel; a Cuban owner had a travel pipeline for visitors from Cuba; a rabbi catered to Jewish vacationers escaping New York City's oppressive summers.
Fortunately, it is now in the loving hands of the Israel family, who acquired the inn in 2003, and who bring a deep appreciation for historic preservation and their role as stewards.
Indeed, when you experience such places, you cannot take their existence for granted – rather, they are to be celebrated as survivors against long odds – surviving wrecking balls, economic and natural disasters, and new owners' predilections to go "modern."
Owners of these historic properties take on their stewardship with a sense of obligation and humility, recognizing they are links in a chain, without which, these places will simply cease to exist.
The Israel family, who are active in Preservation Society for Saratoga Springs, has spent considerable resources removing the "modern" that previous owners had installed, and restoring the hotel's period features and charm, while providing the amenities that guests crave today, including spacious bathrooms, in-room coffee maker, flat-screen TV, voicemail, dataports, complimentary wired and wireless high-speed Internet access and such.  As they say it is "the perfect marriage of past and present."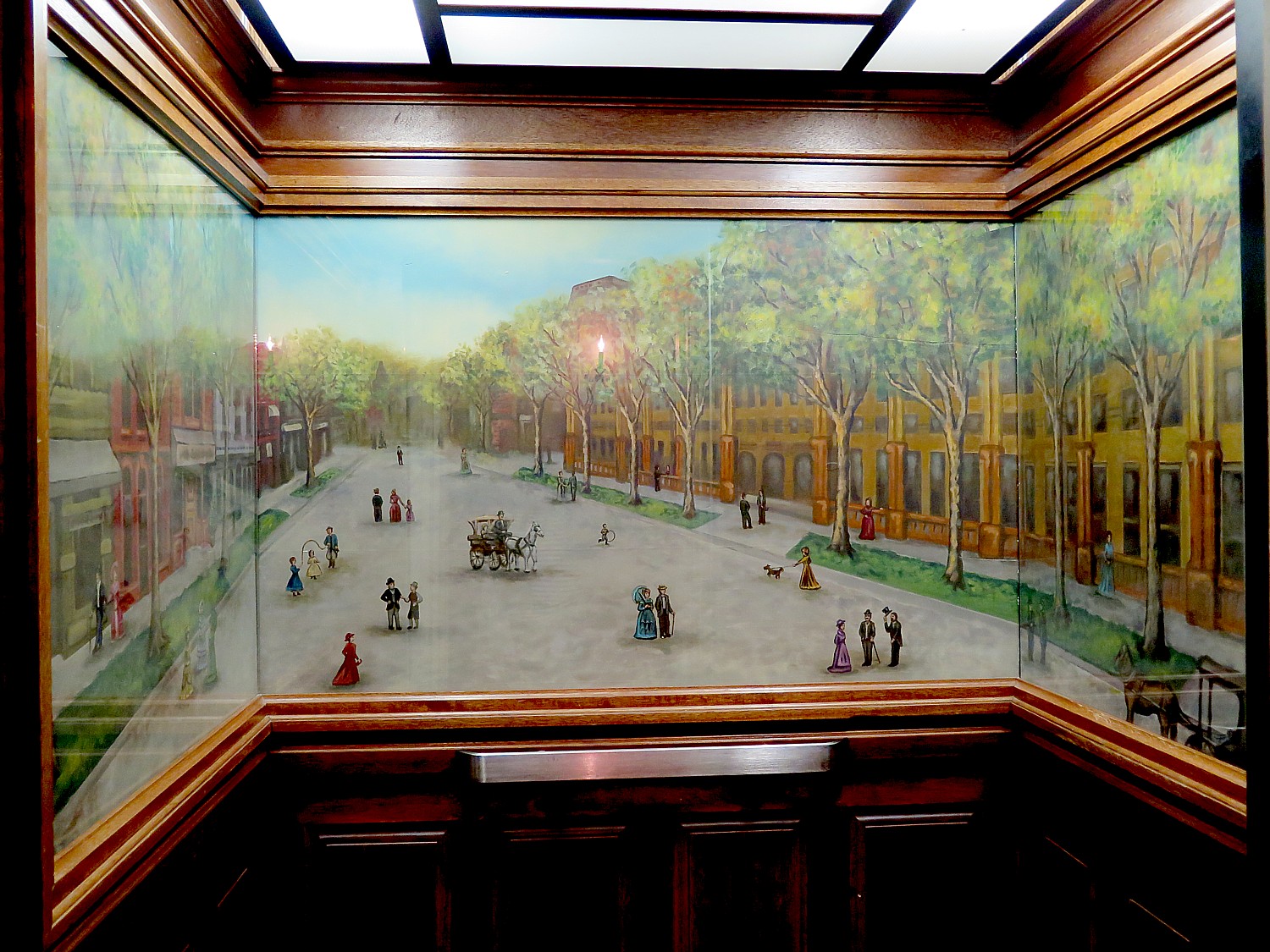 I joke about the hotel having an elevator (which has an exquisite pastel painting of Saratoga Springs as it might have been 150 years ago that spreads across three sides) and the receptionist says, this place didn't even have running water in 1843. But to install the elevator, Liz Israel, who has the role of General Manager, tells me, the previous owners removed a formal staircase.
The inn once had around 100 rooms, more than twice the number, 42 rooms and suites, as today – because traditional hostelries had tiny rooms with a washbasin and guests shared a bathroom.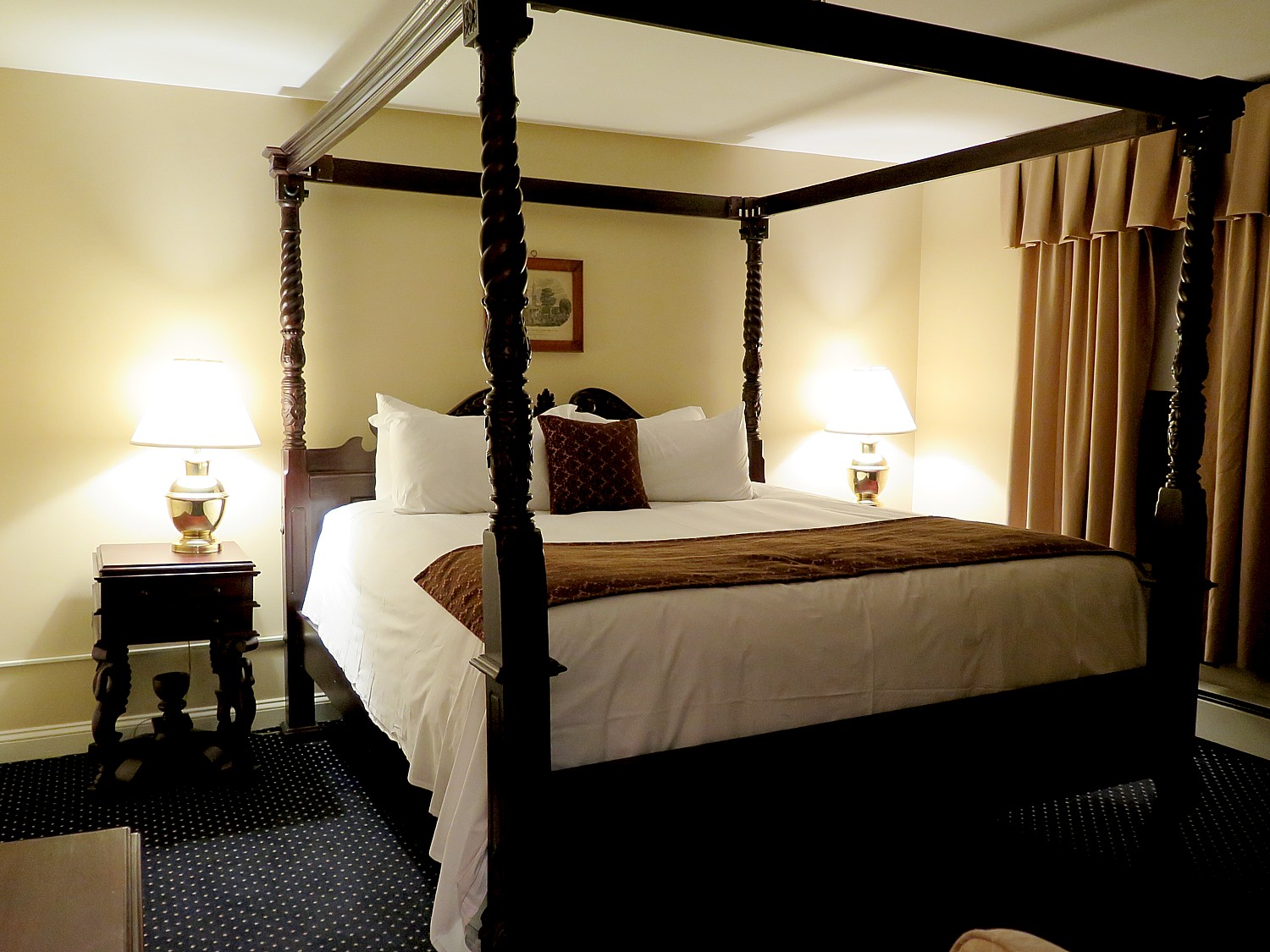 Big band music plays in the hallway as I make my way to my room (you can't hear it when you are in the room) but you use a modern key-card to enter. It is pure pleasure to sink into a four-poster bed so high you need a step ladder, and of course a spacious modern bathroom. Each room is different and appointed with period furnishings.
Robert Israel, a tax attorney who first came to Saratoga Springs in the 1960s when it was in decline (and property was cheap) bought the hotel in 2003, has meticulously gone about acquiring period furnishings at auction – a stunning bookcase that adorns the dining room; wood paneling that as a young man in his 20s, he salvaged from a hotel in Newburgh that he kept for 40 years before finding just the right place, in the inn's lobby; the side board we take our coffee cup from for breakfast came from the Waldorf=Astoria Hotel. The walls are graced with stunning oil paintings (purchased at auction) as well as prints that Israel collected from the Grand Union Hall, which when it was built, was the largest in the world (it burned down). He acquired a shuttered railway ticket cottage which he reassembled and repurposed in the inn's garden to serve as a bar for special events. The ballroom has an intricately "carved" fireplace which came  from a movie set. And the dining room has a specially made red velvet banquette that captures the Victorian ambiance perfectly.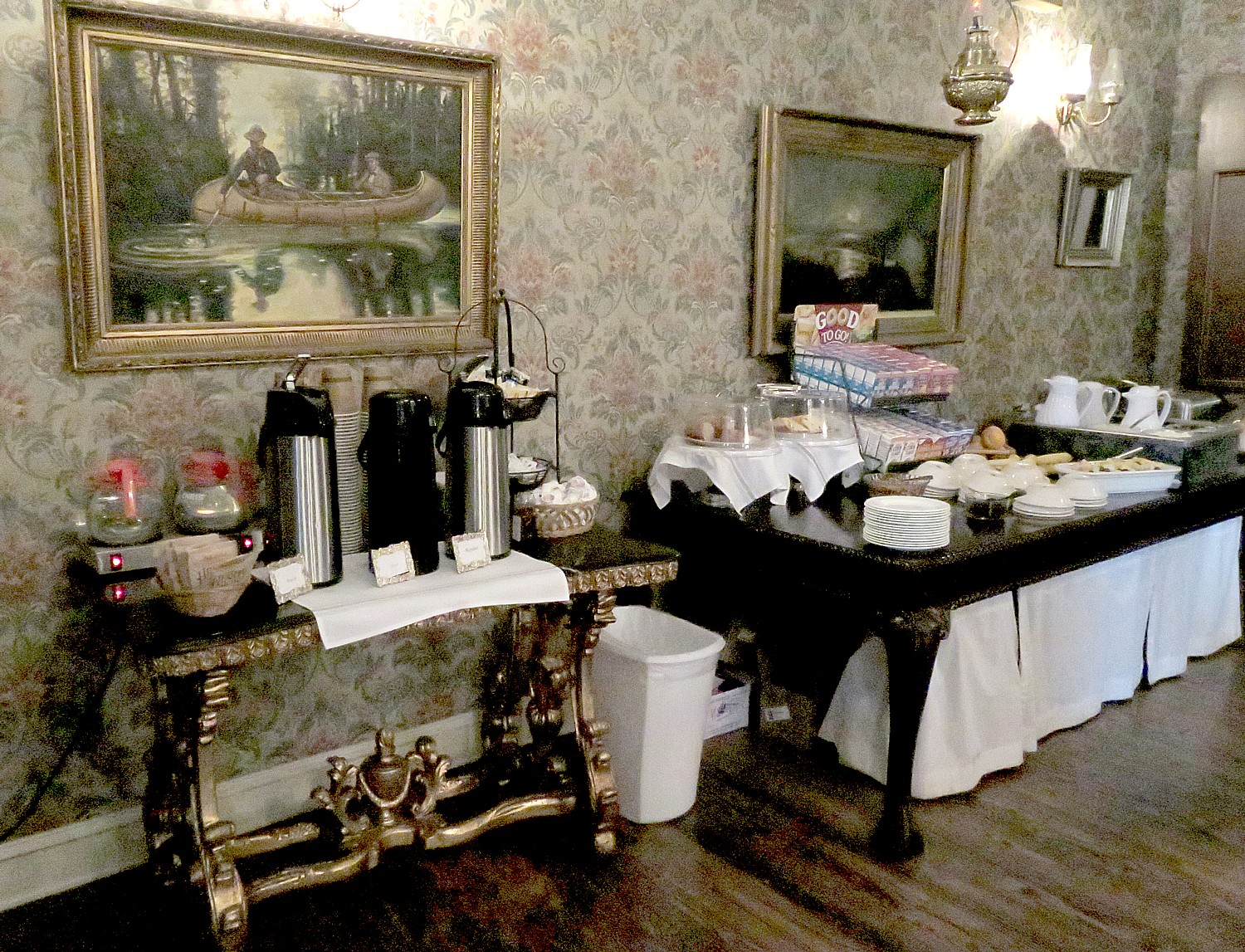 One feature of the Inn at Saratoga is the complimentary full buffet breakfast that is included – a lavish affair that reminds you more of a bed-and-breakfast inn where the host seeks to really out do themselves with memorable meals. One breakfast consisted of delectable scrambled eggs seasoned with herbs, served on a fresh croissant, along with bacon, potatoes, selections of fresh fruit, cereals, bagels, pastries and muffins, perfectly delectable coffee, served on beautiful china.
Liz Israel was 18 years old when her father bought the property. She grew up waiting tables, handling the reception desk, and went on to get a degree in hospitality management in Ireland, where she worked at the Shelburne Hotel in Dublin before returning to the Inn at Saratoga with her Irish husband.
Liz takes me on a walking tour of the hotel, recognizing how much I appreciate the restoration.
Once an open porch, The Tavern bar has big picture windows that overlook the street bustle on Broadway, Saratoga Springs' main street, and where there is live music five nights a week, Wednesday through Saturday.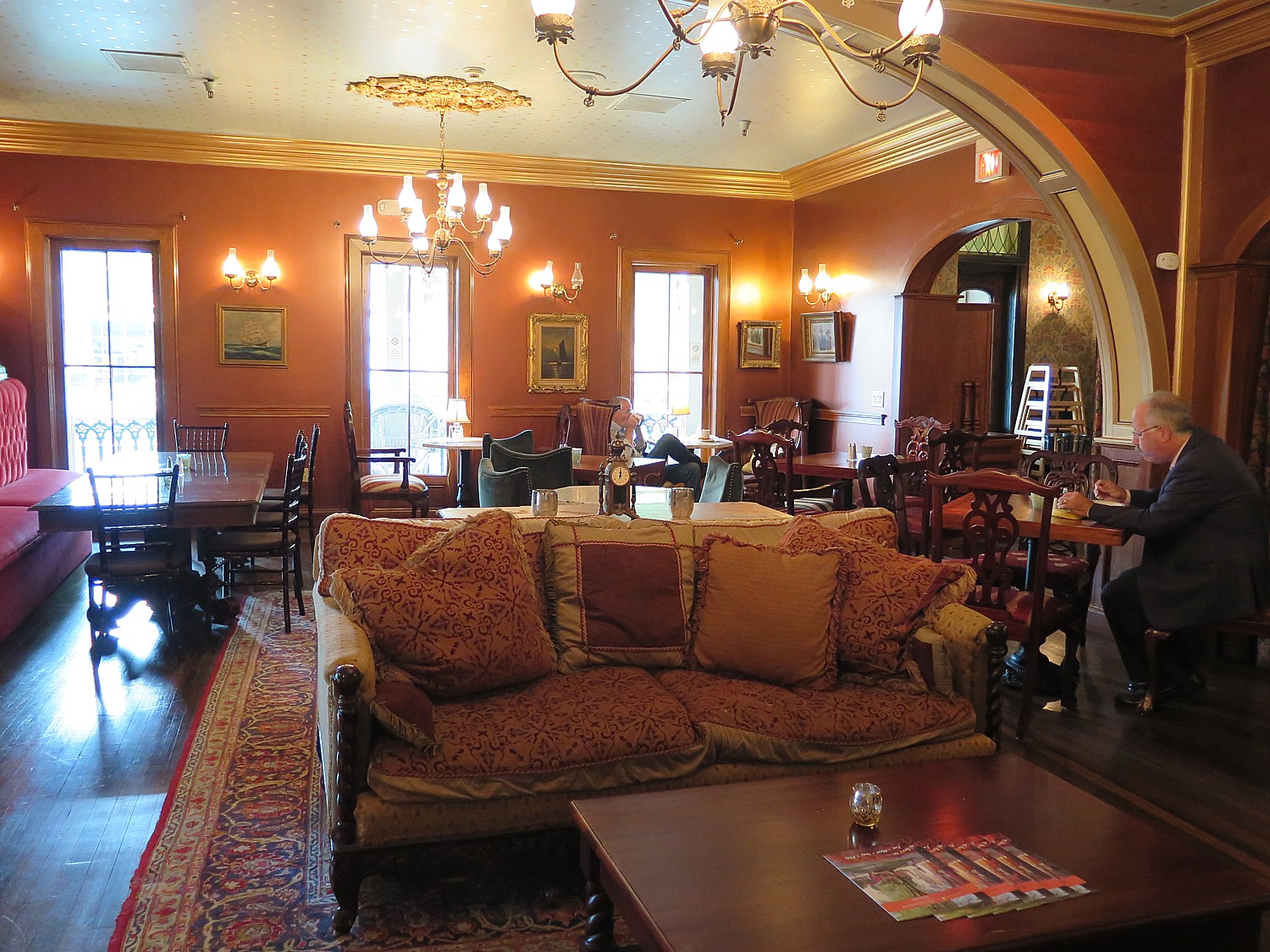 Primo's Restaurant, where you enjoy breakfast and which serves dinner, is a Victorian confection. Liz says that they lifted up the carpet and removed a cement layer to expose the original hardwood floors.
There is a beautiful ballroom that opens to a garden where a tent has been erected for a wedding reception; there is also an old railroad ticket cottage that Israel acquired and repurposed for a bar.
The inn has a few vintage Roadmaster bikes available for guests' use (two hours at a time). Guests also enjoy complimentary access to Victoria Swimming Pool located in Saratoga Spa State Park and the nearby YMCA. Complimentary parking in its on-site lot is a significant amenity as well. (The inn offers a spa package with the historic Roosevelt Baths & Spa in the park.)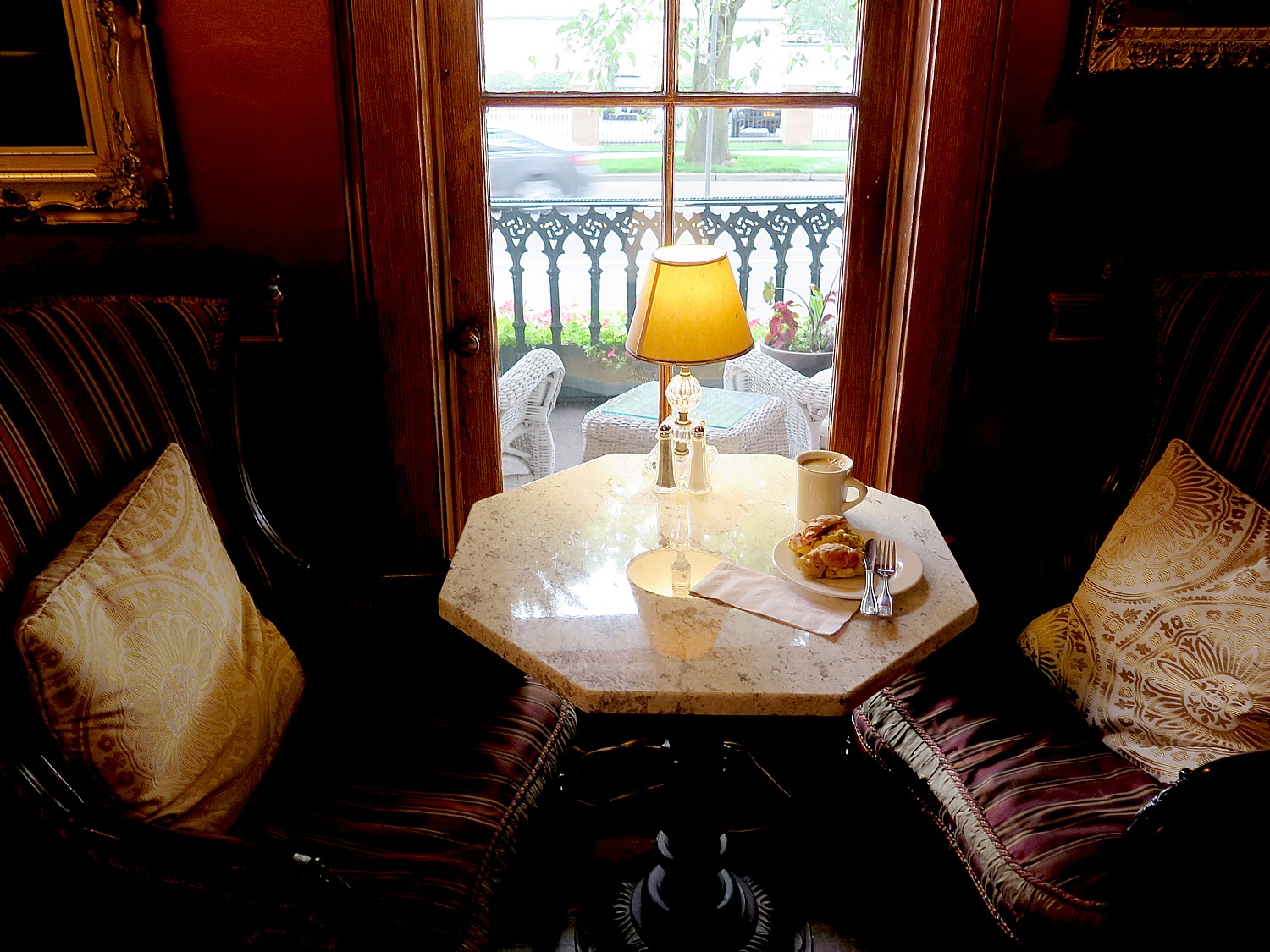 In addition to the hotel, there is a separate Brownell Cottage (which was purchased along with the hotel) which features four luxurious suites, accommodating up to four people depending on the suite. Beautifully appointed, the cottage offers an array of modern amenities: whirlpool tub, heated bathroom floors, steam shower with multi-head massage shower, authentic Franklin Stove fireplaces, cable TV, coffee/tea maker, speaker phones with data port, voice mail and in-room safes and free high-speed wireless Internet.
The Inn at Saratoga is an ideal venue for wedding or family function or meeting because of its scale, the charming ambiance, and facilities.
Inn Follows Fortunes of Saratoga Springs
I love the back story to the inn: it was built as a large boarding house in 1843 by Isaac Hall, a carpenter from New Hampshire, 11 years after the railroad provided easy access to Saratoga's spa for tourists.
In 1846, Hall sold the property to Thomas Smith of Virginia, who turned over the management to Dr. Richard L. Allen, who, like other physicians of the time, operated boarding houses to treat "chronic cases" – an early version of a health spa. That lasted until 1853, when the property was sold to Hervey P. Hall (Dr. Allen remained in Saratoga Springs and published a popular guide for health seekers in Saratoga).
The hotel passed through three other owners until 1865 when it was acquired by Benjamin V. Frasier, brother-in-law of Thomas Marvin, the proprietor of the huge United States Hotel (largest hotel at the time). "The wealth created by the Civil War and the pent-up demand for pleasure created the greatest boom Saratoga had ever seen."
It isn't a coincidence that organized horse racing, brought by casino operator and future congressman, the prize-fighter John Morrissey, had begun in Saratoga Springs.
Frasier significantly expanded the hotel, building the three-story wing in 1866 and added a brick veneer, and re-named the hotel Everett House.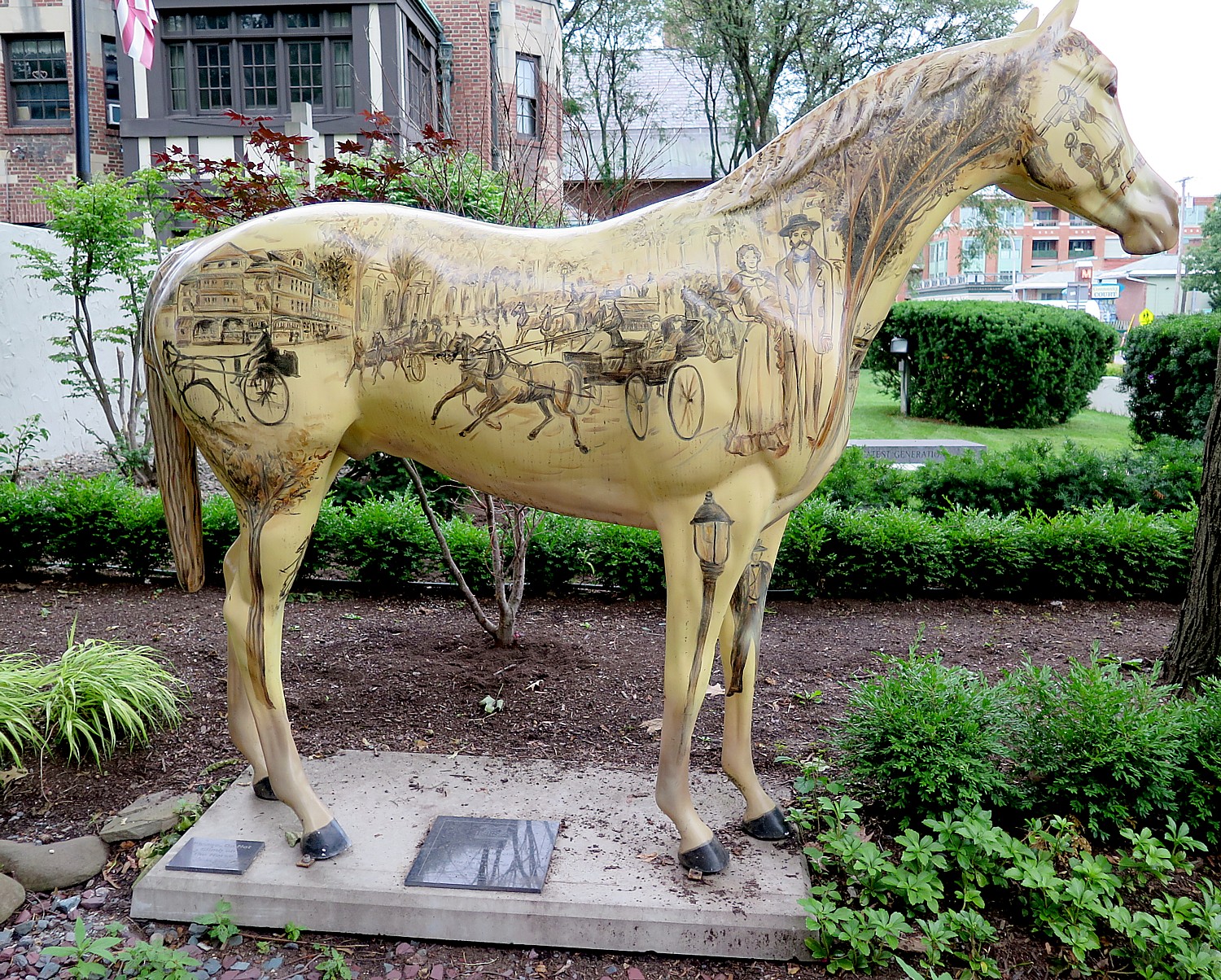 Frasier gave up the hotel in 1875 (the same year as the first Kentucky Derby was run at Churchill Downs in Louisville, Kentucky) and it was sold to Nathaniel Waterbury, a prominent Saratogan, who made improvements but quickly  went into foreclosure. The US was in the midst of a major economic Depression. The property was purchased at an 1878 sheriff's sale by Thomas Marvin's daughters, Mary Louise Sackett and Virginia Perry. By 1882, they had leased it to Primo M. Suarez, who catered to Cuban vacationers for 35 years; he rebuilt the front of the hotel in 1887 in the High Victorian style that was fashionable at the time.
After World War I, Saratoga's old clientele was slipping away; and instead of two-week sojourns, auto touring was the newest fad. But there was a growing audience of Jewish New Yorkers who sought to escape the city's summer heat and could afford a country retreat. In 1919, Nathaniel Heller took over Everett House and by the 1924 season, renamed it Hotel Brenner, operated by Rabbi Charles Brenner and his extended family. That continued until 1973 when the hotel was purchased by Dom Nardelli of Saratoga Springs who "updated" the facility and renamed it the Coachman Motor Inn.
That was a fairly dark time for Saratoga Springs, when many of its historic buildings were taken down. A historic preservation movement took hold in the 1980s, and when Nardelli put the hotel on the market in 1987, it was sold to four businessmen who sought to recreate the graciousness of a Victorian hotel.
In 2003, the hotel was acquired by the current owners, Robert Israel of Franklin Square Associates, a historic preservation professional who has sought to restore the hotel's historic quality and enhance the guest experience.
Liz tells me her father uses the inn as an excuse to shadow auctions and indulge his passion for antiques.
The Inn at Saratoga offers several package options, including:
GirlFriends Getaway Package, featuring dinner, wine, mineral baths and massage treatments at the historic Roosevelt Baths & Spa in Saratoga Spring State Park.
(The Roosevelt Baths & Spa Saratoga Springs opened in 1935 largely because at the impetus of President Franklin Roosevelt who wanted to develop the mineral baths at Saratoga Springs as well as Warm Springs, Virginia. Today, the Roosevelt Baths & Spa offers 42 original treatment rooms and a complete menu of services, including mineral baths, massages, facials, scrubs and body wraps, and a full-service salon.)
The inn's Victorian Romance Package features a deluxe guest room or suite accommodations, a rose, chilled bottle of Champagne delivered to the room, plus morning buffet breakfast and gourmet 3 course dinner for two at The Inn at Saratoga's Restaurant. Upgrade to a suite for the ultimate experience, most Brownell Cottage suites have a whirlpool tub, heated bathroom floors, steam showers and a Franklin stove fireplace.
The Israel family also owns another boutique hotel, in St. Thomas in the Caribbean.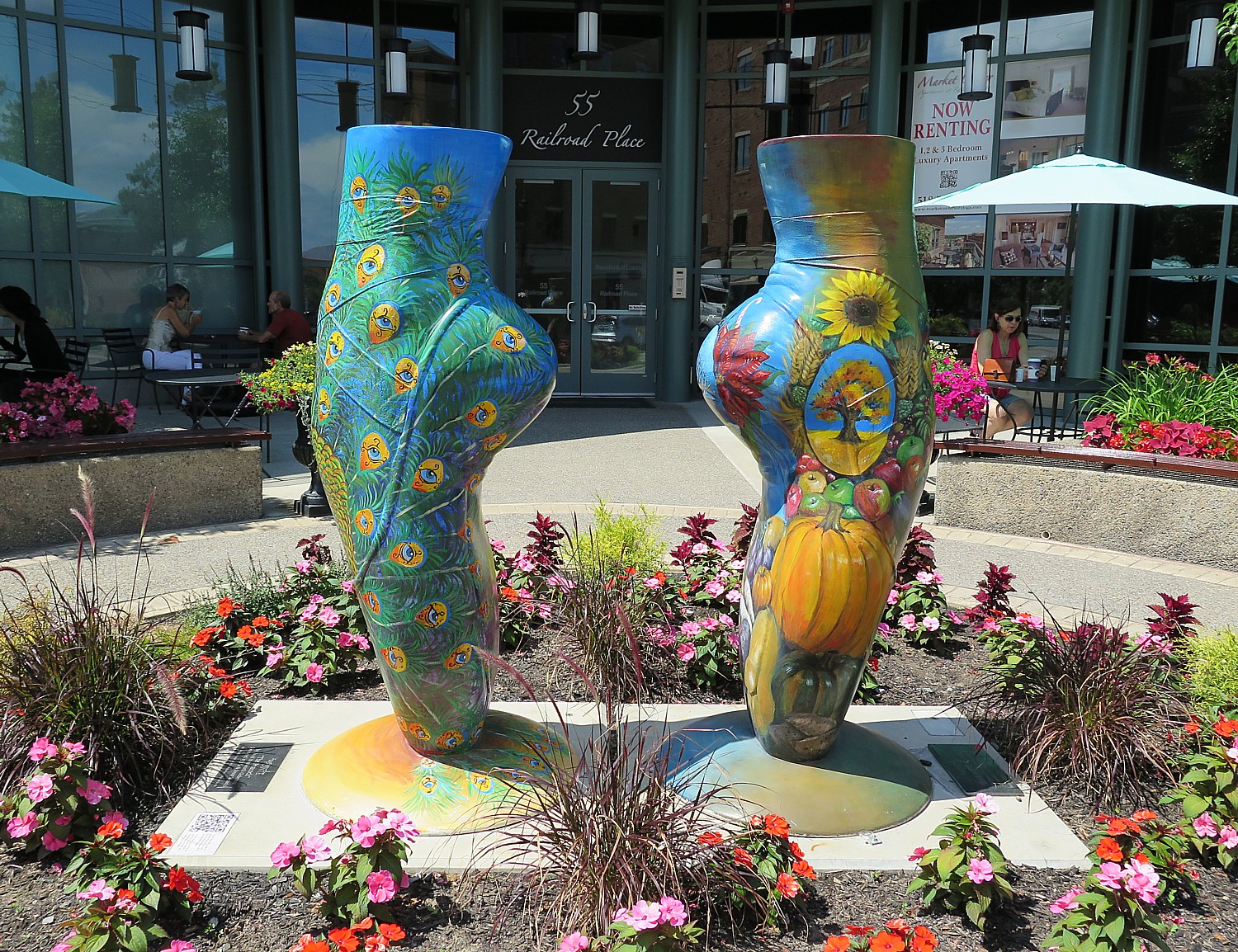 Centrally located, The Inn at Saratoga is conveniently near center of the village and its attractions including Congress Park, Skidmore College, Saratoga Performing Arts Center (summer home of the New York City Ballet), the famous Saratoga Thorough-bred Racetrack, the Saratoga Harness Track, the Saratoga National Museum of Dance, the National Museum of Racing, and the Saratoga Spa State Park.
On the Friday night that I am in town, I can choose from seeing the New York City Ballet, see a polo match or a live folk performance at Café Lina, among many other options.
Besides the nearby attractions of Saratoga Springs (see story), The Inn at Saratoga is well situated to year-round attractions, including Lake George (half hour); Gore Mountain (hour), and the Revolutionary War-era Saratoga National Historical Park (20 minutes).
The Inn at Saratoga, 231 Broadway, Saratoga Springs, NY 12866, 518-583-1890, 800-274-3573, theinnatsaratoga.com. 
See next: Exploring Saratoga Springs 
____________________
© 2017 Travel Features Syndicate, a division of Workstyles, Inc. All rights reserved. Visit goingplacesfarandnear.com,  www.huffingtonpost.com/author/karen-rubin , and travelwritersmagazine.com/TravelFeaturesSyndicate/. Blogging at goingplacesnearandfar.wordpress.com and moralcompasstravel.info. Send comments or questions to [email protected]. Tweet @TravelFeatures. 'Like' us at facebook.com/NewsPhotoFeatures