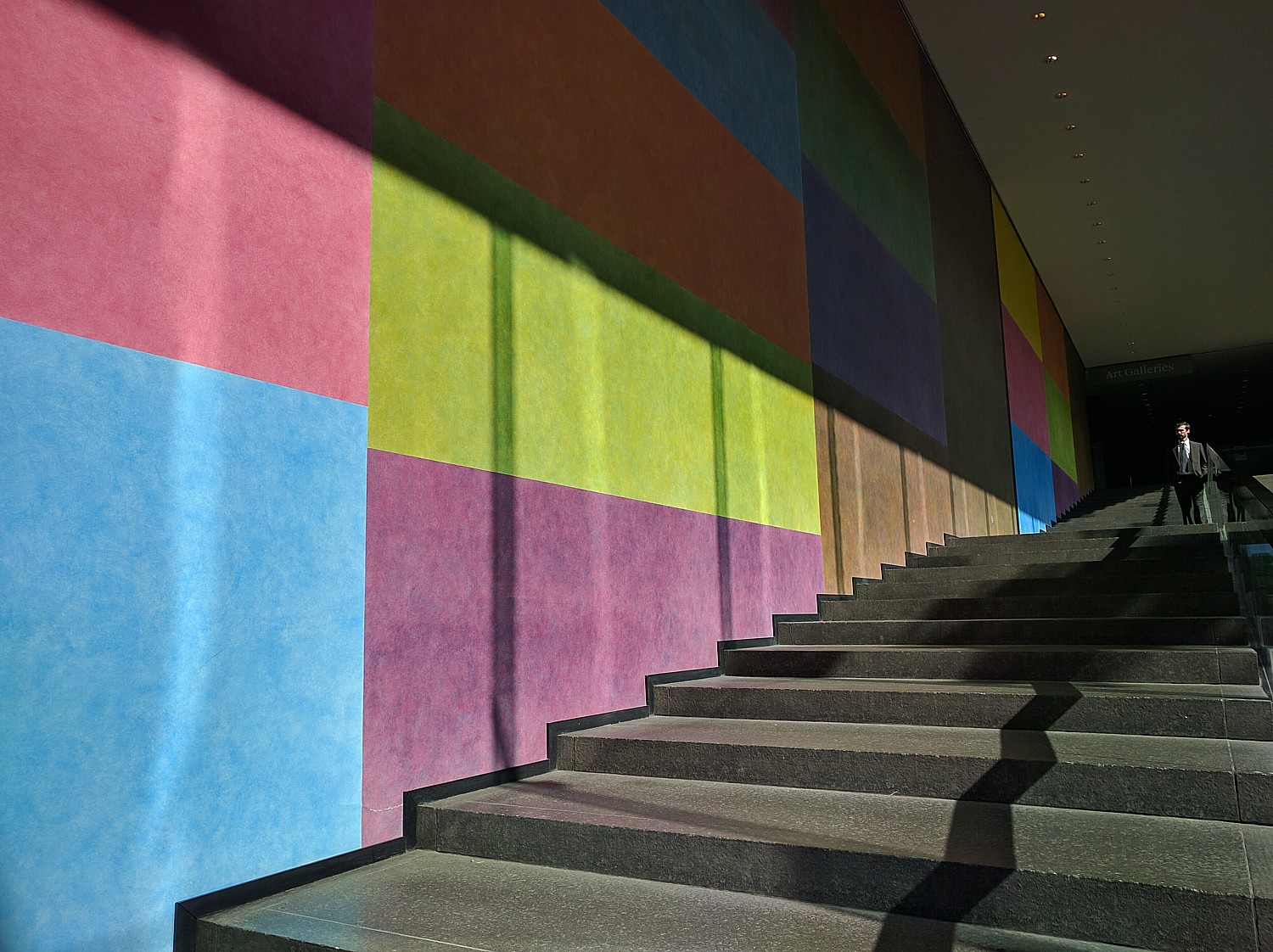 By Karen Rubin, Travel Features Syndicate, goingplacesfarandnear.com
I must admit to relishing my stay in Pittsburgh's Shadyside neighborhood, where I am staying at Mansions on Fifth, two mansion homes originally built in the early 1900s by Willis F. McCook, a prosperous attorney and legal counsel to steel and coke magnate Henry Clay Frick for himself, his wife Mary and their 10 children, that have been turned into a boutique hotel. The neighborhood was also home to most of the city's (and therefore, the nation's) leading industrialists, innovators and bankers, including George Westinghouse, Frick, Andrew Mellon, Andrew Carnegie and the rest of Pittsburgh's exceptionally wealthy families of the era, and boasts stunning mansions, churches as well as some of the city's most important cultural attractions.
Staying at the mansion, you really feel part of that whole privileged Gilded Age society.
A young woman from the hotel spends a lot of time with me suggesting how to best spend my afternoon exploring. It turns out, the hotel (a true mansion) is only a short walk to the Carnegie Museum of Art. She also tells me about the Cathedral of Learning a few blocks beyond, in what is technically the Oakland neighborhood.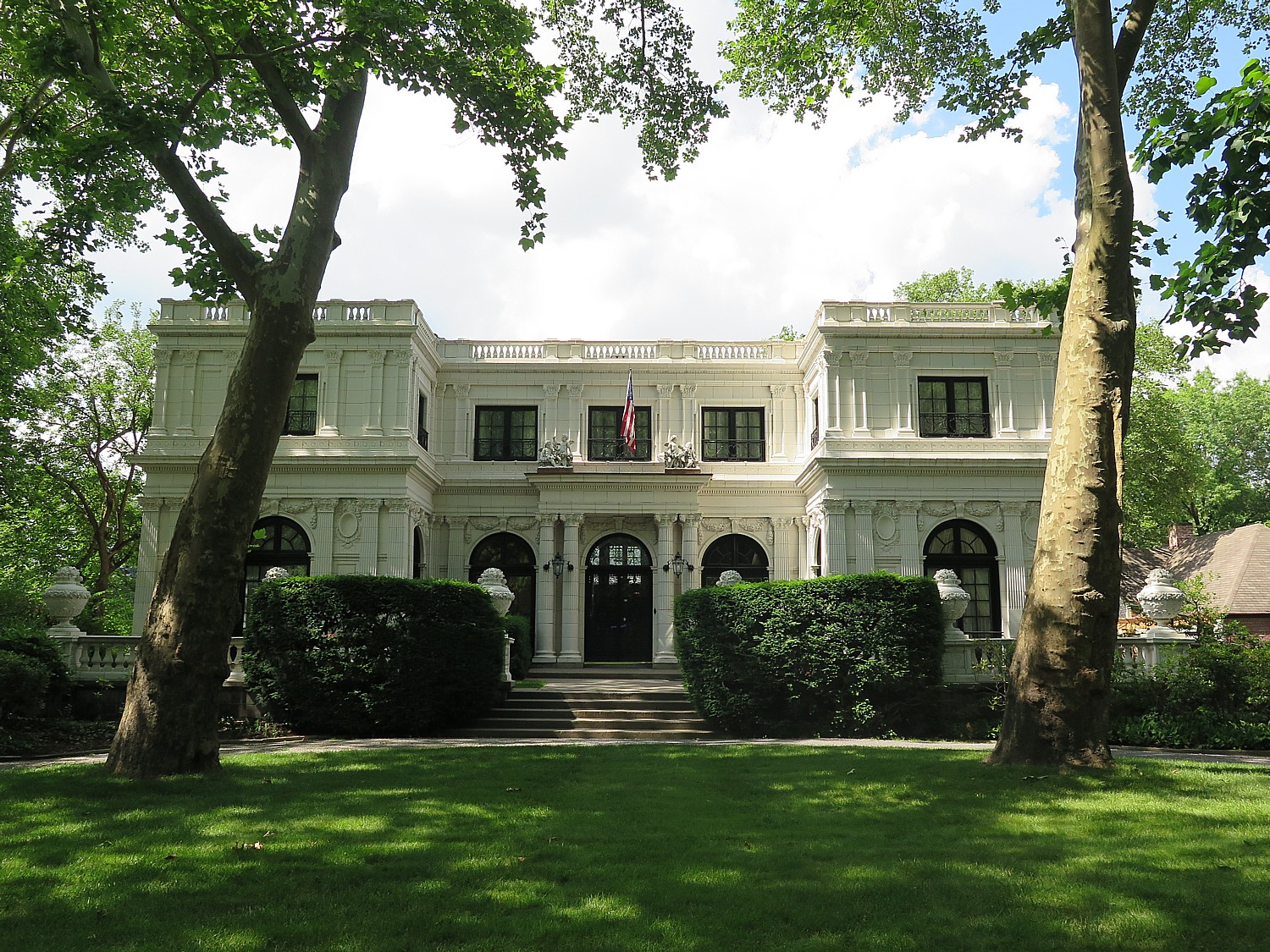 I set off for the short walk to Carnegie Museum of Art (it is attached to the Carnegie Museum of National History, two of four Carnegie museums; the others are the Carnegie Museum of Science and the Warhol Museum, downtown), dazzled when I pass the neighboring mansions along Fifth Avenue. It reminds me of Newport or Palm Beach.
The Carnegie Museum of Art is arguably the first museum of contemporary art in the United States, collecting the "Old Masters of tomorrow" since the inception of the Carnegie International in 1896 – held at various times, from which much of the present museum's collection came (there are notes that say if the painting was in an exposition).
"While most art museums founded at the turn of the century focused on collections of well-known masters, Andrew Carnegie envisioned a museum collection consisting of the 'Old Masters of tomorrow.' In 1896, he initiated a series of exhibitions of contemporary art and proposed that the museum's paintings collection be formed through purchases from this series. Carnegie, thereby, founded what is arguably the first museum of modern art in the United States. Early acquisitions of works by such artists as Winslow Homer, James McNeill Whistler, and Camille Pissarro laid the foundation for a collection that today is distinguished in American art from the mid-19th century to the present, in French Impressionist and Post-Impressionist paintings, and in significant late-20th-century works. Today the International remains an important source for the museum's acquisitions of contemporary art. Presented every three to five years, it features works by contemporary artists from around the globe."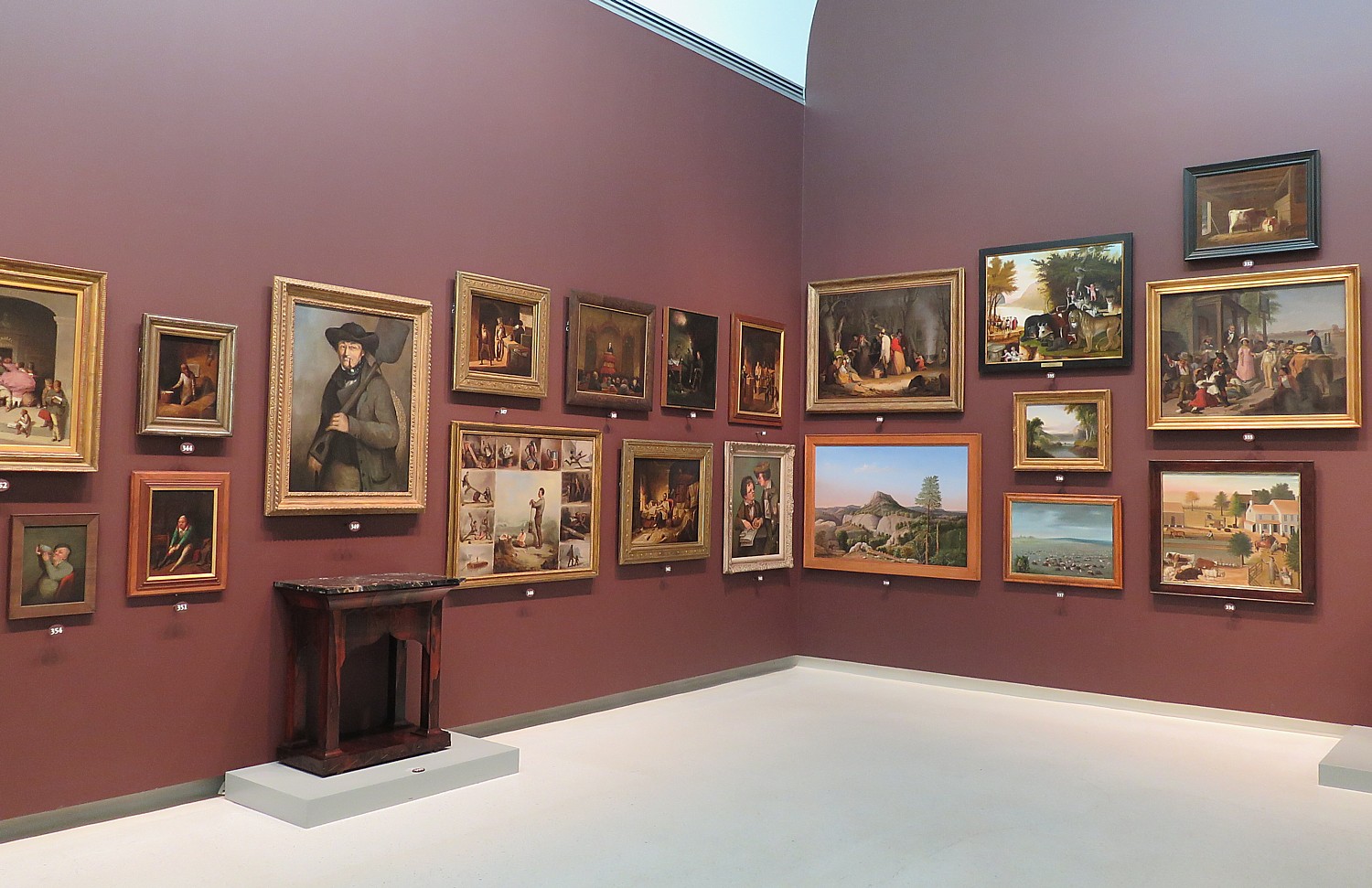 It is a stunning collection – much of it coming out of annual Carnegie International Art Expositions, or from other important benefactors including Mellon and Scaife. Some of the galleries are arranged much like those expositions, with multi-levels of paintings; some of the rooms are more intimate, like private collections, and some are more institutional. The notes and themes that accompany the rooms and individual pieces are wonderful.
Just about every artist of note is represented with at least one piece – including a superb collection of Impressionists and Post-Impressionists.
I take particular note of Childe Hassam's snow scene, "Fifth Avenue in Winter," of New York City, painted circa 1892, when here I am on Fifth Avenue, Pittsburgh.
The entire museum, though, is a reminder of how an economy that is designed to bestow such riches on a small segment, at the expense of the vast majority produces a society in which "the public" depends on the kindness and charity of the ultra-wealthy.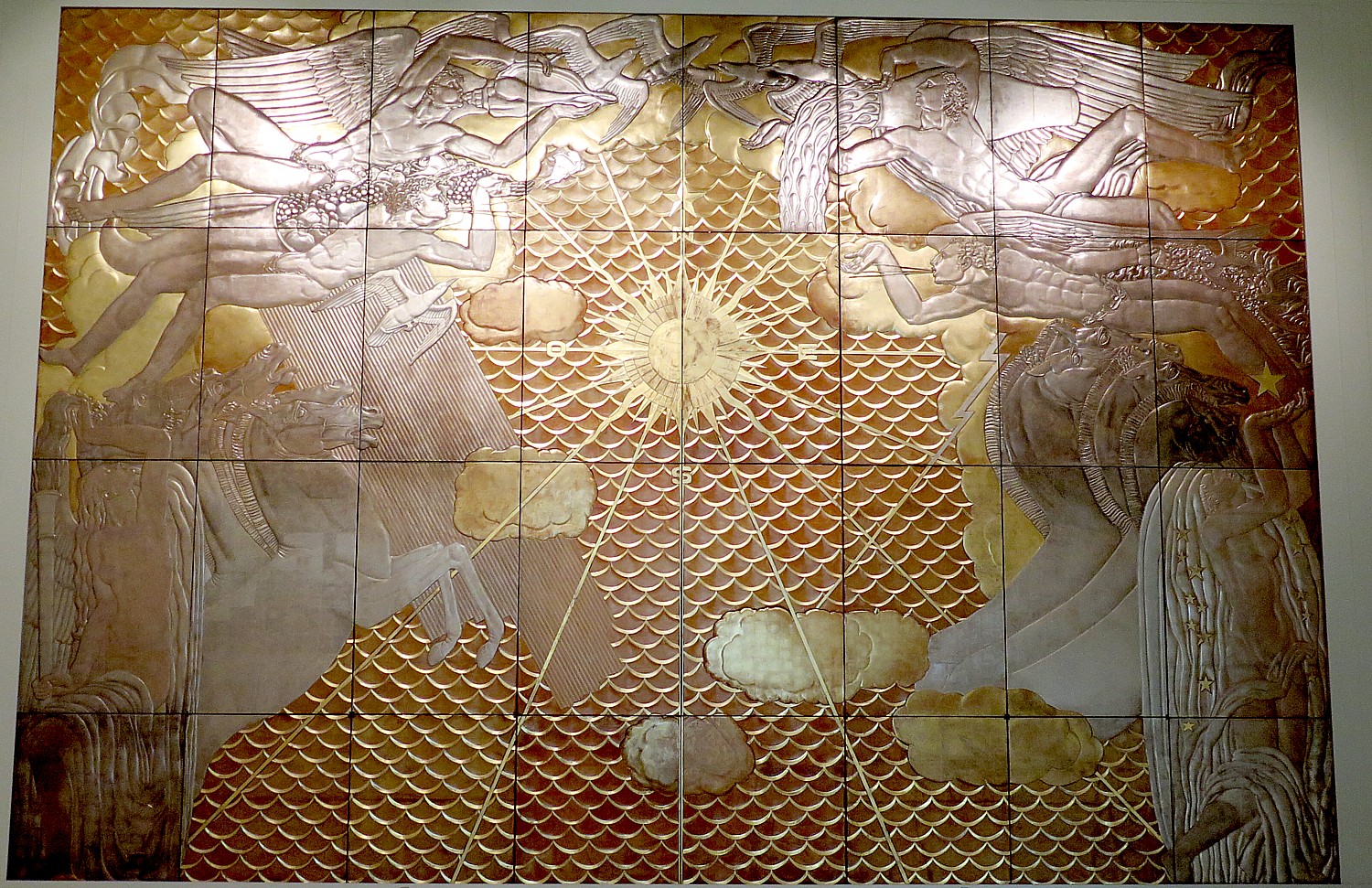 This juxtaposition was absolutely clear in one room where the massive (18 feet high and 26 feet long) gilded and lacquered relief, The Chariot of Aurora, takes up an entire wall. The stunning example of Art Deco was a gift of the renowned collector Frederick K. Koch in 1994 (brother of billionaires Charles and David Koch, who have their names on the Metropolitan Museum of Art, the Smithsonian, PBS, and scores others, as well as significant donors to political candidates and entities).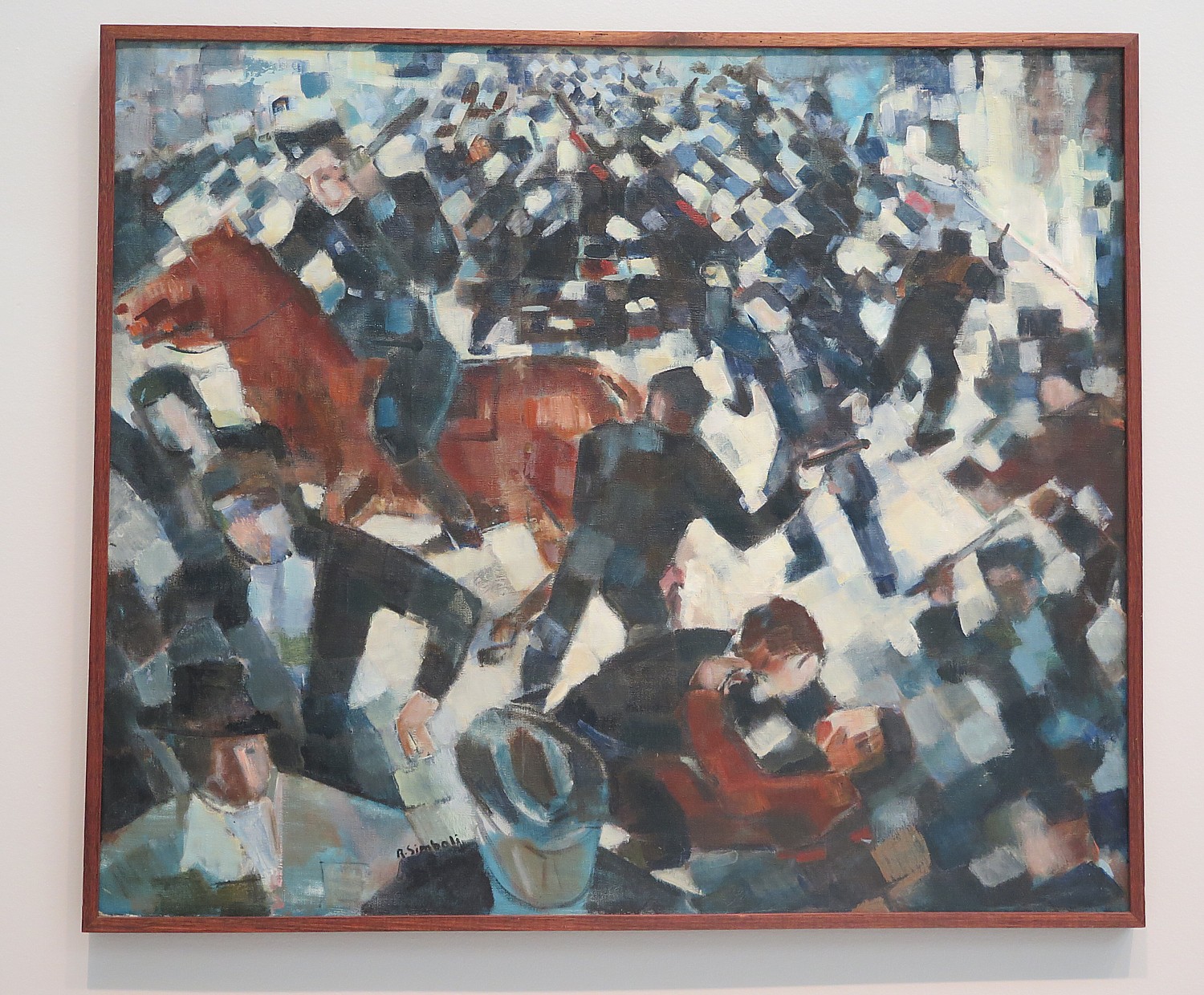 Just next door is a room devoted to Pittsburgh artists, including Raymond Simboli,, whose "Pinkerton Riot" depicting the Homestead Strike at the Carnegie & Frick steel mills so brutally put down in 1892, uses the dress is of the 1940s. Another artist, Sam Rosenberg, similarly paints from the perspective of working class Pittsburghers in such stark contrast.
I set out for the Cathedral of Learning and find myself in the Carnegie Library, another cathedral of Learning, just across the street from the academic tower.
Truly an inspiring place, Pittsburgh's Cathedral of Learning looms large over the city – in fact, I am told, the largest academic structure in North America.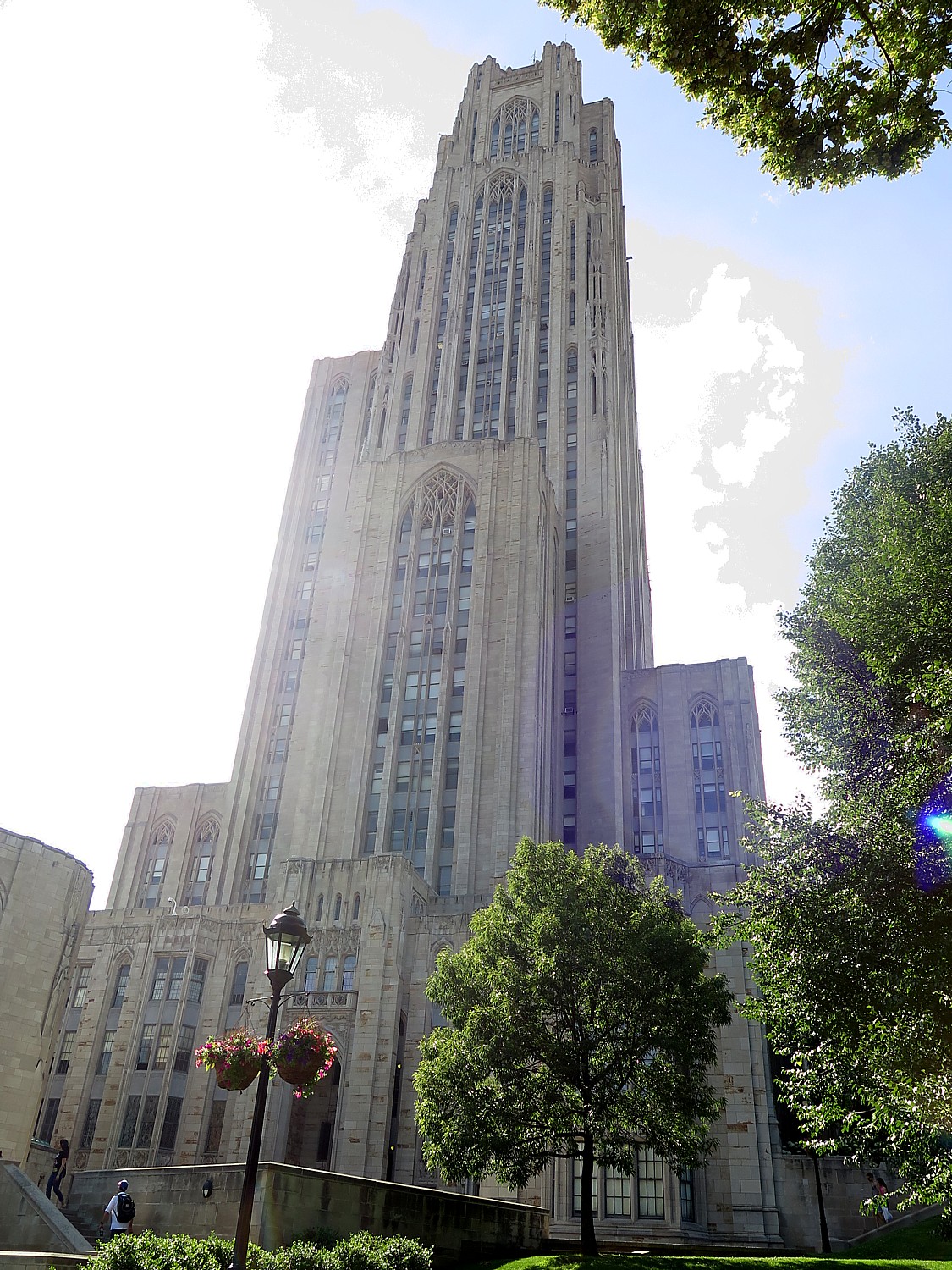 It is part of the University of Pittsburgh which "was well on the way to becoming an acropolis of neoclassical buildings on an Oakland hillside when John G. Bowman became the University's 10th chancellor in 1921. In those years following World War I, student enrollment had dramatically increased, causing a critical shortage of space. A 14-acre plot known as Frick Acres, which housed residences, gardens, and tennis courts, became the focus of Dr. Bowman's plans to erect a monumental building. A structure expanding upward, though unorthodox, would solve the growing University's problems of space and distance. More important, a tower would be a visible inspiration to all who approached the city. It would carry the message that education was the result of aspiring to great heights. The parallel lines of the truncated Gothic form, never meeting, would imply that learning is unending. The sweeping proportions would symbolize the spirit and achievement of Pittsburgh.  Architect Charles Z. Klauder translated these concepts into drawings that guided the placement of steel and stone."
Chancellor John Gabbert Bowman, himself, offered the reasoning behind designing such a dramatic tower: "The building was to be more than a schoolhouse; it was to be a symbol of the life that Pittsburgh through the years had wanted to live. It was to make visible something of the spirit that was in the hearts of pioneers as, long ago, they sat in their log cabins and thought by candlelight of the great city that would sometime spread out beyond their three rivers and that even they were starting to build."
The Cathedral of Learning is as much a monument to the immigrants who flooded its halls in their quest for education as a ticket to the American Dream.
Following World War I, Chancellor Bowman was charged with developing a great university in a city richly populated with first-generation immigrant families. He wanted to provide students with unique classrooms which would reflect a highly-creative period in the motherlands of Pittsburgh's new citizens. He conceived the idea of inviting community representatives of diverse nations to plan and build classrooms depicting an era or aspect of the heritage they had brought to America – known today as the Nationality Rooms – appointing Ruth Crawford Mitchell as his special assistant. It took 30 years.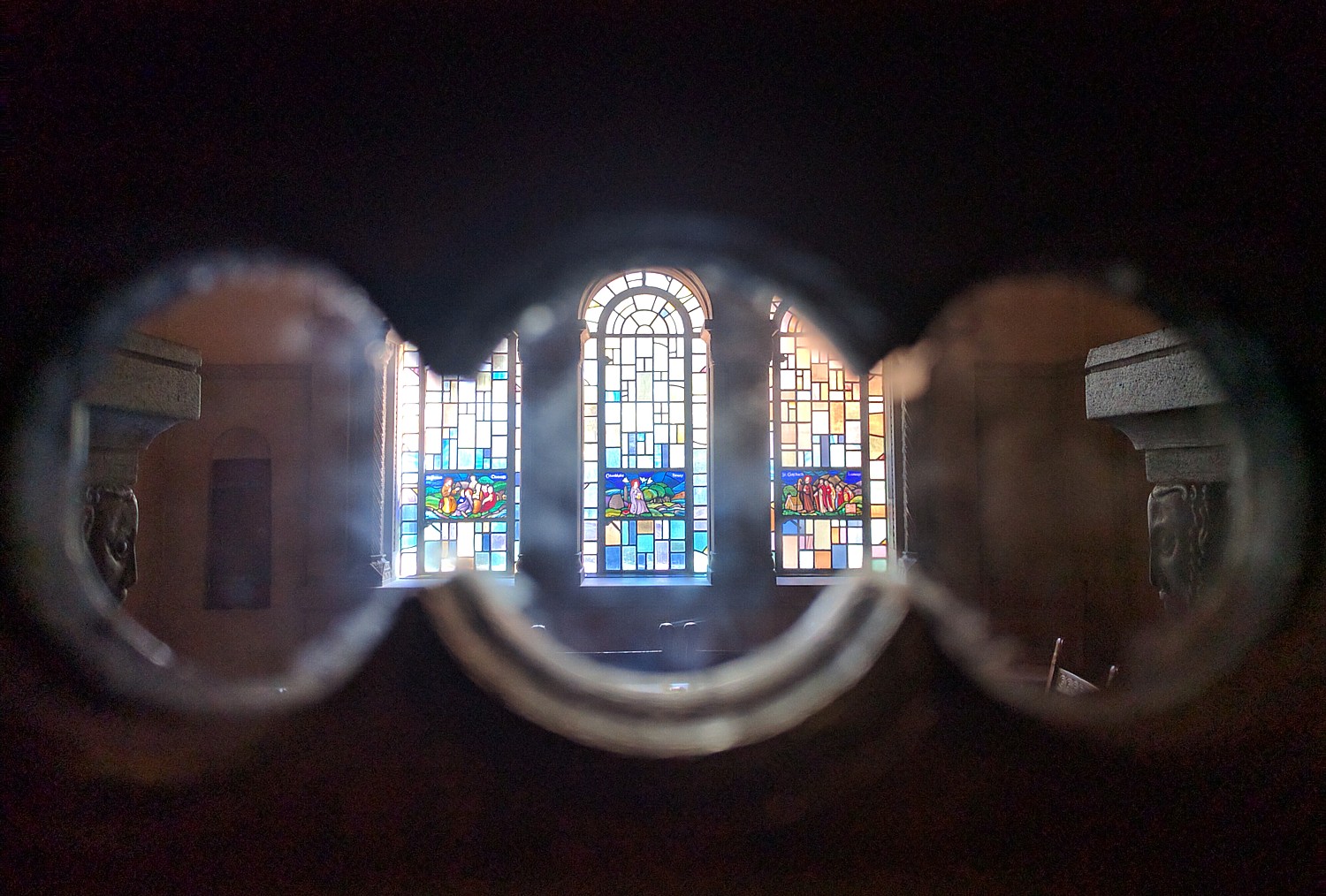 At the Cathedral of Learning, I seek out the "Nationality Rooms" – each one for a different nationality, such as Irish, Hungarian, Polish, Armenian, of ethnic groups who settled in Allegheny County. Rooms were subsequently added – like the Israel Room, in 1987 after a 30-year hiatus, which is modeled after a 1st-century stone dwelling in Galilee.
Unfortunately, when I get to there, the rooms are locked for the weekend, but I get to peek through peep-holes to the Irish room (the other rooms have peep holes much too high).
Members of Quo Vadis, a student organization, conduct guided tours for nearly 30,000 visitors each year. Special interpretations are adapted for children, senior citizens, the handicapped, and groups with special interests such as architecture, interior design, art, mythology, or religion. (See http://www.nationalityrooms.pitt.edu/content/touring-options-requesting-group-tours ).
Pittsburgh Neighborhoods
Shadyside has been Pittsburgh's premier upscale address for more than a century. It is fairly obvious that this was once home to Pittsburgh's robber barons – who could enjoy the clean, cool air well away from the choking smoke belching from their steel mills that shrouded the rest of the city – and now features a legacy of stunning housing on leafy green streets, awe-inspiring churches, and two active and growing business districts (Walnut Street and Ellsworth Avenue) with retail stores and eating and drinking establishments, including several that are considered among the best in the city. Shadyside is also home to Carnegie Mellon University, Chatham University, Shadyside Hospital of UPMC, and the Hillman Cancer Center.
I take my bike for a spin around the neighborhood and am dazzled by the architecture.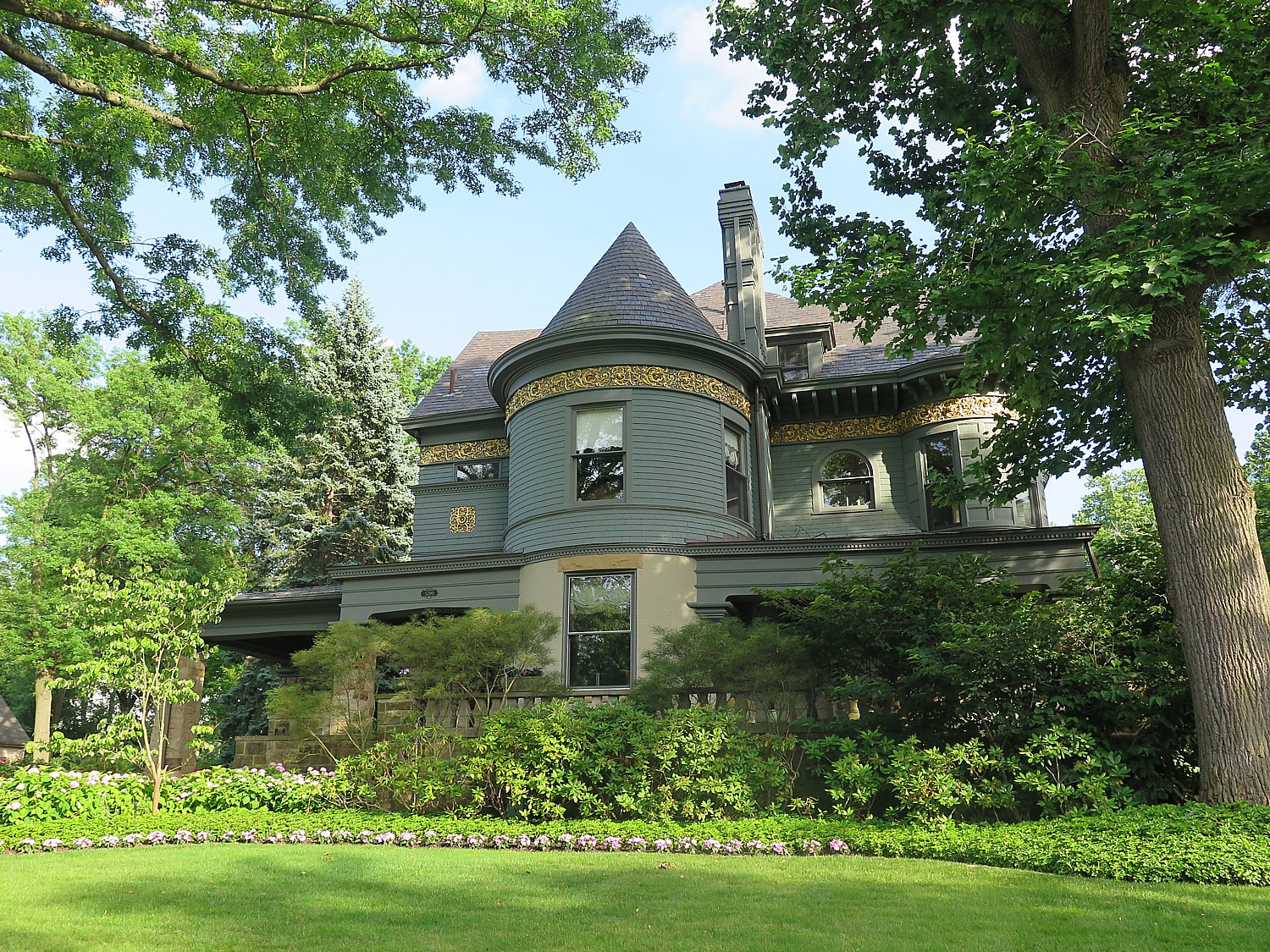 The large residential area includes beautifully restored Victorian mansions alongside modern homes and condos (I notice that many of the houses have lawn signs stating in three languages, "No matter where you are from, we are glad you're our neighbor.")
Shadyside is also walking (or an easy bikeride) distance from two other distinctive Pittsburgh neighborhoods:
Home to prestigious museums, world-class hospitals and universities and international cuisine, Oakland is considered the cultural, academic and medical center of Pittsburgh, where you will find the Carnegie Museums of Art and Natural History, the Carnegie Library and Cathedral of Learning, among other cultural venues.. It is also one of Pittsburgh's liveliest neighborhoods, with cool coffee shops, multi-cultural eateries and interesting specialty shops alongside grand architecture. Oakland offers all of the attractions of a major university in terms of concerts, lectures, theater and other entertainment, along with a wide variety of retail offerings, bookstores, restaurants and bars (ethnic and otherwise). (onlyinoakland.org)
I am particularly intrigued as I drive to Mansions on Fifth from the highway, to pass a synagogue. This is Squirrel Hill, one of the fastest growing sections of Pittsburgh, which has also been a home to Pittsburgh's Jewish community for many years. That history is reflected in the storefronts of the neighborhood's two main business streets, Forbes Avenue and Forward Avenue, which feature a variety of grocery stores, retailers and restaurants honoring the Jewish heritage. But Squirrel Hill is also one of Pittsburgh's most delightfully diverse neighborhoods as well, with residents (many connected to nearby universities and hospitals) from all over the world, reflected in the diversity of the cuisine of the various restaurants and eateries. Five minutes from downtown Pittsburgh, Squirrel Hill combines tree lined residential streets, a bustling business district, internationally recognized educational institutions, and two large public parks spanning 1100 acres.
Mansions on Fifth, 5105 Fifth Avenue, Pittsburgh, PA 15232, 412-381-5105, 800-465-9550, http://mansionsonfifth.com/.
For more information, contact Visit Pittsburgh, 412-281-7711, 800-359-0758, 877-LOVE PGH (568-3744), [email protected], www.visitpittsburgh.com.
See also:
Mansions on Fifth Historic Boutique Hotel in Pittsburgh's Shadyside Sends You Back to Gilded Age
One Day, Two Nights in Pittsburgh: From Grey to Green, A Proud City Revitalized
36 Hours in Pittsburgh: Point State Park Proves Highlight of Walking Tour
36 Hours in Pittsburgh: Andy Warhol Museum is at Center of Revitalized City
36 Hours in Pittsburgh: Strip District Exemplifies City's Past, Future
Two Nights, One Day in Pittsburgh: Historic Omni William Penn Hotel Connects to City's Proud Heritage
Rails-to-Trails Conservancy's BikeTour on Great Allegheny Passage Highlights Benefits of RailTrails
Rails-to-Trails Conservancy's Sojourn Biketour on Great Allegheny Passage Showcases Forgotten Towns
'World's Largest' Glass Sculpture with Trump Connection is Boon for Dunbar, Pennsylvania
____________________
© 2017 Travel Features Syndicate, a division of Workstyles, Inc. All rights reserved. Visit goingplacesfarandnear.com,  www.huffingtonpost.com/author/karen-rubin , and travelwritersmagazine.com/TravelFeaturesSyndicate/. Blogging at goingplacesnearandfar.wordpress.com and moralcompasstravel.info. Send comments or questions to [email protected]. Tweet @TravelFeatures. 'Like' us at facebook.com/NewsPhotoFeatures