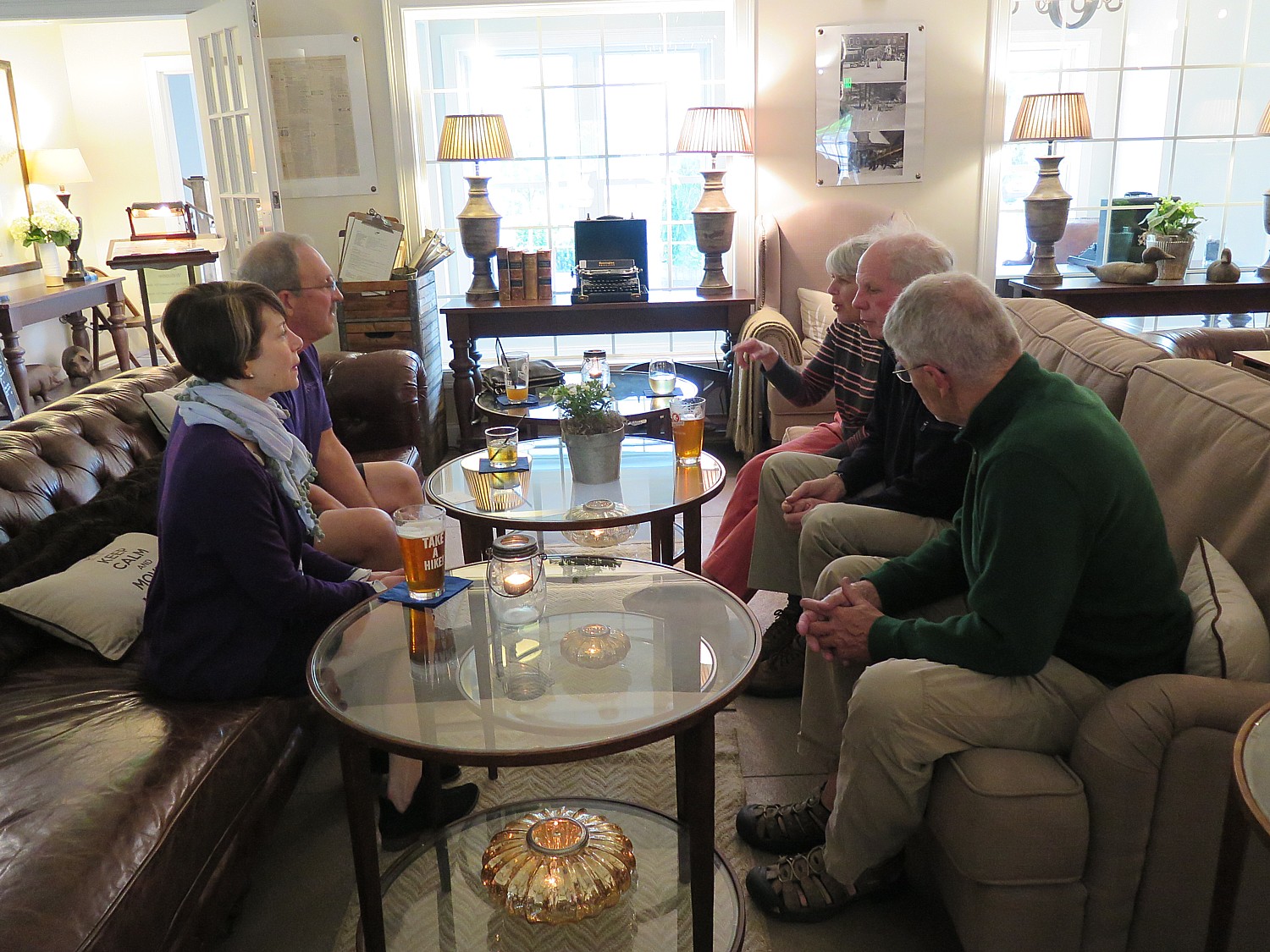 By Karen Rubin, Travel Features Syndicate, goingplacesfarandnear.com
Imagine the pressure on innkeepers wanting to build new in the historic village universally known as "Quintessential New England" with its amazing array of stunning architecture from the 1800s, including the classic Woodstock Inn that graces the village center just across from the green; with its covered wood bridges, classic New England white steepled churches and homes that proudly display dates from the 1800s.
Family owned and operated, the On the River Inn succeeds in stellar fashion, seamlessly integrating the charm of a traditional Vermont inn with lovely vintage and traditional touches while embracing the best of modern design and amenities – large open floor plan, high ceilings, full-length windows from which natural light streams in.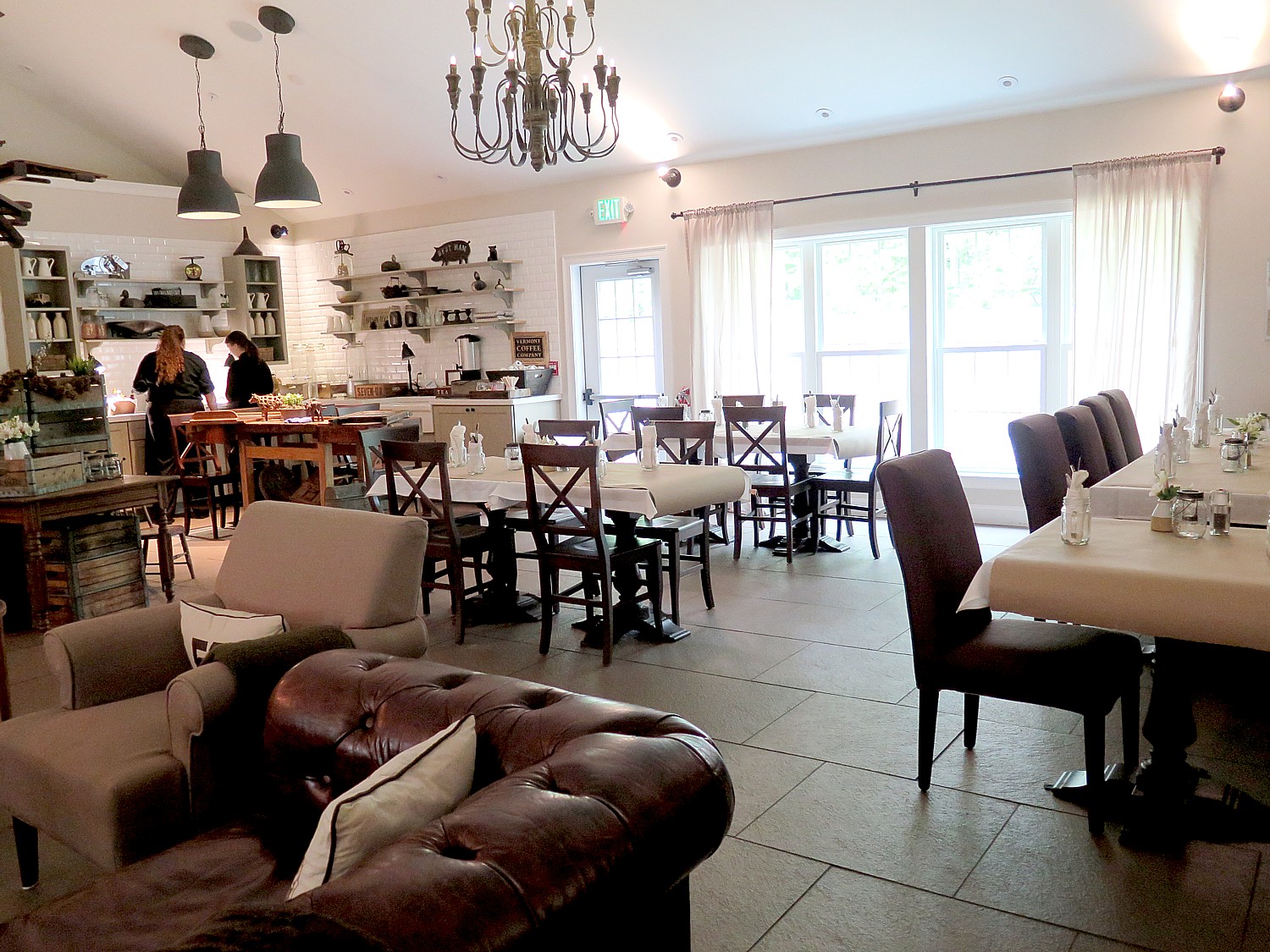 Indeed, it was deservedly named by Conde Nast Traveler in 2015 as one of the Top Hotels to Open and "the place to visit". The inn is conveniently located two miles from the picture book village of Woodstock on six acres fronting the Ottauquechee River, so you have easy access to lovely shops, galleries, restaurants without the bustle.
The Inn on the River is selected as our hub for the Discovery Bicycle Tours weekend biking trip (see story). This caps an exceptionally designed program – I mean, you're in Vermont – in Woodstock, no less – but that is not enough to make a fantastic bike trip. I really appreciate this as I take note of how they have structured the itinerary – the choice of roads (this is a shared-road,, not a bike trail experience) and routes that has to be within the realm of do-ability, as well as stunningly scenic (what you imagine Vermont to be), with decent road conditions (I am amazed at the roads that are unpaved dirt and gravel. But the choice of accommodations is what really caps off the whole Vermont experience. (800-257-2226. 802-457-3553, discoverybicycletours.com)
The low-rise inn is laid out so that each room has view of expansive lawn that stretches to the Ottauquechee River; a balcony (or patio) with rocking chairs, firepits and gazebo (just waiting for a wedding).
The low-rise inn sprawls out horizontally yet is intimate. It may well be feng shui but there is such a sense of peacefulness when you walk in, which also reflects the very welcoming staff.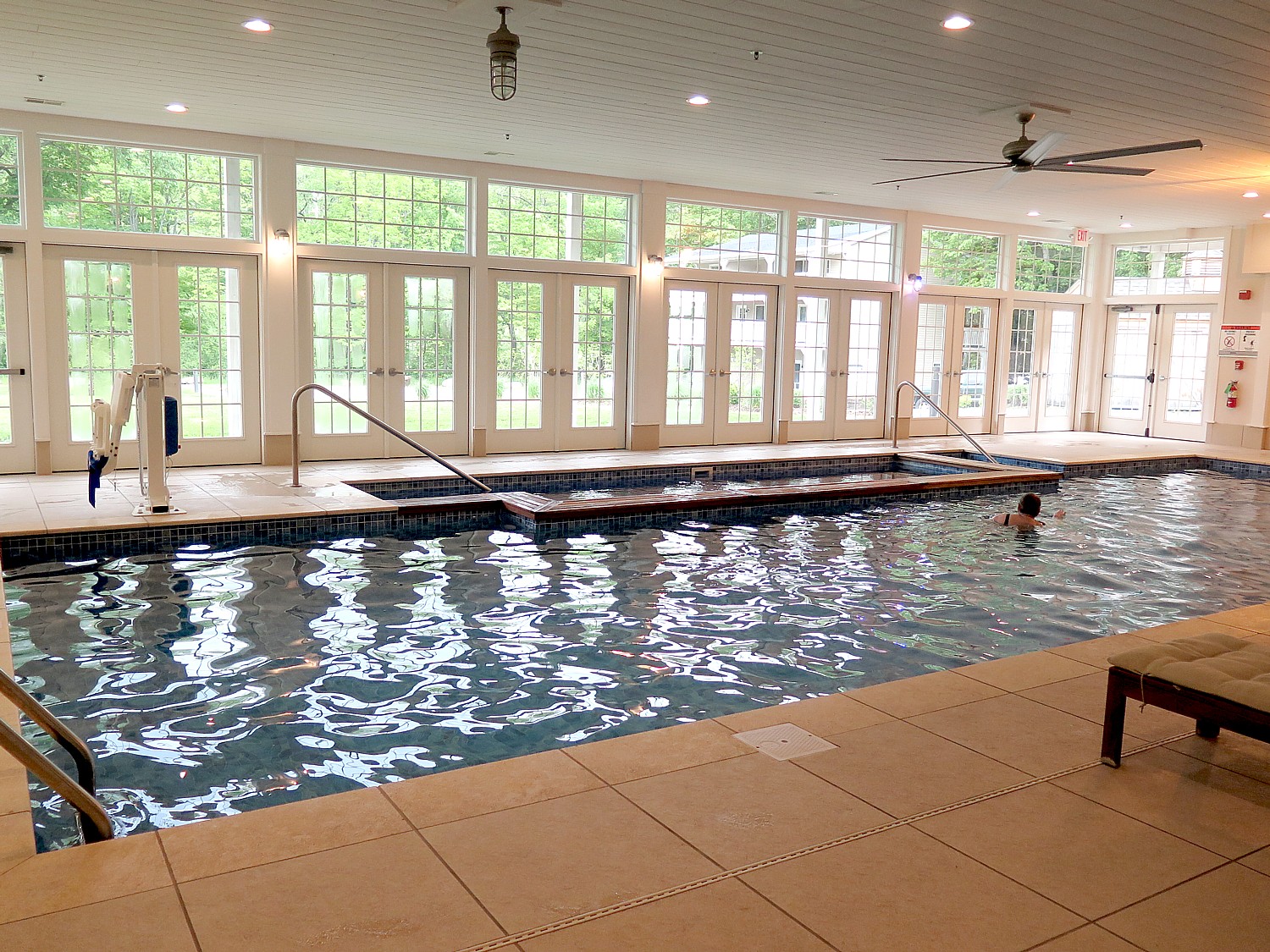 It offers a stunning lap-size indoor pool with gorgeous blue and white tiles, kept to a perfect temperature for swimming, with adjacent hot tub, and dry sauna and fitness center. There is also an expansive library; games and entertainment lounge and toddler play room.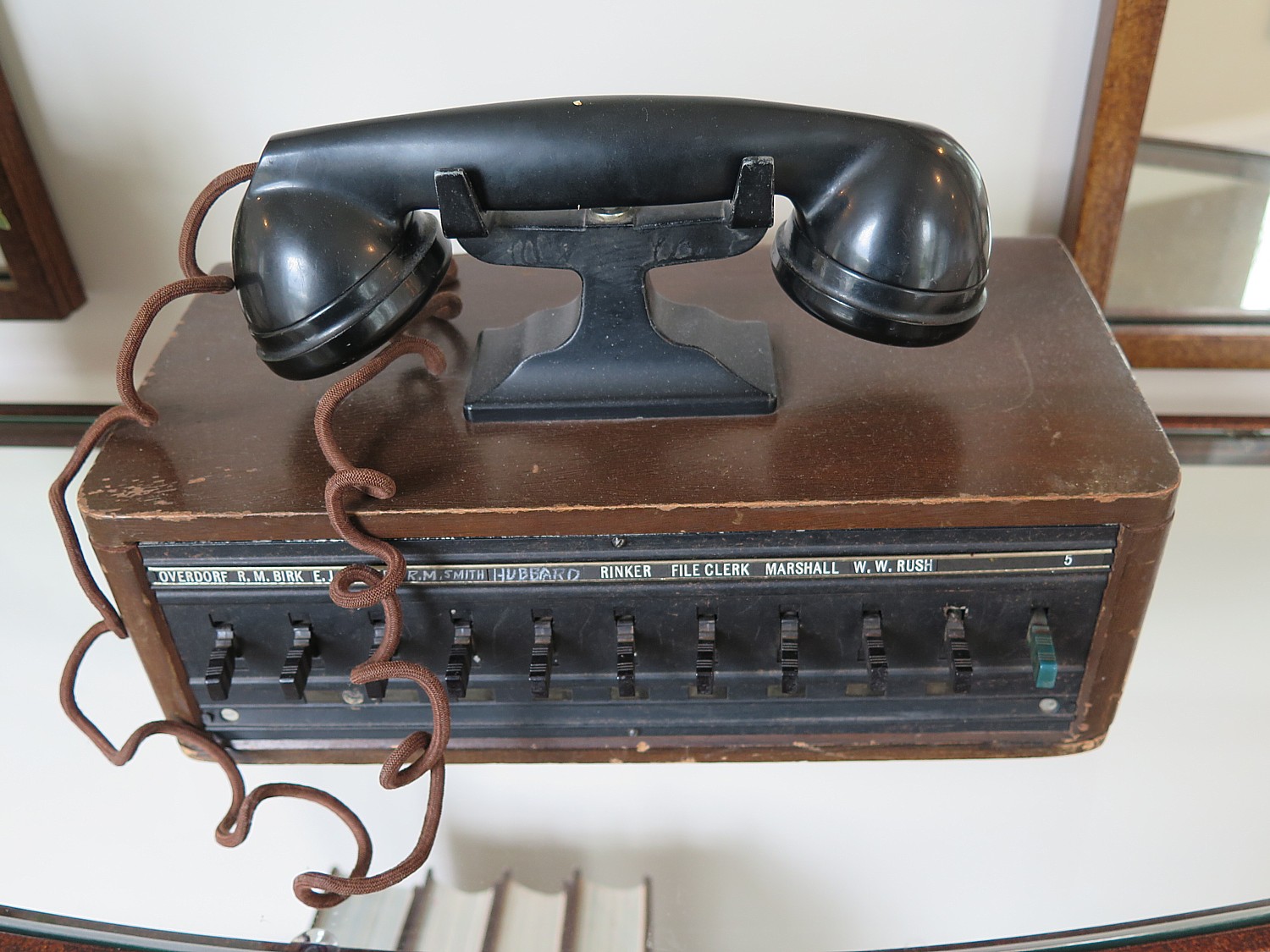 Quirky Vermont antiques and vintage pieces make you smile with their whimsy when you come upon them in the hallways– an old TV, a telephone, Henke ski boots, US Post Office metal mail box door serve as room #s. The hallways are bathed in natural light that streams through full-length windows – a modern touch –  which also contributes to the feeling of well-being.
The restaurant, bar and spacious lounge with fireplace is laid out in an open-floor plan though the room doesn't feel large because of intimate sitting areas with plush leather chairs and sofas, that make it feel cozy.
The 506 Bistro serves a seasonal menu emphasizing Vermont specialties like Yankee Pot Roast, a organic burger (outstanding) sourced from a nearby farm, fresh strawberry shortcake with Vermont berries. The menu for our group is very varied so there are fish selections (grilled salmon), pasta, meet selections, vegetarian options (ratatouille) and Caesar salad with ahi tuna.
The antique bar and the furnishings of the "kitchen," where each morning we help ourselves to a buffet breakfast, just add to the pleasant ambiance.
The inn serves a complimentary country breakfast, has coffee/tea out all day (as well as coffee maker, microwave and refrigerator in the room), free WiFi and parking.
Construction is top quality; the furnishings in neutral brown, beige and white. The bedroom is spacious with a king-sized bed, pull out sofa, lounge chair, flat-screen TV; the bathroom is marble with a warming rack.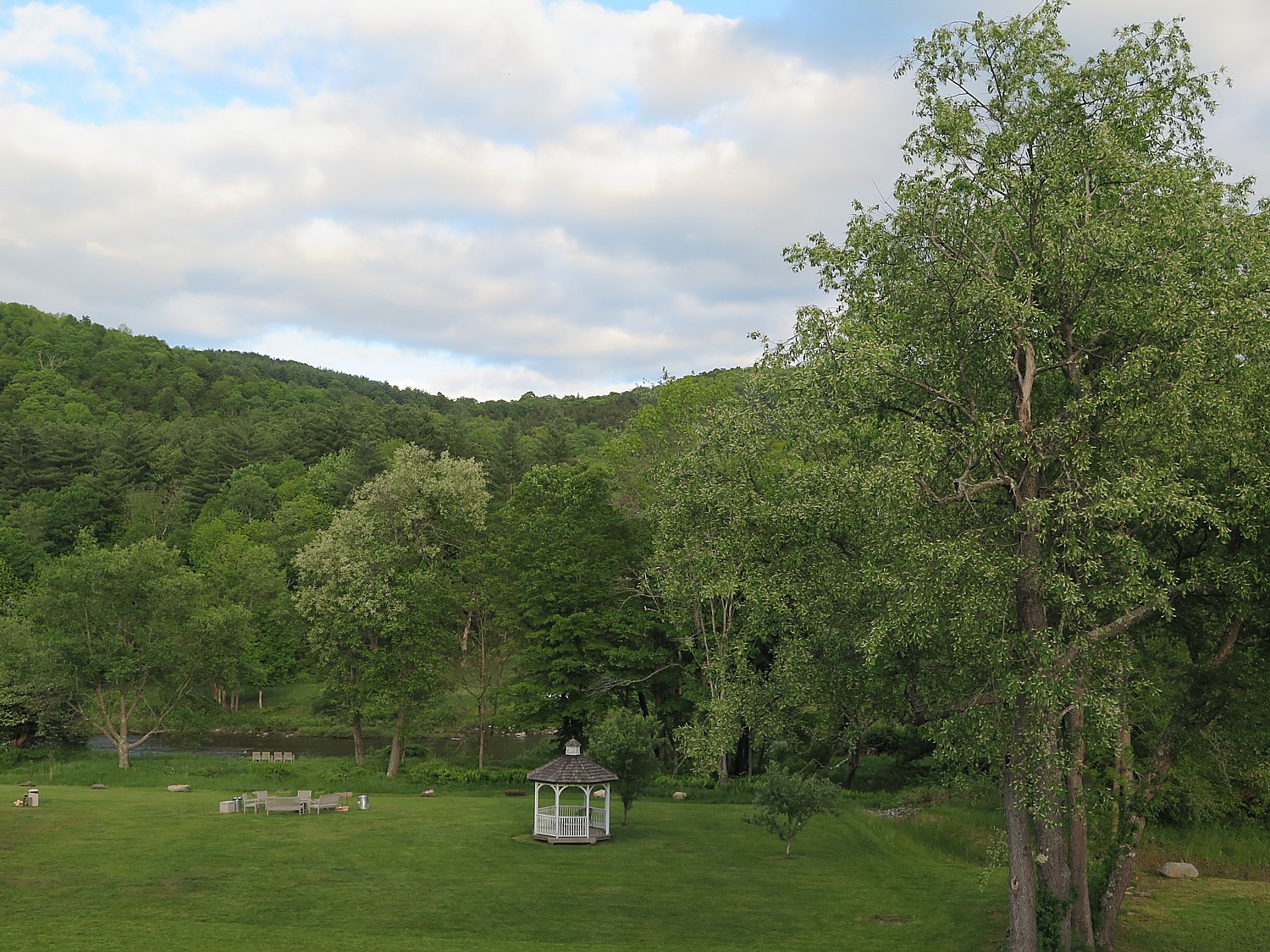 On the River Inn, which is very much a four-season retreat (Killington, Pico, Suicide Six are nearby for winter skiing), is one of several inns owned and operated by a couple  with Vermont roots: Aaren Macksoud is originally from Woodstock; his family owns and operates a maple syrup farm and a Vermont country store). They also own hotels in East Africa (where they live now): Palacina Berlin, Palacina Hotel Nairobi, Baraza Resort and Spa Zanzibar, Breezes Beach Club and Spa Zanzibar, The Palms Zanzibar and Zawadi Hotel Zanzibar. They also own and operate Tour Africa Safaris, a tour company that specialized in safaris to East Africa and Palacina Interiors one of East Africa's most prestigious and internationally recognized Interior Design Studios and Retail Stores specializing in Hospitality and Restaurant Design. (Now I understand where the lovely design comes from.)
"We work with a set of principles which we firmly believe customers recognize and appreciate: Maintain international hotel standards, incorporate a beautiful design which reflects the destination, create a feeling of home and ensure that the clients understand from the moment they arrive that the property is family owned. The attention to detail, the emphasis on creating a home away from home, warm hospitality and personalized service have always been our guiding principles."
Besides being so near Woodstock, nearby attractions include the Billings Farm and Museum, Killington, the Longtail Brewery, King Arthurs Flour.
(On the River Inn, 1653 Rt4 West Woodstock Rd., Woodstock Vt., 802-457-5000, [email protected], [email protected], www.ontheriverwoodstock.com.)
See also:
Discovery Bicycle Tours' On the River Weekend in Woodstock, Vermont, Shows How Personalized a Group Tour Can Be
____________________
© 2017 Travel Features Syndicate, a division of Workstyles, Inc. All rights reserved. Visit goingplacesfarandnear.com,  www.huffingtonpost.com/author/karen-rubin , and travelwritersmagazine.com/TravelFeaturesSyndicate/. Blogging at goingplacesnearandfar.wordpress.com and moralcompasstravel.info. Send comments or questions to [email protected]. Tweet @TravelFeatures. 'Like' us at facebook.com/NewsPhotoFeatures