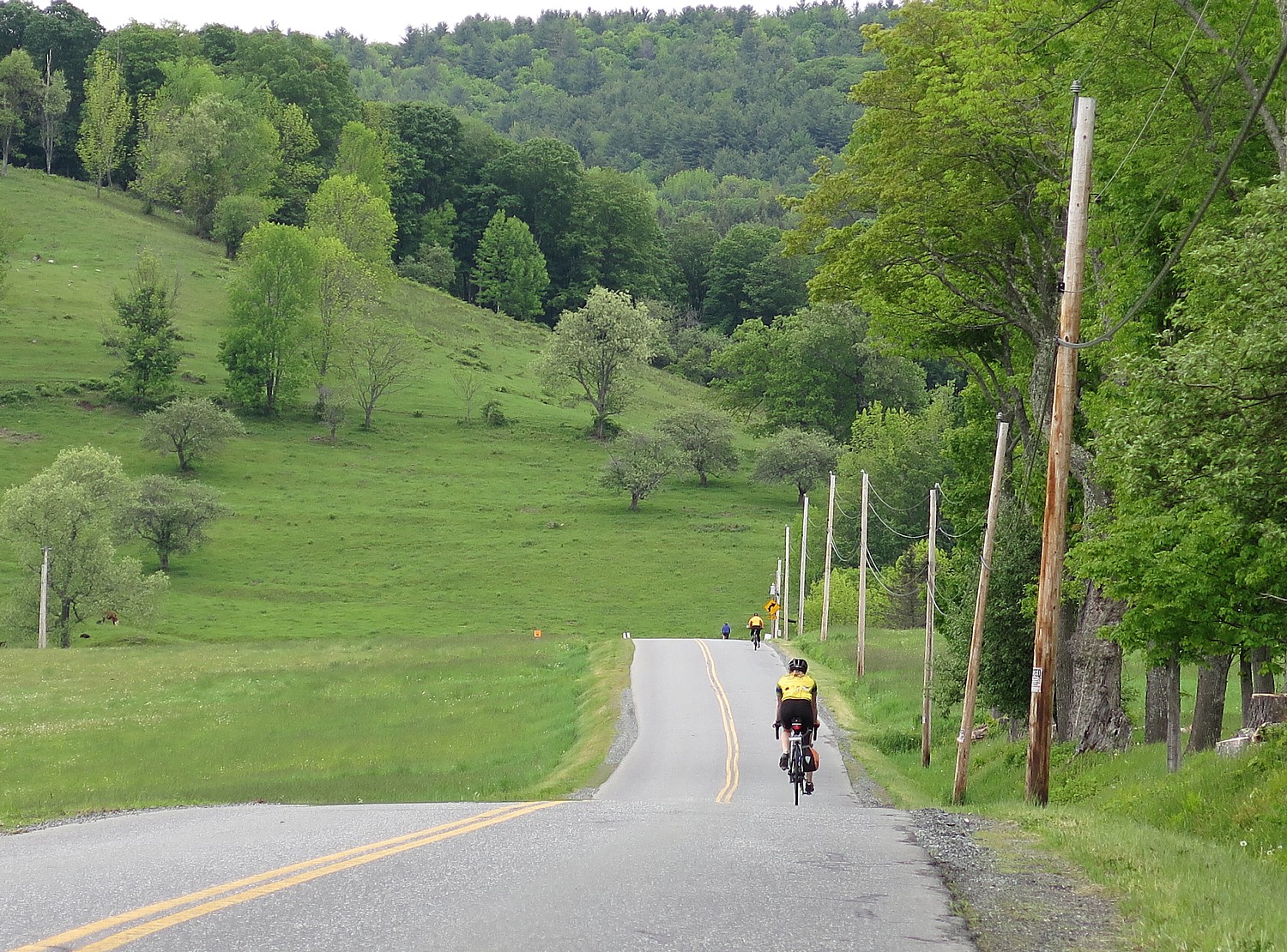 By Karen Rubin, Travel Features Syndicate, goingplacesfarandnear.com
I have joined a Vermont bike tour centered around Woodstock village, that takes place over Bike Travel Weekend in June. The popular itinerary offered several times during the year by Discovery Bicycle Tours is one of some 850 events around the world this weekend to raise awareness of the joys and benefits (and ease) of bicycle touring.  No one has to convince me – I have long appreciated how bike tours provide everything I look for when I travel: the opportunity to discover, explore, immerse, photograph, encounter at a perfect pace– not too fast and removed as you are traveling by car or bus, and not too slow as hiking so you can cover just the right amount of distance – and, still have a physically exerting experience, a personal challenge, plus the camaraderie of a shared adventure. A bike tour is sight seeing rather than sightseeing; being a participant not an observer; a part of, not apart from, your surroundings; an experience rather than a scene. Bike tours are enriching and satisfying on so many levels.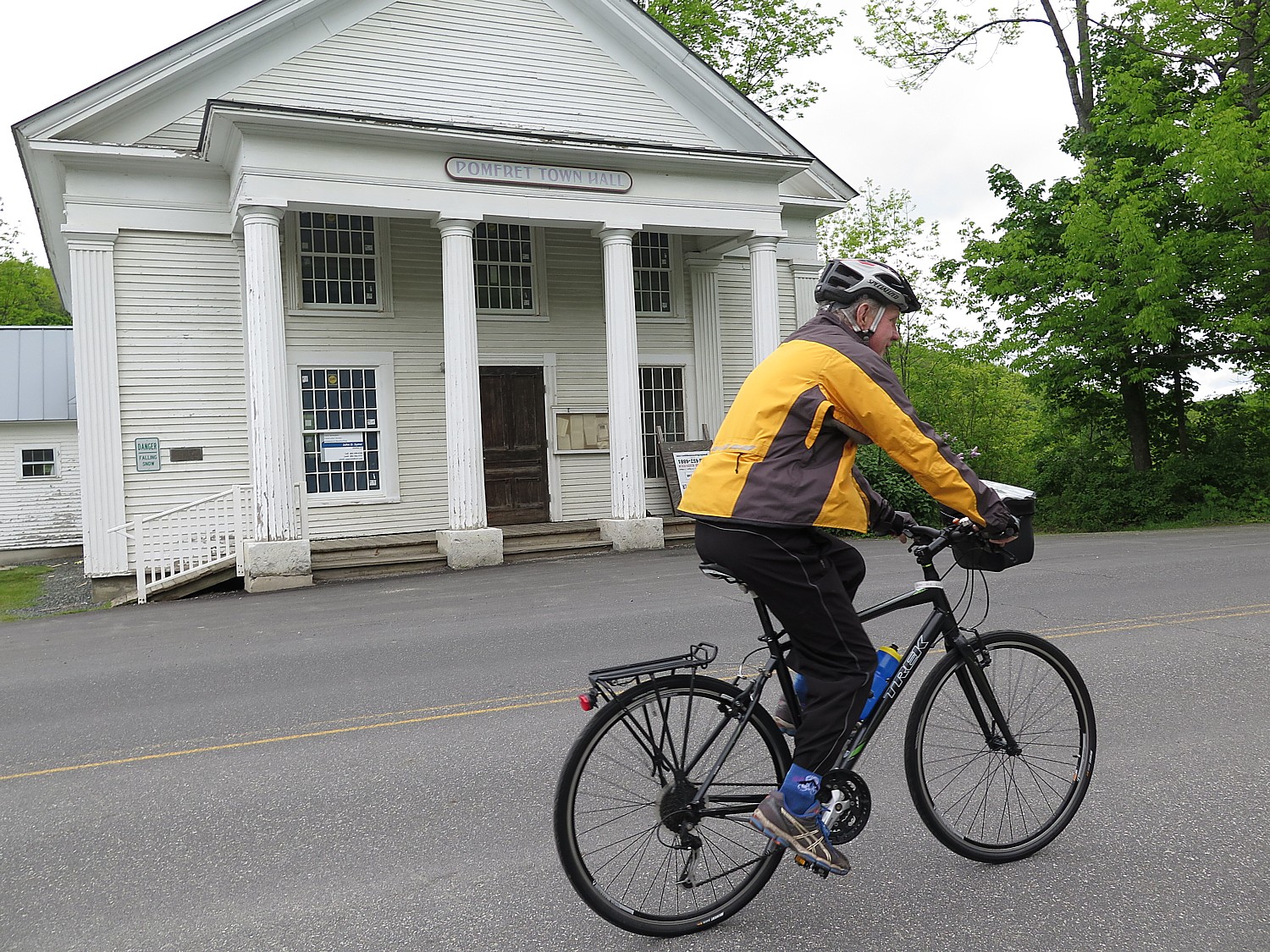 But as I appreciate during the course of this short weekend, all of that doesn't just happen. It requires knowledgeable and careful planning that we just take for granted as we experience it – how the route is designed for distance, topography, scenery; the choice of accommodations; the quality of the equipment; the attention, expertise and personality of the guides, not to mention having snacks and cold water readily at hand.
What is surprising to me about the Discovery Bicycle Tours approach is that even though this is a guided, group tour, it is really very individualized. Jim Ortuno, our expert guide, tells us at our first gathering that the goal is for each guest to have "a perfect day" whatever that is – and I contemplate what that actually means and how that might be achieved. So people who are relatively new to biking who don't want to do the climbs can simply hop into the van (Jim, orients us in advance as to what the topography will be like and where he will be parked for those who don't want to make the 3 ½ mile climb.)
It is fascinating to see this in practice: how with the two guides – one driving the van, the other biking at the back as the "sweeper" – they are able to accommodate everyone, regardless of age, physical ability, biking ability or interest. It is a guided, supported group ride, but we all go at our own pace, have our own interests and goals – some (like me) stop often for photos and don't mind the physically exerting climbs; others are new bikers or really don't want to climb; still others are intense bikers and want to cover the distance at a fast pace.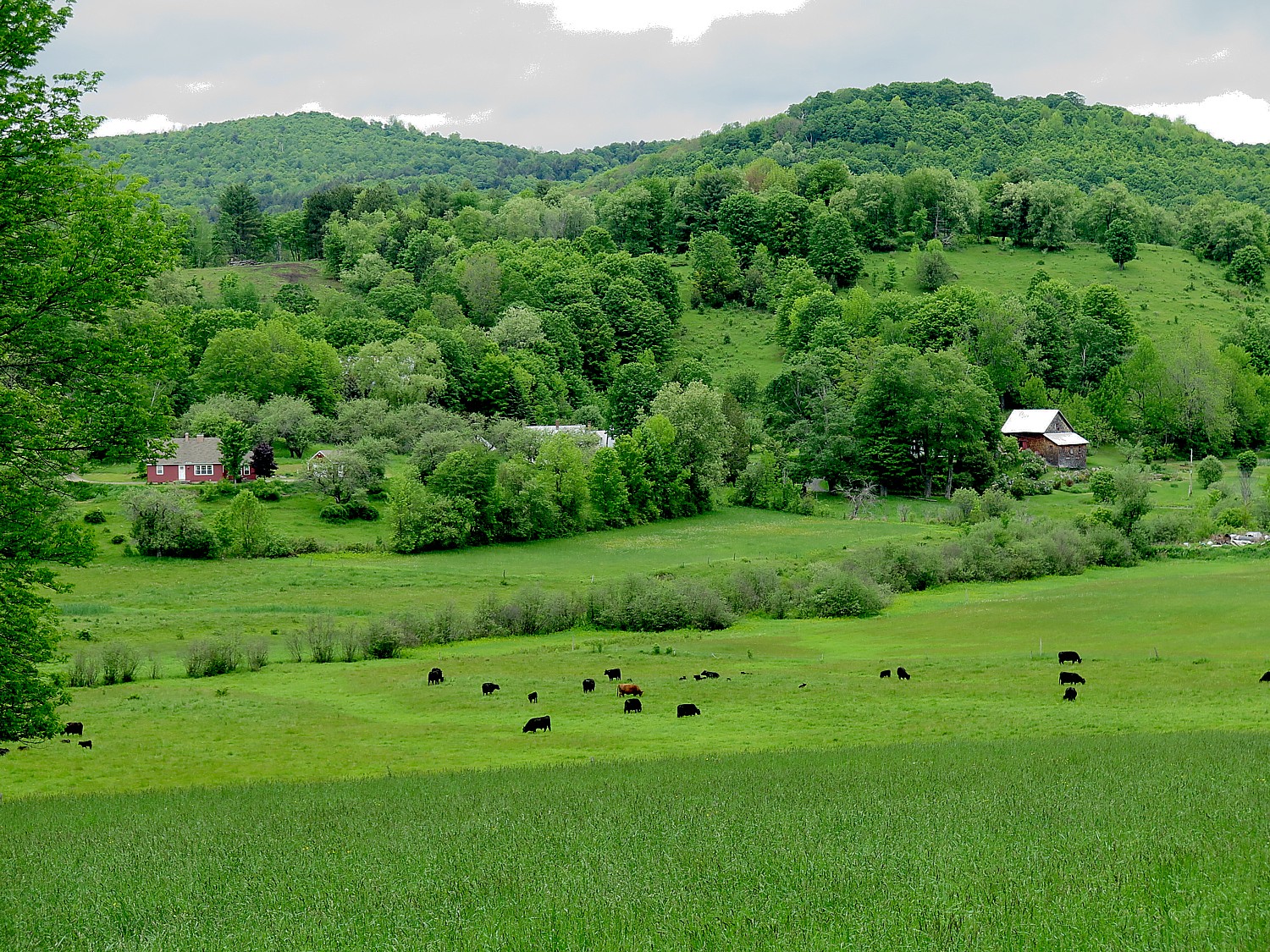 Indeed, Vermont provides an exquisite setting. Just crossing the border you immediately feel a sense of peace come over you. But these are the Green Mountains, after all. The trip planner has to be cognizant of the hills as well as the traffic situation, since we ride on roads, rather than bike trails.
Riding at our own pace means we can spend time without feeling we are holding up the group investigating an equestrian competition, watching glass blowing at Simon Pearce, or visiting the Billings Farm, or hiking down the Quechee Gorge, or shopping at an artisans market, or constantly stopping to take photos (guilty!) – but are being watched over to make sure nobody has any issues.
The bikes that are included in the program are top quality – Trek, Specialized – and we get to choose whether we want a hybrid or road bike. We have sent in our request and dimensions earlier so that they have our properly sized bikes ready for us at the inn. We can bring our own seats or pedals or clips if we want. They provide the helmets as well and water bottle, and the bikes have a carry-bag with a place to put the written directions and maps.
When I hear a flapping sound in my rear brake that I can't figure out and Jim, who restores classic cars, can't immediately fix it either, he whips out a spare bike, just my size, from the top of the van.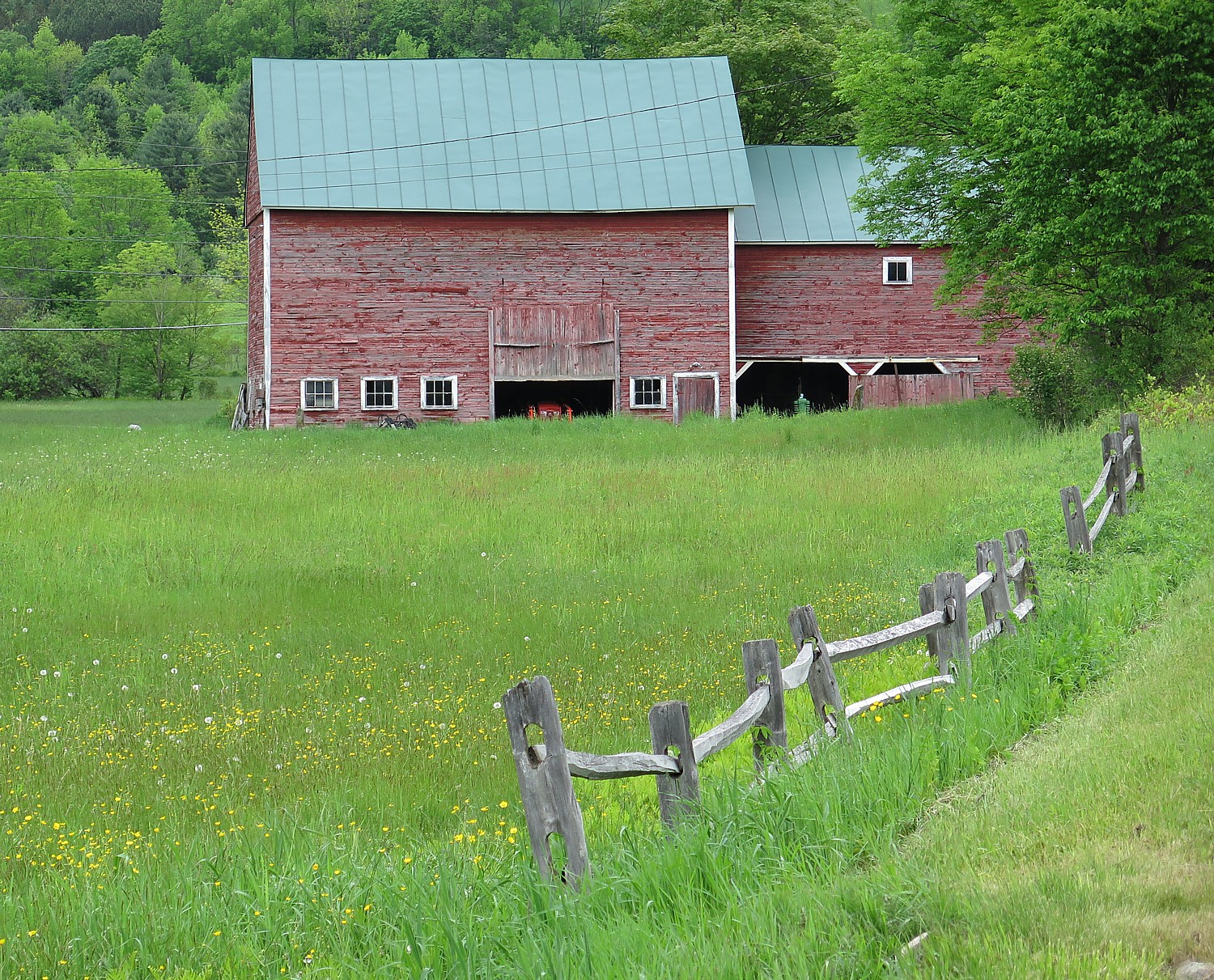 The advance preparation is also extremely good. We receive a complete itinerary and directions, packing list. Discovery also makes available the trip's maps and directions on a Smartphone based GPS app, RIDE WITH GPS (as well as providing meticulously written directions and maps). By downloading the app which has our exact tour routes, we get turn by turn spoken directions, a map of the day's cycling route, and a live plot displaying our progress throughout the day – how far we've gone, average speed, accumulated elevation. "She" gives us fair warning when the big climb is coming so we can get into proper gear, and at the top, gives a verbal high-five; "she" tells us when there is a good general store to stop at where we can take care of business, and even notes when we are coming to an attraction we might want to visit.
Despite the video that we are directed to, most of us can't figure out how to download the app properly, but Jim and Kenzie Novak get it going for each of us before we set out.
We meet the first night at dinner at the delightful inn selected for this trip, On the River Inn, just about 2 miles outside the center of Woodstock, a quintessential New England village that is visual eye-candy.
After dinner, we meet for an orientation and Jim cleverly organizes an "Icebreaker" (think of one word to describe you:"adventurous", "fun", "embarrassing," "easy-going", "quirky", "excited"). There are 11 of us on the tour – a mother and her son and daughter-in-law have come from Illinois and found the tour by a Google search; a fellow came from Miami;  a couple came from Massachusetts; two ladies came from downstate (one had traveled the famous El Camino de Santiago in Spain with Discovery before). Three of us are traveling on our own. Cyclists are the most open-hearted, open-minded, open-to-new-experiences sort of people and within moments we congeal into a single group.
Jim suggests a trick for tackling the climb: just look down and directly in front, relax hands and shoulders, breath in once out twice, and sing or whistle (I find that's exactly what I've been doing), and gives us riding tips.
35-Mile Pomfret Ride
On Saturday morning, we come down between 7 and 8 am to be properly fitted for the bike and helmet; we can attach our own pedals or seats if we like and if we bring our own bike, Jim checks that out too.  The bike has a pouch which has a plastic holder for our written directions. We are given a water bottle and a bunch of goodies marking Bike Travel Weekend.
Safety is clearly the tour company's top issue, so they give us their cell numbers, and let us know where the closest emergency medical services are located in our written directions.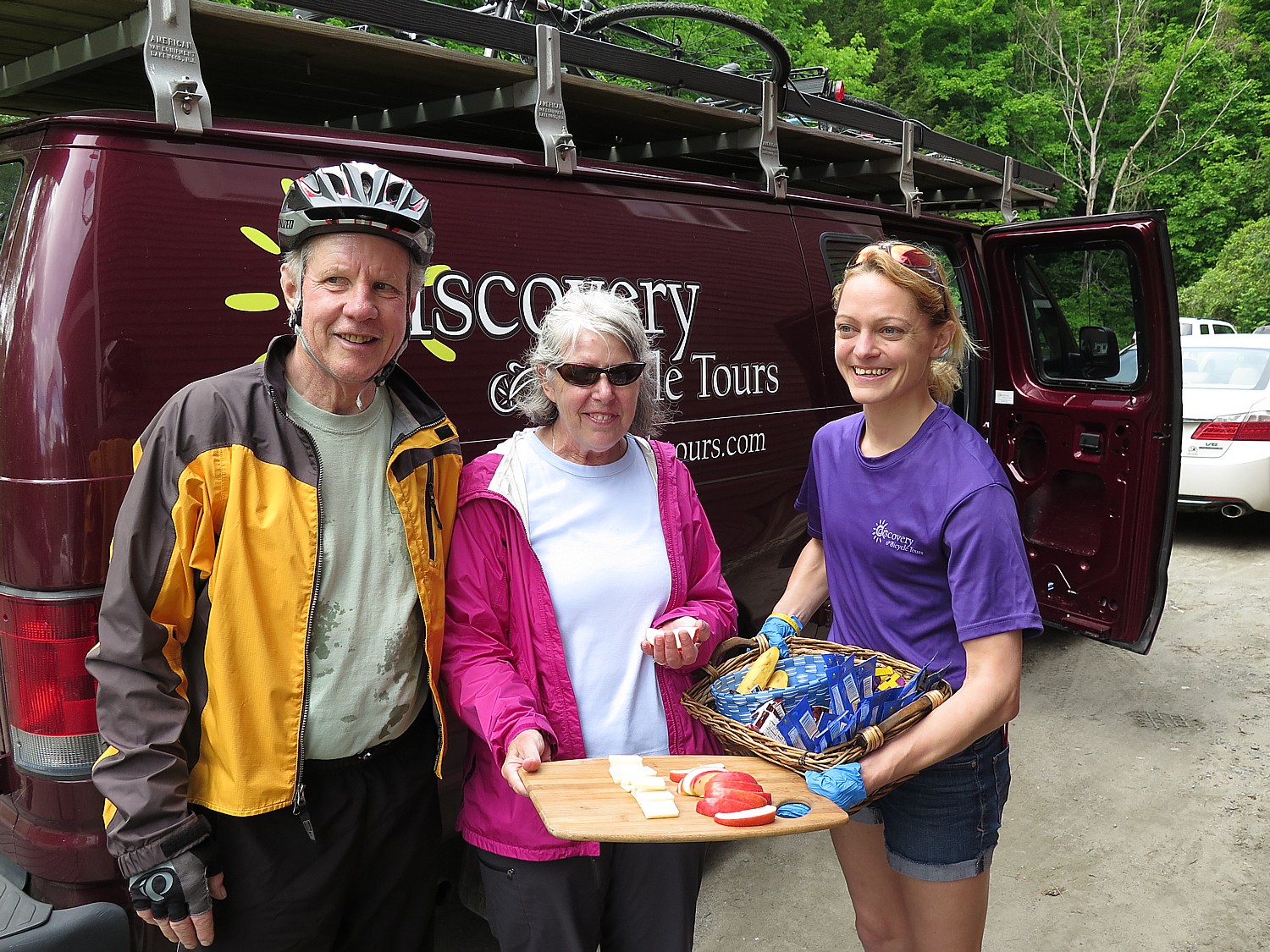 Jim, who is driving the van on the first day, tells us the two places where he will be pulled over if anyone doesn't want to do the climb, then passes us often to make sure we are all right – we can give a thumbs up sign or wave him on, but if we put thumbs down, he knows to find a safe place to pull over to give aid; he would put on his blinkers to acknowledge.
Kenzie, the second guide, is on the bike today and rides "sweep" – at the back of the pack, but as she comes upon us, also asks if we need anything, or makes helpful suggestion to be a better biker – like shifting gears more efficiently or choosing the right gear.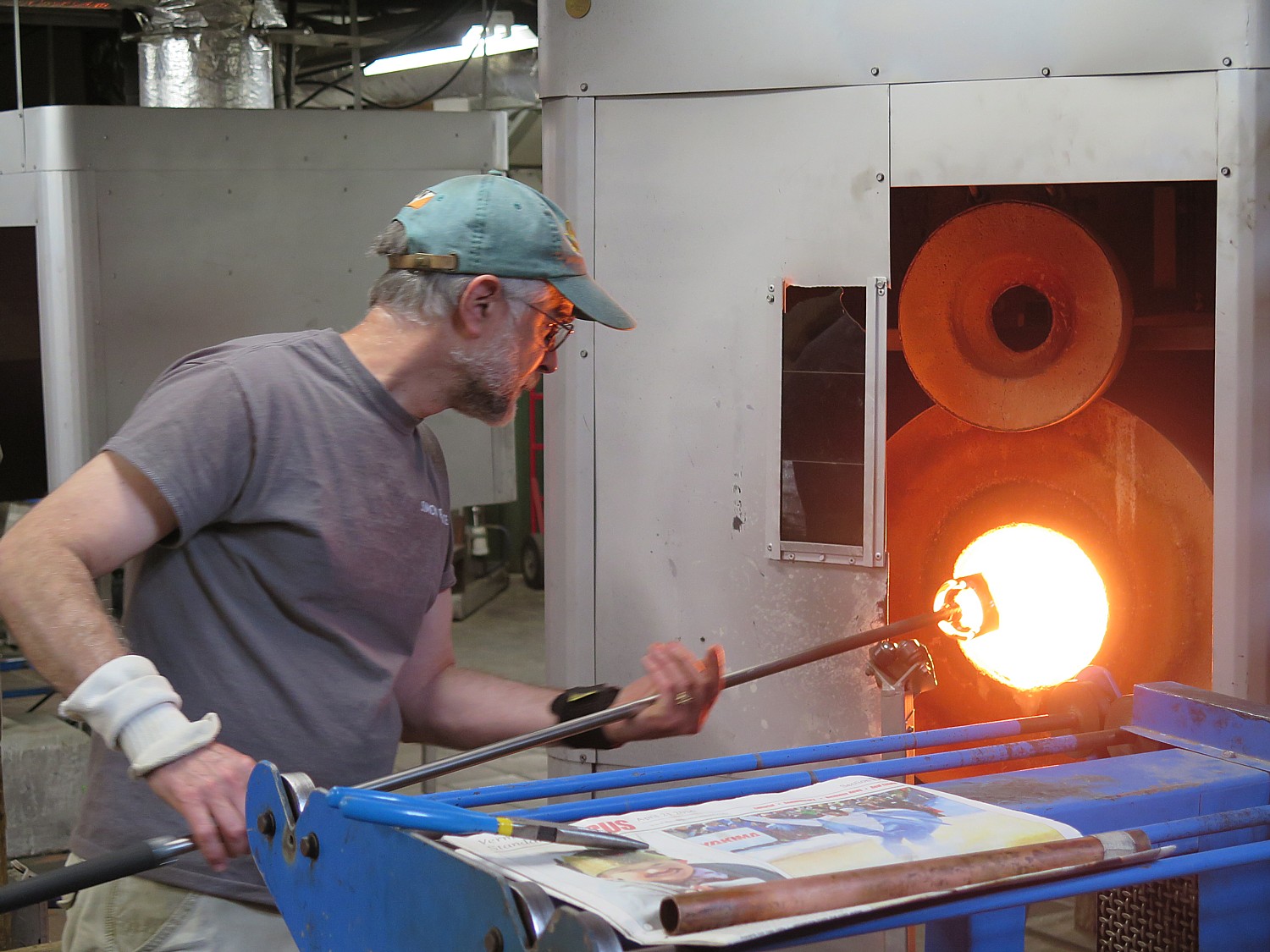 Saturday's ride is 35 miles (a shorter, flatter option is available, or those who don't want to do the 3 ½ mile climb can ride in the van to the top and sail down a 6-mile stretch with views of stunning countryside (Currier & Ives come to mind) that Vermont is so famous for. The first three miles are relatively gentle ascent; it's the last half-mile that is a wonderful strain that gives you that endorphin-rush for having done it.
We bike along the road (as opposed to a dedicated bikeway) but as Jim has promised, the Vermont drivers are very hospitable.
We come to the charming village of Quechee, where we visit the Simon Pearce Glass Works. I am transfixed watching the glass-blowing and shaping process.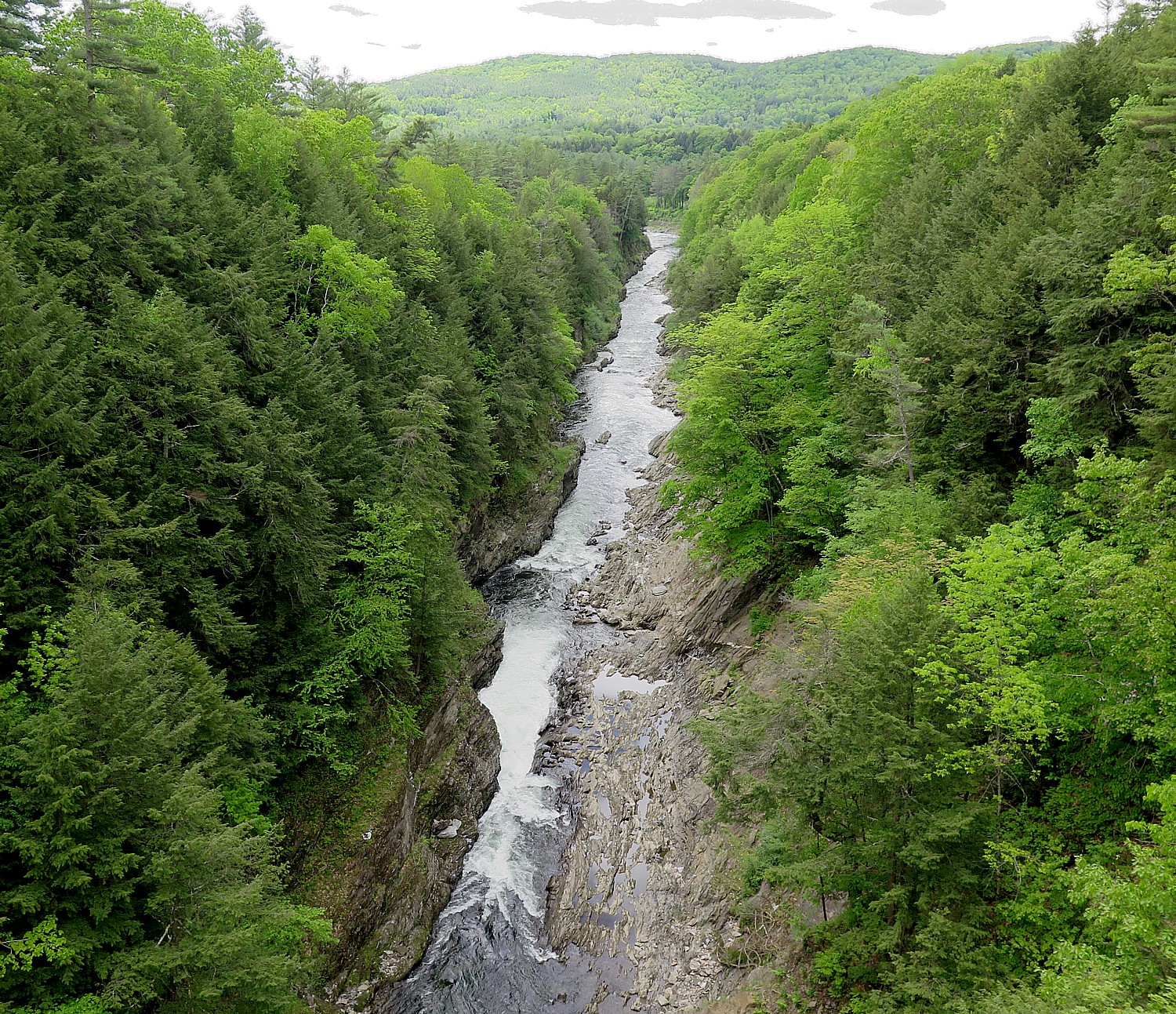 We continue on to Quechee Gorge (but Jim has put my bike with the flapping brake into the van and I ride the 2 miles to the snack bar where we have lunch). I will still get to bike this stretch because we will backtrack these two miles after lunch. The Gorge offers dramatic views from the bridge and I hike the half-mile trail down to the bottom (the view isn't worth it).
We come down a short steep hill and the GPS lady notes the sharp turn-off onto a dirt road just before an absolutely marvelous Taftsville Covered Bridge (watch out for loose gravel!). I am really appreciating the care that Discovery Bicycle Tours puts into designing the route.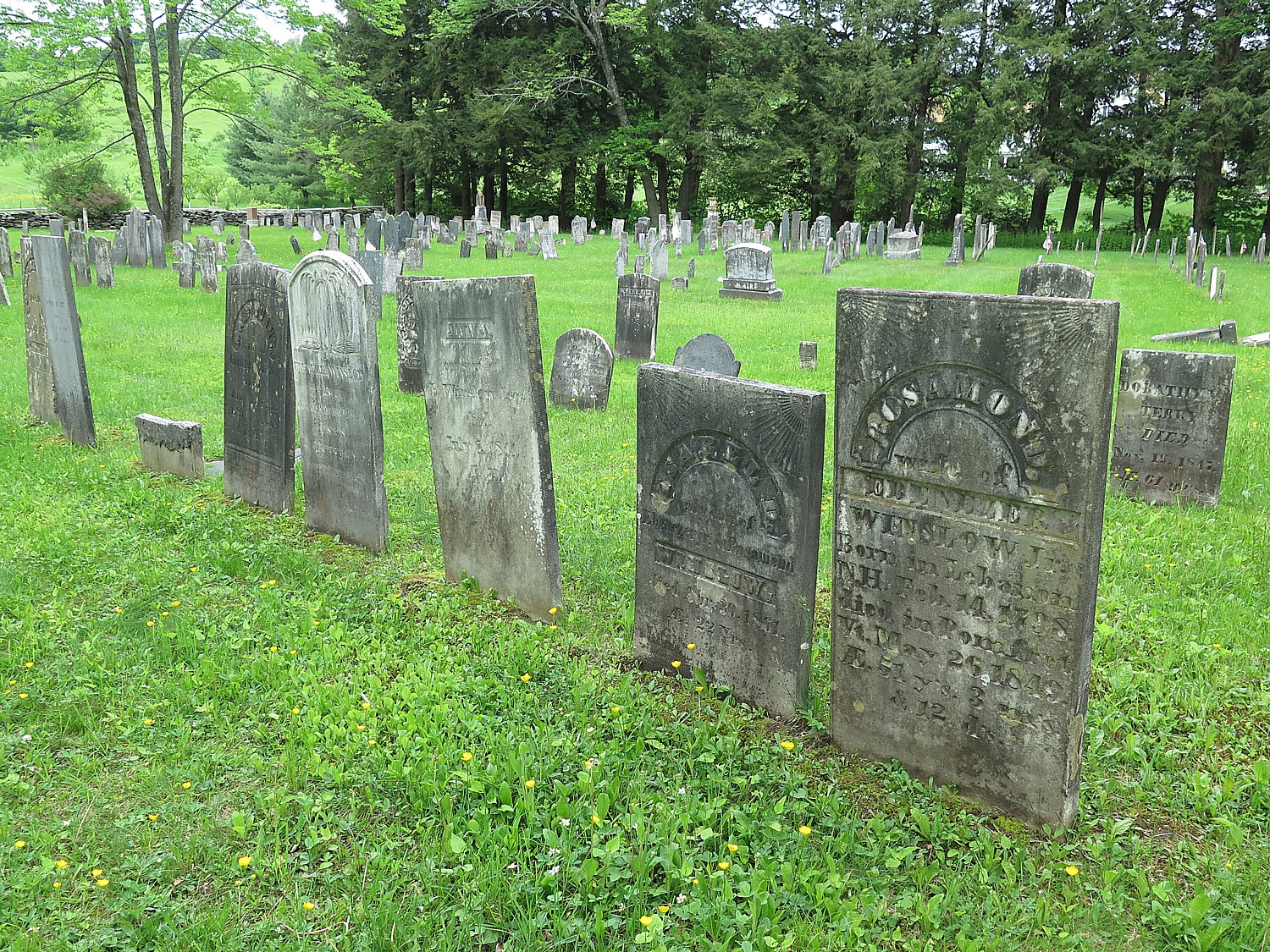 Who would have believed that Vermont still has unpaved roads! This part of the ride though is so beautiful, along the river, passing farms that go back hundreds of years. I stop off at a cemetery where I note one of the tombstones is for a veteran of the American Revolution; others from the Civil War. It is striking to see the family stones in a line.
Just before coming into Woodstock, we pass the Billings Farm and Museum, a Rockefeller institution, where we can stop and visit.
Soon we cross The Woodstock Middle Bridge, a picture-perfect covered bridge that takes us right into the heart of the village to the Woodstock Green.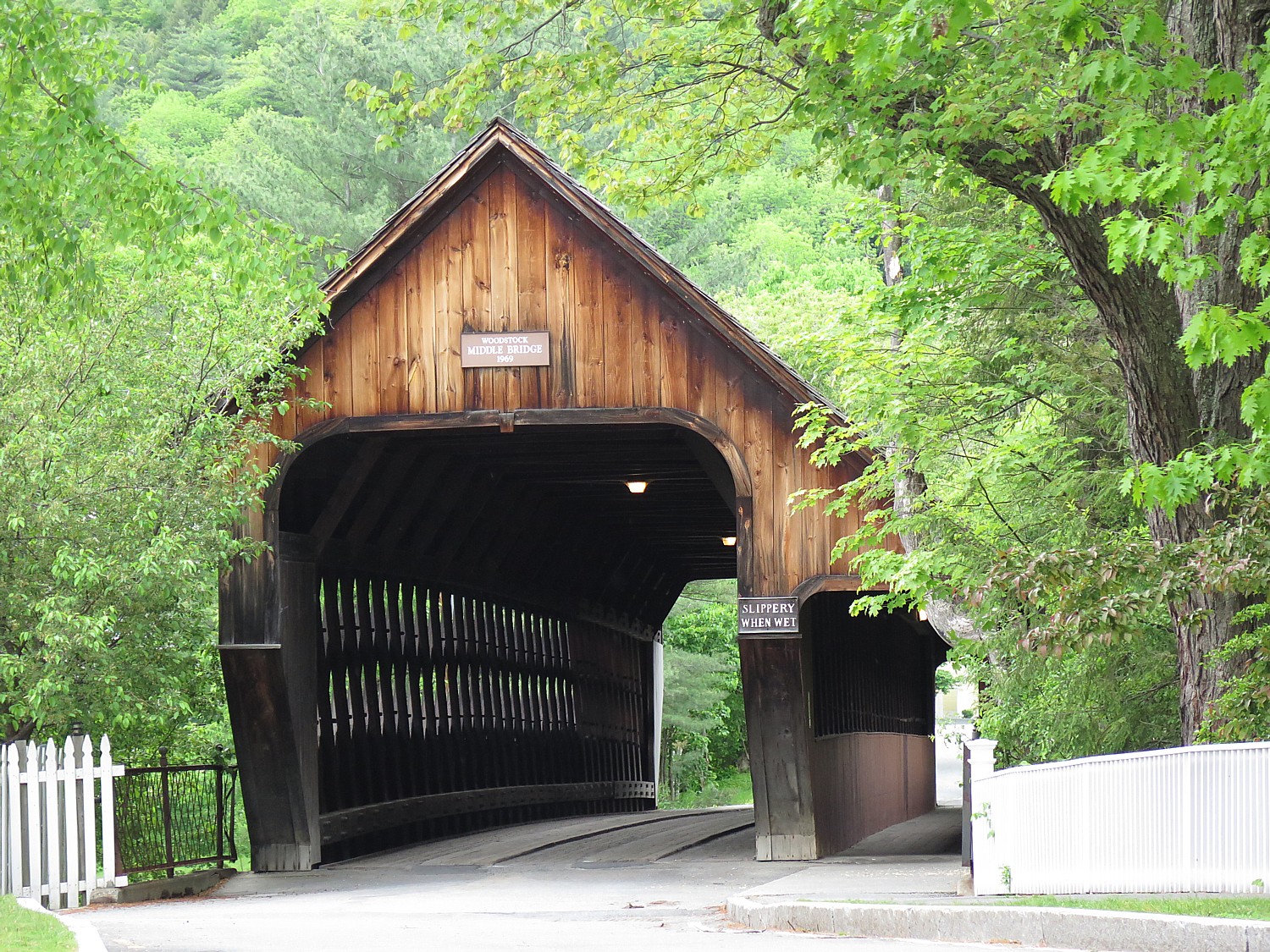 We arrive here around 3:30 pm and have plenty of time to explore, shop (I love Gillingham's General Store, which dates back to 1886 and offers everything from the practical to the whimsical to the touristic). The van is available for those who want to shuttle back to the hotel rather than tackle one last steep climb at College Hill (it turns out to be such a short hill that by the time you feel it, you are at the top).
There is time before we meet for dinner to swim in the inn's gorgeous indoor pool – big enough (and just the right temperature) for lap swimming – the hot tub, dry sauna and fitness room.  On the River Inn proves a superb choice for accommodations, that really rounds out the Vermont experience.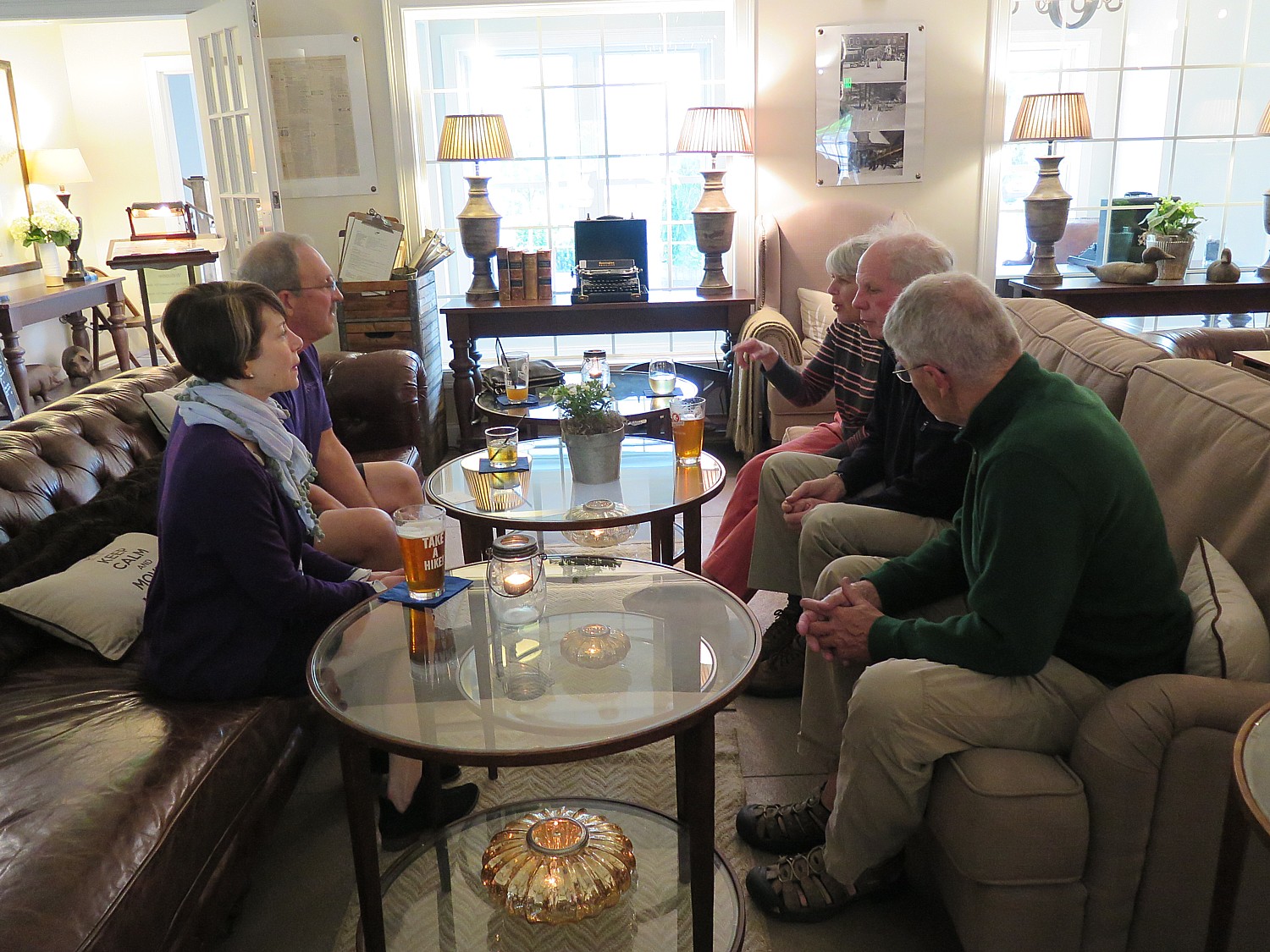 Jenne Farm Ride
The Sunday ride is shorter, 20 miles, to accommodate the fact that people are traveling back. We check out of our rooms but Discovery has arranged for two rooms to be available for us after the ride to shower and change before hitting the road.
The itinerary is basically 10 miles in and back on the same road – but it is remarkable that coming back is a totally different experience, it might as well be a different route.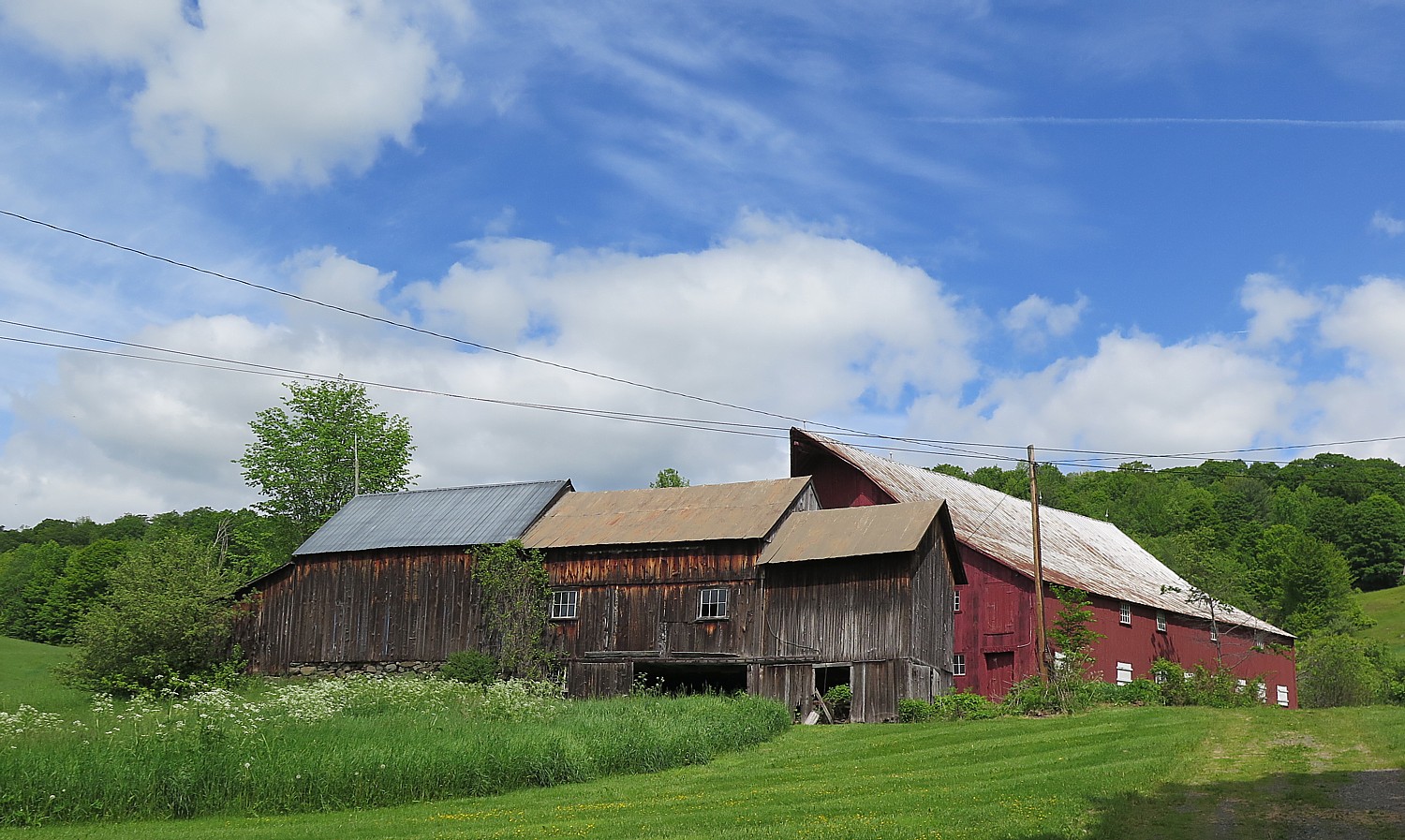 It's a beautiful ride that takes us south along Kedron Brook passing through picturesque South Woodstock (a good thing, too, because we avoid a major half-marathon event going on where we biked Saturday), visiting a charming country store and passing the Green Mountain Equestrian Association (where  a cross-country equestrian competition is underway) before arriving at a vista overlooking the Jenne Farm, possibly one of the most photographed scenes in New England.
The 10 miles going is virtually all up – beginning with a gentle pitch to a gradual pitch, and only the last half mile of a steep pitch (the GPS "lady" gives the heads up when we are to prepare for the steep climb). But the challenge is made easier because we already know we can do it from the previous day's ride.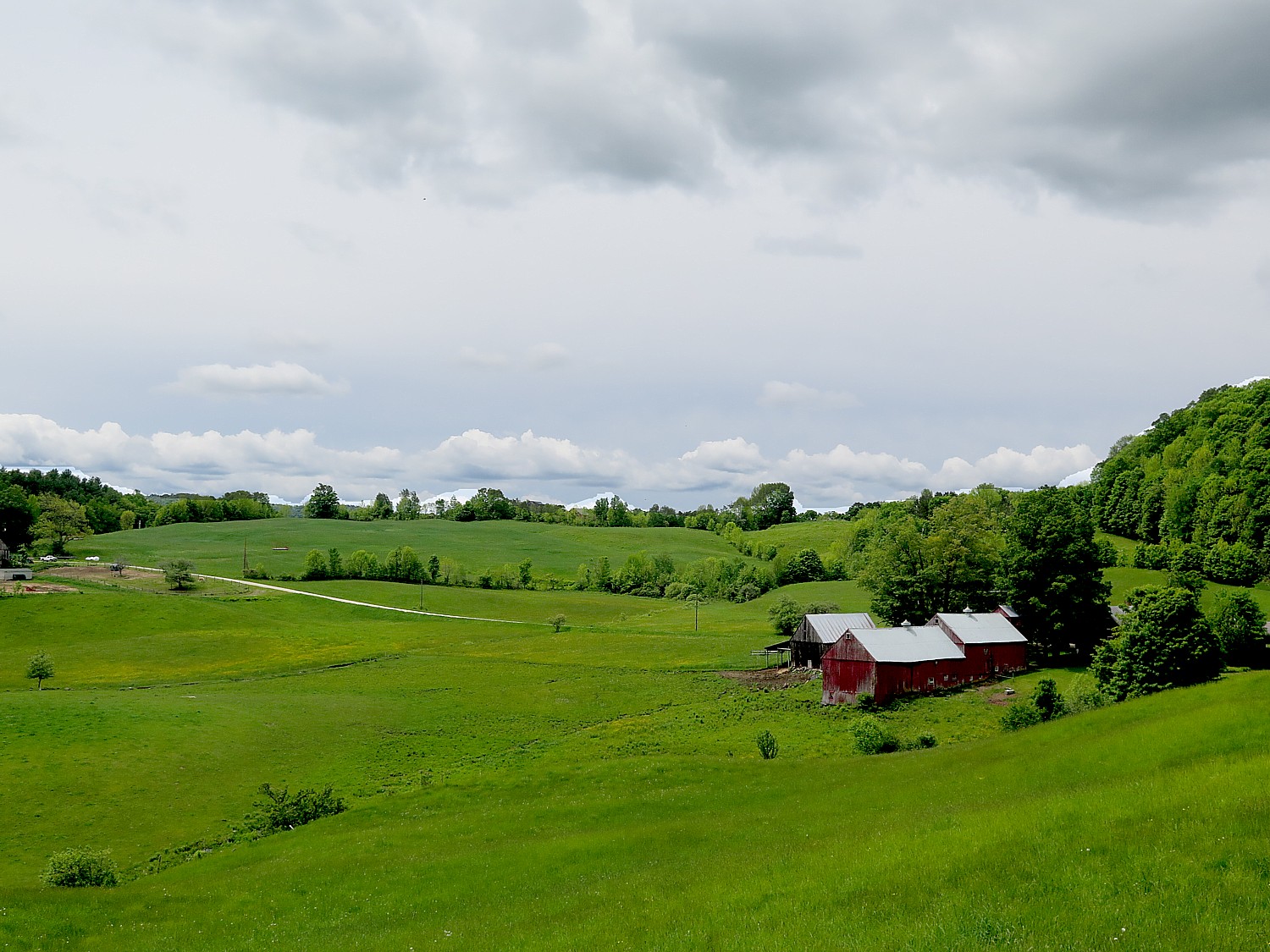 At the very top we are warned to be careful as we start the descent and not gain speed because very shortly there is a hard-right turn off the paved road onto a private dirt road that begins very steeply. They have made sure to mark the place where we will turn. I choose to walk the bike up that sandy hill. This is actually the private drive to the Jenne Farm, which for good reason boasts being "one of the most photographed farms in the world" especially in autumn. The scene (which I recognize from the inn's posters) has appeared on magazine covers, photography books, a Budweiser television commercial, and was used as the setting in the films "Forrest Gump" and "Funny Farm."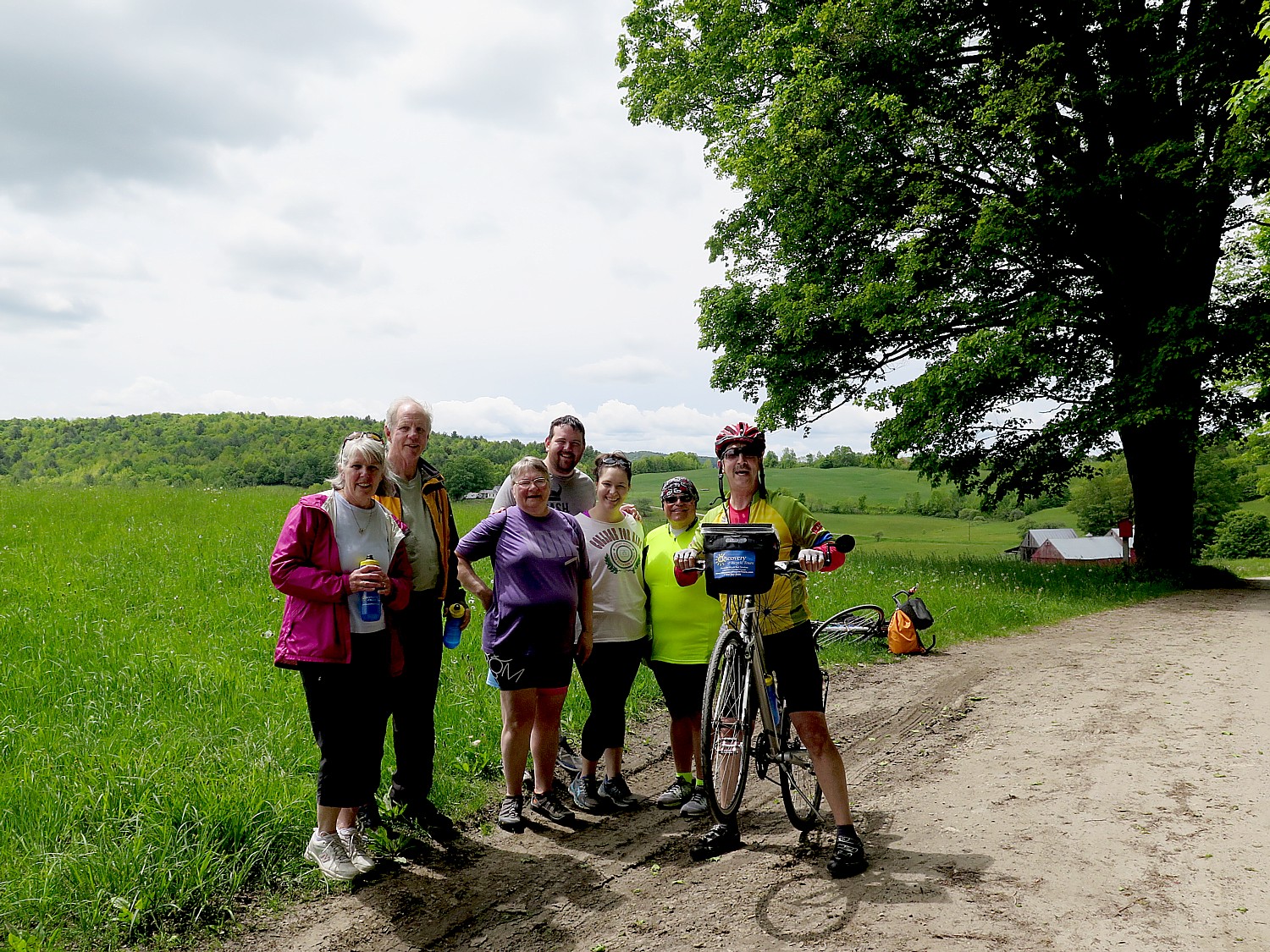 Gradually, we all find ourselves gathered together beside a tree looking down at the classic country scene (we are reminded this is a private road and we are on private land).
In this and all the classic Vermont scenes we have seen (at one point I think to myself that the aging red barns and covered bridges have been put there for tourists' benefit), serendipity makes the scene and the experience unique – the weather, colors, light, time of day, season, and myriad things that make it unique.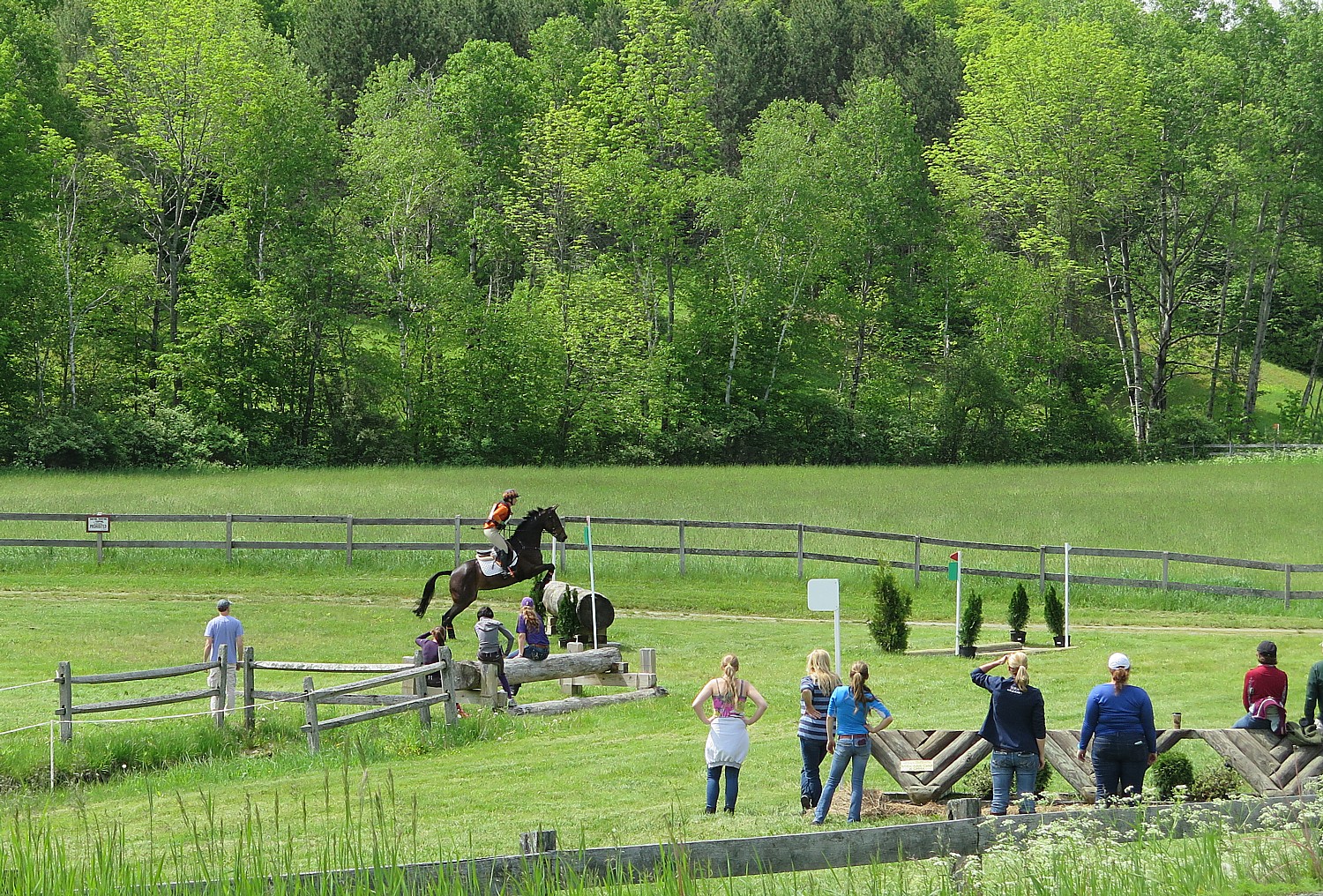 Returning, there is that short steep hill which we came down, and then pretty much downhill for the 10 miles. But even though we are traveling the same road, the scene is completely different – the return takes you alongside a creek. And because we are going at our own pace, I linger at to watch the equestrian cross-country competition underway at the Green Mountain Equestrian Association grounds and stop frequently for photos. I think I am the last rider back to the inn, happy as a lark. 
Turning a Group Tour into a Personalized Experience
Discovery Bicycle Tours began offering inn-to-inn bicycle tours throughout Vermont in 1977. Larry and Dawn Niles have been running the business since 1991 and have expanded the tour offerings to include a variety of tours in the United States, Quebec and Europe.  They range in length from our 3-Day/2-Night weekend tours to 11-Day/10-Night tours.(New this year is a 10-day/9-night Dolomites to Venice tour). Each tour is designed to provide a uniquely memorable experience for the rider and includes all accommodations, most meals, bicycles, helmets, detailed directions and maps, van support and tour guides.
"We continue to encourage a culture that values substance over flash, where our focus is on the individual guest's experience rather than a preset 'one-size-fits-all' formula. We are all about treating people personally," Larry says, and this becomes clear from the first moment we gather together.
It's hard to envision, at first, what our guide, Jim Ortuno, means when he promises that the plan is that each of us have our own perfect day. And if it isn't, it's not for the lack of trying. They go over-the-top to be accommodating each person's individual abilities, interests and goals.
The selection of offerings this year include:
Vermont – On The River Inn Weekend (offered throughout the season, https://discoverybicycletours.com/bike-tour-vermont/bike-tour-vermont-river/); North Hero House Weekend; Shoreham Inn Weekend; Lake Champlain Islands; Vermont Discovery; Northeast Kingdom; North Hero House Midweek; Vermont Lake and Leisure)
California Wine and Coast
Cape Cod/Martha's Vineyard
Gettysburg to Washington DC
Maine – Coast/Acadia
Florida Keys Multi-Adventure
Maryland (Eastern Shore Chesapeake Bay; Harbour Inn Weekend)
Quebec – Eastern Townships
Italy – Puglia; Tuscany; Dolomites to Venice
Scotland
Ireland – County Clare / Connemara
Spain – El Camino de Santiago
France – Provence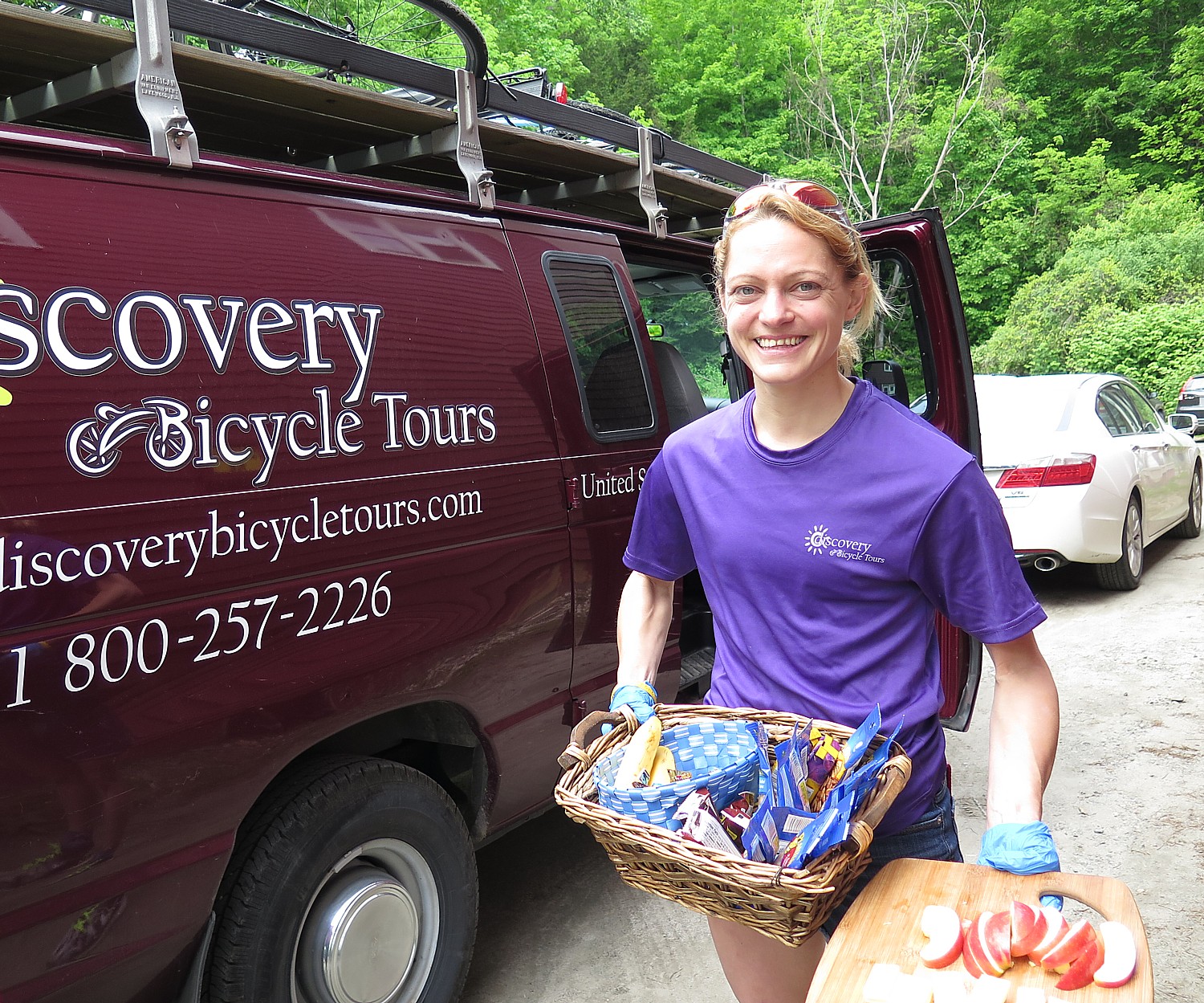 Discovery Bicycle tours also offers private and family tours, as well as customized tours. Each is designed to recognize and encourage varying skills and interests of riders. The tours are flexible and most include easy-to-moderate riding, plus optional routes for the more energetic cyclist.
At this writing, Discovery was offering a $400 discount on the 6-day/5-night Coast of Maine tours, that includes all ferries and excursions, guided kayaking, 5 nights lodging, including three nights in premium rooms at the Bar Harbor Inn, each with a private balcony overlooking Frenchman's Bay, 5 breakfasts, picnic on Swan's Island, 4 dinners, bicycle, helmet, and free transfer provided from/to Bangor International Airport (July 23–28, July 30–August 4, and August 13–18).
There also was a recent "Teacher Appreciation Sale" of $250 off longer tours and $100 off weekend trips.
Discovery Bicycle Tours, Post Office Box 207, 2174 Maxham Meadow Way, Woodstock, Vermont 05091 800-257-2226. 802-457-3553, discoverybicycletours.com, [email protected].
Next:  On the River Inn 
____________________
© 2017 Travel Features Syndicate, a division of Workstyles, Inc. All rights reserved. Visit goingplacesfarandnear.com,  www.huffingtonpost.com/author/karen-rubin , and travelwritersmagazine.com/TravelFeaturesSyndicate/. Blogging at goingplacesnearandfar.wordpress.com and moralcompasstravel.info. Send comments or questions to [email protected]. Tweet @TravelFeatures. 'Like' us at facebook.com/NewsPhotoFeatures