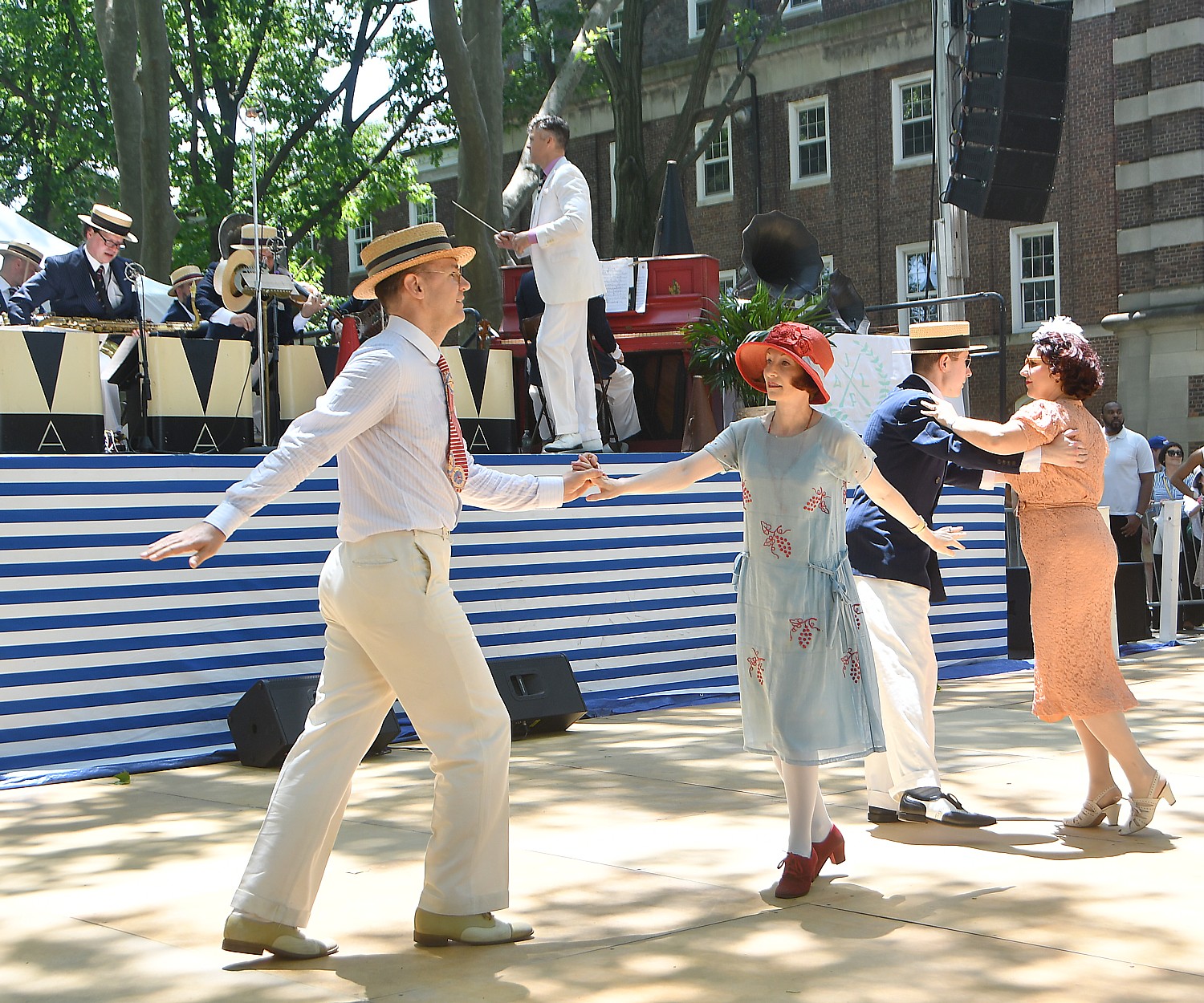 By Karen Rubin, Travel Features Syndicate, goingplacesfarandnear.com
New Yorkers love to dress up – any excuse to don a costume will do, but in the case of the Jazz Age Lawn Party, now in its 12th year on Governors Island, it is a chance to push back the clock and create your own community, a Gatsby-esque Brigadoon of sorts. It is the best of New York and brings out the best of New Yorkers. The music and atmosphere brings out pure joy.
For an entire afternoon on Saturday and Sunday of the weekend of June 10 and 11, and again on August  26 and 27, you are transported – quite literally by ferry – to the 1920s era of hot jazz. People of all ages, dressed to the nine's as flappers and gents, bearing wicker picnic baskets, stream onto the island, with its forts and structures from the Civil War and World War II. A stone's throw from Manhattan and Brooklyn, and yet a world and an era away.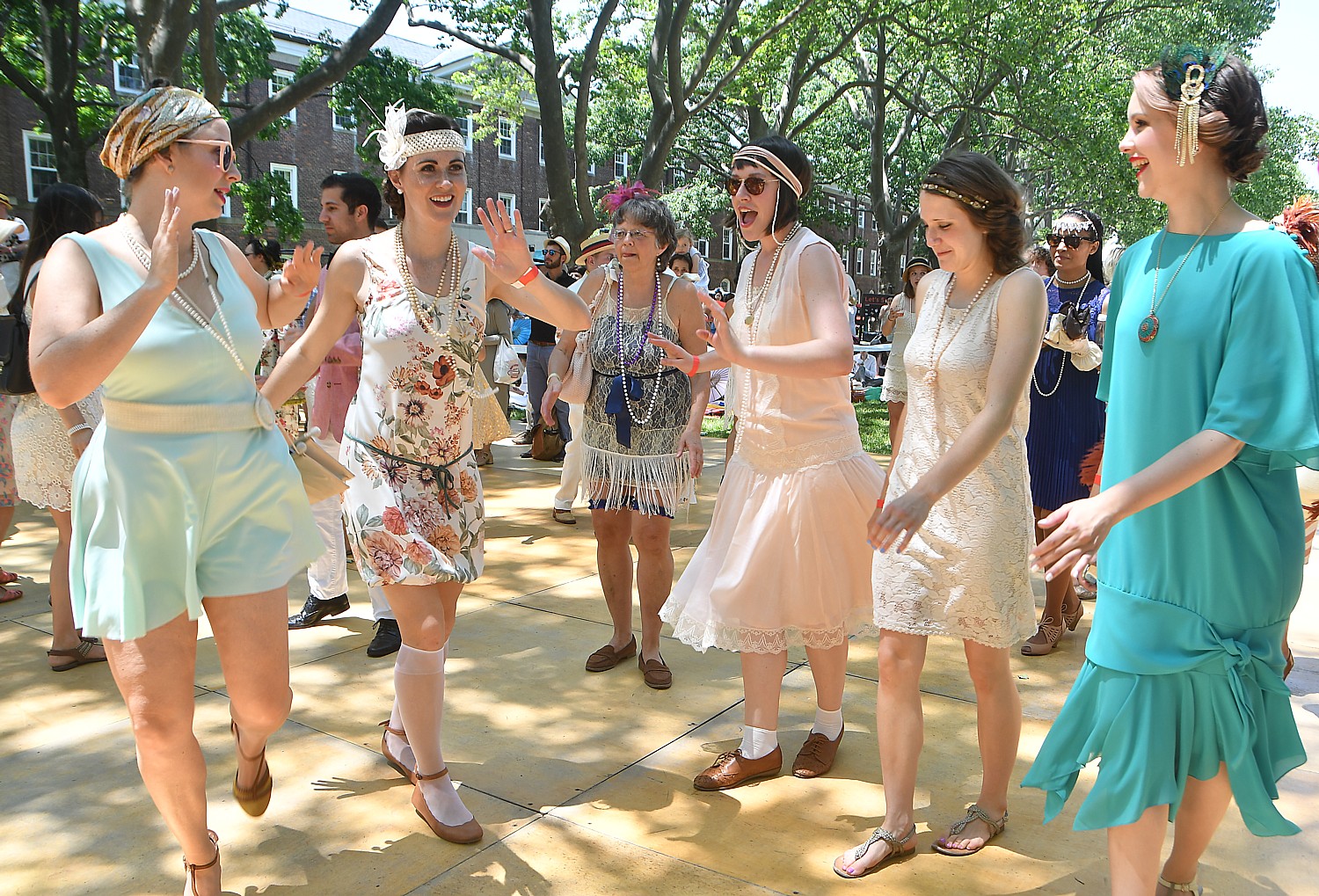 Michael Arenella and his Dreamland Orchestra create this literal dream, with his meticulously recreated music of the 1920s.
There is impeccable faithful reproduction – even the cocktails are Speakeasy worthy and if you didn't have appropriate attire, you could rent or buy vintage, take a tintype photo or a photo sitting on a blue moon with a vintage camera. Little boys are there with their caps and suspenders, little girls with hair bows. Interlude music is provided on vinyl recordings over antique gramophones.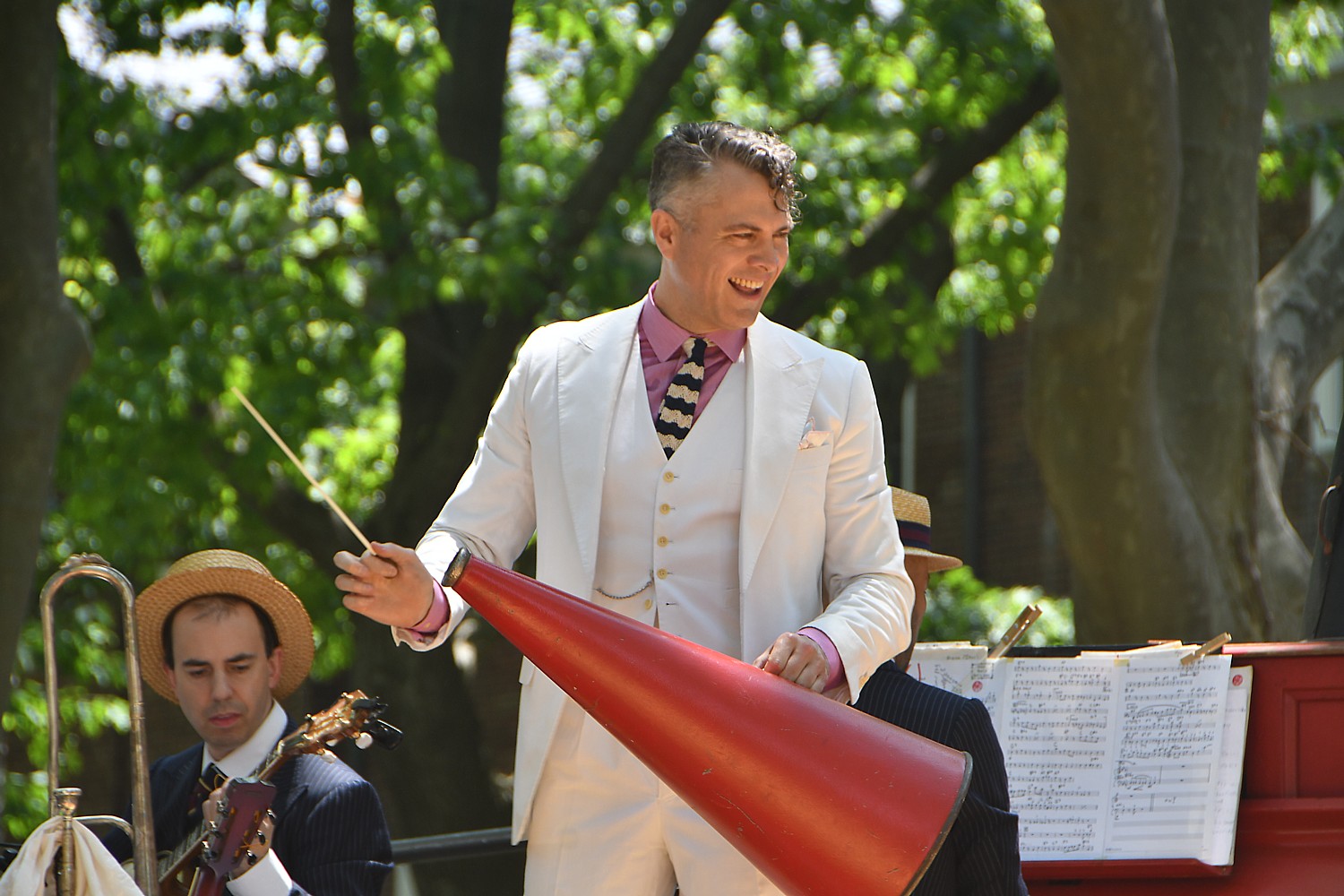 At one point, Michael Arenella, who throughout the afternoon gives these wonderful asides about the music, says his trombone "is so old I have to use a string to keep the slide on- that's how authentic we are, folks."
The only thing marring the illusion are the ubiquitous cell phones.
Conductor, composer, musician and crooner Michael Arenella presents a personally transcribed, one-of-a-kind songbook for your listening and dancing pleasure by his Dreamland Orchestra, playing the Hot Jazz of the 1920s.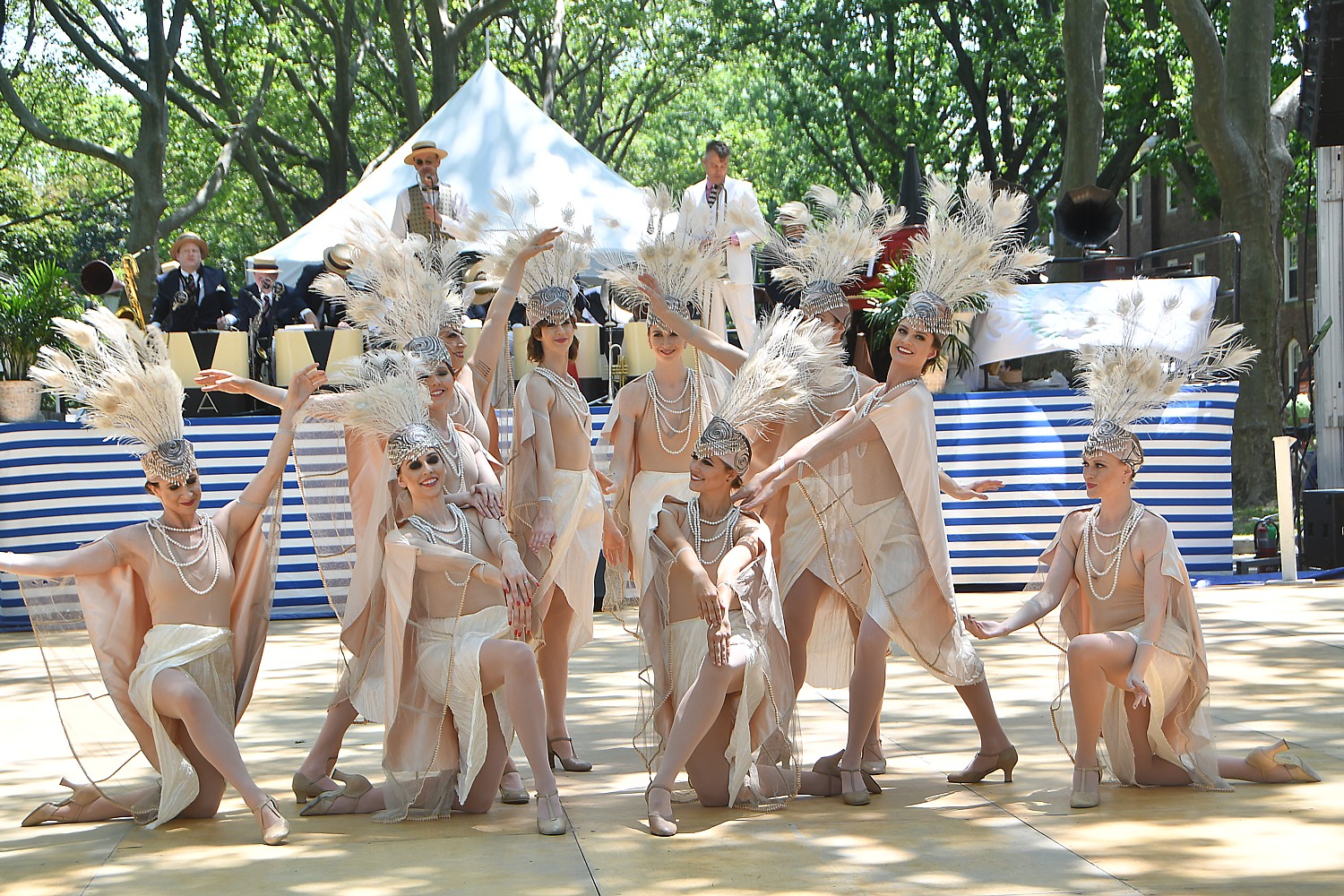 The entertainment abounds on two stages (and two dance floors): The Dreamland Follies evoke Ziegfeld-esque grand dance routines; Roddy Caravella and the Canarsie Wobblers is a fun-loving dance troupe that conjures the rebellious and exuberant spirit of Roaring '20s; Queen Esther pays tribute to jazz royalty of yore and Peter Mintun takes the moniker of "world's greatest piano man"; Drew Nugent and the Midnight Society have come from Philadelphia, presents wry, spry, and certifiably Hot Jazz and the Gelber & Manning Band, feuding vaudevillian lovebirds quarrel, coo and make beautiful music together.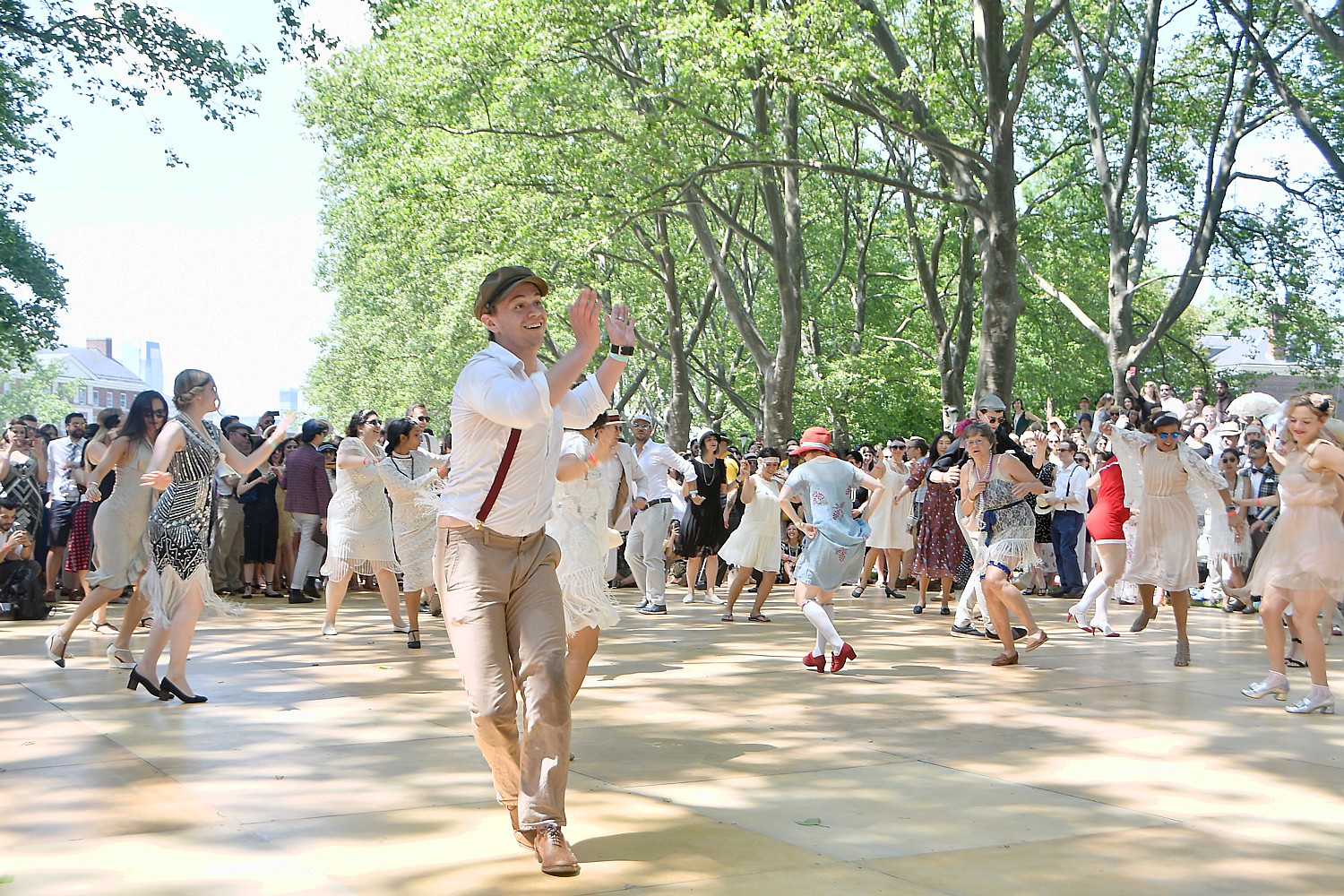 There are fun activities as well which you can join: Charleston Dance Contest to determine who is the Bee's Knees; Bathing Beauties and Beaus Promenade, wearing vintage swimming outfits of the age (for entry email: [email protected]), The High Court of Pie Contest (categories include "Mom's Best" "Best Savory ", "Most Original" and "Hobo's Choice"; for entry email: [email protected]).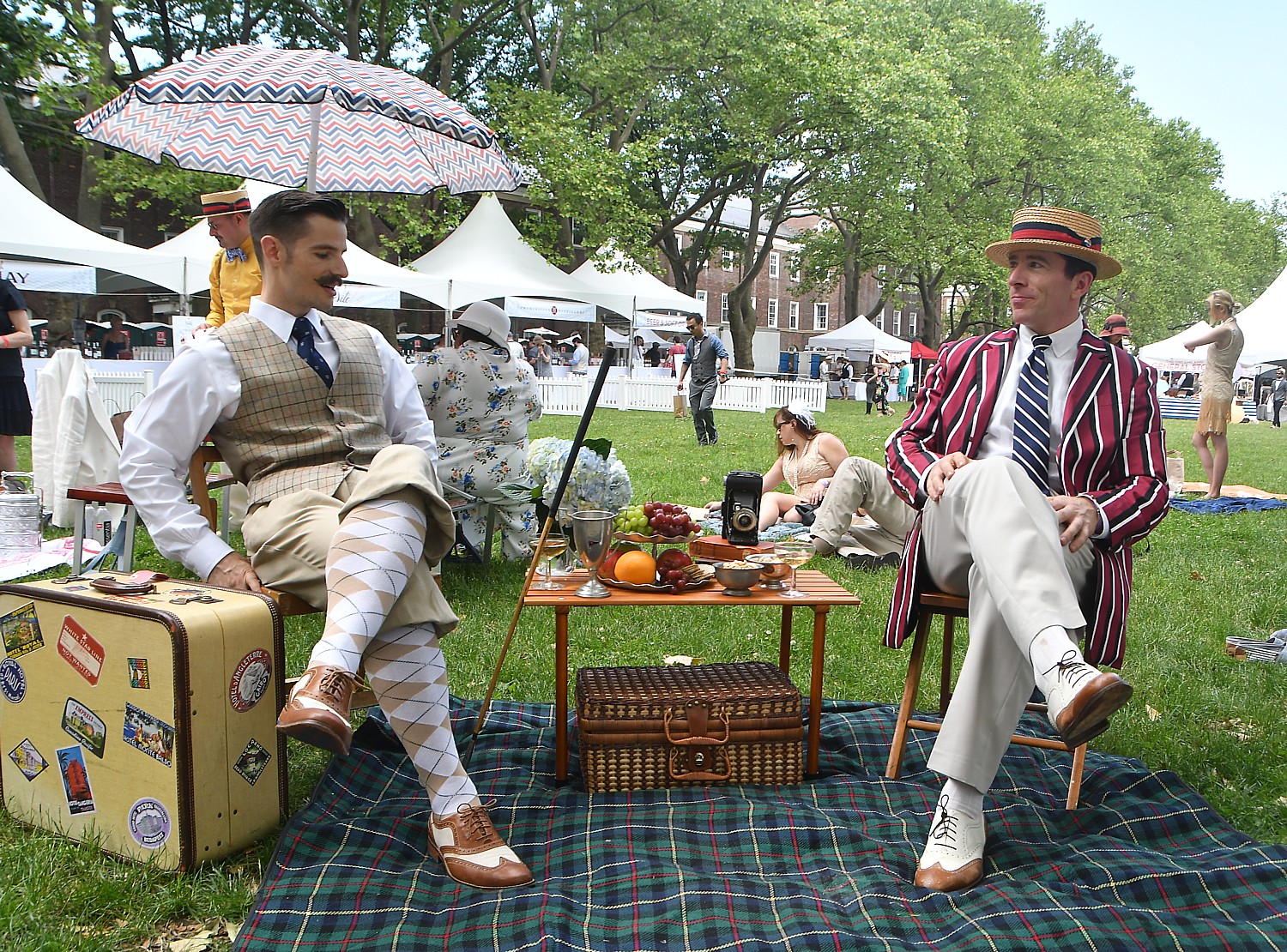 The afternoon starts off with dance lessons in the hottest dance steps of the time, like the Charleston. You can immortalize the day in your own Vintage Portraits-You Ought To Be In Pictures, perched on a Paper Moons or in tintypes using the same techniques and chemicals (a mixture of gunpowder and ether) as were used more than a century ago; the ultimate family-friendly event also features Kidland carnival games and prizes for junior Gents and Flapperettes. There's also a 1920s MotorCar Exhibition, where you can get up close and personal with flivvers and Tin Lizzies, and Antique Gramophones that reanimate original recordings from the 1920s.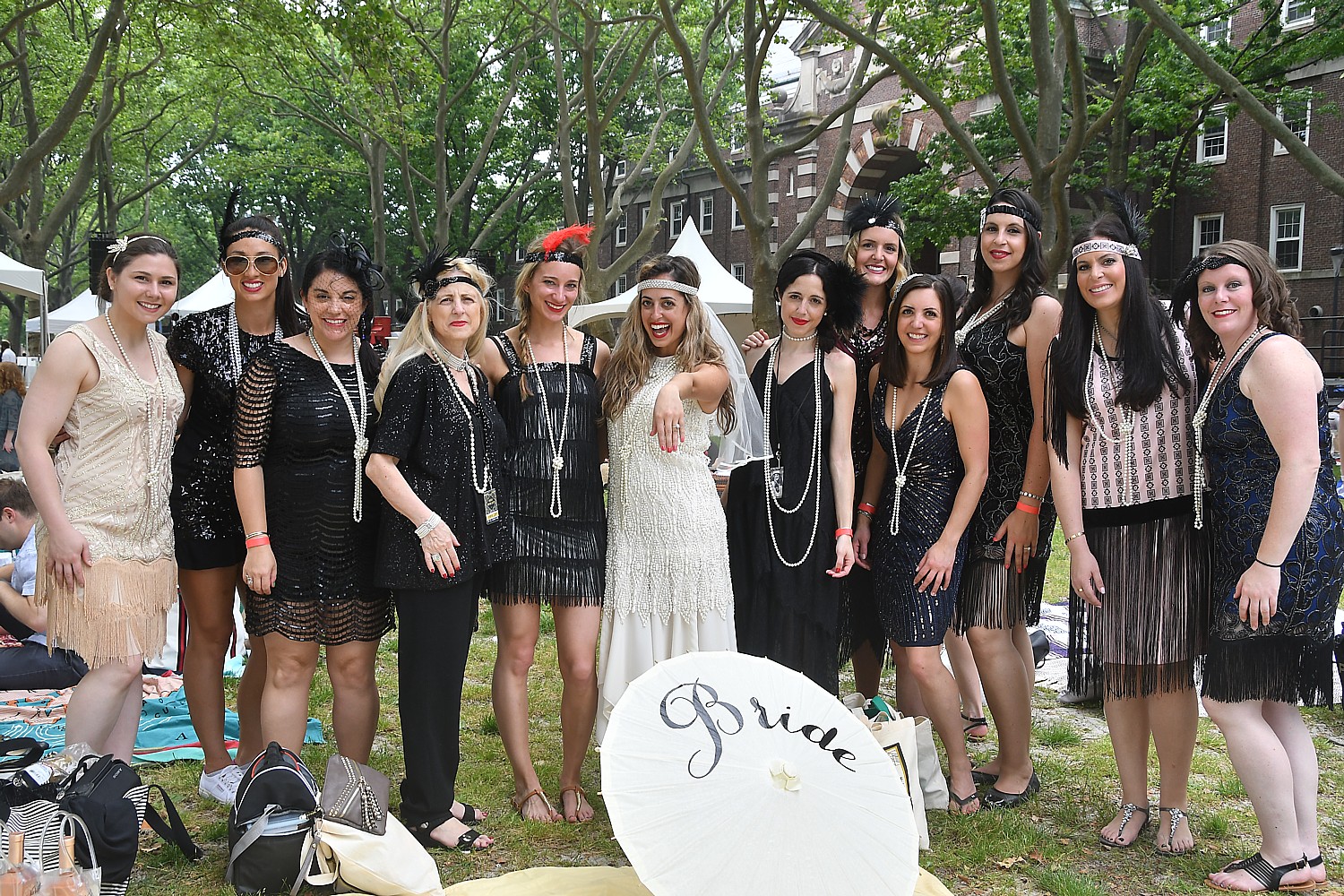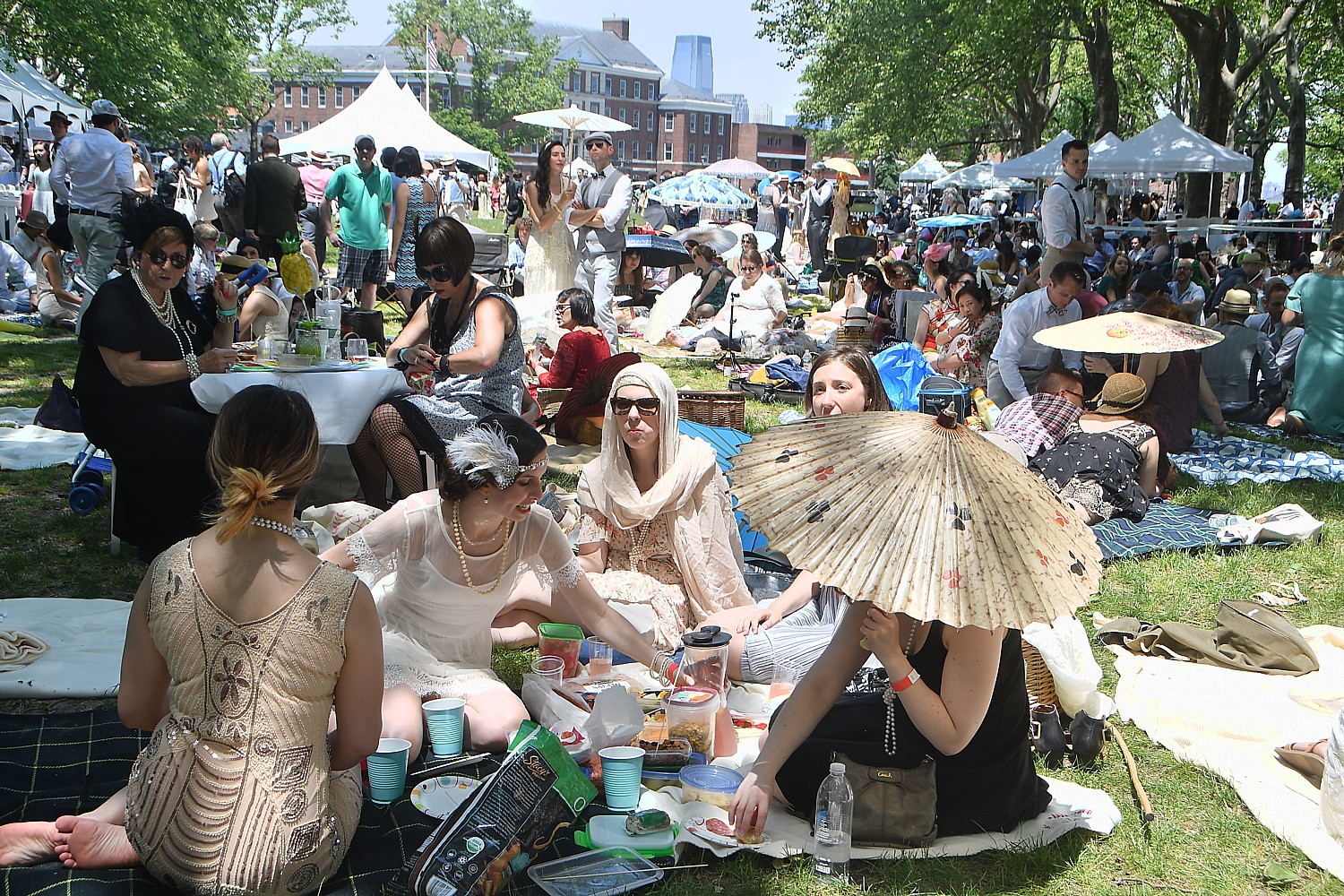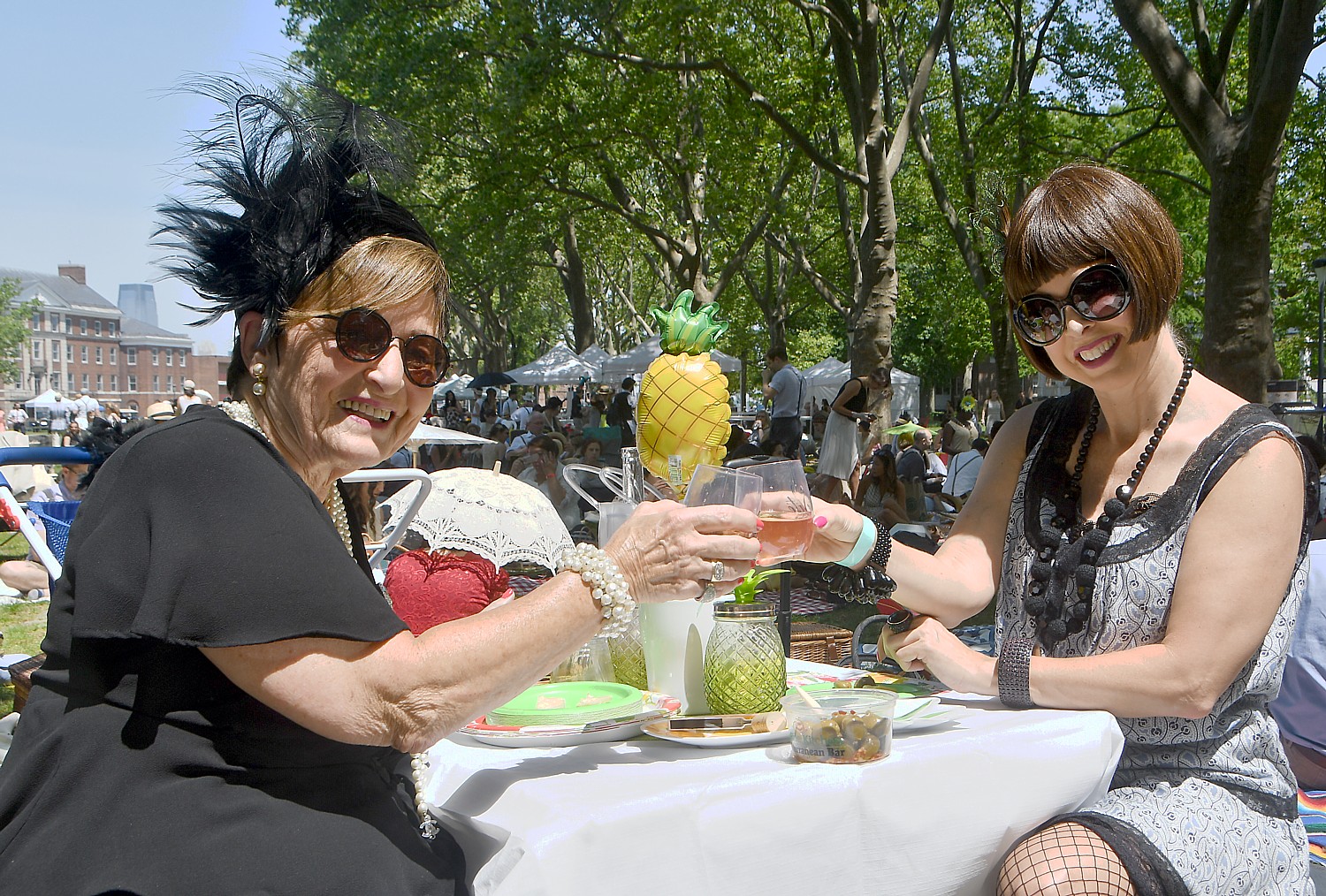 And what would a Prohibition-era, speakeasy event be without booze? VieVité, Côtes de Provence Rosé is the official wine sponsor of the Jazz Age Lawn Party. In addition, refreshing summer cocktails feature Lejay, the official liqueur sponsor which created crème de cassis in 1841, and Bootlegger 21 NY Distilleries, crafted in Roscoe, NY, which is this year's the official gin and vodka of Jazz Age Lawn Party,. Libations available also include ice cold beer, lemonade and soft drinks. (Take note: you can't bring in your own alcoholic beverages.)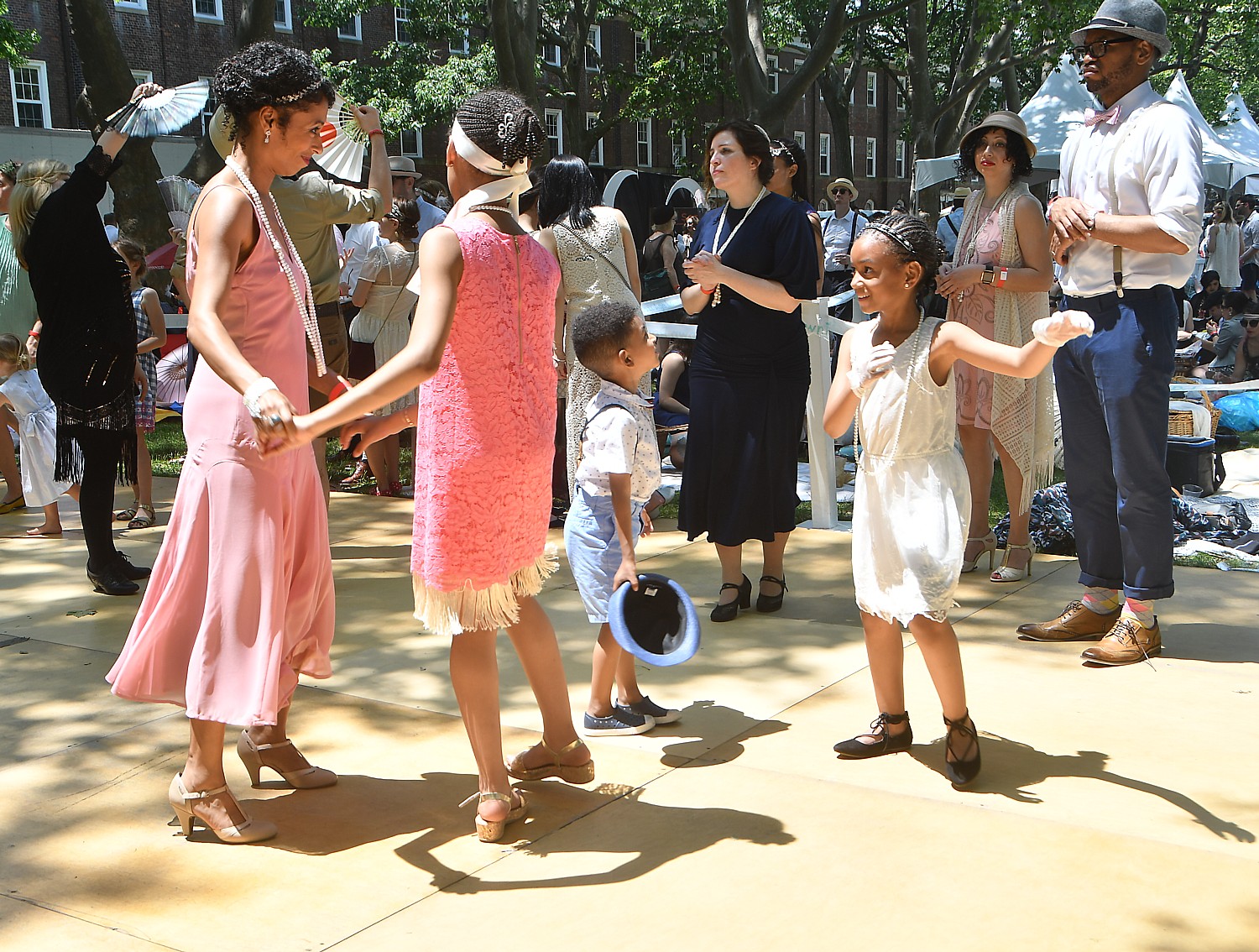 New for 2017, Dreamland Gourmet Picnic Totes, featuring freshly prepared, custom ordered lunches that you receive when you enter, complete with a chilled bottle of VieVité Rosé, and other treats! (included in all "Bee's Knees and "Bonnie & Clyde" ticket packages).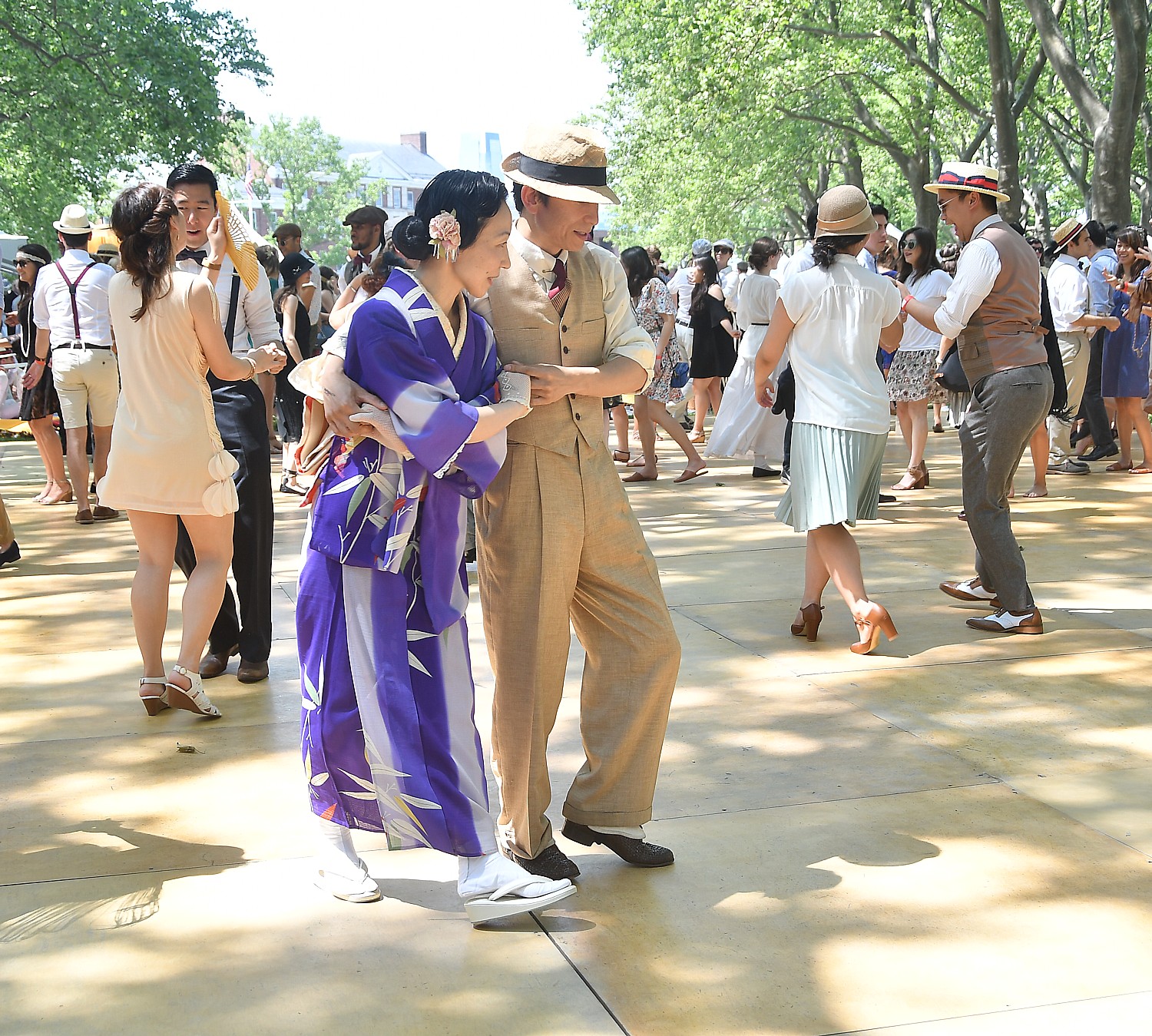 People also took advantage of the Gourmet Picnic Market's fancy picnicking fare, treats and snacks including ice cream, cotton candy, hot popped corn; the Dreamland General Store, offering picnic blankets, parasols, hand fans and assorted sundries; vintage clothing vendors and artisans who create a veritable village of timeless treasures.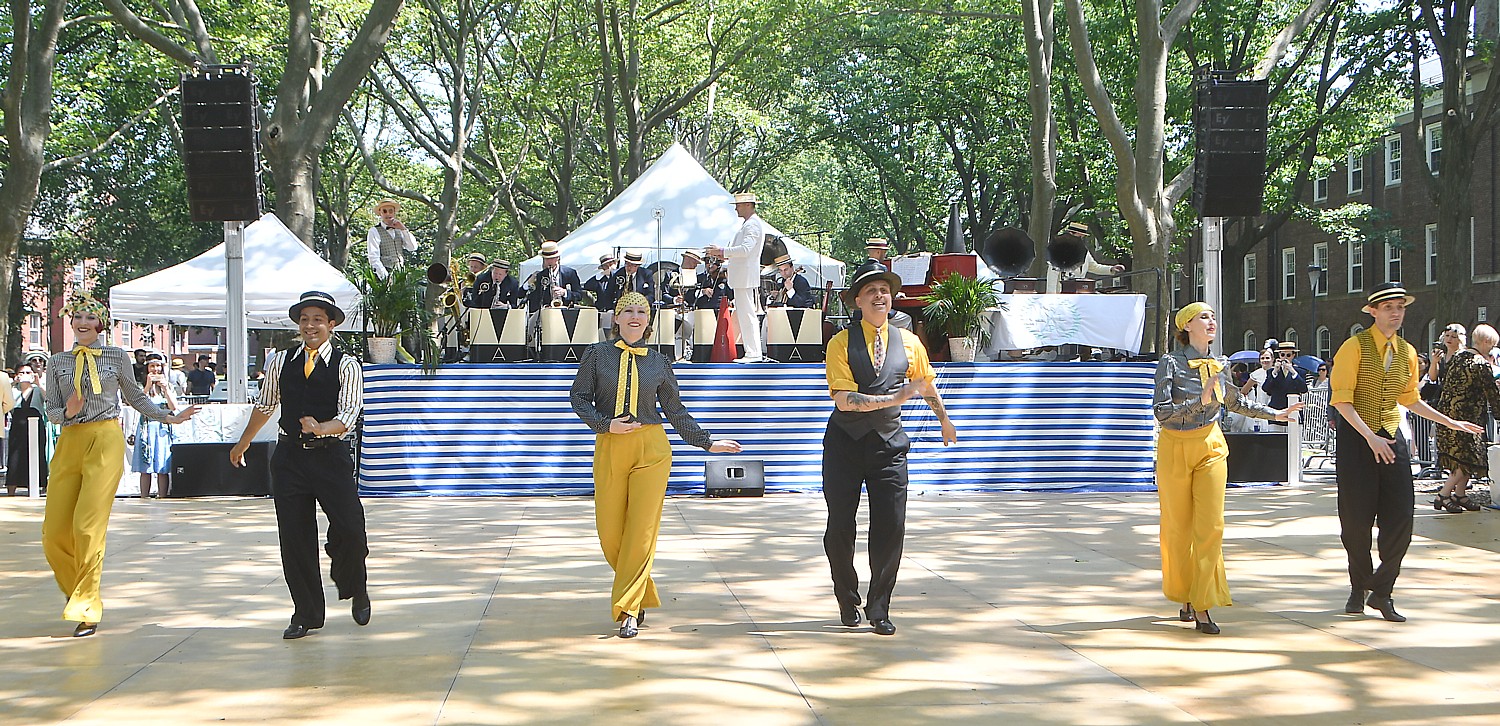 This event sells out and this year, for the first time, tickets are only available for purchase in advance. For tickets and information, visit, http://jazzagelawnparty.com/. Purchase tickets at http://jazzagelawnparty.ticketfly.com/.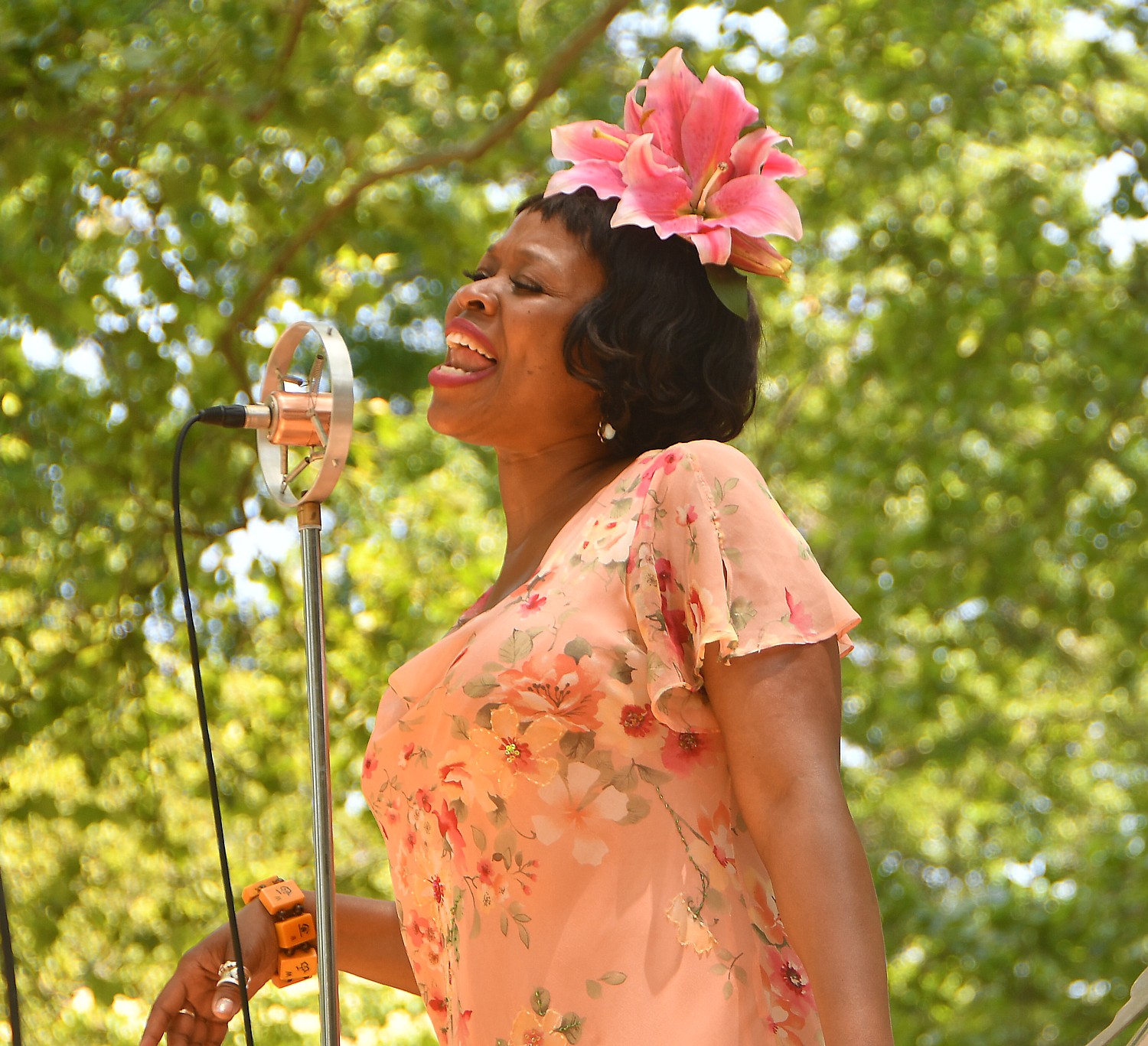 ____________________
© 2017 Travel Features Syndicate, a division of Workstyles, Inc. All rights reserved. Visit goingplacesfarandnear.com,  www.huffingtonpost.com/author/karen-rubin , and travelwritersmagazine.com/TravelFeaturesSyndicate/. Blogging at goingplacesnearandfar.wordpress.com and moralcompasstravel.info. Send comments or questions to [email protected]. Tweet @TravelFeatures. 'Like' us at facebook.com/NewsPhotoFeatures