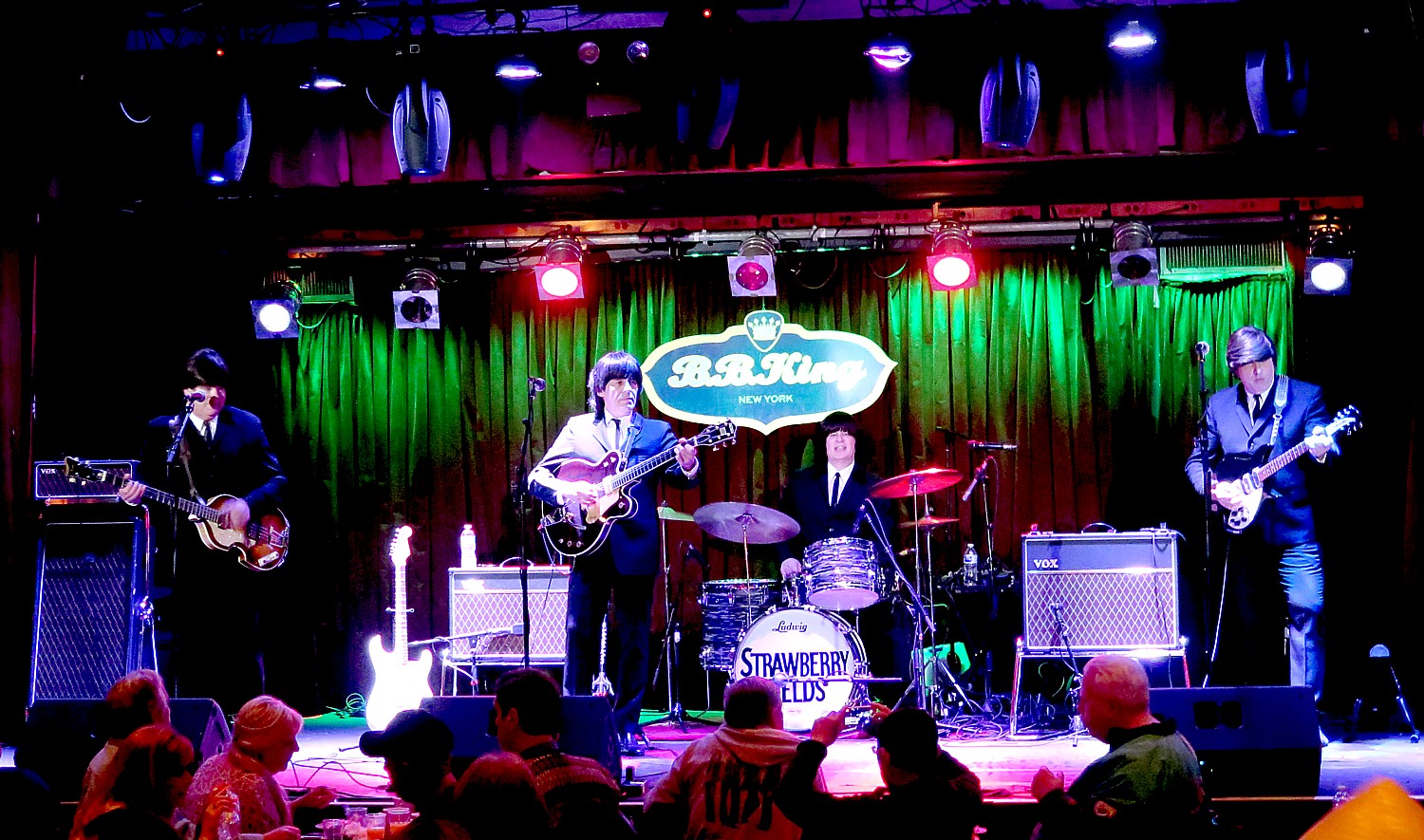 By Karen Rubin and David Leiberman,
Travel Features Syndicate, goingplacesfarandnear.com
After 18 years of playing BB King's Saturday brunch, Strawberry Fields, one of the most heralded of Beatles tribute bands, played for the last time at the celebrated live-music venue in Times Square.
The room was packed with appreciative fans, family and friends, many who have been regulars, and many who were out-of-towners enjoying this slice of New York.
The lighting deliberately shadows the bandmembers' face because the illusion of seeing the Beatles performing live is so accurate – close your eyes and the sound is re-created note for note, tone for tone, beat for beat. But instead of an immense stadium or arena, they are playing for you in this remarkably intimate and comfortable supper-club setting – that is, until this weekend, when they played their last Saturday brunch at BB King.
They play on the same musical instruments of the Beatles' era, with the same sound amplifiers, even the same 40-year old drum set that Ringo Starr used so the sound is as authentic as it could be.
The costumes set the timeframe for the music: dressed in mop top hair, black suits and thin ties for the early Beatles Rock n'Roll era when they burst onto the world stage that was so melodic and danceable; re-creating the album cover for the Sergeant Pepper era of innovation (where the Band re-creates the innovative instruments and multiple tracks invented in the studio after the Beatles stopped performing concerts to focus on in the extraordinary musical innovations that could only be accomplished in a studio); and finally, the "White Album," "Abbey Road" and "Let it Be" period of social and political activism, with "John Lennon" in an army jacket.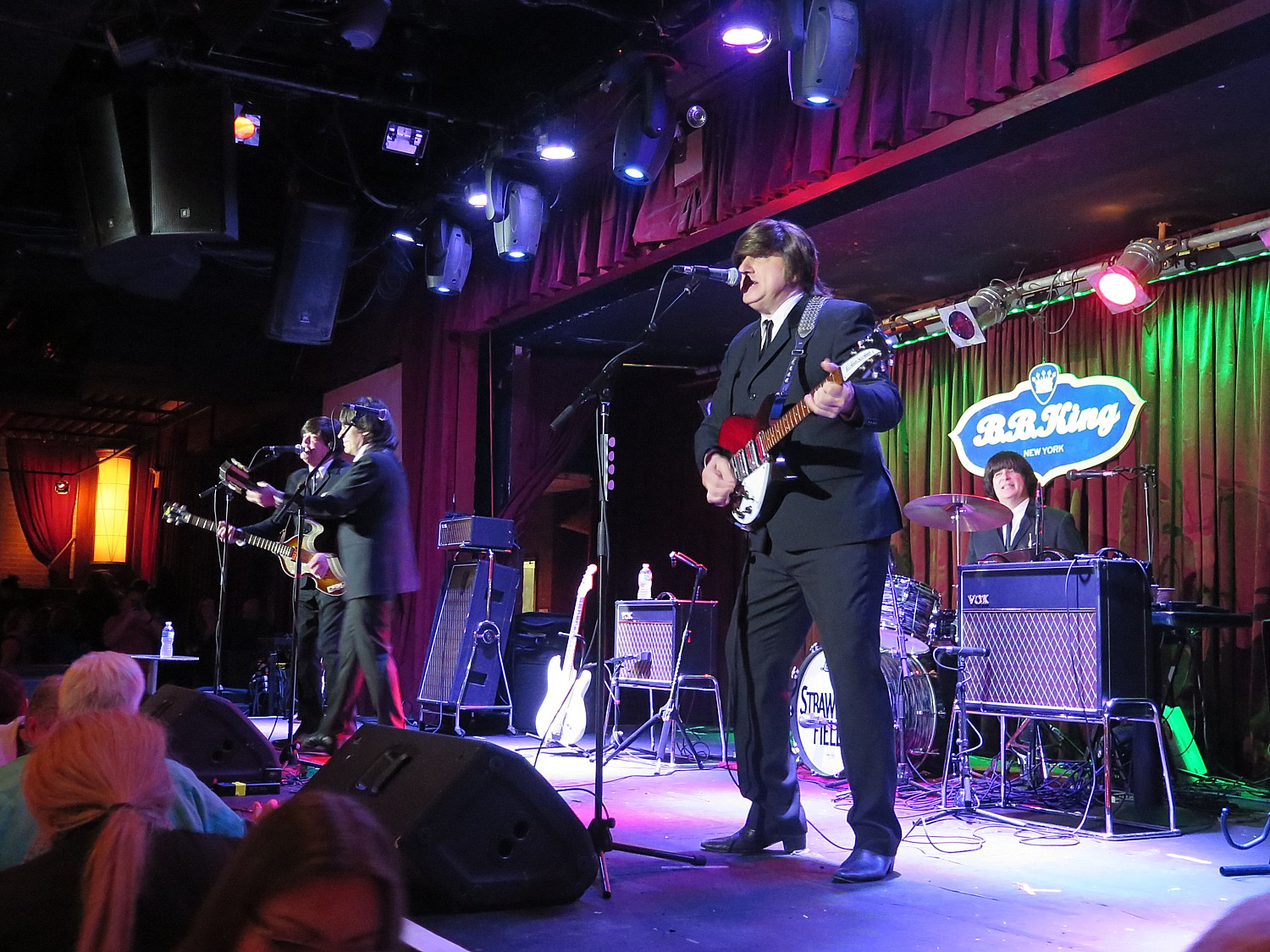 There are any number of Beatles tribute bands, but Strawberry Fields is acknowledged to be one of the best – the musicians who have taken on the persona of John Lennon, Paul McCartney, George Harrison and Ringo Starr since the band was formed 28 years ago, have performed in Beatlemania on Broadway and in touring companies, Let it Be, the 40th Anniversary re-creation of the Shea Stadium concert, and have performed all over the country and the world: Yankee Stadium, Fenway Park, the Plaza Hotel, Paramount Theater, numerous Hard Rock Cafes – some 2000 performances.
Yet after all this time, they don't play by rote, as if their head was some other place or that playing the same music over and over has become a chore. It is as fresh and vital as if they were the Beatles and recognized the responsibility of playing live for people who were such devoted fans of their records.  They play with such purity, respect and reverence for the music and the creators – not as cliché, over-the-top, or caricature.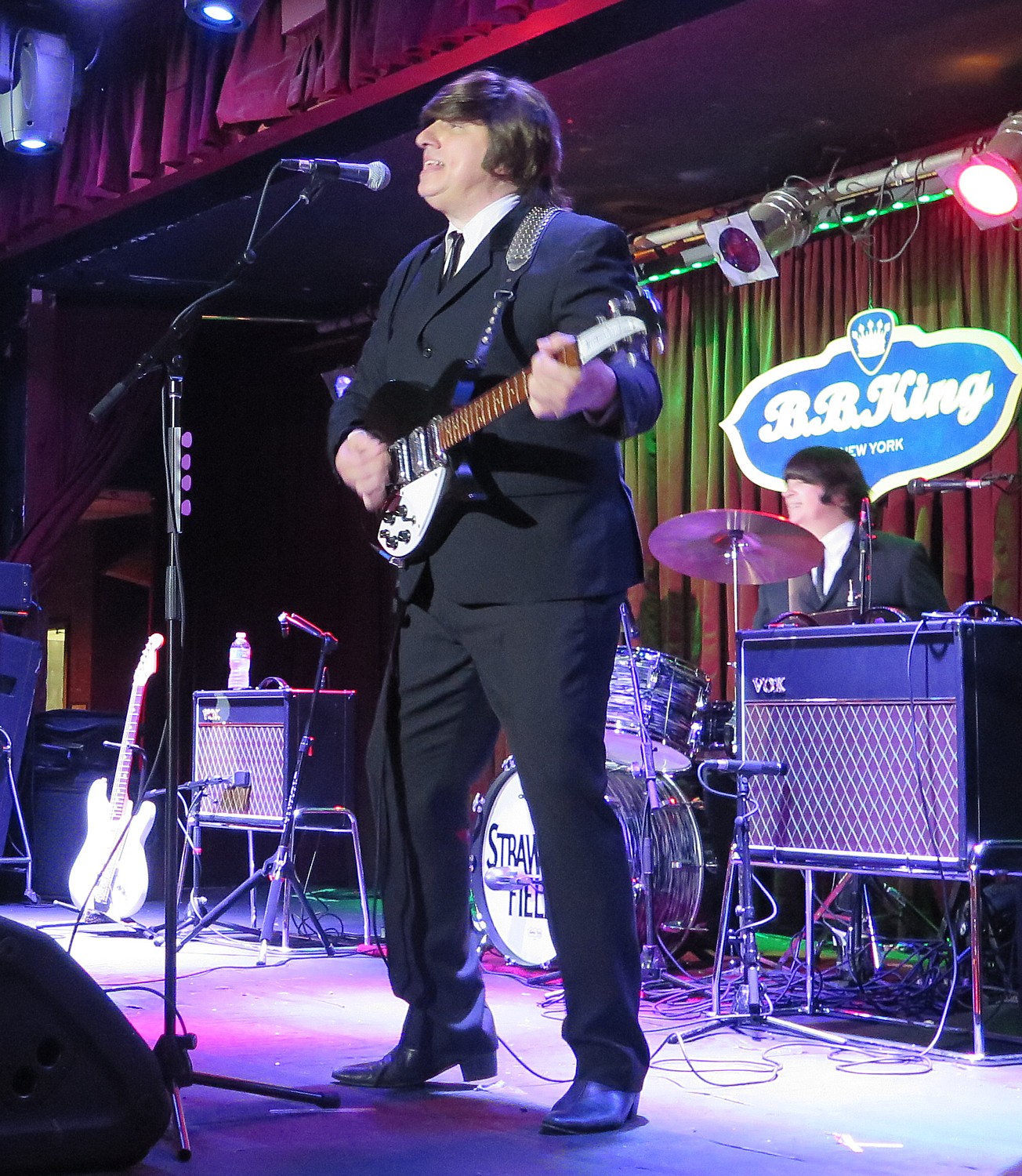 Tony Garofalo, the John Lennon impersonator, is Strawberry Fields' Founder, Creator, Producer and Financier, Rhythm Guitar, Lead Guitar, Piano, Mouth Organ, Lead Vocals. Tony has continuously perfected the role as John Lennon throughout the 80's and 90's, performing with countless incarnations of Beatlemania. He formed Strawberry Fields in 1991 to make a complete Beatles performance accessible in variety of musical venues.
Tony was born into a musical family, with a mother who was a professional dancer/ teacher and father who is both a 25 year guitar teacher and professional Carnegie Hall alumnist with the New York Mandolin Orchestra. Tony has been playing guitar since he was five, and is also trained in the fine art of classical guitar, mastering pieces by Bach, Beethoven, Sor, Julian Bream, and Andrew Segovia.
But Tony had another life entirely as an undercover Detective and Sergeant and a first-responder who was among those who came to the World Trade Center on 9/11.
He served in the NYPD police for 20 years, with over 700 arrests to his credit and has worked in the central robbery unit, narcotics division, detective division, and internal affairs bureau. Tony was also a key contributor in the September 11th rescue and recovery effort both at Ground Zero and the Staten Island Fresh Kill location. Colleagues and police brass call him the real Sergeant Pepper.
The colorful character is also known for re-constructing the famous Chitty Chitty Bang Bang car (autographed by Dick Van Dyke).
Billy J. Ray, who has been Strawberry Fields' Paul McCartney since 1978, was a member of the original Broadway Beatlemania cast, and plays Bass Guitar, Piano, Lead Vocals. Billy bears a certain resemblance to Paul: that boyish charm and devil-may-care attitude that captivates any audience. He can sing the rockers with unbounded energy and change gears quickly to render a soft, beautiful ballad in Paul's inimitable style. His Hofner "Beatle Bass" and Rickenbacker Model 4001 complete the look, feel, and aura associated with Paul McCartney.
John Korba, who takes on the George Harrison part, plays Lead and Rhythm Guitar and does Vocals. John was associate conductor of the Broadway show Rent for four years, associate conductor for the Broadway productions of The Civil War and the Rocky Horror Show and has appeared in numerous Broadway productions including Taboo, Kat and the Kings, Rain and Let It Be. He has performed and recorded with Hall and Oates, Carly Simon, Todd Rundgren, Phoebe Snow, John Waite, and numerous other artists. He spends most of his time, when he's not touring, writing, recording, and producing various projects in his own studio. In the stage lighting, John takes on an amazing  resemblance to George.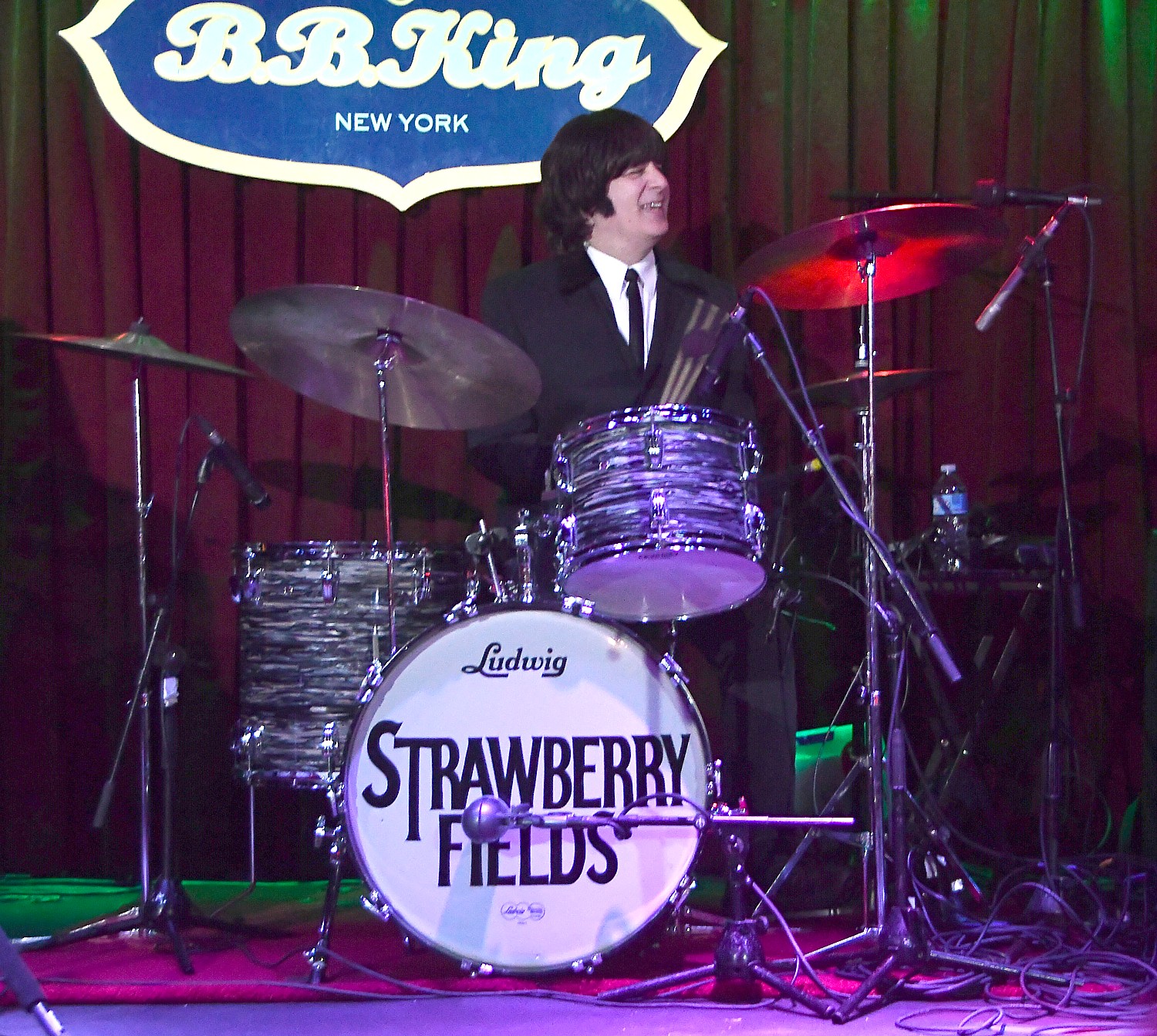 Michael Bellusci, the Ringo Starr impersonator, is responsible for Drums, Percussion, Vocals, Music Orchestration and Technical Director. Michael discovered his passion for drums the moment he saw the Beatles perform on the Ed Sullivan Show, Sunday February 9, 1964. He is a multi-instrumentalist and has studied with such drumming legends as Tommy Hatch (long time staff drummer at Radio City Music Hall), Sam Ulano, Rod Morgenstein, Justin DiCioccio, and Frank Marino. Michael's musical career has spanned four decades, from 1970 to the present, performing with a long list of musical acts that include: Get With It (with Kasey Smith of Danger Danger), the Conglomowitz, Wonderous Stories, Leslie Fradkin (original "George" from "Beatlemania", Edison Lighthouse), the Off Broadway theater production of Cougar the Musical, The Big Apple Circus, Here Comes the Sun, George Harrison tribute with Godfrey Townsend (Allen Parsons Project Live, John Entwistle Band, Happy Together tour musical director), and most notably, was selected to perform as Ringo for well over a decade with the touring cast of Beatlemania, which starred Mark "Farquar" Vaccacio, Leslie Fradkin, and Don Linares. Michael, an original member of Strawberry Fields who toured with the band through the 1990s, is now repriseing his role as Ringo in Strawberry Fields. Some have described him as a "dead ringer" in both his resemblance to Ringo and his drumming expertise.
They are not so much "playing" the Beatles as re-creating the Beatles' musical artistry with a respect, a reverence that is powerful. I half-expected Yoko Ono to make an appearance to express her appreciation to how Strawberry Fields keeps the Beatles legacy alive across generations (the youngest fan in the audience was just three weeks old). Or perhaps Sir Paul McCartney, who, along with Ringo Starr, and Sid Bernstein (the original Beatles concert promoter for Shea Stadium), announced the band at the 40th anniversary re-creation of the Shea Stadium concert and in July 2013, invited Strawberry Fields for a personal meeting and after-concert VIP party at the Brooklyn's Barclay Center, when Paul was photographed holding Tony's actual NYPD Police Sergeants badge.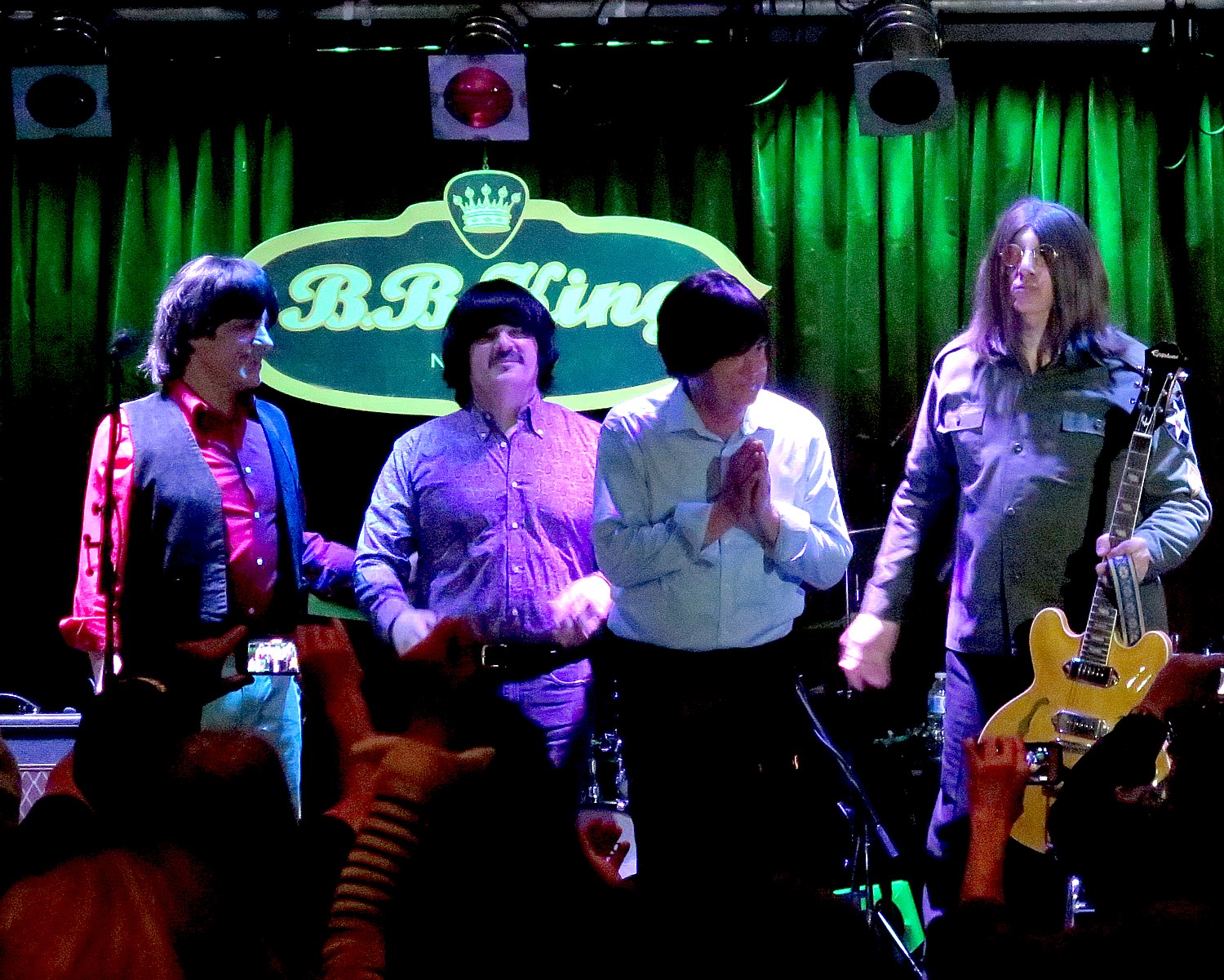 How is it possible to play Beatles music in over 2,000 shows and keep it fresh and exciting? "Partly that is because all four of them are extremely talented, lifelong musicians. Another reason is that all of them were either in the touring company or the Broadway cast of Beatlemania and had to graduate from 'Beatle boot camp' so they are the best of the best. And it is also because they never do the identical show twice. Since they are quite literally capable of performing any of the more than 200 songs in the Beatles canon, they change up the set list every time," says Deborah A. Sable, who met Tony Garofalo through Strawberry Fields and married him a year ago. "I was with them on tour at Busch Gardens in Tampa where I watched them do 18 shows in six days and no two were exactly the same!"
You have the opportunity to savor the musical virtuosity of the Beatles – who were self-taught musicians – to really appreciate the intricacy and the innovation of the Beatles. This isn't just nostalgia; this is preservation of the musical artistry in the way Mozart, Bach, Beethoven and Chopin will always be a part of musical repertoire.
And they have their own fans – we meet Dina Marks, a teacher in PS 63 in Ozone Park and Wantagh, Long Island resident, who has followed them around their outdoor concerts and has come to the Saturday BB King brunches where Strawberry Fields has performed for the last 18 years "at least once a year for my birthday and anniversary" and wears a replica of the same John Lennon army jacket that Tony wears. "The minute I heard they were closing, I said, 'I don't care what, I will be here.' They make me feel they are playing just for me."
While Strawberry Fields is now on the prowl for a new indoor venue to replace BB King, the band has a series of summer outdoor concerts set:
July 10, 2018: Rocky Point Free Outdoor Concert, 7 pm, St. Anthony Padua Church, Route 25!, NY 11778 (raindate Aug 28)
July 18, 2018: Tanner Park Free Outdoor Concert, 7:30: Beach Waterfront concert Band Shell, 99 Tanner Park, Copiague, NY 11726 (10,000 are expected to attend).
July 19, 2018: Smithtown Library Free Concert, 7:30: at the Library, Northeast corner of Route 25 and route 111.
July 27, 2018: Glen Cove Free Downtown Sounds Concert Series, 7:30 pm: Village Square at intersection of Glen, School and Bridge Streets, Glen Cov e NY 11542.
Aug. 1, 2018: town of Oyster Bay Concerts Under the Stars series, 8 pm. Syosset Woodburyt Park, 7800 Rte 25 (Jericho Turnpike), Woodbury, NY 11797.
Aug. 11, 2018: Musikfest Concert at outdoor Festplatz main state, 8 pm, 101 Founders Way, Bethlehem PA 18015. Largest East Coast outdoor concert venue with 15,000 expected (artsquest.org).
"They have closed a chapter, but the book is still going on," said Maria Milito, the popular 104.3 FM Classic Rock radio host who first introduced Strawberry Fields show at B B King 18 years ago, and closed out the last show.
"It's a bittersweet moment for us," Tony says in his farewell. "The greatest thing about the Beatles was love. Just go out into the world and just love."
For more information, visit the Strawberry Fields website, www.StrawberryFieldsTheTribute.com.
________________________
© 2018 Travel Features Syndicate, a division of Workstyles, Inc. All rights reserved. Visit goingplacesfarandnear.com,  www.huffingtonpost.com/author/karen-rubin , and travelwritersmagazine.com/TravelFeaturesSyndicate/. Blogging at goingplacesnearandfar.wordpress.com and moralcompasstravel.info. Send comments or questions to [email protected]. Tweet @TravelFeatures. 'Like' us at facebook.com/NewsPhotoFeatures