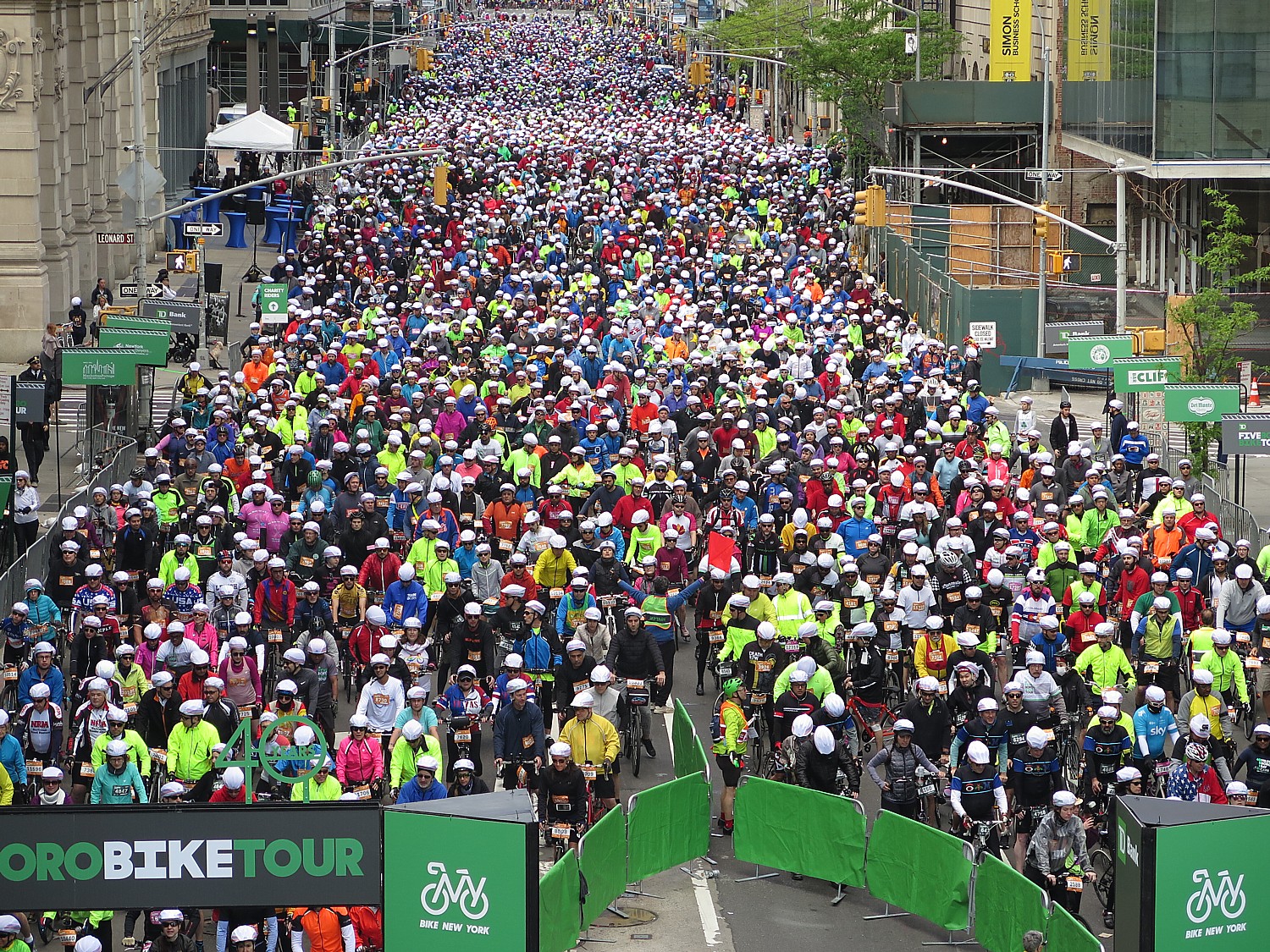 By Karen Rubin
Travel Features Syndicate, goingplacesfarandnear.com
What is so special about New York City's TD Five Boro Bike Tour is how, for one day, you and 32,000 of your closest friends, feel like you own the city. The streets, bridges and highways – like Sixth Avenue, the FDR Drive, the Queensborough Bridge, the Brooklyn-Queens Expressway and the Verrazano are your domain. It makes you giddy. Neighborhoods ring with sound and spirit – Greenwich Village, Harlem, Astoria, Greenpoint, DUMBO. Central Park's blossoms seem to burst just for us.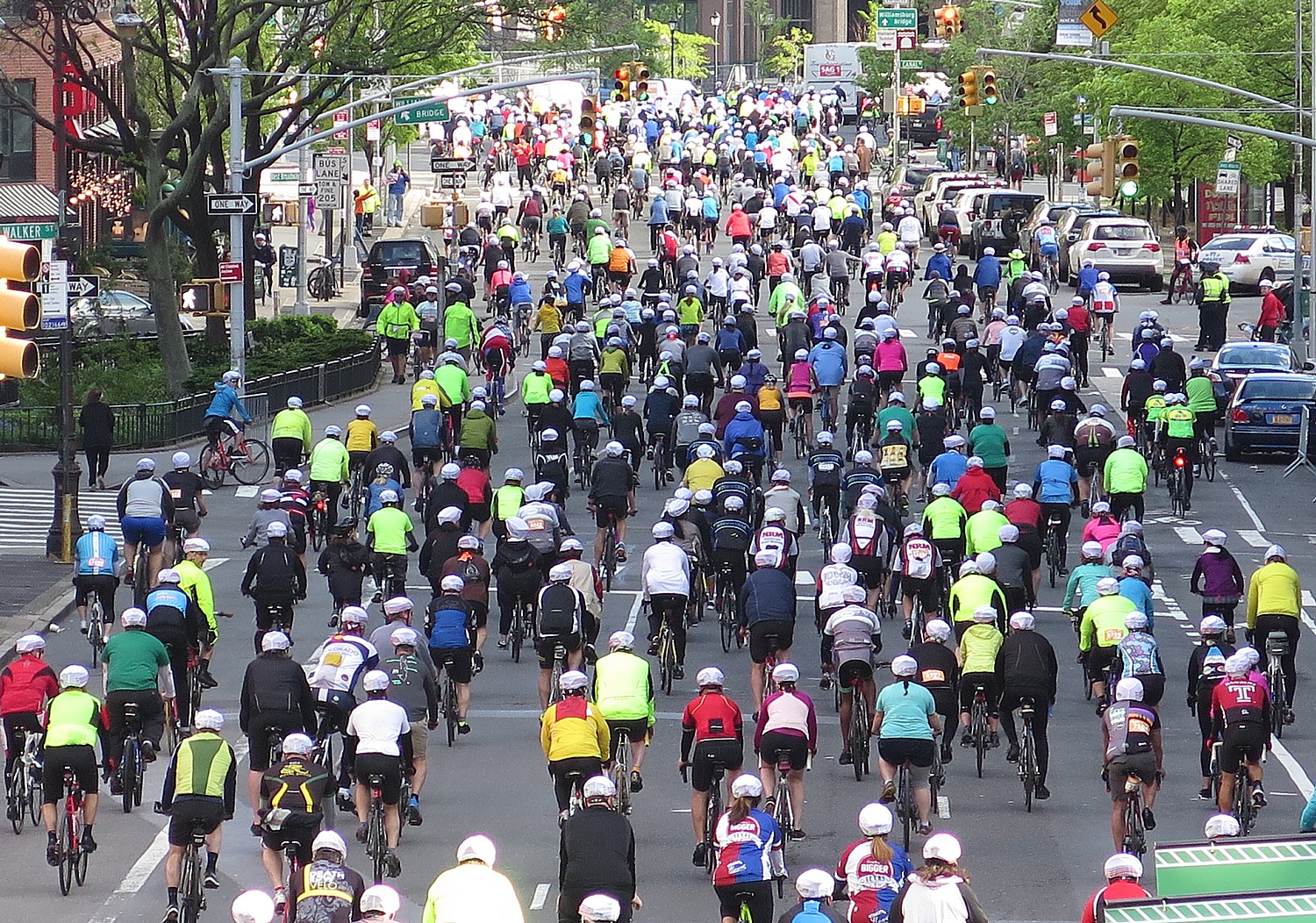 The ride this year marked the 40th anniversary of this event, which is the largest noncompetitive bike tour in North America. The ride has come quite a long way from that first one, in 1977, when just 250 people participated.
Riders, who race to get a spot as soon as registrations open (participation is limited to 32,000 but could easily be thousands more), came from every state in the nation (yes, Hawaii and Alaska), and 1300 riders came from 43 countries, as far as Australia.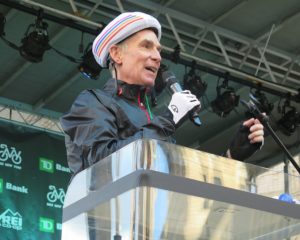 Bill Nye the Science Guy greeted the crowd as they lined up in downtown Manhattan, extending a mile, saying, "The bicycle is the most efficient machine known to humankind." The ride, he says, brings the joy of movement, of being part of the city. Strong hearts. Free minds. Together we can change the world."
New York City has really embraced biking, and now offers miles and miles of dedicated bike lanes – dozens more this year.
Manhattan Borough President Gail Brewer said that 750,000 New Yorkers now bike regularly, 50 percent more since 2012. "Thank you for your bike lane advocacy, for being healthy, for being part of the city's future."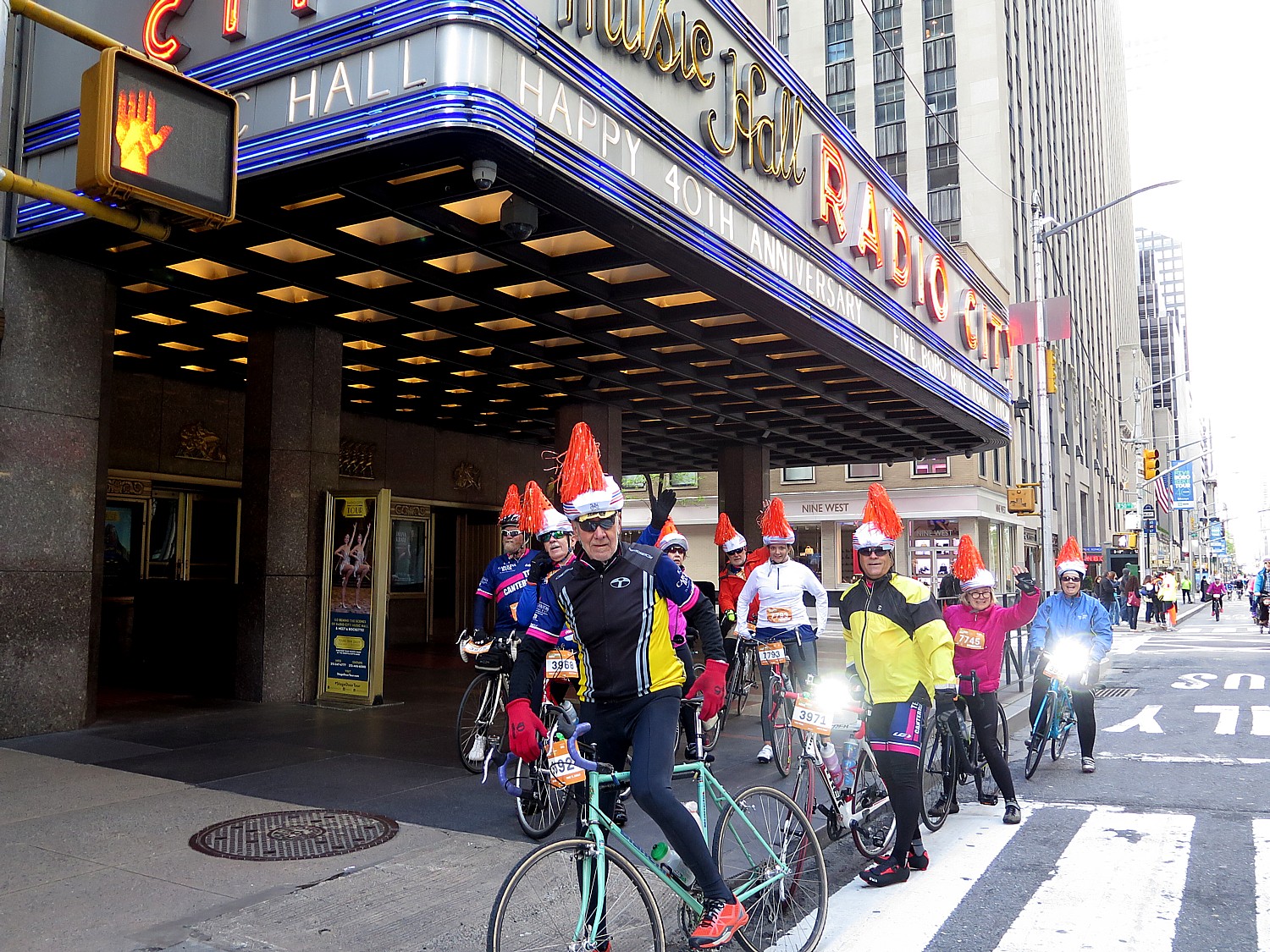 The annual event raises money for bike education – 17,000 people a year learn how to ride, the largest free biking education program in the country. Bike New York operates bike education centers, after school programs, summer camps, and this year launched a Women's Initiative, as well as its first membership program. "Alums" from the bike education program are joining the ride this year as "Student Ambassadors."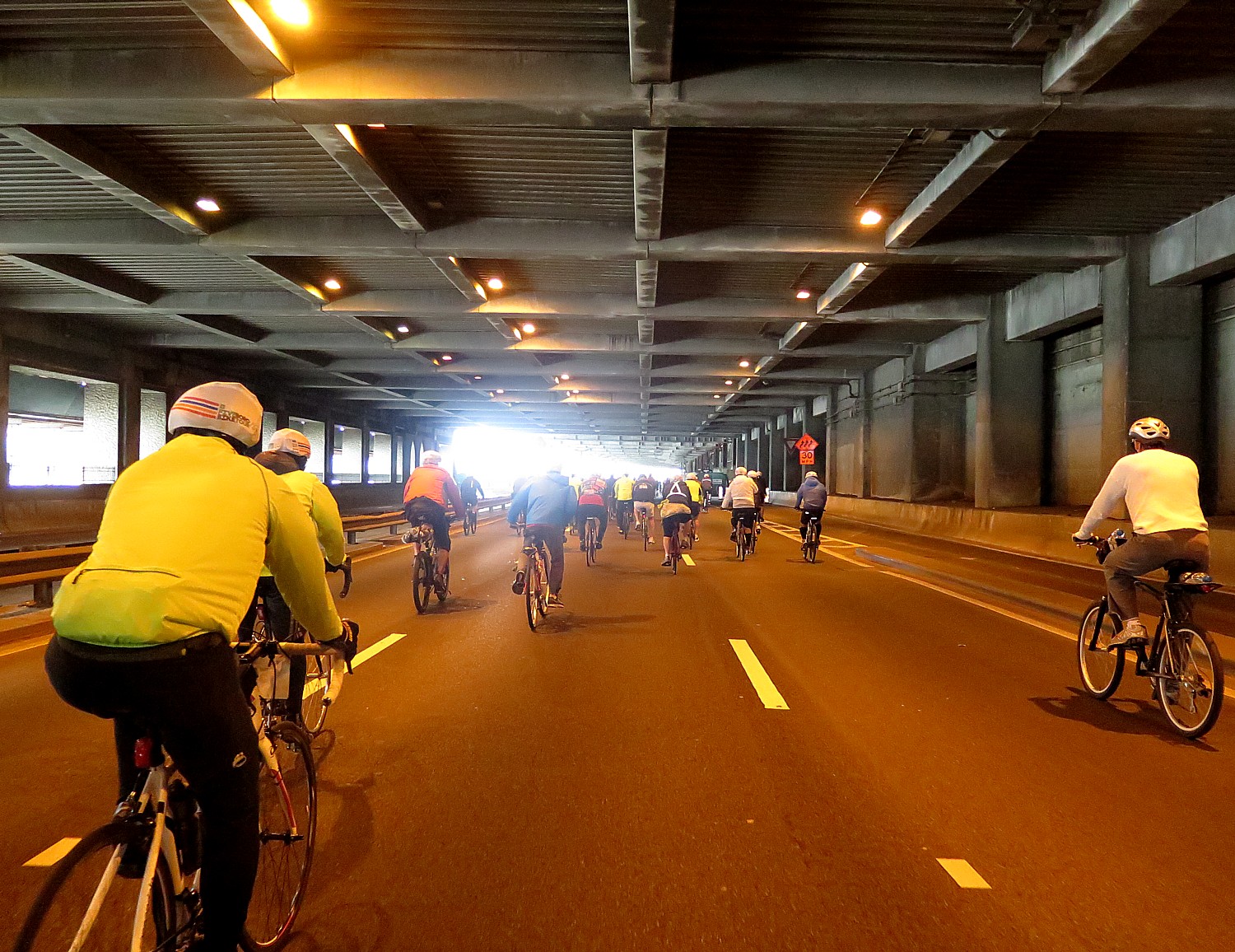 Numerous charities such as Doctors Without Borders, also use the event for fundraising, purchasing registrations which participants then raise money against.
One of the charities is the Lighthouse Guild, a not-for-profit vision and healthcare organization with a long history of addressing the needs of people who are blind or visually impaired, and will have several cyclists who are blind riding tandem bikes including a former triathlete, Charles-Edward, who became blind five years ago.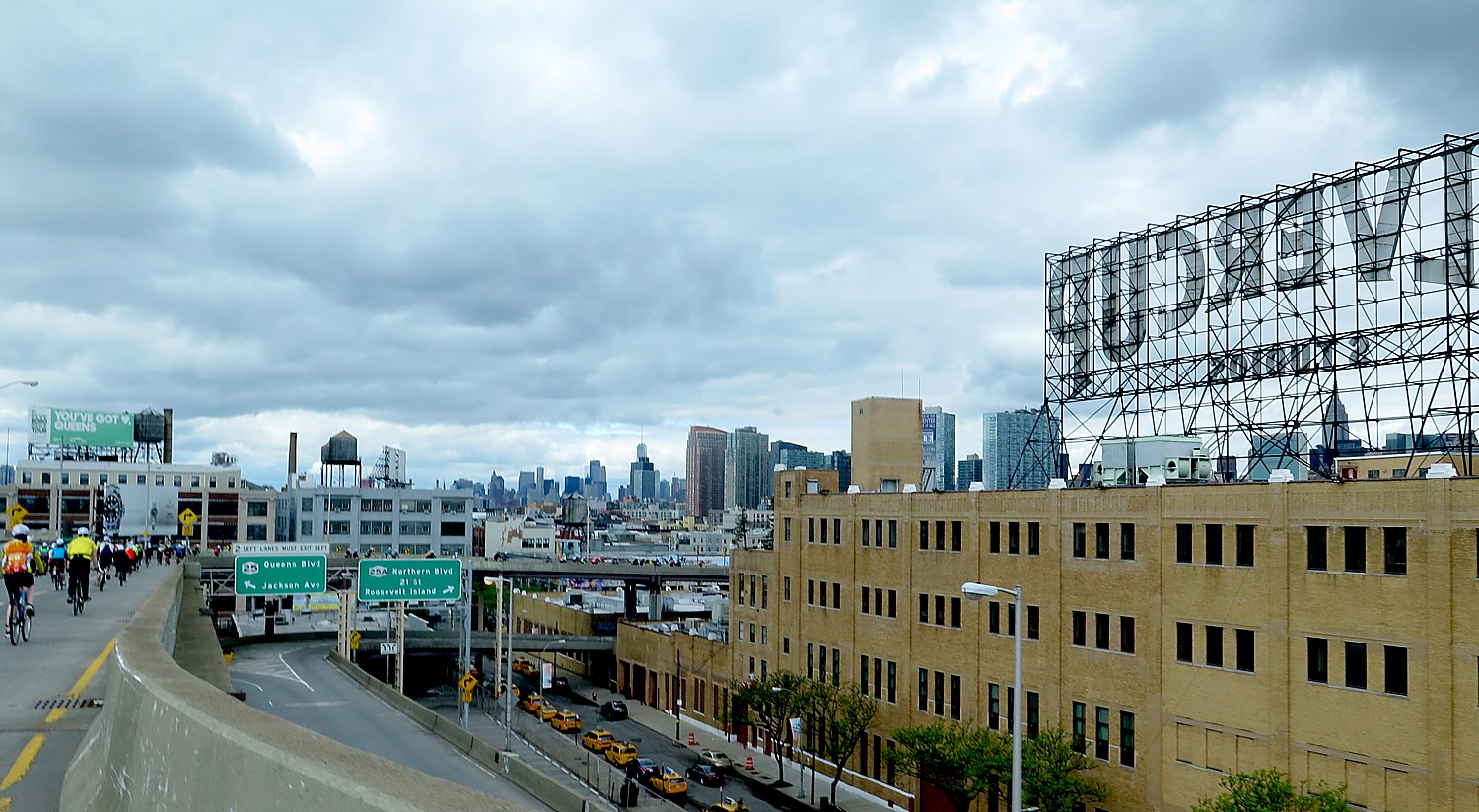 The bike tour is also a model of sustainability, promoting recycling, water conservation, becoming the largest sporting event to be certified for sustainability by the Council for Responsible Sport 3 years ago and this year, earning gold level. Each rest stop featured "zero waste" recepticals.
The ride is designed to be a family friendly tour, not a competition, appealing to  all abilities, ages – a pace car keeps the speed down, and keep it safe.
"Diversity is what makes the ride," says Sam Polcer, who handles communications for Bike New York.
Indeed, everyone marvels at how well organized the ride is and all the precautions that are taken to make the ride safe. The route has also been improved to unplug some of the bottlenecks of years ago, so there is a nice flow.
And there is such a sense of liberation to take over New York City's streets.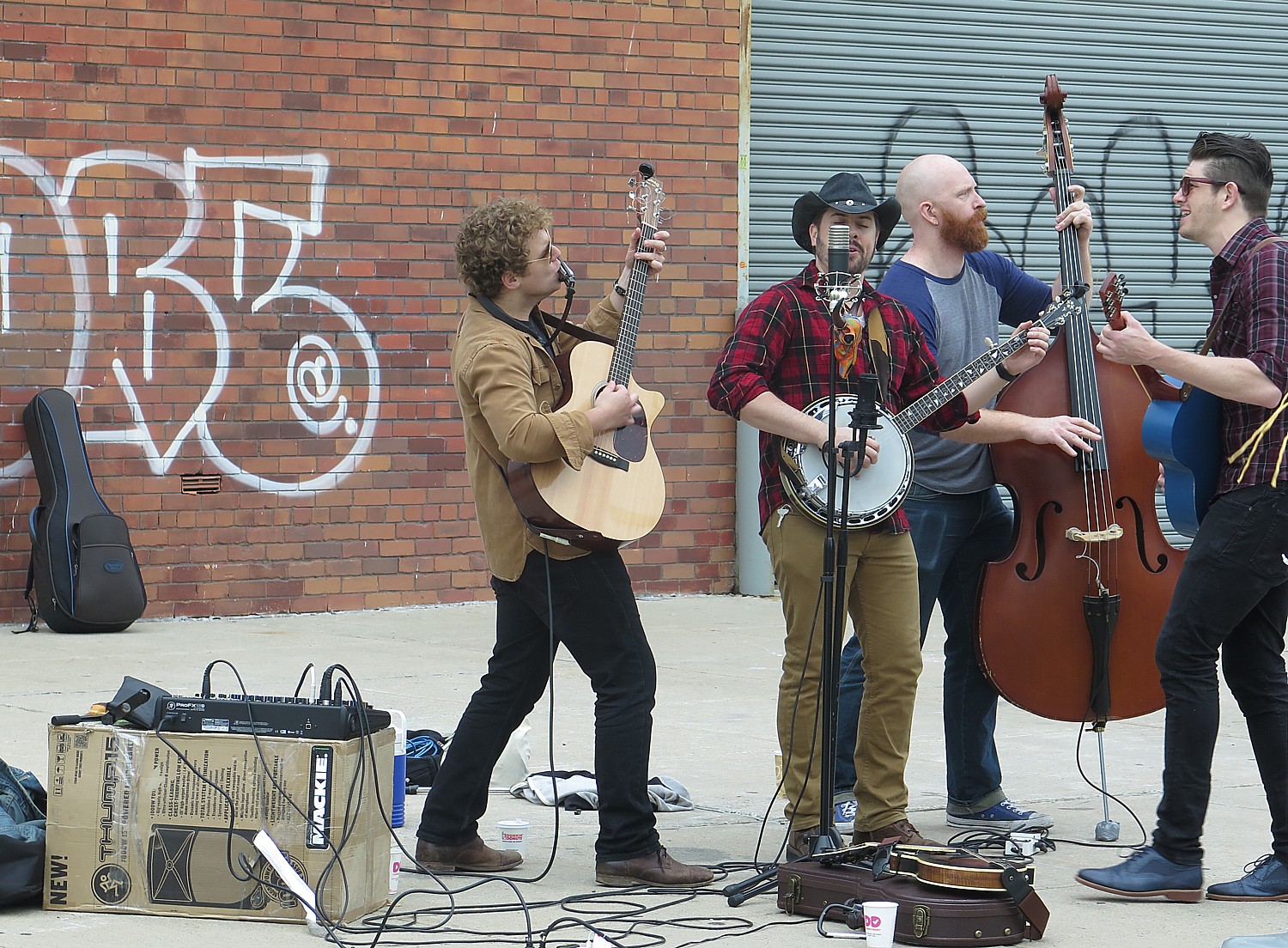 The ride embraces all five boroughs – and each shows off with street entertainment. In all, there were some 25 bands raising the spirits of the riders along the route, and at rest stops (Clif Bar sponsored a DJ and entertainment at the Con Ed rest area) and at the Finish Festival on Staten Island, where, for the first time, all the finishers received a commemorative 40th anniversary medal.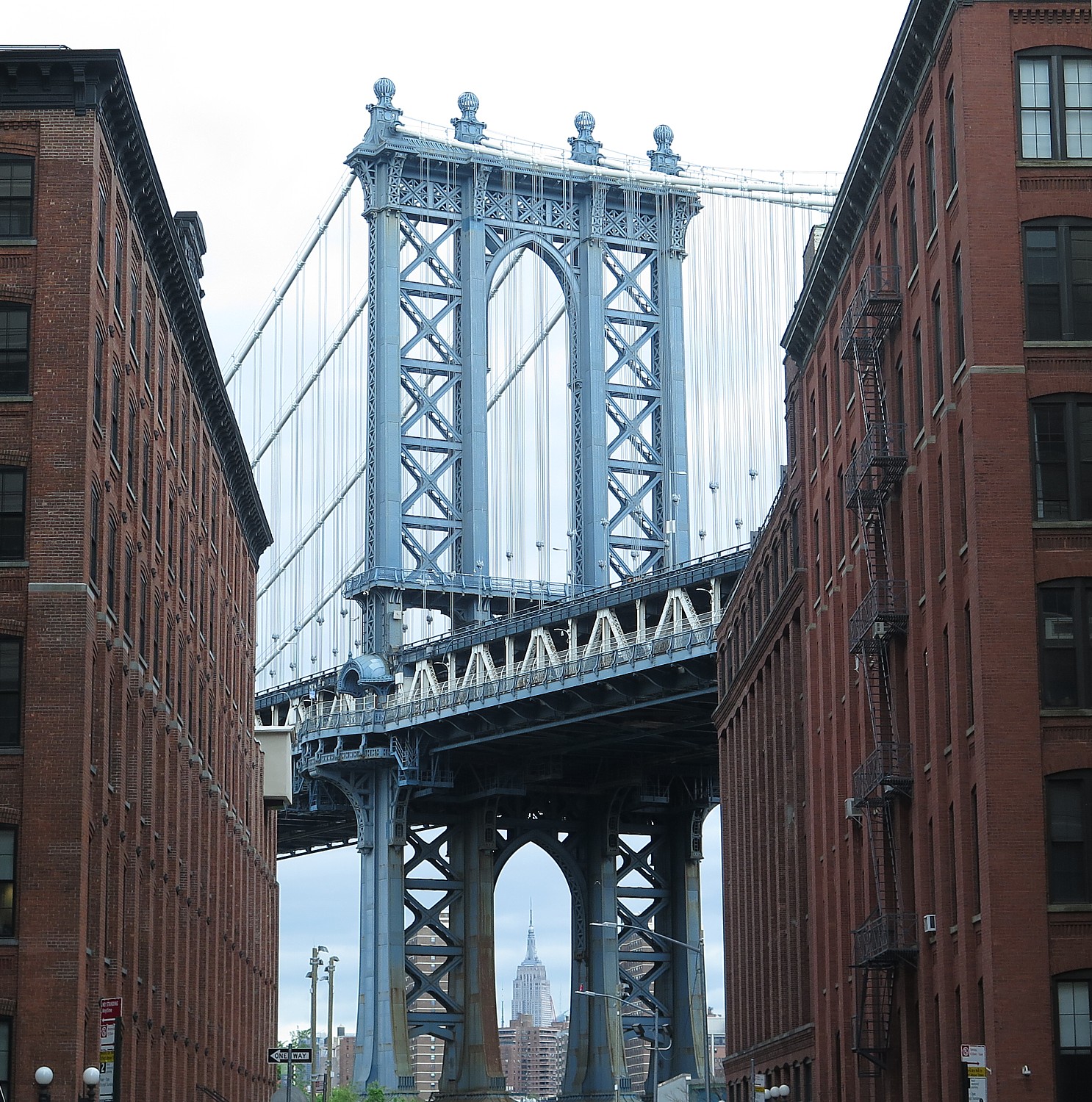 As in recent years, the  event is preceded by a two-day Bike Expo, when cyclists can take advantage of discounts and giveaways by scores of bike, biking gear, and bike tour companies and destinations from the New York State's Erie Canalway, to the Laurentians in Canada, to Taiwan, and special biking events like the Granfondo Campagnolo Roma,  October 6-8, 2017, through the World Association of Cycling Events, along with Granfondo Campagnolo Roma.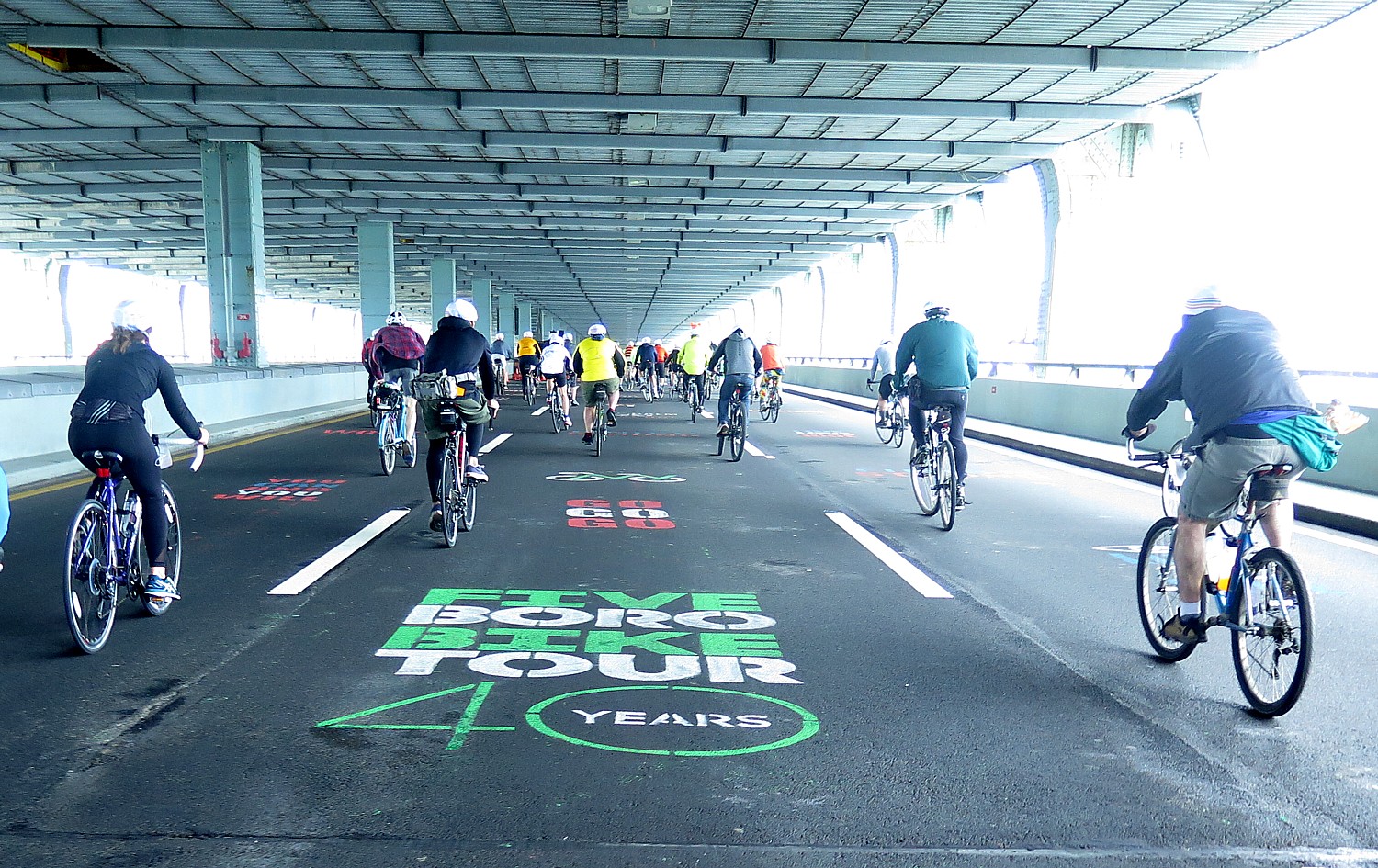 In a first for the TD Five Boro Bike Tour's 40th anniversary year, friends and family were able to follow their rider's progress along the 40 mile route, by virtue of a chip embedded in the number card on each bike.
Riders could sign up to have their progress posted automatically on their Facebook or Twitter pages, or enter the phone numbers of up to three people to keep them updated via SMS (text), so that folks can know when they start the Tour, reach several rest areas along the route and finish.
For the first time, the Tour was also broadcast live by NTD.TV. It could be viewed at http://www.ntd.tv/live; https://www.facebook.com/NTDTelevision/ and http://youtube.com/user/ntdtv
Bike New York, 475 Riverside Drive, New York, NY, Suite 1300, New York, NY 10115, www.bikenewyork.org, Follow @bikenewyork on Facebook and Instagram.
____________________
© 2017 Travel Features Syndicate, a division of Workstyles, Inc. All rights reserved. Visit goingplacesfarandnear.com,  www.huffingtonpost.com/author/karen-rubin , and travelwritersmagazine.com/TravelFeaturesSyndicate/. Blogging at goingplacesnearandfar.wordpress.com and moralcompasstravel.info. Send comments or questions to [email protected]. Tweet @TravelFeatures. 'Like' us at facebook.com/NewsPhotoFeatures