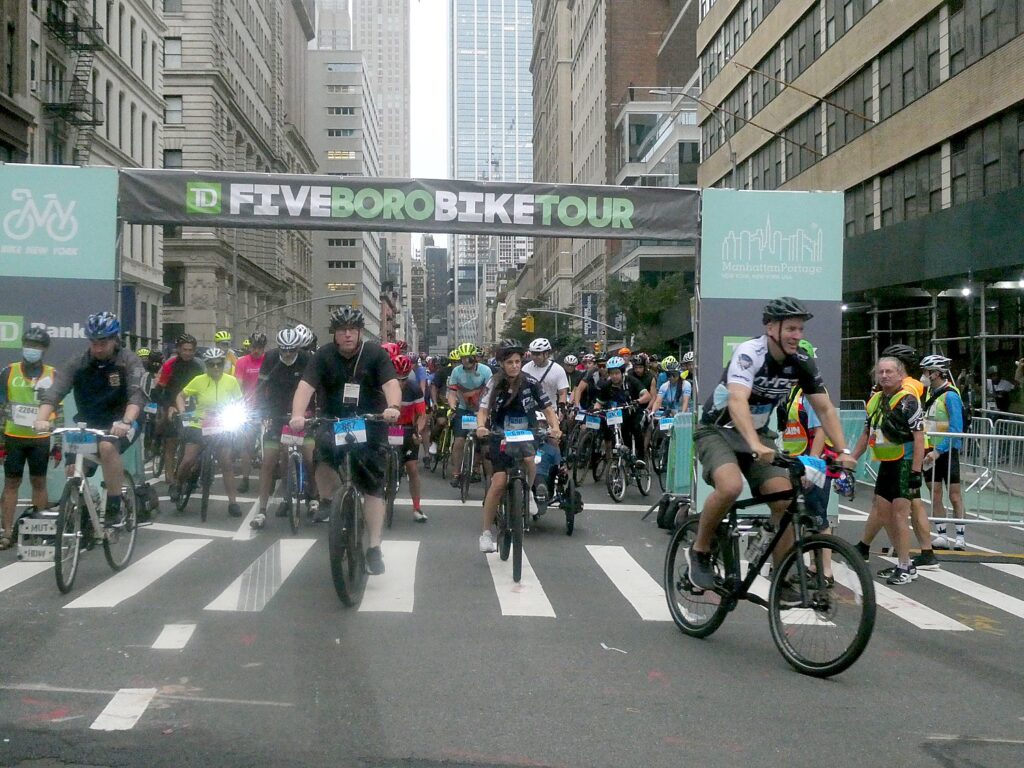 By Karen Rubin, Travel Features Syndicate, goingplacesfarandnear.com
In a stunning demonstration of New York City's famous resilience and grit, Bike New York, New York City and TD Bank pulled off the 2021 TD Five Boro Bike Tour, hosting 20,000 riders as they rode 40 miles of car-less urban streets and bridges. "A truly New York City experience in a truly unusual year."
Last year's ride was cancelled because of COVID-19, and this year's ride, the 43rd edition of the Five Boro Bike Tour, restricted to 20,000, substantially fewer riders than the 32,000 that typically join the ride because of COVID-19 protocols, was originally set for August 22, but Hurricane Henri had other ideas.
As it turned out, postponing the ride by a week rewarded riders with perfect weather for cycling – overcast, misting and a comfortable 72 degrees.
Participants who came from all 50 states and 16 countries had a ball, and were treated, as has become tradition, to bands welcoming the riders to each borough, well organized rest areas and water stations with the added dimension of COVID-protocols, superbly organized street closures manned by New York's finest and Bike New York volunteers, excellent signage. And all on incredibly short notice.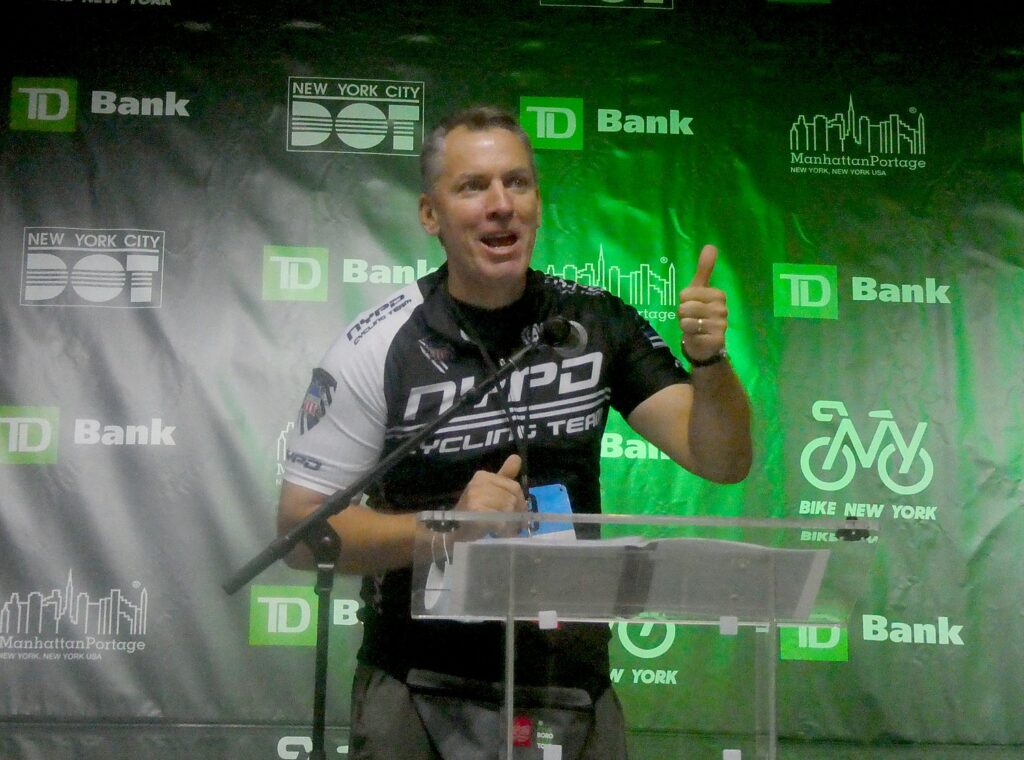 An incredible feat accomplished by numerous New York City agencies, including the Departments of Transportation, Sanitation, and Police.
The route was modified somewhat – possibly because of the short notice for even the August 22 date (the ride wasn't announced until May), and then it had to be hastily put together for August 29.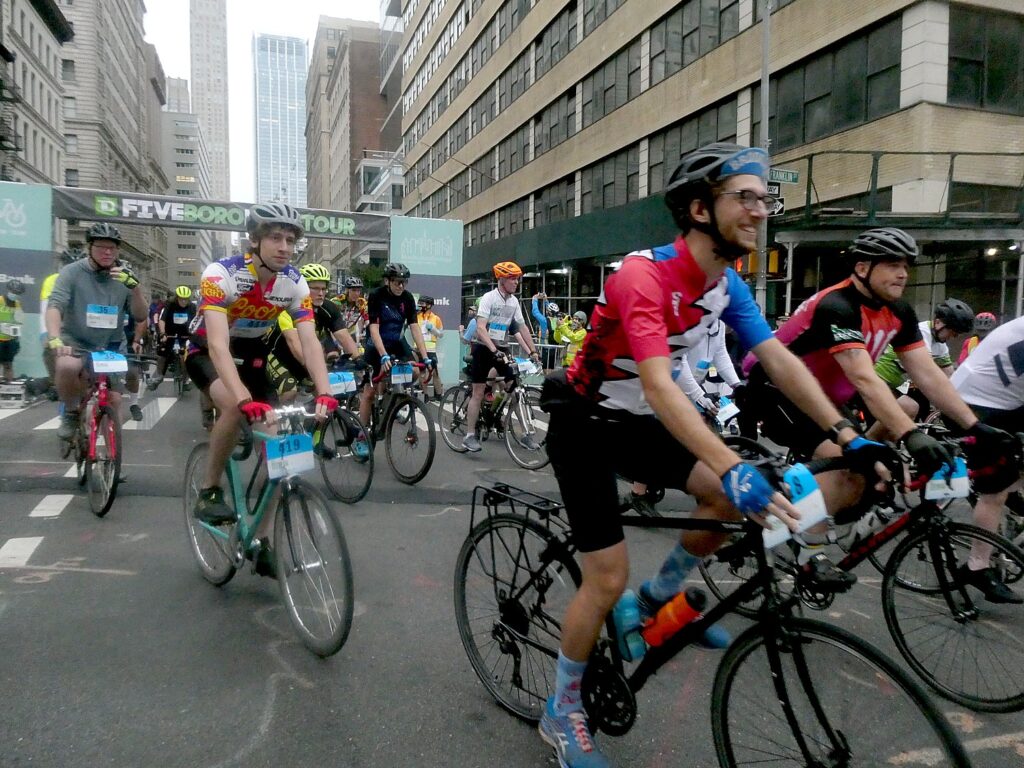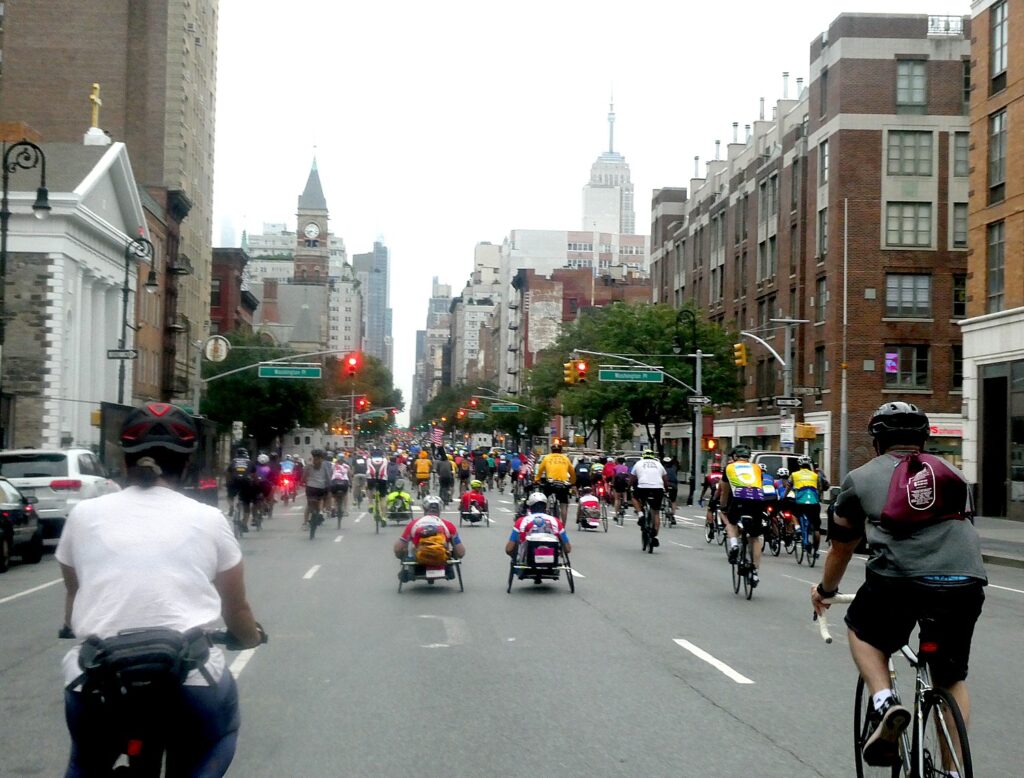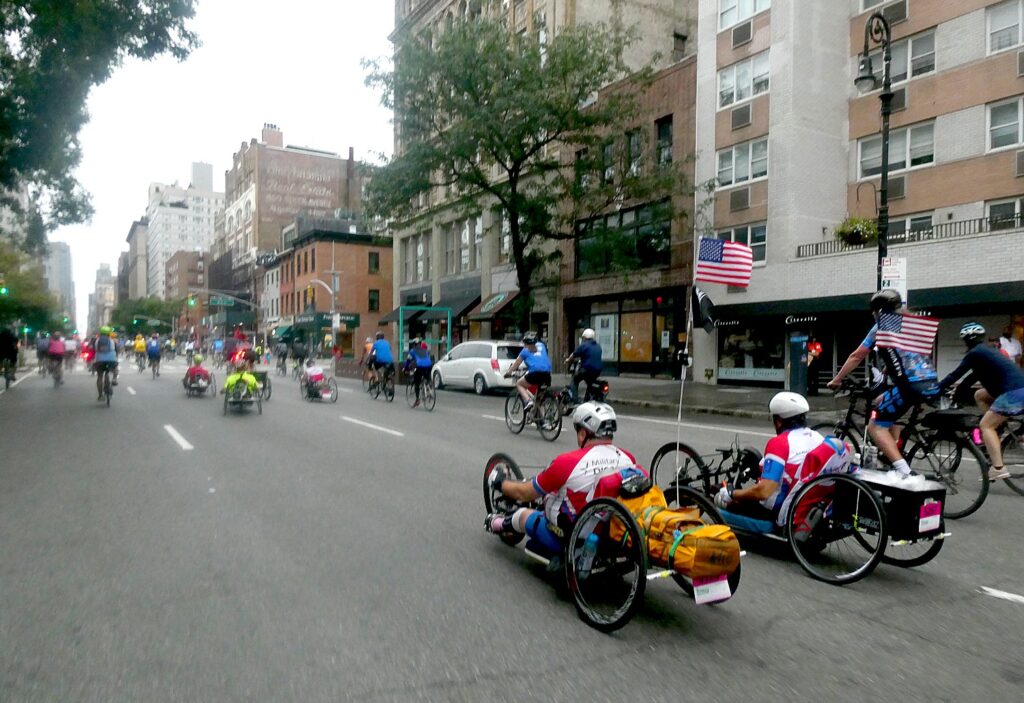 So we skirted Central Park, riding up Central Park West, instead of going through it, and had our rest stop outside of Triboro Park in Queens.
But the biggest change was where the ride finished: at the new Empire Outlets right at the Staten Island Ferry terminal, where there is also NYC Ferry's newly launched St. George route (which connects St. George to Battery Park City and West 39th Street on Manhattan's Westside) and waterfront walk, where the Finish Festival was held.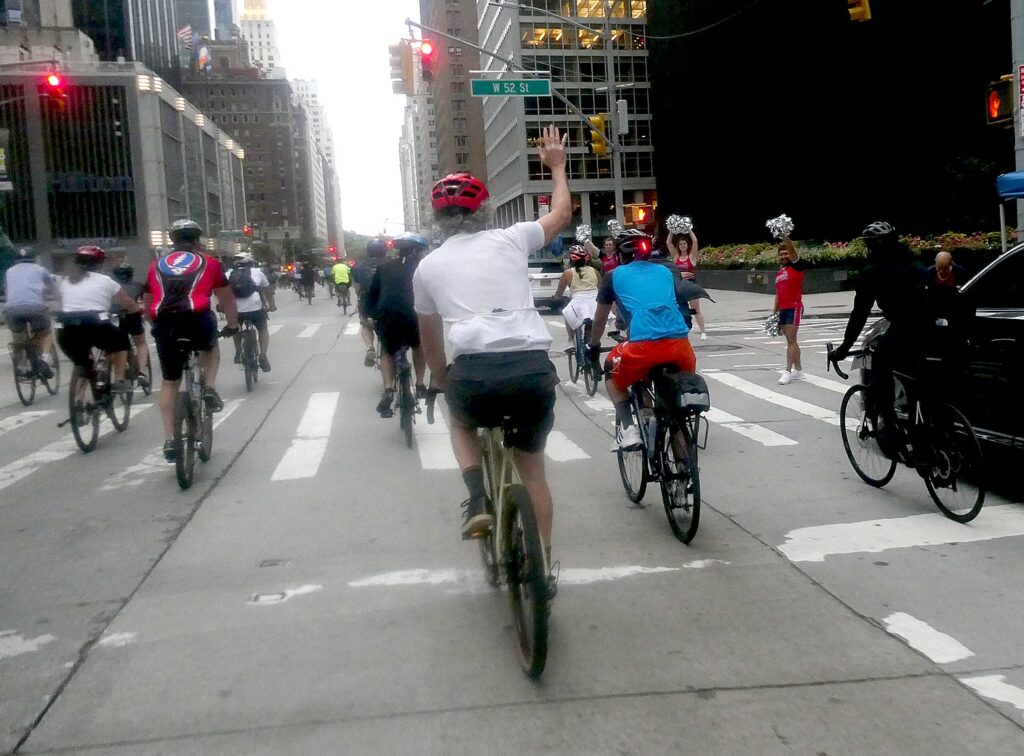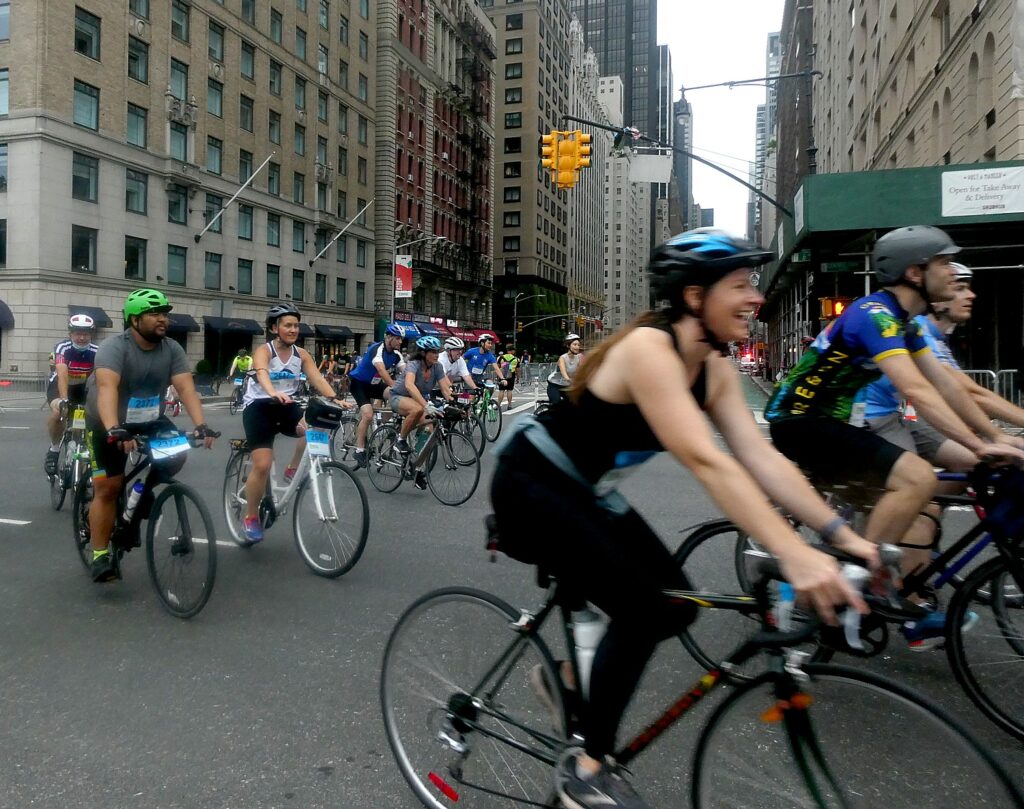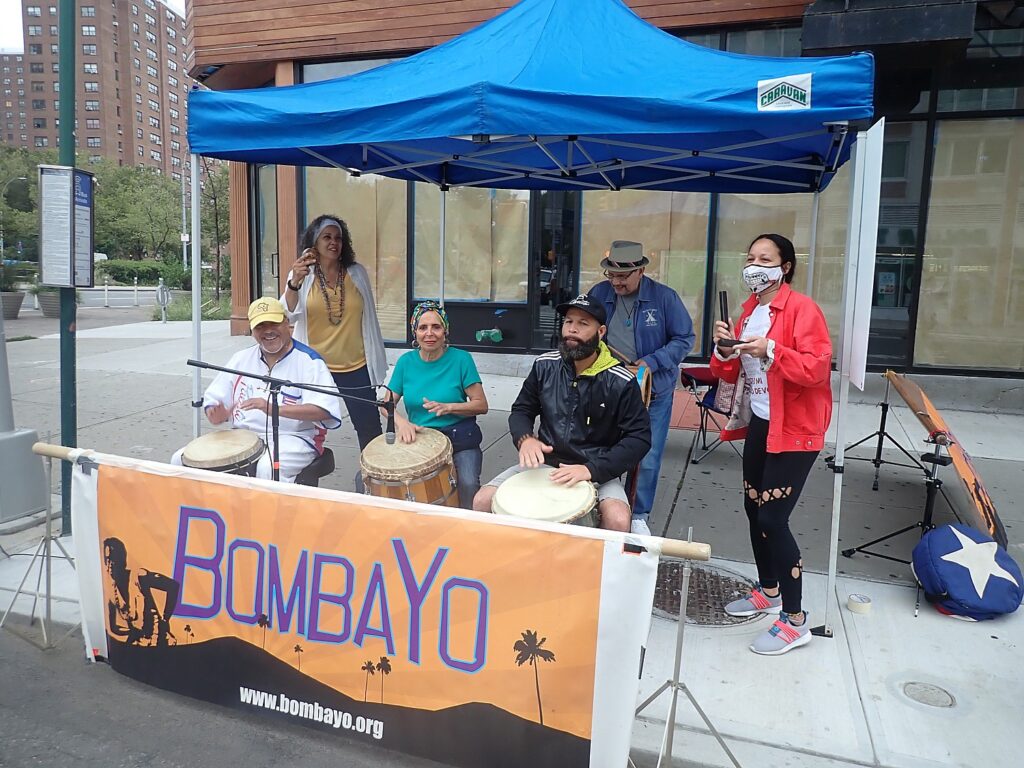 Still, there were those iconic experiences  you only get on the Five Boro Bike Tour, of riding down the FDR, over the Queensborough (59th Street) Bridge, on the Brooklyn-Queens Expressway, and over the Verrazano Bridge, plus the chance to see  neighborhoods in all five boroughs.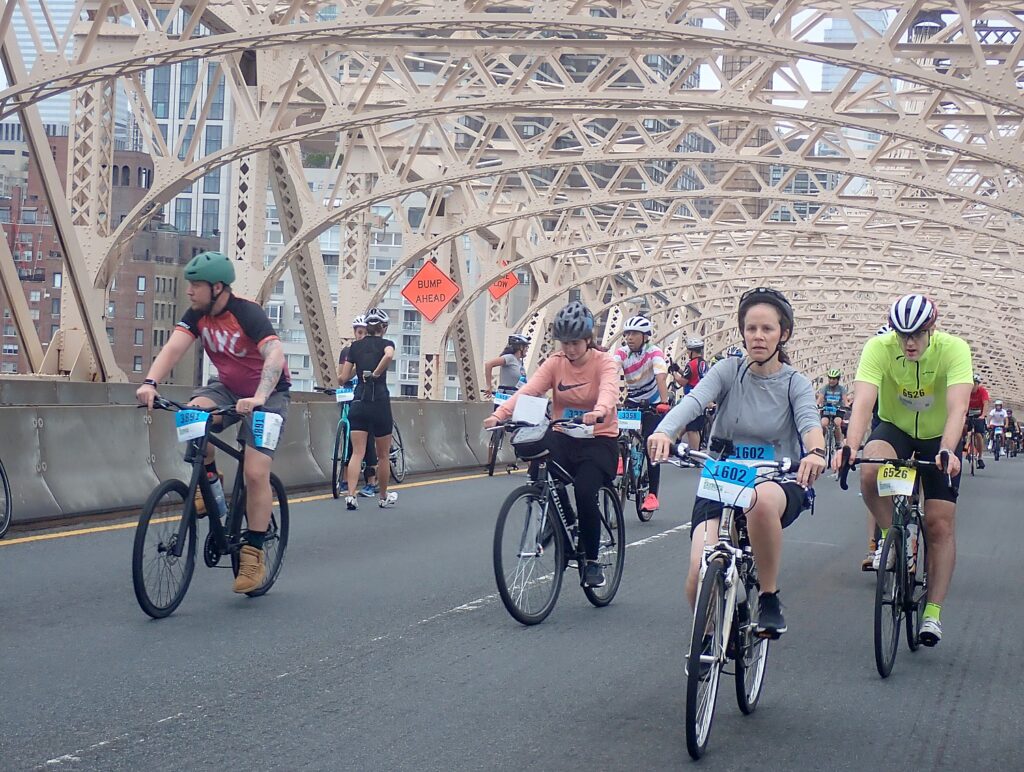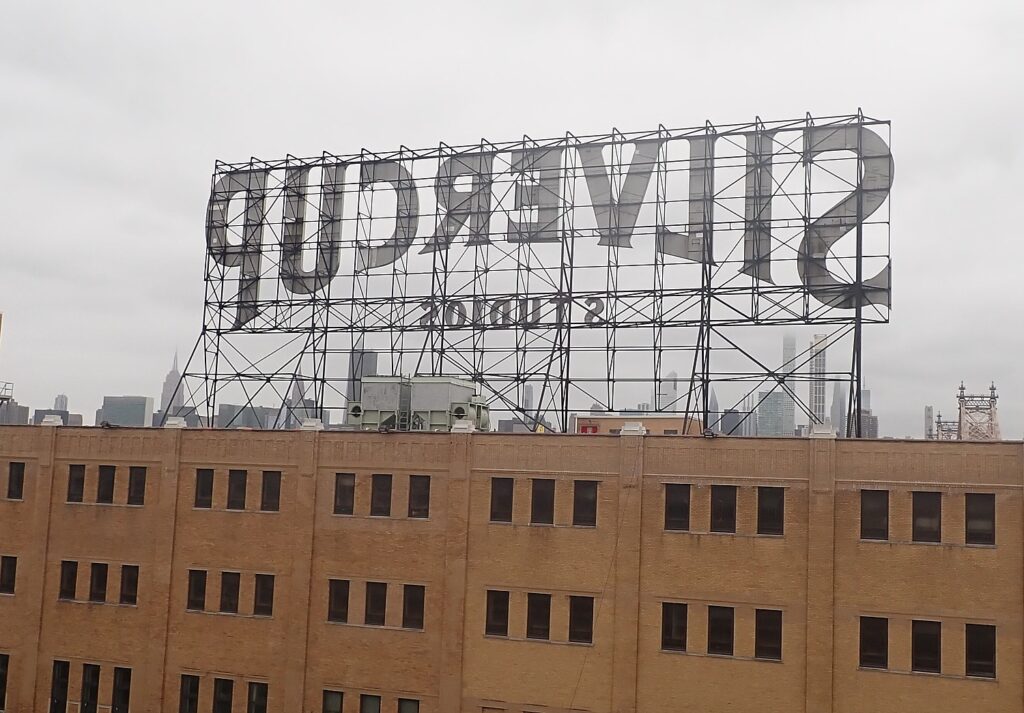 Bike New York was scrupulous about maintaining COVID-19 protections- every rider had to show proof of vaccination to pick up the registration packets (but not to ride) and wear masks at the start and finish, indoors and on the Staten Island ferry but not while riding (unvaccinated individuals could not go inside).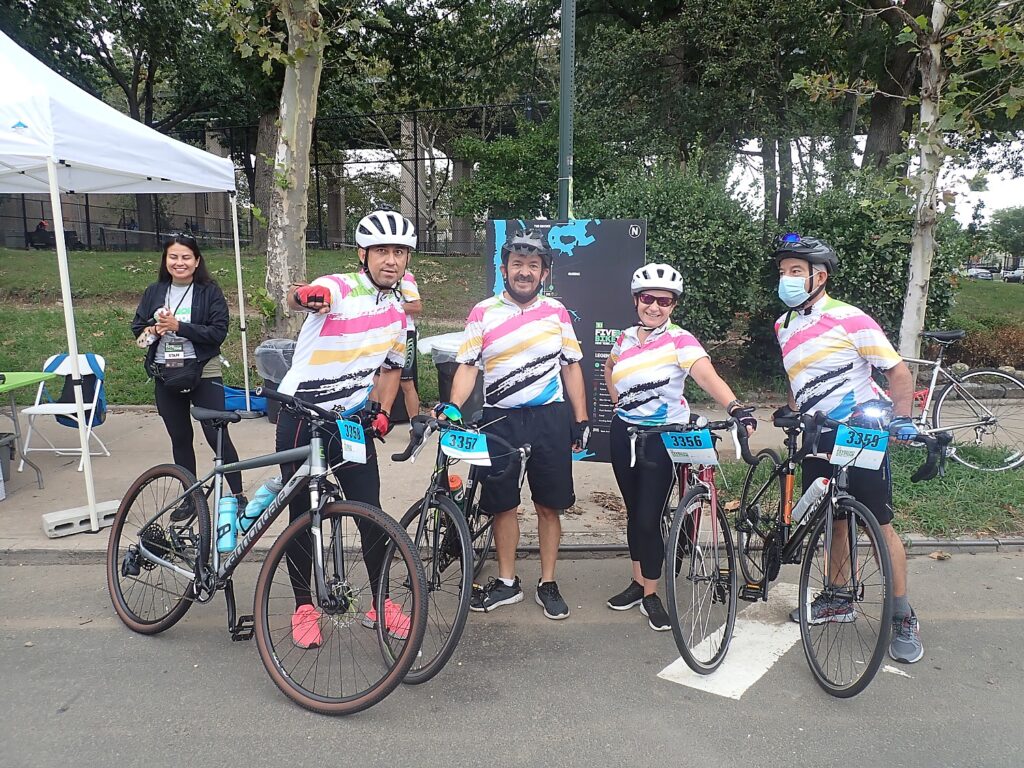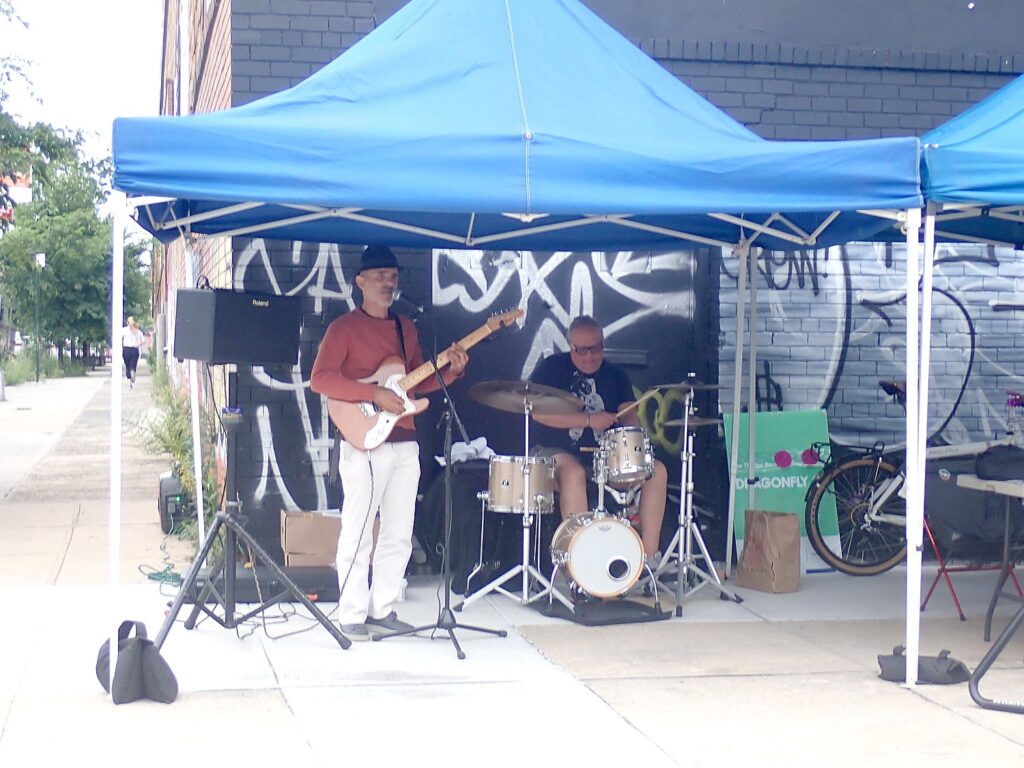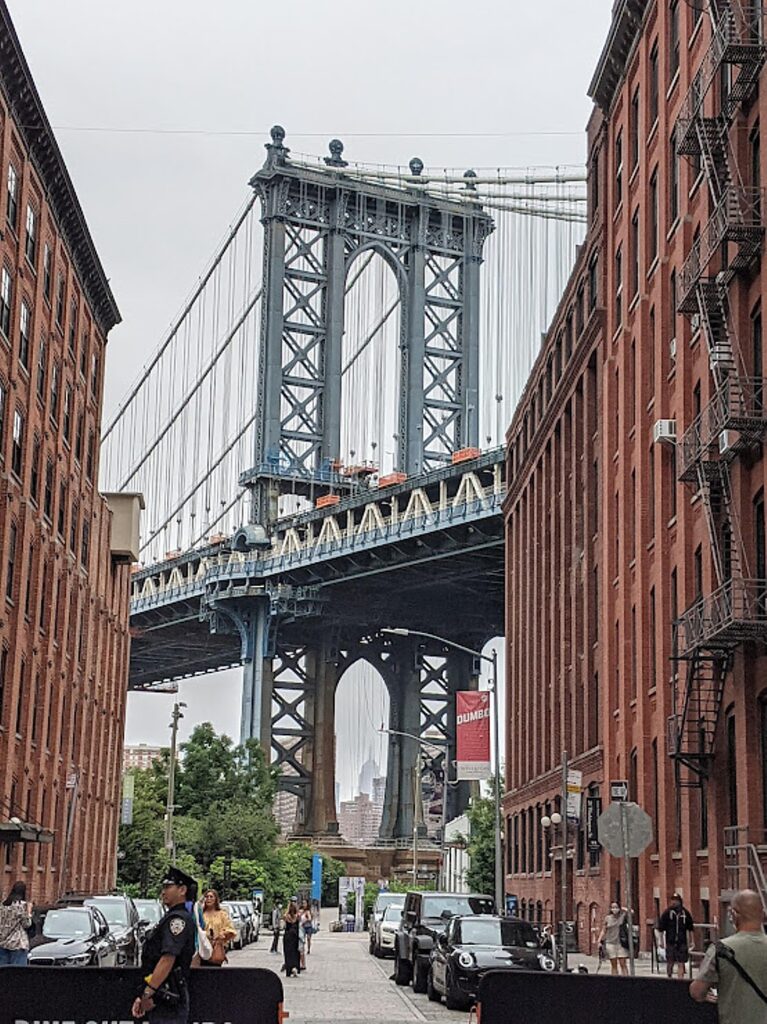 The number of riders was reduced from 32,000 in past years to 20,000, to allow for more spacing. Also, over the years, the organizers have developed a terrific method of staggering starts by "waves."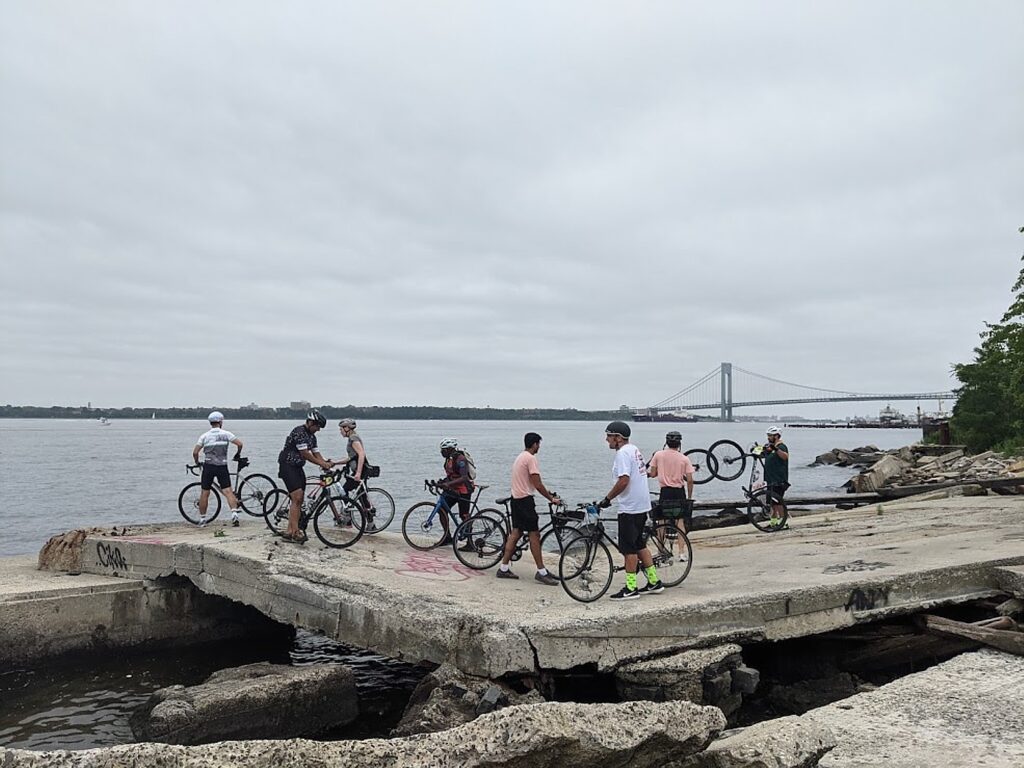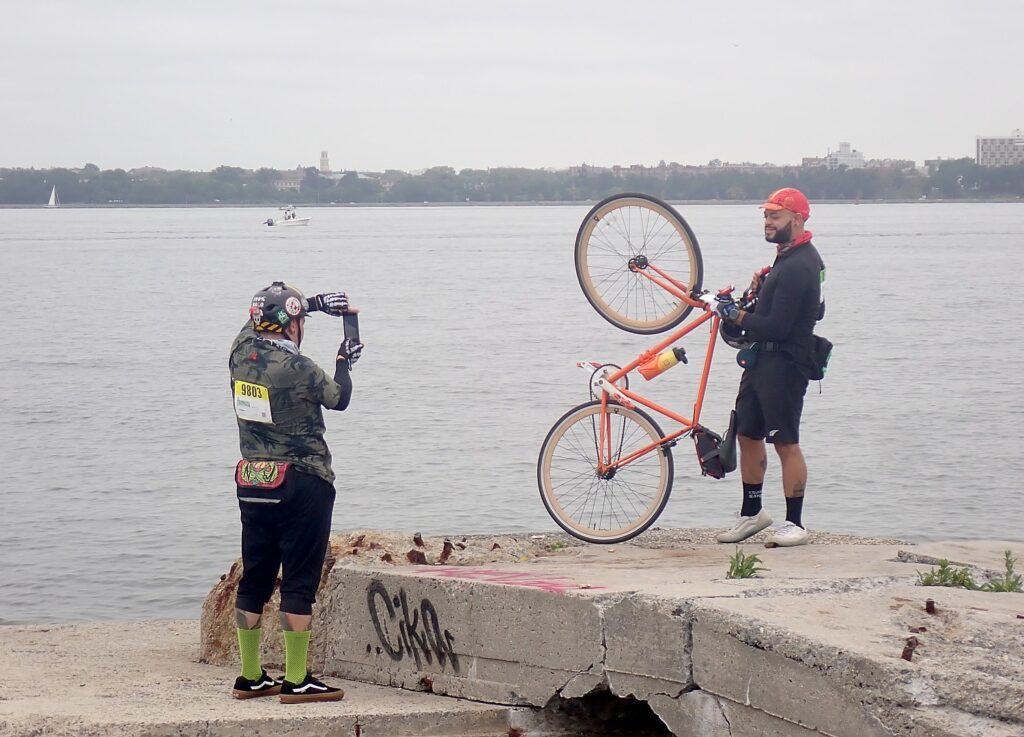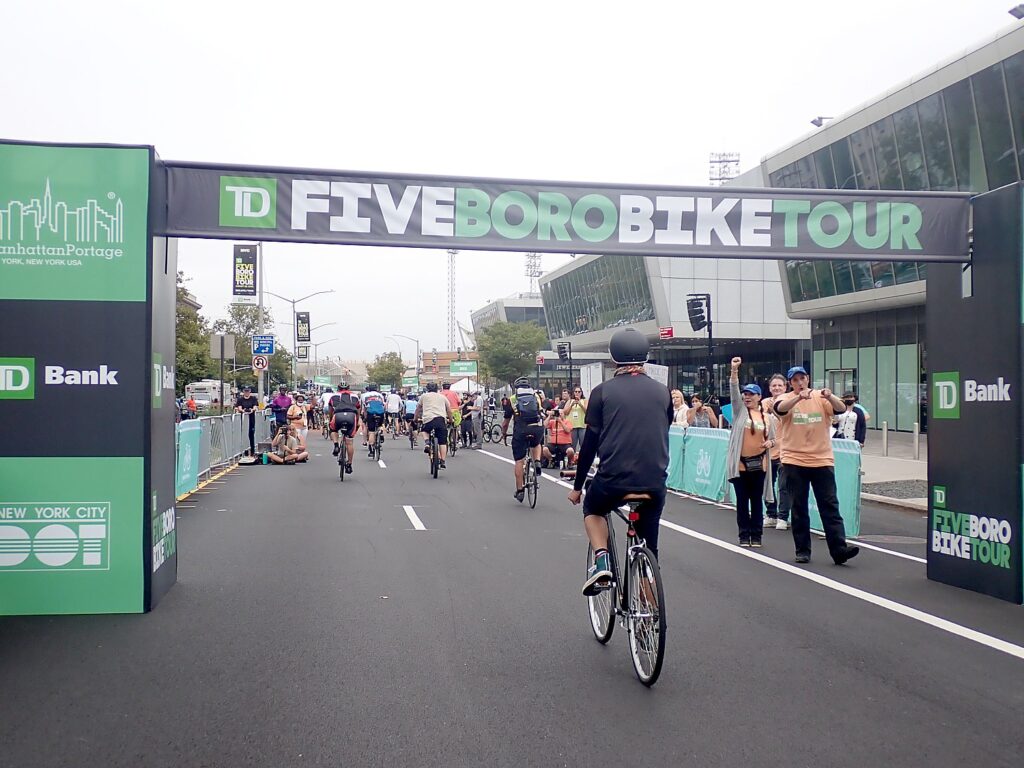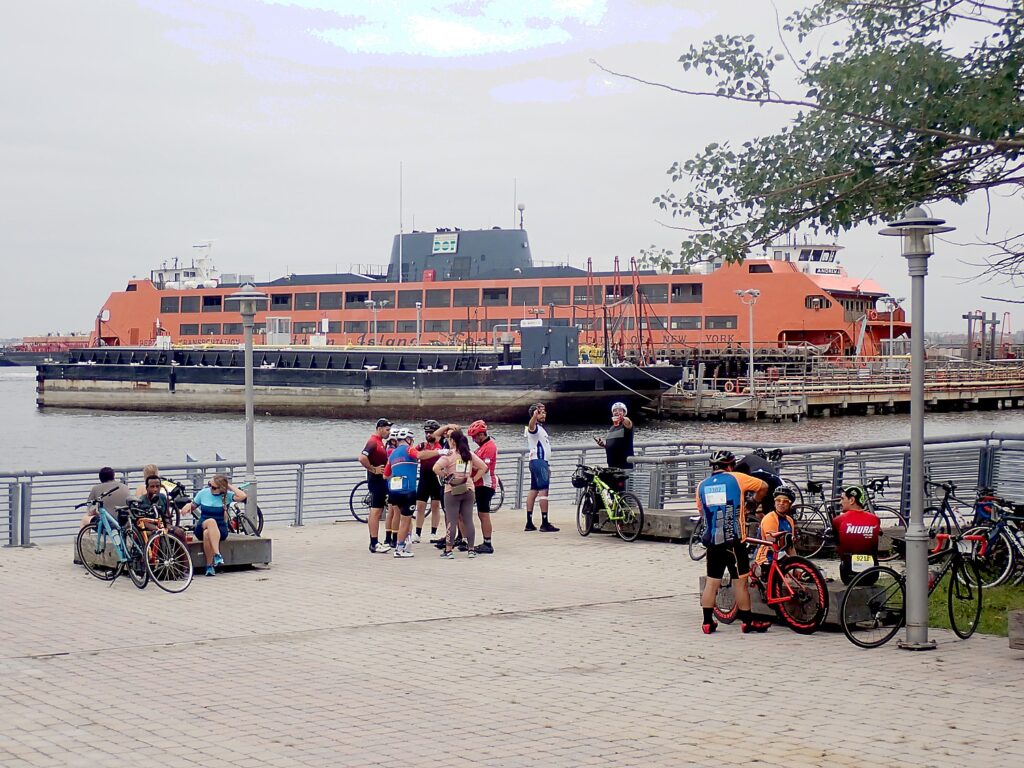 Andrew Bregenzer. EVP, Regional President at TD Bank, the title sponsor of the TD Five Boro Bike Tour since 2007, told the riders, "We believe in quality of life for New York. We've been a New York bank for 20 years. The ride today has new meaning, perspective. This is the greatest city in the world. Celebrate resiliency of New York City."
"New York City is proud to celebrate the cycling boom—and the return of iconic events that highlight great neighborhoods in all five boroughs—by welcoming the TD Five Boro Bike Tour this summer," said New York City Senior Advisor for Recovery Lorraine Grillo. "We look forward to welcoming locals and tourists alike to enjoy a safe, exciting event this year."
"Given the pivotal role that bikes have played in protecting the health, wellness, and safety of New Yorkers through the pandemic—especially for essential workers commuting to their jobs—it feels right that bikes will also play a part in powering New York City's economic revitalization," Ken Podziba, President and CEO of Bike New York, remarked when the 2021 tour was announced in May. "The Tour has been a landmark event for NYC for decades, and it's a true highlight for international tourism. We hope our ride will continue to support the city we call home as we all strive to come back strong from these hardships. Now more than ever, New Yorkers need a safe and welcoming space to reconnect, to celebrate."
The ride is a fundraiser for Bike New York – in fact, it is one of the world's biggest charitable bike rides, along with Bike Expo New York, one of the country's most attended consumer bike shows. Proceeds from the Tour fund its free bicycle education programs. In 2020 alone, in response to the COVID-19 pandemic, Bike New York taught bike riding and bike safety skills in a virtual classroom to more than 25,000 kids and adults.
The ride also supports Bike New York's advocacy for safe biking and bike lanes. "We fight for safer, more equitable streets," said Podziba.
Bike New York provides a completely free, year-round curriculum of classes for children and adults at every stage of their cycling journeys, from first rides and fundamentals to commuting and touring.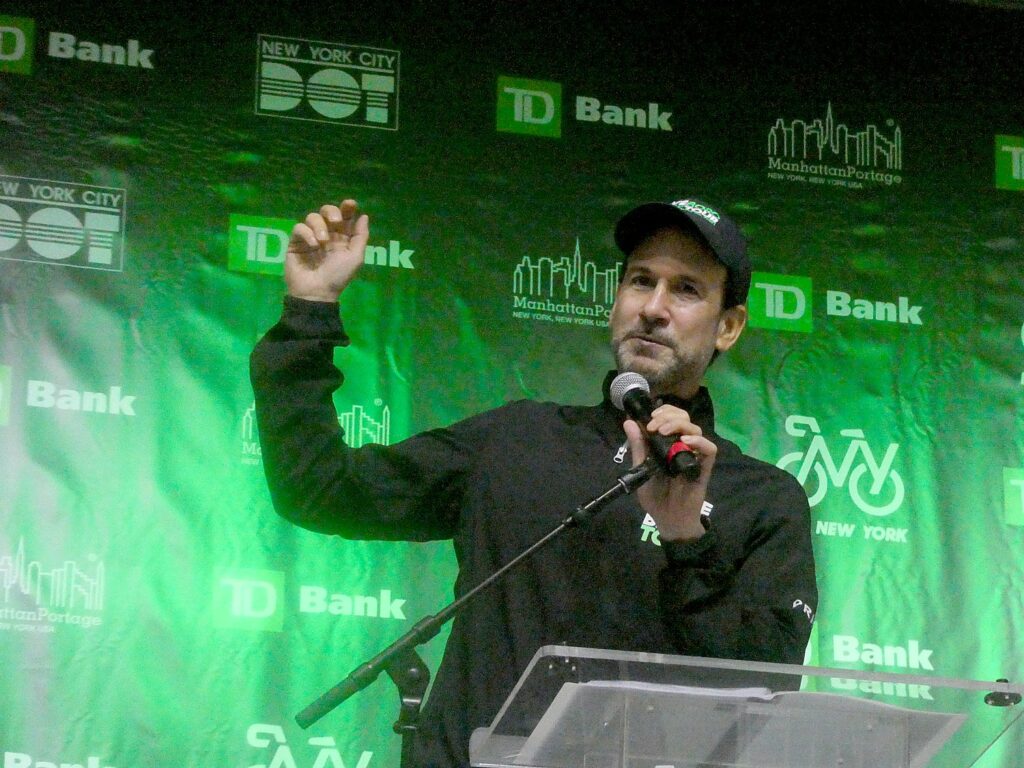 "We're dedicated to making cycling more inclusive and accessible, and that's why we hold free classes in all five boroughs at our Community Bike Education Centers. Students are provided with bikes, helmets, and the insights and knowledge of experienced instructors, creating an encouraging environment for building core riding skills."
"When COVID-19 brought the world to a standstill, Bike New York was forced to temporarily suspend its in-person programming. Though cycling events came to a halt, the need for bike resources swelled as a huge influx of people turned to cycling for transportation and recreation. We knew we couldn't slow down.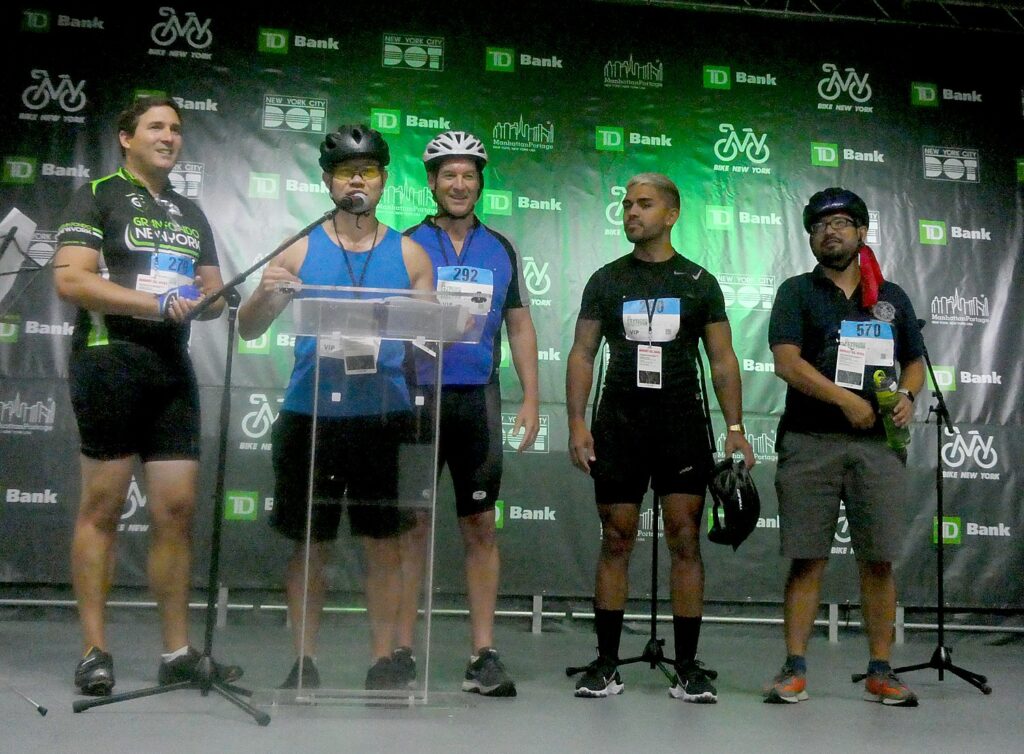 "To address the sudden surge in demand for accessible bike education, we pivoted from teaching in the streets to bringing our lessons to the virtual classroom. Since launching our digital education program and Virtual Bike Education Resource Hub in April, we've helped hundreds, if not thousands, of students build their bike skills, confidence, and know how—and with aspiring cyclists from across the country tuning in to our weekly classes, we're making a difference far beyond the five boroughs."
Bike New York also has a Recycle-A-Bicycle program, which accepts donations of old, used, and broken bikes, which are completely restored, refurbished, and sold or salvaged for parts, and out of the waste stream. In 2019, RAB reused or repurposed nearly 12 tons of material, which saved 77.95 metric tons of CO2 emissions.
In July 2019, Bike New York celebrated the opening of Brooklyn's Shirley Chisholm State Park by launching a free bike share pilot program designed to make exploring nature as easy as checking out a library book. The Bike Library hosts a fleet of 84 bikes (refurbished by graduates of Recycle-A-Bicycle's Earn-A-Bike program) available for park visitors to "check out" for rides around the grounds in the summer and fall.
In the Library's first three months, park-goers took 8,585 rides along 10 miles of car-free pathways by scenic Jamaica Bay. The Library reopened and expanded for the 2020 season, offering New Yorkers a meaningful way to enjoy the outdoors while social distancing and other pandemic restrictions were in place.
"We know that one of the best ways to encourage healthy lifestyle choices and regular physical activity in children and young adults is to give them the freedom to explore on two wheels." Bike New York partners with Woodhull Hospital, Lincoln Hospital, and New York Cycle Club to produce our Kids' Ride Club, a friendly, fun group ride program for youth cyclists in low-income neighborhoods. And to challenge kids to see what cycling life is like beyond city limits, Bike New York held its inaugural bike touring trip for teenage bike enthusiasts in 2019,
a tristate adventure that pushed them out of their comfort zone to prove just what amazing things they could accomplish together."
Last year, Bike New York partnered with One Community, a nonprofit dedicated to professional training and employment placement, to pilot an intensive, hands-on bike mechanic training program that helps formerly incarcerated New Yorkers continue down the path of rebuilding their lives through the power of stable employment. The program focuses on the particulars of repair and maintenance for Citi Bikes and prepares participants for a well-paying union job on Citi Bike's mechanic team. Recycle-A-Bicycle provided 60 hours of instruction, as well as tools, materials, and support, to a cohort of students. (Learn more here.)
In 2019, Bike New York began a concentrated effort to actively engage in and spearhead local-level advocacy initiatives. Within its first year, projects included:
Providing expertise and detail to the City Council's Streets Master Plan Bill, which passed in October of last year. It commits the city to install 50 miles of protected bike lanes per year starting in 2022, and to measure bike network connectivity.
Supplying a broad set of ideas for Mayor de Blasio's "Green Wave Plan," issued in July 2019. It raises NYC DOT's target for protected bike lanes from 20 to 30 miles per year in 2020 and 2021. It also calls for more attention to the quality of barriers along protected bike lanes, bike-speed signal timing, and bike parking.
Producing a Bike Network agenda to take advantage of congestion pricing.
And in the summer of 2020, Bike New York launched Street Action Now! program to instruct a cohort of students how to analyze unsafe street conditions, perform a street audit, and work with community boards to prompt real change on their blocks.
In addition to supporting Bike New York's endeavors,  hundreds of riders on the Five Boro Bike Tour were biking in support of charities and organizations including New York Cares, Planned Parenthood, Ronald McDonald House, The Hope Program, Sanctuary for Families, Parent Project Muscular Dystrophy (visit bike.nyc to see the charity partners).
Bike New York made provision for riders who paid their fees but could not come on the rescheduled date of August 29 – they could defer the fee for 2022's ride or get 50% refund.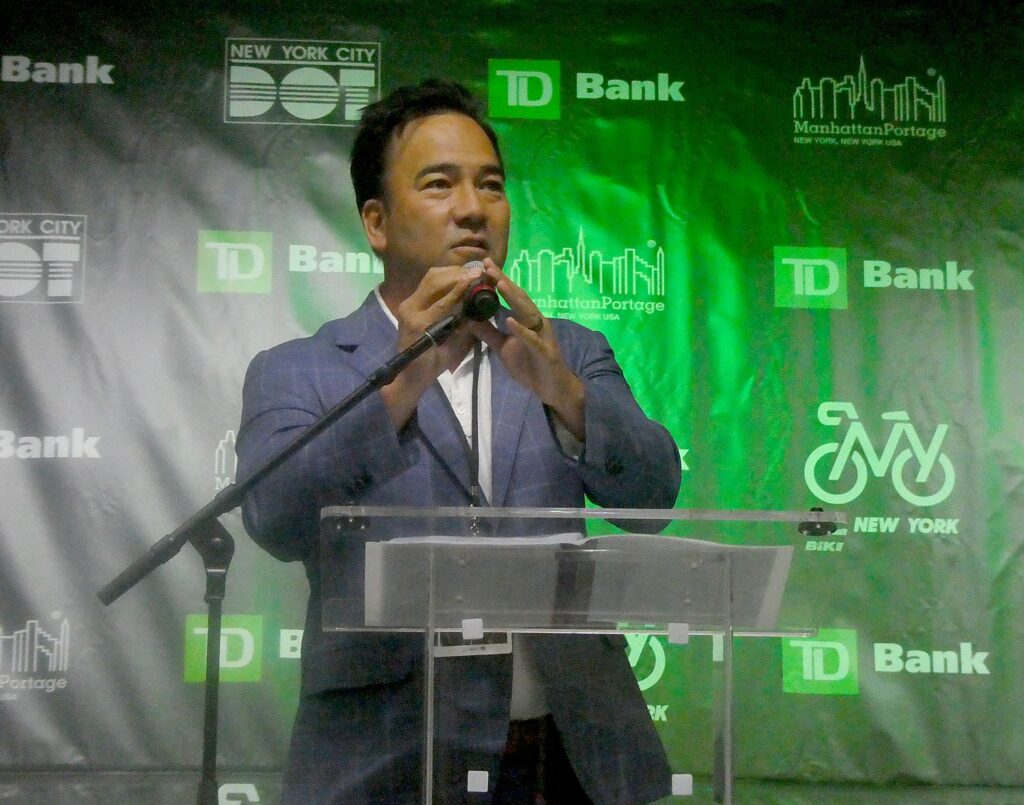 TD Bank has been the title sponsor since 2007; Manhattan portage is the presenting sponsor. Other sponsors include Bloomberg, Amazon, NYU Langone Health, Trek, New York Bike Lawyers, Nestle Quik New York Times, Con Edison, NYC Ferry, NYC & Company and Empire Outlets.
Pulling off such an ambitious event was further demonstration, "There's no stopping New York."
Bike New York, 140 E 45 St., Ste 2002, New York, NY 10017, 212-682-2340, [email protected], www.bike.nyc.
______________________
© 2021 Travel Features Syndicate, a division of Workstyles, Inc. All rights reserved. Visit goingplacesfarandnear.com, www.huffingtonpost.com/author/karen-rubin, and travelwritersmagazine.com/TravelFeaturesSyndicate/. Blogging at goingplacesnearandfar.wordpress.com and moralcompasstravel.info. Send comments or questions to [email protected]. Tweet @TravelFeatures. 'Like' us at facebook.com/NewsPhotoFeatures