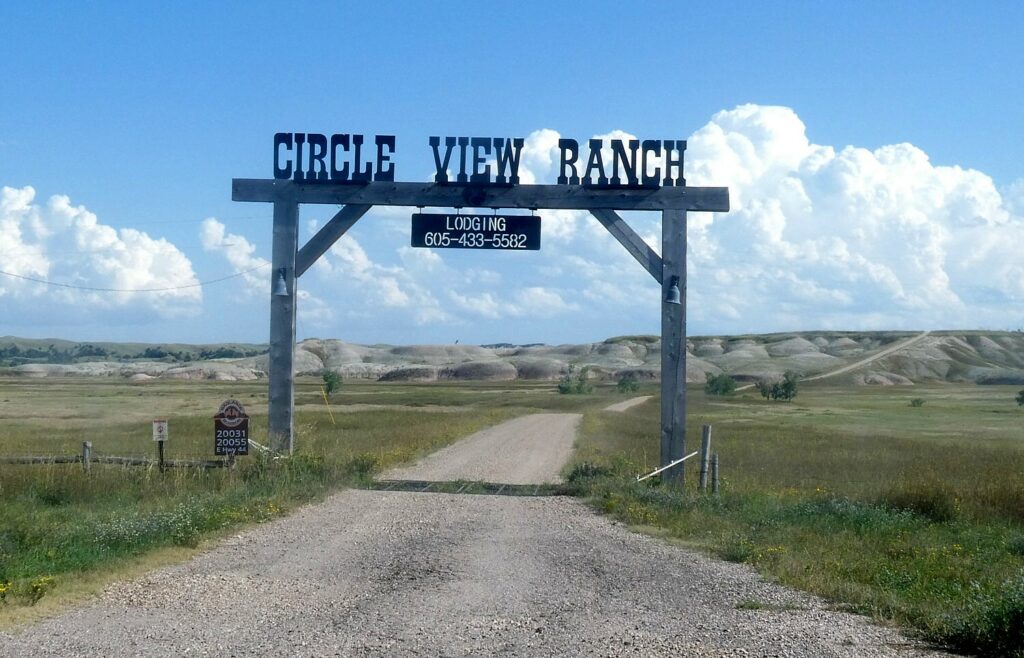 by Karen Rubin, Travel Features Syndicate, goingplacesfarandnear.com
The steep gravel road to the Circle View Guest Ranch proves too much as I slip and slide with my hybrid bike and I wind up walking the bike a short distance (only one of us managed to ride it), at the end of our 28 mile ride through the Badlands National Park, South Dakota on this first day of our six-day Wilderness Voyageurs bike tour. The guest ranch, set on a mesa surrounded by 3,000 acres, with beautiful views, is delightful. I drop my bags in my room, wonderfully decorated in a Western motif, and go out just in time to see 11-year old Katie Kruse feeding chickens and her brother, 10-year old Jacob, being chased by an aggressive calf anxious to get at the bottle he is using to feed it.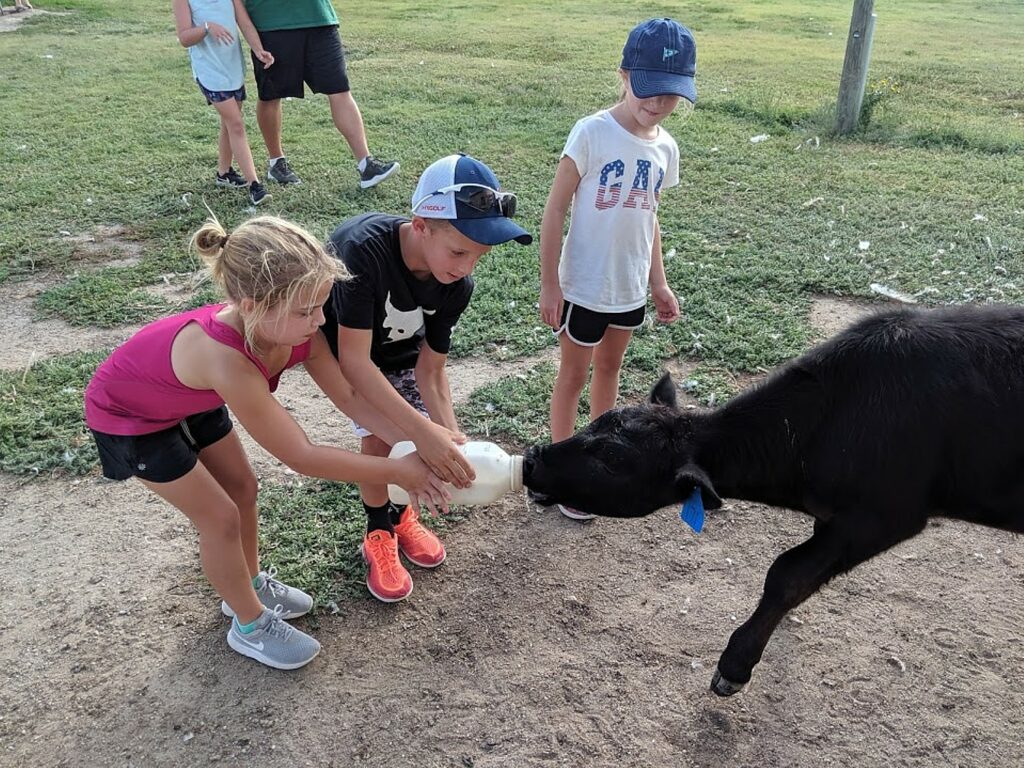 A stay on a guest ranch in South Dakota, just beyond the entrance to Badlands National Park and adjacent to Indian lands, is an unexpected bonus experience of our six-day "Mickelson Trail and the Badlands" bike tour of South Dakota.
Philip Kruse was born and raised on the ranch and opened it to guests in 2000 to give visitors "a glimpse into life on a real, family run cattle ranch." It is very much all of that.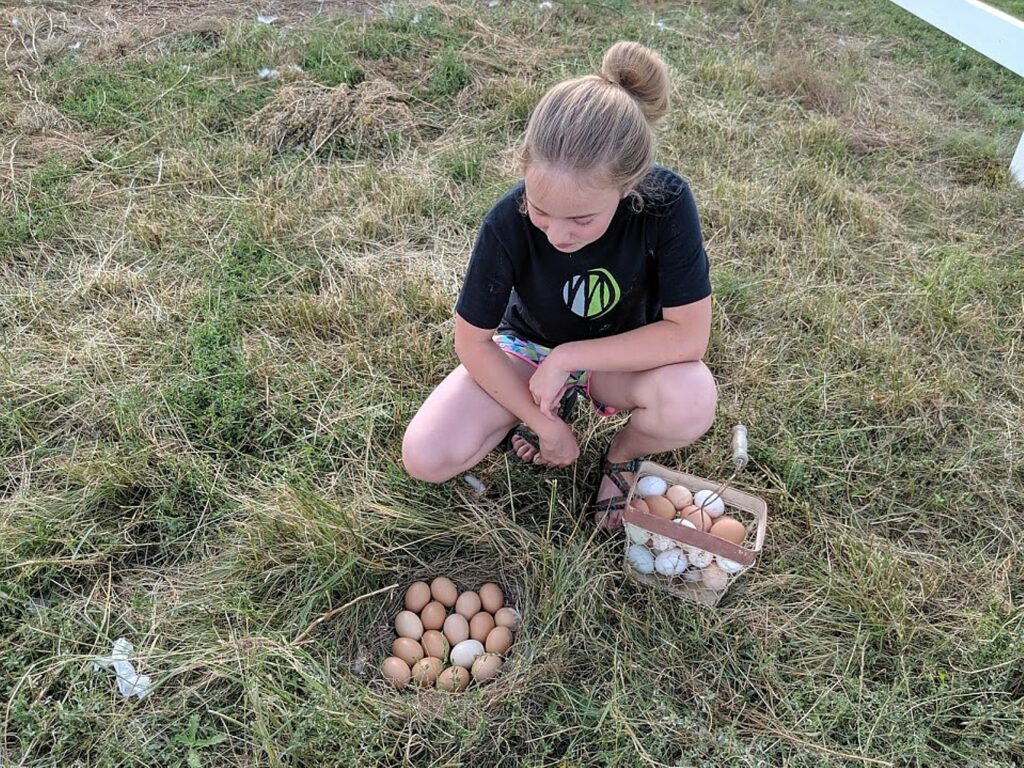 Katie shows me where 17 eggs have been "hidden" by the hens to prevent them from being taken by the farmer so they can hatch. The secret nest had been hidden by high grass and only revealed when the grass was cut. The hen had apparently walked off to get some water, revealing the eggs. Katie lifts up one of the eggs – I can still feel the warmth.
"Sometimes they hide an egg in a tree and abandon it. Sometimes you will see one chicken with 10 chicks following. They sneak in to lay eggs that won't be collected." On the other hand, the hens that do hatch the chicks aren't necessarily maternal. "They don't show the young ones where the water is."
I am amazed to contemplate the strategy and teamwork that these hens, which we assume are just dumb creatures, to create a collective nest, hide it from the farmer, and designate one of the hens to sit on it.
Now the farmer uses his wits to outwit the hens. "We don't want the chickens to hatch their own because we will not have control over whether they have roosters or infertile chickens. So in the night when they sleep, we will steal an egg and replace it with a hatched chick so she will think it is hers."
There's a pecking order, she tells me. The older, bigger hens sleep on top; younger ones on the floor. She says that young chicks lay one egg a day; older ones lay fewer and fewer, maybe one in two or three days.
"Here, we don't kill the hen when gets old but another lady butchers them – after she chops off the head, they can still run around for 5 minutes – she has machine that spins to take off feathers."
I find all of this utterly fascinating.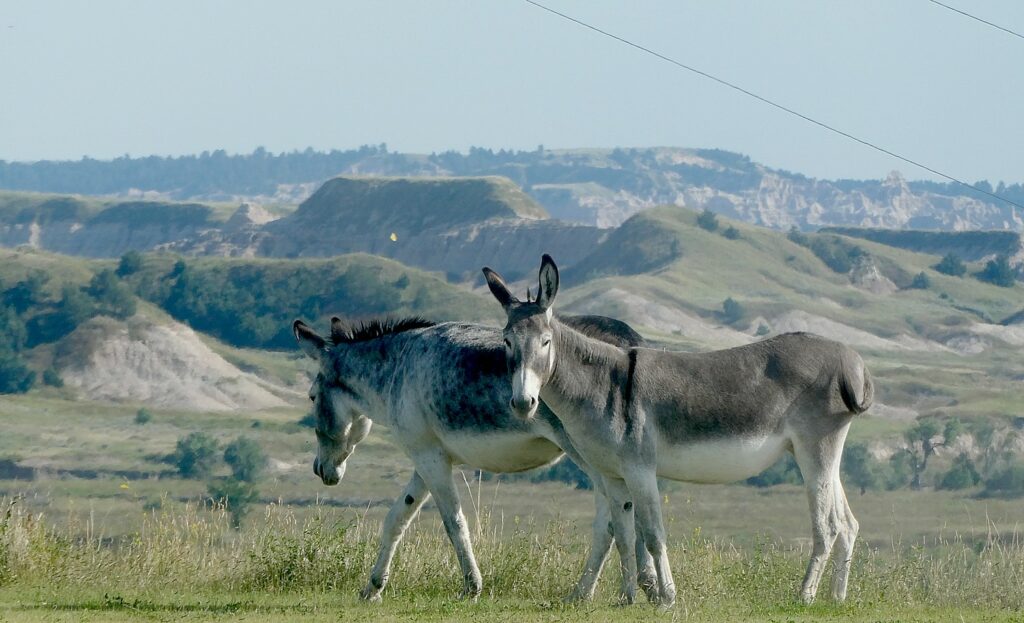 I watch how aggressive the calf is chasing after Jacob who is trying to bottle feed it. The calf was born prematurely and would have been abandoned by its mother. There are a slew of chicks and peacocks all about, as well. And burros.
We enjoy a sensational dinner prepared by Amy Kruse, served family style along long tables inside and outside on the porch. Tonight's menu is Mexican tacos, prepared with such fresh ingredients including cherry tomatoes from the garden as sweet as candy.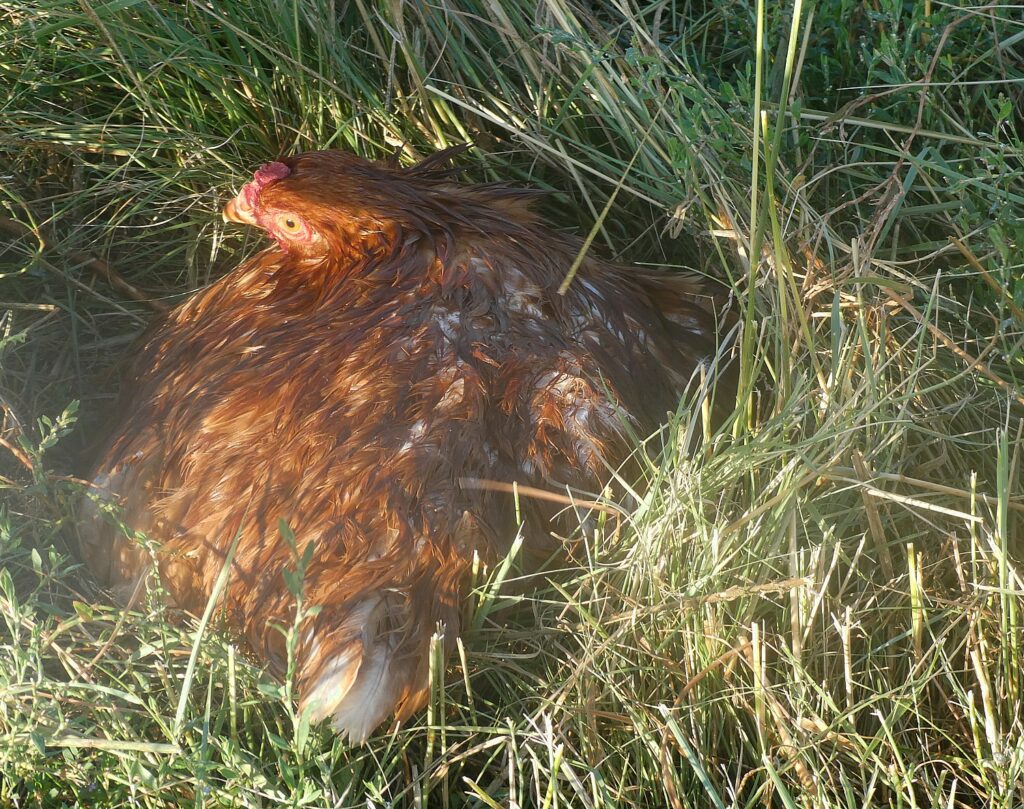 The next morning before breakfast, I walk out to see if the hen is sitting on the nest. Sure enough. But as I walk back, my head in my notepad, I look up to see a crowd of kids frantically gesticulating at me and yelling, pointing to my right. As I move, they stop, so I keep moving in that direction. I assume they are directing me to watch them feed the chickens. No, they are warning me not to walk up the path because there is a rattlesnake that had been discovered by their dog. "That's why we wear cowboy boots," 10-year old Jacob tells me. "Rattlesnakes can't bite through."
Later at breakfast, Philip Kruse, shows me his jar two-thirds filled with rattlesnake rattles (they are only about an inch long and quarter inch wide) collected over two generations on the ranch.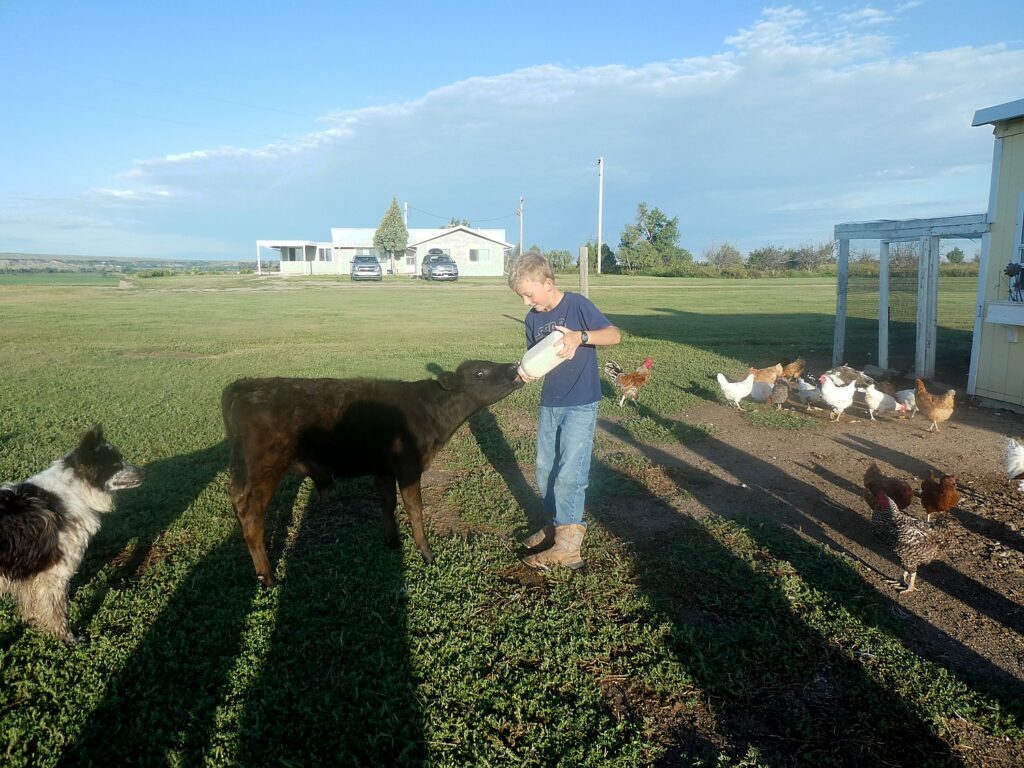 The breakfast that Amy Kruse prepares is a triumph: fresh eggs from the farm (of course), whole wheat blueberry pancakes, tater tots with bacon, white chocolate and raspberry scones (sensational), granola made of sour cherry, pistachios, vanilla yogurt.
We get to experience much of what the Circle View Guest Ranch offers – free wifi, beautifully appointed rooms, seeing the various animals, feeding chickens, including burros, enjoying scrumptious breakfast (included) and dinner, access to the guest kitchen, and the game room. But we don't have the time to really experience all it offers longer staying guests: horseback rides, bon fires, hunting rocks and fossils, and exploring the 3,000 acres. There are also cabins including an original 1880 Homestead cabin.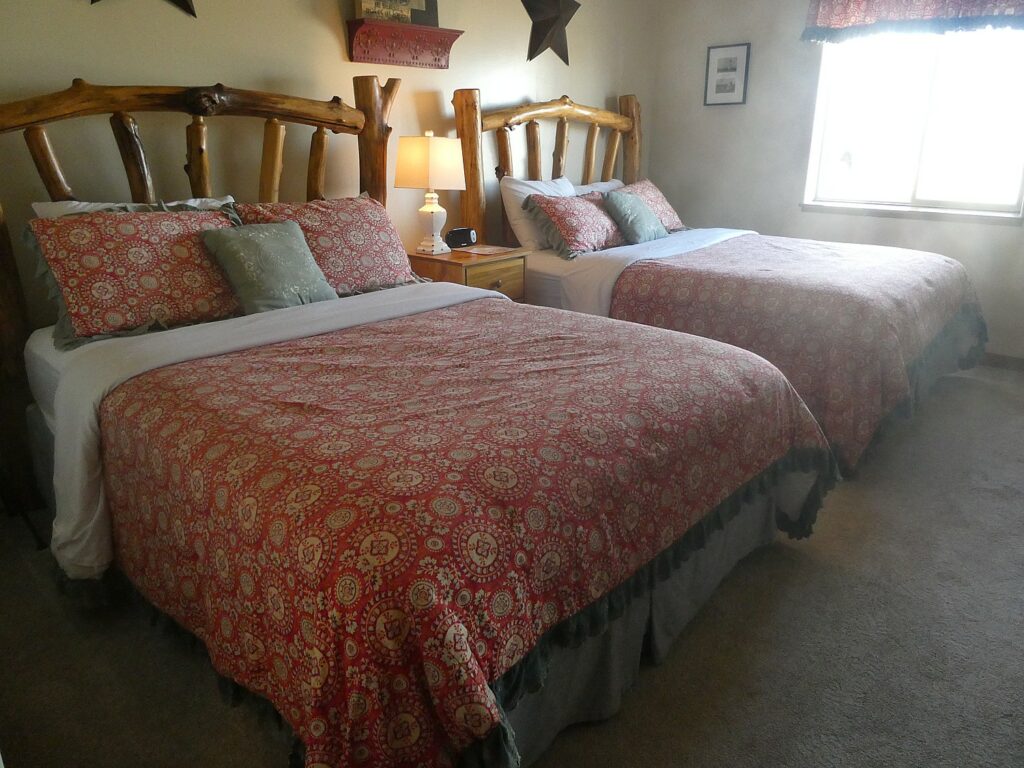 But even with this short stay, it gives us a first-hand glimpse at family life on a ranch.
The ranch is open year-round, as is Badlands National Park.
Circle View Guest Ranch, 20055 E. Highway 44, Interior, South Dakota 57780, 605-433-5582, www.circleviewranch.com, [email protected].

Biking the George S. Mickelson Trail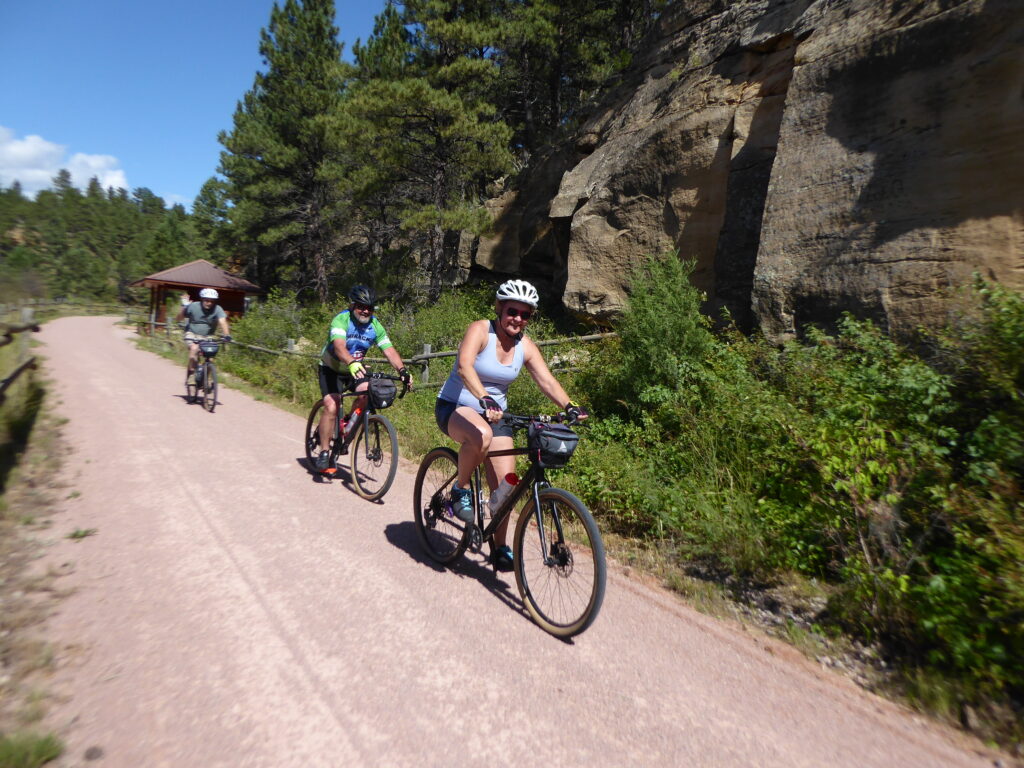 It's just the second day of our six-day "Mickelson Trail and the Badlands" bike tour. We pile into the van and are shuttled from Badlands National Park to the George S. Mickelson Trail. Over the course of our trip, we will ride the whole 109 miles of the rail-trail. Today, instead of starting at mile "0" in Edgemont and riding uphill to Custer, we start at the Harbach Park Trailhead in Custer (mile 44.5) and bike mostly down a slope to Edgemont (mile 0), where we are picked up and shuttled back to Custer for the night.
Such different landscape today from biking the Badlands – we ride through a pine forest with the smell of pine.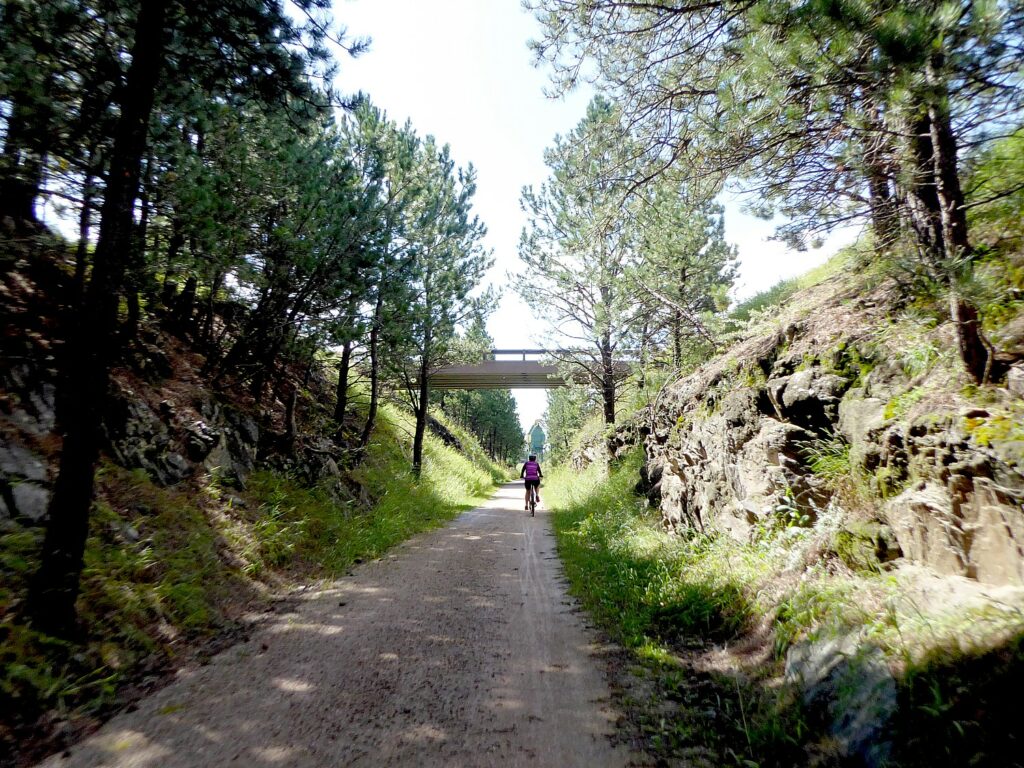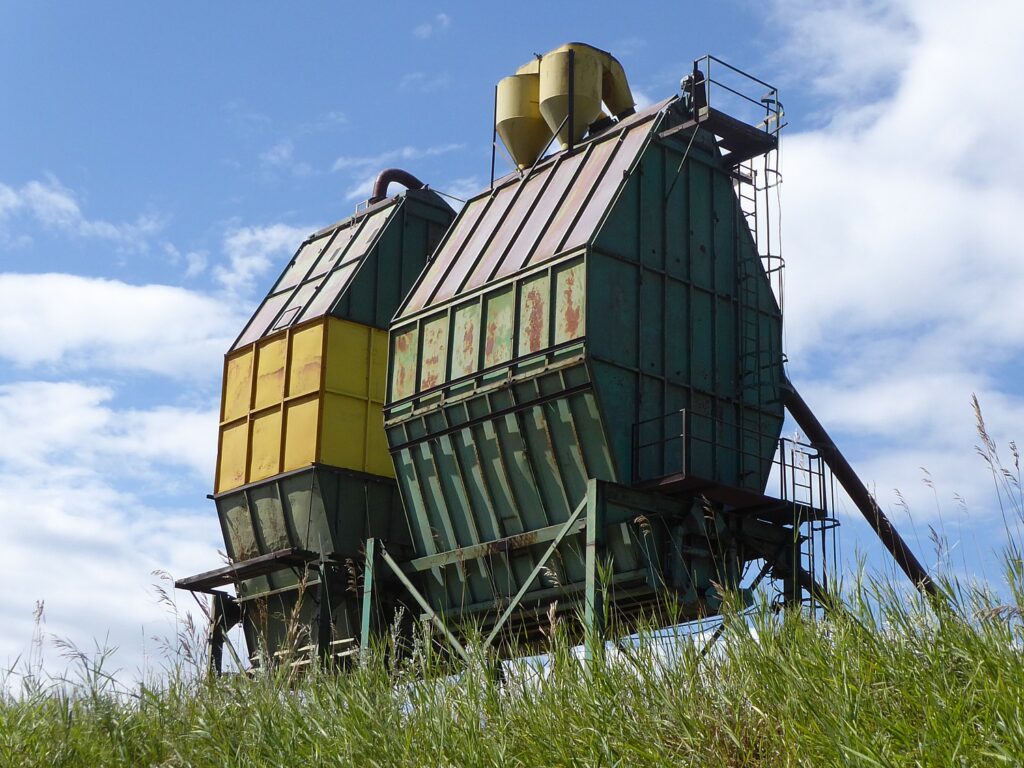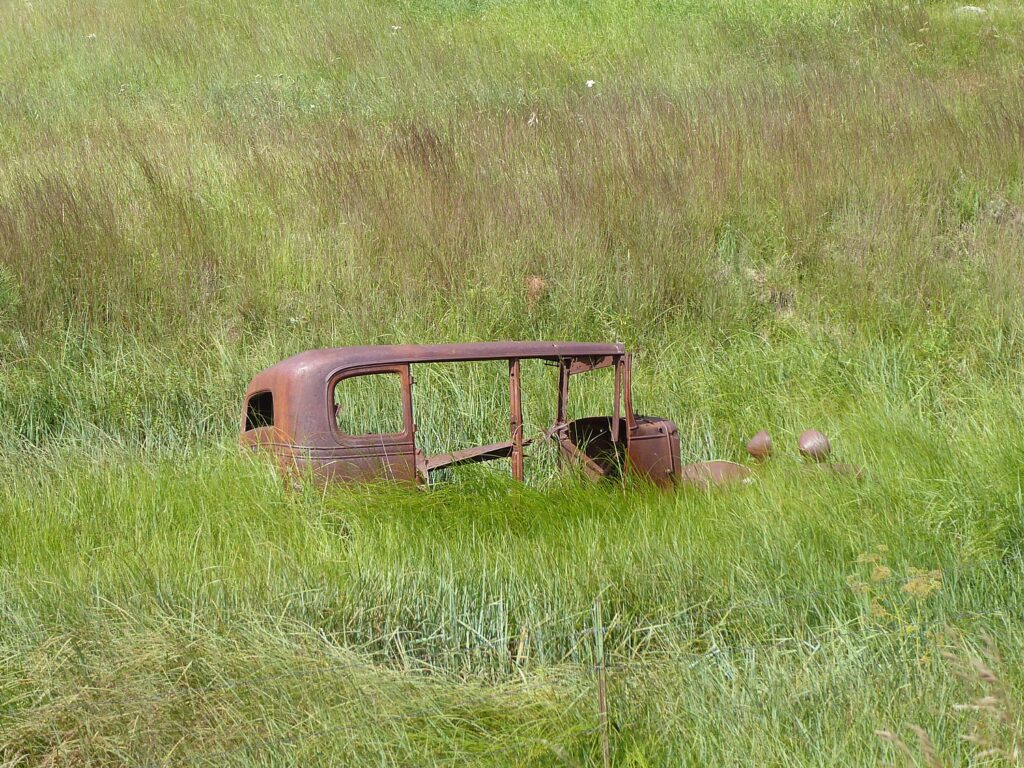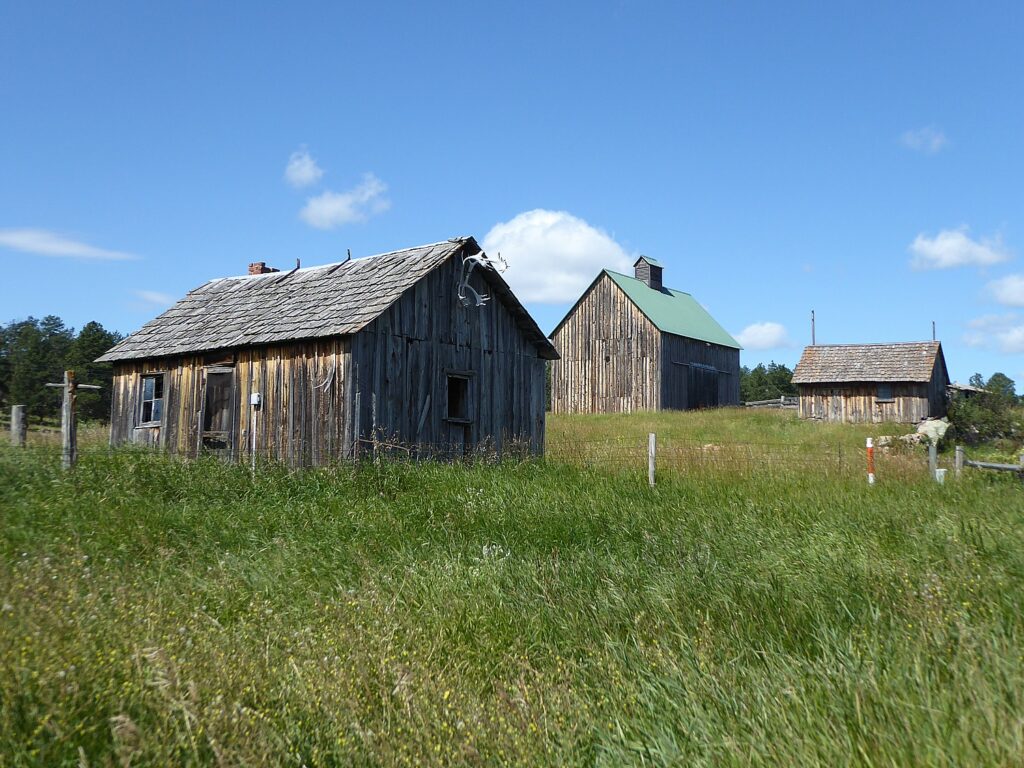 Minnekahta, where we have an amazing lunch that our guide, James Oerding, pulls out of the van and sets up under a lean-to (28 miles into the ride) at the rest stop, is just off the highway that looks just like the country road in Alfred Hitchcock's classic film, "North by Northwest" – that famous scene of Cary Grant running from the crop duster that is trying to kill him. There is even the same sound of silence broken by the wind and growing scream of a truck as it comes out of the distance and barrels down road. There is that long view of the road disappearing into the horizon, white clouds in blue sky, hay bales in the fields on either side (in the movie, they were corn fields). Surreal. I still wonder if this is the very location where Hitchcock filmed that scene.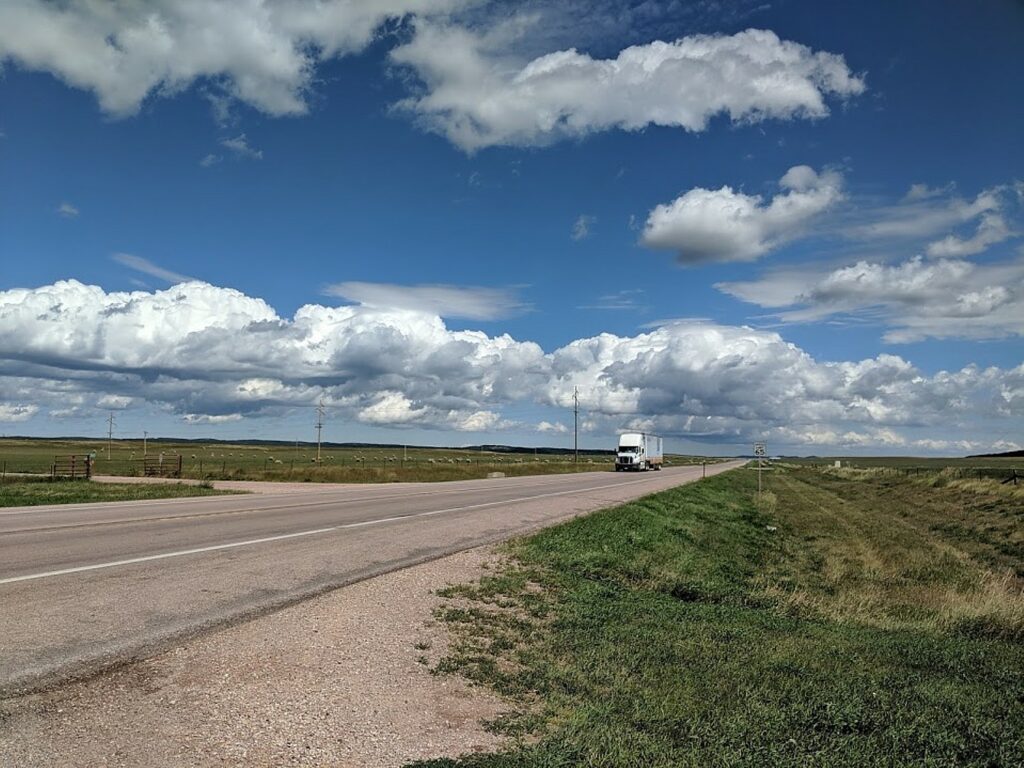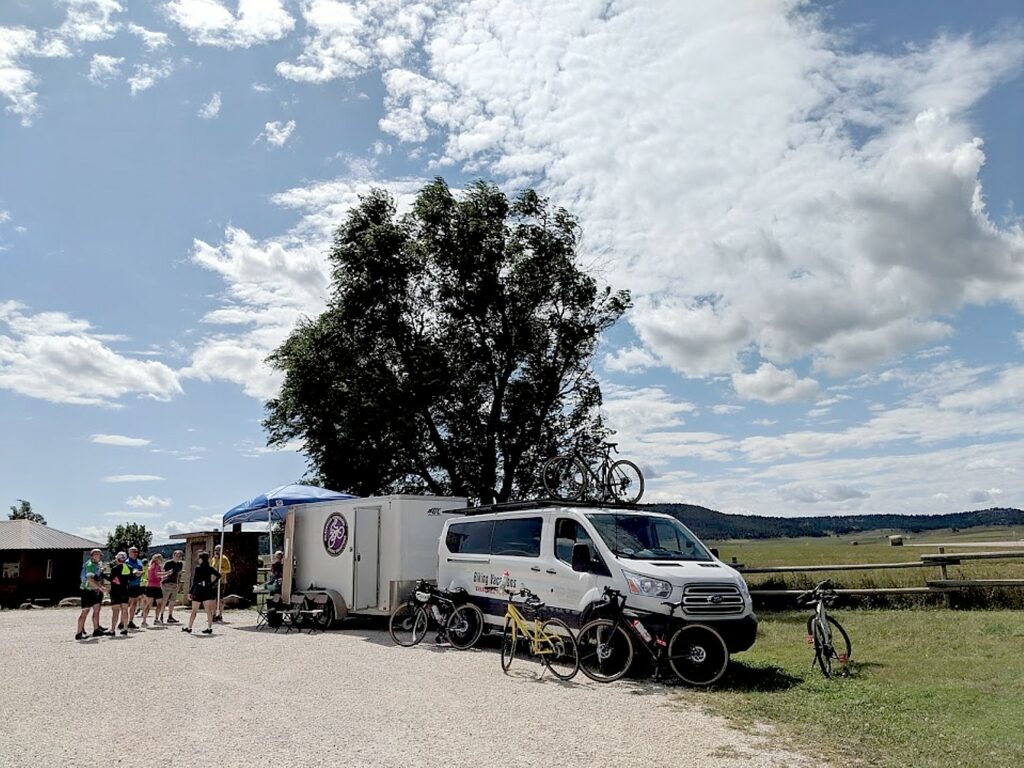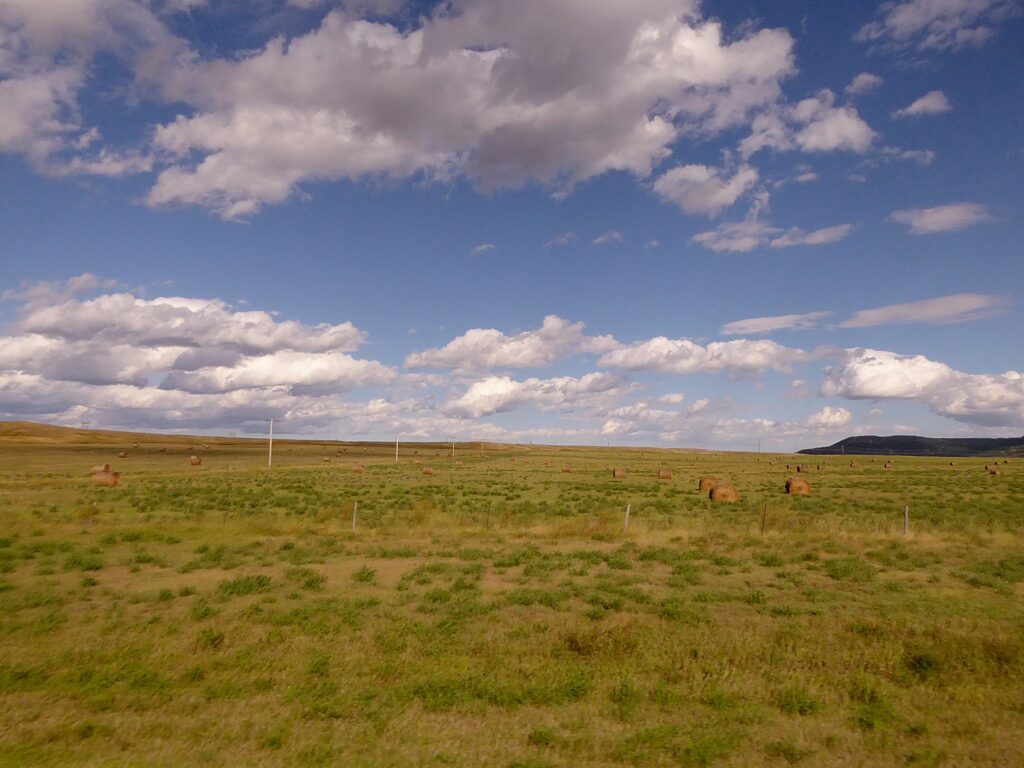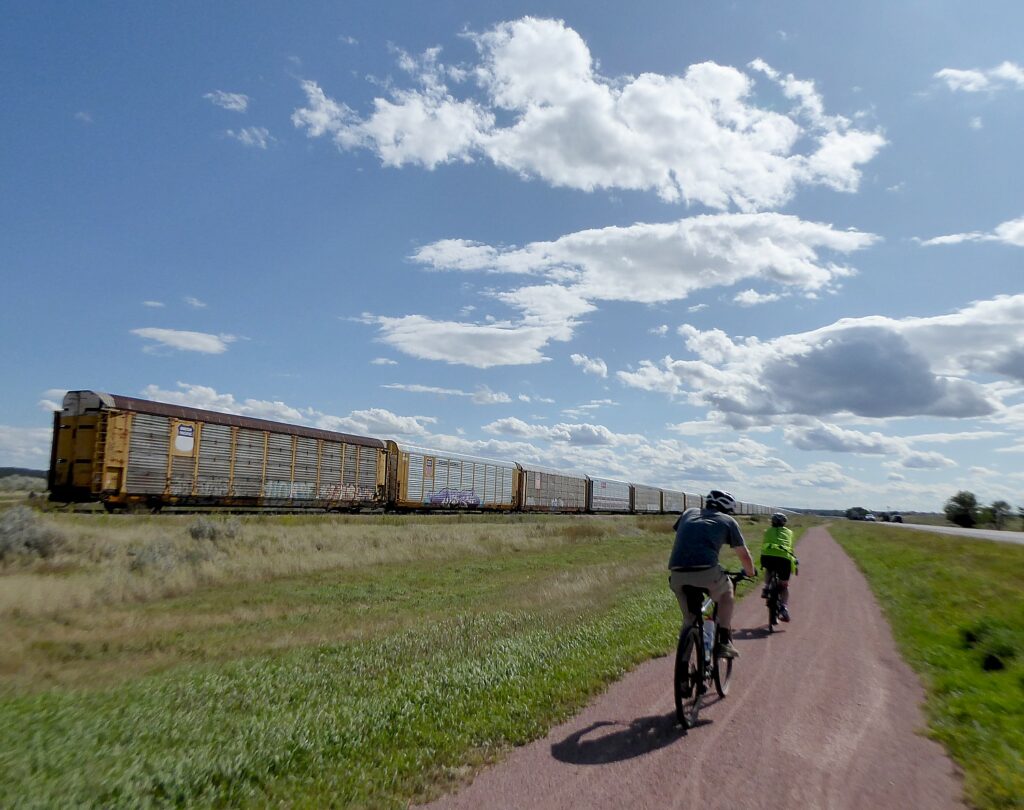 The Mickelson Trail is wonderfully maintained – mostly crushed limestone – with rest facilities and water cisterns along the way and great signage. On this first day, we are immersed in ranch land with broad vistas, dramatic cloud formations, hay bales, cows.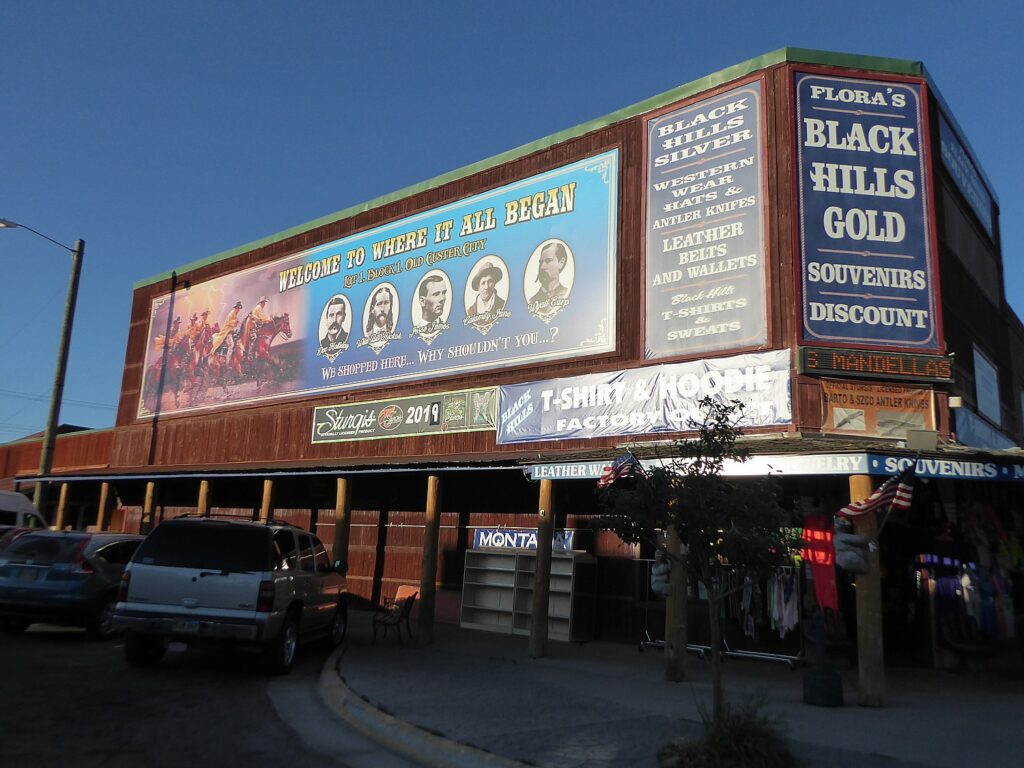 From Edgemont, we are shuttled back to Custer, a pleasant, modest Western town, with art of decorated bison on many corners. We will be here for two nights at the Holiday Inn Express. Tonight we are on our own for dinner, but tomorrow we will be hosted at a fine-dining restaurant.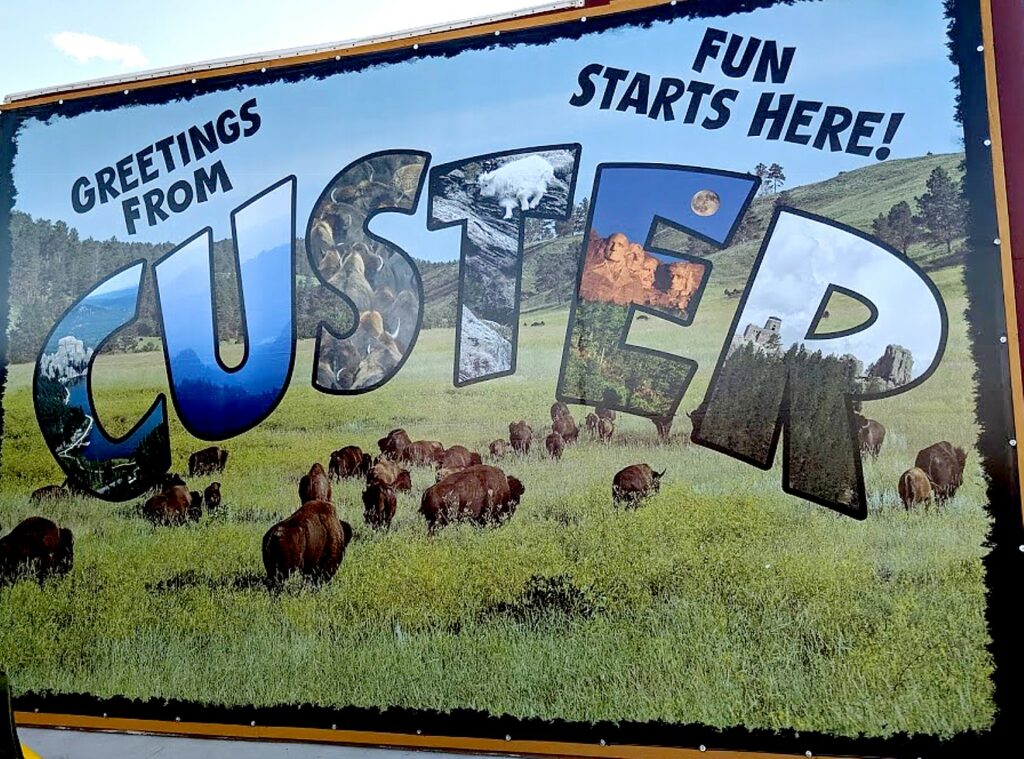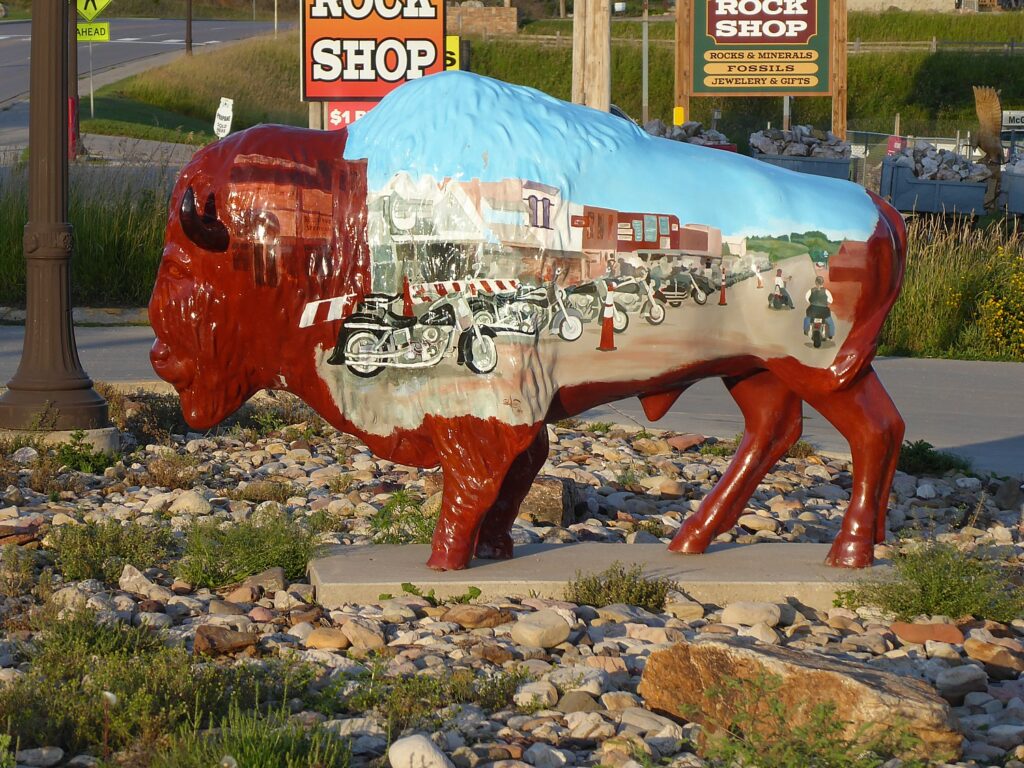 The next morning, Day 3 of our trip, we ride out from the hotel directly onto the Mickelson Trail at Harbach Park Trailhead (thankfully, our guide, John Buehlhorn, has caught me again going onto a wrong spur and bringing me back to the trail).
We are now in the Black Hills National Forest – a lot of trees with black bark, which I presume gives the forest its name.
From Custer, we bike along the Mickelson Trail, 8 miles up a gentle grade (one of the advantages of a rail trail versus a road which can have much steeper slopes and corkscrew turns), with lovely scenery, beautiful rock formations, grassy plain and pine trees, when all of a sudden, the Crazy Horse Memorial comes into view. I am entranced by it when John, the Wilderness Voyageurs guide, again catches me missing the turnoff for us to ride to the Memorial for our visit. (Biking up the very steep hill proves the most challenging part of the day, and I am delighted with myself that I make it.)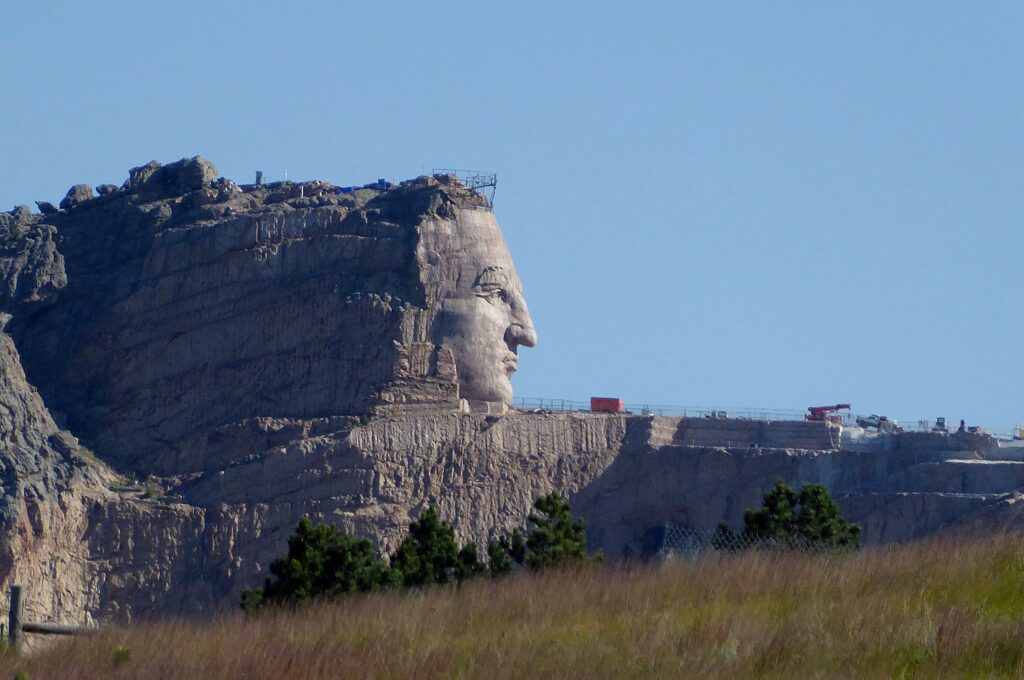 Visiting the Crazy Horse Memorial is a revelation.
Wilderness Voyageurs started out as a rafting adventures company 50 years ago, but has developed into a wide-ranging outdoors company with an extensive catalog of biking, rafting, fishing and outdoor adventures throughout the US and even Cuba, many guided and self-guided bike itineraries built around rail trails like the Eric Canal in New York, Great Allegheny Passage in Pennsylvania, and Katy Trail in Missouri.
There are still a few spots left on Wilderness Voyageurs' Quintessential West Cuba Bike Tour departing onMarch 21 (yes, Americans can still visit Cuba).
Wilderness Voyageurs, 103 Garrett St., Ohiopyle, PA 15470, 800-272-4141, [email protected], Wilderness-Voyageurs.com
_________________________
© 2020 Travel Features Syndicate, a division of Workstyles, Inc. All rights reserved. Visit goingplacesfarandnear.com, www.huffingtonpost.com/author/karen-rubin, and travelwritersmagazine.com/TravelFeaturesSyndicate/. Blogging at goingplacesnearandfar.wordpress.com and moralcompasstravel.info. Send comments or questions to [email protected]. Tweet @TravelFeatures. 'Like' us at facebook.com/NewsPhotoFeatures