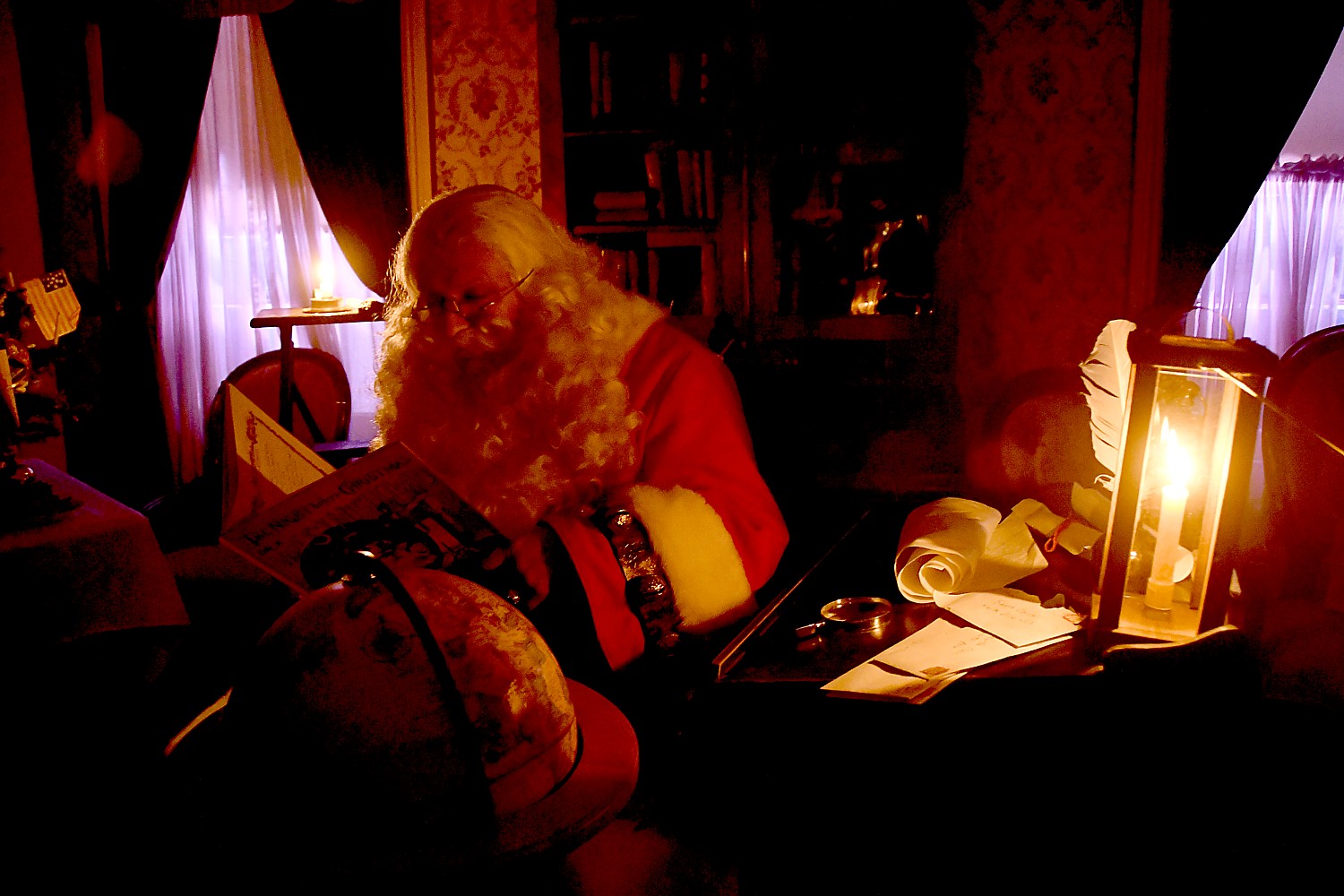 By Karen Rubin, Travel Features Syndicate, goingplacesfarandnear.com
For a brief moment, you are transported back in time. You leave the visitor center, walk down a path. The electric lights disappear. There is only firelight along the path into the village.
This is the Candlelight Evening at Old Bethpage Village Restoration,  where for only four special evenings (Dec. 15, 16, 17, and 18, 5-9:30 pm), you get to experience traditional music performances, crafts (like making Christmas ornaments as they did in 1841) and for an all-to-brief moment, feel you have been transported back in time to the 19th century.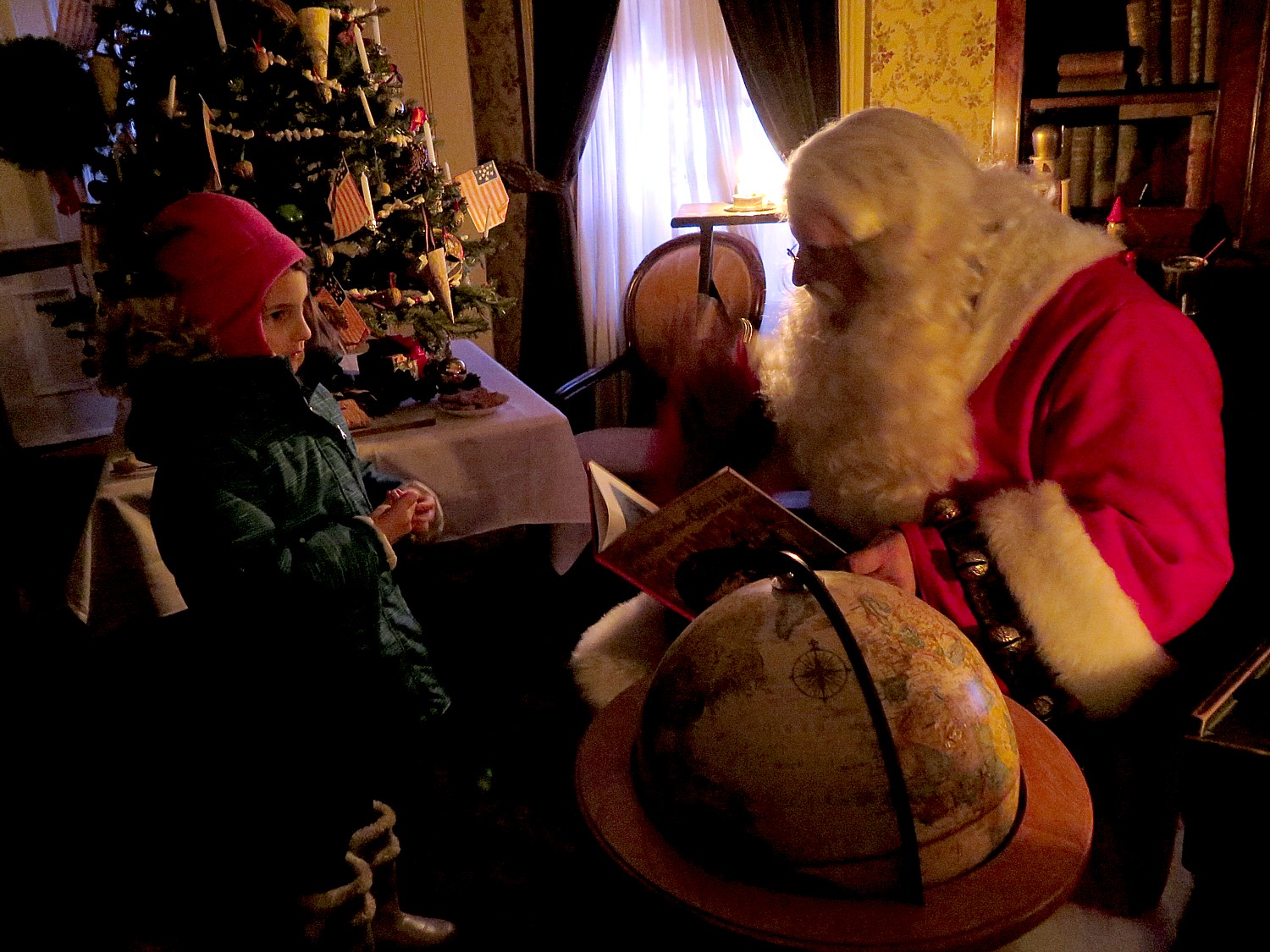 I enter the Layton Store & House, owned by shopkeeper John M. Layton, dating from 1866 in East Norwich, where I come upon Father Christmas himself, reading "The Night Before Christmas." The adults who visit are more tickled, it seems, than the young girl who looks at him with awe.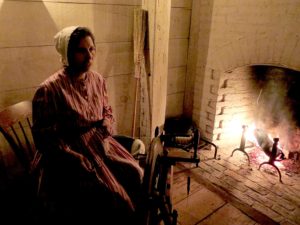 I walk in the inventor Peter Cooper's House, originally in Hempstead, where part of the house, an addition from 1815, is as the inventor would have had it, but the original section, which dates to about 1660, has interpreters from that time showing  how women would have used  a loom and a spinning wheel  (rendered obsolete with the Industrial Revolution).  Cooper, an industrialist, philanthropist, founder of Cooper Union, candidate for President and the inventor of the first American steam locomotive (the Tom Thumb). Her discussion is so intriguing, I am pressed to look up more about Peter Cooper's inspiring biography.
In the Lawrence House (only newly opened as an exhibit), and I find Max Rowland and a collection of musical instruments: a 120-year-old German button accordion, and a similarly antique concertina upon which he plays gorgeous music as would have been heard in the 19th century.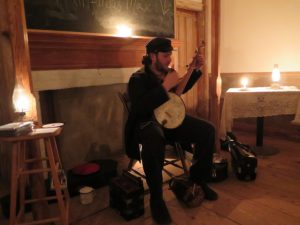 The most wonderful thing about the candlelight evenings at Old Bethpage Village Restoration on Long Island, is yes, the sense of stepping back into time, into a peacefulness such as finding yourself in a Christmas card. But what I love best are the serendipitous moments when you engage the reenactors in conversation.
So Max Rowland tells us about the musical instruments – how they were invented five years apart, in two different countries, but, interestingly, are based on the same principle. And how clever the concertina is – so compact and light, yet capable of such rich sound, that it was immediately embraced by sailors. Rowland can testify to it: this particular concertina has crossed the sea three times with Rowland, who lives on a boat.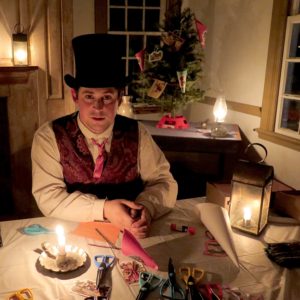 While Rowland plays music, in another part of this unusually large house, they are making Christmas ornaments such as would have been made in the mid-1800s, when Christmas first began to be celebrated in the United States. They would cut up Christmas cards and turn them into ornaments.
Music was so important to the people of the mid-19th century, the period which Old Bethpage reconstructs. When you think about it, people could only appreciate music live, in the moment.
This year at Old Bethpage, there is a lot more music than ever before.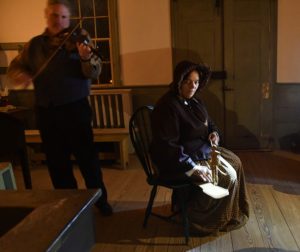 I come into the one-room District No. 6 School House, dating from 1845, which was originally in Manhasset, where a trio performs on original instruments, as it has year after year for the Candlelight Evenings. One of them has been presenting music here for the past 35 years, and notes that the most requested tune is called "The Grouchy Old Man and the Grumbling Old Woman," which he good-humoredly performs, followed by another favorite, "The Dancing Man," which his wife maneuvers a fascinating puppet-like toy to dance along.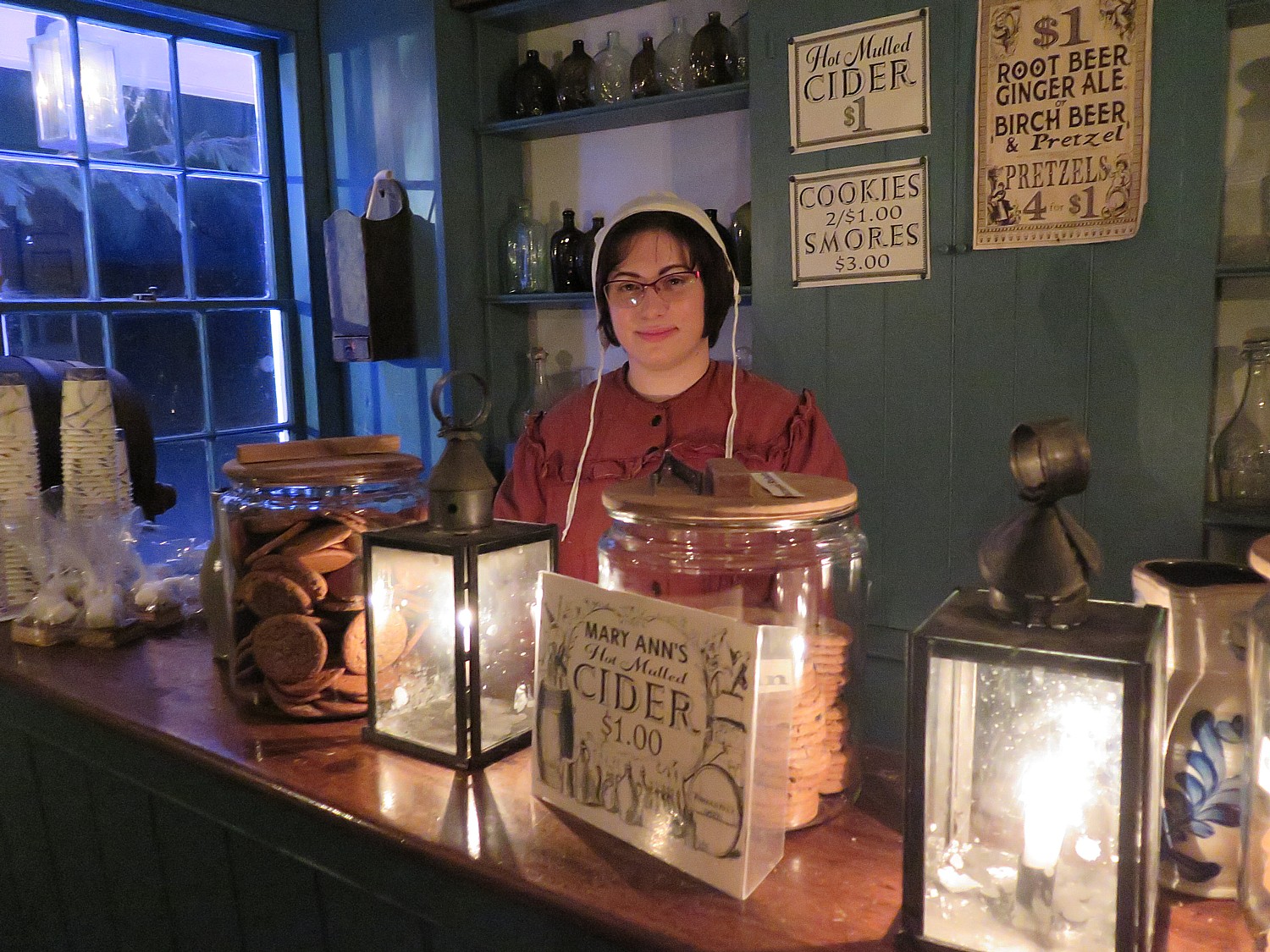 At the Schenck House, though, I come upon the most unexpected encounters. Here, the Huntington Militia re-create a Colonial Christmas in the 17th century. The Schenck House dates from 1765, owned by a Dutch farmer. Here, our presenters speak in the style of the time, and celebrate Christmas of 1775.
I encounter Ambrose Everyman (actually….) who tells me about his friend, the farmer Schenck, a Dutchman. North Hempstead had split from Hempstead over the issue of whether to support "The Cause" or stay loyal to Mother England. North Hempstead, which had a substantial Dutch population, wanted to break with England, while Hempstead, which was populated mainly by English colonists, wanted to stay. Mr. Everyman was upset with the upstarts in Massachusetts who caused so much trouble, who dared to pretend to be Indians and toss tea into the sea. He called them cowards for hiding behind their disguise. He said he knew war – had fought in the French and Indian War – but was too old to fight again. If there was a break with England, he says,, his business of building and repairing houses, would be destroyed.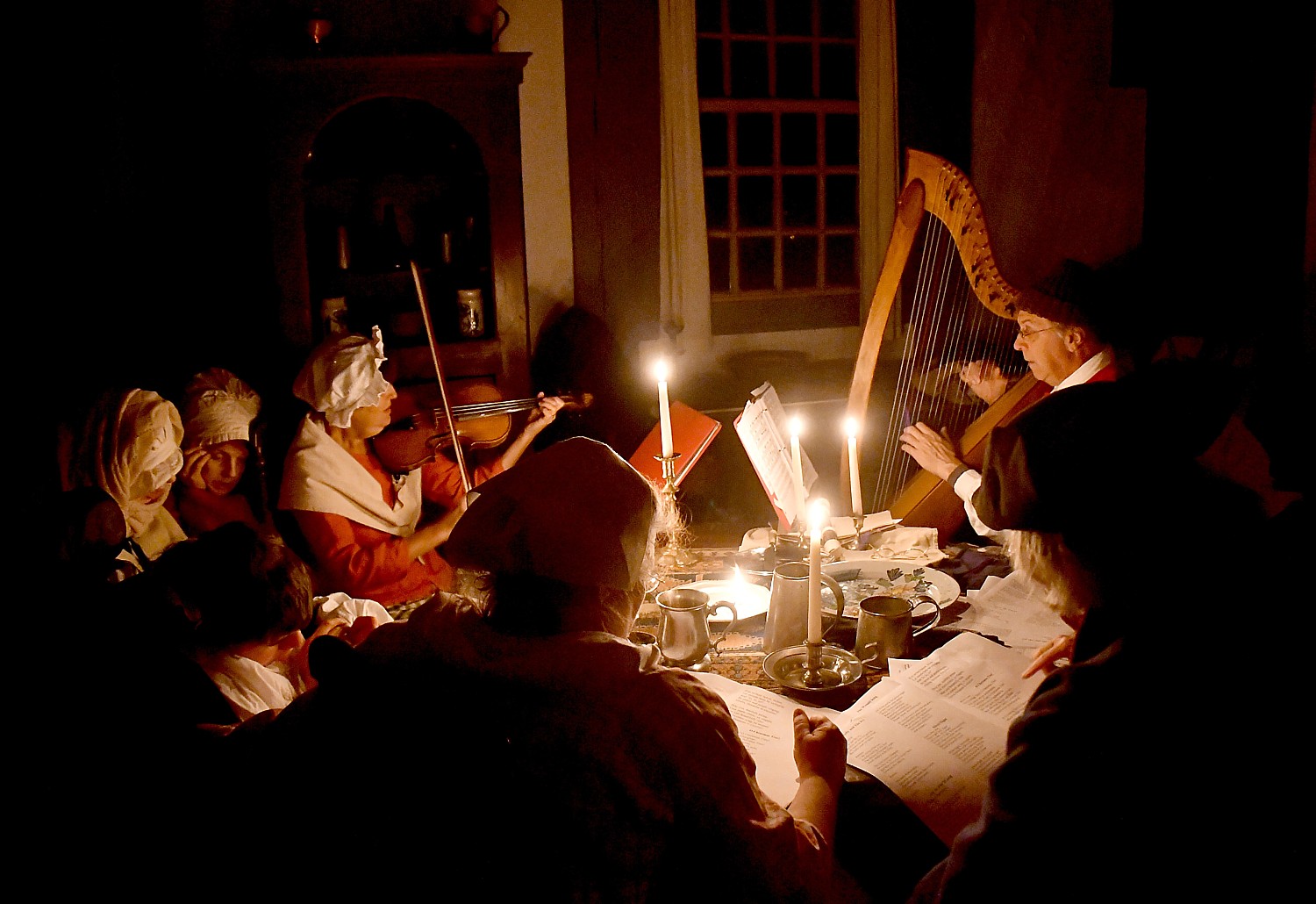 But he cannot express his feelings: the local Committee is strictly enforcing its ban on English tea and though it had no force of law, someone who broke faith would be shamed in the Gazetteer as "an Enemy of American Liberty," would no longer get business, and ultimately be forced out of the community. So he keeps his views to himself. Taxes? What difference does it make to pay taxes to England or taxes to the Congress, he said. And doesn't England deserve to get repayment for the expense of fighting for the colonies. How would those who would break from England confront the greatest army on earth? Would they get aid from foreign powers like France, when France would want to take over the colonies for itself?
Such an interesting debate. But it is closing in on 9:30 pm, closing time for this visit into Long Island's past.
Old Bethpage Village Restoration, 1303 Round Swamp Road (Exit 48 of the Long Island Expressway), 516-572-8401; Adults/$10, children 5-12/$7 (under 5 are free); and $7 for seniors and volunteer firefighters.
_______________________
© 2016 Travel Features Syndicate, a division of Workstyles, Inc. All rights reserved. Visit goingplacesfarandnear.com and travelwritersmagazine.com/TravelFeaturesSyndicate/. Blogging at goingplacesnearandfar.wordpress.com and moralcompasstravel.info. Send comments or questions to [email protected]. Tweet @TravelFeatures. 'Like' us at facebook.com/NewsPhotoFeatures