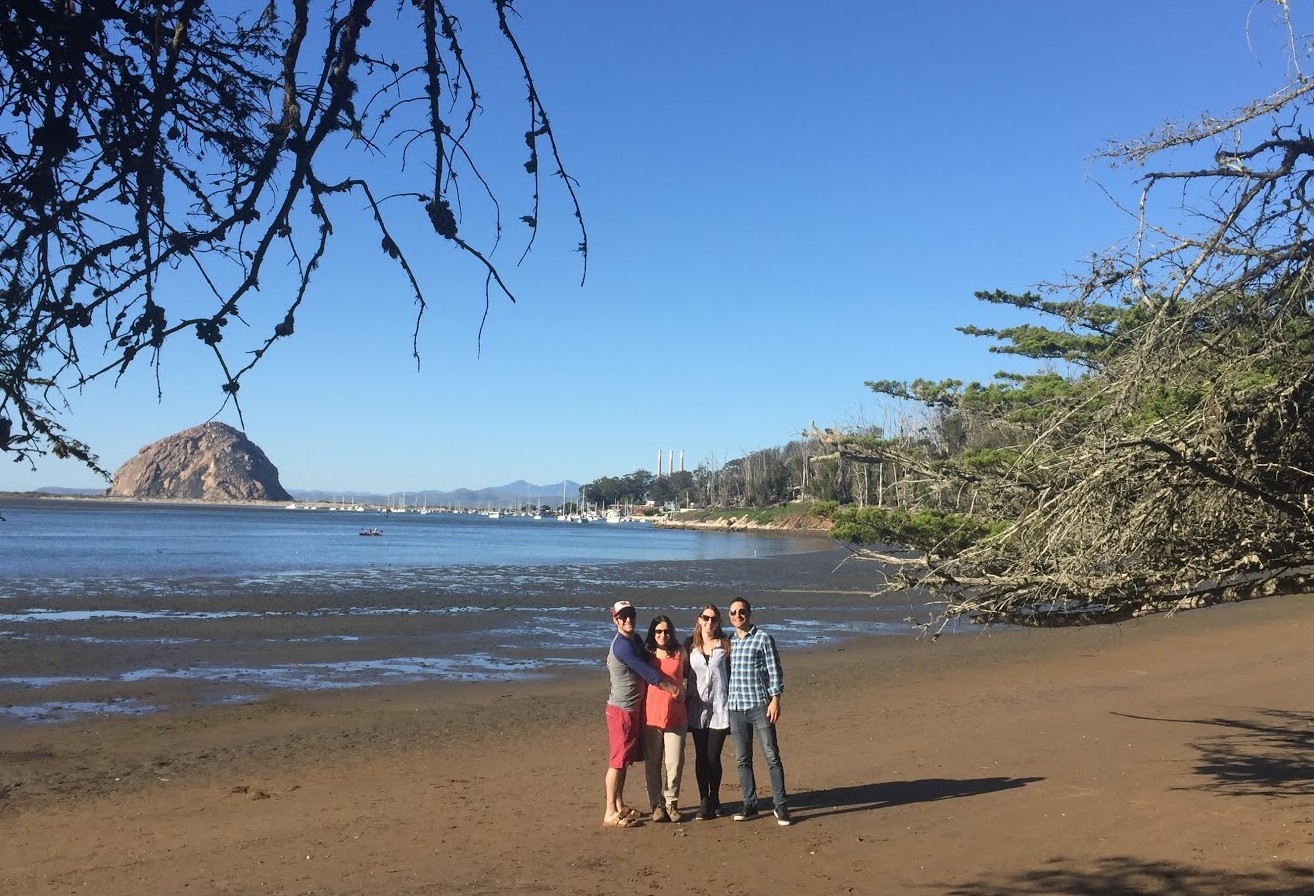 By Dave E. Leiberman, Laini Miranda, Maya Kessel, Andrew Kessel
We are four friends, two couples, from different cities, who get together as often as we can, although not as often as we'd like, to go on adventures. With the first baby expected in our group, we thought we'd take one last adventure before the greatest adventure of all. Hence, our first "babymoon."
Our adventure takes place in Morro Bay and along California's Highway 1, a gorgeous Pacific coastal road that embraces the mood of dreamers and wanderers who tend to find themselves there. Before this trip some of us hadn't even heard of a babymoon or Morro Bay (except in the recent movie "Finding Dory"). In thinking about winter holiday destinations, Zika prevented us from considering many Southern spots while a ski trip for a 6-month pregnant woman was similarly a bad choice.
Instead, we set our sights on the Central Coast of California, easily accessible from Los Angeles airport while still providing a great escape from the wintrier East Coast. We did not know what to expect. What we discovered was an amazing combination of outdoor sports and nature, wine, gastronomic delights featuring some of the best seafood we've ever had, and so much more, all nestled in beautiful California coastal towns.Highway 1 is famous for its windy roads beside perilous cliffs overlooking the Pacific Ocean. The 101-mile-long Highway 1 Discovery Route is  situated between San Francisco and L.A. attracts 3 to 4 million visitors a year. Along the route you will find such popular attractions as the Hearst Castle, the Elephant Seal Rookery, dozens of wine vineyards (11 just in the 40 minute drive from Rock to Castle), oyster farms, and charming coastal towns. This region is remarkably diverse, yet it's a compact area, ideal to satisfy the wanderlust of our expectant mother who is otherwise more inclined to climb a mountain than sit back and stare at it.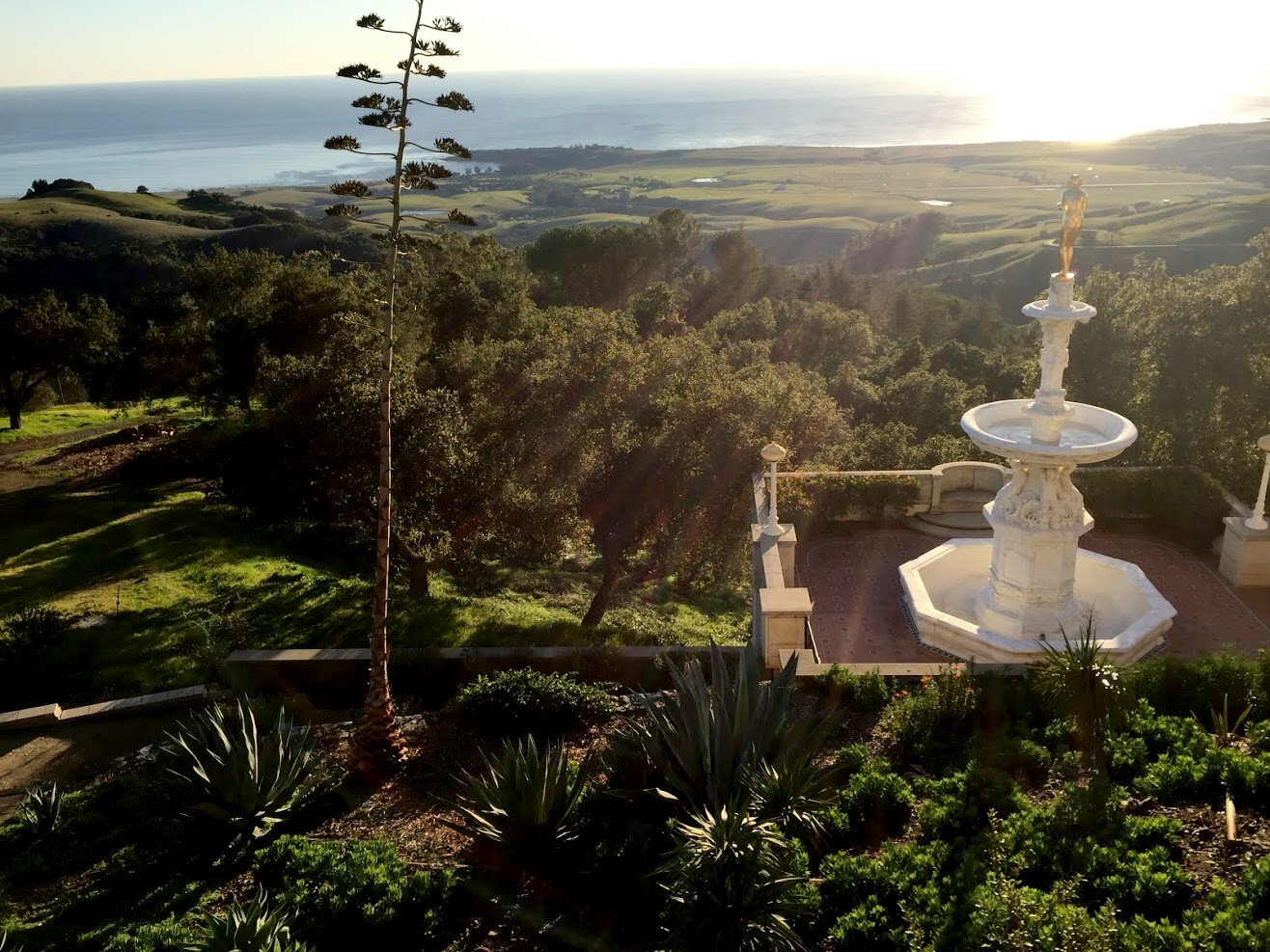 Some highlights of our adventure includes a visit to Hearst Castle (http://hearstcastle.org/), a personal guided tour along the Morro Bay Estuary with Central Coast Kayaks (www.centralcoastkayaks.com) watching the sunset with Elephant Seals at Piedras Blancas (http://www.elephantseal.org/) just at the start of their birthing season in late December, a winery tour and tasting at Kelsey See Canyon Vineyards (http://kelseywine.com/), Pedego Electric biking (http://www.pedegoelectricbikes.com/dealers/avila-beach/) in Avila Beach, and relaxing in our private mineral springs hot tub on the balcony of the Sycamore Mineral Springs Resort & Spa (https://www.sycamoresprings.com/).
Our home base for the first 3 days is Morro Bay, a picturesque and friendly fishing town on the bay that is home to a state and national estuary and bird sanctuary. Once a remote fishing village, Morro Bay is still a busy harbor with an active commercial fishing fleet. Most impressive is how Morro Bay as a community is leading the way in sustainable small fleet fishing practices nationwide, helping support this thriving fishing community. Sustainability and respect for the environment is a theme that carried through our adventure.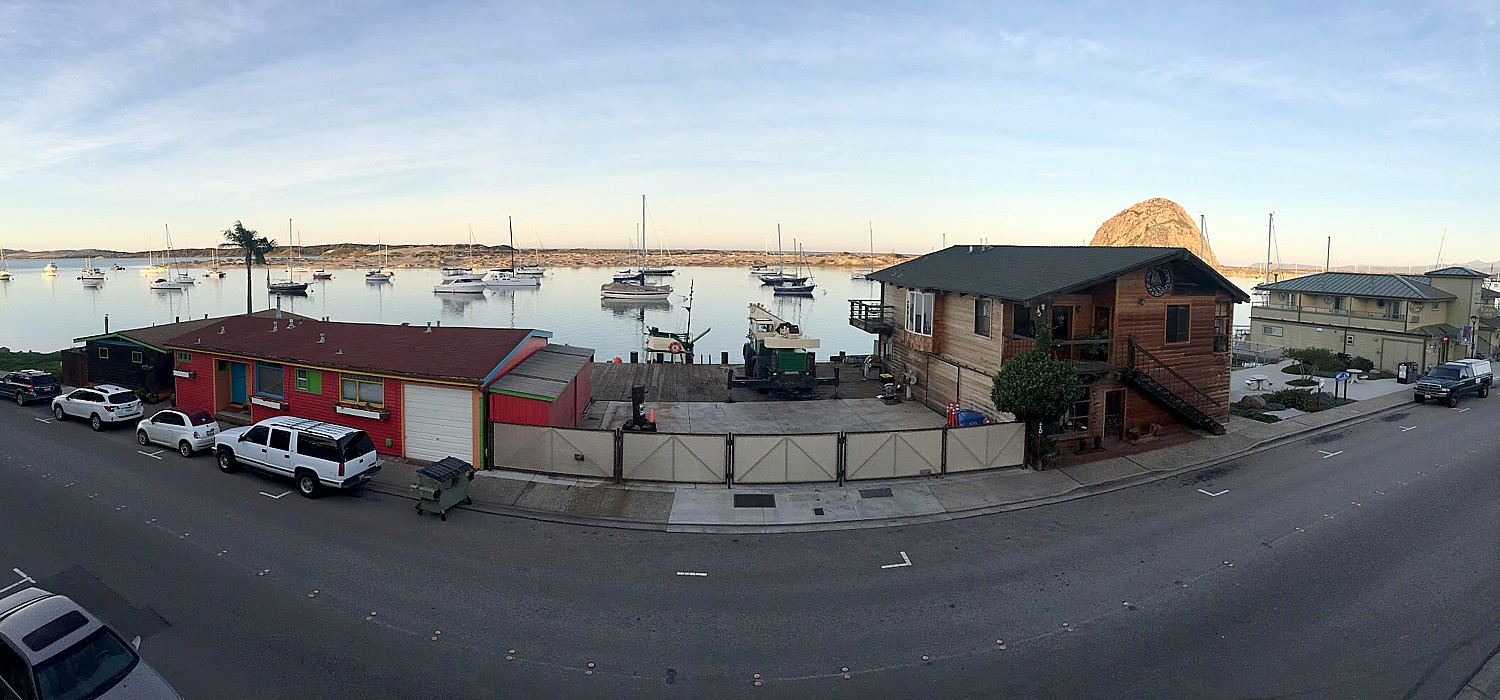 Food & Wine
This is a bountiful wine region and our first stop on our adventure in Morro Bay is the Chateau Margene, one of 10 wineries located along the Pacific Coast Wine Trail, for wine tasting. They have two different wine flights to try and the tasting fee is waived if you buy 2 bottles. We loved learning about the Mooney Family and the production of each of the wines we tried. This boutique, micro-winery produces only 3,000 cases a year of luxury award-winning Cabernet Sauvignon and Bordeaux blends, as well as Pinot Noir. Owner Michael Mooney co-founded the Cab Collective out of Paso Robles highlighting the many award-winning Cabernets found in the region that rival Napa. One definite perk is that it's open late and right in the center of town (the only winery nearby open past 5), making it a great spot to hit up just before dinner. If wine isn't your thing they also have superb infused olive oils and local vinegar samples. (Chateau Margene, 845 Embarcadero, 805-225-1235, www.chateaumargene.com).
Next stop, dinner at Windows on the Water, a fine dining restaurant that has a gorgeous panoramic view of the bay and a friendly atmosphere. They also have a lively bar area, live music many nights, and regular weekly specials including $5 martini Mondays, $.75 oyster Tuesdays (elsewhere around town we hear that Tuesdays are the big crab night), and Sliders & Beer Wednesdays and $1 Taco & Tequila Thursdays. Windows, like a few of the other restaurants we visited, emphasizes the season-driven approach to continually changing menus.
They take pride in their sustainably raised livestock and seafood and locally sourced produce, so you can feel good about how your dinner was caught and prepared while savoring in the delicious freshness of the food. Their wine flights highlight local vineyards and an extensive wine list showcases the expertise of their in-house sommelier, Chris Battles.
There is something on this menu for everyone. Starters and salads range from $10-20 and are small, but packed with flavor. Entrees are between $25-39 and fairly large. Our waitress Elizabeth recommends the local halibut and pork loins. Windows is famous for its local sand dabs (a lighter white fish maybe similar to a flounder, but sweeter), so popular, that it is sadly sold out by the time we arrive. Their bread and own garlic and herbs olive oil and vinegar dip is so good, it is hard not to fill up on it before dinner. We enjoy the very crispy, full-of-sprouts crab cakes with a fresh arugula salad pre-entree. For dessert we taste the three homemade ice cream scoops, which, like the rest of the menu, rotate with the season (in the past they've had lucky charms and peanut butter chocolate ice cream). We enjoy a vanilla, toasted coconut, and egg nog ice cream perfect for the season. One of the best vanilla ice creams we've ever tried. (Windows on the Water, 699 Embarcadero, Morro Bay, CA 93442, 805-772-0677,  www.windowsmb.com).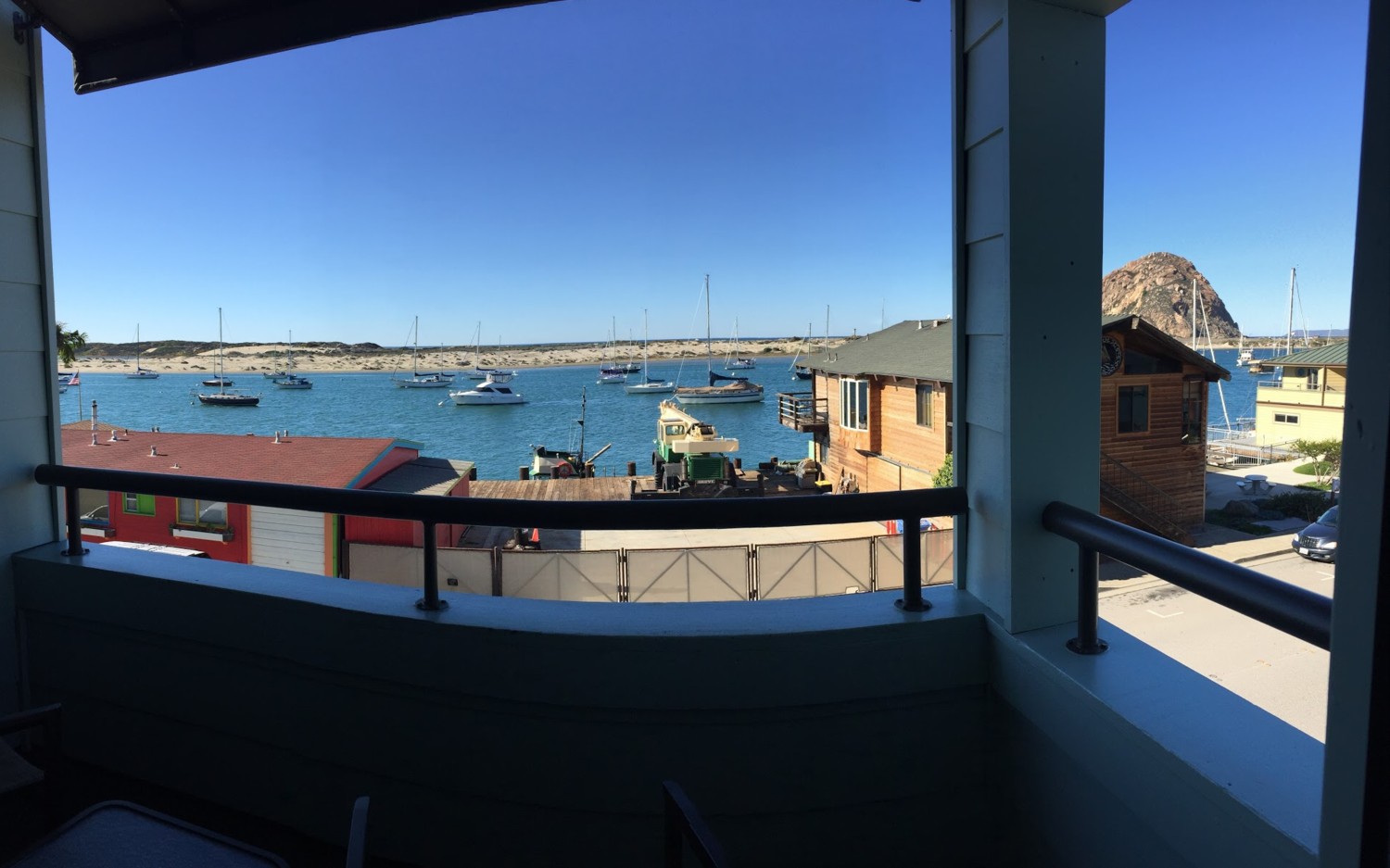 We head to our accommodations, 456 Embarcadero Inn and Suites, wonderfully well located in the central part of town, with spectacular views of the coast and the great Morro Rock,  so we can just  park  our car and leave it for the duration of their of our stay in  Morro Bay. The front desk staff goes above and beyond. They even offer us blankets for our whale watching tour. The rooms are spacious and comfortable and even feature a gas fireplace. The inn offers 33 boutique guestrooms, each with a panoramic view of the bay and the iconic rock from a private deck. Showers come with dispensers, which are appreciated over the typical wasteful bottles of shampoo and soap provided at most hotels. The hot tub is a welcomed, very modern styled amenity, snuck away in a nook on the second floor. Breakfast comes complimentary and is a nice filling way to start the day. The inn is family-owned and operated and pet-friendly.
(456 Embarcadero Inn & Suites, 456 Embarcadero Blvd., Morro Bay, CA 93442, 805-772-2700, www.embarcaderoinn.com).
Whale Watching
Early the next morning we set off for the whale watching adventure with Sub Sea Tour Whale Watching. The staff is professional, courteous, and very friendly. The small boat carries about 20 of us for the 3-hour trip. We sail passed the iconic Morro Rock for a great photo op and stop by the half-mile beacon mark on our way out as well where seals tend to gather.
The famous Morro Rock, now a State Historic Landmark, is the most distinctive and recognizable landmark of Morro Bay. The 576-foot tall mass of volcanic rock rises above the Pacific Ocean, separating the inviting sands of Morro Strand State Beach from the blue waters of Morro Bay Harbor.
While the seas were a bit choppy the lighting was perfect for spotting whales as our guide shared interesting facts about the area and its wildlife. In fact, mid to late December marks the beginning of the great migration of the Gray Whale. Unlike New England and other places famous for whale watching, December whale watching in Central California is very doable. Seeing wildlife, including whales on a tour is always somewhat of a gamble  (they report sightings on 90% of their trips). Unfortunately, we are in the 10% and don't get a whale sighting.  Be sure to dress in layers since it can get chilly (and windy!) out at sea.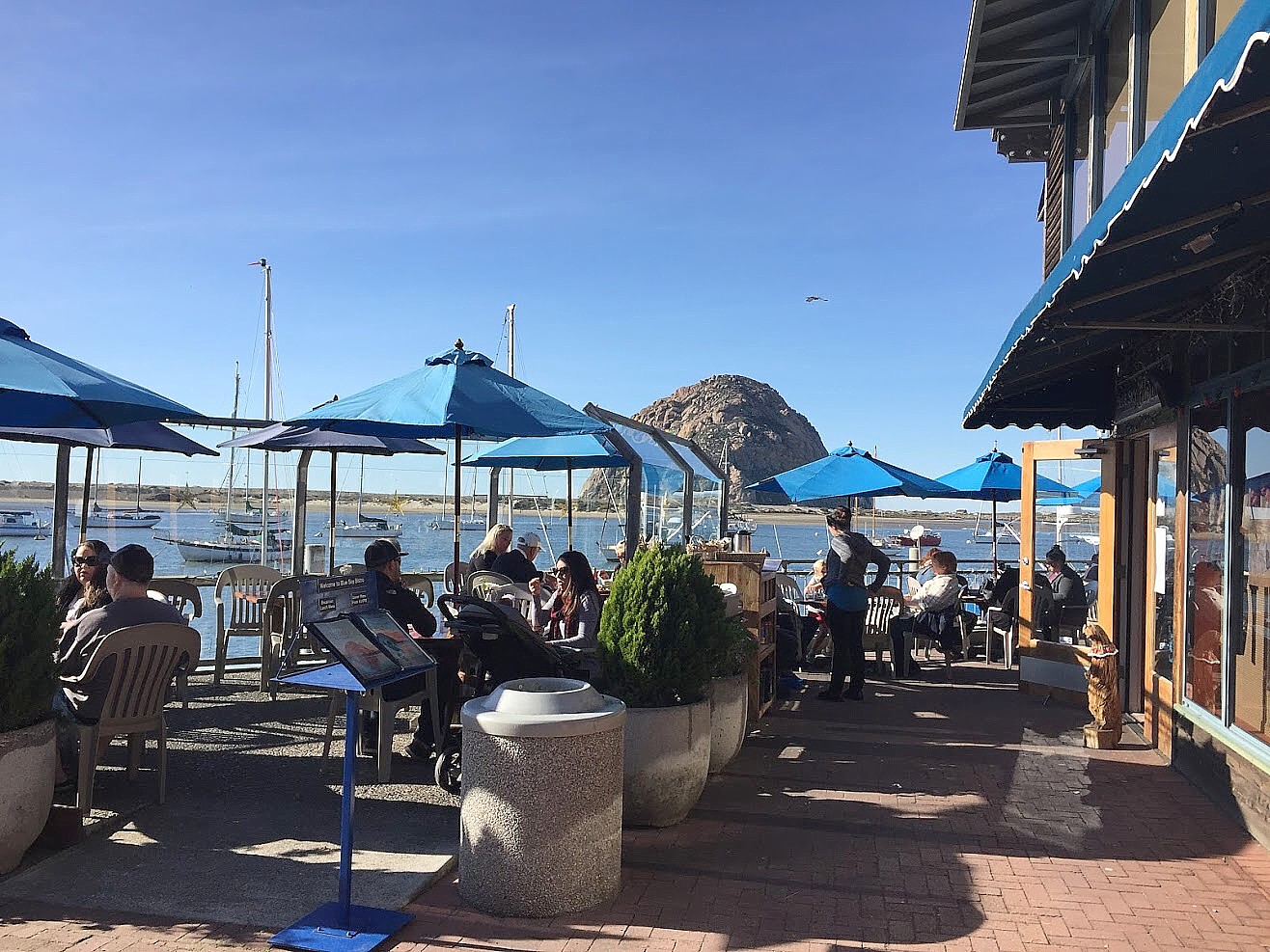 After whale watching, we have lunch just a few feet away at Blue Sky Bistro. We sample a variety of items on the menu including the lobster bisque, clam chowder, Mahi Mahi sandwich, California burgers, and Sailor Benedict eggs. Blue Sky is picturesque, affordable, filling, and the service is friendly.
Hearst Castle
Next up is the famous castle on the hill about 40 minutes north of Morro Bay: Hearst Castle. The 40,000 acres of ranchland was originally purchased by George Hearst for family retreats. Newspaper mogul, William Randolph Hearst inherited the land in 1919, by that time having grown to more than 250,000 acres. He dreamed of building a retreat for friends and a place to house his immense art collection. He hired the first woman architect in California, Julia Morgan, and together they built "La Cuesta Encantada" (The Enchanted Hill) into what is now the 165-room Hearst Castle. To tour the castle and its surrounding property, you must buy tickets in advance, as they often sell out. A bus with an audio introduction leads visitors up the gorgeous winding road to the top of the "Enchanted Hill". The views from the top of the hill alone are worth the trip.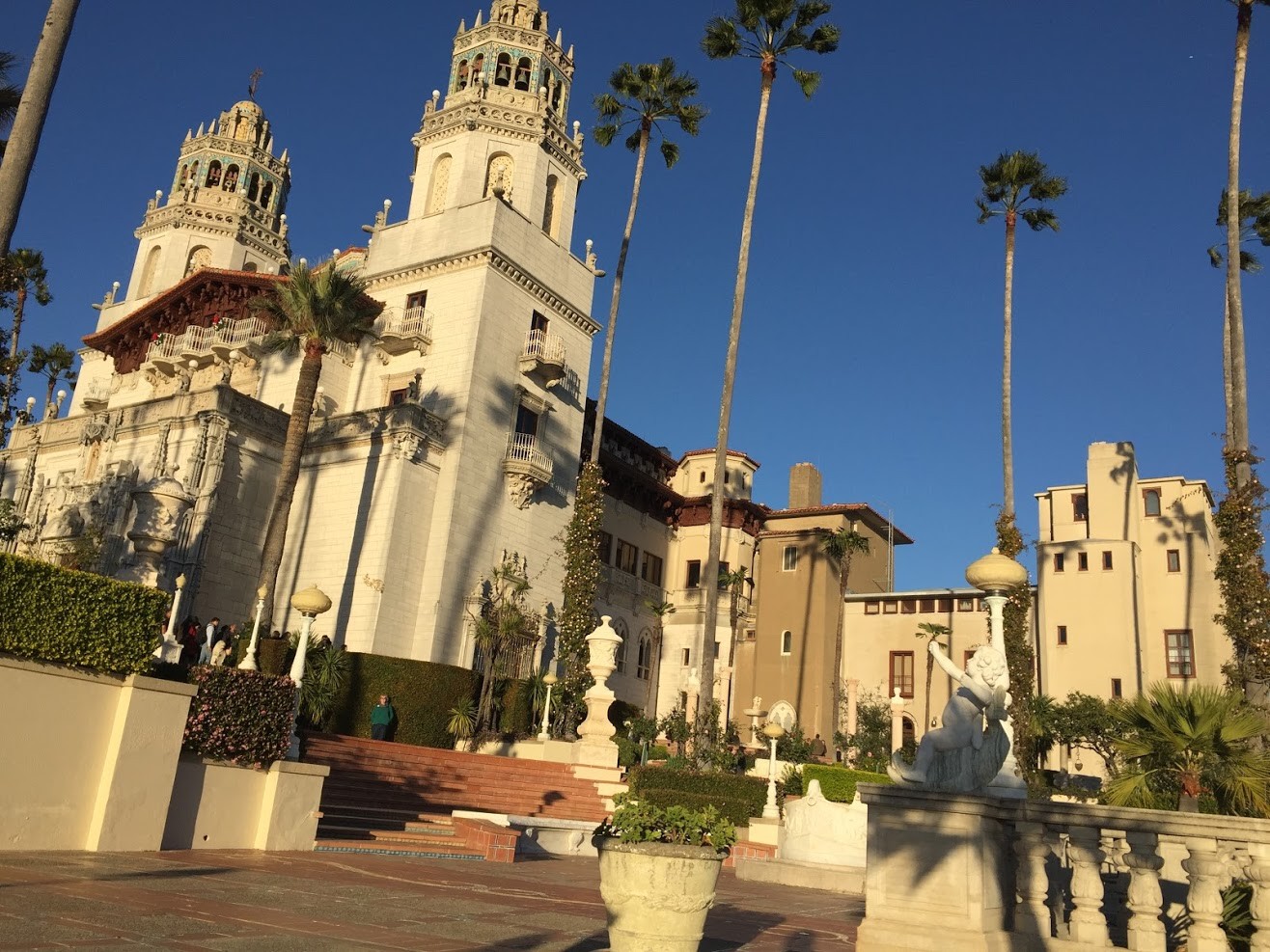 We take the Grand Room Tour, where the knowledgeable docent leads us around the property and through the Assembly Room, the Refectory, Billiard Room, and Theater, getting a sense of what it would have been like for guests who visited W.H. Hearst. Sitting at 200-year old Italian wood tables amidst sterling silver candles and scepters from Ireland, and medieval hand-painted silk banners from Siena, Italy overhead, diners would use paper napkins, Heinz Ketchup bottles and yellow mustard, as the media mogul believed a casual atmosphere would make his guests (often celebrities and politicians) more likely to open up and share stories.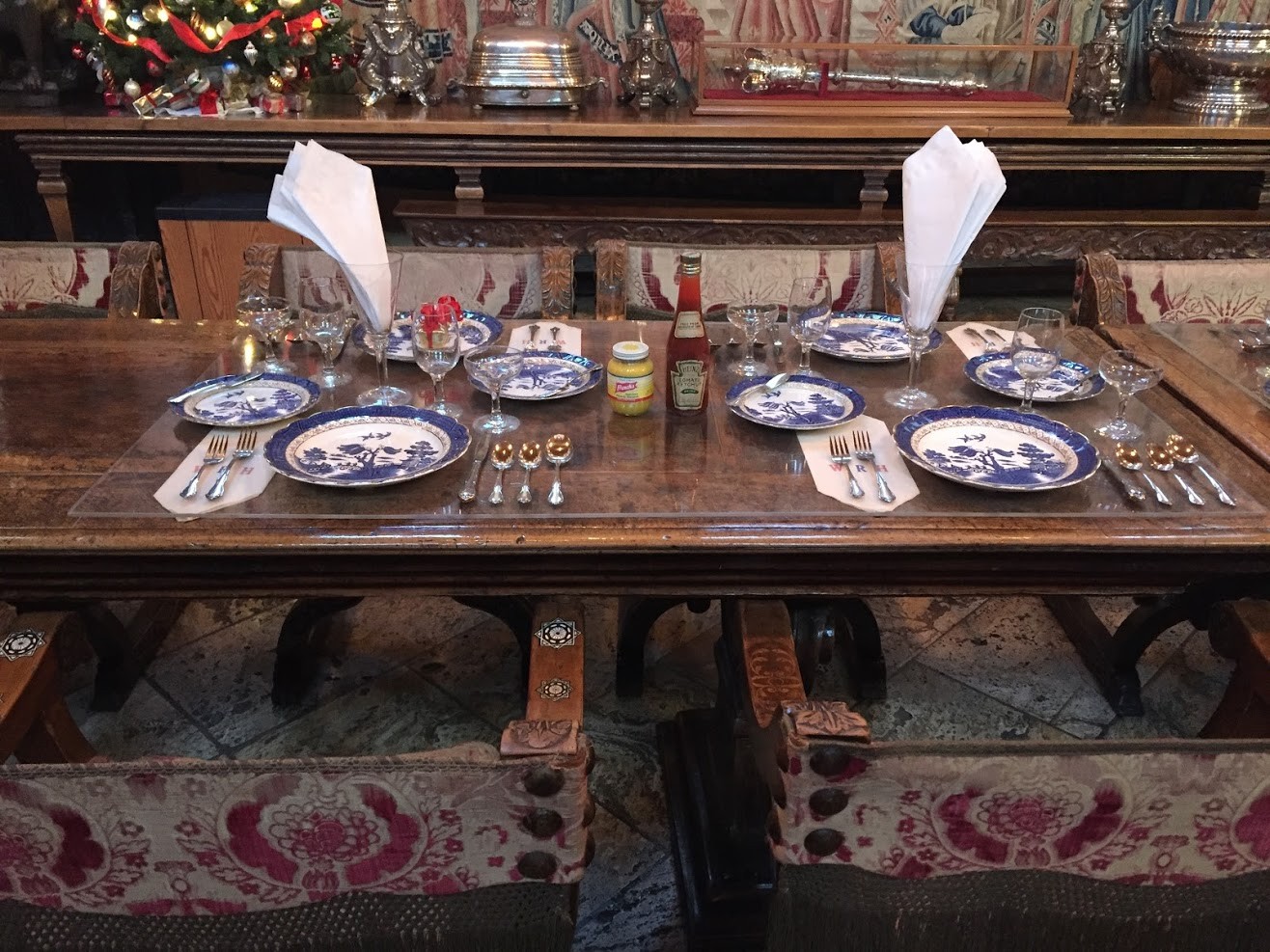 Beginning building his San Simeon retreat in the 1920s, Hearst was able to capitalize on the many European collectors desperate to sell after WWI had left much of the region in shambles. Every surface of the rooms is decorated with pieces from his collection (about 25,000 artifacts). Not one to follow advice of art dealers or others, his collection represents his own eclectic taste, which encompassed everything from 15th Century BC Egyptian statues, 16th Century Spanish and 18th Century Italian ceilings, 6th Century BC Greek terracotta pottery, Renaissance paintings, Flemish tapestries, 15th Century Gothic fireplaces, 15th century religious painting, and much more. For most of the 20th century, the estate even had the world's largest private zoo, with guests driving up alongside bison, elk, zebras, llamas, kangaroos, camels, sambar deer from India, African and Asian antelope and other exotic animals.
With Hearst's public opposition to Roosevelt and the New Deal, and Union strikes and boycotts of his properties, the financial strength of his empire began to suffer. Even amidst the declined circulation of his major publications, Hearst continued his outlandish purchases of expensive art and antiques. Ultimately Hearst went into millions of dollars of debt (when a million dollars really meant something), had to sell his exotic animals to the Los Angeles Zoo, stopped construction on his estate, leaving parts of the exterior unfinished, sold off much of his art collection and had to pay rent to live in his San Simeon castle.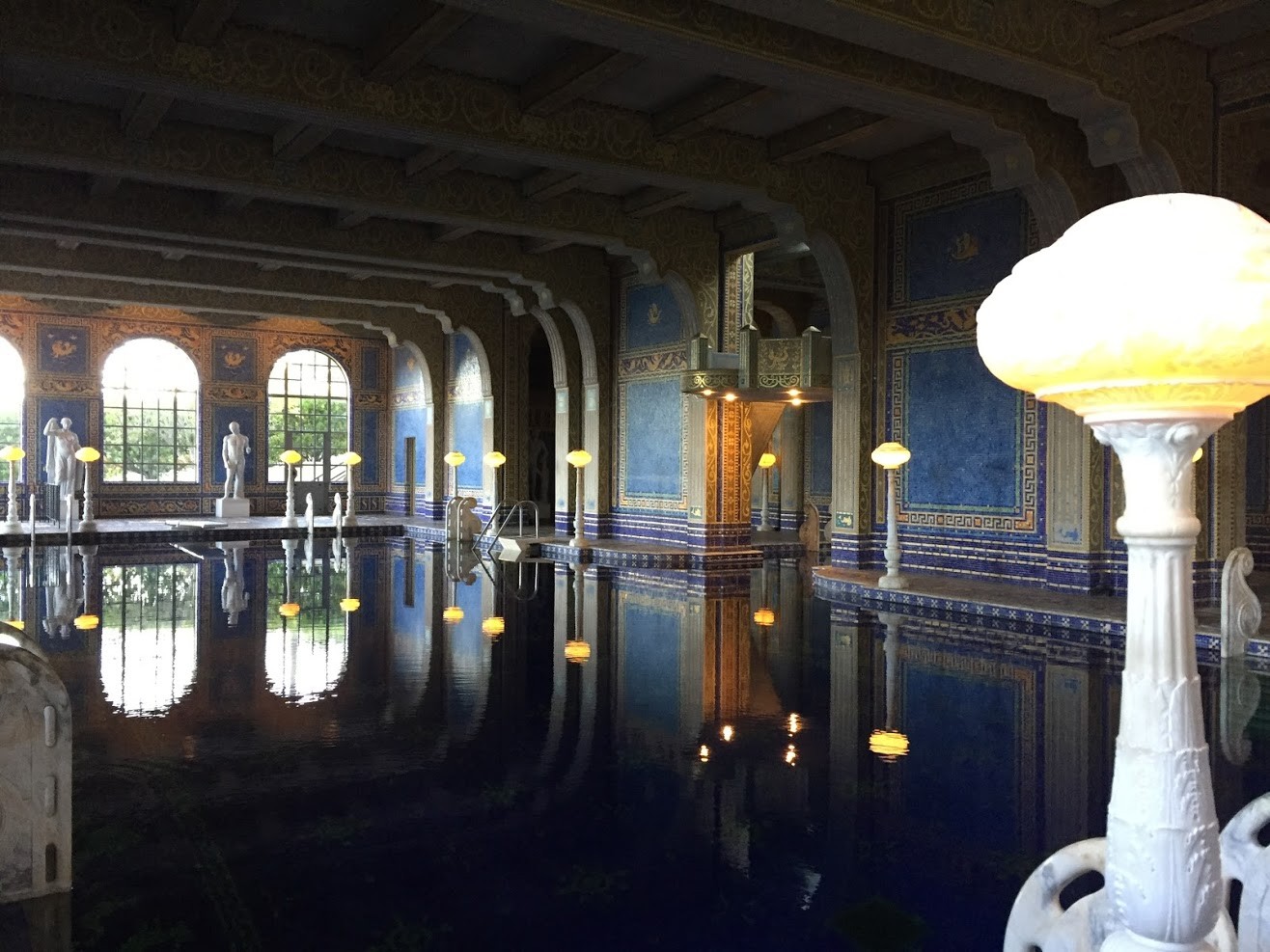 Just up the coast from Hearst Castle is a famous breeding ground for elephant seals. You can't call this a hidden gem as it is a well-known attraction but everyone is able to get great views of the playful seals doing their thing. We have a first-hand look at young males sparring for dominance while others sleep undisturbed, groan loudly, flip sand onto their backs or cuddle. Watching these enormous surprisingly cute creatures play, it's easy for us to forget to look out at the beautiful pacific sunset behind them.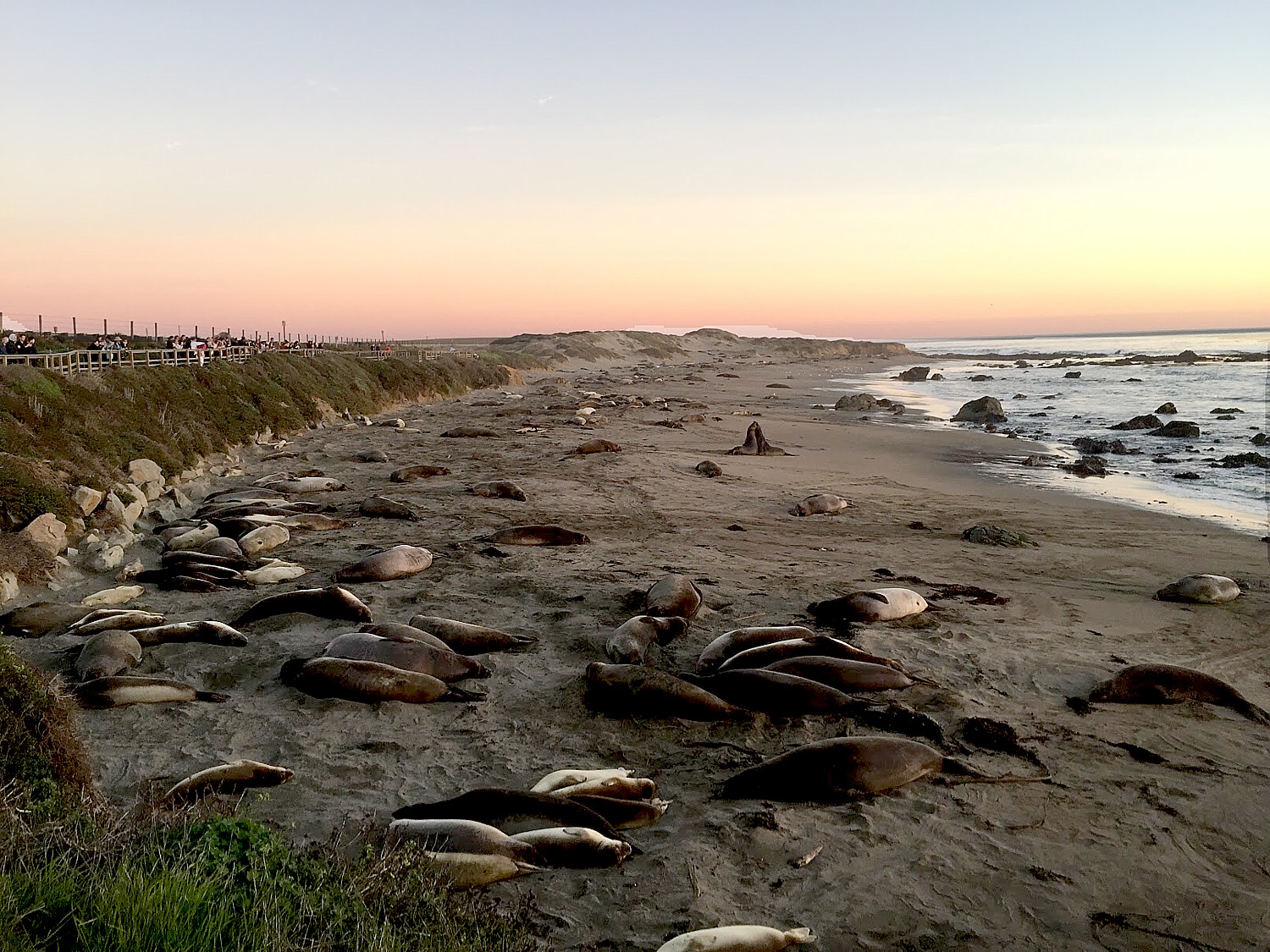 The Galley Seafood Grill & Bar is recommended to us by the captain of our whale watching tour as the place to go to really treat yourself, "especially if you want incredibly fresh seafood". The Galley has a wall of windows overlooking the Bay, warm, modern decor, intimate tables and cozy booths for larger groups. Highlighting their belief in serving only the finest and freshest, their specialty is their "Naked Fish", with a trio of light sauces served on the side. We share a series of dishes: a perfect Caesar salad with Spanish anchovies, Ceviche, the Original Galley Clam Chowder (their same secret recipe since 1966), Pan Seared Scallops, Blackened Pacific Rockfish (Naked), and a New Zealand Rack of Lamb with Kalamata olive tapenade. The portions are well sized and even the appetizers are ample enough to share. The Blackened Pacific Rockfish was cooked so perfectly it seems to melt in your mouth, and indeed, is so flavorful there is no need for the delicious sauces offered on the side. We top off our meal with their Grand Marnier Creme Bruleé. With nice size portions, the freshest ingredients, distinctive flavors, and attentive service, we love every minute of our dining experience at The Galley. (The Galley Seafood Grill & Bar, 899 Embarcadero Morro Bay, CA 93442)
Kayaking in the Morro Bay Estuary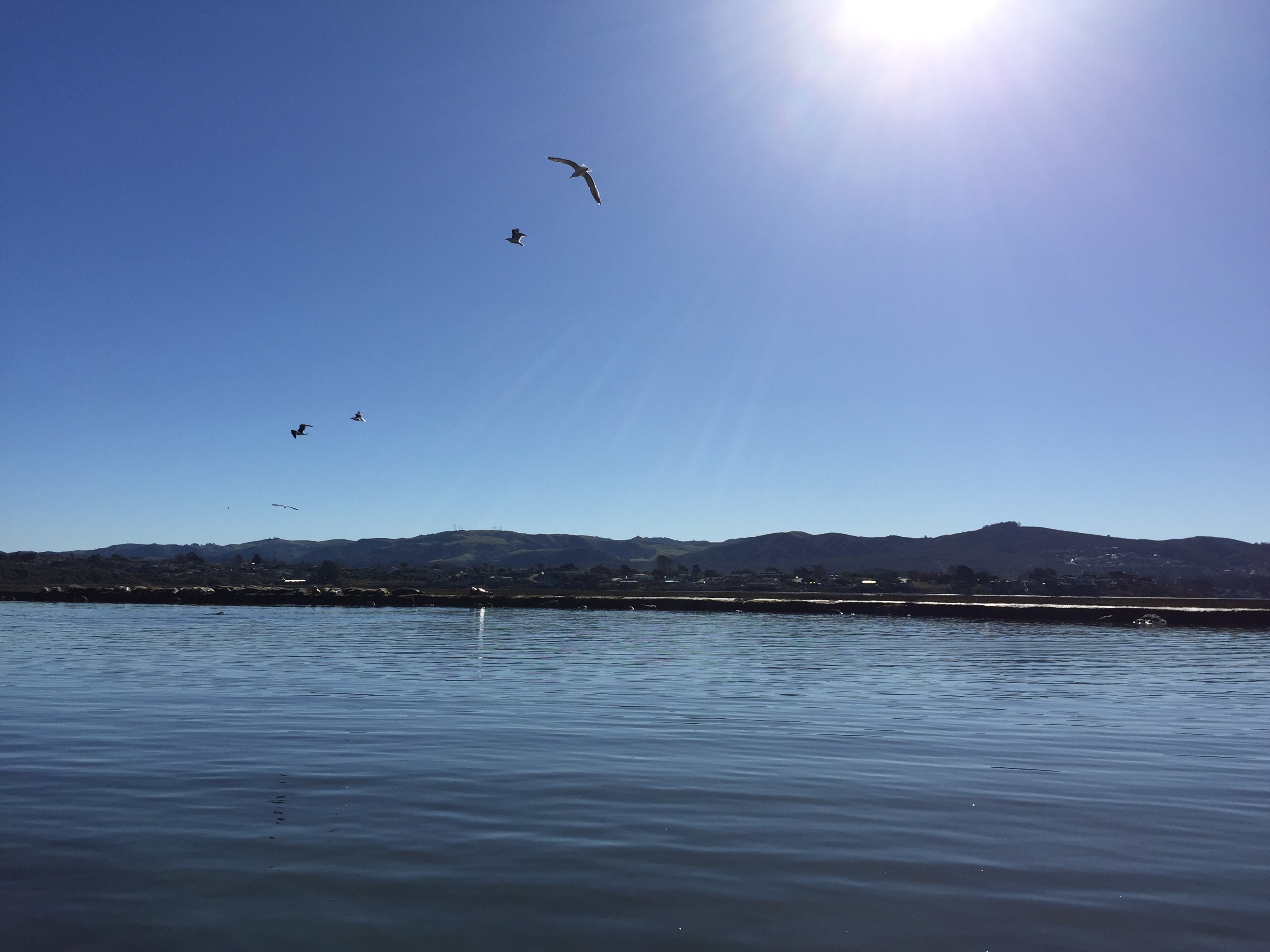 After breakfast at The Embarcadero, we set out for our next great outdoor adventure kayaking in the Morro Bay Estuary Natural Preserve. We meet Craig, our guide from Central Coast Outdoors for the tour, who provides an intimate and comprehensive account of wildlife in the area as well as the relationship of the local people to it. The Morro Bay Estuary Natural Preserve and its 800-acre wetland are home to more than 250 species of land, sea, and shore birds, both migratory and resident, and dozens of endangered species. The great blue herons and the great and snowy egrets roost all year at the Heron and Cormorant Rookery located near the entrance of the Museum of Natural History. (The tours are complimentary but it is customary to tip your guide.)
The weather is perfect and the estuary waters are calm, unlike the open waters of the bay next to it. This is a perfect activity for our expectant mother, who reclines in comfort while getting some exercise in between guided stops and her husband at the back of the two-person kayak.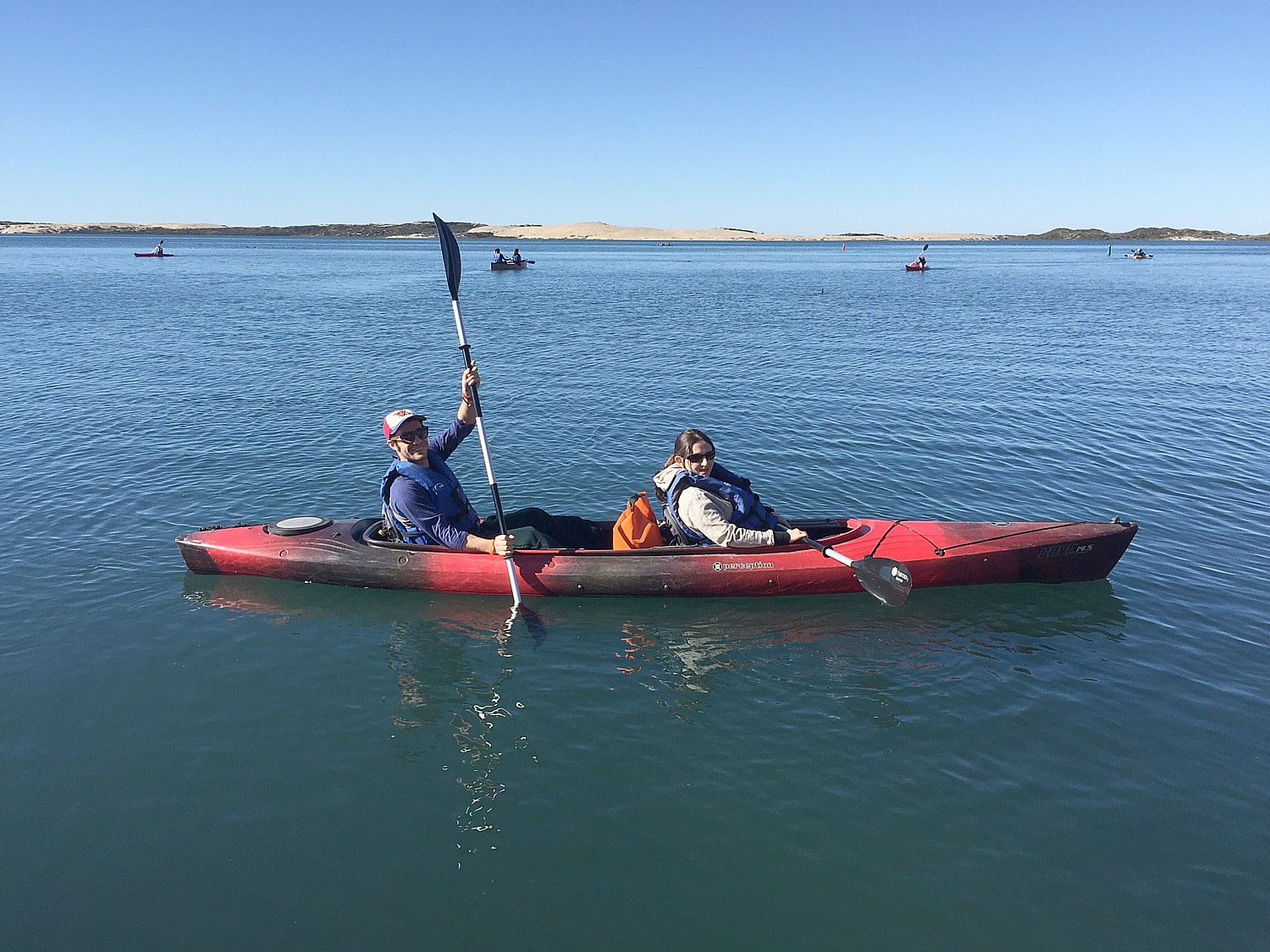 He takes us along the Estuary with stops to view the countless species of local birds spiraling around us. We spot dozens of bird species and lots of adorable harbor seals. If you're a fan of these guys, this is one of the best ways to have a close encounter, as a few seal friends traveled alongside our kayak with their pups for a while (just be careful not to get too close so that you don't disturb their natural habitat!). We learn that estuaries are an ideal natural breeding ground providing protection from larger predators, and we got to see this firsthand.
One of the most memorable sights is seeing the natural fireworks as the birds circle around, rapidly alternating between camouflaging into the background and suddenly reappearing as their white feathers turn towards you. Additionally, despite (or perhaps because of) its historically-dependent marine economy, Morro Bay has taken important steps, even leading-edge techniques that are considered a model, to protect their wildlife. The Limited Entry fleet targets ground fish using non-trawl gear (hook and line, trap, long line). They've taken measures to maintain clean waters so that agriculture and nearby homes do not cause any environmental degradation of these important waters.
Every tour is unique and Craig considers the weather conditions of the day, tidal patterns, rider abilities, and timing to piece together an ideal tour. Craig also leads bicycle, hiking, and other tours for Central Coast Kayaks.
(Central Coast Outdoors, #10 State Park Road, Morro Bay, CA 93442, 805-528-1080, www.centralcoastoutdoors.com.)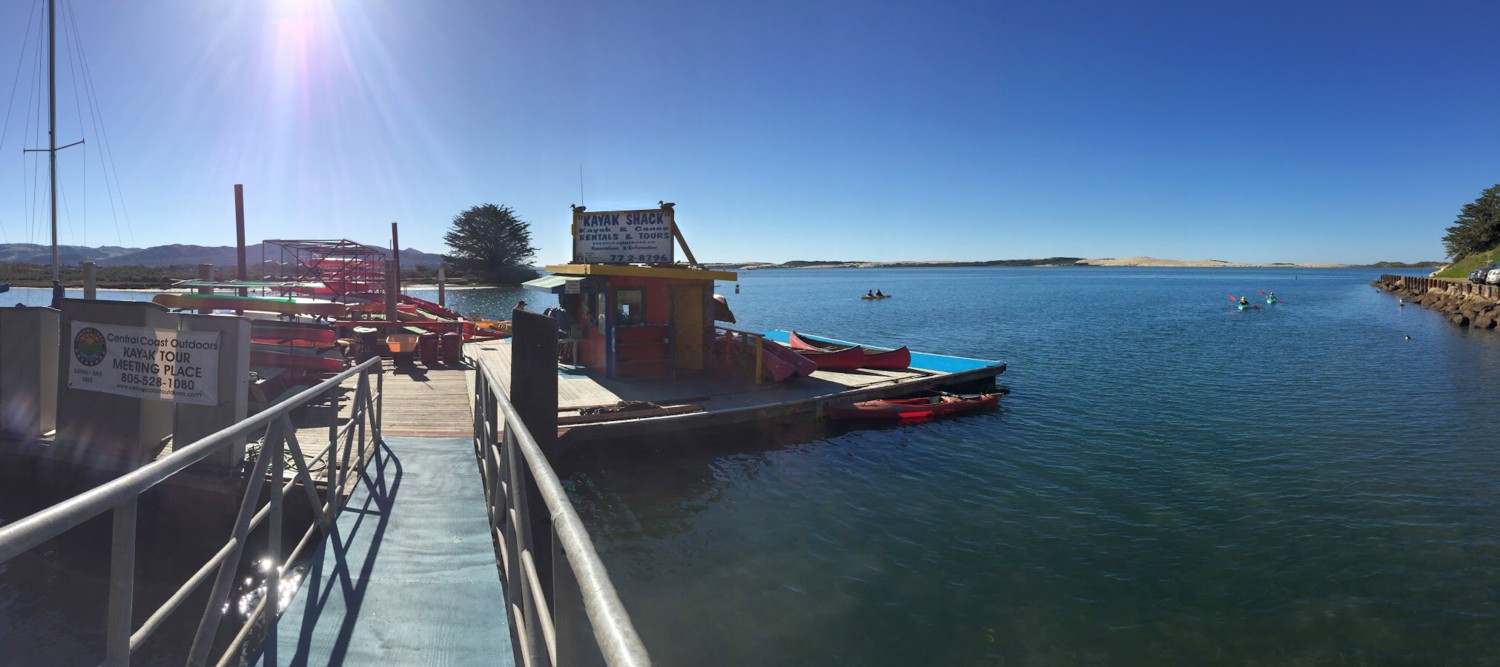 After Kayaking, we have a wonderful lunch at Bayside Cafe, just opposite Central Coast's dock. Originally started in 1986 by a Cal Poly grad as a walk-up cafe, it quickly became so popular that it had to expand to include a casual bay-side dining area with a large outdoor terrace. The restaurant is bustling with a line out the door from the time we enter to the time we leave. Not a bad place to wait for a table, as you can easily kill time hanging out on the benches, dock, or grassy areas along the water. Bayside has an extensive menu filled with local ingredients and both foodie and kid favorites alike. Some food highlights are their fresh salad with grilled catch-of-the-day, amazing thick calamari strips that are meatier than any calamari we've had, salmon tacos, and their ever popular fish & chips (definitely get the large!). To cap off our lunch we indulge in their huge serving of homemade mudpie. Hard to choose from their list of pie specialties, but if you like chocolate, this one is not to be missed! On top of the very friendly service, big portions, and awesome food, the vibe here is familial and relaxed, the view beautiful from any seat. This is the perfect lunch spot to rest and indulge while exploring Morro Bay.
(Bayside Café, In the Morro Bay Marina across from Morro Bay State Park Campground, #10 State Park Rd, Morro Bay, CA 93442, 805-772-1465).
Morro Bay also has some distinctly interesting shops and attractions:
Junque Love (699 Embarcadero) specializes in an eclectic mix of vintage and repurposed goods, and represents the heart and soul of old coastal California, featuring artists from all over California that repurpose vintage items into new goods; (805-821-1154; www.facebook.com/Gatheringjunquelove/)
Morro Bay Skateboard Museum preserves the complete history of skateboarding,from the early 1930′s to present day, featuring more than 200 skateboards from all eras with rotating exhibits from extensive private collections (601 Embarcadero Road; 805-610-3565; www.mbskate.com).
The Estuary Nature Center located upstairs in the Marina Square Building at 601 Embarcadero is free and provides a place to experience the beauty of the estuary and learn about protecting habitats and wildlife (805-772-3834, www.mbnep.org/Learn/nature_center.html).
After our satisfying meal at Bayside Cafe, we hit the road and continue south on our adventure along the Highway 1 Discovery Route. First stop is the Kelsey See Canyon Winery.
For more information on planning a trip, contact Morro Bay Tourism, 695 Harbor Street, Morro Bay, CA 93442, 805-225-1570, www.morrobay.org. For more information on Highway 1 Discovery Route, visit highway1discoveryroute.com.
Next: Four Friends and a Babymoon Travel California's Highway 1 Discovery Route
____________________
© 2017 Travel Features Syndicate, a division of Workstyles, Inc. All rights reserved. Visit goingplacesfarandnear.com and travelwritersmagazine.com/TravelFeaturesSyndicate/. Blogging at goingplacesnearandfar.wordpress.com and moralcompasstravel.info. Send comments or questions to [email protected]. Tweet @TravelFeatures. 'Like' us at facebook.com/NewsPhotoFeatures