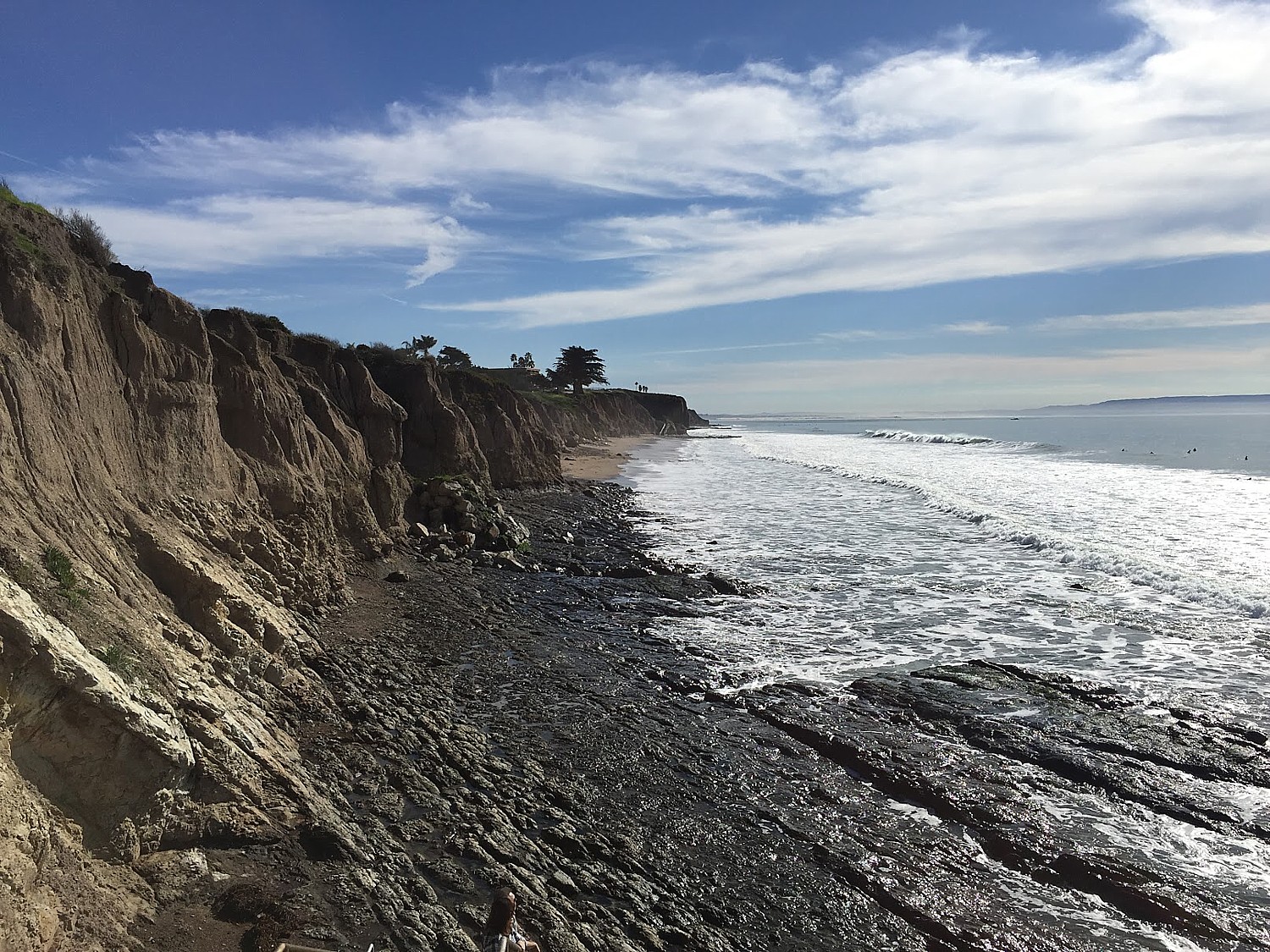 By Dave E. Leiberman, Laini Miranda, Maya Kessel, Andrew Kessel
"For three days we have called Morro Bay home while we explored the quaint fishing village packed with water activities and amazing food, and visited nearby attractions including Hearst Castle and the Elephant Seal Rookery on Piedras Blancas (see Four Friends and a Babymoon in Morro Bay on California's Highway 1).
Now we set out to travel south along what has come to be known as the CA Highway 1 Discovery Route, a scenic 101-mile stretch of Highway 1 along Coastal San Luis Obispo County, from Ragged Point to the dunes of Nipomo, with scores of picturesque villages, uncrowded beaches, state parks and wilderness areas, and bountiful wine regions.
Our destination is Avila Beach, an inlet cove off the Pacific that features several piers, a fabulous beach, golf course and a great wine trail in downtown Avila, hidden among the restaurants and shops.
We make it to Kelsey See Canyon Vineyard just before sunset. Through an unintended series of adoptions years back, over 200 peacocks now roam the winery. This is not your typical wine tour stop and we suggest budgeting extra time for Kelsey. The Vineyard is family owned and these are some of the friendliest and most welcoming hosts you'll meet anywhere. If you are not into wine, come for the art or the newly developing hard cider production. During much of the year the family hosts local musicians and barbecues on site for local patrons and club members, taking advantage of their spacious outside seating area. Over the years this place has grown with both membership sales and local popularity and is bustling when we visit during the off peak season.
This is truly a family business in all senses. They'll make you feel so at home you won't want to leave. The roots of their story about how they got into wine go way back. Originally the family was involved with abalones and through a series of industry transformations they became wine producers. Colleen, the Kelseys' niece, is an artist whose latest endeavors include jazz-inspired paintings which often appear on the wine bottles. Her most iconic piece – referencing the family roots of deep sea abalone diving and her love of mermaids, originally painted on a surfboard – is the Kelsey signature.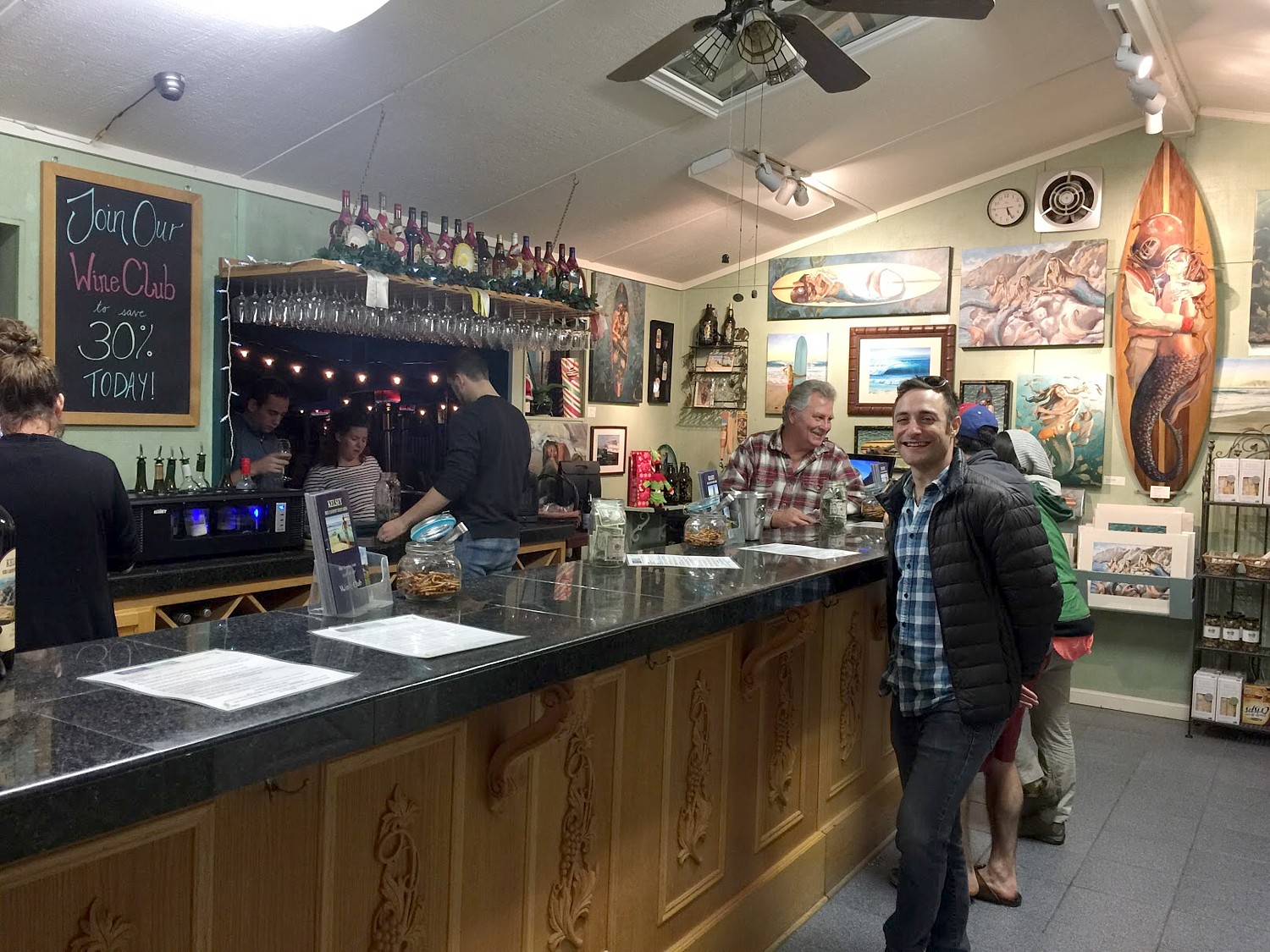 Leading our tour is Jac Jacobs, an industry veteran who's worked at many vineyards, but has found what seems like a second family here at Kelsey. Jac is the most down-to-earth, knowledgeable winemaker we've ever met. You will leave feeling like you can explain wine to others without sounding pretentious.
One of the most amazing things about Jac is that he had never had cider before starting to work for Kelsey. But when they asked him to make cider he said, "Sure." He used his novel approach and invented a new cider. Typically, the sweetness in cider comes from the apple's natural fermentation process, but early on, Jac adds a little bit of sugar to the mixture, creating a unique cider that is neither too sweet or too bitter. When it comes to apples, Kelsey is most known for their Golden Delicious Chardonnay, a crisp white wine that is dangerously drinkable. Although the heart of this operation is at their winery in Avila, their online shop lets you enjoy Kelsey wines from other parts of the country as well.
(Kelsey See Canyon Vineyard, 1947 See Canyon Road San Luis Obispo, CA 93405 www.KelseyWine.com)
After our wine and cider tasting at Kelsey, we check into The Sycamore Mineral Springs Resort & Spa, the perfect destination for a relaxing and romantic getaway and our babymoon. Each guest room and suites features a terrace with its own mineral springs hot tub. On a cool winter night, it's a perfect way to unwind from an active day. We stay in "Heavenly", a 2-bedroom, 2-bath Suite. There is one queen bedroom and an even larger master bedroom with ensuite bathroom, both with access to the private terrace. The setup is perfect for a family or (in our case) for two couples. The living room is spacious and comfortable with a large modern flat screen TV and electronic fireplace to help set the mood. The large table in the dining area is a nice place to share a dinner and really makes you feel like you're home. If you do decide to cook, this suite offers a fully equipped kitchen with a large wooden cutting board even built into the countertop. The Sycamore is just a few steps away from the Avila Valley Barn and a quick 4-minute drive from some incredible restaurants on the beach.
The Sycamore is a destination for both locals and tourists. It has a Yoga Dome with daily fitness classes included with your reservation. If you want to bump it up a notch, treat yourself at their award winning spa. For daytime guests, there are also 23 open-air naturally heated mineral spring hot tubs on the hillside around the property, as well as a private Oasis Waterfall Lagoon, all rentable by the hour. If you end up renting Pedego bikes nearby, this would be an idyllic pit-stop. The gift shop is worth a quick look and accompanies the relaxing paradise perfectly.
(The Sycamore Mineral Springs Resort & Spa, 1215 Avila Beach Dr San Luis Obispo, CA 93405 805-595-7302, www.sycamoresprings.com.)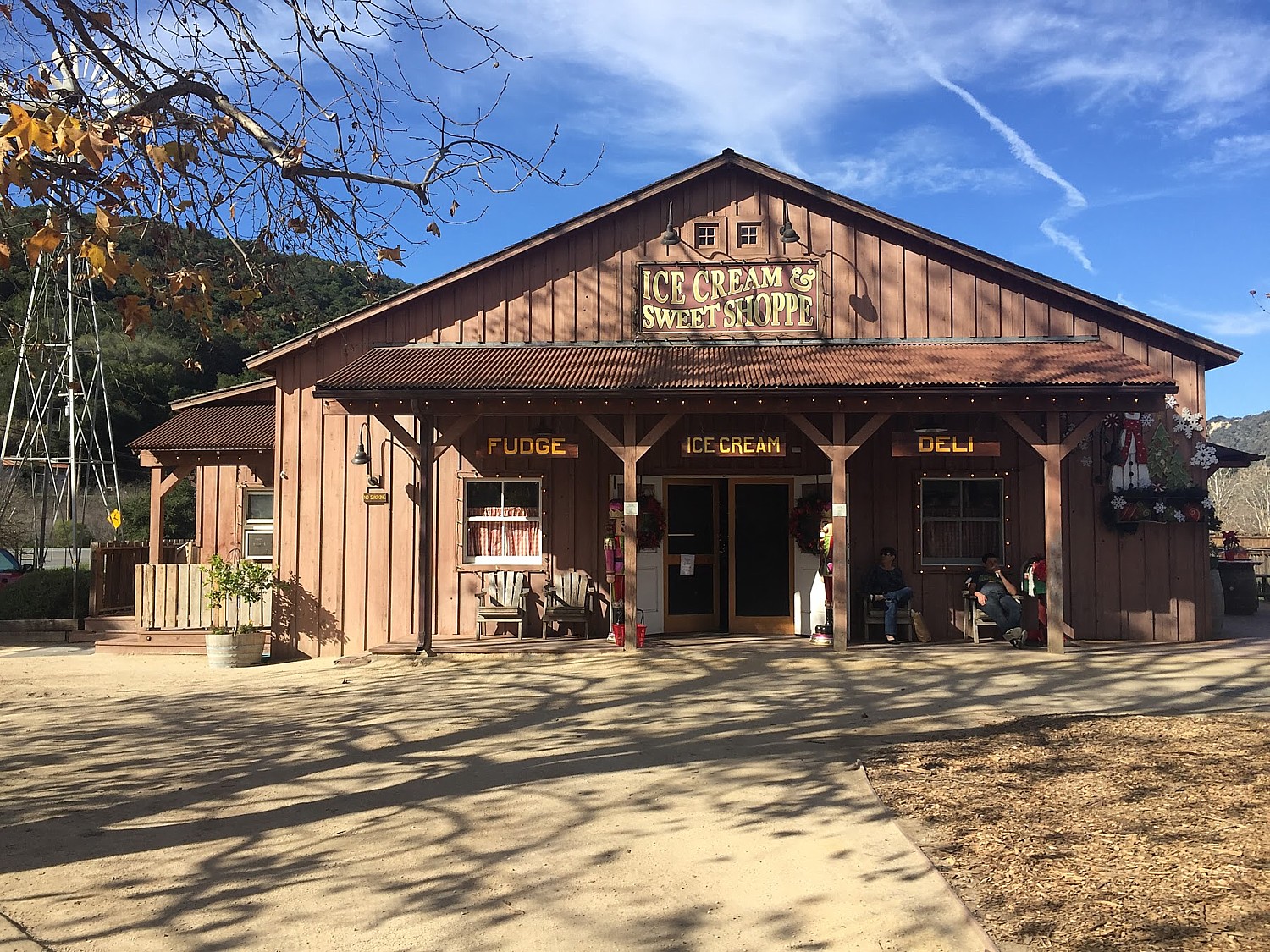 The Ocean Grill, right on the water, is a dining experience not to be missed. The pleasant aroma of wood fire greets you as enter this three-year-old restaurant. The restaurant went through a few different chefs and iterations of the menu before it found its current niche, which seems to hit all the right notes. This is one of a few local high-end places that is both accessible to locals and tourists.
Everything we try is delectable and we'll tell you exactly what to order. The Brussel sprouts are crispy, roasted just perfectly to a slight char and accompanied by a balsamic reduction, goat cheese, and orange sauce. If you don't love Brussel sprouts this could change your mind. The mussels are another not-to-be-missed appetizer with a garlicky broth that may make you want to lick the shell when no one's looking and grab more of the focaccia bites to dip in. The basil pesto risotto with burrata (to which we add shrimp), is succulent and not your everyday risotto. Since we skip the salad this time, we opt for the side of pan roasted garlic broccolini.
Our helpful waiter Jake recommends the scallops. Scallops and calamari are two local favorites we see at many of the restaurants in the area. The Normand wood fired white pizza with brie, sliced apples, arugula, and garlic cream sauce had us licking our fingers. The local Morro Bay blackened cod with miso-glaze and Thai-inspired sauce and salad is incredibly flavorful. The texture is perfectly flakey and this is possibly the best fish we have on the entire trip.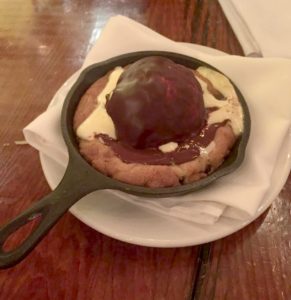 But now, as far as the best anything anywhere, we'll tell you about the desert. Eating the brown butter chocolate chip skillet cookie with ice cream and hot fudge is a race against time; from the moment you smell it coming out of the kitchen to the 60 seconds before you get to the last bite (because you will eat it that fast). Save room. The combination of hardened chocolate shell on top of the creamy, cold pure vanilla ice cream on a sizzling freshly baked chocolate chip cookie is perfect. As we finish our dessert Jake comes by and asks: "Should I load you up another?" If your waiter asks you this, the obvious answer is yes. We almost finish the second one before our friend makes it back to the table.
This is a family friendly restaurant perfect for foodie families. We see a number of children during our visit who may actually be convinced to eat their vegetables here. Definitely bring a bottle or two of wine from Kelsey Vineyards up the road which pairs great for the meal. Like most restaurants in this area you can bring the wine from your recent wine tasting and for a small corkage fee have your waiter pair your dinner with your own bottle(s). At Ocean Grill, you can eat in the more casual bistro area near the bar or enter into the more intimate dining enclosed porch area overlooking the ocean with heat lamps to keep you cozy in the winter. We enjoy a nice stroll on the beach after dinner seconds away while listening to the waves crash against the shore. It is the perfect ending to a perfect meal.
(Ocean Grill 268 Front St Avila Beach, CA 93424, 805-5954050 www.oceangrillavila.com).
We eat a quick breakfast at the Sycamore. The vegetarian omelet with roasted kale and asparagus is good as are the eggs Benedict with crab. It is one of the better Benedicts we've had on the Pacific. The fresh juice bar is great with some interesting combinations of fresh fruit and vegetables. The sausage has a ton of flavor with a hint of fennel. The breakfast burrito is quite filling but you could put it down in ten minutes if you need to.
E-Bike Adventure in Avila Beach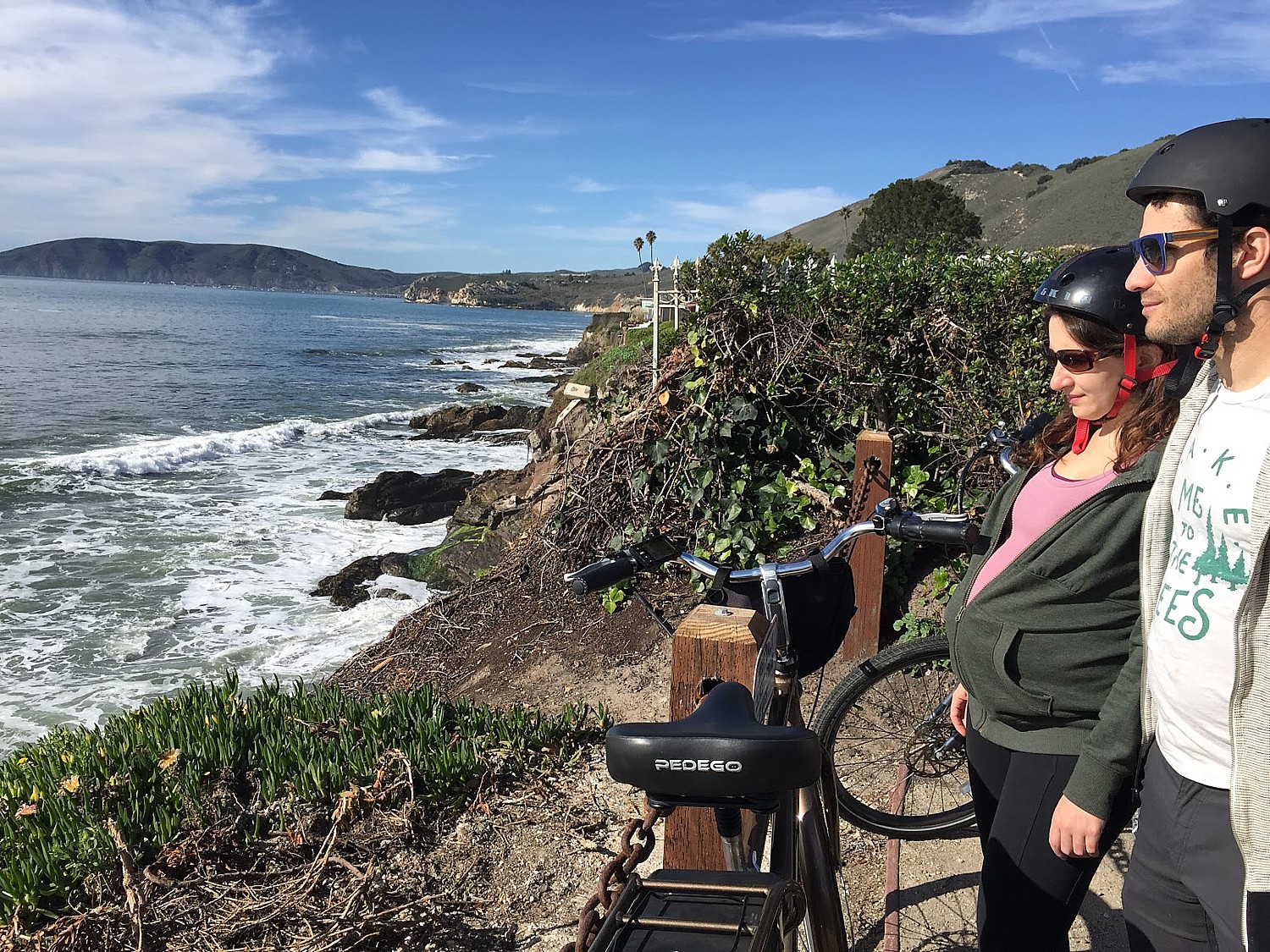 We arrive at Pedego Bikes in Avila Beach and are greeted by the super friendly Brunsting family. They introduce us to Pedego electric bikes, a really fun way to get to know any area. Pedego offers a variety of bikes to fit all shapes, sizes, and fitness levels (this works perfectly for our babymoon). Some of the newer models offer pedal assist, the "cruise control" for biking. Debbie, one of the owners, offers just enough guidance so you feel comfortable on these electric bikes, and has great suggestions and tips of what things/places you might want to check out on the bikes. She gives you a notated map and excitedly emphasizes that anywhere you wander in this area will be worth it and that the adventure is yours to create. It's easy to quickly get the hang of the electric bikes. However, after zipping up the coasts and hillsides it may be hard to go back to a regular old manual bike, even with 21 gears. Pedego Bikes also offers vouchers for Kelsey Sea Canyon Winery and another winery next store.
(Open Daily: 10am-5pm, Pedego Bikes, First Street, Avila Beach, CA 93424, 805-627-1414 425  www.pedegocc.com.)

We start our electric bike adventure on The Bob Jones Trail. This beautiful walking and bike path leads right to the Avila Valley Barn.
First started in 1985, the Avila Valley Barn is a local favorite for the freshest fruit and vegetables of the area. Not only will you find wonderful fresh produce you can pick up home baked pies, bakery treats or unique gifts. You can visit a farm pet area, where you can feed goats, pigs, horses, sheep, and donkeys. Hayrides are also available every weekend.
(Open daily from 9 a.m. to 6 p.m. Avila Valley Barn, 560 Avila Beach Drive, Avila Beach, CA 93405 (805) 595-2816; www.avilavalleybarn.com.)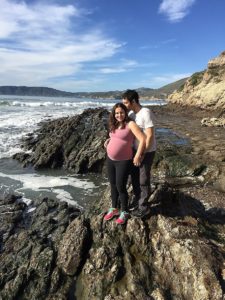 Biking the trail is an ideal way to spend a few hours in Avila Beach and get to see both the beach side of the town as well as the hills and natural beauty. At the barn, so many cute farm animals greet you as well as more surprising ones like the emu and strange looking chickens. Shell beach and Pismo Beach is right around the bend, where you can park your bikes and gaze at the beautiful, rugged coastline. If you catch the tide when it's low, there are various sea creatures like the abalones hanging out in the tidal pools. It's also fun to watch the surfers splashing around in the cold water in their wetsuits.
After a short ride up the hill and the coast, assisted by the electric batteries, we cross a bridge bringing us to the dock on the Port San Luis Harbor, where people gather to watch the active seals, fish, and enjoy the 360 degree water view. Vendors flayed fresh fish on the dock as we arrived at Mersea's.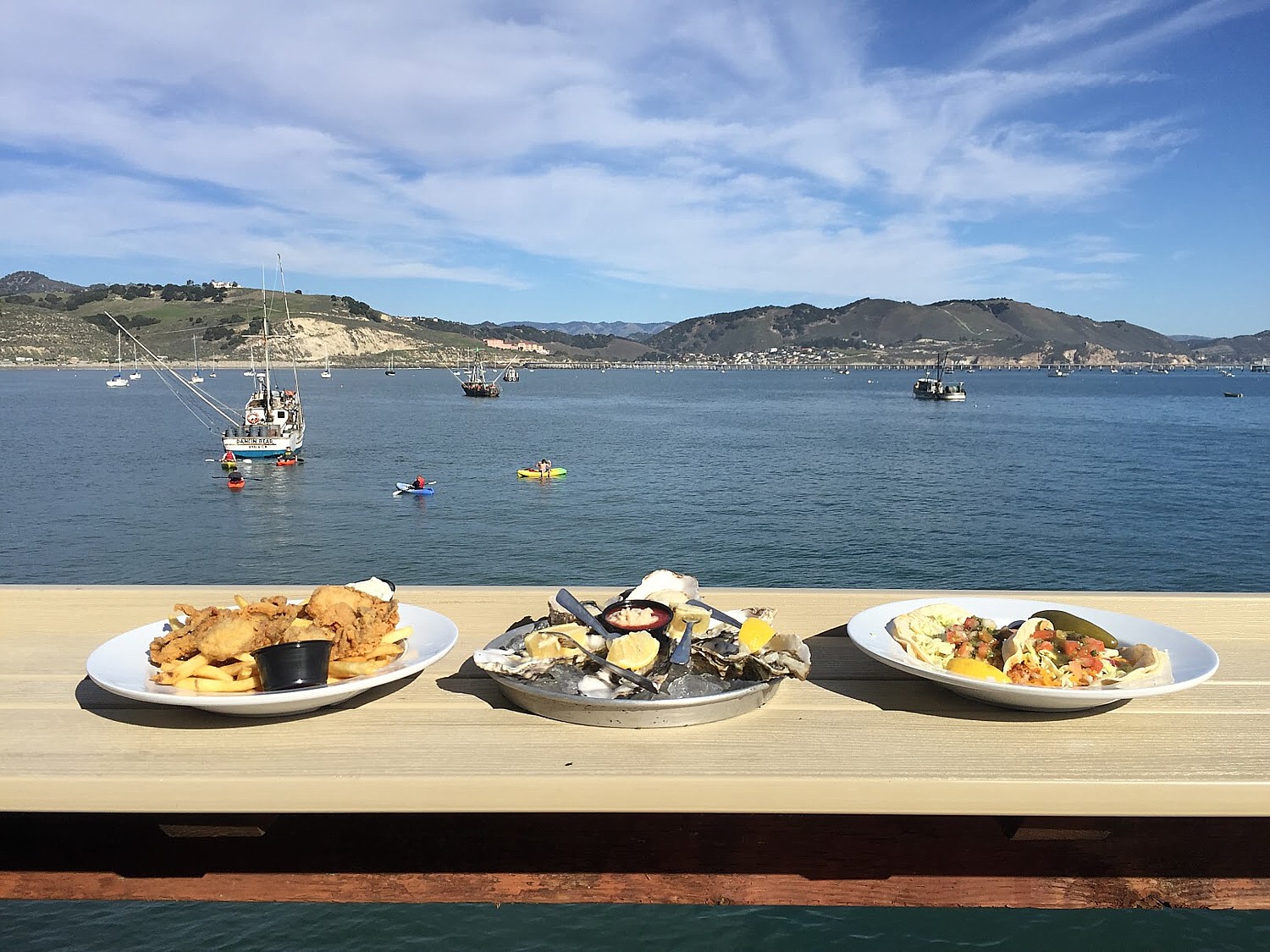 Mersea's on the Pier in Avila Beach (photo by Dave E. Leiberman/Travel Features Syndicate)
We enjoy our fresh seafood lunch at Mersea's on the Pier and highly recommend this stop when you are in Avila Beach. Atmospherically, it's a memorable lunch stop. The seals bark and fight for valuable real-estate on the floating dock near this seaside-perched restaurant. At Mersea's you order at the window from their extensive menu of seafood, sandwiches, and other local favorites. They had some good looking bloody Mary's and beer options as well. If you get the taco's we recommend the shrimp. The fried oysters and chips were delicious as were the raw oysters, which were bigger than our fists. It's a pretty great spot for Instagrammers.
(Mersea's on the Pier in Avila, 3985 Avila Beach Drive Avila Beach, CA 93252, 805-548-2290.)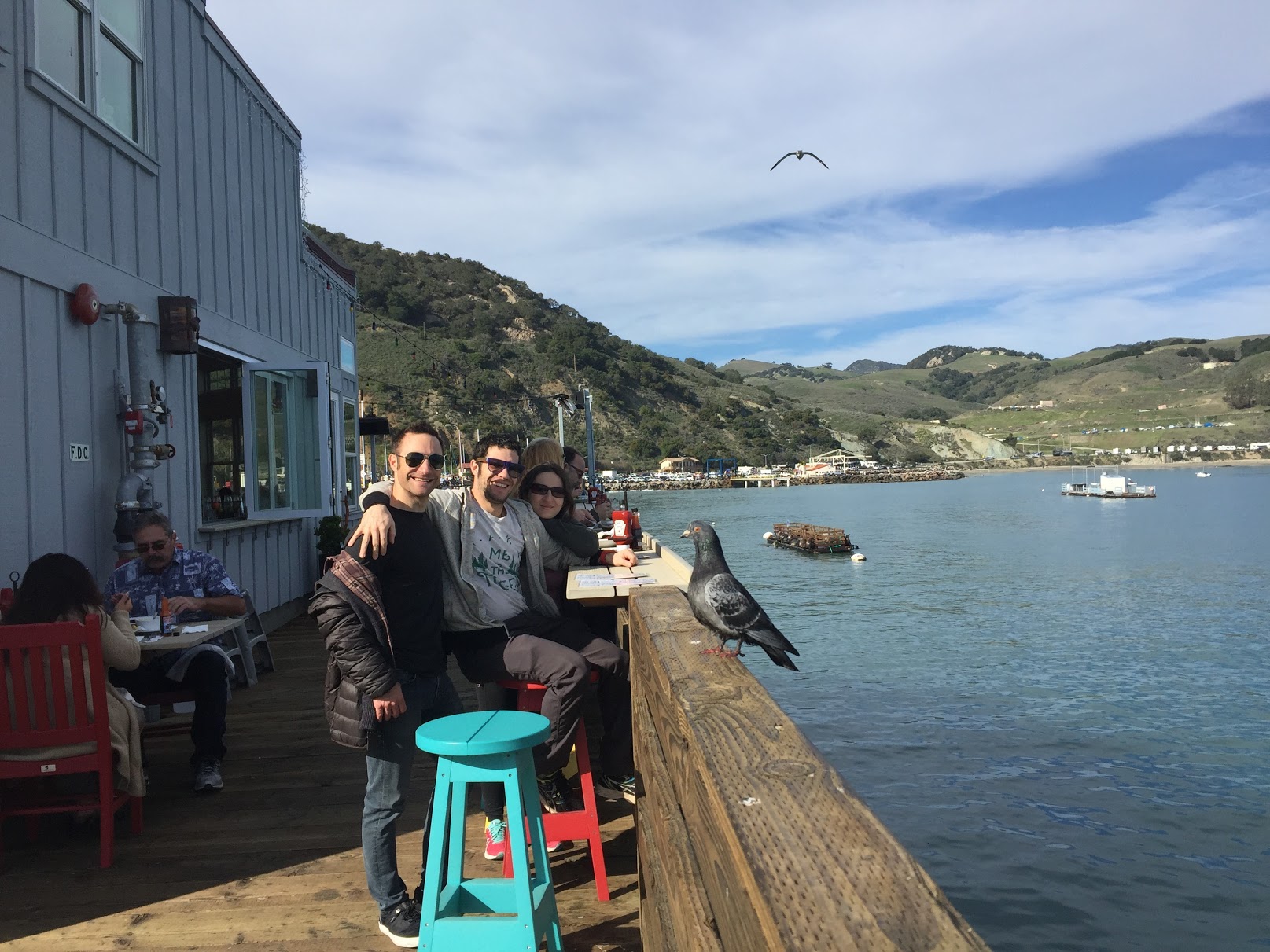 Morro Bay and the Highway 1 Discovery Route, between Los Angeles and San Francisco, are packed with wonderful places that put the emphasis on relaxed adventure over the frenetic pace of their book-ended cities. The tranquility and peacefulness of the California's central coast offers a level of intimacy that is difficult to find in San Francisco and L.A. The mix of outdoor activity, fine dining, and relaxed pace makes for the perfect getaway for two couples from New York City and Atlanta, whether for  a babymoon, a reunion of friends, a romantic getaway, or an anytime retreat.
For more information on planning a trip contact Morro Bay Tourism, 695 Harbor Street, Morro Bay, CA 93442, 805-225-1570, www.morrobay.org; For more information on Highway 1 Discovery Route, visit highway1discoveryroute.com.
See also: Four Friends and a Babymoon in Morro Bay on California's Highway 1
____________________
© 2017 Travel Features Syndicate, a division of Workstyles, Inc. All rights reserved. Visit goingplacesfarandnear.com and travelwritersmagazine.com/TravelFeaturesSyndicate/. Blogging at goingplacesnearandfar.wordpress.com and moralcompasstravel.info. Send comments or questions to [email protected]. Tweet @TravelFeatures. 'Like' us at facebook.com/NewsPhotoFeatures