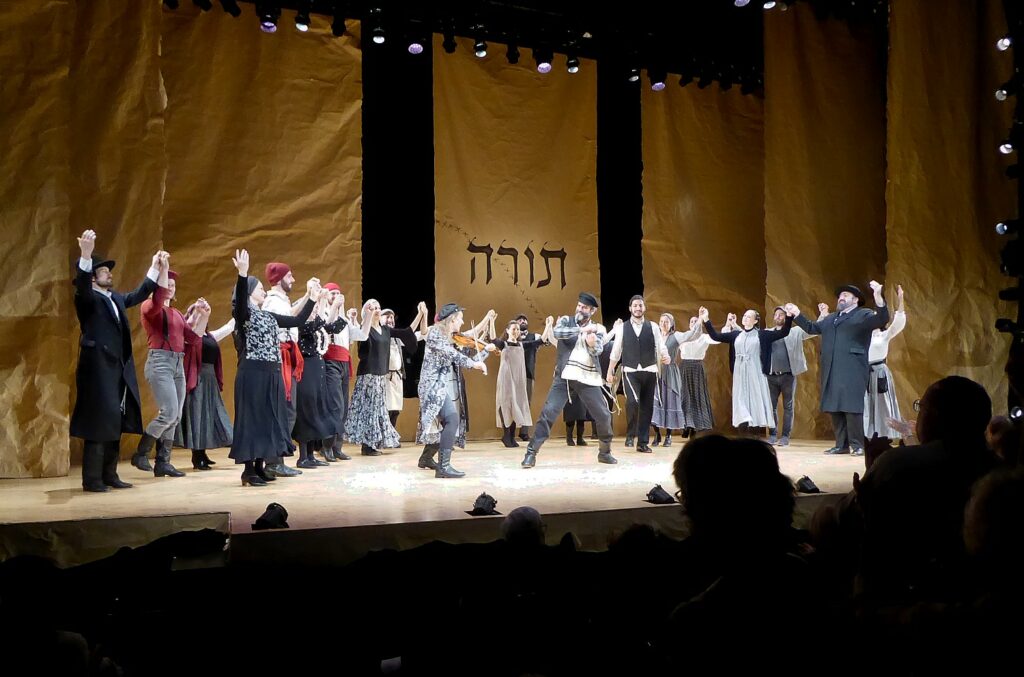 By Karen Rubin, David Leiberman & Laini Miranda, Travel Features Syndicate, goingplacesfarandnear.com
So often, when reviving a theater icon like Fiddler on the Roof, there is the need to find a new, unique, creative way to make it their own, to reinterpret, re-envision to give new audiences a different entry way. And too often, that manipulation warps or distorts what made the theatrical experience so precious to begin with. But you don't have to insert modern inventions into Fiddler for its moral, both universal and specific, to be relevant to today's audiences. In fact, it is much more profound to be transported back to that time, 1904, for its truth to be fully realized.
Fiddler on the Roof has that most important aspect of a true classic, to touch every emotion, make you see things more insightfully, to have a real moral to the story, and leave you a better, more understanding person afterward – and be entertained.
Directed by Oscar and Tony Award-winner Joel Grey, Fiddler on the Roof in Yiddish (in Yiddish, A Fidler Afn Dakh) adds new depth and dimension to this heart-wrenching story of a community struggling to balance traditions against the forces and threats of a changing world. The little town of Anatevka reverberates with the sounds of mame-loshn (ancestral language).
Fiddler on the Roof in Yiddish, brings you closer, more engaged, immerses you. The experience seems even more authentic, more intimate.
Partly this is because the Yiddish language, is so expressive – some of the earliest musicals in New York were in Yiddish (Yiddish theater thrived in New York between 1888 and the 1920s; there is even a Museum of Yiddish Theater, www.museumofyiddishtheater.org) – and in a surprising way even familiar. There are words we New Yorkers know very well (meshuganah comes up a lot), and it seems every so often the Yiddish word is similar to English. But you can follow along, opera-style, with titles (in English and Russian!).
But it is also because Yiddish is the mame-loshn, the ancestral language. It gives the story more authenticity. You are there, in this place so far away. Perhaps you even understand the challenge when the inhabitants of this village, indeed all the Jews from all the villages, are driven from their homes on three days notice to a strange place where they will understand no one and no one will understand them.
One of the most celebrated musicals of all time, Fiddler on The Roof, based on Sholem Aleichem's Tevye the Dairyman stories, features the sensational music by Jerry Bock, meaningful lyrics by Sheldon Harnick, and smart book by Joseph Stein, with original New York stage production directed and choreographed by the greatJerome Robbins. This production, brilliantly directed by Joel Grey, has staging and new choreography by Stas Kimec.
We noticed just small deviations from the original book, and a new song that emerges from Pertshik's biblical lesson, that enhance the experience (not too smart or gimmicky), but otherwise, it is gloriously faithful to one of the best musical theater works ever created.
The direction by Joel Grey is exquisite – just the right timing, emphasis, emotion. These characters seem more approachable, especially without distractions of a complicated set. The Tevye character, played by Steven Skybell (who won the 2019 Lucille Lortel Award for Best Lead Actor) is more sensitive, loving, nuanced than the character is usually played.
The Jews of Anatevka are clad all in grey, white and black – as if looking back in time at old photos or film, or perhaps as letters out of a book – only the Russians have a touch of red and Fiadkah's outfit is sufficiently differentiated from his erstwhile comrades.
The set is sparse, but you don't even realize it – long strips of what looks like parchment of Torah scrolls with one with the only world, in Hebrew lettering, Torah that binds the community throughout the ages and is the underpinning to tradition. That hones the message but also focuses attention on the people.
The staging and choreography is fabulous – there are all our favorites: the bottle dance at the wedding; the Russian dance. I loved the way the dream sequence is staged. The voices and acting of a brilliant company are sensational.
And most importantly, a timeless tale more important than ever that needs to be told in these times.
The original Broadway production of Fiddler on the Roof, which opened in 1964, was the first musical theater production in history to surpass 3,000 performances, won the 1965 Tony Award for Best Musical in addition to eight other Tony Awards that year and has performed in every metropolitan city in the world from Paris to Beijing.
The Yiddish translation, so artfully crafted by Israeli actor/director Shraga Friedman, was originally performed in Israel in 1965 just one year after its Broadway debut. Born in Warsaw, Friedman was a native Yiddish speaker who escaped war-torn Europe with his family and made their way to Tel Aviv in 1941. "Well acquainted with the works of Sholem Aleichem, Friedman used his translation to infuse Fiddler with rich literary references to the original Yiddish stories."
The NYTF production, which was originally staged at the Museum of Jewish Heritage, marks the first time the Yiddish version has been performed in the United States.
There is no problem following what is going on – much like opera, there are supertitles in English and Russian on both sides of the stage throughout the entire performance that translate what is being said or sung on stage in real time. The show is so familiar that it isn't even necessary, but I enjoyed reading the nuances of difference. And the great surprise is how familiar some of the words are, either because Yiddish expressions have entered the vernacular (at least in New York), or because of the connection to English.
The complete cast of Fiddler on the Roof includes award-winning Steven Skybell (as Tevye), Emmy Award nominee Jackie Hoffman (as Yente), Jennifer Babiak (as Golde), Joanne Borts (as Sheyndl), Lisa Fishman (as Bobe Tsatyl), Kirk Geritano (as Avrom), Samantha Hahn (as Beylke), Cameron Johnson (as Fyedka), Ben Liebert (as Motl Kamzoyl), Stephanie Lynne Mason (as Hodl), Evan Mayer (as Sasha), Rosie Jo Neddy (as Khave), Raquel Nobile (as Shprintze), Nick Raynor (as Yosl), Bruce Sabath (as Leyzer Volf), Drew Seigla (as Perchik), Adam B. Shapiro (as Der Rov), Jodi Snyder (as Frume-Sore), James Monroe Števko (as Mendl), Lauren Jeanne Thomas (as Der Fiddler), Bobby Underwood (as Der Gradavoy), Mikhl Yashinsky (as Nokhum / Mordkhe), and Rachel Zatcoff (as Tsaytl).
Ensemble members include Michael Einav, Jonathan Quigley, and Kayleen Seidl. Swings include Abby Goldfarb and John Giesige, and Moshe Lobel serves as understudy for the production.
The creative team for the production features new choreography by Staś Kmieć (based on the original choreography by Jerome Robbins), musical direction by Zalmen Mlotek, scenic design by Beowulf Boritt, costume design by Ann Hould-Ward, sound design by Dan Moses Schreier, lighting design by Peter Kaczorowski, wig & hair design by Tom Watson, and props design by Addison Heeren.
Fiddler on the Roof is produced off-Broadway by Hal Luftig and Jana Robbins, in association withSandy Block.
This production of Fiddler on the Roof is the winner of the 2019 Outer Critics Circle Award for Best Musical Revival, a 2019 New York Drama Critics' Circle Award Special Citation, and star Steven Skybell is the winner of the 2019 Lucille Lortel Award for Best Lead Actor in a Musical, as well as numerous nominations for Joe Grey as director, for orchestration, Lucille Lortel nominee for Outstanding Featured Actress in a Musical Jackie Hoffman.
Fiddler on the Roof in Yiddish, a production of the remarkable National Yiddish Theatre Folksbiene (NYTF), began its life with a celebrated run at the Museum of Jewish Heritage, where it had been extended multiple times and played its final performance on December 30, 2018. This production at the Stage 42 Theater has been extended multiple times as well, and now is extended again, through January 5, 2020.
NYTF has its own remarkable history: founded in 1915 the award-winning NYTF is the longest continuously producing Yiddish theater company in the world and offers regular productions. The company is presenting a season of four mainstage productions, concerts and readings curated to accompany the exhibit Auschwitz: Not long ago. Not far away. now on view at the Museum of Jewish Heritage through Jan. 3, 2020 (https://mjhnyc.org/exhibitions/auschwitz/).
Fiddler on the Roof in Yiddish is a theater experience not to be missed.
Fiddler on the Roof in Yiddish is at Stage 42, 422 West 42nd Street (between 9th and 10th Avenues), New York, NY, 10036. For the most current performance schedule and tickets, see http://fiddlernyc.com. Tickets are on sale for performances through Jan. 5, 2020. https://nytf.org/fiddler-on-the-roof/
_____________________________
© 2019 Travel Features Syndicate, a division of Workstyles, Inc. All rights reserved. Visit goingplacesfarandnear.com, www.huffingtonpost.com/author/karen-rubin, and travelwritersmagazine.com/TravelFeaturesSyndicate/. Blogging at goingplacesnearandfar.wordpress.com and moralcompasstravel.info. Send comments or questions to [email protected]. Tweet @TravelFeatures. 'Like' us at facebook.com/NewsPhotoFeatures