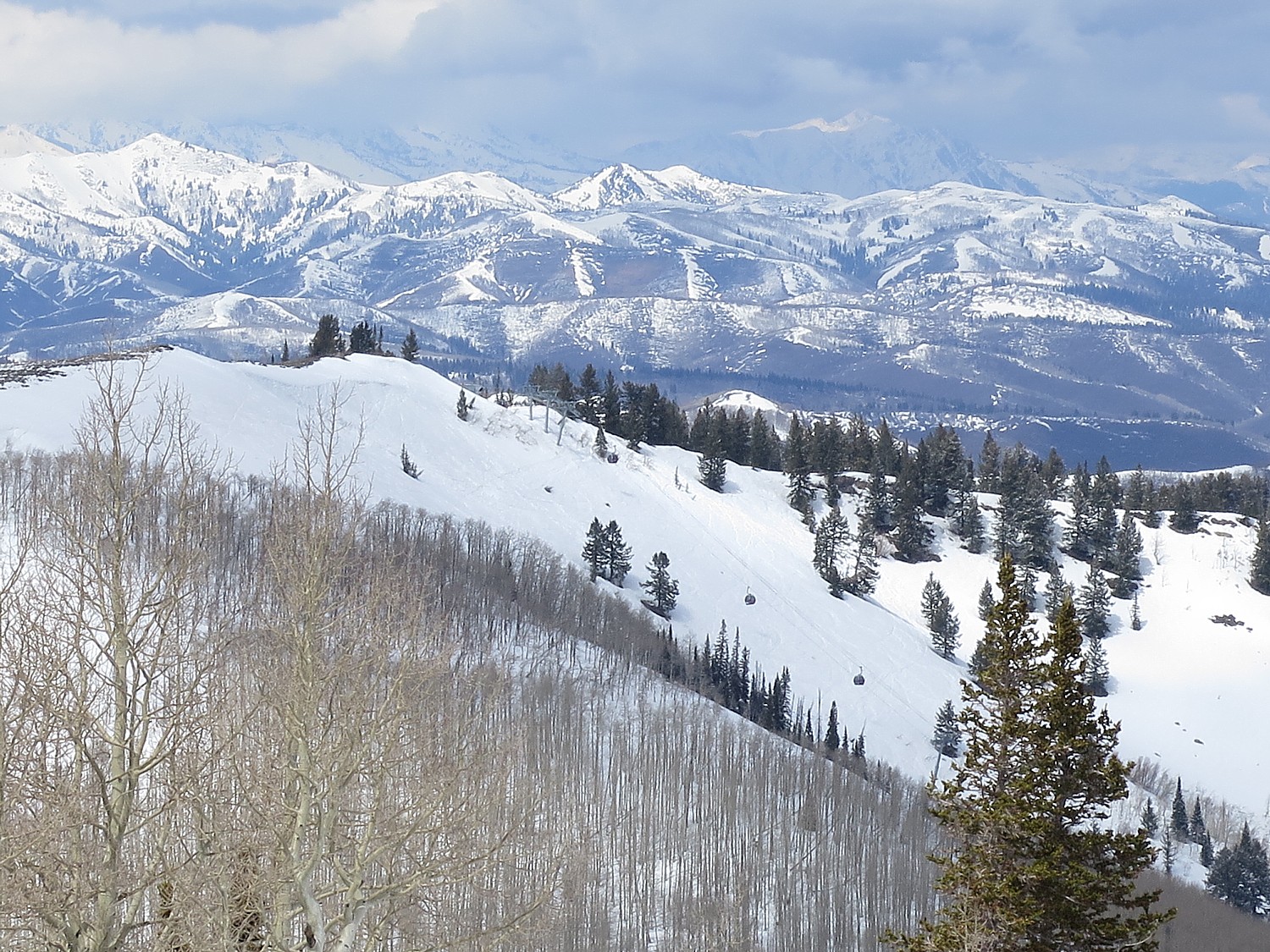 By Karen Rubin, Eric Leiberman & Sarah Falter
Travel Features Syndicate, goingplacesfarandnear.com
I set out for Park City Mountain in Utah to see if it could really be true: you could leave your house on Long Island in the morning and be skiing the Rockies, or more precisely, the Wasatch Range, by noon.
The combination of great nonstop airline service into Salt Lake City and the remarkably close proximity of the international airport to Park City- just 35 minutes drive, literally as far from the airport as my house to JFK, the "suburbs" of the city – makes this all possible. Not to mention the choice of condo-style lodgings right at the Canyons base, the efficient ski rental process.
Sure enough, I was greeted at the airport and whisked away by Park City Transportation car service, checked into the Hyatt Centric Park City Hotel at Park City Mountain's Canyons village base, picked up my pre-ordered skis through RentSkis.com (the fellow assisting me took the extra time to wax the skis to give me a better experience on the spring slush at the lower sections), used my Epic Pass, Vail Resort's seasonal pass, which speeds you through the lift access with a point of a laser gun, and hopped the Red Pine Gondola to mid-mountain.
There I warmed up and got comfortable in my equipment on the couple of green runs, then found a gentle blue trail, Snow Dancer, off the Saddleback Express lift, to warm up my legs as I regaled in the view, and was happy as a clam.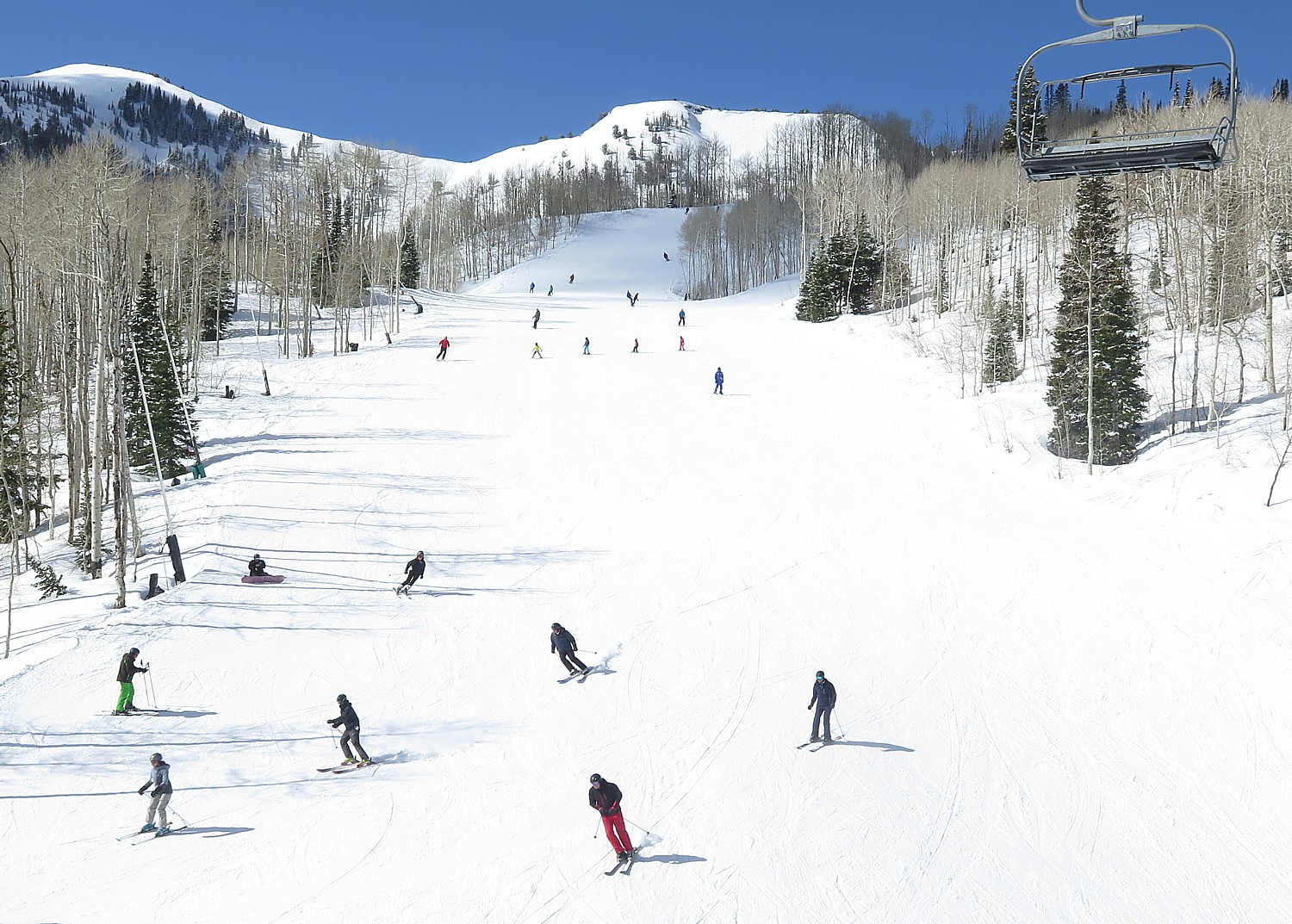 (There is a caveat, though: by skiing immediately and not taking time to acclimate, you can avoid altitude sickness by drinking lots of water beginning the day before and throughout the day, and avoiding alcohol the first day. If you do feel the effects of altitude sickness, take Tylenol and drink water and if necessary, come down to lower altitude.)
We Northeastern skiers will revel in actual snow, Park City's legendary powder – even in spring conditions.  You don't just ski Park City – which with Vail's acquisition and unification with The Canyons is now the largest ski resort in the US – you explore it. It is so vast, it becomes a game for the first-time visitor to get from Canyons – where the trails tend to be tougher (only a couple of greens), but less crowded, more sun, and more snow – to Park City.
I only ski a couple of times a season so I am still tentative though I can handle just about any blue (intermediate) trail provided there is snow and not sheer ice (as we New England skiers are more familiar with). But I lack confidence.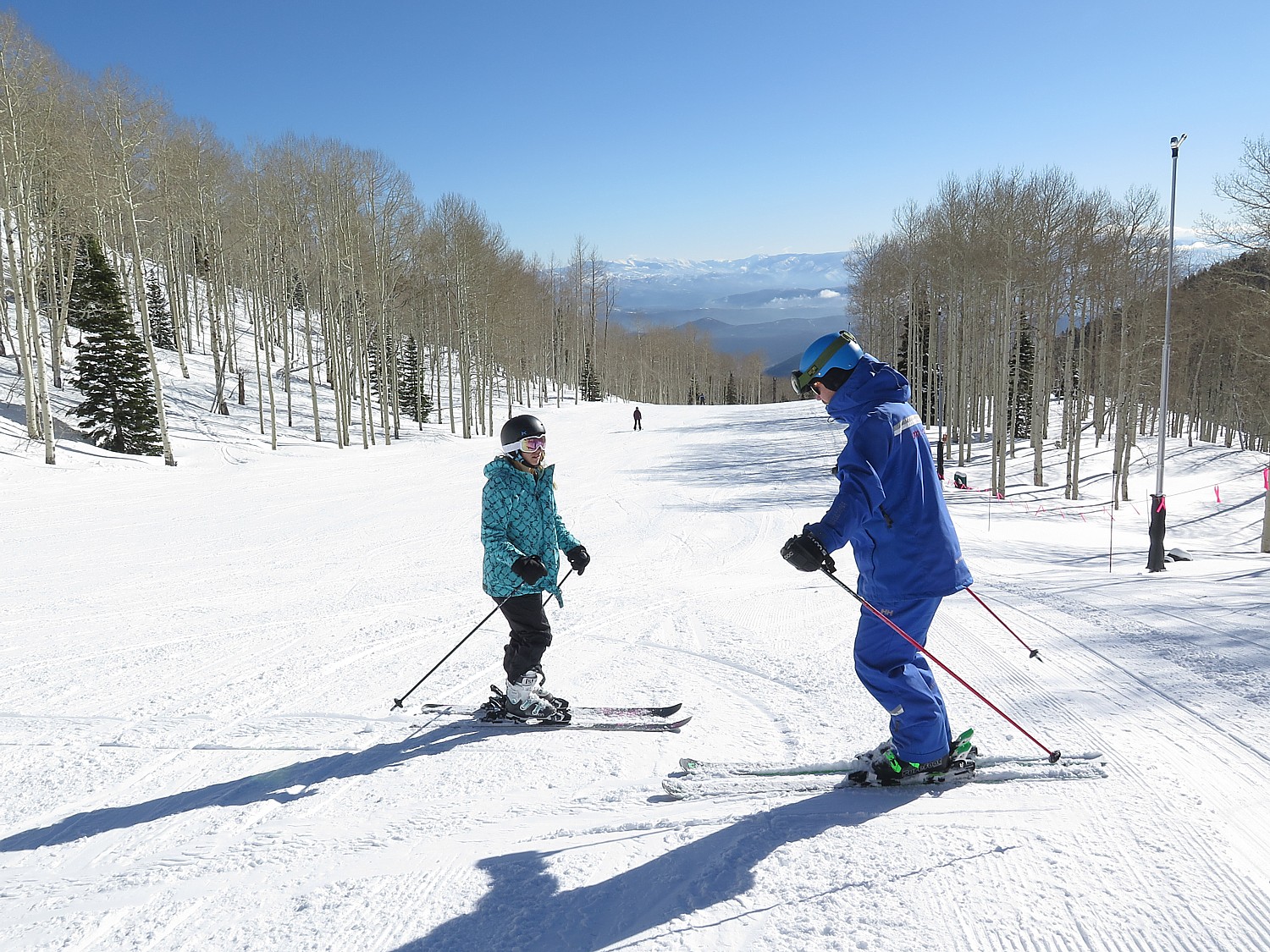 Joined by Eric and Sarah who arrive late Thursday from San Francisco, Sarah and I spend our first morning together taking a half-day private lesson with Alex Fleet, one of the top instructors at Park City with nearly two decades of experience who is originally from Great Britain (you pay one price for up to 6 people).
Lessons are not just for beginners and certainly not just for kids. Skiing is a skill that you acquire in layers (and with practice). A lesson helps you acquire the proper form and technique so you can handle any terrain. But the most important ingredient is feeling relaxed and confident so you get a better flow and can use your proper technique.
Our goal is to feel comfortable when challenged, and for me, not to be so skittish at taking on new trails, but to have the confidence that I could do it.
Secondly, I want to see how to get over from Canyons to Park City (there are no green trails to get you there – it is a series of blues or blacks to a half-dozen lifts). I had been told the "trip" could take as much as two hours from Canyons to Park City (about 45 minutes to get back). So Alex, starting us on the green trail (stopping to take in the incredible view) to check us out, progresses swiftly to Snow Dancer (a stunning blue), and then moves us over, peak by peak, to Park City.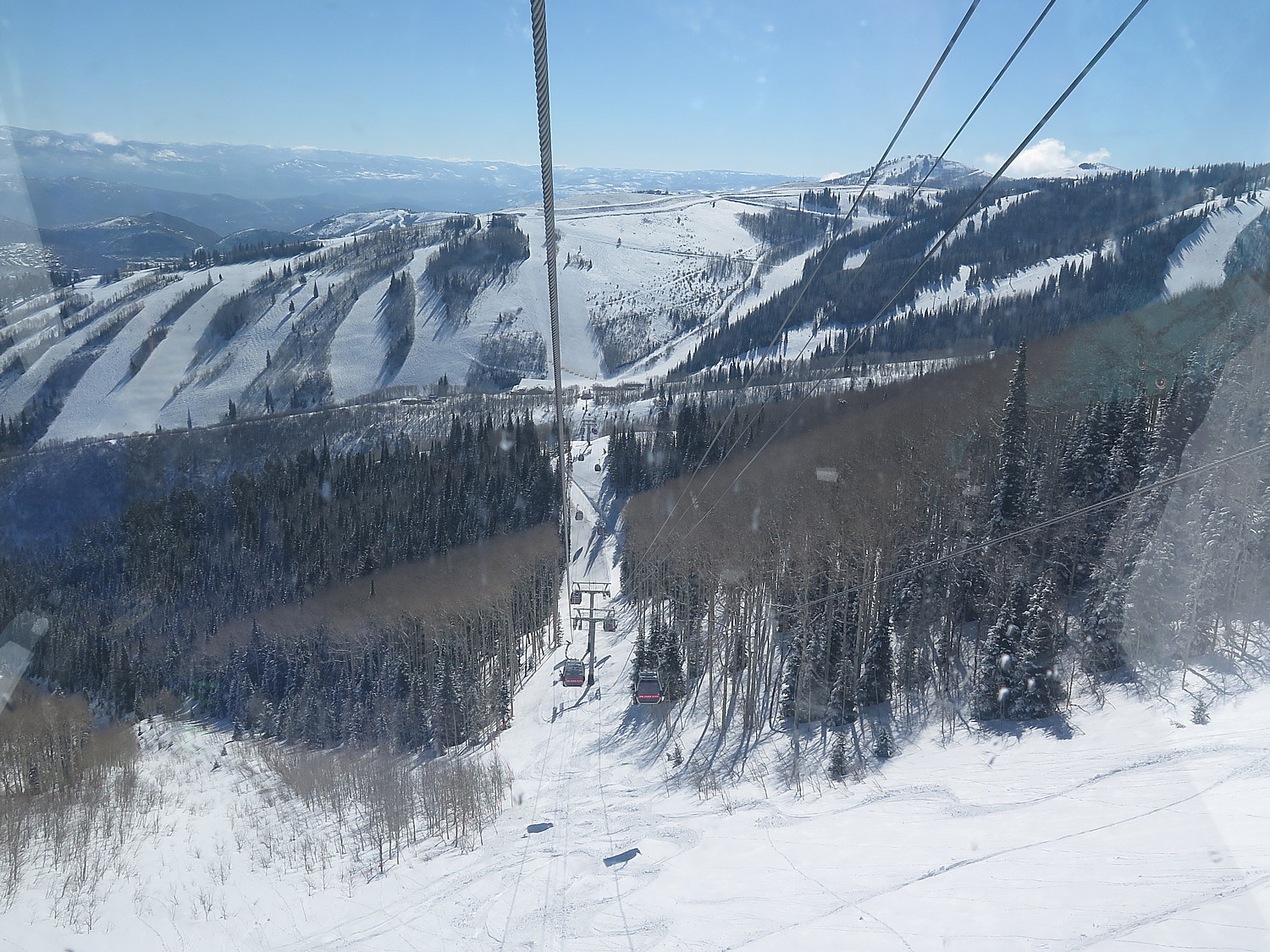 View from the Quicksilver Gondola headed from Canyons to Park City © 2017 Karen Rubin/goingplacesfarandnear.comThe lifts themselves – especially the specially constructed 8 passenger Quicksilver Gondola that connected Park City and Canyons when Vail merged the two in 2015 – are like themepark rides –  exciting trips that give you sensational views of spectacular scenery as you travel up and over the canyons that separate the peaks.
Alex gets us over to the Park City area (about one-third the size of the Canyons) in much less time than the two hours, where we find a blue heaven, and where there is vastly more green terrain (the longest trail is 3.5 miles), not to mention the blacks and the glades (we can look forward to that another time). He takes us around a few of the peaks on blue trails before starting back to the Canyons, enough to get a feel for Park City. Throughout, Alex is refining our technique – weighting skis, turning, edging – and building confidence for the climatic challenge: Sidewinder.
He takes us back to the Canyons side, finishing our lesson off the Tombstone lift on Sidewinder (Alex says the popular name is "Slidewinder"), a double-blue square trail, where I take note of an actual sign that warns off all but advanced skiers. Alex says he knows we can do it, "Just follow me!" (and don't look down because it basically goes straight down without flattening out.)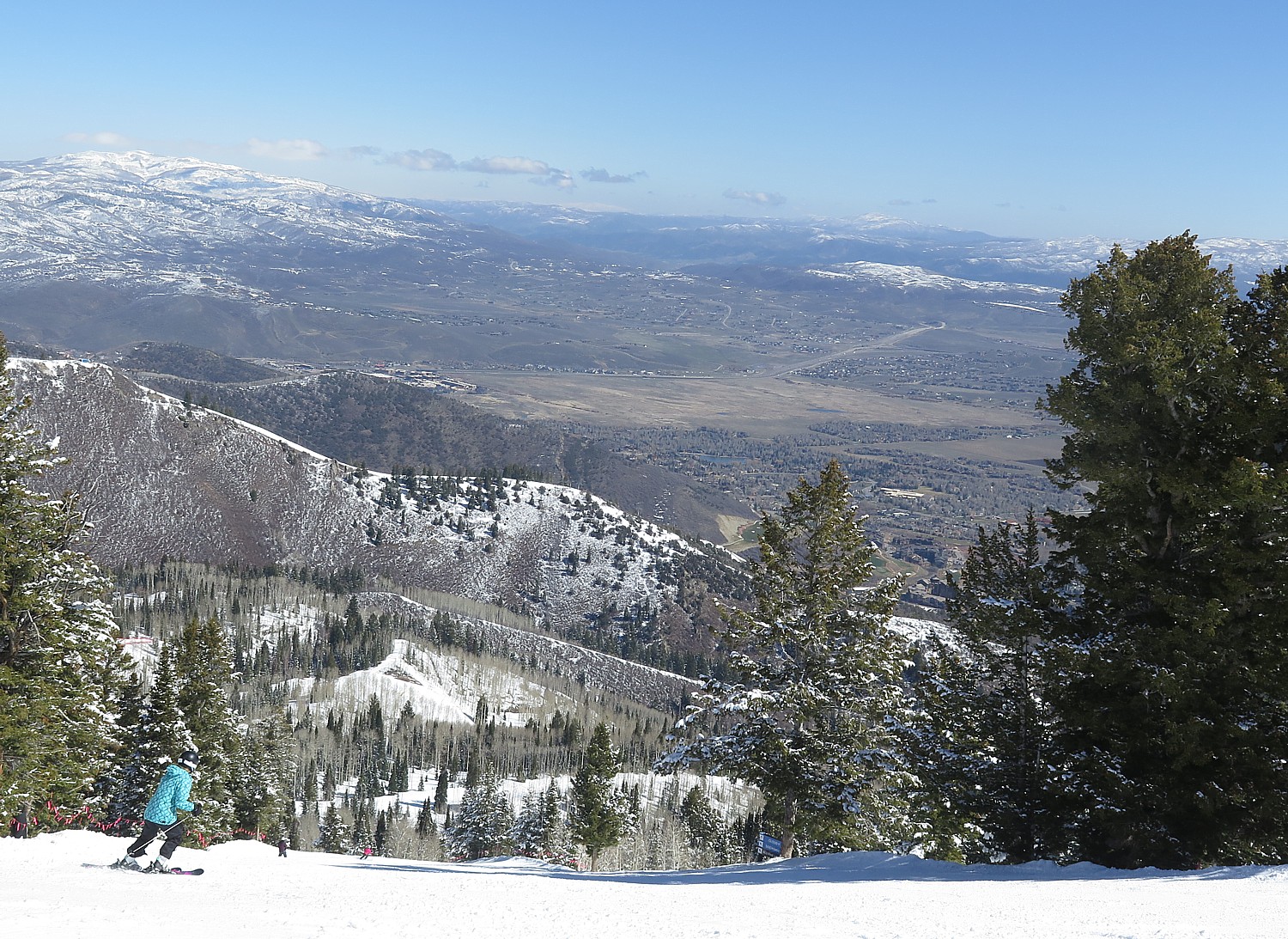 Alex has made sure to take us here at the best possible condition of the day – not icy or fast in the morning, nor too slushy in the afternoon's spring heat (the temperature has gone as high as 60 degrees during our stay). Conditions are just right as the noon hour approaches.
It is the confidence builder we have asked Alex for at the start (Sarah had said she wanted to feel challenged), because if you can do the toughest blue on the mountain, you feel you can do anything (assuming the conditions are decent).
While we are at our lesson, Eric, who is an advanced snowboarder, has been tearing up the slopes.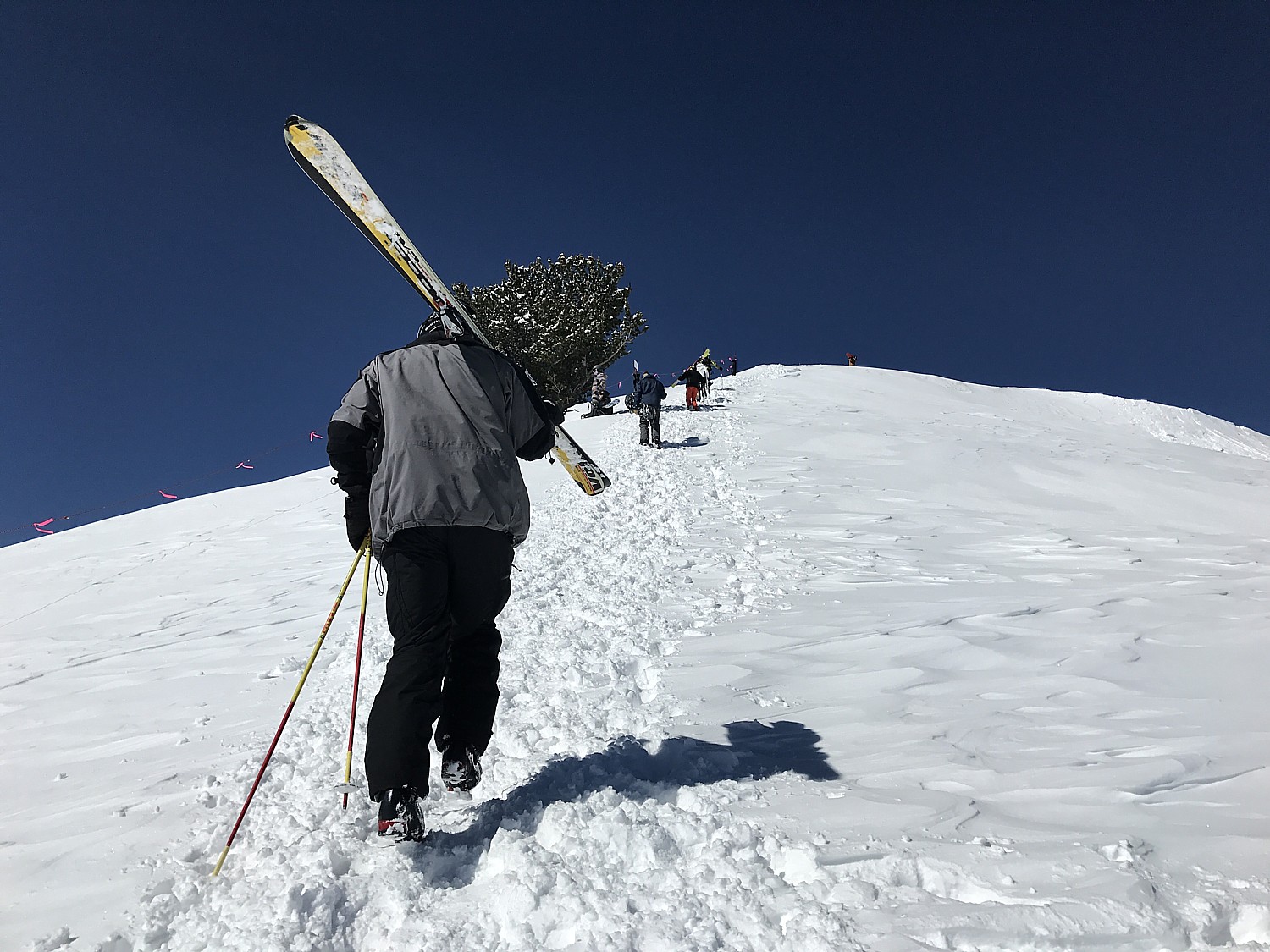 Eric takes the Ninety Nine 90 chairlift, hiking 10 minutes to an "out-of-bounds" bowl, "where there were endless spots to drop in from to have your own fresh lines; then you go from the steep fresh powder bowl to glades and moguls; a beautiful 10-minute trail, even for the speediest of skiers, made the 10-minute hike at the top of the lift well worth it." (By midday when we meet up at the bottom of the Tombstone lift, his Epic Pass, the seasonal pass to Vail Resorts which is also plugged into tracking where you've been and your accumulated altitude, showed he had already done 17,000 ft of elevation.)
Armed with my confidence, on my last full day at Park City, I set out to get from Canyons to Park City on my own, which necessitates handling new trails each time. I start out at Guest Services and ask the kindly attendant to recommend an itinerary, so I don't have to think about which blues to take. Based on the map of what has been groomed, she uses a yellow marker to map my day. And what a day!
Indeed, when Vail Resorts acquired Park City Mountain Resort and then Canyons Resort, combining them in the summer of 2015, it created the largest single ski and snowboard resort in the United States. Vail immediately invested $50 million, building a spectacular new 8 passenger Quicksilver Gondola to connect the two areas (breathtaking ride!), along with the new King Con Express six-pack and Motherlode Express Quad among the improvements. The combined One Park City offers more than 7,300 acres of skiable terrain, more than 300 trails (and they don't count tiny spurs as named trails like they do in New England), 41 lifts, 8 terrain parks, one super pipe and one mini pipe.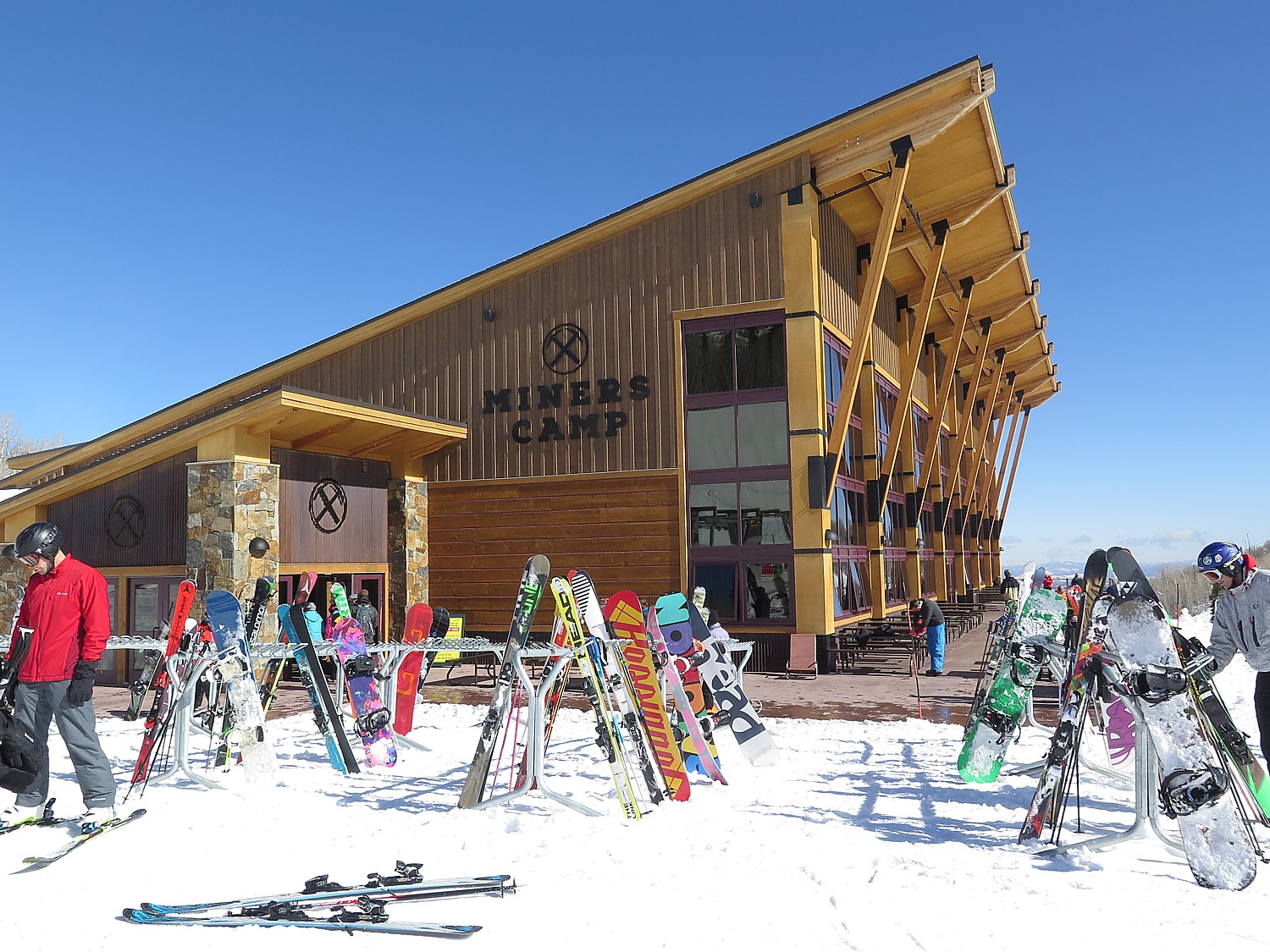 We're talking 17 mountain peaks! 14 bowls! A vertical of 3200 feet from the base at 6,800 feet to the summit at 10,000 feet! And even though it is just two weeks before the mid-April close of the season, and the springtime temperatures have soared, Park City averages 370 inches of snow a year, so still has an amazing base of actual snow to ski on.  (This makes for a wonderful incentive for people to come out for the these last days of the season, to apply the day's lift ticket to the cost of a discounted Epic Pass for next season that much more valuable; indeed, a woman from St. Louis said she bought next year's Epic Local Pass, which is expected to also include Stowe Mountain Vermont, for just over $500.)
It's a "blue-bird" day – when the sun is brilliant and the sky the deep blue color of a blue bird's belly. It is just perfection.
I take my time, and have a thrilling experience really exploring and discovering the mountain, enjoying my skiing and literally accumulating the mileage which is the only way to really bump up your skills. Skiing with confidence is key because when you are tense, your muscles tense, you don't get that nice flow and balance and you use more energy than necessary.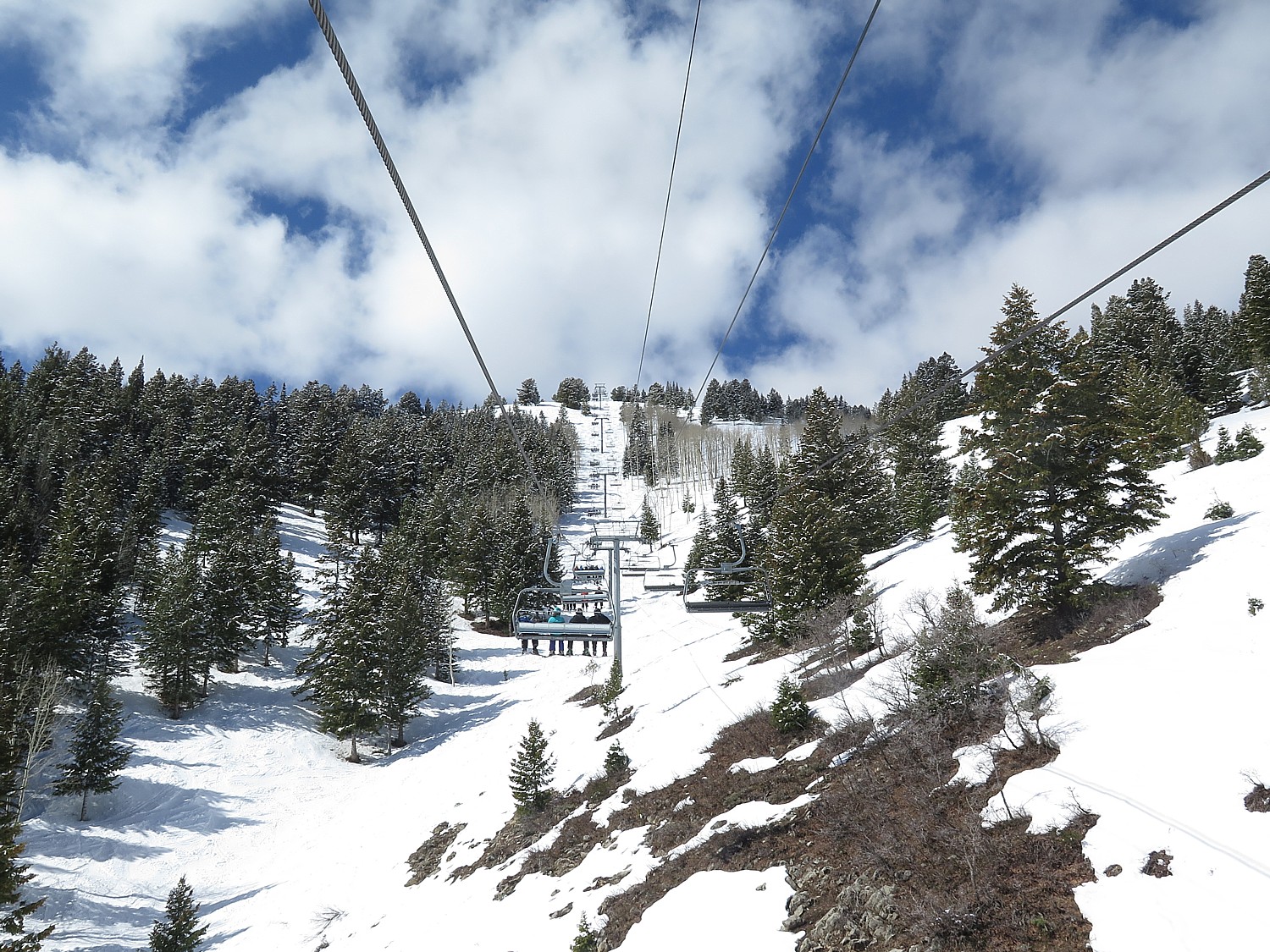 The scenery is intoxicating – not just the sparkling pure air and the altitude that gets your heart racing, but the stunning glades of Aspen trees, pine trees sprinkled in, the peaks and canyons, and the perspective, as well as the ride the chairlifts give you.
It takes me 2 hours (savoring the stunning scenery, stopping for photos, checking the map and enjoying making turns) and I get to the Park City side. I take the SilverLode Express to the top, do Parley's Park trail, and after a chat on the lift with a Park City regular, go back up for a run on Assessment before starting back to the Canyons.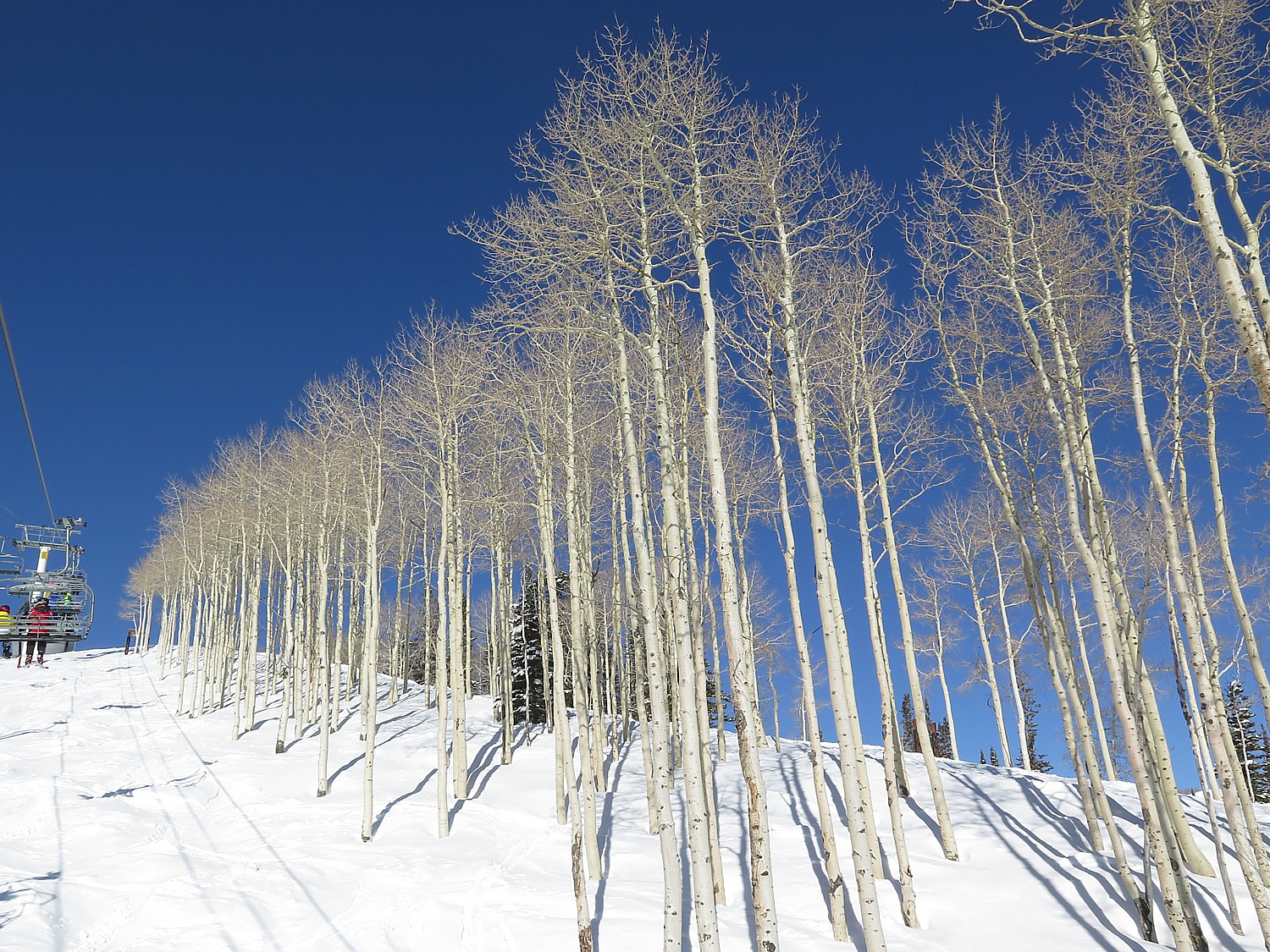 Everyone we meet – and during the course of the day, I meet people from all over the country – and especially the Ambassadors and lift operators – are incredibly nice. When I seem a little confused about how to get to the Timberline lift, a woman from St. Louis I meet on the gondola waits for me where the trails split, to make sure I take the right trail.
I make my way back to Tombstone, and take the Red Pine Road trail back to the mid-mountain base, but I am feeling so good, I pass up going back down on the Red Pine Gondola, and ski down Boomer to the Canyons base (the big issue was the amount of slushy snow because of the warm conditions), feeling very satisfied with myself for being adventurous. I achieved my goal: skiing new trails.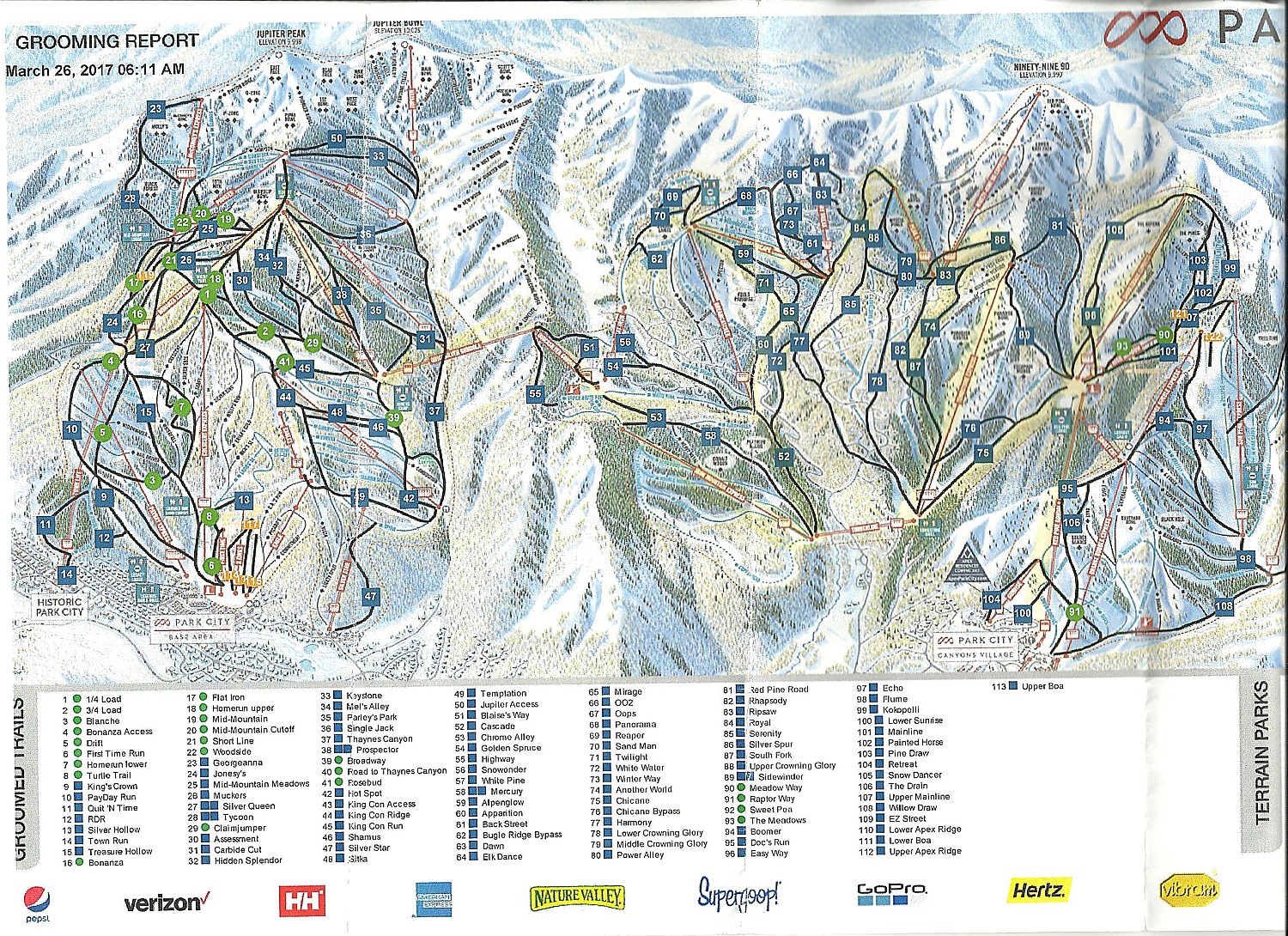 Unfortunately, we didn't get to take in one of the experiences that are unique to Park City skiing: the Historic Mountain Tour. You need to be intermediate or above to take this free, two-hour skiing adventure to the various mining shafts from Park City's silver days.
The Historic Mountain tours depart daily from the Park City resort base area by the Eagle Statue at 10 am and again at the Trail Map near the top of Bonanza lift at 1 pm. During the course of the tour, you get to appreciate how the mountain developed from a mining camp in the 1880s to an internationally recognized winter sports destination. The guides relate the stories behind the authentic structures you see on the mountain (there are some 1,200 miles of tunnels that wind through the mountains and you get to see some of the mine shafts), how Park City emerged as a ski jump arena, its World Cup Racing heritage and how it came to international prominence with the 2002 Winter Olympic Games. You get to experience some of the same runs that the Olympians did and ski or ride past some of Park City's historic mining buildings with an expert tour guide. We have it on the list for our return visit.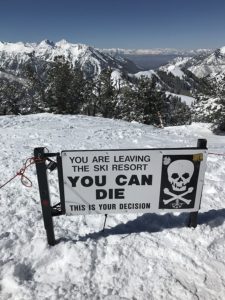 Park City Mountain's trails are wonderfully carved, superbly maintained and groomed (500 acres of the 7300 have snowmaking) – unless the appeal are the trails and glades that they are not. I appreciate the great signage (otherwise, you could easily get lost or waste time constantly opening up the humongous map).
(Eric saw the best sign, on Nine-Nine 90, named for the elevation of the peak, 9990 ft.: "You are Leaving the Ski Resort. You Can Die. This is Your Decision" with skull and bones to emphasize the point.)
Sure enough, I was able to ski a full day on the last day – leaving the Hyatt Centric Park City Hotel at 9:30 pm for the 11:50 pm Delta nonstop flight back to JFK.
So, my four-days in Park City afforded four full days of skiing. Mission accomplished.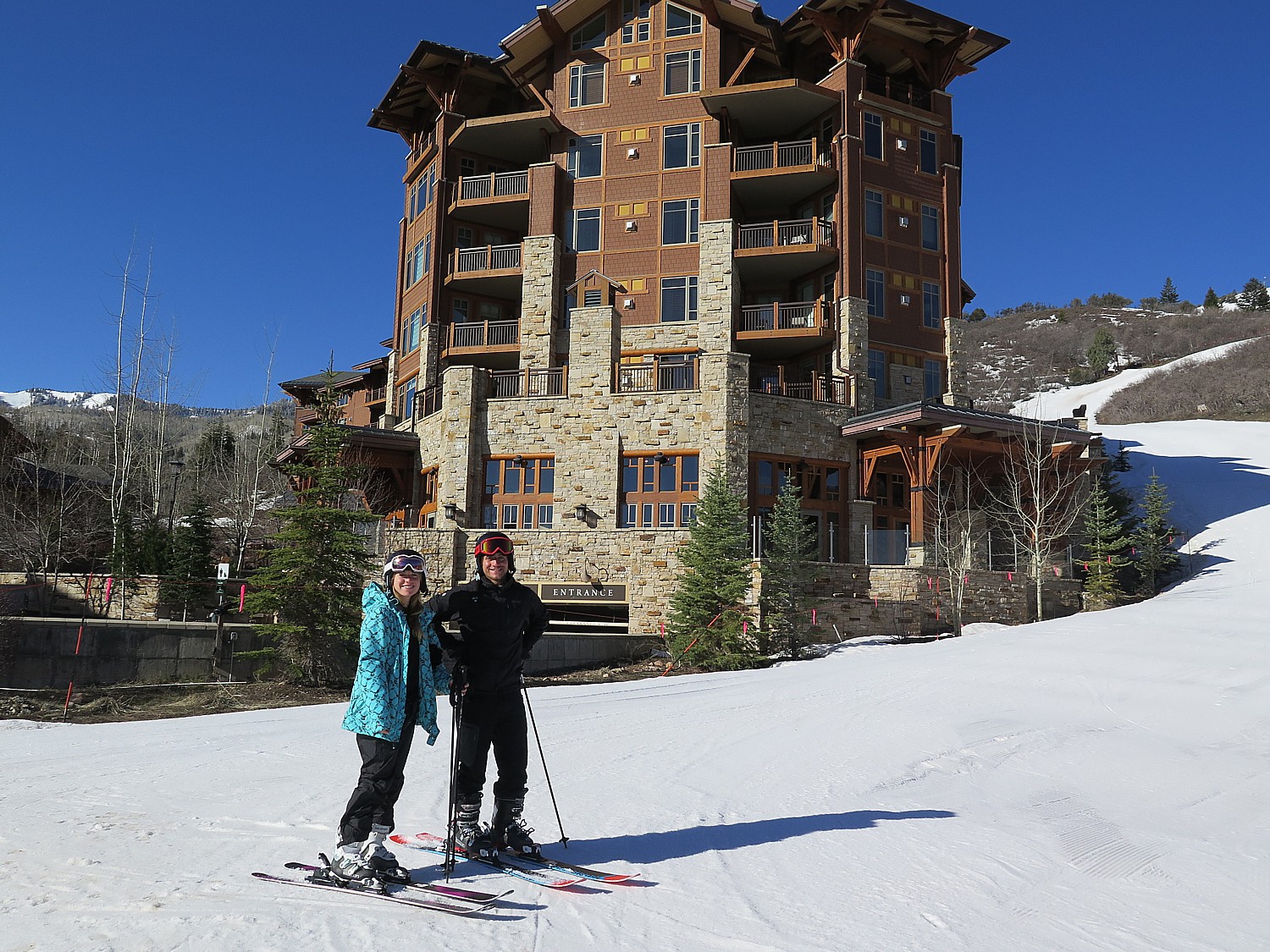 Hyatt Centric Park City
The Hyatt Centric Park City at the Canyons base, which has been a superb lodging for our stay and has its  own lift for ski in/out convenience, and is just a five-minute walk to the shops and restaurants, let us use the outdoor heated pool, hot tubs, sauna and lockers after we were checked out. Our two-bedroom condo (the hotel has 27 two-bedroom suites, which can be turned into 3 bedroom suites, and 15 one-bedroom suites) is unbelievably spacious, outfitted with every possible amenity including a full-kitchen, a dining table that seats eight, three TVs, a Jacuzzi bathtub in the master bedroom, four balconies, windows everywhere there open up to the gorgeous outdoors, and washer/dryer (so convenient when you ski).
It also offers a free nighttime shuttle into historic Park City (on the hour from 5 pm; last one returning at 10:30 pm), and on my last evening, instead of waiting in the lobby, I hopped a ride for a final visit, stopping in at more of the gorgeous galleries that line Main Street. I returned with plenty of time to relax in the Hyatt Centric lounge before the car service picked me up to get to the airport.
Park City is very much a year-round adventure destination, and the Hyatt Centric also offers an in-house activities company, Wasatch Adventure Guides, offering fly fishing, heli skiing, hiking (Hyatt Centric Park City, 3551 North Escala Court, Park City, Utah, USA, 84098, 435 940 1234, parkcity.centric.hyatt.com).
So Much More to Do at Park City Mountain
 We were so enthralled with skiing, we didn't have time to take in the many other adventures and experiences of the area. But there is plenty to do, especially for regulars:
Alpine Coaster: Climb into toboggan-style cars for a special way of experiencing the magnificent Wasatch mountain scenery. The automated lift system whisks you to the top of the track and you fly down the mountain on nearly 4,000 feet of curves, bends and loops. It is one of the longest slides in the world.
Guided Snowshoe Tours: Park City offers a network of snowshoe trails hidden among the spectacular skiing. Guided tours are created with a unique destination, experience or adventure in mind.
Horse Drawn Sleigh Rides: Snuggle in for a scenic 30-minute horse drawn sleigh ride through Willow Draw showcasing a night-time winter wonderland after the lifts have closed.
Additional winter experiences include Dog Sledding, Snowmobile Tours and Cross Country Ski Tours.
Also, the Utah Olympic Park where you can take a guided tour, take a thrilling ride on the Winter Comet Bobsled on the Olympic track, experiencing 3+ Gs and hitting speeds of 60 mph (open year round); the Extreme Zipline replicates flying off the K120 Nordic ski jump, propelling you to up to 50 mph. There's also an adventure course, scenic chairlifts, and the George Eccles 2002 Olympic Games Museum (look for Great Neck's own figure skating gold medalist Sarah Hughes). Still a year-round US Olympic training site, you also get to watch athletes of all ages training for Nordic Ski Jumping (in summer, they jump into a pool), Freestyle skiing, bobsled, skeleton and luge. (Open year-round, free admission to the park, www.uolf.com).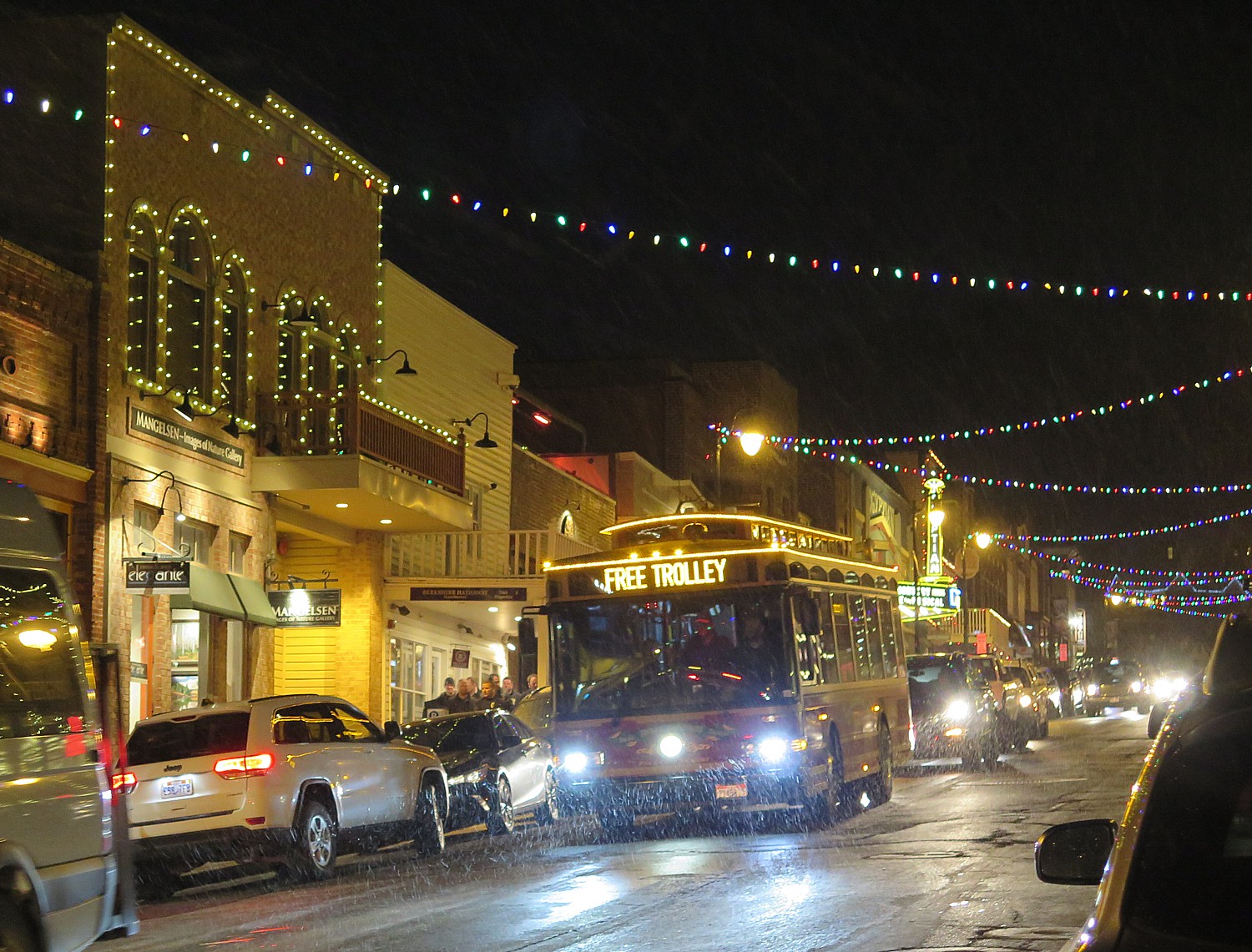 But we have time each day to enjoy discovering historic Park City, with its astonishingly fine galleries and shops and fine-dining venues (more to come).
Park City Mountain (www.parkcitymountain.com) is part of Vail Resorts, Inc., which through its subsidiaries, is a leading global mountain resort operator of 10 world-class mountain resorts and three urban ski areas, which in addition to Park City in Utah includes Vail, Beaver Creek, Breckenridge and Keystone in Colorado; Heavenly, Northstar and Kirkwood in the Lake Tahoe area of California and Nevada; Perisher in Australia; Whistler Blackcomb in Canada; Afton Alps in Minnesota, Mt. Brighton in Michigan and Wilmot Mountain in Wisconsin. Vail Resorts also owns and/or manages a collection of casually elegant hotels under the RockResorts brand, as well as the Grand Teton Lodge Company in Jackson Hole, Wyo.
The big news is that Vail is in the process of purchasing its first New England resort, Stowe Mountain, Vermont (see story), which it is expected will be included on 2017-18 Epic Pass (epicpass.com). For more information on all the resorts, visit www.snow.com.
(See: Vail Resorts Plans to Add Stowe Vermont to 2017-18 Epic Pass Giving Northeastern Skiers New Reason to Buy) 
Plan a visit to Park City, Park City Chamber of Commerce, Convention & Visitors Bureau, 1850 Sidewinder Drive #320, Park City, Utah, 800-453-1360, www.visitparkcity.com.
Next: Skiers Only at Deer Valley
____________________
© 2017 Travel Features Syndicate, a division of Workstyles, Inc. All rights reserved. Visit goingplacesfarandnear.com,  www.huffingtonpost.com/author/karen-rubin , and travelwritersmagazine.com/TravelFeaturesSyndicate/. Blogging at goingplacesnearandfar.wordpress.com and moralcompasstravel.info. Send comments or questions to [email protected]. Tweet @TravelFeatures. 'Like' us at facebook.com/NewsPhotoFeatures