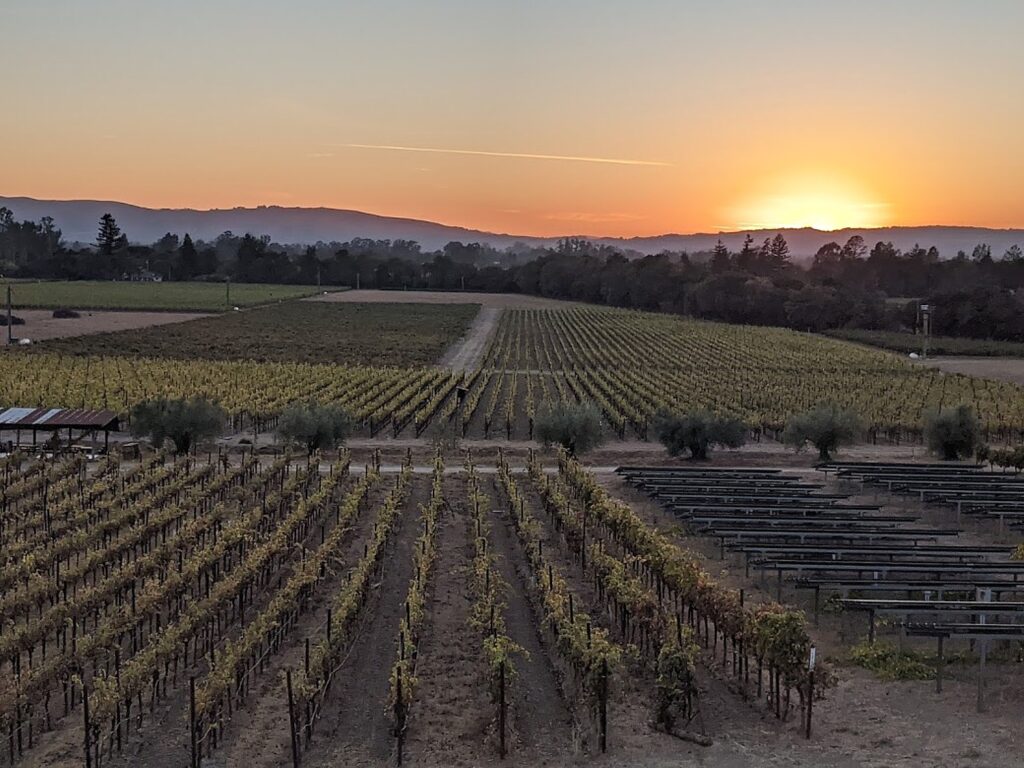 by Karen Rubin with Dave E. Leiberman, Laini Miranda, Eric Leiberman & Sarah Falter
Travel Features Syndicate, goingplacesfarandnear.com
Wine and art are a perfect pairing, we discovered touring Sonoma, California, famous for its vineyards and wine-tasting experiences.
Think about it: wine-making is the absolute synthesis of nature, science and art, the vineyards are themselves these bucolic pastoral settings that inspire art. Indeed, there's a calming aesthetic to the neat, symmetrical rows, the pleasing colors, the sense of renewal.
Art is almost as ubiquitous as wine in Sonoma, art galleries like the Paul Mahder Gallery in Healdsburg, have their own wine-tasting; vineyards have art, like the Donum Estate vineyard with a substantial sculpture garden, as well as special art, music and cultural events, like Gundlach Bundschu Winery which organizes pop-up outdoor art shows (concerts and weddings also when COVID restrictions are lifted), and Imagery which has its own art gallery of commissioned works for its labels.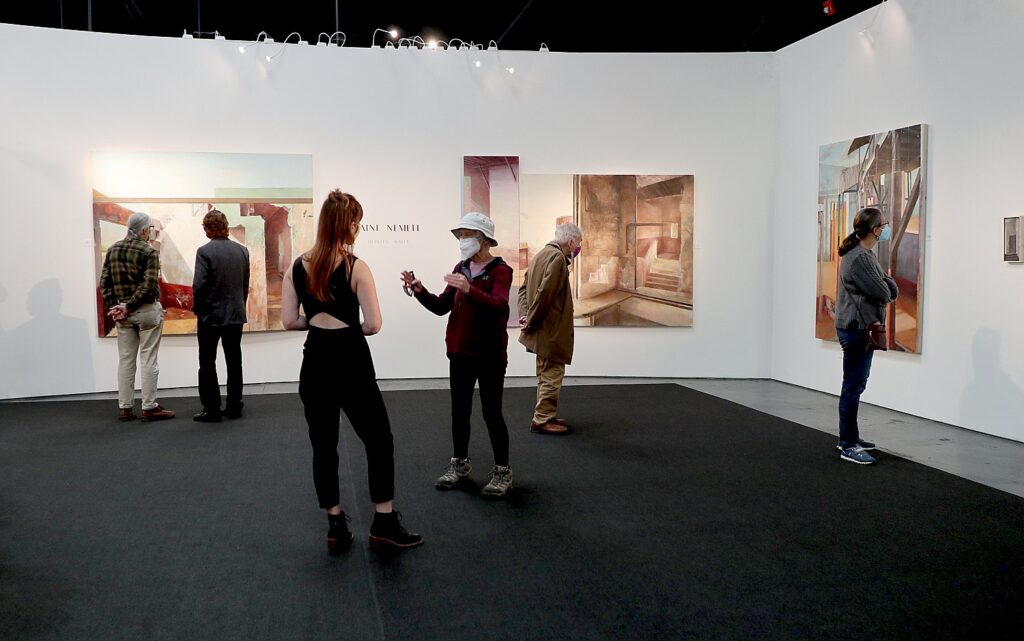 Sonoma wineries – along with restaurants, art galleries, shops, and the whole visitor ecosystem – have made accommodations to continue to welcome guests to wine tastings while maintaining health protocols. Visits are by advance reservations to limit capacity, served outside (heaters are ubiquitous now); the art galleries and shops are well ventilated, and at this writing require masks inside and social distancing.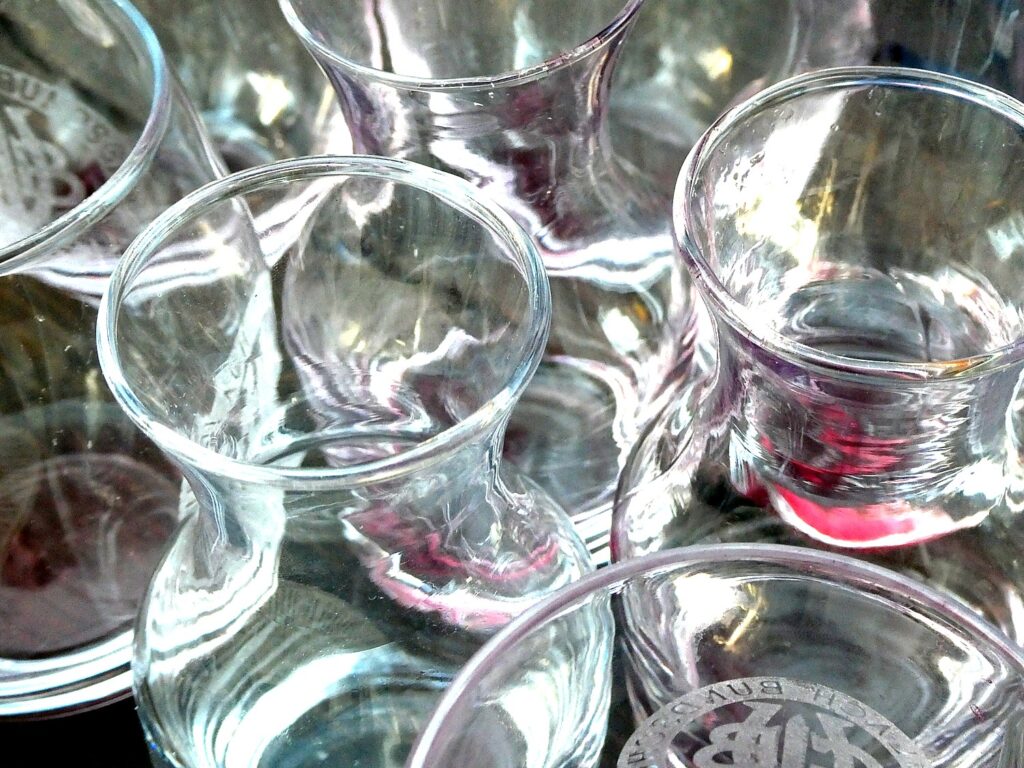 Sonoma County has a remarkable range of terroir and microclimates – from the Pacific coastline, the redwood forests, fertile valleys and mountains – that has produced one of the most diverse winegrape-growing regions in the world, and also one of the most picturesque.
We experienced wineries and vineyards almost daily – visiting several for tastings, to be sure, but also as the scenic backdrop to biking. They are not only so exquisitely scenic – bucolic, pastoral landscapes with color and pattern of the rows rippling with the rolling hills – but offer interesting, even dramatic histories. And just as their wines are distinct, so is the tasting experience and ambiance.
On one of my bike excursions, I came upon Buena Vista Winery, which has an entertaining way of presenting history and its own back story with a claim to being California's oldest commercial winery, in fact, the birthplace of the state's modern wine industry: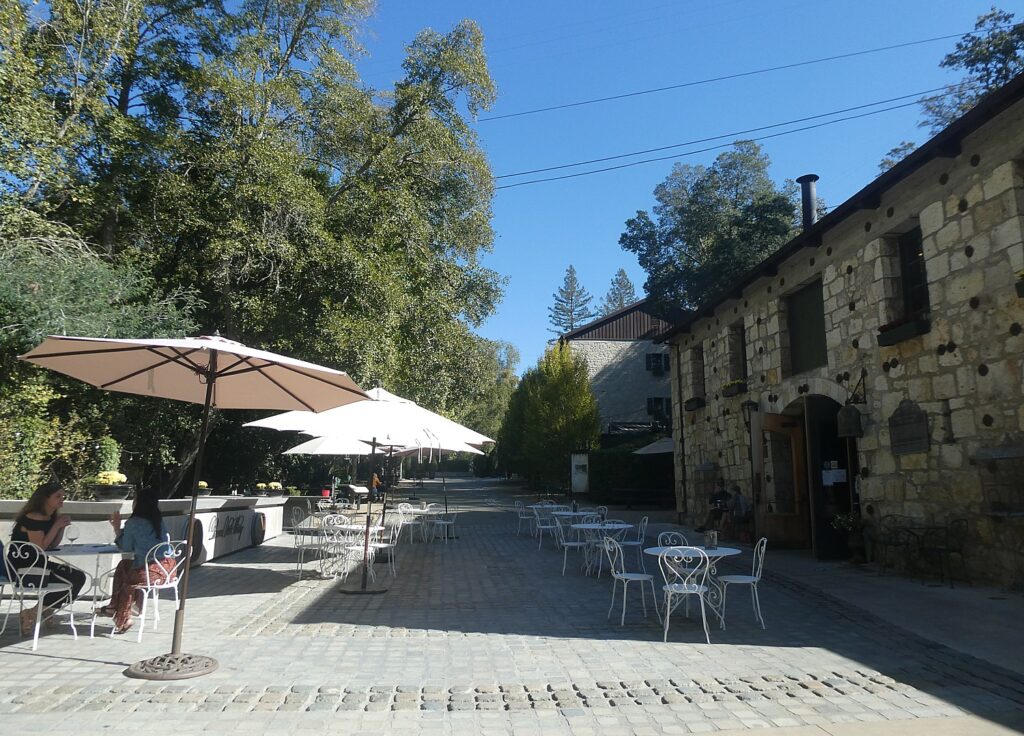 The founder of Buena Vista Winery, Count Agoston Haraszthy, came from Hungary initially in pursuit of gold but in 1857, decided instead to build a stone winery on the property. He introduced cuttings from Europe's best vineyards to California and basically proved that California could produce wine. You can sign up for the "Be the Count Experience," wine blending as the Count might have done it, or taste a flight while touring the Wine Tool Museum. "If you run into the Count himself, don't be surprised; it's all a part of the experience."
Buena Vista Winery, 18000 Old Winery Road, Sonoma, CA 95476, 800-926-1266, [email protected], www.buenavistawinery.com
Imagery Estate Winery boasts "we've been exploring the intersection of art & wine for over 30 years." They are extremely proud of inviting major artists to design their wine labels and even have an art gallery of the original paintings. We thoroughly enjoyed our 45-minute alfresco tasting of five small production wines at Imagery, a winery that prides itself on "crafting rare wines from uncommon varietals and character-rich vineyards, Imagery Estate Winery was forged from a thirst for experimentation." They spotlight interesting, non-traditional varietals like Lagrein and Tempranillo, "creating expressive wines that broaden the palate."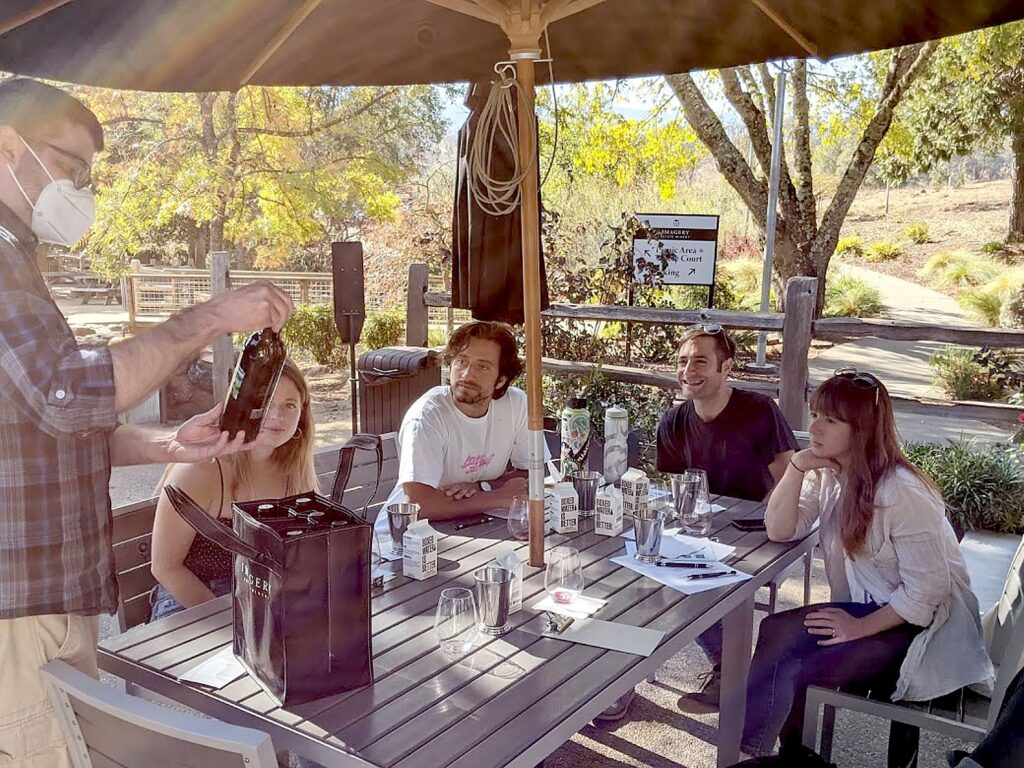 Imagery Estate Winery infuses art throughout the winery, from specially commissioned artwork from notable contemporary artists, to its art gallery where the original artwork is displayed.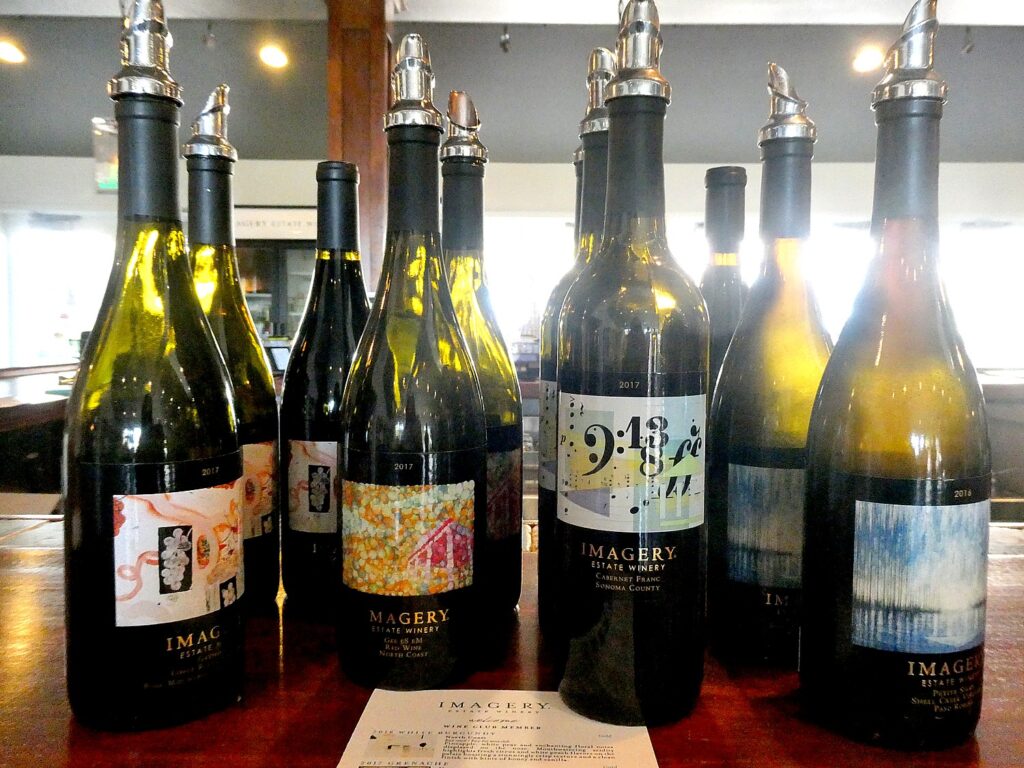 Reservations are required, and the tasting room is currently open for outdoor seated tastings and outdoor picnic tables. No outside food is allowed yet, but there is an option to order a Charcuterie box with the reservation. Imagery was planning to reopen its picnic experiences in May. At this writing, the winery was anticipating some lifting of restrictions (so call).
Imagery, 14335 Hwy 12, Glen Ellen, CA 95442, 877-550-4278, 707-935-3000, www.imagerywinery.com, Open for outdoor seated tastings, limited to groups of 6, by appointment only Thursday-Monday
Benziger Family Winery, the sister winery to Imagery, for more than 25 years, has farmed the ranch on Sonoma Mountain using Certified Biodynamics, an organic and sustainable farming method. The result is a portfolio of memorable wines which visitors can explore through a seated tasting or other tours. Set just above the small town of Glen Ellen, the winery occupies one of the most beautiful locales in Sonoma Valley. The ranch is home to numerous species of plants, animals and insects, with gardens and an insectary that play an important part in their Biodynamic farming techniques.
Benziger is currently offering a 1.5-hour Private Tribute Estate Tour & Tasting. providing an in-depth look at the Biodynamically farmed Sonoma Mountain Estate, complemented by wine tastings along the way (limited to private group of up to 6 guests).
Benziger plans to begin opening reservations for indoor tastings later this month, and plans to launch its picnic experiences in May.
Benziger has yet to re-start its two-hour "Biodynamic Tram Tour, one of the most distinctive winery experiences in Sonoma Valley. Introduced in 1994, more than one million guests have taken the tour which highlights sustainable green-farming practices. "The true goal of the tour program was to create an experience for guests that went beyond the tasting room. We wanted to immerse them in the natural environment of the land and help them understand the complexity of the Sonoma Mountain property and how it made our wines exceptional. This remains our number one goal… As our winemaking process evolved into Biodynamics with the release of our Estate grown Biodynamic wine, Tribute, in 2001, our tour evolved as well to what it looks like today.
"With the introduction of our caves, the tour was fine-tuned to give a full educational overview of the grape growing process, winery production facilities including barreling and cellaring to wine tasting. Visitors were now able to follow the full process of a working winery from the vineyard to the bottle. Further, at one of just a handful of Biodynamic vineyards in North America… 'Farming for Flavors,' our Certified Sustainability program, is still one of the most comprehensive sustainability programs in the country." (Learn more about Benziger's green farming practices here.)
Benziger Family Winery, 1883 London Ranch Road, Glen Ellen, CA 95442, 707-935-3000; benziger.com. Open Thursday-Monday by appointment only.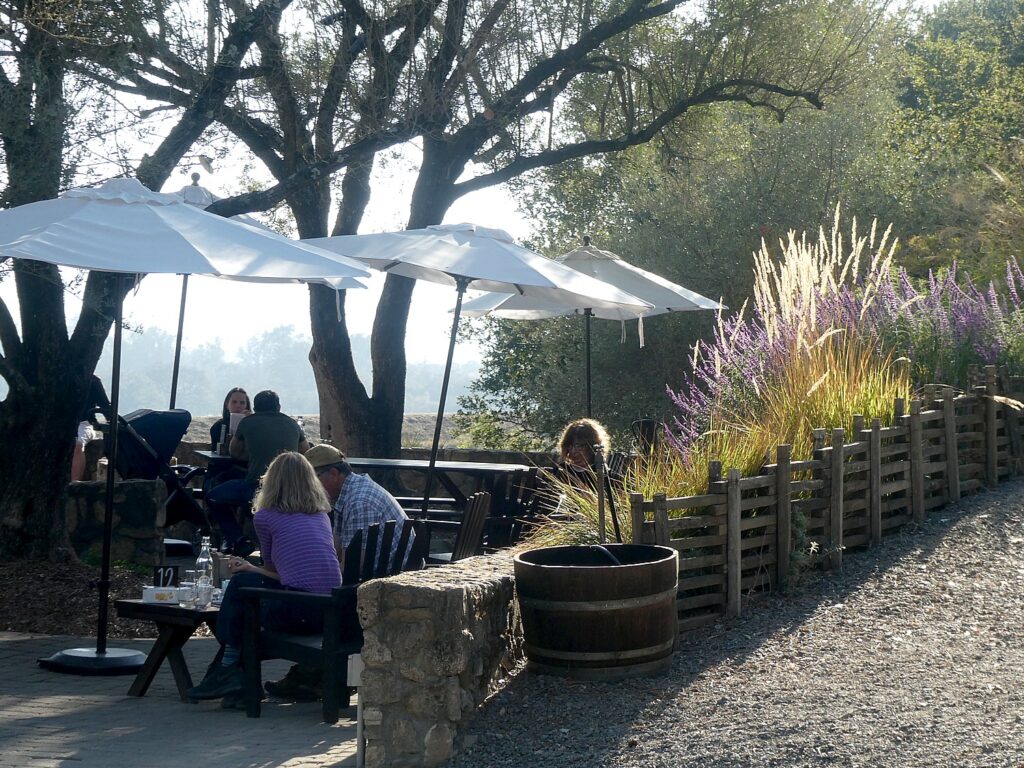 Gundlach Bundschu makes a claim to being the oldest family-owned winery in California: for six generations and more than 160 years, since 1858, the Bundschu family has farmed the Rhinefarm estate vineyard at the crossroads of the Sonoma Valley, Carneros and Napa Valley (www.gunbun.com/history/). Gundlach Bundschu offers a delightful, bucolic setting. The winery has been offering pop up art shows and when restrictions are lifted will return to presenting concerts and weddings. We enjoyed music with a DJ during our wine tasting.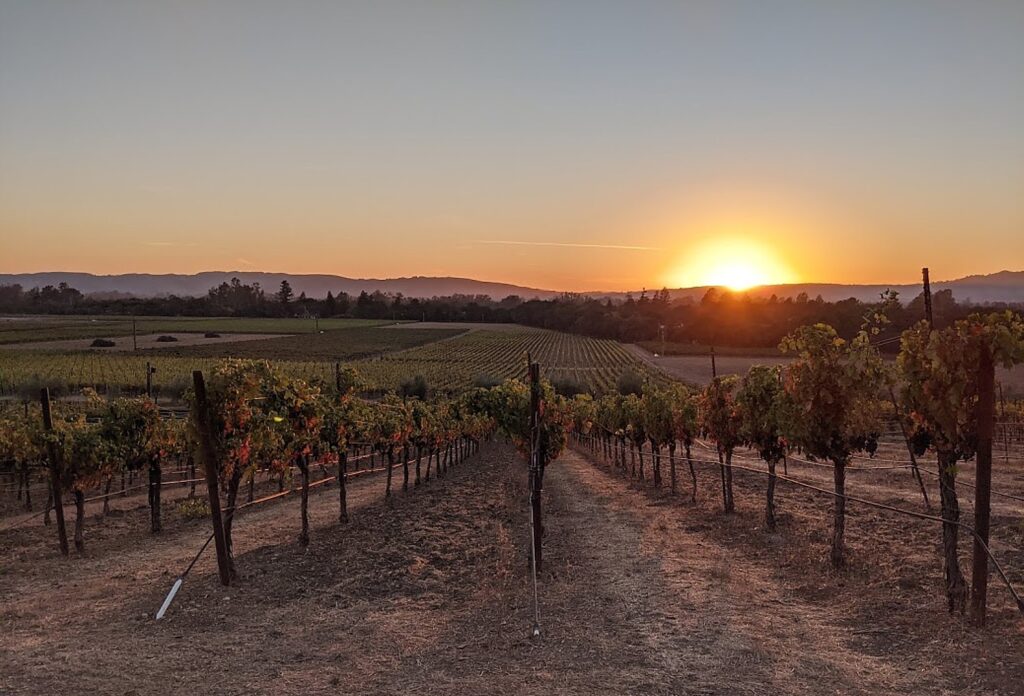 Gundlach offers tours aboard a six-wheeled Pinzgauer – an Austrian-made military vehicle – to get WAY off the beaten path on a Sonoma vineyard tour. Sip five estate selected wines at stops along the way, stop for an impromptu picnic in the vines, learn about modern grape farming techniques and soak up the views of the vinneyard on this off-road adventure. A minimum group size of 6, maximum group of 10 people is required to book. $85 per person + 18% gratuity.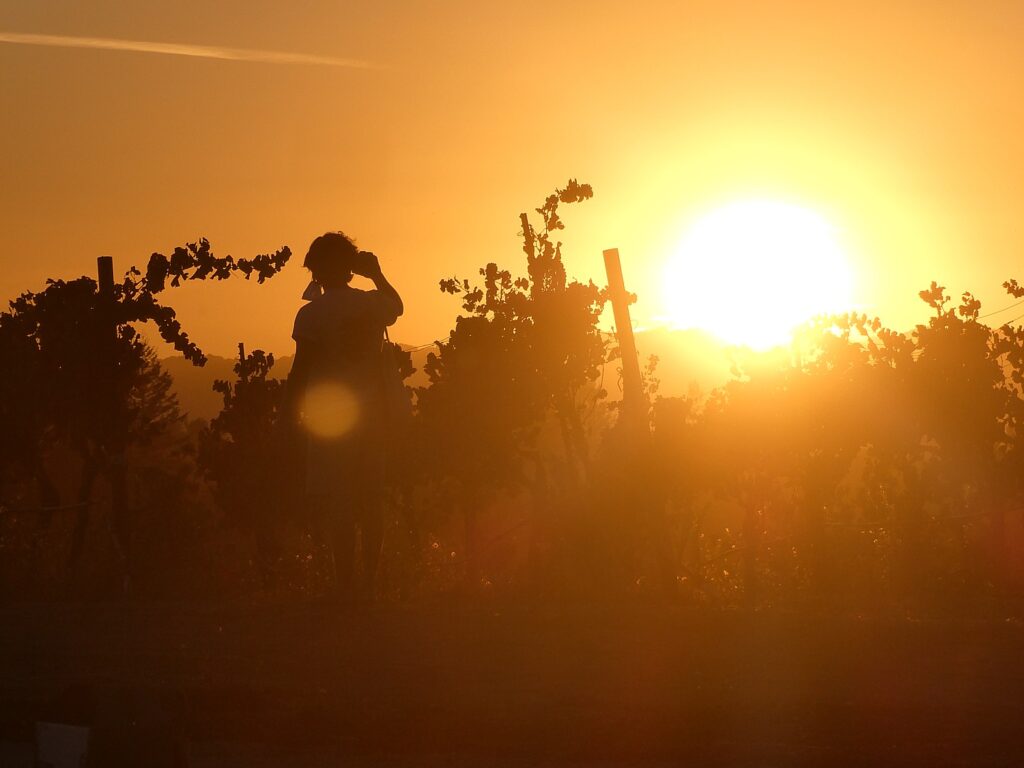 Another option: a walking tour through the vineyards, guided by a wine educator to learn about their Green Business Practices, Fish Friendly Farming and other sustainable vineyard practices. Sample five estate wines sourced from the 320-acre property. (No children under 12 years old or pets on the tour0. This private group experience requires a minimum group size of 6 guests, maximum of 10, and is available seven days a week. $65/person + 18% gratuity.
Open daily 11am-4:30 pm; must book reservation in advance; groups limited to six; dogs actually welcome
Gundlach Bundschu Winery, 2000 Denmark Street, Sonoma, CA 95476707.938.5277, [email protected], www.gunbun.com
Donum Estate: Wine merges with art at Donum Estate, renowned for its open-air sculpture collection featuring over 40 works by world-renowned artists. The Discover ($95) and Explore ($150) experiences are by appointment only and include tours of open-air art sculpture collection.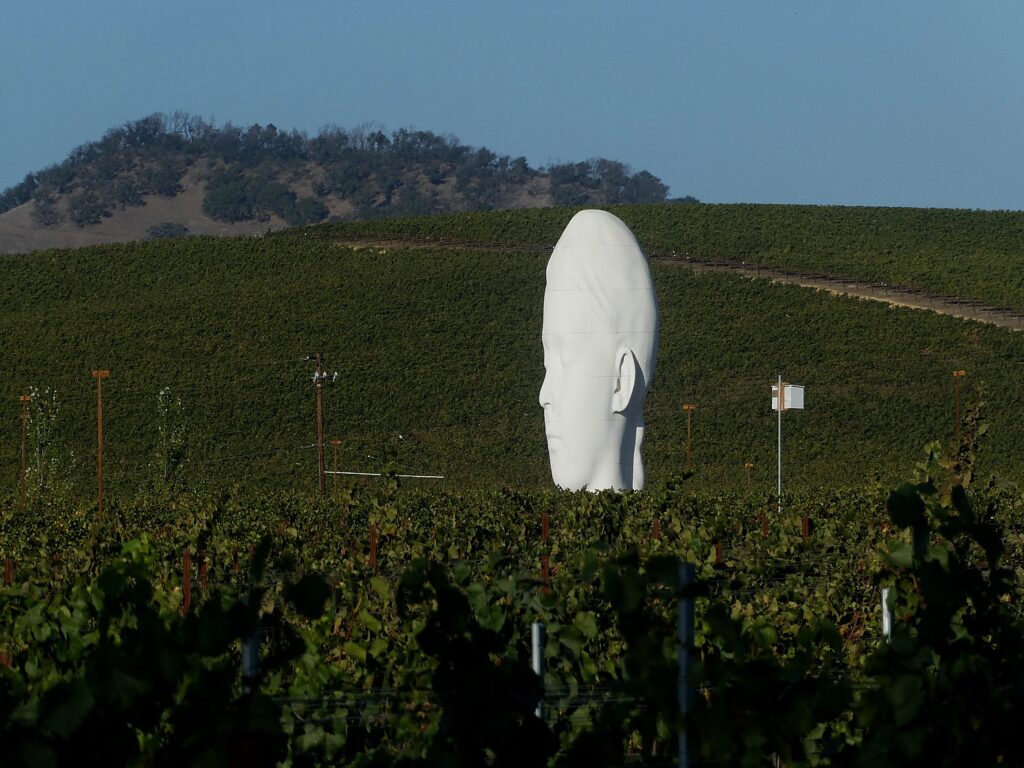 Donum Estate, 24500 Ramal Road, Sonoma, 707-732-2200, thedonumestate.com.
We didn't have the opportunity to do a wine tasting at Hanzell, which commands one of the most stunning views of the hillsides and mountains, but happened to be there at sunset. We plan to return. Hanzell Vineyards was founded by Ambassador James D. Zellerbach in 1953 with a vision to create wines that could compete on the world stage. Named after his wife Hana, Hanzell sits at the southern toe of the Mayacamas mountain range overlooking the south-western end of Sonoma Valley and San Pablo Bay. After extensive time spent in Burgundy, Zellerbach returned inspired and educated by the region's wines and grapes—Pinot Noir and Chardonnay. He planted these two varieties at a time when there were less than a few hundred acres of each planted in North America.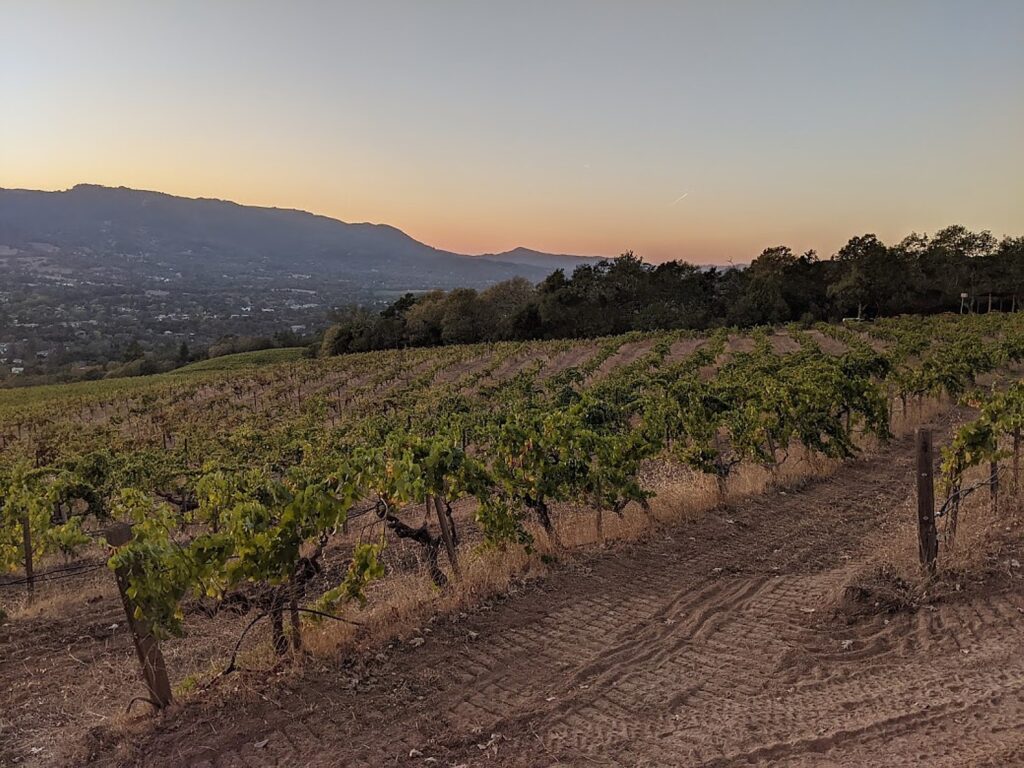 Since 1975, Hanzell has been solely owned by the de Brye family, who is dedicated to the preservation of tradition with a progressive and holistic approach to ensure the sustainability for generations to come. The Hanzell Tasting experience takes place overlooking its historic "Ambassador's 1953" vineyard block on one of its new outdoor platforms. During the 60-minute visit ($45/pp), you get to taste three current release wines while learning about the Hanzell story, our progressive integrated farming practices and winemaking philosophies. Tastings by appointment only; limited to six people.
Hanzell, 18596 Lomita Avenue, Sonoma, CA 95476, visit www.cellarpass.com to make your reservation or call 707-996-3860.
People have the idea that wine tasting is an expensive activity, but many of the wineries in Sonoma County offer either free wine tasting or waive the tasting fee with a wine purchase.
Here's the insider's tip: it is often better value (cheaper) to join the wine club and enjoy a free wine tasting, rather than pay for the wine tasting, which provides additional privileges including discounted prices; they typically ship the bottles you choose.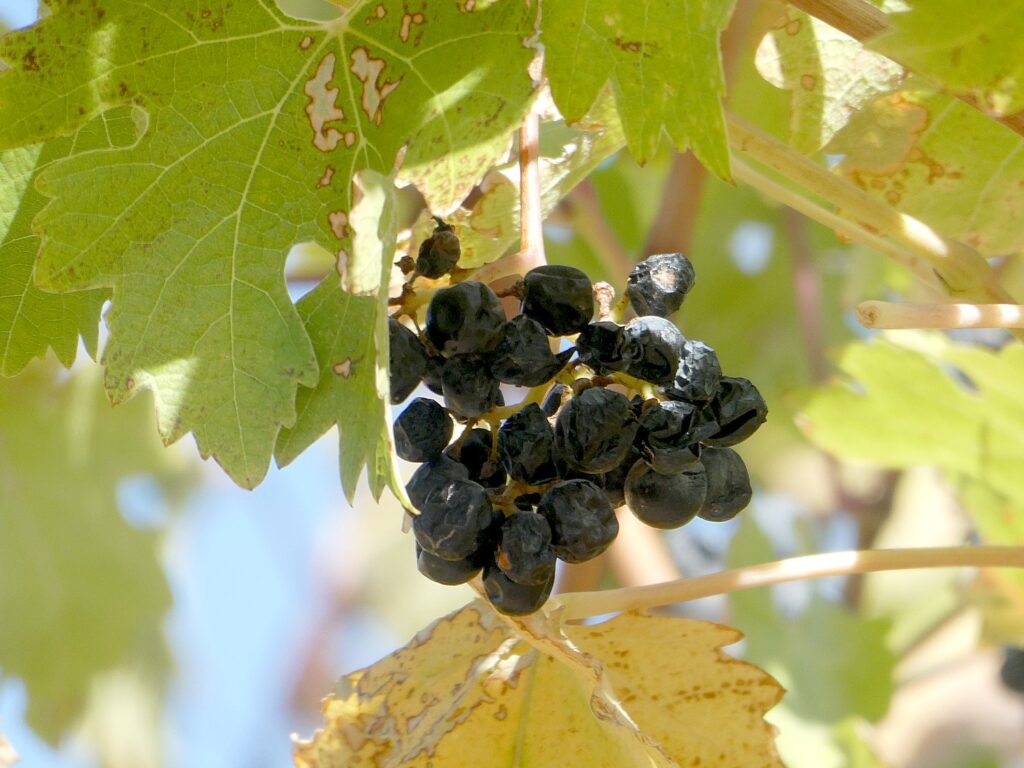 Also, Sonoma County Tourism sells one- and three-day tasting pass (on mobile) that you can redeem at the wineries you choose to visit. For more information about what is open, arrangements to visit and lodging, and purchasing the tasting pass visit Sonoma County Tourism, https://www.sonomacounty.com/destinations/wine-regions
Art Experiences Abound
On the other side of the equation, art galleries pair with wine. Indeed, it was art, not wine, that brought us to Sonoma.
Our trip was timed for a special event: the opening of Laini Nemett's art exhibit, "Between Walls" at the Paul Mahder Gallery in Healdsburg, near Sonoma (paulmahdergallery.com).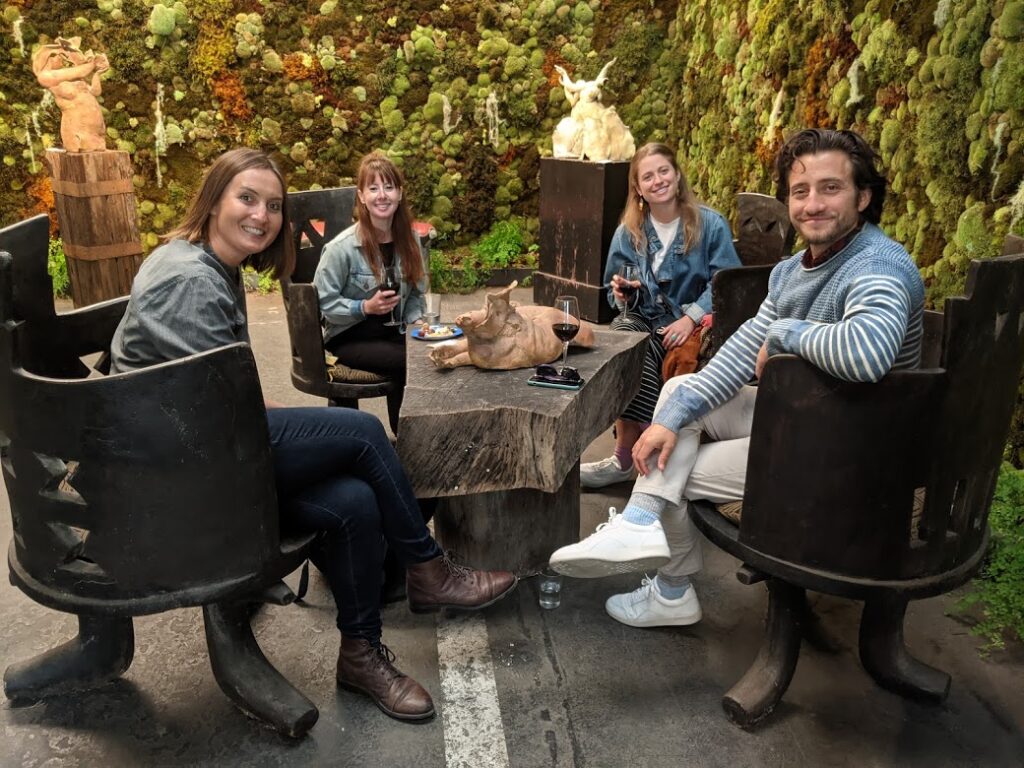 Healdsburg is a wonderfully vibrant town, culturally rich with some 25 art galleries and a food-and-wine haven with marvelous restaurants and 30 wine-tasting rooms. Healdsburg has become a haven for foodies, drawn to restaurants leading Sonoma County's farm-to-table movement. Many are along the streets lining the Healdsburg Plaza, including artisan bakeries, local wine bars, and restaurants with locally-sourced ingredients from the surrounding gardens and farms. We loved our lunch at Bargas, and our dinner at the H2Hotel restaurant, with gorgeous outdoor seating areas, set around a lovely village square.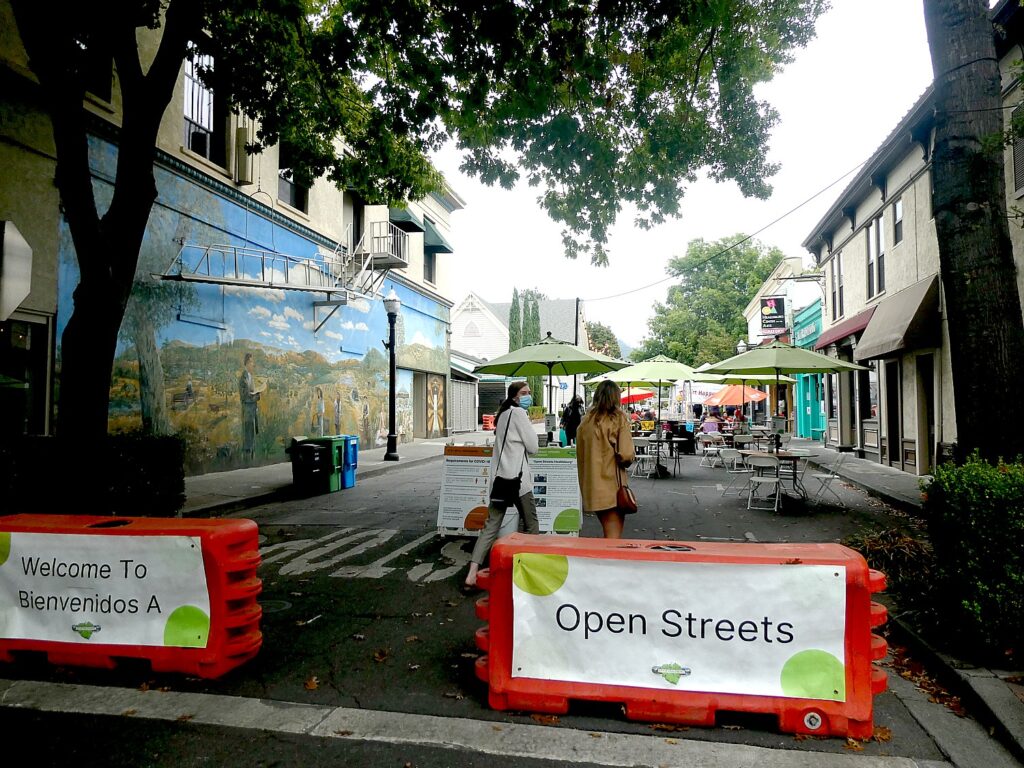 Healdsburg, which like Sonoma, depends on tourism, has taken public health precautions very seriously: signs say you will be fined if you don't wear a mask, and there are sanitizing stations at the crosswalks. Restaurants are organized for take-out and outdoor dining (space heaters available), menus are either disposable, online, or can be wiped off to minimize transactions; the retail stores have sanitizing stations, require masks, limit capacity and kept their doors open for added ventilation. The same for the art galleries like Paul Mahder Gallery, which is unusually large, well ventilated, and, as an added treat, has a wine-tasting experience, the wine bottles decorated with Paul's paintings.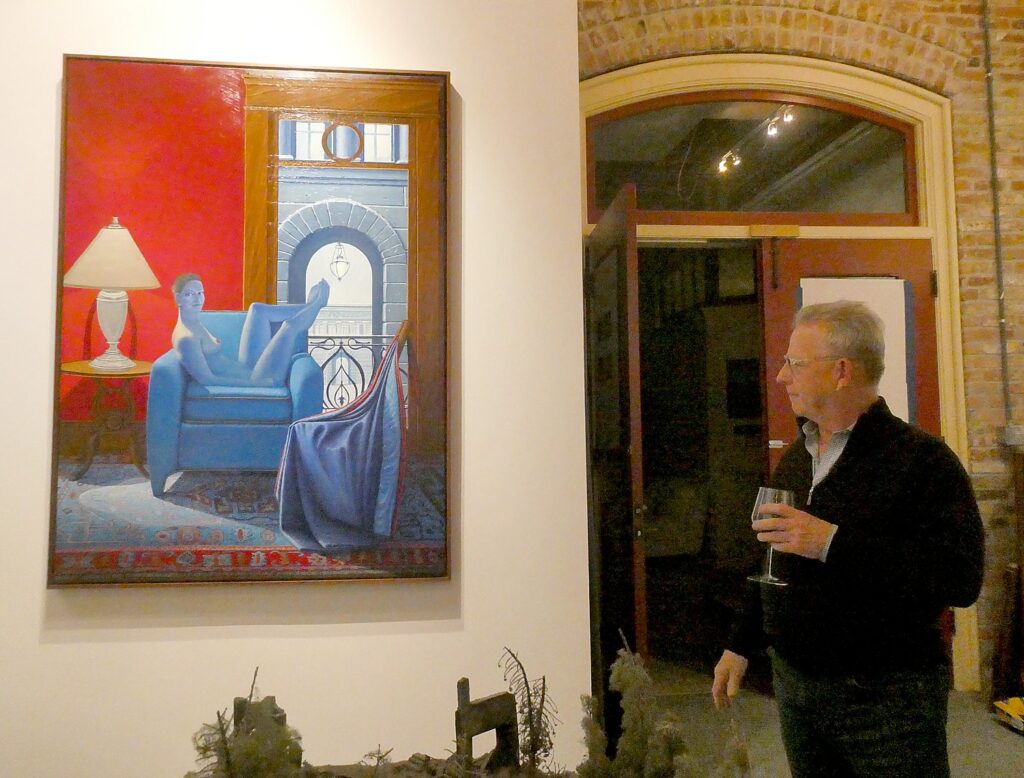 It is a special experience to meet the artist at a gallery opening who gives personal insights into the work and creative process, but visiting an artist in his studio adds another dimension – seeing works-in progress on their easels, an entire career on display, and the opportunity to discuss the nuances and background of the works in such a personal setting.
In fact, Sonoma County has, since 1985, offered an Art Trails self-guided tour that gives visitors opportunities to learn first-hand from the artists what inspires their art, how it is made and where it is made. Juried professional artists invite you to explore Sonoma County, engage with artists in their own studios and collect beautiful art.  Art Trails is held in the fall. (https://sonomacountyarttrails.org/)
During our visit to Sonoma, we had that experience with Kevin Kearney, who epitomizes the marriage of art and wine (he used to own a vineyard)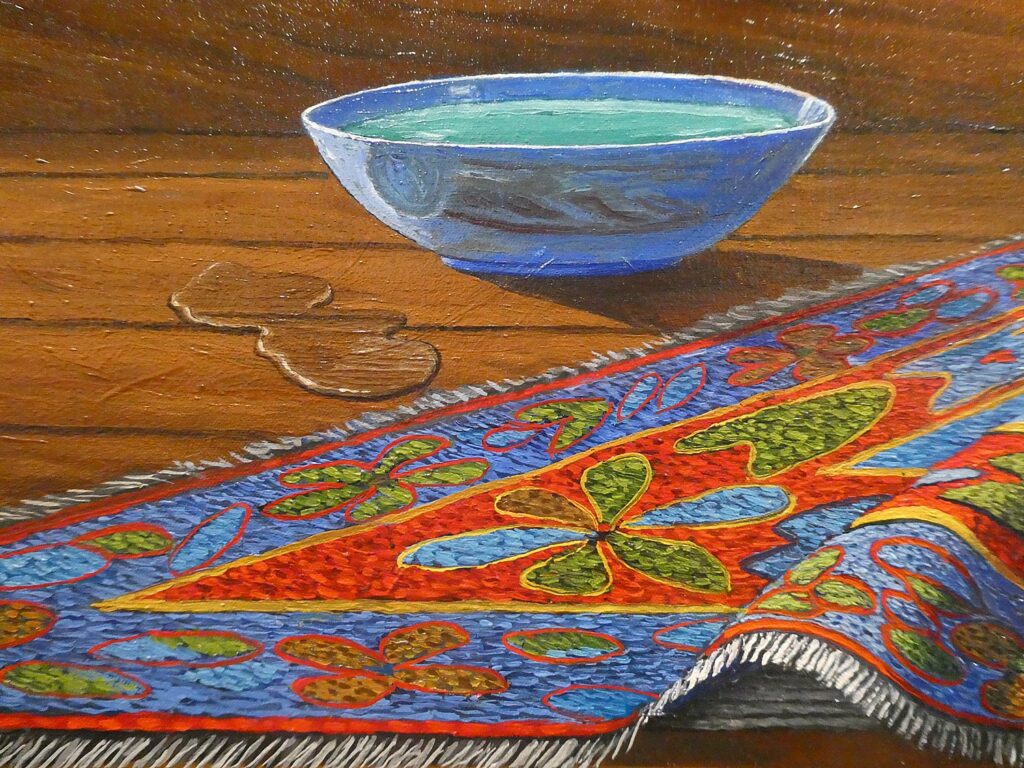 Kearney is a master of exquisite, mind-blowing fine realistic detail reminiscent of the Dutch masters, but with a quirky sense of surrealism and modern sensibility, often playing on ancient myths and images. He tells us that it took 100 hours just to paint the carpet in one of his works.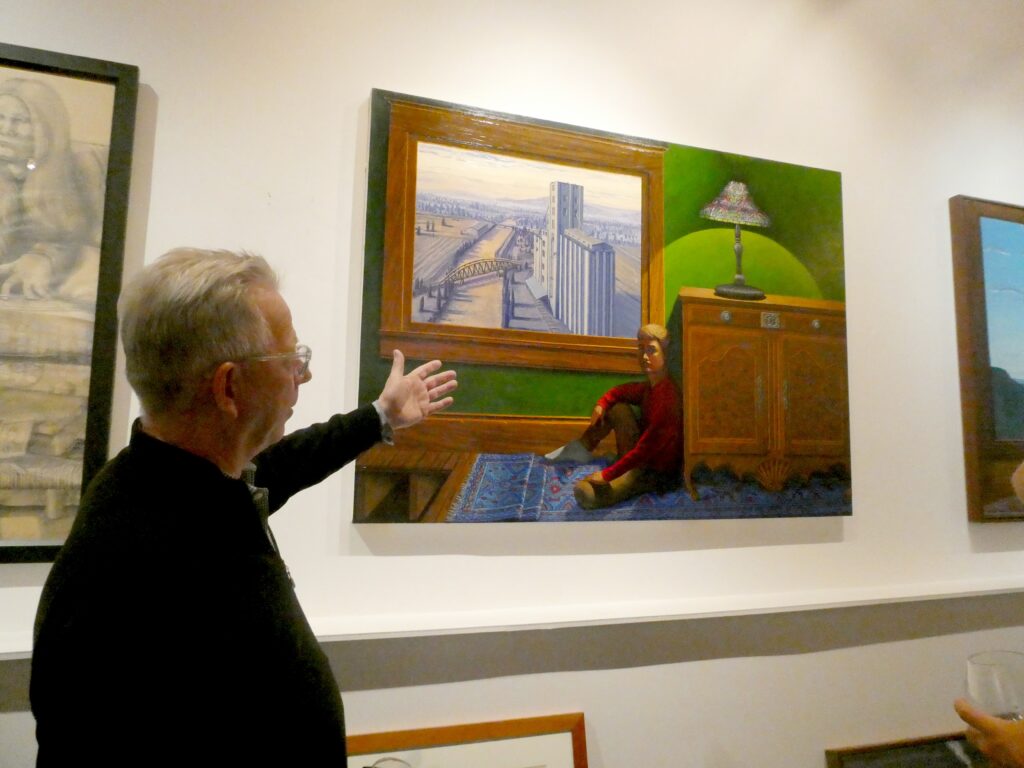 "In Kevin Kearney's work, there are everyday chairs from which the viewer sees the world realistically. And there are magical thrones from which the viewer imagines haunting creatures on patterned carpets floating through cerulean skies above cerulean seas. His red walls and surreal ceruleans look tranquil enough, but beware, any minute, a tsunami could erupt," writes Barry Nemett, in the catalog for Kearney's 2019 exhibit, "Red Walls, Surreal Ceruleans, and a Tsunami," at the Ice House Gallery, Petaluma.
Hearing the stories behind the symbols and the imagery from the artist directly transports you into the canvas and the artist's mind.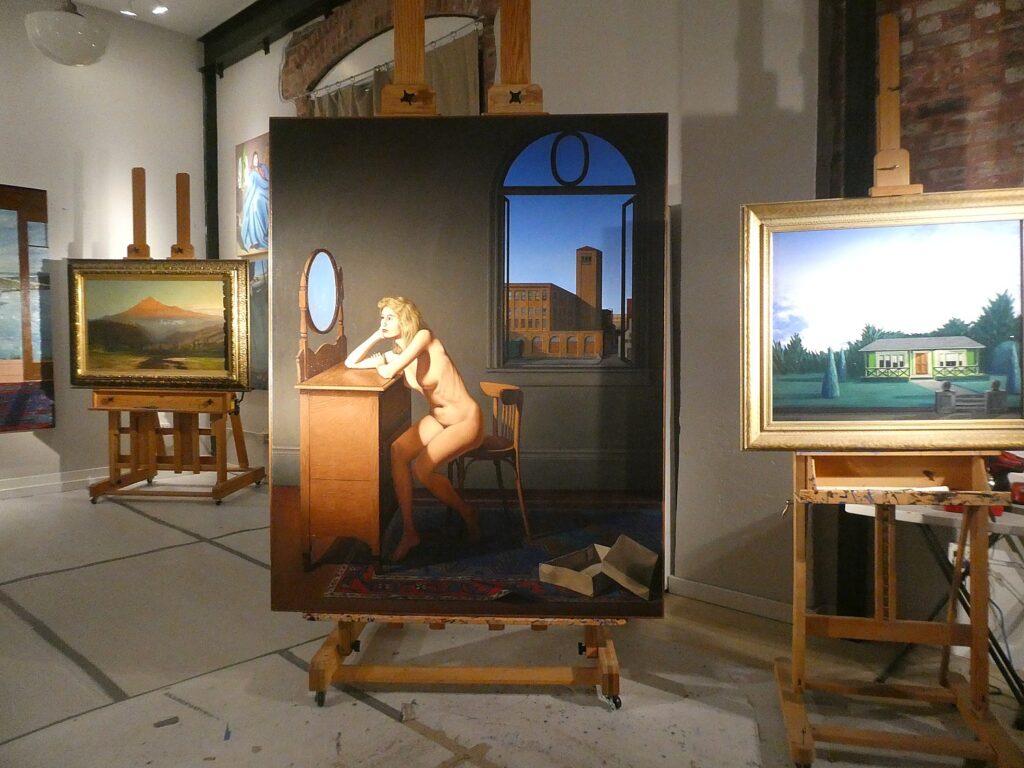 You can request to visit the studio/gallery of artist Kevin Kearney who has his own vineyard and wine collection (https://www.kevinkearney.org/, https://www.kevinkearney.org/contact/)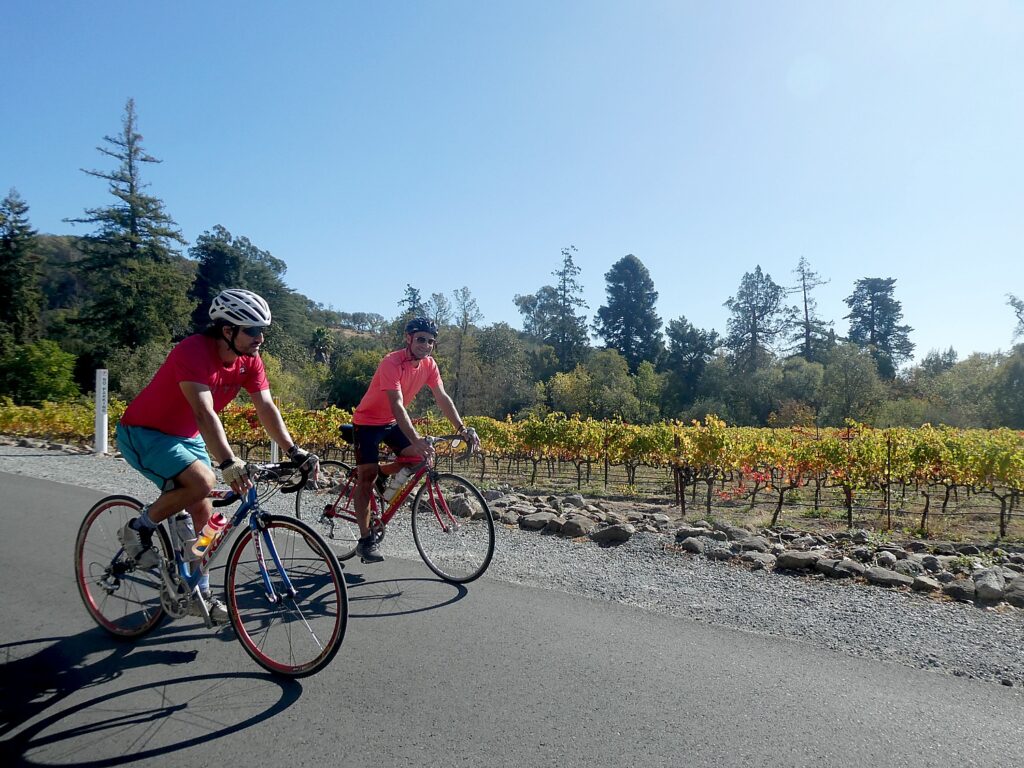 During our visit, we rented bikes to ride on a gorgeous recreational trail that connected to back-country roads flanked by vineyards, riding into neighboring Napa county. When biking, it is fun to happen upon – discover, if you will – historic sites like the Depot Park Museum and General Mariano Guadalupe Vallejo's Home, which you come upon along the trail (Wine Country Cyclery, 262 W Napa St, Sonoma, CA 95476, 707-996-6800; Sonoma Valley Bike Tours & Rentals, 254 Broadway, Sonoma, CA 95476, 707-996-2453)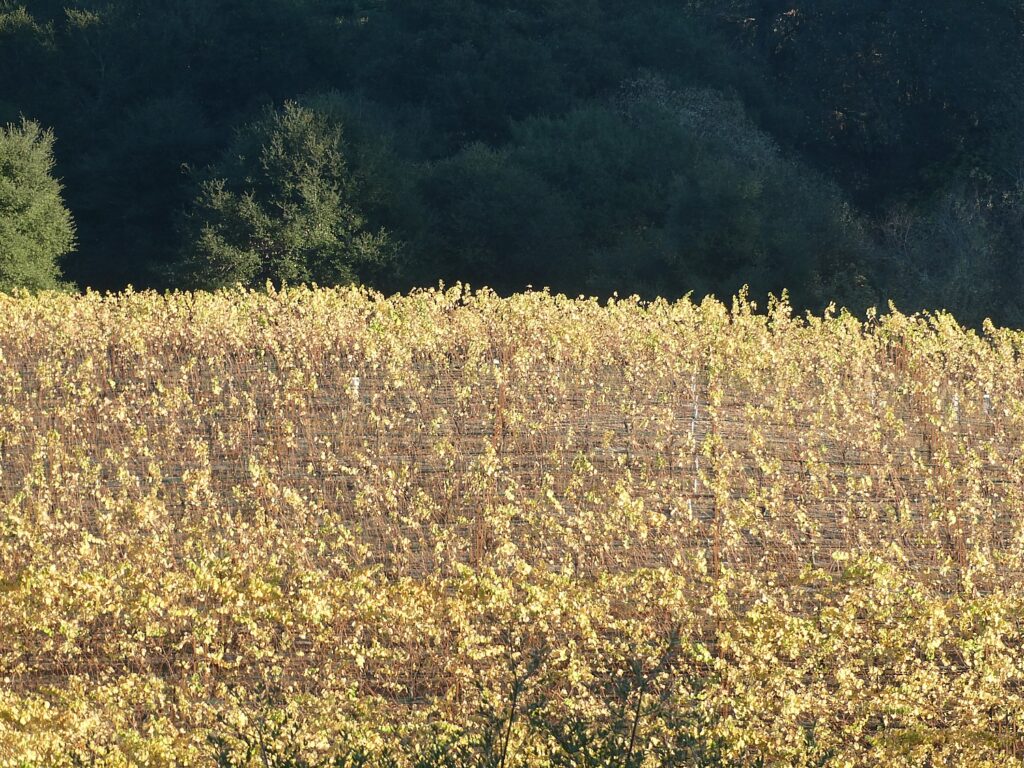 We did wine-tastings at several vineyards and visited art galleries and shops; went hiking on the Kortum Trail along the Pacific Coast (what an amazing contrast to our hiking holiday in Death Valley National Park!), dined outdoors at restaurants (loved Salt & Stone, Kenwood, www.saltstonekenwood.com, 707-833-6326), played tennis on community courts, went to the farmer's market – each and every place, from the hiking trails to the vineyards, to the restaurants, galleries and shops – all followed stringent health protocols.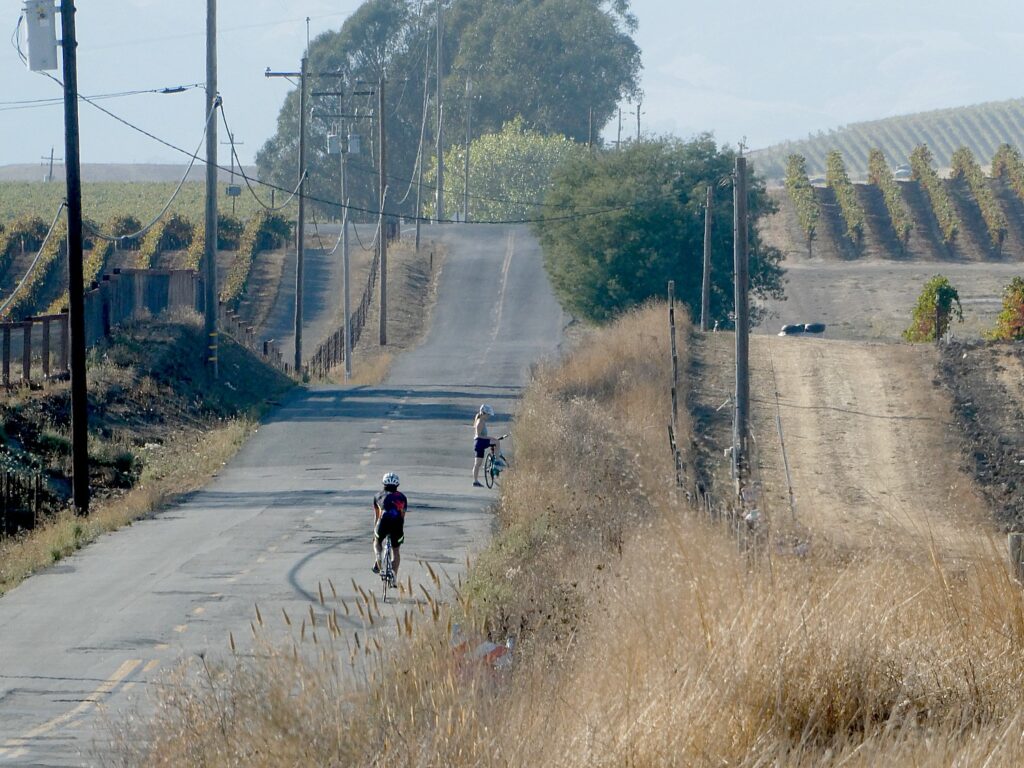 During the current COVID-19 pandemic, many Sonoma County wine and food experiences are still available but certain activities have been temporarily restricted or were unavailable. Sonoma County Tourism has a See What's Open website, and encourages everyone to follow public health authorities' recommendations and to review the Safe Travels Promise.
"Sonoma County is an ideal destination to reset and recover post-pandemic," said Birgitt Vaughan, Director of Global Media Relations. "A lot of this is attributed to the nature immersion that happens when you're in Sonoma County. Sonoma County Tourism shifted years ago to a Destination Stewardship organization, instituting a Travel Kindly pledge and partnership with Kind Traveler. Part of your lodging cost go toward supporting local charities.
"Sonoma County Tourism just began a partnership with our Regional Parks and Leave No Trace to help ensure visitors who enjoy the region's parks and other natural resource areas do so responsibly and sustainably." Check out how Life Opens Up in Sonoma County (https://www.sonomacounty.com/life-opens-up) and view Sonoma County Tourism's 2021 Spring/Summer Inspiration Guide.
Sonoma County Tourism can help plan your getaway (request a Sonoma County visitors guide and map).
Sonoma County Tourism, 800-576-6662, [email protected], www.sonomacounty.com.
_____________________________
© 2021 Travel Features Syndicate, a division of Workstyles, Inc. All rights reserved. Visit goingplacesfarandnear.com, www.huffingtonpost.com/author/karen-rubin, and travelwritersmagazine.com/TravelFeaturesSyndicate/. Blogging at goingplacesnearandfar.wordpress.com and moralcompasstravel.info. Send comments or questions to [email protected]. Tweet @TravelFeatures. 'Like' us at facebook.com/NewsPhotoFeatures