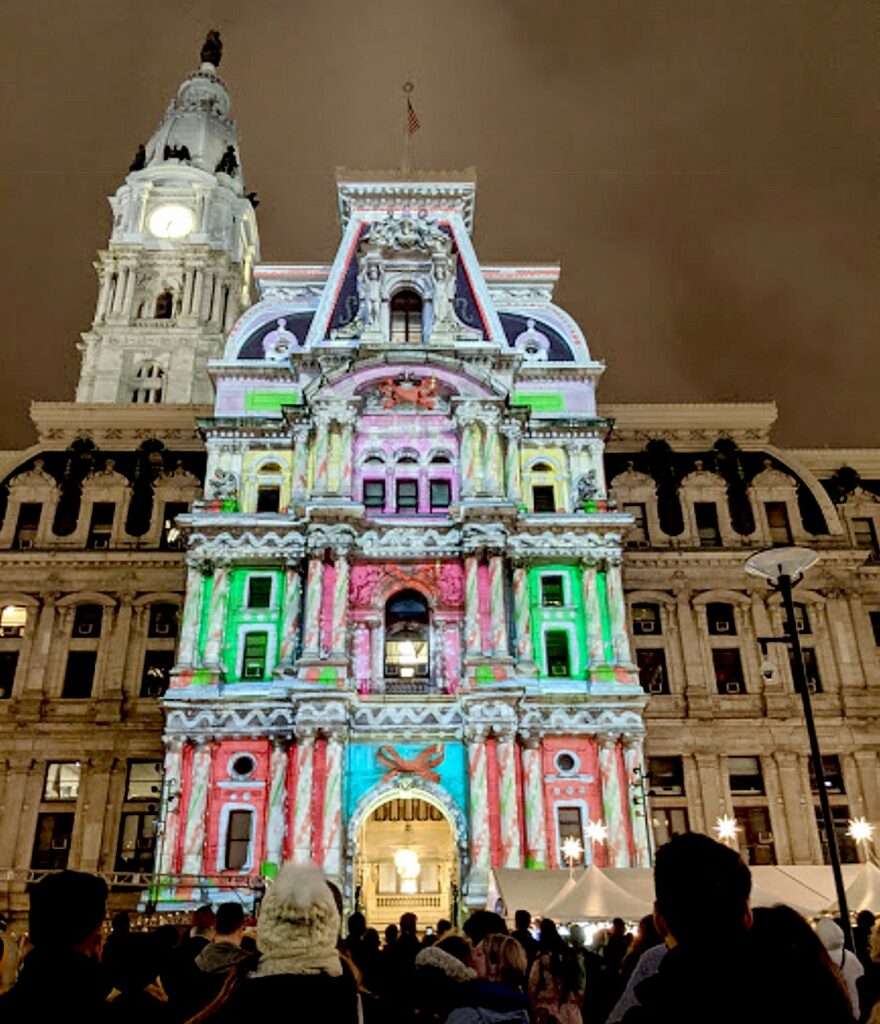 by Karen Rubin, Travel Features Syndicate, goingplacesfarandnear.com
Philadelphia, a city proud of being where the United States was invented, where history, culture and art and entertainment ring out everywhere, a city which boasts being the "City of Brotherly Love," is particularly warm, welcoming and filled with good cheer during the winter holidays.
During the course of a holiday weekend in Philadelphia I devoted one day to reveling in the special events and festivities – all within a 15 minute walk of my hotel, the newly opened apartment hotel, The Roost East Market.
I set out at 3 pm from The Roost, walking through City Hall – this most magnificent of structures which becomes Holiday Central, with a carousel in the center, Christmas markets, street musicians playing in each of the four corridors. Outside, in Dilworth Park, is an outdoor skating rink, snack bars, more markets. And each night, beginning at 5:30 pm, every hour on the half hour, there is a light show in which the entire building façade becomes animated.
I head to Comcast Center (17th & JFK), which features an extraordinary 20-minute Holiday Spectacular light show in the lobby (you just walk in, no tickets needed), that happens on the hour, from 10 am to 8 pm.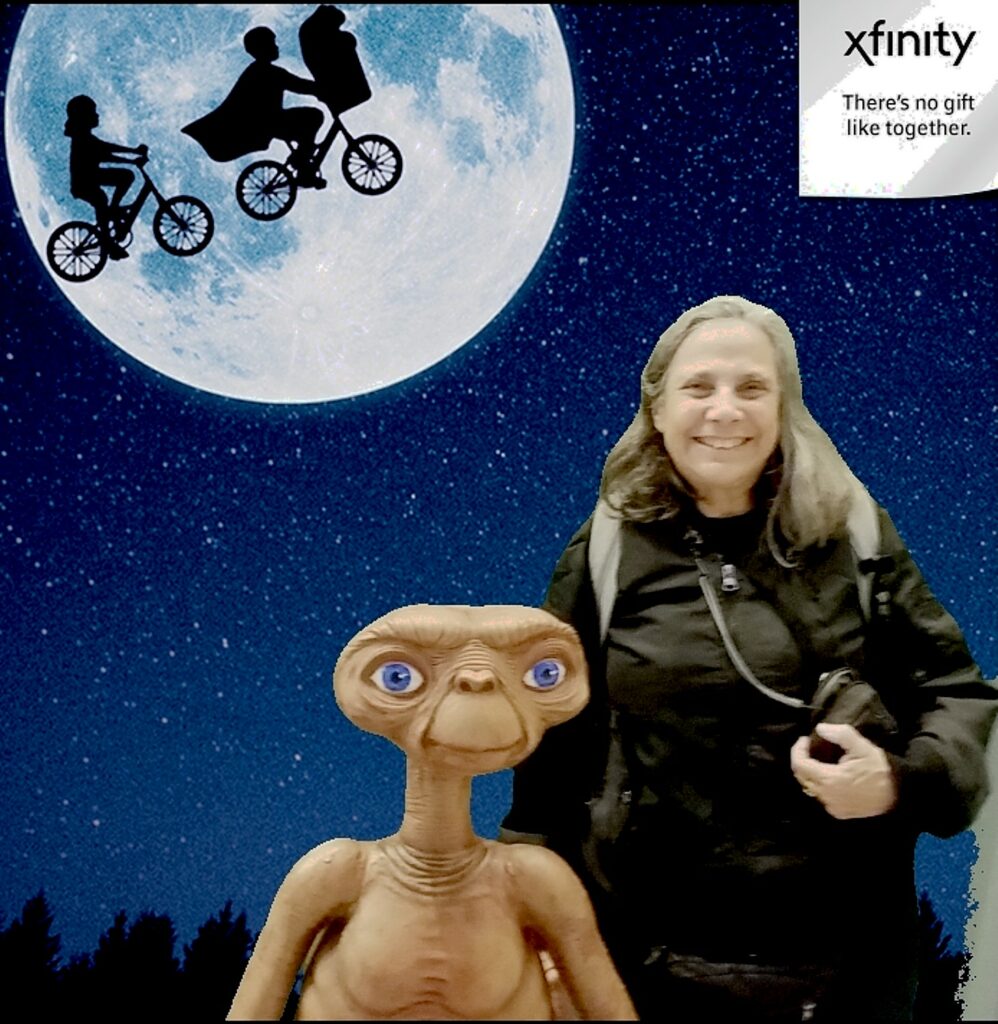 I'm about 30 minutes early and the guard suggests I go over to the Universal Sphere at the Comcast Tech Center. You have to register for a time and I sign up for 4:30 pm. With time still before the light show, I go to Comcast's lower level where families (and others) are lining up for a kindly photographer to take photos (free) you can use for your Christmas card photo (I can't resist: I get to take a holiday photo with E.T.), take in the pop-up Christmas market, and go back to the Comcast Center for the holiday show.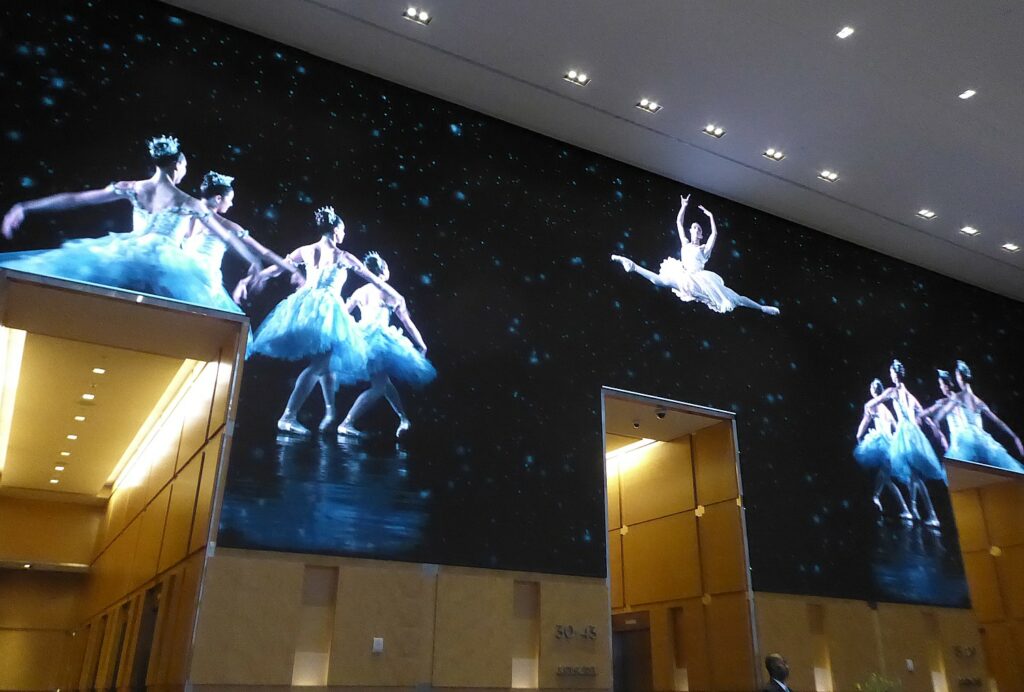 A Philly holiday tradition, the Comcast Center's annual Holiday Spectacular transforms otherwise innocuous walls transform into a super high-res LED, 27-million pixel display so detailed that the figures – an orchestra conductor, dancers – almost seem three-dimensional, that is to say, real. There are delightful scenes: the Pennsylvania Ballet's The Nutcracker, scenes that are reminiscent of Disney's Fantasia or Dumbo, a magical sleigh ride over the city (with a bird's-eye view of the new Comcast Technology Center) and a sing-along. More than 2 million people have seen the show since its debut in 2008. The 15- minute show (free) runs daily through New Year's Day, from 10 a.m. to 8 p.m. (every hour on the hour except 5 p.m. on weekdays; Comcast Center, 1701 John F. Kennedy Boulevard.)
I return to the Comcast Tech Center just in time for my "trip" in the Universal Sphere – this is a permanent installation that was introduced last spring. You enter a sphere (it looks like a giant golf ball), that becomes a space capsule (like in "Contact", you actually move and feel like you are traveling, but thankfully, it doesn't make you motion sick) to explore where ideas come from. In just 7 minutes, this multi-media work of genius produced by Steven Spielberg and DreamWorks is an inspirational, heart-warming, optimistic exploration into what is an idea, where ideas come from, and where the next idea will come (it doesn't have to be a big idea; even small ideas can change lives.). "Ideas start with nothing, become an intuition, a notion, a thought, a concept. Ideas build upon each other, evolving and changing to make new ideas." The essential message is this: "Ideas are our superpower, the very thing that makes us human." Spielberg said of the project. "I want everybody who experiences this to feel that they matter, that they count," The experience is enlightening, inspirational, absolutely fantastic and free and not-to-be-missed.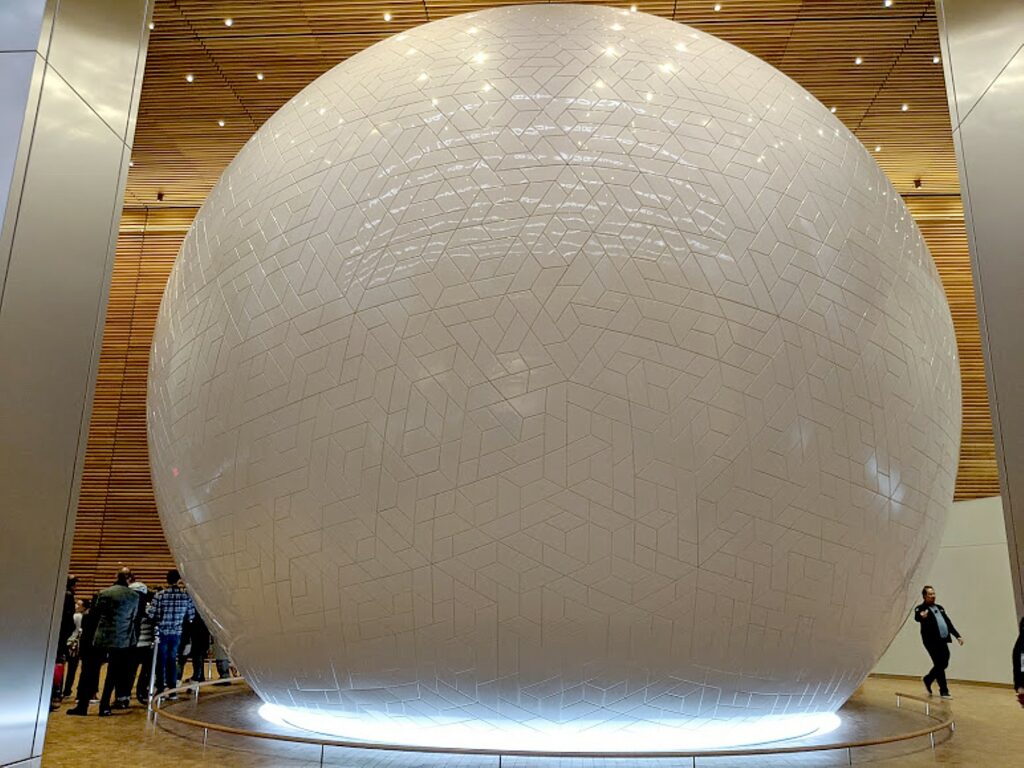 You can reserve a time online and get a ticket; same day reservations open at 9 am.  (Extended holiday hours, Nov 29-Dec. 31, daily 10 am-8 pm; Christmas Day & New Year's noon-5 pm, 1800 Arch Street, Comcast Technology Center, Upper Lobby) More background info: https://comcastcentercampus.com/universal-sphere/. (Comcast Center Campus, 1701 John F. Kennedy Blvd., www.comcastcentercampus.com)
I still have time before my next holiday stop, so even though it is foggy, I ride up 57 stories (883 feet) to the One Liberty Observation, the highest point in Philadelphia, that normally provides a 360-view of the entire city. (1650 Market Street, PhillyFromTheTop.com, 215-561-3325.)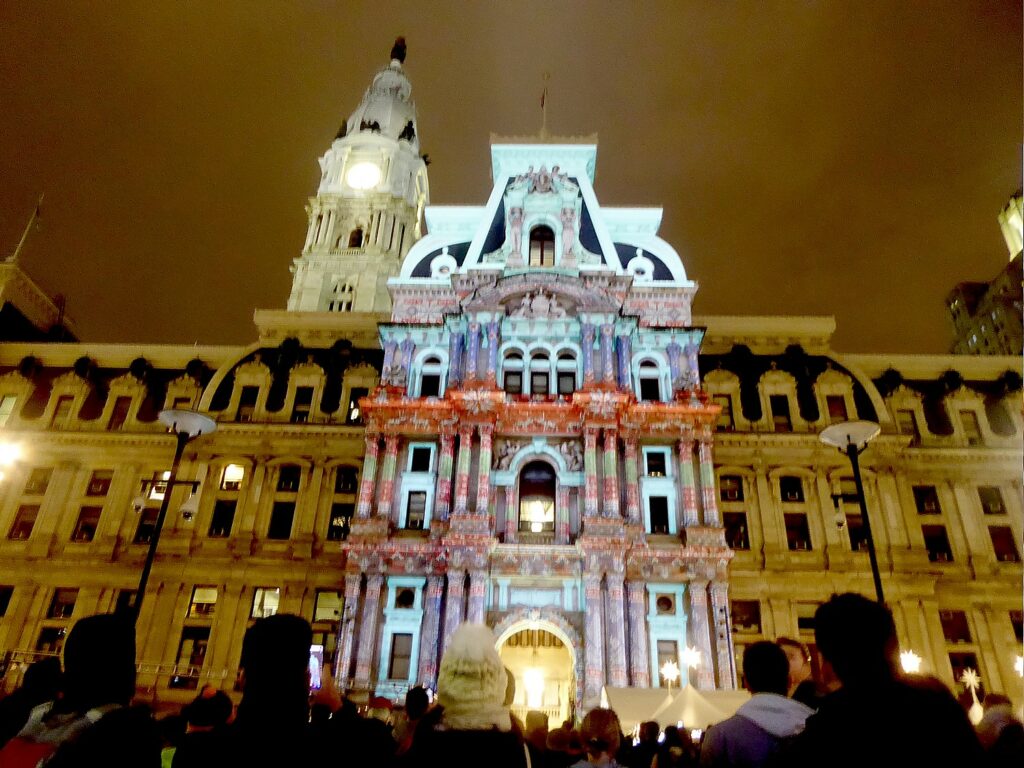 I'm back at Dilworth Park, in front of City Hall, in time for the Deck the Hall Light Show, featuring. technicolor projections synchronized to holiday music that animate the western façade of City Hall over Dilworth Park. Created by Klip Collective, a new feature for 2019 is that visitors can deck the hall themselves on Tuesday and Wednesday evenings using an interactive keyboard that projects lights onto City Hall. (Nightly every hour on the half hour from 5:30 pm to 8:30 pm, see dilworthpark.org)
Skating on the Rothman Orthopaedics Ice Rink set underneath City Hall's lights at City Hall while listening to a mix of holiday tunes and bouncing beats, creates its own festive vibe and also affords perfect views of the Deck The Hall Light Show from the ice. ($5/skate, $1-0/rental, thru Feb. 23, Dilworth Park, 1S 15th St.)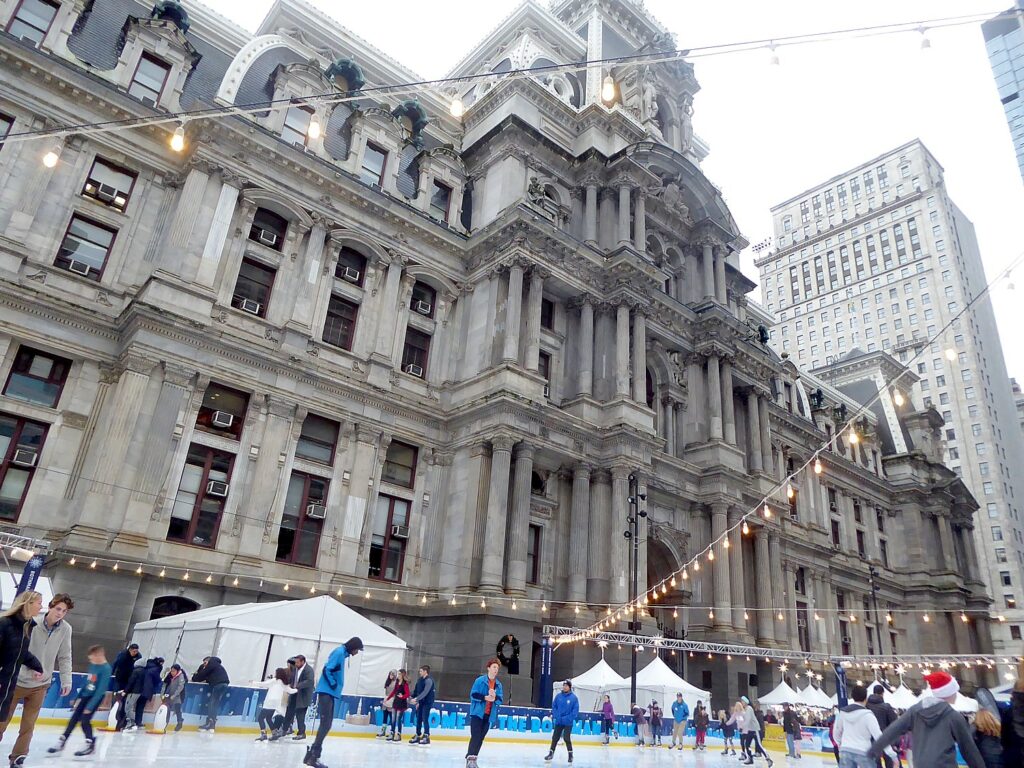 In the new Wawa Holiday Plaza at City Hall's North Apron (a first for Philly this year), is a 65-foot tall Christmas Village Ferris Wheel and a Holiday Train and holiday shops. ($4 to ride the ferris wheel, $3 to ride the holiday train. (Thru Dec. 24, 1400 John F. Kennedy Blvd.)
The Wawa holiday plaza also hosts the Visit Philadelphia Holiday Tree— a 50-foot-tall white fir covered in 4,000 feet of multi-color LED lights, ornaments and a base that reflects Philly's 22 diverse neighborhoods around the city.
I walk back through City Hall's beautiful courtyard featuring ACME Winter Memories, Christmas Village vendors and a fanciful carousel ($3 a ride, but free on ACME Family Wednesdays, when each visitor also gets a complimentary Santa hat).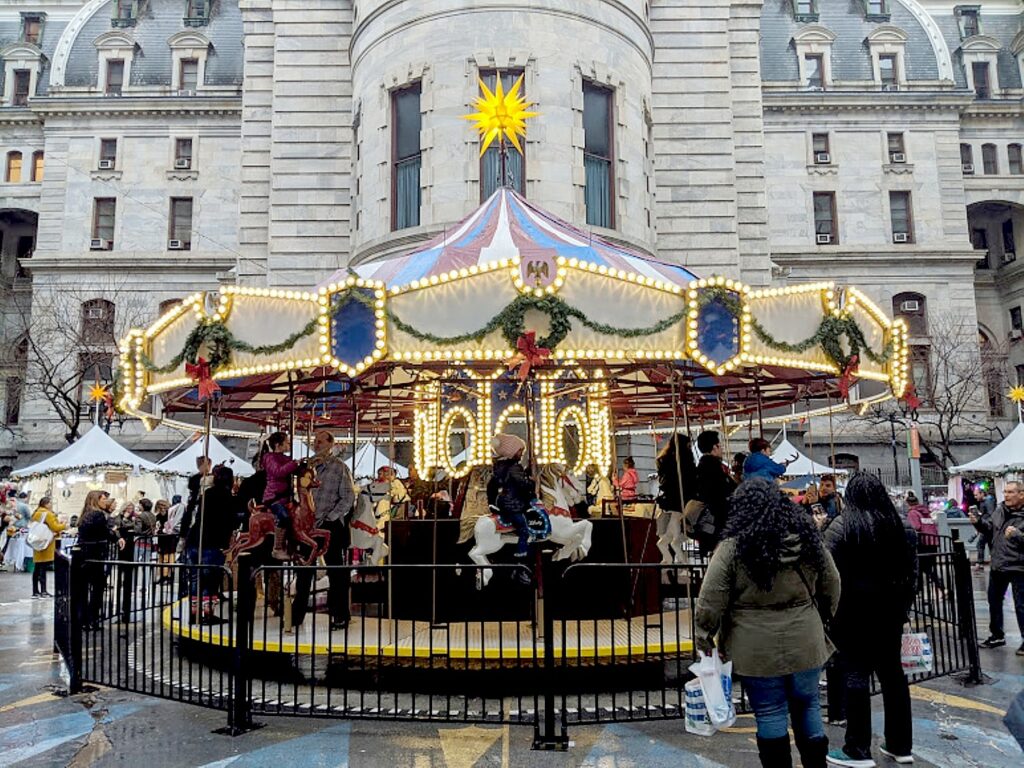 A few steps away, at LOVE Park, is a mega-popular Christmas Village in Philadelphia, featuring a traditional German Christmas market with more than 80 vendors to check out.
I've timed my next stop at Macy's, housed in the former, historic Wanamaker's Department Store – grand doesn't even begin to describe the interior. For the holidays, there is a giant light show displayed three-stories high in the appropriately named Grand Court, an atrium that soars four-stories, with balconies around, preceded by an organ recital on what is called "The King of Organs." At the center is a famous brass eagle.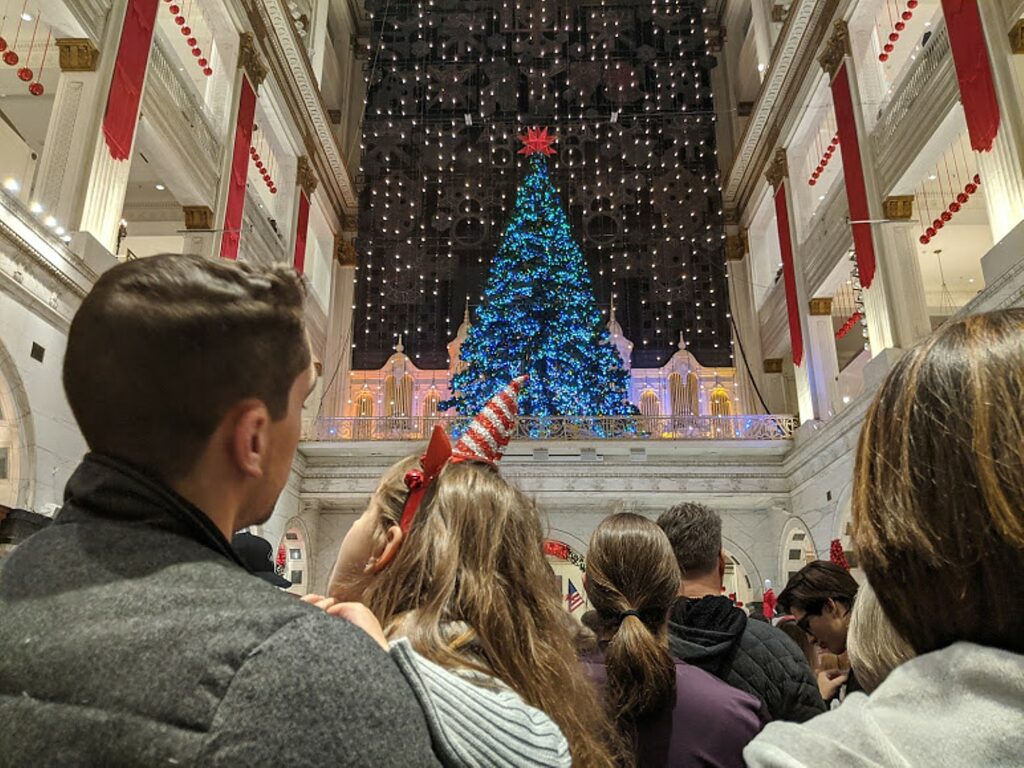 The Macy's Christmas Light Show, starring the 40-foot tall "Magic Christmas tree," is a traditional favorite that generations have enjoyed since 1956. Narrated by Julie Andrews, it features "The Sugar Plum Fairy" and "Frosty the Snowman" with an enchanting nod to Julie Andrews' "Sound of Music" and the wistful "good bye, good bye." (Through Dec. 31; every two hours, from 10 am to 8 pm). Macy's also hosts Santa visits through Dec 24, and there is a Dickens Village open until Dec. 31, where you watch as a Christmas Carol comes to life (photos with Santa packages start at $18.99, macys.com/santaland). (See macys.com/events.)
The organ is actually a notable attraction. It boasts being the "world's largest pipe organ" and was first played in the Wanamaker soaring atrium at the exact moment King George V was crowned in Westminster Abbey.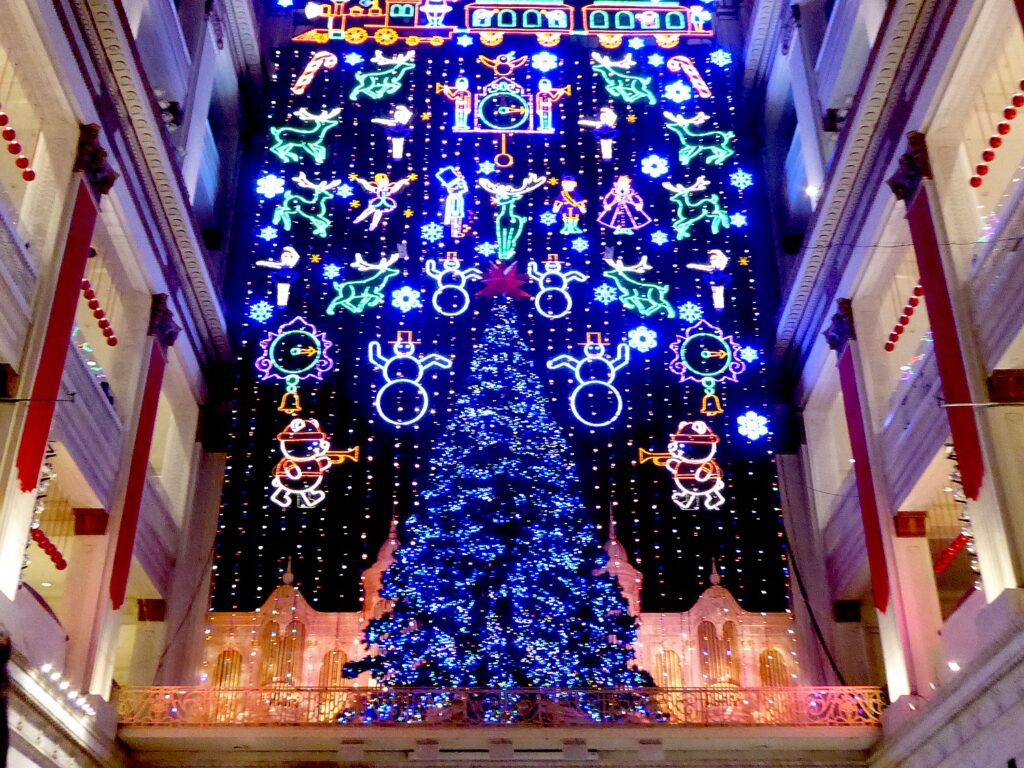 After the crowd clears out (the store is open for holiday shopping until 11 pm), it's also an opportunity to become familiarized with the enormous Grand Court Eagle, which was created for the 1904 St Louis World's Fair by sculptor August Gaul. Wanamaker purchased the brass eagle for his flagship store and it became a catchphrase for shoppers, "Meet me at the eagle." The floor beneath is reinforced with extra girders to accommodate its 2500 pounds; its 5,000 feathers (including 1600 on the head) were wrought by hand.
A historic marker (one of Philly's many fascinating markers) outside Macy's notes that John Wanamaker (1838-1922) was a Philadelphia merchant famed for the department stores that bore his name. He opened his first store in 1861, and built his "new kind of store" in Philly in 1876, implementing new concepts including one-price system and money-back guarantee. He also built schools and churches and as US Postmaster General (1889-93), he fostered rural free delivery and introduced the commemorative stamp.
I'm not done! I find out that one of Philly's newest holiday festivals, East Market Snow Walk, happens in the plaza next door to The Roost East Market hotel, a nightly light show featuring the giant Christmas tree throughout December (6:30, 7:30, 8:30 pm) with live entertainment on Saturday nights (tonight's is a sensational 1920s-style swing band, Parlour Noir) (get schedule, EastMarket.com).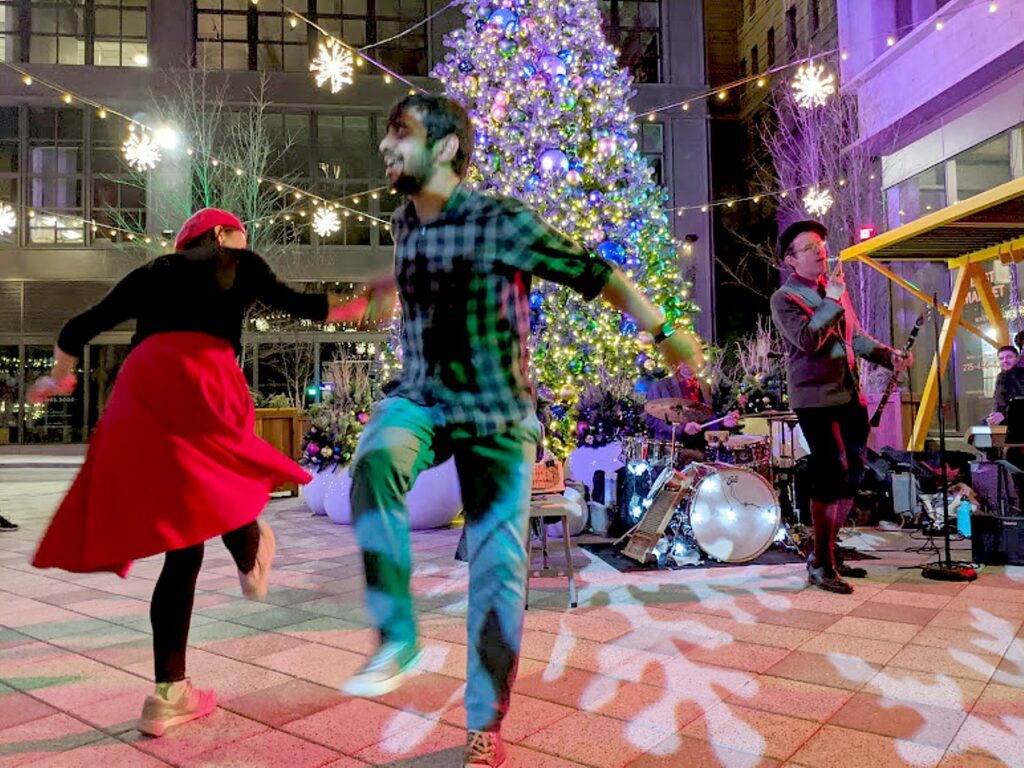 There are more holiday happenings through the city that I couldn't fit in during my all-too-brief stay:
The annual Franklin Square Holiday Festival features a free Electrical Spectacle Holiday Light Show presented by PECO that makes this historic square twinkle with more than 80,000 LED lights dancing to a soundtrack of seasonal tunes from The Philly POPS. A 12-foot-tall kite serves as an ode to Philadelphia's favorite son, Benjamin Franklin's famous kite-and-lightning experiment, hovering 20 feet above the square's centerpiece fountain. Light shows begin every day of the week at 4:30 p.m. and light up every 30 minutes until 8 p.m. Sundays through Thursdays, and 9 p.m. on Fridays and Saturdays. Other festivities include Saturdays with Santa; rides on the holiday train and carousel; comfort foods, local beer and hot beverages at Ben's Sweets & Treats and holiday fare at SquareBurger; and mini-golf. (Through Dec. 31, Franklin Square, 200 N. 6th Street ).
Deck the District – Fashion District Philadelphia, the retail and entertainment space which opened in September in the city's Market East neighborhood, celebrates its first holiday season with an inaugural light show. The destination boasts a 45-foot-tall floating tree with giant stainless steel mirror ornaments and a light show timed to music by The Philly POPS. The five-minute show, by designer Matthew Schwam, known for putting big, bright red bows and dazzling lit-up snowflakes on significant city buildings, is best viewed from in front of Candytopia, located near the entrance at 9th Street and Market Street. The show runs every 30 minutes from 4 p.m. until closing. (Thru Dec. 31, 901 Market Street, 215-925-7162, fashiondistrictphiladelphia.com)
LumiNature at Philadelphia Zoo – Two years in the making, a new, immersive display transforms the zoo's day-scape into a nighttime multimedia light and music spectacle. Dancing lights, sounds (even talking trees) throughout furnish illusions of animals coming to life. A flock of flamingos forms a 25-foot-tall tree; an enormous polar bear broadcasts the magnificence of our planet; all four seasons host their very own party. Seasonal fare, live performers, hot chocolate and adult beverages promise to spark the winter spirit. (Timed tickets through Jan.5. 3400 W. Girard Avenue, 215-243-1100, philadelphiazoo.org.
Photo Pop Philly: Winter Wonderland ­– The ultimate selfie station, located inside the historic Bourse building (now a modern food hall), invites ticketed guests through a series of artist-envisioned, purposefully Instagram-able rooms featuring virtual reality, a photo booth and lots of snow-filled backdrops. (Select days through Jan. 5. 111 S. Independence Mall East, 215-925-7900, photopopphilly.com)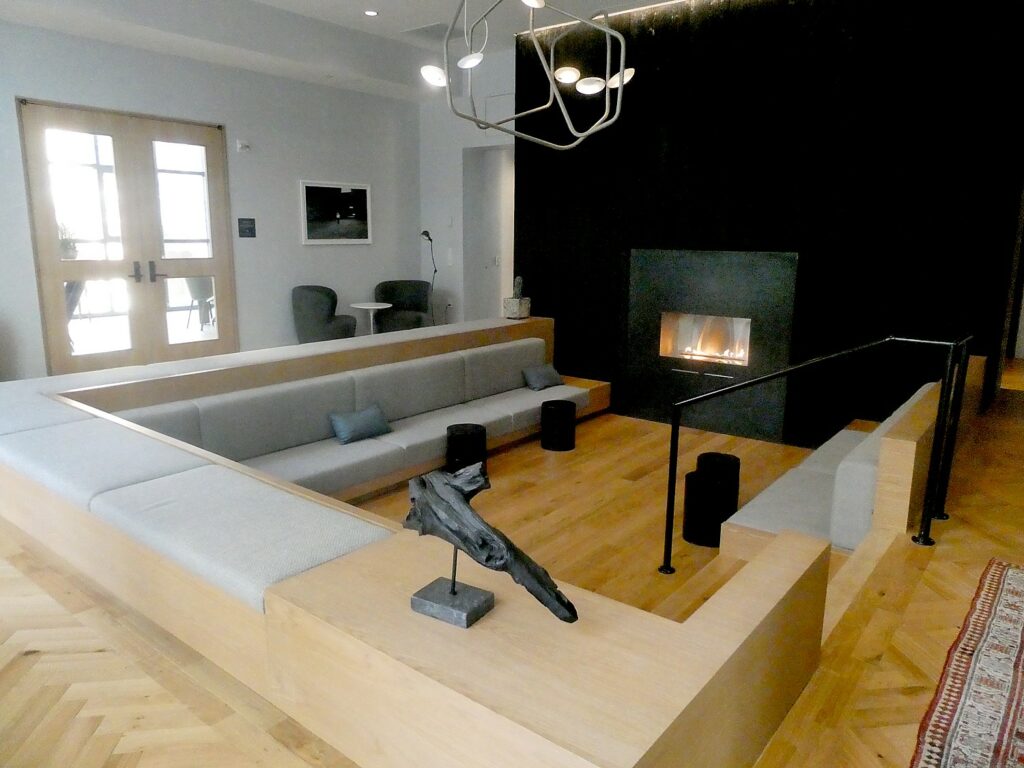 Staying at The Roost East Market apartment hotel really enabled us to be part of the city. It's not hyperbole to say the comfort of a fully-equipped, gorgeously furnished apartment meets luxury amenities of a boutique hotel. All of the apartments feature full-size kitchens with cookware and utensils (I especially love not having to go out for breakfast) and king size beds. A third-floor is devoted to guest amenities including a well-equipped 24-hour fitness center, magnificent and comfortable lounge areas and library, a huge demo kitchen, a private screening room, an outside, 20-meter heated lap pool, barbecue area, landscaped terrace, community vegetable garden; and bike-share program. There is also 24-hour front desk and concierge, security (you need your card to access the elevator and public areas); and direct access to a parking garage. They even arrange dog-walking and grocery delivery services.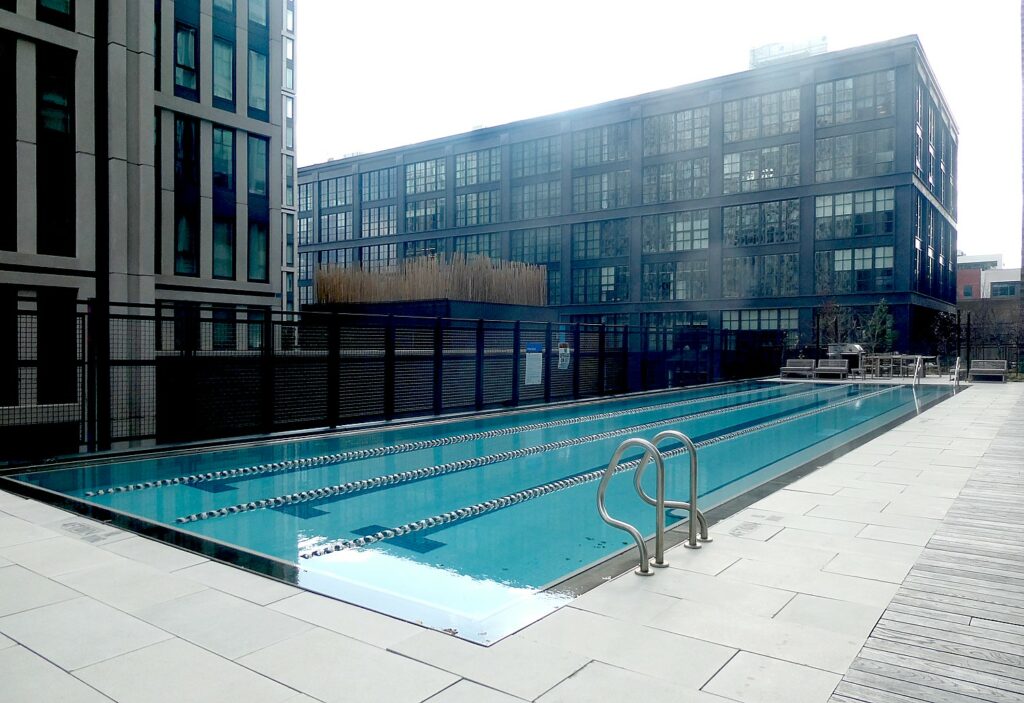 The Roost East Market is wonderfully situated on the edge of Philadelphia's Midtown Village neighborhood (aka Gayborhood), a short walk away from City Hall, Reading Terminal Market, the Pennsylvania Convention Center and the shopping destination Fashion District Philadelphia. It is a 15-minute walk to Independence Hall and all the attractions in that area. (The Roost East Market, 1199 Ludlow Street Philadelphia, PA 19107, 844-697-6678, https://myroost.com/philadelphia/east-market/).
This is the third location of the Philadelphia-based extended-stay brand (though there is no minimum length of stay). The others are the ROOST Rittenhouse (1831 Chestnut St. Philadelphia) and ROOST Midtown (111 S. 15th St. Philadelphia). The brand is also expanding to other cities including Washington DC, which will also have a restaurant; Charleston, and Tampa.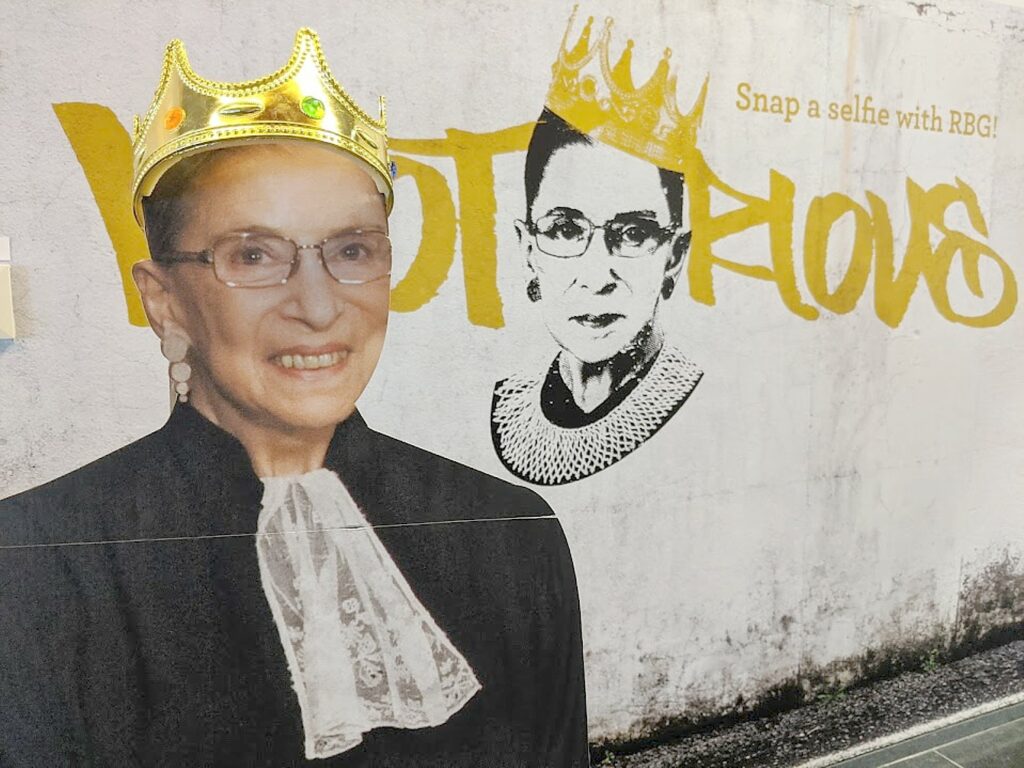 My holiday happenings are bookended by visits to several of Philadelphia's incomparable sites and attractions: Barnes Museum (2025 Ben Franklin Pkwy, barnesfoundation.org); Independence Hall (you need to get a timed ticket, either walk up for free or in advance online for $1 fee, www.nps.gov/inde/planyourvisit/independencehalltickets.htm); a fabulous exhibit devoted to Supreme Court Justice Ruth Bader Ginsburg (Notorious RBG) at the National Museum of American Jewish History, located within the Independence Hall  area (thru Jan. 12, at 5th & Market, mnajh.org, 215-923-3811); Philadelphia Magic Gardens (doesn't need any holiday embellishments, 1020 South St., 215-733-0390, phillymagicgardens.org);and Franklin Institute (222 North 20th St., 215-448-1200, www.fi.edu), before having to pull myself away from Philadelphia. (See story)
A Visit Philly Overnight Hotel Package includes overnight free parking and perks, and is bookable at Greater Philadelphia's official visitor website, visitphilly.com, 800-537-7676 where you can explore things to do, upcoming events, themed itineraries and hotel packages.
_________________________
© 2019 Travel Features Syndicate, a division of Workstyles, Inc. All rights reserved. Visit goingplacesfarandnear.com, www.huffingtonpost.com/author/karen-rubin, and travelwritersmagazine.com/TravelFeaturesSyndicate/. Blogging at goingplacesnearandfar.wordpress.com and moralcompasstravel.info. Send comments or questions to [email protected]. Tweet @TravelFeatures. 'Like' us at facebook.com/NewsPhotoFeatures