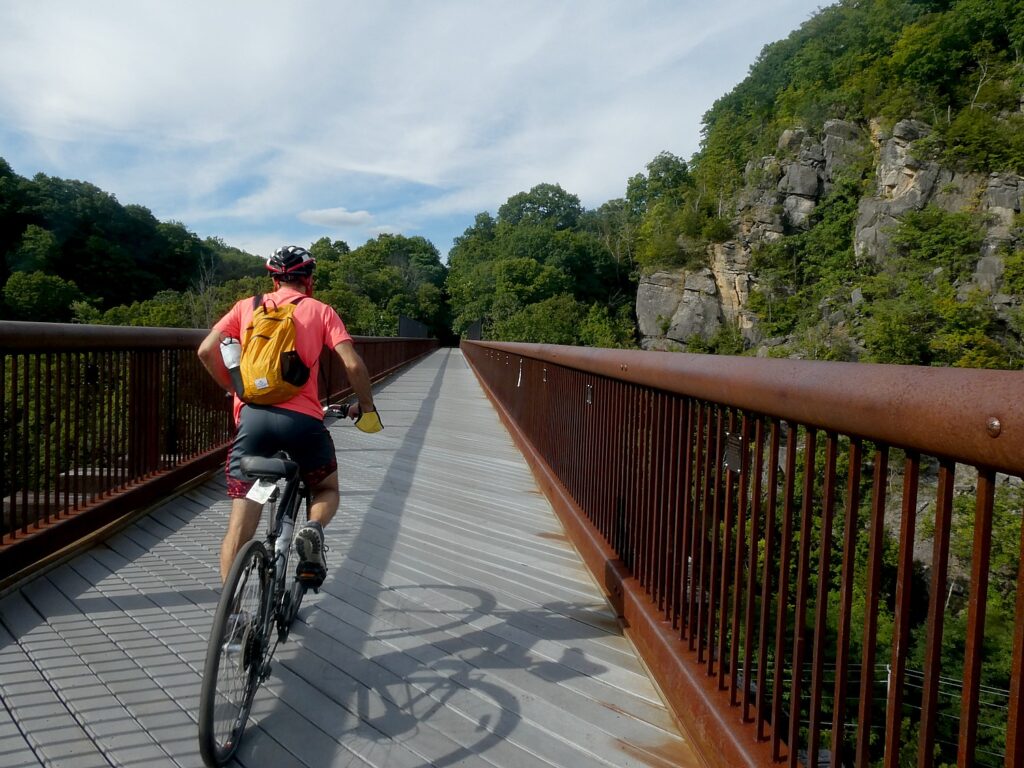 by Karen Rubin, Travel Features Syndicate, goingplacesfarandnear.com
New York's ambitious Empire State Trail, now the nation's longest multi-use state trail, is now fully opened as of December 31. The trail network spans 750-miles total, 75 percent of which is off-road trails ideal for cyclists, hikers, runners, cross-country skiers and snow-shoers. The new recreational trail means you can go from New York City north-south through the Hudson and Champlain Valley to Canada, and east-west from Albany to Buffalo along the Erie Canal on a safe and incredibly scenic pathway, discovering fascinating historic and cultural sites along the way.
The Empire State Trail is expected to draw 8.6 million residents and tourists annually and will be an economic boon to rural communities, in addition to providing opportunities for healthful activities promoting wellness among New Yorkers.
"Nearly four years ago, we announced plans to build the Empire State Trail and I am excited to announce it's been completed on time and will open on New Year's Eve," Governor Andrew Cuomo said. "There's no trail like it in the nation – 750 miles of multi-use trail literally from Manhattan to the Canadian Border, from Buffalo to Albany. Not only does it provide an opportunity to experience the natural beauty and history of New York, but it also gives New Yorkers from every corner of the state a safe outlet for recreation as we continue to grapple with the COVID-19 pandemic. As we approach the holiday weekend, there is no better time than now to put on your mask and experience it for yourself."
"During this unprecedented year, the Empire State Trail has been a lifeline for many, as local residents explored recreational opportunities in their backyards while remaining safe during a global health pandemic,"Lieutenant Governor Kathy Hochul said. "The completion of the 750-mile state trail not only makes physical connections between locations across the state, but it also continues to build on how we are reimagining our natural wonders and historic corridors as a source of recreation, economic development and tourism in New York State."
Introduced in the Governor's 2017 State of the State address, the Empire State Trail will be open year-round, including winter. It connects 20 regional trails to create a continuous statewide signed route. As part of the 58 distinct projects to complete the Trail on time, more than 180 miles of new off-road trail was created and 400 miles of previously disconnected, off-road trails were linked to eliminate gaps and ease engineering challenges such as railroad and water crossings in high traffic areas.
The New York State Department of Transportation improved 170 miles of on-road bicycle route sections to enhance safety and travel on low-speed rural roadways and city streets when possible. New York State also installed 45 gateways and trailheads along the route to welcome visitors and branded the trail with signage, interpretive panels, bike racks, and benches.
The Empire State Trail website provides quick and easy access to trail information including segment descriptions, access points, trail distances, parking areas, restrooms, and nearby amenities and attractions. The website's responsive and user-friendly design allows users to access interactive maps from mobile devices, zoom in to specific location of interest, and download/print maps of trail segments. Cyclists can print "cue sheets" with highly detailed directions for following a selected trail segment. The site also features information about the variety of activities and destinations on or near the trail such as campgrounds, parks, historic sites, and popular stops among the local communities.
Recently completed projects that finalize the trail include:
Hudson Valley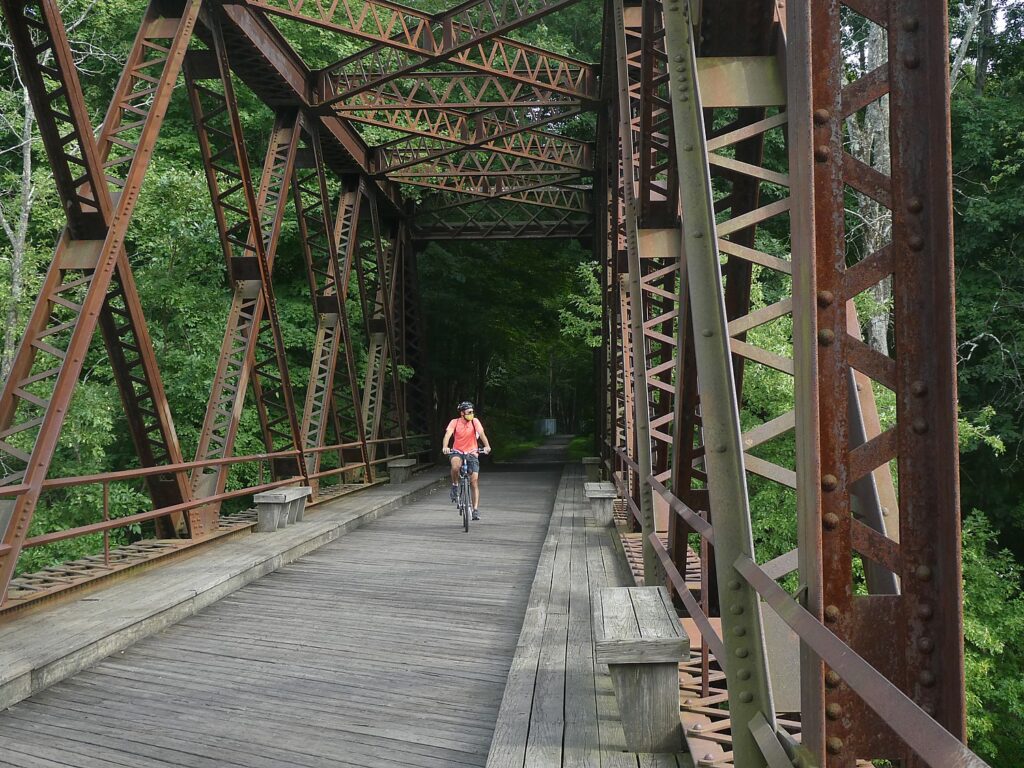 Albany-Hudson Electric Trail: The Hudson River Valley Greenway constructed 36 miles of off-road and on road trails from the city of Rensselaer to the City of Hudson in Rensselaer and Columbia counties. The $45 million trail follows the historic route of an electric trolley which operated from 1900 to 1929. The corridor is owned by National Grid, which authorized New York State to build a trail on the route.
Maybrook Trailway: Metro-North Railroad constructed a new 23-mile rail-trail on its inactive "Beacon Line" corridor from Hopewell Junction in Dutchess County to Brewster in Putnam County passing through the towns of Pawling, Southeast, Paterson, Beekman and East Fishkill. Along the route, the trail winds through rural landscapes and wooded areas featuring seasonal waterfalls and crosses the Appalachian Trail. The $42 million Beacon Line was the first all-rail freight connection across the Hudson River north of New York City. It originally opened as a rail line in 1892 and served as a vital transportation link between New York and southern New England, carrying trains between Derby Junction and Maybrook, via the bridge over the Hudson River at Poughkeepsie that is now the Walkway Over the Hudson.
Hudson River Brickyard Trail: The City of Kingston constructed a new 1.5-mile Empire State Trail section along the Hudson River shoreline. The $1.4 million project was built with City of Kingston and Town of Ulster funds matched by state grants from the Department of State and Hudson River Valley Greenway.
Battery Park City Gateway: The $450,000 gateway marks the southern terminus of the trail in Lower Manhattan.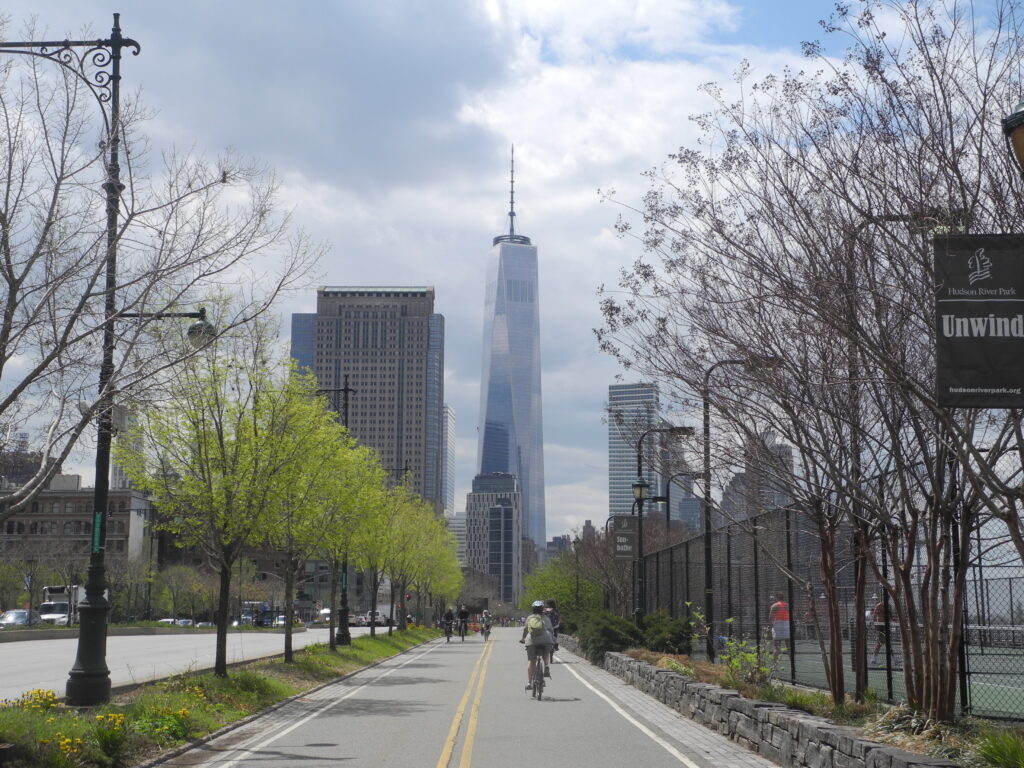 Erie Canalway Trail
The Ralph C. Wilson Jr. Gateways: These four gateways in Western New York provide a welcoming connection for trail visitors at key access points in: Buffalo Harbor State Park in Buffalo; at the western entrance to the Erie Canal in Tonawanda; at Five Locks Park in Lockport; and in Genesee Valley Park in Rochester. The gateways include kiosks featuring local and statewide trail information, bicycle racks, and shaded granite block seating. Each gateway features a "Ralph C. Wilson, Jr." memorial plaque honoring the late owner of the Buffalo Bills. The Ralph C. Wilson, Jr. Foundation provided $2.6 million dollars for the gateways.
Macedon Bridge: NYSDOT restored a closed vehicle bridge over the Erie Canal. The $4.2 million investment created a bicycling and walking trail and created a local park.
Erie Blvd-Syracuse: NYSDOT constructed a 3-mile trail in the median of Erie Blvd, from East Syracuse to DeWitt. The project cost $23 million.
Loop the Lake Trail-Syracuse: Onondaga County constructed a new 1.5-mile trail on the south shore of Onondaga Lake, including a new bicycle/pedestrian bridge over CSX's rail line. The project was funded with County and federal funds.
Utica: New York State Canal Corporation constructed a new 3.5-mile trail east of Utica for $9.3 million
Herkimer County: New York State Canal Corporation completed a new 2.2-mile trail section Lock E18 to Route 167, a new 1.3-mile trail section Frankfort to Ilion, and a new 2-mile trail from Ilion to Mohawk. These projects totaled $16.4 million.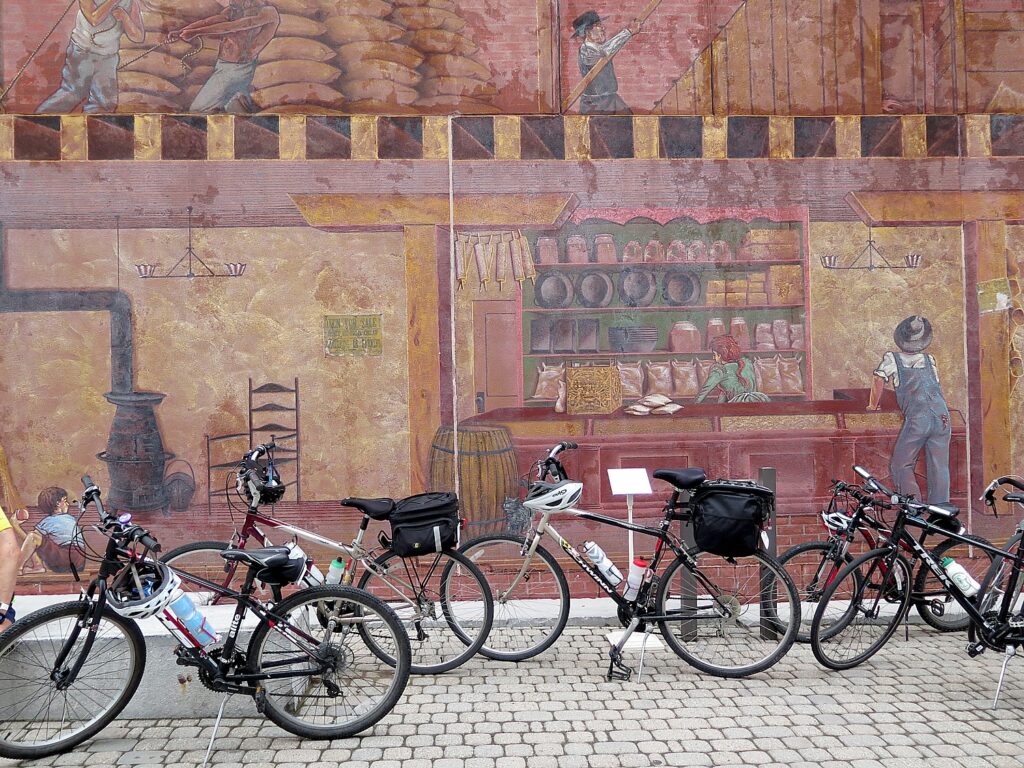 Champlain Canalway
Fort Edward to Fort Ann: The New York State Canal Corporation constructed two adjacent trail sections. The $14.3 million investment created a 12-mile trail from Fort Edward to Fort Ann.
Fort Ann to Comstock: NYSDOT built a new 0.75-mile off-road trail in Washington County and designated a 7-mile route on local roads and cost $2 million.
"The Empire State Trail is a testament to Governor Cuomo's vision to make New York State an unmatched destination for outdoor recreation," New York State Parks Commissioner Erik Kulleseid said. "Everyone from the most experienced long-distance cyclists to family groups with children will enjoy this pathway. People can take a quick bike ride or walk close to home, or they can plan a multi-day adventure to take them from one end of the state to the other."
"Governor Cuomo's vision for the newly-completed Empire State Trail merges economic development with the beautiful views along the Canal system to create exceptional outdoor recreation opportunities, both for residents of canalside communities and for visitors from across New York and beyond," New York State Canal Corporation Director Brian U. Stratton said. "The Erie Canalway and Champlain Canalway Trail segments of the Empire State Trail reintroduce New Yorkers to the historic towpaths of our state's storied waterways and connect a new generation to the rich heritage of the New York Canal system."
"Completion of the 750-mile Empire State Trail is a truly historic achievement for New York State that demonstrates the intricate connection between investments in transportation infrastructure and the vitality of our communities," New York Department of Transportation Commissioner Marie Therese Dominguez said. "This breathtaking trail will allow countless generations of New Yorkers and visitors to explore the world-renowned natural wonders and beauty of the Empire State and provide unparalleled recreational access to users of all ages and abilities – all while promoting environmental responsibility, tourism and economic development. The New York State Department of Transportation is proud to have played a significant role in fulfilling Governor Cuomo's vision. Excelsior!"
"New York's landscape offers extraordinary opportunities to explore the outdoors and experience the state's world-class natural resources while still being able to recreate locally," New York State Department of Environmental Conservation Commissioner Basil Seggos said. "This exciting milestone for the Empire State Trail enhances one of New York's premier recreational opportunities and demonstrates Governor Cuomo's commitment to showcasing our state's diverse communities, boosting their local economies, and connecting more New Yorkers to our environment."
"The completion of the Empire State Trail further demonstrates Governor Cuomo's commitment to invest in canalside communities and compliments the Reimagine the Canals initiative," New York Power Authority President and CEO Gil C. Quiniones said. "Together, these investments safeguard the Canal's role as a driver of economic growth. The Empire State Trail also will improve the quality of life of New Yorkers while simultaneously showcasing the historic beauty that already exists in the landscape surrounding the canals."
"I want to thank Governor Cuomo for his vision, and our talented and dedicated Metro-North project team for giving new life to this area along Metro-North's Beacon Line," President of Metropolitan Transportation Authority Metro-North Railroad Catherine Rinaldi said. "This project ensures that New Yorkers and outdoor enthusiasts alike will be able to enjoy the trailway for decades to come."
"Governor Cuomo's Empire State Trail announcement completes New York State's vision to create a Greenway trail between New York City and the Erie Canal, and it caps the efforts of communities up and down the Hudson Valley to develop an iconic multi-use trail," Hudson River Valley Greenway Executive Director Scott Keller said.
Empire State Trail Brewery Passport
In addition, a virtual passport program showcases the 200 craft breweries closely surrounding the Empire State Trail, in partnership with the New York State Brewers Association. The Empire State Trail Brewery Passport, made available through the NYSBA's existing New York Craft Beer App, will encourage New Yorkers to visit breweries within 10 miles of the Empire State Trail.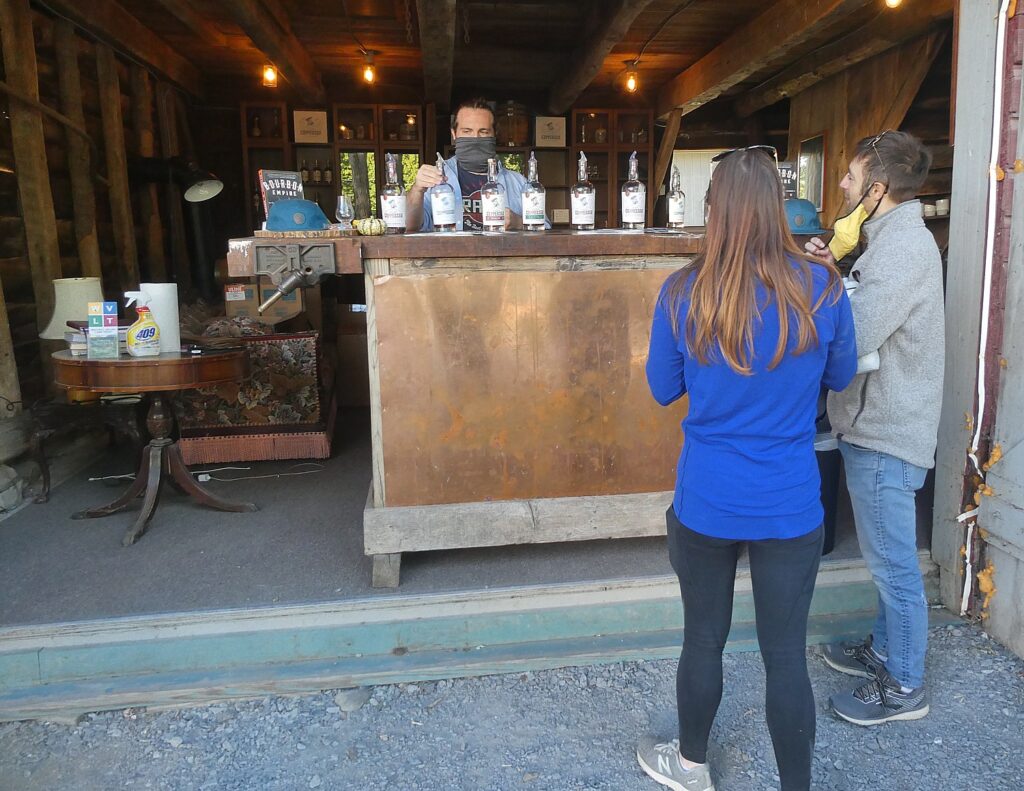 At each brewery along the Trail, visitors can digitally check-in on the app, earning a stamp on both of the app's passport programs – the Think NY, Drink NY Passport and now the Empire State Trail Brewery Passport.
Exclusive rewards are awarded at levels determined by the number of stamps received on the Empire State Trail Brewery Passport, from neck gaiters, to shirts, to backpacks and more. By checking-in at 200 breweries and completing the Empire State Trail Brewery Passport, visitors will receive a branded cooler backpack and a t-shirt stating, "I completed the Empire State Trail Brewery Passport."
The New York Craft Beer App is the first state-wide beer app in the country and is available for both Apple and Android devices. The app gives craft beer enthusiasts access to a map containing every brewery across New York State, searchable by region, and includes directions to breweries and allows users to build and save a personal tour of selected breweries. (https://thinknydrinkny.com/the-app/)
Parks & Trails NY's Cycle the Erie Ride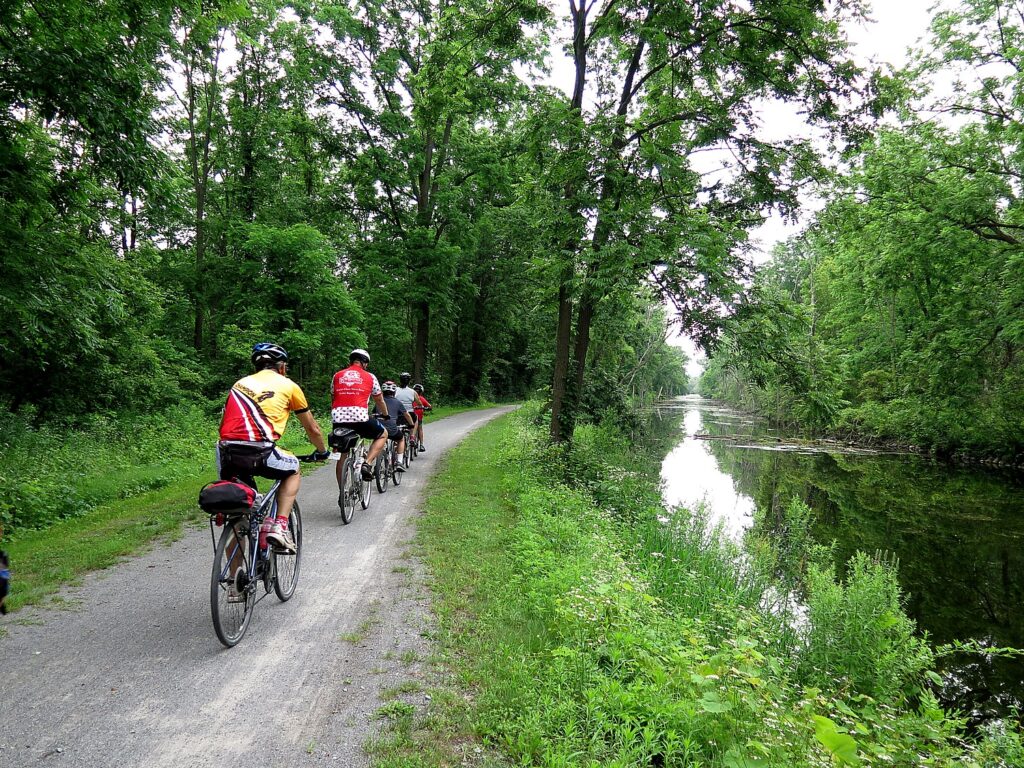 Meanwhile, Parks & Trails NY, a long-time advocate and activist for repurposing trails and byways for recreational use, is hoping to offer its 23rd annual 8-day 400-mile, Buffalo to Albany biking/camping Cycle the Erie trip July 11-18, 2021. PTNY is taking wait-and-see to offer the trip, which had to be cancelled due to the COVID-19 pandemic in 2020, and is delaying registration until March 1.
"We continue to plan for a potential 'in person' 2021 CTEC event while remaining flexible in our options, given the uncertainty of the months ahead in terms of the pandemic and state regulations," write the ride directors.
"2021 is going to be a great year for the cycling community and with so many new additions to the Erie Canalway Trail we cannot wait to share it with you." (See https://www.ptny.org/cycle-the-erie-canal/annual-bike-tour for more.)
Details on the 750-mile Empire State Trail at https://empiretrail.ny.gov/.
See also:
NEW YORK'S EMPIRE STATE TRAIL COMES TOGETHER: BIKING THE WALLKILL VALLEY RAIL TRAIL IN HUDSON VALLEY
Cycle the Erie: 400 Miles & 400 Years of History Flow By on Canalway Bike Tour Across New York State
Cycle the Erie, Day 1: In Lockport, See Erie Canal Engineering Marvel, 'Flight of Five', Cruise Thru Double Locks, and Go Underground to Fathom Rise of Industrial Revolution
Cycle the Erie, Day 2-3: A Sequence of Charming Canaltowns, Pastoral Landscapes, Punctuated by City Birthed by 'Mother of Cities'
Cycle the Erie, Day 4: Seneca Falls to Syracuse, Crossing Halfway Mark of 400-Mile Biketour
Cycle the Erie, Day 5: Deep Dive into The Erie Canal: 'Mother of Cities', Empire Builder, Wonder of the World
Cycle the Erie: At Fort Stanwix, Rome, Time Travel Back to America's Colonial, Native American Past
Cycle the Erie, Days 6-7: Erie Canal Spurs Rise of America as Global Industrial Power
Cycle the Erie, Days 7-8: Schoharie Crossing, Mabee Farm, Cohoes Falls to Finish Line in Albany of 400-Mile BikeTour
__________________________
© 2021 Travel Features Syndicate, a division of Workstyles, Inc. All rights reserved. Visit goingplacesfarandnear.com, www.huffingtonpost.com/author/karen-rubin, and travelwritersmagazine.com/TravelFeaturesSyndicate/. Blogging at goingplacesnearandfar.wordpress.com and moralcompasstravel.info. Send comments or questions to [email protected]. Tweet @TravelFeatures. 'Like' us at facebook.com/NewsPhotoFeatures