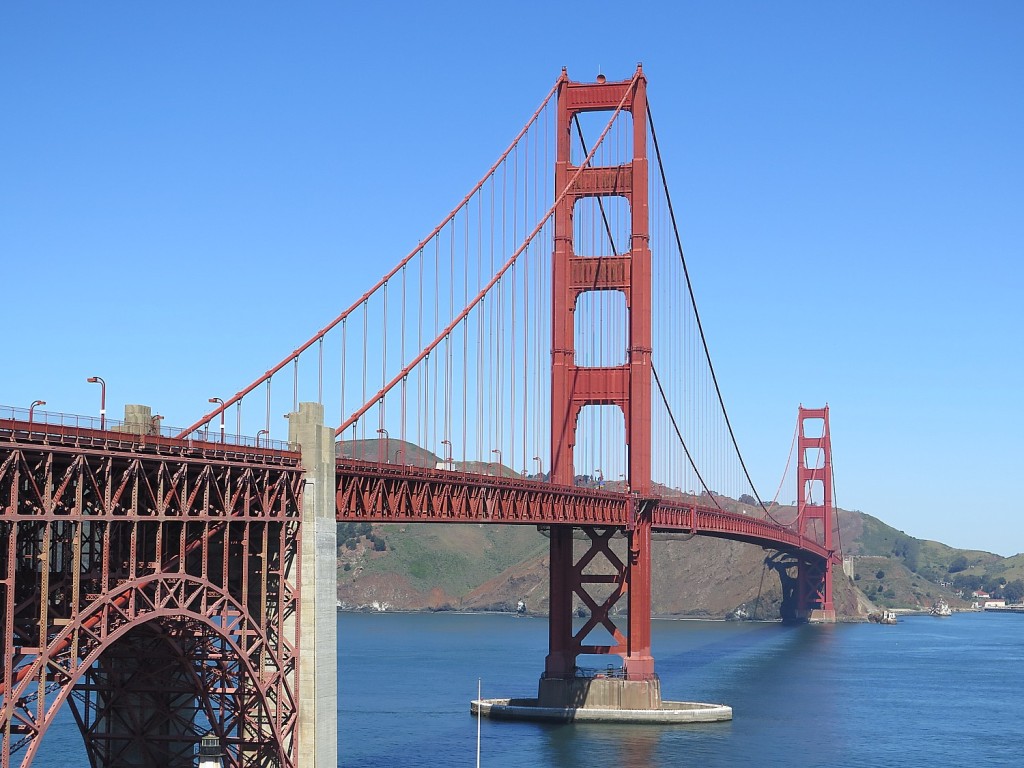 by Karen Rubin, goingplacesfarandnear.com
I have two big wishes for my visit to San Francisco (yes, I know they are cliches): to see, really see, the Golden Gate Bridge and to ride the cable car. I get to achieve that in a day oriented around San Francisco's maritime heritage.
I walk from the Green Tortoise Hostel in North Beach, a colorful district which retains its "Beat" Generation and Little Italy roots, down toward Fisherman's Wharf, to the Bay City Bike rental shop. (which happens to be just where the Powell & Mason cable car starts).
The best way to experience this relatively flat (though not entirely flat) waterfront area is on a bike, which offers those incomparable views of the Golden Gate Bridge and Bay Bridge, Alcatraz Island, and all the bustle of Fisherman's Wharf, the Marina district, and the Presidio (San Francisco's original Spanish center), at a perfect pace and from a perfect perch to really enjoy all that is about you, and with the freedom to stop and really look around.
I pick up my rental bike at Bay City Bike's shop at 501 Bay Street (right beside where the Powell-Mason cable car starts). It is a very fine shop with new equipment (in fact, my helmet has just come out of the box). The bikes come equipped with a pouch, water holder, a handy map on the handlebars, bike lock and helmet. Before you set off, they give you a wonderful orientation to the route and what you can expect (where the hills are, where to turn off to Alexandria Road to go down to Sausalito). You can even purchase a ferry ticket at the shop, but since I am not sure I will be taking the ferry, or ride back (which means riding back up a steep hill for 2 miles from Sausalito), I decide to wait (you can purchase a ticket at the ferry (you can purchase a ticket at a kiosk or pay onboard).
It is one of the most delightful bike rides you can take anywhere- almost entirely on dedicated bike path (but it is also exceptionally popular, so expect many other bikers and walkers).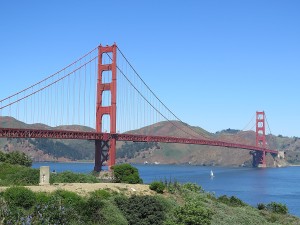 It's just a couple of blocks from the rental shop onto the bike path that takes you through Fisherman's Wharf, and the National Maritime Historic District, passed Ghirardelli Square, the Marina District, through Fort Mason (that's an uphill climb, but what a view!), along the water through the Presidio/Crissy Field to an overlook that gives you a breathtaking view of the Golden Gate Bridge in its full glory, and then over the 1.7-mile span of the Golden Gate Bridge itself, where there are dedicated paths on either side (only one side is open at a time, and there are specific hours).
Going over the bridge makes it my own – no longer a photo image. I love being on it, looking at the historic plaques (it is the same exhilarating feeling as riding over the Brooklyn Bridge).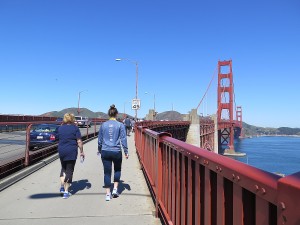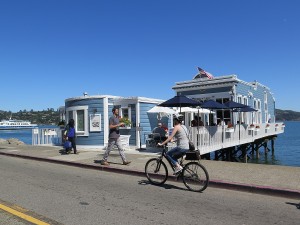 The Golden Gate Bridge, which opened on May 28, 1937 at a cost of $35 million. I could never understand why it was called "Golden Gate" when it is red, nor (as I learn) was it named "golden' for the 1849 Gold Rush, which put San Francisco on the map. Rather, it was named for the strait that connects San Francisco Bay with the Pacific Ocean. I learn later at the National Historical Park Visitor Center that the strait acquired the name "Golden Gate" from James C. Fremont, who wrote, "To this Gate I gave the name of "Chrysopylae", or "Golden Gate"; for the same reasons that the harbor of Byzantium was called Chrysoceras, or Golden Horn."
Indeed, the only real reason that San Francisco became a city at all was this proximity to the Pacific, and most of the waterfront area was created on the skeletons of the hundreds of wrecked ships, abandoned as passengers and crew raced to the gold fields, and with landfill blasted from the hills.
From the bridge, you ride down for two miles (you can veer off to go to the Bay Area Discovery Museum) into the charming village of Sausalito. (I decide then and there the ferry is the best option back.)
It takes me about 2-2 1/2 hours to ride the eight miles to Sausalito (I stop often for photos), where it is delightful to stroll around, visit the exquisite galleries (the Kokopelli Gallery is my favorite) and eateries.
If you choose, you can continue biking 8 miles further to Tiburon – or if you choose to ride back from Sausalito (I am cautioned) – but there is that steep two mile ride up to the Bridge.
Or, you can do what most people do and take the ferry boat back from Sausalito. There are two ferries and I take the one that goes back to Fisherman's Wharf.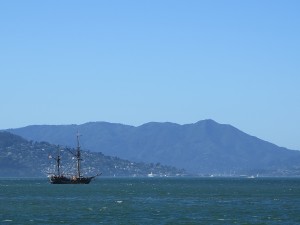 The 30-minute ferry boat ride is a fun sightseeing tour in itself – it stops at Angel Island, a state park now which used to be an important entry point for immigrants and had a role in the Civil War and World War II) to pick up the bikers and hikers; and gives you great views of Alcatraz Island and of course, San Francisco's skyline. (The ticket is $11.50 and well worth it – you can buy the ticket at the bike rental shop, or at a kiosk or pay onboard.)
Bay City Bike has five locations in San Francisco, a selection of equipment, including e-bikes, and a variety of guided and self-guided tours (Explore the City, Golden Gate Park, Marin Headlands-Muir Woods).
Bay City Bike Rentals and Tours, 501 Bay Street (at Fisherman's Wharf), 415-827-2453, www.baycitybike.com (opens daily at 8 am).
Palace of Fine Arts
I get off the ferry at Fisherman's Wharf and continue my bike ride back through the historic district, back along the marina, back to the Palace of Fine Arts which I had passed before.
From a distance, it is an interesting but not memorable structure that seems out of place to its surroundings. But when you get close, you realize it is not a singular building at all, but these giant, amazing colonnades winging a rotunda, decorated with stunning reliefs and statues, overlooking a pond.
In fact, the "palace of fine arts" isn't a palace at all, but rather, what's left of an exposition building that dates from the 1915 World's Fair (the reason that 1915 is in lights on the Ferry Building, marking the centennial of the exposition).
Bernard Maybeck, the architect of the Palace of Fine Arts, designed it in the Beaux Arts style, modeled after the ruins of Roman Parthenon. "He believed that all great cities have ruins," I am told inside the exposition building where the California Historical Society (calhist.org) has an excellent exhibit underway, "City Rising," about the fair.
These columns were built for the exposition, but because they were only intended to last the two years of the fair, were only constructed of plaster, faux travertine and chicken wire. There are even a couple of the original statues that were saved, pocked with holes, where you can see they are more like props for a movie set.
Just about everything was taken down from the fair – indeed, the entire Marina district of homes was put up where the fair grounds were (the fair was built on landfill). But no one had the heart to tear down the columns. By the 1960s, they were coming apart, and in 1965, a Marina District resident funded a project to replace them with stone columns.
You absolutely forget where you are when you stand at the base of these towering columns.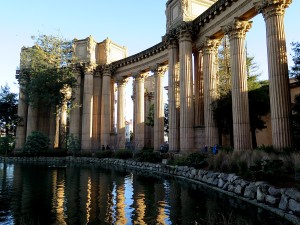 The colonnade and rotunda are just outside the exposition building where inside is a fascinating exhibit presented by the California Historical Society, "City Rising." The exhibit, on through Jan 10, 2016, is about San Francisco and the 1915 World's Fair (the Panama-Pacific International Exposition): "a critical event that shaped the San Francisco we know today: a city undaunted by tragedy, audaciously innovative, and rising to meet the challenges of the day." (Another exhibit is at the California Historical Society, 678 Mission St., through Dec. 6, 2015, ppie100.org).
The hall is also a great respite – with sitting areas, restroom, cafe. (Palace of Fine Arts, 3301 Lyon Street).
San Francisco Maritime National Historical Park Visitors Center
Definitely take time to visit the San Francisco Maritime National Historical Park Visitors Center, which offers fascinating exhibits and artifacts, superb videos that trace the maritime history of San Francisco (a perfect complement to Fern Hill Walking Tours' Classic San Francisco and the Cable Car Museum).
San Francisco Maritime National Historical Park is located on the edge of San Francisco Bay in the Fisherman's Wharf neighborhood and can be visited year-round.
Begin at the Visitor Center, located at 499 Jefferson Street at the corner of Hyde Street. Park Rangers are available to help you plan your visit (415-447-5000).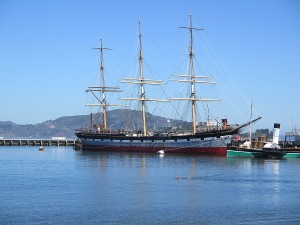 From the Visitor Center, cross Jefferson Street to Hyde Street Pier and visit the park's collection of floating historic ships. Here, you can also see magnificent views of the San Francisco Bay and Golden Gate Bridge.
From Hyde Street Pier, take a short stroll across the park to the ship-shaped Aquatic Park Bathhouse Building (this is being restored now but will house additional exhibits).
There is also the famous Ghirardelli Square, where the chocolate company is located (and offers tours).
Fisherman's Wharf – despite Cannery Row (a nod to John Steinbeck and the brick structure's earliest origins as a cannery, then warehouses, today shops and cafes) – is more or less a theme-park re-creation, with shops and restaurants and such, but it is wonderful fun to wander around.
Hard Rock Cafe San Francisco
The Hard Rock Cafe, right on Fisherman's Wharf at the entrance of Pier 39. is a wonderfully entertaining dining experience, offering a fun, lively atmosphere, tasty "all-American" food, hand-crafted beverages, amidst a museum-quality collection of Rock legend memorabilia. Each of the Hard Rock Cafes likes to feature music of its own area, and here, in San Francisco, the Grateful Dead is in the spotlight, and instead of sports on TV screens, there are music videos playing.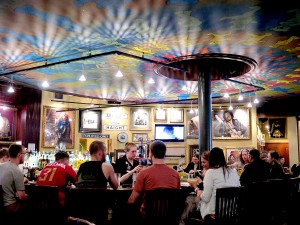 I take a "tour" to more closely inspect the memorabilia decorating the walls: BB King's Electric Guitar; the Beatles' Derby Hats, Carlos Santa's electric guitar, a painting of Jerry Garcia by Grace Slick of Jefferson Airplane and Jefferson Starship; Janis Joplin's cape; Jimi Hendrix' jacket; an autographed black hat of Michael Jackson; an autographed guitar from Journey, a San Francisco-bred band inducted into the Bay Area Rock and Roll Hall of Fame, and James Taylor's guitar. The most expensive single item I'm told is an autographed electric guitar given to Jason Becker, a guitar virtuoso who was diagnosed with Lou Gehring's disease, by Eddie Van Halen (estimated to be worth between $20,000-$30,000).
What is surprising for a place that is so much a part of a tourist destination is the quality of the food. The menu has all the fun, comfort items foundational to American pub fare, and the preparations and quality of the ingredients are excellent.
We start with (what else?) the Jumbo Combo, a collection of its most popular appetizers: Signature Wings, Onion Rings, Tupelo Chicken Tenders, Spinach Artichoke Dip with Parmesan flatbread and bruschetta (particularly delicious, this is toasted artisan bread topped with herb cream cheese and marinated Roma tomatoes and fresh basil, served with a drizzle of basil oil and shaved Parmesan).
For the main, I go with the Cowboy Rib Eye, a 28-day aged 16-oz bone-in rib eye steak, perfectly prepared.
There are a variety of smokehouse favorites – hickory-smoked ribs, barbecue chicken, and a combo, a grilled Norwegian Salmon – sufficient variety to satisfy any palette or diet.The Hard Rock Cafe isn't just a tourist place, the fine dining, fun atmosphere and beautiful setting brings you back over and over.
The location at Pier 39 also is near some of the most breathtaking views of Alcatraz, the Golden Gate Bridge, the San Francisco Bay, and the gorgeous city skyline. We leave the restaurant just in time to take in a magnificent sunset from the skyway just outside, to the Golden Gate Bridge
Get to the restaurant early and enjoy the Sea Lion Center (sealioncenter.org) and the Aquarium of the Bay (aquariumofthebay.com) just next door.
(Hard Rock Cafe San Francisco, Pier 39-Beach & Embarcadero Streets, SF 94133, 415-956-2013, hardrock.com).
See also:
Walking tour tells story of San Francisco's improbable rise as a great city and slideshow
Green Tortoise Hostel – Living the San Francisco Vibe
A Day in San Francisco Revisiting the Past: Plucky Cable Car Epitomizes City's Grit, Determination, Innovation
_____________________
© 2015 Travel Features Syndicate, a division of Workstyles, Inc. All rights reserved. Visit www.examiner.com/eclectic-travel-in-national/karen-rubin,www.examiner.com/eclectic-traveler-in-long-island/karen-rubin, www.examiner.com/international-travel-in-national/karen-rubin, goingplacesfarandnear.com and travelwritersmagazine.com/TravelFeaturesSyndicate/. Blogging at goingplacesnearandfar.wordpress.com and moralcompasstravel.info. Send comments or questions to [email protected]. Tweet @TravelFeatures. 'Like' us at facebook.com/NewsPhotoFeatures