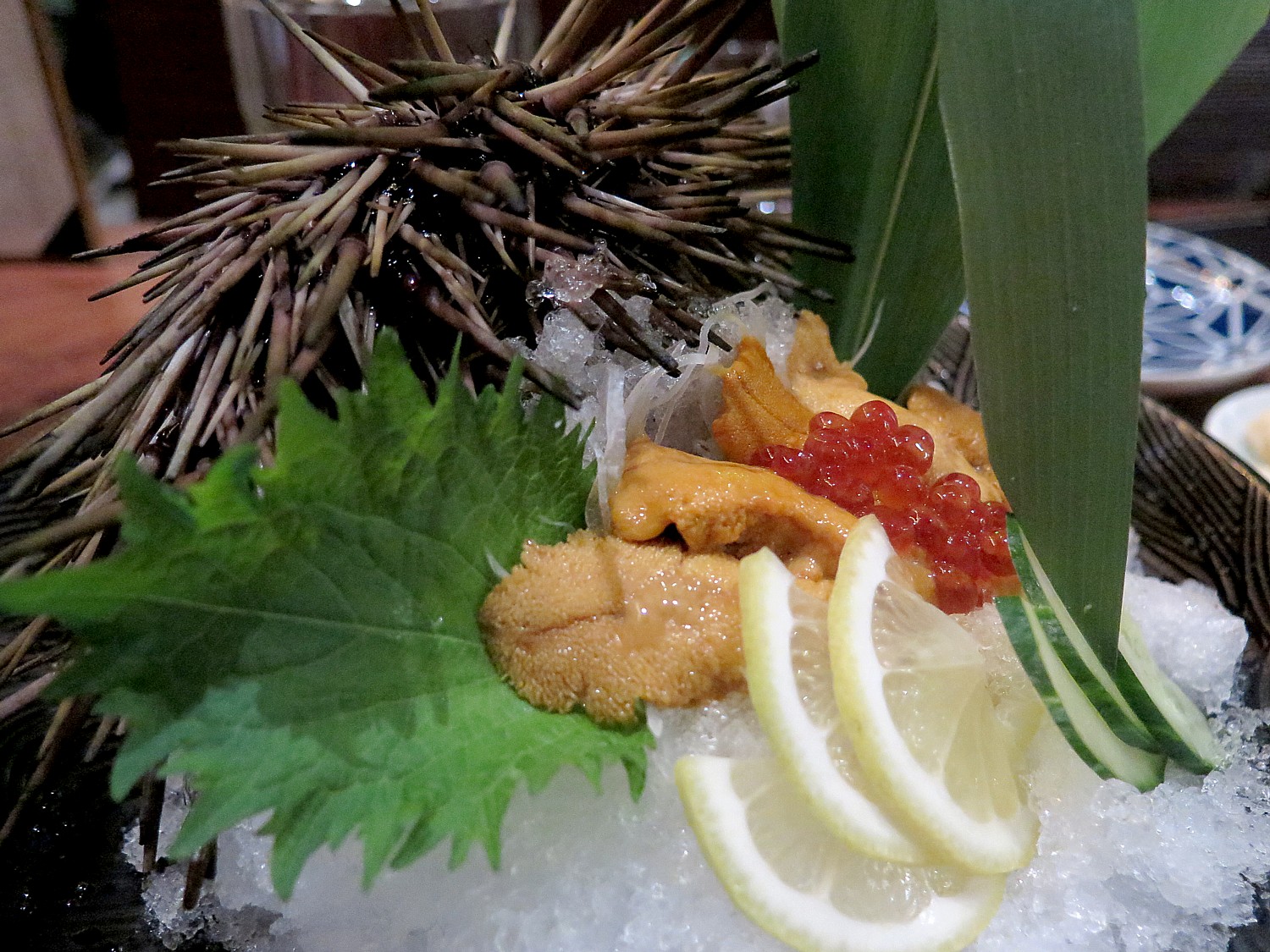 By Karen Rubin, Eric Leiberman, Sarah Falter
Travel Features Syndicate, goingplacesfarandnear.com
Well off San Francisco's tourist track, an exquisite dining experience awaits at Okane, a delightful, intimate neighborhood izakaya in the style of a Japanese gastropub, tucked into SoMa (South of Market), once a warehouse and light industrial district that became popular work/living space for musicians and artists and clubs until the techies took over and now is loosely known as the Design district.
Okane, which opened in January 2015, is the hip, casual sister restaurant to the more upscale, sophisticated Michelin-starred Omakase restaurant literally next door. Okane has already been rated a Michelin Bib Gourmand for 2017.
But the casual appearance and really moderate pricing disguises the exquisite, opulent quality of the fish, much it that has been flown in directly from Tokyo's world-famous Tsukiji Fish Market (when you arrive, the list of fish that have come in that day are on a board).
The presentations are breathtaking, but when you bring yourself to take a bite, every morsel brings an astonishment of succulent flavor, so that even the memory of the meal makes your mouth water.
The experience is the culinary equivalent of euphoria.
It's also an education in Japanese cuisine.
Okane is a SoMa neighborhood izakaya – a Japanese gastropub – serving traditional and refined Japanese "comfort" food and contemporary sushi.  Many of the selections would be common in Japan but are rarer to find in a Japanese restaurant in America.
The menu at Okane, which is owned by Kash Feng and Jackson Yu who is also the Executive Chef,  features an array of shareable vegetable, fish and meat course (Ippin, or appetizers)s, rice and noodles, nigiri sushi and sushi rolls, and assorted specialties.
Highlights from the izakaya menu include the Salmon Aburi with avocado, served with ikura, shio-kombu and truffle; Wakadori Karaage (fried young chicken); Nebeyaki Udon with shrimp tempura, chicken, wakame, green onion and fish cake; and Oyako Donburi with chicken, egg and green onion.
We were treated to Uni, the edible part of the sea urchin (Mario, the manager, actually saved it for our arrival) presented with the spikey part still on the plate, which was so fresh that when you poked it, it would actually still move reflexively. The meat is sweet, creamy in texture and delectable.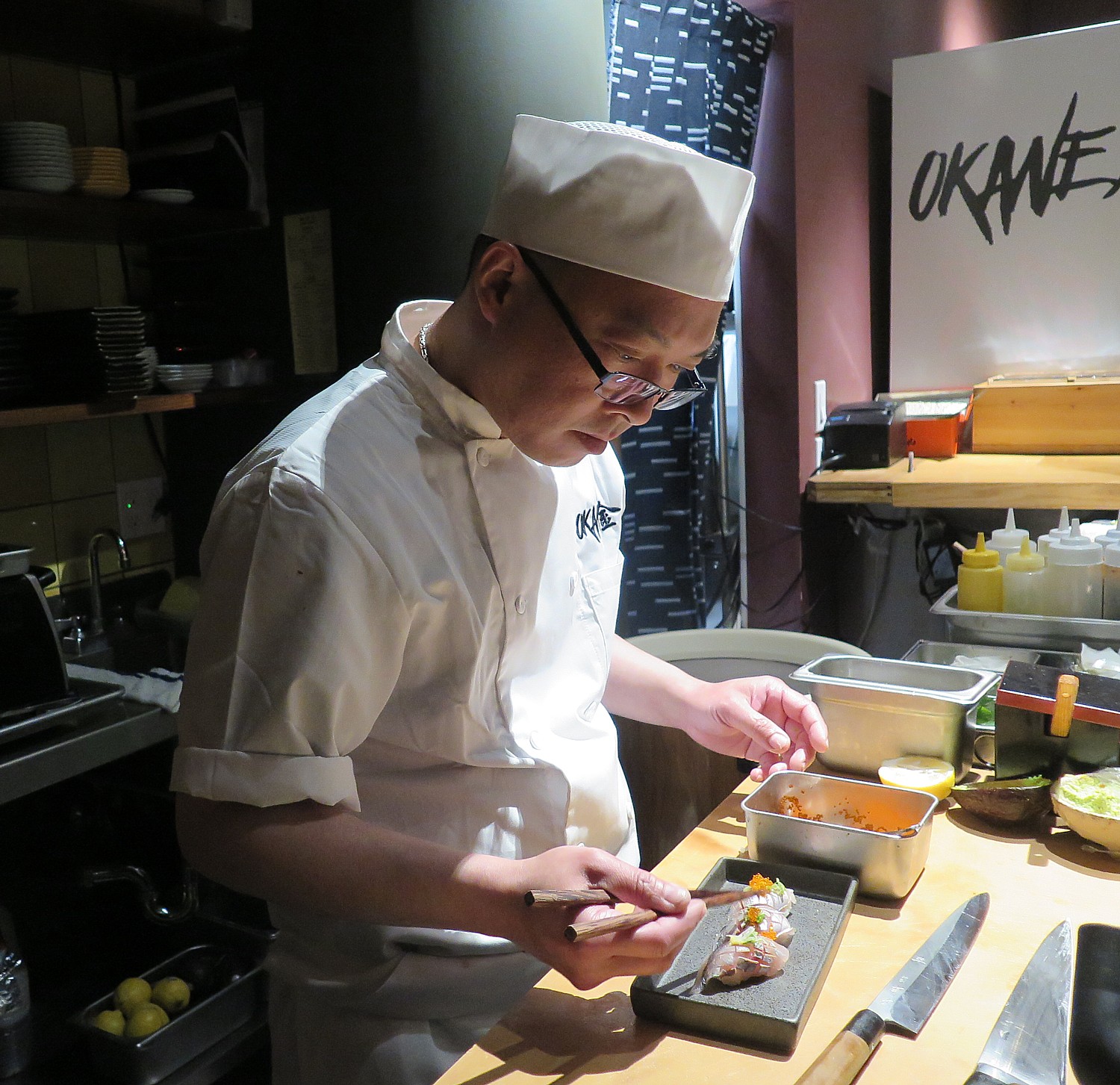 This was followed by a sampling from the sushi menu, overseen by Chef Rico Li, who creates  a mix of traditional nigiri selections and contemporary rolls. Among the most popular (for good reason): the Ginza which features shrimp tempura (giving it a bit of a crunchy texture), avocado and cucumber, topped with torched Hamachi, jalapeño (a fusion tip of the hat to San Francisco), and spicy blue fin tuna, and Shibuya prepared with avocado, shiso, tobiko (flying fish roe), topped with salmon and a tiny lemon wedge and a Japanese mint leaf; and the Shinjuku, with snow crab and avocado, topped with A5 Wagyu beef.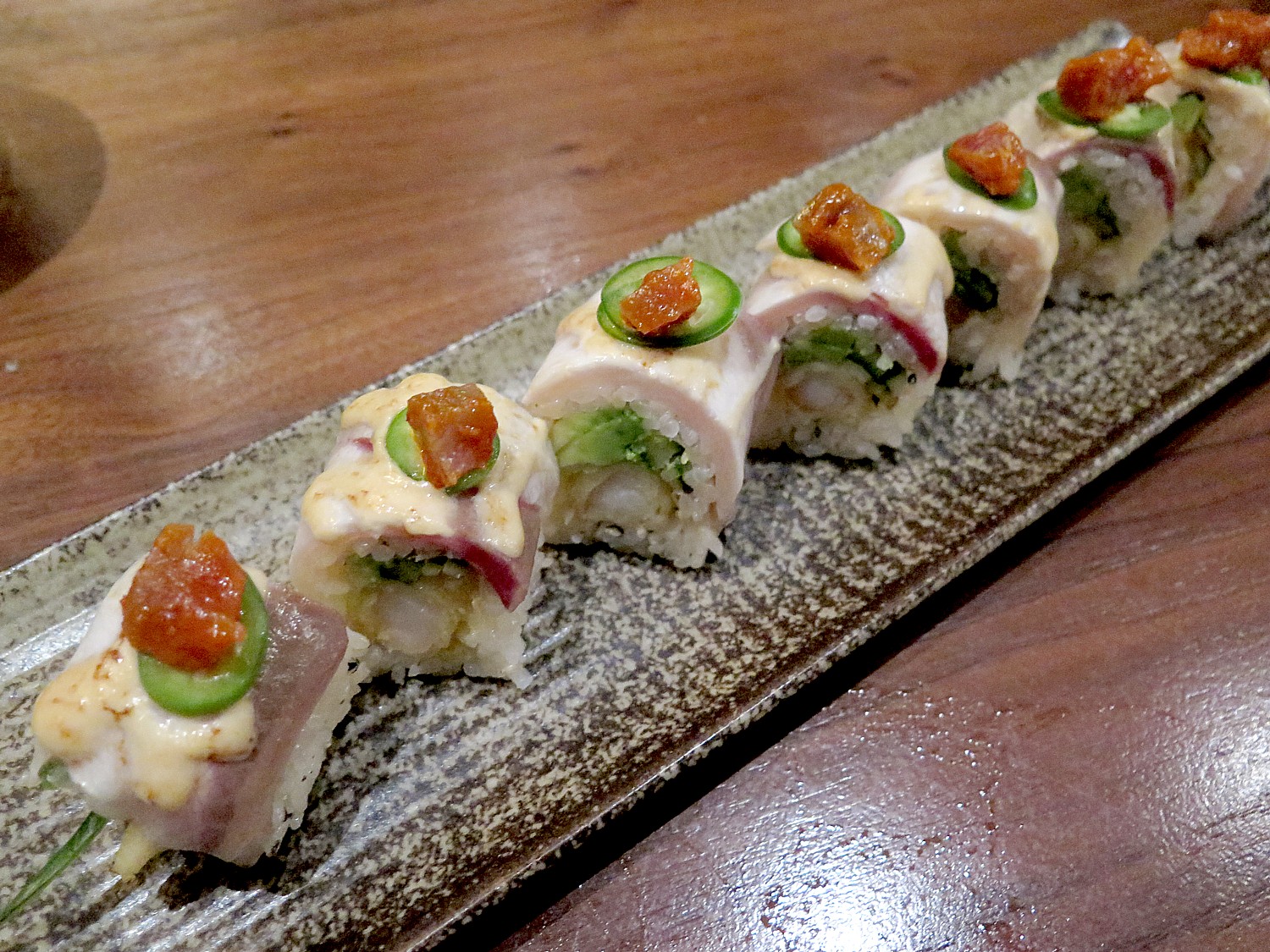 We were gobsmacked by a succession of offerings, each setting off flashes of euphoric delight with each bite:
From the Special Fish Ippin Ryori: Albacore Aburi prepared with Japanese mustard mayonnaise and truffle; and Salmon Aburi with avocado, served with ikura, shiokonbu, truffle.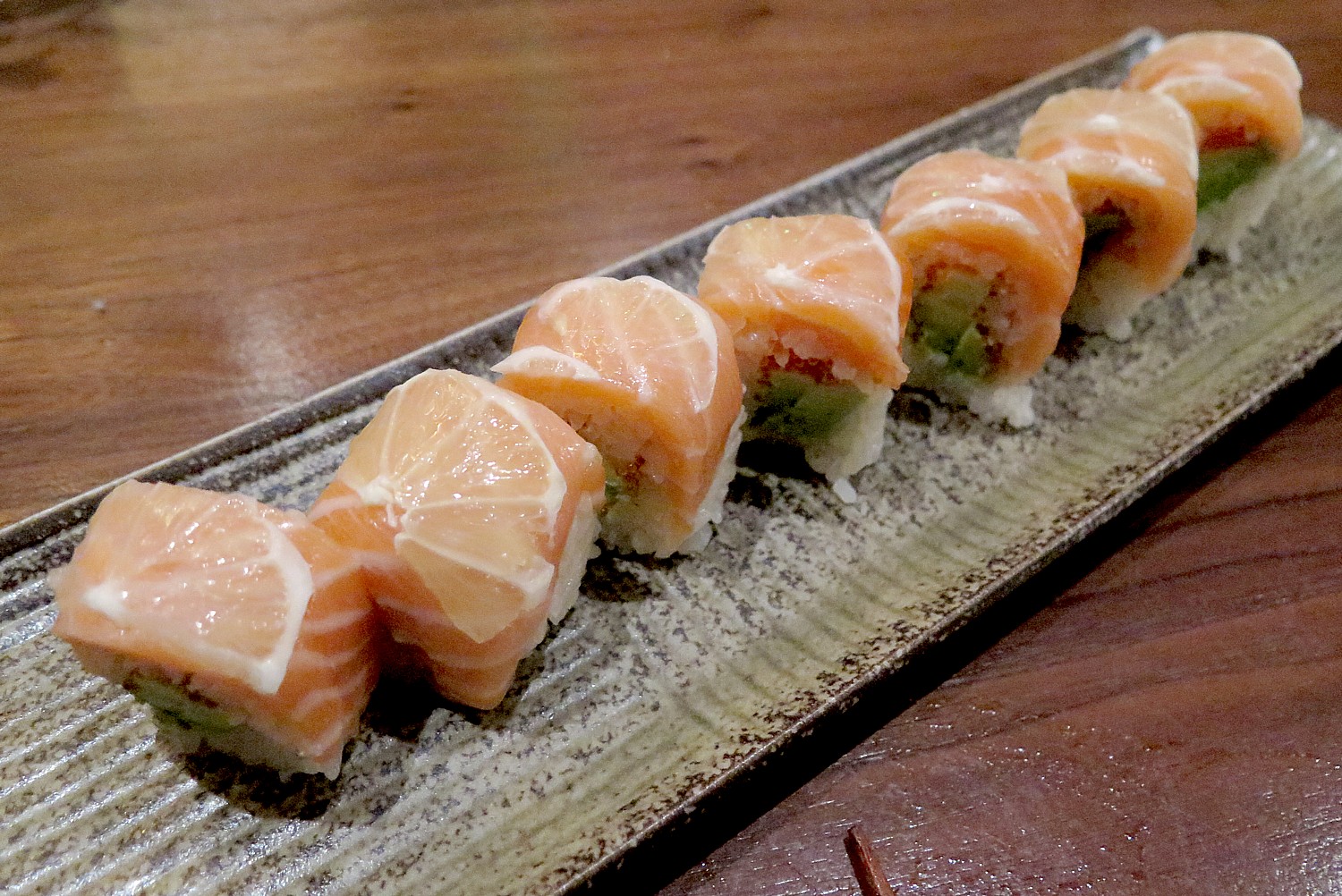 Agi Tataki, one of the chef's seasonal sashimi offerings, is mackerel sashimi with ponzu (a citrus-based sauce), onions, ginger and momiji oroshi (grated daikon radish and red chili peppers).
From the sushi offerings, we savored barracuda, salmon belly, Hamachi (yellowtail that already comes sauced so you don't dip it), Tai (sea bream), Kinmedai (golden eye snapper), prepared with sea salt, lemon and torched is also sensational.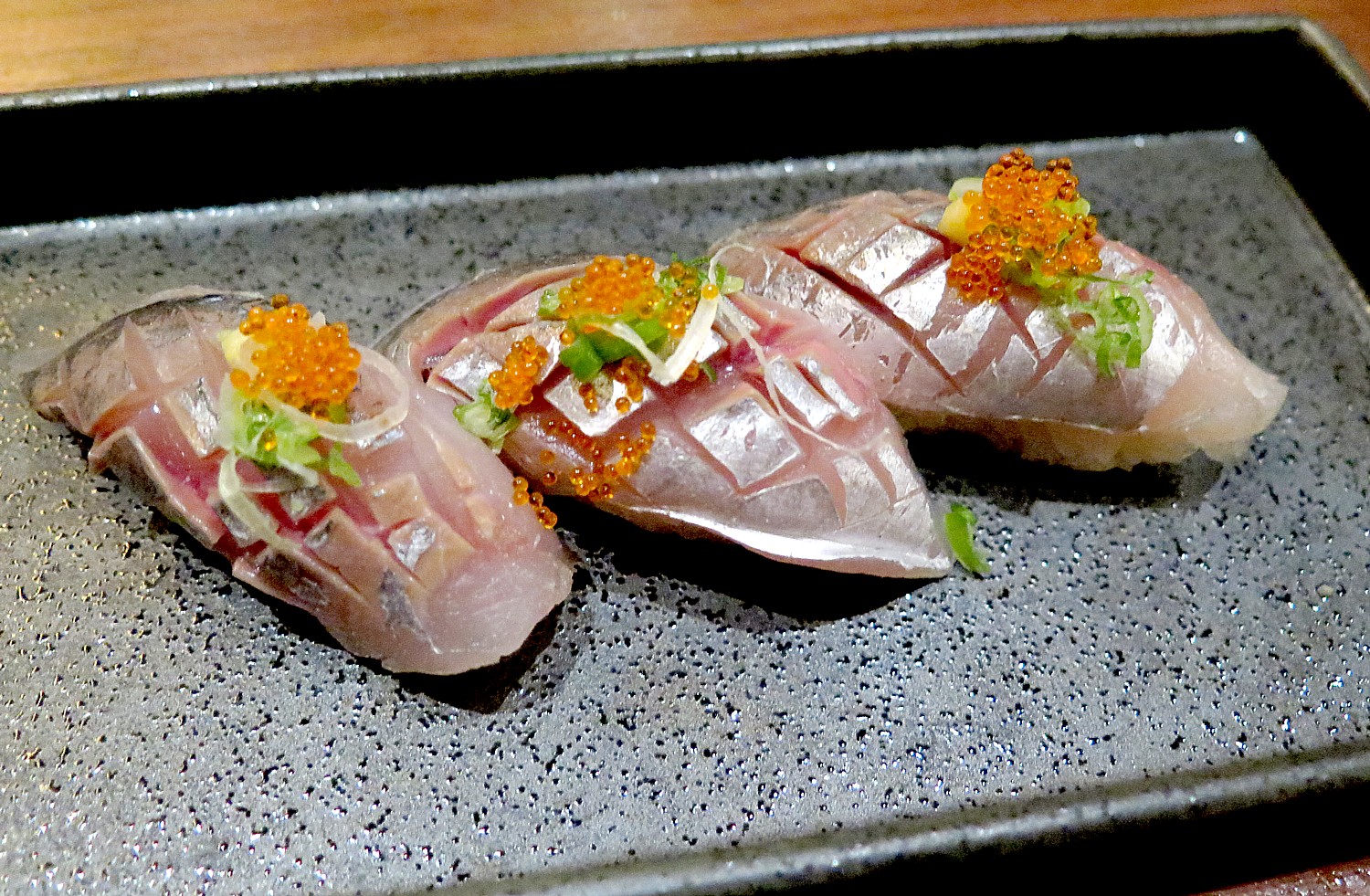 The authentic Japanese cuisine is complimented with a comprehensive menu of sake, Japanese craft beer (Okane is one of the only San Francisco restaurants to offer Coedo Pilsner, IPA and Black Lager on tap), and wine.
Okane doesn't do many desserts, but to finish the meal, we experienced black sesame ice cream that is the perfect combination of sweet/not sweet – a taste a little like peanut butter – that becomes addictive. (Save room!)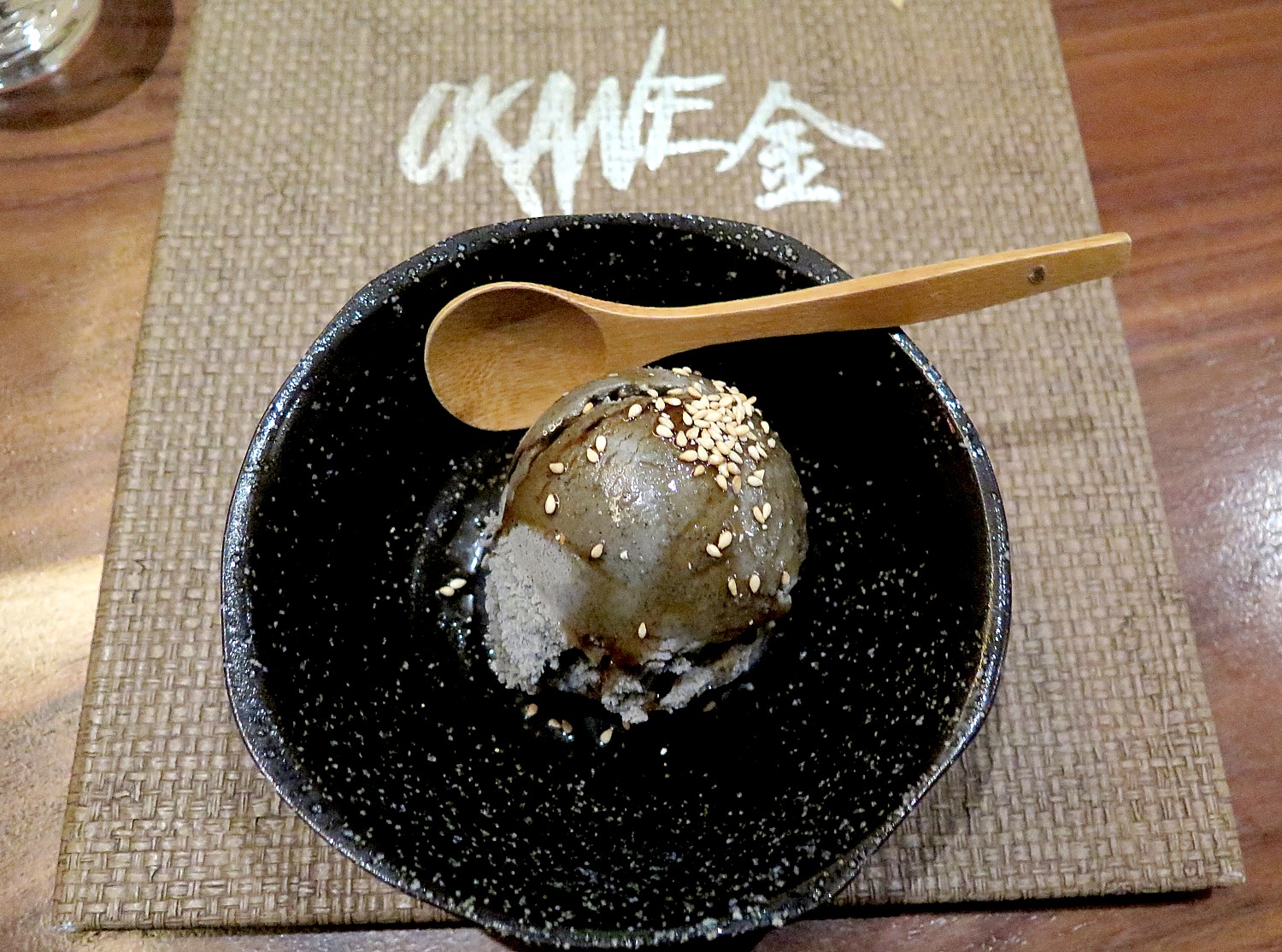 You can sit at the sushi counter and be treated to Chef's Choice, where you are served one piece to savor at a time, ($80 pp, compared to $150 at Omikase).
Okane is also unusual in serving brunch (what a concept!).
Okane's interior design, by Aya Jessani, a San Francisco-based interior designer who also helped create the intimate space for Omakase – there are just 46 seats – is utterly perfect to make you feel absolutely relaxed, focused on nothing more than to savor every morsel.
Okane is the sort of place you happily wait in line for.
Hours Lunch: Monday – Friday, 11 a.m.-2:30 p.m. Dinner: Monday – Thursday, 5:30 p.m.-10 p.m. Friday & Saturday, 5:30 p.m.-11 p.m. Check Average Lunch: $15-$20 Dinner: $30-$40 Capacity 46 seats and a four-seat sushi bar Private Parties For private events, contact Jean Francisco at [email protected] or call the restaurant at 415-865-9788
Okane, 669 Townsend Street, San Francisco, CA 94103 415-865-9788, www.okanesf.com. Social Media Instagram – @okane_sf Facebook – @okane-523346331167212.
For more help planning a visit to San Francisco, contact San Francisco Travel. 415-391‑2000, www.sftravel.com. 
See also:
San Francisco Throwing Year-Long 50th Anniversary Celebration of Summer of Love – Be Prepared to Be Blasted into the Past
San Francisco Goes All Out With Special Events, Exhibitions Marking 50th Anniversary of Summer of Love
Biking is Great Way to Tour San Francisco's Must-See Attractions
A Day in San Francisco Revisiting the Past: Plucky Cable Car Epitomizes City's Grit, Determination, Innovation
Beach Blanket Babylon is Rollicking Fun Musical Revue in San Francisco's North Beach
Beats of North Beach, Rolling Museums, Urban Oasis: San Francisco's Cultural Highlights Where You Least Expect 
____________________
© 2017 Travel Features Syndicate, a division of Workstyles, Inc. All rights reserved. Visit goingplacesfarandnear.com,  www.huffingtonpost.com/author/karen-rubin , and travelwritersmagazine.com/TravelFeaturesSyndicate/. Blogging at goingplacesnearandfar.wordpress.com and moralcompasstravel.info. Send comments or questions to [email protected]. Tweet @TravelFeatures. 'Like' us at facebook.com/NewsPhotoFeatures