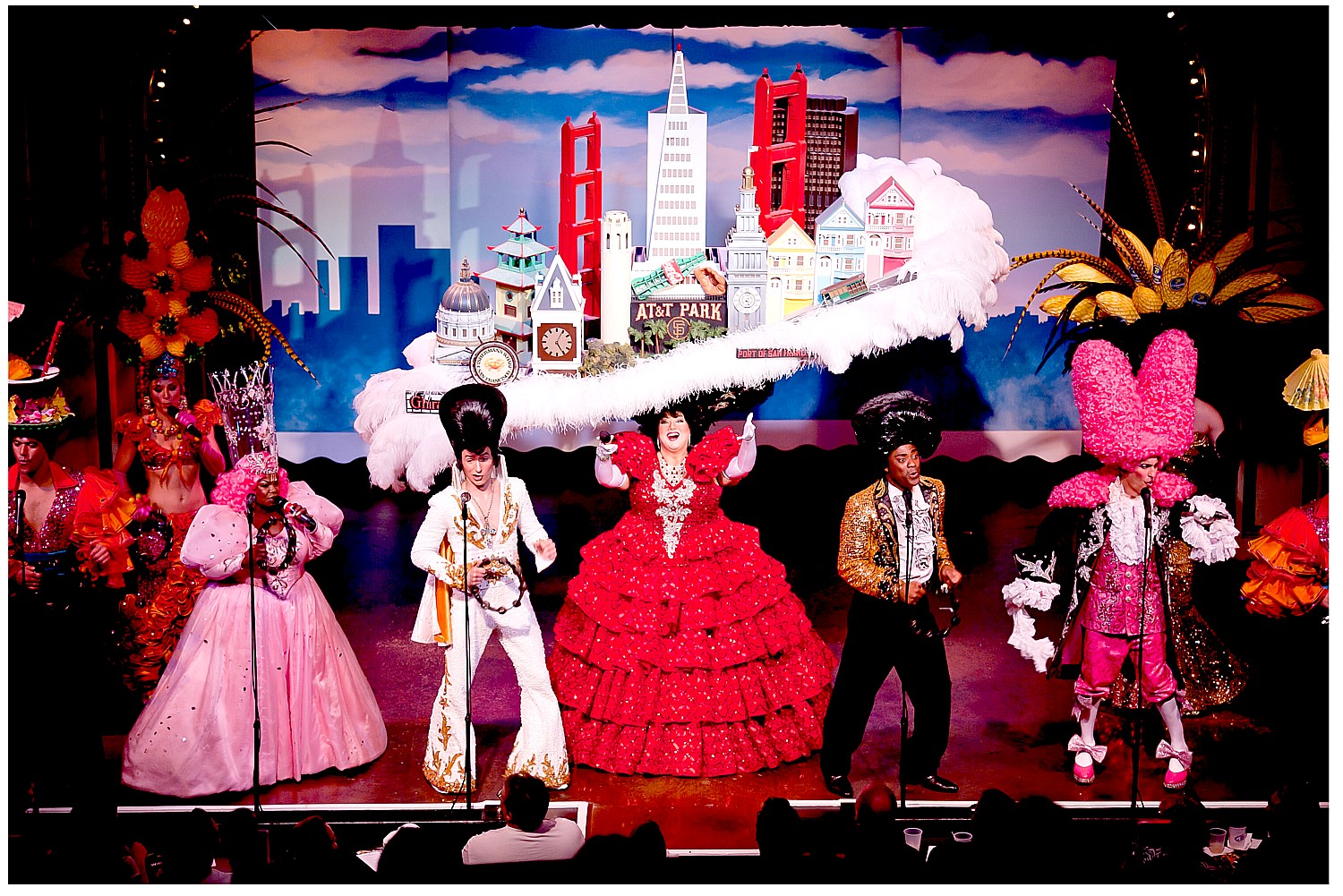 By Karen Rubin, Eric Leiberman, Sarah Falter
Travel Features Syndicate, goingplacesfarandnear.com
Steve Silver's Beach Blanket Babylon boasts being the world's longest running musical review, and once you decide to dismiss the stupidity of the premise – Snow White's search for her Prince Charming – you become completely enchanted with the quality of the musical performances, the costumes that would make Ziegfeld jealous (the hats are spectacularly outrageous), the choreography, and yes, the satire.
This isn't expressly a political satire, though all your favorite political figures are zinged. Beach Blanket Babylon is really more of a spoof of popular culture, iconic brands, hot celebrities. And though the musical has been playing here in San Francisco since 1974, sections seem as if they were written just the week before, they are that timely.
In a phrase, it's a hoot that carries you along with abandon as if you were riding a tube through rapids. Just suspend disbelief, sit back and enjoy the ride. 
A mind-boggling statistic that would seem to make the show eligible for inclusion in the Guinness Book of Records, Beach Blanket Babylon has already had more than 16,000 performances and has been seen by six million people who come to the delightful theater at Club Fugazi in the North Beach district from around the world. The show doesn't only spoof celebrities, it draws its share to its audience: HRH Queen Elizabeth II, Prince Charles and Camilla the Duchess of Cornwall as well as some of Hollywood's biggest stars.
Beach Blanket Babylon (whatever basis in plot that title originates from seems to have been erased with the sands of time) follows Snow White as she finds herself in various locales around the world in search of her "Prince Charming."  (I can only imagine that way back in its history, these locations had more relevance to the plot.)
Our favorite bit was Donald and Melania Trump and the Trump family (done as the Von Trapp Family from "Sound of Music"). The incredibly long and varied list of characters that get their share of ribbing include Vladimir Putin, Beyoncé, Lady Gaga, Adele, Hamilton, Kellyanne Conway, Darth Vadar (Steve Bannon), Barack and Michelle Obama, Taylor Swift, Prince, Ivanka Trump, Bernie Sanders, Kim Kardashian and Kanye, Hillary Clinton and Bill, Oprah and the San Francisco Giants.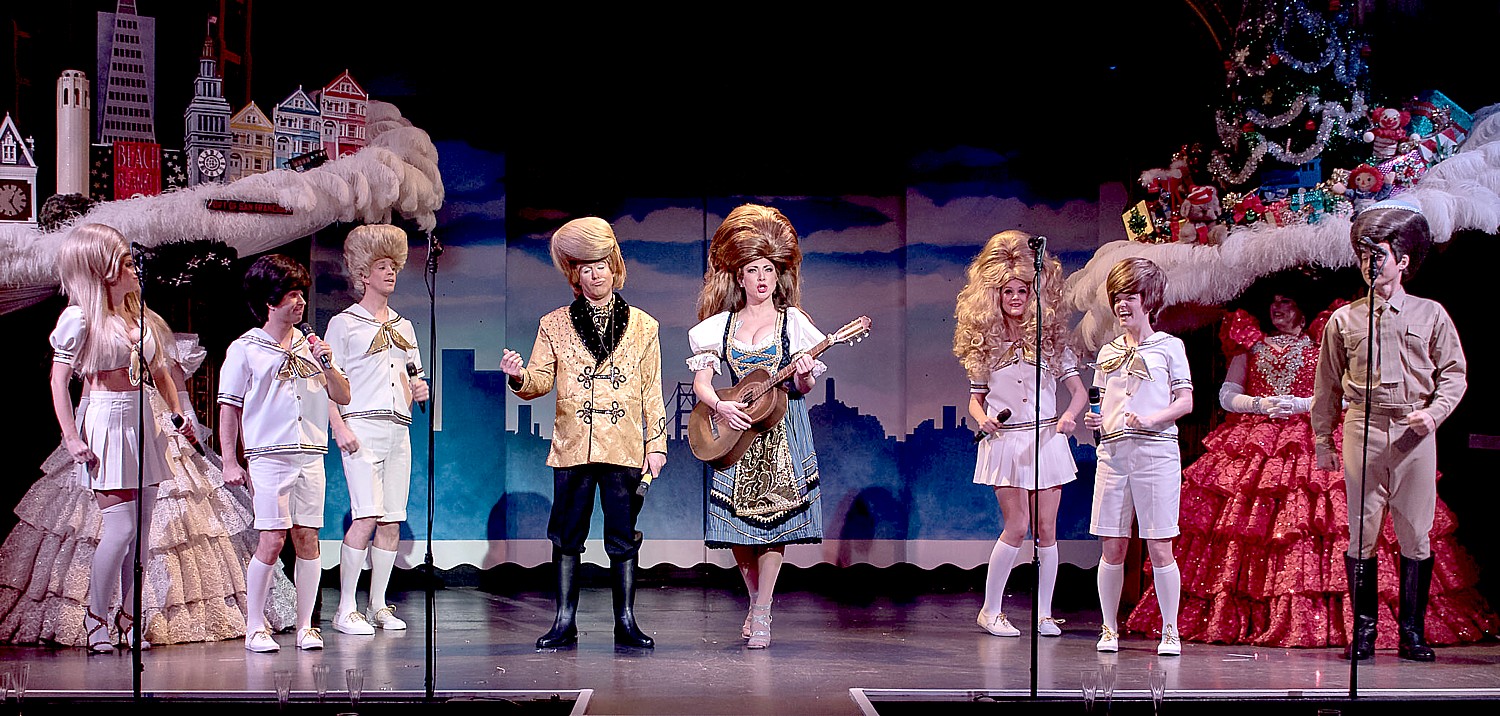 But the main reason that this show has survived all these years is the astonishing quality of the performances and yes, witty lyrics, and FABULOUS costumes (and hats!) that makes you wonder why they don't spend a few bucks on a smarter, more updated unifying gag.
It all began on June 7, 1974, when Steve Silver produced a small show in the back room of the Savoy Tivoli Restaurant in San Francisco. There were 214 seats crammed into a tiny space. The floor was covered with two tons of sand; a lifeguard tore tickets at the door and sprayed the backs of people's hand with Coppertone®. (Now I know where the title comes from!) For $2.50, the audience was entertained by a 45-minute show with four main performers, a chorus line of hula-dancing middle-aged housewives doing card stunts, a band dressed as poodles, one lighting man on top of a lifeguard stand manipulating Folger's® coffee can lights and a whole lots of laughs.
The show was to run for six weeks. That was more than 40 years ago…
After a brief stint in the fall of 1974 at Club Olympus, Steve Silver's Beach Blanket Babylon opened at Club Fugazi, a really beautiful theater that makes you think you are back in 1890s San Francisco, where it has been running since. The show became an expanded version of the Tivoli and Olympus shows, with more characters, grander sets, a larger cast and what was to become a trademark of the show, bigger hats!
This show is everybit a showy, elaborate display – you can't believe they can get that many performers doing complicated choreography (and in those hats!) on an intimate stage. The musicians are fantastic, too.
Tickets range from $25 – $155 (based on performance date and seat location) and can be purchased online at www.beachblanketbabylon.com, in person at the box office or by calling 415-421-4222. All performances take place at Club Fugazi, 678 Beach Blanket Babylon Blvd. (Green St.) in the heart of San Francisco's North Beach district. Shows perform on Wednesdays, Thursdays & Fridays at 8 p.m., Saturdays at 6 & 9 p.m., and Sundays at 2 & 5 p.m. (Due to liquor license restrictions, persons under 21 are not admitted to evening performances. (Minors welcome at Sunday matinees.) Valid photo I.D. is required. 
Club Fugazi, 678 Beach Blanket Babylon Blvd., 415-421-4222, www.beachblanketbabylon.com
Club Fugazi happens to be in North Beach which has some of the best Italian restaurants in San Francisco (and is one of San Francisco's oldest neighborhoods). We thoroughly enjoyed our dinner at the casual and moderately priced Baonecci Ristorante – pasta with truffles, eggplant  Parmigiana; Tagliatelle ai Funghi Porcini (Fresh homemade eggs pasta Porcini Mushroom, Garlic, Olive oli, Fresh Italian Parsley) and Pizza Rustica (San marzano tomato sauce, fresh mozzarella, gorgonzola cheese, salame toscano, arugula (reservations recommended, Baonecci Ristorante, 516 Green St, San Francisco, CA 94133,  415-989-1806).
North Beach was home base for The Beats, Jack Kerouac and poet Alan Ginzberg. Arrive early and stop in at The Beat Museum, which houses an extensive collection of Beat memorabilia, including original manuscripts and first editions, letters, personal effects and cultural ephemera, originally collected by Jerry Cimano, (The Beat Museum, 540 Broadway (at Columbus Ave.), San Francisco, CA 94133 (museum entrance is $8/Adults, $5/Students/Seniors), 800-KEROUAC (800-537-6822), www.kerouac.com, email [email protected], follow on Twitter @KerouacDotCom and The Beat Museum on Facebook.) (See story Beats of North Beach, Rolling Museums, Urban Oasis: San Francisco's Cultural Highlights Where You Least Expect).
For more help planning a visit to San Francisco, contact San Francisco Travel. 415-391‑2000, www.sftravel.com.
See also:
San Francisco Throwing Year-Long 50th Anniversary Celebration of Summer of Love – Be Prepared to Be Blasted into the Past
San Francisco Goes All Out With Special Events, Exhibitions Marking 50th Anniversary of Summer of Love
Biking is Great Way to Tour San Francisco's Must-See Attractions
A Day in San Francisco Revisiting the Past: Plucky Cable Car Epitomizes City's Grit, Determination, Innovation
Beats of North Beach, Rolling Museums, Urban Oasis: San Francisco's Cultural Highlights Where You Least Expect 
____________________
© 2017 Travel Features Syndicate, a division of Workstyles, Inc. All rights reserved. Visit goingplacesfarandnear.com,  www.huffingtonpost.com/author/karen-rubin , and travelwritersmagazine.com/TravelFeaturesSyndicate/. Blogging at goingplacesnearandfar.wordpress.com and moralcompasstravel.info. Send comments or questions to [email protected]. Tweet @TravelFeatures. 'Like' us at facebook.com/NewsPhotoFeatures