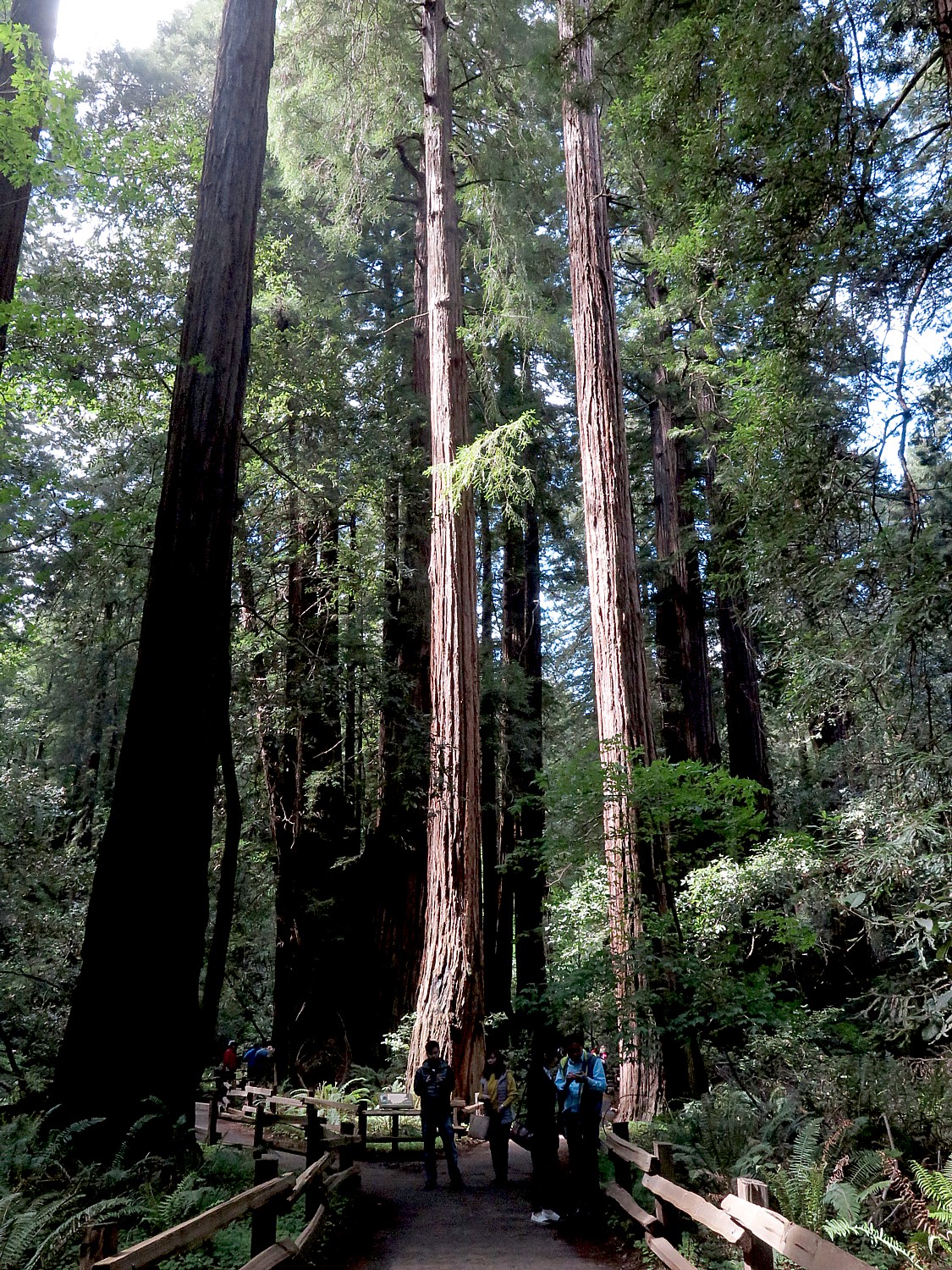 By Karen Rubin
Travel Features Syndicate, goingplacesfarandnear.com
It is quite amazing to me that just 35 minutes drive from downtown San Francisco, the fabulous urbanized city with some of the tallest structures man has devised, are the Muir Woods, with some of the tallest and most ancient trees Mother Nature has produced.
The peace, the serenity, the sheer awe and majesty envelopes you from the first steps into the national forest.
There are many tour companies that make it easy for tourists to visit, as well as various means to get you there on your own (but if you use Uber, you have to be aware that there is no cell service there).
I took Extranomical Tours's Muir Woods Expedition which offers an excellent program, well organized, and that gives you some extra added treats: a stop in scenic Sausalito and another stop for a "unique" view of the Golden Gate Bridge (in fact, an unusual vantage point that most tourists would never have), as well as an animated, well informed guide (Jake on the tour I took), who points out the sights, relates San Francisco's history and gives good historical and naturalist background to prime you for your visit to Muir Woods National Monument.
The Extranomical tour to Muir Woods begins with a pick-up at convenient locations – I was picked up at the Hyatt Regency Embacadero, in a smart van (flooding has wiped out part of Highway 1, so you have to take a small, winding road up to the entrance which the big buses they normally use can't take).
Jake, a filmmaker originally, is our guide and gives pleasant commentary on the drive that orients us well when we arrive.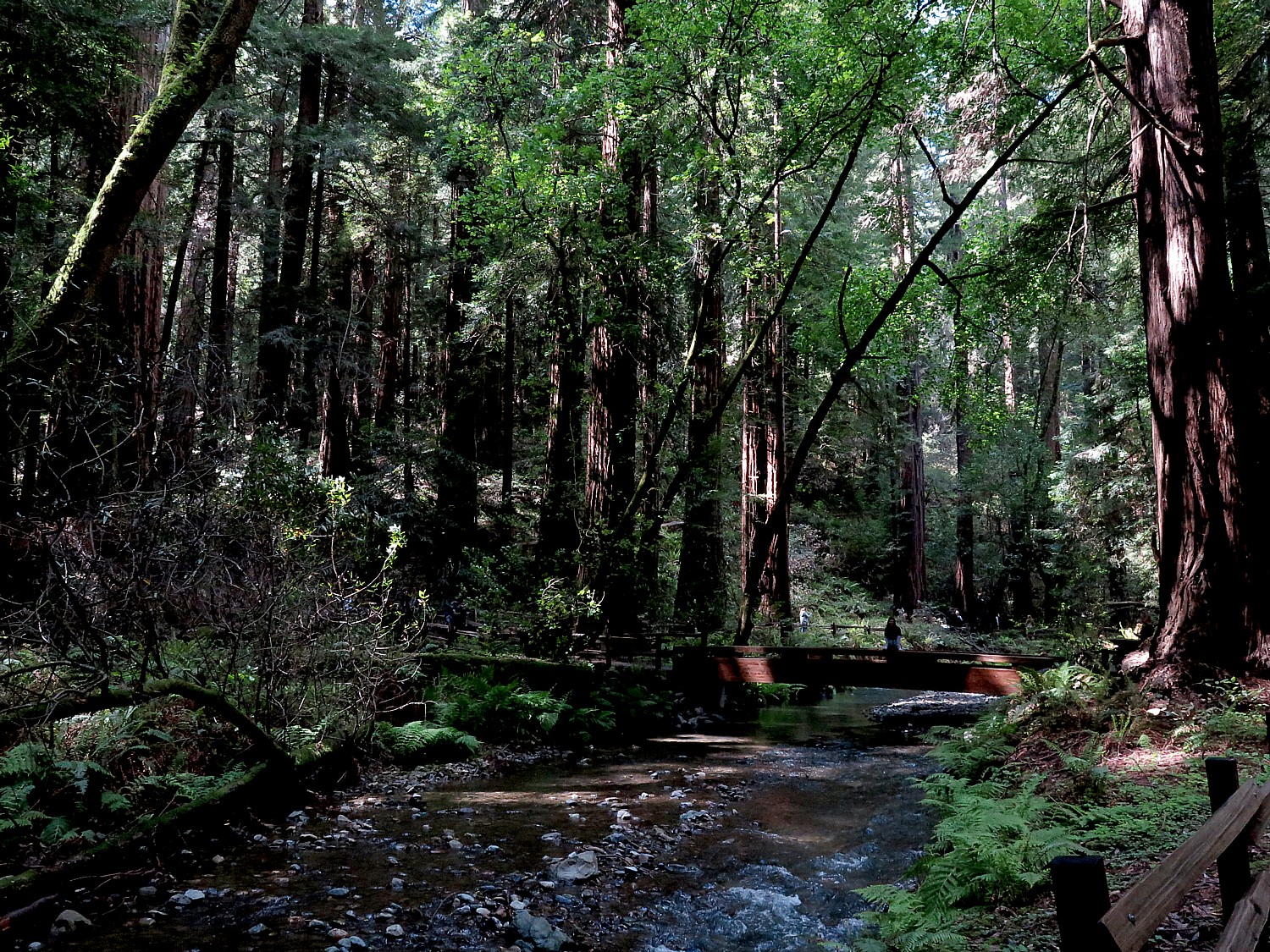 Muir Woods is a national monument, established on January 9, 1908 by President Roosevelt using his powers under the Antiquities Act, to protect an old-growth coast redwood forest from destruction.
Jake explains us how these woods were saved from lumbering and development by William Kent and his family. Redwood Creek contained one of the Bay Area's last uncut stands of old-growth redwood, Congressman William Kent and his wife, Elizabeth Thacher Kent, bought 611 acres for $45,000 in 1905. To protect the redwoods the Kents donated 295 of the land to the Federal Government and, in 1908, President Theodore Roosevelt declared it a national monument. Roosevelt suggested naming the area after Kent, but Kent wanted it named for the pioneering conservationist John Muir responsible for saving Yosemite as America's first national park.
Since Muir Woods is a national monument, Jake can't escort us through and we pay our $10 fee to enter. But he has oriented us well and tells us the best way to explore in the two hours we have here.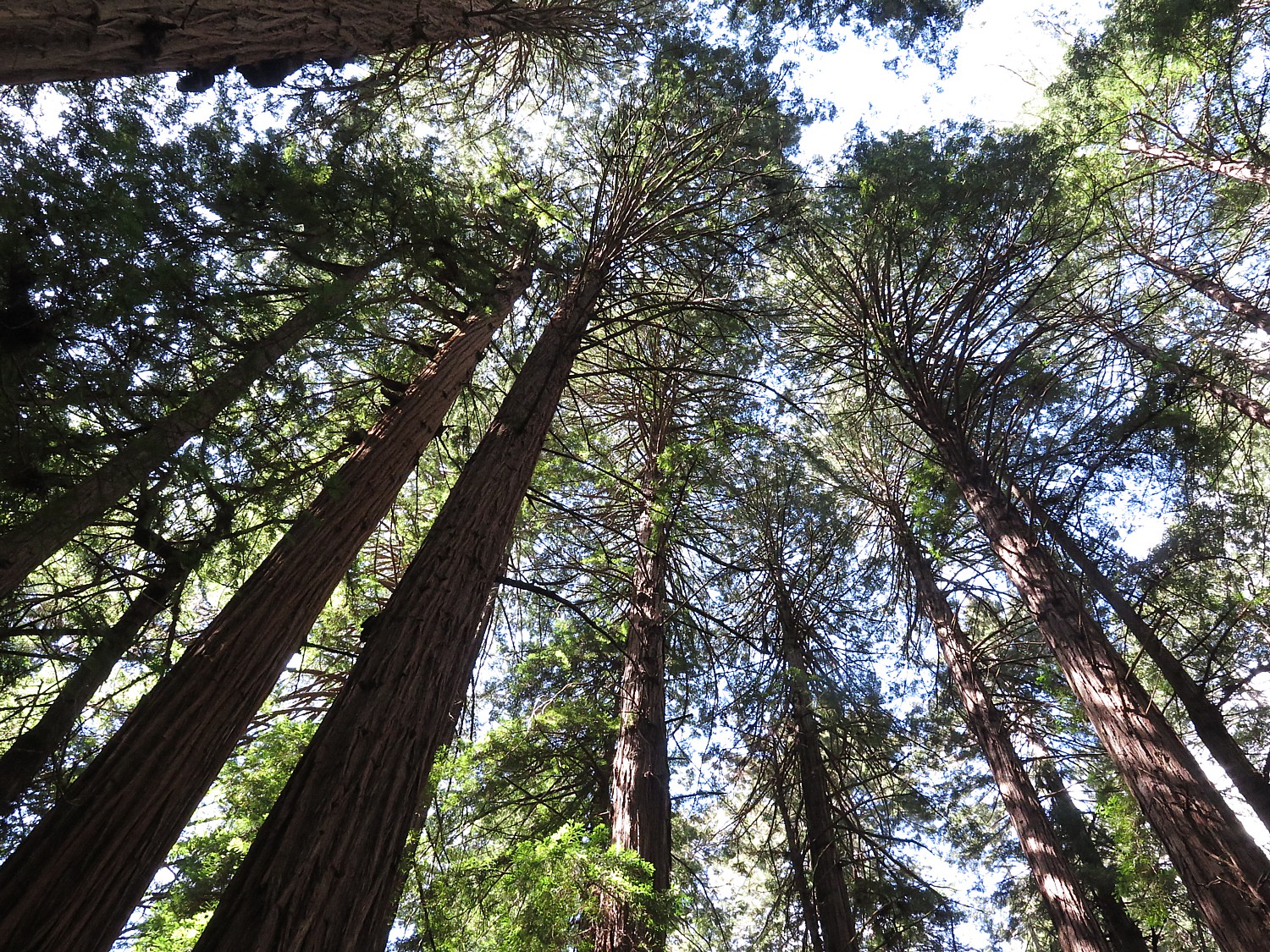 Two hours proves sufficient to get the highlights of Muir Woods and hike the most popular trails (there are numerous hiking trails, some of which hadn't opened yet for the season). The main trail is paved, flat, and can accommodate wheelchairs. This trail puts you at the base of these mammoth trees so you can the full appreciation of just how massive they are (and how small you are). You find yourself constantly craning your neck to see to the top.
And when you walk in, you do feel like you are entering a cathedral – that craning of the neck to see the treetops making an arch over the narrow path, as if looking up at the high arching roof of a Gothic cathedral like Notre Dame.
Indeed, perhaps because it is so close to San Francisco and offers such a contrast to a congested urban area, Muir Woods is very much a "cathedral" – there is even a Cathedral Grove, with a sign that says "Shhh… Quiet Refuge."
You hear birds, the gurgling of the Redwoods Creek that flows through.
You feel small, a speck in time and space.
You feel grateful to man who saved these woods.
You are overwhelmed by the sense of awe and majesty, from your first steps through the wooden threshold.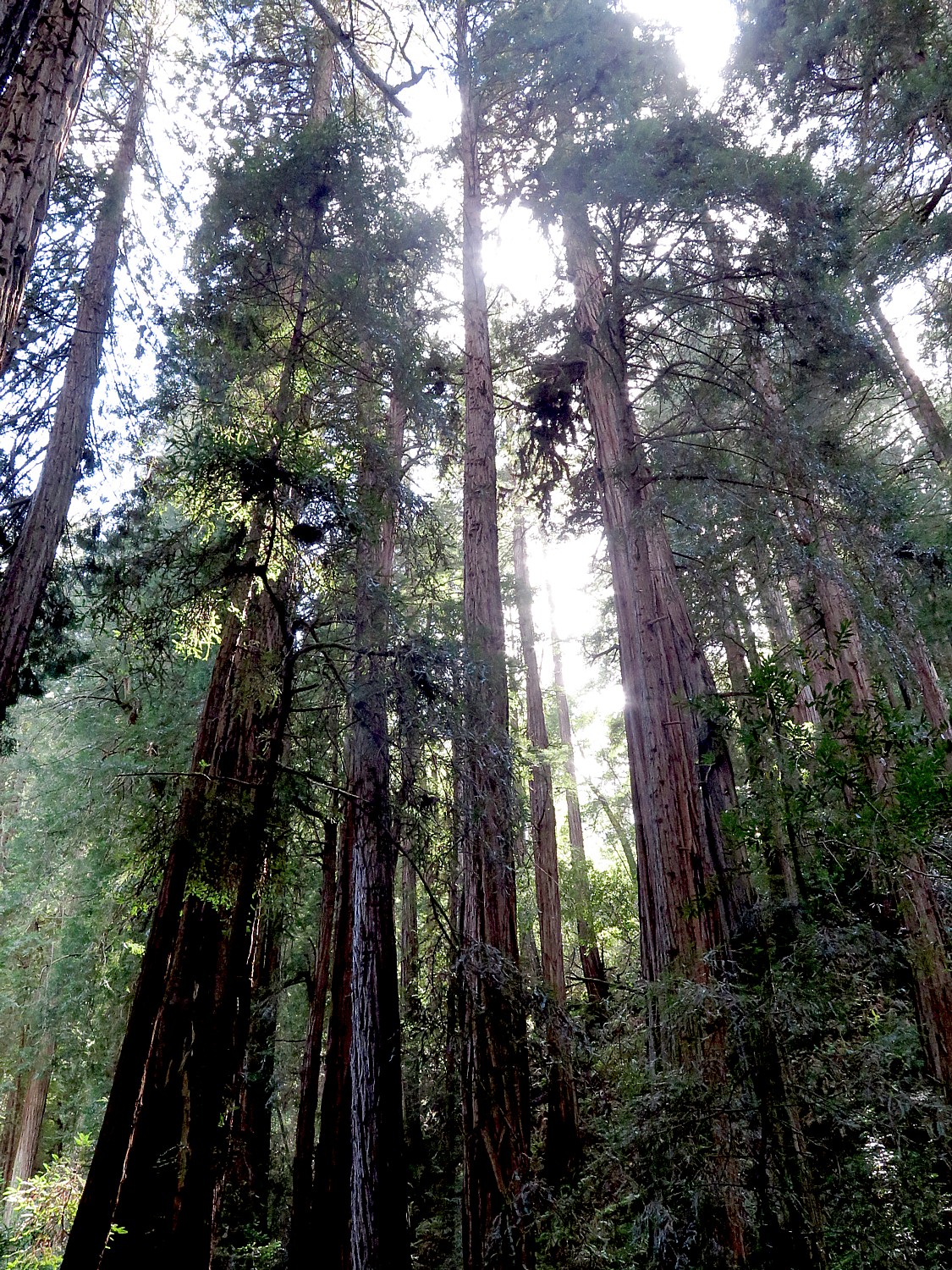 The trees, as if elders, range in age from 400 to 800 years – that means they were already well on in years when Columbus first discovered the New World – their height up to 250 feet.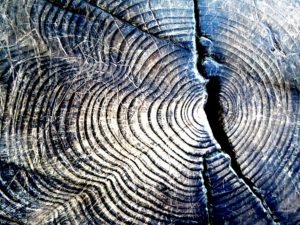 These aren't as thick as the famous Giant Sequoias which are further inland; but these coastal redwoods are the tallest trees in the world. Even more remarkable because they grow from a tiny seed that bursts from a small pine cone that is heated by fire.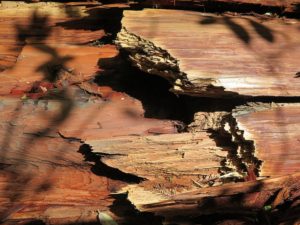 In the light gaps beneath the redwood trees are red alders, California big leaf maples, tanoaks, and Douglas fir. The forest floor is covered in redwood sorrel, ferns, fungi, duff, and debris. Wildlife includes the endangered coho salmon fingerlings that live in the lovely creek that flows through, Pacific wren, woodpeckers, owls, deer, chipmunks, skunks, river otters, and squirrels.
You walk among old growth coast redwoods, nurtured in the fresh water of Redwood Creek and by the fog.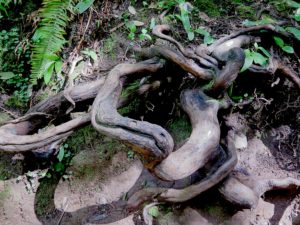 I cross the fourth bridge over the Redwood Creek and take the Hill Top trail back -a narrow dirt path at a higher elevation – which gives a different perspective.
The Visitor Center at the Muir Woods entrance has exhibits and a vast selection of literature and information on Muir Woods. A cafe and gift shop is also located near the park entrance.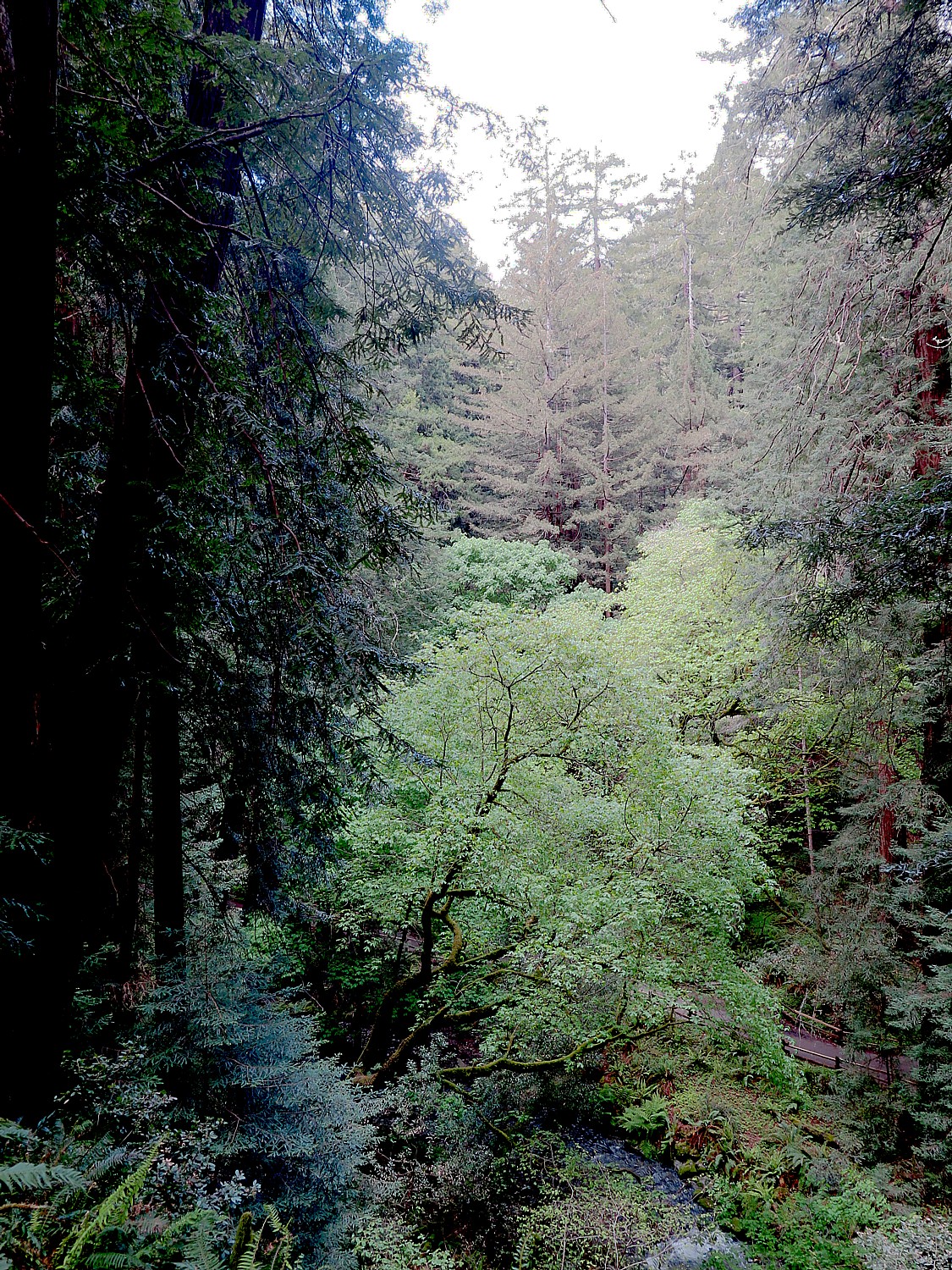 There are other ways to get to the Muir Woods on your own such as using a bus service (though it is temporarily out while they repair Highway 1; and if you use Uber or ride-share, you need to pre-arrange a pick-up because there is no cell service).  Coming on your own, you can organize your visit to miss the busiest crowds during midday (best to arrive before 9 am or after 4 pm). The park opens every day at 8 am and closes at 8 pm (after March 18).
Muir Woods is open 365 days of the year, though hours vary with the season.
Muir Woods National Monument,1 Muir Woods Rd. Mill Valley, CA 94941, 415-388-2595.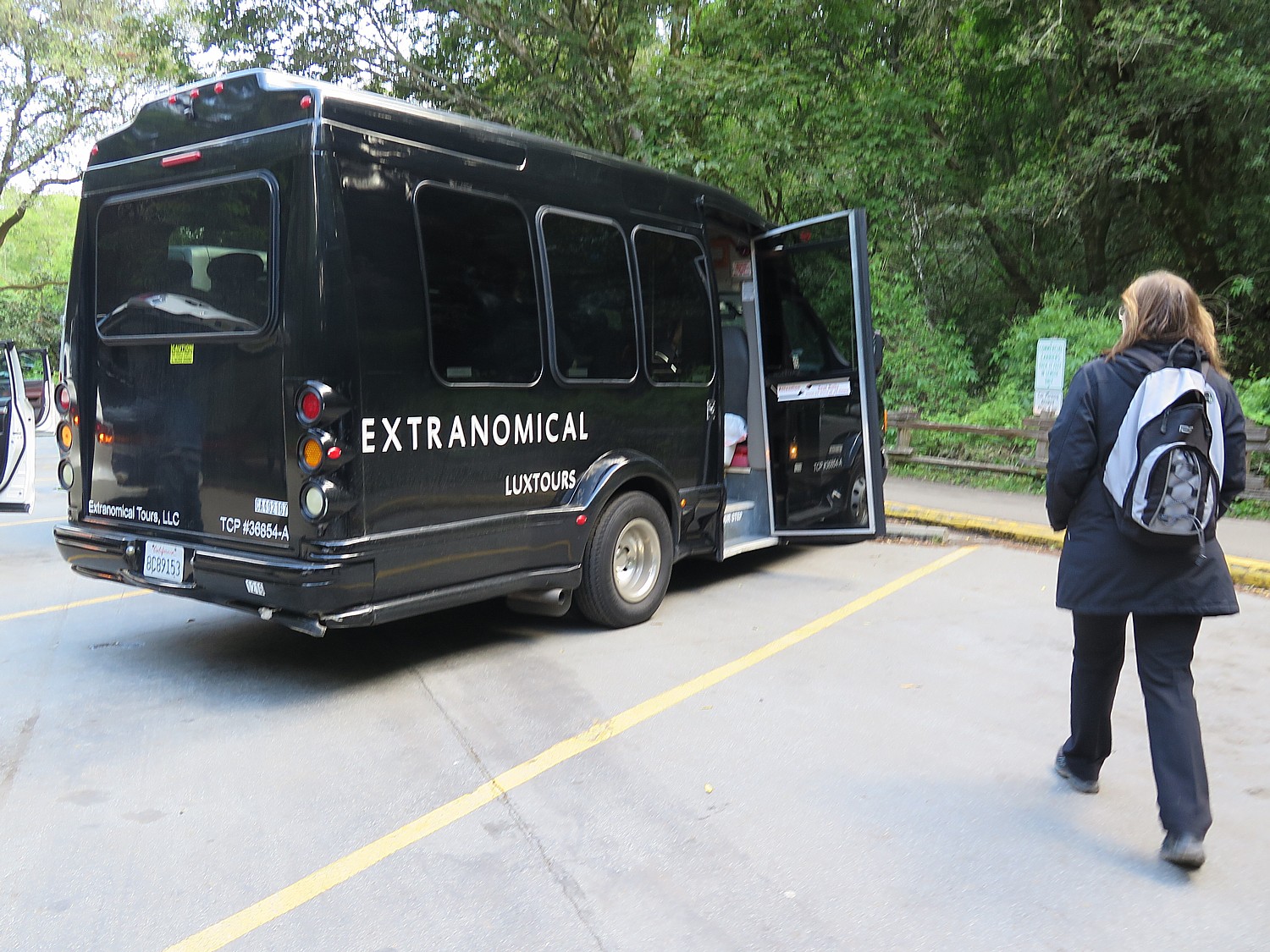 The advantage of the Extranomical Tour is certainly the convenience of the pick up, plus the enhanced experience of a brief stop at Sausalito and (on our trip) the Presidio for jake's "unique" view of the Golden Gate Bridge. Jake gives us a narration about the history of San Francisco and points out attractions on our way (like the tunnel, recently renamed for comedian Robin Williams, which is painted with a rainbow).
Extranomical Tours also includes a visit to Muir Woods National Monument in other tour offerings, such as one and two-day trips to Wine Country; and a trip that combines Muir Woods with Sausalito and Alcatraz.
Extranomical Tours, 866-231-3752, 415-357-0700,  www.extranomical.com, [email protected]. Facebook (www.facebook.com/extranomical), Twitter (www.twitter.com/extranomical) 
For more help planning contact San Francisco Travel. 415-391‑2000, www.sftravel.com.
See also:
San Francisco Throwing Year-Long 50th Anniversary Celebration of Summer of Love – Be Prepared to Be Blasted into the Past
San Francisco Goes All Out With Special Events, Exhibitions Marking 50th Anniversary of Summer of Love
Biking is Great Way to Tour San Francisco's Must-See Attractions
A Day in San Francisco Revisiting the Past: Plucky Cable Car Epitomizes City's Grit, Determination, Innovation
____________________
© 2017 Travel Features Syndicate, a division of Workstyles, Inc. All rights reserved. Visit goingplacesfarandnear.com,  www.huffingtonpost.com/author/karen-rubin , and travelwritersmagazine.com/TravelFeaturesSyndicate/. Blogging at goingplacesnearandfar.wordpress.com and moralcompasstravel.info. Send comments or questions to [email protected]. Tweet @TravelFeatures. 'Like' us at facebook.com/NewsPhotoFeatures