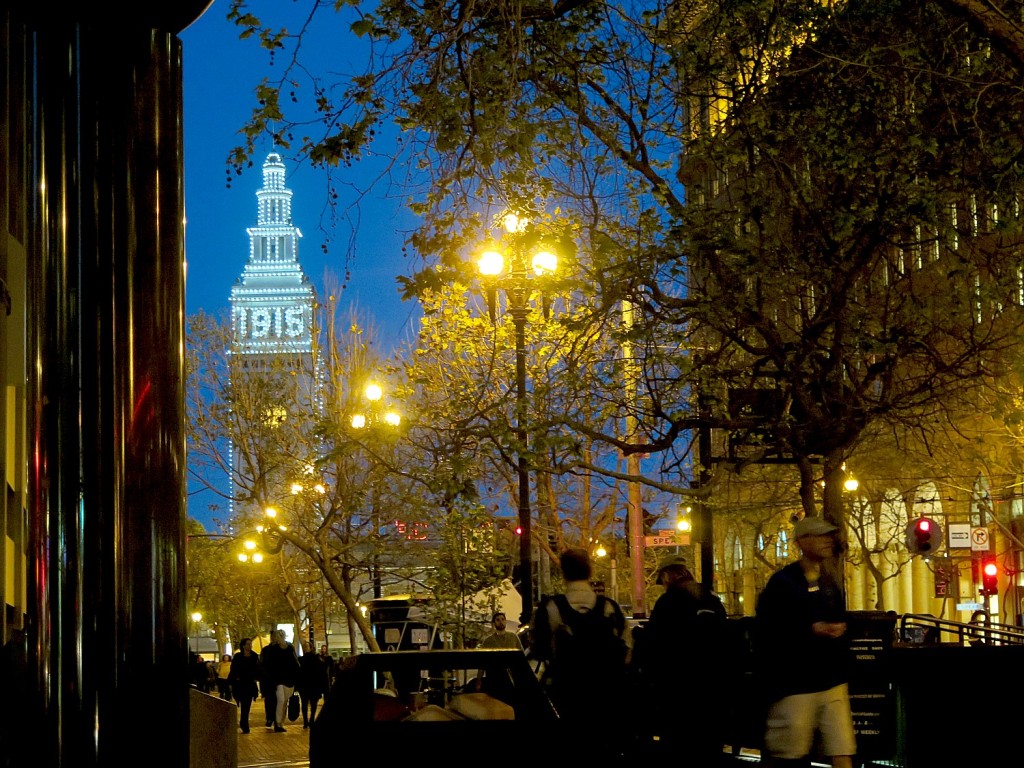 by Karen Rubin, goingplacesfarandnear.com
North Beach & the Beat Museum
I arrived at the Green Tortoise Hostel in the bright sun of the afternoon and didn't think anything about the neighborhood – it seemed busy. I actually had missed that little item about "adult entertainment clubs" in the welcome letter they sent. So when I arrived back in the evening, there were the giant neon signs that turn a neighborhood into a living canvas.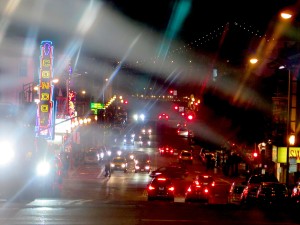 I went out exploring, finding lovely restaurants, beautiful street artwork and discover what a culturally rich, vibrant neighborhood North Beach is – San Francisco's Little Italy (lovely Italian restaurants, including the Fior d'Italia, which claims to be America's oldest Italian Restaurant, dating from 1908 (2237 Mason St, fior.com) and the stomping grounds of the Beat Generation.
This was the neighborhood where poet Alan Ginsberg and Jack Kerouac lived – and just a block up from the Green Tortoise is the Beat Museum.
"The Beat Museum is dedicated to spreading the spirit of The Beat Generation, which we define as tolerance, compassion and having the courage to live your individual truth.
"The Beats, as in beaten down and beatific, were a collective of writers, artists and thinkers that congregated in 1950s San Francisco."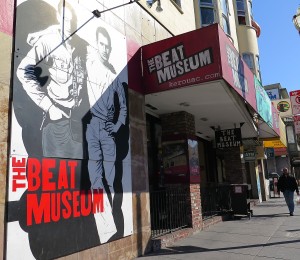 The Beat Museum is home to an extensive collection of Beat memorabilia, including original manuscripts and first editions, letters, personal effects and cultural ephemera, originally colleced by Jerry Cimano, who made his money in Corporate American and first opened the Beat Museum in 2003 in Monterey.
The museum was moved to North Beach, – "the epicenter for Beat activity during the 1950s" – in 2006.
"We are dedicated to carrying on the Beat's legacy by exposing their work to new audiences, encouraging journeys—both interior and exterior—and being a resource on how one person's perspective can have meaning to many."
Even if you don't visit the museum (which is behind a curtain), it is marvelous fun to peruse the shop crammed with books and items associated with the Beats, even an old car.
The Beat Museum, 540 Broadway (at Columbus Ave.), San Francisco, CA 94133 (museum entrance is $8/Adults, $5/Students/Seniors), 800-KEROUAC (800-537-6822), www.kerouac.com, email info [a] kerouac.com, follow on Twitter @KerouacDotCom and The Beat Museum on Facebook.
Golden Gate Park: An Urban Oasis for the Soul
By my third day in San Francisco, I am more comfortable getting around on public transportation, and I've set my sights on visiting Golden Gate Park. My smart-phone app offers a few alternatives, so I ask the Hotel Whitcomb's concierge, who recommends taking the 71 Bus to 9th Avenue, and then, because I also want to ride the cable car again, taking the same bus back to Powell Street & Hyde, where the cable car begins its route.
The 71 Bus proves to be a great sightseeing tour – going along Haight, through the famous Haight-Asbury district. What a trip!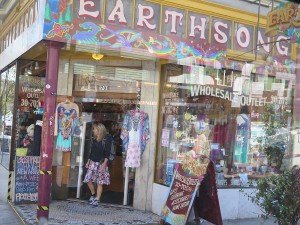 Gorgeous Victorians line the boulevard – then you come to the center of Haight Ashbury – a riot of 1980s color, fonts and patterns; clever shop names (Love n Haight); head shops, music shops, famous record store. I'm surprised by how beautiful this section of San Francisco is.
The bus driver is so helpful to me and sensing my enthusiasm, and gives me some tips on seeing the park. She tells me where to get off, suggests where to go (as does another passenger who looks right at home in Haight-Asbury), while another rider offers his own suggestions – namely, it's easy to get lost and stay on the path.
Golden Gate Park is an enchanting oasis in the midst of a bustling city. And if it calls to mind New York's Central Park or Philadelphia's Fairmont Park, there is a connection to those parks' designer, Frederick Law Olmstead, who prepared one of the early designs, according to a historic marker.
Hayes Valley was the only location that was sheltered from the extreme conditions of the coast. He also was adamant that City Park should not resemble the popular English-style 'pleasure garden' but should be planted with native and other Mediterranean style species that could thrive in an environment with little water. (How prescient – now that California has had to impose water restrictions for the four-year drought).
Olmstead was not the designer but was a mentor to William Hammond Hall, the engineer chosen to survey and design the park. Hall began difficult task of taming the ever-changing sand dunes that dominated most of the area (hard to believe when you see this lush vast space now) – doing research, experimentation, trial and error and applying precedents from Europe. He was close to succeeding when he was forced to retire and chose his successor as Park Superintendent, John McLaren, to finish Golden Gate Park.
"In the beginning, three-quarters of the park was covered in ocean dunes, but were soon blanketed with various tree plantings. By 1875, the area bloomed with close to 60,000 trees, such as the Blue Gum Eucalyptus and the Monterey Pine. Four years later, 155,000 trees were placed over 1,000 acres of land. In 1903, the Dutch Windmills found their home at the western end of the park with an initial duty to pump water and life throughout the park."
Hall designed the roads and pathways with curves and bends "to discourage fast horse-and-buggy drivers, and to shelter visitors from the wind. Walkways were kept away from roads, and low spots (dells) were planted with shrubbery and plants to attract birds and small wildlife to delight visitors." The effect is magical.
Golden Gate Park is San Francisco's largest park – 3 miles long and half-mile wide, spanning 1,013 acres (making it larger than Central Park) – and is one of the most visited in the country.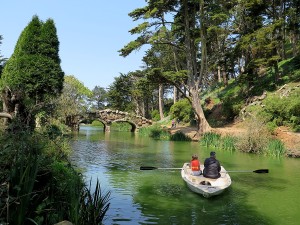 It is not just an oasis of forests and lush gardens, ponds and lakes, and even wildlife (there is actually a paddock with bison next to Spreckels Lake), but is the city's cultural heart, where some of its most important museums and attractions are located. These basically grew up over time: the Japanese Tea Garden that is so enchanting originally was part of the California Midwinter International Exposition of 1894. The San Francisco Botanical Garden at Strybing Arboretum was planned as early as the 1890s, but planting did not begin until 1937 due to lack of funding. The De Young Museum was first built in 1921 and has since undergone complete renovation, re-opening in 2005.
The art museum is just across a huge plaza from the California Academy of Sciences. Other attractions in the park include a carousel, playground and children's quarter.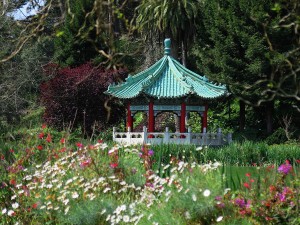 I find my way to Stow Lake and begin to stroll around it and am immediately overwhelmed seeing a waterfall. This is Strawberry Hill –a picturesque island in the middle of Stow Lake – and the sight of the Gold Gate Pavilion, a Japanese Pavilion that opened 1981. They are all the more picturesque with the paddle boats and row boats.
I come to a stone bridge that takes me onto Strawberry Hill so I can walk to the pavilion and up to the waterfall.
There are bike rentals, Segway tours, and you can easily spend a full day or many days here and because there is so much to do inside, it is a great place regardless of weather.
Plan your visit: www.golden-gate-park.com.
SF's Public Transit: More than a Great Way to Get Around
I get back on the #71 Bus (you can use your ticket for a free return if you get back on before the time stamped), getting another splendid tour of Haight-Asbury, on my way to Powell & Market, for another cable car ride. Even this ordinary bus provides a sensational sightseeing experience (and you get to chat up with local people).
You absolutely shouldn't rent a car in San Francisco (the traffic and road ways are difficult, especially with the streetcars and cable cars; also you can spend an hour looking for parking and spots are mostly limited to two hours on the street at $1 an hour).
But the public transit system in San Francisco is more than clever, it is fun, and figuring it out (like Tokyo's subway system), feels like a triumph.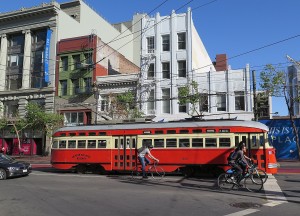 There are these marvelous, colorful streetcars from the 1930s and 1940s that were purchased from around the world, not to mention the cable cars which are more than tourist rides but real transportation (San Francisco is the only city that still has cable cars on its streets), plus regular buses and even a subway.
Indeed, the streetcars and cablecars are quite literally "San Francisco's Museums in Motion": "No other city in the world can match San Francisco in offering such extensive regular transit service with two types of vintage vehicles."
"The Cable Cars, invented here in 1873, dominated the city's transit scene for more than 30 years, but were almost extinguished by the 1906 earthquake and fire. They soldiered on through two world wars as a quaint relic (even then), survived misguid3ed politicians in the late 1940s, were wounded in a follow-up assault in the 1950s, but endured it all to become a worldwide symbol of San Francisco. Their history is a fascinating amalgam of technology, politics and passion." (see www.streetcar.org).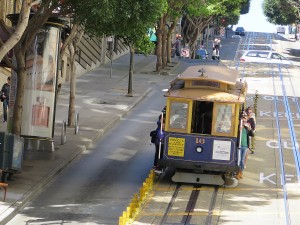 What is so fascinating to me is that the cable cars are completely mechanical, run by huge winding wheels at a central powerhouse (which you can see at the Cable Car Museum), that pull a steel cable at a constant 9 mph through a trench beneath the tracks. The car latches onto the cable with a grip that works like a giant pair of pliers. (Cable Car Museum, 1201 Mason Street, San Francisco, CA 94108, 415-474-1887, www.cablecarmuseum.org). (See: A day in San Francisco touring its past: Plucky cable car exemplifies its grit).
In 1888, electric streetcars became practical, and could travel two to five times faster than the cable cars. They run on tracks like cable cars, but generally draw electric power from overhead wire. The first streetcars came to San Francisco in 1892 and following the 1906 earthquake, replaced cable cars as the main transit mode on all but the steepest hills (where the cable cars still proved most effective). From a peak of 50 lines that operated in the late 1920s, streetcar service waned, and by 1982, the last five lines went into a subway beneath Market Street. But neighborhood and business leaders mounted the Historic Trolley Festival in 1983, bringing vintage streetcars from around the world to run on Market Street, and the F line became permanent in 1995.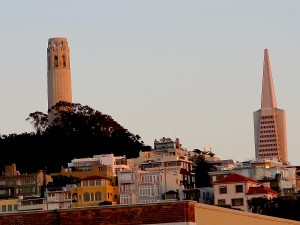 The city acquired the popular 1930s and 1940s cars from cities around the world and the cars have the names of the cities they come from (Milan, Italy; St. Louis). It is marvelous to see the different street cars.
My last ride on the cable car ($6 one-way), on the Powell-Hyde line, proves the best. By luck, experience and speed, I get to the position standing on the running board at the very front of the car – which lets me hold my camera steady while I hold on with the other hand. The views are spectacular (there is a stop just above Lombard/Crooked Street).
The city maps mark out the different routes for the various transit systems – but it takes a bit of familiarization to feel comfortable. So start out with the concierge to give you directions and use googlemaps on smart phone, and soon enough, you figure it out (the app even tells you when the next bus is coming).
You can buy various tickets – for a day or multi-day – which can pay off, at the Visitors Center.
Mission District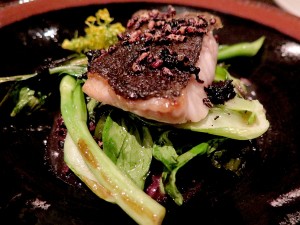 I get an all-too-brief glimpse of Mission District when we go to dinner at "Hogs & Rocks," which bills itself as San Francisco's first ham and oyster bar. It is a delightful bistro/tapas-style restaurant that invites conversation over sharing small plates of the most unusual food, flavor and texture combinations created by rising star Chef Robin Song. For example, bone marrow prepared with dried fig, rhubarb, onion on toast, as well as "large plates" like a delectable heritage pork (potato puree, cabbage, horseradish and mustard).
Hog & Rocks, 3431 19th Street @ Mission, San Francisco, CA 94110, 415.550.8627 – [email protected], www.hogandrocks.com.
The San Francisco Travel Association is the official tourism marketing organization for the City and County of San Francisco. For information on reservations, activities and more, visit www.sanfrancisco.travel or call 415-391-2000. The Visitor Information Center is located at 900 Market St. in Hallidie Plaza, lower level, near the Powell Street cable car turnaround.
See also:
Walking tour tells story of San Francisco's improbable rise as a great city and slideshow
Green Tortoise Hostel – Living the San Francisco Vibe
A Day in San Francisco Revisiting the Past: Plucky Cable Car Epitomizes City's Grit, Determination, Innovation
On the Waterfront: A Day Spent Immersed in San Francisco's Maritime Tradition
_____________________
© 2015 Travel Features Syndicate, a division of Workstyles, Inc. All rights reserved. Visit www.examiner.com/eclectic-travel-in-national/karen-rubin,www.examiner.com/eclectic-traveler-in-long-island/karen-rubin, www.examiner.com/international-travel-in-national/karen-rubin, goingplacesfarandnear.com and travelwritersmagazine.com/TravelFeaturesSyndicate/. Blogging at goingplacesnearandfar.wordpress.com and moralcompasstravel.info. Send comments or questions to [email protected]. Tweet @TravelFeatures. 'Like' us at facebook.com/NewsPhotoFeatures