By Karen Rubin,
Travel Features Syndicate, goingplacesfarandnear.com
The weather is overcast on the day I have set to do that iconic bike ride along San Francisco's waterfront, over the Golden Gate Bridge into Sausalito and on to Tiburon. But that doesn't stop me or several thousand other visitors to this engaging city. I just throw in some rain gear along with water and snacks.
I set out for Blazing Saddles, which has the largest bike fleet in California and some nine locations throughout San Francisco.
The company's main location is at 2715 Hyde Street, ideally located in Fisherman's Wharf, and just a block and a half from the start of the National Park Bike Path. This path takes riders on a beautiful, car-free bike ride along the bay, passed the Marina, through historic Fort Mason, and over to the Golden Gate Bridge, which is where most of the riders go.
Blazing Saddles has been in business over 30 years – it is the original "Bike the Bridge" company – but now has some new offerings, including a new electric bike model that was custom-made for the company, the Electric Blazer, and a free mobile app.
The new "e-Blazer" was customized for Blazing Saddles and they say is the lightest electric bike. The bike looks like regular bike (the battery is on the luggage rack on the back rather than where your legs are). It would be exceptional if you were riding San Francisco's hills.
But a consideration for me, as the Blazing Saddles person explains, is that e-bikes, can only take the Blue & Gold ferry line from Sausalito or Tiburon to Pier 41, which has somewhat more limited service than the Golden Gate Ferry (which goes into the Ferry Building at Embarcadero  – so I see that my last time back from Tiburon (where I am trying to get to) would be 4:15 pm and it is already noon.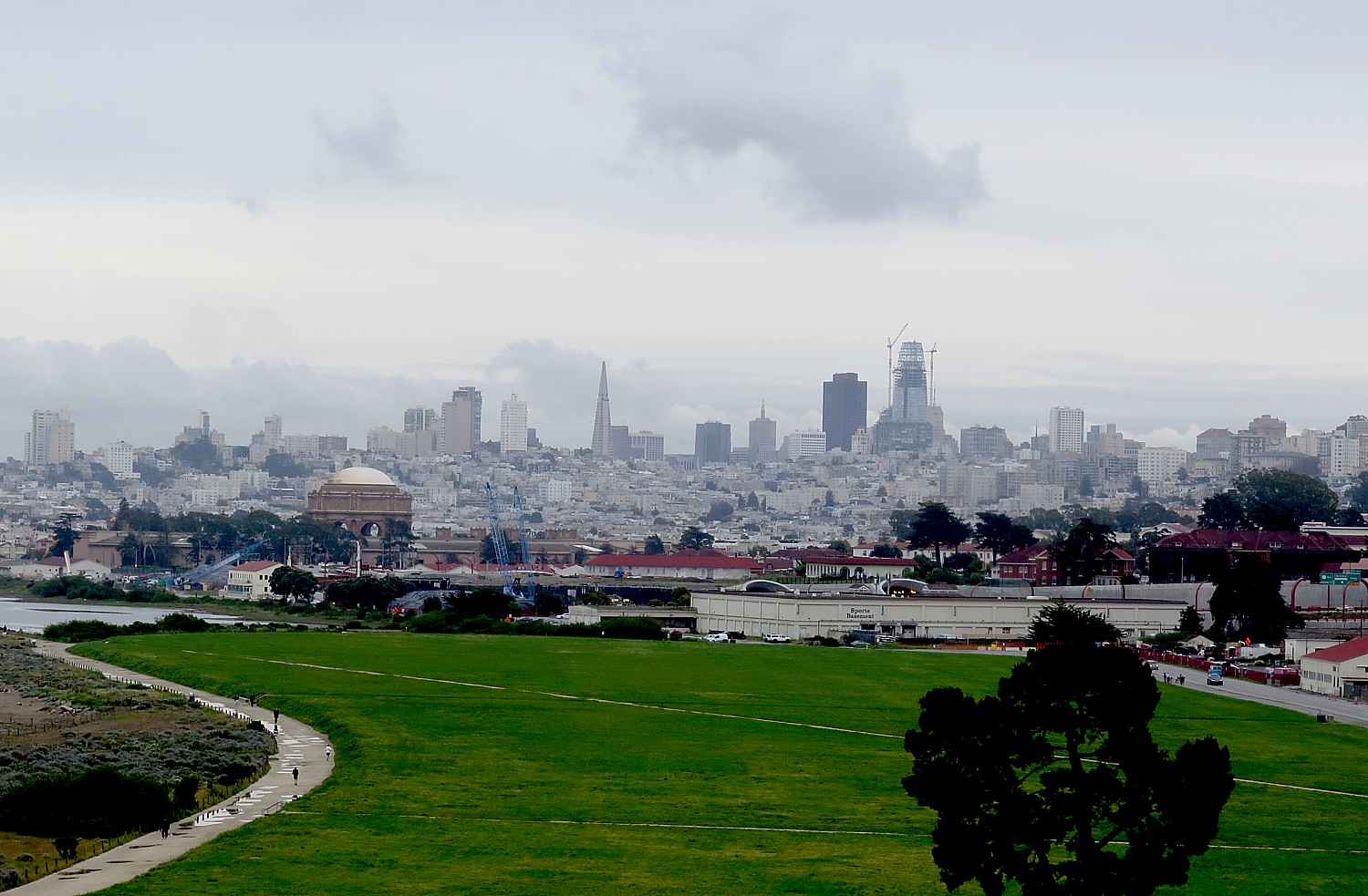 I decide not to take the e-bike but to take a regular bike, which is lighter and easier for me to get on/off, and soldier through the hills, starting with Fort Mason (made it!), then the ramp up to Golden Gate Bridge (made it!).
The weather may be overcast, but I get to see that wonderful scene of the Golden Gate Bridge half-shrouded in San Francisco's famous fog, a scene that changes moment to moment, it seems.
It is 8 miles to Sausalito – that takes about 1 ½ hours (you won't just be riding over the Golden Gate Bridge, you will want to sightsee, stop for photos, and also have to keep stopping for pedestrians). Plan to spend time – at least an hour – in Sausalito which has really wonderful shops, galleries, eateries and scenic views, even if you are planning to continue the ride to Tiburon. (I have spent time in Sausalito a few days before on my way back from Muir Woods with Extranomical Tours.)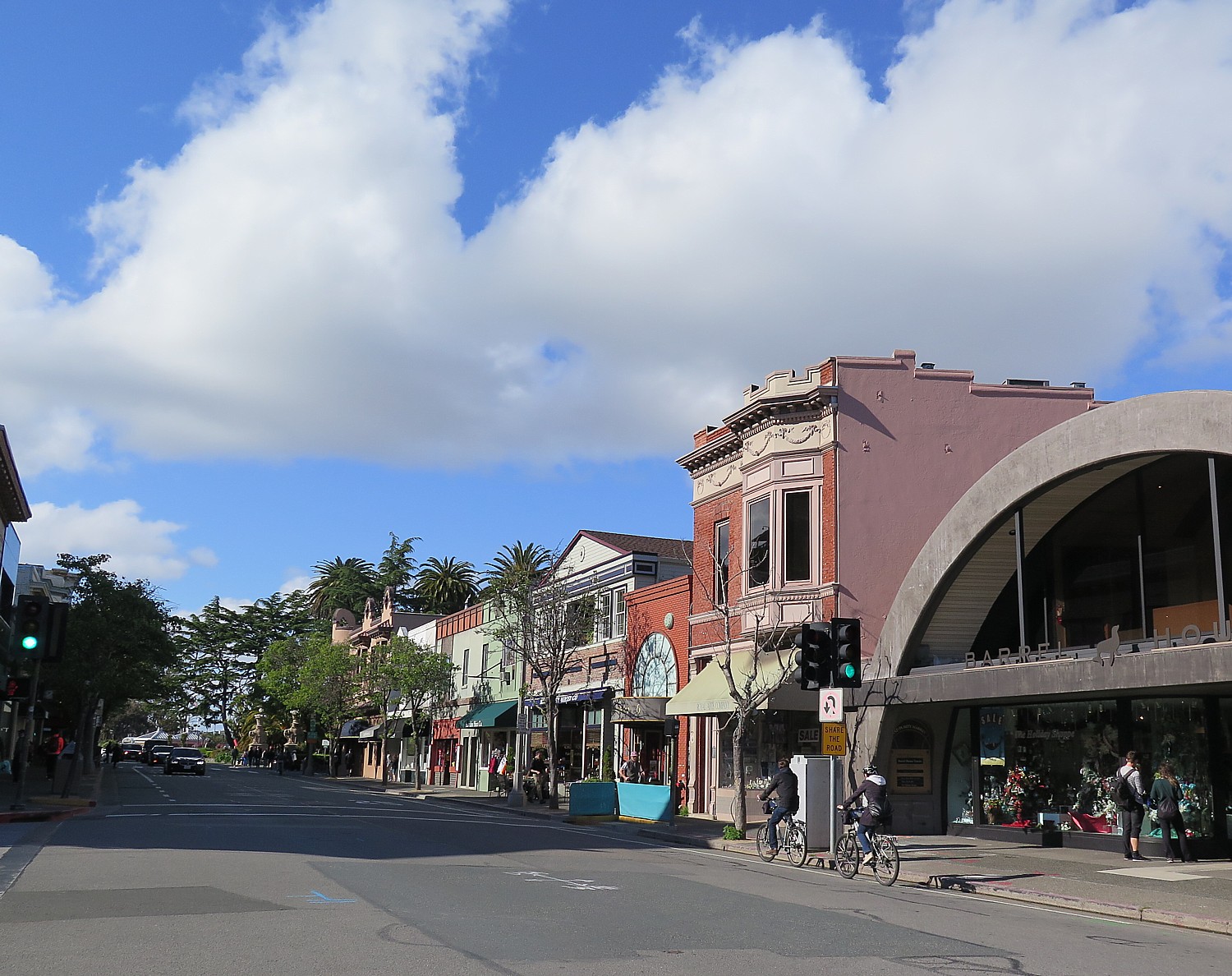 It is 10 more miles between Sausalito and Tiburon, which should take another 1 ½ to 2 hrs.
Blazing Saddles does an excellent job of preparing  you – showing a 2-minute video of the route along the waterfront through the Marina district, up over Fort Mason (a strenuous hill) to the ramp up to Golden Gate Bridge (also strenuous hill), then down, down, down, into Sausalito.
They also give you a ticket for the ferry which you don't actually pay for unless you use it (saves time and anxiety to buy the ticket at the ferry but I notice that the Blue & Gold lets you buy the ticket on the ferry, also). When I get back, I pay Blazing Saddles $11.50 for the ferry (the same amount as you would pay directly to the ferry). Their map/brochure even gives the time schedule for the ferries.
They tell us we should return the bikes by 7:30 pm or else call. They supply quality helmets, a lock, a pouch and luggage rack, and an excellent map (which also shows points of interest along the routes) and take care to properly fit the bike. (Blazing Saddles offers an all-day guided tour out of the 2715 Hyde Street location, departing 10 am and 1 pm, that includes the all-day Deluxe Comfort bike rental for $55/adult, $35/child).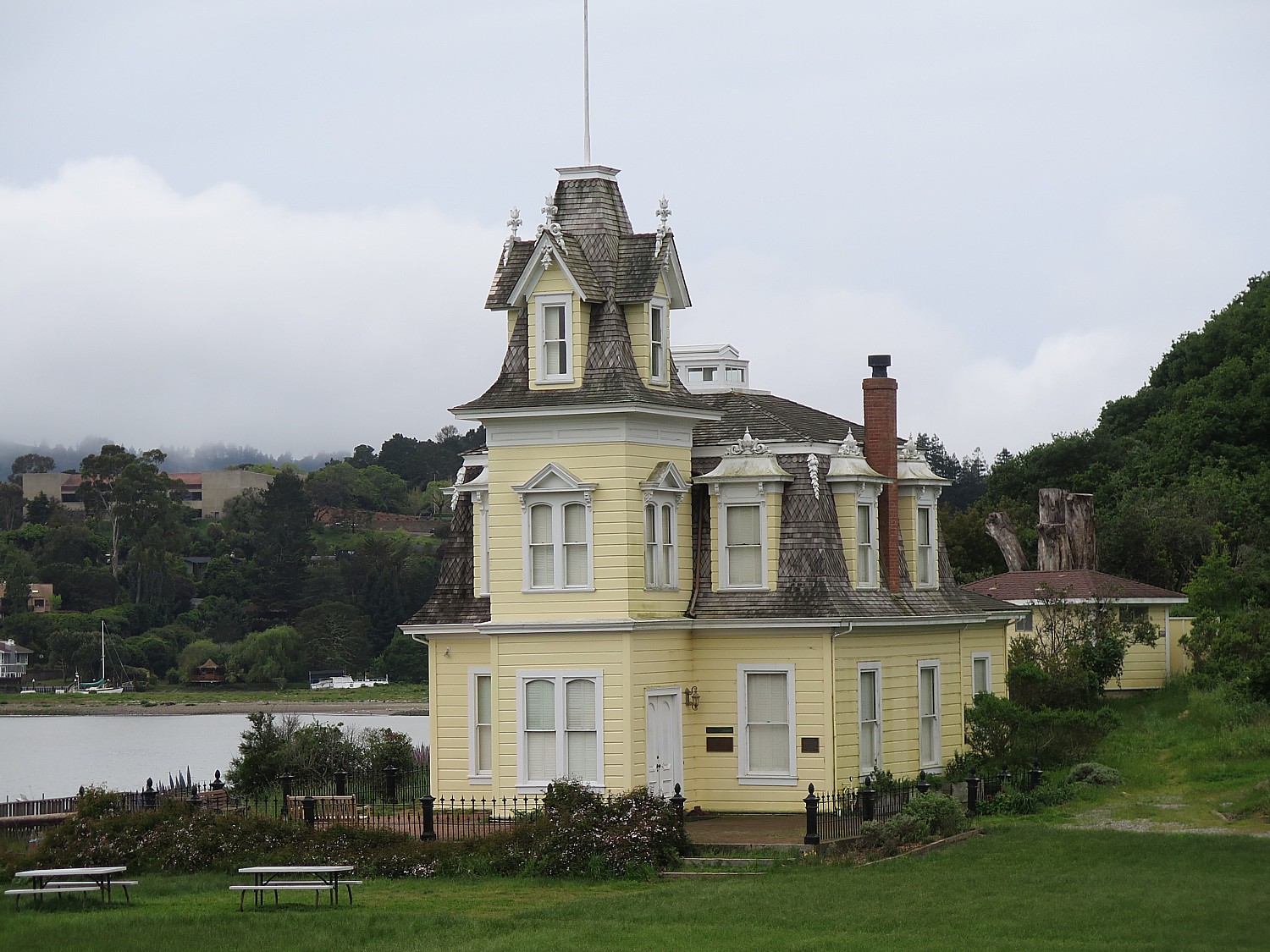 I had really wanted to see the ride to Tiburon which is mostly on a bike trail but partly sharing the road. But once you get under the highway and go along the highway on the service road, the sign to the bike route (for Bike Route 8) to Tiburon is confusing (everyone else I met on the line to the ferry made the same mistake) – when actually, all you have to do is follow the service road maybe ¼ mile more and turn up on Belvedere Road, for a much more pleasant ride (just a few hills) which soon connects to a very nice bike trail (Bike Route 10).
I made the mistake of not biking out to Mill Valley's Old Mill Park, where you get to see the Coastal Redwoods, and then connecting to the Bike Route #8 – which is the way Blazing Saddles recommends to go (I was in a hurry to get to Tiburon).
The weather does not cooperate, but fortunately I have prepared for rain.
Eventually you connect with Route 10 which is a dedicated bike trail along the water into Tiburon.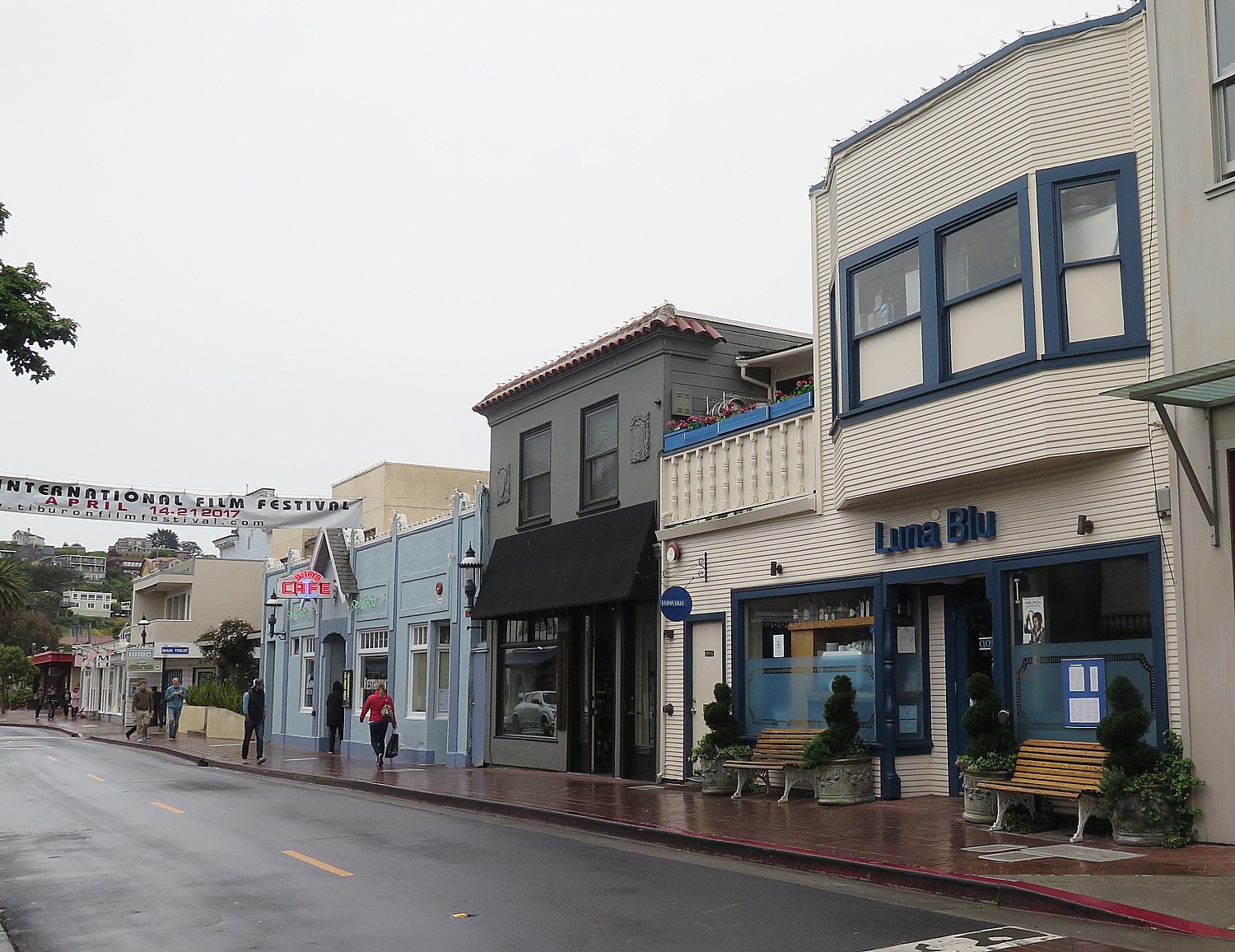 Even with getting lost (involving riding up three major hills in the residential area and stumbling upon the beautiful Audubon sanctuary (until a very nice man stopped his car and pointed out the route to me), I still get to Tiburon at 3:55 pm. There is not nearly as much to visit as in Sausalito, so I basically walked up and down the street in the "historic" district where the shops are and still made it to the 4:15 pm ferry for the fun 35-minute scenic "cruise" back to San Francisco's Pier 41 at Fisherman's Wharf, stopping at Angel Island and passing very close to Alcatraz on the way. There were a gazillion other bikes – a huge slew with the Blazing Saddles emblem – and the ferry people are extremely efficient in loading and unloading the bikers.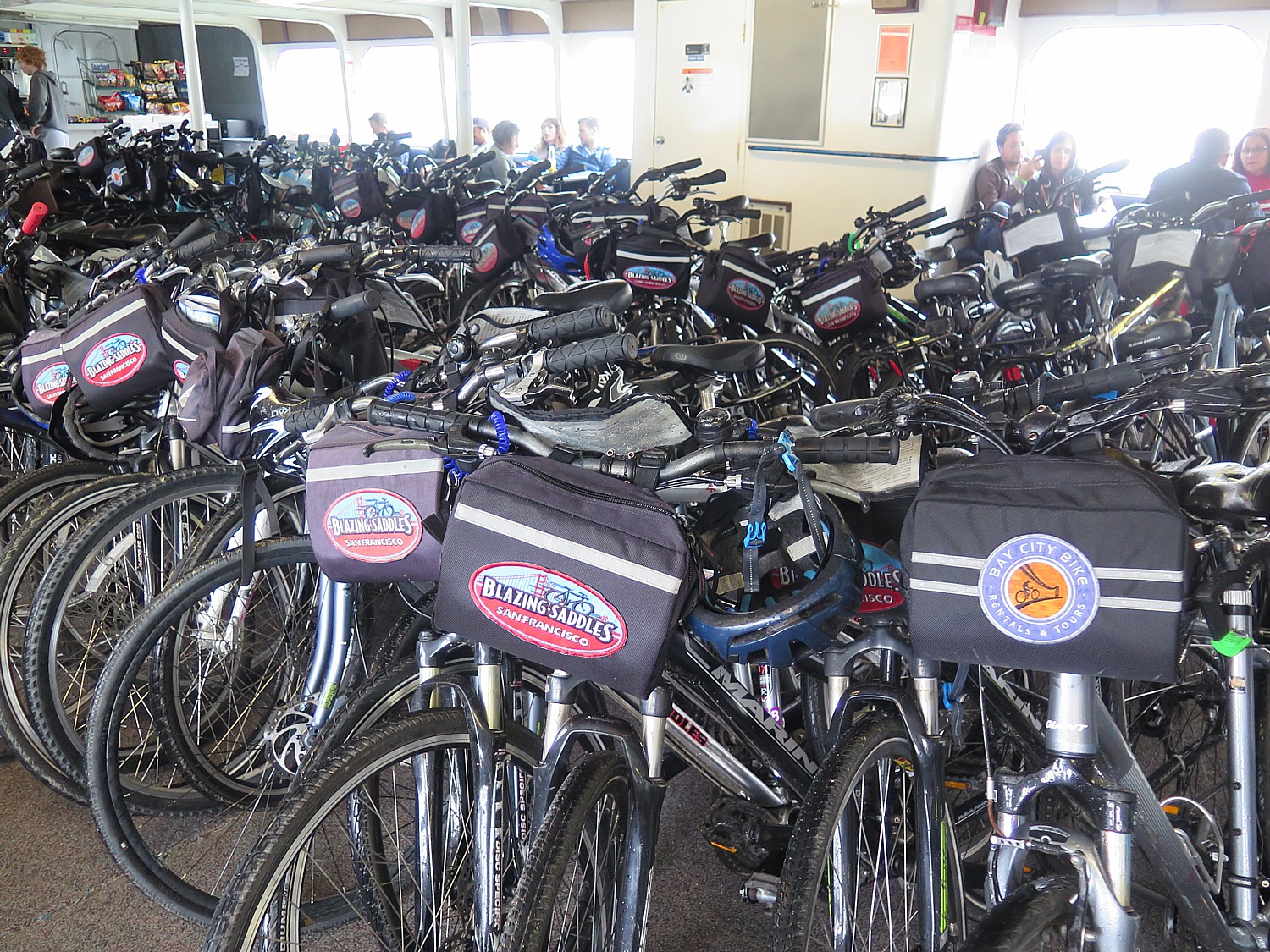 Besides this most popular Bike the Bridge ride (average 3 hours for the full 22 miles into Tiburon), other recommended routes include Bike the Parks (San Francisco's bike route system connects Union Square and the "Wiggle" to the famous Golden Gate Park and the Presidio, 15 miles averaging 2-3 hours; the Marin Headlands Loop (from the north side of the Bridge, follow the coast west on Conzelman Road, out towards Point Bonita and Rodeo Beach, 10 miles, 2-3 hours; and "Conquer Mount Tamalpais, which would take you to Muir Woods National Monument, 15 miles beyond Sausalito, for a 5-6 hour trip – the elevations to Mount Tamalpais at 2,574 feet, make this especially challenging.
Indeed, San Francisco, despite its hills, is one of the most bike-friendly, welcoming cities anywhere (and if you get tired, public buses and the BART subway system accommodate bikes).
Blazing Saddles has a score of different road, hybrid and mountain bikes and types, starting at $8/hour or $32 for a 24-hour day; the best bike for biking the Bridge is a deluxe comfort hybrid, $9/hr, $36/for a 24-hour day; the e-Blazer ranges from $48-88.
Blazing Saddles Bike Rentals and Tours, 2715 Hyde Street, San Francisco, CA 94109, 415-202-8888, www.blazingsaddles.com 
Maritime National Historical Park 
Besides all the marvelous tourist places – souvenir shops, eateries of every stripe – there are some excellent attractions at Fisherman's Wharf, such as the Exploratorium and the Aquarium and most especially the famous and fabulous Cable Car (expect long lines of about 30 minutes but totally worth it; along the cable car route, there is the Cable Car Museum which is free and SO fantastic).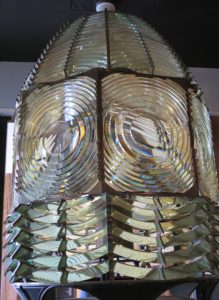 The end of Fisherman's Wharf is the start of the San Francisco Maritime National Historical Park and the Visitor Center which is free and fantastic (located in the Argonaut Hotel building). Here you experience the sights, sounds and textures of the city's seafaring past, beginning with the Native Americans who lived here before the Spanish arrived. There are hands-on activities and exhibits that describe the Gold Rush, shipwrecks, and development of San Francisco. On view is the lens from the Farallon Lighthouse. There are many historic vessels along the Hyde Street Pier, where park staff volunteers lead programs where you get to participate (school children can even overnight on historic vessels).  The Maritime Museum is in the Aquatic Park Boathouse building (also free). (San Francisco Maritime National Historical Park, Fort Mason Center, San Francisco, 94123, 415-447-5000, www.nps.gov/safr).
I stop in on my way to picking up the bike from Blazing Saddles, and the exhibit gives me an excellent foundation for appreciating what I will see during the ride.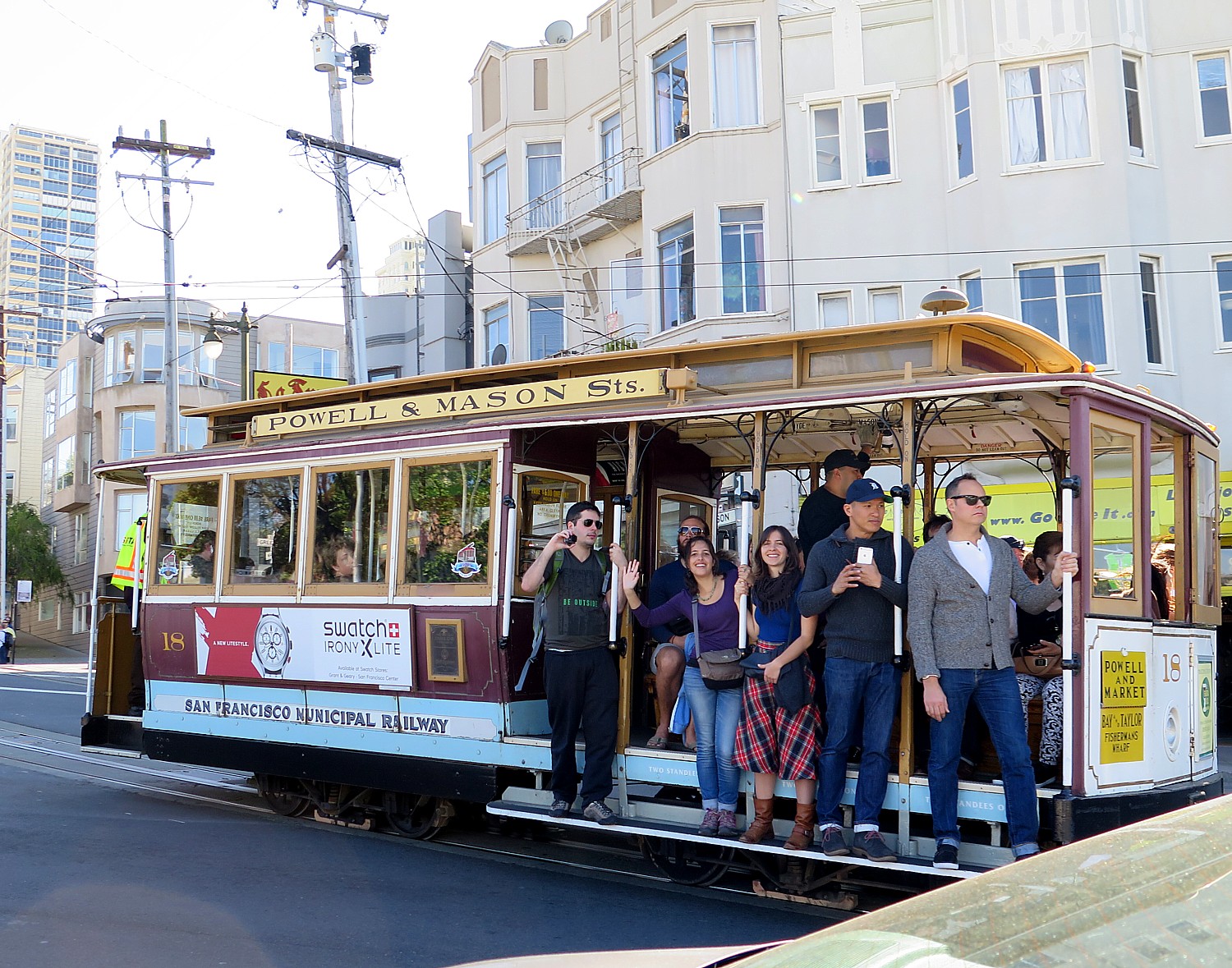 It's also where a few of the marvelous San Francisco cable cars begin and end – be prepared for a 20-30 minute wait on a line but it is so worth it and is an excellent way to either arrive at Fisherman's Wharf or finish off the day. The one-way fare is $7. (Locals can't get on so it is almost exclusively tourists who ride the cable car.)
Also try to visit the Cable Car Museum, located in the historic Washington/Mason cable car barn and powerhouse. (Cable Car Museum, 1201 Mason Street, San Francisco, CA 94108, 415-474-1887, www.cablecarmuseum.org. See story A Day in San Francisco Revisiting the Past: Plucky Cable Car Epitomizes City's Grit, Determination, Innovation)
Pier Market Seafood Restaurant at Pier 39 
Pier 39, which is celebrating its 39th anniversary in 2017, is a tourist mecca with scores of fun shops and restaurants such as the Hard Rock Café (especially fun during this Summer of Love celebration, we noticed live music going on; also, check out the autographed Grateful Dead guitar, a painting of Jerry Garcia by Grace Slick of the Jefferson Airplane, Jerry Garcia's bomber jacket, Jimi Hendrix' jacket and one of the last photos of Janice Joplin, www.hardrock.com/cafes/san-francisco/).
This trip we enjoyed dinner at the Pier Market Seafood Restaurant, heralded for its New England clam chowder, Mesquite-grilled seafood, and lovely setting with views of the Bay, waterfront and resident sea lions.
Pier Market Seafood is one of the Simmons family's restaurants in San Francisco (Fog Harbor Fish House, and Wipeout Bar & Grill are the others), offering menus that showcase all sustainable seafood offerings aligned with the Monterey Bay Aquarium's "Seafood Watch" guidelines.
"We undertook this transition based on a commitment to best practices, even in the absence of any specific demand from our customers," Scooter Simmons commented. "It was important to our family and everyone in our company to do the right thing and lead by example. There are surprisingly few area restaurants that have made this choice."
Three generations of Simmons' are a part of the history of San Francisco's hospitality industry. Warren Simmons was the creator and developer of PIER 39, which opened in 1978, and his son, Scooter, daughter-in-law, Nancy, and his grandchildren, Nicki and Ryan, now work running the four Pier 39 businesses still owned by the family.
Menu highlights include garlic roasted whole crab, fresh seafood cioppino, mesquite grilled lobster tail, red curry steamed mussels, and Anchor Steam battered fish and chips and Pier Market's award winning clam chowder.
In addition to the sourcing of sustainable ingredients for all seafood dishes the menu reflects seasonality, the use of local purveyors, generous portions, and moderate ("non-tourist") pricing (mains are priced from around $11 to $30). Pier Market Seafood offers a diverse selection of libations including a wine list that emphasizes California vintages and handcrafted classic, contemporary and signature cocktails, plus intriguing non-alcoholic beverages including a strawberry basil nojito.
The selections are wonderful for sharing, especially the starters like sourdough garlic bread, garlic fries (crispy fries tossed with fresh garlic, herbs and topped with parmesan cheese); Crispy Scallops (house-breaded and served with roasted jalapeño aioli); fried calamari coated with sweet & sour sauce; crab cakes, a house specialty, served with a Cajun rémoulade; clams steamed in garlic, butter and white wine; steamed mussels prepared with onions and peppers in a red curry coconut broth.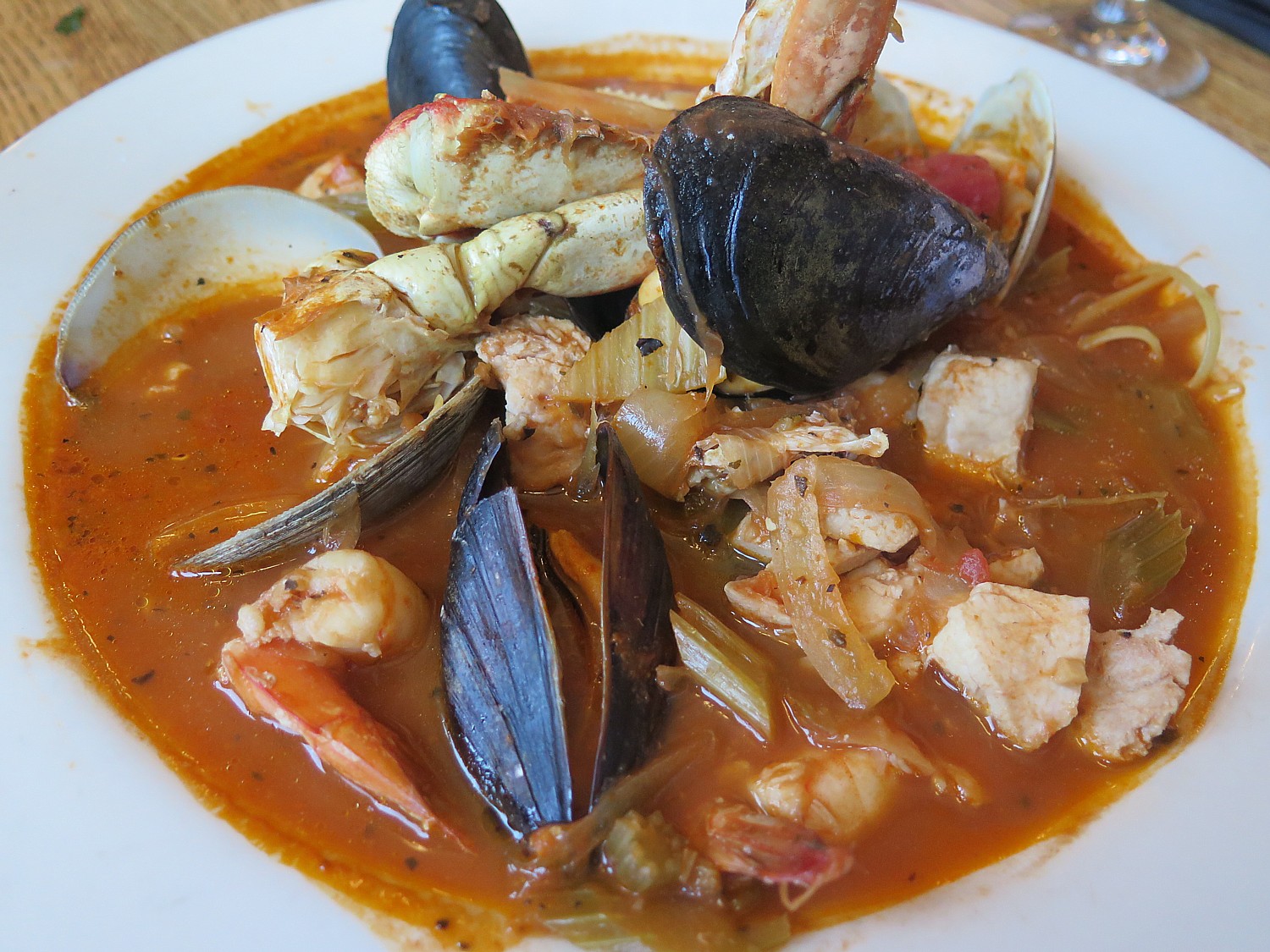 The restaurant is also very proud of its Cioppino, a  classic San Francisco dish, a tomato based seafood stew with fresh fish, mussels, clams, shrimp and crab served over pasta ( for a few dollars more, they remove the crab from the shell).
The menu offers tremendous variety and selections – meats to salads, sandwiches, pastas – and the ambiance is casual, pubbish, perfect after a day of sightseeing. The restaurant serves until 10 pm.
One hour free validated parking in an easily accessed and conveniently located garage adds to the allure of the dining experience.
(Pier Market Seafood, Pier 39. San Francisco, CA 94133, 415-989-7437, piermarket.com/).
For more help planning a visit to San Francisco, contact San Francisco Travel. 415-391‑2000, www.sftravel.com. 
See also:
San Francisco Throwing Year-Long 50th Anniversary Celebration of Summer of Love – Be Prepared to Be Blasted into the Past
San Francisco Goes All Out With Special Events, Exhibitions Marking 50th Anniversary of Summer of Love
A Day in San Francisco Revisiting the Past: Plucky Cable Car Epitomizes City's Grit, Determination, Innovation
____________________
© 2017 Travel Features Syndicate, a division of Workstyles, Inc. All rights reserved. Visit goingplacesfarandnear.com,  www.huffingtonpost.com/author/karen-rubin , and travelwritersmagazine.com/TravelFeaturesSyndicate/. Blogging at goingplacesnearandfar.wordpress.com and moralcompasstravel.info. Send comments or questions to [email protected]. Tweet @TravelFeatures. 'Like' us at facebook.com/NewsPhotoFeatures