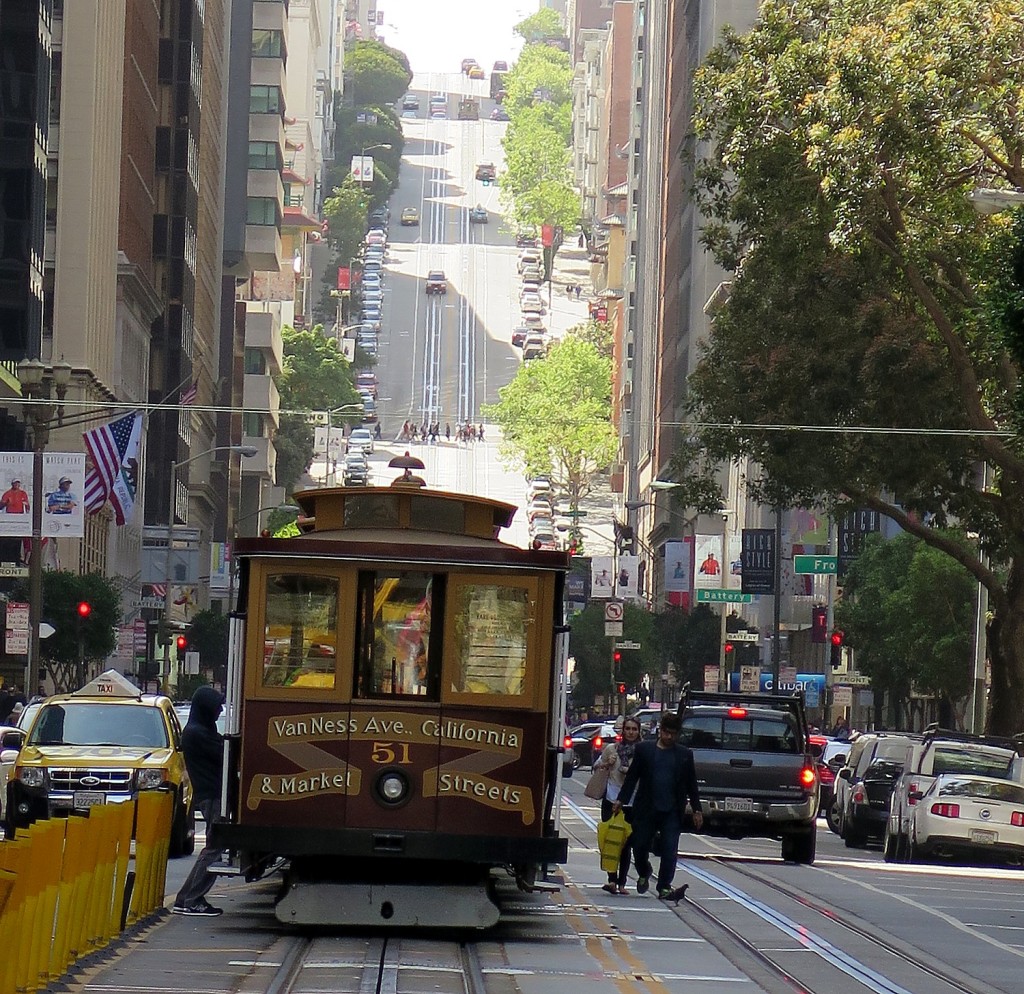 by Karen Rubin, goingplacesfarandnear.com
San Francisco is an improbable  city. Its high, rolling hills rising straight up from the water should have discouraged settlement. Walking up, up , up and around these hills you see just how outrageous it was for anyone to contemplate building homes in such concentration here. Just driving is like a theme park roller coaster ride. And the cable car is better than any theme park ride.
Any practical real estate developer would have shunned such an uninhabitable place, more desert wasteland than anything else. But the city burst into being – a demonstration of what money, ingenuity, grit and determination can achieve.
It has proved an incubator of innovation and creativity – the cable car, the fortune cookie, denim jeans, television (attributed to Philo T. Farnsworth in 1927), the city even birthed Rube Goldberg – the same ingredients that foreshadowed Silicon Valley.
San Francisco is fascinating and perplexing, but where to start? For the visitor, this isn't an easy place to uncover once you get passed the most obvious attractions of the Golden Gate Bridge, Fisherman's Wharf and have a ride on the cable car.
I appreciate all of this after a most pleasant walking tour with Hudson Bell, the proprietor of Fern Hill Walking Tours.
I walk up to Huntington Park on Nob Hill from the Hotel Whitcomb (appropriately, a historic hotel that in fact served as City Hall after the earthquake, and a member of Historic Hotels of America), for my journey back through San Francisco's history with Hudson Bell who has a new company, Fern Hill Walking Tours.
"Up" is the operative word because most of the mile is straight up San Francisco's legendary hills.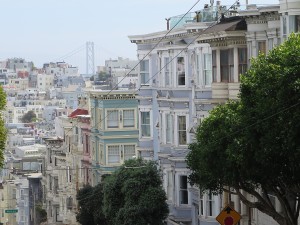 When we meet by the fountain in the park, which is surrounded by elderly people doing Tai Chi, Hudson lays out the itinerary for his "Classic San Francisco" tour. It ambitiously traverses Nob Hill, Chinatown, Russian Hill, Jackson Square, North Beach, Telegraph Hill, The Embarcadero, and the Financial District  – in other words, we will get to experience a large portion of this vibrant city. His route highlights San Francisco's oldest neighborhoods while telling the story of the city's transformation from a tiny Mexican trading post to "the Emporium of the Pacific".
During the four hours (with a lunch break), we cover five miles, and lest San Francisco's hills seem a barrier to a walking tour, Bell strategically hops on San Francisco's distinctive public transportation (he provides a transit pass), which is a treat in itself. I appreciated the tour as a newbie, rather intimidated by how to tackle San Francisco, but it also is most satisfying to seasoned San Francisco travelers and even locals. Indeed, by the end, I feel completely comfortable continuing my exploration of the city, even unraveling the mystery of its public transportation. In fact, I had no sense of time at all – the time really flew by.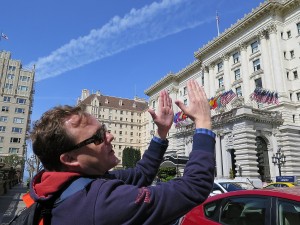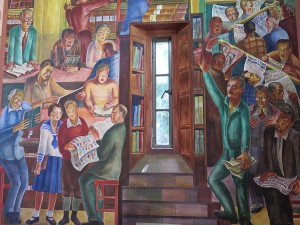 Bell is a seasoned guide – working for others for three years – and brings a distinctive approach to his own company than most of the other scripted and pre-packaged tour companies. I love the way his storytelling unfolds as we come to a particular building or site, summoning the spirits of the people associated with places and events (Mark Twain, William Tecumsah Sherman) and the various movers and shakers of the city whose names now emblazon streets and towering structures, and especially, how he will distinguish between historic facts – Bell is the historian for the Nob Hill Association as well as working on a book about Fern Hill (the neighborhood's original name) – popular legends, and myths that are more dubious.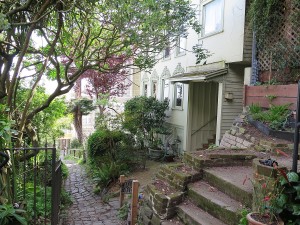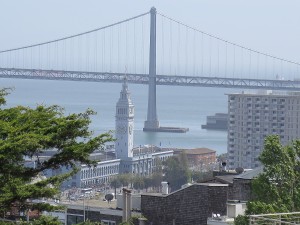 Bell brings you to places you might not have thought to go – points out structures that you wouldn't have appreciated, brings you to "streets" that are quite literally hidden, more walking paths than actual streets. The structures hold the stories of the people who built them, lived or worked in them, where events took place.
His commentary inspires more questions from me, and he is like a patient parent trying to quench my curiosity.
His itinerary is brilliantly laid out logistically, weaving together the different neighborhoods. He brings me to places I never would have thought to visit because of my limited time – like Coit Tower  (atop Telegraph Hill, it seemed too much trouble, but Bell cleverly hops a bus to the top, and then I saw what was inside! and the walk down brings you to small "streets" that are really walking paths).
Hudson pulls out a map from 1854 that shows Nob Hill (Fern Hill in those days where we are standing and points out that it was not only one of the oldest neighborhoods in San Francisco but was the westernmost part of the city after the Gold Rush of 1849 (the first house was built that year by Benjamin Brooks, from New York). That flat part we see today (Fisherman's Wharf and the Marina District) – simply did not exist. The flat part is man-made from landfill, atop a virtual armada of sunken ships, abandoned when passengers and crew raced to the gold fields to seek their own fortunes, combined with rock and grit blasted from the hills, to such an extent, houses collapsed.
Originally, the Bay area was home to the Ohlone Indians, the first Europeans were Spaniards who settled the Presidio and Mission in the 1700s (my biggest regret of my all-too-short visit to San Francisco was not seeing the Old Mission). It was a base for military and for Catholic missionaries intent on converting the Indians. French and British traders came in the 1830s. Yerba Buena (as San Francisco was first known), was a trading post with 300 people.
It hastily became a US territory in 1847 after Mexico's defeat in the Mexican-American War. Coincidentally (or was more like insider trading, I wonder), gold was discovered in 1848.
In 1849, after the find had been validated, the population exploded, from 700 to 20,000 in just months.
By the 1870s, Nob Hill (nob means "dirt") became the popular neighborhood for the wealthy.
All around the park are the buildings – monuments, really – to the early founders who built their mansions and the city with their own fortunes from mining, railroads, shipping and finance – quite literally the stuff of America's emergence as a global industrial power.
Just across the street from Huntington Park where we are standing is the gargantuan mansion of James Flood, who made his fortune in the Nevada silver mines (it reminds you of  Vanderbilt's Newport "cottage," The Breakers) – in fact, this was his "cottage" rather than his main home. it was one of the last built before the earthquake (one of the few built of stone, rather than wood), and one of the few that survived the three days of fire that consumed the city after the earthquake. These days it is the Pacific Union Club.
Across the street from James Flood's mansion, is the Fairmont Hotel, built by Fair's daughters, it was nearing completing when the earthquake hit. The structure survived, but the interior had to be completely redone and for this, they turned to the first woman architect and engineer, Julia Morgan, who was innovative in using reinforced concrete to withstand earthquake (she also designed Hearst Castle). The hotel opened in 1907.
Fairmont Hotels are luxurious but this makes New York's Plaza, The Pierre and Waldorf=Astoria look like poor cousins in comparison. What is more, it is actually tasteful. The artwork and artistry, architectural features and interior design are simply breathtaking. But one of the reasons Hudson brings me here is to point out a wall of historical photos and plaques that tell the story of the city's movers and shakers. (And in 1945, the hotel was the site for negotiations establishing the United Nations; President Harry Truman signed the United Nations Charter in the Garden room in 1945).
Among the hotel's attractions was the Tonga Room & Hurricane Bar, a historic tiki bar opened in 1945. It features a bandstand on a barge that floats in a former swimming pool, a dining area built from parts of an old sailing ship, and artificial thunderstorms (it is no longer open to the public but there is a photo of it).
We walk passed the "Cirque" room, a cocktail room reserved for special occasions, with stunning murals of circus performers on gold, and passed the hotel's garden where they grow herbs for their restaurants.
He brings me to a hidden garden to look at the view and imagine the city 100 years ago. He points out the Presidential Suite where so many presidents, including Obama had stayed.
The Fairmont is just across the street from another San Francisco landmark: the Mark Hopkins Hotel, built on the site of the "crazy" opulent mansion (because his wife wanted to outdo the rest). The hotel was built on the site in 1923 and is famous for the Top of the Mark, opened in 1930, the highest place in San Francisco to get a drink (but not the first rooftop bar).
Across from the Mark Hopkins, Hudson points out four townhomes because they were built by Willis Polk, a key architect after the earthquake (he also redesigned the Flood Building).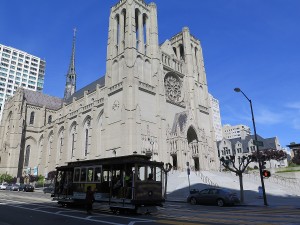 Before we leave Nob Hill, he brings me into the Grace Church, on the other side of the park – a monumental building, but now on closer examination, they look familiar and  I see the golden doors match the Lorenzo Ghiberti's "Gates of Paradise" on the Baptistry of San Giovanni in Florence, Italy. It's not a coincidence – Hudson tells me that two copies were made in 1942 when it was feared the Nazis would destroy them.
Inside, the church -the third largest cathedral in the US – is decorated with magnificent murals and stained glass.
Walking around, he points out the stones outside the church which predate the earthquake and fire.
Chinatown: Home of the Fortune Cookie 
Our next stop is Chinatown – one of the few times we see literal gaggles of tourists. It is to Bell's credit that he does not pass up Chinatown, probably one of the most touristic attractions in the city, because you would miss so much of the story, but he offers what I think is a more interesting take on this part of the city.
Chinatown is the original part of the city, is the oldest Chinatown in the US and second in population to New York City's.
He points out the Tin How Temple, the oldest traditional Chinese temple in US, dating from 1850.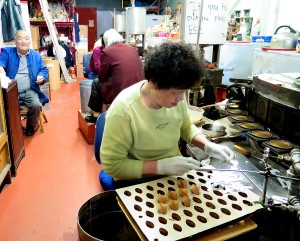 This is an exceptionally popular area for tours – the tiny street is jammed with groups, all headed to the Golden Gate Fortune Cookie factory, "the last place to see old-style preparation of fortune cookies," he says, "they even have 'adult' fortune cookies." The sweet smell fills the alley. All of us line up for our turn to enter the tiny, narrow shop for a quick peek to see how a woman takes the freshly baked thin cookies and fills with a fortune and folds it. You can only take a picture if you pay 50c or buy something (a bag of cookies is $1, a bottle of water is a $1 – well worth it)  only get a few minutes because of the line of people wanting to come in – pass around a sample of the cookie from the "rejects."
Hudson tells me there are many fortune cookie "creation" myths – but the one he feels most credible is that they were created for the World's Fair held in Golden Gate Park, by the Chinese who adapted a traditional Japanese cookie by putting a fortune inside.
We go through Jackson Square where the oldest building building in the city stands– "a freak survivor of earthquake/fire," and to the section of the city that was so popular with writers. We go by the building which housed the "Golden Eva" newspaper where Mark Twain worked, undergoing renovation.
Nearby is the Bank Lucas Turner & Co., the city's oldest commercial building, built in 1853 by William Tecumseh Sherman (who became the famous Civil War General).  It's now the 472 Gallery. Hudson points out how brick buildings used to have iron windows which proved fatal in a fire, and how they have been retrofitted to survive an earthquake.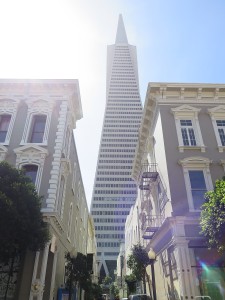 We walk across Balance Street – a tiny little stump street that I would not have noticed at all, except that Bell points out that it was probably named for a ship that was sunk – very possibly under the street today – one of hundreds of sunken ships that provided landfill to expand the city.
We walk down Pacific Street – infamous for being the place where so many sailors were shanghaied to be crew for ships.
He takes me through Russian Hill – named for the Russian traders and the Russian American Company. At one time, the only thing here was a graveyard with headstones etched with Cyrillic letters. He points out some marvelous homes.
Here you appreciate how impossible this city would be to build homes – it must have taken a fortune to cut streets through rolling hills.
He explains that in 1847, when the area became a US territory, the "mayor" hired Jaspar O'Farrell to survey and create a street plan of what he expected to happen over time. The grid did not take into account San Francisco's hills.  But after the 1849 Gold Rush, there was a literal rush to build, and it was funded by the newly minted millionaires.
He takes me on "streets" that are really cobblestone walking paths lined with gardens – to get a feel of what "old San Francisco" was like.
We come down to the edge of North Beach, where Hudson stops at a delightful Mediterranean restaurant, North Beach Gyros (415-655-9665, 701 Union Street, www.northbeachgyrosf.com) for lunch.
Telegraph Hill
Checking his app for the bus schedule (this is the trick of offering such a marvelous walking tour of San Francisco), we have but a few minutes wait before we hop the bus up to Telegraph Hill (others are huffing and puffing to get up there), to visit Coit Tower. This affords probably the most spectacular, 360-degree view of the city, but what is inside is what captures my attention: Depression-era WPA-sponsored artists created spectacular murals depicting the full spectrum of San Francisco's everyday life in the 1930s.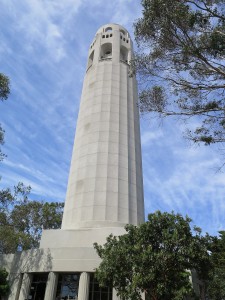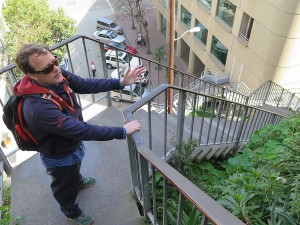 This is Telegraph Hill. It was from here that a signal man would see a ship with flag of country and had a pole with flags and signals so someone down in Merchant's Exchange would know what ship was coming. Later, there was a telegraph to send the message.
When a mail ship came in, the entire town would turn out as if it were a holiday. But when container shipping became the norm, the shipping business moved to Oakland.
Today, San Francisco has revitalized its dock to accommodate massive cruise ships, and there are two in port today.
We walk down from Telegraph Hill on Filbert Street (steep, twisting staircase, no cars) – one of the most magical walks, with a public garden on the sides. He takes me down one "street" that is still a boardwalk.
He points out where the hill was literally blasted apart for the material for landfill.
"San Francisco is the worst place in Bay to found a city but was a great launching place to the gold fields," Bell says. "None of vegetation we see today [like palm trees and lush flowering gardens] is native. As beautiful as it is, William Tecumseh Sherman said of Yberra Buena in 1847, the year after California became a US territory, that it was a hell hole. Parts of Nob Hill would fluctuate by 15 feet a day because of wind and sand." (I ask where he got that from and he said by reading newspapers from the 1850s. I'm impressed.)
At the bottom of Filbert is Levi's Plaza, named for Levi-Strauss company (which has its headquarters right there on the waterfront) – it was here that the company made famous for denim jeans began.
Here, we wait for a street car. San Francisco may be famous for its cable cars, but it is also the last city to run street cars. And, like everything else, it does it with flare – using colorful cars from the 1930s and 40s, painted to look like the city they came from (they even have the city's name on them, like Milan, Italy and St. Louis).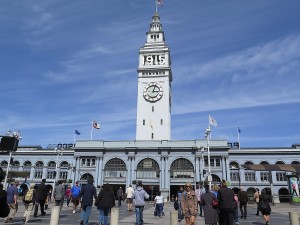 We get off at the Ferry Building – the original gateway to the city (like Ellis Island and Grand Central rolled into one). Passengers came into Oakland and ferried to San Francisco before the Golden Gate and Bay bridges were built. "They were the first commuters. This was most passed through gateway in the world." It was designed by Arthur Brown Jr. and is the largest structure built over water.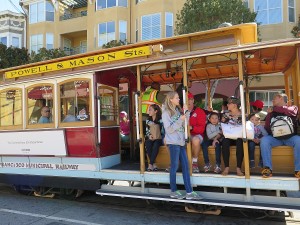 Bell has another surprise for me: at Powell & Market Street, we get on the famous cable car, a perfect cap to this marvelous tour through San Francisco's history (this, Bell says, is an added treat, subject to time considerations and how long the wait).
"Classic San Francisco" is offered Monday, Wednesday, Friday & Saturday (10 a.m.-2 p.m.), geared for people 13 and up ($48/adult, $38/teen – well worth it).
Another program that Bell offers is "Parks to Pacific," a five-hour tour  that celebrates San Francisco's transformation from sand-duned wasteland to city of world-renowned parks and recreation. On this journey, you'll be park hopping from downtown to the Pacific Ocean, plus experiencing many singular neighborhoods in-between. While the tour can be variable, the route generally includes Pacific Heights, The Golden Gate, The Presidio, Lincoln Park, Ocean Beach, Golden Gate Park, Lands End and the Sutro Bath Ruins.
Hudson Bell, Fern Hill Walking Tours, San Francisco, www.fernhilltours.com, [email protected], 415-305-7248.
Next: San Francisco History Day itinerary continues:
Fern Hill Walking Tour
Cable Car Museum
Cable Car Ride
Historic John's Grill
_____________________
© 2015 Travel Features Syndicate, a division of Workstyles, Inc. All rights reserved. Visit www.examiner.com/eclectic-travel-in-national/karen-rubin,www.examiner.com/eclectic-traveler-in-long-island/karen-rubin, www.examiner.com/international-travel-in-national/karen-rubin, goingplacesfarandnear.com and travelwritersmagazine.com/TravelFeaturesSyndicate/. Blogging at goingplacesnearandfar.wordpress.com and moralcompasstravel.info. Send comments or questions to [email protected]. Tweet @TravelFeatures. 'Like' us at facebook.com/NewsPhotoFeatures