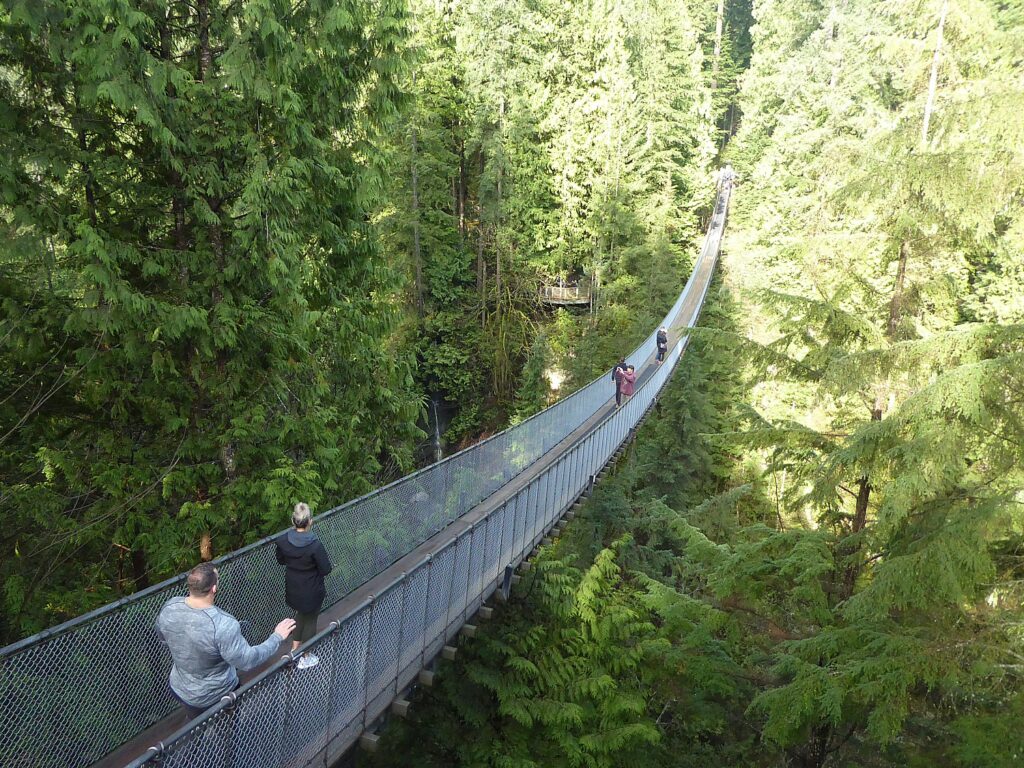 By Karen Rubin, Travel Features Syndicate, goingplacesfarandnear.com
I had last visited Vancouver, British Columbia, when it was the departure point for an Alaska cruise, and learned too late (from photos in the airport) about Capilano Suspension Bridge. That image stayed in my mind, and I always felt a loss not having seen it for myself. So, when I learned that our Global Scavenger Hunt – a 23-day around-the-world mystery tour where you don't know where you are going until they tell you to get to the airport – was starting in Vancouver BC, I wasn't going to miss an opportunity twice. I arranged to arrive a day ahead to be sure to have time to visit. And even after years of built-up anticipation, the attraction was even better than I imagined.
Capilano Suspension Bridge, it turns out, is a sanctuary to nature, and so much more than one (albeit) spectacular bridge, high above a rushing river – it isn't just the view of the bridge, its setting, but actually walking over it and feeling it bounce and roll that is so sensational. You feel it through your entire body.
The bridge suspends you 230 feet above the Capilano River (that would be shoulder height of the Statue of Liberty), and is 450-feet long. It was built to hold 200,000 lbs. (that is the trepidation most people have as they cross), which means it can hold 1300 people standing on it at the same time, or parade 96 elephants across.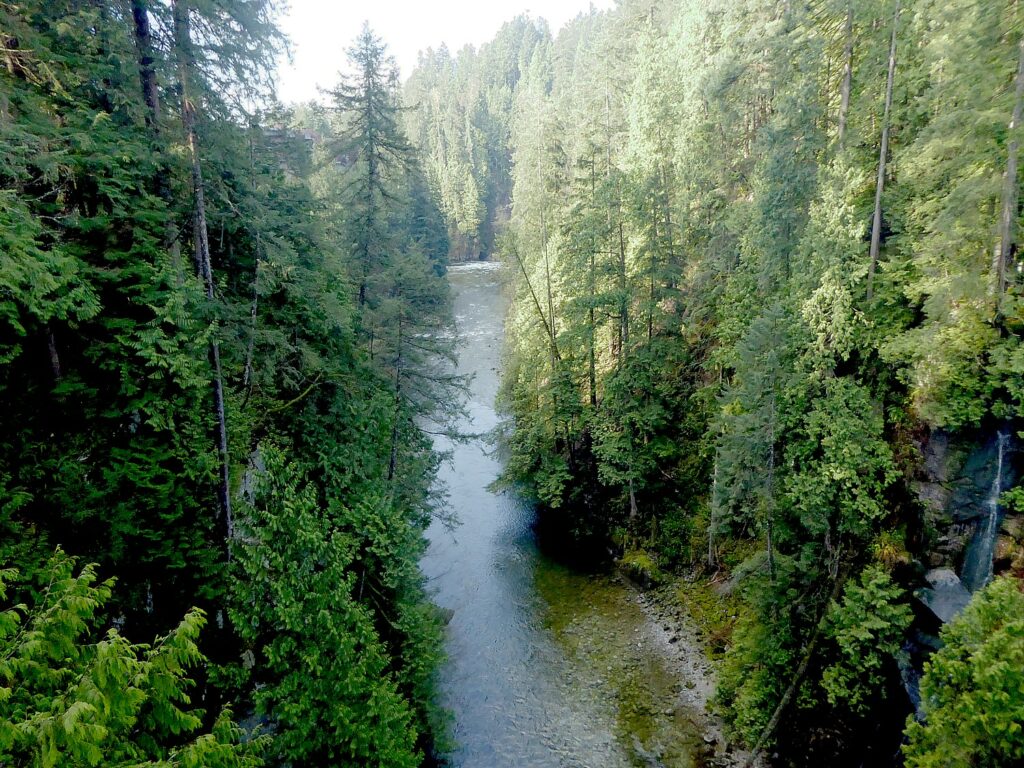 But it turns out that this is an entire nature park, with many "attractions" that enable you to become immersed in nature – the relatively new Tree Tops Adventure, which is a network of bridges that let you walk in the canopy of a rainforest and a new Cliff Walk, another network of bridges set out from the cliffs that make you feel like you are dangling over the gorge. All throughout, there are signposts that inform you about the trees, the rocks. It pays homage to sustainability – not just of nature, but as a tourist attraction that minimizes its impact and promotes consciousness.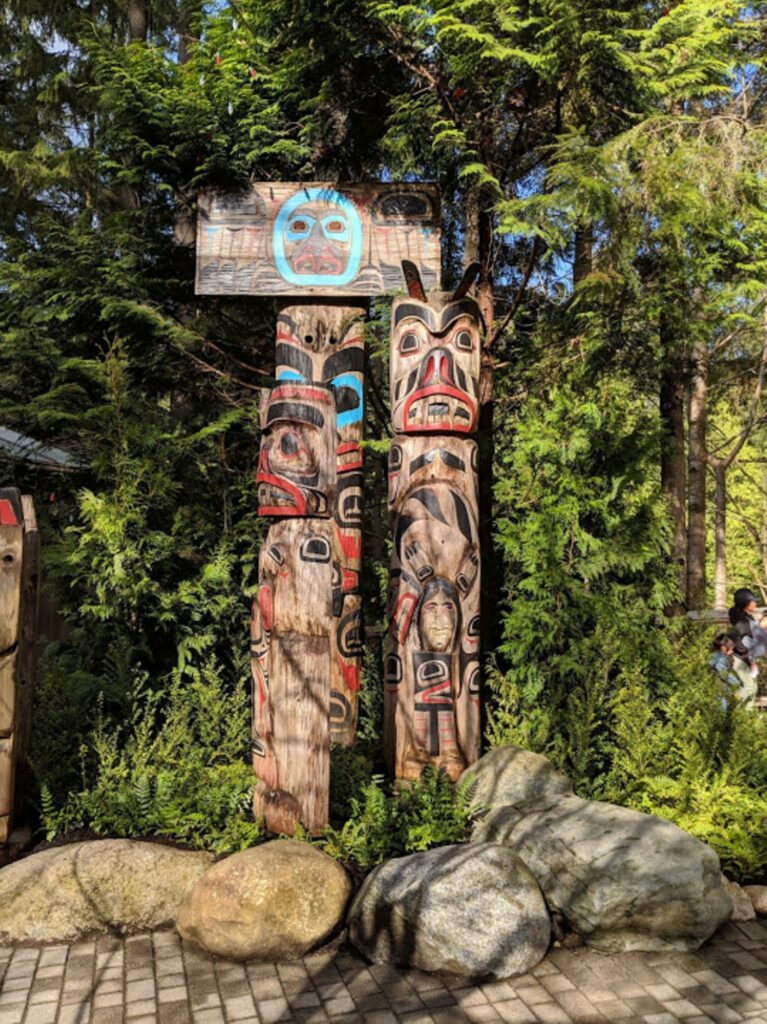 I was surprised at the heritage aspect of Capilano – its homage to the First Peoples who inhabited this area – stunning totem poles in addition to a display about the original founders and how Capilano Suspension Bridge came to be – how the first owner, George Grand MacKay, purchased 6000 acres for $1 in 1889 (the land is now worth over $1 million), and built his house on the wrong side of the river. A civil engineer, he built a rope bridge, and then people wanted to visit. George Grant MacKay was a visionary who, as Park Commissioner for Vancouver, also set aside the land for Stanley Park, North America's third largest urban park nestled in the heart of Vancouver. He sold off 27 acres to a guy who changed the rope to cable and charged visitors 10c to cross.  (There is a wonderful love story that is also part of the history).
It's been a paid attraction since 1907, employing just a single gatekeeper.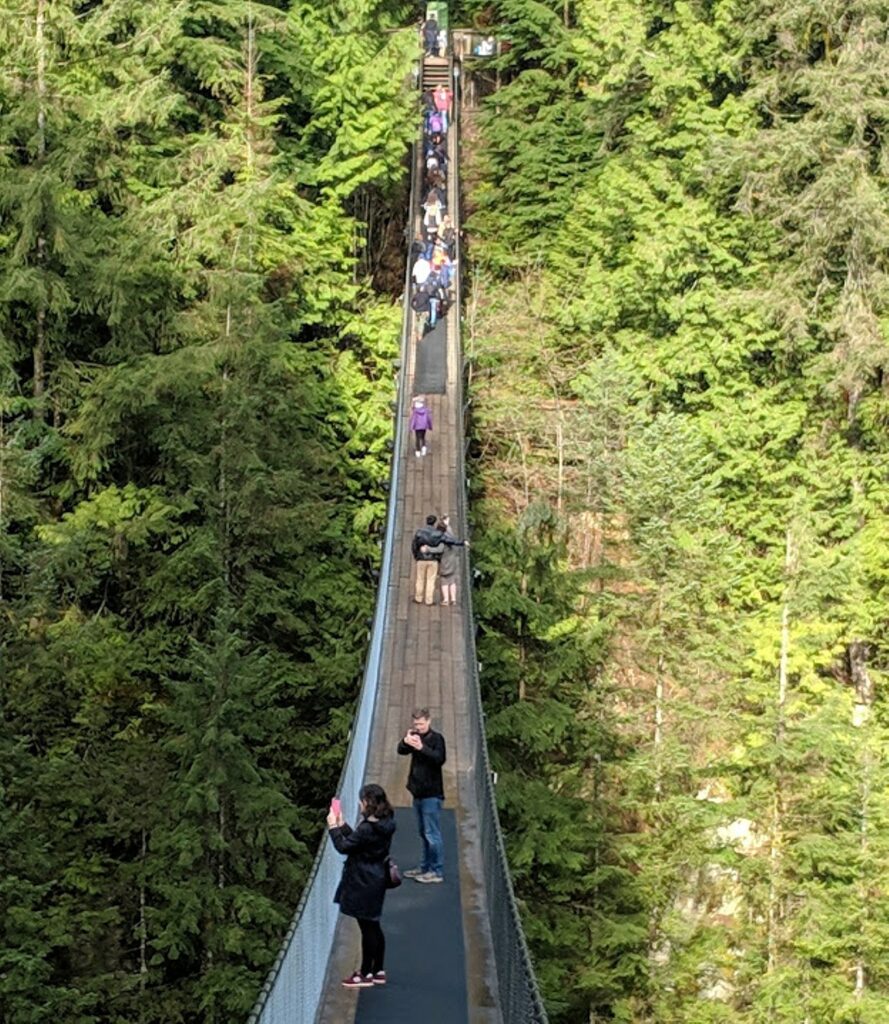 Today's Capilano Suspension Bridge has been a family-run business for the past 60 years. Nancy Stippard's father, Rae Mitchell, bought the bridge in 1953 and 30 years later sold it to his daughter.
The bridge was torn down and rebuilt in 1956 with thick cable (it took just five days to install), but under the ownership of Nancy Stippard, beginning in 1983, went through a major transition – her vision was to enable visitors to walk in the trees to get a perspective like a squirrel, so she created Tree Tops Adventure; then in 2010, she had a vision to walk along the cliffs, so created the Cliff Walk.
When Nancy took over the park in 1983, admissions totaled 175,000 visitors a year. Today, the Park sees 1.2 million visitors annually. Vancouver's oldest attraction is one of its most popular and has won many awards including British Columbia's Best Outdoor Attraction in 1999 and 2000.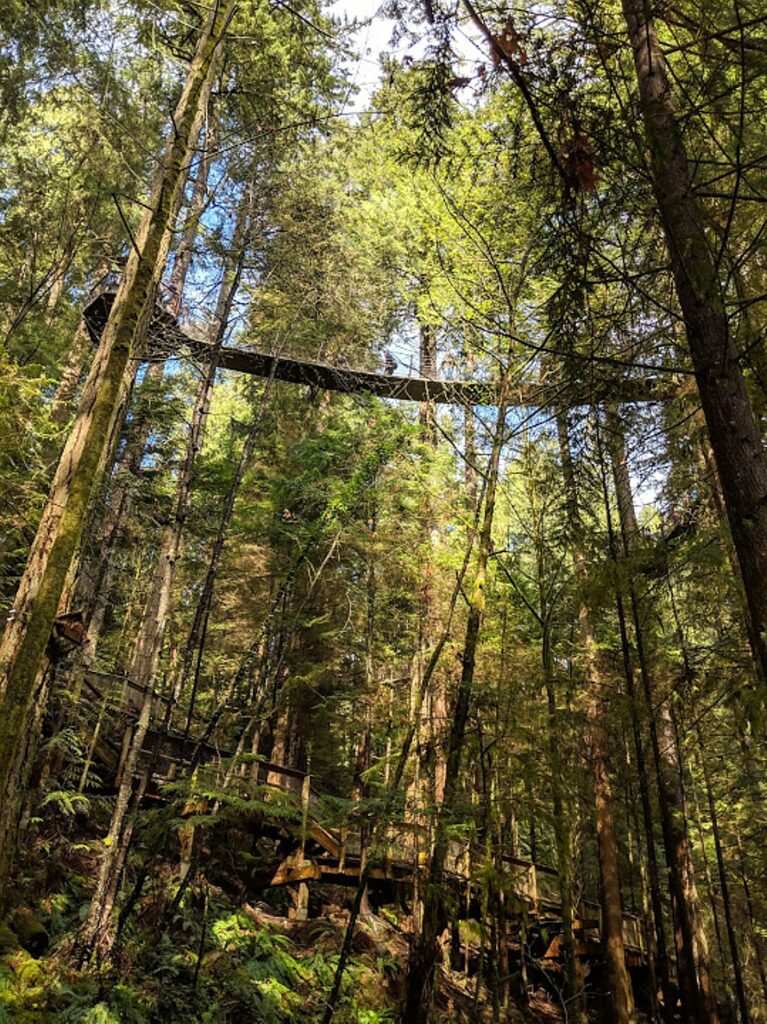 On Treetops Adventure, you venture from one magnificent old growth Douglas-fir to another on a series of seven elevated suspension bridges, some reaching 33-metre (110 feet). Some of the trees, we learn, are 1500 years old; we meet "Grandma Capilano," the tallest tree at 250 feet high and 1300 years old. History and nature guides, signage and interactive human and natural history exhibits throughout the park help guests in their understanding of rainforest ecosystems and the sustainability of this environment. As I walk, I am literally euphoric breathing in the pure, cool air.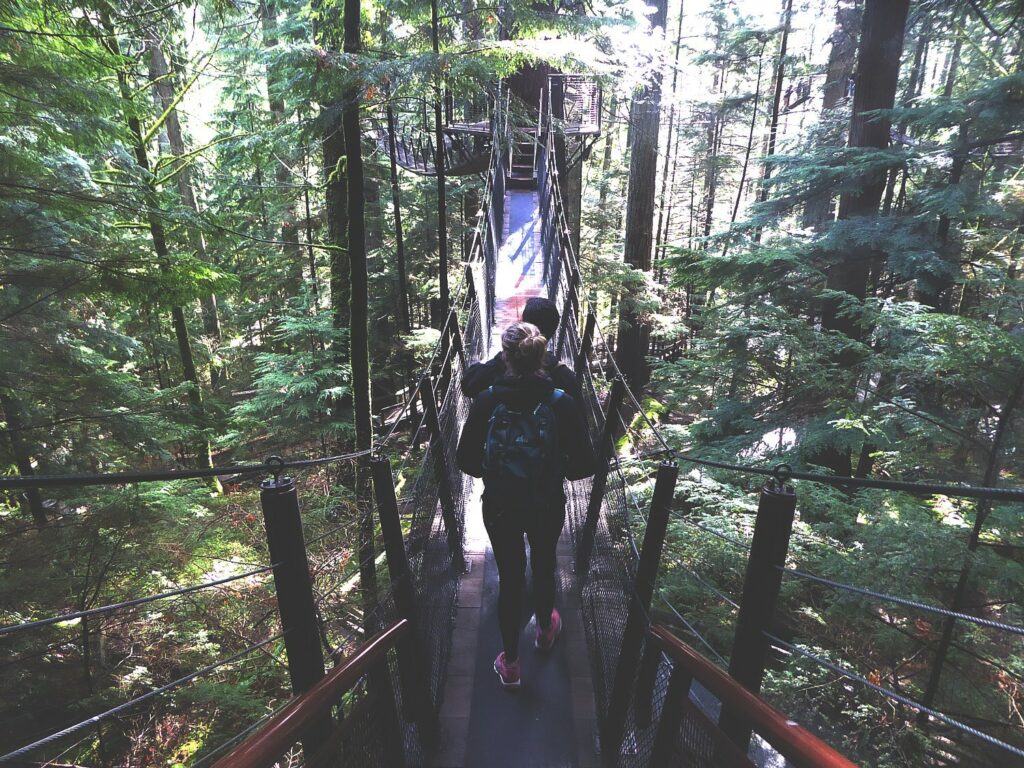 Treetops Adventure was the first of its kind in North America when it opened: some 700 feet of cabled suspension bridges link eight Douglas fir trees; at its highest point, you get the perspective from 110 feet above the forest floor. The towering Douglas-fir trees showcased by the attraction range in height from 130 to 300 feet tall – equivalent to a 20-story high-rise.
To protect the fragile forest during construction, the elements were crafted off-site by hand, then brought into place with pulleys and ropes.
The bridges themselves are constructed of hemp netting, wooden planks protected with environmentally-friendly preservatives and other natural products, reflecting and enhancing its surrounding rainforest environment; antique wooden beams and pegs lend a unique historical flavor to the attraction's handcrafted, two-story Treehouse.
Treetops Adventure is an engineering marvel: an innovative compression system safely secures each tree's observation platform using only 20 pounds of force per square inch, or the amount of pressure exerted by pressing your thumb on a tabletop.
There is a lovely café tucked into the forest on a platform amid the Treetops Adventure.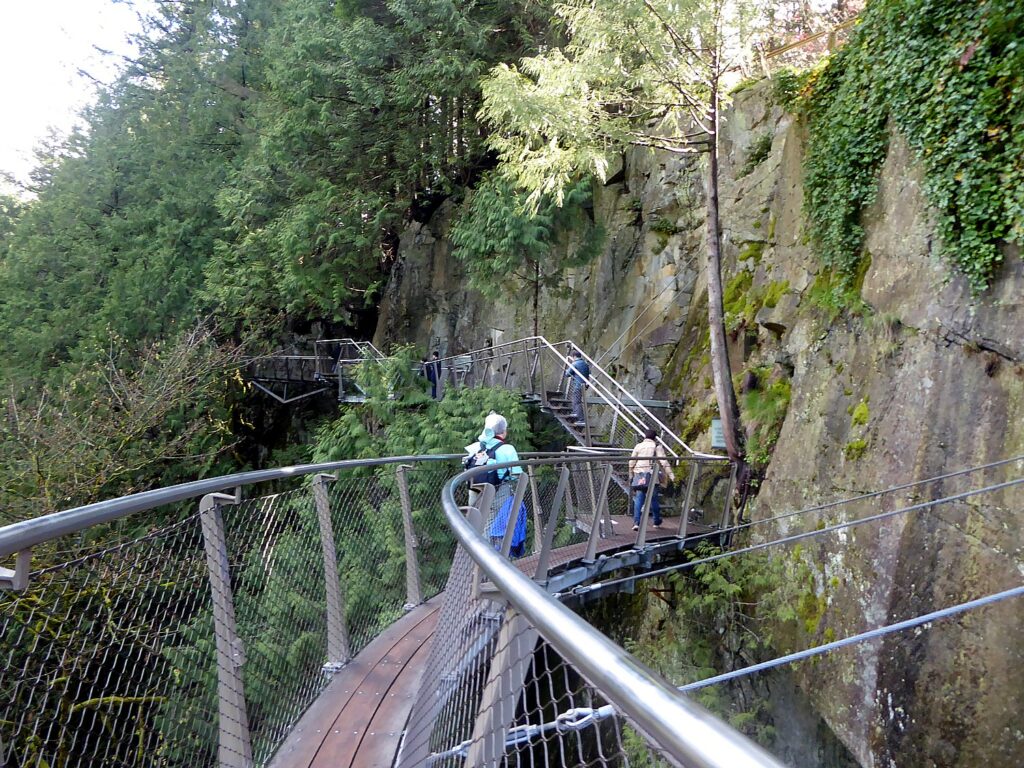 The Park's newest attraction, Cliffwalk, follows a granite precipice along Capilano River with a series of narrow cantilevered bridges, stairs and platforms extending 700 feet.  The granite formations are 160 million years old, dating back to the Mesozoic Age. At the highest point, you are 300 feet above the Capilano River – making for a thrilling experience. Cliffwalk is high and narrow and, in some sections, open metal grates are all that separate guests from the canyon far below.  With just an 11-square meter environmental footprint (about as much as a parking stall), Cliffwalk is unobtrusive as it winds its way on a heart-stopping cliff-side journey through rainforest vegetation.  Educational signage along the route shares information provided by the David Suzuki Foundation, speaks to the delicate interaction between water, granite, salmon, flora and fauna, broadening the experience.
After rappelling down the east face of Capilano Canyon into jungle-like ferns and mosses, John Stibbard, Capilano Suspension Bridge's VP of Operations and Nancy's son, conceived his plan to give this thrilling ecological experience. With only 16 anchor points in the granite cliff supporting the structure; It can support 100,000 pounds, the weight of 35 killer whales.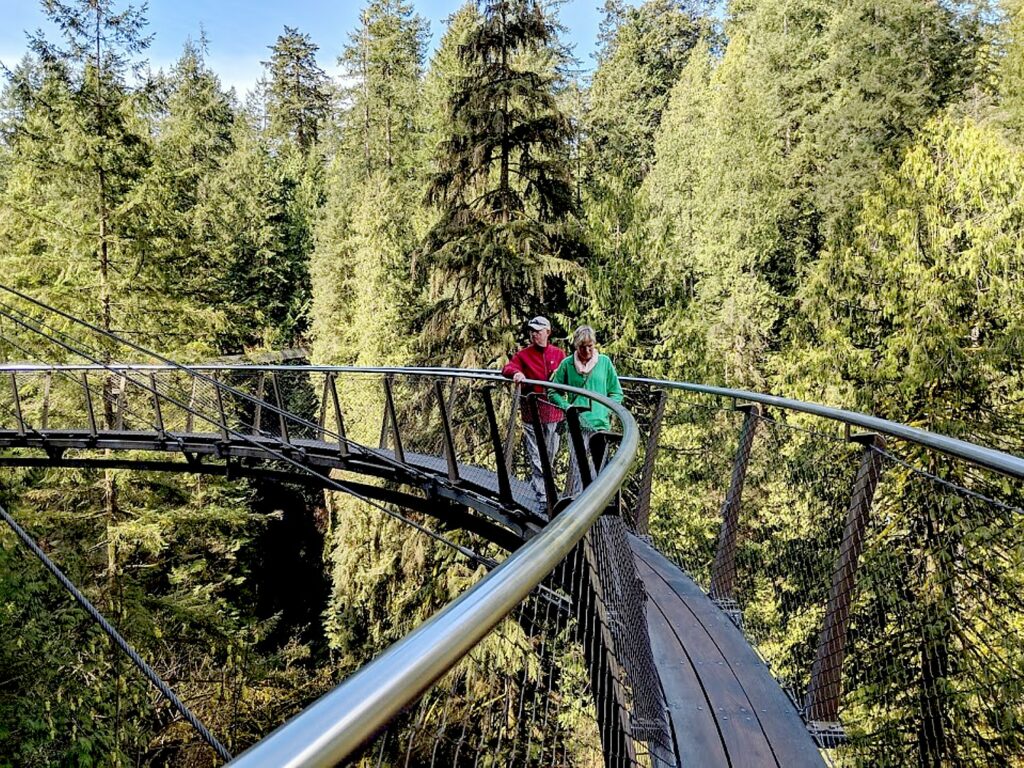 Cliffwalk is environmentally sensitive. No two bridges, platforms or stairs are alike – each piece of Cliffwalk is custom-fabricated. The signature 7-shaped bridge utilized a first-of-its-kind construction technique that relied upon 3D digital information to establish the geometry for each segment of Cliffwalk.
The visitor facilities are fabulous – really restful and appropriate for the place. There is a trading post (absolutely superb items and crafts), an ice cream shop, a fudge shop, a café, tucked along the cliffs.
Come early in order to maximize the perfect peace of this place.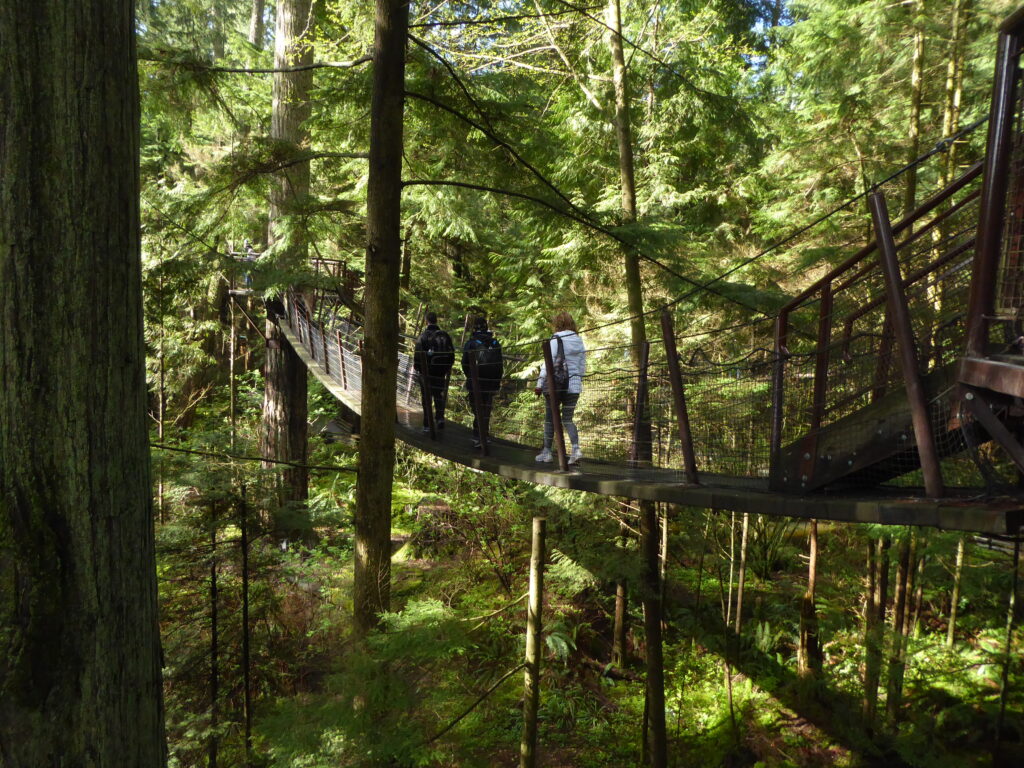 Capilano operates a free shuttle bus service from downtown Vancouver – five in the off season, up to 11 departures a day in summer that makes it a pleasure to make the day trip (there are also public buses that go). We took the first shuttle at 8:35 am. The driver turned it into a narrated tour for our benefit because of the questions we were asking over the course of a delightful, 40-minute drive.  As we cross over the bridge (designed by the same guy who built San Francisco's Golden Gate Bridge), he tells us to look below to see a First Peoples reservation – or actually a residential community.
There are several pick-up points. We caught the bus at Library Square (go inside, it is spectacular), just a five-minute walk from the Victorian Hotel (built in 1896, an absolute gem which serves breakfast).
We are among the first to arrive at Capilano and the only sound we hear is the rushing water below the bridge.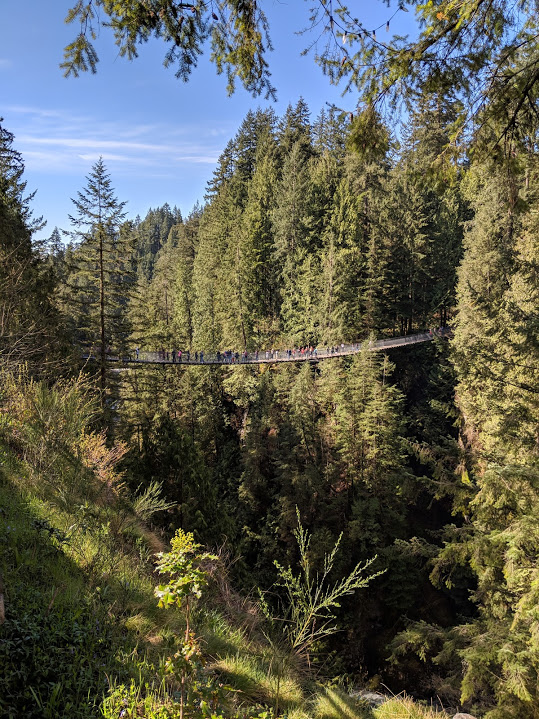 Walking through the forest of Douglas fir, you feel so small. If you are there early, you can feel the peace of the woods that the Native peoples who first lived here must have felt.
The signposts are very informative, and get you in the spirit. "Take a moment." "Breathe In." "Water is the lifeblood of the environment."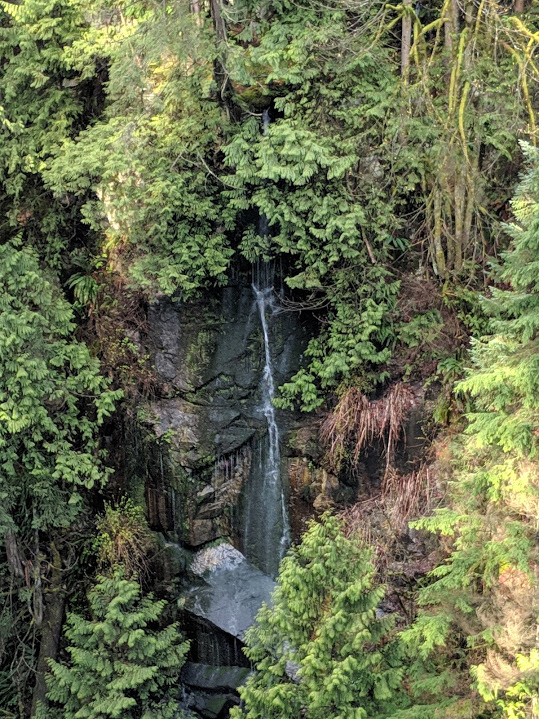 Another sign notes that in one year, the Capilano Rainforest of 7 acres can absorb the same amount of carbon that is emitted by a car driven across the continent 19 times.
"Rainforests are sometimes referred to as the Earth's lungs, and they are responsible for 28% of the world's oxygen turnover…Just one of these giant trees releases enough oxygen to support a family of four."
The atmosphere is so vivifying, we saw a marriage proposal during our visit as we walk through the Treetops Adventure.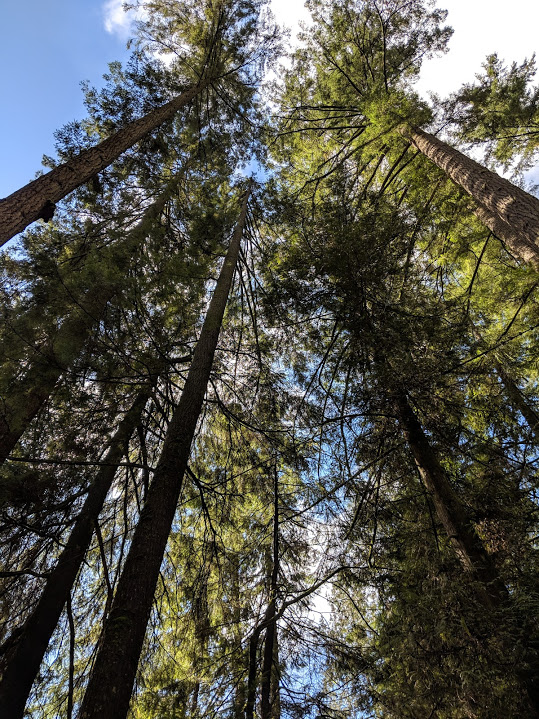 "It is not so much for its beauty that the forest makes a claim upon men's hearts, as for that subtle something, that quality of air, that emanation from old trees, that so wonderfully changes and renews a weary spirit," wrote Robert Louis Stevenson. That is exactly what I am feeling when I find this signpost.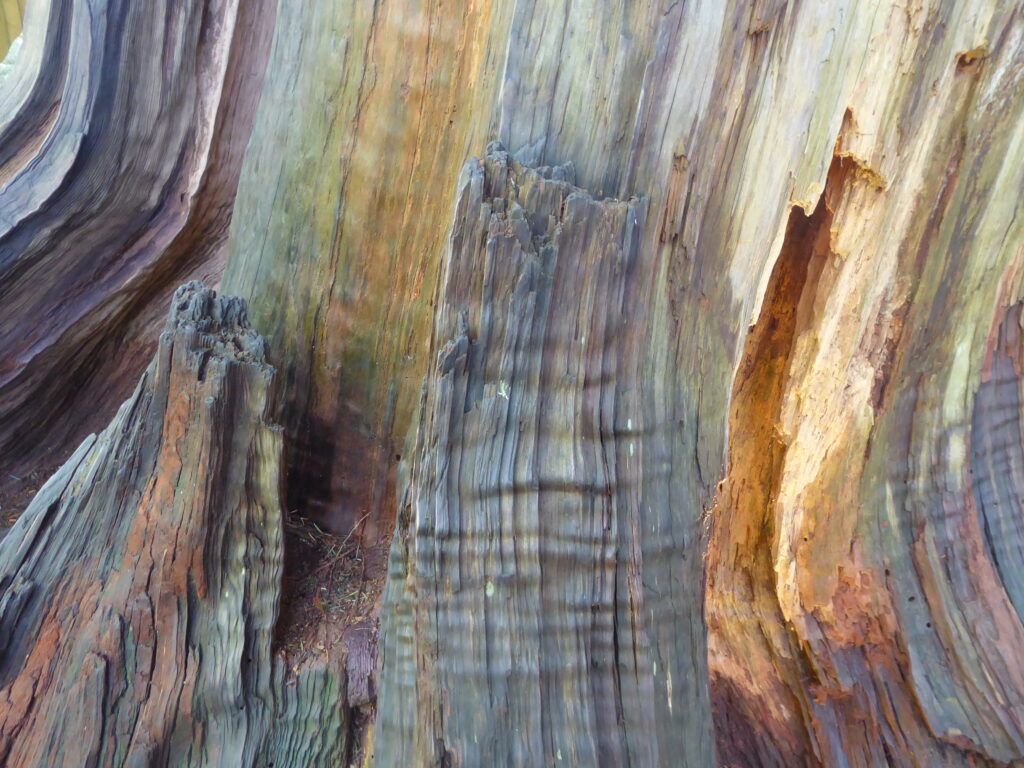 "The tree which moves some to tears of joy is in the eyes of others only a green thing that stands in the way. Some see nature all ridicule and deformity…and some scarce see nature at all. But to the eyes of the man of imagination, nature is imagination itself." William Blake's words seem particularly relevant today.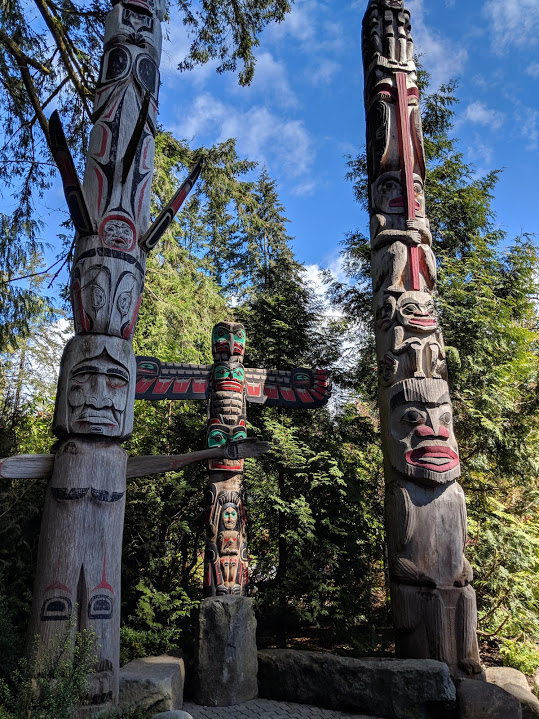 We explore on our own, and then catch one of the complimentary guided tours offered hourly within the park.  We take the history tour that offers an interactive synopsis to the attraction's colorful past including the endeavors of past owners (one chapter is a love story), the involvement of local First Nations and information on the Capilano Suspension Bridge.
There are also guided nature tours, Kids' Rainforest Explorer program and the Living Forest exhibit; seasonal musical entertainment and First Nations culture.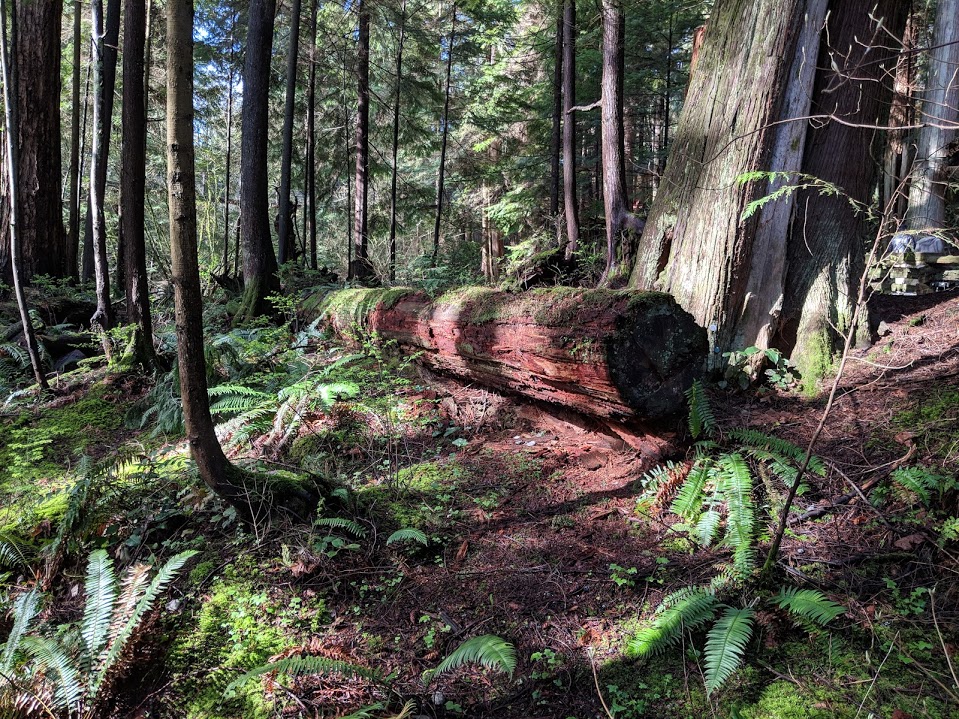 This place is reminiscent of San Francisco in other ways besides the bridge that takes you to Capilano that was built by the builder of the Golden Gate. Much like Muir Woods is a refuge for the urbanites crammed into the city, Capilano is a refuge for the city dwellers of Vancouver.
Every moment was precious and rejuvenating.
Capilano Suspension Bridge Park, 3735 Capilano Road, North Vancouver, BC, Canada V7R 4J1, 604-985-7474, [email protected], www.capbridge.com.
Global Scavenger Hunt Begins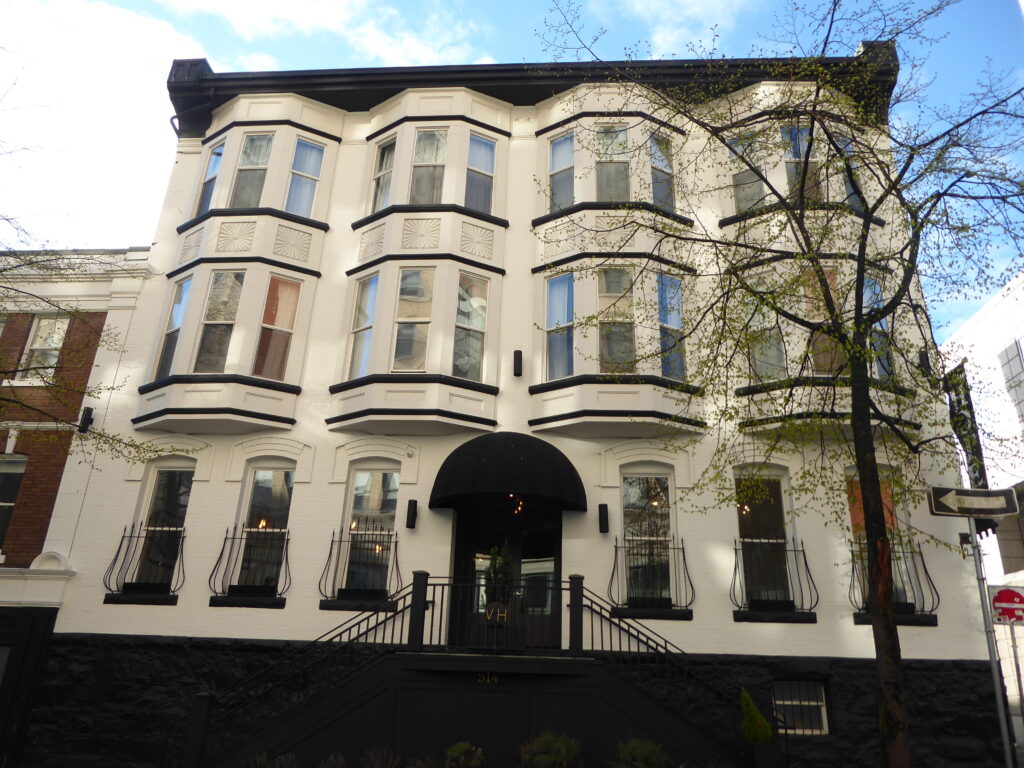 We ride the shuttle bus back to town, pick up our stuff from the Victorian Hotel (stopping for some refreshment they so kindly provide. Victorian Hotel (514 Homer St, Vancouver V6B2V6, BC, CA, 1604-681-6369, which proved a short walk to Gastown and just about every place we wanted to go), and walk over to the Fairmont Hotel Vancouver (900 West Georgia Street, Vancouver, British Columbia, Canada V6C 2W6 , 800-257-7544, 604-684-3131, www.fairmont.com/Hotel-Vancouver) to meet our fellow Global Scavenger Hunt travelers.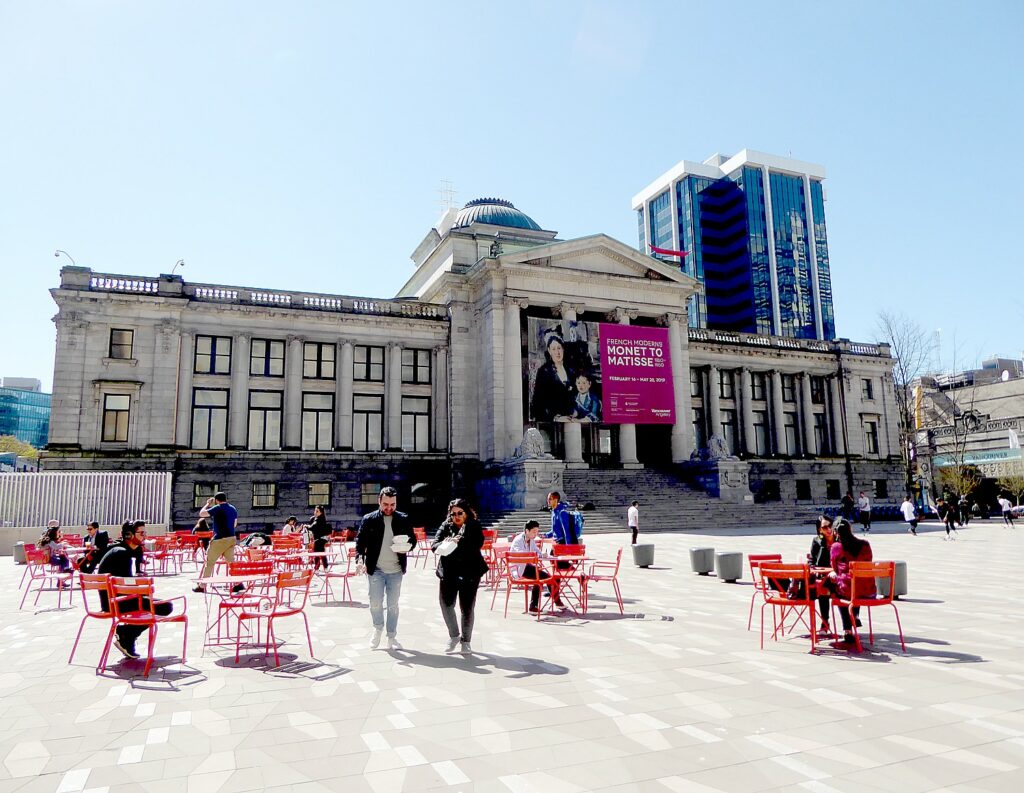 I still have time before the meeting to run across the street from the Fairmont to Vancouver Art Gallery, where I catch a sensational special exhibit of Impressionist Art, with many of the works, ironically, on loan from the Brooklyn Museum.  (750 Hornby Street Vancouver, BC, 604.662.4700, www.vanartgallery.bc.ca)
The afternoon meeting is really a meet-and-greet and orientation with Bill Chalmers, the "ringmaster" and Chief Experience Officer of our "traveling circus," along with his wife Pamela (with cocktails), before we all walk over to a restaurant for dinner.
Our adventure begins the next morning.
We gather at 9 am on the first day of our 23-day Global Scavenger Hunt, a "Blind Date with the World," where 10 teams of two people each don't know where we are going until Bill Chalmers, the Global Scavenger Hunt Ringmaster and Chief Experience Officer, gives us our four-hour notice to get to the airport. We have come to the meeting prepared for anything – a notice to pack up to our next destination, perhaps? – and learn that we will spend the day doing a practice scavenger hunt, to level the playing field between newbies (me) and troopers/vets (one of the teams has done it 12 times). He has prepared the same kind of booklet and score sheet as we will get on arrival at every mystery destination.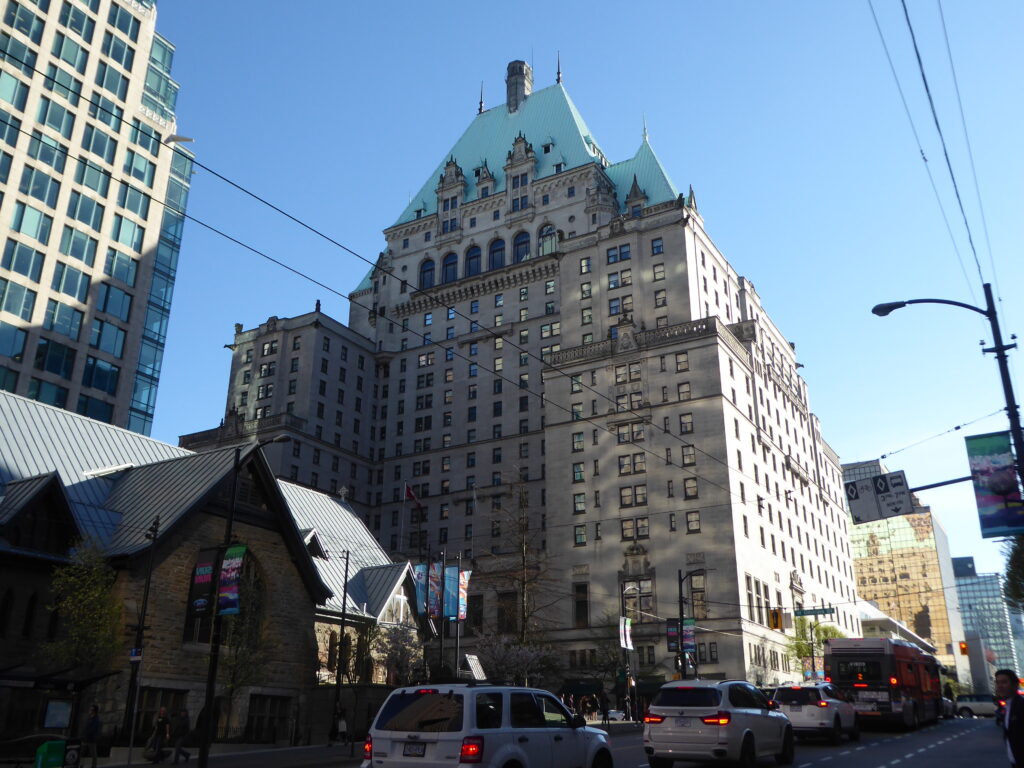 We can choose the scavengers out of the selections – they each have different points. Among them are a choice of "mandatory" including at least one "experience".  Many have to do with experiencing local foods. During the course of this day, we will have to complete 10 scavengers by 8 pm when we get together again. We are told this is a Par 1 in terms of difficulty, which can go as high as Par 6, so is the easiest we will encounter.
My teammate, Margo (who I have just met upon arriving at Vancouver International Airport) and I start in search of "Affluent Alley" – after all, we are staying in Vancouver's famous Fairmont Hotel Vancouver in a toney boulevard off Robson Street where we were told you used to have to drive a Rolls or BMW in order to park on the street. We look at a couple of streets which are called Vancouver's Fifth Avenue and Rodeo Drive. We are only allowed to ask locals – not the hotel concierge or any actual guide (and there are tourism ambassadors on the street)– but no one has heard of Affluent Alley – possibly because everyone we ask is either too young or a transplant. One woman at a bus stop is extremely helpful when we ask where a certain high-end shoe store is located, and about how the bus system works. As for Affluent Alley, I suspect that it actually refers to the opposite (maybe East Hastings), or is the red-herring (and doesn't exist at all).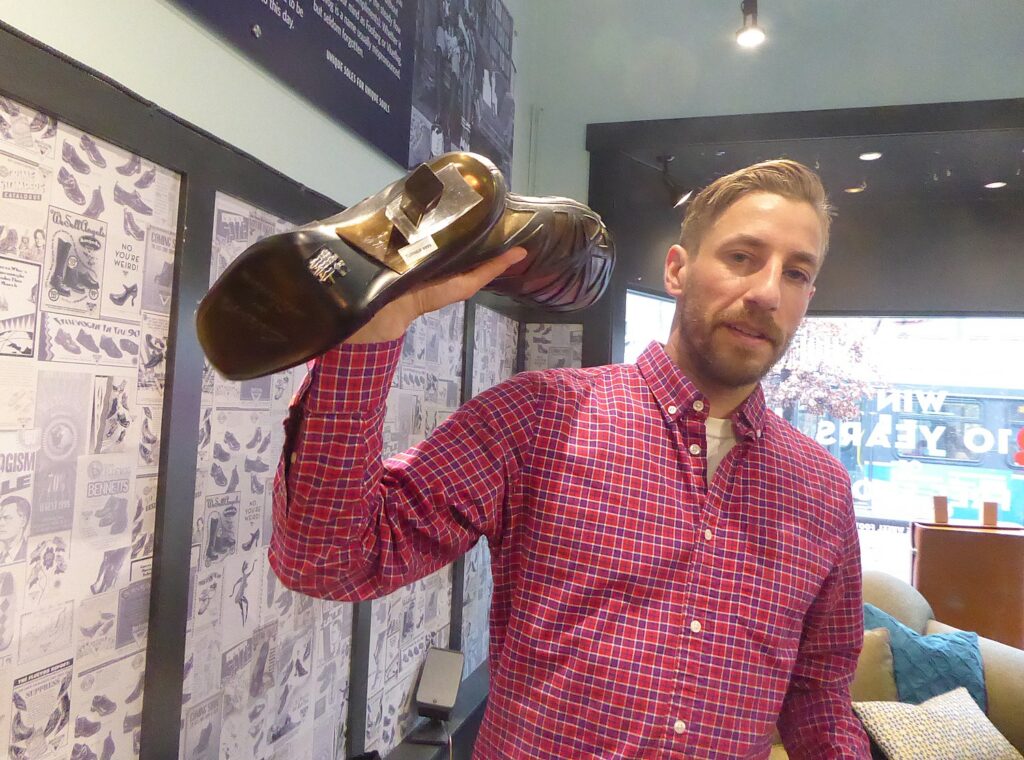 But now we are in search of the high-end shoe store, John Fluevog. We go into several stores, finally Coach, and the salesperson directs us… We walk the several blocks to the store – unbelievably wacky, creative, magnificent (better art than the modern art I had seen at the Vancouver Art Gallery). We learn we are the 6th team to ask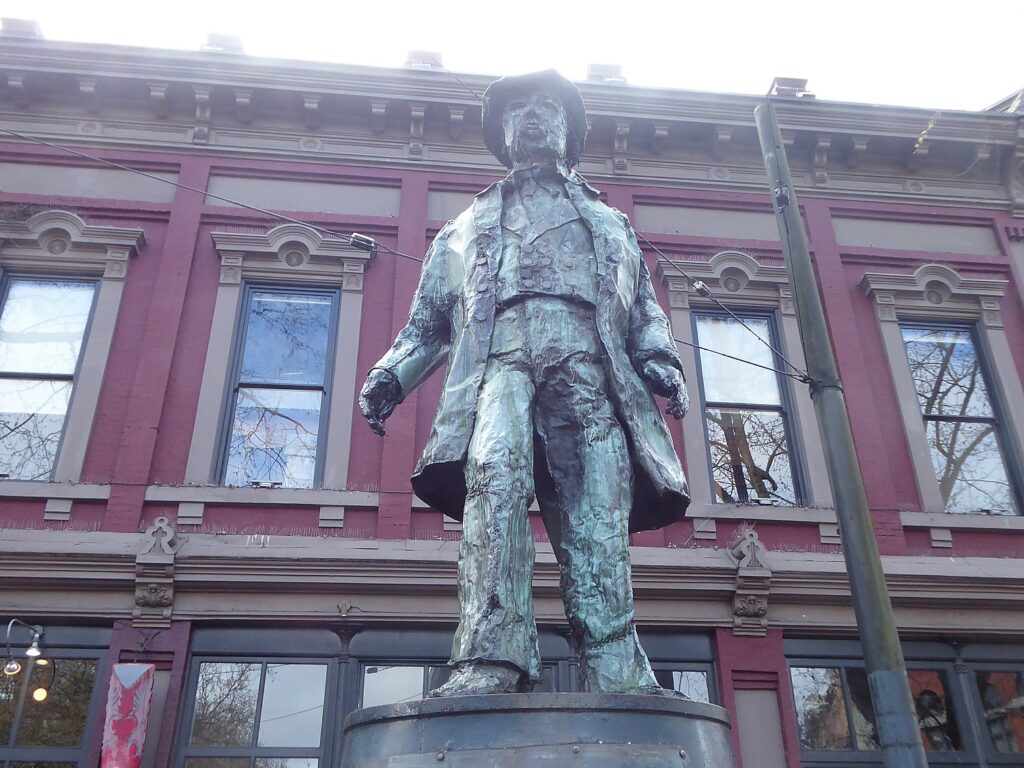 We walk to the Olympic cauldron, take our selfies, record the time. It's pouring rain now when we walk to the bike rental shop on the list to rent bikes to ride around Stanley Park's seawall, find the Totem Poles, stop at the Teahouse (fantastic carrot soup to restore our energy and warm our souls).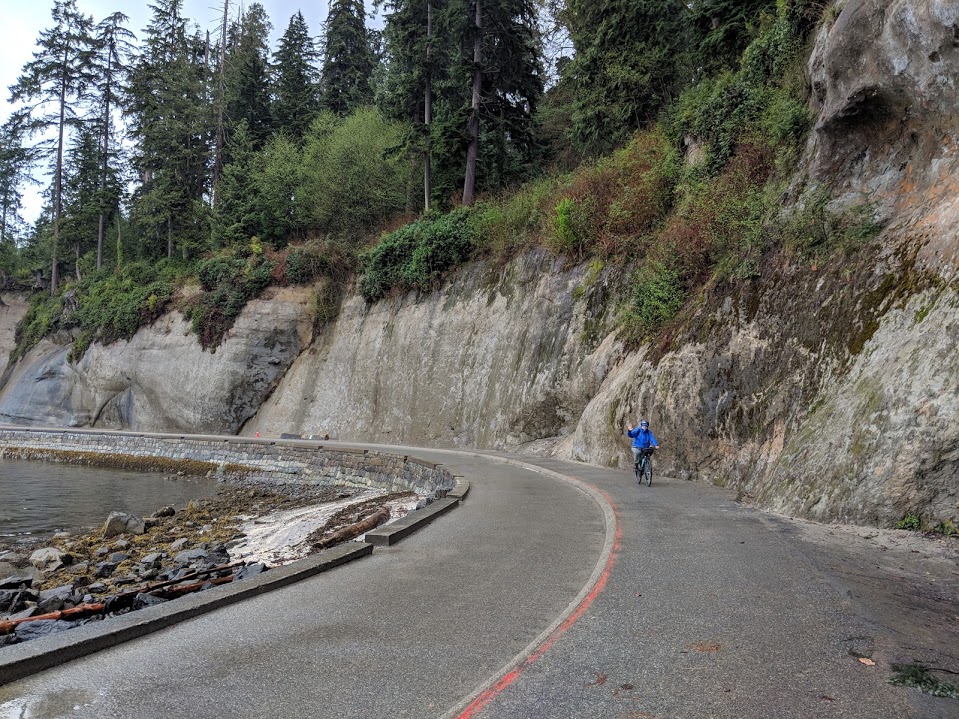 We go to Gastown to find more scavenges – we have the same problem trying to find Hotel Europe, but as we are gazing at the statue of Gassy Jack, the garrulous bartender that  gave Gastown its name, and, of course, the steam clock, we turn around and find the building. It turns out that Hotel Europe, built in 1908-9 by Angelo Calori, is no longer a hotel, but now is "social housing." And haunted, as we discover when a fellow who works in the art store that is now at its street level, takes us on a tour into its basement recesses. The building looks remarkably like a smaller version of the Flat Iron Building in NYC.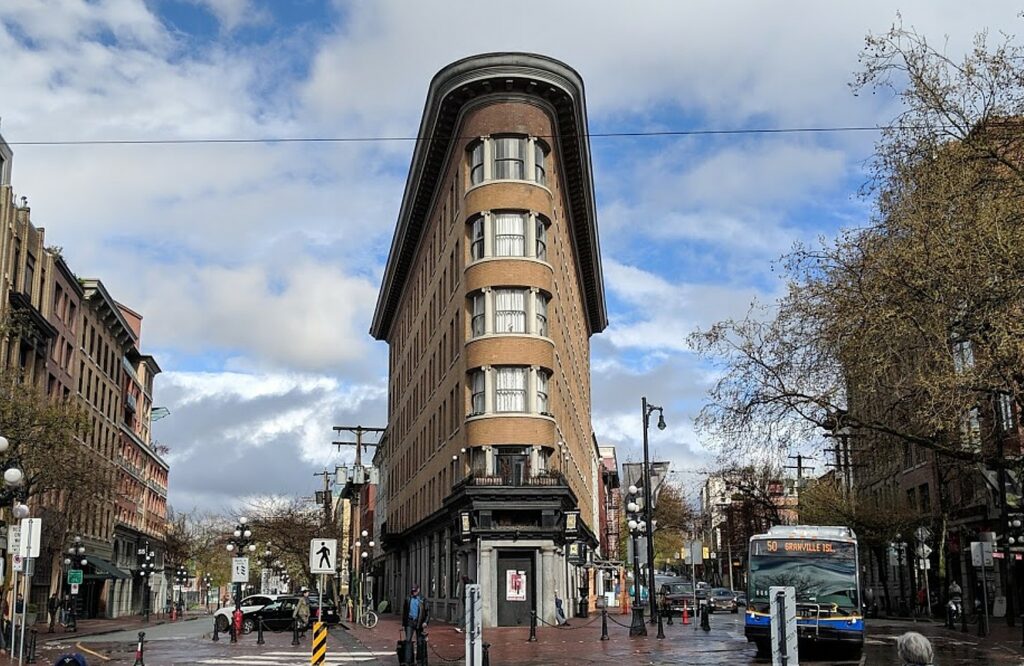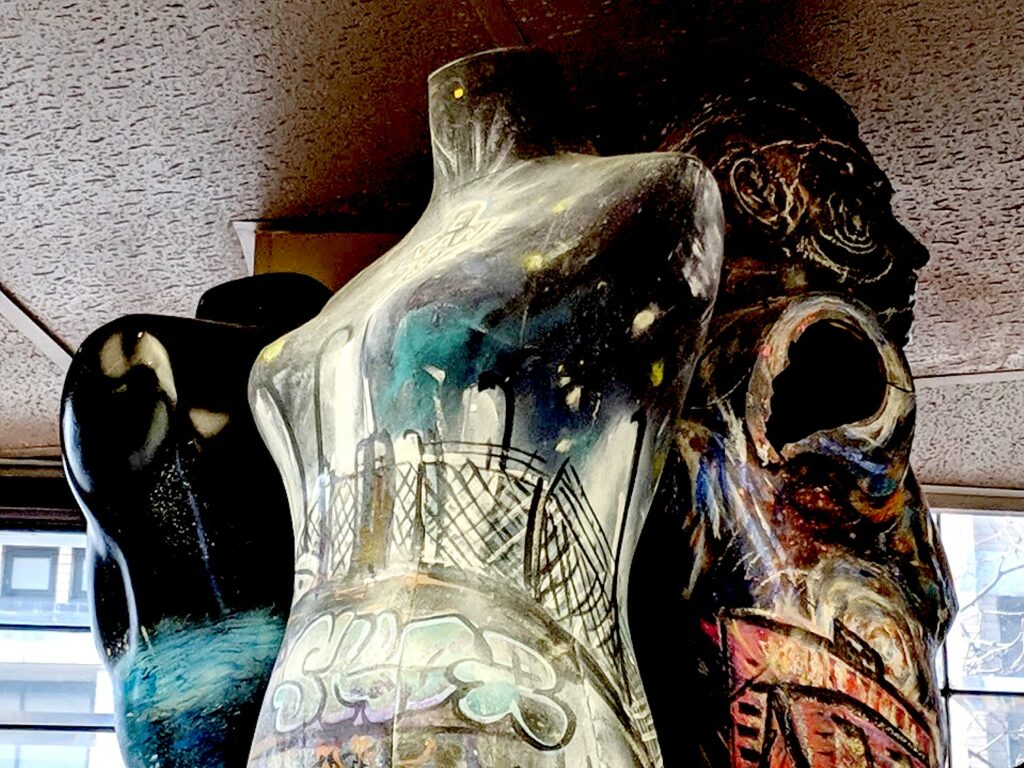 Indeed, even this practice session reveals the essence and why the Global Scavenger Hunt is such a different experience. Scavengers give purpose to your wandering – more than that, they become a platform for a completely different perspective on a place and people. The Global Scavenger Hunt is designed to have us interact as much as possible with local people, to trust strangers. That's what we have been doing all day long, and finding how incredibly friendly and kind the Canadians are (even the many who have come here from all points of the globe and made Vancouver their home. But, as we come to realize, these exercises foster new knowledge about ourselves, self-confidence in our ability to handle the unknown, and personal growth in knowledge and experience.
We gather at 8 pm, the deadline, and Bill tells us we are off tonight on a 2 am flight to Ho Chi Minh City (Saigon), Vietnam, hands us our airline info and visas, and we are off.
To plan your visit to Vancouver, visit www.tourismvancouver.com.
The Global Scavenger Hunt is an annual travel program that has been operated for the past 15 years by Bill and Pamela Chalmers, GreatEscape Adventures,310-281-7809, GlobalScavengerHunt.com.
______________________
© 2019 Travel Features Syndicate, a division of Workstyles, Inc. All rights reserved. Visit goingplacesfarandnear.com, www.huffingtonpost.com/author/karen-rubin, and travelwritersmagazine.com/TravelFeaturesSyndicate/. Blogging at goingplacesnearandfar.wordpress.com and moralcompasstravel.info. Send comments or questions to [email protected]. Tweet @TravelFeatures. 'Like' us at facebook.com/NewsPhotoFeatures