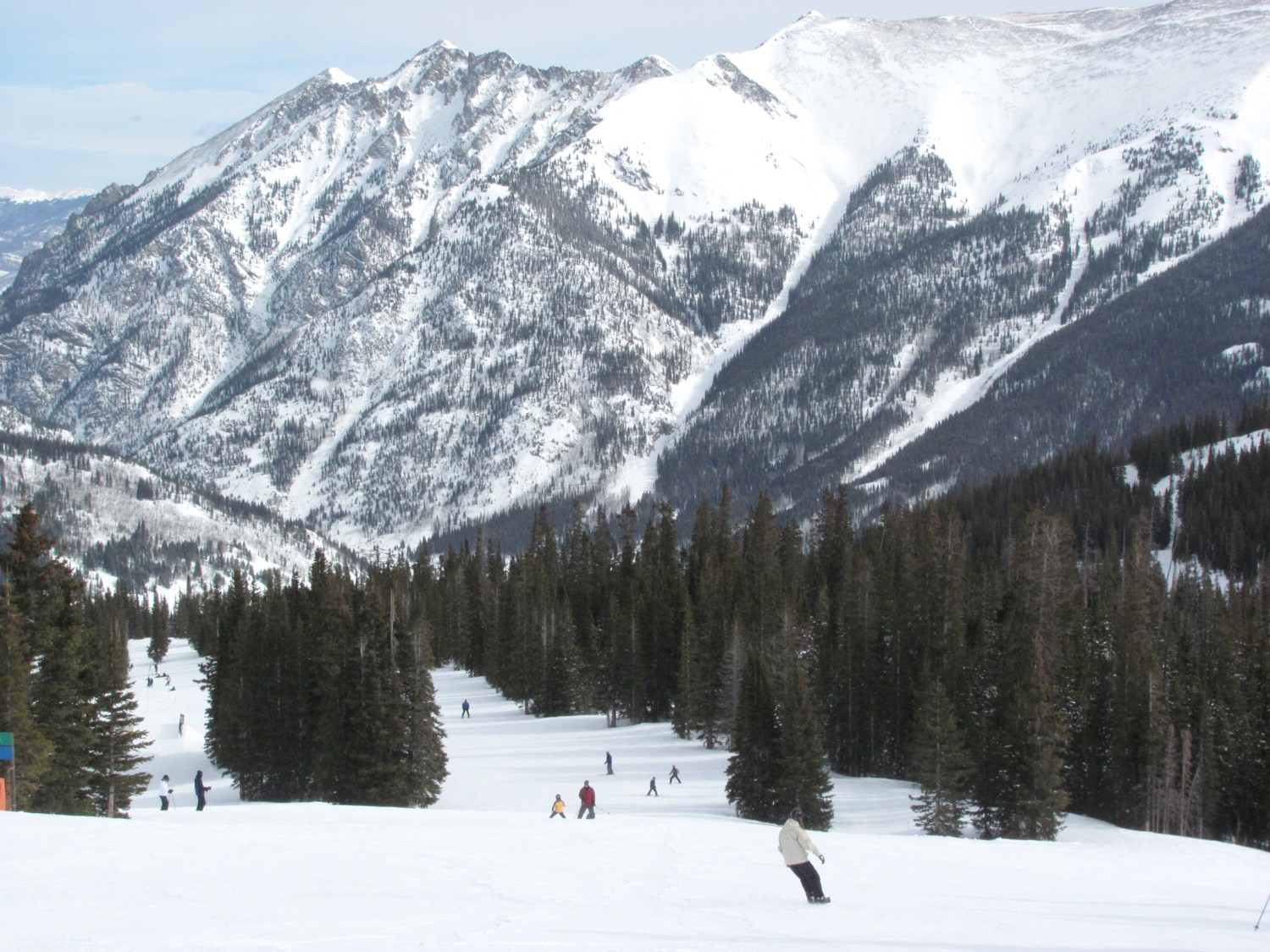 By Karen Rubin, Travel Features Syndicate, goingplacesfarandnear.com
For the 2016/17 season, Colorado Ski Country USA (CSCUSA) guests will find new dining options, new chairlifts and new terrain enhancements, expanded air service, as well as other improvements that elevate the premier skiing and snowboarding as well as the apres experience at CSCUSA resorts.
Many of the resorts can be experienced as part of Ski Pass programs (which typically pay for themselves in about five days), such as the M.A.X. Pass which, in addition to a full complement of Northeastern resorts features five CSCUSA members (and the five-days at each can be an added on for $299 to a local unlimited season pass): Copper Mountain, Winter Park, Steamboat, Crested Butte and Eldora, which gives visitors 5 days at each resort and The Rocky Mountain Super Pass that gives six days each at Steamboat, Crested Butte, Copper Mountain, Winter Park and Eldora.
Here's a summary of the many upgrades, improvements and what makes CSCUSA resorts special that guests will enjoy during the 2016/17 ski season:
Copper Mountain
Copper Mountain is introducing an all-access Copper Pass that provides unlimited visits to the Woodward Barn, a unique indoor training facility where you can learn and practice freestyle techniques in a safe environment (for example, you go down an artificial slope into a pool of plastic balls). It's just one of the reasons why Copper is such a special place for teens, particularly.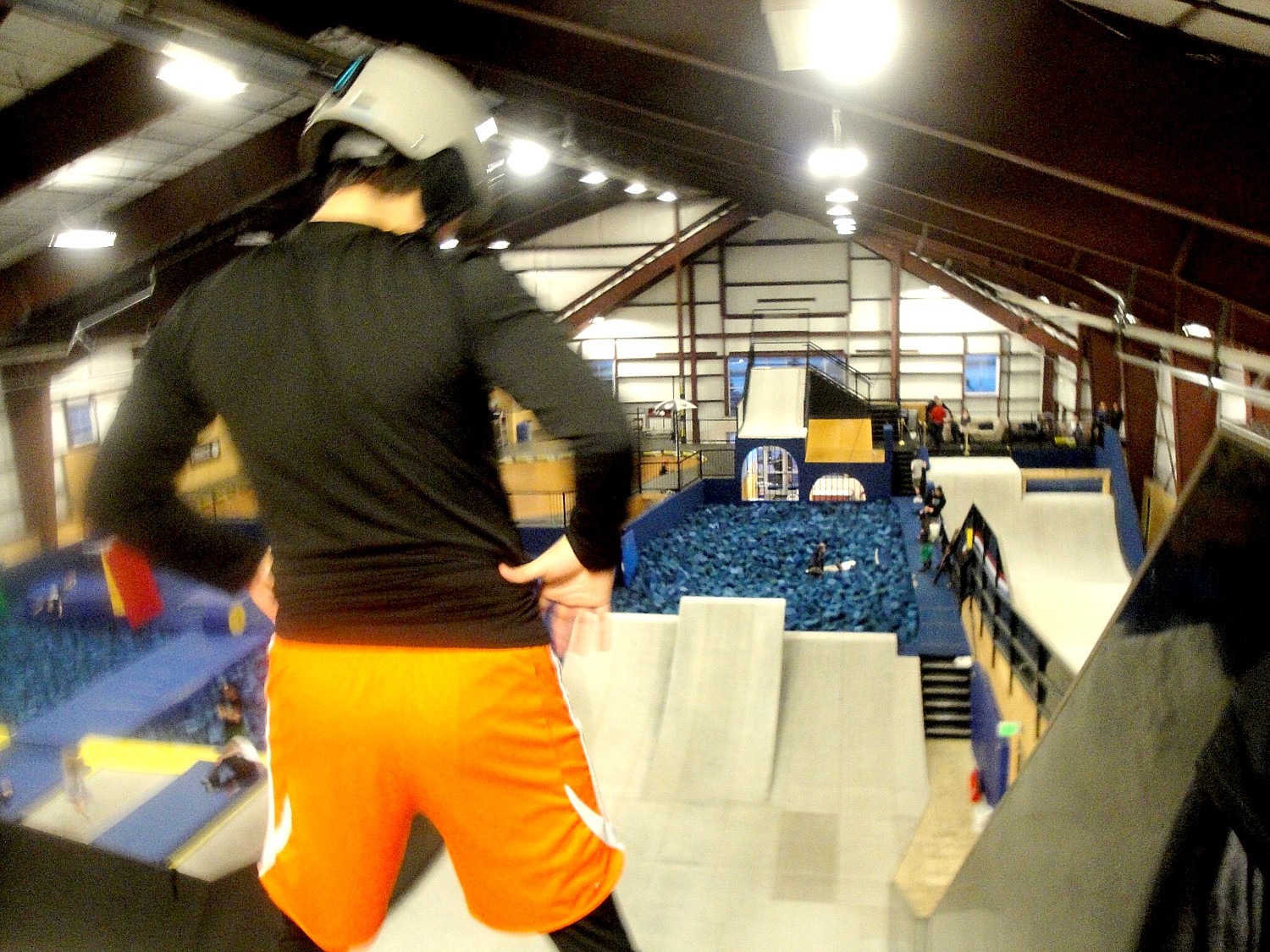 Copper offers many distinctive features: a noon groom, where a trail is kept pristine until the afternoon; free snowcat rides up to Tucker Mountain for a backcountry-type advanced experience on weekends (first come, first-served, but you can take as many rides as you like); free snowshoe tours (fantastic),  One of the most convenient major Rocky Mountain ski resorts to reach from Denver International Airport, it's just 75 miles and reached by a host of shuttles (about $40-60), and there's no need for a car once you arrive at the resort, which is actually three pedestrian villages and three mountains (a naturally divided terrain, progressing in difficulty from the easiest terrain to the more difficult as you move east), linked by free, shuttle buses (frequent service).
Check the website for value packages, but one this year is "1-2 Free" (book 2 nights of lodging, and the third is free); also third day of rentals are free; third day of Youth or Group lessons are free. Also: free 1/2 day lift ticket to be used on day of arrival or departure per Adult Two Day Secret Pass purchased; kids 12 & younger ski FREE (Adult 2 day ticket required); -FREE Secret! Pass upgrade – early access / skip lines. Tubing: Purchase two or more sessions and save 33%.
And for those looking for luxury accommodations: White River Luxury Rentals will allow guests to book units through the White River Luxury Rentals website and coppercolorado.com.
For more information, visit www.coppercolorado.com.
Winter Park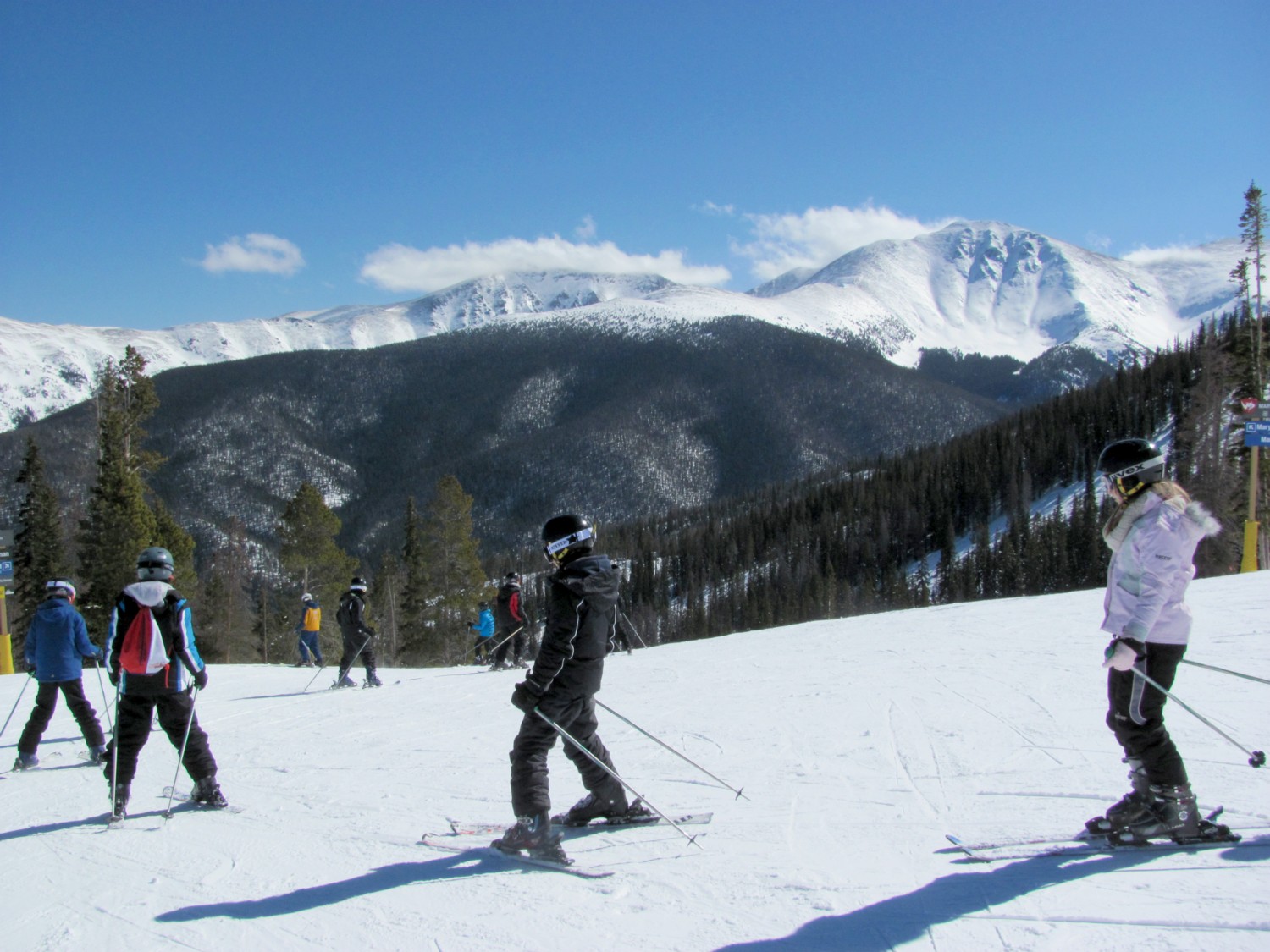 What's special about Winter Park is that this is a world-class resort with fantastic skiing and non-skiing activities, a terrific base village, skating rink, and all the amenities, yet it is owned by the city of Denver (managed by Intrawest). And this year, The Winter Park Express ski train returns, restoring passenger rail service from Denver's Union Station to the slopes of Winter Park (weekends and holiday Mondays beginning Saturday, January 7 through Sunday, March 26, leaving Denver 7 am), the only service of its kind in the United States. The train leaves Denver at 7 am, arriving at the slopes at 8:30; and you can buy a one-way ticket so you can overnight and return at 4:30 pm, to arrive back in Denver at 6 pm ($39/one way, kids half-price).
This is phenomenal for business travelers and visitors to Denver who want to extend their stay with a ski holiday; out-of-towners can use the light rail (Light rail $8) from Denver International Airport and overnight (and acclimate to altitude) in Denver; or, take a shuttle directly from DIA and the ski train back to Denver.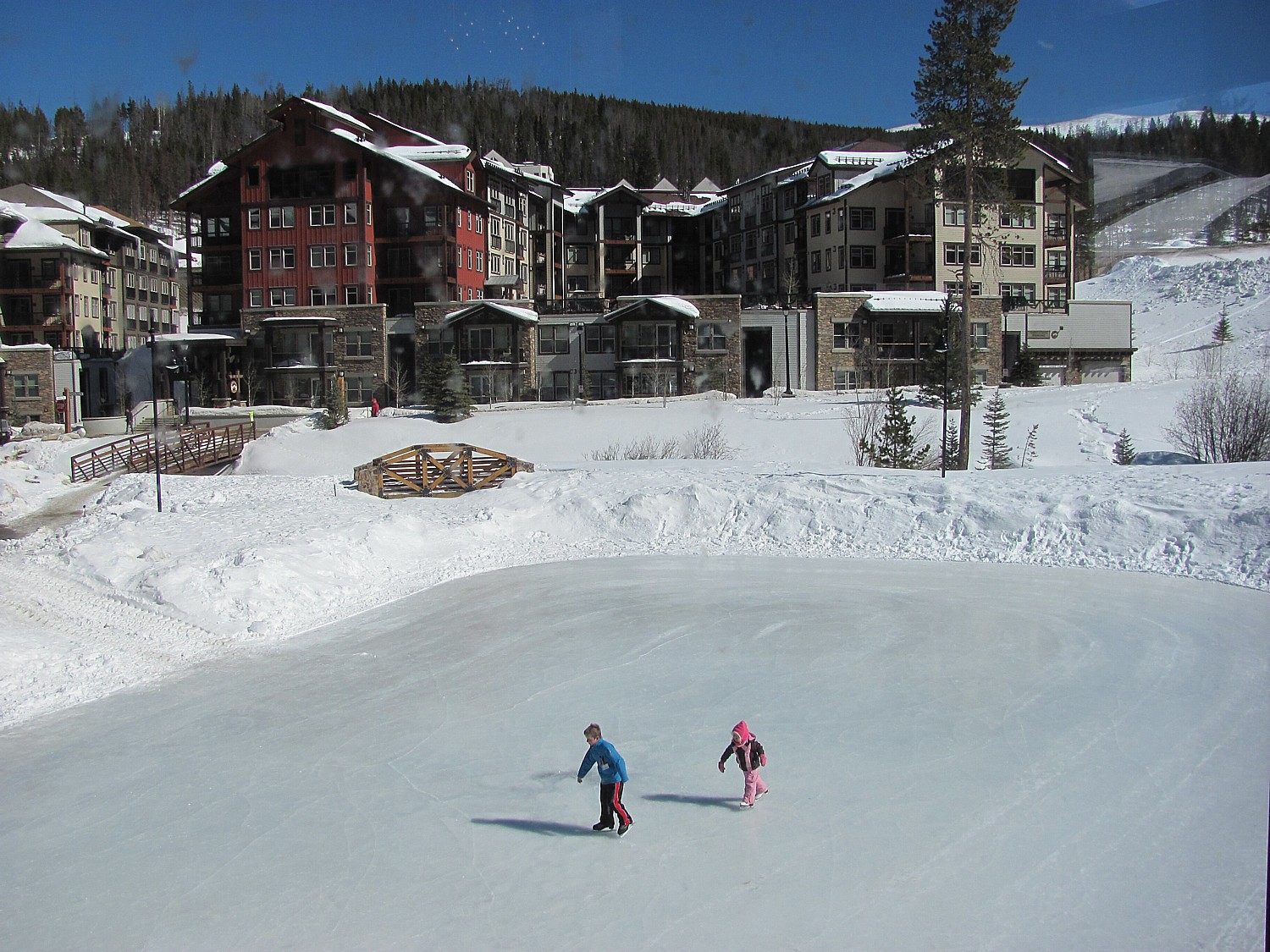 There are four new state-of-the-art snowcats that can be used year-round to trim trees and bushes in the summer that have a tendency to peek through the snow in the winter. At peak output the resort will be able to groom almost 1,000 acres, which is a lot of corduroy. This year, Winter Park is participating in the M.A.X. Pass program (www.themaxpass.com) as well as The Rocky Mountain Super Pass. (www.winterparkresort.com)
Steamboat
One of the special experiences at Steamboat, which claims more Olympians than any other resort, is the opportunity to take free lessons with one of the most famous American Olympians, Billy Kidd, the first American to win an Olympic medal; now in his 70s, he teaches intermediate and advanced skiers for free); another famous Olympian, also Nelson Carmichael, who medaled in moguls, teaches a free clinic in moguls (advanced). "Sometimes there are five in the group, sometimes 50." More free: free guided snowshoeing (you pay for rentals), and free guided ski tours.
Famous for its Rocky Mountain cowboy feel, Steamboat is very family-focused – it was one of the first to offer kids ski free program (kids still ski free with adult for five days and rent free if adult rents), opens the season with a new high speed detachable quad (replaced old lift) which gets skiers up the mountain in less than half the time. What is more, this is the third season that Steamboat offers night skiing (Thursday to Monday, 5-8 pm, in spring, 5:30-8:30 pm' 1000 vertical feet, beginner to advanced).
Steamboat's new mountain coaster will operate year-round in the vicinity of Christie Peak Express lift. The mountain coaster will allow guests to ride a gravity driven sled up the mountain and then slide down the rails while controlling the sled.
For 2016/17 Steamboat is replacing its Elkhead fixed-grip quad with a Dopplemayr high-speed detachable quad, cutting ride times by more than half. Safety bars will also be added to the new lift. The increased speed and capacity of the new Elkhead lift is expected to substantially improve the guest experience in the popular Sunshine and Priest Creek areas of the mountain, especially at lunchtime and end-of-day egress. Skiers will also benefit from improvements to snowmaking include a new Leitwolf snowcat and an upgrade to the pumphouse to increase water capacity for snowmaking.
You can fly directly into Hayden Airport (30 minutes from the ski resort) from Newark and (new this year) from San Diego, and ski free that day with a boarding pass, just show your boarding pass at the ticket office. If you're arriving on a Tuesday or Wednesday, you can ski free Thursday night. With an evening departure, Alaska Airlines passengers can ski for free that day before the flight (minimum two-day lift ticket).
Steamboat's winter air program continues to grow with the addition of nonstop flights from San Diego International Airport (SAN) to Steamboat/Hayden Airport (HDN) on Alaska Airlines for the 2016/17 ski and snowboard season. The twice-weekly flight will operate Wednesdays and Saturdays from Dec. 17 to March 25 on a 76-seat E175 jet, operated by SkyWest Airlines. The 2016/17 air program increases nonstop markets served to 12 major cities in the fourth consecutive year of nonstop flight growth.
In addition to the new San Diego flight, the winter air program will provide larger aircraft flying into Steamboat/Hayden Airport and a focus on expanding service during popular travel periods. Alaska Airlines guests will enjoy nonstop flights on an E175 aircraft, which offers more capacity and amenities, including a first class cabin and Preferred Plus seating with extra leg room. United Airlines also will fly bigger jets this winter, including an upgrade to a 737-800 for nonstop Chicago Saturday flights that will increase seats from 70 to 166. Capacity on United flights from Newark will increase from 150 to 166 seats, and the Washington-Dulles flight will go from 128 to 150 seats. More nonstop access also will be available for guests flying from Dallas during the holidays with American Airlines adding 14 days of flights in addition to regularly scheduled daily service during that time.
Steamboat's air program now provides nonstop access from 12 major airports on Alaska, American, Delta and United Airlines as well as convenient connections from more than 300 airports nationwide and worldwide, making Steamboat one of the most easily accessed resorts in the Rocky Mountains. Airfares and packages are currently available for purchase at Steamboat.com/flights or by calling Steamboat Central Reservations® at 1-800-922-2722.
A new flight will offer travelers a chance to experience Steamboat's legendary Champagne Powder® with a direct flight from San Diego International Airport (SAN) to Steamboat/Hayden Airport (HDN). Alaska Airlines will fly routes twice a week from Dec. 17, 2016 to March 25, 2017.
Steamboat, which is owned by Intrawest (also owns Killington and Snowshoe and manages Winter Park) is part of the Rocky Mountain Super Pass Plus.
SVIP package: Save up to 25% on lifts and lodging plus get complimentary VIP experiences: https://www.steamboat.com/plan-your-trip/deals-and-packages/svip
For more information, visit www.steamboat.com. 
Crested Butte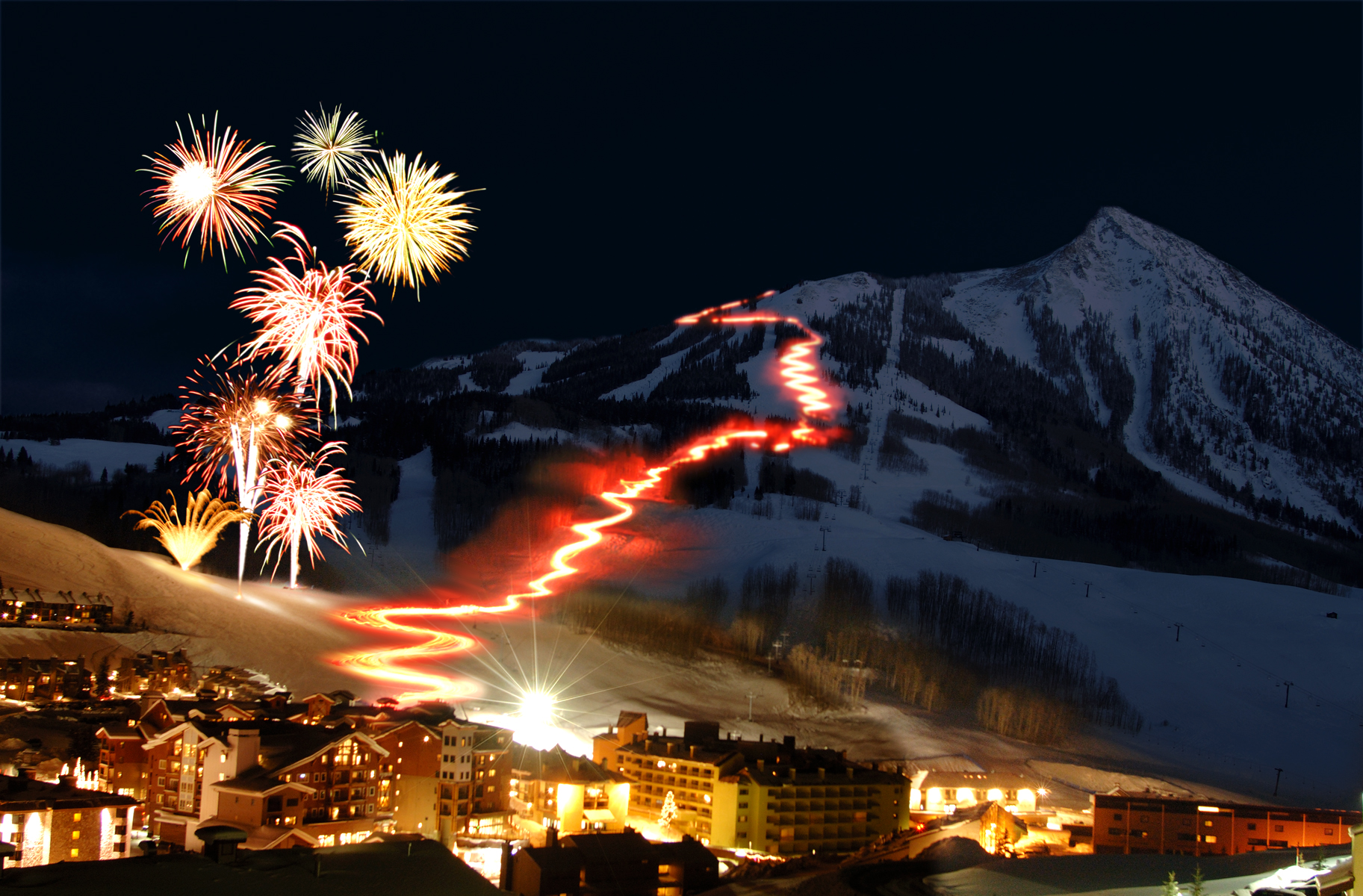 Crested Butte has a split personality: the modern, self-contained ski resort on the mountain is a few miles away from a charming, historic coal mining town. It's an authentic destination, without crowds, where festive community events are a priority, and genuine family adventure awaits. With wide open beginner and intermediate runs, great terrain parks and some of Colorado's best in-bounds extreme terrain, the mountain has something for everyone.
An historic coal mining turned ski town; Crested Butte is a place that lives and breathes outdoor adventure where the only limits are your own. An authentic destination, where crowds don't exist, zany, festive community events are a priority, and genuine family adventure awaits. With wide open beginner and intermediate runs, great terrain parks and some of Colorado's best in-bounds extreme terrain, the mountain has something for everyone. Be sure to check out the town of Crested Butte: Colorado's Last Great Ski Town, it'll leave you wondering why you don't call this place home.
A new program at the resort debuting this season, Women's Tips on Tuesday's, is a half-day women's specific ski school led by Crested Butte's top female pros that finishes with a glass of wine.
Receive up to a $300 airfare credit per person when you fly into the conveniently located Gunnison-Crested Butte Regional Airport (GUC) and stay at The Grand Lodge, Lodge at Mountaineer Square or most CBMR managed lodging properties. The offer is valid on nonstop flights from Chicago (ORD), Dallas (DFW), Houston (IAH) and Los Angeles (LAX) to the Gunnison-Crested Butte Regional Airport. (Restrictions apply. Subject to availability. Limited time offer.
Save up to $300 per airline ticket when traveling to Crested Butte Mountain Resort (CBMR) via Gunnison/Crested Butte airport (direct flights from Denver, Dulles, Houston, Los Angeles). Savings based upon originating city and travel dates; restrictions apply. More information at www.skicb.com/information/save-big-airfare (800-544-8448, snow report 970-349-2323, [email protected], skicb.com.
Book Early and Save BIG: Combine airfare offers with CBMR's Book Early Save Big Promotion: : Get 25% off lodging when you book 4 nights or more by October 15; get 20% off lodging when you book by November 15 (based on availability; no blackout dates). Discount lift tickets are available with lodging reservation.
Crested Butte is the sister resort to the popular Okemo Resort in Vermont and Sunapee in new Hampshire, and all three pare part of the M.A.X. Pass, which means that season pass holders can, for $299 add on, get five days each at the other resorts (along with unlimited skiing at the home resort), or with just the pass ($599), have 5 days at each of 32 resort (the pass pays for itself in 6 days or less). Also, pass holders get 20% off lodging.
Aspen-Snowmass 
Aspen will host the 2017 Audi FIS Ski World Cup Finals March 15-17, 2017, marking the first time the event has been held in the U.S. in 20 years. The races will feature the best men's and women's alpine skiing athletes in the world competing in downhill, super-G, giant slalom, slalom and nation's team event.
Aspen is excited to be hosting the World Cup Men's and Women's Finals, March 15-17, 2017  – marking the first time the event has been held in the U.S. in 20 years. The races will feature the best men's and women's alpine skiing athletes in the world competing in downhill, super-G, giant slalom, slalom and nation's team event.
Visitors will be able to watch the events for free on the hill, but there is still plenty of skiing – Aspen-Snowmass is really four ski areas, each with a very distinct personality and ambiance: Aspen is a historic mining town with a hip vibe, the mountain itself is geared for intermediates and advanced; Snowmass is a complete, self-contained full-service ski resort with a full complement of ski terrain (a new lift was added to Gwyn's High Alpine last year), lodgings styles, restaurants (Gwyn's High Alpine Restaurant capacity is being increased from 350 to 800, and a new bar has a large wood-burning fire and big-screen televisions); Buttermilk is a great learning mountain; and Aspen Highlands (relatively secluded and challenging). (www.aspensnowmass.com)
Lodging Deal: Aspen's The Little Nell  offers a "Ski Free in Aspen" package, which includes two complimentary ski passes to four incredible mountains – Aspen, Aspen Highlands, Buttermilk and Snowmass – for each day you stay at The Little Nell, staying a minimum of three nights. Ski passes do not include guest arrival and departure days (as most prefer to acclimate to the altitude upon arrival and soak up town on departure). (Based on availability. black out dates. Not combinable with other offers (www.thelittlenell.com/offers).
For more information, visit www.aspensnowmass.com. 
Arapahoe Basin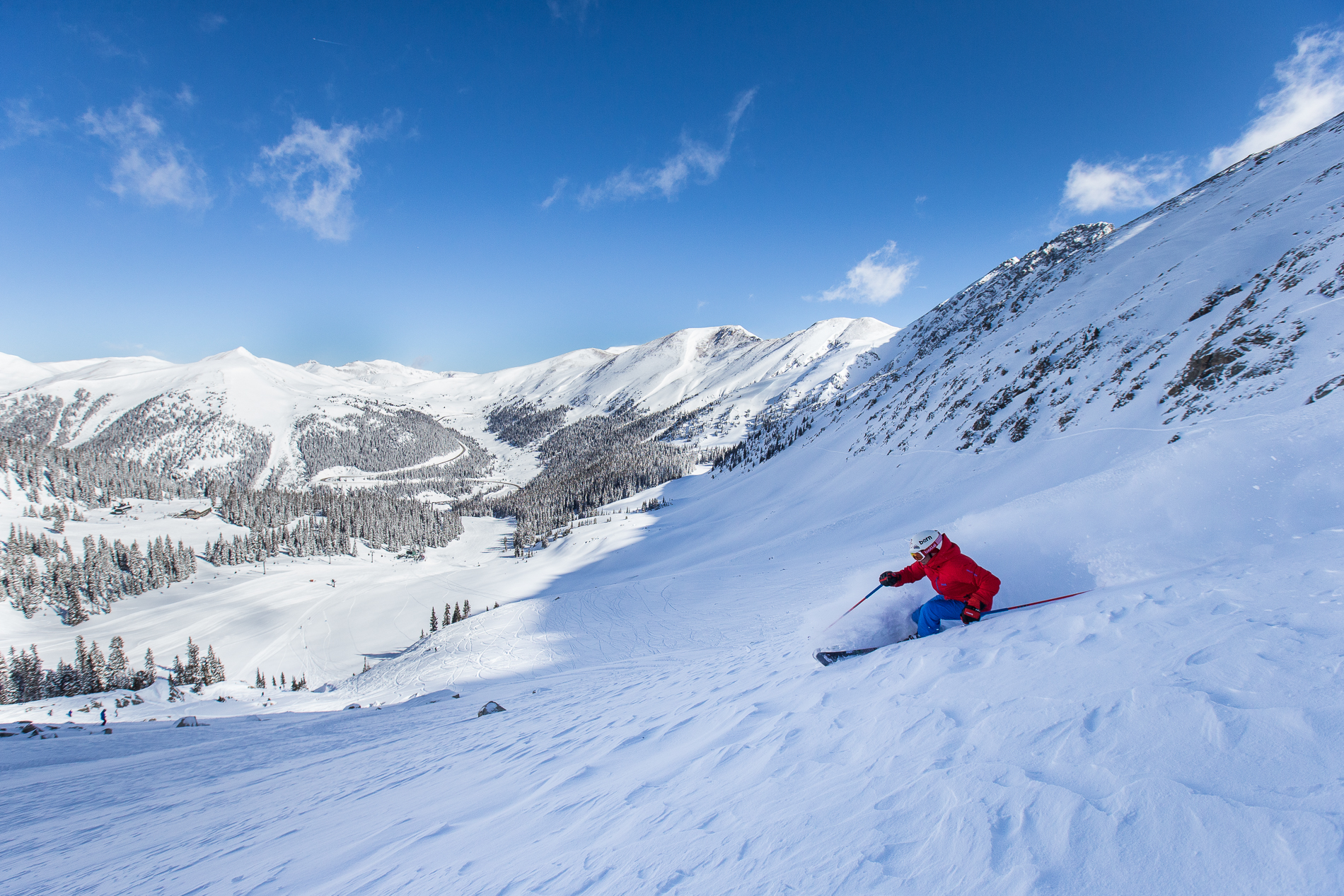 Arapahoe Basin, a small (by Colorado standards), unpretentious, privately owned mountain, is just next door to Keystone, one of the Vail Resorts, and provides a totally different experience which you can enjoy either on its own (though Arapahoe Basin doesn't have its own lodging), or free with your Keystone lift ticket or VailResorts EpicPass (a free shuttle between Keystone and A-Basin is provided by the county November through March).
To celebrate A-Basin's 70th Anniversary, the resort has made significant investments into improving the base area including renovating buildings, improving walkways and ramps, upgrading skier services, expanding Arapahoe Sports and providing better outdoor seating and viewing areas for the main stage.
This is a "confidence building" mountain offering amazing extreme terrain, and some groomed intermediate terrain but is mainly for more accomplished skiers. The views, Adrienne Saia Isaac, Marketing & Communications Manager, tells me, are "breathtaking, like no place else in Colorado." This year, Dream, the Toronto-based real estate development company that owns the mountain, is investing $4 million in upgrades including an expansion of its intermediate terrain and glade skiing (most of the mountain is above the tree line), kids programs and restaurant.
"We're turning 70 but keeping up with the times. We offer a different experience from resort – friendlier, more inclusive for families."
A-Basin has recently updated all of its webcams, installing new ones last season in the base area and facing the Pali terrain and invested in a partnership with Prism for the Divide Cam, situated at the summit. (www.arapahoebasin.com)
Telluride 
The beloved Telluride Mountain Village Gondola system, which links the mountain village with the historic town, is celebrating its 20th anniversary in December. A celebration with a series of events and a festive gala will take place during the anniversary month while a number of events will take place to celebrate the Gondola and its contribution to the region throughout the season.
Telluride's newest restaurant, Altezza at the Peaks, offers incredible views. Altezza, which means "height" in Italian, offers an Italian-inspired menu, with a variety of main courses such as traditional pastas and Colorado-inspired dishes. To broaden the overall resort experience, Telluride is adding a number of ongoing, free, family-friendly events to take place when the lifts stop turning for the day including a kids' zone, a holiday prelude and movie series, other movie nights and live music in the mountain village.
New this year, Telluride, a charming historic town at the base of an incredible ski resort set in the San Juan Mountains, with dramatic peaks and stunning views, has joined The Mountain Collective – a collection of independent resorts, Aspen-Snowmass, Jackson Hole, Taos and Monarch –  which gives two free days each at  (additional days at 50% off the window ticket rate). Telluride is independently owned by Chuck Horning since 2004.
"We're not a mega resort – part of the enchantment is that we are not close to other resorts or Denver International Airport. You feel like you have the place to yourself. The San Juan Mountains are spectacular – the Alps of Colorado. Stunning, dramatic,' in your face' mountains."
The mountain offers all levels of abilities and terrain – 60 percent rated beginner and intermediate.
Last year, the resort took over the on-mountain luxury Peaks Resort & Spa, which boasts one of the largest spas in Colorado, at 42,000 sq. ft., indoor/outdoor pool.
This year, there is increased direct air access from the New York area (Newark), Saturday and Sunday  on United Airlines, direct into Montrose Airport, 1 hr, 15 min away, as well as a nonstop United Flight on Saturdays from LaGuardia.
Skiers and riders will also have new transportation options with Allegiant Airlines adding a flight between Montrose/Telluride and Denver. The seasonal flights will operate twice weekly and fly nonstop between Montrose Regional Airport (MTJ) and DIA (DEN) with one-way fares as low as $44.
Telluride continues to invest in its infrastructure by enhancing the snowmaking capabilities in the Meadows area that caters to Ski School and beginner skiers and snowboarders. (www.tellurideskiresort.com)
Purgatory
New this season guests will notice the Columbine beginner area has been expanded and re-graded to improve the area where beginners learn to ski and snowboard. Also, the Snow Coaster Tubing Hill has been relocated, redesigned, and enhanced for a better user experience and a hazard tree mitigation project will vastly improve the health of the forest and enhance tree skiing at the resort.
A modernized rope tow, the new T-3 surface lift, will transport skiers on the backside of the mountain heading west to the Legends Lift 8 high-speed detachable-quad chairlift, which debuted last winter. The T-3 lift will also connect a new trail to the Legends Lift 8. The Legends Bypass, which opened last winter as an alternative way down to Lift 8, will be widened and re-graded.
Additionally, the snowmaking system has been enhanced with additional snow guns and upgraded nozzles, making snowmaking efforts more productive and efficient allowing for snowmaking as early as October.
Purgatory installed a new point-of-sale software that will make it easier for consumers who are making purchases throughout the resort, providing them with faster transactions at the Ticket Office, Snow Sports School, rentals, retail, and restaurants.
This fall, Purgatory is opening a new convenient retail, rental and repair services shop in Durango at 2615 Main Ave. The remodel will provide a new storefront for outdoor recreation apparel, gear, rentals, repair services, ticket/pass purchases, as well as the resort's reservation center. (www.skipurg.com)
Information about CSCUSA and its members can be found at www.ColoradoSki.com, on Twitter @ColoradoSkiUSA and on Facebook at www.Facebook.com/ColoradoSkiCountryUSA.
See also:
Hurry, Hurry, Get Your Ski Pass Deals; Take Advantage of Greater Flexibility, Options
____________________
© 2016 Travel Features Syndicate, a division of Workstyles, Inc. All rights reserved. Visit goingplacesfarandnear.com and travelwritersmagazine.com/TravelFeaturesSyndicate/. Blogging at goingplacesnearandfar.wordpress.com and moralcompasstravel.info. Send comments or questions to [email protected]. Tweet @TravelFeatures. 'Like' us at facebook.com/NewsPhotoFeatures