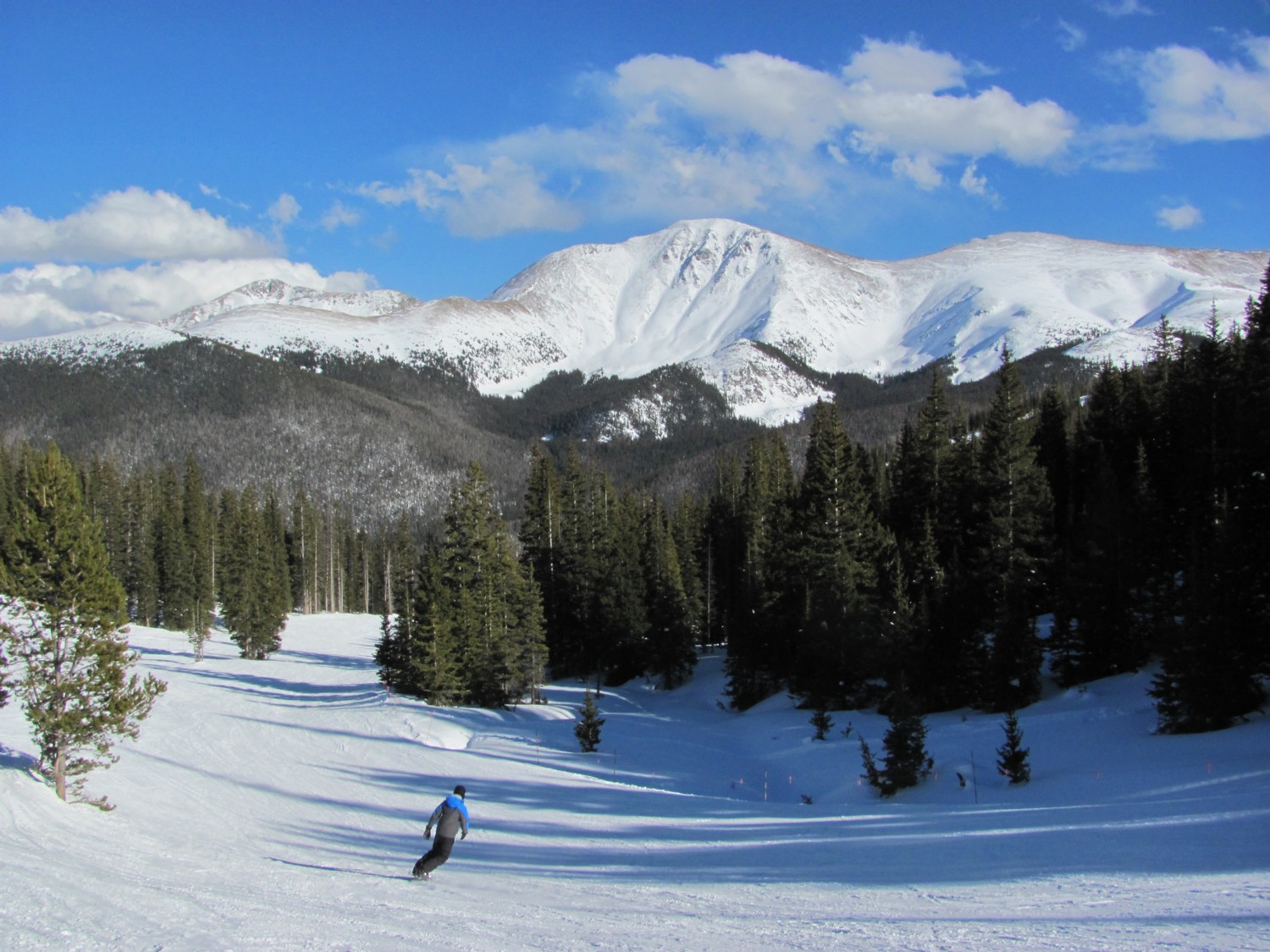 by Karen Rubin
Travel Features Syndicate, goingplacesfarandnear.com
Colorado Ski Country USA (CSCUSA) member ski areas will welcome guests this season with a slew of l improvements and programs to delight guests of all ages, abilities and interests levels.
"Guests to Colorado Ski Country member ski areas will experience new chairlifts, new terrain, new lodging, new dining options and multiple offerings that are directed at those newer or returning to the sport and those that may just be looking to enjoy the mountain environment," said Melanie Mills, President and CEO of Colorado Ski Country USA.
Here are highlights:
Winter Park Resort
Winter Park Resort is opening a new $16 million 10-person gondola in its base area, replacing the well known 4-person Zephyr chairlift. This new gondola will increase uphill capacity by over 1,000 guests per hour, reducing wait times by 15 minutes during peak season. It is part of a $28 million investment at the resort this year. The resort's first new on-mountain lift installation since 2007, the gondola will serve a new daily Mountaintop Sunset Après at the Lodge at Sunspot from 2:30 p.m. to 5:30 p.m., with live music on Fridays and Saturdays. Foot passengers can ride for free without a lift ticket beginning at 2:30 p.m. each day.
Skiers will also benefit from upgrades to its snowmaking system with the addition of new energy efficient compressors, pipe replacement, and new high-tech snow guns.
An upgrade to the Zephyr Plaza in Winter Park Village will create a free-flowing plaza with stage area, fire pits, and sundeck for general gathering and small events and concerts.
Winter Park is still owned by the City of Denver but now under management of Alterra Mountain Company. Alterra, which also owns the Aspen Skiing Company, is paying the city $3 million a year plus a percentage, money that is going toward the city's parks). That means that Winter Park is also included in Alterra's Ikon pass (nearby Copper Mountain is also part of Ikon pass, plus Steamboat, Aspen Snowmass in Colorado, among 14 resorts included in the pass).
Winter Park resort is linked to Denver by train and the popular service is expanding to once a day on Saturday and Sunday and the first two Fridays of the month (January through March, $29 one/way, half-price for children under 12; book in advance so you don't get shut out); it leaves the resort at 4:30 pm so it can be a day trip (great idea for people coming to Denver for business or conferences). Destination visitors can even take rail from the airport to downtown/Union Station, stay overnight in the city and acclimate to the altitude before taking the train in the morning. Winter Park works with Denver's Convention & Visitor Bureau, and you can book lodging online. It's great for corporate visitors to Denver, but Winter Park, a major destination resort, is definitely worth longer-stays. Check out Winter Park's five-course gondola-served dinners at The Lodge at Sunspot.
Winter Park starts at a base of 9,000 ft., rising to a summit at 12,060 ft, for a  3,060 ft. vertical; it offers snowmaking on 313 of its  3,081 skiable acres, serviced by 25 lifts; its 166 trails offer  8% green,  37% intermediate, 52% black and 3% double-black including bowl skiing and cat-skiing. For more information, visit www.winterparkresort.com.
Copper Mountain Resort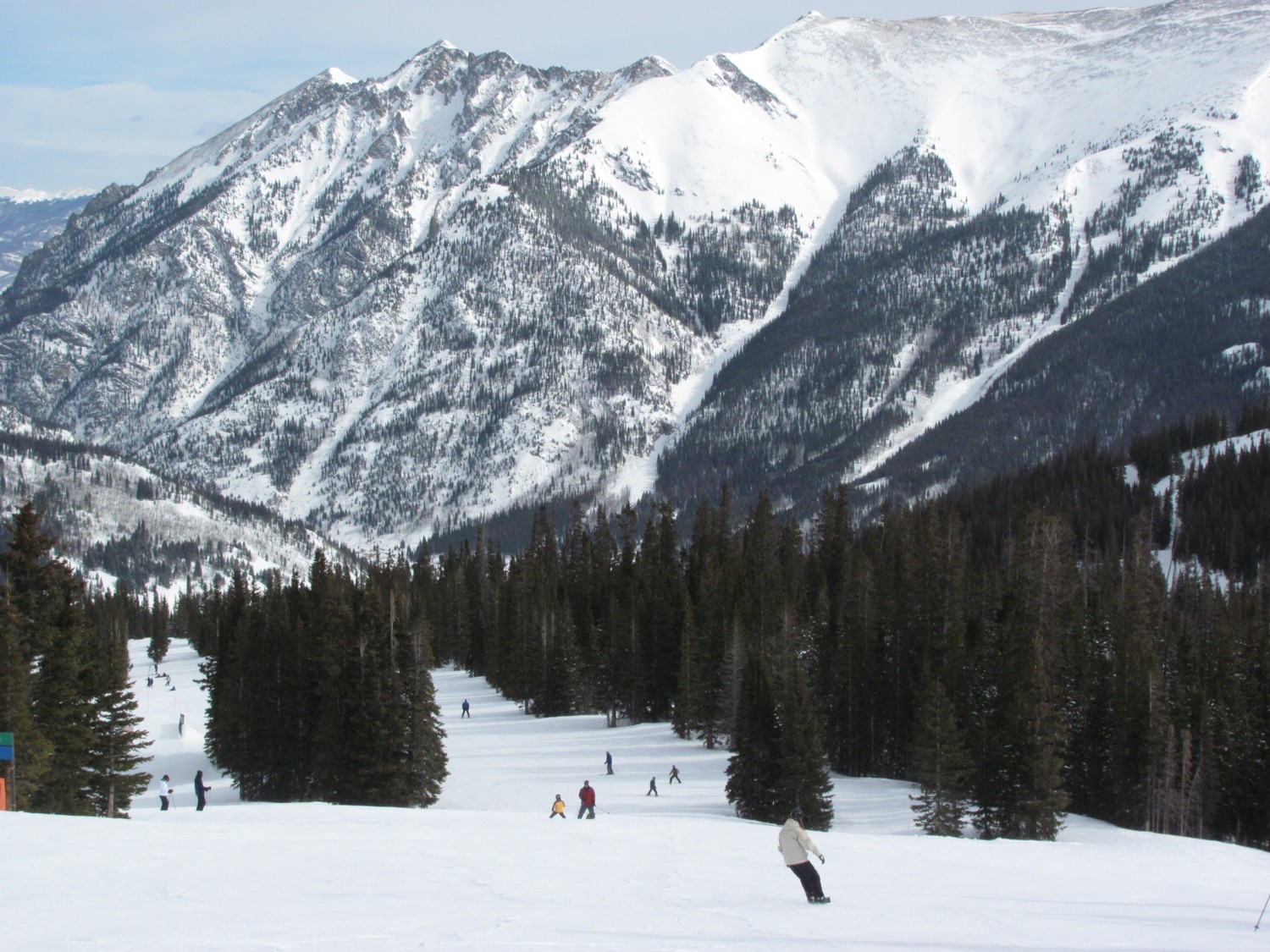 Copper Mountain is debuting the American Flyer and American Eagle chairlifts out of Copper's Center Village. The American Flyer is a high speed six-person chair with bubble enclosures to protect from wind and cold, the only active bubble chair in Colorado. The American Eagle is a high-speed combination lift that features both six-person chairs and eight-person gondola cabins. Both will significantly increase uphill access from the base area and reduce wait times.
Copper Mountain will have a new base area restaurant, Downhill Duke's. Named after a beloved dog, Downhill Duke's will welcome guests and their four-legged friends to enjoy lunch or après cocktails on the south-facing patio.
One of the many pleasures of Copper, which is one of the easiest major resorts to reach from Denver International Airport, are programs like free guided snowshoeing (even the equipment is free) and a mountain coaster.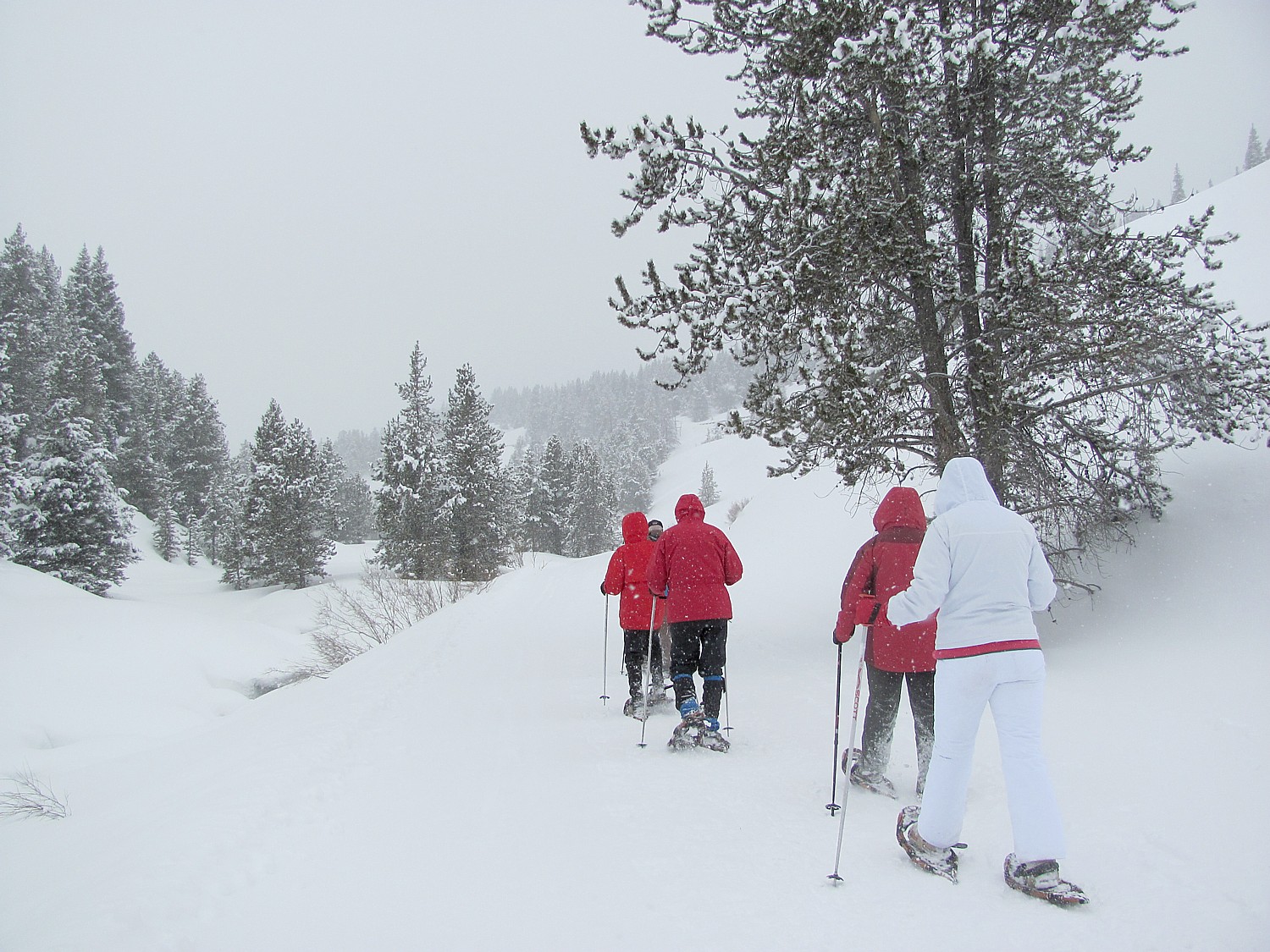 Copper Mountain is owned by Powdr resort company which is now partnering with the Ikon ski pass so you get unlimited skiing/riding, along with Woodward, Winter Park, Eldora, Steamboat, Aspen Snowmass and Killington, Vt.)
"The theme for us this year is the ease of access," with free transportation throughout Summit county, upgraded parking and bus fleet.
Copper offers naturally separated abilities across its mountain peaks, and plenty of stunning skiing/riding for beginners and intermediates in the 2490 skiable acres (36 green runs, 36 blue, 52 black and 27 double-black) with snowmaking on 364 acres to supplement the 306 inches of average snowfall. From the base at 9,703 ft, the peak rises to 12,313.
For more information, visit www.coppercolorado.com.
Steamboat Resort
Steamboat Resort will feature two new dining experiences for the 2018-19 season. Timber & Torch, a new base area restaurant and bar experience, will be open for breakfast, lunch and dinner featuring a new outdoor heated patio, two indoor/outdoor bars, an exterior fireplace and a new outdoor BBQ. The Taco Beast, a unique new on-mountain, roaming snowcat, will serve carne asada and al pastor trail tacos with trailside service in both winter and summer seasons.
Steamboat starts at a base of 6,900 ft., rising to a summit at 10,568 ft, for a  3,668 ft. vertical; it offers snowmaking on 375 of its  2,965 skiable acres, serviced by 18 lifts; its 165 trails are graded as  14% green,  42% intermediate, 44% black including bowl skiing and cat-skiing.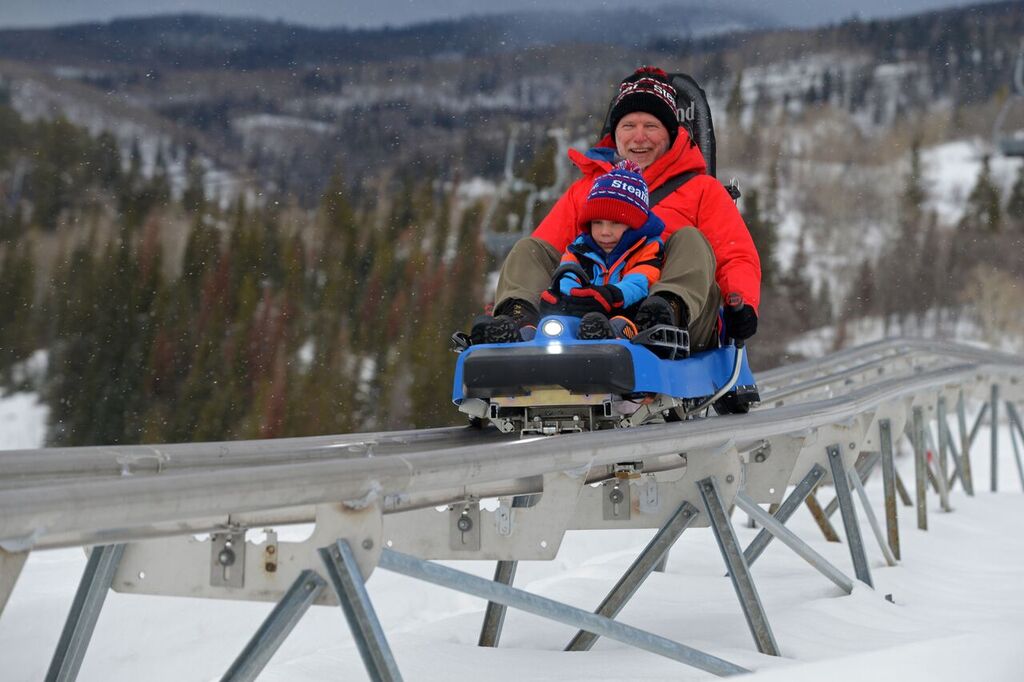 Steamboat, famous for its Western ambiance, also offers night skiing and a mountain coaster. Steamboat Springs also boasts having produced more winter Olympians than any other town in North America. Steamboat is one of 37 resorts included on the Alterra Mountain's Ikon Pass. For more information, visit www.steamboat.com.
Aspen Snowmass
Aspen Snowmass is actually four distinct mountain destinations: the legendary Aspen Mountain, which rises up from one of Colorado's most charming towns; Snowmass Mountain Resort, a self-contained resort; Aspen Highlands, a challenging mountain and Buttermilk Mountain, especially popular for beginners and families.
Aspen Skiing Company, part of Alterra Mountain Co., is making progress on the $600 million Snowmass Base Village Development that will add lodging, residences and amenities over 10 years. The first phase of development is opening this season: the new Limelight Hotel Snowmass, a ski-in/ski-out hotel adjacent to Snowmass Mountain's Elk Camp Gondola featuring 99 hotel rooms and 11 for-sale condominiums, plus a new restaurant, a children's game area and a five-story climbing wall. The Snowmass Base Village hosts a central public events plaza, serving as the community's gathering space with an ice-skating rink, fire pits, children's pop-up fountains and other community amenities this winter. At Buttermilk families and children can enjoy Fort Frog, a new wooden, frontier style fort with lookout towers, a jail, snowball launcher and swinging bridge.
Aspen Mountain: The ski trails at Aspen Mountain were originally cut by the US Army's 10th Mountain Division and the ski destination emerged from a sleepy post-war town beginning in 1946.
Its Silver Queen Gondola rises up from downtown Aspen 3,000 vertical feet to the summit of Aspen Mountain at 11,212 ft. (making it easy to access from downtown hotels, like the historic Jerome Hotel). Its comparatively small size — a mere 675 acres (still larger than most New England ski resorts) offers 76 trails of which 48% are rated intermediate, 26% advanced and 26% double-black including bowl skiing and cat skiing.
Snowmass with more than 3,300 skiable acres, has the highest vertical rise, 4,400 feet, in the country. Snowmass is notable for really catering to all ages and abilities and for being family-friendly – its 20 lifts serve 96 trails, rated as  5% green, 48% intermediate, 17% black and 30% double-black including bowl skiing. There are steeps and powder fields at Hanging Valley; long cruisers; tree trails and three terrain parks.
A new Snowmass Mountain Club provides members private garage parking directly below the Club, ski-in access and access to the hotel's fitness facilities and hot tubs.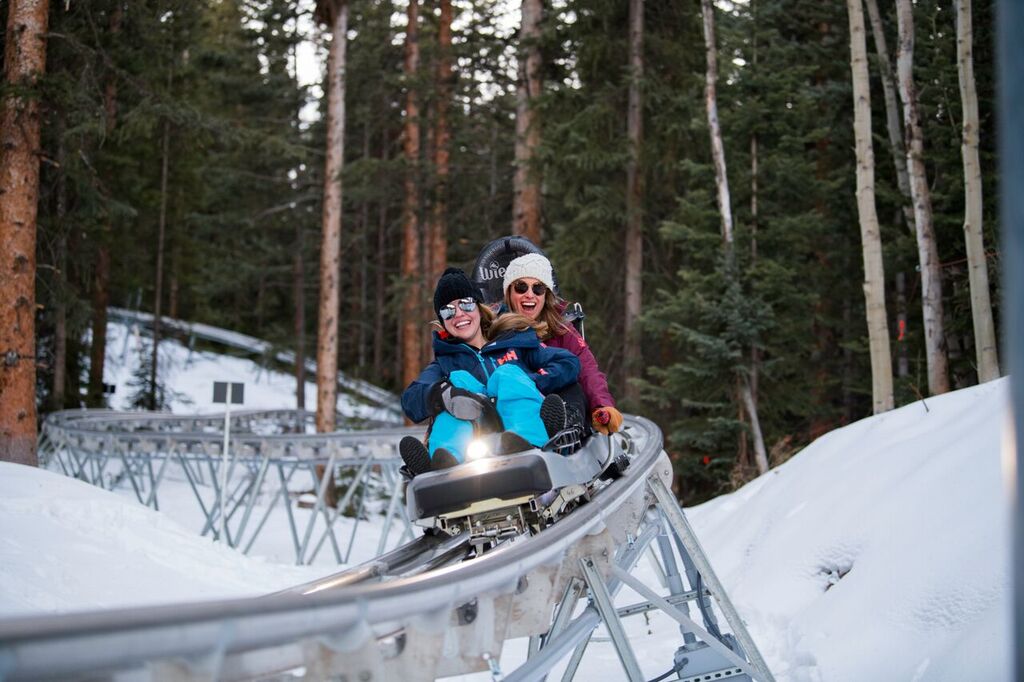 Also new is the Breathtaker Alpine Coaster, that winds through a mile of forest on an elevated track at speeds up to 28 mph. Located adjacent to the Elk Camp Restaurant, the coaster operates during the day and special Ullr Nights and select Après extended hours. You can purchase tickets for a 2 1/2-hour coaster session or a 2 1/2-hour session combining the coaster and Tubing.
Snowmass is celebrating its 50th anniversary with festivities all season long.
Buttermilk is known for two seemingly contradictory things: being a beginners' mountain and hosting the Winter X Games. Its kid-oriented Panda Peak is popular for families and Buttermilk's West Buttermilk park is well suited to learners while a second  X Games park offers 100 features and a pipe.
Buttermilk rises from a base at 7,870 to a summit at 9,900′ for a vertical of 2,030 ft.; it offers snowmaking on 108 of its 470 skiable acres, which are serviced by 8 lifts. Its 44 trails are rated as 35% green, 39% intermediate, 21% black and 5% double-black.
Aspen Highlands is a challenging area (no beginner trail) that has a reputation as being where locals go. Highland Bowl is a legendary basin of double-black diamond terrain which is reached by hiking to 12,392 foot Highland Peak, and is prized by expert skiers and riders.
Aspen Highlands rises from 8,040 to 12,392 feet, for a 3,635 ft. vertical and offers 1,040 skiable acres, served by 5 lifts. Of the 144 trails, 23% are rated intermediate, 12% black and 65% double-black; it offers bowl skiing and cat skiing.
Also new for the 2018-19 season, The Aspen Snowmass App is being upgraded to provide rewards and enhanced functioning of year-over-year stats and tracking, allowing families, skiers and nonskiers to track on-mountain movements.
Aspen Snowmass is part of the Alterra collection and the Ikon Pass as well as The Mountain Collective.  For more information, visit www.aspensnowmass.com.
Telluride Ski Resort
Telluride Ski Resort has upgraded The Meadows, its popular beginner area, into a world-class learning facility. The Meadows features a newly installed 320-foot covered surface lift and a significant investment in a terrain-based learning program. Telluride skiers and riders will also find an expanded grooming fleet to enhance the groomed terrain across the resort, as Telluride continues its multi-year, multimillion-dollar venture in snowmaking upgrades and technology to improve efficiency and reduce its carbon footprint. A new consumer app is being introduced that provides up-to-the-minute lift status information, snow reporting, trail status, an interactive trail map, push notifications and more.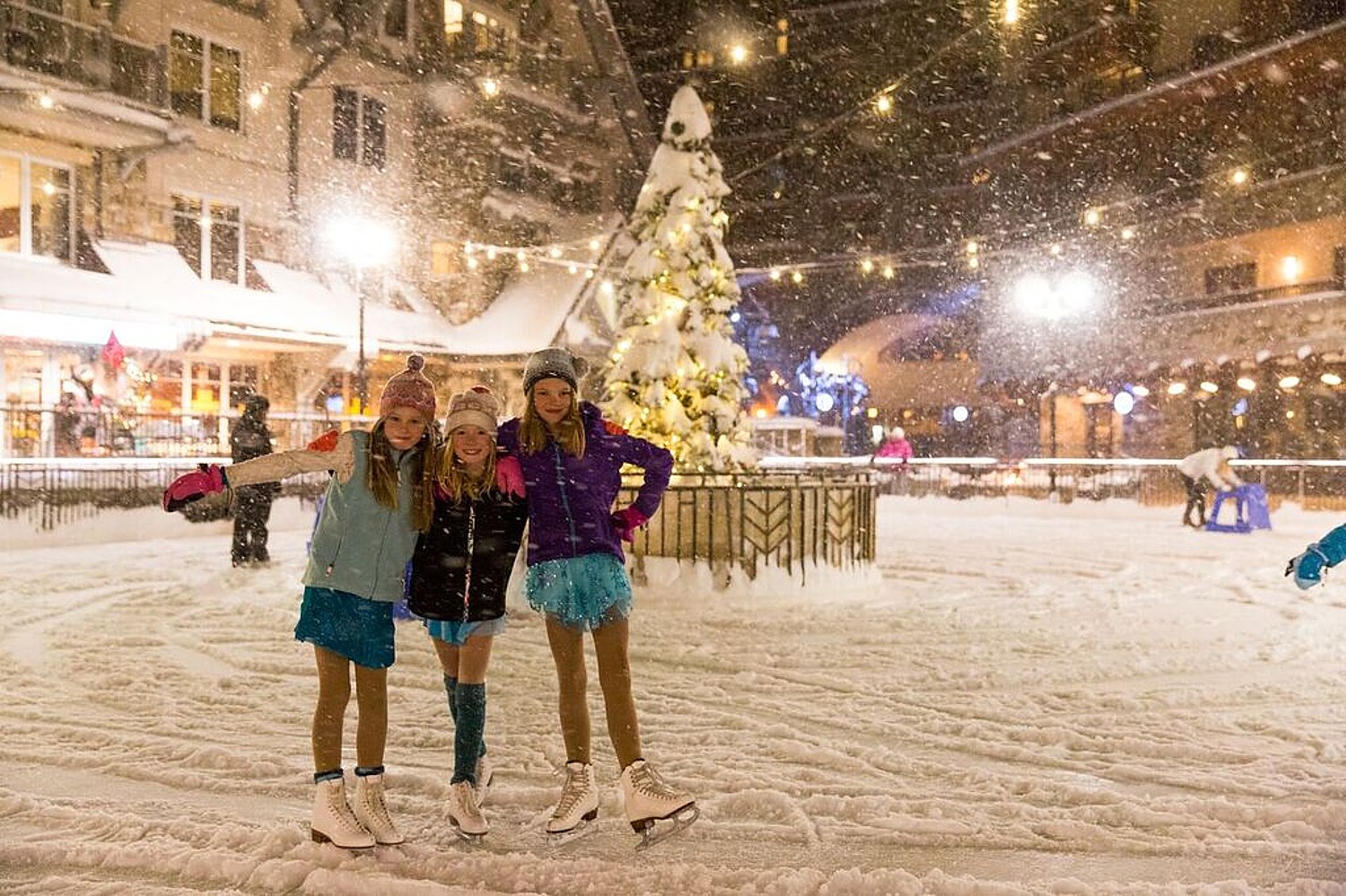 Telluride, a quintessential Colorado experience, offers the highest eaterie, Alpino Vino, at 11,996 ft altitude (they sell oxygen). Telluride is now included as a partner on Vail's Epic Pass. Telluride also offers heli-skiing in the San Juans, literally departing from outside the door of the hotel (suitable for strong intermediates, but aimed for excellent skiers). Telluride is also home to the resort rated #1 in North America by Conde Nast Traveler for five of the last six years.
Telluride rises from a base at 8,725 ft to a summit at 13,150 ft, for a  whopping 4,425 ft vertical;  it offers 2,000 skiable acres accessed by 19 lifts; of the 148 trails,  23% are rated green,  36%  are blue, 41% are black. For more information, visit www.tellurideskiresort.com.
Purgatory Resort
Purgatory Resort will offer year-round access to the Inferno Mountain Coaster, a new gravity-fed ride that will zip through aspen groves revealing incredible views of the San Juan Mountains. The Inferno Mountain Coaster is almost a mile long, with 300 feet of vertical drop, nine switchbacks and speeds of up to 25 miles per hour.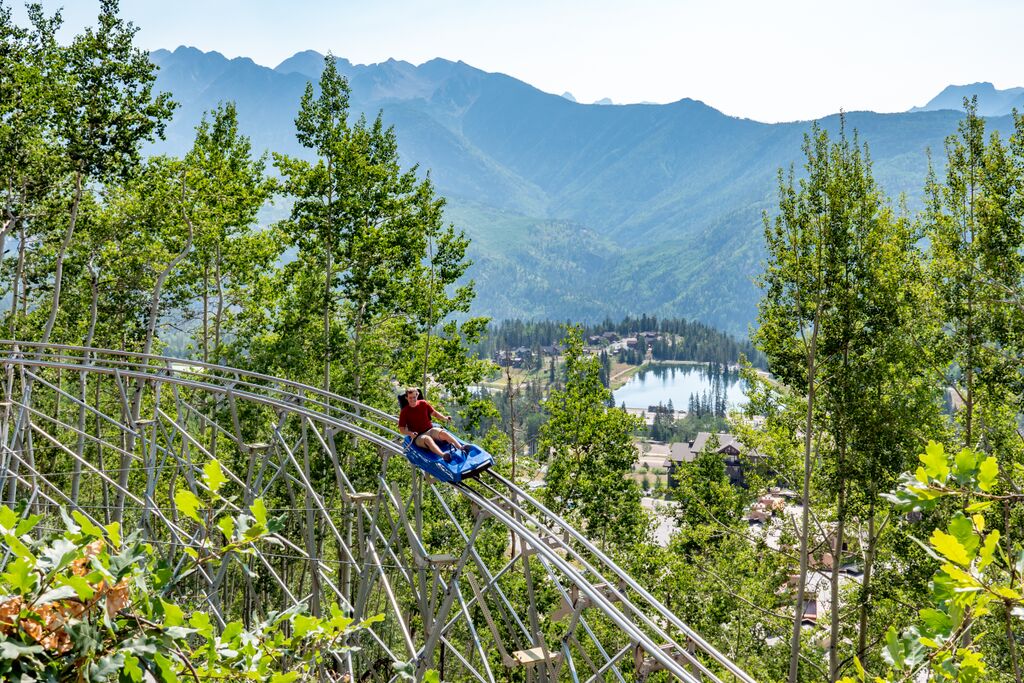 Brand new for the 2018-19 season, Purgatory Resort is offering a free season pass for all children in Fourth Grade or younger, with no blackout dates and no parent purchase required.
Purgatory offers a 2,029 vertical, rising from a base at 8,793 ft to a summit 15 10,822. Its 1,605 skiable acres are served by 13 lifts; the 94 trails are graded 20% green, 45% blue, 35% black. For more information, visit www.skipurg.com.
Colorado Gems
Apart from these major, world-class resorts, Colorado is studded with smaller "Gems" — 11 ski areas which offer two for one or 30% off (the pass costs $25 and pays for itself after the first visit): Arapahoe Basin, Cooper, Echo Mountain, Eldora, Granby Ranch, Hesperus, Kendall Mountain, Loveland, Monarch, Powderhorn and Sunlight.
Here's what's new:
Arapahoe Basin is completing a two-year project that adds 468 acres of new intermediate and expert terrain in the Beavers and Steep Gullies. This includes 34 new runs served by the new Beavers lift in 2018-19, while the Steep Gullies terrain remains hike-back, expert only terrain.
This summer, A-Basin operations crews constructed 97 more acres of tree skiing and continued improving the rest of the terrain with grading, glading and installation of the chairlift and picnic areas. Terrain in The Beavers includes two new intermediate groomed runs, allowing more skiers and riders to enjoy this scenic, north- and west-facing terrain. The Steep Gullies are 91 acres of extreme (double-black diamond), steep, couloir skiing which remain hike-back for the true advanced skier or snowboarder looking for some of the most challenging terrain in Colorado.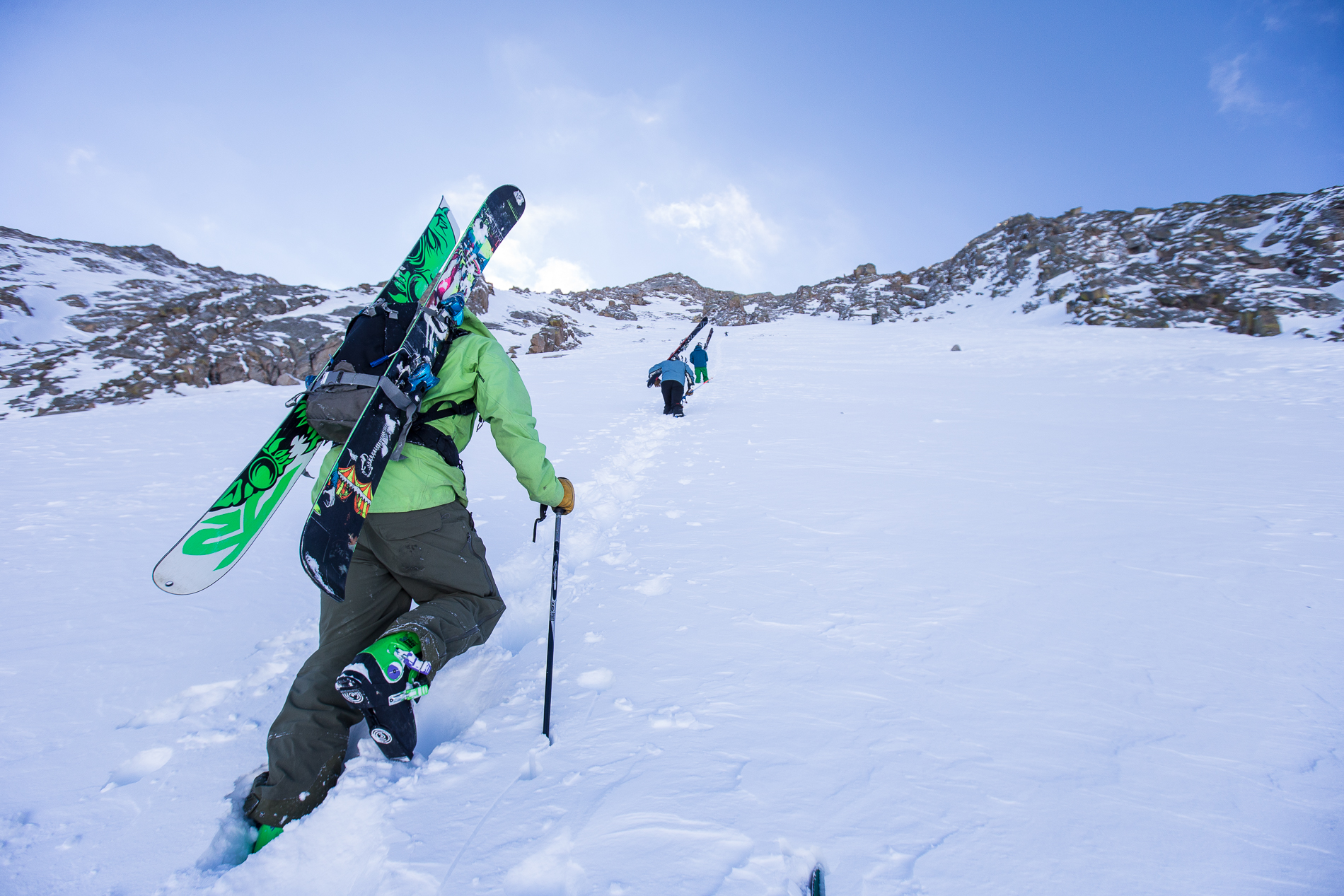 In conjunction with the terrain expansion, A-Basin is opening a restaurant at the summit, a European Style delicatessen, Il Refugio "The Shelter".
Its midway lodge is famous for moonlight dinners offered six times a season, where you take the lift up; the dinners are themed (Africa, New Years Eve, Italy, France, India) and accommodate 180 diners (so make your reservation). A-Basin has four chefs. "We want people to come for the culinary experience."
Skiers with a lift ticket for nearby Keystone or the Vail Epic pass have access to A-Basin.
Arapahoe Basin rises from a base at 10,520 ft to 13,050 ft..for a  2,530 ft vertical rise; has snowmaking on 125 of its  1,428 skiable acres, serviced by  9 lifts; its  145 trails are classified as  7%  green, 20% blue, 49% black and 24%  double-black, including bowl skiing.
A-Basin affords activities year-round: dining at the base in summer, disk golf, and is opening an adventure park for summer 2020.
For more information, visit www.arapahoebasin.com.
Cooper's new Moonlight Mountaintop Yurt dinner series at the Ridgeview Café features a ride to the mountaintop after hours in a warm, cozy snowcat in the light of the full moon. This event is perfect for a special gathering with four dates during the 2018-19 season and includes delicious flame-grilled salmon, stuffed portabella mushrooms and New York strip steaks. Cooper offers 41 trails on 400 skiable acres served by 4 lifts. For more information, visit www.skicooper.com.
Eldora: A year after installing the Alpenglow high-speed six-person chairlift, Eldora's first-ever high-speed lift, the ski area is making another leap into the future this season with RFID pass technology. There are also new glading projects and upgrades to Eldora's electrical and communication systems and more frequent early-season and midweek events and activities. Eldora offers 53 trails on 680 skiable acres, 20% beginning, 50% intermediate, 15% advanced and 15% expert. For more information, visit www.eldora.com.
Granby Ranch offers groups the opportunity to rent Granby Ranch's East Mountain for the evening. Guests will have full access to the East Mountain night skiing terrain from 5pm-9pm.  Granby Ranch has 38 trails on 406 skiable acres (245 with snowmaking), of which 36% are beginner, 40% intermediate and 24% advanced.  For more information, visit www.granbyranch.com.
Loveland Ski Area, in Georgetown, is unveiling its largest single capital improvement project in its history with the installation of its first high-speed quad lift, Chet's Dream. named after its longtime owner, Chet Upham Jr. Loveland is a major ski area, very popular for day trips from Denver, offering 1,800 skiable acres. From the base at 10,800, it rises to 13,010 ft for a 2,210 ft. Ten lifts serve 94 trails, rated as 13% green, 41% blue, 22%  black and 24% double black including bowl skiing and cat-skiing.  For more information, visit www.skiloveland.com.
Monarch Mountain, near Salida, is debuting a brand-new tubing park for the 2018-19 season, expanding offerings for visiting families with both skiers and nonskiers in the group. Monarch is also adding new gladed tree skiing, upgraded WiFi, chip readers at all sales terminals, self-order kiosks in the Gunbarrel Cafeteria and handheld order-taking technology. The mountain rises from a base at 10,790 ft to 11,952 ft, for a 1,162 vertical; its 800 skiable acres are served by six lifts; 64 trails offer a variety of terrain: 22% green, 27% blue, 37% black and 11% double black including bowl skiing and cat skiing. For more information, visit www.skimonarch.com.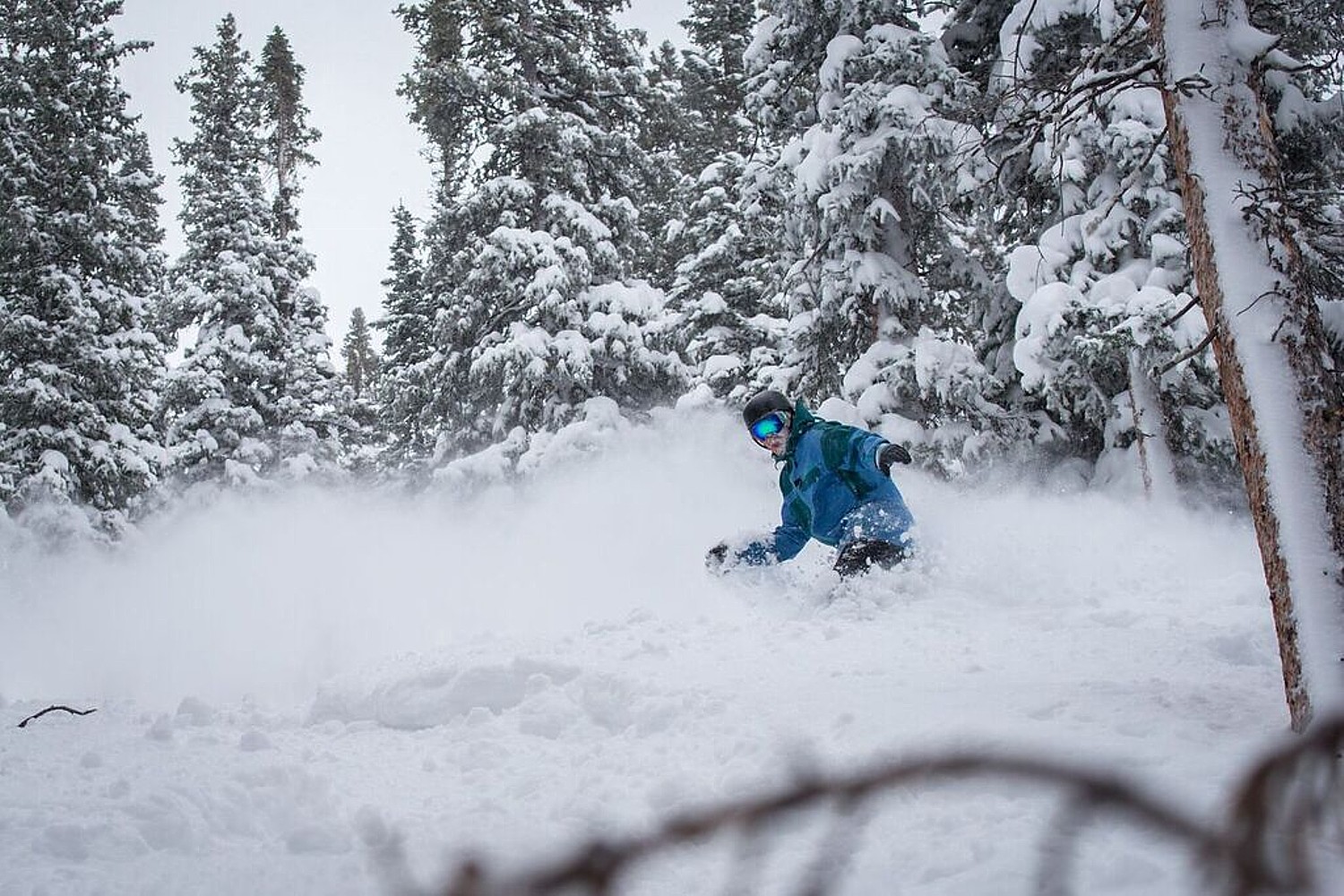 Powderhorn Resort is featuring Mission: Affordable, a new steeply discounted season pass program with discounts and special programs for first-timers and beginners. Powderhorn offers 1,600 skiable acres; its 42 trails are rated 20% green, 50% intermediate and 30% advanced. (www.powderhorn.com).
Silverton Mountain is introducing a new heli-skiing terrain, "Zone 8," which features diverse high-alpine terrain and great early-season snow. Silverton will also expand its Unguided Season Pass offer to include a 150 percent increase in available ski days to the unguided season, 45 free days at partner ski resorts, and a $39 heli drop. Silverton is a substantial ski area, affording 1,819 skiable acres of which 100% is rated as expert; it offers a 3,087-ft vertical, from the base at 10,400 to summit at 13,487. For more information, visit www.silvertonmountain.com.
Sunlight Mountain Resort is opening the Compass Mountain Grill, an on mountain food stand for walk-up skiers and riders to refuel at the top of Sunlight. The Glenwood Springs-based ski area is known for an award-winning Ski, Swim, Stay! package that combines skiing or snowboarding with lodging and a visit to all-natural hot springs. From a base at 7,885 ft to the summit at 9,895 ft, the area offers a 2,010 ft vertical; it has 66 trails on 680 skiable areas, with a fairly even mix of difficulty: 20% green, 30% blue, 20% black and 30% double black. For more information, visit www.sunlightmtn.com.
Wolf Creek Ski Area in the southern part of Colorado, known for receiving the most snow annually in Colorado, will open for the 2018-19 season with the new high-speed, detachable quad Charity Chairlift, accessing previously underutilized 55 acres of beginner and intermediate terrain. The Charity Lift, the 10th in Wolf Creek, will be the third chairlift in the spacious 900-acre, Alberta area where guests can also enjoy a new on-mountain Alberta Grill, offering a south of the border themed menu and more traditional grilled items. Wolf Creek will also implement and launch a new point-of-sale system in rentals, retail and all restaurants mountain wide for the 2018-19 season. For more information, visit www.wolfcreekski.com.
Information about Colorado Ski Country USA (CSCUSA) and its members can be found at www.ColoradoSki.com, on Twitter @ColoradoSkiUSA and on Facebook at www.Facebook.com/ColoradoSkiCountryUSA.
_________________________
© 2018 Travel Features Syndicate, a division of Workstyles, Inc. All rights reserved. Visit goingplacesfarandnear.com,  www.huffingtonpost.com/author/karen-rubin , and travelwritersmagazine.com/TravelFeaturesSyndicate/. Blogging at goingplacesnearandfar.wordpress.com and moralcompasstravel.info. Send comments or questions to [email protected]. Tweet @TravelFeatures. 'Like' us at facebook.com/NewsPhotoFeatures