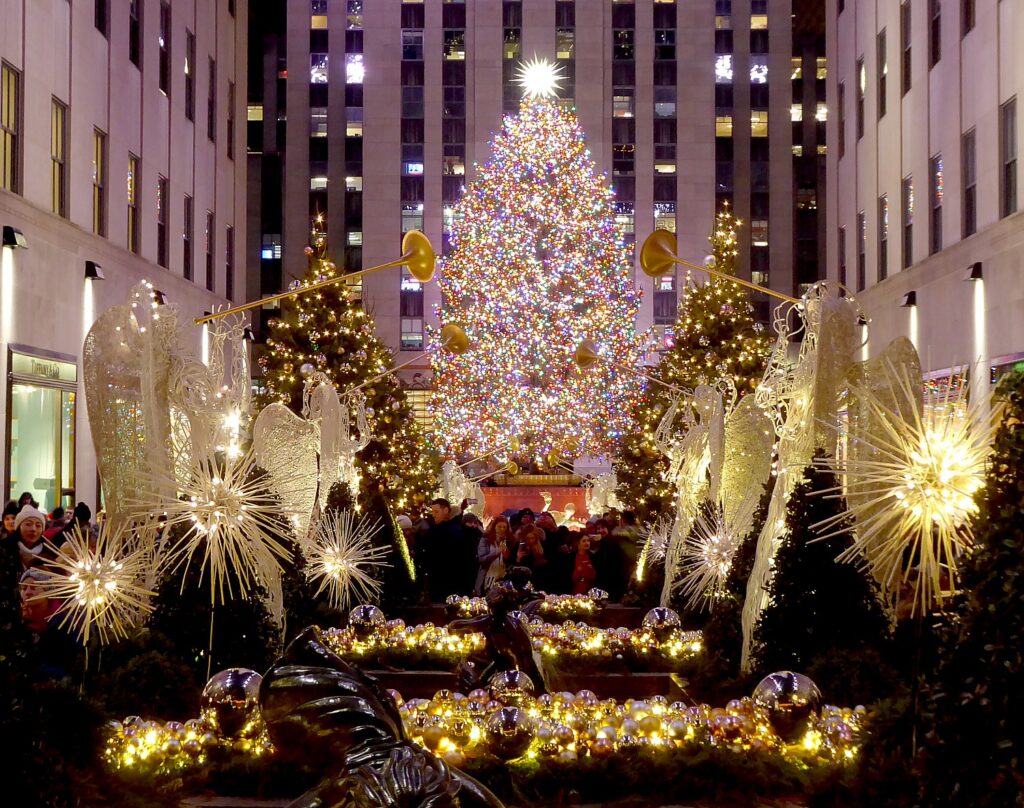 Nothing can stop the holiday magic so iconic to New York, and though this holiday season will be different, the spirit and cheer shines through with traditions and iconic events that have delighted generations continuing, albeit with some innovations and modifications. This guide was compiled by NYC & Co.:
"New Yorkers and visitors are invited to mask up and safely enjoy this festive, holiday season in New York City, with less crowds, significant savings, and more outdoor activities than ever before," said NYC & Company President and CEO Fred Dixon. "From ice skating rinks and igloos to colorful light displays, cultural exhibitions and holiday shopping, there's no shortage of things to see and do. By taking advantage of our All In NYC: Neighborhood Getaways offers including the Mastercard $100 rebate, you will also be supporting local businesses and hospitality industry jobs. We're also encouraging those from afar to give the gift of NYC this year by shopping iconic NYC merchants online, gifting museum memberships and buying gift cards for future travel."
New Yorkers and visitors alike can show support for NYC by masking up and taking an NYC-cation, staying overnight at one of the City's welcoming hotels. NYC & Company's most ambitious savings program ever—All In NYC: Neighborhood Getaways—offers nearly 300 deals across accommodations, attractions, dining, retail, tours and more, available at nycgo.com/neighborhoodgetaways. Those who register their Mastercard for the All In NYC: Neighborhood Getaways program—now including new offers through a unique holiday collection—can receive up to $100 total in statement credit when spending $100 or more at hotels and $20 or more at all other businesses.
Those unable to visit are encouraged to Shop NYC this year, through purchases at nycgo.com/shopinnyc, including a roundup of e-commerce/gift cards, distinctive apparel and accessories, signature hotel items, museum gifts and memberships, food and gift baskets, souvenirs, books, music, games and more.
Additionally, Virtual NYC experiences are available online for those from afar to enjoy NYC this festive season, including live stream presentations from Alvin Ailey American Dance Theater, Carnegie Hall, Cathedral of St. John the Divine, Lincoln Center and more, available at nycgo.com/virtualnyc, along with a special holiday collection.
Here are a selection of holiday-themed events, attractions, markets, hotel offers, gifts and more, available this holiday season in NYC. For more information, visit nycgo.com/holidays.
Holiday Light Displays and Light Shows
Holiday Lights at Bronx Zoo
November 20 through January 10, 2021 | The Bronx
During this festive celebration, visitors can enjoy five animal lantern safaris, as well as holiday-themed music, ice-carving demonstrations, costumed characters, stilt walkers, souvenirs, and seasonal treats like hot chocolate and s'mores.
Harlem Holiday Lights
November 16 through December 31 | Manhattan
Each holiday season, Harlem's 125th Street is illuminated with more than 10,000 festive LED lights across nine blocks, from Broadway to Fifth Avenue. The annual Turn On the Lights event will be live streamed this year, enabling all to watch the iconic thoroughfare light up with festive light and window displays, as well as a caravan of decorated floats traveling around Harlem to safely greet participating buildings and businesses. 
Shine Bright at Hudson Yards
November 22 through December 31 | Manhattan 
NYC's newest neighborhood will introduce new holiday decor, , that will illuminate the Public Square and Gardens, The Shops at Hudson Yards, Vessel and Edge with white lights set against evergreen trees and one-of-a-kind set pieces. By downloading this app, guests will be transported through augmented reality to the North Pole and Santa's Workshop where they will be able to walk through mounds of snow, along candy cane lanes, pose for pictures alongside animated polar bears, elves, penguins, and Rudolph, and video chat with Santa Claus.
Luminaries at Brookfield Place
November 27 through January 8, 2021 | Manhattan
Lower Manhattan's Brookfield Place will feature a canopy of colorful lights emanating from hundreds of lanterns suspended among the shopping center's palm trees. Touchless, motion-activated stations allow visitors to make a wish and prompt a magical display of lights and colors.
GLOW at New York Botanical Garden
Select Nights, November 27 through January 9, 2021 | The Bronx
New York Botanical Garden will present a gorgeous outdoor light show, illuminating its landmark gardens and the Haupt Conservatory on 14 select nights. As part of the experience, visitors will also be able to enjoy artistic ice sculptures, music, roving dancers and more outdoor fun.
LuminoCity Festival
November 27 through January 10, 2021 | Manhattan
A spectacular light show which debuted for the first time last year on Randall's Island, LuminoCity will feature several acres of new light art installations and sculptures inspired by nature, history and magic.
Holiday Lights at Arthur Avenue
November 30 onwards | The Bronx
Come walk the Bronx's "Little Italy" and take in the bright lights strung along Arthur Avenue, as well as the area's holiday windows. A neighborhood Christmas tree at Ciccarone Park will be festively lit, beginning November 30.
Lighting of the Largest Menorah in Brooklyn
December 10–17 | Brooklyn
The annual lighting of Brooklyn's largest Menorah at Grand Army Plaza will take place each night of Chanukah, kicking off with a socially distanced celebration on December 10.
Holiday Light Show Featuring Carrie Underwood's "Hallelujah" with John Legend at the Empire State Building
December 19–25 | Manhattan
The Empire State Building's annual music-to-light show will kick off on December 19, with Carrie Underwood's new song "Hallelujah" with John Legend being synced to the iconic building's dazzling holiday lights. In conjunction with the release of Underwood's new Christmas album My Gift, at 8pm each night the song will be broadcast on iHeartRadio's Z100 and LiteFM, and the light show will also be streamed live via Earthcam.
Cultural Events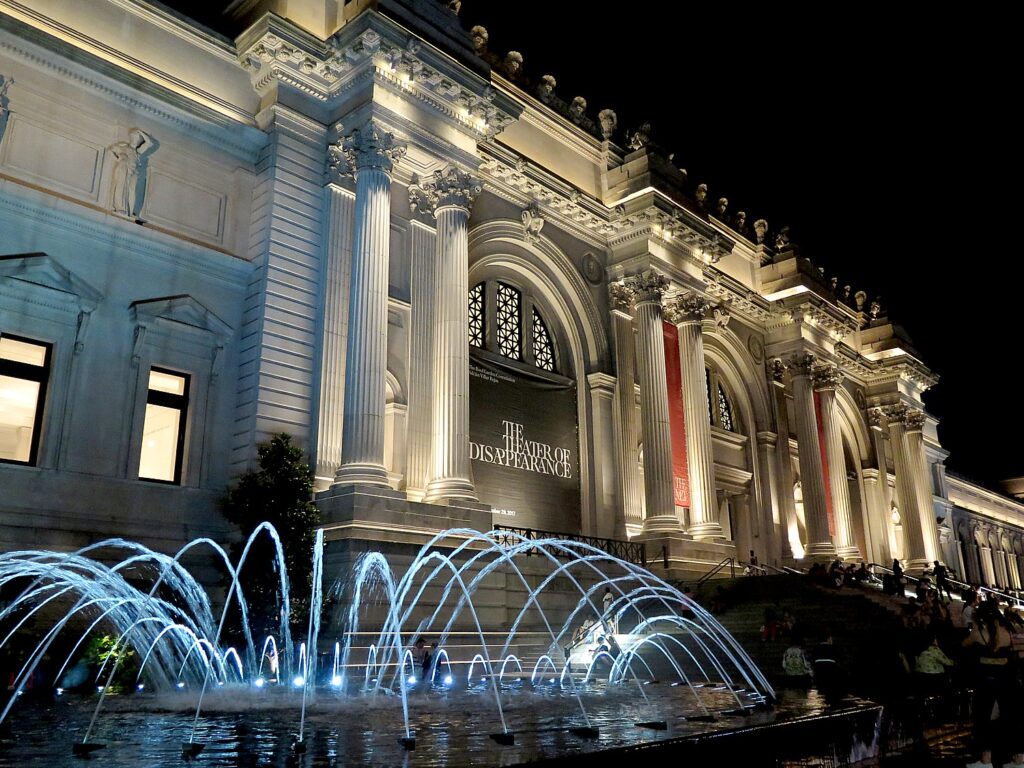 Iconic NYC Traditions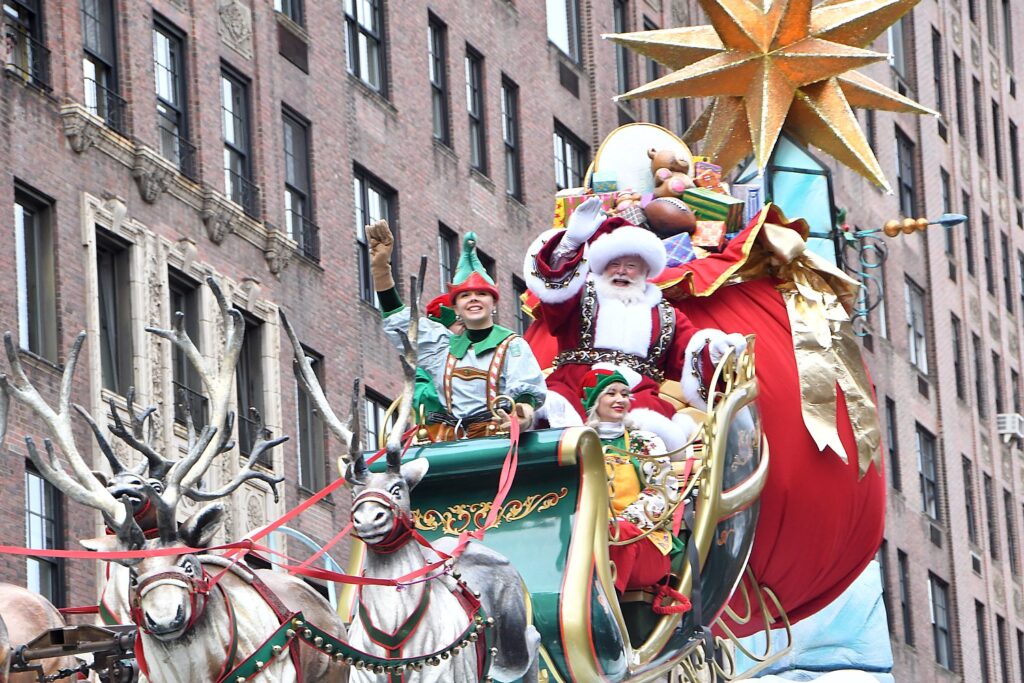 Macy's Thanksgiving Day Parade
November 26 | Manhattan
This beloved holiday tradition of larger-than-life balloons and dazzling floats has been transformed into a television-only experience that will be aired on NBC and Telemundo from 9am–12pm, in all time zones, for all to enjoy safely from the comfort of home. The 94th annual parade will feature Broadway performances by Hamilton, Mean Girls, Jagged Little Pill, and Ain't Too Proud: The Life and Times of the Temptations.
Rockefeller Center Christmas Tree Lighting
December 2 | Manhattan
Bringing joy and Christmas spirit to the City, the 88th annual Rockefeller Center Christmas Tree Lighting has taken place. Visitors can see will take place on December 2 from 7—10pm with no public access, however, all are invited to view the live national broadcast "Christmas in Rockefeller Center" from home on NBC. the 75-foot-tall Norway spruce from Oneonta, NY, arrived at Rockefeller Center this past weekend.
New Year's Eve Times Square Ball Drop
December 2020 through January 1, 2021 | Manhattan
Each year, millions of viewers watch the Times Square Ball Drop from NYC and around the globe, and this year, for the first time ever, the event will be televised only with the traditional ball drop, live performances and special guests to be announced.
Additional annual activities include the Wishing Wall activation (month of December), Numeral Arrival of "2" and "1' for 2021 (December 21), Numeral Installation atop One Times Square (December 26), Crystal Installation (December 27), Good Riddance Day (December 28), Confetti Test (December 29) and Ball Test and Balloon Preparation (December 30).
Ice Skating Rinks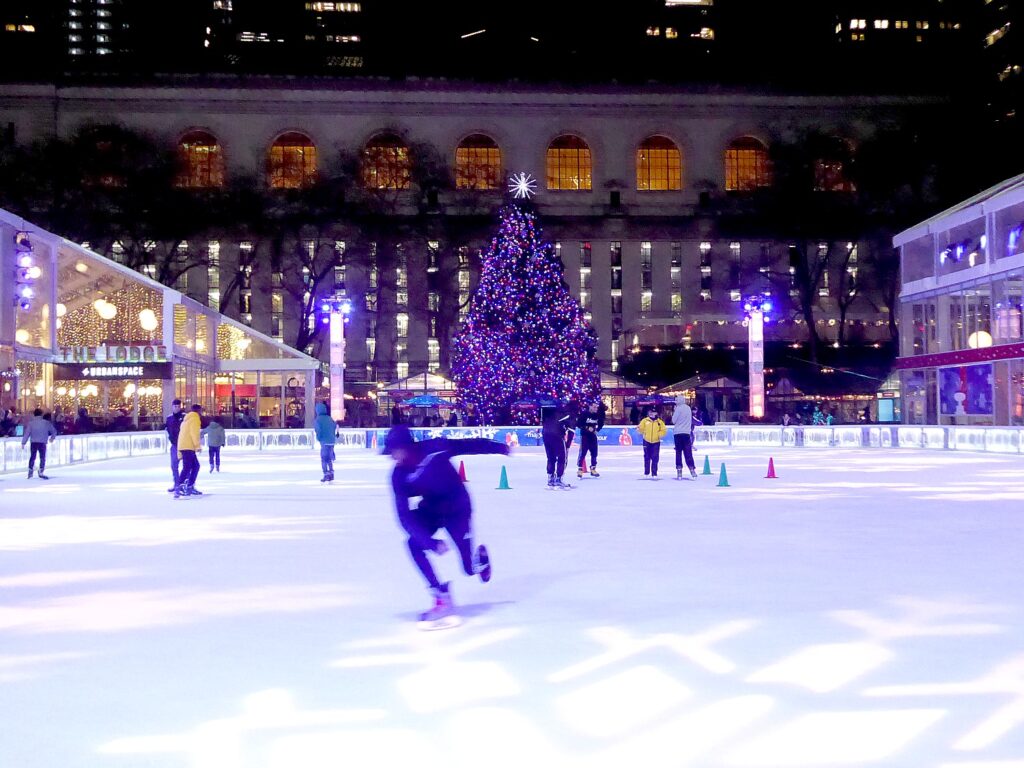 How's this for a novel way to engage in the holidays: Bike New York is organizing a series of "Holiday Lights & Sights" rides in the boroughs, starting with Brooklyn (Dec. 12), Manhattan (Dec. 13,); Bronx (Dec. 18). You need to preregister ($10; free for members). https://www.bike.nyc/events/local-rides/.
Holiday Markets, Retail Displays and Shopping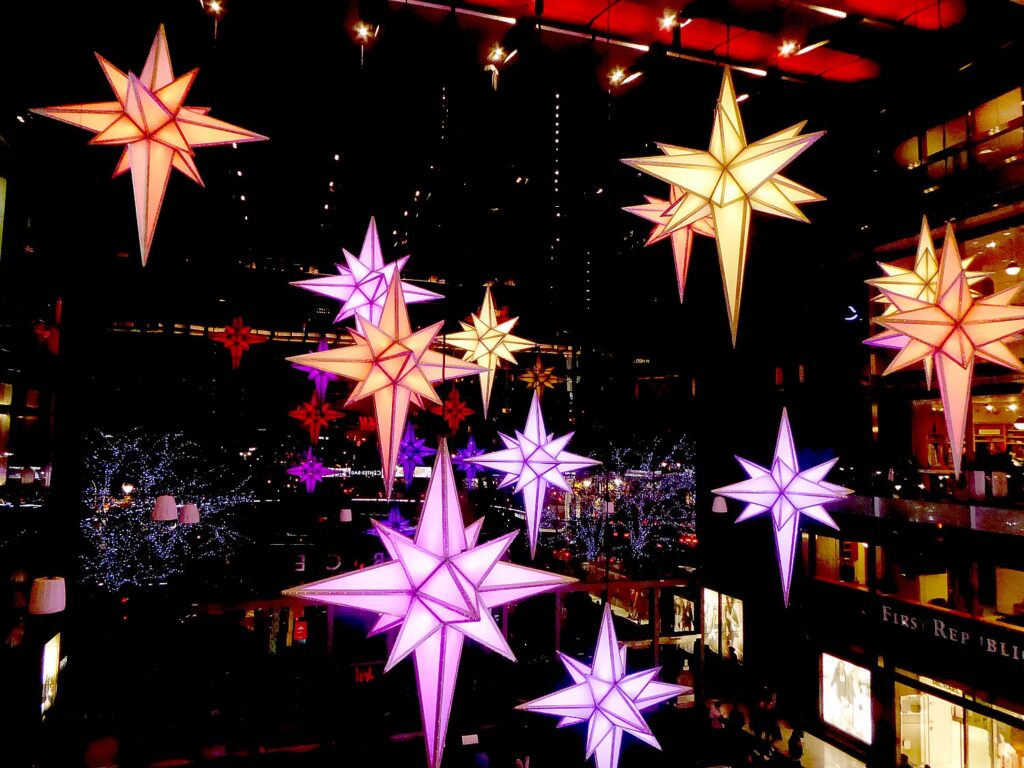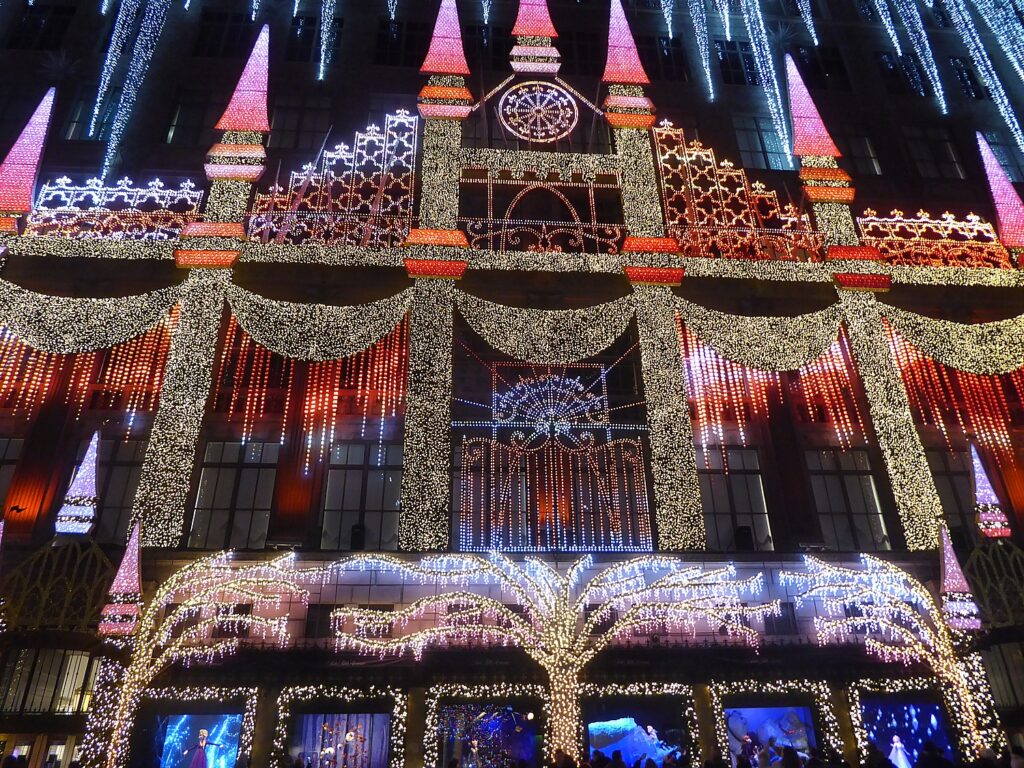 Outdoor Igloo and Winter Rooftop Experiences
Hotel Offers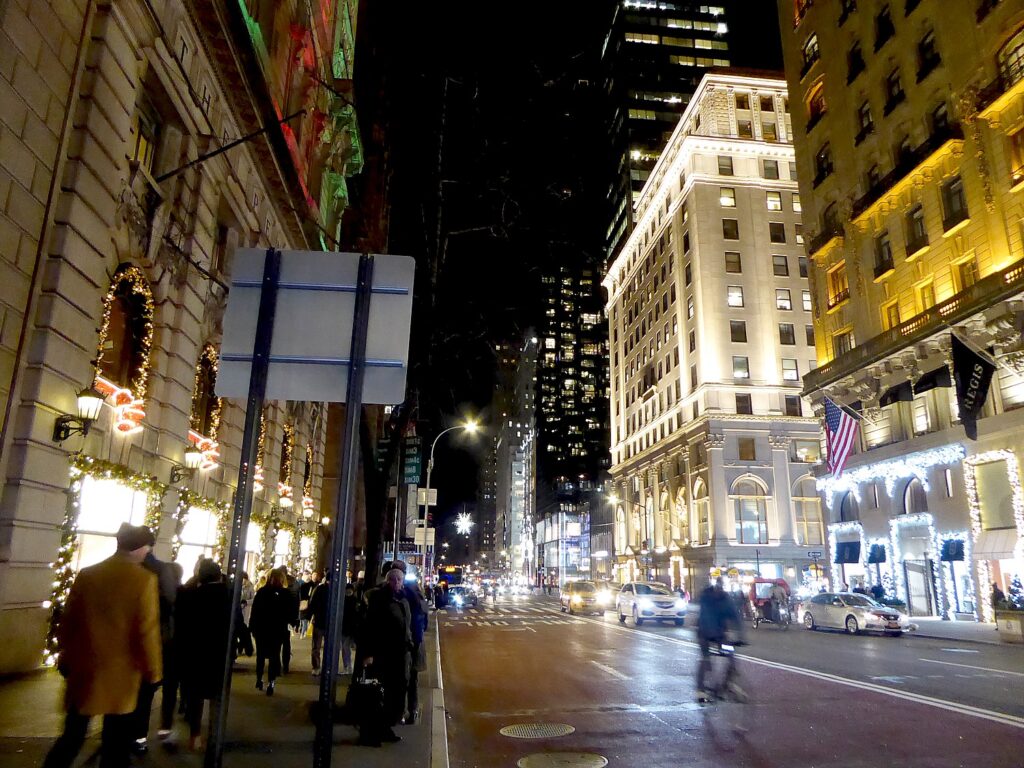 Sightseeing Tours
Give the Gift of New York City
NYC & Company is the official destination marketing organization and convention and visitors bureau for the City of New York. For all there is to do and see in New York City, visit nycgo.com.