by Karen Rubin & Martin D. Rubin
Travel Features Syndicate, goingplacesfarandnear.com
We belong to the backpack generation that bought a Eurail pass and traveled around the continent with "Europe on $5 A Day" as our Bible. No once-in-a-lifetime, "If it's Tuesday it must be Belgium" grand tour for us, travel has been integral part of our lifestyle, forming a worldview that bursts the borders of our own provincial anchors.
But we are reaching a point where one or both have limitations. Travel can be physically challenging. Still, we crave the excitement of discovery, the adventure of new experiences, serendipitous encounters, that mental and physical exhilaration of travel.
A perfect prescription is small-ship cruising. There are now several cruise companies operating a score of small-ships that ply rivers, canals, seaways and some designed to tackle the pounding waves of oceans have arisen, and carry us directly into ports, minimizing the hassle of travel and maximizing the enjoyment. And an ideal destination to explore is America itself – the port cities, towns and islands that harbor fascinating history, natural wonders and cultural charms. What is more, the cruises are easy to access, avoid many of the hassles of foreign travel and long airplane flights, and allay any concern about getting timely medical attention if necessary.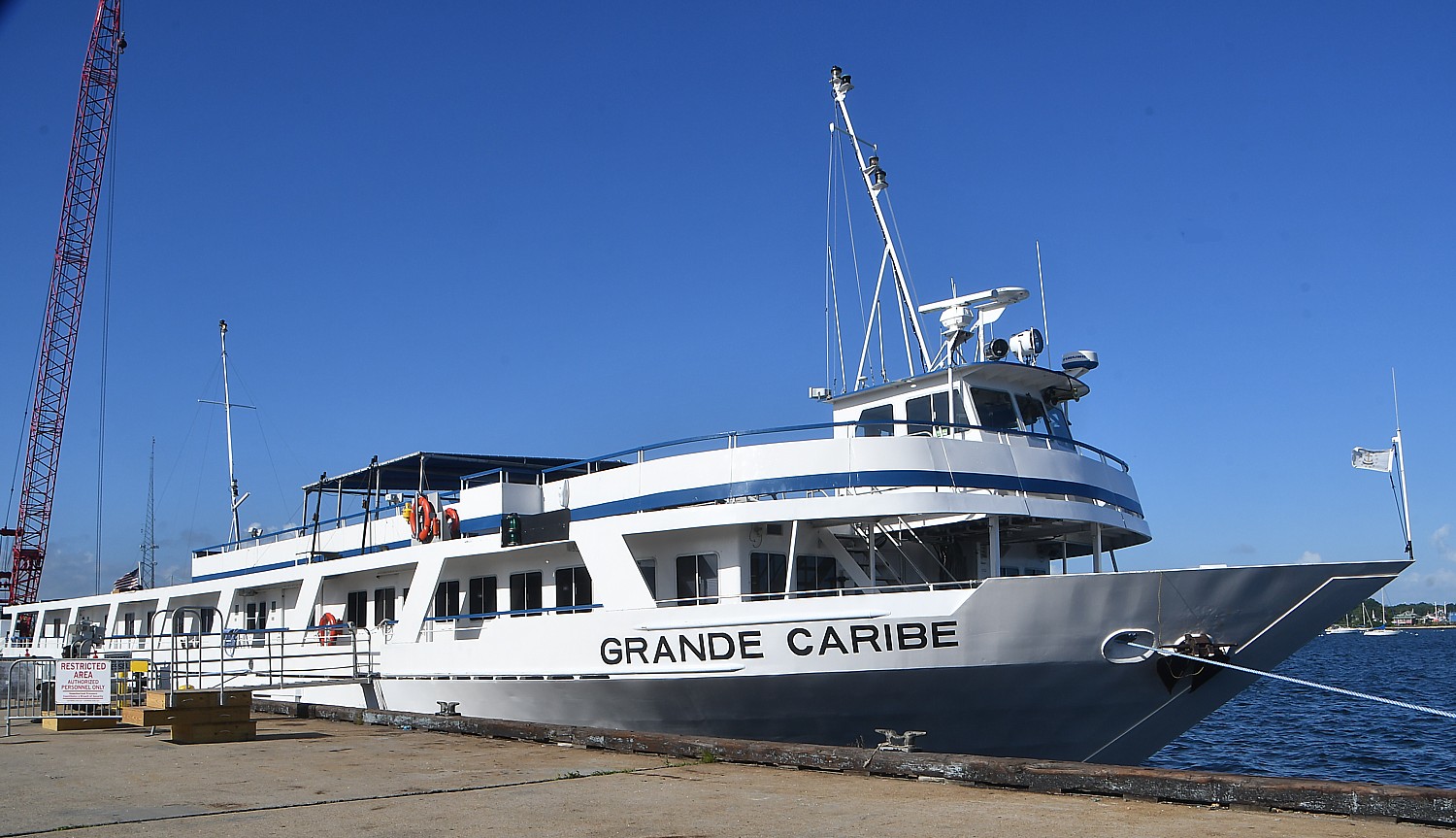 We are just back from Blount Small Ship Adventures' week-long cruise of New England islands – a trip that could only be accomplished with a ship that enabled visits to places you might normally visit individually but woven together in one fantastic itinerary: Newport, New Bedford, Martha's Vineyard, Nantucket – destinations that offer wonder and interest and importance to the discovery, exploration and development of America as the towns you visit along the Danube.
The voyage proves ideal for accommodating people who have physical limitations (not recommended for wheelchair-bound, though), ideal for a three-generation reunion of 13 family members coming together from Dallas and Nashville to share this Yankee adventure; ideal for a couple where one is blind; ideal for a daughter traveling with her mother who walks with a cane; ideal for me and my brother who also has somewhat limited mobility. Indeed, the passengers  come from as far as California, and as close as Boston; one couple had taken Blount's cruise to Guatemala and Belize, another is on their third New England Islands cruise with Blount.
The Grande Caribe is very accommodating for people with somewhat limited mobility (there are even stair lifts for those who cannot do stairs) – and an itinerary that gives maximum amount of time to enjoy each port with minimal hassle, while allowing for passengers to be as active or as sedentary as they liked. It is unpretentious and comfortable, having everything you would need.
Each of the New England destinations in this itinerary is a jewel, but can only be visited in this compressed amount of time by cruiseship – cutting out the point-to-point driving (traffic!), ferries, parking, packing/repacking, checking in/out. Rather, every minute of this trip is part of our voyage, our vacation experience. Significantly, all the sights we visit – the grand mansions, museums, historical sites – are accommodating for people who have difficulty climbing steps. (I'm seeing many more people using hiking sticks in place of canes or walkers to get around.)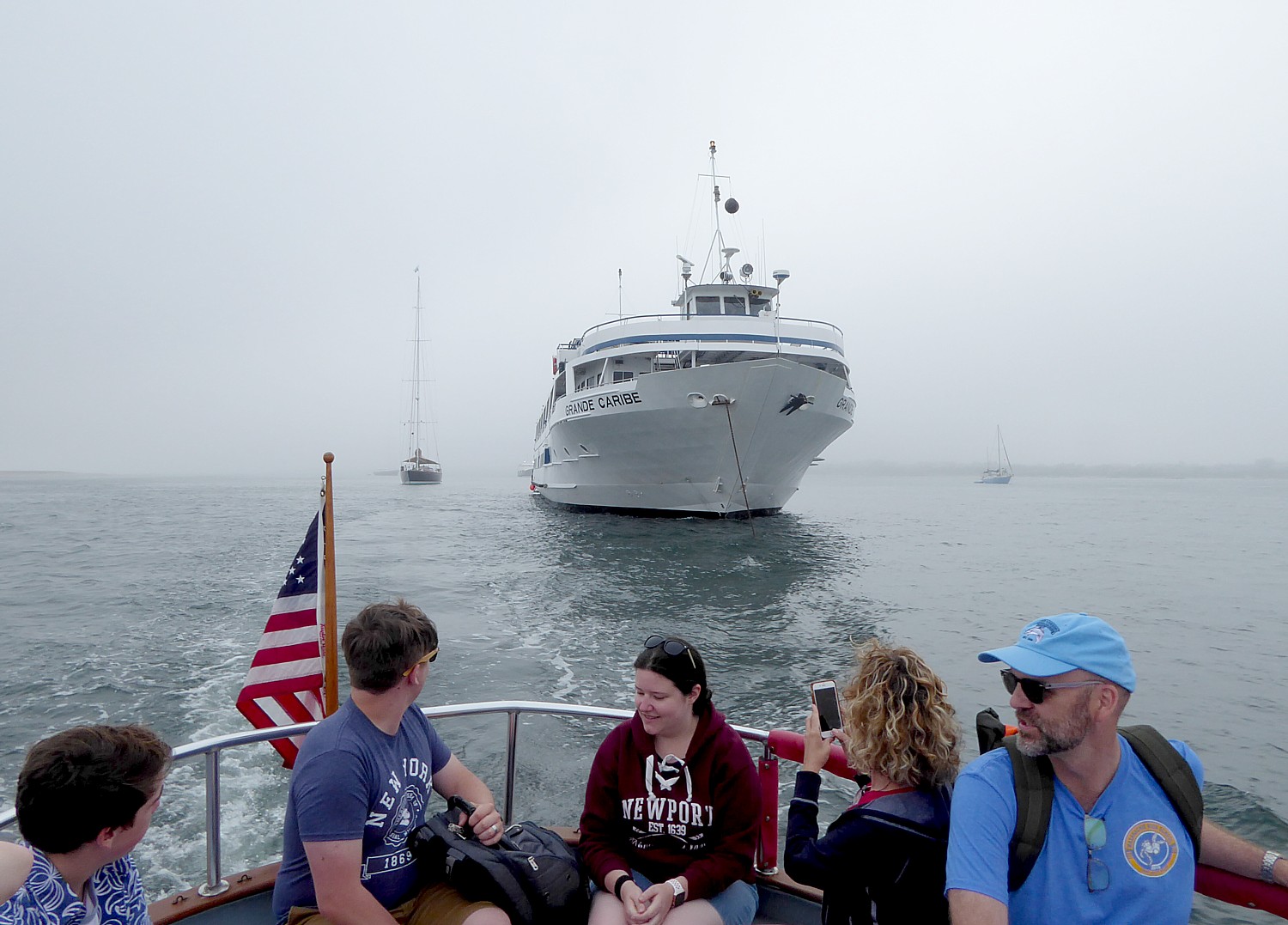 We sail in before breakfast, and in each port but Nantucket (where we use a launch service), we are at a dock so we can come and go as we please all day long. We depart in the night, so we have a full day to explore.
The cruise line offers various shore excursions (island tours and such offered at very reasonable cost), and on some itineraries, has bikes or kayaks to rent.
Our strategy is to take an island tour, then visit a couple of attractions. When one of us has enough and wants to relax, it is easy to return to the ship while the other continues to explore.
Because of bad storms at sea, Captain Patrick Moynihan makes a command decision to change around the itinerary, which otherwise would have gone first to Nantucket, which is 30 miles out to sea where there are 10-foot swells. He warns that it is possible we won't be able to visit Nantucket at all. But we hold out hope.
No one second-guesses his decision when safety of the ship is concerned and sits in rapt attention during the safety video before we depart that shows us what would happen in an emergency. (Also, each day the ship is "sanitized" and there are hand-sanitizing stations as well.)
In the end, we spend an extra full day in Martha's Vineyard (sensational) and make it to Nantucket on our last full day, but bypass Block Island.
Blount's specially designed small ships make this itinerary possible; these ships are nimble, even have a patented bow ramp (this is used in places like Belize and Guatemala) and a retractable pilot house (so they can go under bridges on the Erie Canal), both inventions of Luther Blount, who founded the company and was one of the innovators of "small ship cruising" more than 50 years ago, and can come close to shore.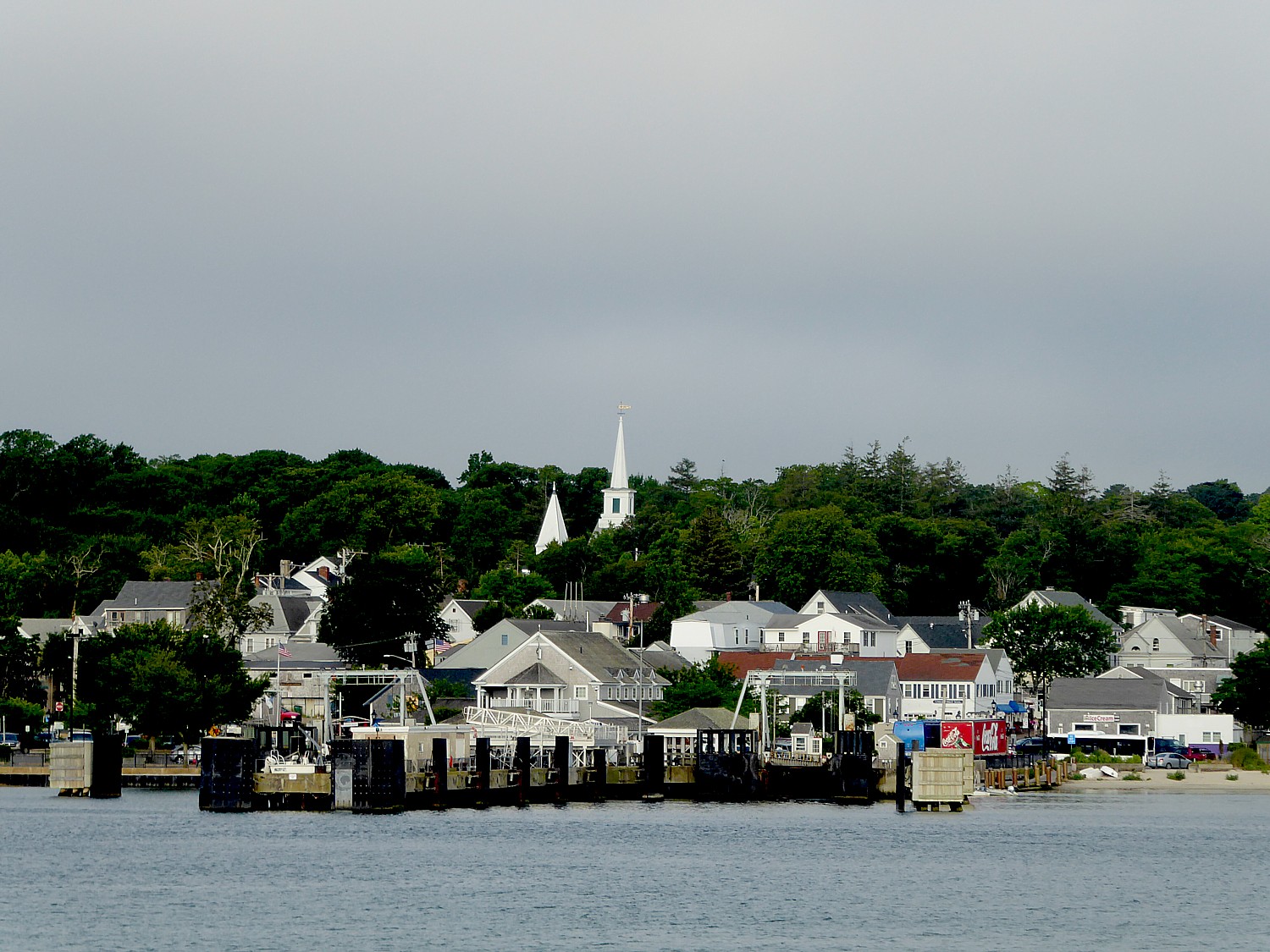 Jumping from island to island, port to port, we experience these places as they were intended – the sea is what made these destinations and made them powerhouses in the national and global economy. Tiny Nantucket, with a population in the thousands, was known the world over (I love the wall showing distance markers to points around the world); New Bedford sent out hundreds of whaling ships, half of all that sailed the globe, and had 10,000 men at sea at any one time.
We embark in Warren, Rhode Island, which is home base for Blount and where they have been building ships and ferries since 1947. With the change in itinerary because of the weather, our voyage starts in Bristol, then Newport, New Bedford, Martha's Vineyard (2 days), Nantucket, before sailing back to Warren RI. I have visited all these places in the past, but on this trip, I see them from such a different perspective, it is as if seeing them for the first time.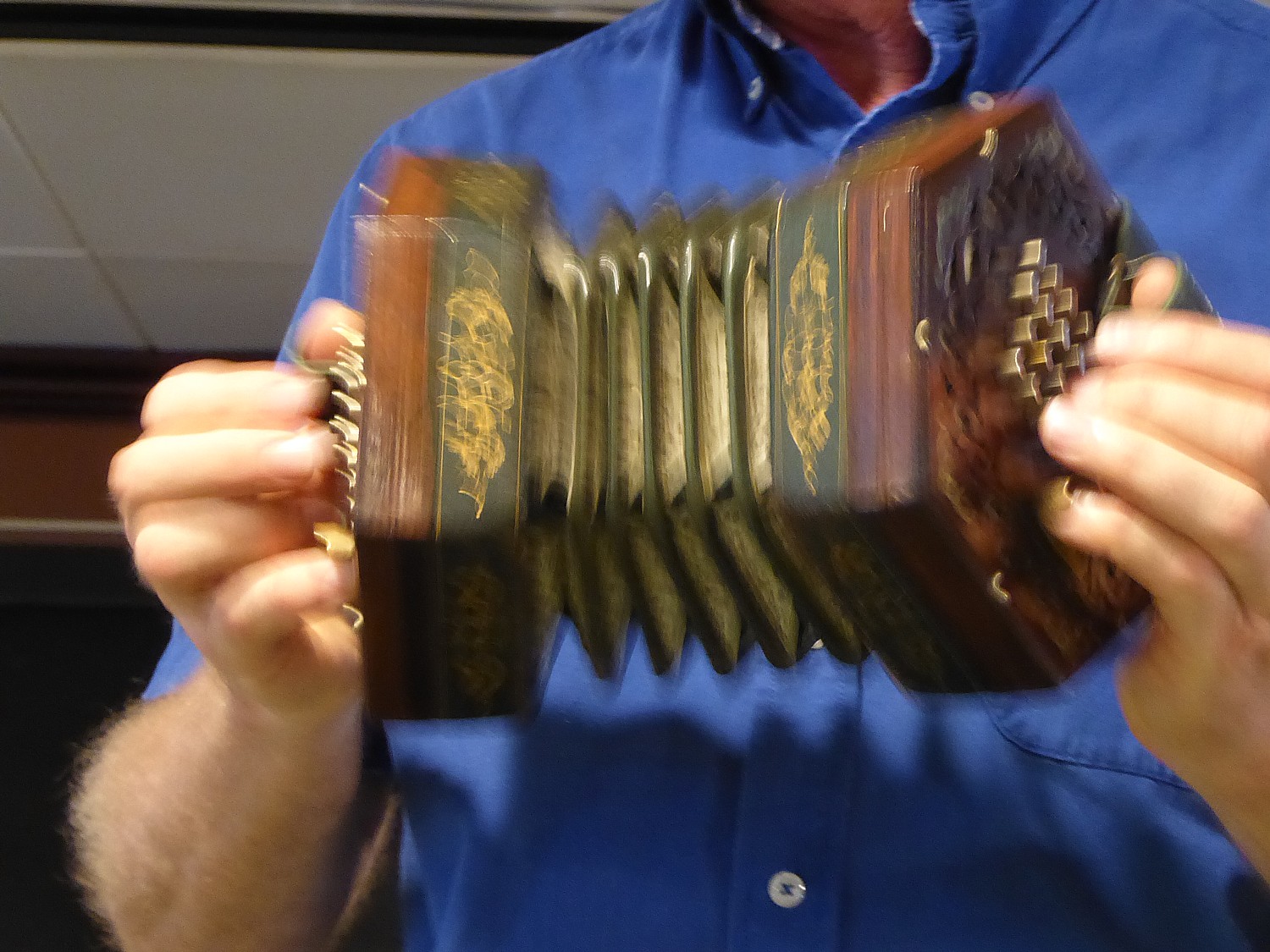 The days pass so pleasantly: there is an early bird breakfast put out at 6:30 am (coffee and freshly baked goods), breakfast at 8 am. Touring and exploring. Lunch at 12:30 pm (if you want to return to the ship). 5:30 cocktails (it's BYOB except for welcome and farewell cocktail parties with an open bar and delicious hors d'oeurves); 6:30 dinner; then an evening activity at 8:30 pm– a movie, live performance (we had a trio on one night and a Martha's Vineyard native, folksinger Mark Alan Lovewell, doing sea chanties before we came to Nantucket), and one night when we played a rollicking game of "LCR" (everyone puts up three $1 bills, rolls dice, and at the end, whoever still has a bill, wins the pot).
To be candid, many of the large cruise ships have such busy schedules that it always seems you are rushing here to there; but on this ship, it feels much more relaxed, not hurried, but with enough to do (or as little as you wanted) that it is never boring. There are always interesting conversations going on, I hardly have any time to read my book. (There is a ship's library and board games available.). Some itineraries also have guest lecturers and some offer photography workshops.
The food on board is excellent and the menus, which reflect the region and use locally sourced comestibles, feature New England classics: a lobster bake with clams & mussels was a definite highlight; New England clam chowder; lobster bisque). The baked goods including fresh breads and scones, are outstanding.  Three meals are provided daily. There are beverages and snacks available all day. Dietary restrictions are accommodated.
We are encouraged to Bring Your Own Beverages aboard which we can put in a cooler or at a bar, and each evening there is a 5:30 cocktail hour when all the fixings are provided (house wine and beer are provided at no charge at lunch and dinner), but there is also a welcome aboard and farewell cocktail party with an open bar and delectable hors d'oeurves.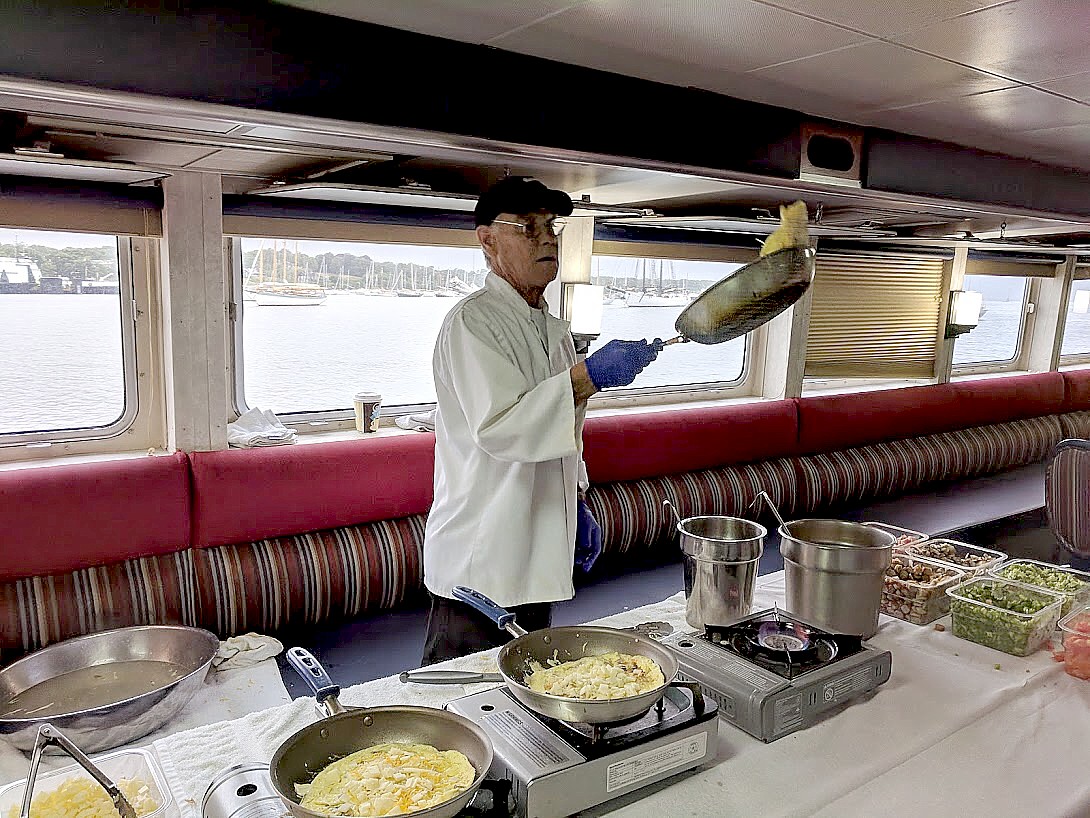 The ship is modest, unpretentious, but is very comfortable, very clean and well maintained (it was refurbished in 2009), and has everything you need. There is a pleasant lounge ringed with windows; an expansive dining room (also with windows along the walls on both sides) an open sitting area (with fitness machines) on the back deck, and an open air top deck with lounge chairs and a canvas cover for rain and sun.
The ship offers four categories of smoke-free cabins, all with individual climate-controlled air-conditioning systems, private bathroom and adequate storage. Our cabin (56B) on the upper deck literally down the hallway from the lounge, had a large picture window which we could open for fresh air; air conditioning which we could set; a toilet and sink in a cabinet and a separate shower, two outlets for plugging in.
The Captain lets us know when to expect rocking and rolling and for how long, and to suggest for those so inclined to take advantage of ship's supply of Bonine or Dramamine. But even though I have been prone to motion sickness, the worst of rocking (one night it was five or six foot seas for about a hour) feels to me like being aggressively rocked in a cradle.
We can follow the ship's progress on a navigational map on a big screen TV, like watching your plane's route.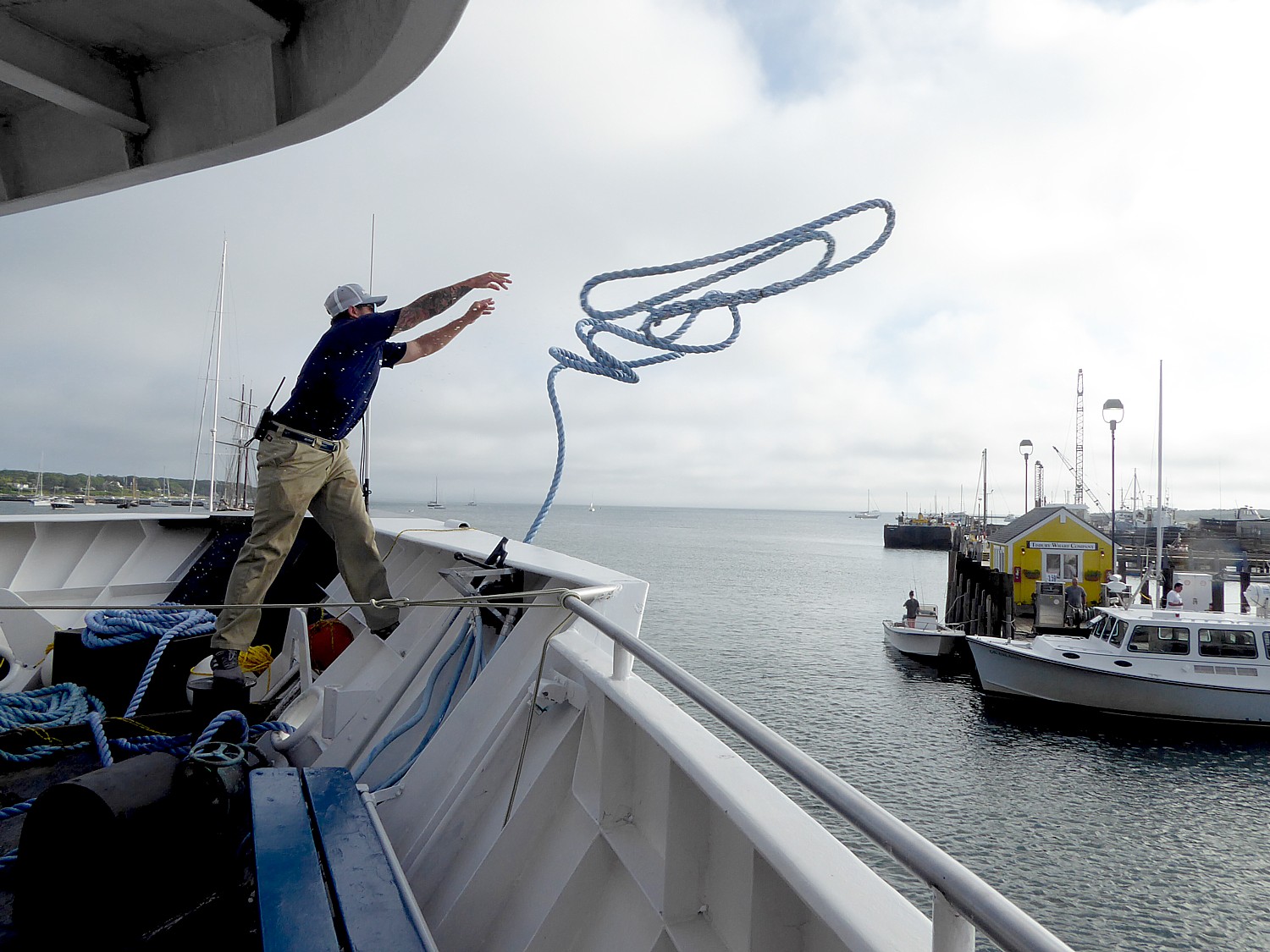 The ship, with a capacity for 84 passengers, has Interesting people from all over the country – as far as California and Texas, Midwest (Illinois, Tennessee) and North Carolina, as well as New Jersey, Long Island, Boston. But this style of small-ship cruising, and this itinerary in particular is ideal for travelers from abroad to really see America in a compressed timeframe.
The intimacy means you not only get immersed in the destination (versus the floating resort-style cruiseships where the ports are almost an afterthought), but with fellow passengers.
Each evening we are told about the next day's itinerary – when we sail, where we dock, how to get into town, when and where to go for the shore excursions. There are guides, maps, and various tourist literature laid out. The day's schedule is posted. Much of this is repeated at breakfast, and Jasmine, the spry cruise director, is very accessible to ask additional questions.There are shore excursions offered at each port – island tours that are conveniently arranged for a pick up at the boat, lasting about 1 ½ hours, at reasonable cost.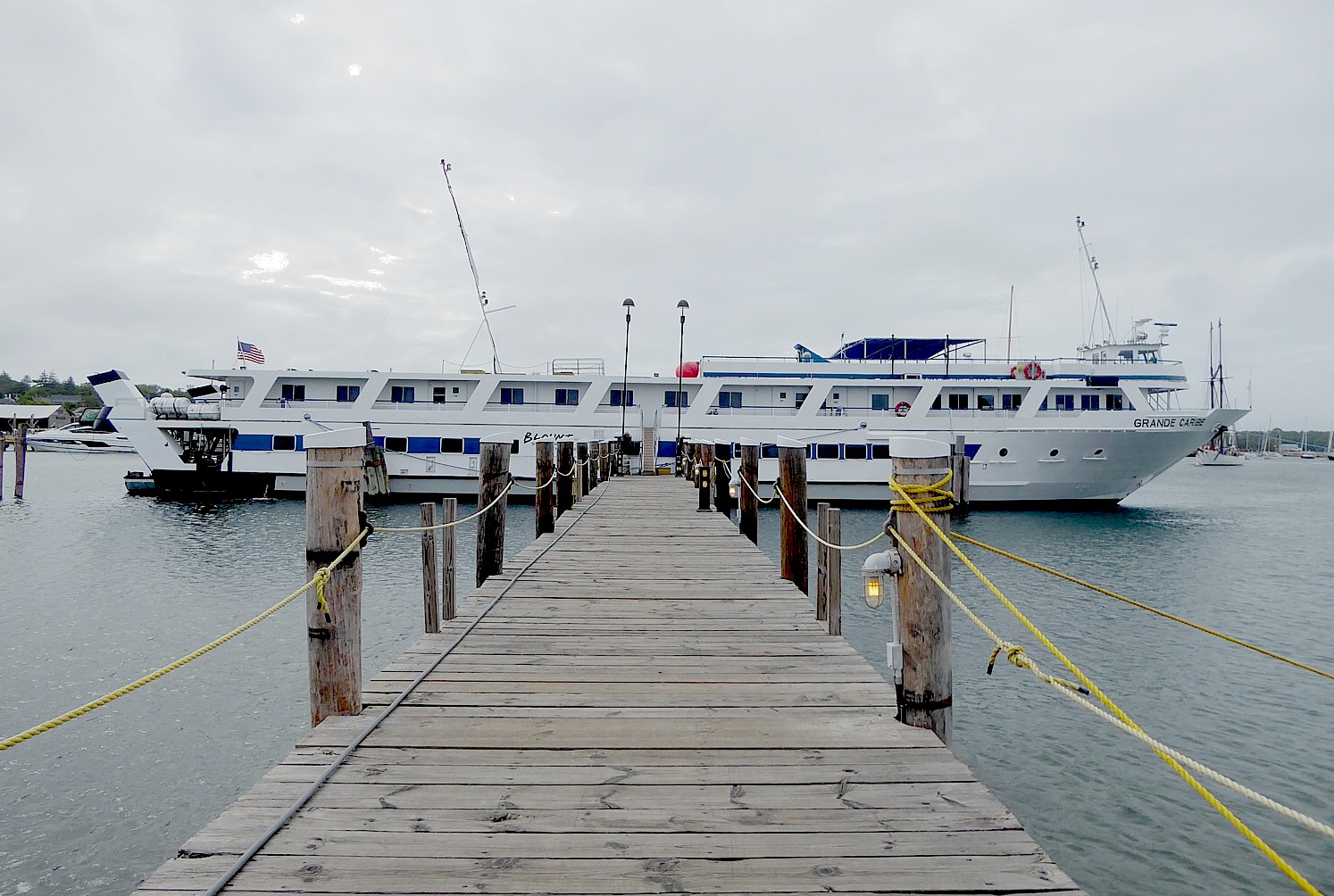 It is remarkable to me how they not only had to switch around the itinerary, but organize dockage or mooring, shuttles, switch around the shore excursions, and do it so that it all seems seamless to us.
Our original itinerary from Warren, Rhode Island, the home base of Blount Cruises, to Cuttyhunk, MA, to New Bedford, to Nantucket, to Martha's Vineyard, to Block Island, to Bristol, RI, to Newport and back to Warren – is completely revamped because of the 10 foot seas we would have to sail through to reach Nantucket.
Instead, we sail from Warren RI to Bristol to Newport, New Bedford, Martha's Vineyard (where we stay two full days instead of one), to Nantucket and back to Warren RI.
Sailing into Bristol
On Sunday, after departing Warren, after a short sail we pull into Bristol, Rhode Island (coming this way, I didn't recognize this town which is at the end of the East Bay Bike Path from Providence that I have biked several times in the past). Just across from where we dock, there is a fascinating boat museum, the Herreshoff Marine Museum and America's Cup Hall of Fame. It is a shrine to yacht racing and where eight consecutive America's Cup defenders were built.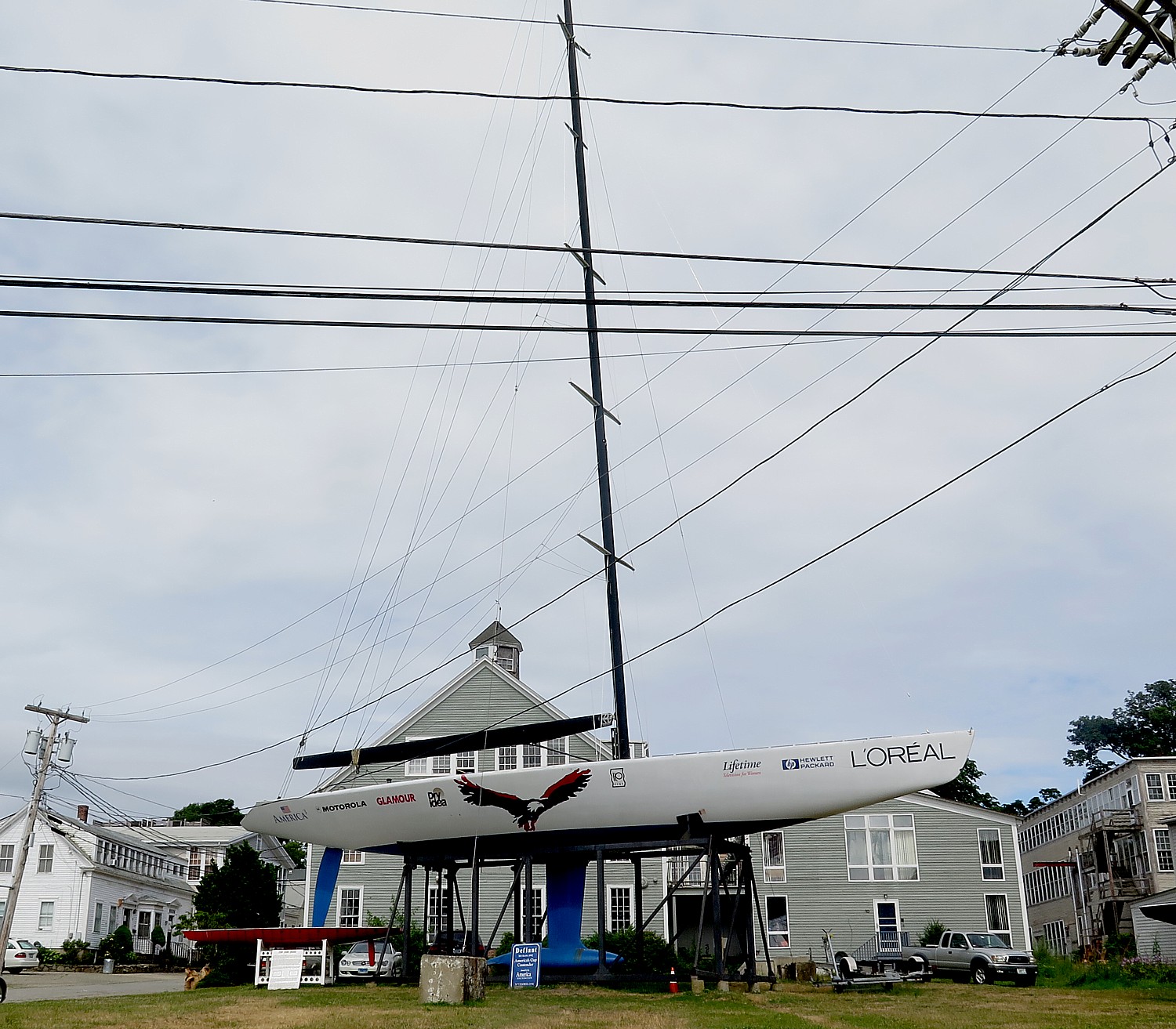 The museum houses dozens of sailing yachts, some that you can climb aboard. A local on the dock walking his dogs tells me that this boatyard is where many of the America's Cup sailboats were designed and built in the 1930s by John Brown Herreshoff, who was blind, but would create these models based on feel.
According to the museum,  "In 1878, John Brown Herreshoff, a blind boatbuilder from Bristol, Rhode Island, who had been in business since 1863, went into partnership with his younger brother, Nathanael Greene Herreshoff, a naval architect and steam engineer.
"Between 1893 and 1914, for the defense of the America's Cup, Captain Nat designed and built seven of the largest, most complex and powerful racing sloops the world has ever known. Of these, five were selected to sail as defenders, and all five were victorious. The firm also launched many hundreds of custom designs, both large and small, and a number of one-design classes (among them Herreshoff J12'1/2- and 15-Footers, S boats, and New York 30's, 40's, and 50's) that have never been bettered for all-around sailing excitement and pleasure." (http://www.herreshoff.org)
He also encourages me to visit Linden Place Museum, an 1810 Federal-style mansion with a stunning spiral staircase and  Hollywood connections: stage and screen star Ethel Barrymore summered here (her movie memorabilia is on display), plus scenes from the 1974 version of "The Great Gatsby" were shot here, with the exterior used as Daisy Buchanan's parents home. (Alas, it is closed by the time I get there.)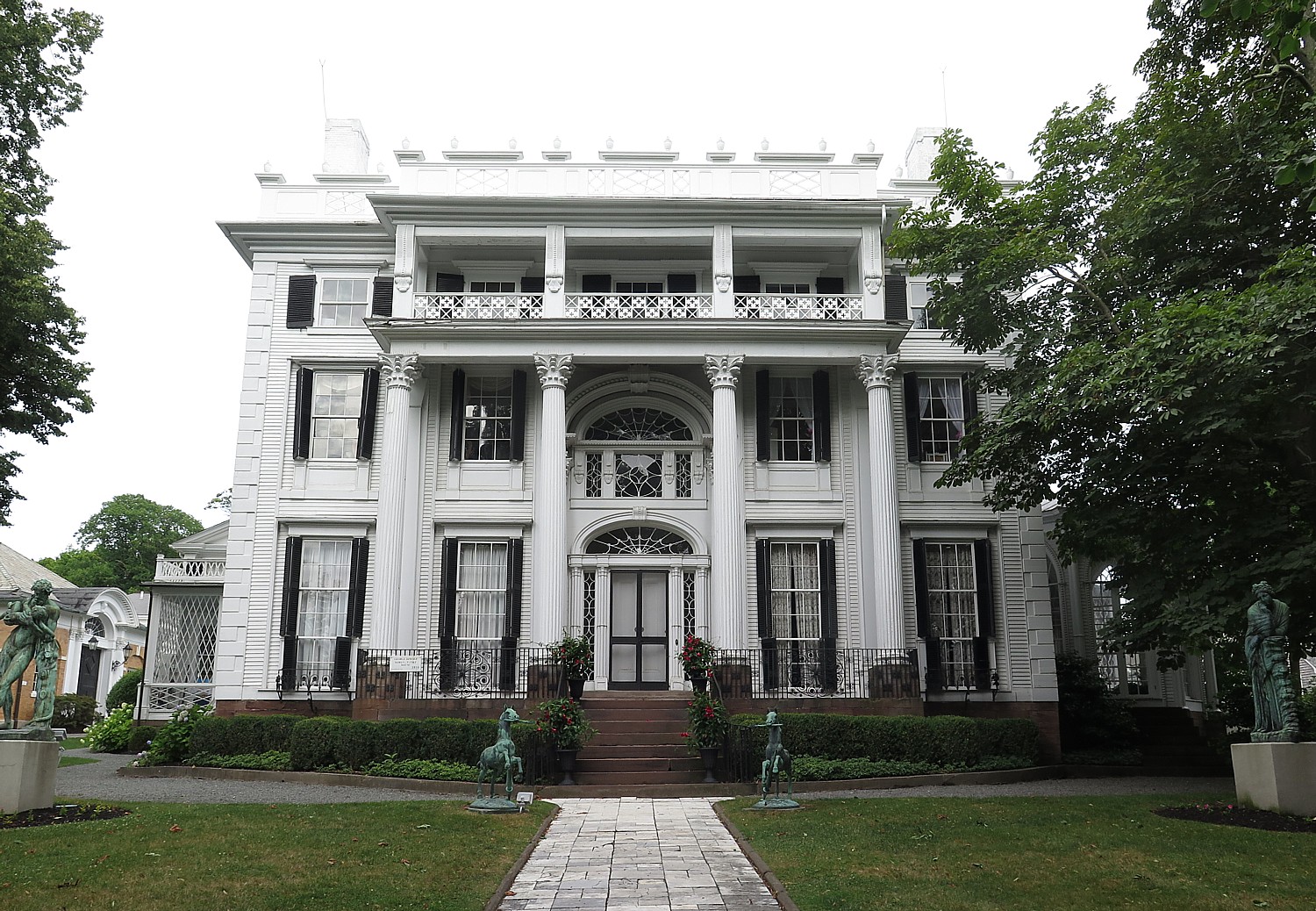 Linden Place Museum in Bristol was where Ethel Barrymore summered and which was one of the locations for the 1974 "Great Gatsby" film © Karen Rubin/ goingplacesfarandnear.comI walk into the town with the most marvelous homes dating back to the early 1700s.
There is also Blithewold Mansion, Gardens and Arboretum, located just outside of downtown, but I don't make it that far when it starts to rain.
I note the red-white-blue stripe down the center line of the main street: Bristol boasts the oldest Fourth of July celebration in the United States, held continuously since 1785, and it displays its patriotism year-round with the painted traffic lines, as well as flags and such on many of the houses.
Luther's Legacy 
The Blounts were in the oyster business for generations until the 1938 hurricane destroyed Rhode Island's oyster beds. Luther Blount was in college at the time studying engineering, and realized he had to set a different course for his future. He moved back to Rhode Island, and promptly invented a way to steam clams that was so efficient, his brother Nelson's company became the supplier for Campbell's Soup's Clam Chowder.
By 1947, Luther had become the Vice President of E.B. Blount and Sons, and began building boats, beginning with an oyster boat.  By 1964, he had built over 100 vessels (including Circle Line boats that take tourists around the Statue of Liberty, and the ferries that one of our passengers from Long Island uses for his Fire Island ferry business). He even had a few patents to his name — patents that would one day become the signature of Blount Cruise ships.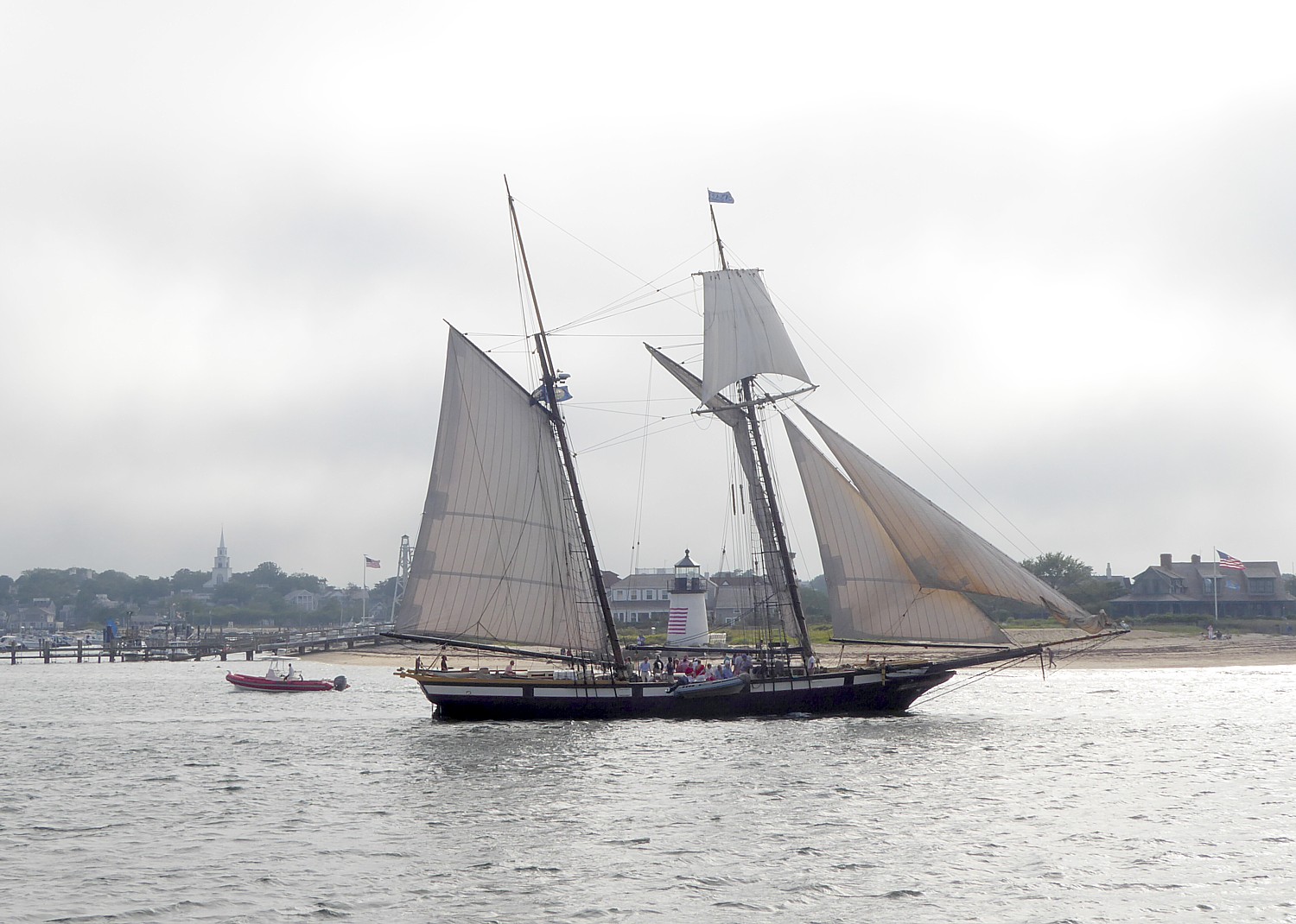 Over the course of 20 years, Blount would personally sail the globe to the ships he built. In 1966, Luther decided that he wanted to show his friends and family the places he had been exploring and began building passenger boats. Soon he was offering these trips for others, coining the expression "small ship cruising".
"He created itineraries for explorers, for those who wanted to tread lightly, going beyond the usual tourist meccas finding experiences you can only have when you get to know a place through its people."
Meanwhile, Luther, who passed away in 2006, worked to bring the oysters back to Rhode Island, starting with Narragansett Bay. He donated to a local university, charging them with cultivating new oyster beds.  He bought Prudence Island to be used as an oyster regeneration project funded by his foundation.
Today, Luther's daughter Nancy is at the helm as president of Blount Small Ship Adventures; daughters Marcia and Julie are president and vice president of Blount Boats.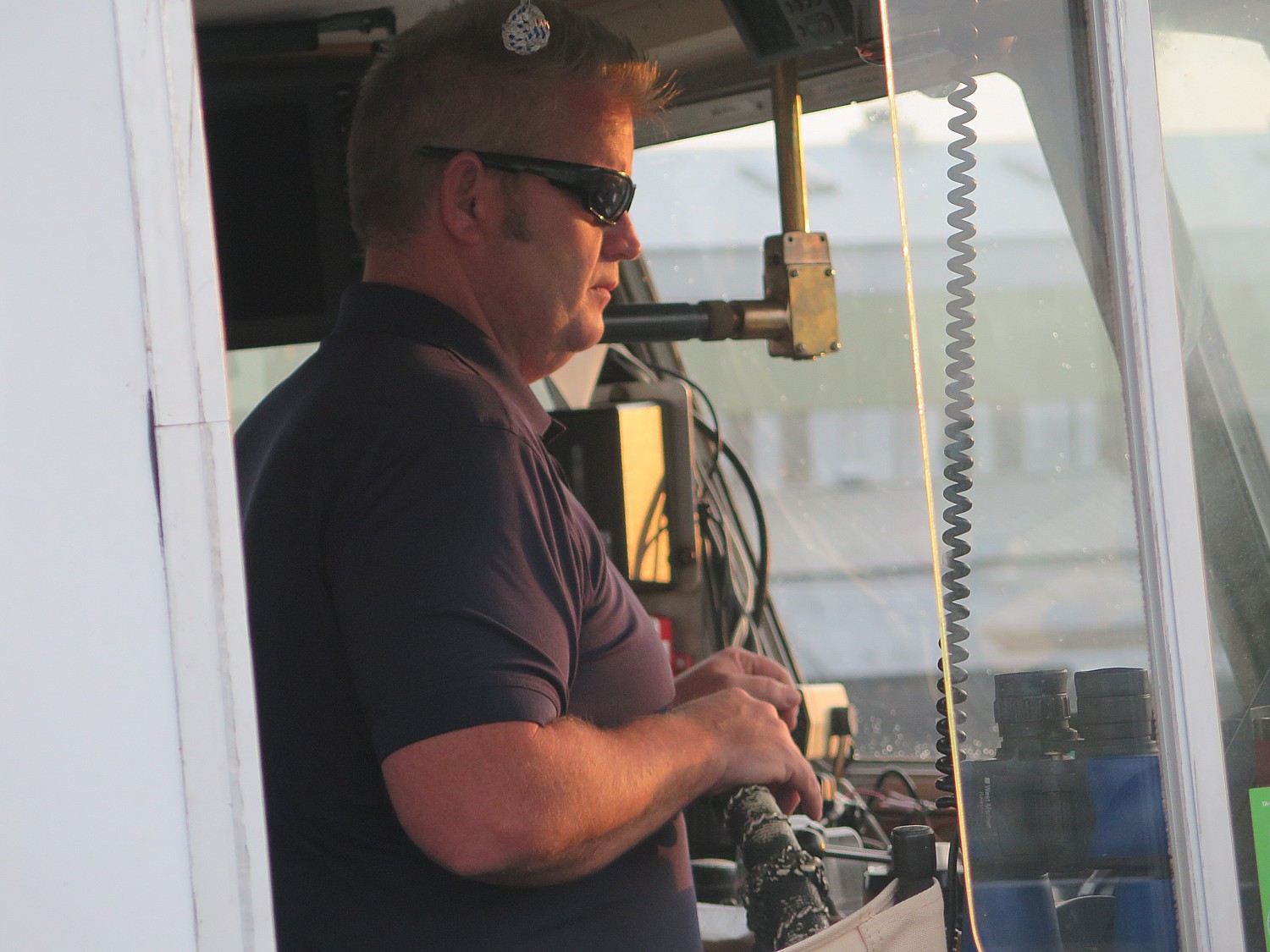 The design of the Grande Caribe and its sister ship, Grande Mariner, enables Blount to bring travelers to places that larger ships simply cannot go. They explore remote islands and traverse scenic waterways like the Erie Canal and St. Lawrence Seaway. They dock where private yachts dock (in fact, our ship is about the same size as the more extravagant yachts).
This style of  cruising appeals to people who are curious, casual, adventurous, who appreciate the ship as transportation for the purpose of exploring destinations, learning about cultures and heritage and communities. The atmosphere is very casual, laid-back, unpretentious, welcoming – as if you were sailing on a friend's yacht.
Interestingly, even though we visit places that are literally overrun by tourists this season, we dock away from the crowds, and simply slip into the everyday pattern – hopping a local bus, for example at Vineyard Haven to Oak Bluffs or a local beach. The three-generations family of 13 split off for different activities – cousins going one direction – pooling photos on an online album.
Blount Small Ship Adventures offers overnight small ship cruises in the United States, Canada, Central America, Caribbean and Cuba, with itineraries ranging from 7 to 16 days. (View complete schedule on www.blountsmallshipadventures.com).
Blount Small Ship Adventures, 461 Water Street, Warren, Rhode Island 02885, 800-556-7450 or 401-247-0955,  [email protected], www.blountsmallshipadventures.com.
Next: A Day in Newport
See also:
A Spectacle in Motion: Grand Panorama of a Whaling Voyage 'Round the World is Once-in-a-Lifetime Must-See at New Bedford Whaling Museum
_____________________________
© 2018 Travel Features Syndicate, a division of Workstyles, Inc. All rights reserved. Visit goingplacesfarandnear.com,  www.huffingtonpost.com/author/karen-rubin , and travelwritersmagazine.com/TravelFeaturesSyndicate/. Blogging at goingplacesnearandfar.wordpress.com and moralcompasstravel.info. Send comments or questions to [email protected]. Tweet @TravelFeatures. 'Like' us at facebook.com/NewsPhotoFeatures