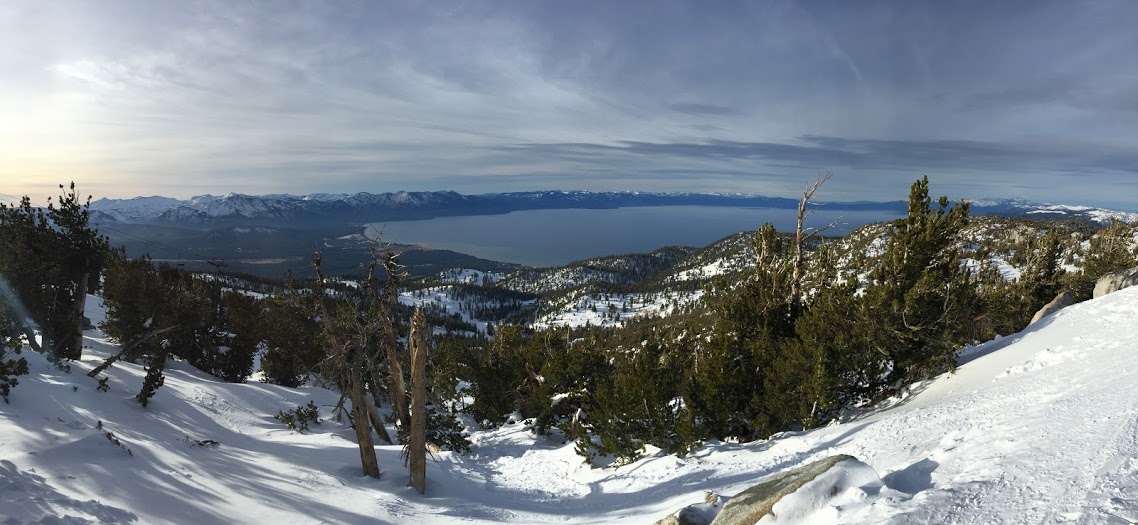 by Dave E. Leiberman & Laini Miranda, Travel Features Syndicate, goingplacesfarandnear.com
Set along the south shore of Lake Tahoe straddling the California/Nevada state lines, Heavenly Mountain Resort offers one of the most unique ski experiences anywhere, combining stunning views, epic runs, and purist California vibe with the casino hotels and nightlife of Nevada.
Heavenly, which is one of the Vail Resorts, hosts on-mountain aprés ski parties with DJs, dancers, and "Heavenly Angels", or you can enjoy the entertainment and gambling of the casino hotels at the base of the mountain. The unparalleled views from Heavenly Mountain to the pure blue glacial lake on the California side, and the sweeping desert on the Nevada side are what most entices us city folk to Heavenly.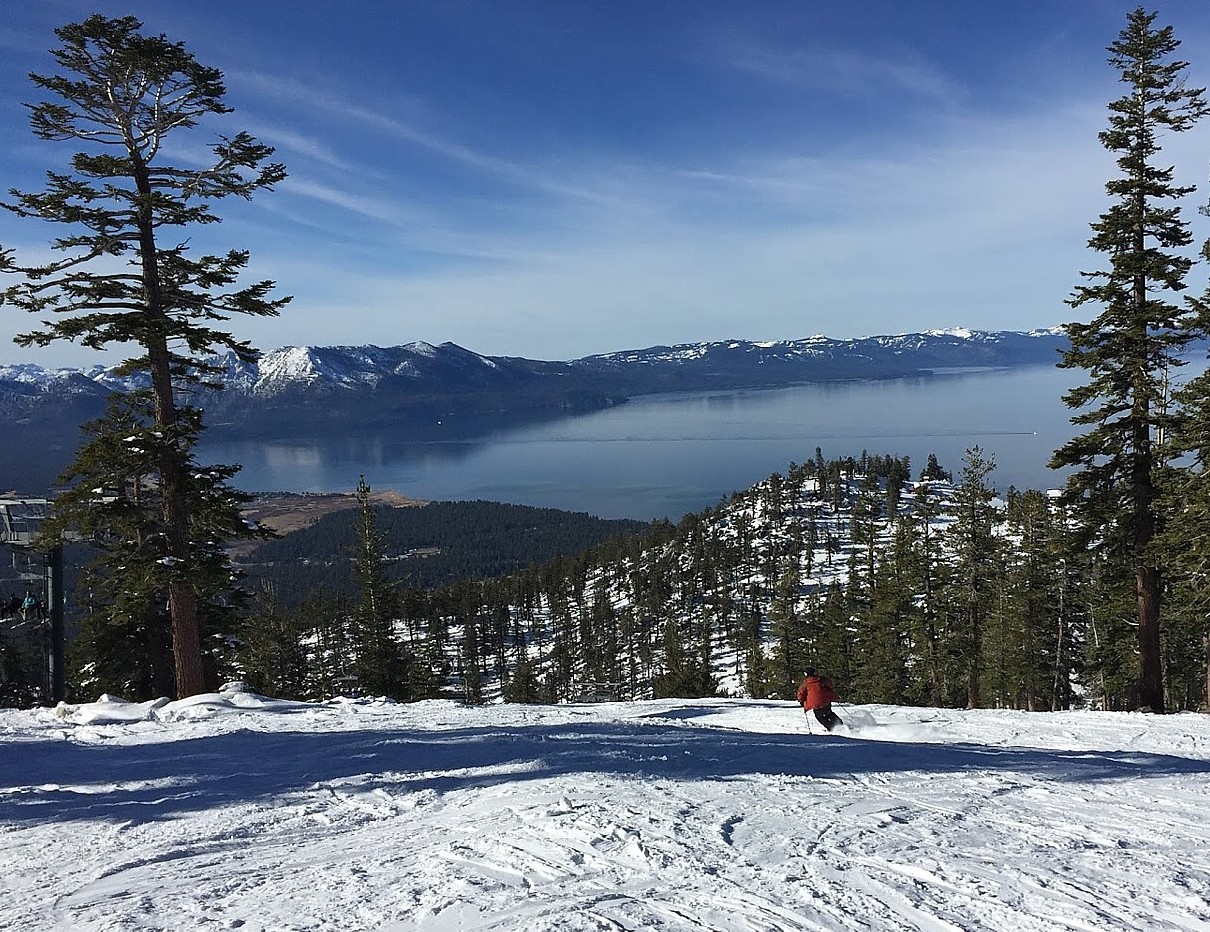 We come to Lake Tahoe in December, of course, for the epic skiing. Heavenly straddles the California-Nevada state line and is a mountain for everyone, from hard-core tree skiers to pure vista-lovers which even beginner skiers can enjoy. On a single run, you will marvel at sweeping views of snowy mountains and the majestic Lake Tahoe on the California side, juxtaposed with desert vistas on the Nevada side. Intra-run breaks with beer, brats and sun-tanning at Stein's at the foot of Powerbowl Express and BBQ at East Peak Lodge round out the experience.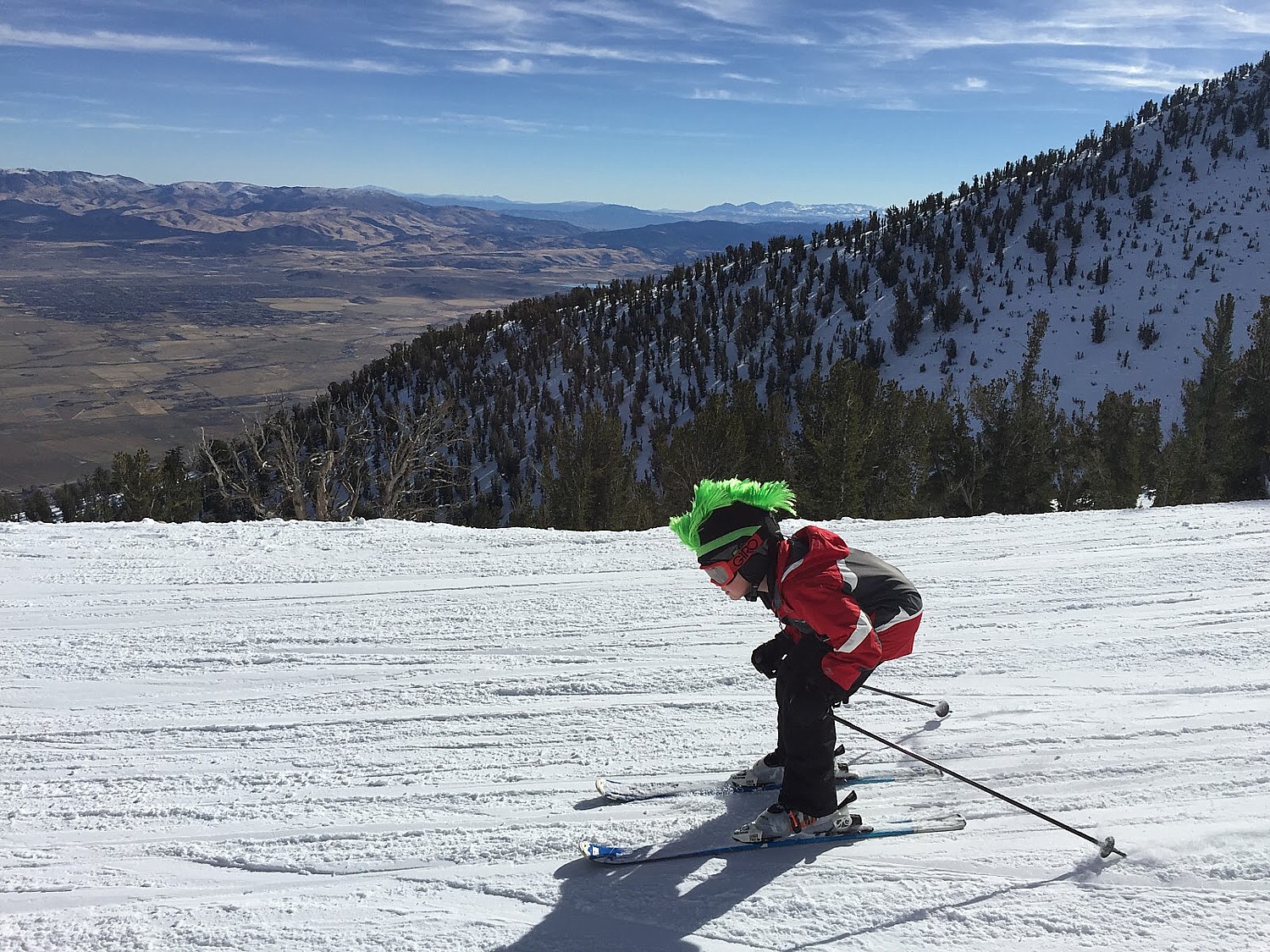 For us, the best way to start our day is to drive the seven or so minutes from Hard Rock Hotel, where we are staying, to the California Lodge parking area, stopping for a sumptuous, home-style breakfast at Driftwood Cafe in Heavenly Village. We suit up and secure our rental gear from the base lodge. Heavenly has rentals for the beginner, intermediate, and pro skier, and their staff is incredibly helpful. These days, with airline baggage fees and the hassle of transporting skis and snowboard equipment, renting at the ski destination is often a wonderful opportunity to test out the latest equipment.
Once we have our boots, skis, helmets, and poles, we head right outside to the base of the Gunbarrel and take the Gunbarrel Express lift to head up the mountain.
In mid-December a few of the slopes and ski-lifts are closed, but we are still able to explore most of the mountain, thanks to some incredible snow dumps early in the season. There is a great mix of blue and black runs at Heavenly, with the easier greens still exhilarating because of the incredible views. Ridge Run on the California side is spectacular for cruising and sightseeing; Skyline Trail, a relatively easy blue starting at 10,040 ft elevation, takes you over to Nevada and is one of our favorite runs for its desert views. We start off with spectacular views of the lake and the snow-capped mountains in the distance. We ski along the ridge of the mountain and suddenly end up with the sweeping panorama of the Nevada desert and big open sky in the distance. It is truly breathtaking to have this expansive view of such opposite terrains within seconds of each other.
Advanced skiers can dip into Milky Way Bowl where — even if you are en route to the experts-only Mott Canyon — it's hard to not pause to take in the other-worldly environment.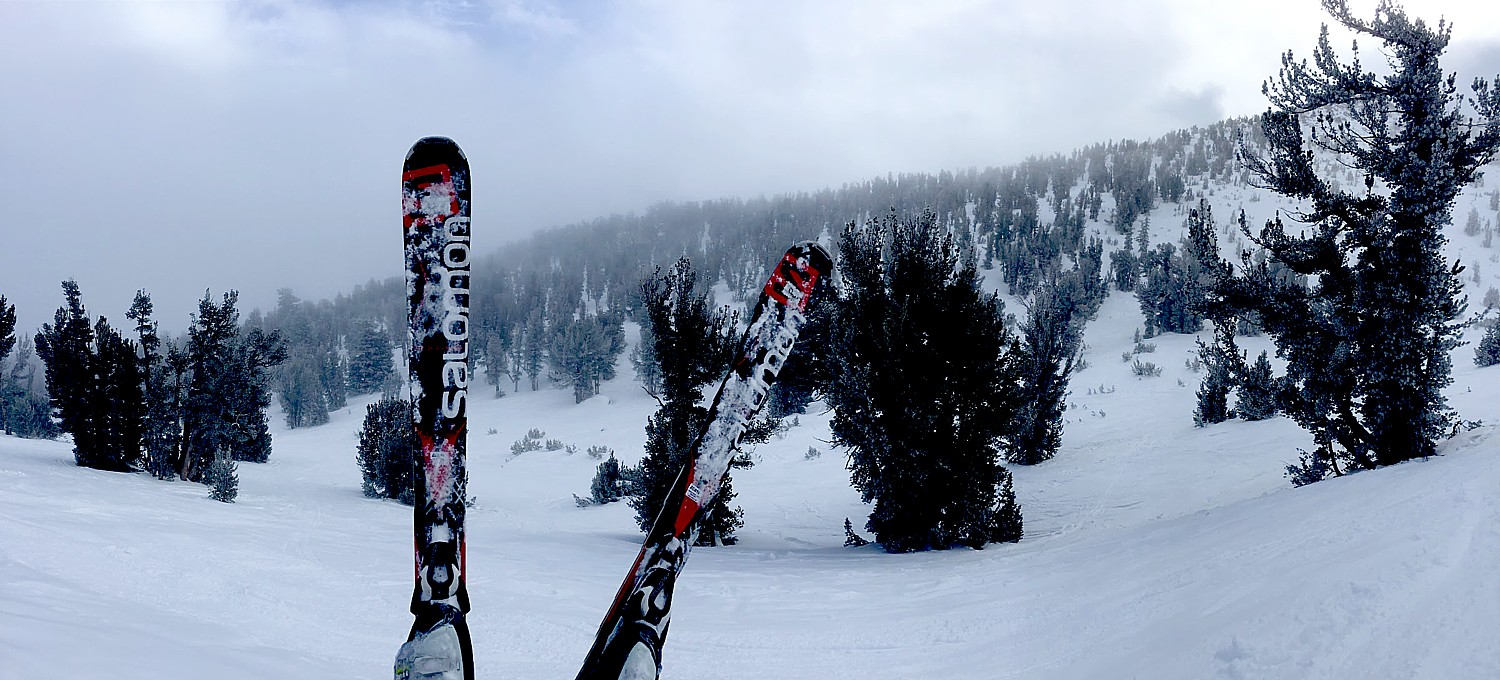 Stopping to take in the other-worldly environment on Milky Way (photo by Dave E. Leiberman/Travel Features Syndicate).
The action continues in Heavenly Village, where we find apres ski cocktails, live music, and incredible pizza. Basecamp Pizza offers inventive and delectable pies, fire pits, craft beer with great happy hour specials, corn hole, and an Americana band tonight. The vibe is great and the place is packed, even the high-tops by the bar. We luck out and snag one just as a family leaves, and we enjoy the multi-sensual experience. The "Base Camp" specialty pie couldn't more perfectly hit the spot, even for a couple of New York pizza snobs.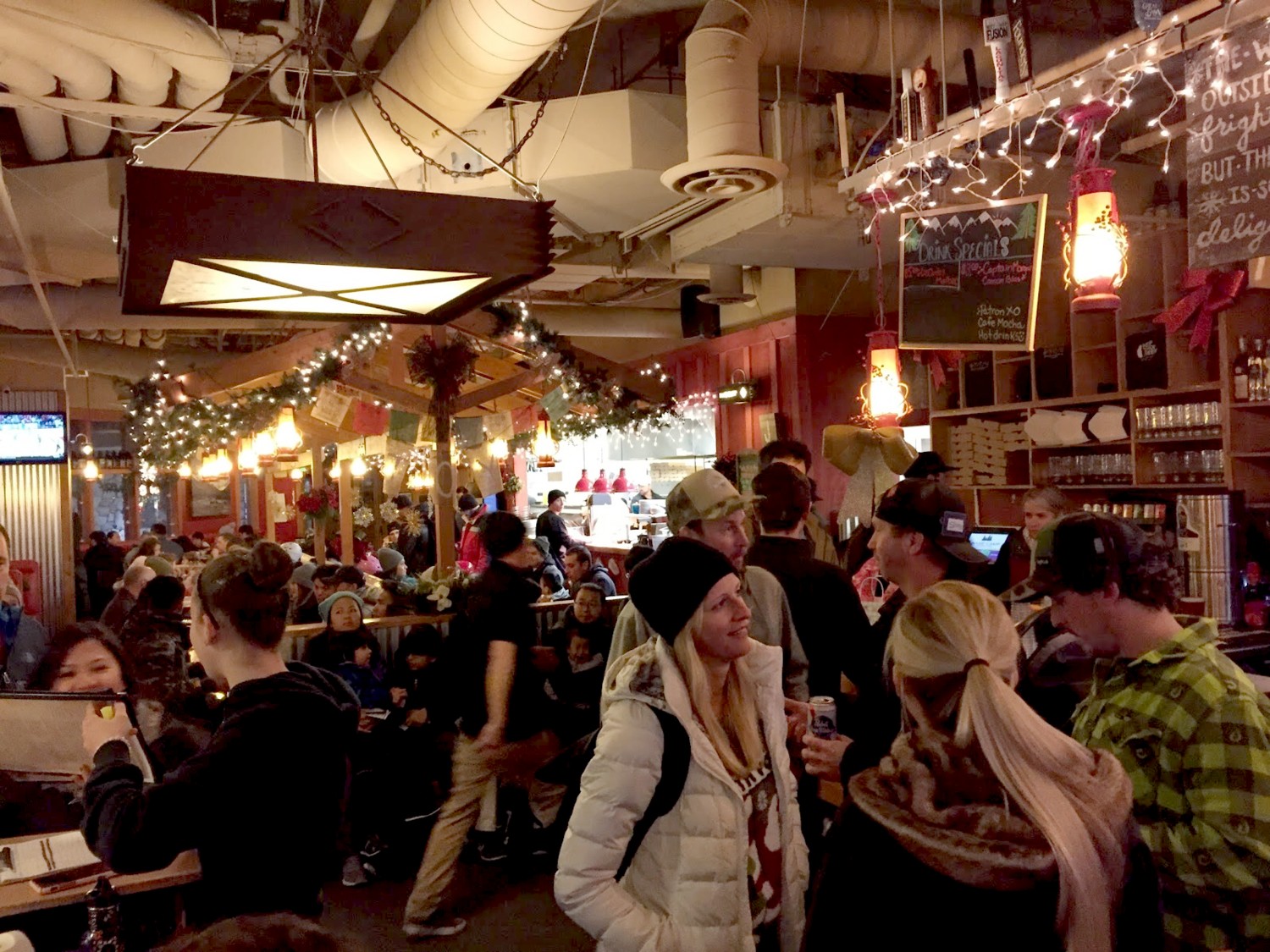 Nightlife Abounds at Hard Rock Hotel
We arrive at the Hard Rock Hotel on the Nevada side of south Lake Tahoe after a long and exhilarating day skiing at Heavenly Mountain Resort. On your way to our room, we are greeted by a wall-sized photo of a huge concert audience opposite the elevator, placing us in the role of performer as soon as the doors open.
That is nothing compared to the breathtaking view we have from our room on the 12th floor. From this height we have a 300 degree view of Lake Tahoe and the panorama of mountains behind. In early December it is surprisingly warm enough for us to watch the sunset from our private balcony.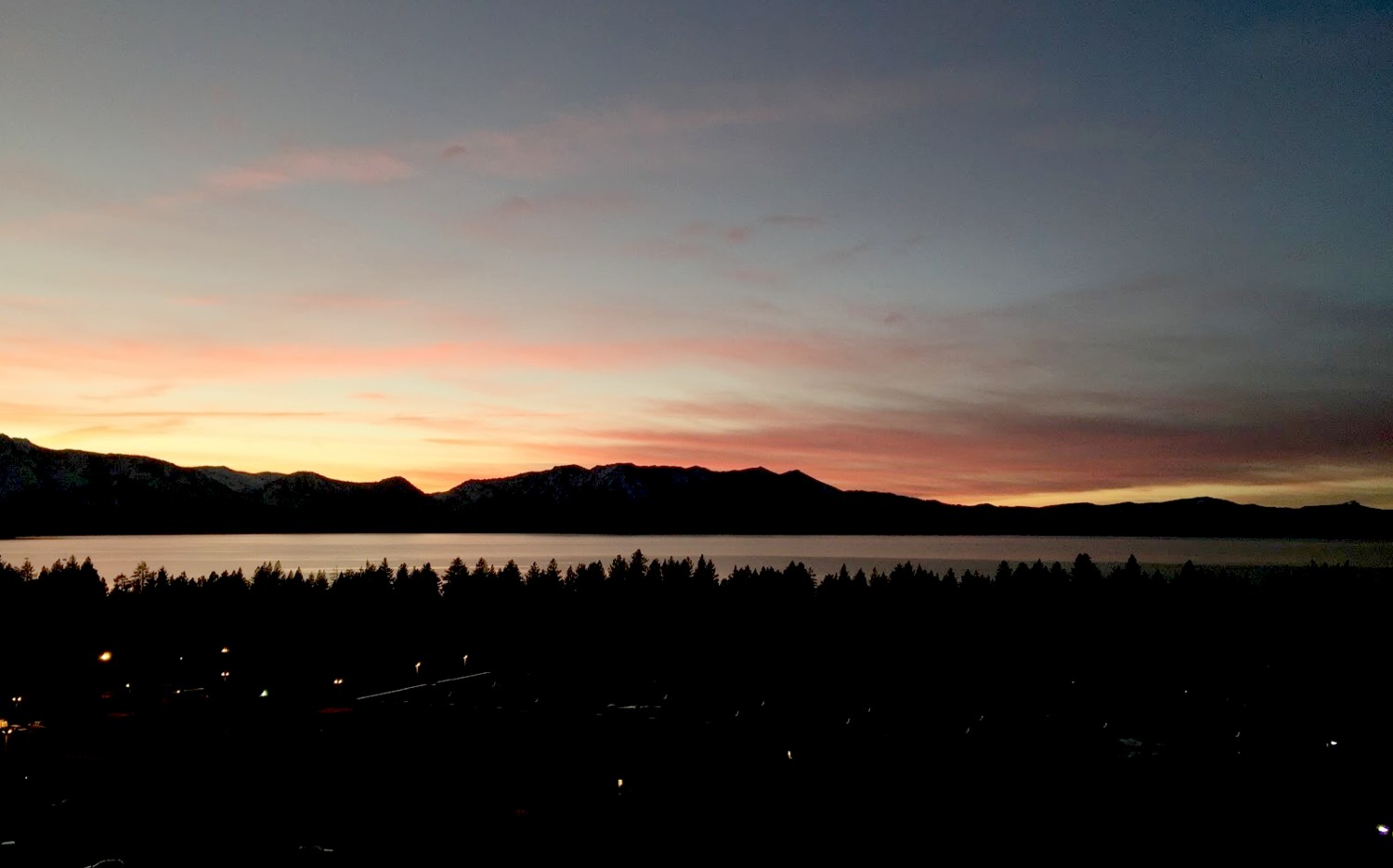 The room itself is spacious and newly renovated. The room decor continues to make you feel like you've just left a rock concert–swanky, sleek, and edgy. The extremely comfortable king size bed and the big flat screen TV are perfect for unwinding after an active day on the slopes.
Then it's time to explore. The Hard Rock Hotel is filled with Rock memorabilia, and it is fun to search around for autographed guitars from the Monkeys, the Sex Pistols, and Paul McCartney among others, glass cases with famous outfits from tours and other paraphernalia from popular performers.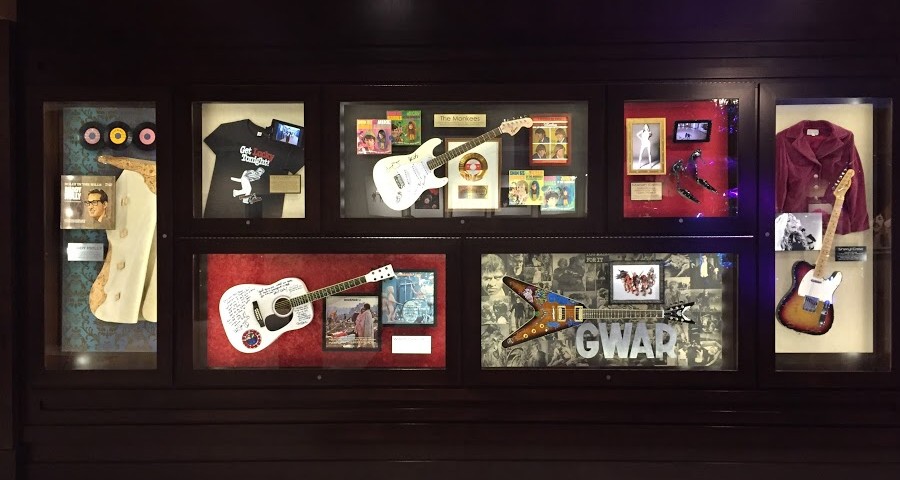 Our favorite part of the Hard Rock Hotel (besides the room) is The Oyster Bar (the first-ever raw seafood bar of its kind on Tahoe's South Shore!). We are amused by the fact that, as New Yorkers accustomed to consulting Yelp to find a top restaurant, the Hard Rock's Oyster Bar is what came up. The Oyster Bar has amazing reviews, and a perfect location on the first floor of Hard Rock Hotel. With only about 20 seats at the horseshoe-shaped bar, there is often a line to get seated. We are lucky both times we visit and are seated right away (yes, we are at Heavenly for two nights and we eat dinner here twice, it is that good).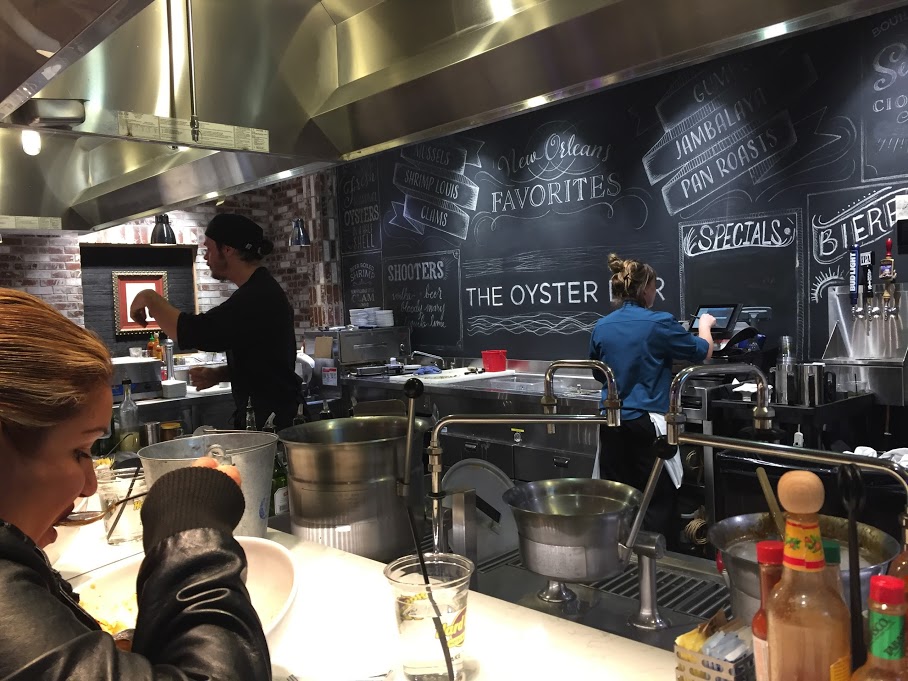 The seafood-packed Bouillabaise is insanely flavorful and big enough for two to share. Even coming from spending a month in New Orleans, this is perhaps the best Bouillabaisse we've ever had. The New England Style Clam Chowder is perfectly creamy and clammy, the Caesar Salad (also huge) has a hint of lemon and is delicious even without the optional added protein, and the Lump Crab Cocktail with Dijon Aioli is perhaps the most generous portion of fresh crab this Baltimore girl has seen. The food is so good it makes you forget that you're sitting about 5 feet from slot machines. It should also be mentioned that the prices here are extremely reasonable, or even cheap considering the portions. It is in a casino, after all.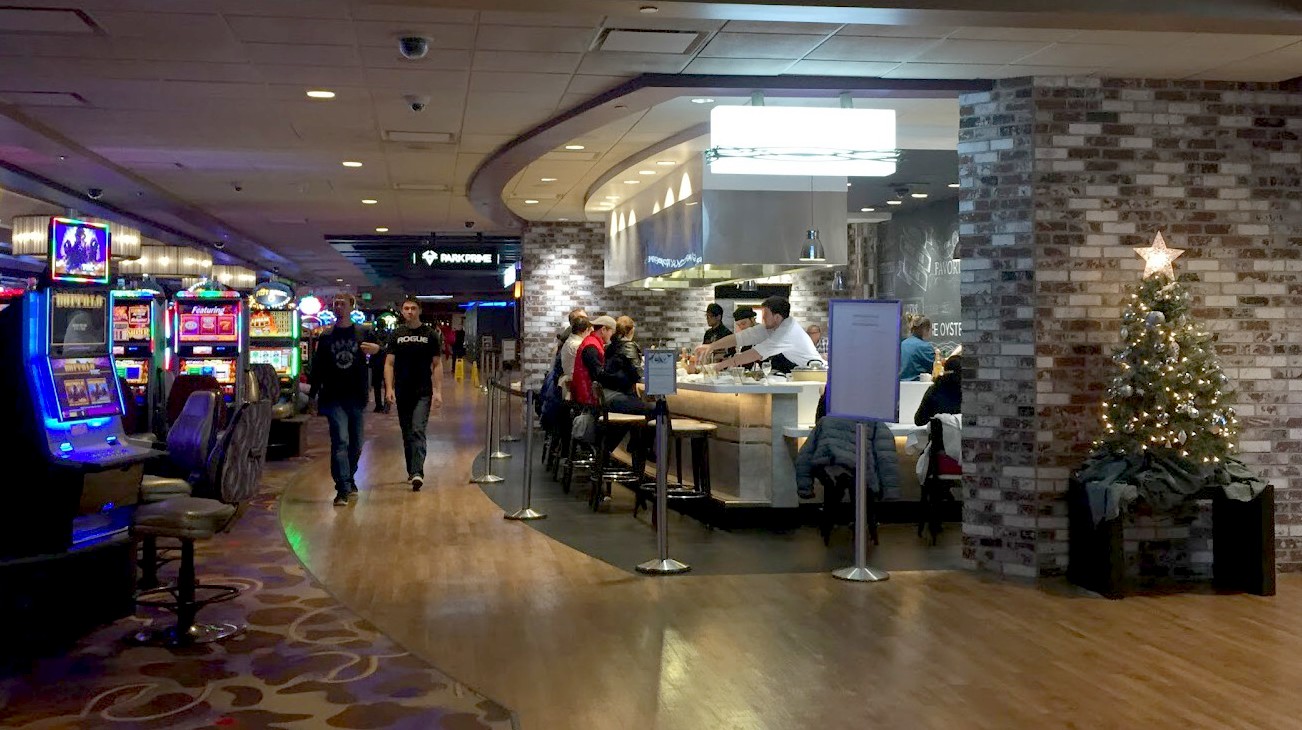 The Hard Rock also offers Prime, a modern steakhouse complete with a sophisticated bar, live music, stylish atmosphere and premium dishes. The Park Prime menu was inspired by the Park family, owners of the Hard Rock Hotel & Casino Lake Tahoe and cattle ranchers in northern Nevada, and features local grass-fed, free-range beef, premium seafood, shareable appetizers, an approachable wine list and specialty cocktails in a cozy lounge and bar setting.
The Hard Rock Hotel also has one of Lake Tahoe's South Lake Tahoe's newest and hoppingest casinos: 25,000 square feet of  casino floor featuring more than 500 state-of-the-art video gaming machines and table games, including Blackjack, Craps, Roulette, Ultimate Texas Hold'em, Three Card Poker, Pai Gow. The lively casino fills the ground floor with energy any time of night.
It also offers a major entertainment venue with a calendar chock full of events. There is a large heated outdoor pool, which, alas closes at 5pm so we weren't able to use it ourselves.
The Hard Rock Hotel is well located in South Lake Tahoe, walking distance to Heavenly Village (and most importantly, the central Gondola that whisks you up to Heavenly Mountain with a spectacular view down to Lake Tahoe), and about a 7 minute drive to California Lodge. For us, because we have a car, the California Lodge is the easiest and quickest way to get to the mountain and affords us the convenience of parking our car just a few yards away from the lift.
(Hard Rock Hotel & Casino Lake Tahoe, 50 Highway 50, Stateline, NV 89449, 844-588-7625, hardrockcasinolaketahoe.com. Inside secret: the Hard Rock Hotel has a special department that offers discounted ski-and-stay packages, 877-518-7768, but the allotment sells out.)
Zalanta Luxury Condo Opens this Season
After our last day on the slopes, we are lucky to get a sneak peak of Zalanta Resort at the Village, Heavenly's new luxury ownership condominium development right in the center of town, scheduled to open February 2017, which is also the first lodging in South Lake Tahoe to come under Vail Resorts management. Just across the street from the Heavenly Gondola, Zalanta's central location and lodge-like architecture feels perfectly integrated into the fabric of Heavenly Village.
On the bottom floor of the property, there is a storefront with about 20,000 square feet of retail space that fits right in with the stores along Lake Tahoe Boulevard, as well as an 8,000 square foot restaurant. Residents and guests enter through the spacious lobby with windowed facades showcasing both the lobby and pool area out back. Also on the first floor is a large yoga and workout room that shares beautiful views to the pool oasis.
The units are incredibly spacious and range in size from pool-view 2-bedroom suites to 4-bedroom suites with wrap-around decks and mountain views. At the time of our tour, there were slated to be 20 two-bedroom units ranging in square footage from 1140 to 1700 sq. ft.; six 3-bedroom units between 1600 to 1800 sq. ft., and two 4-bedroom units around 2290 sq. ft. Every unit has washer/dryer, at least one fireplace, and almost all have a private deck. Most of the units have an open plan kitchen and living room with 18 foot ceilings at the tallest peak and 10-ft ceilings in the kitchen and bedrooms to create a cozier home ambiance.
In keeping with the luxury lifestyle feeling of the development, each unit is complete with high-end finishes. The kitchens each have beautiful hard wood cabinetry, marble backsplash, grey slate countertops, and energy efficient Kitchenaid appliances. Every aspect of the climate and location has been taken into consideration during the planning stages of the condominium. The 2nd floor carpeting, 3rd floor wood flooring, and double-paned glass windows in each unit offer maximum insulation and shield against the noise from the bustling Heavenly Village outside. There are even heated sidewalks throughout the property.
On the opposite side of the building from Heavenly Village, the pool area creates a quiet oasis away from the action of the town. The pool area, open year-round, features 2 wading pools, 2 hot tubs, and of course a large central heated pool. There is also a private lakeside beach just 3 blocks away, to which all owners and guests have access.
Zalanta, which means "spiritual mountain", embodies the Heavenly experience, at once luxurious and rustic, majestic and cozy, the best of all worlds.
EpicMix Time Expands to Lake Tahoe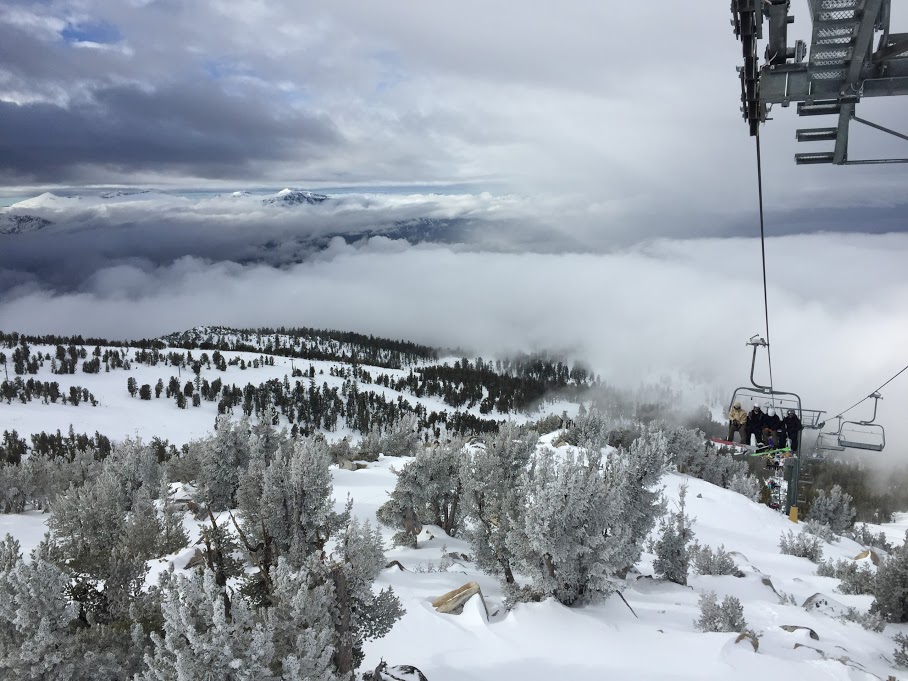 This season, Vail Resorts expanded its EpicMix™ Time to Heavenly Resort, Northstar and Kirkwood (also Lake Tahoe), as well as Park City Utah, which let's you access real-time lift line wait times so you can better navigate the mountain and make the most out of your ski and ride experience. EpicMix Time uses proprietary technology to calculate and display up-to-the-minute chairlift and gondola line wait times. This innovative application of crowd-sourcing technology debuted last year at the Vail Resorts' four Colorado resorts, Vail, Beaver Creek, Breckenridge and Keystone.
EpicMix is an online and mobile application that allows you to digitally capture your ski and ride experience, and share it with friends and family. This is all possible through radio frequency (RF) technology loaded onto all hard card passes. State-of-the-art RF scanners are installed at all 10 Vail Resorts so you can seamlessly keep track of your vertical feet, days skied, special accomplishments.
Jet Blue from JFK to Reno/Tahoe
It is easier than ever to get to Heavenly from the New York area: JetBlue offers a nonstop direct flight from JFK into Reno-Tahoe Airport (RNO), which is 40 minutes drive away (will be cut down to 20-30 minutes when the high-speed highway is completed); local companies offer shuttle service. The flight departs JFK at 7:30 pm, arriving RNO at 11:01 pm and returns RNO at 11:52 pm, arriving JFK at 7:59 am; the flight is not daily so check jetblue.com for schedule.
For more information, visit www.skiheavenly.com, where links help you plan your trip and pre-arrange Lodging,  Lift Tickets, Lessons and Ski School,, Child Care, Equipment Rentals, and Ground Transportation.( http://www.skiheavenly.com/plan-your-trip/plan-your-trip.aspx)
For more information or to book trips at any of the Vail Resorts mountain destinations, visit snow.com.
____________________
© 2017 Travel Features Syndicate, a division of Workstyles, Inc. All rights reserved. Visit goingplacesfarandnear.com and travelwritersmagazine.com/TravelFeaturesSyndicate/. Blogging at goingplacesnearandfar.wordpress.com and moralcompasstravel.info. Send comments or questions to [email protected]. Tweet @TravelFeatures. 'Like' us at facebook.com/NewsPhotoFeatures