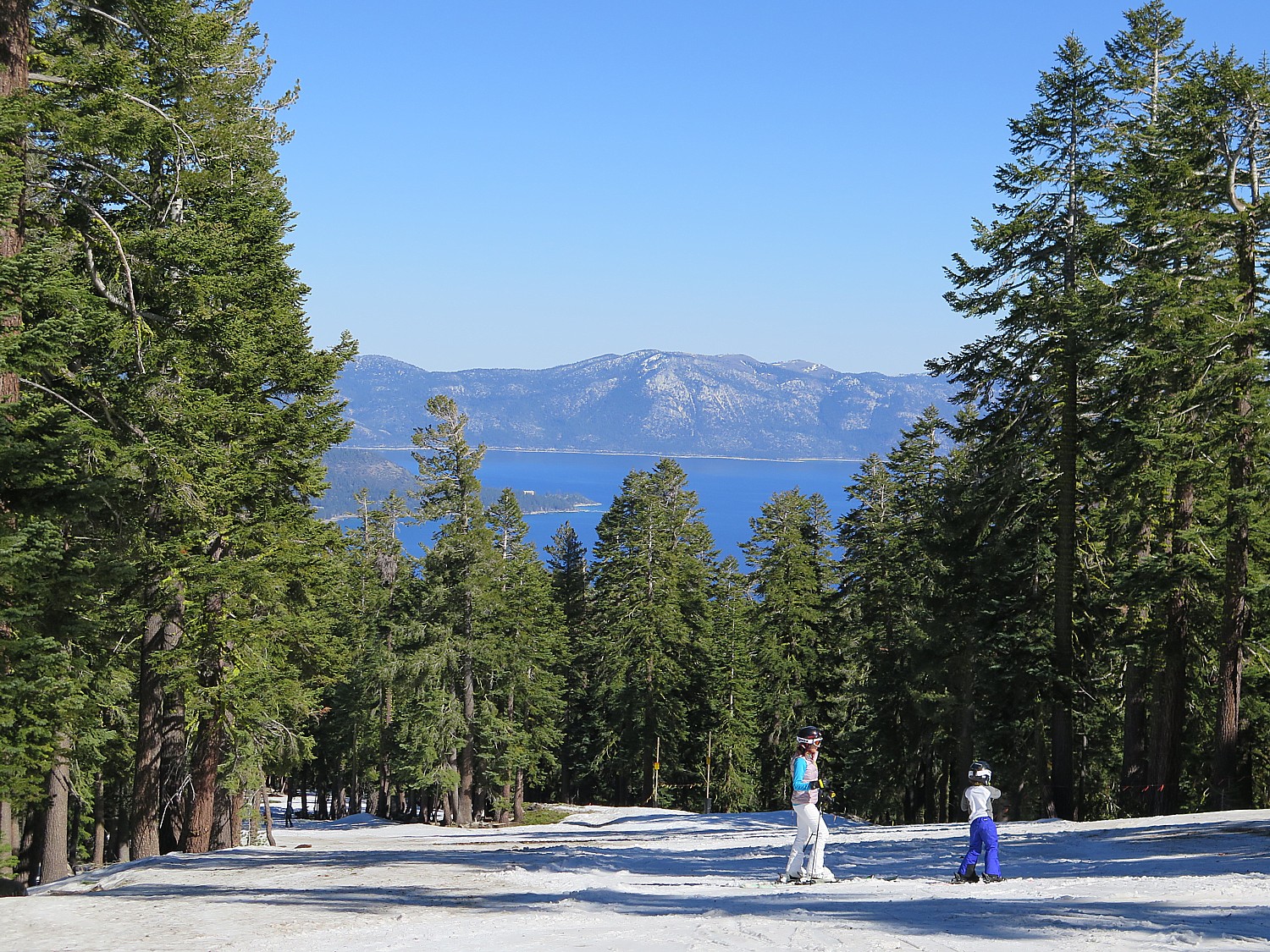 by Karen Rubin, Dave E. Leiberman, Eric Leiberman
Northstar California, is winding down snow season and transitioning to summer. With its glorious setting in the Sierra Nevada Mountains overlooking Lake Tahoe, and what seems to be perennially moderate weather, Northstar, one of the Vail Resorts destinations, is very much a four-season resort, where you can luxuriate in its "laid-back California" vibe year-round.
Having had the chance to catch the end of ski season – and marvel at the genius that goes into nurturing, maintaining and preserving snow cover despite the historic, four-year drought in California – I am thrilled that three innovations introduced for the 2014-5 ski season were such hits, they will be returned for next season: Mountain Table Dinner, a series of special, five-course gourmet dinners organized around a particular vineyard's wines, presented with glorious fanfare at the Zephyr Lodge with views from the mountain of the Pacific Crest; 4Her-Women's Ultimate 4 Ski/Snowboard Lesson, a personalized women-only ski or snowboard clinic limited to 4 women at a time (combines the fun of a gal getaway with superb personalized skill development), and Tost – a 2 pm complimentary Champagne (or sparkling cider) toast from atop the mountain on the East Ridge trail.
And while they will recede until next season, they are indicative of the sort of the laid-back, casual elegance, combining California cool with high-end luxury, on-mountain exhilaration with a sophisticated alpine village atmosphere that is the foundational to Northstar, where the motto is, "The way it should be."
We had a chance to sample each.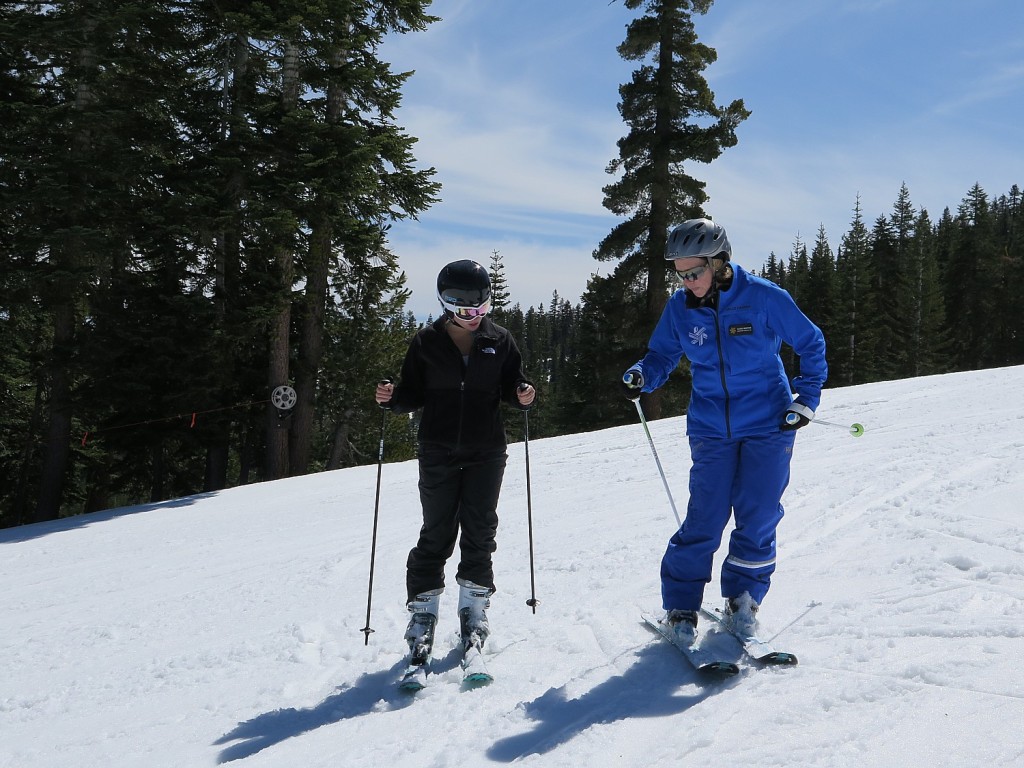 Northstar's 4Her program is part of Vail Resorts major initiative unfurled this season directed at women skiers and snowboarders, which followed intense study by the ski company to figure out why women were not represented proportionately on the mountain. The result was the new program, Women's Ultimate 4, a personalized lesson for no more than four women in a group (usually 2-3) with a female coach to learn or brush up on skiing, from foundation-building basics of a "first-timer" class (open to all), to navigating the easiest greens, to sharing tactics and camaraderie on green and blue runs. Offered at Vail, Beaver Creek, Breckenridge and Keystone in Colorado, Park City and Canyons in Utah, and Heavenly, Northstar and Kirkwood at Lake Tahoe.
The program is cleverly designed around the practical needs that women have. This year, it was offered principally on Mondays (though it is available on demand, as well). The session takes place from 10:30 am to 3 pm – beginning later and finishes earlier than Northstar's children's programs. 4her – Women's Ultimate 4 also includes an après-ski gear and tech forum hosted by women experts, discussing women-specific equipment and how to choose the best-suited gear (ski boots, for example).
The 4Her clinic at Northstar which we sampled combined the fun of a gal getaway with superb personalized skill development; our coach, Susie Minton, knew just how to assess our strengths (and weaknesses) and break down the techniques and tactics to conform with a woman's physical makeup (our balance is in our hips, not in our shoulders), and yes, our psychology, and as we were more successful, our confidence on the mountain was boosted. Lo and behold! our skiing improved significantly even after one clinic.
"It is essential to have a true comprehension of women's needs in order to offer programs that provide better access to skiing and riding," said Beth Howard, vice president and general manager of Northstar. "The insights we gained from women guests last winter were tremendously helpful and the 4her – Women's Ultimate 4 program at Northstar is the result of that feedback."
The program was such a hit this season, it is certain to be returned next season.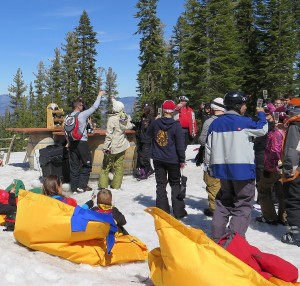 A Tost! One of Northstar California's new innovations for this season is a 2 pm Champagne toast on the East Ridge trail at the summit (sparkling cider also available so the kids are also included). There is actually a traditional toast! They put out beanbags and everybody just enjoys being together in such a delightful place. Luxurious, whimsical and an ode to fun in the mountains, Tost exemplifies the "California laid-back luxury" atmosphere found at Northstar. Tost is such a hit, it is guaranteed to be returned for next season.
We were so lucky to be at Northstar California for the last Mountain Table Dinner of the season. It is a special event atop the mountain at the Zephyr Lodge, outfitted to fit the elegance of the evening, with fresh flowers and crystal service. An epicurean's delight, this evenings five-course dinner was organized by Frog's Leap Winery of Rutherford (frogsleap.com) with each delectable course (Cedar Plank Salmon with sweet onion, blackberry Hoisin; roasted lamb rack with thyme pan jus, blue creme brulee; duck trio) designed by Northstar's executive chef Steve Anderson to pair perfectly with the Frog's Leap wines.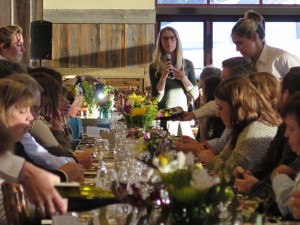 The climax was experiencing the vineyard's first-ever, newly released Cabernet Sauvignon (perfection), served with the finale of truffles, dark chocolate Marscarpone and raspberry Russian tea cakes. With the combination of the longer spring days and the clock change, our evening began in sunshine with a Sauvignon Blanc (aromas of white flowers touched by crisp, lemon zest flavors!) and we were treated to panoramic view of the sunset over the Pacific Crest from the porch and through floor-to-ceiling windows.
Northstar's on-mountain delights spring from a lovely pedestrian village at the base, with gorgeous condominium accommodations, lovely eateries (like Rubicon for marvelous pizzas, and Tavern 3360, an upscale pub-style restaurant) and shops, ringing a skating rink (ice skating in winter, roller skating in summer, free to skate, rentals available) which is itself ringed by delightful sitting areas and fire pits, wonderfully handy for the 3:30 Northstar tradition of serving s'mores.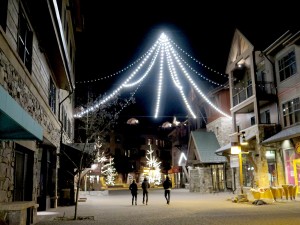 We thoroughly enjoyed our stay at the Ironhorse condominiums, part of Tahoe Mountain Resorts Lodging – a three-bedroom condo, lavishly furnished and outfitted with every imaginable amenity and convenience, plus fitness center and two hot tubs (there is a village pool and bungy trampoline in the village, also), underground parking garage, and the services of a concierge (530-550-3300).
The village accommodations are mere steps to the gondola that whisks you to mid-mountain.
There are accommodations on the mountain as well, including the stunning, five-star Ritz-Carlton (a great place to hang out, enjoy a patio restaurant and lobby lounge with all the casual comforts of a living room, centered by a massive chimney fireplace like a stone tree).
The Ritz Carlton's Backyard Bar & BBQ is a popular place on the mountain, offering a year-round casual dining experience on the back patio with poolside service during the summer and ski-in/ski-out outdoor dining in the winter. Here you can enjoy a "blues, brews and BBQ" concept with a menu offering traditional barbeque favorites including St. Louis smoked ribs, brisket and pulled pork sandwiches cooked with an on-site smoker, a selection of house-made BBQ sauces, wood-fired oven-baked pizzas, traditional burgers and bratwurst along with home-style side dishes and desserts. There are also seasonal beverages with saloon-inspired cocktails and local craft beer selections.
Here we learn that all the barmeisters at Northstar have a competition to come up with the most interesting Bloody Mary, and each of the places has their distinctive recipe (the secret ingredient is withheld).
In the village, we thoroughly enjoyed the intriguing flatbread pizzas with creative toppings (they span international culinary traditions) at Rubicon.
Tavern 6330′ is perfectly located just steps away from the Big Springs Gondola, and Village Run leads right onto its patio. The mountain American grill utilizes California farm fresh ingredients and offers a stunning wine list, a wide variety of micro brews and signature cocktails inside or outside on the patio, equipped with two firepits, an outdoor grill, heat lamps and a signature après-ski scene.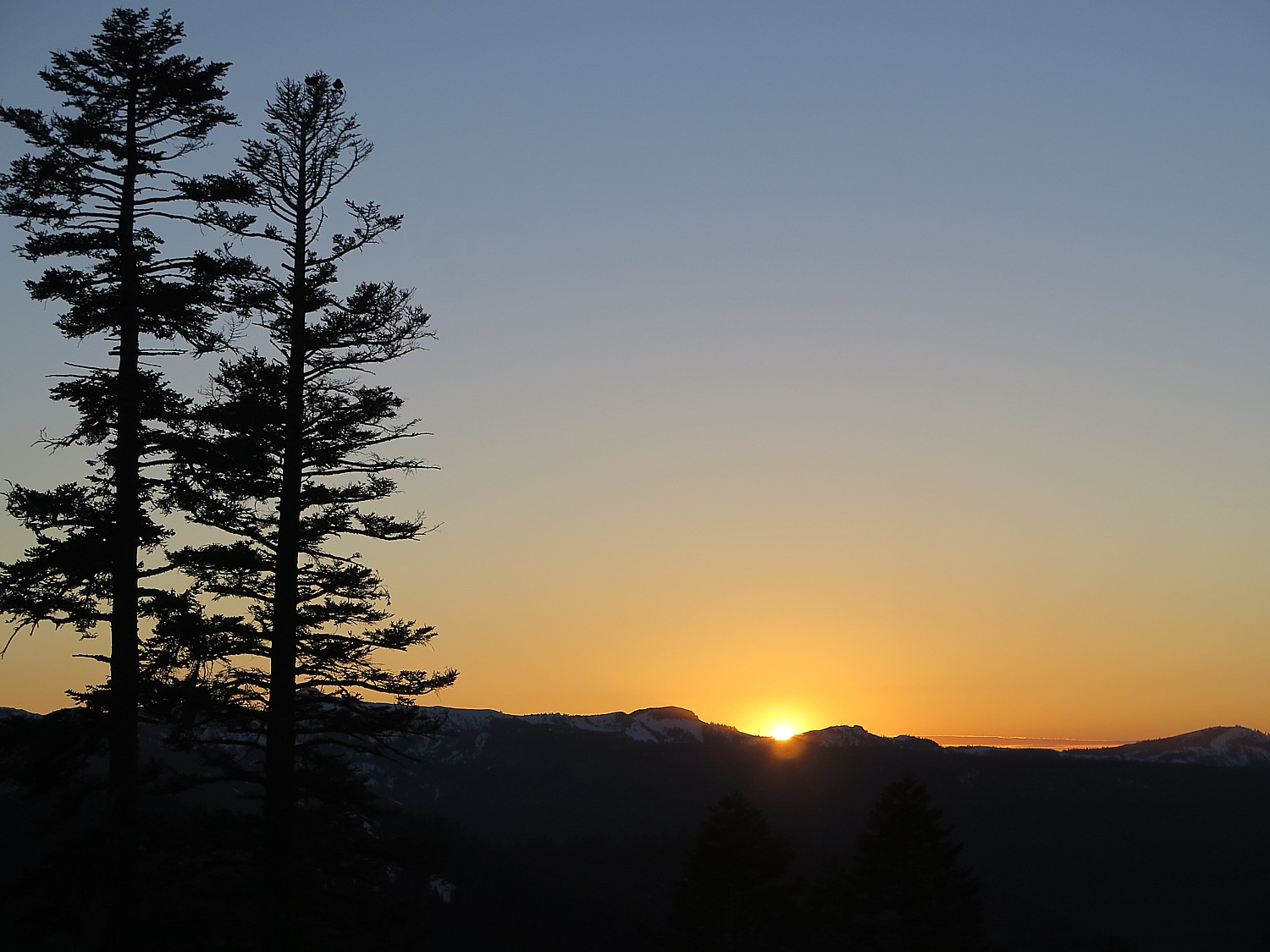 Summer at Northstar
Northstar is transitioning to summer – the ice skating rink is already open for roller skating (free skating, and rentals are available).
And golf! Designed by Robert Muir Graves, Northstar California's 18-hole, par-72 golf course incorporates Tahoe's mountainous landscapes with Martis Valley's open meadow into two distinct 9-hole settings that both challenge a golfer's skills and appeal to the senses. (The course opens May 15.)
Northstar is a major mountain biking destination – the home to Northern California's largest mountain bike park – attracting riders from all over the world. It offers a mountain riding academy. a teen biking camp, and bike races. Northstar's signature trail, LiveWire, is the first fully irrigated mountain bike trail and a must-ride trail for more advanced riders. (Proposed opening is May 22, beginning with Friday-Sunday schedule.)
The Northstar Bike Academy's Bike 101 Package is an excellent introduction to downhill mountain biking (completely different techniques from road biking). There also are several great road bike rides near Northstar California that provide great views of Lake Tahoe and the local mountains.
Northstar also offers scenic lift rides for miles and miles of hiking (guided hikes available) and the resort is practically spitting distance from the famous Pacific Crest – the West's equivalent of the Appalachian Trail – for hiking.
Other activities: Gem Panning, Geocaching, Miniature Golf, Kids' Club, STRIDER Bike Rentals, Bungy Trampoline & Ropes Challenge, Tahoe Star Tours, Pottery Painting & Candle Making, Tennis, Wine Walks, Fly Fishing and Live Music.
There are also the activities on Lake Tahoe – probably one of the most beautiful glacial lakes anywhere – and South Tahoe, which is half in Nevada and affords all the high life and nightlife of casino gaming and shows.
JetBlue Launches Direct Service from JFK
Just in time for Northstar's transition to summer, JetBlue is launching direct service between JFK and Reno/Tahoe, becoming the only airline providing a direct connection. Nonstop flights begin May 28.
"A nonstop link between Reno-Tahoe International Airport and New York City is long overdue. We're eager to bring the JetBlue Experience to Reno-Tahoe so customers can enjoy our superior customer offering that includes the most legroom in coach, personal screens in every seat with live TV, unlimited snacks and soft drinks, and great service offered by JetBlue's award-winning crewmembers," said James Hnat, Executive Vice President, General Counsel and Government Affairs, JetBlue.
"On the opposite end, New Yorkers will finally get direct service to an airport that is the gateway to so many great destinations: Reno, Lake Tahoe, Truckee, Eastern Sierra Mountains and Yosemite."
Reno-Tahoe will be the airline's 89th destination and is among a number of new JetBlue routes in the West.
Enjoy Summer in Northstar with 2015-16 Epic Pass
You can enjoy summer in Northstar with your 2015-16 Epic Pass.
Vail Resorts has just put the 2015-16 Epic Pass on sale, affording unlimited access to 11 U.S. resorts that collectively offer more than 32,000 acres of terrain.
Until April 12, the Pass can be purchased for $769 for adults and $399 for children, with $49 down payment to lock in the rate. What is more, you can use lift ticket purchased after March 10 toward the purchase price.
The Epic Pass allows skiers and snowboarders to experience iconic resorts including Vail, Beaver Creek, Breckenridge and Park City all season long. With Park City merging with Canyons Resort over the summer and becoming the largest U.S ski resort, plus the benefit of $85 million in resort improvements for guests last season, $492 million since 2010 and more improvements to come over the summer of 2015, the Epic Pass is unmatched for the services, skiing and snowboarding under one pass.
The Epic Pass pays for itself in less than five days of skiing and offers a 35 percent savings compared to lift ticket purchases at the lift ticket window. For guests planning on just one ski vacation, the Epic 4-Day offers four unrestricted days of skiing or snowboarding, valid all season long. At $389 for adults, the Epic 4-Day pays for itself in just over two days with a 35 percent savings from the lift ticket window.
The Epic Pass™ delivers unlimited skiing and snowboarding all season long at 11 U.S. resorts. With unlimited and unrestricted access, skiers and snowboarders can ski as much as they want at Vail, Beaver Creek, Breckenridge, Keystone and Arapahoe Basin in Colorado; Park City in Utah; Heavenly, Northstar and Kirkwood in Tahoe; Afton Alps in Minnesota and Mt. Brighton in Michigan. The Epic Pass is $769 for adults and $399 for children (ages 5-12). The Epic Pass pays for itself in less than five days of skiing or riding and offers a 35 percent discount compared to lift ticket window purchases. With more than 32,000 acres of skiing and snowboarding terrain, this pass affords the best value in the ski industry.
Epic 7-Day ™ pass is great for guests who don't plan to ski more than seven days next winter. The pass features seven unrestricted days of skiing and riding at Vail, Beaver Creek, Breckenridge, Keystone and Arapahoe Basin in Colorado; Park City in Utah; and Heavenly, Northstar and Kirkwood in Tahoe. The Epic 7-day is $579 for adults and $299 for children (ages 5-12). In addition, pass holders will receive seven free days of skiing at Mt. Brighton or Afton Alps. The Epic 7-Day pays for itself in under four days of skiing and riding and provides more than 45 percent savings compared to lift tickets purchased at the lift ticket window next season.
Epic 4-Day ™ pass is optimal for skiers and riders planning on one ski trip next year, but want to save on lift tickets. The Epic 4-Day provides four unrestricted tickets, valid at Vail, Beaver Creek, Breckenridge, Keystone and Arapahoe Basin in Colorado; Park City in Utah; and Heavenly, Northstar and Kirkwood in Tahoe. The Epic 4-Day is $389 for adults and $219 for children (ages 5-12). Epic 4-Day pass holders also receive four free days of skiing at Mt. Brighton or Afton Alps. For just more than $1,200, a family of four can ski four days of their choosing. The Epic 4-Day pays for itself in over two days of skiing or riding with a 35 percent savings compared to lift tickets purchased at the lift ticket window next year.
Season Pass Benefits: Epic Pass and all Vail Resorts season pass holders will receive exclusive offers on lodging, dining, ski rentals, equipment, ski school and special events for the 2015-16 ski and snowboard season at Vail, Beaver Creek, Breckenridge, Keystone, Park City, Heavenly, Northstar and Kirkwood, as well as Mt. Brighton, Afton Alps and Arapahoe Basin. Season pass holders also automatically receive six discounted Ski-With-a-Friend Tickets, on most passes. All season pass products are non-transferable and non-refundable. Additional season pass benefit information can be found at www.epicpass.com.
To purchase a season pass online or to find out more information, visit www.epicpass.com.
The Epic Pass got even more valuable with Vail Resorts' announcement that the company is acquiring its first international mountain resort, Perisher Ski Resort in New South Wales, Australia.. Perisher is the largest and most visited ski resort in Australia, and is well-positioned with access to the country's largest cities, including Sydney, Melbourne, Adelaide, Canberra and Brisbane. Perisher is also the largest ski resort in the Southern Hemisphere. The acquisition is expected to close in the fourth quarter of fiscal 2015 following the satisfaction of certain conditions, including approval by the New South Wales Government under the long-term lease and license noted below.
Meanwhile, The Tahoe Local Pass offers unlimited skiing at the three Vail Resorts' Lake Tahoe resorts: Heavenly Mountain Resort, Northstar California and Kirkwood Mountain Resort. For winter 2015-16, the pass will offer additional ski and ride days in Colorado and Utah. Starting at $429 with $49 down with the balance due in the fall, skiers and riders have until April 12 to secure the best available rates and value for winter 2015-16 season passes with six discounted buddy tickets.
For more information, Northstar California, www.northstarcalifornia.com or call 888-367-5257.
_______________________________
© 2015 Travel Features Syndicate, a division of Workstyles, Inc. All rights reserved. Visit www.examiner.com/eclectic-travel-in-national/karen-rubin, www.examiner.com/eclectic-traveler-in-long-island/karen-rubin, www.examiner.com/international-travel-in-national/karen-rubin, goingplacesfarandnear.com, and travelwritersmagazine.com/TravelFeaturesSyndicate/. Blogging at goingplacesnearandfar.wordpress.com and moralcompasstravel.info. Send comments or questions to [email protected]. Tweet @TravelFeatures. 'Like' us at facebook.com/NewsPhotoFeatures. See our newest travel site at www.tidbitts.com/karen-rubin/where-in-the-world.