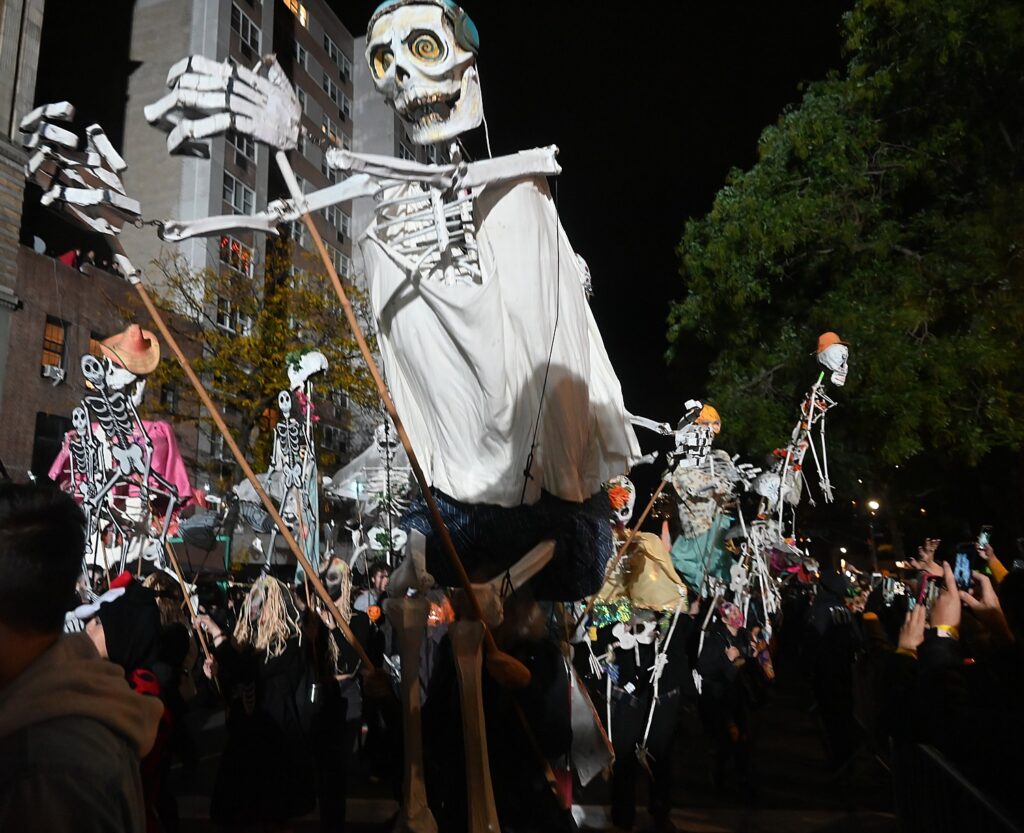 By Karen Rubin, Travel Features Syndicate, goingplacesfarandnear.com
New York City's famed Village Halloween Parade is always thrilling and fun, but this year's was especially joyful.
There was a special energy, sense of joy after the COVID hiatus in 2020 – with crowds returning to six and 10 deep at the barriers lining the parade route, from Spring Street to 16th Street on Sixth Avenue, many of the onlookers in costume.
Understandably, some of the marchers paid homage to COVID in their costumes, but most were throwbacks, nostalgic, playful and even innocent on this night of Devil May Care – the Wizard of Oz, Little Red Riding Hood and the Wolf, and impersonating games –with uncharacteristically few political statements (except for the interruption of an actual religious protest denouncing sinners, sparking "boos" from the crowd). On the other hand, many of the displays paid homage to protecting the climate and environment.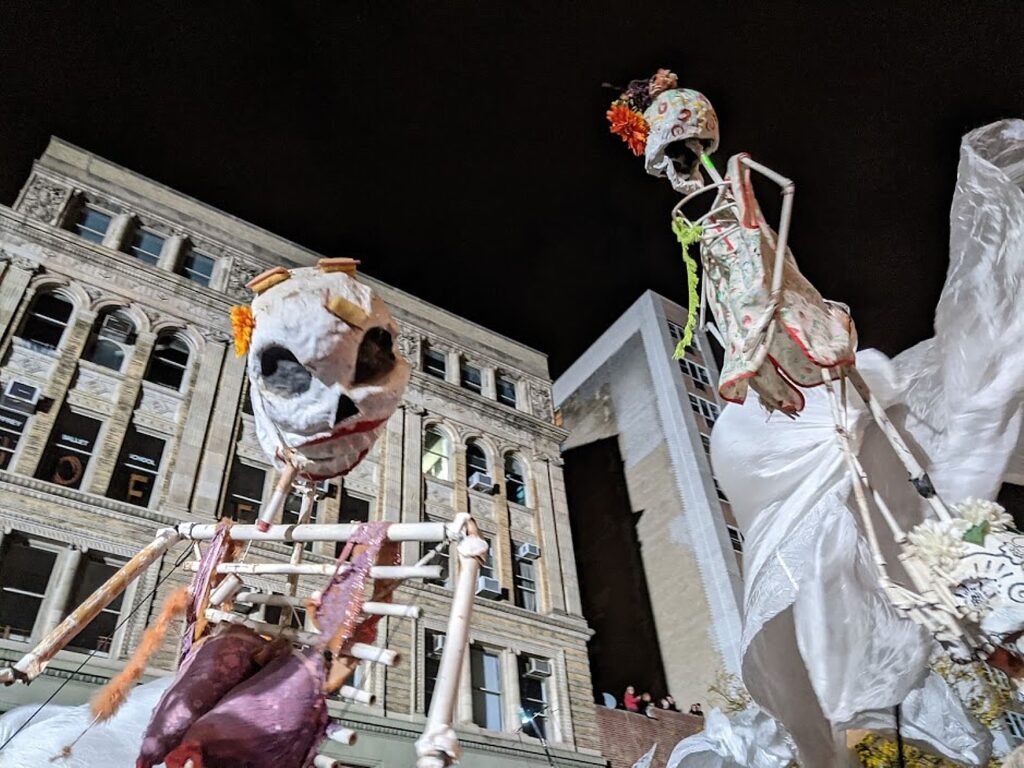 To be sure, there were lots of Satan, the Devil and Malificent but despite the requisite scary monsters, vampires (flash mob dancing to "Thriller"), and ghouls and such, there was a sense of childhood innocence.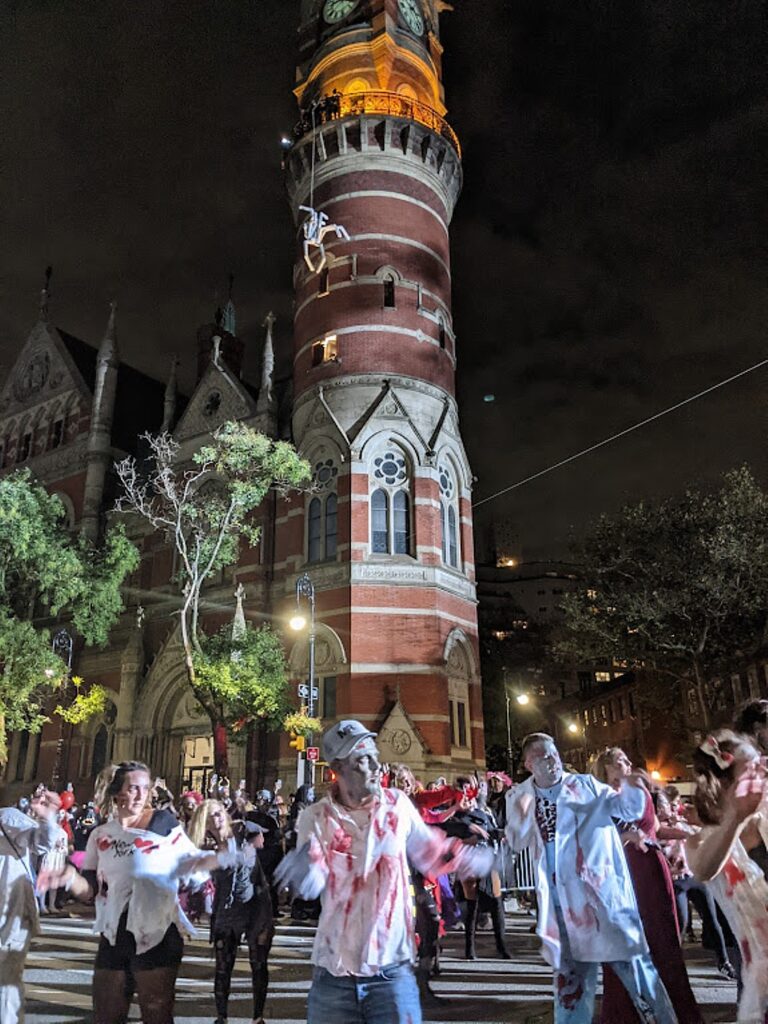 That's because the 2021 theme ("in two parts") was "Let's Play" and "All Together Now" – and was manifested in many of the major displays, especially the giant puppets for which the Village Halloween Parade is known.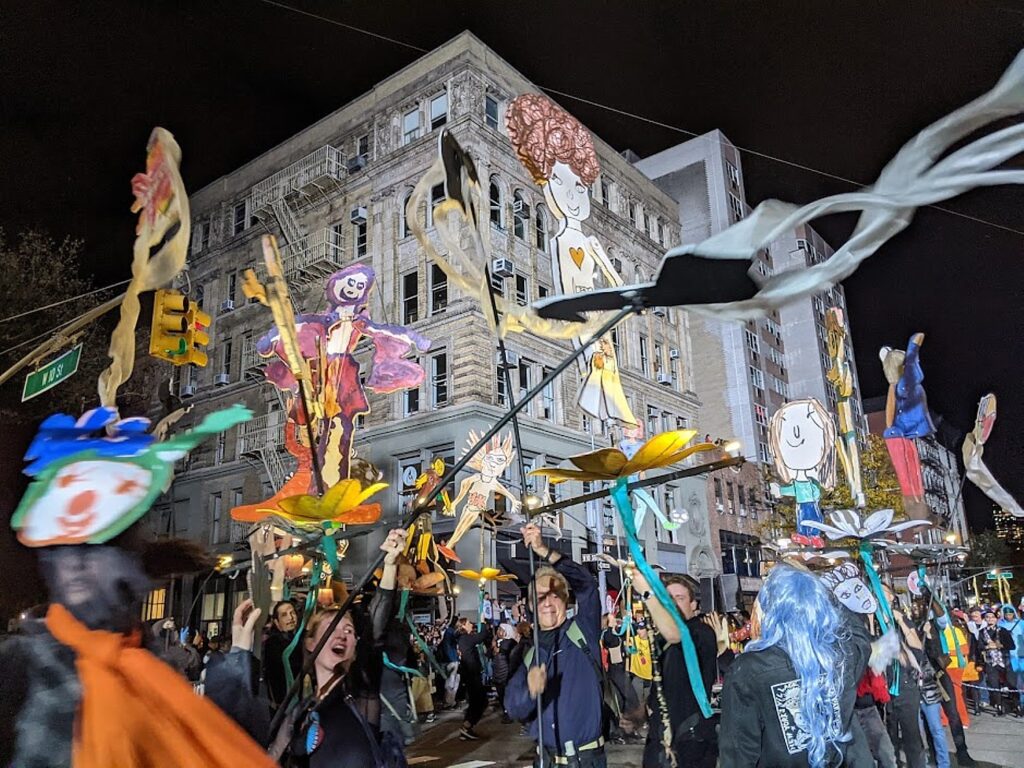 One huge group of puppets took the form of cartoon characters. And even the skeleton puppets which traditionally lead the parade seemed to have a smile on their skull.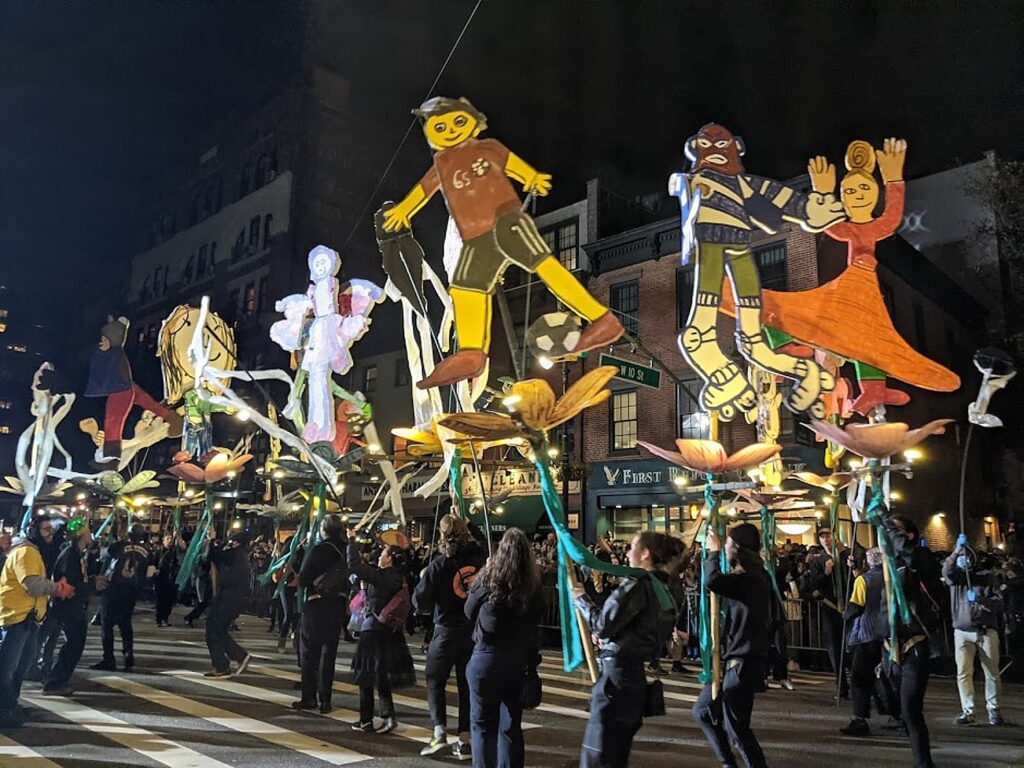 There was even an entire circus, complete with tight rope walker.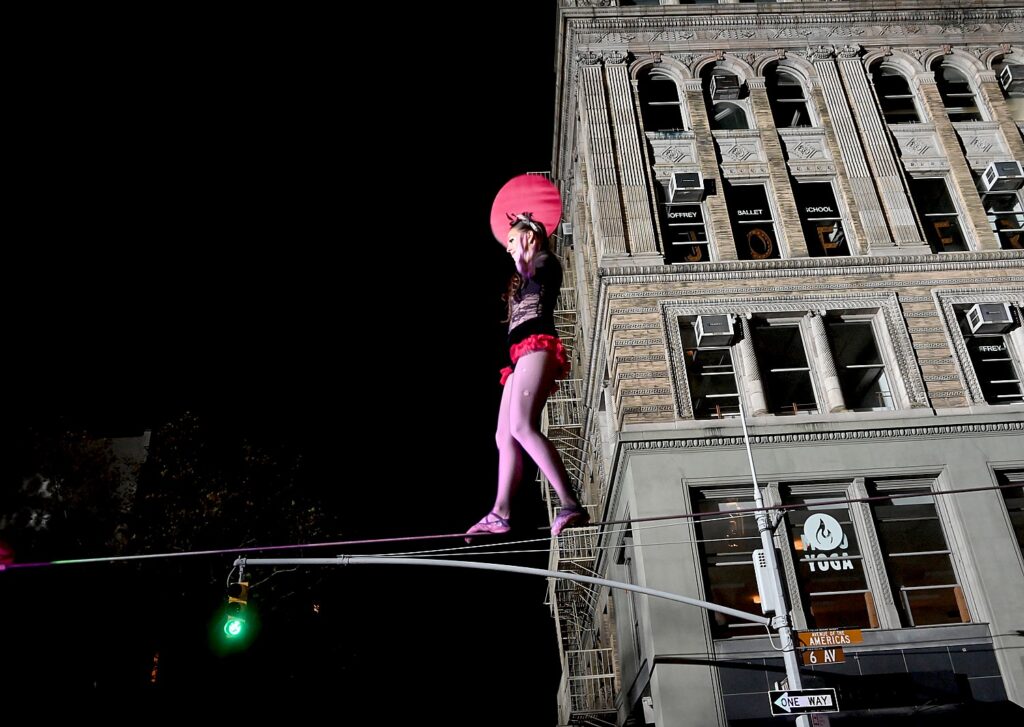 Jeanne Fleming, Artistic and Producing Director, challenged participants to "come up with a costume idea that engages the audience and your fellow marchers–so we can PLAY together once again! Think Wheel of Fortune, a Kissing Booth, Play Ball! A Deck of Cards!"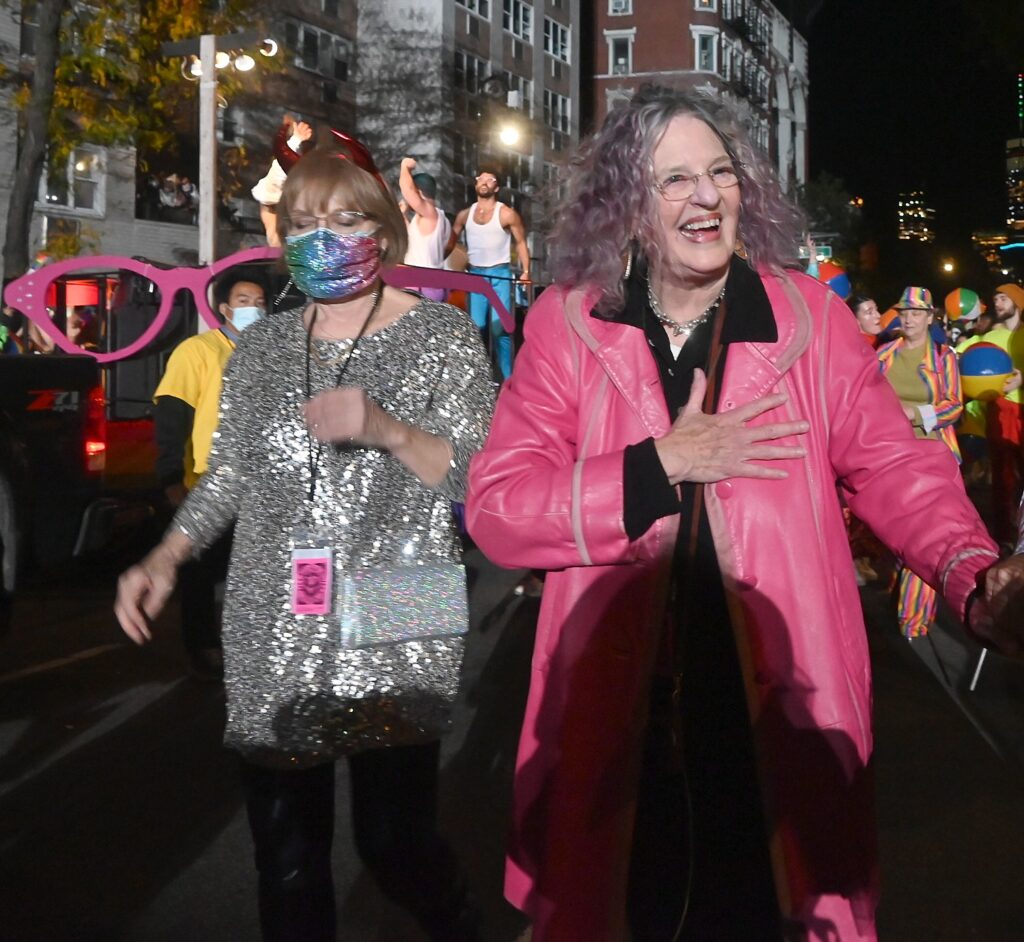 "Don't be the ONLY GAME in Town–Join with your friends and play on!" she said. "Make up your own interactive or visually enticing game! And then, join us on our Special THEME section of the Parade!"
Indeed, there was a marching Deck of Cards, Hula Hoops, a board game float, and a Slinky Lady.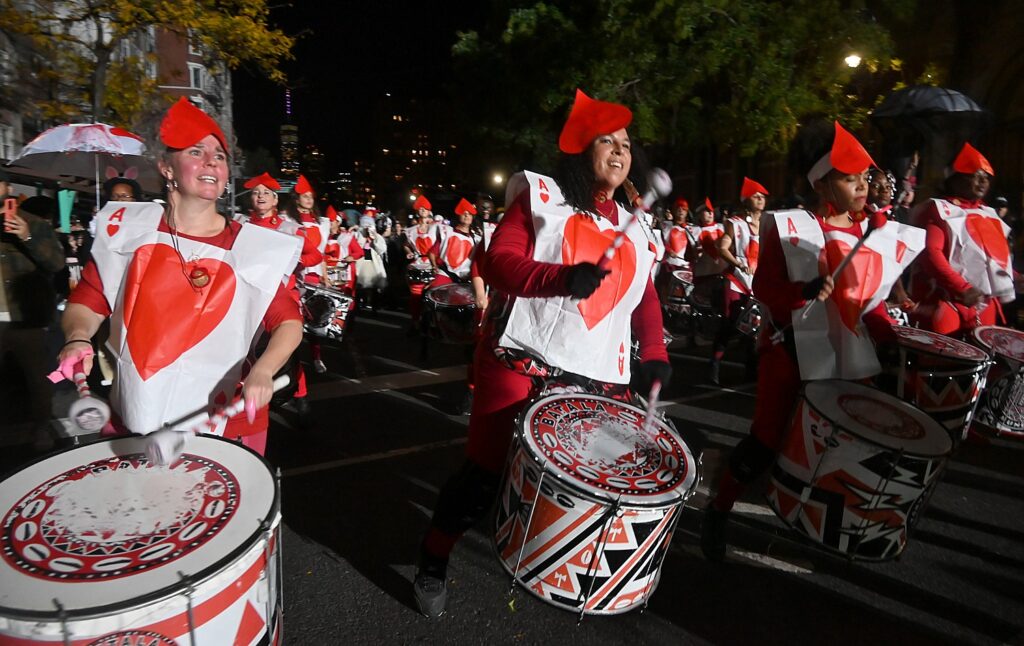 Among the highlights: Grand Marshal Randy Rainbow performing a song for the Spectrum 1 NY1 television broadcast.
It is one of the best nights for New Yorkers to show their creativity, imagination, artistry and humor. It's the night when you can be anything you want to be, when the lines between what's real and what's not are obliterated – even more so than on other nights of the year.
Here are photo highlights of the Village Halloween Parade 2021: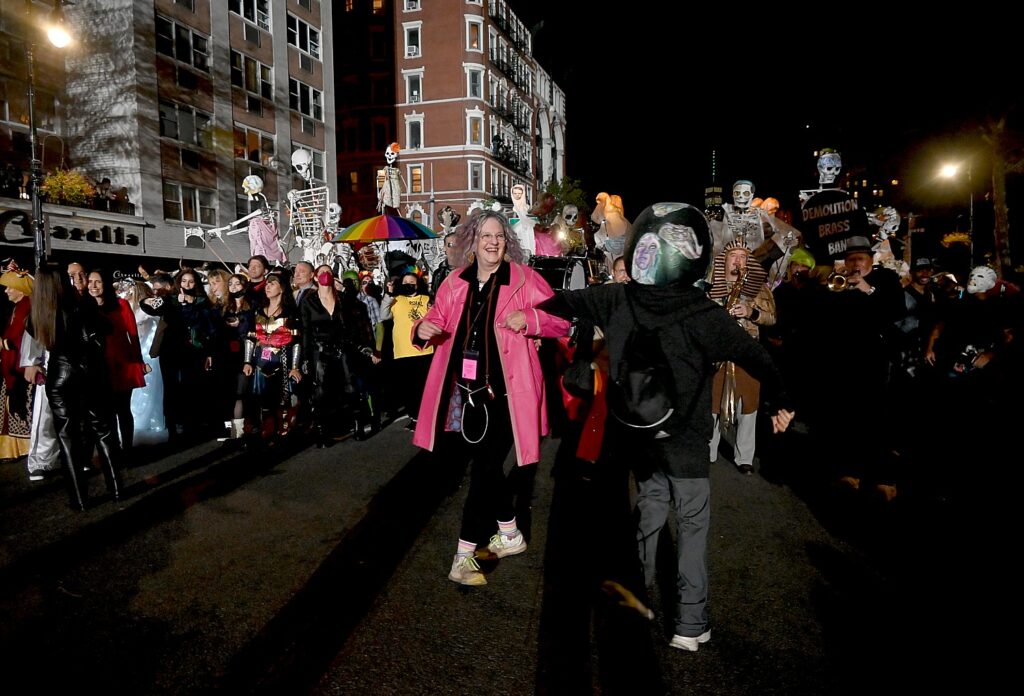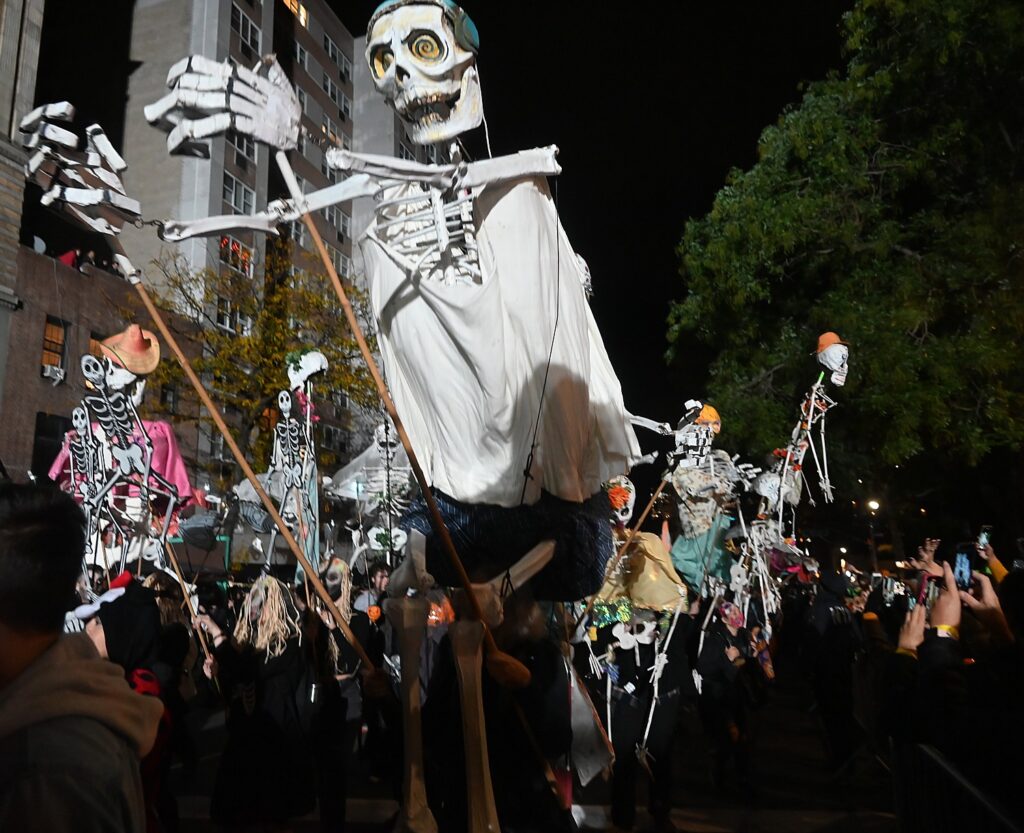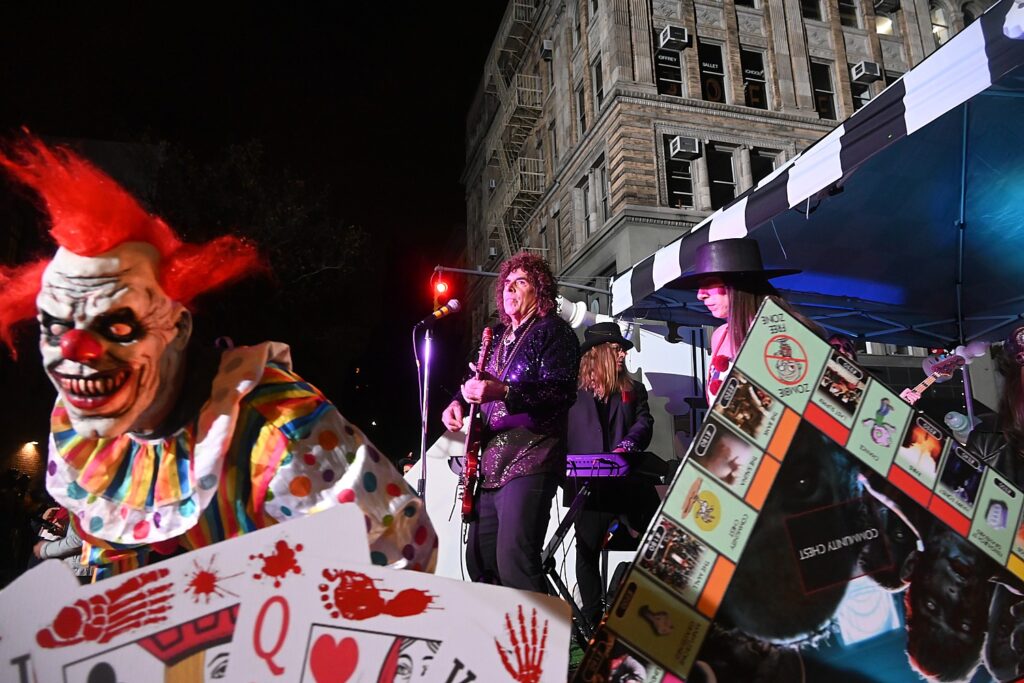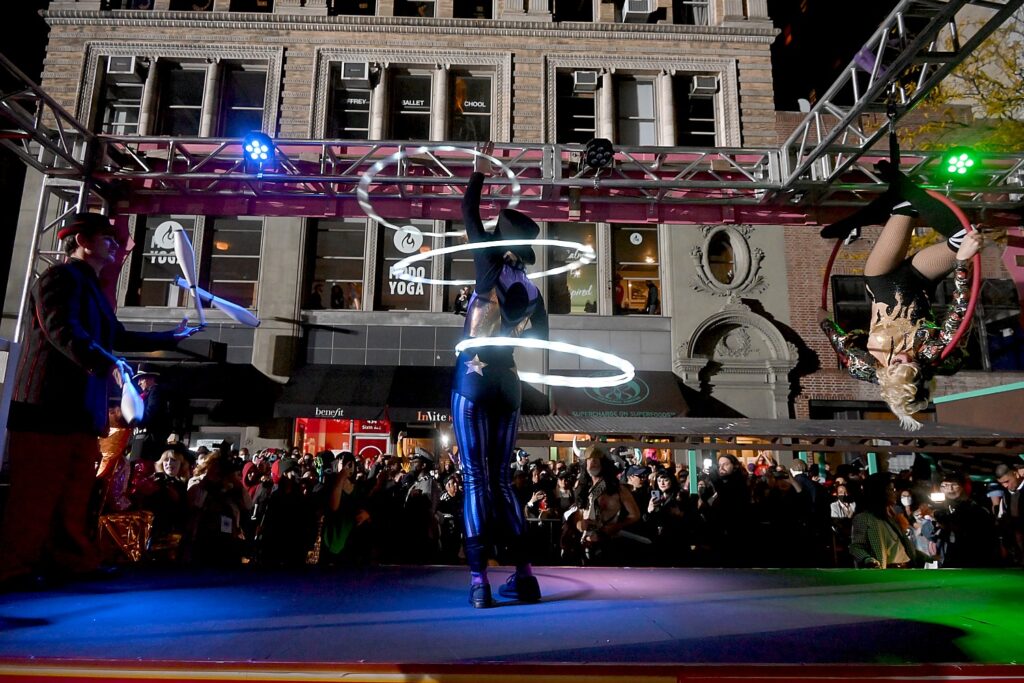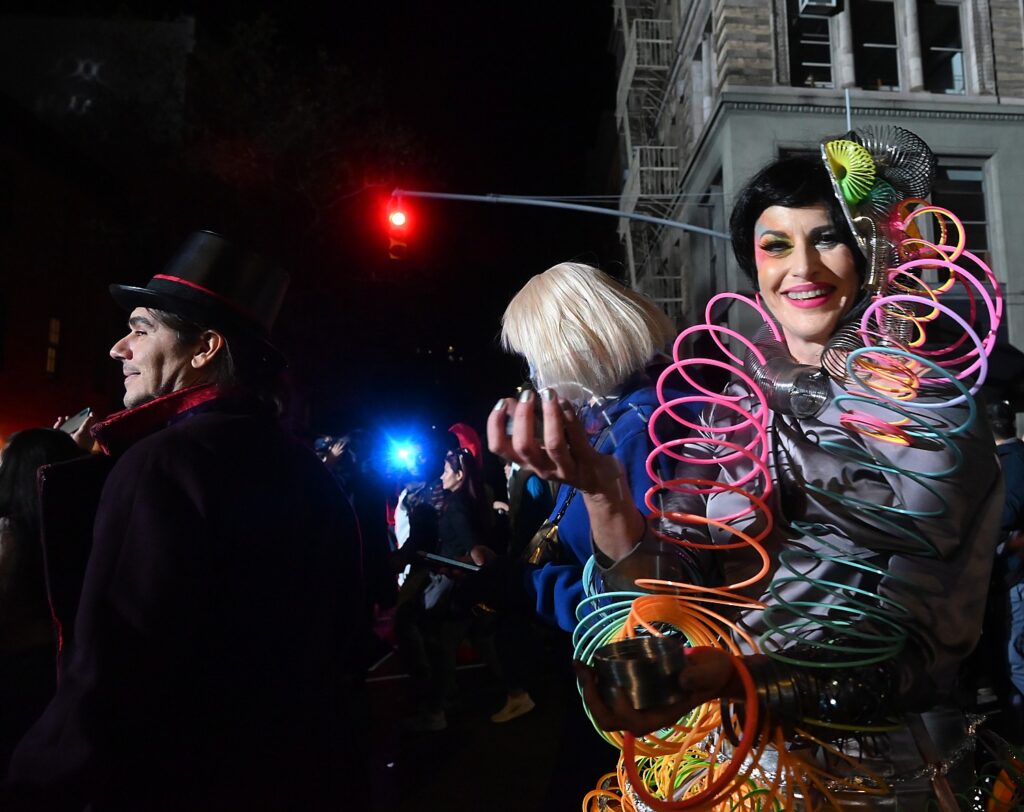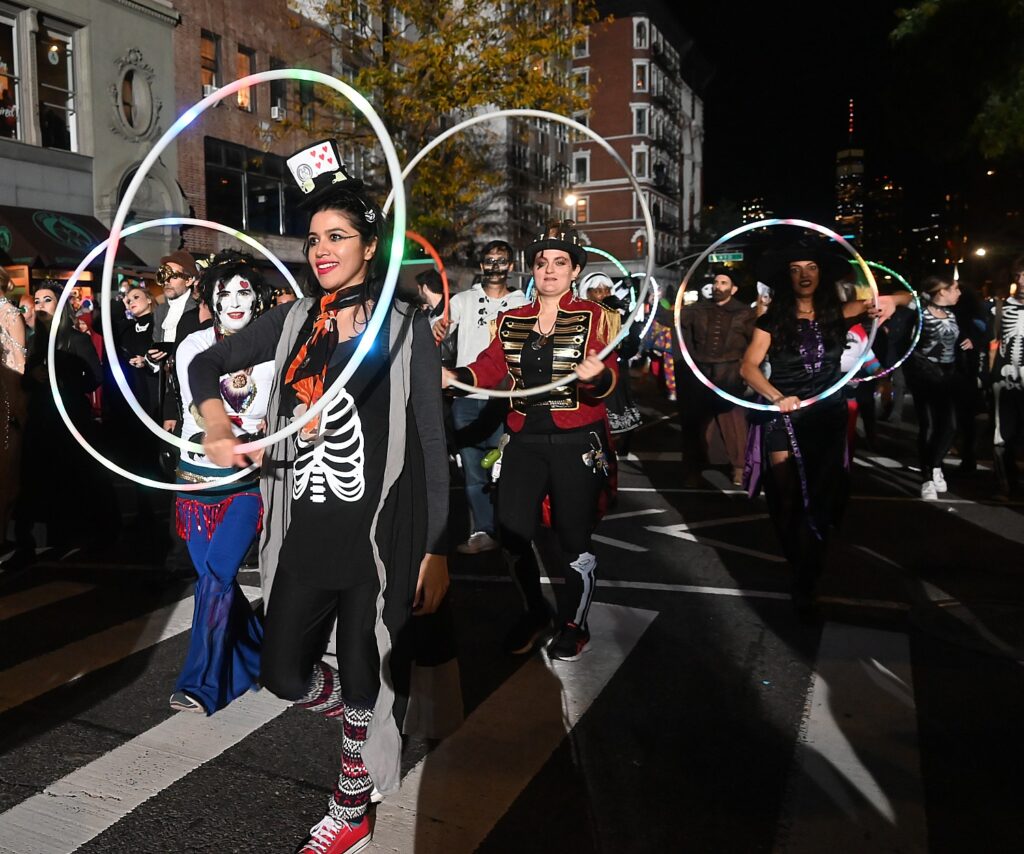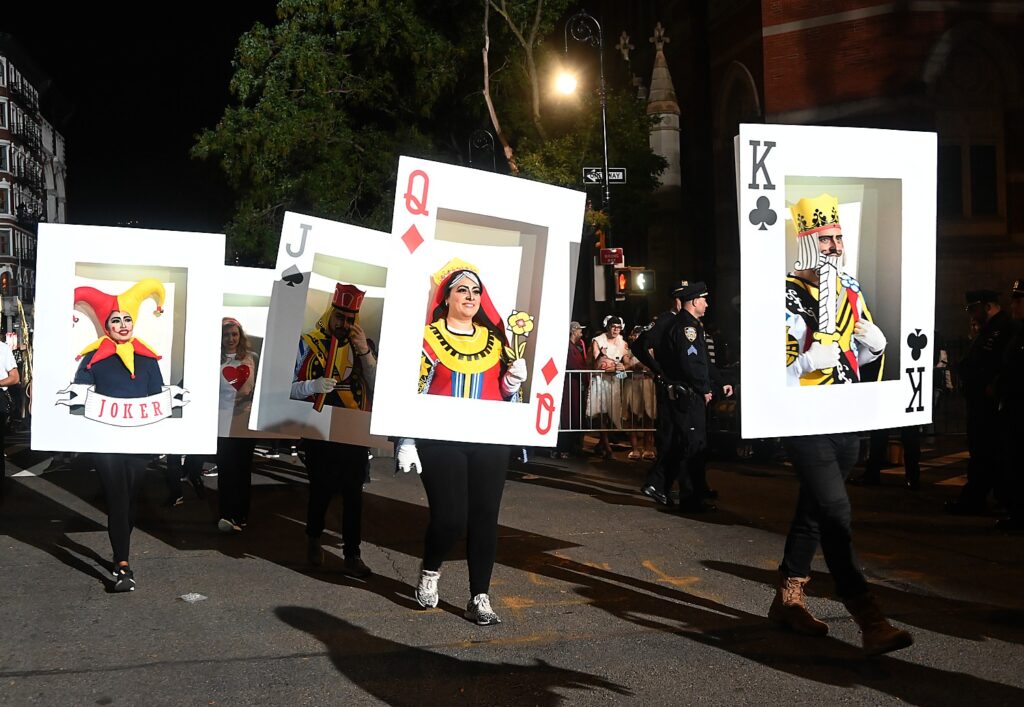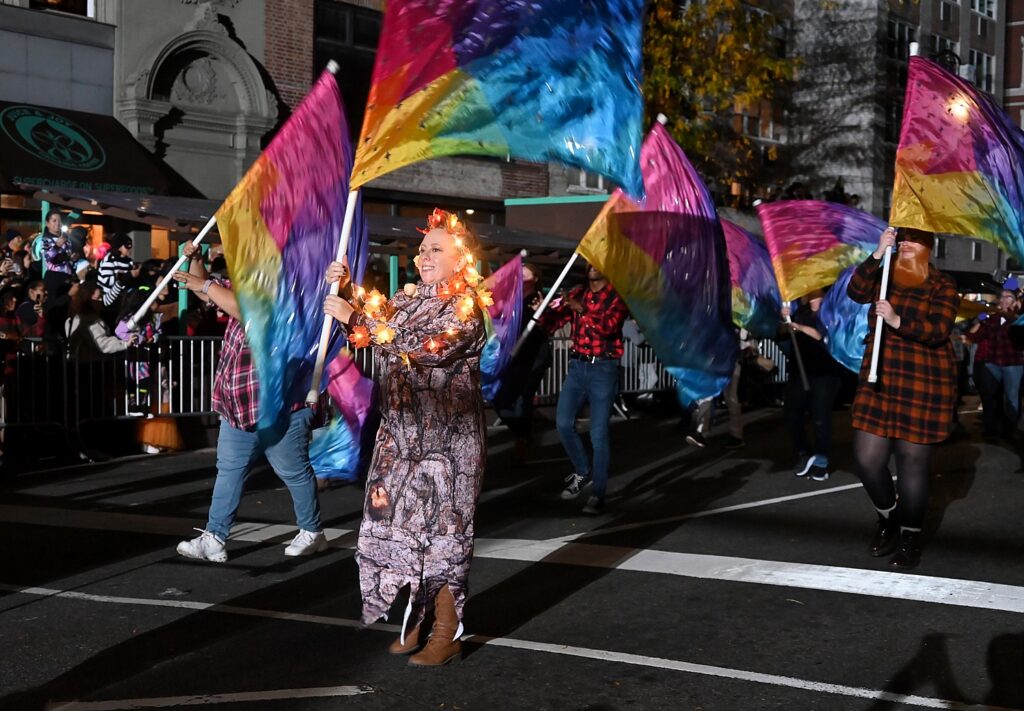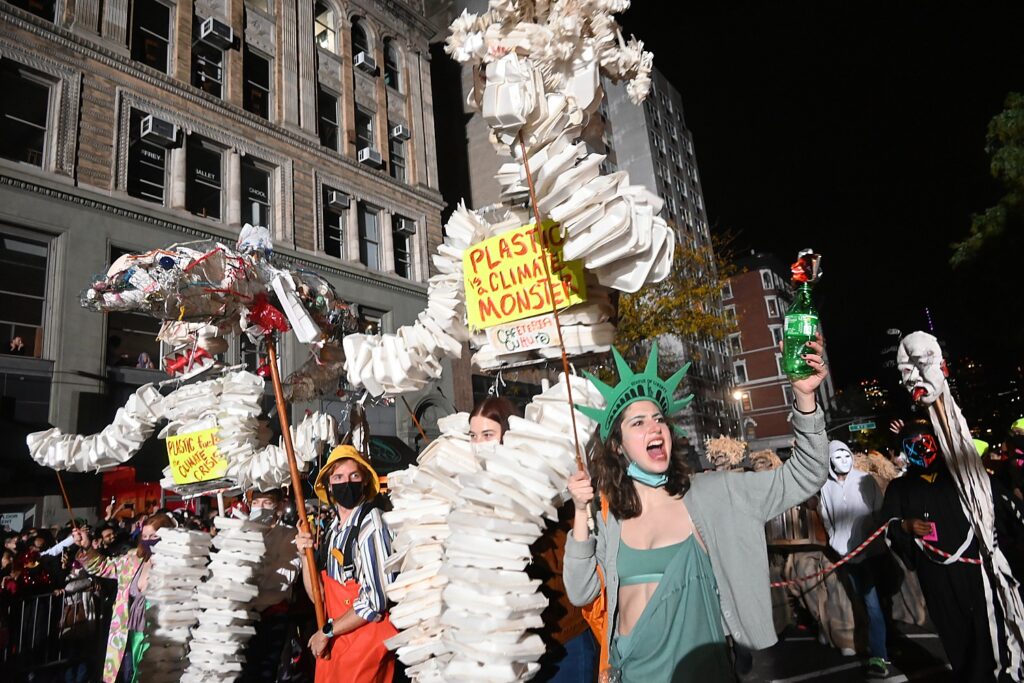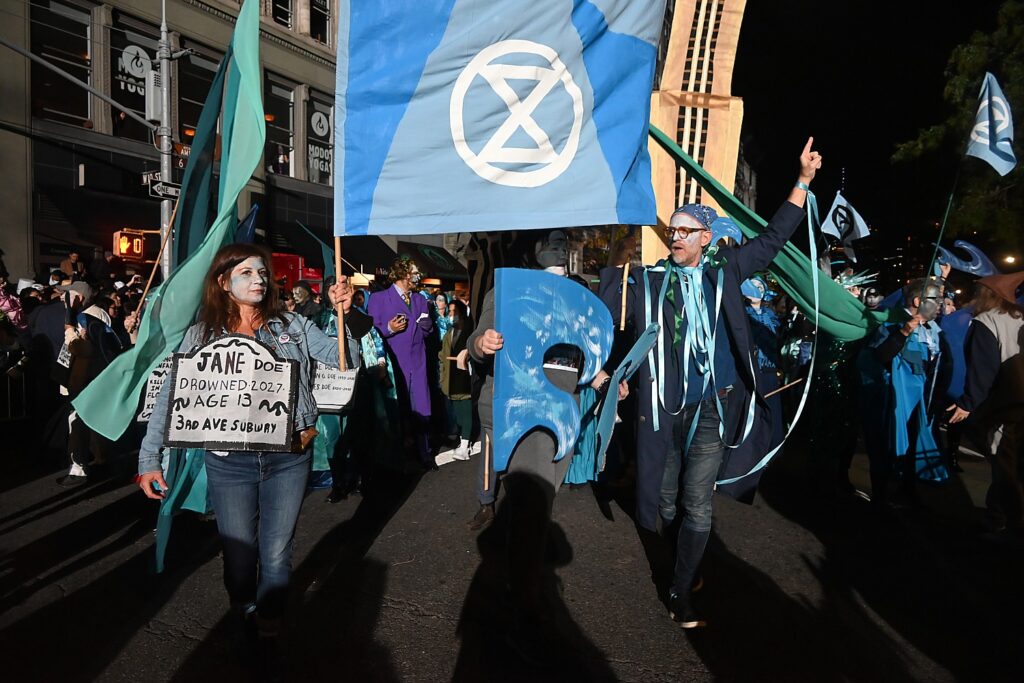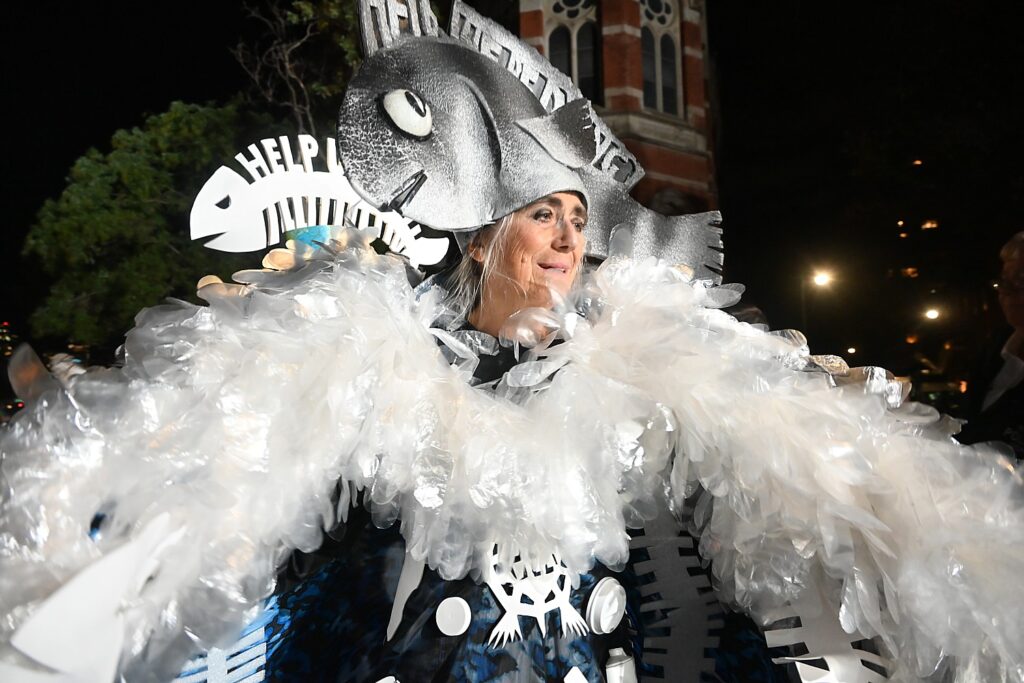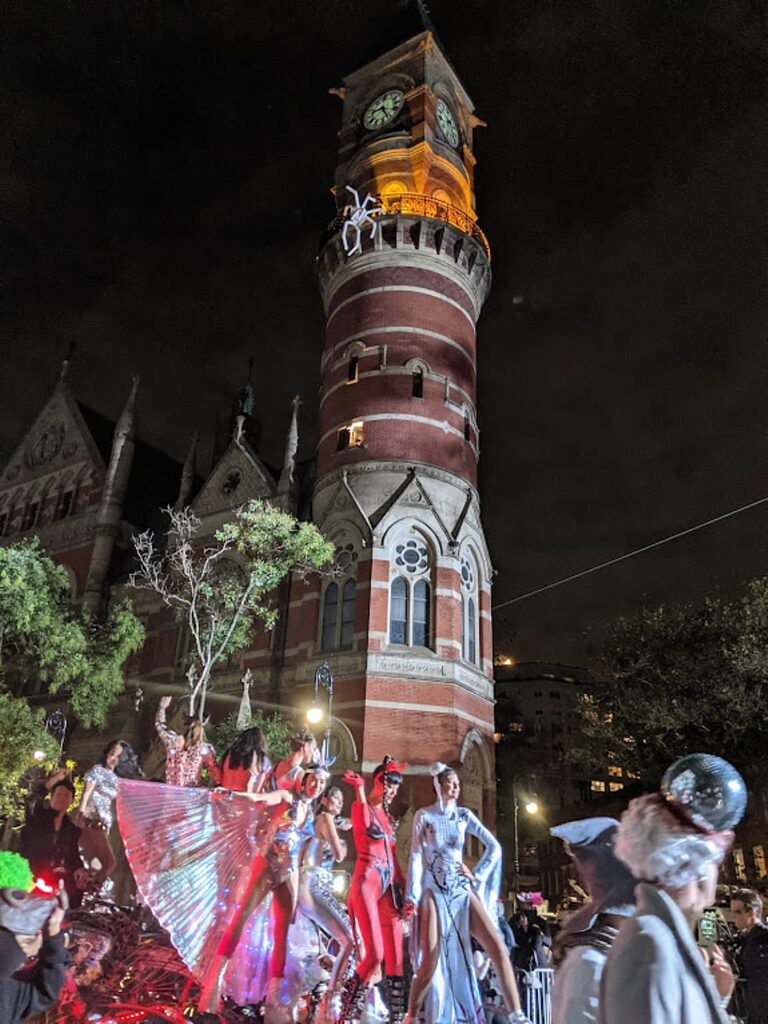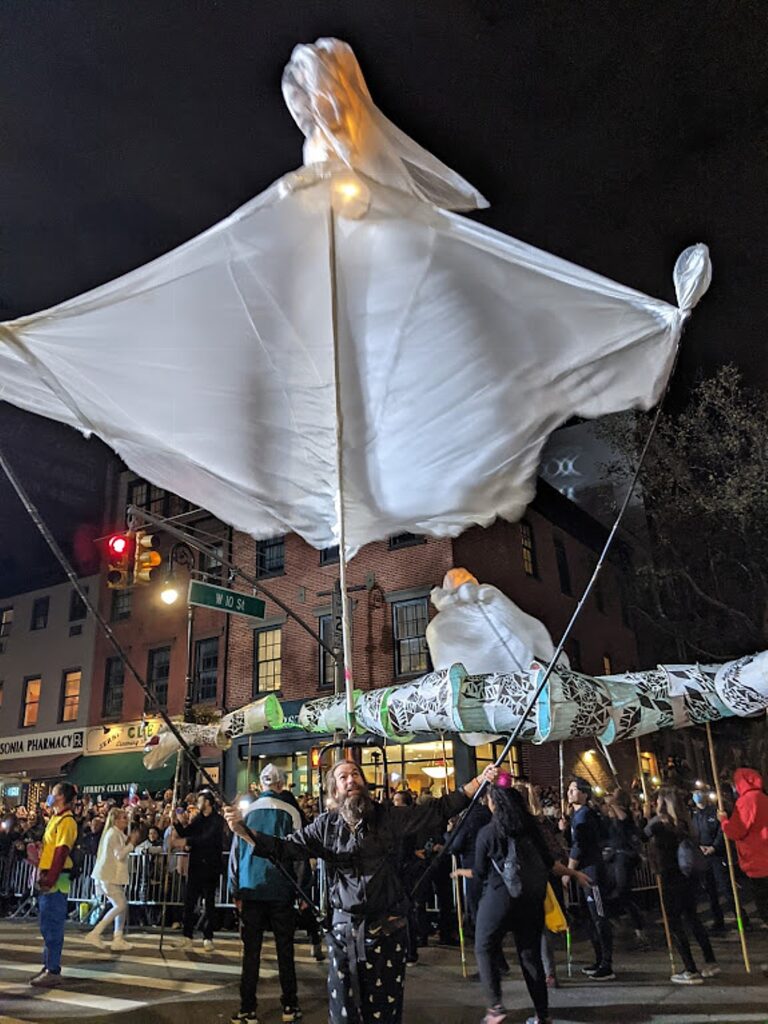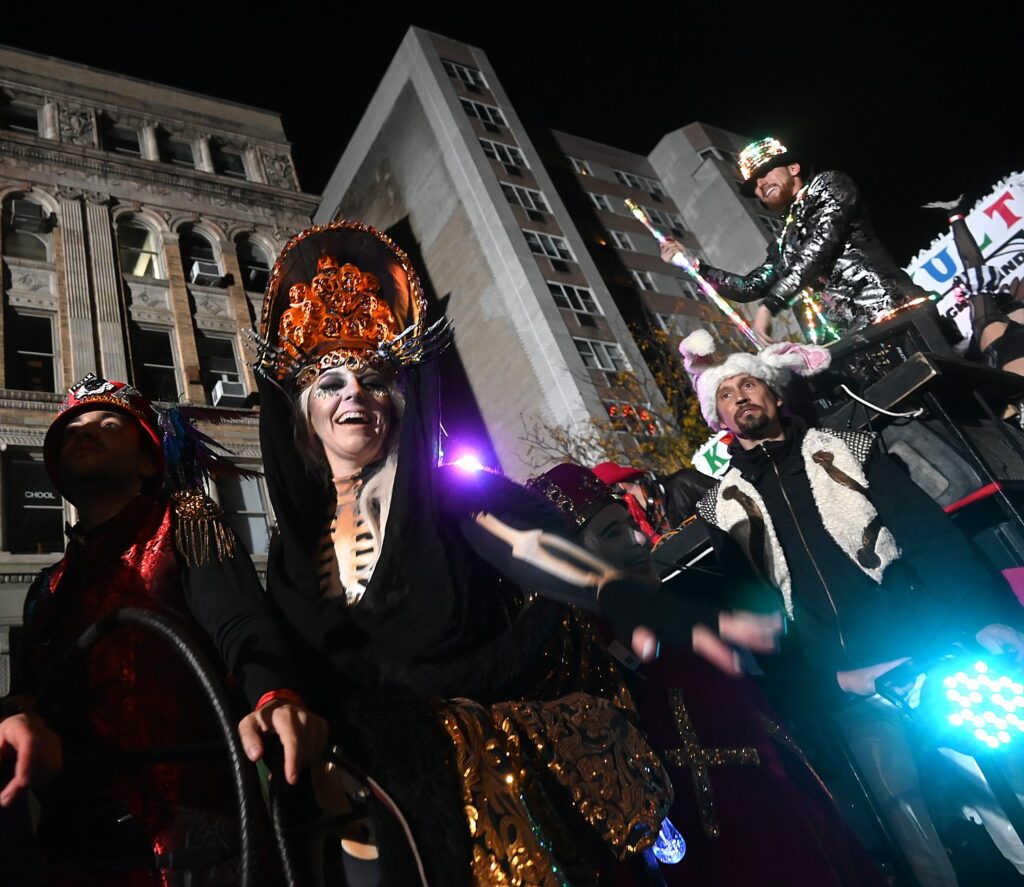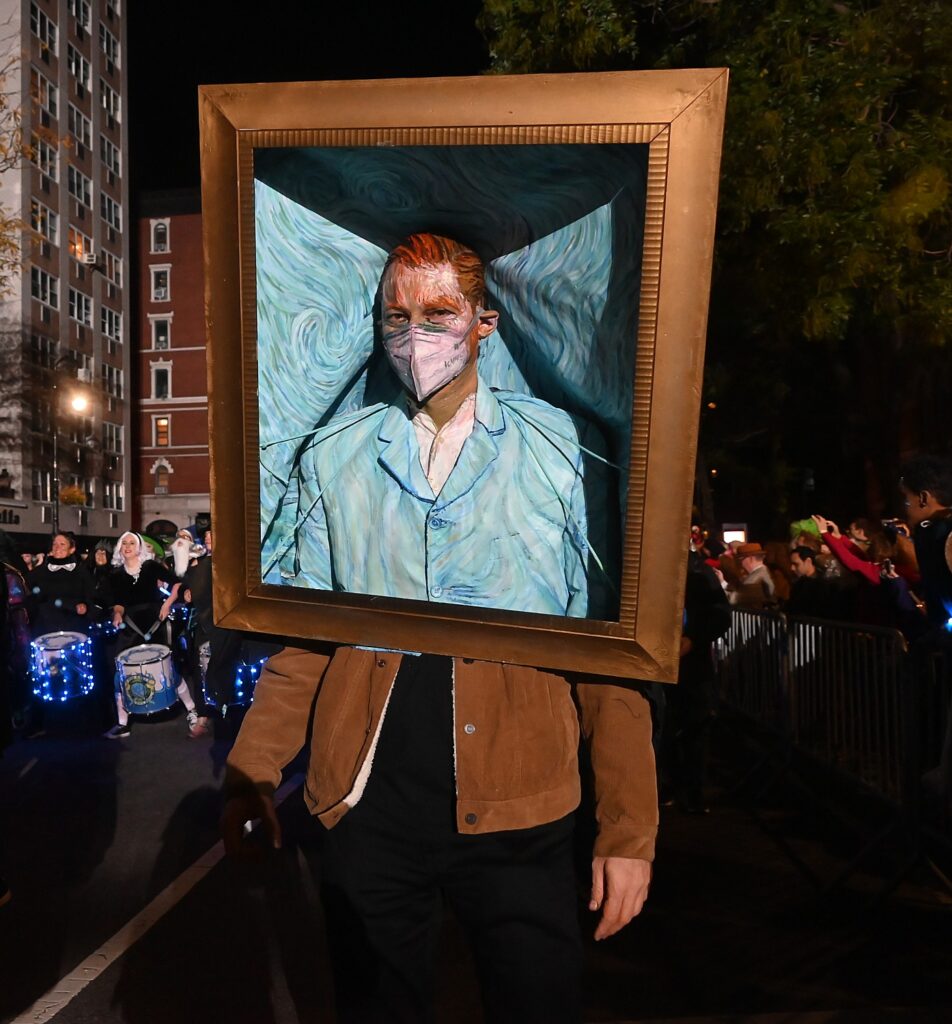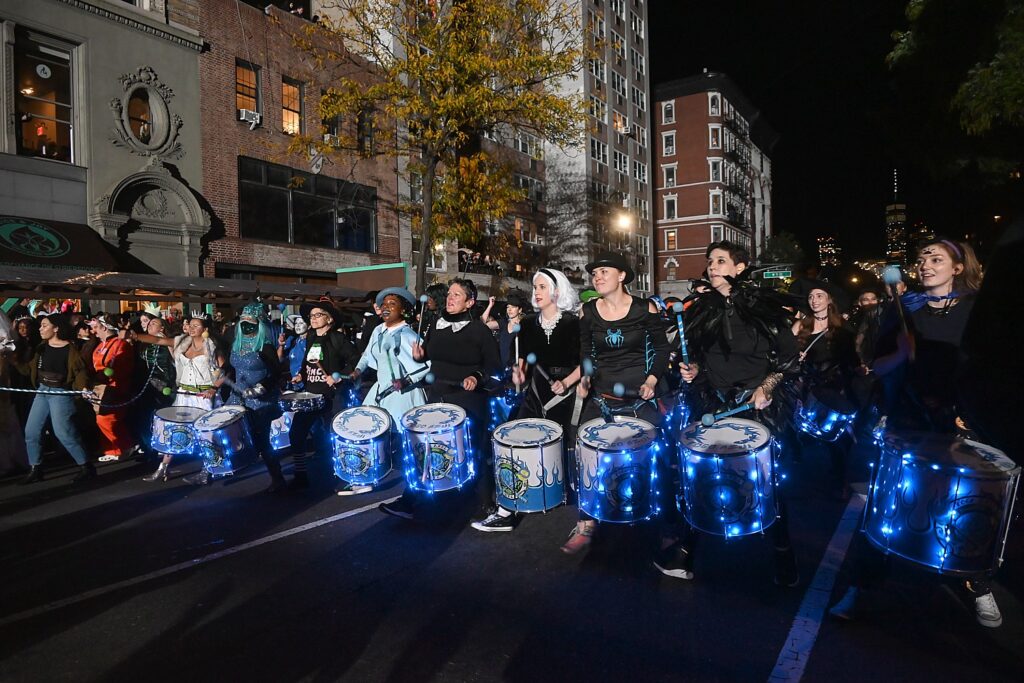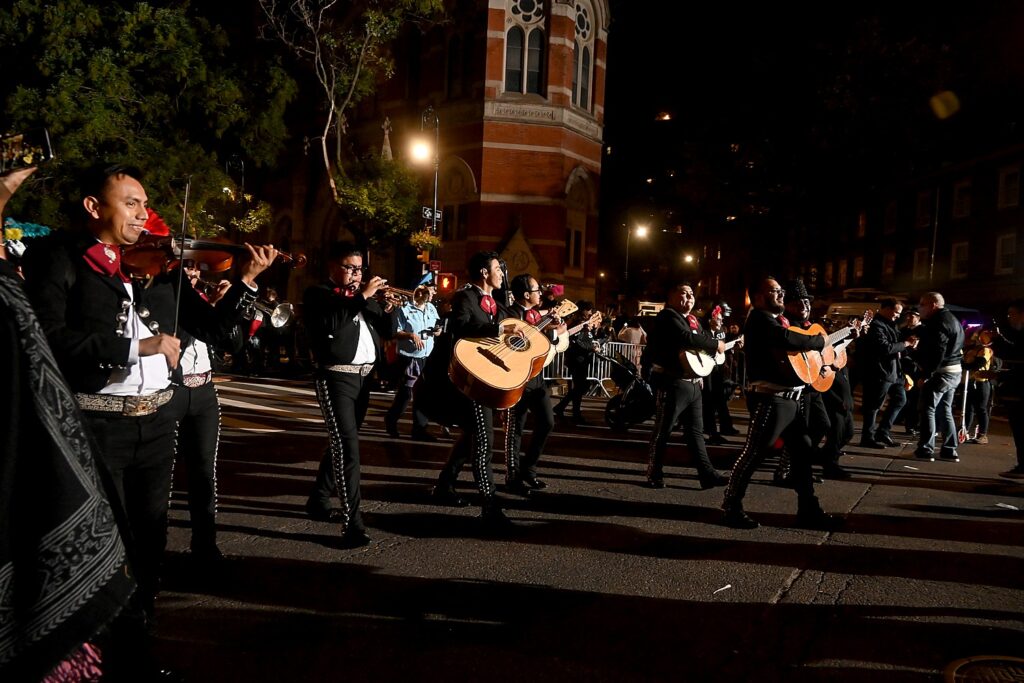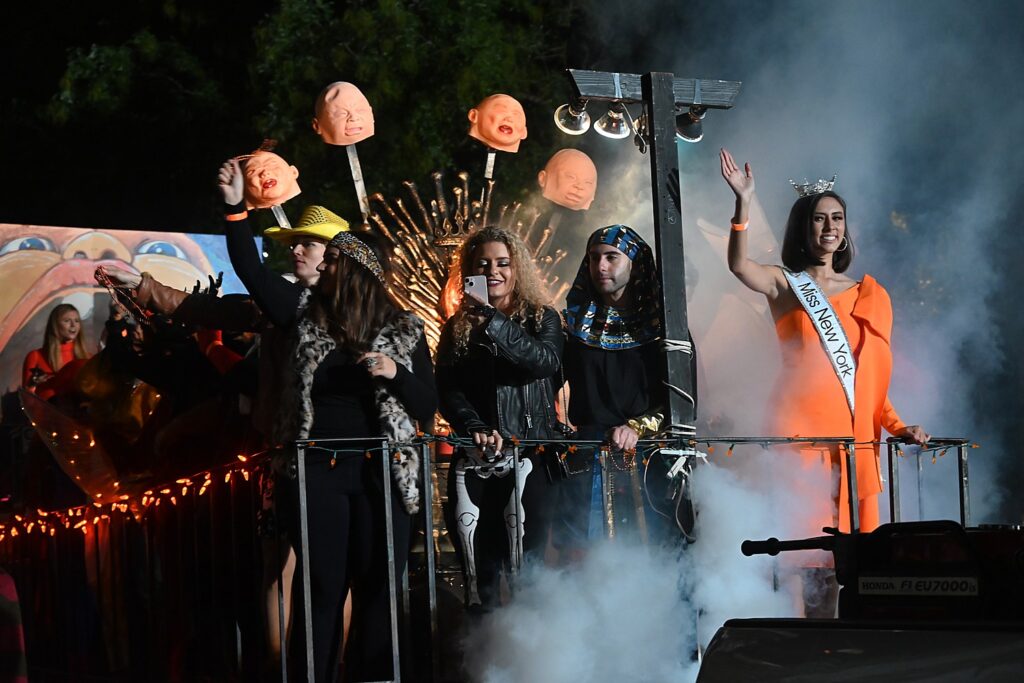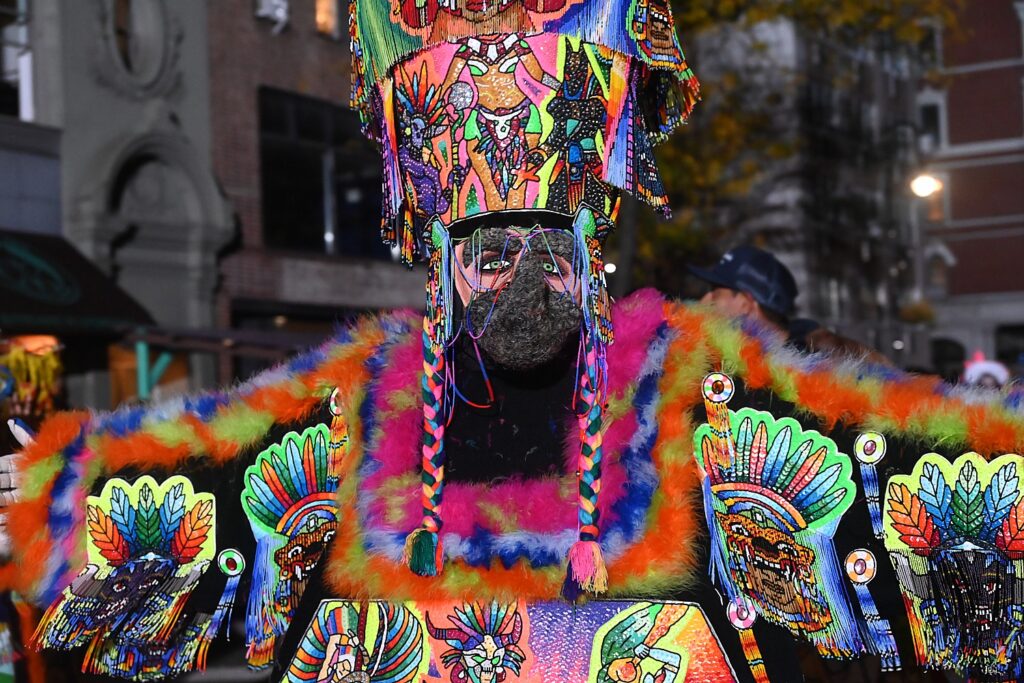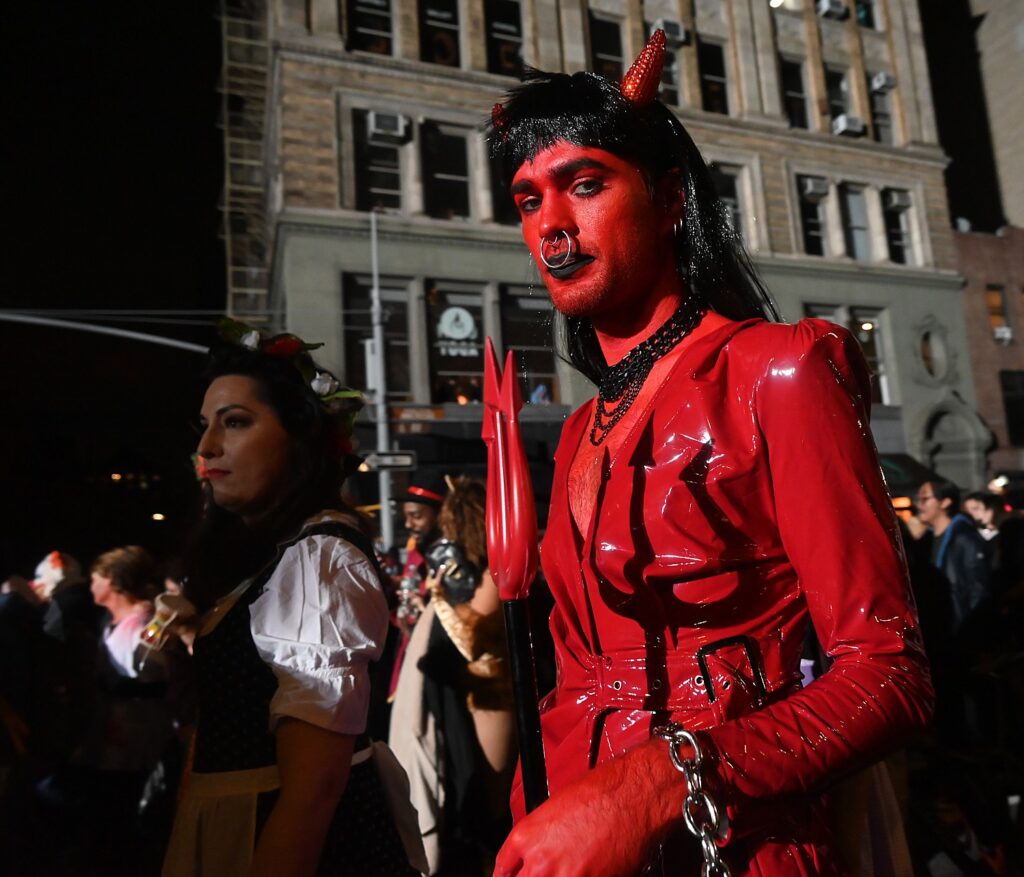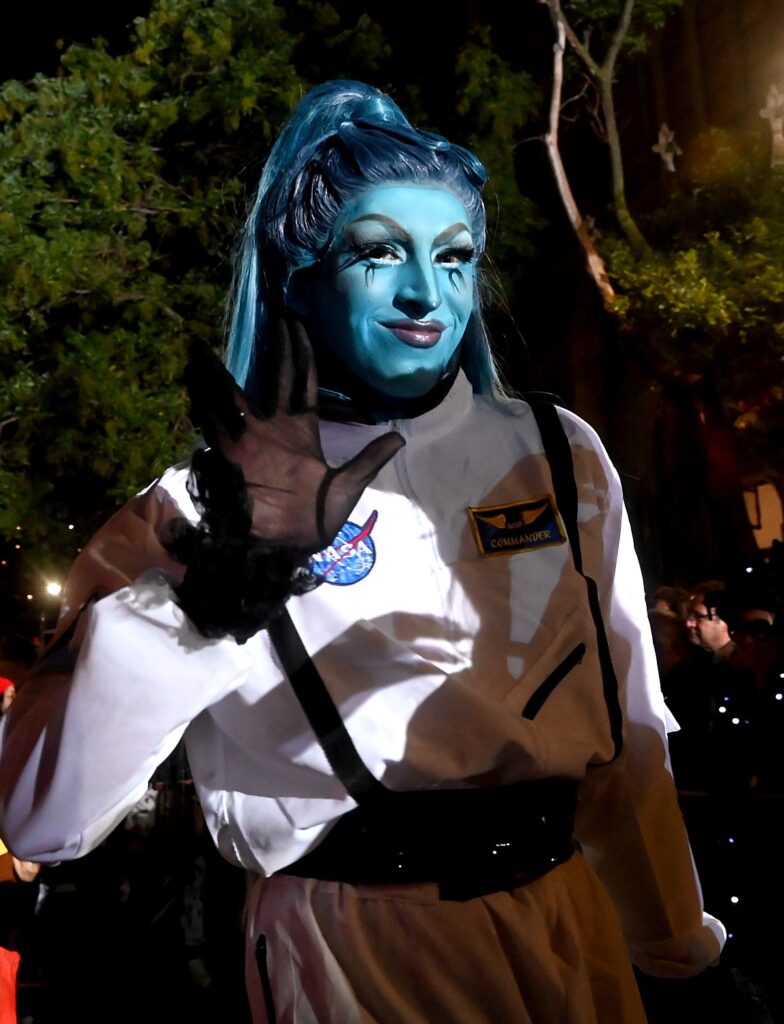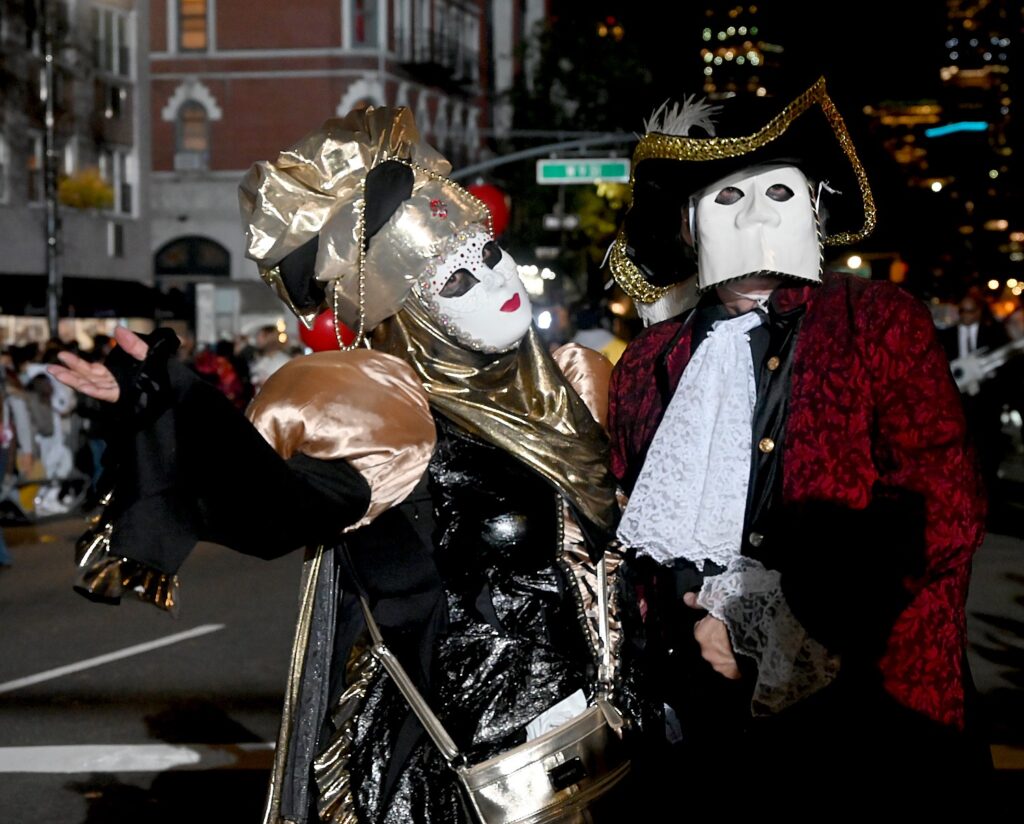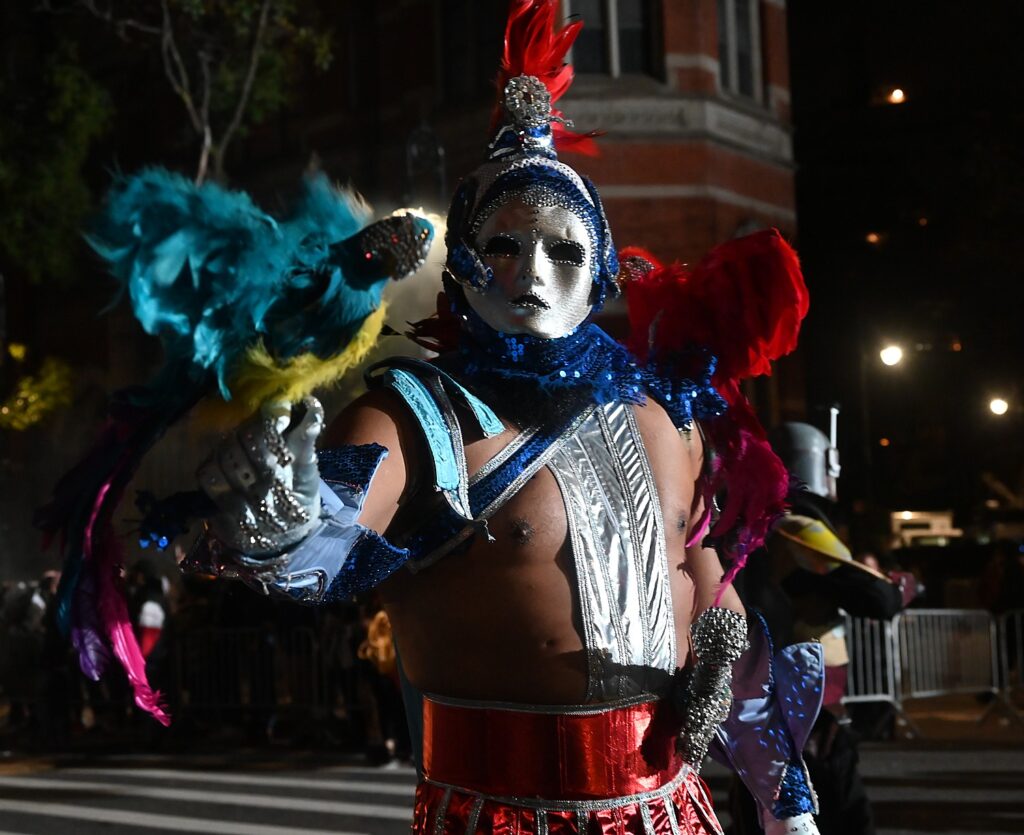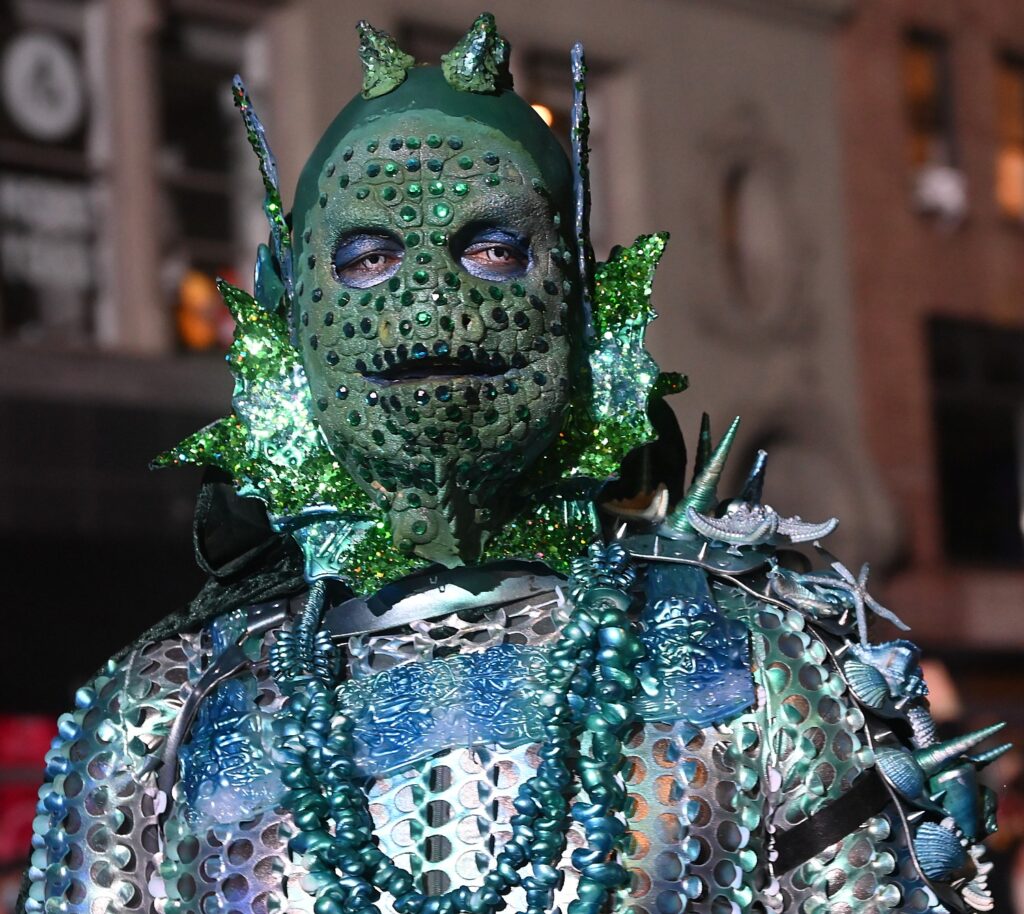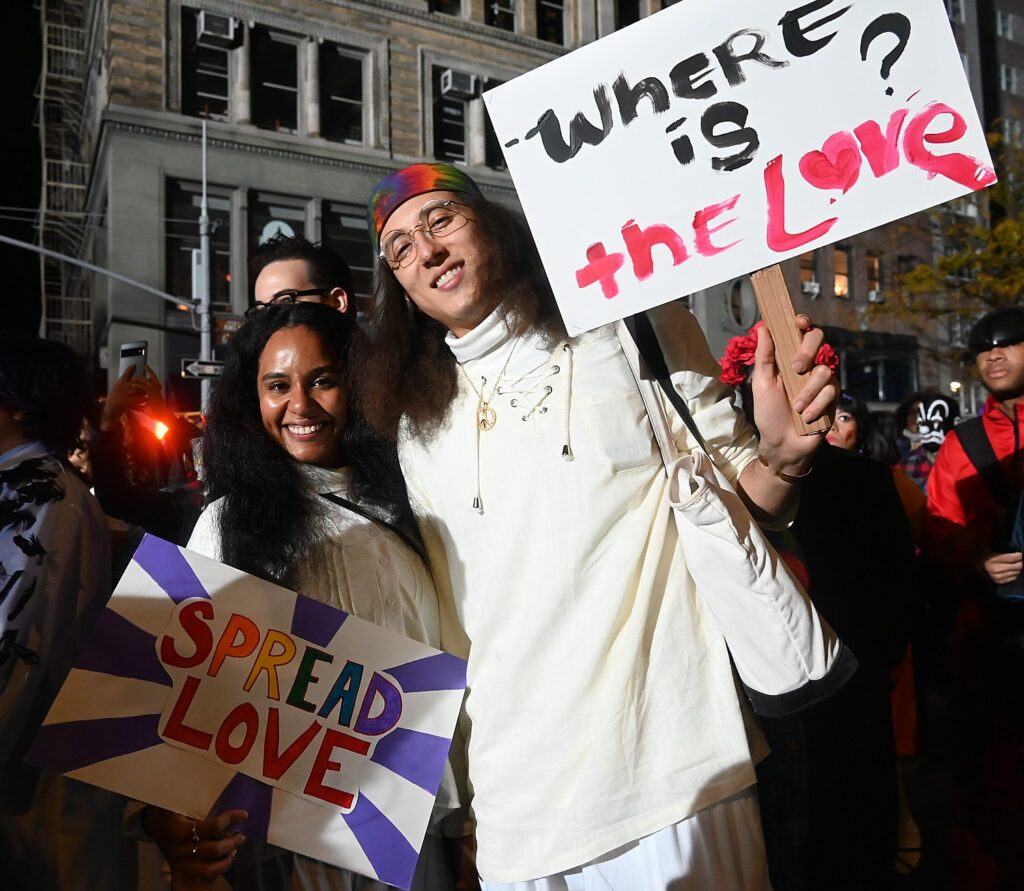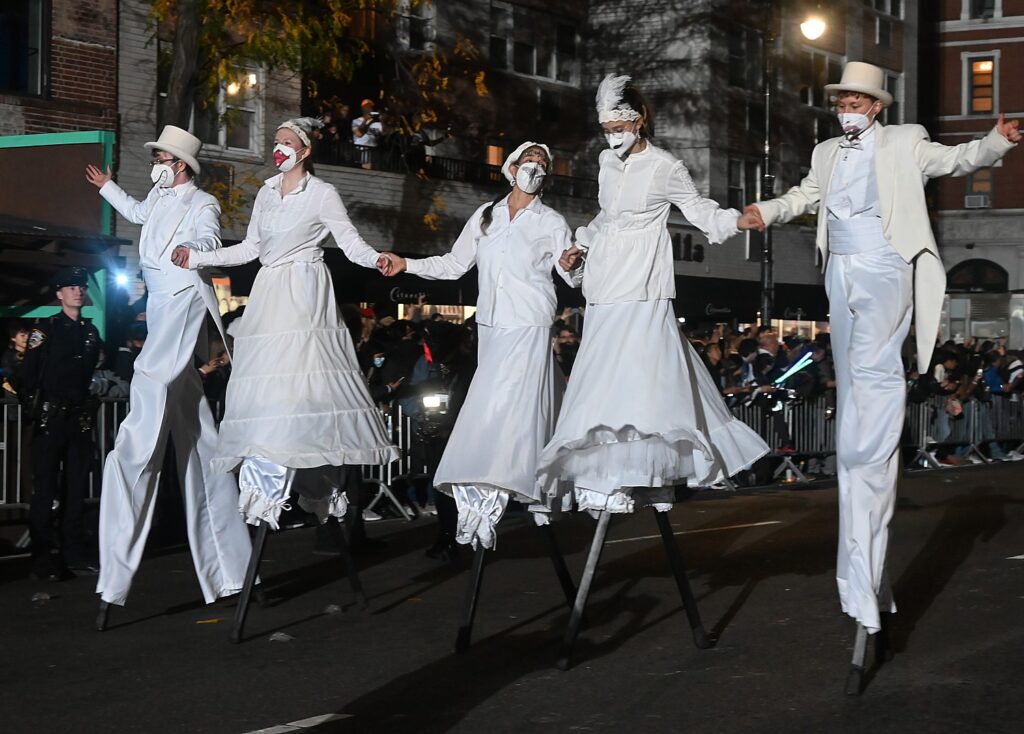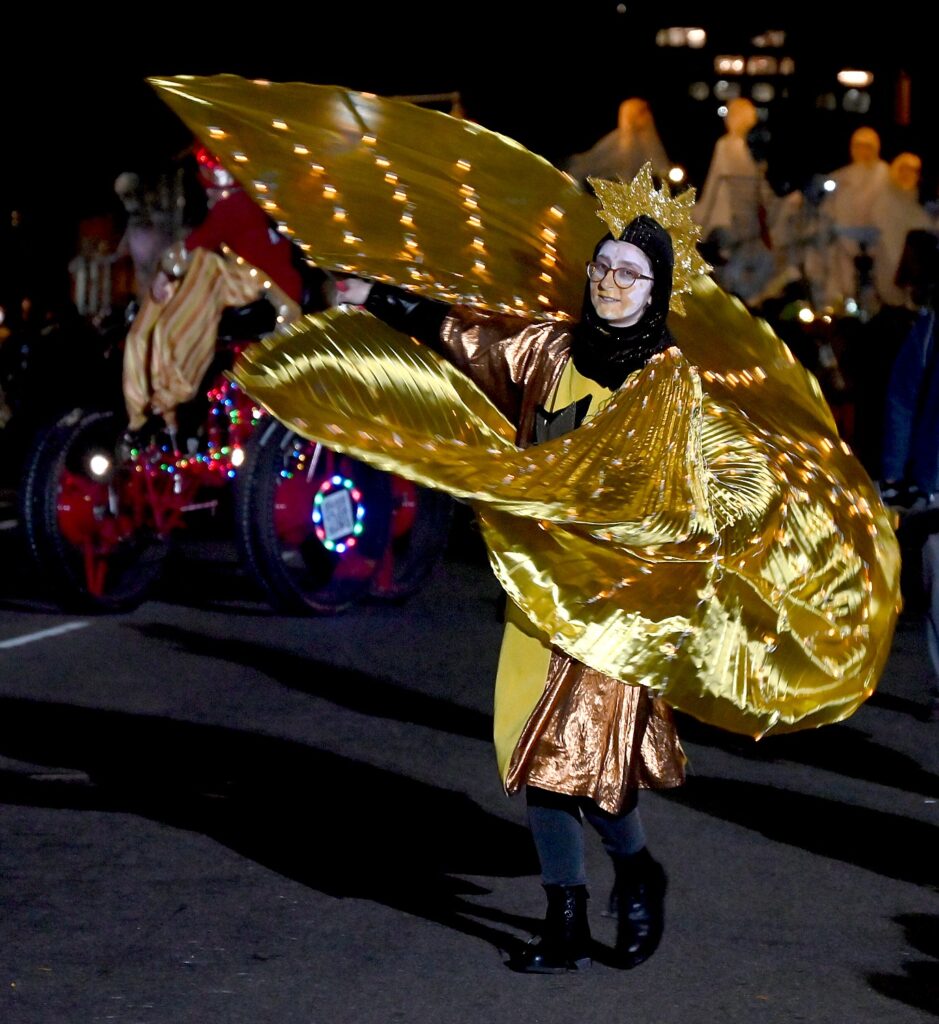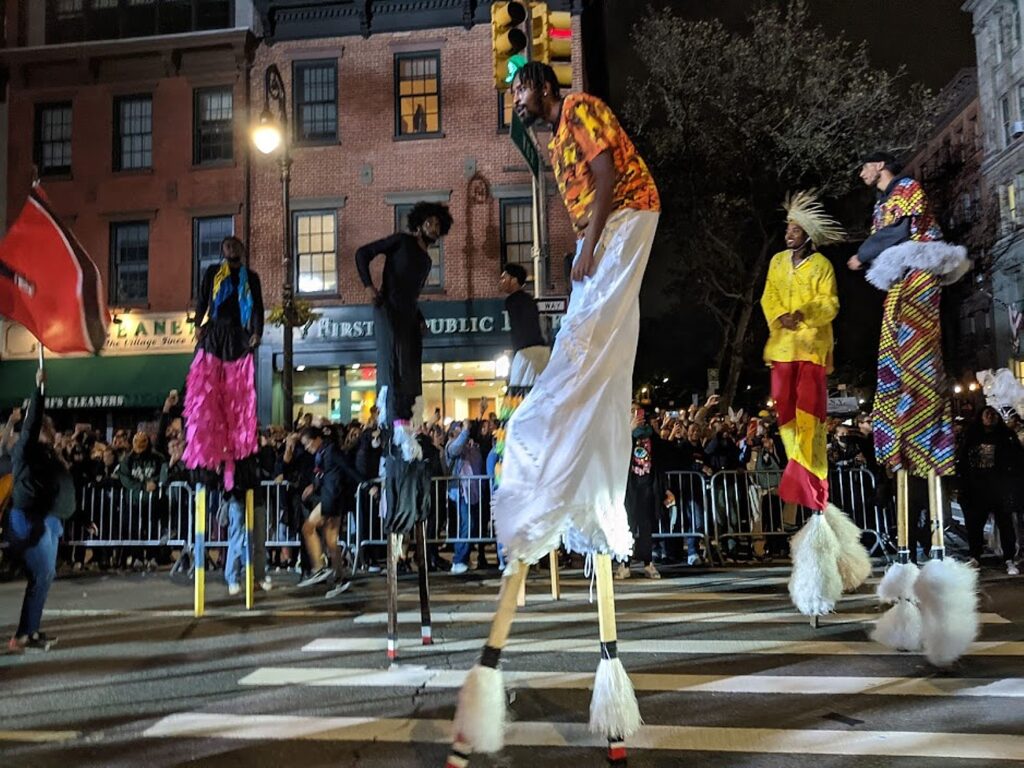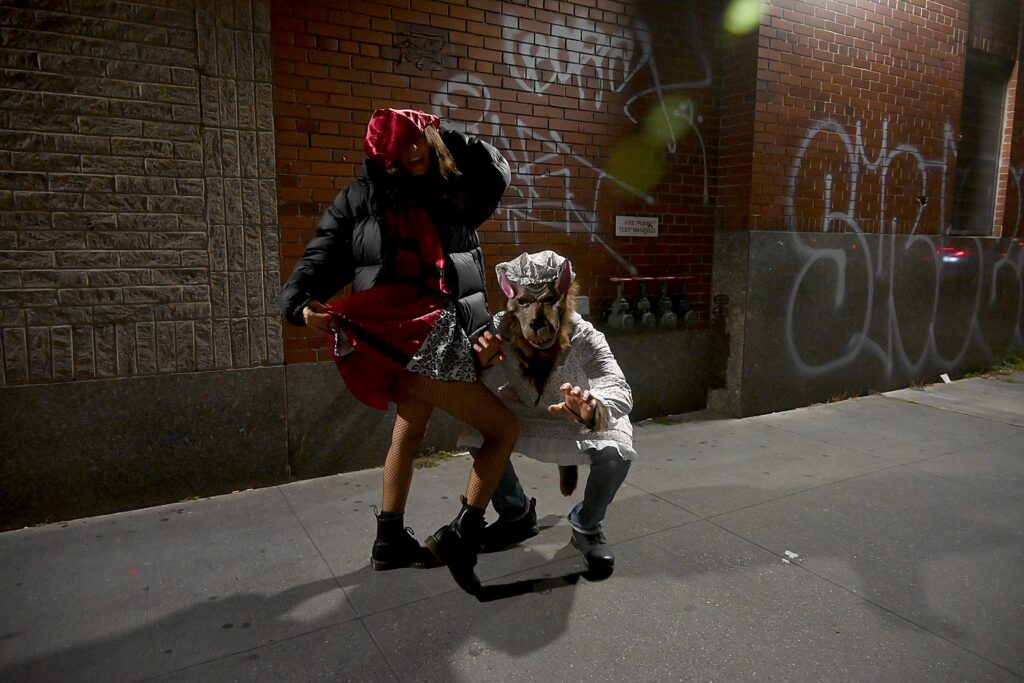 Celebrating its 48th Anniversary, New York's Village Halloween Parade is:
The nation's largest public Halloween celebration
Named as The Greatest Event on Earth by Festivals International for October 31
Attended by over 2 million people, seen by over 1 million on TV
The nation's only major night Parade
Seen LIVE on NY 1 Television
Listed as one of the 100 Things to do Before You Die
Recipient of the Municipal Arts Society of New York's Award for making a major contribution to the cultural life of New York City
Recipient of a major grant from the National Endowment for the Arts in recognition of Longtime Artistic Achievement
Recipient of the Mayor's Tourism Grant in recognition of the Parade's major impact on the economic life of New York City and grants from the Manhattan Borough President's Tourism Initiative
Picked by Events International as The Greatest Event on Earth on October 31, and ranked 3rd by Citysearch as the best event in New York City
Ranked by Biz Bash as one of the top 10 events in NYC
An event which has a positive impact on New York economic life, bringing hundreds of thousands of tourists and an estimated $90 million in tourism dollars into the city, providing Greenwich Village businesses and restaurants their best night of the year.
An event which has a tremendously positive impact on how people who live in or come to visit New York see and feel about this community. The excitement and goodwill that it generates is lasting.
In effect, by turning a large and complex city into a small town for just one night, the Parade has been a pioneer in the critical movement toward the resurrection and rejuvenation of the City.
______________________
© 2021 Travel Features Syndicate, a division of Workstyles, Inc. All rights reserved. Visit goingplacesfarandnear.com, www.huffingtonpost.com/author/karen-rubin, and travelwritersmagazine.com/TravelFeaturesSyndicate/. Blogging at goingplacesnearandfar.wordpress.com and moralcompasstravel.info. Send comments or questions to [email protected]. Tweet @TravelFeatures. 'Like' us at facebook.com/NewsPhotoFeatures