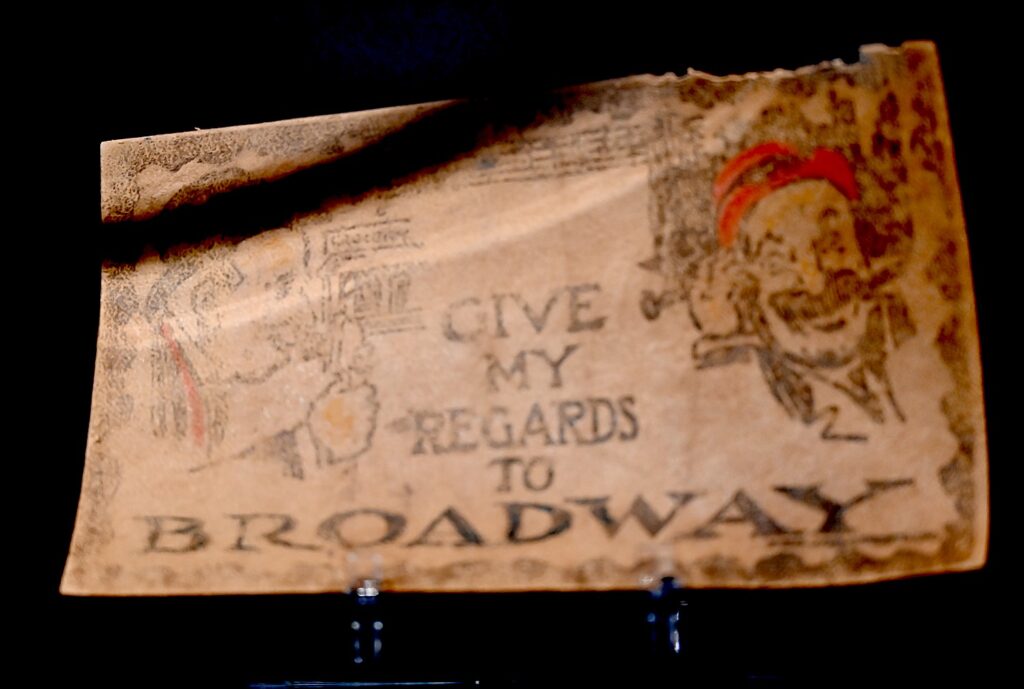 By Karen Rubin, Travel Features Syndicate, goingplacesfarandnear.com
There are actual top hat and dance shoes from A Chorus Line. You step into Doc's drugstore from West Side Story. See costumes from Phantom of the Opera. There are scores of artifacts, music sheets, props, director notes, rehearsal photos. You see the original Playbills of iconic shows and theater posters going back to the very beginning of American (that is New York and ultimately Broadway) theater. And then you go "backstage" to see how all the creative and technical processes all come together, that speaks to you not so much as star-struck audience member but as a person yearning to be in theater. "Hey gang, let's put on a show!"
This is the Museum of Broadway, newly opened in November, 2022.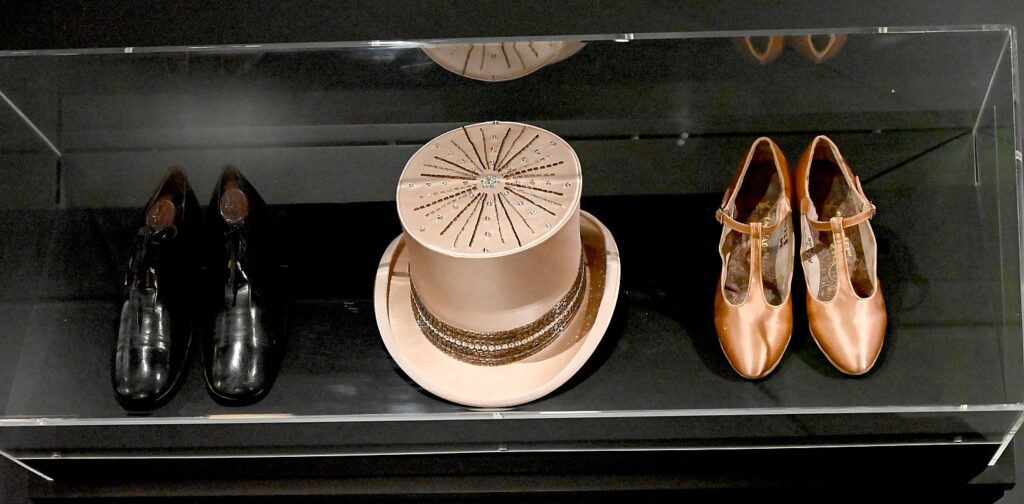 Rather than burst any star-studied illusions or theater magic, this opportunity to go behind the curtain is tremendously exciting – you get to see (and appreciate) what goes into such show-stoppers, cultural icons as Show Boat, Oklahoma, West Side Story, Fiddler on the Roof, Cats, Phantom of the Opera, Company, Rent, A Chorus Line, Lion King, The Wiz, Ain't Misbehavin' and Hamilton, several offering immersive experiences.
In all (believe it or not), the Museum limelights more than 500 individual productions from the 1700s to what is on stage now.
And you get insights into such theater luminaries as Ziegfeld, Sondheim, Webber, Fosse. You come away even more awestruck and under theater's spell than when you entered.
The Museum features work from Emmy Award winning illustrator I. Javier Ameijeiras (Rent Live!), neon artist Dani B, Tony Award nominated dancer Robert Fairchild (An American in Paris, former NYCB principal), Drama Desk Award winning scenic designer David Korins (Hamilton, Beetlejuice), choreographer Julio Monge (West Side Story), and dancer Tanairi Vazquez (West Side Story, Hamilton). (Find a full list of the artists featured in the Museum at https://www.themuseumofbroadway.com/artists)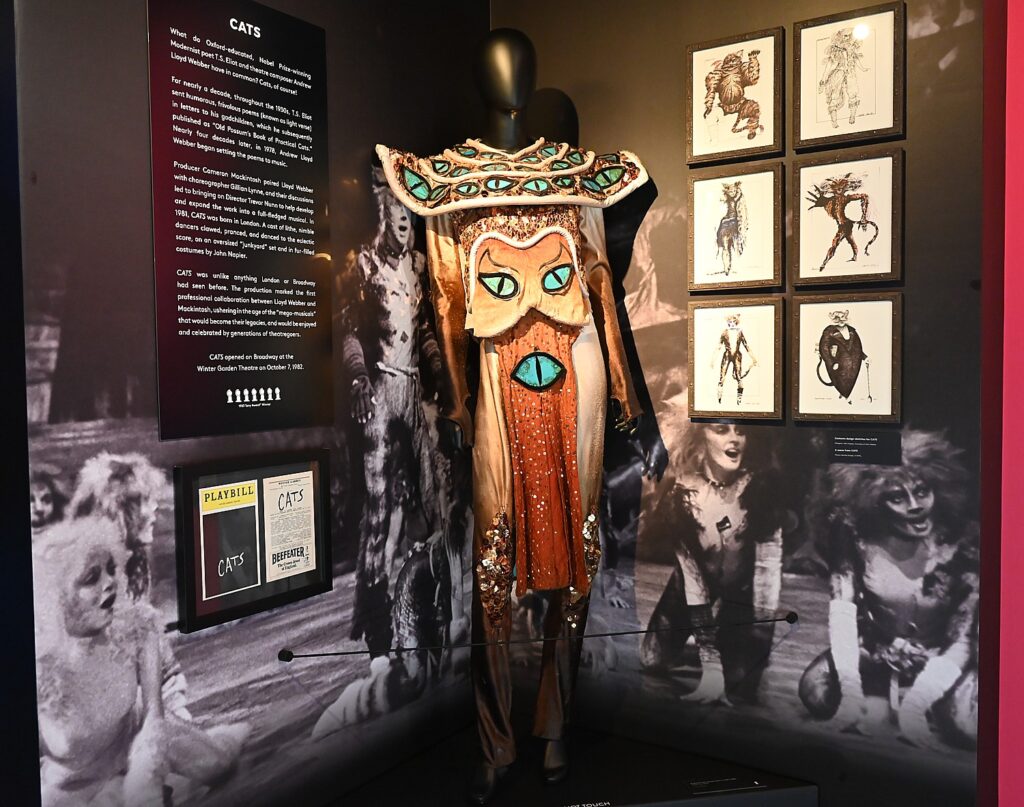 The Museum of Broadway is an immersive and interactive theatrical experience devoted to musicals, plays, and the people who make them. Featuring the work of dozens of designers, artists, and theatre historians, you are taken on a journey along the timeline of Broadway, from its birth to present day.
You travel through a visual history of Broadway, highlighting groundbreaking moments in a series of exhibits that showcase – and show off – dazzling costumes, props, renderings, rare photos, videos, artifacts, awards. Stops along the way highlight the pivotal shows or "game changers" that transformed the landscape of Broadway – the moments that pushed creative boundaries, challenged social norms, and paved the way for those who would follow.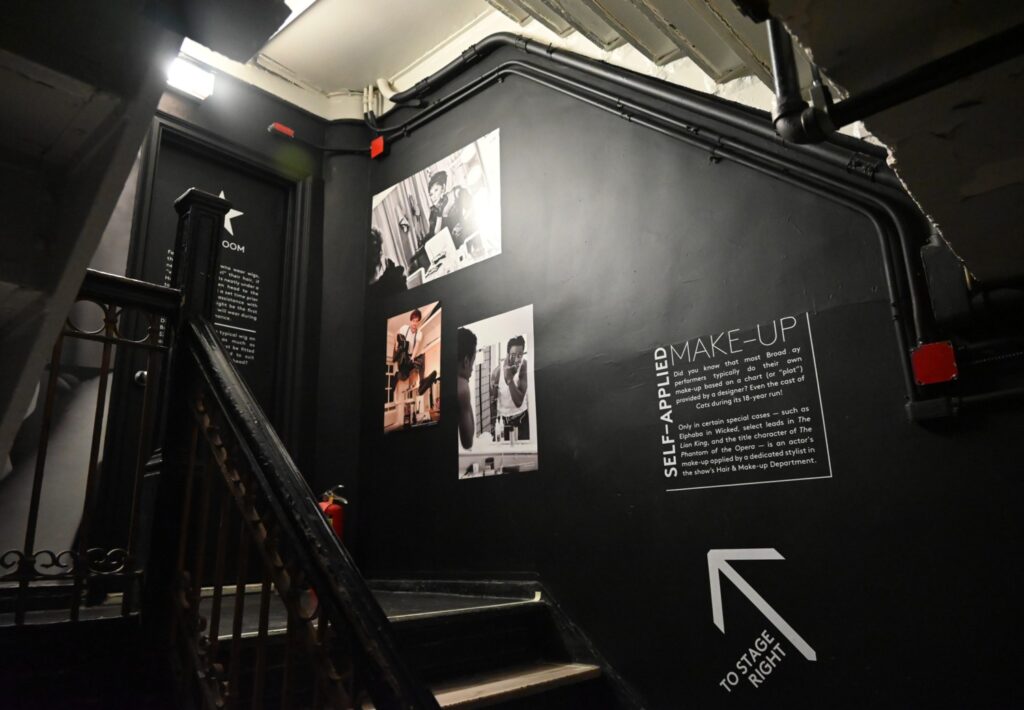 Your visit to the Museum of Broadway starts back stage (actually on the back stairs of the building, next door to historic Lyceum theater), with sound effects, photos, that show how typical it would be for the Broadway performers to use the back stairs for warm ups.
Walk up three flights, where you hear "warm-ups" as you climb the stairs and go past rooms to show where hair, make-up would have been (performers are taught how to apply their own); the dressing rooms (one labeled "dressing room" is actually the bathroom) and get introduced to the traditions (even superstitions) of Broadway performers. (There is an elevator for those who cannot climb the stairs.)
You are brought into a waiting room before the introductory video – showcasing the Playbills and synopsis of shows currently on Broadway (can point to a QR code and purchase tickets right there), as the music for "Company" plays.
Then you are taken into a small screening room to see a video packing 250 years of history of New York theater into just four minutes. (It is surprising to learn the first actual public performance was in 1732 at the Playhouse, way downtown.)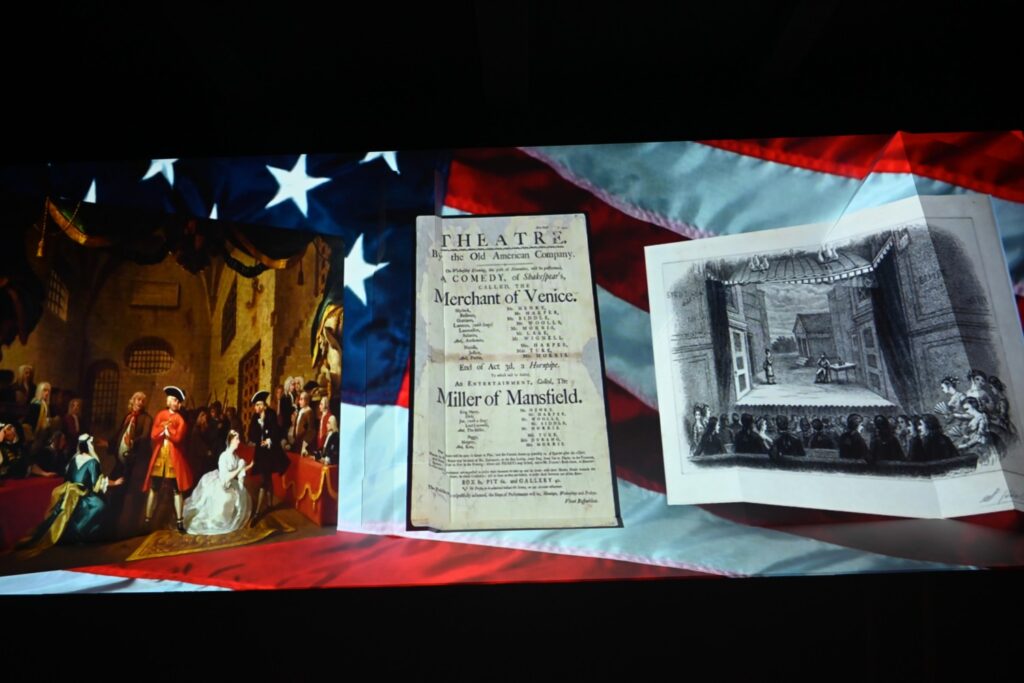 New York Theater at first was centered in lower Manhattan – where Financial District and Chinatown are today, then, as rents moved up, theaters moved uptown along Broadway to Union Square, Herald Square and finally to Times Square (renamed for the New York Times newspaper, which took up residence in 1904).
Oscar Hammerstein I (grandfather of lyricist Oscar Hammerstein II) was instrumental in opening a number of theater houses, beginning 1895 with the Olympia; the Schubert Brothers (Sam, Lee and JJ) soon followed, becoming a major powerhouse among theater owners.
Times Square became known as the Great White Way because of the lamps and electric white lights on marquees.
The Great Depression hit the theater industry hard – many theaters were converted to other purposes. But the end of World War II led to a Golden Age of Broadway, and Jujamcyn and Nederlander emerged as theater behemoths. Then, with the decline of New York City in the 1960s – crime, deteriorating condition – theaters were empty.
The city was desperate to revitalize the Times Square area and allowed the Marriott Marquis to build its new hotel (with a theater inside) to spur a renaissance. But that resulted in the destruction of five Broadway theaters – the so-called "Great Theater Massacre" of 1982. The outcry led to a new landmark preservation law to protect Broadway theaters.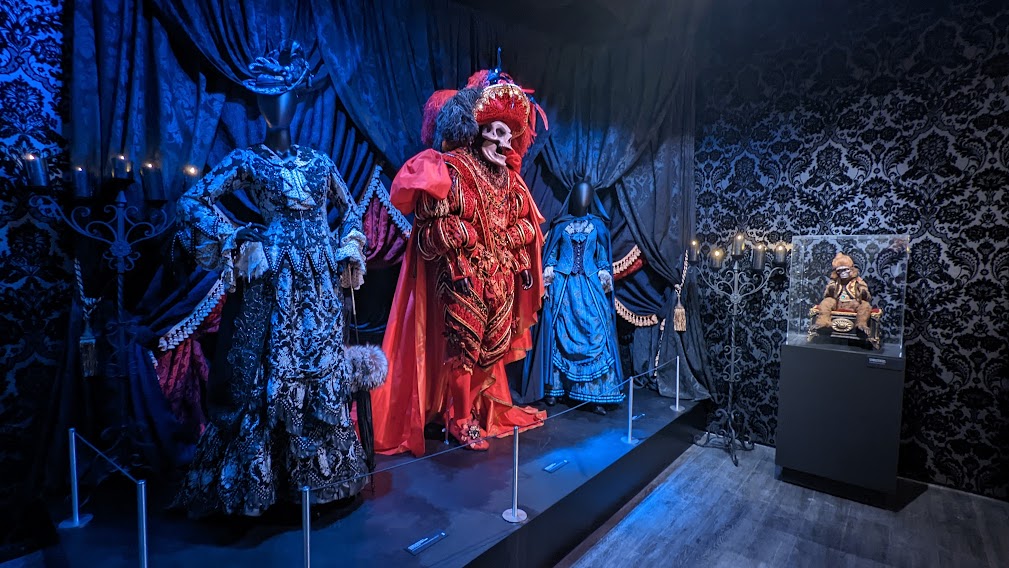 The revitalization really was spurred in the mid-1990s, when Disney signed a 99-year lease for the New Amsterdam Theater on 42nd Street and the city cleaned up Times Square. Broadway was back and "family friendly", to the point there was a waiting list for incoming shows.
Then COVID hit in March 2020, shutting down the theaters -"the heartbeat of the city" – for 18 months, the longest period in theater history. Since Broadway is one of the top reasons visitors come to the city, and one of its top revenue-makers as well as employers, shutting down theater took its toll on the city's finances.
After the video (I sit through it twice), you are brought into a sequence of rooms in a Timeline, showcasing the people and key productions – plays and musicals – that shaped the past, present and point to the future of Broadway theater.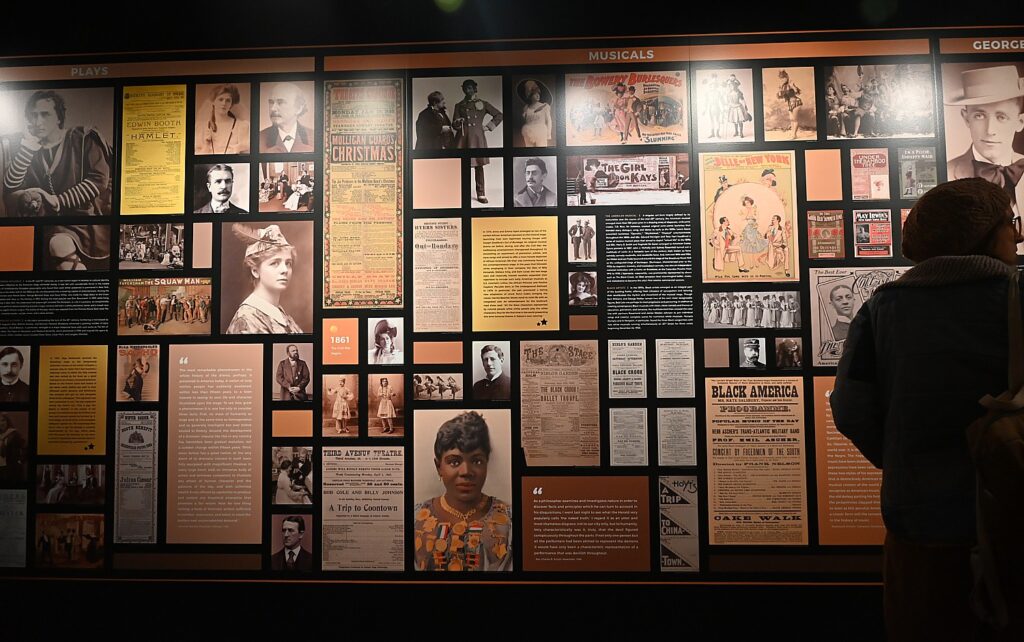 The first panels are really interesting, featuring posters of plays starring Edwin and John Wilkes Booth, and (ironically) a production of "An American Cousin," starring Laura Keene at the New American Theater in March 3, 1859 – the play Abraham Lincoln was watching at Ford Theater in Washington DC when John Wilkes Booth assassinated him. There is also, an interesting discussion of censorship – when Olga Nethersole, who played Sapho, was arrested for corrupting public morals (indecency). The scandal, first unleashed by the producer to generate audience interest and then played up by newspapers to sell papers (Yellow Journalism), backfired on the show, which though actually quite tame, was censored, but Nethersole was ultimately acquitted.
The panels also highlight the contribution and breakthroughs of Black Americans in American theater and breakthroughs by women. But it is odd that the contribution by Jewish creators is hardly a footnote, while incorporating photos and hard-to-read photo captions of the Marx Brothers, Irving Berlin, showcasing Showboat without mentioning Oscar Hammerstein II and Jerome Kern, and Porgy and Bess without bothering to mention the Gershwins who wrote them.
The influence of Irving Berlin, Jerome Kern, George and Ira Gershwin, Lorenz Hart, Richard Rodgers, Oscar Hammerstein II, Kurt Weill, Sheldon Harnick, Jerry Bock, Leonard Bernstein, Stephen Sondheim, Stephen Schwartz, Jule Styne is undeniable throughout the museum because of the productions that are highlighted, but unremarked. The only mention of Yiddish Theater comes in a tiny reference in a panel for a 1990 show, "Those Were the Days") (For this part of history, see "Broadway Musicals: A Jewish Legacy" from Great Performances on pbs.org (https://www.pbs.org/wnet/gperf/broadway-musicals-a-jewish-legacy-about-the-film/1476/)
There is a showcase of Ziegfeld Follies, as if you are in the (very pink and feathery) dressing room, with stunning costumes. There's a photo but much information about Fanny Brice and a photo of Irving Berlin at the piano, but the notes emphasize how Ziegfeld reacted "when a few Follies cast members complained about sharing the stage with Black comedian Bert Williams, Ziegfeld's reply was 'The stage door is that way. I can do this show without any of you, but I cannot do it without Bert.' And that was that."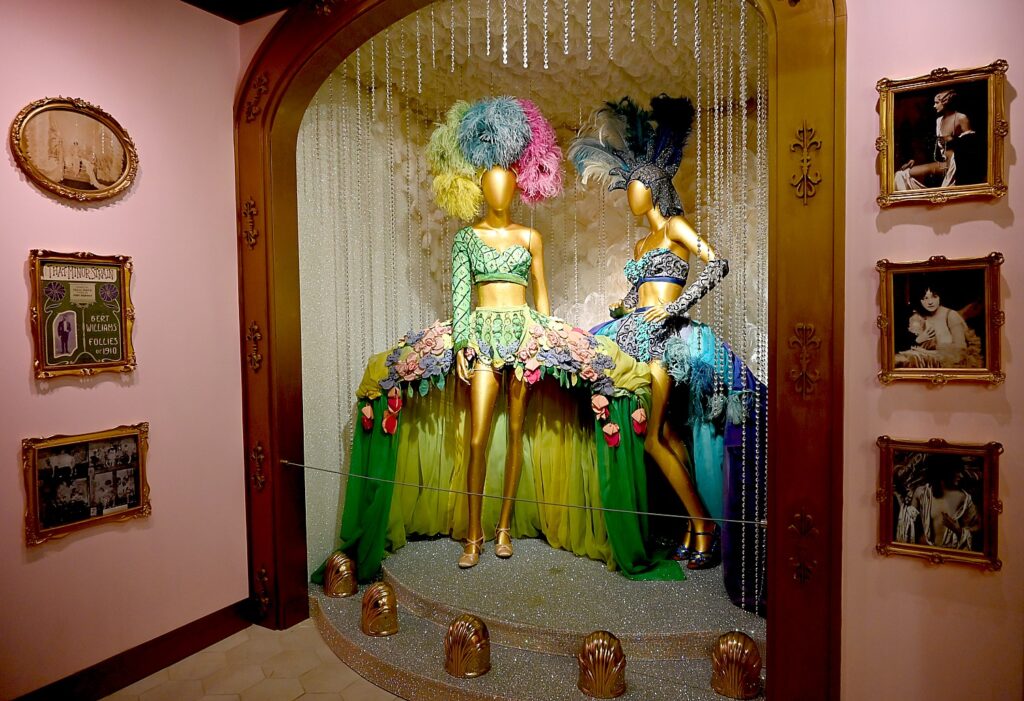 There is a whole set up for Showboat and how the musical changed the course of theater, redirecting the emphasis from the heavy operettas and the superficial music comedies which had dominated Broadway, providing complex, realistic characters, and integrating music and plot (but only passing mention of lyricist Oscar Hammerstein II and composer Jerome Kern who wrote the breakthrough musical based on Edna Ferber's 1926 novel).
Hammerstein lambasted racial prejudice again in South Pacific:
You've got to be taught to hate and fear/You've got to be taught from year to year/It's got to be drummed in your dear little ear/You've got to be carefully taught.

You've got to be taught to be afraid/Of people whose eyes are oddly made/And people whose skin is a diff'rent shade/You've got to be carefully taught.
It isn't until the 1990s panel that there is any mention of Yiddish Theater – arguably the progenitor if not the incubator of Broadway theater – when we learn that "Those Were the Days" in 1990 brought "the Shteltl" and "The Music Hall" to Broadway in an intimate two-part review performed in both English and Yiddish. "The show evokes a period," director Eleanor Reissa explained. "Created by Zalmen Mlotek and Moishe Rosenfeld, the musical honored the legacy of a vibrant and influential Yiddish stage that flourished on New York's Lower East Side in the late 1800s and early 1900s. One of the district's most formidable figures was Boris Thomashefsky, who opened a Yiddish theater on Broadway in 1923."
A room is devoted to the coveted Tony Awards and its namesake, Antoinette Perry, an actress, director, producer, and the dynamic wartime leader of the American Theatre Wing who had recently passed away when The Tony Awards made their official debut at a dinner in the Grand Ballroom of the Waldorf Astoria hotel on Easter Sunday, April 6, 1947.
You walk through rooms devoted to Oklahoma and a set for Doc's drugstore in the homage to "West Side Story" (there's a Jets jacket on display as well). A small room crams together Fiddler on the Roof, Hello Dolly, Neil Simon's comedies before getting to the rock musicals – Jesus Christ Superstar – that led a new era on the Broadway stage.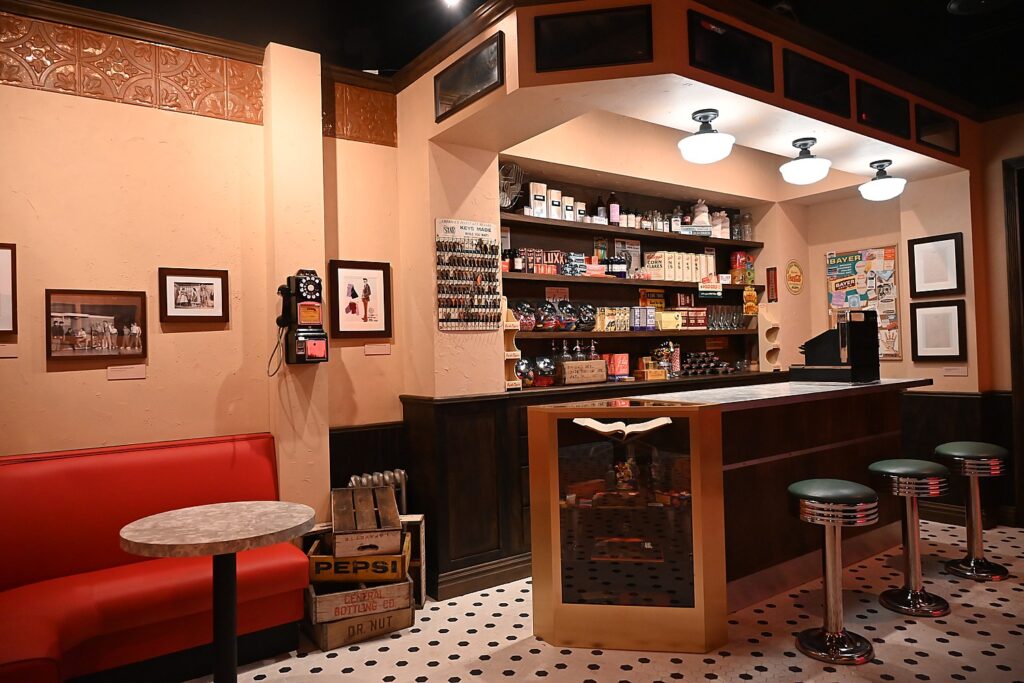 Thankfully, a major exhibit is devoted to Sondheim and you walk through what appears to be the set for Company.
The Wiz, we learn, got bad reviews, but the audience gave it a standing ovation and four curtain calls (the musical used a new marketing strategy of television commercials) – and you ease down yellow stairs.
A Chorus Line – one of the longest-running shows and the first to use computerized light board – features original costumes, marvelous 8×10 photos of the cast, plus I loved seeing original creative notes.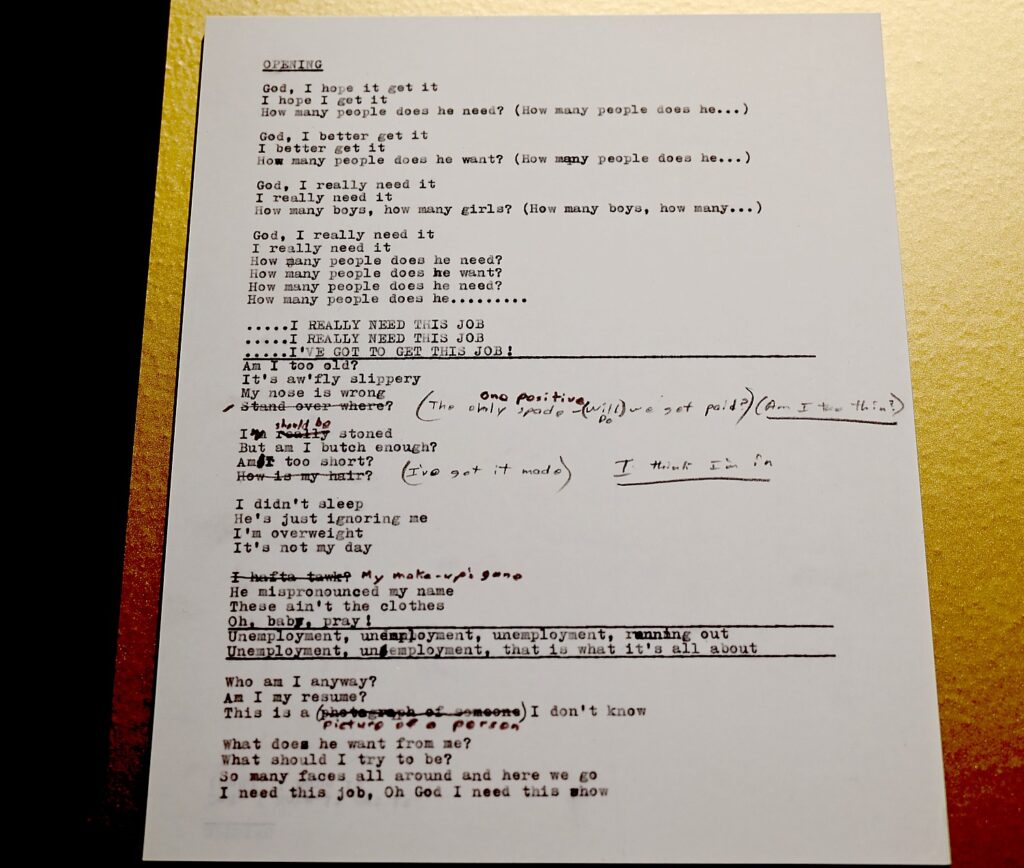 (There is so much information crammed into a small space and the captions and notes are so small and hard to read (bring glasses), but you are encouraged to download an app where you can listen or read the notes.)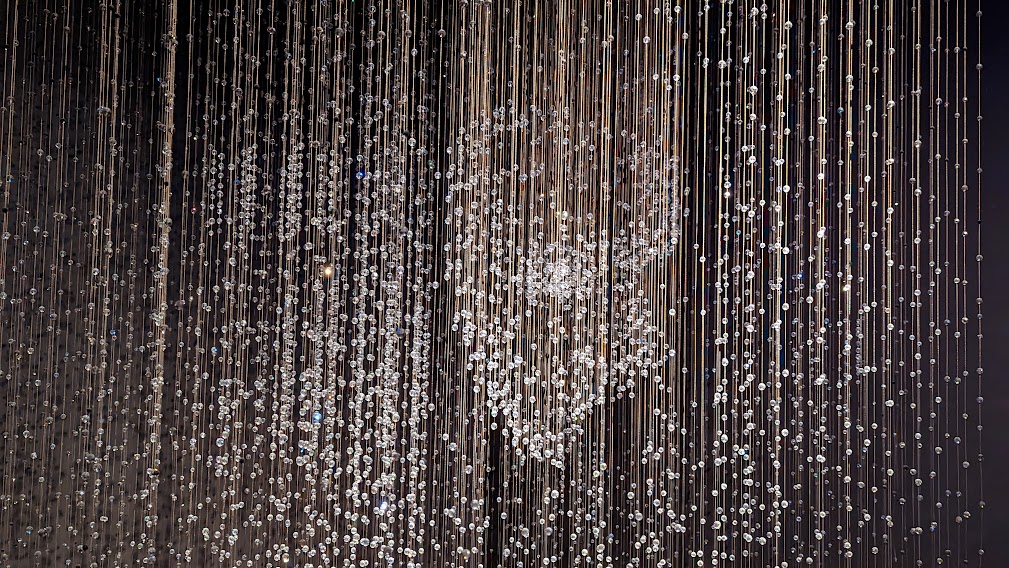 Then you come to Phantom of the Opera – with some sensational costumes (from 1986) and artifacts from the show. Phantom is now the longest-running production in Broadway history (it was scheduled to close in 2023, when a new Andrew Lloyd Webber musical, "Bad Cinderella" is due to open). Among Phantom's plaudits: it is the largest generator of money and jobs in Broadway history and has been seen by 19.5 million people over 35 years. There is an amazing chandelier made of 13,917 glass beads – for the number of Broadway performances – and if you look at it to an angle, the Phantom's mask emerges.
Along the way, staff people offer their own anecdotes or point you to artifacts or parts of the exhibit you might not have seen. And there are various interactive and videos, as Broadway tunes play in each exhibit.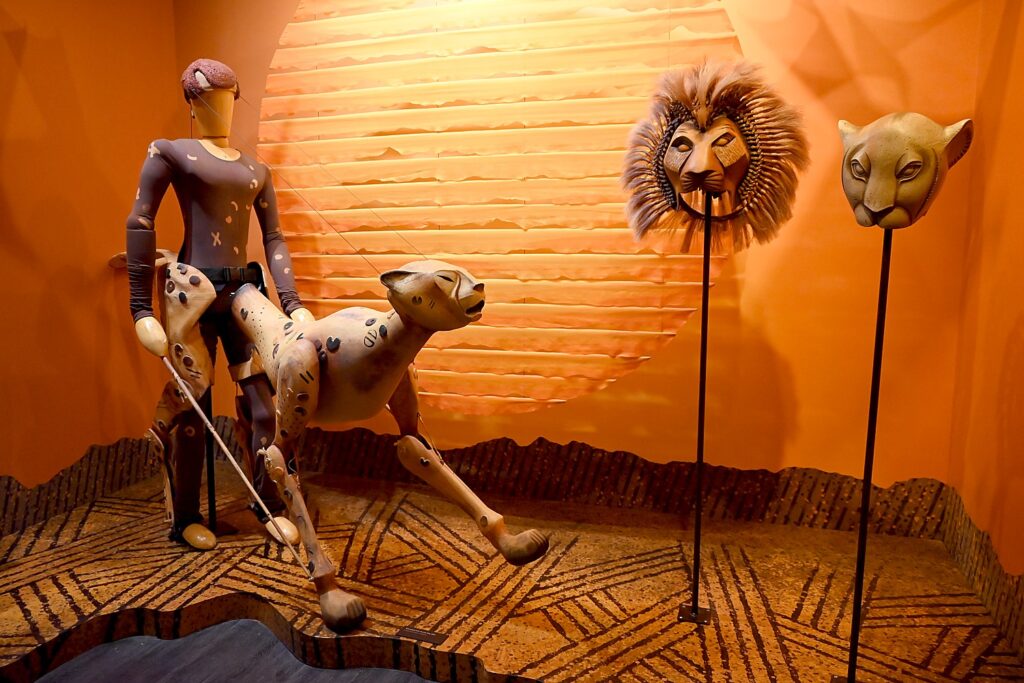 The setting for "Rent" was designed for the museum by the original set designer. I love seeing some of the innovative props/costumes that turn human actors into animals for Lion King. You walk through the "office" for Producers" (a Tony is in the bookcase), costumes from Hamilton, and there is a whole line of costumes representing the shows currently playing.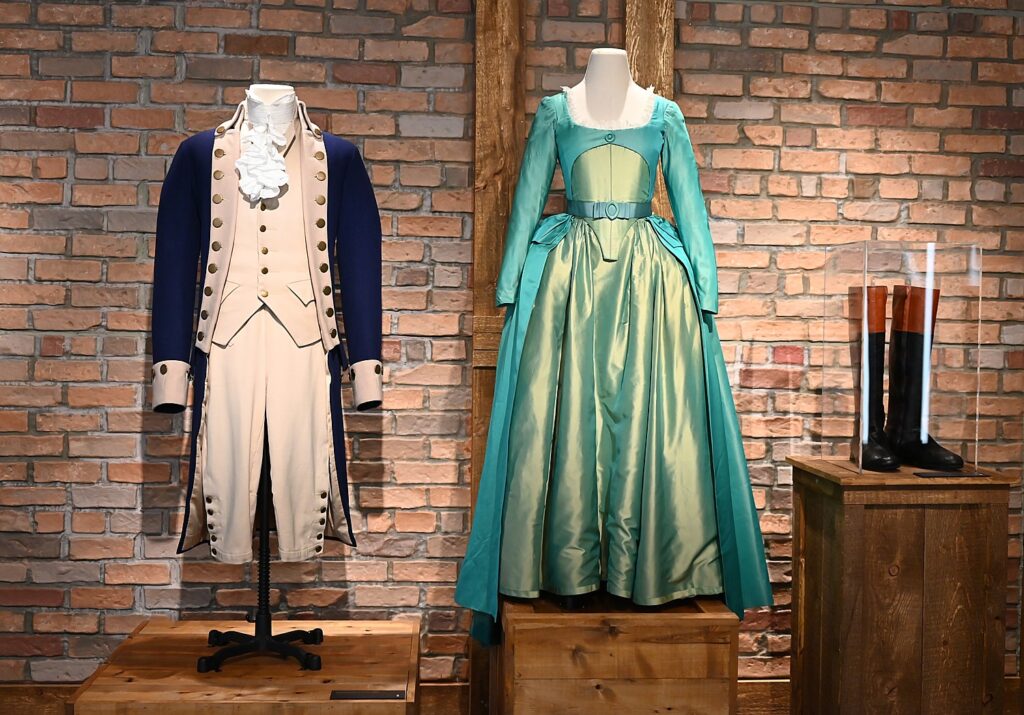 Then you go down the stairs to the first floor where you are really treated to the back-stage, "let's put on a show" tutorial.
This part of the Museum celebrates the behind-the-scenes of this dazzling American art form with a special exhibit, "The Making of a Broadway Show," justifiably honoring the entirety of the community of brilliantly talented professionals – both onstage and off – who bring Broadway plays and musicals to life every night.
This section features multiple videos of directors of lighting, sound, music, as well as costumers and set designers discussing their craft. (Here, they should have given way more space and separated the sections of the exhibit better because the videos and sound overlap – even three and four at once – and the room is dark.)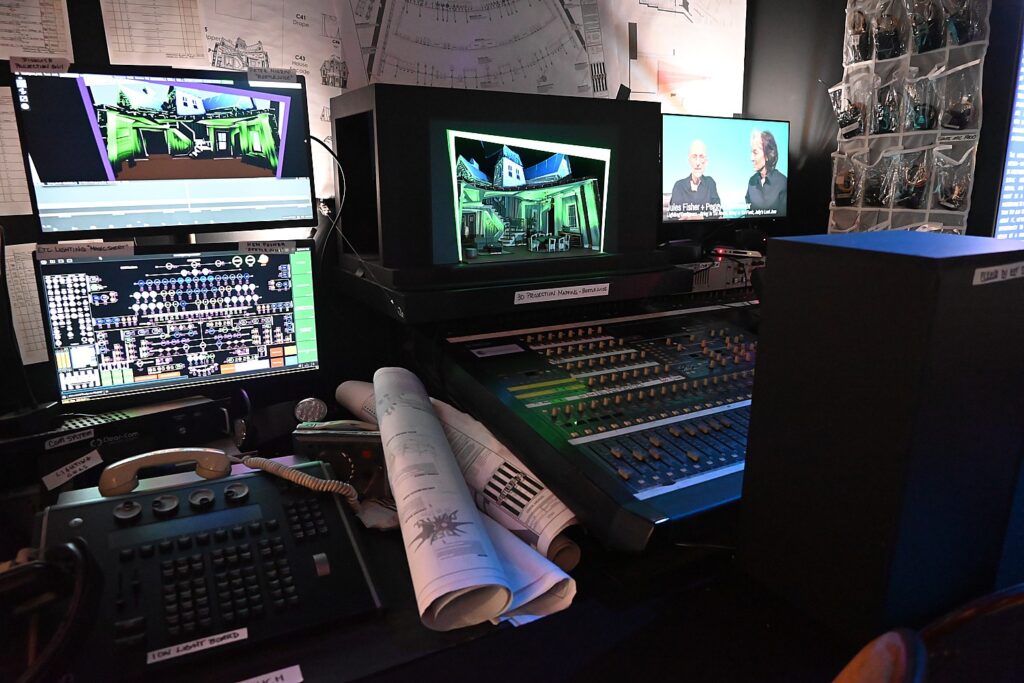 But if you put in some effort – and time – you are treated to absolutely fascinating information about producing, designing the music, the lights, the sound, costumes (and tricks of "distressing" costumes), direction, choreography. This whole section – most of an entire floor – is a goldmine for anyone who harbors any interest in pursuing a career in theater production. There are even time sheets for what a costumer's day is like, and a timeline from conception to opening night of a production.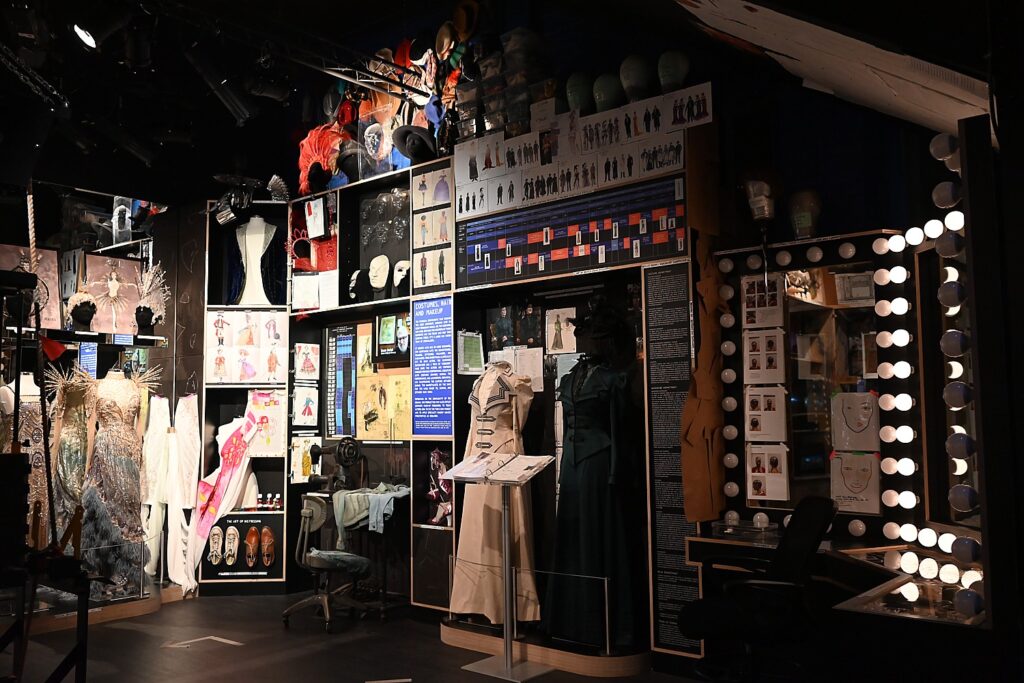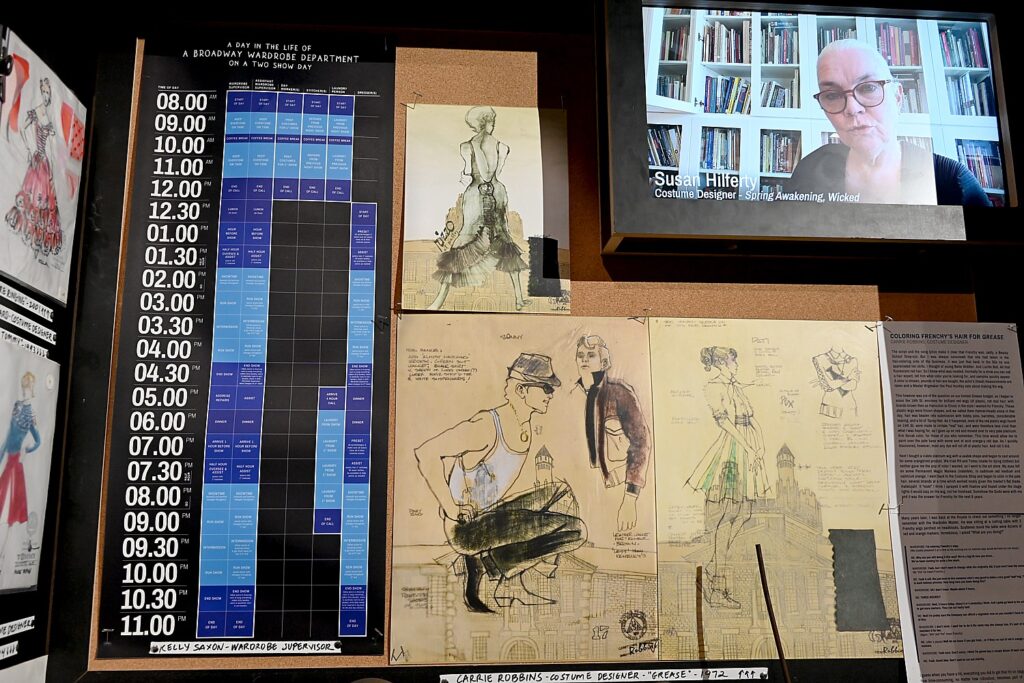 At the end, I follow an arrow and found myself in a fantastic exhibit of Al Hirschfeld – the extraordinary cartoonist/caricaturist who was synonymous with every Broadway opening. We see many of his illustrations – from newspapers, posters, the originals, and I love the display of his sketchbooks that give a glimpse into his creative process – and learn about the origin of his iconic "Nina" embedded into his illustration (that became an obsession, much like Wordle is today, for New York Times readers). There is even a photo of him with his daughter, Nina, and a caricature of Nina, herself.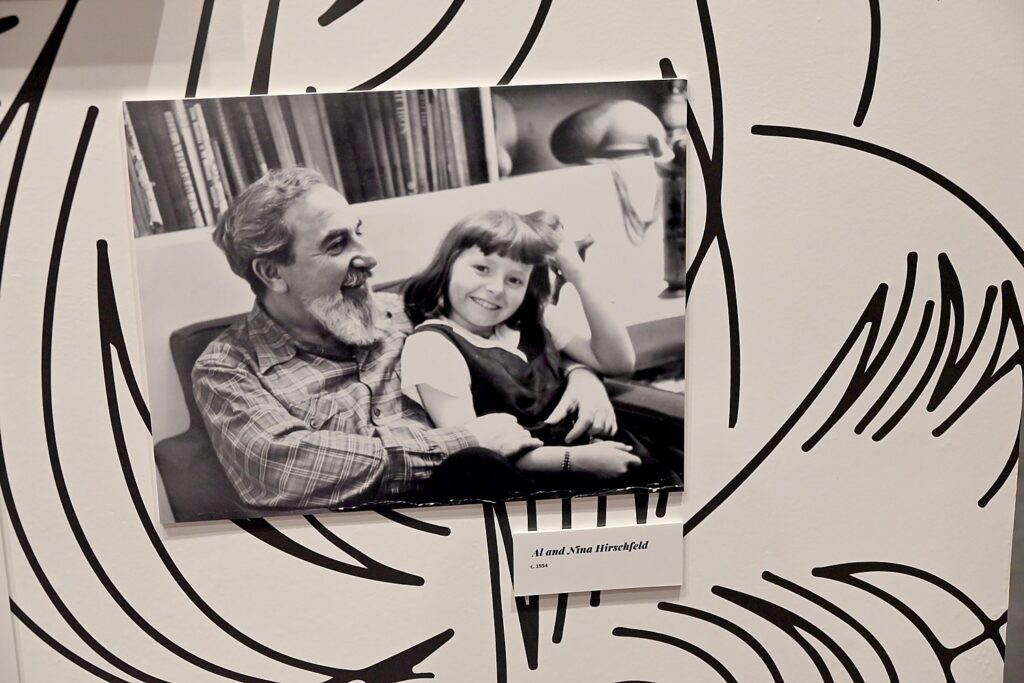 The Museum of Broadway is founded by entrepreneur and two-time Tony Award-winning producer Julie Boardman and founder of the award-winning experiential agency, Rubik Marketing,Diane Nicoletti. Elie Landauis the general manager.
The team of expert curators for The Museum of Broadway is headed by Ben West (Resident Historian and Curator, Timeline & Special Exhibits) and includes Jennifer Ashley Tepper (Curator, Historical Buildings), John Kenrick (Curator, Game Changer History), Faye Armon-Troncoso (Set Decorator & Props Supervisor, Making of a Broadway Show), Lisa Zinni (Costume & Props Curator) and Michael McDonald (Historical Assets Manager).
The Museum of Broadway is founded in collaboration with Playbill, Broadway Cares/Equity Fights AIDS, The Billy Rose Theatre Division at the New York Public Library for the Performing Arts, The Al Hirschfeld Foundation, Goodspeed Musicals, Creative Goods, and Concord Theatricals.
There is so much to delight anyone who enjoys, appreciates theater – you don't have to be an avid theatergoer or aficionado or maven.
The artifacts, costumes, inside (backstage) info, and insights throughout the Museum of Broadway are fabulous. You need at least two to three hours to go through. And bring reading eyeglasses or magnifying glass to read the tiny captions and notes. Open 7 days a week, 10 am – 10 pm.
Indeed, the Museum of Broadway seems to be very much a hit – the museum had a steady stream of visitors.
The Museum of Broadway, 145 West 45th Street, New York, NY 10036, 212-239-6200 or 800-447-7400, www.themuseumofbroadway.com, follow @museumofbroadway on social channels.
__________________
© 2022 Travel Features Syndicate, a division of Workstyles, Inc. All rights reserved. Visit goingplacesfarandnear.com, www.huffingtonpost.com/author/karen-rubin, and travelwritersmagazine.com/TravelFeaturesSyndicate/. Blogging at goingplacesnearandfar.wordpress.com and moralcompasstravel.info. Visit instagram.com/going_places_far_and_near and instagram.com/bigbackpacktraveler/ Send comments or questions to [email protected]. Tweet @TravelFeatures. 'Like' us at facebook.com/NewsPhotoFeatures