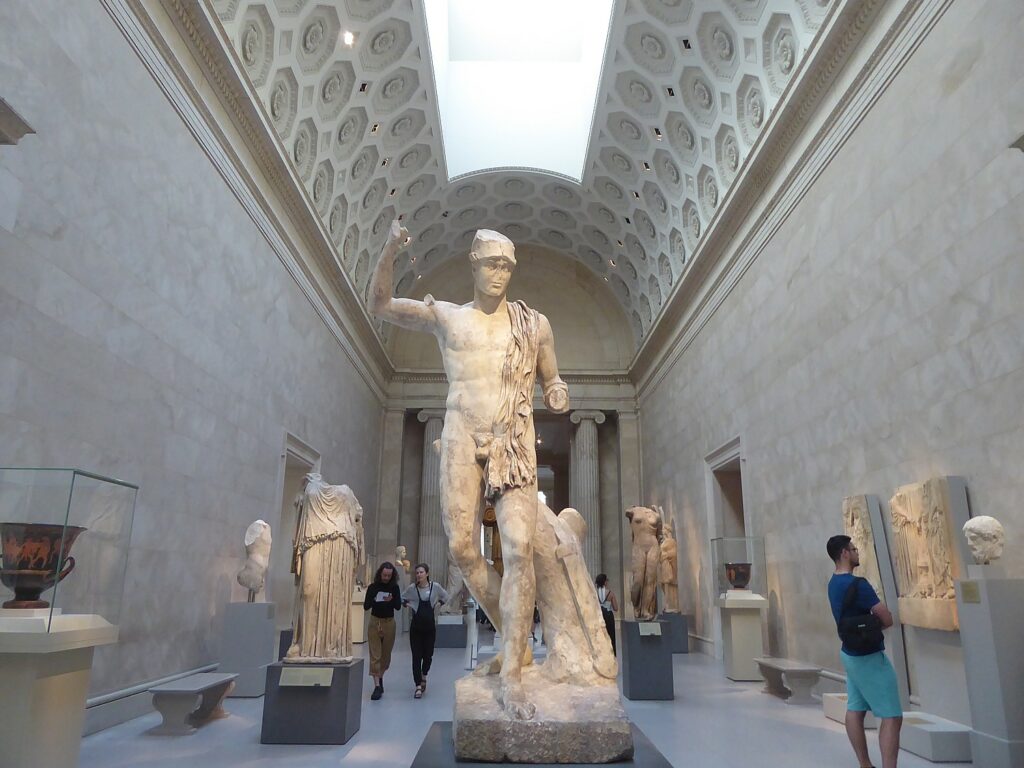 By Karen Rubin, Travel Features Syndicate, goingplacesfarandnear.com
Be transported in time, place and even space. Immerse yourself into the realm of ideas and imagination. Come in from the heat or whatever the weather is doing outside by taking in one of New York City's museums. Here are just a few highlights of summer's blockbuster attractions: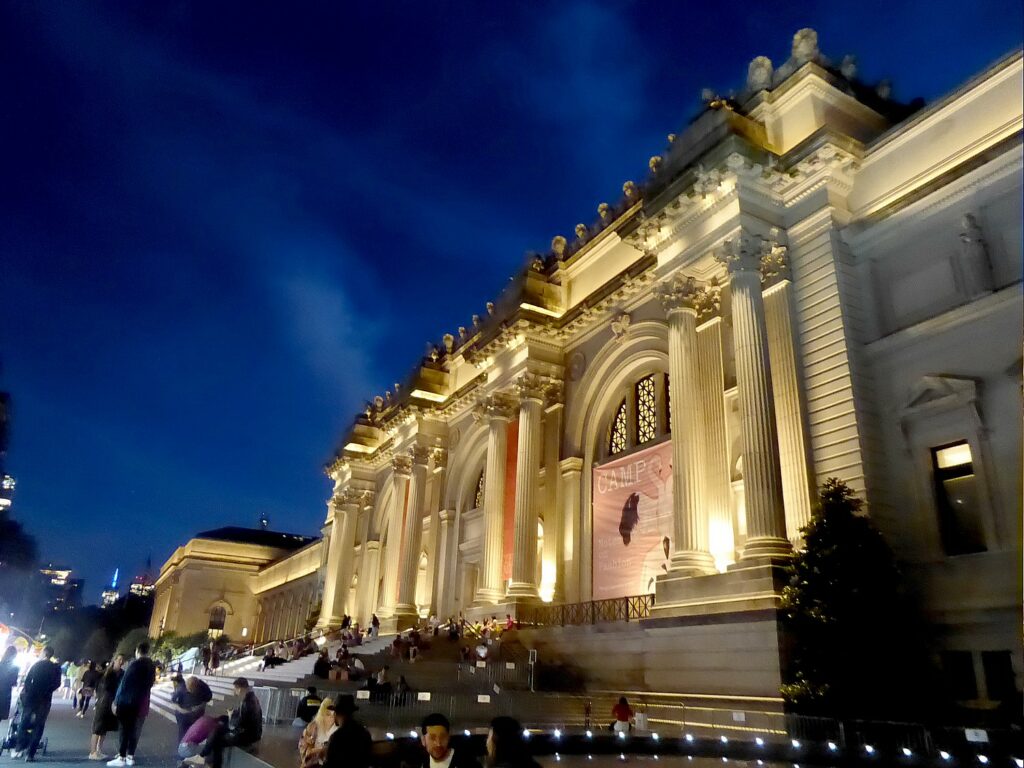 The Met Museum Welcomes 'Saint Jerome'
The Metropolitan Museum of Art is about to welcome a very special visitor: Leonardo da Vinci's Saint Jerome. To commemorate the 500th anniversary of the death of Leonardo da Vinci (1452–1519), The Met is presenting the artist's painting Saint Jerome Praying in the Wilderness (begun around 1483), a special loan from the Vatican Museums. The exquisitely rendered work represents Jerome (A.D. 347–420), a major saint and theologian of the Christian Church. The scene is based on the story of his later life, which he spent as a hermit in the desert, according to the 13th–century Golden Legend. The unfinished painting provides viewers with an extraordinary glimpse into Leonardo's creative process; a close examination of the paint surface even reveals the presence of his fingerprints. The display of this monumental masterpiece pays homage to one of the most renowned geniuses of all time. Opening July 15, the painting is on view through Oct. 6, 2019.
From the oldest works of art to the first forays of civilization into outer space, , the Met Museum is marking the 50th anniversary of the Apollo 11 mission with Apollo's Muse: The Moon in the Age of Photography, on view through September 22, 2019. Apollo's Muse traces the progress of astronomical photography and attempts to produce ever-sharper images of the moon, particularly during the 130-year period between the invention of photography in 1839 and the moon landing in 1969 as astronomers and artists capitalized on technological improvements to cameras and telescopes to create ever more accurate visual records of the lunar surface. Exhibition highlights include two newly discovered lunar daguerreotypes from the 1840s, believed to be the earliest existing photographs of the moon, and works by such pioneers of lunar photography as Warren De La Rue (1815–1889), Lewis Morris Rutherfurd (1816–1892), and John Adams Whipple (1822–1891). A stunning photographic atlas of the moon, produced at the Paris Observatory between 1894 and 1908 by the astronomers Maurice Loewy (1833–1907) and Pierre Puiseux (1855–1928), will be displayed for the first time in its entirety.
Alongside these scientific achievements, the show explores the use of the camera to create fanciful depictions of space travel and life on the moon, including George Méliès's (1861–1938) original drawings for his film A Trip to the Moon (Le Voyage dans la lune, 1902) and a large selection of "paper moon" studio portraits from the early 20th century. Also featured will be artists' evocations of the otherworldly effects of moonlight, including major works by German Romantic painter Caspar David Friedrich (1774-1840) and American Pictorialist photographer Edward Steichen (1879-1973).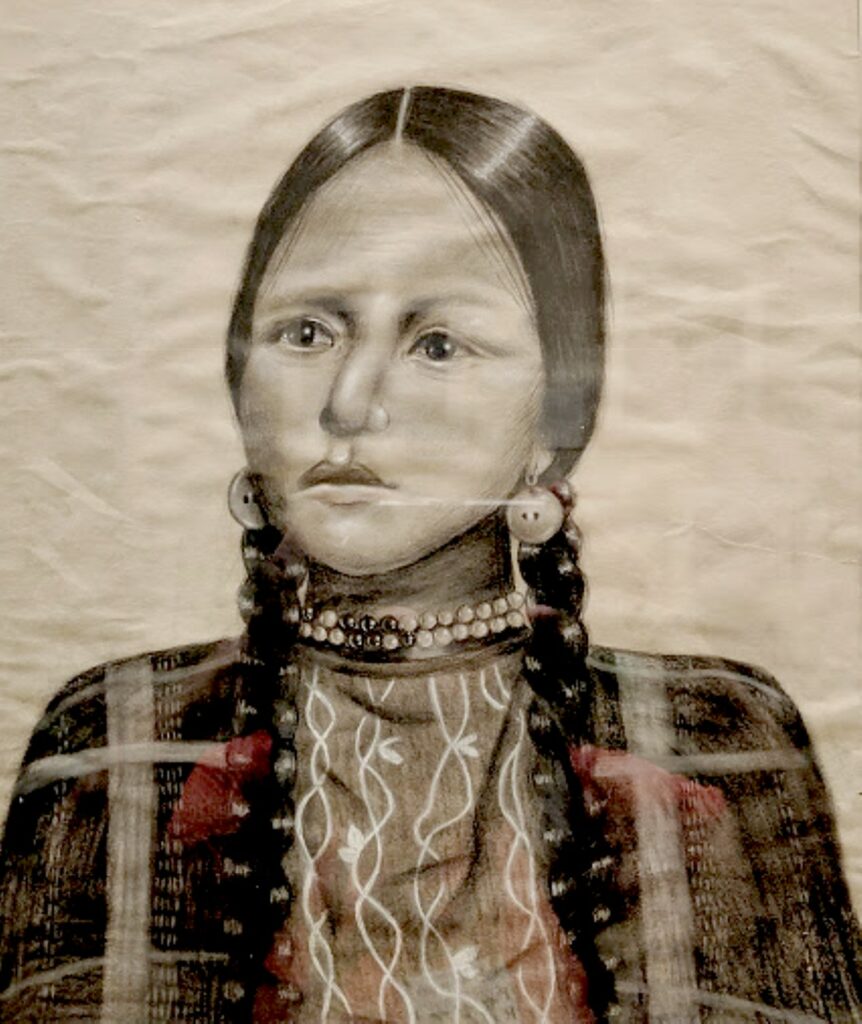 The night of the Museum Mile Festival, I popped into the opening of this year's P.S. Art exhibit,  an annual celebration of achievement in the arts in New York City public schools. This juried exhibition of the work of talented young artists showcases the creativity of 122 prekindergarten through twelfth grade students from all five boroughs, including students from District 75, a citywide district serving students with disabilities. The exhibition consists of paintings, prints, sculptures, photographs, mixed-media works, collages, drawings, and video. Each work of art demonstrates personal expression, imaginative use of media, the results of close observation, and an understanding of artistic processes. Some of the works on display are completely astonishing
The Met is three museums.
At the Cloisters, "The Colmar Treasure: A Medieval Jewish Legacy," is on view July 22-January 12, 2020. A cache of jeweled rings, brooches, and coins—the precious possessions of a Jewish family of medieval Alsace—was hidden in the fourteenth century in the wall of a house in Colmar, France. Discovered in 1863 and on view in an upcoming exhibition at The Met Cloisters, the Colmar Treasure revives the memory of a once–thriving Jewish community that was scapegoated and put to death when the Plague struck the region with devastating ferocity in 1348–49. A generous loan of the Musée de Cluny, Paris, the Colmar Treasure will be displayed alongside select works from The Met Cloisters and little–known Judaica from collections in the United States and France. Although the objects on view are small in scale and relatively few in number, the ensemble overturns conventional notions of medieval Europe as a monolithic Christian society. The exhibition will point to both legacy and loss, underscoring the prominence of the Jewish minority community in the tumultuous fourteenth century and the perils it faced.
At the Met Breuer, "Home is a Foreign Place: Recent Aquisitions in Context," through June 21, 2020.
(NYS residents still can pay what they wish, by presenting proof of residence; out-of-towners need to pay the regular admission).
The iconic Metropolitan Museum of Art is at 1000 Fifth Avenue, on Central Park, (definitely take a Highlights tour when you visit), The Met Breuer (945 Madison Avenue) and The Met Cloisters (99 Margaret Corbin Drive, Fort Tryon Park). Visit metmuseum.org to plan your visit.
Jewish Museum Pays Homage to Leonard Cohen With Multi-Media Exhibition
"Ring the bells that still can ring. Forget your perfect offering. There is a crack, a crack in everything. That's how the light gets in." from Leonard Cohen's song "Anthem" from the album The Future (1992), provides the title for the special exhibit at the Jewish Museum,
"Leonard Cohen: A Crack in Everything". The contemporary multi-media exhibition devoted to the imagination and legacy of the influential singer/songwriter, man of letters, and global icon from Montreal, Canada can be experienced through September 8, 2019.
Leonard Cohen: A Crack in Everything includes commissioned works by a range of international artists who have been inspired by Cohen's life, work and legacy. A world-renowned novelist, poet and singer/songwriter who inspired generations of writers, musicians, and artists, Leonard Cohen (1934-2016) supplied the world with melancholy and urgent observations on the state of the human heart. In songs such as "Suzanne," "Bird on the Wire," and "Hallelujah," he interwove the sacred and the profane, mystery and accessibility. Collectively, it is the oddest, most creative biographical tribute. Featured works include: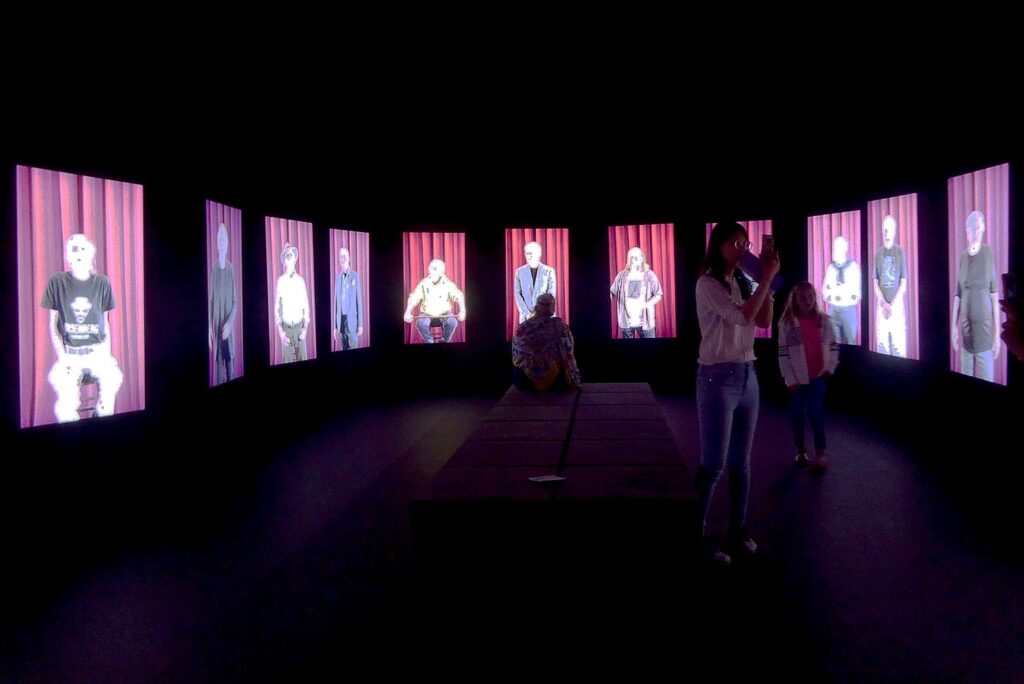 I'm Your Man (A Portrait of Leonard Cohen) (2017), a multi-channel video installation by Candice Breitz, brings together a community of ardent Cohen fans who pay tribute to the late legend. Each of the 18 participants was offered the opportunity to perform and record his own version of Cohen's comeback album I'm Your Man (1988) in a professional recording studio. At Breitz's invitation, the album's backing vocals were reinterpreted by the Shaar Hashomayim Synagogue Choir, an all-male choir representing the congregation in Montreal, Canada, that Cohen belonged to all his life.

Ari Folman's Depression Chamber (2017) allows one visitor at a time into a darkened room, where they are confronted by the demons of depression, a theme that can be traced throughout Cohen's body of work. After the visitor lies down, Cohen's "Famous Blue Raincoat" plays while the song's lyrics are projected on the walls, slowly morphing into letters and icons that symbolize Cohen's multifaceted thematic universe.

Heard There Was a Secret Chord (after the 2017 work of the same title, 2018) is a participatory humming experience by the art and design studio Daily tous les jours that reveals an invisible vibration uniting people around the world currently listening to Cohen's Hallelujah. The work is an exploration of the metaphysical connection between people on a common wavelength. At the Museum, real-time online listener data is transformed into a virtual choir of humming voices. The number of voices played back in the gallery corresponds to the current online listener count, which is visible on the hanging numerical display. Participants can sit or lie down on the octagonal structure, and by humming along with the choir into the microphones, low-frequency vibrations are generated, closing the circuit of collective resonance with their bodies.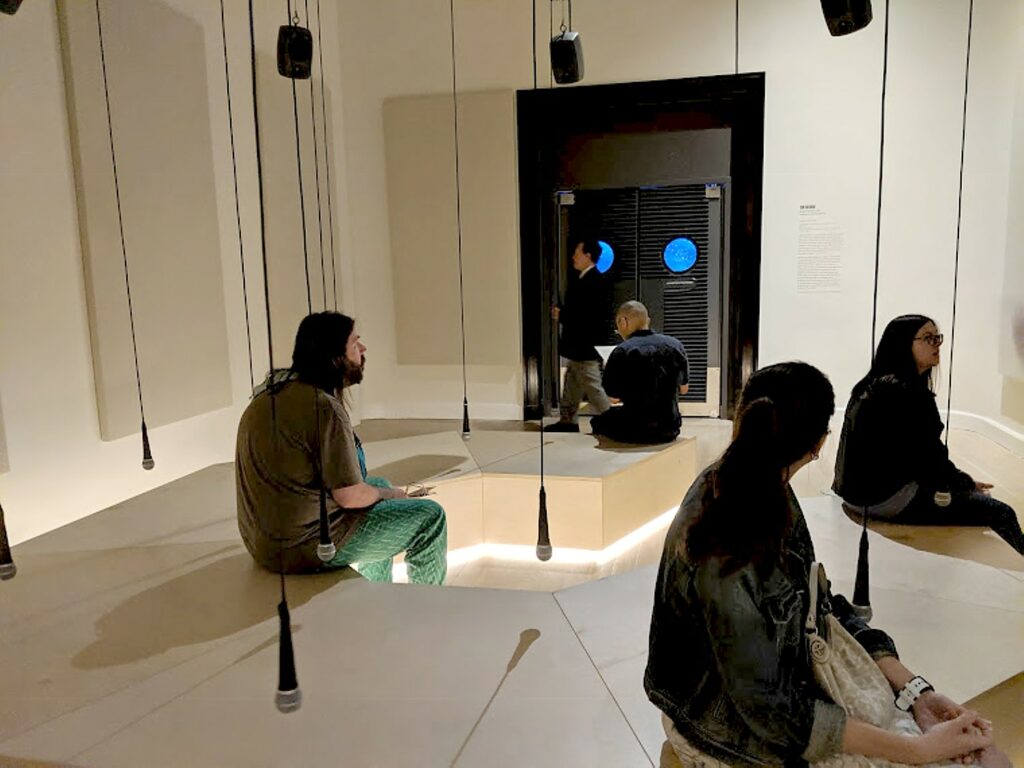 Organized by the Musée d'art contemporain de Montréal (MAC), the exhibition is curated by John Zeppetelli, Director and Chief Curator at the MAC, and Victor Shiffman, Co-Curator. Following its New York showing, the exhibition will tour to Kunstforeningen GL STRAND and Nikolaj Kunsthal, Copenhagen, Denmark (October 23, 2019 – March 8, 2020) and the Contemporary Jewish Museum, San Francisco (September 17, 2020 – January 3, 2021).

During the run of Leonard Cohen: A Crack in Everything, the Jewish Museum will open one hour earlier than usual on Saturdays and Sundays, from 10 am to 5:45pm. Advance tickets are available online at thejewishmuseum.org/buy/general-admission. For questions about ticket sales, email [email protected] or call 866.205.1322.

Founded in 1904, the Museum, on Fifth Avenue's fabled Museum Mile, was the first institution of its kind in the United States and is one of the oldest Jewish museums in the world. Devoted to exploring art and Jewish culture from ancient to contemporary, the Museum offers diverse exhibitions and programs, and maintains a unique collection of nearly 30,000 works of art, ceremonial objects, and media reflecting the global Jewish experience over more than 4,000 years.

Admission: $18 for adults, $12 for seniors, $8 students, free for visitors 18 and under and Jewish Museum members. Free on Saturdays and select Jewish holidays. 1109 Fifth Avenue at 92nd Street, New York City, 212.423,3200, [email protected] TheJewishMuseum.org.
Museum of the City of New York: New York at Its Core
I make it a ritual to visit the Museum of the City of New York during each year's Museum Mile Festival. I never cease to be fascinated and intrigued by the exhibits:
New York at Its Core is the first-ever museum show to comprehensively interpret and present the compelling story of New York's rise from a striving Dutch village to today's "Capital of the World," a preeminent global city now facing the future in a changing world. There are different galleries that tell the story, but most fascinating is The Future City Lab, where you get to design the city of the future, tackling the most pressing problems like housing, public spaces, water supply. You even get to put yourself in the picture.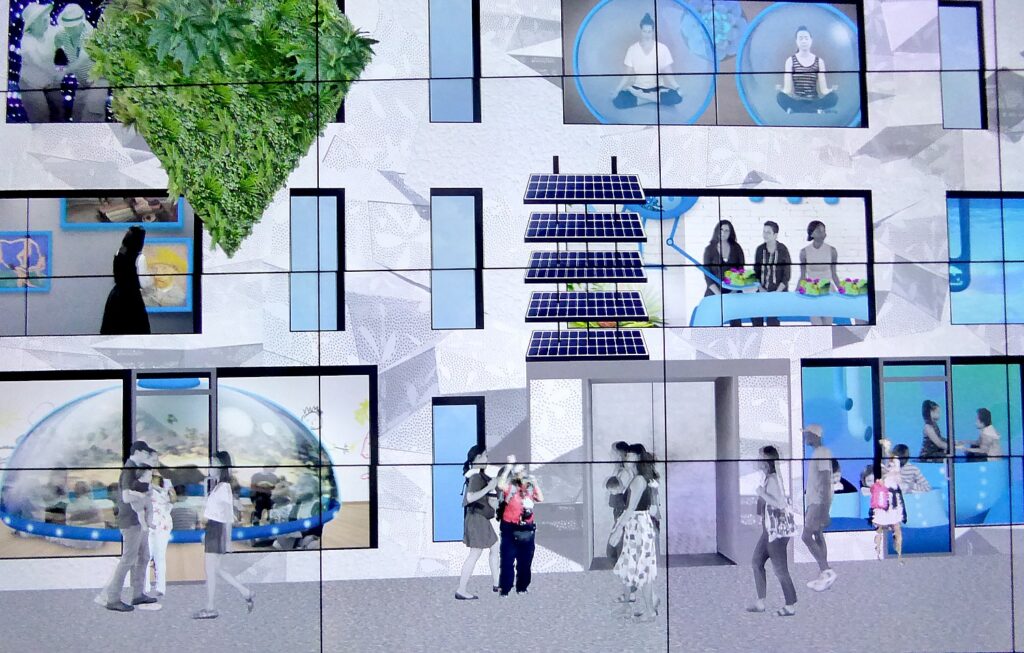 Not to be missed: Timescapes, the museum's popular and critically-acclaimed multimedia experience, brings the sweeping narrative of New York City from the early 1600s to the present day. The 28-minute, award-winning documentary explores how NYC grew from a settlement of a few hundred Europeans, Africans and Native Americans into the multinational metropolis of today, re-inventing itself multiple times along the way.
Activist New York, an ongoing exhibit, examines the ways in which ordinary New Yorkers have advocated, agitated, and exercised their power to shape the city's—and the nation's—future, from the 17th century to the present.
City of Workers, City of Struggle: How Labor Movements Changed New York, traces how New York became the most unionized large city in the United States.
Cycling in the City: A 200–Year History, on view through October 6, 2019, tracex how the bicycle transformed urban transportation and leisure in New York City and explores the extraordinary diversity of cycling cultures, past and present.
In the Dugout with Jackie Robinson: An Intimate Portrait of a Baseball Legend, which opened on January 31, Robinson's 100th birthday, features 32 photographs (most of them never published); rare home movies of the Robinson family; and memorabilia related to Robinson's career.
Museum of the City of New York, 1220 Fifth Ave., Manhattan, NY 10029, 212-534-1672, mcny.org.
Guggenheim: Summer of Know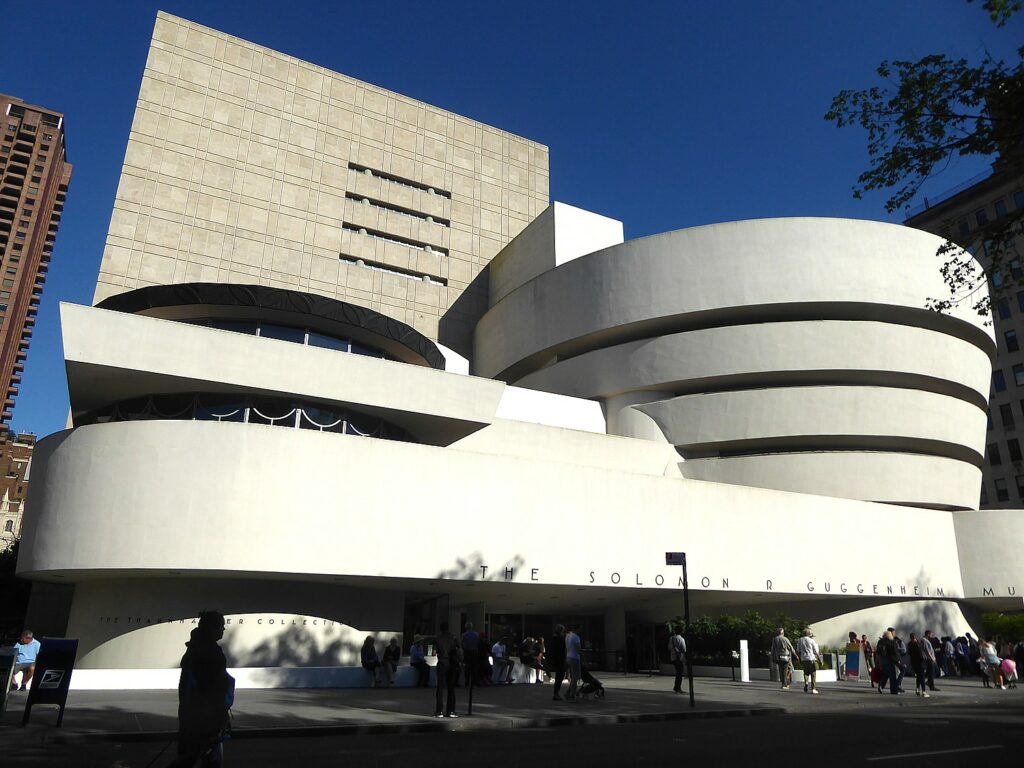 Housed in the Frank Lloyd Wright building, a major attraction in itself (just walking through the spiral is an experience),from June 18 through September 3, the Solomon R. Guggenheim Museum is open until 9 pm for Summer Tuesdays, offering music and refreshments in the museum rotunda in addition to exhibitions on view in the galleries. Films, conversations, and performances enhance opportunities for visitors to engage with the museum and the Frank Lloyd Wright–designed building that celebrates 60 years as an architectural icon in 2019. Also starting in June, Summer of Know, a conversation series addressing urgent issues through the generative lens of art, returns to the Guggenheim, featuring artists, activists, and other professionals discussing topics such as LGBTQIA+ rights in a global context, environmental activism, and housing rights. Details are available at guggenheim.org/calendar.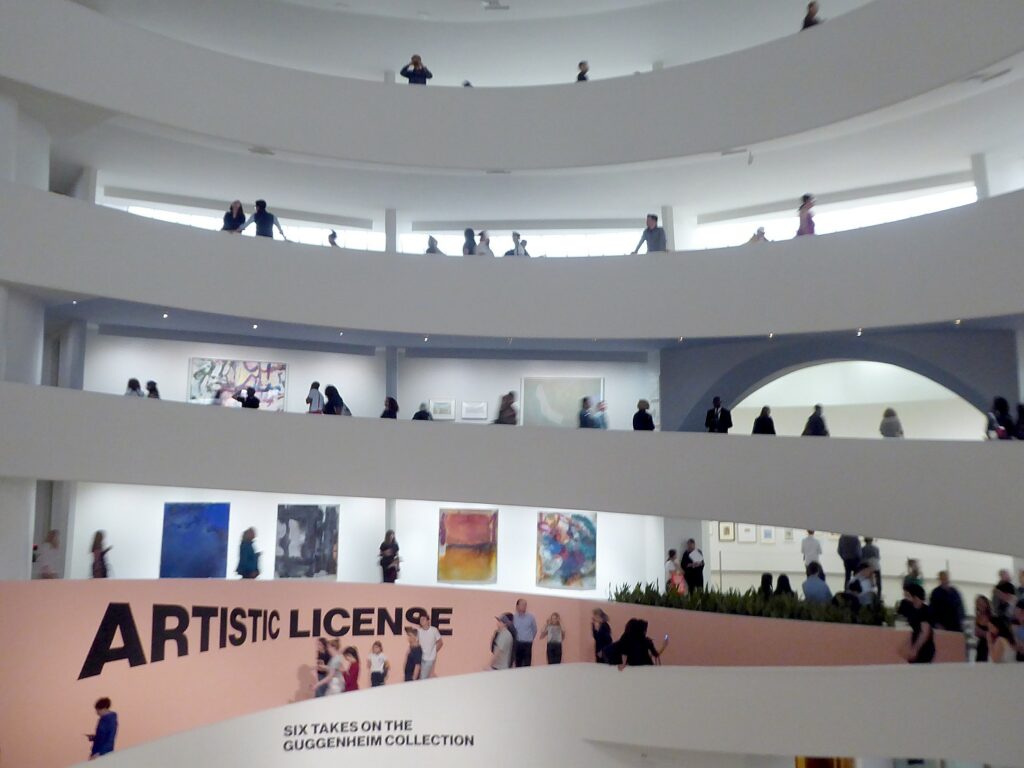 Summer exhibitions at the Guggenheim include the first artist-curated exhibition at the museum, Artistic License: Six Takes on the Guggenheim Collection, as well as The Hugo Boss Prize 2018: Simone Leigh, Loophole of Retreat, Basquiat's "Defacement": The Untold Story, and Implicit Tensions: Mapplethorpe Now.
Actually, you can travel and visit Guggenheim museums in Venice, Bilbao, and Abu Dhabi.
Solomon R., Guggenheim Museum, 1071 5th Avenue, New York (betw. 8i8-89th St), 212-423-3500, [email protected], Guggenheim.org.
The Whitney Museum Biennial
The Whitney Biennial has long been one of America's foremost showcases of emerging artists. Every two years, the exhibition serves as a bellwether for the culture, both reflecting on and mirroring the country's political and social moods. No surprise, then, to see that this year's work—on view now at the Whitney Museum of American Art—offers plenty of tension, with pieces that focus on gender identity and race, among other issues. Curators chose the works because they represent "a snapshot of contemporary art making"; read on for more about a few of our favorites. (See: https://www.nycgo.com/articles/whitney-biennial-2019) (99 Gansvoort St., Meatpacking district).
Museum of Natural History Presents T.rex, The Ultimate Predator
At the American Museum of Natural History's blockbuster exhibit, T. rex: The Ultimate Predator, you encounter a massive life-sized model of a T. rex with patches of feathers—the definitive representation of this prehistoric predator,  T. rex hatchlings and a four-year-old juvenile T.rex; a "roar mixer" where you can imagine what T. rex may have sounded like; a shadow theater where a floor projection of an adult T. rex skeleton seems to come to life. At a tabletop "Investigation Station," you can explore a variety of fossil casts with virtual tools including a CT scanner, measuring tape, and a microscope to learn more about what such specimens reveal about the biology and behavior of T.rex. Finally, you encounter a massive animated projection of a T. rex and its offspring in a Cretaceous-age setting. which reacts to visitors, leaving you to wonder, "Did that T. rex really see me?"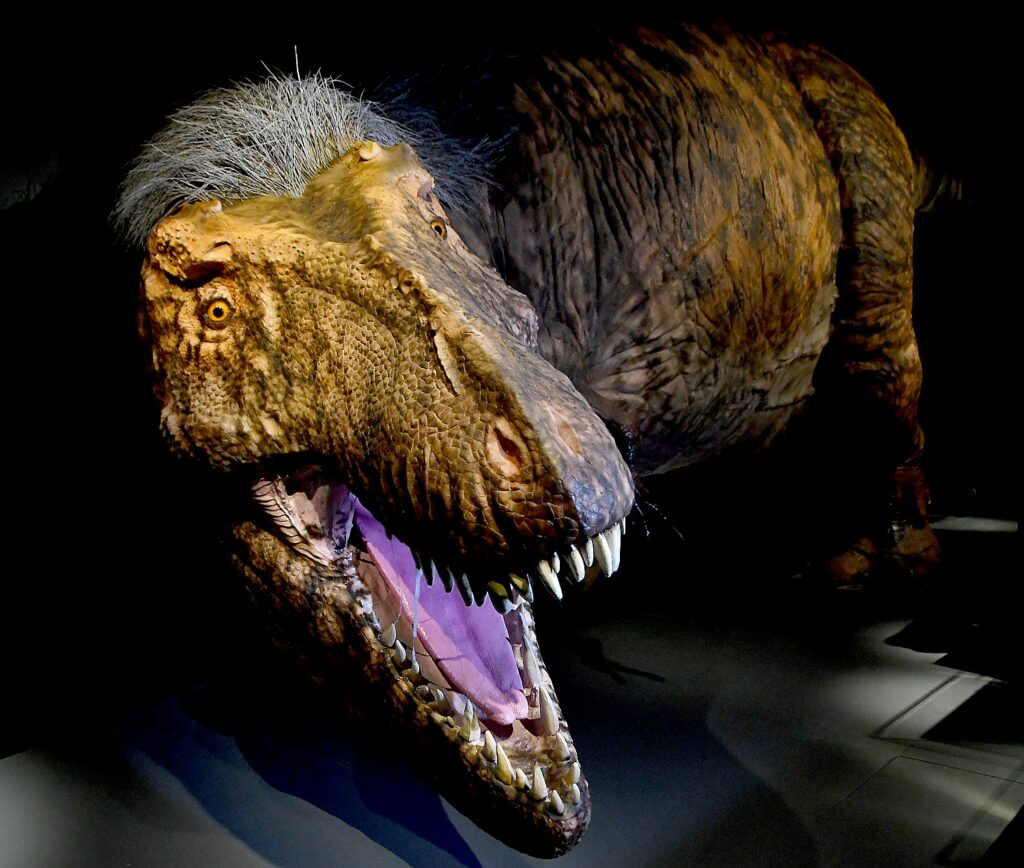 T. rex: The Ultimate Predator is the first major exhibition of the American Museum of Natural History's 150th anniversary celebration. Plan your visit (you could spend weeks in the museum), check out the special programming and events, and pre-purchase timed tickets at amnh.org.
At Hayden Planetarium Space Theater, see "Dark Universe" (through December 31, 2019)
Open daily from 10 am – 5:45 pm. American Museum of Natural History, Central Park West at 79th Street, New York, NY 10024-5192, 212-769-5100, amnh.org.
Revolutionary Summer at New-York Historical Society
The New-York Historical Society, the oldest museum in New York (and directly across the street from the American Museum of Natural History on Central Park West), is presenting a Revolutionary Summer. A Museum-wide exploration of Revolutionary War times, Revolutionary Summer presents outdoor events every weekend featuring characters from the era; 18th-century art and artifacts; a diorama of the Continental Army and a host of programs for all ages, including trivia nights, DJ evening, and Revolutionary Drag Tea Party. On select weekends, visitors can explore a replica of George Washington's Headquarters Tent at an outdoor Continental Army encampment, meet Living Historians portraying soldiers and spies, and learn about the many facets of camp life during the War for Independence. (Through September 15, 2019)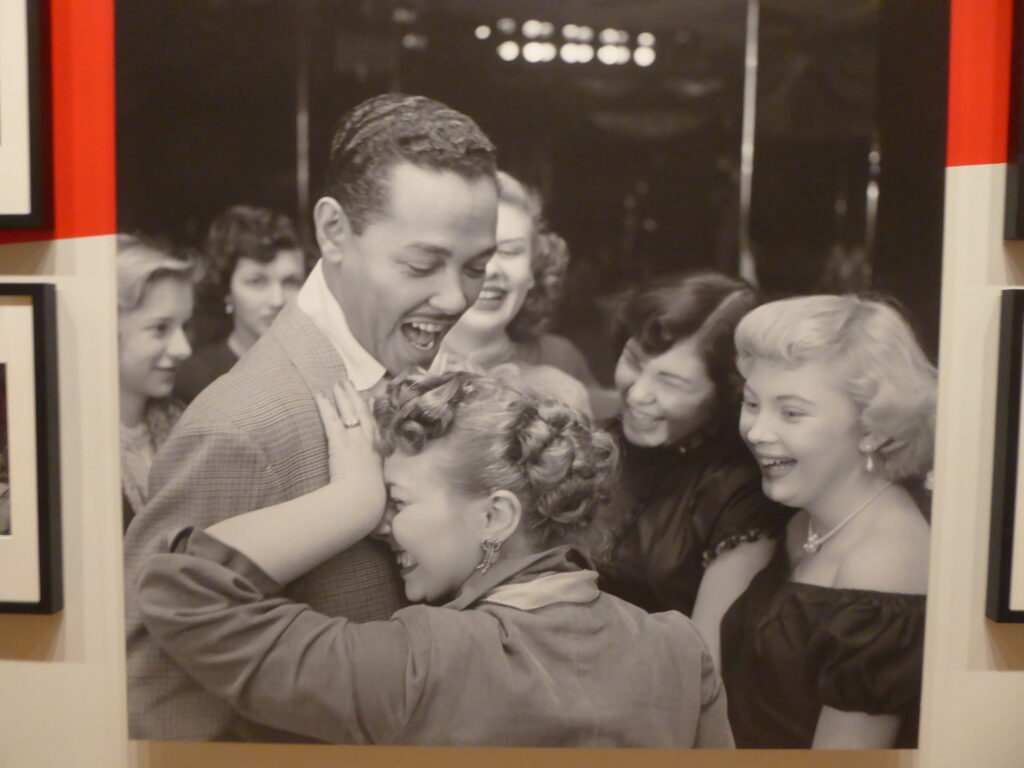 Also on view: LIFE: Six Women Photographers showcases the extraordinary work created by Margaret Bourke-White, Hansel Mieth, Marie Hansen, Martha Holmes, Nina Leen, and Lisa Larsen. (through October 6, 2019); Stonewall 50 at New-York Historical Society, through September 22, 2019, commemorates the 50th anniversary of the Stonewall uprising and the dawn of the gay liberation movement; Hudson Rising explores 200 years of ecological change and environmental activism along "the most interesting river in America" (through August 4).
Panoramas: The Big Picture, opening August 23 through December 8, 2019, explores wide-angle, bird's-eye imagery from the 17th to the 20th century, revealing the influence that panoramas had on everything from mass entertainment to nationalism to imperial expansion. Through more than 20 panoramas, the exhibition presents the history of the all-encompassing medium in New York City, San Francisco and beyond.
New-York Historical Society, 170 Central Park West (77th Street), New York, NY 10024, 212-873-3400, nyhistory.org.
Spy v. Spy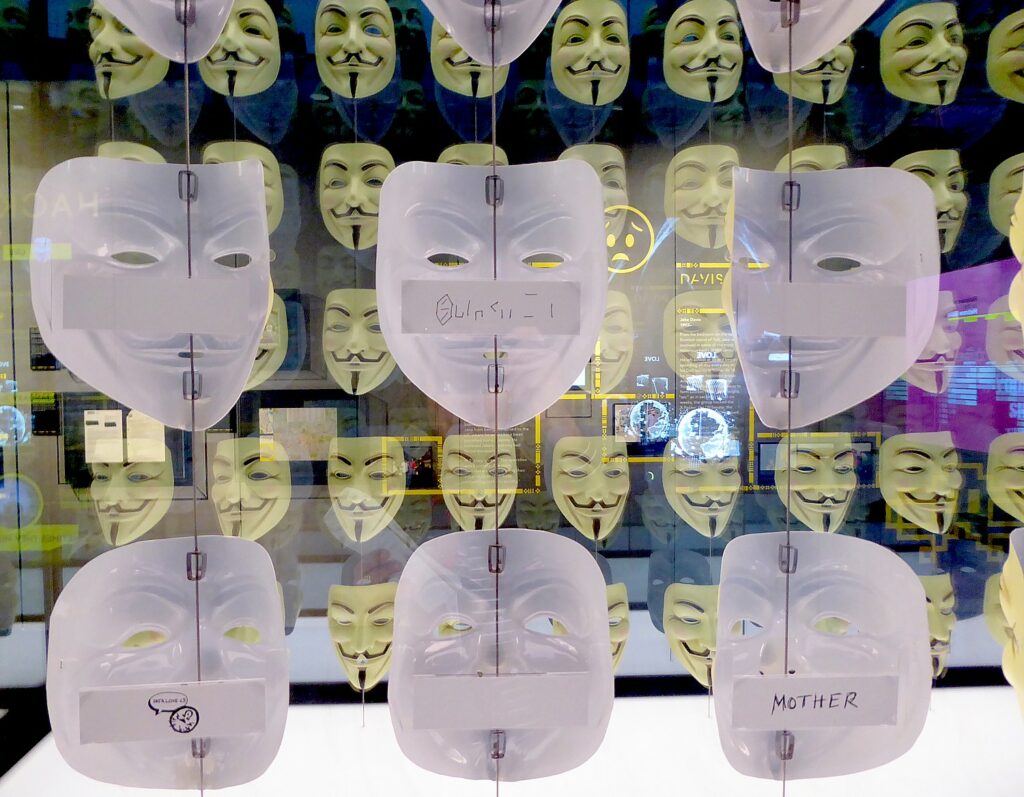 Want a real escape? Visit Spyscape, which offers a different twist on spy museums, and is more of an experiential attraction, immersing you into the psychology and ubiquity of surveillance and espionage, and literally, with the ending "profile" (developed with the a former head of training at British Intelligence) showing you where you might fit into this world (I'm an analyst). SPYSCAPE, which opened in 2018, illuminates secret intelligence, from espionage to hacking, and investigative journalism. It offers a balanced perspective on big issues – privacy, security, surveillance. You get to engage in real spy challenges, including lie-detection in interrogation booths, surveillance in a 360 degree environment and test strategy and agility in special ops laser tunnels. The museum also features quite a good Spy Shop, a Book Shop, Café and multiple Event Spaces. (928 8th Avenue, entrance on SE corner of 55th Street, spyscape.com).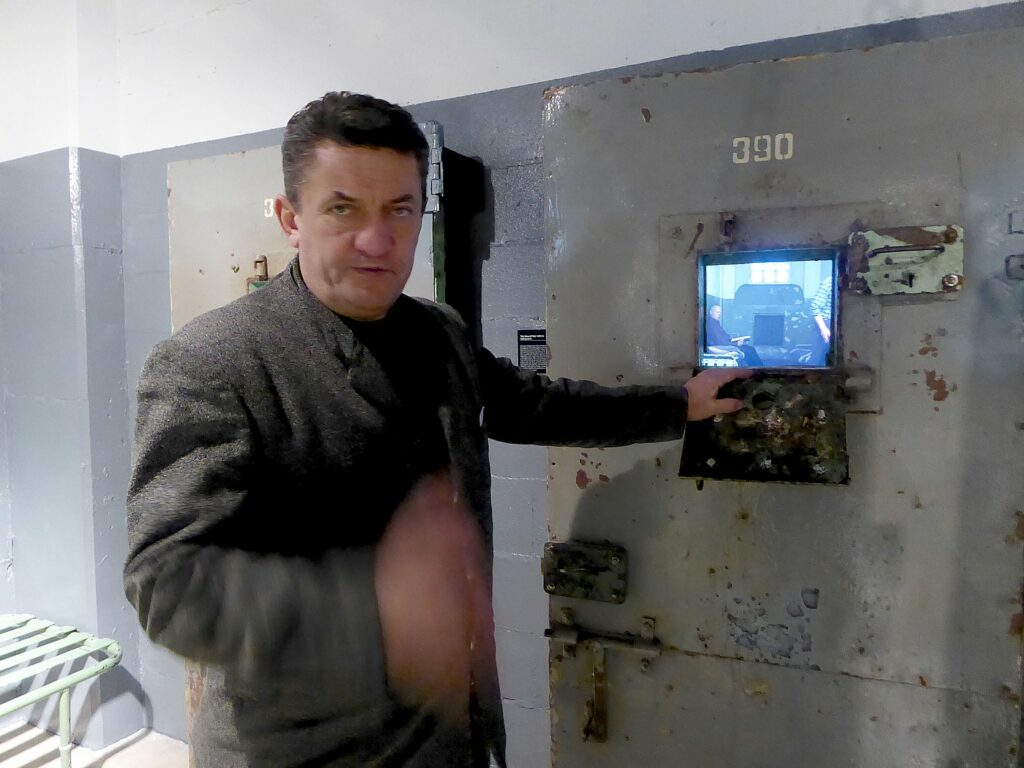 And in a very real Spy v. Spy scenario, a very different experience awaits at another new entry to New York City's museum scene: the KGB Museum. This place presents the artifacts and history of the KGB in a kind of antique-shop setting but the items are chilling. You realize that the spy movies, even the satirical "Get Smart," didn't so much fabricate as reveal the tools and techniques and paranoia of Cold War spying. (KGB Spy Museum tickets are available online or in the museum. (245 West 14th Street, New York, NY 10011, 10 am -8 Mon-Sun).
Museum of Illusions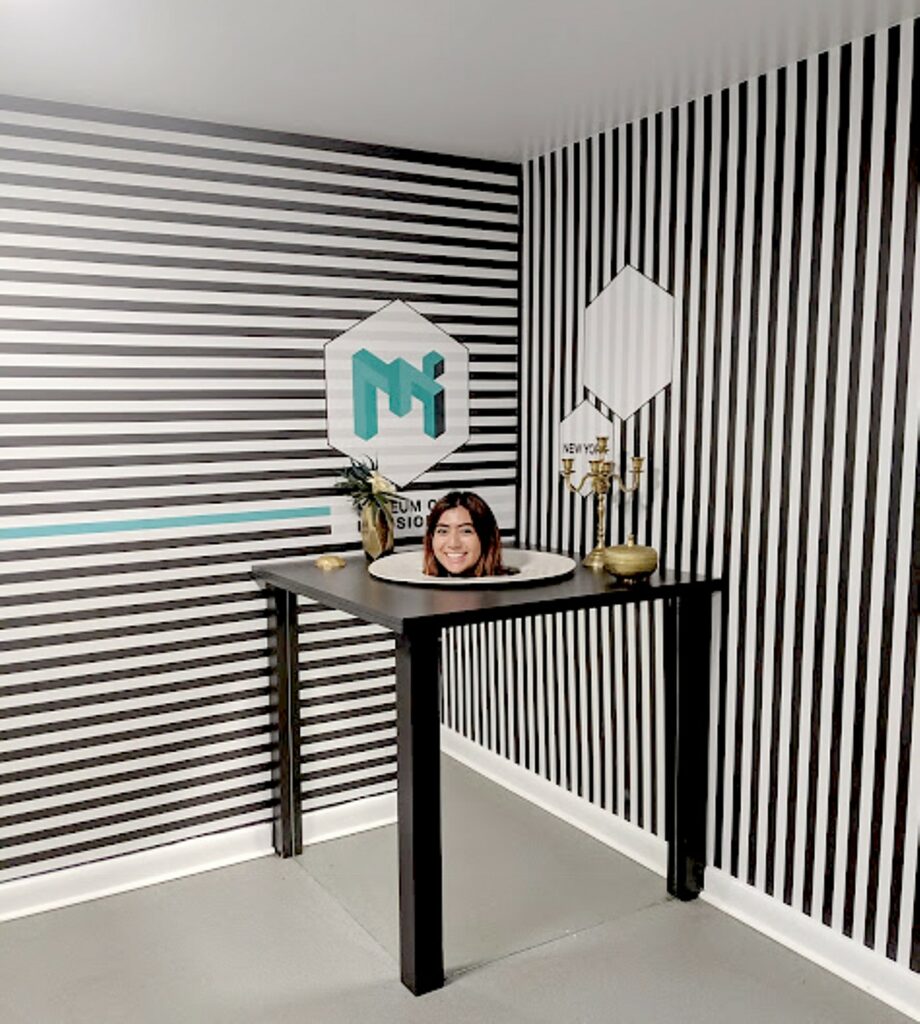 The Museum of Illusions, which opened September 2018 in New York City's West Village, contains three-dimensional illusions on the walls and floors which will mesmerize visitors of all ages. You might assume by its name that it is a children's museum or about magic which depends so much on illusion. Nor can it be considered an "attraction" although many of the exhibits are interactive and you get to help create the illusions. It is really about educating about the physical and psychological science behind illusion – placards posted near each exhibit provide the explanations for what you sense. And while the museum does not explicitly delve into magic, when you leave, you will have a better understanding of how some magic tricks work. (77th 8th Ave, New York, NY; newyork.museumofillusions.us)
Cradle of Aviation Museum: Countdown to Apollo at 50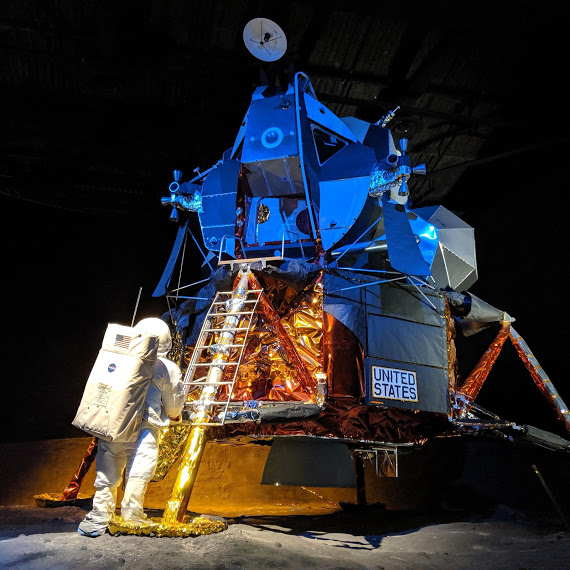 Travel out of this world, beyond the city limits, to Long Island: The Cradle of Aviation Museum and Education Center is one of the great space and aviation museums, home to over 75 planes and spacecraft representing over 100 years of aviation history and Long Island's only Giant Screen Dome Theater. Currently, the museum is celebrating "Countdown to Apollo at 50" sponsored by the Robert D.L. Gardiner Foundation, showcasing Long Island and Grumman's significant role in the Apollo program. The Museum was recently recognized and listed on New York State's National Register of Historic Places as a significant part of American history. The museum is located on Museum Row, Charles Lindbergh Blvd., in East Garden City. For more information call (516) 572-4111 or visit www.cradleofaviation.org.
______________
© 2019 Travel Features Syndicate, a division of Workstyles, Inc. All rights reserved. Visit goingplacesfarandnear.com, www.huffingtonpost.com/author/karen-rubin, and travelwritersmagazine.com/TravelFeaturesSyndicate/. Blogging at goingplacesnearandfar.wordpress.com and moralcompasstravel.info. Send comments or questions to [email protected]. Tweet @TravelFeatures. 'Like' us at facebook.com/NewsPhotoFeatures