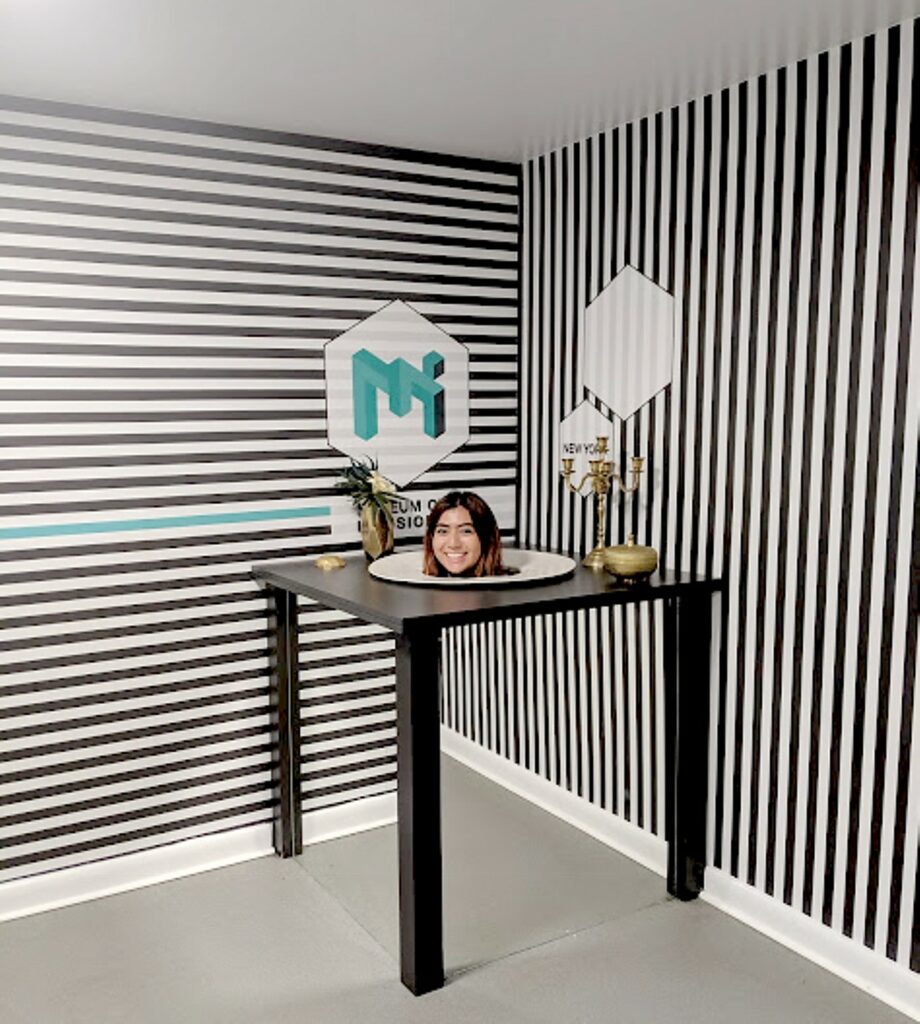 By Laurie Millman and Martin D. Rubin, Travel Features Syndicate, goingplacesfarandnear.com
The Museum of Illusions, opened September 2018 in New York City's West Village. You might assume by its name that it is a children's museum or about magic, which depends greatly on illusion — it is neither of these. Nor can it be considered an "attraction, " although many of the exhibits are interactive, as you get to help create the illusions. The purpose of this museum is really about educating visitors on the physical and psychological science behind illusion. With two- and three-dimensional illusions on the walls and floors that will mesmerize visitors of all ages, placards posted near each exhibit provide the explanations to help you understand what you are viewing and how the illusion is created. While the museum does not explicitly delve into magic, when you leave, you will have a better understanding of how some magic tricks work.
We thoroughly enjoyed this museum with its many surprises. One of our favorite exhibits was a room with a sloped floor — a monitor shows that you appear to be growing smaller and smaller as you walk across the floor. Another fun, interactive exhibit is where a visitor pokes her head out of the middle of the table, but all you see is a head on top of the table with no body.
Friendly staff are available to give you clues about the illusions, help you figure out where to stand to get the most effective view, explain the science behind a particular illusion, and take your picture. In fact, the museum welcomes photography because the digital photograph makes it easier to visualize many of the illusions. At the front of the museum, a staff member is ready to have two of your party pose as part of an illusion relating to perspective (check out the photo where Marty is patting Laurie's head — we are literally a few feet from each other! And no — Laurie is not that small).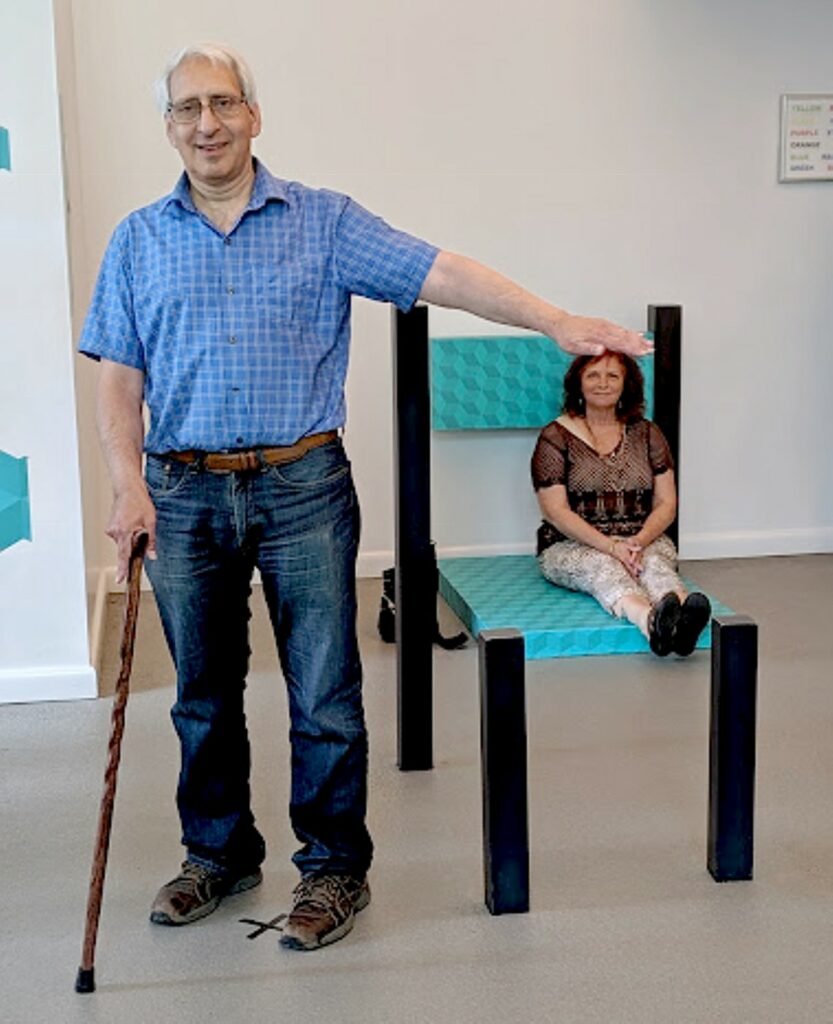 The museum is housed in a bank building dating back to pre-Depression 1920s. Before you leave, be sure to ask to see the old bank vault.
(Be advised: the only downside of the Museum of Illusions is that it has mobility limitations – there is no handrail on the outside steps leading up to the main door and no alternate ramp. The second floor is only accessible by a narrow staircase with a banister — there is no elevator. On the other hand, visitors with mobility issues are admitted free.)
The Museum of Illusions (77th 8th Ave, New York, NY; https://newyork.museumofillusions.us/) is open Monday – Thursday, 9am to 10pm; Friday – Sunday 8am to 11pm. To explore with smaller crowds, try to arrive before noon. Plan for 45 minutes to 1-½ hours to walk the entire museum, and bring a camera to capture the illusions at their best! Tickets are $19/adult; $17/senior, military, students with ID; and $15/kids 6-13 years of age (under 6 is free). Tickets may be purchased online with a small service fee.
_____________________________
© 2019 Travel Features Syndicate, a division of Workstyles, Inc. All rights reserved. Visit goingplacesfarandnear.com, www.huffingtonpost.com/author/karen-rubin, and travelwritersmagazine.com/TravelFeaturesSyndicate/. Blogging at goingplacesnearandfar.wordpress.com and moralcompasstravel.info. Send comments or questions to [email protected]. Tweet @TravelFeatures. 'Like' us at facebook.com/NewsPhotoFeatures