Dan'l Webster Inn & Spa is Perfect Time Capsule to Cocoon Visit
By Karen Rubin, Travel Features Syndicate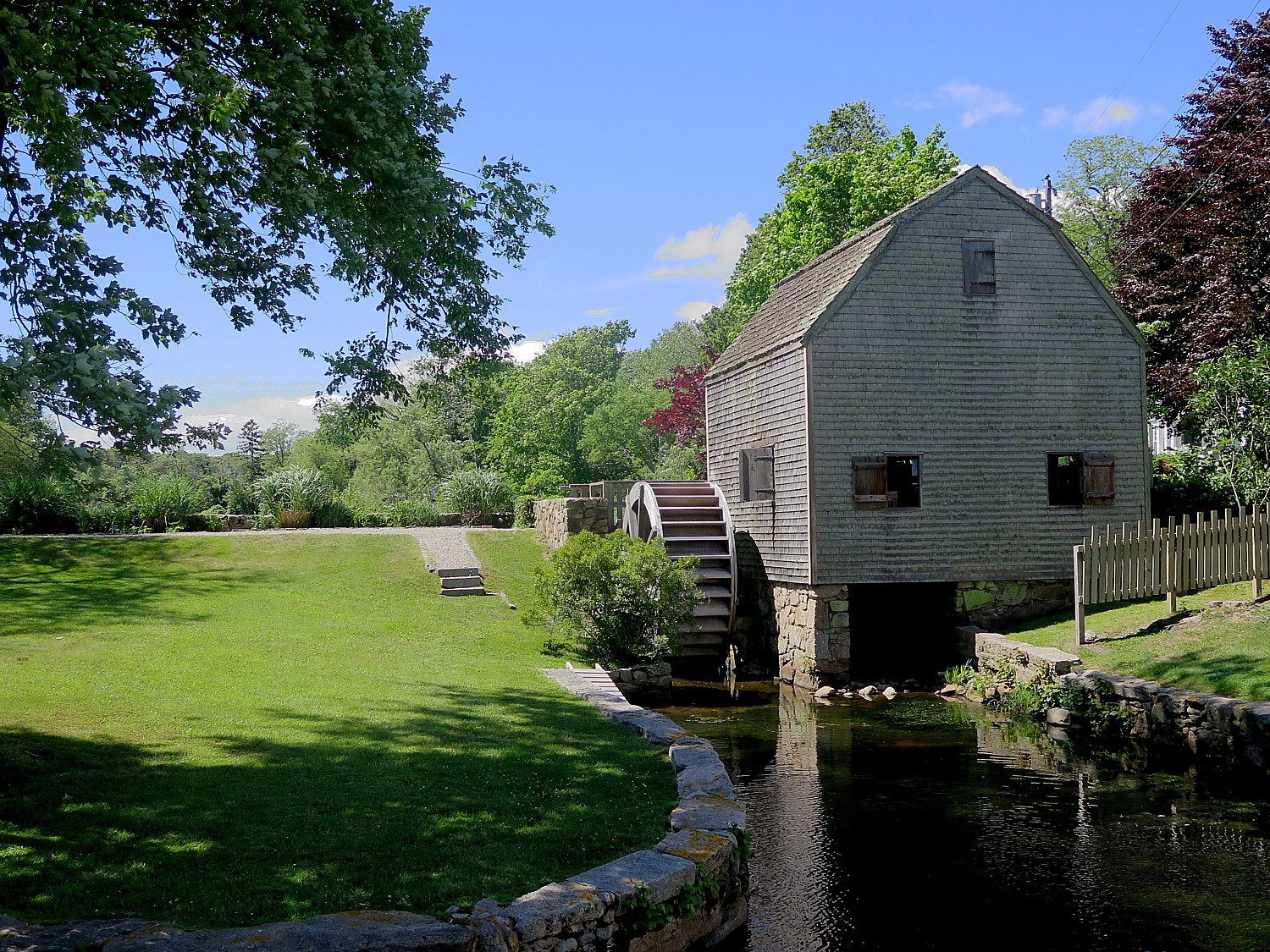 It's remarkably easy to feel you have stepped back in time and forget what century you are actually in, in Sandwich, the first village settled on Cape Cod, in 1637. Sandwich is an enchanting jewel where history, exquisite architecture, fascinating attractions abound in a compact, walkable town, a short distance from the delightful Sandy Neck beach as well as the Cape Cod biking trail. It is quintessential New England, an idyllic place to visit, to stay, to make your hub for exploring Cape Cod. What is more, it is a real place where people live year-round, not just in summer, giving it much more substance than a place built around tourists.
And so, when I sought to choose a place that would express quintessential New England – encapsulating its architecture, heritage and culture  – to a California girl who had never been to this part of the country before, I honed in on Sandwich.
It is also the first village you come to when you drive over the Sagamore Bridge – which means that you avoid hours of traffic that holiday-goers face getting to and from other popular places, like Hyannis, Chatham, and at the furthest point, Provincetown. Instead, you can make Sandwich your base and, if you have exhausted all the fascinating places to explore in Sandwich (not likely), you can have day trips to explore the Cape Cod National Seashore, bike the Cape Cod Rail Trail (Cape Cod is one of the best biking destinations anywhere) and, just 30 minutes drive away, Falmouth and Woods Hole which offer a score of other fascinating attractions as well as beaches.
Many of these quaint historic houses and buildings (including a church) have been turned into the most charming bed-and-breakfast inns, but if you want to extend your time travel back to when the Patriots were debating revolution, the best place is the Dan'l Webster Inn and Spa, very much at the heart of the village. It is also is the most substantial in size, amenities and services, offering the best of past and present.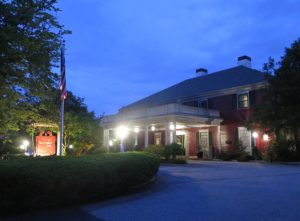 The Dan'l Webster is a 48-room country inn which remarkably maintains its historic feel and character even though it is totally rebuilt (the original was destroyed by fire in 1971) and has undergone a $2 million renovation. Each of the 48 guest rooms and suites are appointed with exquisite period furnishings, canopy and four-poster beds, fireplaces and oversized whirlpool tubs.
The present inn sits on property that was once a parsonage, built in 1692 by Rev. Roland Cotton; in the 1750s, it was converted in the Fessenden Tavern, one of the first and most famous of New England's taverns and a Patriot headquarters during the American Revolution (the Newcomb Tavern, just across the pond, served as Tory headquarters).
In the late 1800s, the inn, then known as the Central House, hosted famous visitors including President Grover Cleveland and poet Henry David Thoreau. In 1980, the Dan'l Webster was acquired by the Catania family, which operates the popular Hearth n' Kettle Restaurants, as well as the John Carver Inn in Plymouth and, most recently, the Cape Codder Resort, in Hyannis.
The Catania family acquired the Dan'l Webster and have restored it with exquisite taste and respect for its importance – there are antique furnishings and Sandwich glass. The Catania family also acquired the historic house next door.
A marker outside the house tells the story: Nancy Fessenden married Capt. Ezra Nye in 1826 and moved into the house following their wedding. She was the daughter of the innkeeper (now the Dan'l Webster Inn). Nye was a famous captain who broke the speed record by sailing his clipper ship from Liverpool in 20 days, in 1829. The house was restored by the Dan'l Webster Inn in 1982 and accommodates four luxury suites, each named after prominent people associated with the inn, dating back to 1692.
The Dan'l Webster has become an award-winning hotel, spa and dining destination. Recognized as a Distinguished Restaurant of North America (placing it in the top 1% of restaurants in the country) it offers a choice of the casual Tavern at the Inn. the cozy Music Room or the more formal (and romantic) ambiance in a lovely glass enclosed Conservatory. The four lovely dining rooms offer a choice of settings; candle-lit, fireside dining in the Music or Webster Rooms garden-side dining in the sun or moonlit Conservatory, cozy dining in the tavern or au natural dining outside on the patio. Several times during the summer, it also offers dinner and live entertainment.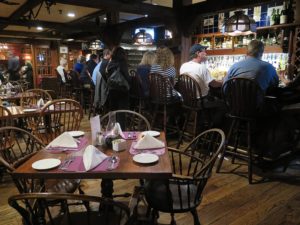 The Tavern at the Inn is an authentic replica of the two-centuries-old tap room where Daniel Webster made regular visits. It also served as the meeting place for local Patriots during the Revolution.
The menu includes traditional favorites such as prime rib and filet mignon, alongside creative, contemporary entrees and seasonal dishes. Its wine cellar received The Wine Spectator's prestigious Award of Excellence.
Its full service Beach Plum Spa, which Cape Cod Life has named Best Day Spa since 2006!, features body massages (romantic and holistic healing), manicures, pedicures. The spa figures prominently in the inn's getaway packages, such as a Girls Overnight Getaway (includes Cranberry Pedicures with Cosmo Martinis, 50-minute Massages, Beach Bliss Customized Facials, spa gratuities and $50 toward meals); Suite Deal Package (includes 1 night plus 50-minute Beach Plum Wellness Massages, spa gratuities, chocolate and $50 toward meals); and Countdown to Baby Package (select 1 or 2 nights plus receive Beach Bliss Customized Facials, 50-minute Massages like a Mama Massage for the Mother-To-Be, Cranberry Spa Pedicure, bottle of non-alcoholic sparkling wine, chocolates, spa gratuities, $60 toward meals and a special gift for the baby).
The Dan'l Webster received TripAdvisor's 2016 Certificate of Excellence award for the 6th year in a row for dining and lodging., as well as the Cape Cod Life Reader's Choice Awards as Best Bed & Breakfast/Inn and Best Resort/Hotel.
In addition to the Dan'l Webster Inn & Spa, the Catania family also owns and operates:
Cape Codder Resort & Spa in Hyannis (capecodderresort.com) which is opening a new indoor waterpark, and offers 260 stately guest rooms and luxury, fireplace suites, on-premise dining in the Hearth 'n Kettle Restaurant or Grand Cru Wine Bar & Grill, plus the Cape's largest Full-Service Spa, the Beach Plum Spa & Med-Spa, catering to men, women and children
Cape Codder Residence Club (capecodderresidenceclub.com), a premier fractional ownership property, located on the site of the Cape Codder Resort & Spa so that owners enjoy the benefits of a luxurious one, two or three bedroom residence plus world-class resort amenities, concierge service and options to exchange accommodations around the world.
John Carver Inn & Spa (johncarverinn.com) a full-service resort with indoor Pilgrim Cove theme pool and spa located on the site of the original Pilgrim settlement, only steps away from Plymouth's many historic attraction
The Hearth 'n Kettle Restaurants (hearthnkettle.com), in Hyannis, South Yarmouth, Orleans, Plymouth, and Weymouth, serving "Cape Cod Fresh" cooking for breakfast, lunch and dinner daily.
Dan'l Webster Inn & Spa 149 Main Street, Sandwich, MA 02563, 800-444-3566, [email protected], www.DanlWebsterInn.com.
So Much to Do in Sandwich 
It's remarkable how much there is to explore within steps of the Dan'l Webster Inn's front door (where you will find a carriage, as well as stocks the Puritans used) – especially on a quiet, cool summer's night with the glow of street lights.
Here you see the major ingredients to settlement: homes that bear the names of the ship captains who commanded the packet ships and clippers that made this area a mercantile center; the Sandwich Glass Museum, where a revolutionary process made glass available to the masses; the Dexter Gristmill, so important to farmers, it made the village a hub; a perpetually flowing fountain where residents come even today with their jugs to fill the pure water; scores of churches, several which have been converted to private uses, like the Belfry Inn and Bistro in a former Catholic church (built 1901), and the First Parish Meetinghouse, dating back to 1638, which, improbably, has become a private home (and during our visit, we take advantage of an estate sale).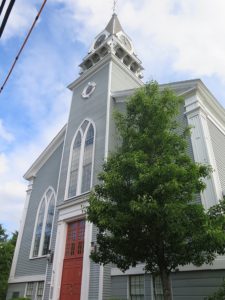 Many of the homes have historic name-plates and dates – a program by the Sandwich Historic Commission to highlight the depth of history in Sandwich and to recognize the original owners who built Sandwich and are an interwoven part of its history. It really connects the buildings to the people, so they are not simply structures but embodiments of a personal story.
What built Sandwich, though (and likely the reason that so many of its magnificent buildings reflect the prosperity of the early-1800s) was that in 1825, Deming Jarves built a glass factory (down by the site of the current Boardwalk). The factory grew rapidly to be one of the largest producers in the country with over 500 workers producing over five million pieces of glass annually by the 1850s. The technique made Sandwich glass objects affordable to the masses. By the 1880s, labor strikes, an economic depression, and new factories being built further closer to natural gas fuel sources forced the factory to close.
The Sandwich Glass Museum houses original pieces created during the 1800's and provides demonstrations of glass blowing techniques. The museum's theater shows a great documentary of the history of Sandwich. Throughout the village there are several glass blowers and artists with open studios to visit, creating a dynamic center for contemporary glass art (120 Main St., 508-833-1540, www.sandwichglassmuseum.org).
A short walk from the Dan'l Webster Inn is the Dexter Grist Mill, a working grist mill since 1654 where you can still buy ground cornmeal, or draw fresh water from the well (as many locals do for their personal supply).
The Hoxie House, built in 1675, was lived in until the 1970s but was never modernized with electricity or plumbing. This saltbox is named after a whaling captain who owned the house in the mid-1800s. it is now a wonderful little museum house showing what family life was like in the 1600s.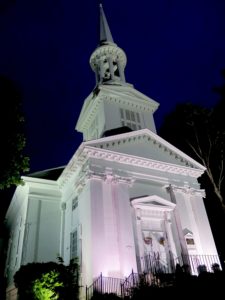 Most fascinating is how many major religious buildings there are in Sandwich, and how many have been converted for secular use, very likely in keeping with Sandwich's own tradition: the Puritan authorities of Plymouth branded Sandwich a "lax" town because church attendance and support were low, Native Americans were allowed to worship and Quakers were not shunned as in other Puritan communities. Indeed, at a time when the Pilgrims promoted anything but religious freedom and persecuted non-Puritans, Sandwich allowed Quakers to worship freely. The Sandwich Quaker Meetings are the oldest continuously kept Friends Meetings in the United States.
Most interesting is the building that was originally the First Parish Meetinghouse, dating back to 1638. It boasts a most magnificent clock tower, a gift to the people of Sandwich in 1808 from Titus Winchester, a former slave who had been freed by his master, Reverend Abraham Williams in 1784, and went on to great success. The four-faced clock we see today was installed in 1878 by Jonathan Bourne, a New Bedford whaling tycoon. It has since become a most extraordinary private residence, and we happen by as an estate sale is going on.
Benjamin Nye Homestead & Museum, is the 18th-century home of one of the first 50 men who settle in Sandwich (I take note that it is the same name as the Captain Nancy Fessenden married).
Also, the Wing Fort House, built in 1641, the oldest house in New England continuously owned and occupied by one family (63 Spring Hill Rd., 508-833-1540).
A short distance away, you can visit the Green Briar Nature Center & Jam Kitchen (6 Discovery Hill Road off Route 6A), which celebrates author and naturalist Thornton W. Burgess, who wrote the Peter Cottontail stories. There are nature programs, nature trails, a working 1903 Jam Kitchen, jam-making classes (508-888-6870, www.thortonburgess.org).
We also get to sample a regional specialty of Cape Cod: quahog –a clam exclusively here. A local restaurant, Marshland, has own recipe, showcased on the Food Network which has brought foodies from far and wide. It is a homey place that is a cross between a diner and a café and offers really marvelous home-cooked food.
I relish the proximity of the Dan'l Webster Inn to the Cape Cod Canal and the 6.2 mile-long paved path for biking, roller blading or just walking (the banks of the canal are also popular for fishing). It is close enough to bike from the inn to the start of the trail. Along the trail, you can visit the Aptucxet Trading Post, built by the Pilgrims in 1627 to facilitate trade with the Dutch at New Amsterdam and the Narrangansett Indians.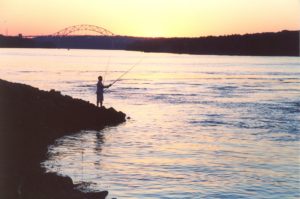 The Cape Cod Canal is a marvel (there is a visitor center on the mainland side that tells the history). The canal was constructed in 1914 – up until then, there were a tragic number of ships that were wrecked trying to sail around the peninsula. But it is astonishing to learn that interest in building the canal dated back to the earliest settlers: in 1623, Pilgrims scouted the area as the place best suited for a canal. In 1697 the General Court of Massachusetts considered a formal proposal to build a canal, but no action was taken. In 1776, George Washington, concerned about its military implications, had the location examined. But it wasn't until 1909 that construction started (60 Ed Moffitt Dr., 508-833-9676, www.capecodcanal.us). 
Not to be Missed: Heritage Museum & Gardens
In a village of many substantial attractions and places of interest, what truly stands out is the Heritage Museum & Gardens – a destination attraction that can stand on its own to draw people to Sandwich, just as the beaches draw people to Cape Cod. It hits on a spectrum of cylinders – the vast, stunning and notable gardens, the JK Lilly III collection of cars and art, as well as art inside and out, the way it engages people of all ages – such as at the Hidden Hollow, a giant treehouse in a hollow where you are invited to participate in planting and other activities (you feel like an elf or those tiny creatures in the EPIC animated movie).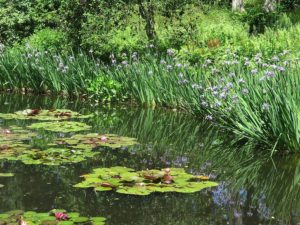 This year, the special exhibit on view is "CUT! Costume and the Cinema," featuring 43 costumes representing five centuries of fashion and style as interpreted by award-winning costume designers and worn by favorite stars, which are presented along with props, movie clips and photos and movie memorabilia which you can see in very close proximity. There is also – imagine this – an adventure center where you can get a "squirrel's perspective" of the forest. You should allocate the better part of a day to visit. (Heritage Museums & Gardens, 67 Grove Street, Sandwich, MA 02563, 508.888.3300, www.heritagemuseumsandgardens.org, open daily (See story).
Sandwich offers easy access to other marvelous places to visit on Cape Cod, but you should spend at least a day on the other side of the Sagamore Bridge, in Plymouth, to visit a score of historic attractions associated with the Pilgrims, including the Mayflower II (only recently reopened) and Plimoth Plantation (one of the best living history museums anywhere).
For more information, contact Sandwich Chamber of Commerce, 508-833-9755, www.sandwichchamber.com, [email protected]. 
See next: Heritage Museum & Gardens is Not-to-Be-Missed Attraction on Cape Cod
____________________
© 2016 Travel Features Syndicate, a division of Workstyles, Inc. All rights reserved. Visit goingplacesfarandnear.com, www.examiner.com/eclectic-travel-in-national/karen-rubin,www.examiner.com/eclectic-traveler-in-long-island/karen-rubin, www.examiner.com/international-travel-in-national/karen-rubin  and travelwritersmagazine.com/TravelFeaturesSyndicate/. Blogging at goingplacesnearandfar.wordpress.com and moralcompasstravel.info. Send comments or questions to [email protected]. Tweet @TravelFeatures. 'Like' us at facebook.com/NewsPhotoFeatures