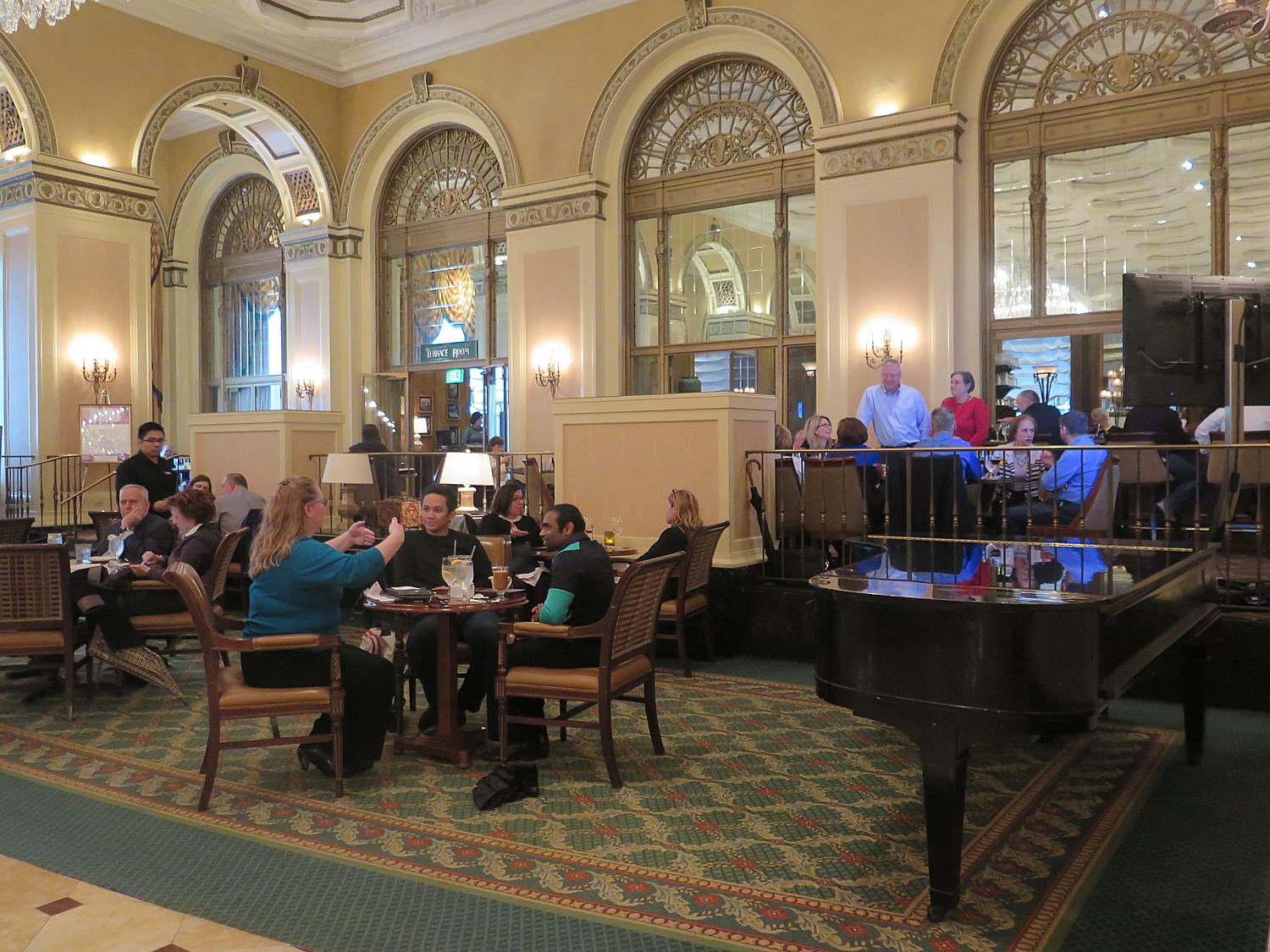 By Karen Rubin, Travel Features Syndicate, goingplacesfarandnear.com
(I have come to Pittsburgh to join the Rails-to-Trails Conservancy's Sojourn three-day, 120-mile bike tour on the Great Allegheny Passage. I only have two nights and one full day in the city, so I focus on what is uniquely Pittsburgh's heritage. This is fifth in the series.) 
My purpose for this all-too-brief visit to Pittsburgh is to immerse myself in the city's proud heritage at the epicenter of the nation's founding, settlement, industrialization and emergence as a world power, but a heritage that came at a terrible cost to its environment. The city has undertaken a fantastic revitalization, emerging from grey to green, and becoming one of America's most liveable cities.
And so for my two-nights stay, I seek out the historic Omni William Penn Hotel – a member of Historic Hotels of America – which celebrated its centennial in 2016 the same year as the city celebrated its bicentennial, and is so much a part of Pittsburgh's story.
I love wandering around, immersing myself in the taking in the ambiance, admiring its stunning architectural features and Art Deco-style appointments, and, as if these walls could talk, hearing its stories as if whispered in my ear. There are historic displays, photos, artifacts and artwork in various places that convey the story. Indeed, in its award-winning restaurant, The Terrace Room, that dates from 1916, there is an enormous mural that pays homage to the city's history depicting "The Taking of Fort Pitt".

Whenever I travel, I first seek out members of Historic Hotels of America, a collection of properties. Historic hotels are so much more than mere structures. They embody the heritage and history and sense of place, and are also very much creations of their builders. Owners take on the role of steward, with a responsibility of passing it along to the next.
This is true of The William Penn, whose history parallels that of the city and the nation, as I learn from a wonderful pamphlet, "A Grand Dame Named William Penn," by Marianne Lee.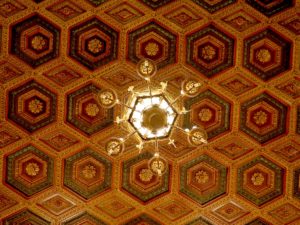 The William Penn Hotel was the last building venture of Henry Clay Frick, one of Pittsburgh's wealthiest industrialists. Frick envisioned the William Penn as Pittsburgh's showplace, and it was designed by renowned architects Benno Janssen, and Franklin Abbott to rival the great hotels of Europe in Old World style but with what was then the state-of-the-art, sophisticated, 20th century technology. Guests were dazzled by such modern amenities including iced drinking water on top, "certified" lighting, electrically operated clocks, a telephone in every room connected to a master switchboard with 30 operators at the ready, and a private bathroom in an age when most Americans still used outdoor privies and most hotels offered only shared facilities.
Built at a cost of $6 million, when it opened, newspapers proclaimed The William Penn as the "Grandest Hotel in the nation." Its first night featured the annual Pittsburgh Chamber of Commerce Gala, the largest gala in city history up to that time, which was hosted by US Secretary of State Philander Knox.
When the hotel was first built, it had 1,000 guestrooms (interesting to contemplate since it only has 597 today), and an elegant two-tier Grand Ballroom on the 17th floor. In 1928, the hotel was acquired by the Eppley Hotel Company and Eugene Eppley, a Horatio Alger rags-to-riches figure, financed a major expansion, the Grant Street Annex. That added 600 more guestrooms as well as the hotel's crowning jewel, the Urban Room, designed by Joseph Urban, when it was finished in 1929. With this addition, The William Penn became the largest hotel between Pittsburgh and Chicago, and the major convention facility for Pittsburgh.
But Eppley, who was the vanguard of a new breed of professional hotelier who saw his patrons not as customers but as guests, lost control of the hotel in the Great Depression, and new owners brought in the Statler Hotels company to manage it 1940-1951. Eppley briefly regained control, but over the years, this Grand Dame was held by Sheraton, then a group of local investors, then Alcoa, which invested $20 million in a substantial renovation, and finally Omni Hotels & Resorts, in 2001.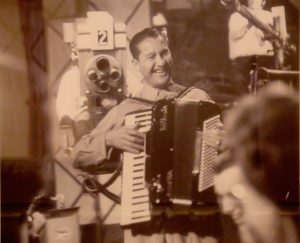 Throughout its storied past and many owners, The Omni William Penn Hotel has hosted many of the 20th century's movers, shakers and celebrities.  A young bandleader named Lawrence Welk, who would later gain fame for his television show, performed in the hotel's ballrooms; the hotel's  engineers actually devised Welk's iconic bubble machine – a connection commemorated by naming a ballroom for him, and in large photographic murals.
In 1934, a young vocalist named Dolores DeFina accepted a marriage proposal at The William Penn from the inimitable Bob Hope. The hotel remains celebrated as a wedding venue (including being named to the "Best of Weddings 2009" list by The Knot ).
A popular campaign spot as well as for presidential appearances, The Omni William Penn Hotel has received every president since Theodore Roosevelt (who visited in 1917 to attend a Moose Convention), including John Kennedy and Barack Obama.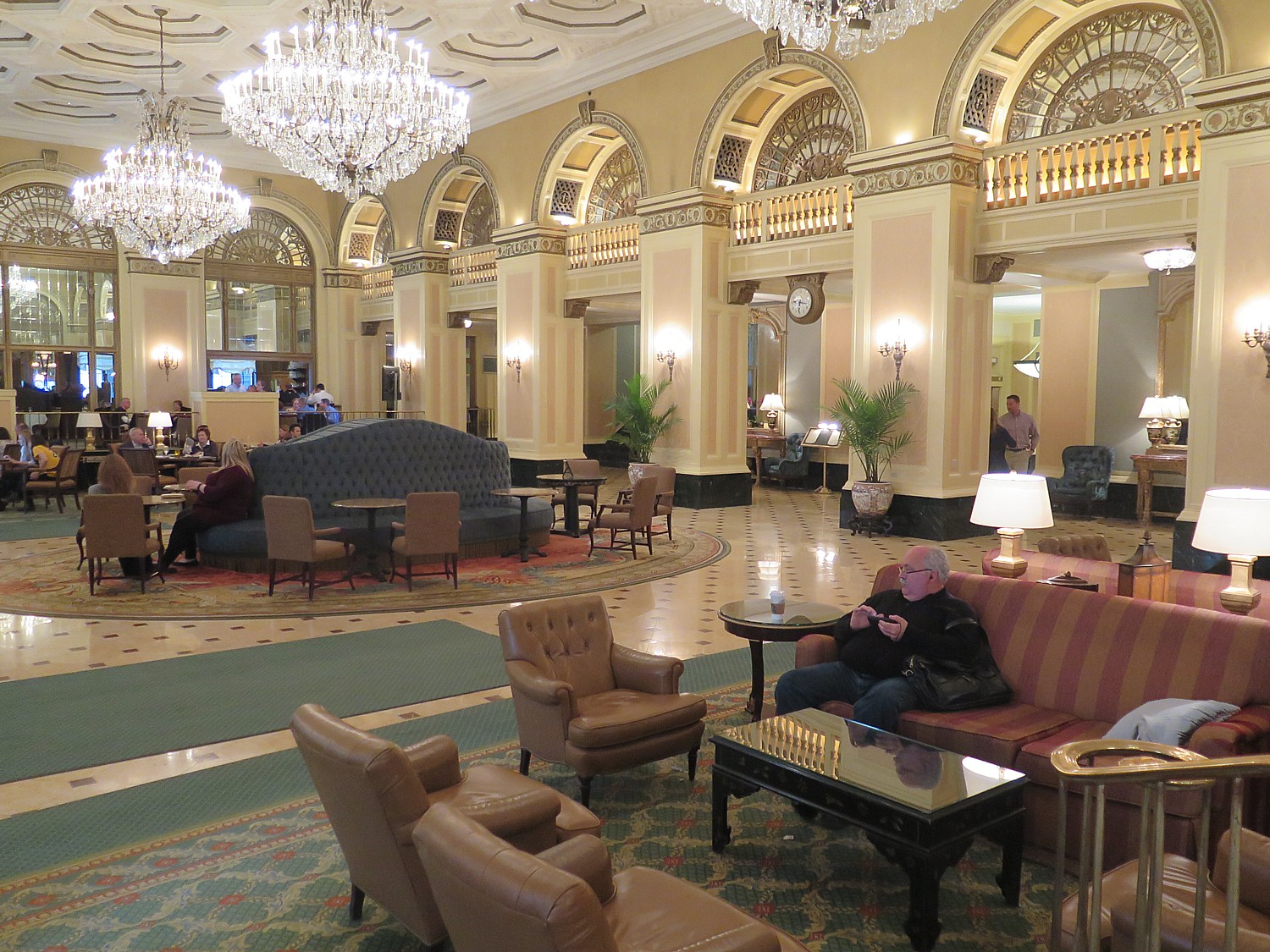 Then, as now, The William Penn combines every modern amenity with timeless elegance: 597 beautifully appointed guestrooms including 38 suites, 52,000 square feet of flexible meeting space, and five dining venues including its fine dining room, The Terrace Room, the Palm Court, a pub-style Tap Room, Starbucks Coffee Café, The Speakeasy (in 1920s tradition tucked beneath the hotel lobby), plus 24-hour room service. The hotel boasts two self-contained conference centers, a 24-hour fitness center, beauty salon, gift shop, and a jewelry store.
There is every amenity, nicety and graciousness, beginning with fresh apples at reception and a concierge available to help with every situation. My room is outfitted with plush robe, refrigerator, bottled water, coffee maker, big screen TV, hair dryer, ironing board/iron, safe, WiFi (free if you enroll in Omni Hotels loyalty program).
I take advantage of the opportunity to order two beverages (at no charge) plus other items at modest cost for the morning ($3 for an English muffin; $3 for a toasted bagel with cream cheese, $2.75 for a muffin, $3.75 for Greek yogurt, etc.), especially when I have to leave at 5:15 am to get to the start of my Rails-to-Trails biking trip on the Great Allegheny Passage. You tell them a 15-minute window when you want it to be delivered, and sure enough, it arrives right on time. So does my car, waiting for me when I depart.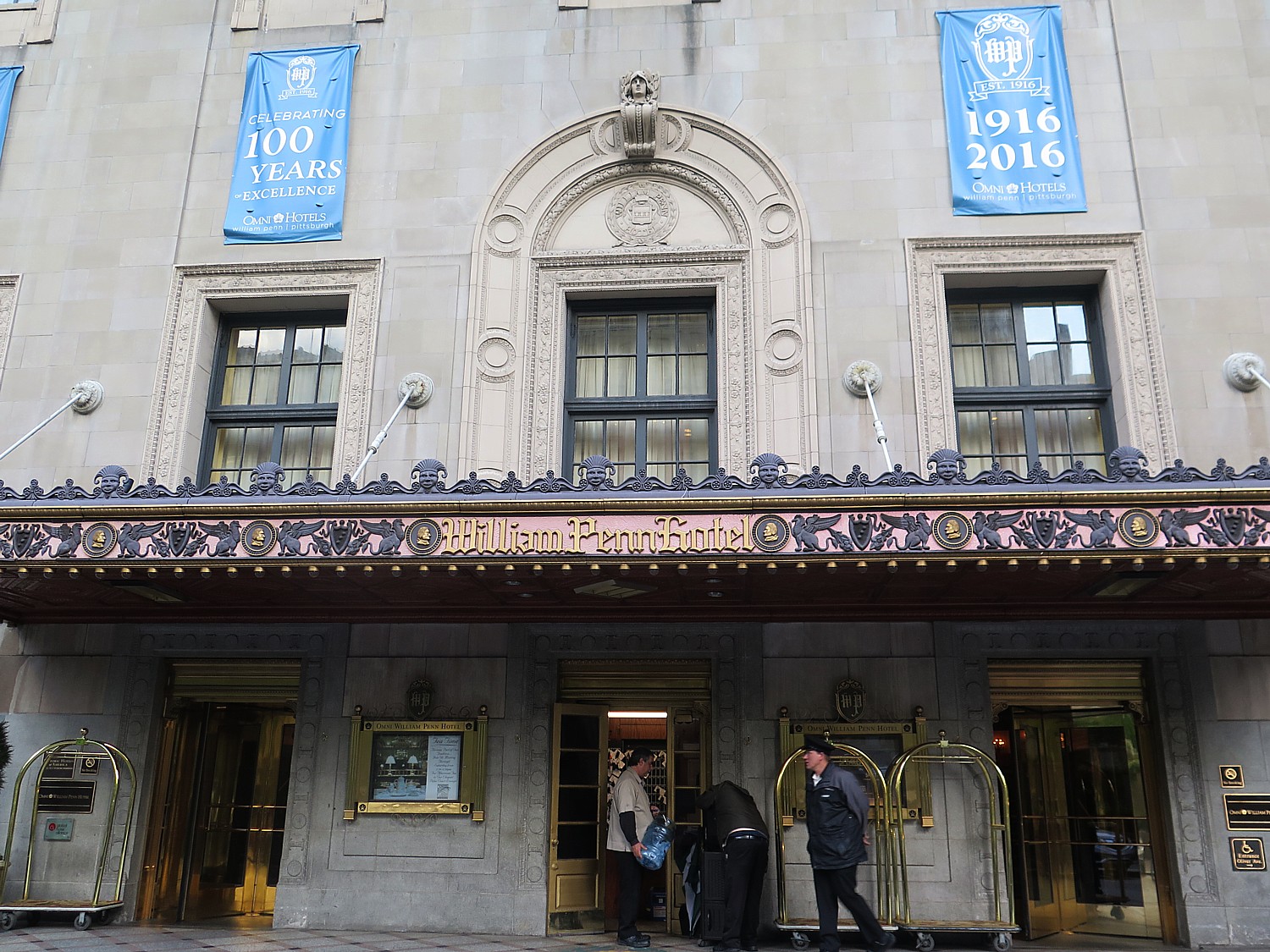 The hotel is smack in the middle of the city, walking distance to all the downtown attractions, restaurants, cultural and financial center. Here's a recap of my Day in Pittsburgh Walking Tour: Omni William Penn Hotel, Monongahela Incline, Duquesne Incline, Point State Park, Fort Pitt Museum, National Aviary, Andy Warhol Museum, Heinz History Center, Strip District. But one full day in Pittsburgh is simply not enough.
Omni William Penn Pittsburgh, 530 William Penn Place, Pittsburgh PA 15219, 412-281-7100, omnihotels.com/Pittsburgh. 
Historic Hotels of America
Historic Hotels of America is the official program of the National Trust for Historic Preservation for recognizing and celebrating the finest Historic Hotels. Historic Hotels of America was founded in 1989 by the National Trust for Historic Preservation with 32 charter members. Today, Historic Hotels of America has more than 290 historic hotels. These historic hotels have all faithfully maintained their authenticity, sense of place, and architectural integrity in the United States of America, including 46 states, the District of Columbia, the U.S. Virgin Islands, and Puerto Rico. Historic Hotels of America is comprised of mostly independently owned and operated properties. More than 30 of the world's finest hospitality brands, chains, and collections are represented in Historic Hotels of America. To be nominated and selected for membership into this prestigious program, a hotel must be at least 50 years old; have been designated by the U.S. Secretary of the Interior as a National Historic Landmark or listed in or eligible for listing in the National Register of Historic Places; and recognized as having historic significance. For more information, visit HistoricHotels.org, 800-678-8946. 
Visit Pittsburgh
For all the right reasons, Pittsburgh is a sensational travel destination no matter what season or weather, whether it is business, academia or leisure pursuits that bring you into the city. I can't wait to come back.
For more information, contact Visit Pittsburgh, 412-281-7711, 800-359-0758, 877-LOVE PGH (568-3744), [email protected], www.visitpittsburgh.com.
See also:
One Day, Two Nights in Pittsburgh: From Grey to Green, A Proud City Revitalized
36 Hours in Pittsburgh: Point State Park Proves Highlight of Walking Tour
36 Hours in Pittsburgh: Andy Warhol Museum is at Center of Revitalized City
36 Hours in Pittsburgh: Strip District Exemplifies City's Past, Future
____________________
© 2016 Travel Features Syndicate, a division of Workstyles, Inc. All rights reserved. Visit goingplacesfarandnear.com and travelwritersmagazine.com/TravelFeaturesSyndicate/. Blogging at goingplacesnearandfar.wordpress.com and moralcompasstravel.info. Send comments or questions to [email protected]. Tweet @TravelFeatures. 'Like' us at facebook.com/NewsPhotoFeatures