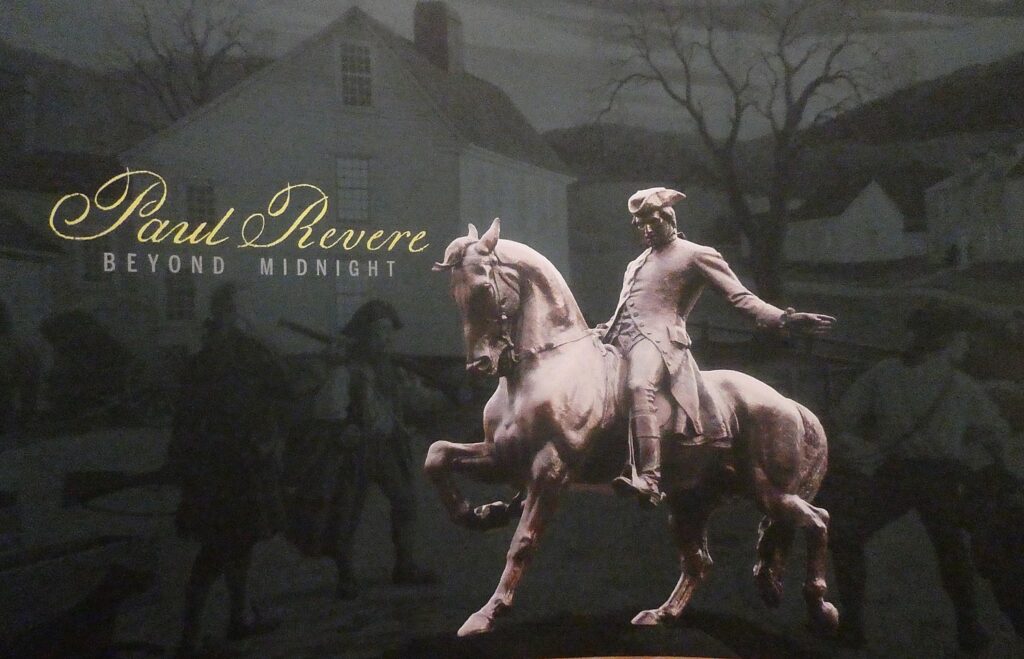 by Karen Rubin, Travel Features Syndicate, goingplacesfarandnear.com
You always make fascinating discoveries at the New-York Historical Society, but the nexus of exhibits and experiences that are being showcased through the holidays makes this particularly prime time for a visit: flesh out who Paul Revere was beyond his mythic Midnight Ride; see why Mark Twain, featured on the 150th anniversary of the publication of his seminal book, "Innocents Abroad, or The New Pilgrims' Progress" was our first travel blogger; learn about the Baroness artist in exile who made a visual diary, and, of course, become enchanted at the "Holiday Express," re-imagined to celebrate the 100th birthday of Busytown series author and illustrator Richard Scarry.
Beyond Midnight: Paul Revere
Paul Revere is most famous for his midnight ride warning people of Massachusetts "the British are coming," but the larger than life legend is not the focus of this first-ever exhibit now on view at the New-York Historical Society. And while his prowess as a silversmith and artisan is very much displayed, we are surprised to learn about Revere as a printer, an engraver, an entrepreneur and innovator, a savvy businessman, a Mason, a "proto-industrialist" – all of which figured into his role as a patriot.
Beyond Midnight: Paul Revere separates fact from fiction, revealing Revere as a complex, multifaceted figure at the intersection of America's social, economic, artistic, and political life in Revolutionary War-era Boston as it re-examines his life as an artisan, activist, and entrepreneur. The exhibition, featuring more than 140 objects, most never before exhibited in public, highlights aspects of Revere's versatile career as an artisan, including engravings, such as his well-known depiction of the Boston Massacre; glimmering silver tea services made for prominent clients; everyday objects such as thimbles, tankards, and teapots; and important public commissions, such as a bronze courthouse bell. There are personal items, as well – most touching is the gold wedding ring Paul Revere made for his second wife, Rachel, in a case below portraits of the two of them, a thin band engraved inside with the words, "Live contented."
Organized by the American Antiquarian Society in Worcester, Massachusetts, and curated by Nan Wolverton and Lauren Hewes, Beyond Midnight debuts at New-York Historical through January 12, 2020, before traveling to the Worcester Art Museum and the Concord Museum in Massachusetts for a two-venue display (February 13 – June 7, 2020) and to Crystal Bridges Museum of American Art in Bentonville, Arkansas (July 4 – October 11, 2020). At New-York Historical, Beyond Midnight is coordinated by Debra Schmidt Bach, New-York Historical's curator of decorative arts.

"When many of us think of Paul Revere, we instantly think of Longfellow's lines, 'One if by land, and two if by sea', but there is much more to Revere's story," said Dr. Louise Mirrer, president and CEO of the New-York Historical Society. "This exhibition looks beyond the myth of Paul Revere to better understand the man as a revolutionary, an artisan, and an entrepreneur, who would go on to become a legend. There is much more to the Revere story than the famous ride. We are proud to partner with the American Antiquarian Society to debut this exhibition in New York."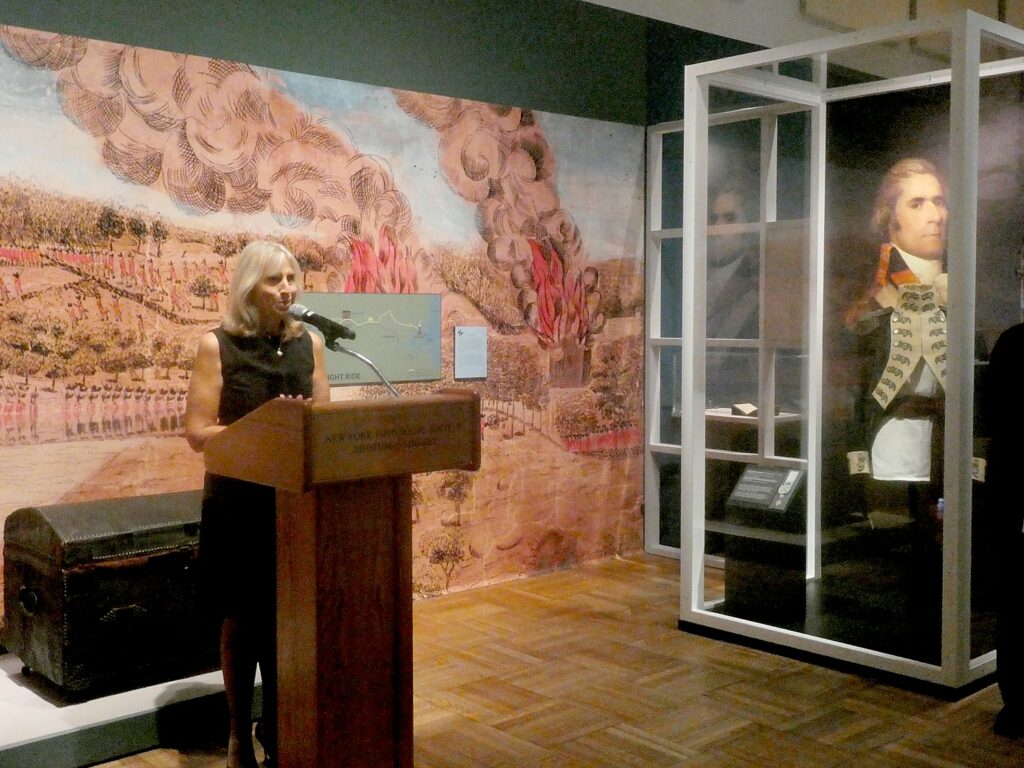 The New-York Historical Society partnered with the American Antiquarian Society (of Boston) which holds one of the most encompassing collections of Paul Revere's documents, largely due to the society being founded by Isaiah Thomas in 1812, an "omnivorous collector," who was a printer, publisher, patriot, colleague and customer of Paul Revere's as well as a fellow patriot advocating for a break from Great Britain.
The Antiquarian Society, the oldest national historical society, is a research library and not a museum, so its collection is not publicly exhibited. That's why this collaboration with the New-York Historical Society is so extraordinary.
A Revolutionary activist, Paul Revere was a member of the Sons of Liberty, a secret group opposed to British colonial policy including taxation that kept track of British troop movements and war ships in the harbor. The exhibition displays Revere's 1770 engraving of the landing of British forces at Boston's Long Wharf.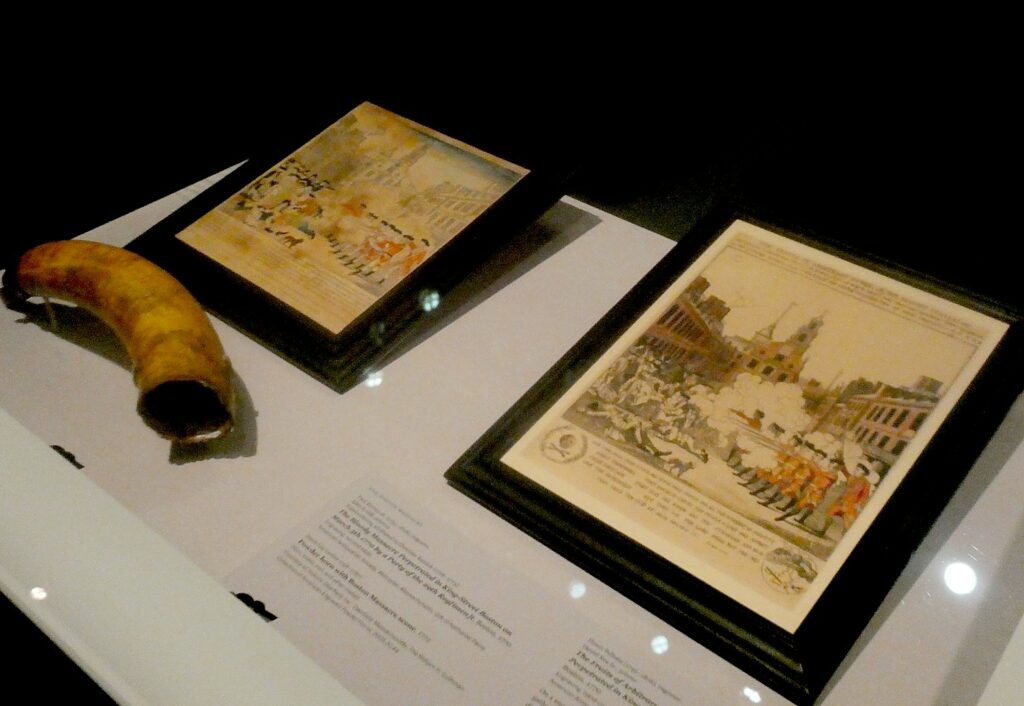 Four versions of Revere's provocative engraving of the 1770 Boston Massacre are also reunited in the exhibition. The engravings capture the moment when British soldiers fired upon a crowd of unruly colonists in front of the Custom House. The print inflamed anti-British sentiment, and different versions of it were widely disseminated as Patriot propaganda.
The only known copy of a broadside that still exists is on display under canvas.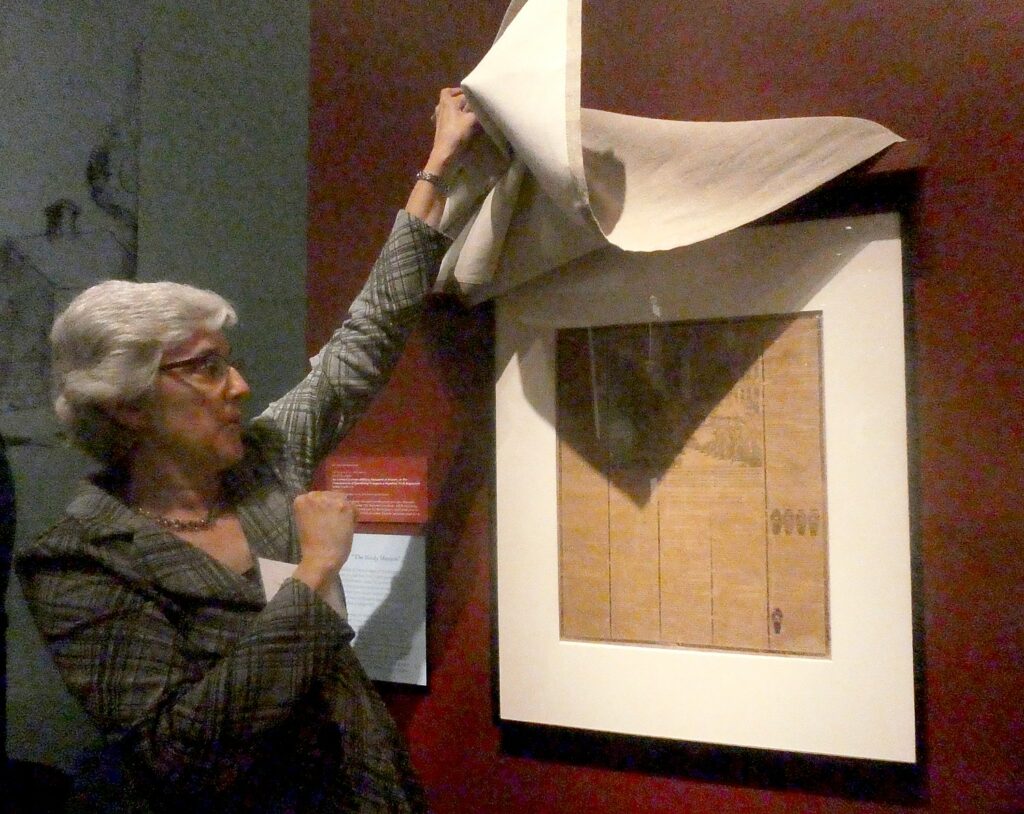 But the print that most fascinated me was the one that depicted the first casualty of the American Revolution, a black man, Crispice Attucks, at the center. It was used to advance the cause of abolition before the Civil War.
Paul Revere was a master craftsman specializing in metalwork, including copperplate engravings and fashionable and functional objects made from silver, gold, brass, bronze, and copper. An innovative businessman, Revere expanded his successful silver shop in the years after the war to produce goods that took advantage of new machinery. His fluted oval teapot, made from machine-rolled sheet silver, became an icon of American Federal silver design.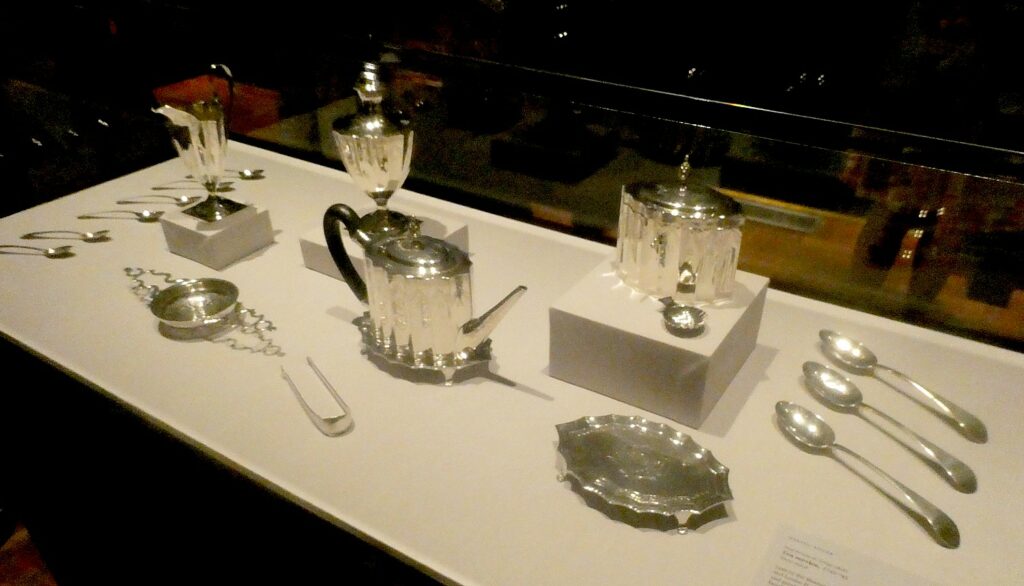 You see marvelous examples of Revere's artistry as a silversmith – a skill he learned from his father. There is a Revere tea service that had belonged to John Templeman, on loan from the Minnesota Institute of Art, the most complete tea service by Revere in existence, which he made toward the end of long career that lasted until he was in his 70s.
Among the silver objects on view are two rare wine goblets possibly used as Kiddush cups made by Revere for Moses Michael Hays—his only known Jewish client—as well as grand tea services, teapots, tankards, teaspoons, and toy whistles created in Revere's shop.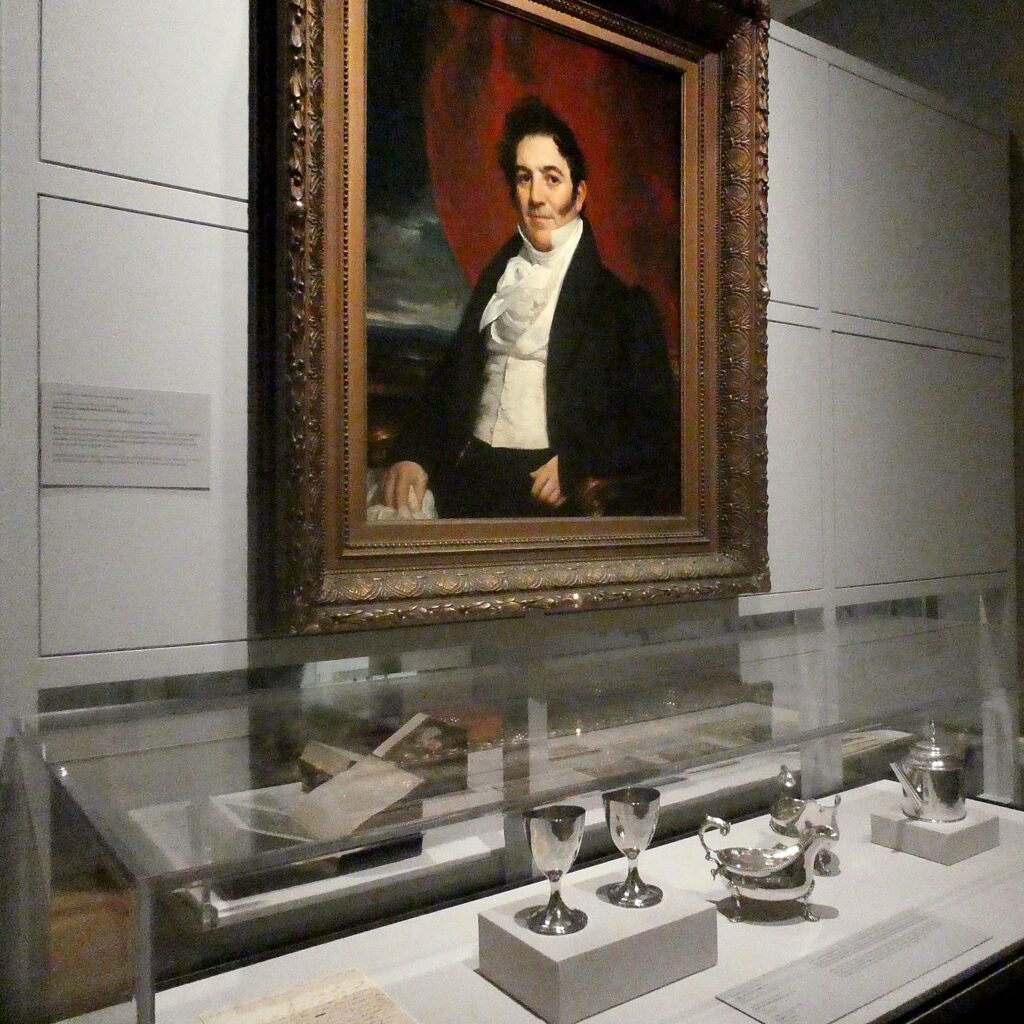 But Revere, a genius at working with metals, also worked in brass and copper. He produced bells and cannon. Featured in the exhibit is a 1796 cast-bronze courthouse bell made for the Norfolk County Courthouse in Dedham, Massachusetts (about 100 Revere-created bells are still in existence and one, in Cambridge is still rung). The exhibition also explores how Revere's trade networks reached well beyond Boston, even aboard ships bound for China. He frequently bought and sold raw and finished copper from New Yorker Harmon Hendricks and supplied copper for Robert Fulton's famous steamship.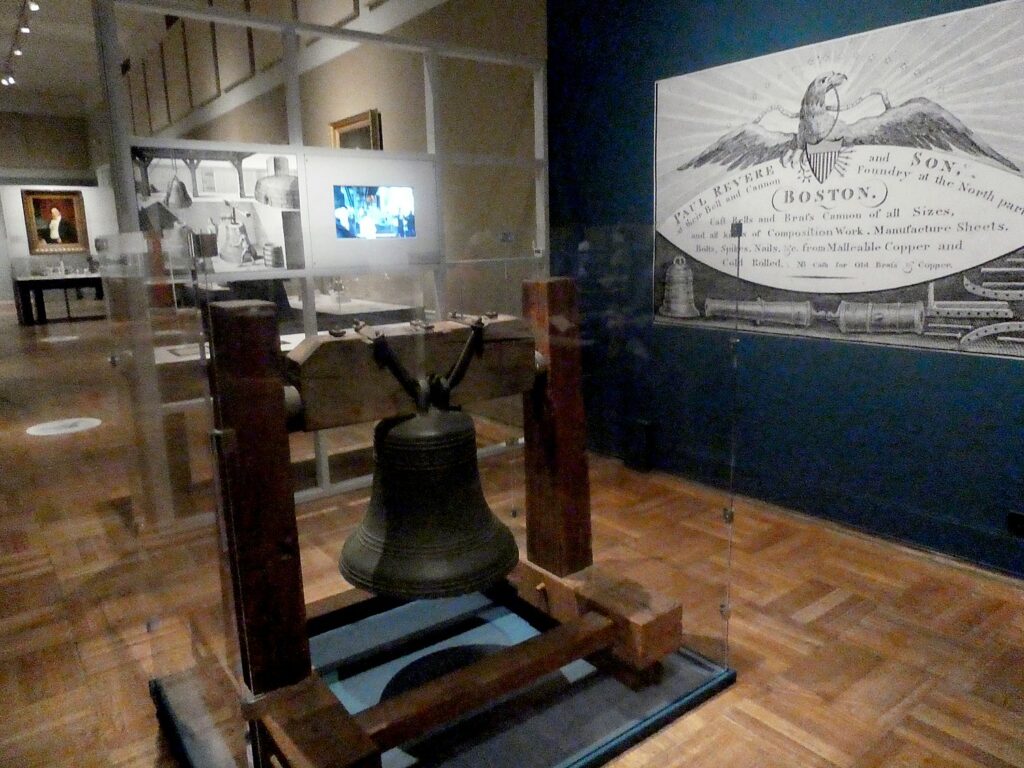 We learn that the silver that Revere and the colonial silversmiths would have used came from South America, from mines run by the Spanish with African slave and Indian labor. "Spanish coin was the currency of colonial America. Revere would melt old objects and coin for the silver."
Meticulous account books that are in the collection show that Revere had customers in and around Boston- they are never shown except on microfilm, so it is very special to see these originals. In one, we see where Revere made notations and sketches.
What we learn is that Revere, who had 16 children, would create new businesses, set up new workshops and put a son in charge as he went on to create a new one. "He had a drive to keep changing technology, but he built on what he learned as a silversmith."
Revere was a proto-industrialist of the nascent nation; he changed from a workshop model that would employ two to four people, to more of an industrial model, with six to eight people paid wages.
The connection between being an artisan, an entrepreneur and an innovator plays into his role as a patriot.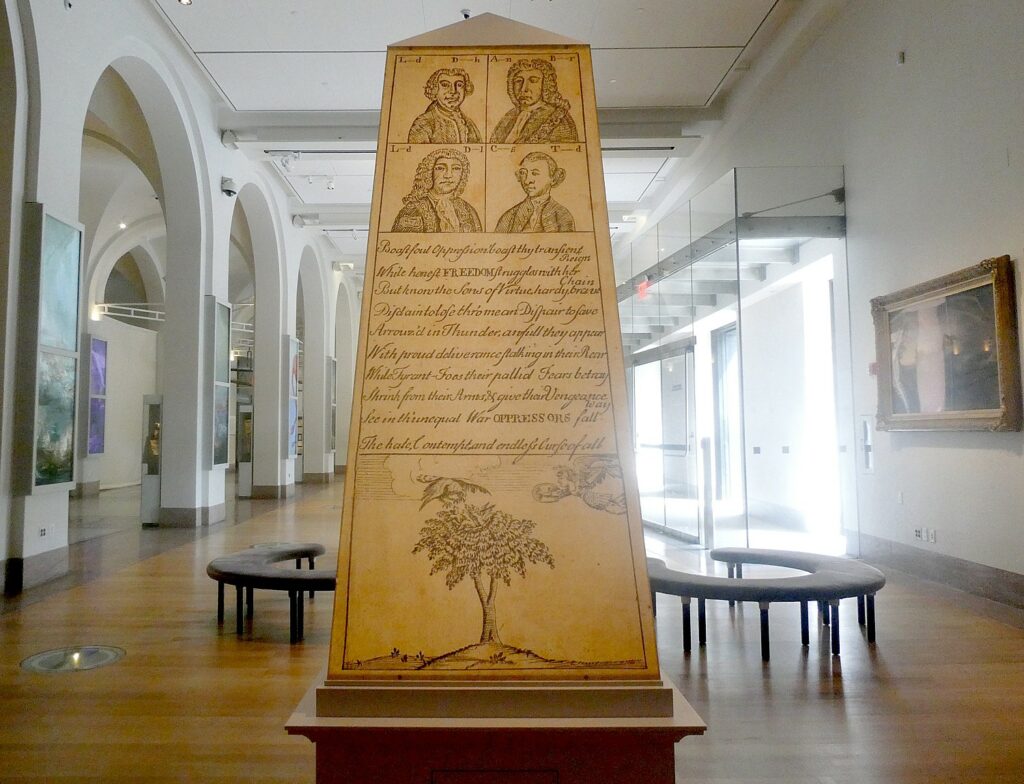 As you enter the exhibit, you see a nine-foot-tall re-creation of the grand obelisk made for a 1766 Boston Common celebration of the repeal of the Stamp Act, the first tax levied on the American colonies by England. Originally made of wood and oiled paper, and decorated with painted scenes, portraits, and text praising King George while also mocking British legislators, the obelisk was illuminated from inside and eventually consumed by flames at the Boston event. Local newspapers of the time described huge event. The only remaining visual evidence is Revere's 1766 engraving of the design which was used to make the reproduction.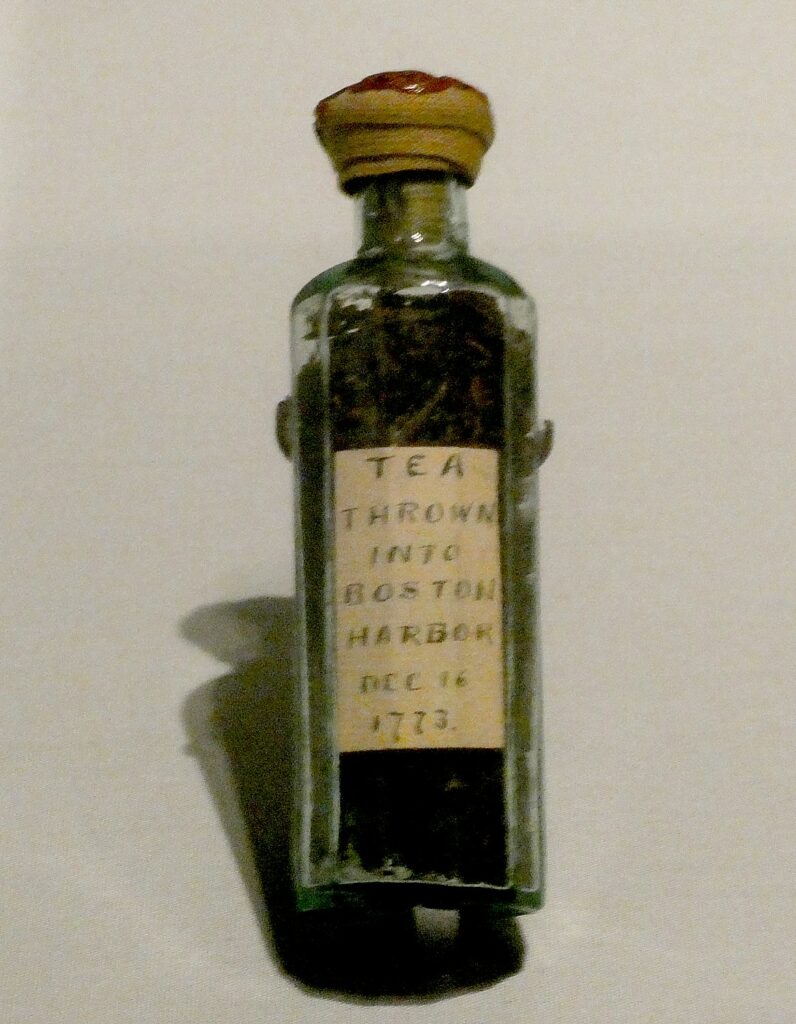 Revere was a member of the Sons of Liberty and helped plan and execute the Boston Tea Party in 1773, hurling tea into Boston Harbor. You get to see a vial of tea from the Boston Tea Party that was collected from Dorchester Beach (the water was cold so the bales of tea didn't dissolve). One of the vials was given to the Antiquarian Society in 1840.
The place where the Sons of Liberty met to discuss their plans for the Tea Party, the Green Dragon Tavern, was also where the Masons met. Revere was a member of this secret society as well. The Masons were humanists, a clique and seen as anti-Christian, inspiring anti-Masonic societies, because all religions, including Jews like Hays, could join.
Isaiah Thomas, a Masonic brother, was a patriot and like many of the merchants saw America as independent of Great Britain, with its own ability to make (manufacture), sell and distribute goods and not rely on Europe. Thomas published a newspaper and hired Revere, who was a printer as well as an artist, to do the book plate and masthead for his newspapers.
Isaiah Thomas, a Masonic brother, was a patriot and like many of the merchants saw America as independent of Great Britain, with its own ability to make (manufacture), sell and distribute goods and not rely on Europe. Thomas published a newspaper and hired Revere, who was a printer as well as an artist, to do the book plate and masthead for his newspapers.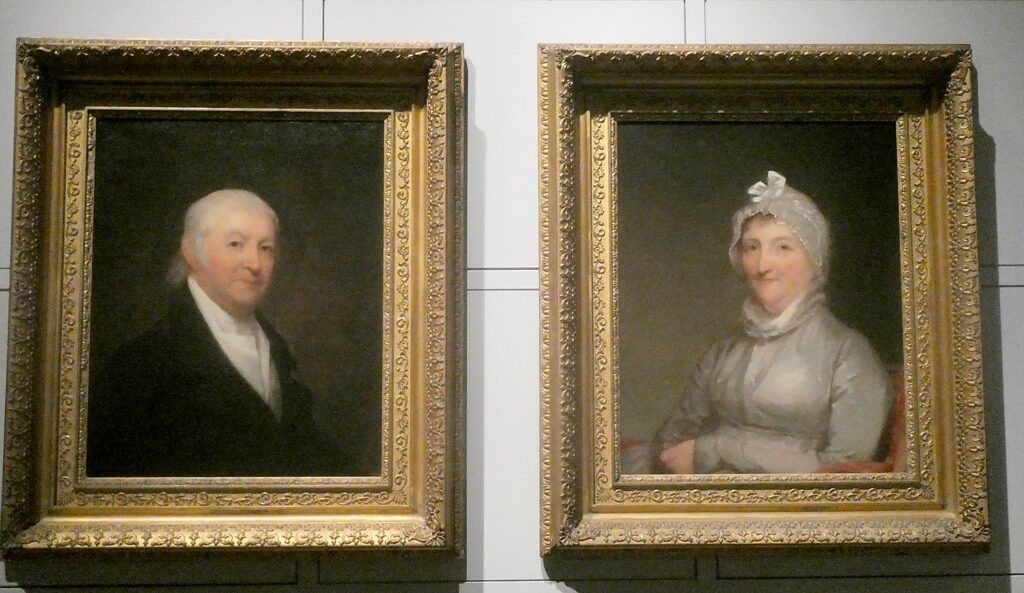 Paul Revere was born in America in 1735. His father was a French Huguenot who came as a young man from Bordeaux France, emigrating first to the Isle of Jersey, and then to Boston as a goldsmith. Revere's father dies young and Paul, having finished his apprenticeship, takes over at 19.
Revere belonged to an economic class called "mechanics," ranked below merchants, lawyers, and clergymen. But Revere was a savvy networker, and what he lacked in social status, he made up for by cultivating influential connections. Membership in the Sons of Liberty led to commissions from fellow Patriots, but he also welcomed Loyalist clients, setting aside politics for profit. On view are nine elements from a grand, 45-piece beverage service that Revere created in 1773 for prominent Loyalist Dr. William Paine—the largest commission of his career—just two months before the Boston Tea Party.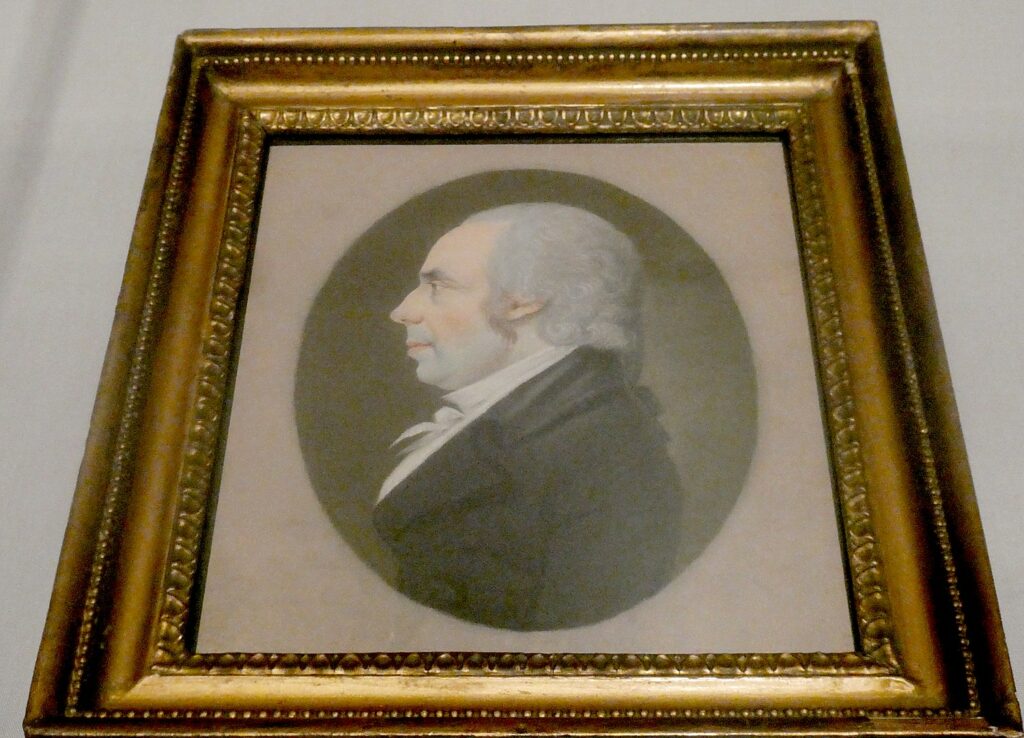 A key associate was Isaiah Thomas who, like Revere, exemplifies an American success story. Thomas was poor but taught himself how to read, write and set type and became one of wealthiest Americans as a printer, employing 150 people. It was the same with Paul Revere and Ben Franklin – they all started from nothing, but became successful – each of them had the ability in America to rise up, each was a printer, and each was a great innovator and thinker. The exhibit makes clear that a big part of Revere's story is his importance as a printer.
The end of exhibit focuses on the Revere legend and the reality.
Paul Revere died in 1818, at the age of 83 (he worked until his 70s), but his fame endured, initially for his metalwork and then for his patriotism. In the 1830s, Revere's engravings were rediscovered as Americans explored their Revolutionary past, and his view of the Boston Massacre appeared in children's history books.
In 1860, poet Henry Wadsworth Longfellow, after visiting the Old North Church and hearing the story about the lanterns, was inspired to write "Paul Revere's Ride," romanticizing (and somewhat embellishing) the story of Revere's journey to Lexington. The poem first appeared in the Atlantic Monthly in January 1861 (an original copy of the magazine is on view in the exhibition).
"Listen my children and you shall hear of the midnight ride of Paul Revere," Longfellow wrote 85 years after the event, April 18, 1775. It was the eve of another revolution, the Civil War. Longfellow's intention was not to promote the idea of revolution but to remind Americans of our common foundation, our roots, our unifying experience.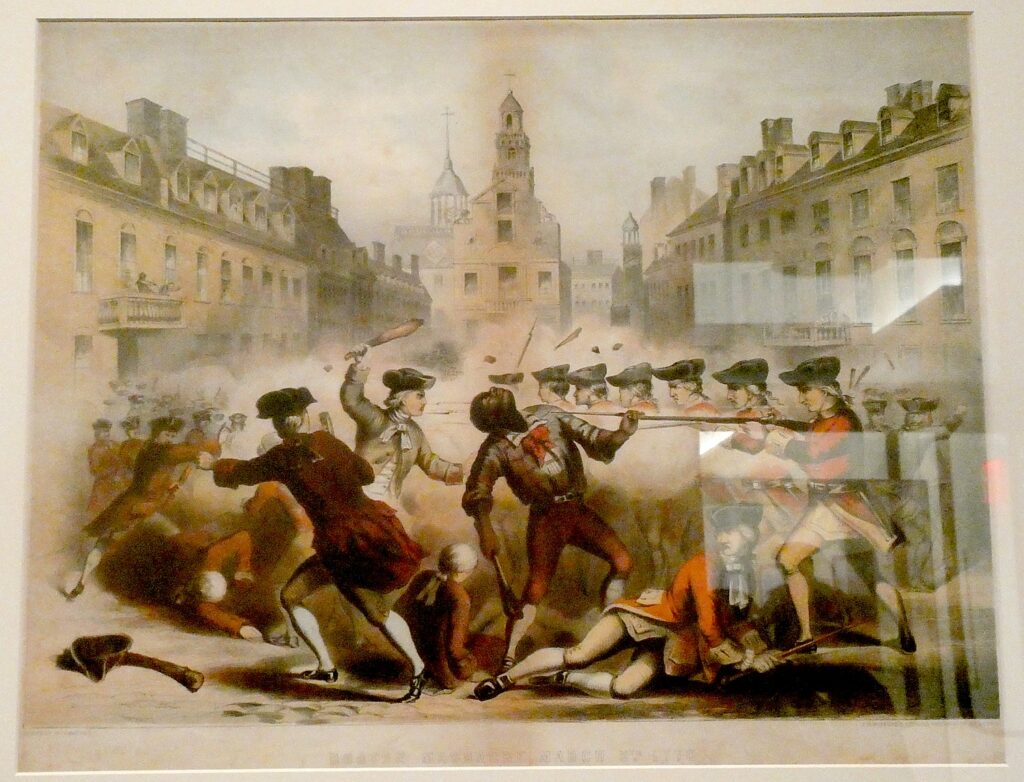 Before the Longfellow poem was published, a new print of the famous Revere print of the Boston massacre was published that put the black man, Crispice Attucks, the first man to die for Revolution, America's first martyr, in the center.
"The Civil War started in 1861. Longfellow was an abolitionist and Boston was a hotbed of abolition. He wanted to remind the country of its shared past. That is why he brought Revere back to life, but his life was stripped down to one event," curator Debra Schmidt Bach explains.
The exhibit is timely now for much the same reason: with such intense partisanship, there is the sense of needing to remind people of our common foundation.
In reality, Revere, who was 40 years old when he undertook his famous ride, was on foot until he crossed the Charles River to Cambridge and then rode a borrowed horse to Lexington. He was also one of three riders and was stopped briefly by British officers and then released when Revere talked his way out of being arrested. A map of the actual ride is on display.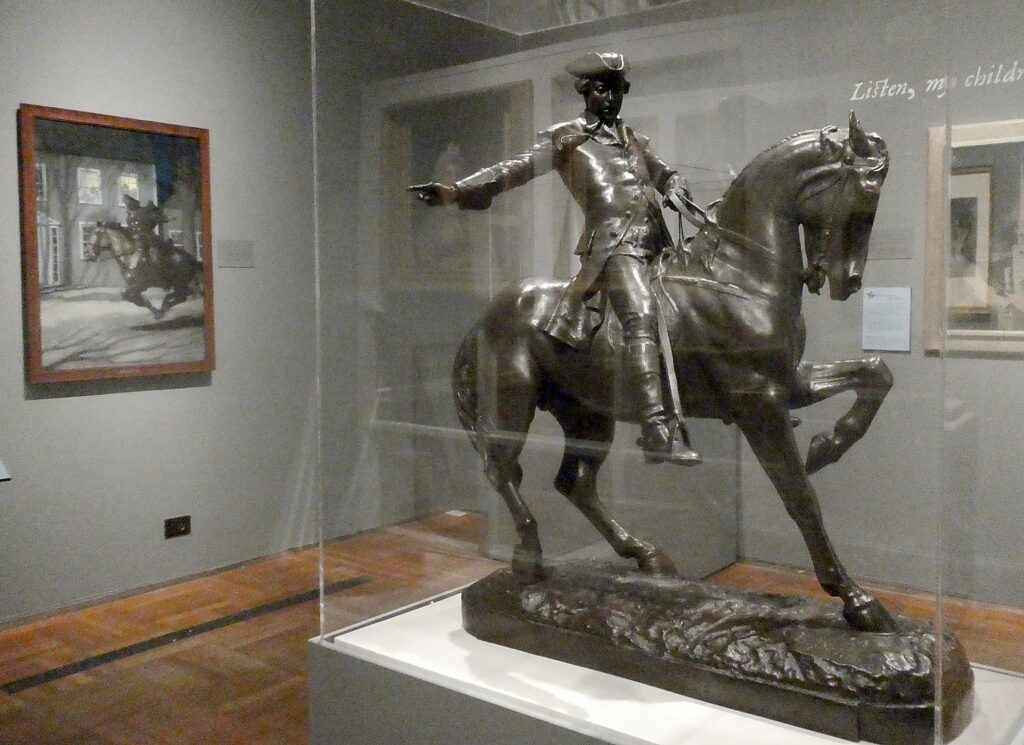 Works like the Longfellow poem, artist Grant Wood's 1931 painting Midnight Ride of Paul Revere depicting a dramatic scene of Revere riding past Boston's Old North Church (also an embellishment) and others enshrined Paul Revere at the heart of the nation's founding story. By the turn of the 20th century, the tale of Paul Revere and his midnight ride was firmly established in the nation's psyche as truth, not fiction, and Revere's contributions as a metalsmith and artisan were overshadowed.
The Revere exhibit, and the people who we are introduced to like Isaiah Thomas, reveals the DNA that propelled the American Revolution: how Americans had become their own culture, their own society, where an individual was not limited by birth, but could rise up. The Stamp Tax and the Tea Tax imposed by Britain clarified the limitations placed on the Americans' economic development. More than a political revolution, the American Revolution was an economic and social revolution.
In piercing the bubble of the Revere legend, the exhibit exposes an even more interesting and consequential man.
"Paul Revere" exhibit on view in NY until January 12, 2020 before traveling to the Worcester Art Museum and the Concord Museum in Massachusetts for a two-venue display (February 13 – June 7, 2020) and to Crystal Bridges Museum of American Art in Bentonville, Arkansas (July 4 – October 11, 2020). Special programming is offered in conjunction with the exhibit, check the website, www.nyhistory.org.
Mark Twain and the Holy Land
This small alcove within the New-York Historical Society is hallowed ground for a travel writer, consisting of artifacts, leaves from journals, letters, stereotypes, photos that re-create Mark Twain's journey through the Holy Land in 1867. Twain's cruise aboard the Quaker City was a first – the first organized tour in American history – and Twain was the first travel writer, sending back dispatches of his impressions that were published in a San Francisco newspaper, two years before his subsequent 1869 book, The Innocents Abroad, or The New Pilgrims' Progress, one of the best-selling travelogues of all time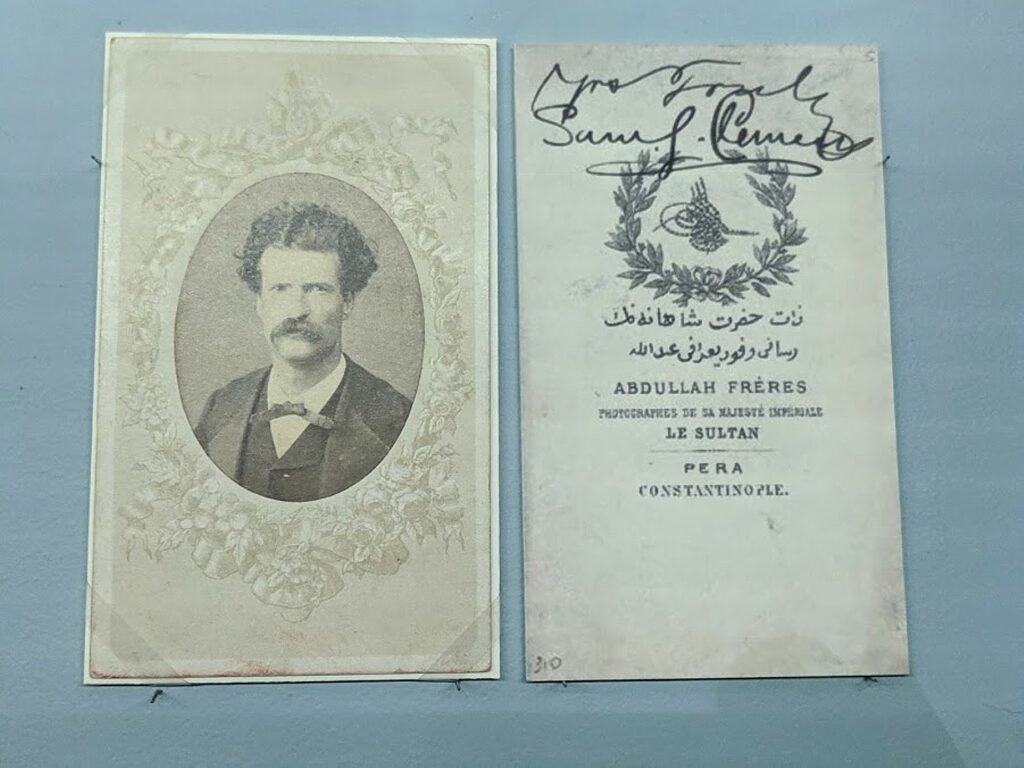 New-York Historical Society celebrates the 150th anniversary of the publication of Innocents Abroad with Mark Twain and the Holy Land, on view through February 2, 2020. This new exhibition traces the legendary American humorist's 1867 voyage to the Mediterranean and his subsequent book through original documents, photographs, artwork, and costumes, as well as an interactive media experience.
Organized by New-York Historical in partnership with the Shapell Manuscript Foundation, it is curated by Michael Ryan, vice president and director of the Patricia D. Klingenstein Library, and Cristian Petru Panaite, associate curator of exhibitions.
"Setting sail from New York for a great adventure abroad, Mark Twain captured the feelings and reactions of many Americans exploring beyond their borders, inspiring generations of travelers to document their voyages," said Dr. Louise Mirrer, president and CEO of the New-York Historical Society. "We are pleased to partner with the Shapell Manuscript Foundation to present the history behind this influential book by Twain, a uniquely American writer whose work helped to define American culture in the postbellum era."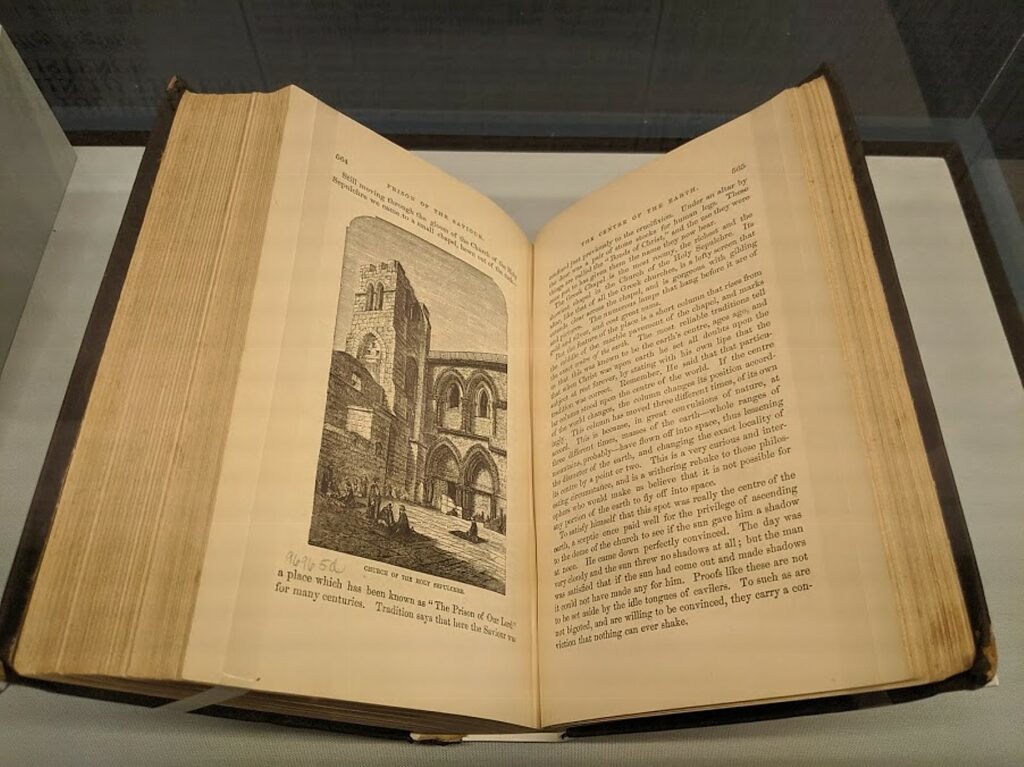 What I delighted in most was an interactive display where you can summon up a specific site Twain visited, like the Holy Sepulchre, and read Twain's notes and observations, adjacent to a historic photo, that read like today's travel blogs.
"We spurred up hill after hill, and usually began to stretch our necks minutes before we got to the top-but disappointment always followed – more stupid hills beyond – more unsightly landscape – no Holy City. At last, away in the middle of the day, ancient bite of wall and crumbling arches began to line the way-we toiled up one more hill, and every pilgrim and every sinner swung his hat on high! Jerusalem!"
"Just after noon we entered these narrow, crooked streets, by the ancient and the famed Damascus Gate, and now for several hours I have been trying to comprehend that I am actually in the illustrious old city where Solomon dwelt, where Abraham held converse with the Deity, and where walls still stand that witnessed the spectacle of the Crucifixion."
"The great feature of the Mosque of Omar is the Prodigious rock in the centre of its rotunda. It was upon this rock that Abraham came so near offering up his son Isaac – this, at least, is authentic – it is very much more to be relied on than most of the traditions, at any rate. On this rock, also, the angel stood and threatened Jerusalem, and David persuaded him to spare the city."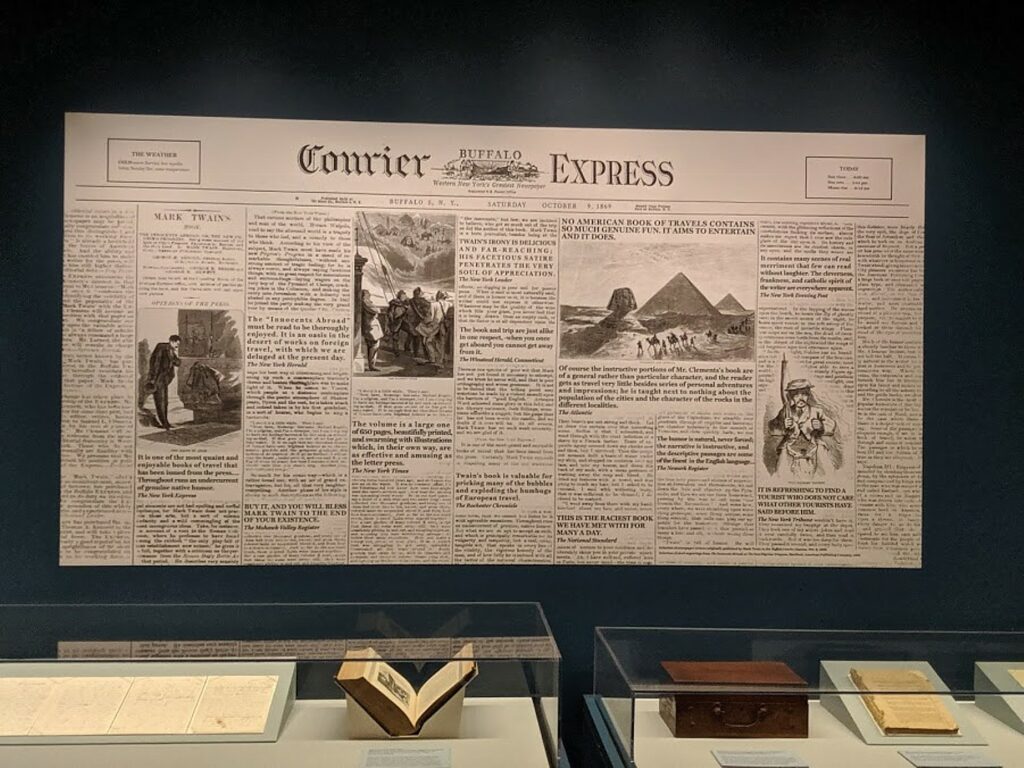 Twain frequently expressed disgust at the way his fellow travelers treated hallowed sites. "Pilgrims have come in with their pockets full of specimens broken from the ruins. I wish this vandalism could be stopped." But Twain himself carried back items (a list is provided) including marble from the Parthenon in Athens, mummies from Egyptian pyramids, a letter opener made from Abraham's oak and olive wood from Jerusalem.
Artist in Exile: The Visual Diary of Baroness Hyde de Neuville
Artist in Exile: The Visual Diary of Baroness Hyde de Neuville introduces visitors to a little-known artist whose work documented the people and scenes of early America. The exhibit, on view November 1, 2019 – January 26, 2020 in the Joyce B. Cowin Women's History Gallery of the Center for Women's History, presents 115 watercolors, drawings, and other works by Anne Marguérite Joséphine Henriette Rouillé de Marigny, Baroness Hyde de Neuville (1771–1849). Self-taught and ahead of her time, Neuville's art celebrates the young country's history, culture, and diverse population, ranging from Indigenous Americans to political leaders.
Holiday Express: All Aboard to Richard Scarry's Busytown
A holiday favorite returns to the New-York Historical Society this season—reimagined to celebrate the 100th birthday of Busytown series author and illustrator Richard Scarry. Holiday Express: All Aboard to Richard Scarry's Busytown (November 1, 2019 – February 23, 2020) showcases artwork and graphics of Scarry's characters like Huckle Cat and Lowly Worm from publisher Random House Children's Books alongside more than 300 objects from the Jerni Collection's antique toy trains, stations, and accessories. Using Busytown stories and characters, dynamic displays explore the workings of the railroad, the services it provides, and the jobs required to keep people and goods moving. An assortment of kid-friendly activities, story times, and crafts accompany the exhibition throughout its run, welcoming families into the world of classic toys and trains. Richard "Huck" Scarry Jr., the son of Richard Scarry, will make a special appearance on December 14 and 15. Holiday Express: All Aboard to Richard Scarry's Busytown is supported by Bloomberg Philanthropies. Additional support provided by Random House Children's Books.
New-York Historical Society, 170 Central Park West (77th St), New York, NY 10024, www.nyhistory.org.
_____________________________
© 2019 Travel Features Syndicate, a division of Workstyles, Inc. All rights reserved. Visit goingplacesfarandnear.com, www.huffingtonpost.com/author/karen-rubin, and travelwritersmagazine.com/TravelFeaturesSyndicate/. Blogging at goingplacesnearandfar.wordpress.com and moralcompasstravel.info. Send comments or questions to [email protected]. Tweet @TravelFeatures. 'Like' us at facebook.com/NewsPhotoFeatures