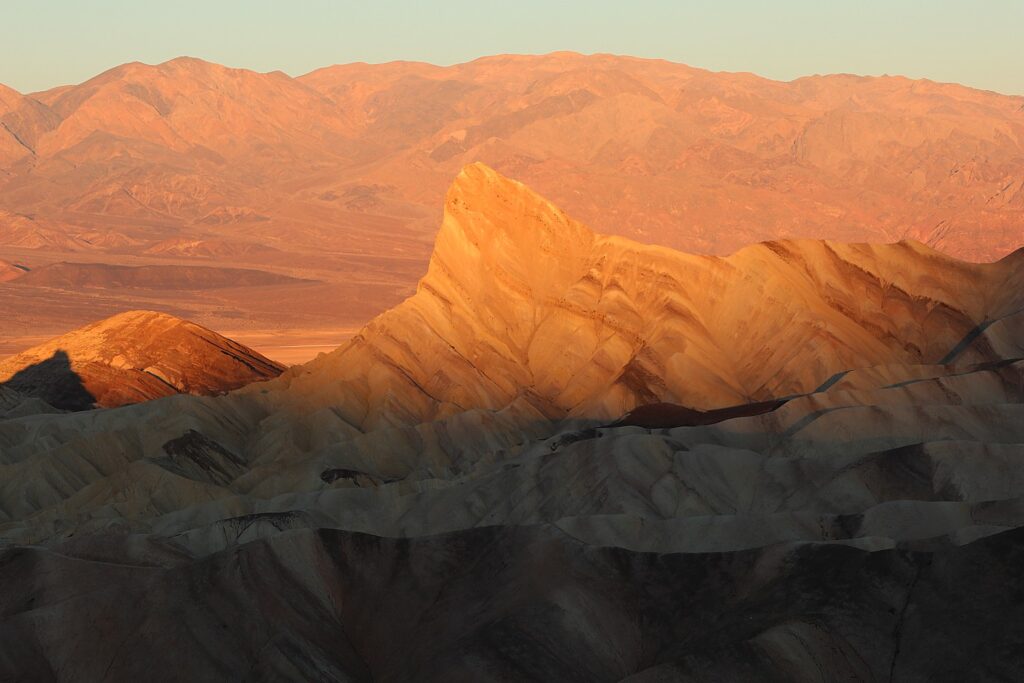 By Karen Rubin, Laini Miranda, Dave E. Leiberman & Eric Leiberman
Travel Features Syndicate, goingplacesfarandnear.com
On our second morning in Death Valley National Park, we're up before sunrise to race to Zabriskie Point, one of the not-to-be-missed highlights, to watch the brilliant display as the rising sun seems to set the rock faces aflame with color.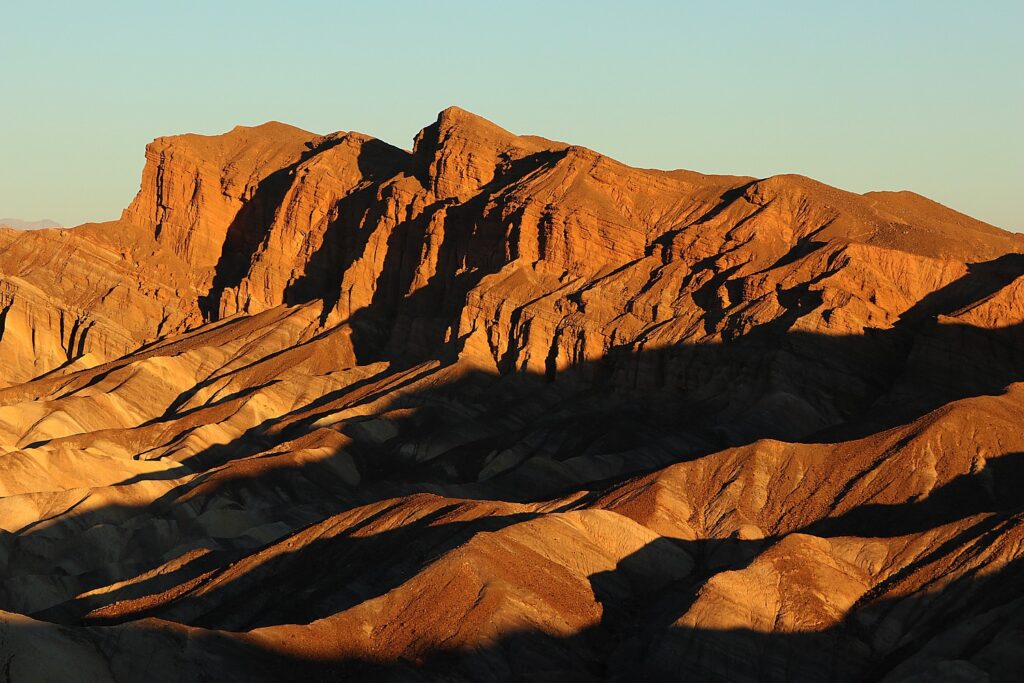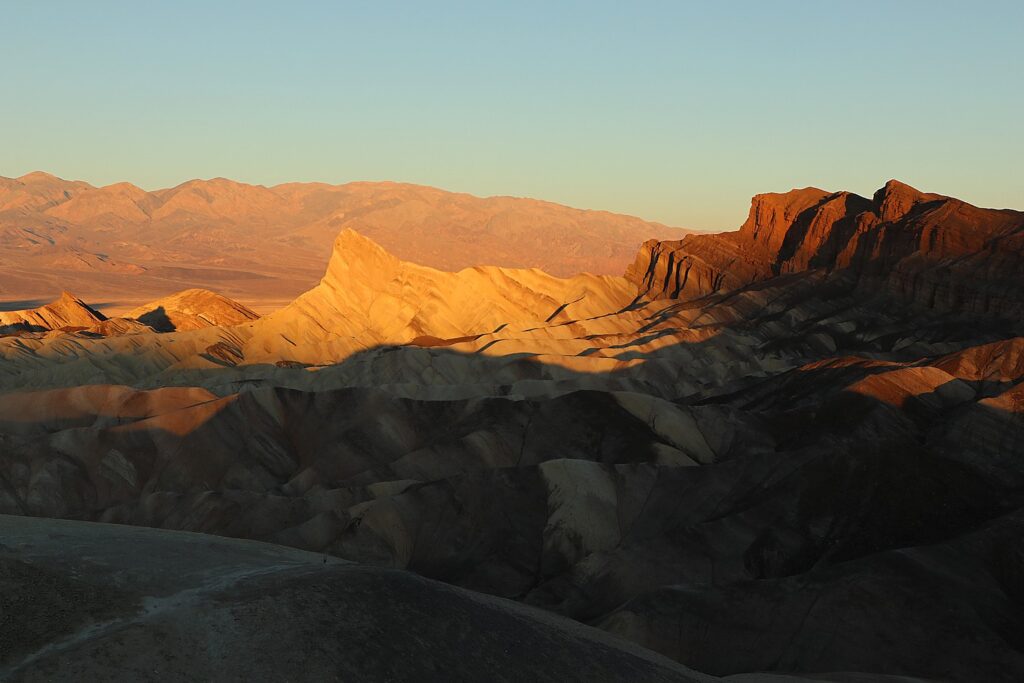 Today's itinerary in Death Valley National Park is on a strict schedule around Laini's zoom appointments (COVID has given rise to "worker nomads" and "workations") – the proximity to the places we wanted to see was one of the reasons we left Designed to Death AirBnB, 45 minutes drive into the park, for the Ranch at Death Valley, just about 7 minutes drive from Zabriskie Point, in the most central part of this vast national park. We rush back to the Ranch at Death Valley, until her next break, so grateful for its close proximity to what we would like to do today. It requires incredible planning and logistics considering the distance to get to places in a park twice the size of Delaware.
But these breaks give me more time to explore and enjoy the Ranch. It is a full resort with a very casual, family-friendly vibe almost like a dude ranch resort; in fact it once was a working ranch and now has stables offering horseback and carriage rides and a marvelous "Last Kind Words Saloon" that looks like it is straight out of a western movie. It is laid out with two-story units of rooms that open out to either a patio or balcony, with everything from a gorgeous swimming pool, tennis courts, basketball courts, playground. There is even a full 18-hole golf course, at 214 ft below sea level, the lowest elevation course in the world. The ranch also offers Jeep rentals to explore the park in a rugged 4×4.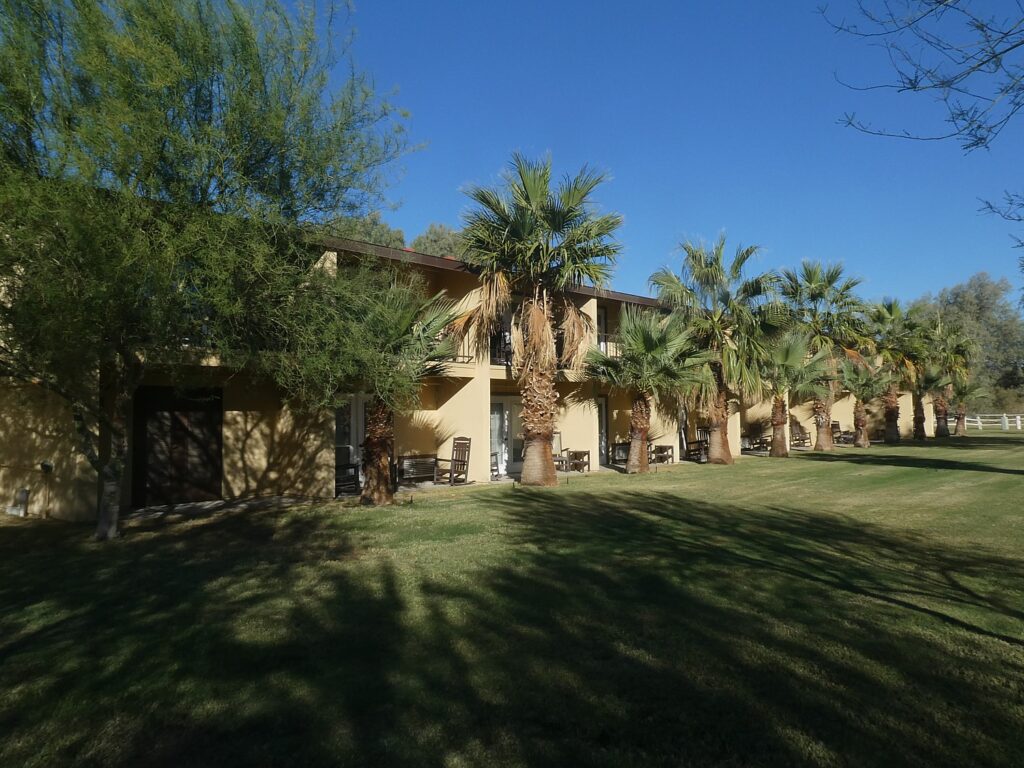 The "new and improved" 224-room Ranch at Death Valley is part of a $100 million renaissance along with the nearby Inn at Death Valley (a historic, four-star luxury resort), and is at the vital center of activity in Death Valley. Set along Highway 190 next to the National Park Service Visitor Center, it offers a classic town square with towering date palms and Mission California architecture. Among the improvements: a new restaurant, ice cream and coffee bar, general store with souvenirs as well as groceries.
There's also a gas station next door. It really is an oasis. (www.oasisatdeathvalley.com/)
The Ranch offers a real surprise when I come upon a museum with an outdoor display (the indoor museum is still closed as a COVID precaution) of coaches, mining implements, even a full train locomotive train, set outside almost like a park. And you realize that this wasn't all that long ago – the turn of the last century, a blip in context of the eons of time on view in Death Valley's dramatic geology.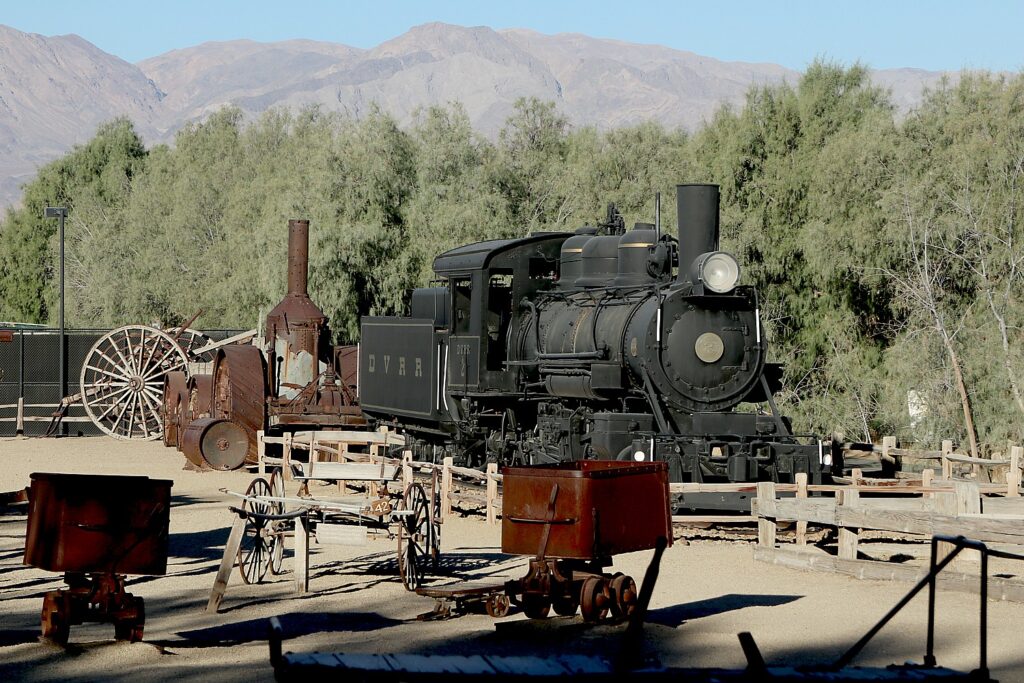 The Museum at the Ranch is not to be missed. When you are in the midst of this unforgiving harsh environment, it is astonishing to realize how people lived and worked here, that they even lived here at all – extracting resources like salt and borax, mining gold. The way the artifacts are displayed, it seems almost as if they had just been left behind – there is this immediate connection.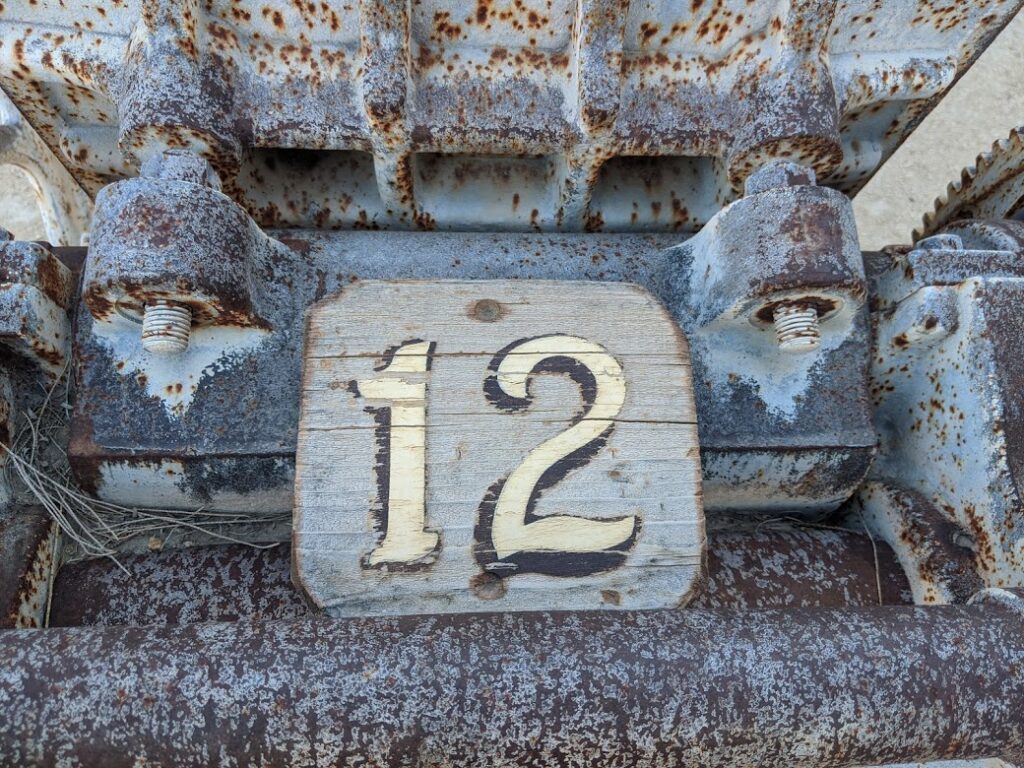 You are overwhelmed in Death Valley by nature and its powerful force, but here at the museum, you are reminded of man's handiwork. The first white men to enter Death Valley were gold-seeking pioneers with the Death Valley Wagon Train in 1849, looking for a short cut to California. They came to Travertine Springs, near where we are here at Furnace Creek. Stranded, they eventually walked up to Stovepipe Wells and used wood from their wagons to cook meat of slaughtered oxen. We had seen the marker at Stovepipe Wells Village of "Burned Wagons Camp," the site of the first tourist accommodations in Death Valley.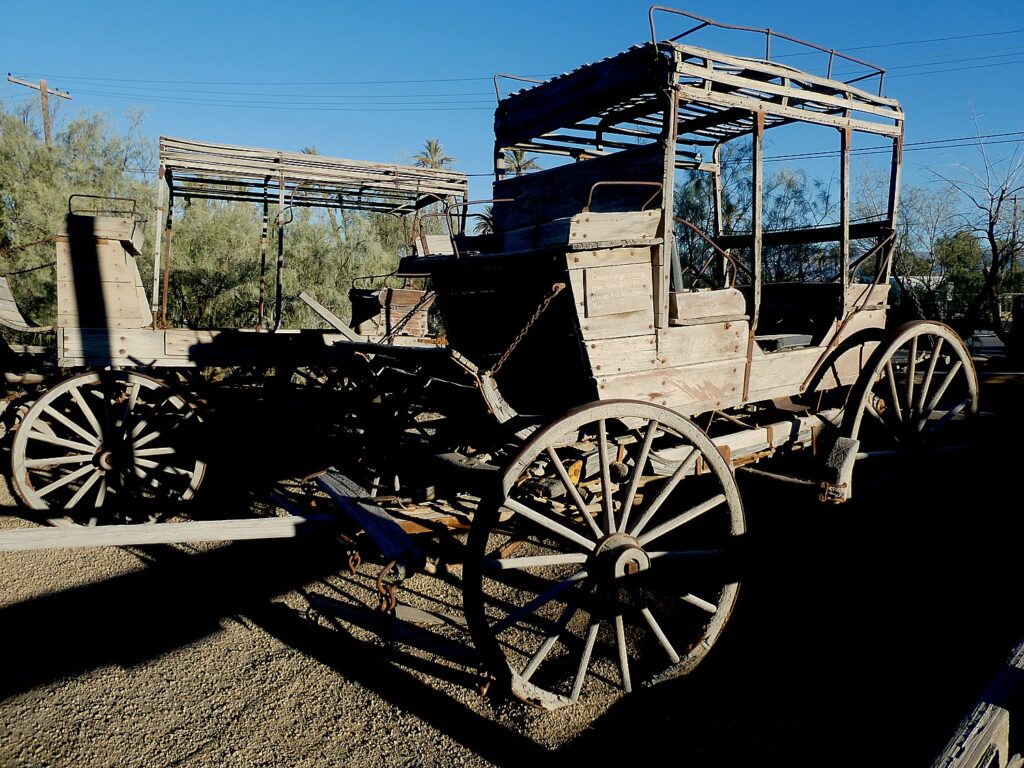 You also feel the presence of the workers and miners when you drive through the 20 Mule Team Trail and walk over the Badwater Basin salt flat, visit the Harmony Borax Works and hike passed a mine shaft.
I contemplate all of this as I sit outside on the porch of the wood cabin with a cup of coffee coffee.
We've timed it so as soon as Laini has another break we dash back to Zabriskie Point for a short hike (the trail connects to the Golden Canyon trail), before rushing back for her next Zoom meeting.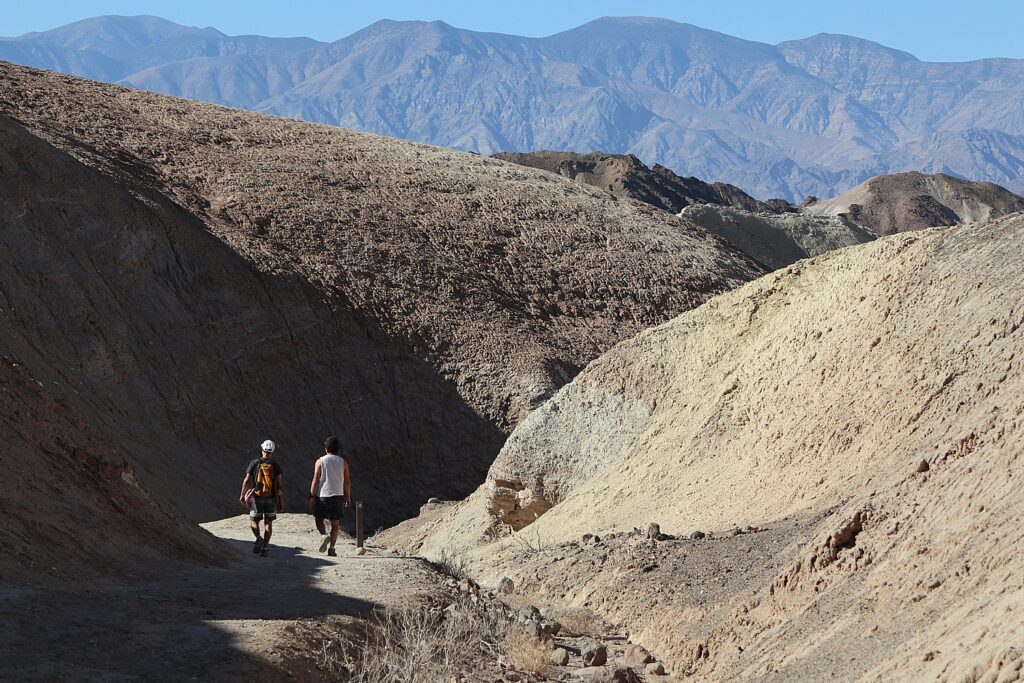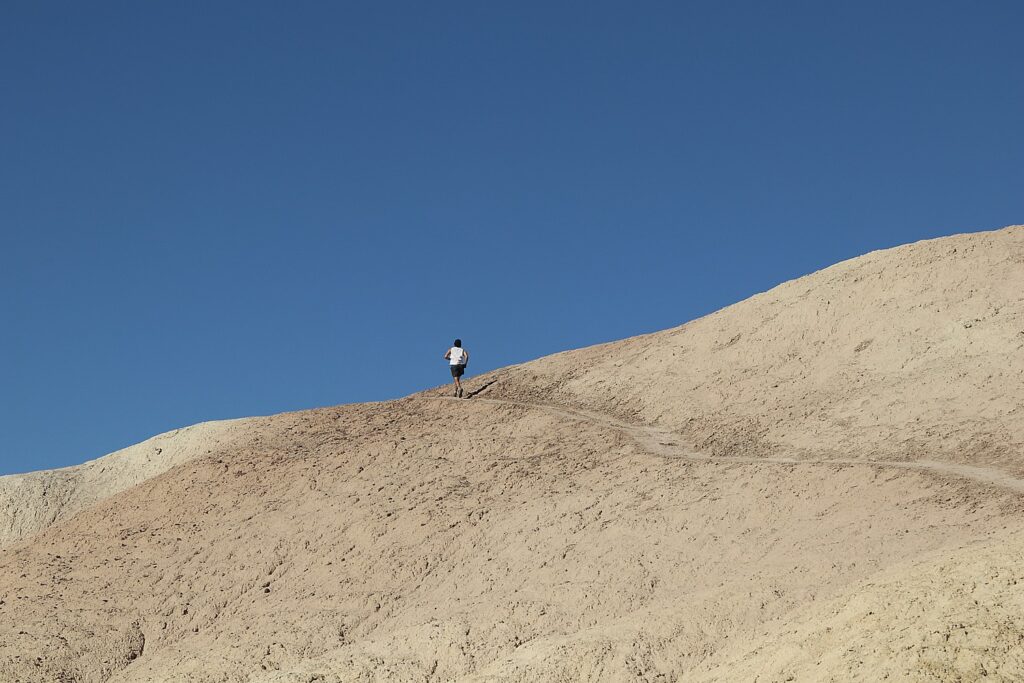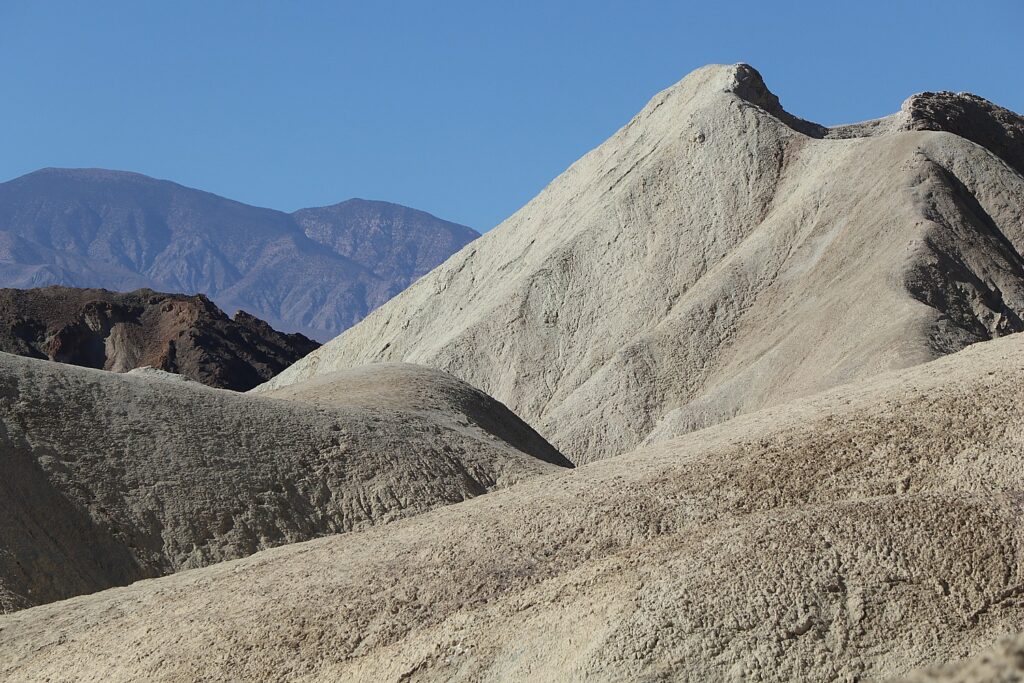 Back again at the Ranch, I do something I rarely ever have time to do: swim in the pool. It is absolutely glorious – naturally heated by hot mineral springs to a perfect temperature. And the scenery! We see what we couldn't last night when we had the stars – the mountain peaks all around. We lounge for a couple of hours.
We've plotted an afternoon hike for when Laini finishes: Sidewinder Canyon.
We eat our lunch in the car as we drive the 32 miles to Sidewinder Canyon, a slot canyon where you are supposed to be able to explore three separate slots.
This trail is really for adventurers, much less visited than the star attractions (there isn't even an outhouse at the trailhead here); and it's not at all well marked.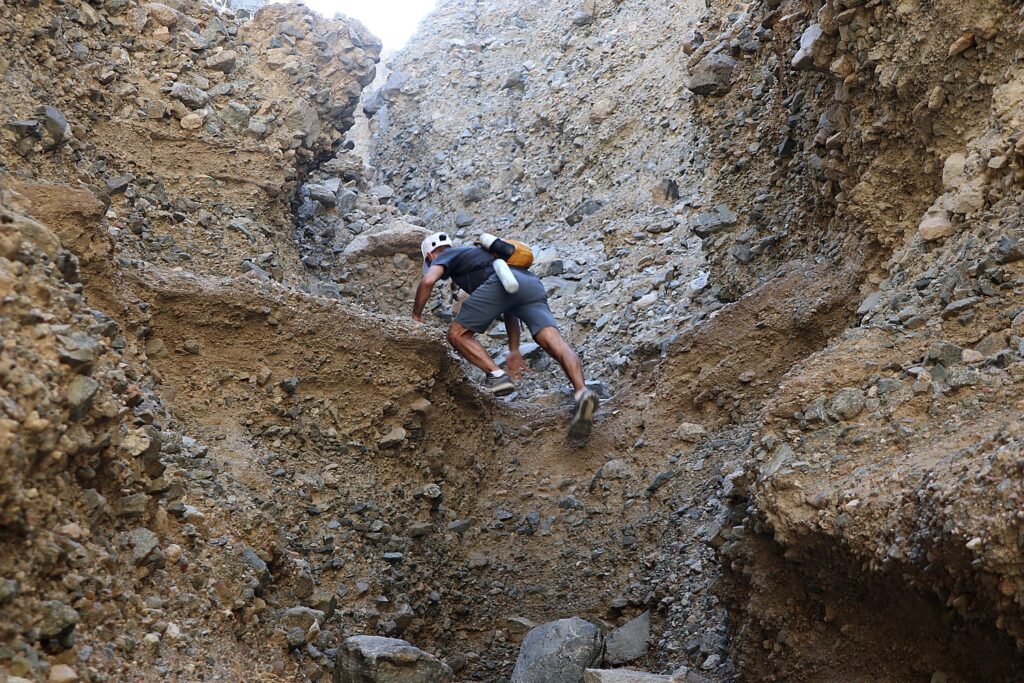 We are supposed to watch for cairns – stones others have arranged in the shape of an arrow, or a pile of stones to mark the entrances. Even the notes say that the first slot, supposedly at the .8-mile mark, is easy to miss. What we think is the first slot has a fairly dramatic entrance, a stony scramble of pointy sedimentary rock like concrete that has come out of the mixer with lots of stones.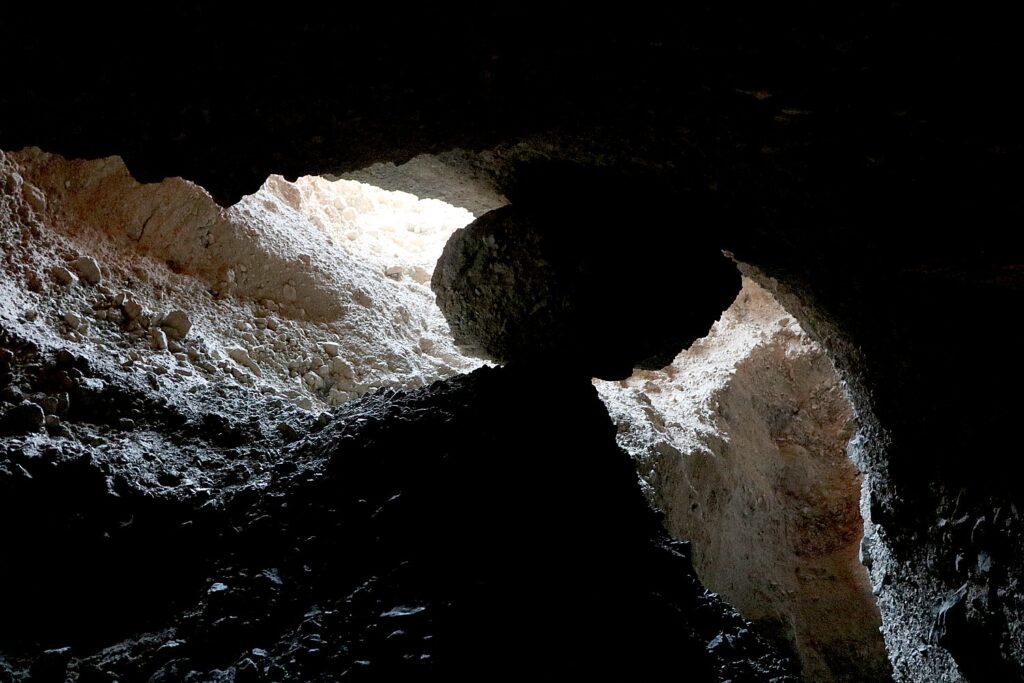 The second slot though is great – scrambles to get to higher levels – interesting formations with light coming through. It is dramatic when you enter, like something will happen, especially when look up and see a boulder wedged in a space between narrow walls above you. It dares you.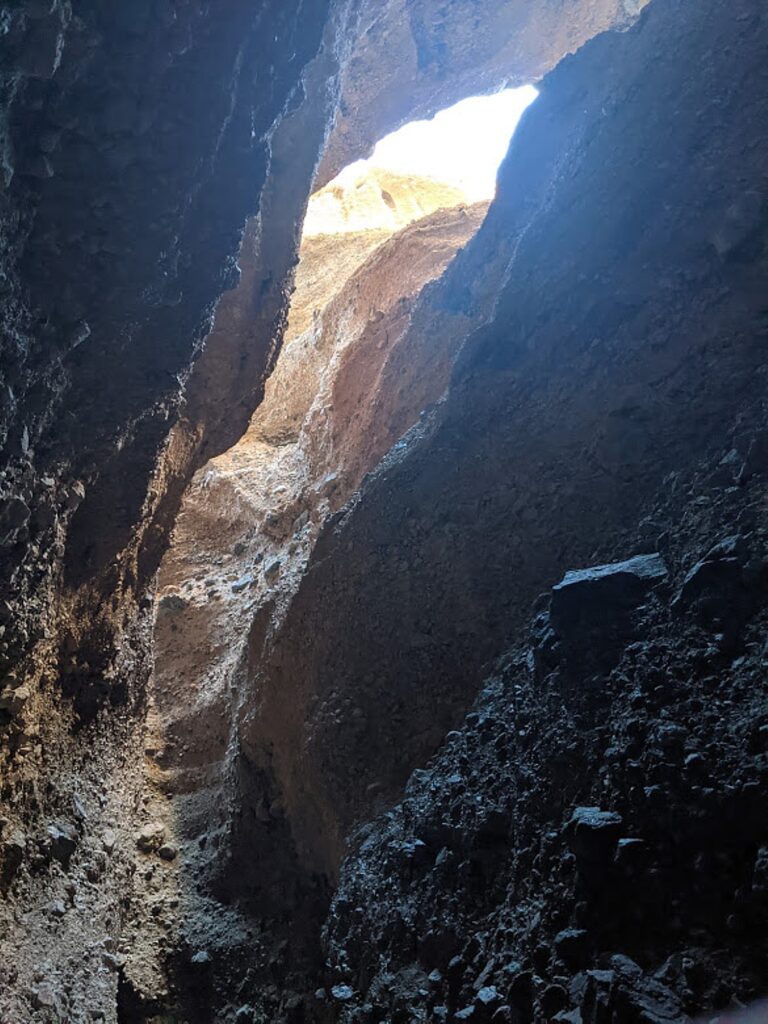 The landscape here is really harsh, unforgiving – RoadRunner cartoons come to mind, especially when we see a coyote and what seems to be roadrunner's feathers on the ground.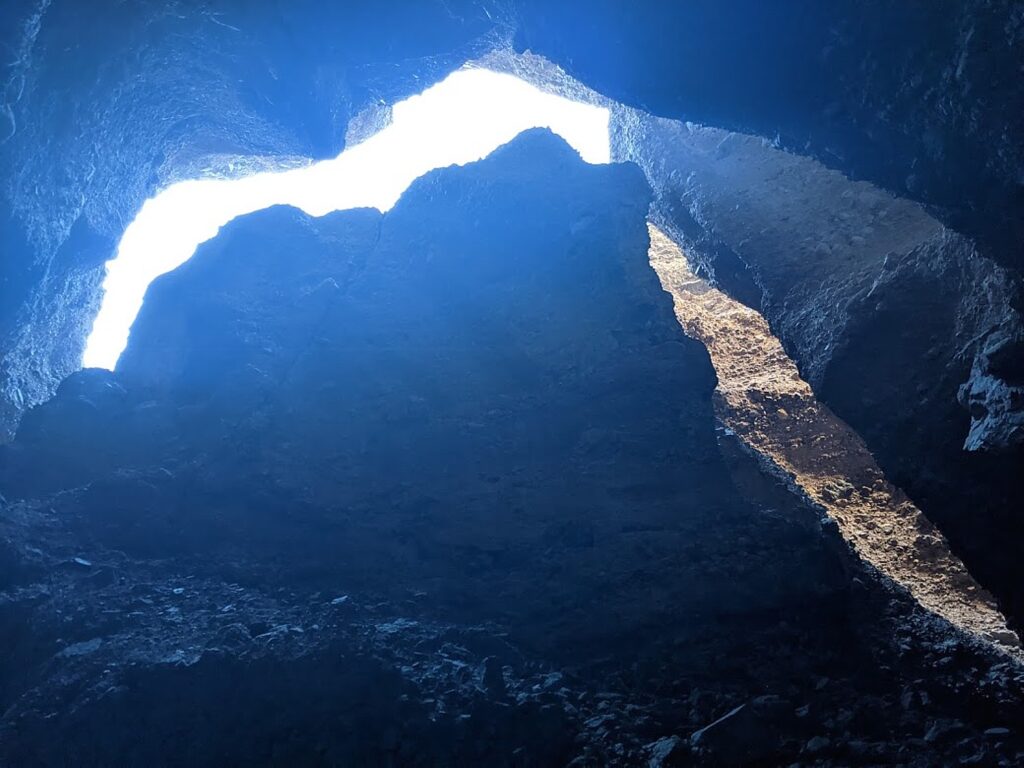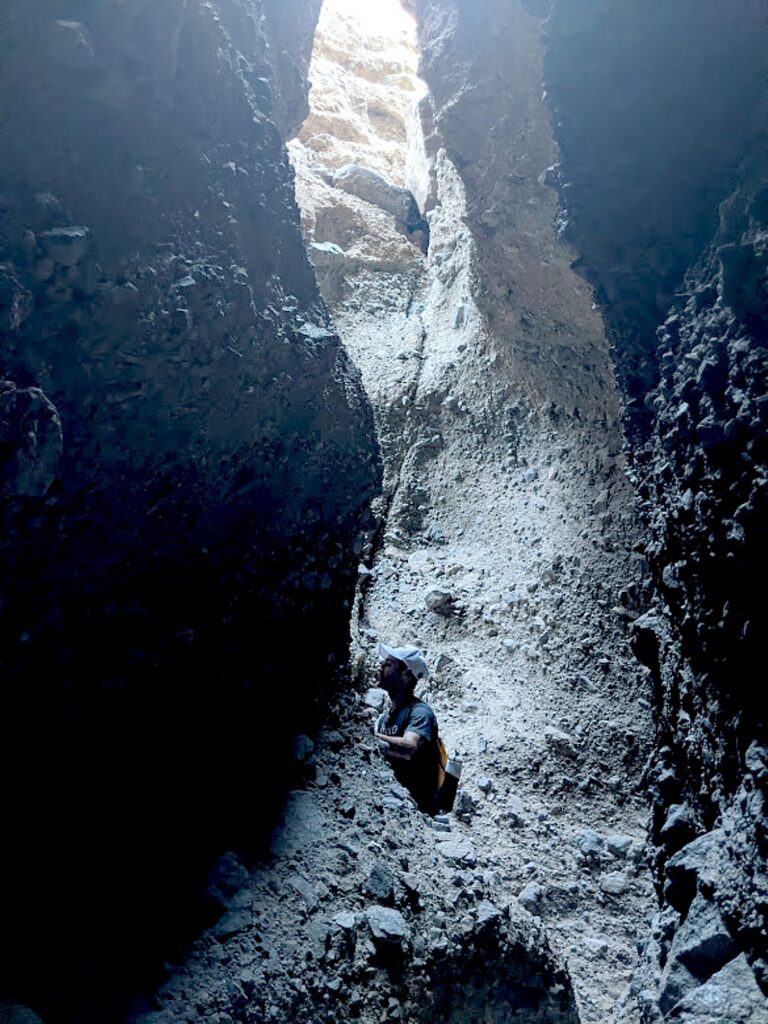 The Sidewinder Canyon is more of adventure than I anticipated. Rugged, stony, not a lot of color, more scramble than I imagined (Dave and Laini go further into the canyon while Eric starts back with me), and not as picturesque, making me appreciate the Golden Canyon trail all the more, but in retrospect, a wonderful adventure. We hike uphill for a mile and then return.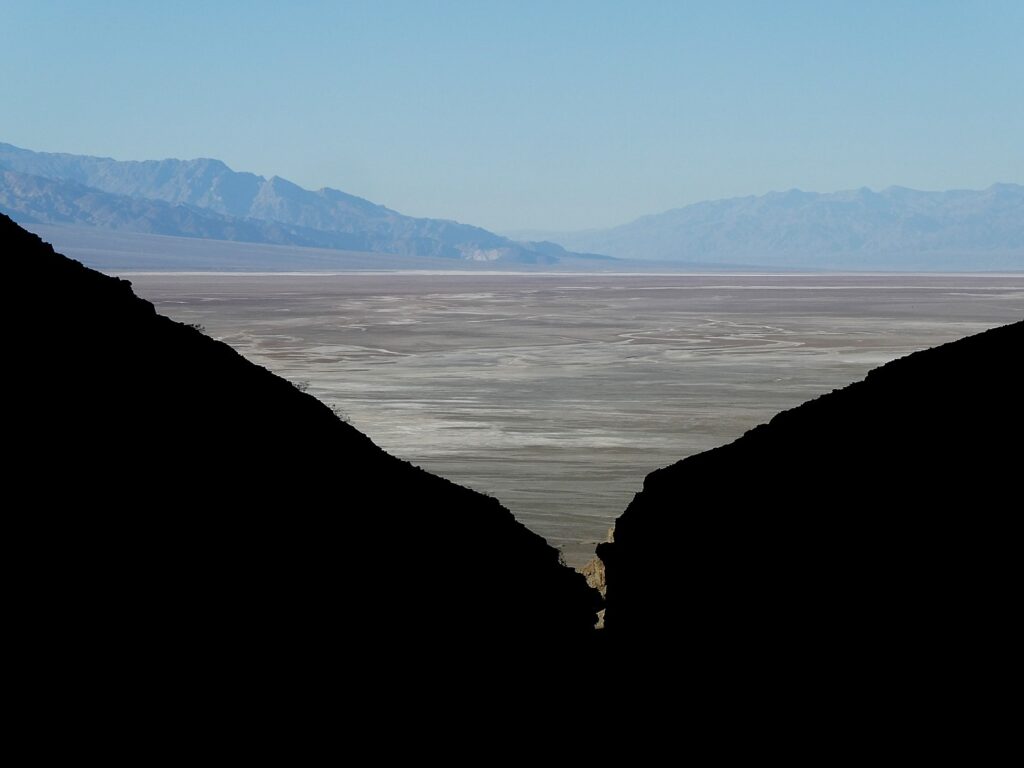 The contrast between these two canyon hiking experiences – the Golden Canyon yesterday and Sidewinder today – is remarkable, in fact, all the hikes prove so wonderfully different.
We again rush back to Zabriskie Point for sunset – we had missed it by five minutes the night before, so this time, we make sure to get here in plenty of time to appreciate the changing light and colors. It proves not what I expected – I actually find myself more entranced by the full moon rising from behind the mountain peaks. (Artist's Palette is another popular place to watch the sunset – get there at least a half-hour ahead in order to see the rich colors in the rock.)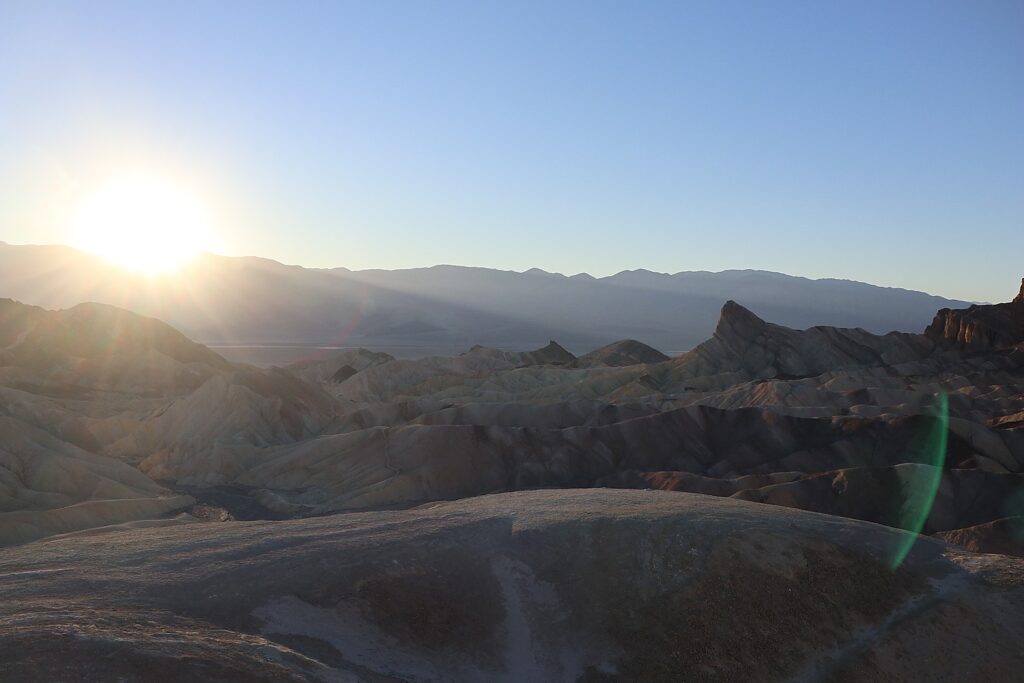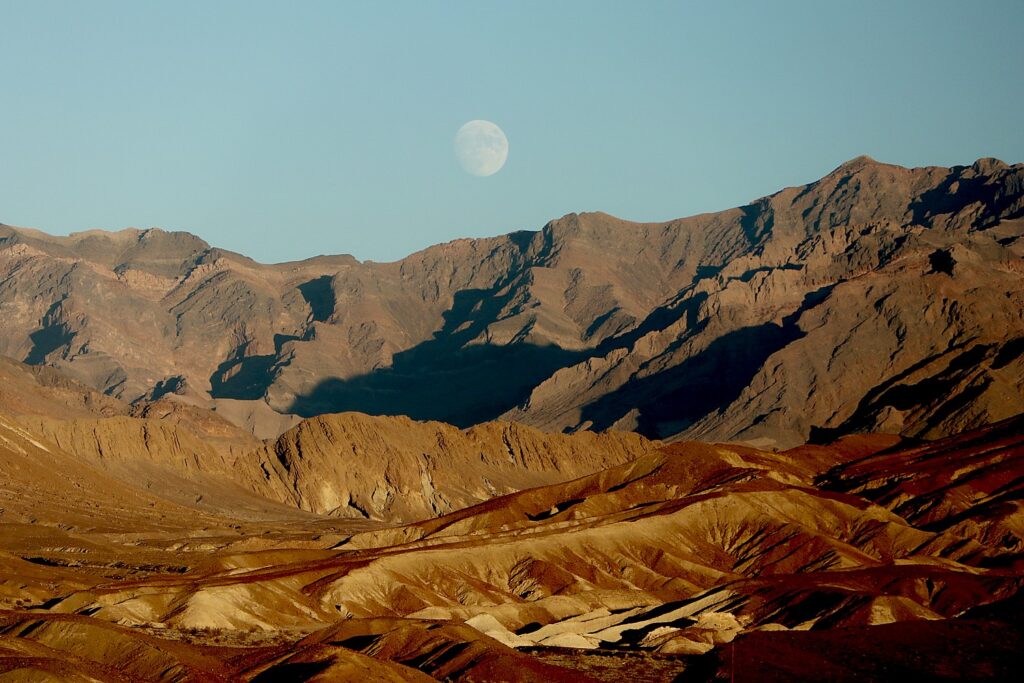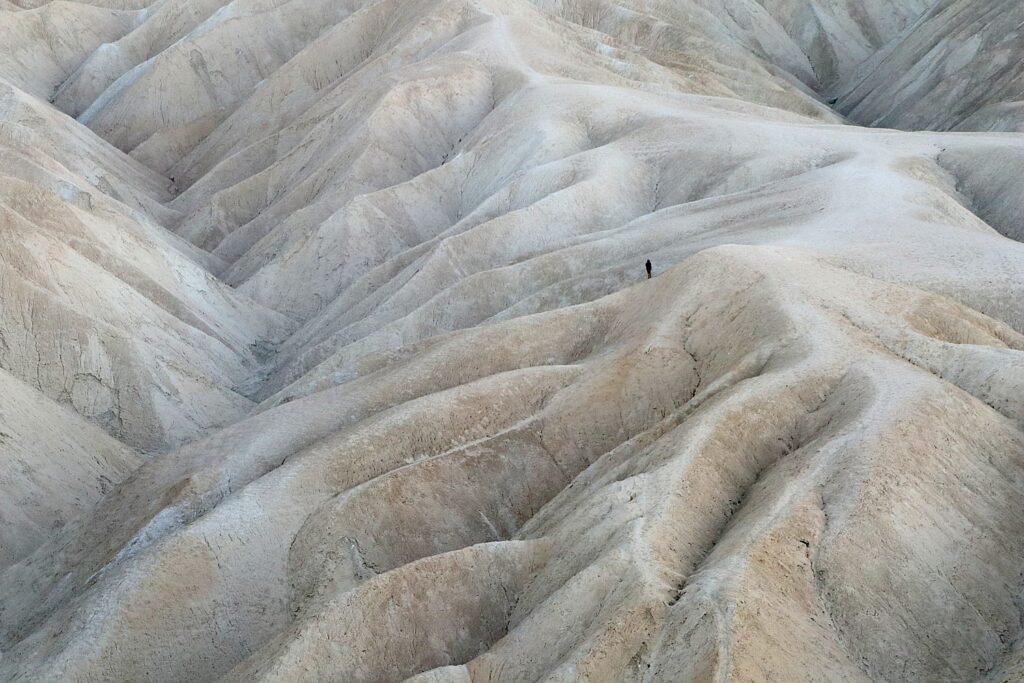 This evening, we treat ourselves to a special dinner at the luxury, grand hotel, the Inn at Death Valley (originally named the Furnace Creek Inn), sitting outside on a lovely terrace rather than the dining room. The historic hotel, a member of Historic Hotels of America, dates from 1927, built by Richard C. Baker of the Pacific Coast Borax Company as a means to save its newly built Death Valley Railroad, and played a pivotal role in the transformation of Death Valley from a mining wasteland to treasured national park.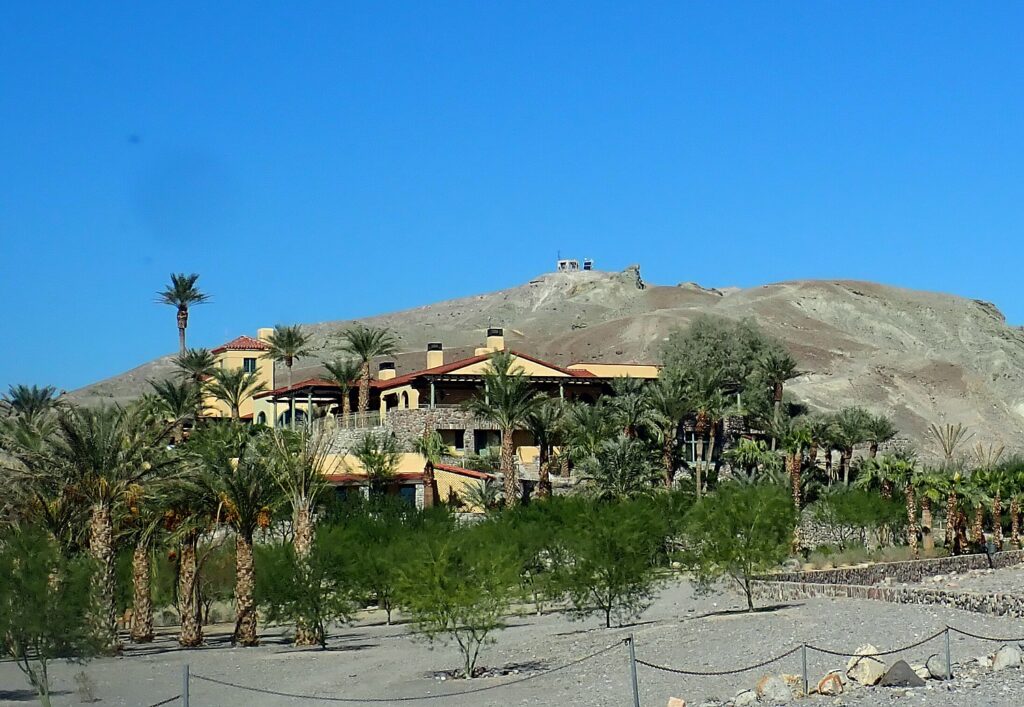 The Inn was designed by prominent Los Angeles architect Albert C. Martin and landscape architect Daniel Hull. Baker hired the Fred Harvey Company to manage the inn (a similar story to the famous El Tovar Hotel in Grand Canyon), which it did for decades.
After 90 years, the AAA Four Diamond resort remains an elegant hideaway- and how much more romantic could it be that it is set in a desert oasis and lists among its famous guests are Marlon Brando, Clark Gable and Carole Lombard. Open from mid- October to mid-May, it offers fine dining in one of the world's most remote settings, a magnificent spring-fed pool, lush palm gardens, and golf on the world's lowest golf course, 214 feet below sea level, located at the adjacent Ranch at Death Valley. Both the Ranch and the Inn at Death Valley are part of the Xanterra Travel Collection (www.oasisatdeathvalley.com; xanterra.com; you can also book at historichotels.org)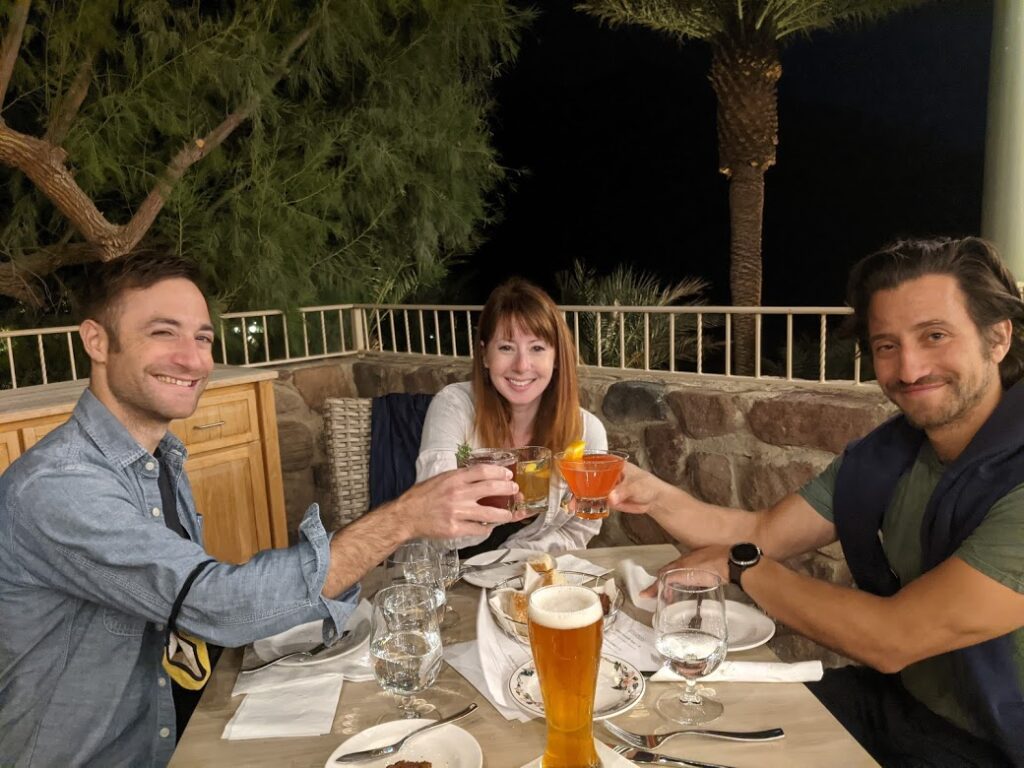 Before returning to the Ranch, we head to Harmony Borax Works, one of the best places to see stars (I even see a shooting star), though on this night with a full moon, we probably should have gone back to the Badwater Basin salt flats where we likely would have seen amazing shadows cast by the moon. The difference though, is that Harmony Borax Works is just five minutes away from the Ranch versus Badwater Basin, a 30 minutes drive.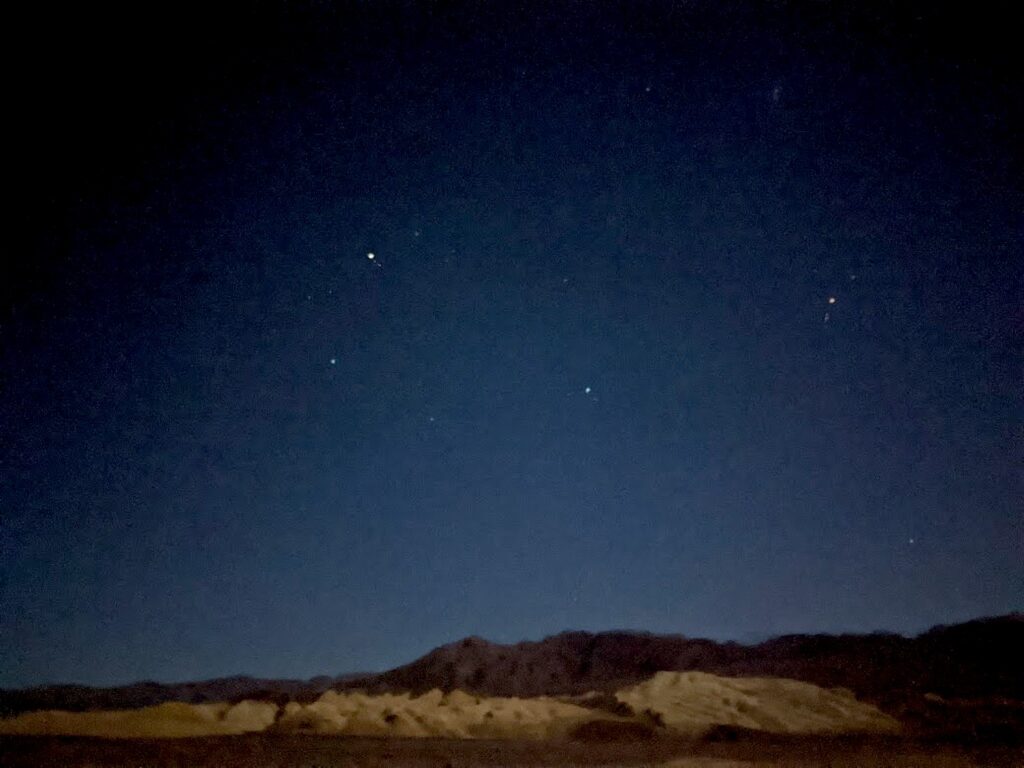 In the moonlight, we can make out what remains of Harmony Borax Works. Borax ore was processed here from about 1884 to 1888. It was built by W.T. Coleman who developed the system of 20-mule team wagons that hauled the borax 165 miles across the desert to the railroad at Mojave. But after only five years, Coleman's financial empire collapsed and the Harmony plant was shut down.
The next morning, we pack up to leave the Ranch, with a plan to hike the Mosaic Canyon trail on our way out of the national park.
The four-mile roundtrip hike into Mosaic Canyon is sensational from start to finish – stunning, improbably smooth marble walls, scrambles on the way in that become natural slides on the way back (from eons of floods, apparently, or perhaps all the backsides that slide down). This is like amusement park ride from start to finish – sheer delight. We follow cairns in the shape of stone arrows that point the way.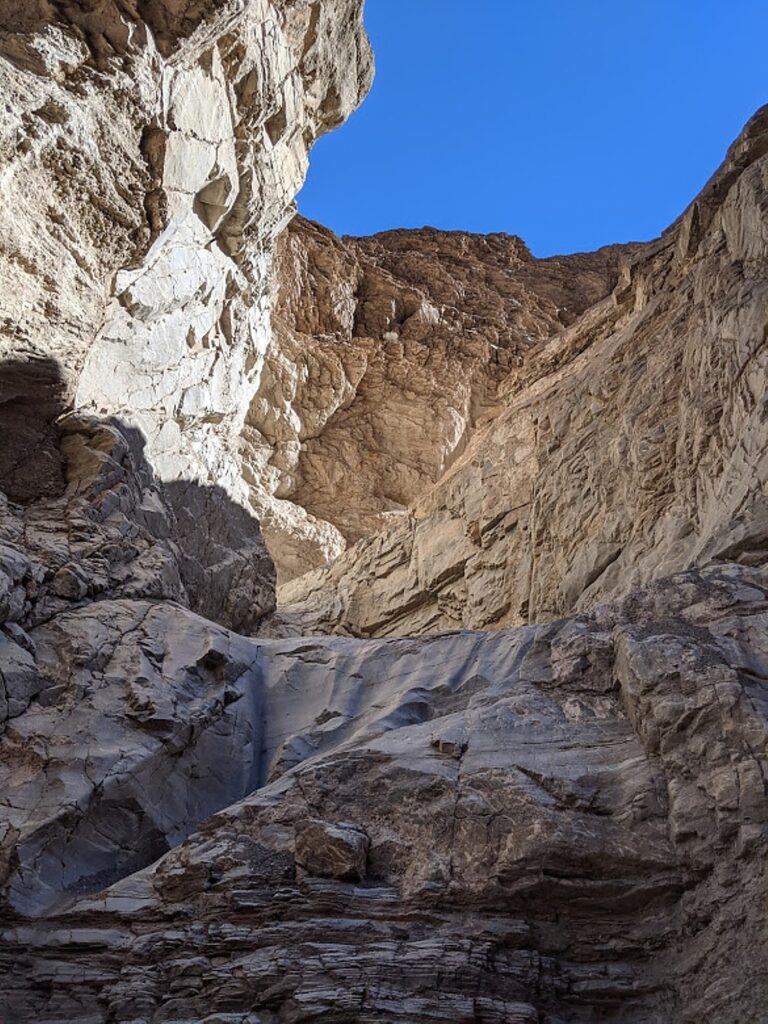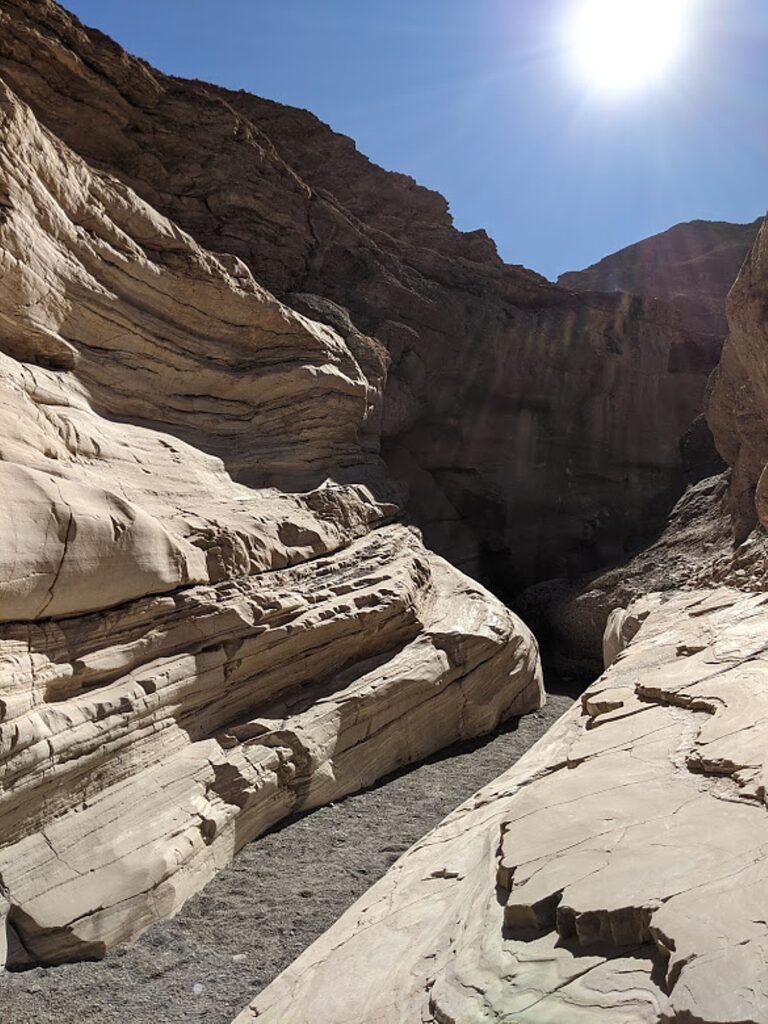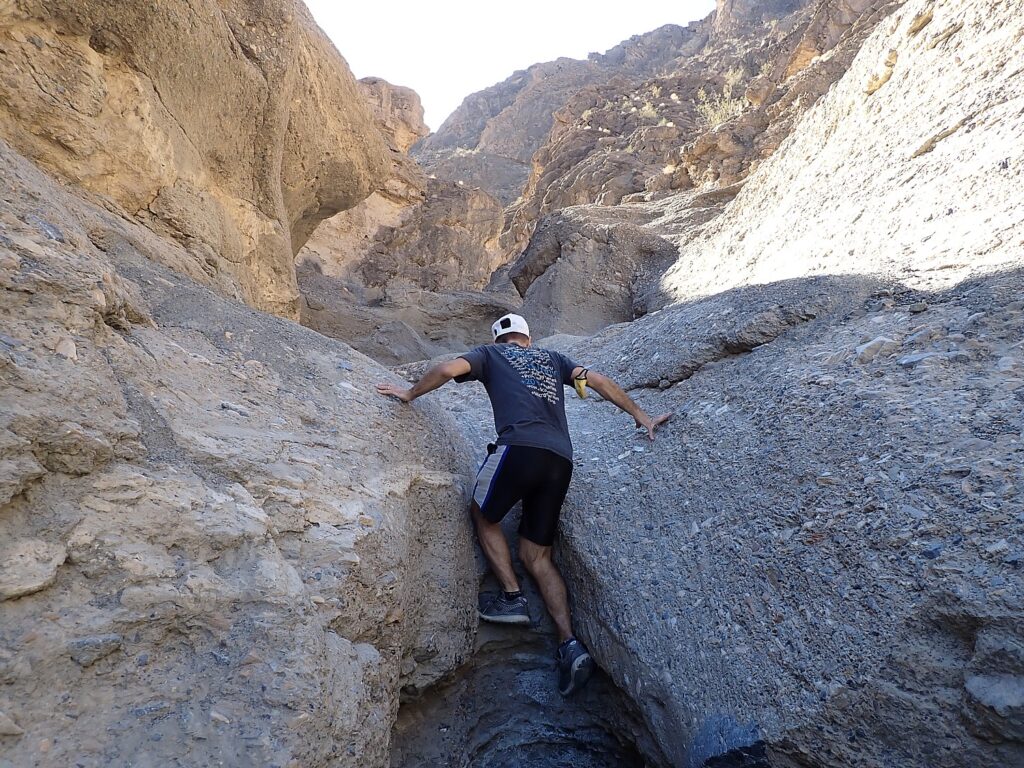 "Mosaic Canyon is a geological art gallery: irregularly shaped fragments of tan-colored Noonday Dolomite, sandy matrix, and limey cement create what seem to be murals on the canyon walls," the National Park Service notes read. "In other places, dolomite, transformed into marble by heat and pressure, forms colorful swirls in stream-polished whirlpools and chutes in the bedrock. This is because the geologic history of Mosaic Canyon is a succession of fill-and-scour cycles – major flash floods fill the canyon with up to 20 feet or more of gravel every couple of decades, often blocking easy passage with large boulders. Less intense storms slowly scour the canyon again, removing the earlier deposits. The remains of iron railings and steps installed at the first narrows serve as reminders of a filled canyon only a few decades ago. Hiking up the canyon is a visual and intellectual treat. The canyon itself offers evidence of past floods and serves as a vivid reminder of the enormous power of water." (https://www.nps.gov/deva/planyourvisit/mosaic-canyon.htm)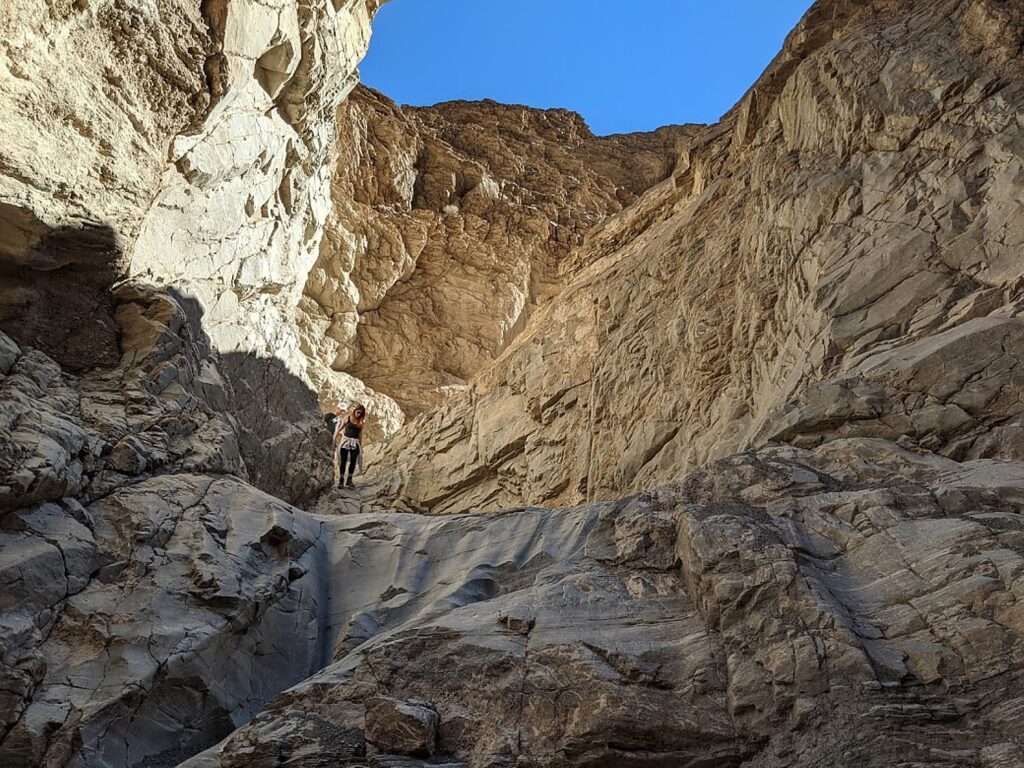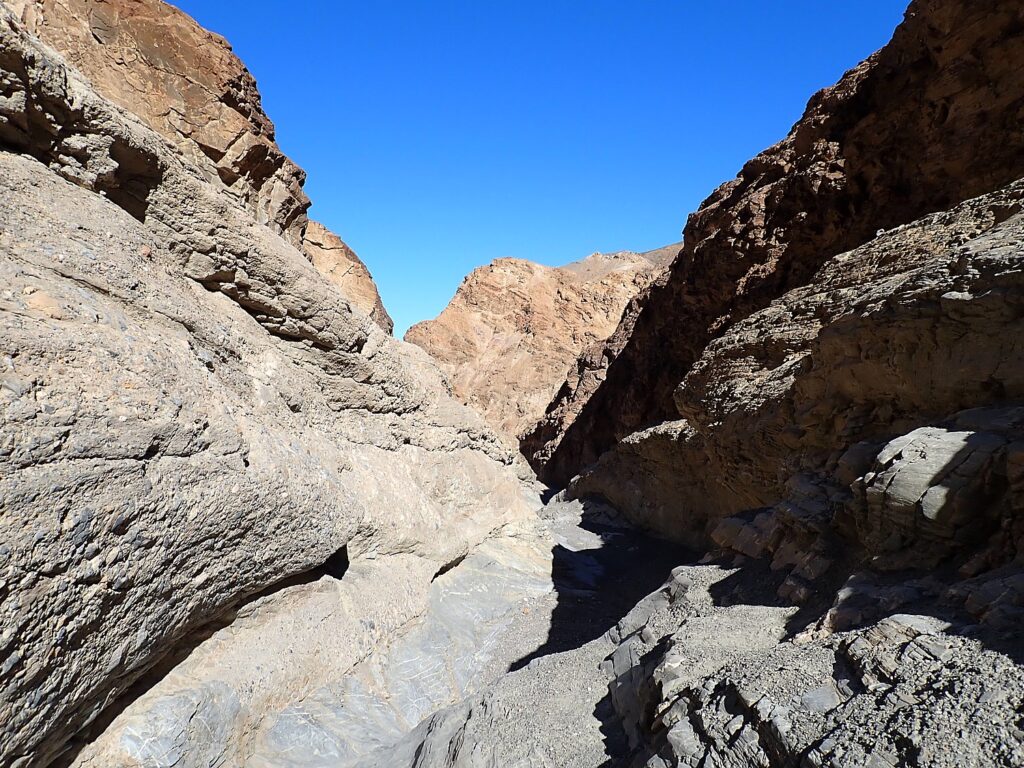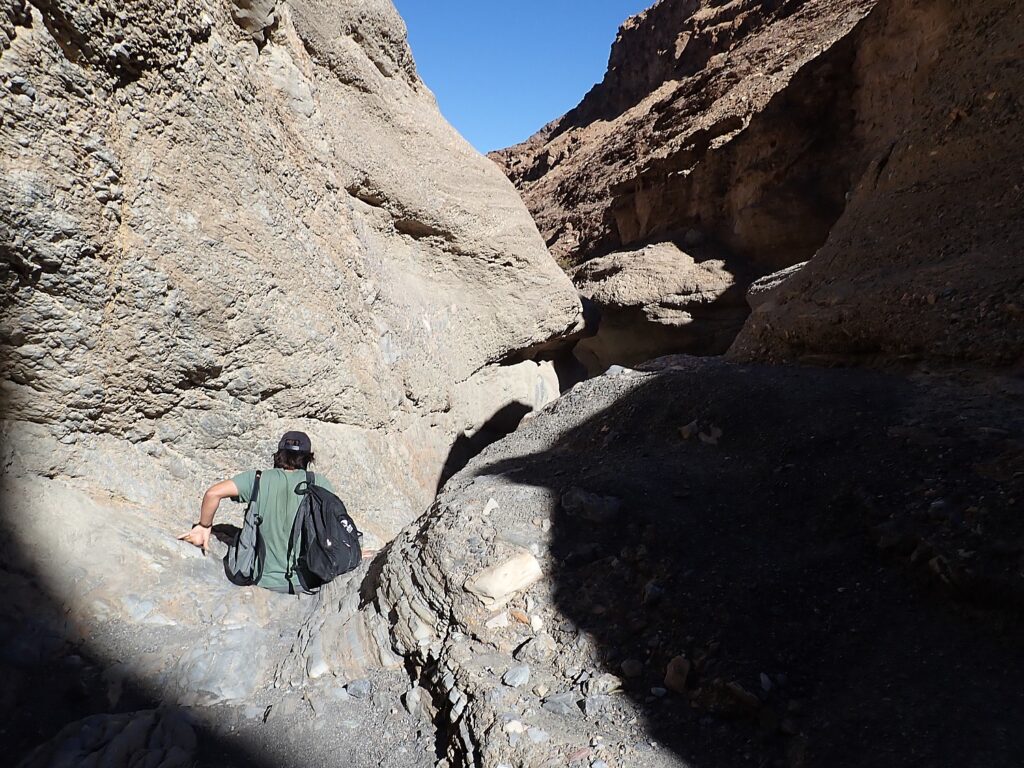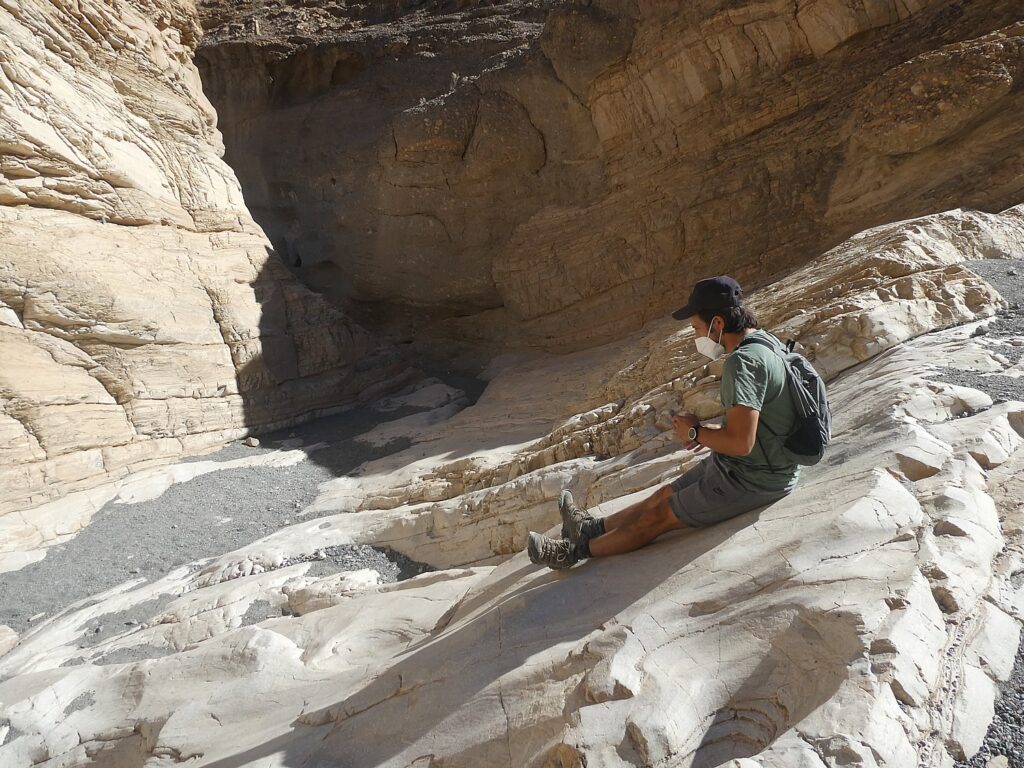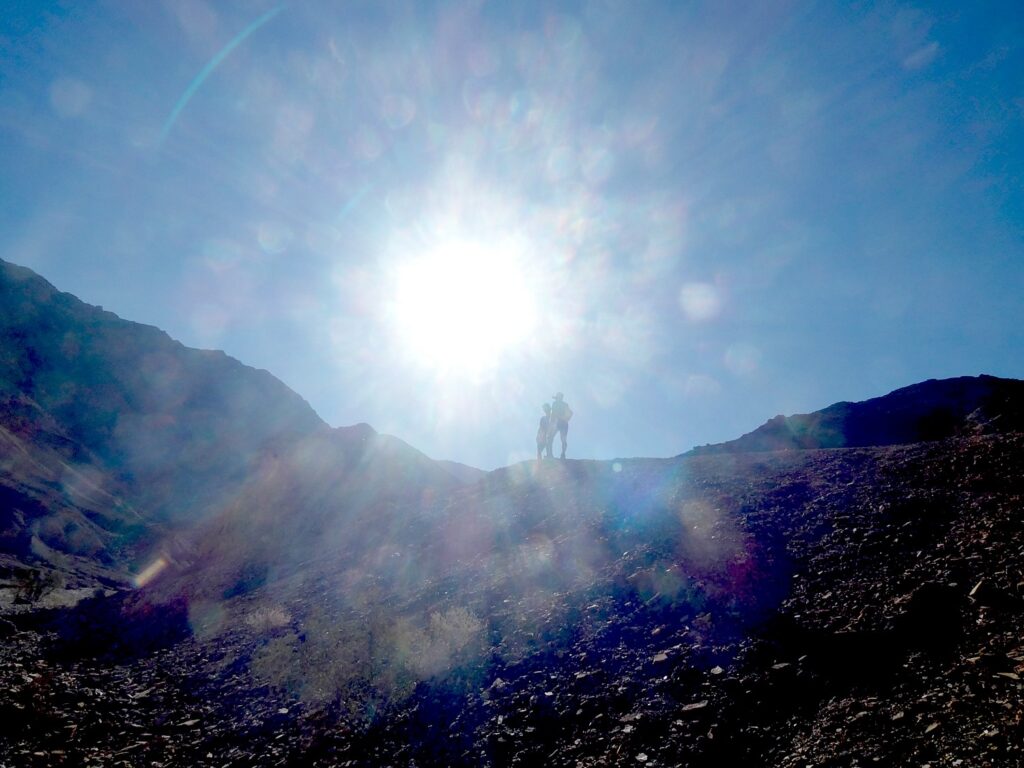 You can take just an easy one-mile roundtrip hike through the narrows or hike 2.2 miles to the upper end of the canyon.
I have to actually try my (minimal) rock-climbing skills, with lots of cheers and support from everyone. It is a hoot. And the colors and patterns!
It takes us less than three hours, gorgeous and fun from very beginning, perfect for our final hike before driving back to Sonoma, with a short stop to enjoy the view of Mono Lake in the late afternoon light.
As we drive away, we start a list of what we need to do when return: the Telescope Peak hike (a strenuous 7-mile hike up 3,000-feet to 11,049 feet altitude, which Eric does just weeks later when he returns); Dante's Peak (for an amazing view); and Darwin Falls (an actual water fall) top the list.
Plan your visit to Death Valley National Park, nps.gov/deva, 760-786-3200.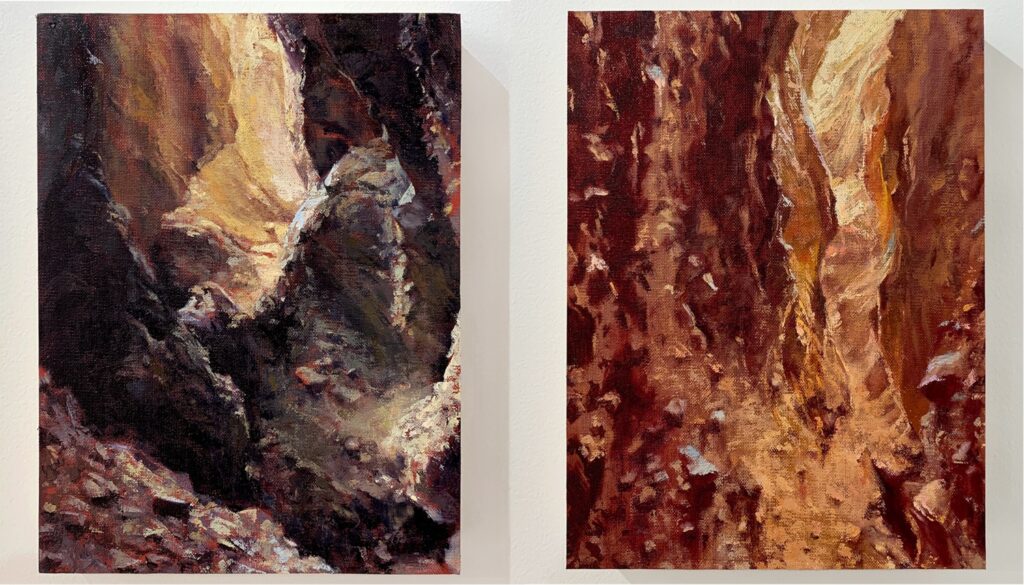 See also:
ROAD TRIP: DISCOVERING DEATH VALLEY'S TREASURES, RICHER THAN GOLD
ROAD TRIP: HITTING THE HIGHLIGHTS OF DEATH VALLEY NATIONAL PARK
AD-VAN-TURING, NEWEST TRAVEL TREND
______________
© 2021 Travel Features Syndicate, a division of Workstyles, Inc. All rights reserved. Visit goingplacesfarandnear.com, www.huffingtonpost.com/author/karen-rubin, and travelwritersmagazine.com/TravelFeaturesSyndicate/. Blogging at goingplacesnearandfar.wordpress.com and moralcompasstravel.info. Send comments or questions to [email protected]. Tweet @TravelFeatures. 'Like' us at facebook.com/NewsPhotoFeatures