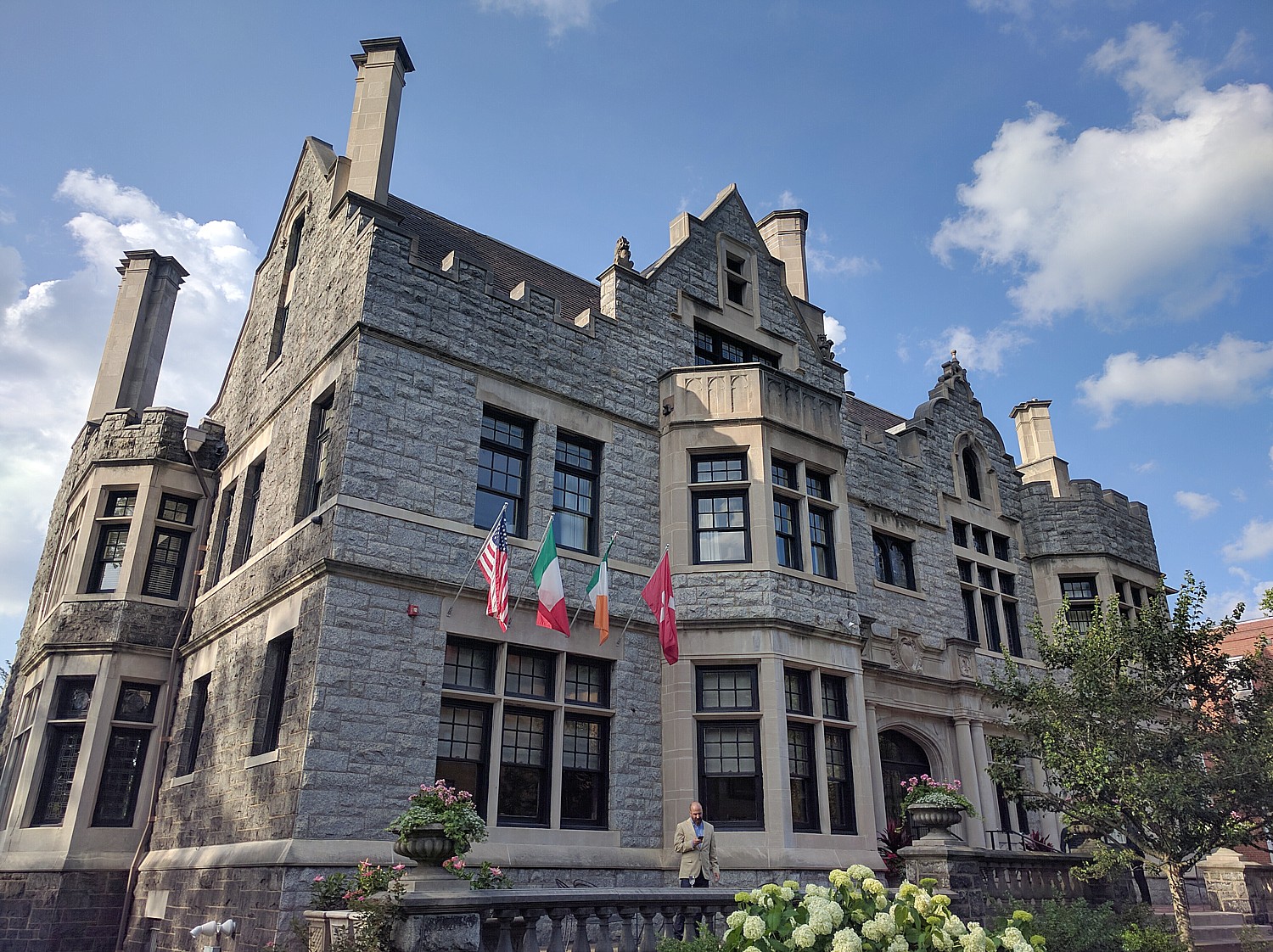 By Karen Rubin, Travel Features Syndicate, goingplacesfarandnear.com
I return to Pittsburgh when I come back to do my second Rails-to-Trails Sojourn on the Great Allegheny Passage, a fantastic rail-trail that stretches across Western Pennsylvania, from Cumberland, Md. to Pittsburgh, this time a longer trip, 150 miles, that finishes on the Montour Trail (see stories).
I had been dazzled by Pittsburgh on my first visit a year ago, and the same is true this time. It is no wonder that this city, built on steel and coal, rejuvenated, revitalized, has been named one of America's most liveable cities. What is best about it is how it retained the best of old and new.
This time, as luck would have it, I choose a historic hotel, Mansions on Fifth, that is in the Shadyside neighborhood, a short walk away from the Carnegie Museums and the Cathedral of Learning, so that my all-too-brief time in this glorious city is spent immersed in the city's leading cultural attractions that I had not been able to visit a year ago.
Mansions on Fifth in Pittsburgh's tony Shadyside neighborhood is the sort of place that when you pull up, your jaw drops. And for the brief time that you are here, you feel what it must have been like to be part of Pittsburgh's upper-crust, the society of industrial titans. You know how historic places being "living history" places because of people? That's what you feel like when you stay and inhabit these rooms, continuing the life and spirit of these structures that seem to have a life of their own and stories to tell. People come and go, after all, but these structures remain, albeit in the care of stewards who take on the responsibility. (Whenever I travel, I first check out Historic Hotels of America's site, historichotels.org, to see if there is a member property because the experience is always extraordinary; for my last visit, I stayed at the Omni William Penn Hotel, an iconic property right downtown. Mansions on Fifth used to be an HHA member, prior to being acquired in 2016 by Priory Hospitality Group, Pittsburgh's premier owner, operator and developer of independent hotels and event spaces. Among its other holdings, Priory Hospitality Group owns and operates the Priory Hotel and Grand Hall at the Priory on Pittsburgh's North Shore.)
Indeed, Mansions on Fifth puts you right back into Pittsburgh's history and its story:
"The late 1890's and early 1900's were in many ways Pittsburgh's golden age, measured by prosperity and economic might, if not by a clean environment. Pittsburgh was a financial and industrial powerhouse as well as a center of river and rail transportation. In 1900, Pittsburgh produced more than half of the crucible steel in the nation, and by 1910, it was the eighth most populous city in the country.
"It was also a time where giants of the business world traversed Shadyside's Fifth Avenue – 'Millionaire's Row' – on a daily basis. Names such as Carnegie, Mellon, Frick, Westinghouse and Heinz were among the leading citizens of the day."
This 20,000 sq. ft. mansion was built in the early 1900s by Willis F. McCook, a prosperous attorney and legal counsel to steel and coke magnate Henry Clay Frick for himself, his wife Mary and their 10 children.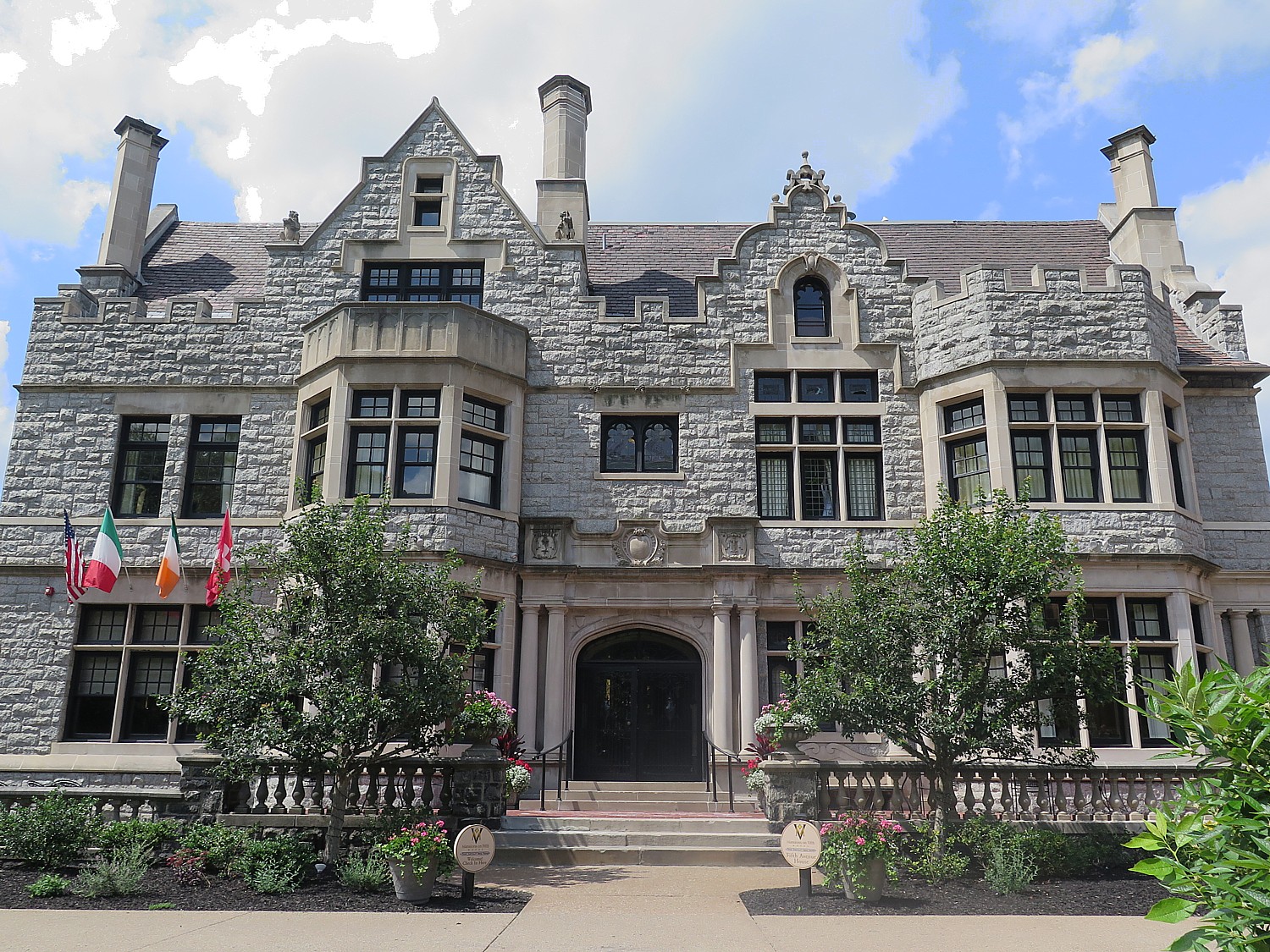 McCook was most famous for having represented Frick, but he was highly accomplished in his own right, the notes show."A groundbreaker in modern day corporate law, McCook studied law at Columbia University following his graduation from Yale in 1873. He was also a pioneering athlete, serving as captain of Yale's first football team and playing in the first intercollegiate football game in the nation. Later in life, he served as president and director of the Pittsburgh Steel Company, and was a partner in the law firm McCook & Jarrett. He died in 1923 at the age of 72."
Pittsburgh's Shadyside neighborhood, which was also home to many of the city's leading industrialists, innovators and bankers of the city, including George Westinghouse, Frick, Andrew Mellon, Andrew Carnegie and the rest of Pittsburgh's exceptionally wealthy families of the era.
Here among the leafy green trees on a hilltop, it is easy to imagine how clean and cool the air in comparison to the choking atmosphere of the steel mills that shrouded the city below.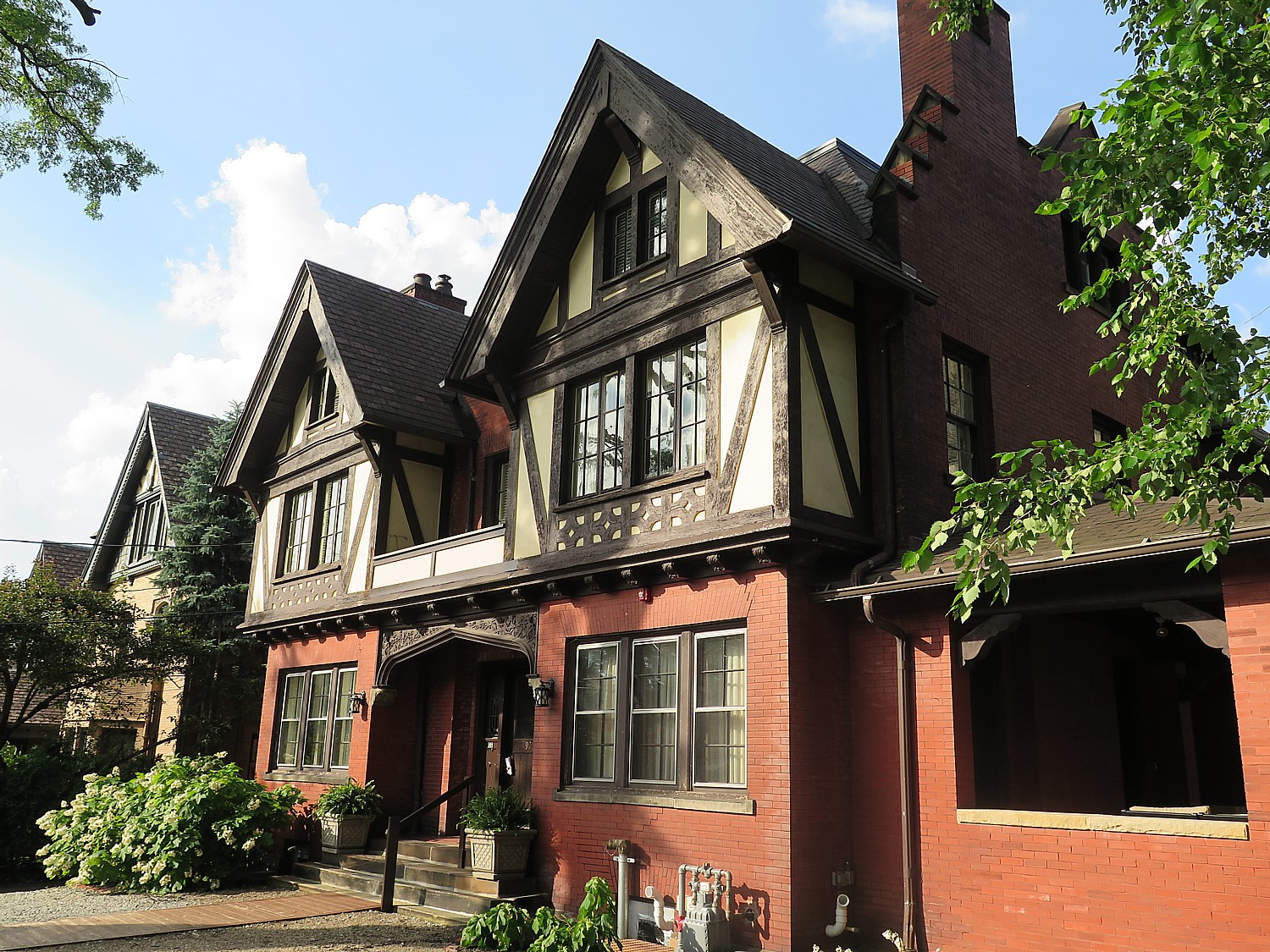 As his mansion was being built, McCook's daughter Bessie became engaged, so he contracted to build a more modest (but still spacious at 8,000 square feet) home adjacent to his own. The smaller mansion (now the Mansions on Fifth Hotel's Amberson House) was completed first, and the main house (now called the Fifth Avenue House), was finished in 1906.
The two mansions were designed in the Elizabethan Revivalist and Tudor styles by the architectural firm Carpenter & Crocker, of Pittsburgh's East End. Many of the firm's other projects, which range from Florida to Washington state, exist today, including the iconic Trinity Cathedral Parish House in downtown Pittsburgh. The contractor on the McCook estate was Thomas Reilly, who also built the massive and magnificent St. Paul's Cathedral just down Fifth Avenue from the estate. Reilly also worked with Carpenter & Crocker on the Parish House at Trinity Cathedral.
"McCook and his designers and builders spared no expense, using some of the finest craftsmen of the era, including master ironworker Cyril Colnik (fixtures and decorative items), Rudy Brothers Art Glass (leaded and stained glass installations), and Rookwood Ceramic Tile (for the decorative tile around the fireplaces in the houses). The stunning carved wood in the Grand Hall of the Fifth Avenue House was produced by Woolaeger Manufacturing of Milwaukee. The total cost of the project was $300,000 in 1906 ($7.6 million in today's dollars).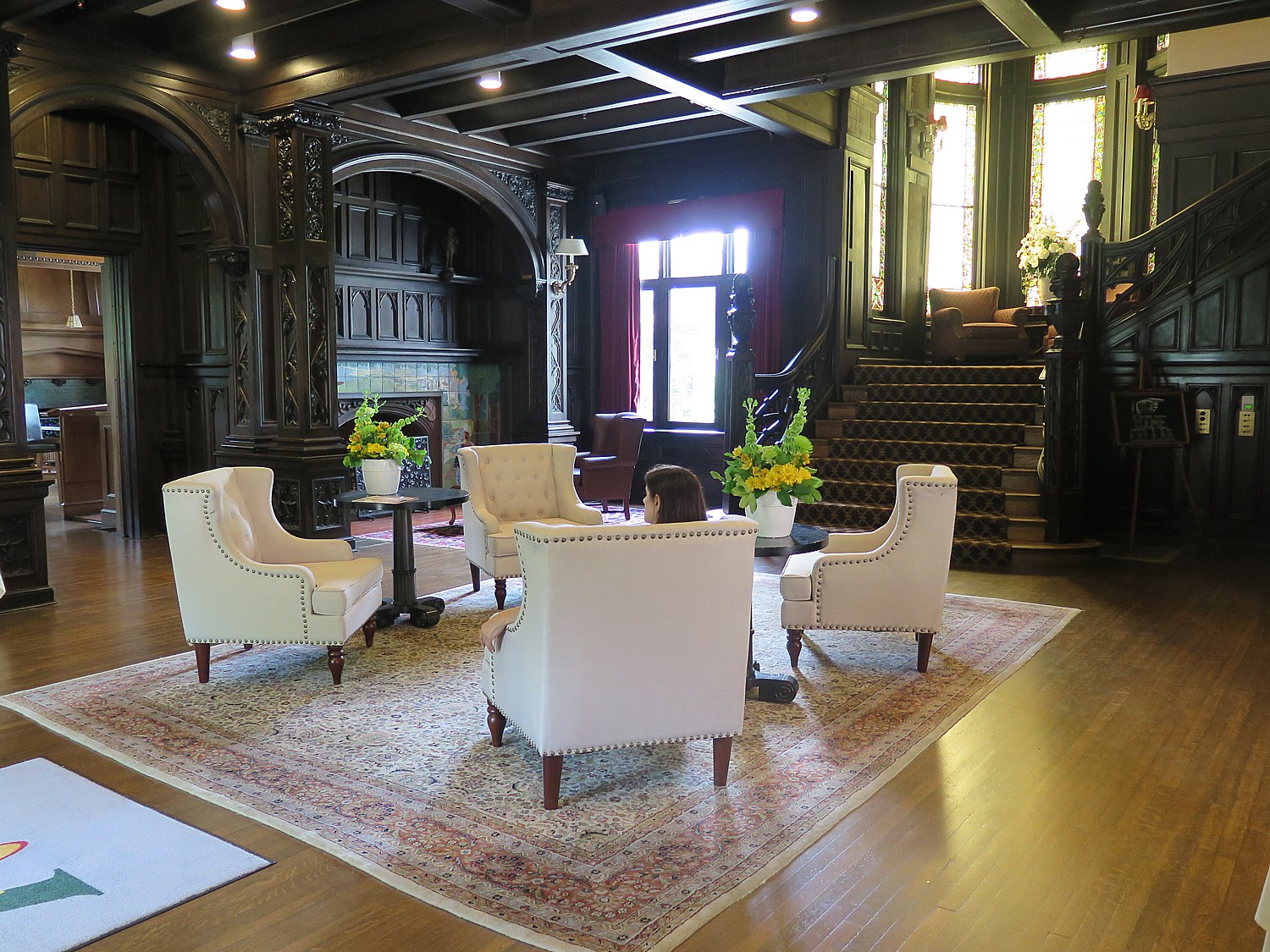 After McCook died in, 1923, the family continued to live in the main mansion through the 1930's. But the Great Depression took its toll and the family was unable to keep current with their property taxes. Seized for sheriff's sale by the Allegheny County Sheriff's Department, the mansion was purchased in 1949 by Emil Bonavita, Sr. and his wife Margaret for $28,000. The Bonavitas moved into the mansion with their two children, Emil, Jr. and Charles.
As a way to pay for upkeep for the massive building, the Bonavitas rented out rooms on the upper floors to students at nearby Carnegie Mellon University. Students were thoroughly screened, and many of those attracted to the historic property were studying at CMU's prominent arts and theater schools. According to Pittsburgh Post-Gazette architecture writer Patricia Lowry, tenants included Albert Brooks, Andy Warhol, Shirley Jones and George Peppard. Margaret, who acted as a house mother to the many students who resided at the home over the years, resided in the McCook mansion until her much mourned death in 2003.
Bessie McCook Reed, for whom the Amberson House was built in 1905, lived in the home from the time of her marriage until her passing in 1966. Three years later, Emil Bonavita, Jr. and his wife Marie acquired the Amberson House and moved in to raise their family of four children. Emil and Marie also assisted in the boarding operations at the larger Fifth Avenue House.
In 2004, the Fifth Avenue House, the main mansion, sustained a horrific fire which caused extensive damage to the upper floors. The building became uninhabitable, and its tenure as a home for students ended. Emil and Marie looked to sell the damaged mansion to a purchaser who would restore it.
Pittsburgh preservationists, husband and wife Mary Del Brady and Richard Pearson, acquired both houses of the former McCook estate from the Bonavitas for $1.5 million. Their idea was to redevelop the property into a boutique hotel and event center. Restoration and repair work, which was extensive given the fire damage, began in January 2010. The Fifth Avenue House, the primary mansion, was completed in early 2011 and opened to the public in March of that year with 13 guest rooms and suites, the grand hall event space, a library, the Oak Room pub, and two private dining rooms. The adjacent Amberson House, with 9 guest rooms and suites, opened in November 2012. Total cost of the project exceeded $8,000,000.
The properties were recognized as an historic landmark by the National Trust for Historic Preservation in 2012.
New Era for Mansions on Fifth
In late September 2016, Pittsburgh-based boutique hotel owner/operator Priory Hospitality Group acquired the operating assets of the Mansions on Fifth Hotel and assumed operations of the Shadyside property. Owned and operated by the Graf family since 1986, the Priory Hospitality Group's properties include the award winning Priory Hotel (a Tripadvisor Hall of Fame member), Grand Hall at the Priory event facility (Best Wedding Venue – City Paper 2016; Best of the Knot 2006-2016; Pittsburgh Magazine Best Restaurant 2012 & 13), and Priory Fine Pastries commercial and retail bakery (Runner Up – Pittsburgh Magazine Best Bakery 2012 & 13).
Priory Hospitality Group invested considerably to upgrade the properties and amenities.
The Mansions on Fifth today offers 22 elegant guest rooms (each one different; you feel more like a family guest than an out-of-towner) in the two distinct historic buildings – the main 20,000 sq. ft. Fifth Avenue House and the adjacent 8,000 sq. ft. Amberson House. The Fifth Avenue House also has the hotel's reception desk, dining room, Oak Room pub, chapel, library and wine cellar.
The Front Desk is staffed 24 hours a day to provide help with directions, restaurant recommendations, check in, , while butlers are available from 7 a.m. to 11 p.m. every day to assist.
My room is in the Amberson House, which for your all-too-brief stay makes you feel like you are really at home in a mansion. The Amberson House offers its own cozy and comfortable first floor common areas in addition to guest rooms. It would be perfect for a family or group to take over (indeed, during my stay, there is a large wedding party.)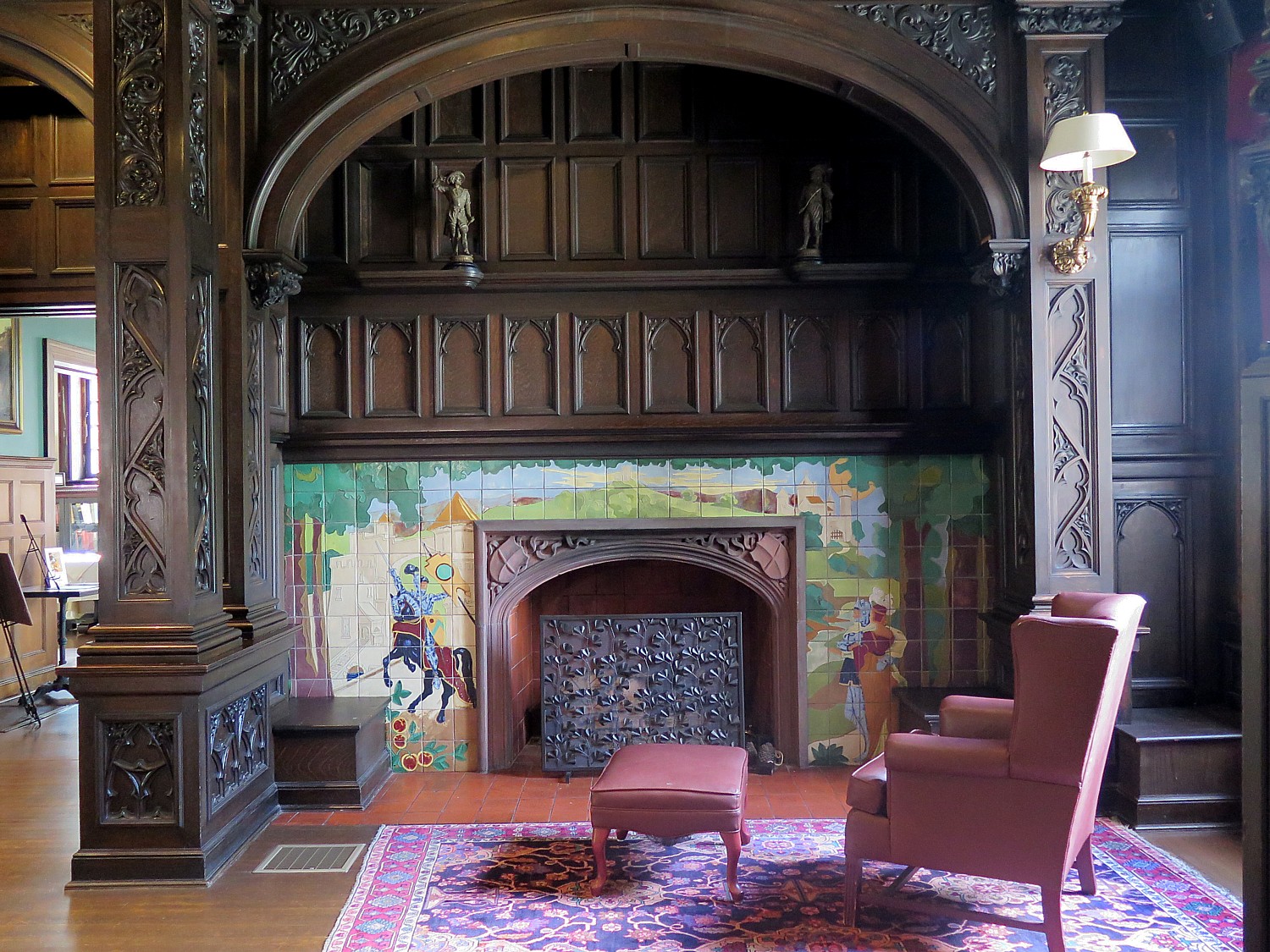 You can appreciate the renovations: each of the elegant guest rooms and suites features a spacious bathroom with glass and ceramic shower enclosures, Gilchrist and Soames organic bath and shower amenities, and soft, thick towels woven with bamboo fibers.
Some guest rooms and suites also feature fireplaces and jetted tubs. The spacious Presidential Suite has two separate bedrooms and baths and nearly 1,000 square feet of living space.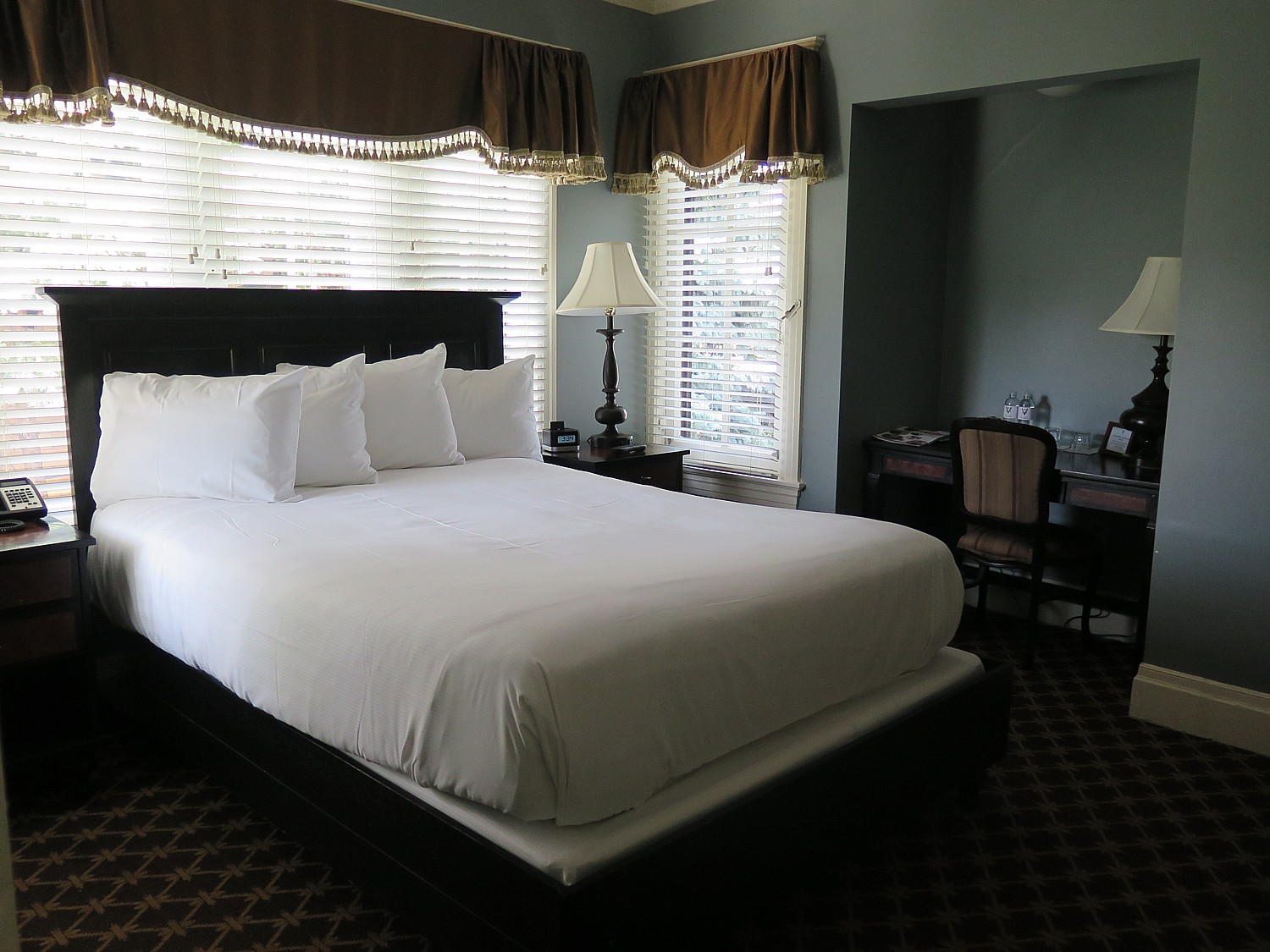 In addition, the Mansions on Fifth Hotel offers a wide variety of amenities and services, including:  complimentary continental breakfast (with a more hearty ala carte breakfast available at an additional cost); complimentary newly upgraded Wireless Internet service; complimentary on premise parking (not a small matter in Pittsburgh); guest computer with WiFi access and printer; Fitness Center and The Oak Room pub, open 4 p.m. to 11 p.m. daily, featuring craft cocktails, fine wines, and a variety of microbrew beers.
The Oak Room pub also is the venue for a variety of weekly events, from wine flights, to whiskey tastings, to live music.
Mansions on Fifth is a delightful venue for weddings (there is one that had just finished when I arrive), family reunions and special events. You can basically take over the two mansion homes.
(I am also intrigued to visit the Priory Group's historic, 42-room boutique hotel that was once a Benedictine monastery, built in 1888, meticulously restored to modern standards and featuring all the amenities of a large downtown property with the intimacy of a small European hotel, located in Deutschtown on the North Shore, a near walk to the Andy Warhol Museum and downtown Pittsburgh. The Priory Group spent $2.7 million to upgrade the property, adding a new, larger front desk and a cozy pub — the Monks' Bar – in the original building, a Fitness Center and Business Center, as well as state of the art meeting space in a new wing.)
Mansions on Fifth, 5105 Fifth Avenue, Pittsburgh, PA 15232, 412-381-5105, 800-465-9550, http://mansionsonfifth.com/.
For more information, contact Visit Pittsburgh, 412-281-7711, 800-359-0758, 877-LOVE PGH (568-3744), [email protected], www.visitpittsburgh.com.
Next:
Mansions on Fifth Historic Hotel is Steps Away from Pittsburgh's Top Cultural Attractions
See also:
One Day, Two Nights in Pittsburgh: From Grey to Green, A Proud City Revitalized
36 Hours in Pittsburgh: Point State Park Proves Highlight of Walking Tour
36 Hours in Pittsburgh: Andy Warhol Museum is at Center of Revitalized City
36 Hours in Pittsburgh: Strip District Exemplifies City's Past, Future
Two Nights, One Day in Pittsburgh: Historic Omni William Penn Hotel Connects to City's Proud Heritage
Rails-to-Trails Conservancy's BikeTour on Great Allegheny Passage Highlights Benefits of RailTrails
Rails-to-Trails Conservancy's Sojourn Biketour on Great Allegheny Passage Showcases Forgotten Towns
'World's Largest' Glass Sculpture with Trump Connection is Boon for Dunbar, Pennsylvania
____________________
© 2017 Travel Features Syndicate, a division of Workstyles, Inc. All rights reserved. Visit goingplacesfarandnear.com,  www.huffingtonpost.com/author/karen-rubin , and travelwritersmagazine.com/TravelFeaturesSyndicate/. Blogging at goingplacesnearandfar.wordpress.com and moralcompasstravel.info. Send comments or questions to [email protected]. Tweet @TravelFeatures. 'Like' us at facebook.com/NewsPhotoFeatures