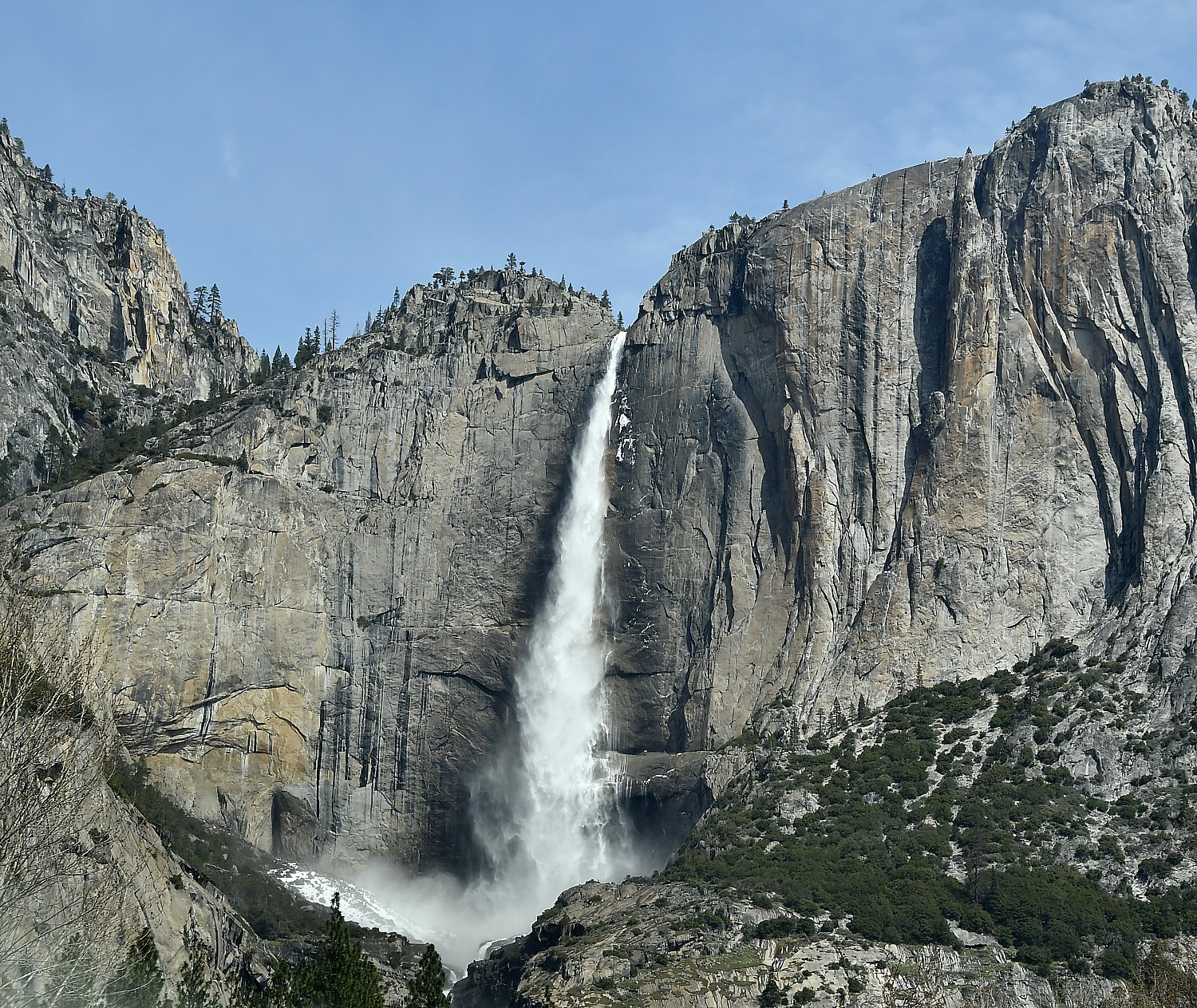 By Karen Rubin, Eric Leiberman, Sarah Falter
Travel Features Syndicate, goingplacesfarandnear.com
Yosemite National Park – America's first – has been on my bucket list for years, so I am beyond excited when we arrive at the Tenaya Lodge, in Fish Camp, just two miles from the South Gate, and immediately start planning for how we will tackle the park the next day. I am intimidated at first by how vast Yosemite is – the size of Rhode Island I am told – and how to organize the logistics if I am going to see for myself the places that are etched in the images in my mind in only two days.
We spend a lot of time with the Tenaya Lodge concierge to get suggestions of where to go, which trails to hike, where to park (there is a bus shuttle system but during our visit, at the very beginning of spring, it wasn't operating very well).
Because it is so early in the season, some of the areas (like Glacier Point) aren't even open yet. But it also means that the waterfalls are at near maximum of their cascading flow: all the sound and the fury, the feel of the cool spray, the moist smell. On the other hand, as it happens, we are here on the weekend of National Parks Week, when admission is free, coinciding with Easter, so the park is likely to be especially crowded.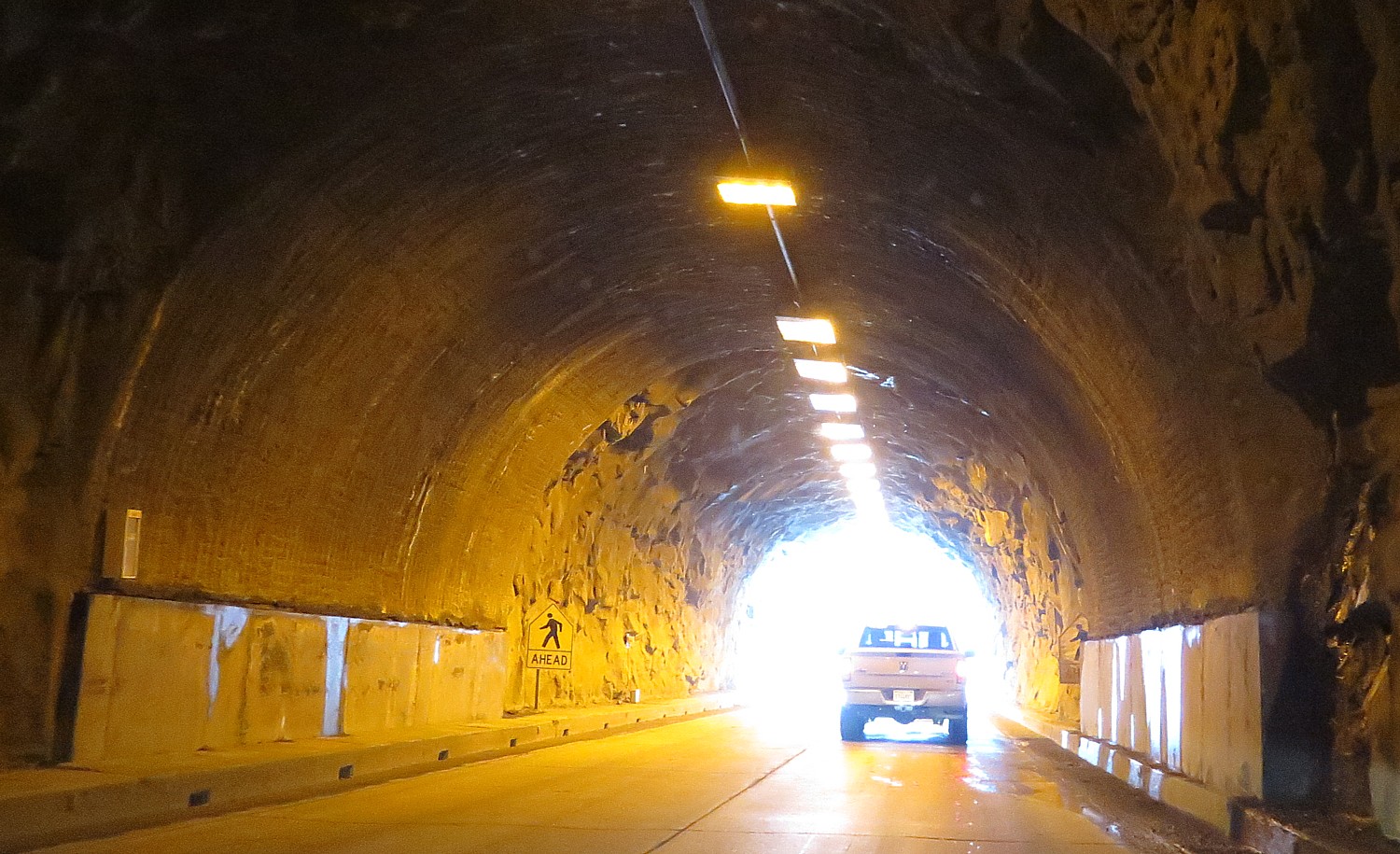 But we pick out the trail for the day: Mist Trail – which is also one of the most popular (we discover) for good reason, especially this early in the season. In one trail, it seems to encapsulate the entire Yosemite experience of a reasonably vigorous hike over a good distance (3 miles roundtrip to Vernal Fall, with 1,000 foot elevation gain, taking about 3 hours), sensational views, proximity to a fantastic waterfall (Vernal) with views of the Nevada Fall (which would be a further 1.3 miles up Mist Trail from Vernal Fall).
Indeed, it is a shock to learn that though the Tenaya Lodge is a mere two miles from the South Gate entrance into Yosemite National Park, it is another 45 minutes drive (30 miles) just to get to the famous Tunnel View, then another 45 minutes drive to get to Curry Village where we will fnd parking for the Mist Trail.
The concierge prepares us well. We know that just outside of the mile long tunnel, to look for the parking lot for the iconic Tunnel View. "Take the first spot" she has advised.
The Tunnel View lookout place, in one image, offers a spectacular view of the quintessential Yosemite sites: Bridalveil Fall, Half Dome, Clouds Rest, El Capitan.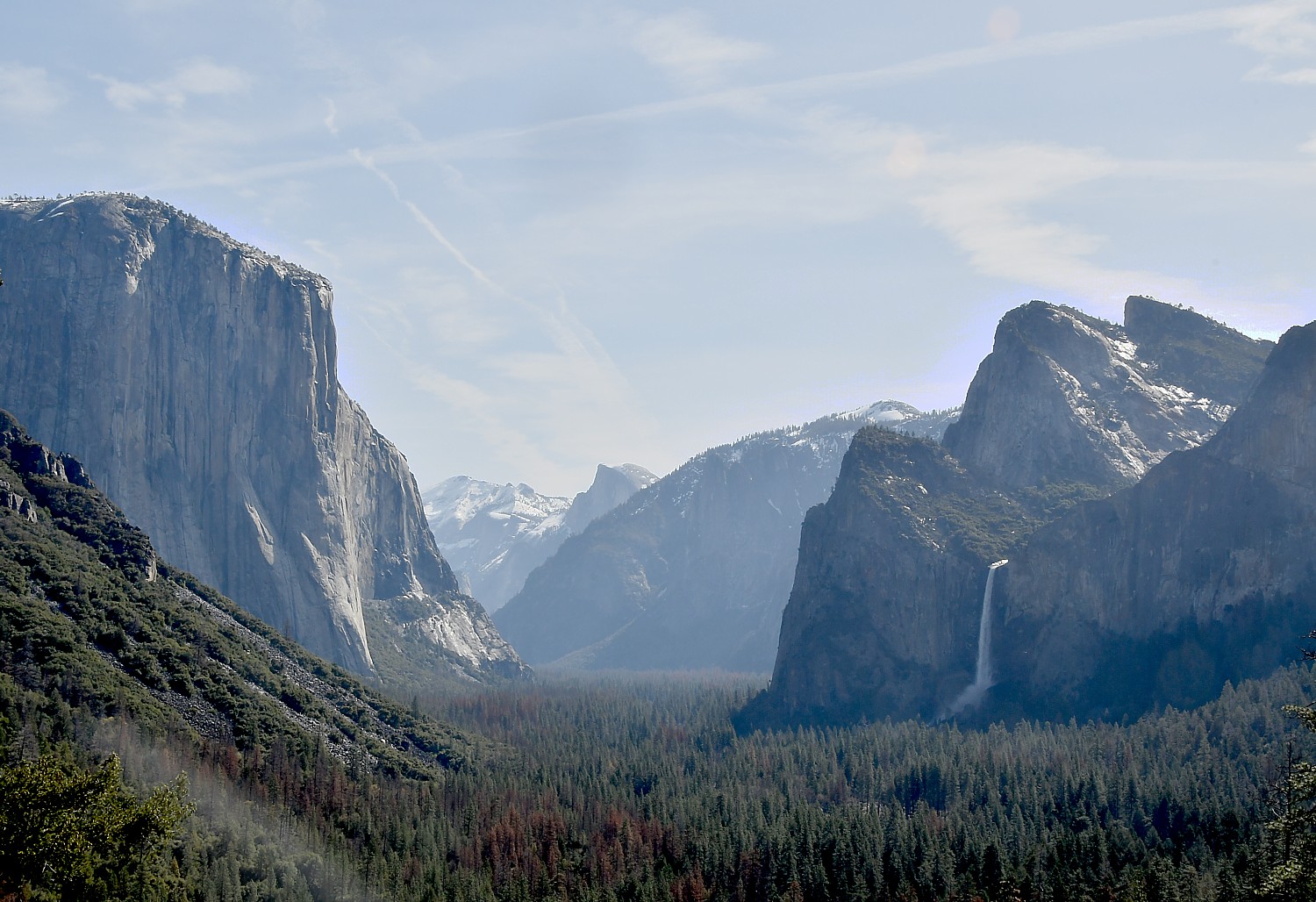 Indeed, the biggest surprise for me is how accessible the iconic features of Yosemite National Park are from the road – I expected them to be more remote, reached only after long, difficult hikes through the wilderness.
And so I shouldn't have been surprised by the steady stream – wall to wall in some spots – of people, just like us, seeking out the solace and majesty or our natural, national heritage. Indeed, last year saw a record – 331 million visitors to America's 417 National Park Service sites (contributing $34.9 billion to the U.S. economy in 2016), 5 million alone to Yosemite (Grand Canyon got 6 million).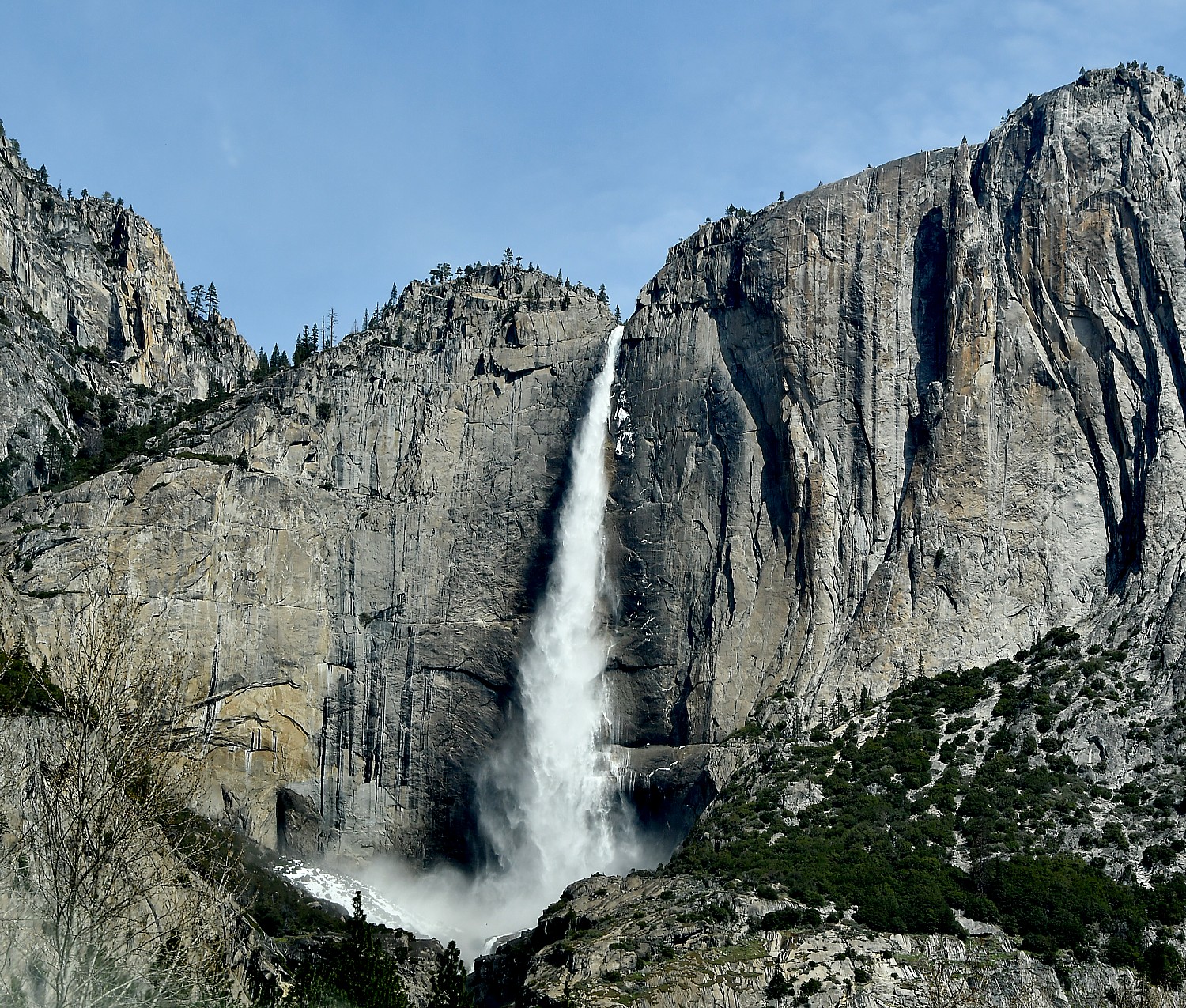 Just a half mile beyond Tunnel View, you come to Bridalveil Fall – which has to be the second most visited place in Yosemite – and it is just a quarter-mile walk to the waterfall (a key reason it gets MASSIVE crowds that converge in this small spot; I even meet someone who had just been at a wedding right there). The famous Yosemite Falls, also, is visible from the road (we see it on our way out, when it is already getting dark), and the Lower fall is an easy one-mile loop (half of it is wheelchair accessible).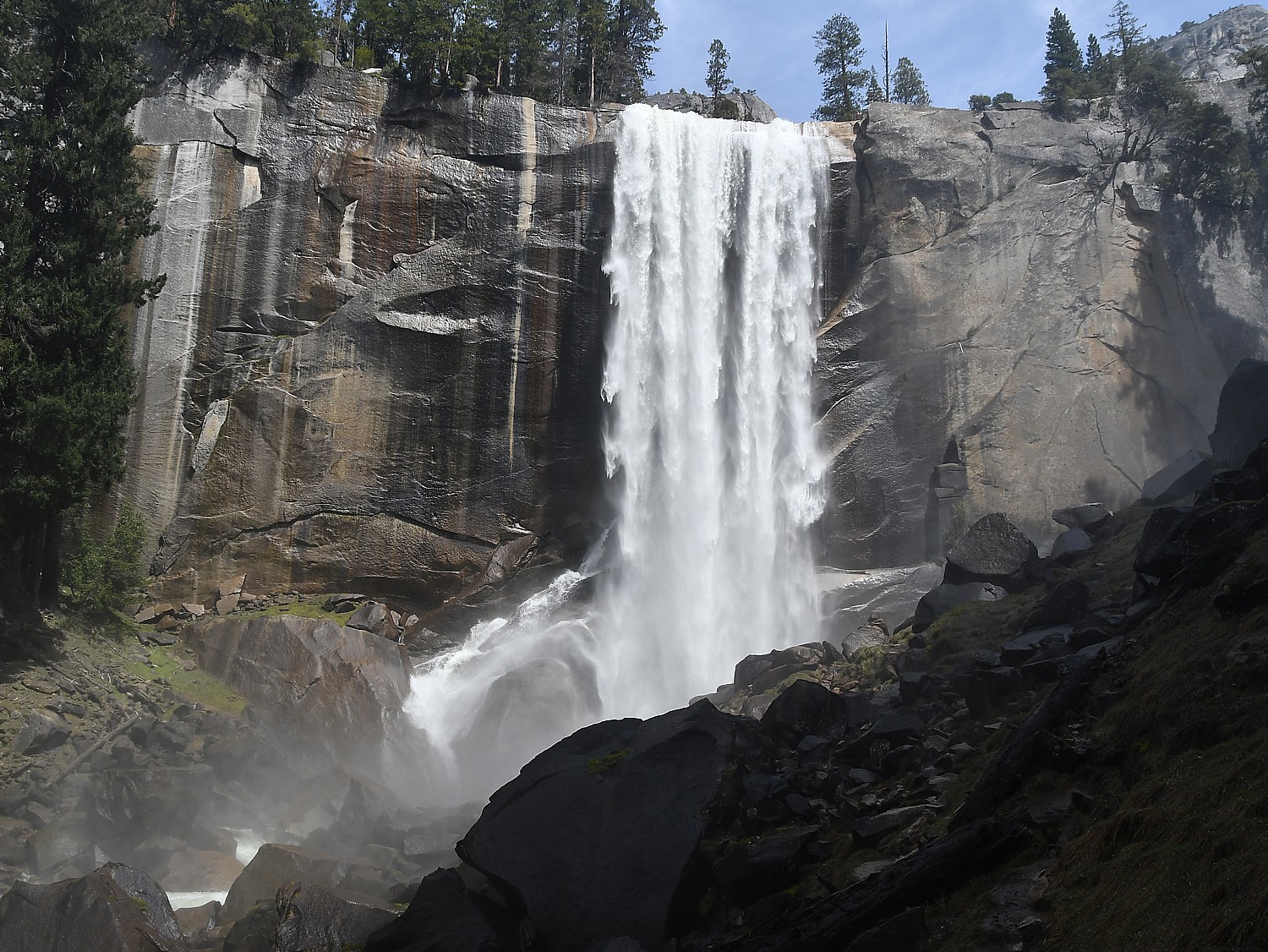 But we are here to hike! And the trails we have picked out are perfect for the level of physical exertion (and satisfaction), photographic opportunities, and the general appreciation of Yosemite that we are seeking today.
We have set our sights today on the Mist Trail which takes us alongside the Vernal Fall. The trail is both moderately challenging and an ideal distance (not too short, not too long), and unbelievably gorgeous, especially this early in the season, with the fall at maximum flow (especially after a winter where they had twice the normal snowfall; prepare to be sprayed). It is a steep hike beside the waterfall on a series of stone steps – narrow and very crowded, with most people walking up but some people trying to come down this way. (It is better to continue down on the John Muir Trail, which is not as steep or crowded and has fantastic views).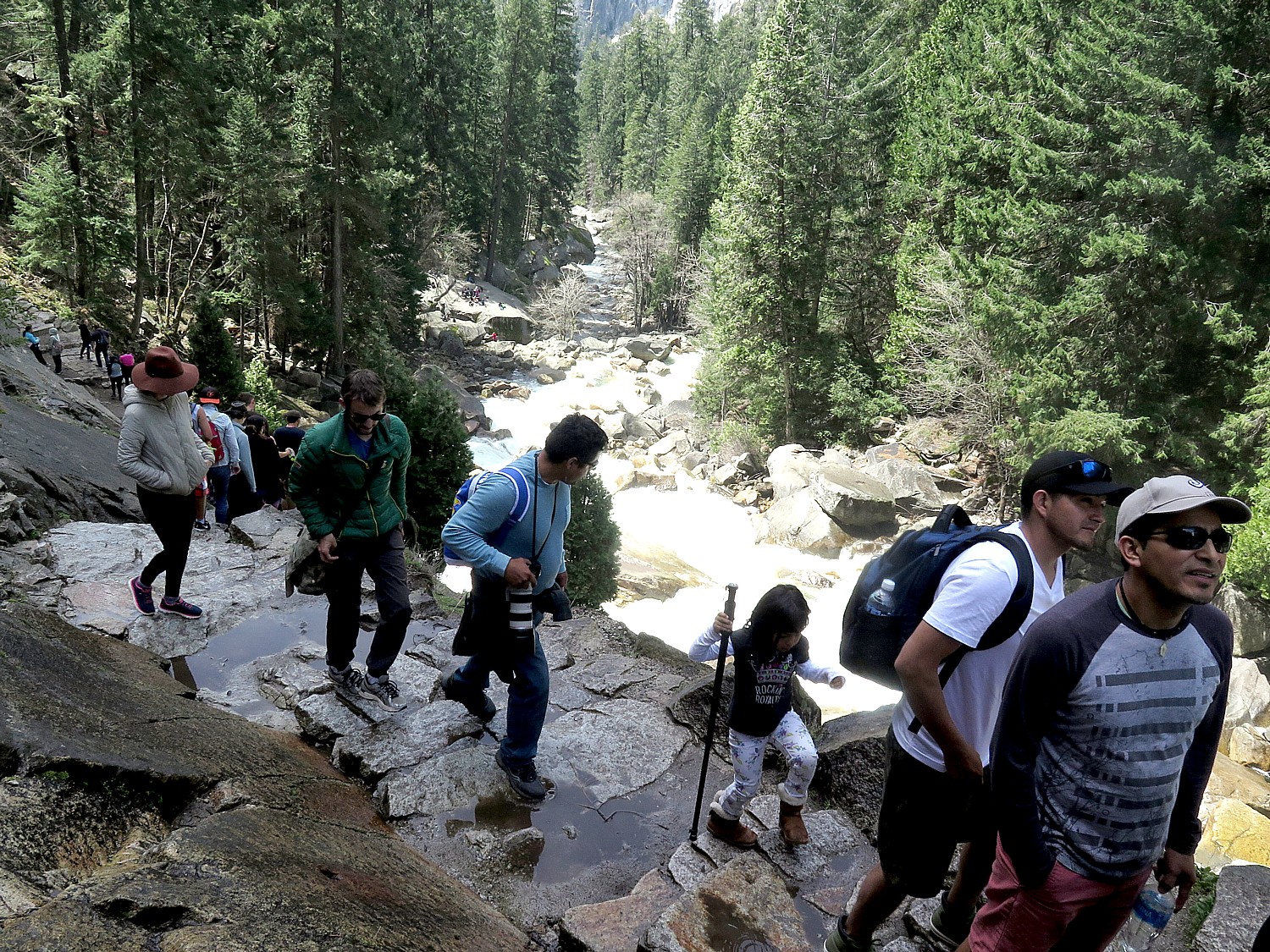 The trail starts off with an .8 mile hike up to the Vernal Falls footbridge (there are restrooms and water fountains here which you should definitely take advantage of before continuing on); and then another mile hike up to the top of Vernal Falls. Along the way, we see a rainbow in the spray at the bottom of the falls.
The Vernal Fall lookout – a series of relatively flat slabs – is about 1000 feet above where we started and is extremely popular spot for picnicking, relaxing and taking selfies. We do the same.
From here it is a short walk up to Emerald Pool which, so early in the season is a rushing torrent rather than the calm pool it will become by late summer.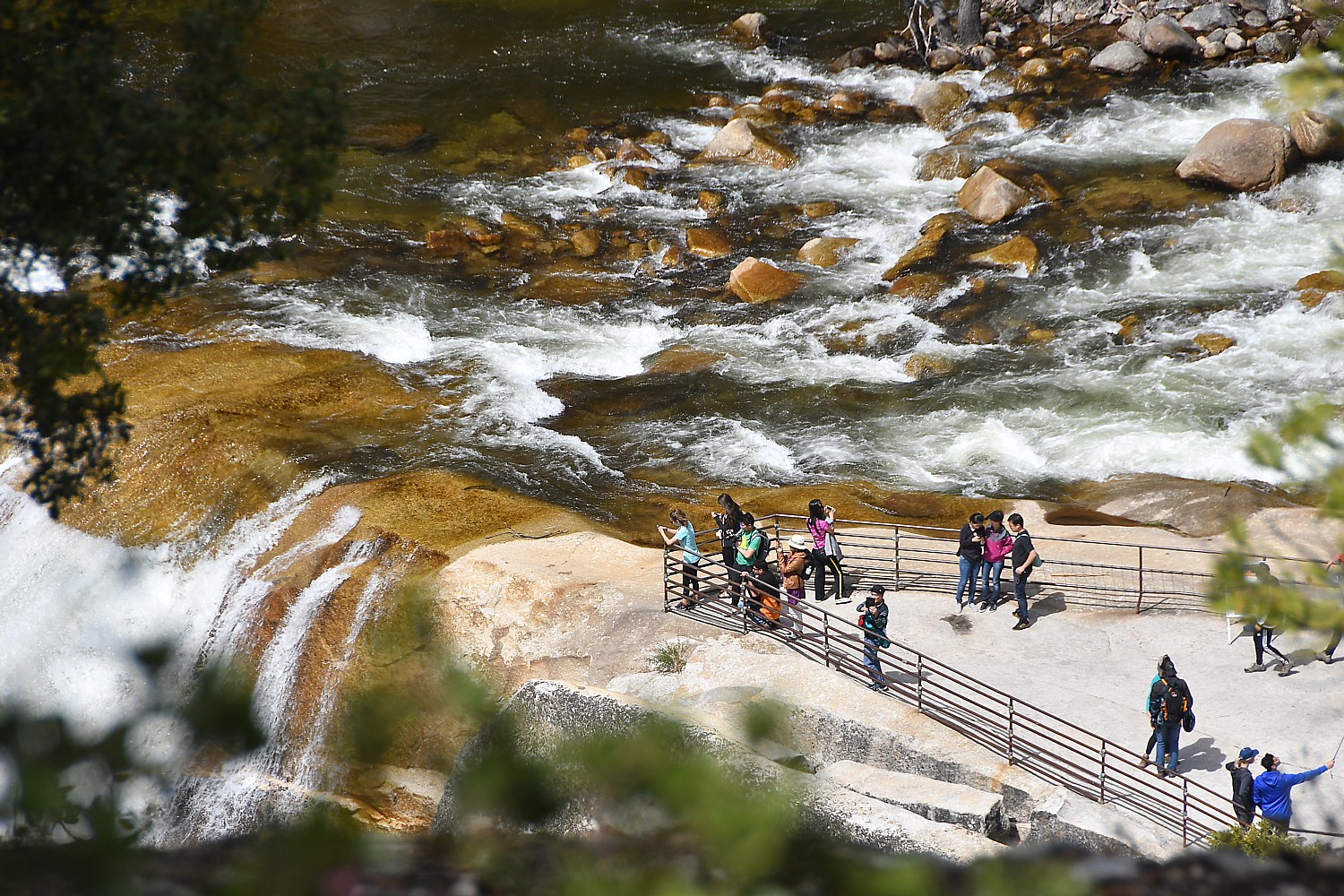 It is so scenic and seems so benign, but there are warnings signs not to be so foolhardy as to go near the water or (perish the thought) swim. People are warned to watch out for their children.  The rocks are slippery and this has been the scene of many accidents. I learn that in the summer of 2005, a hiker walked out into the water a bit to fill his water bottle, slipped, got caught in the deceptively strong current and was swept over the falls.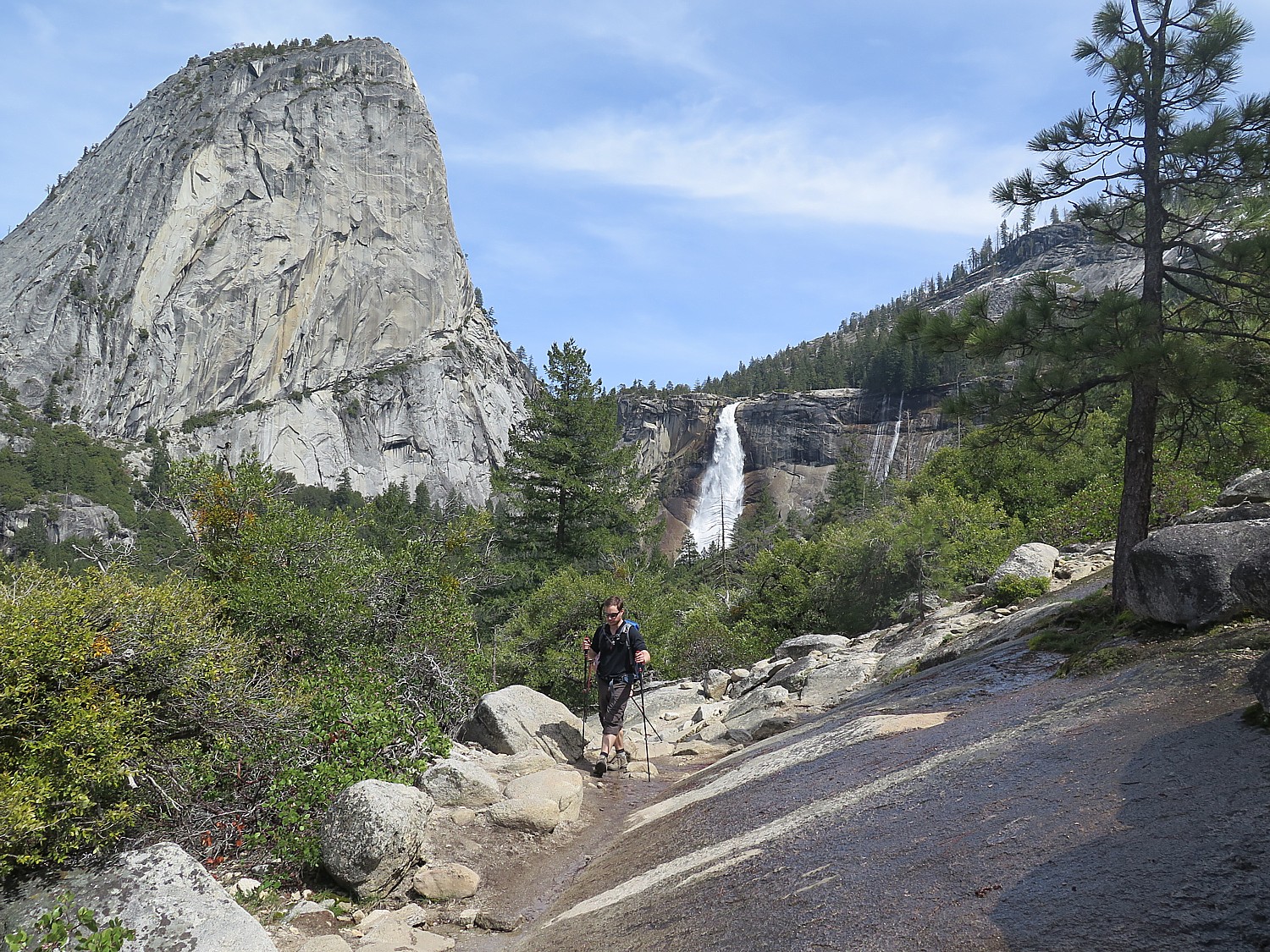 At this point, you can continue to hike another two miles to the top of the Nevada Fall, but we decide to hike down 3.5 miles along the less-steep John Muir Trail (versus coming back down on the Mist Trail). The John Muir Trail gives us a marvelous view of the Nevada Fall and Half Dome; much of the trail follows along a ridge that opens up to purple mountain majesty.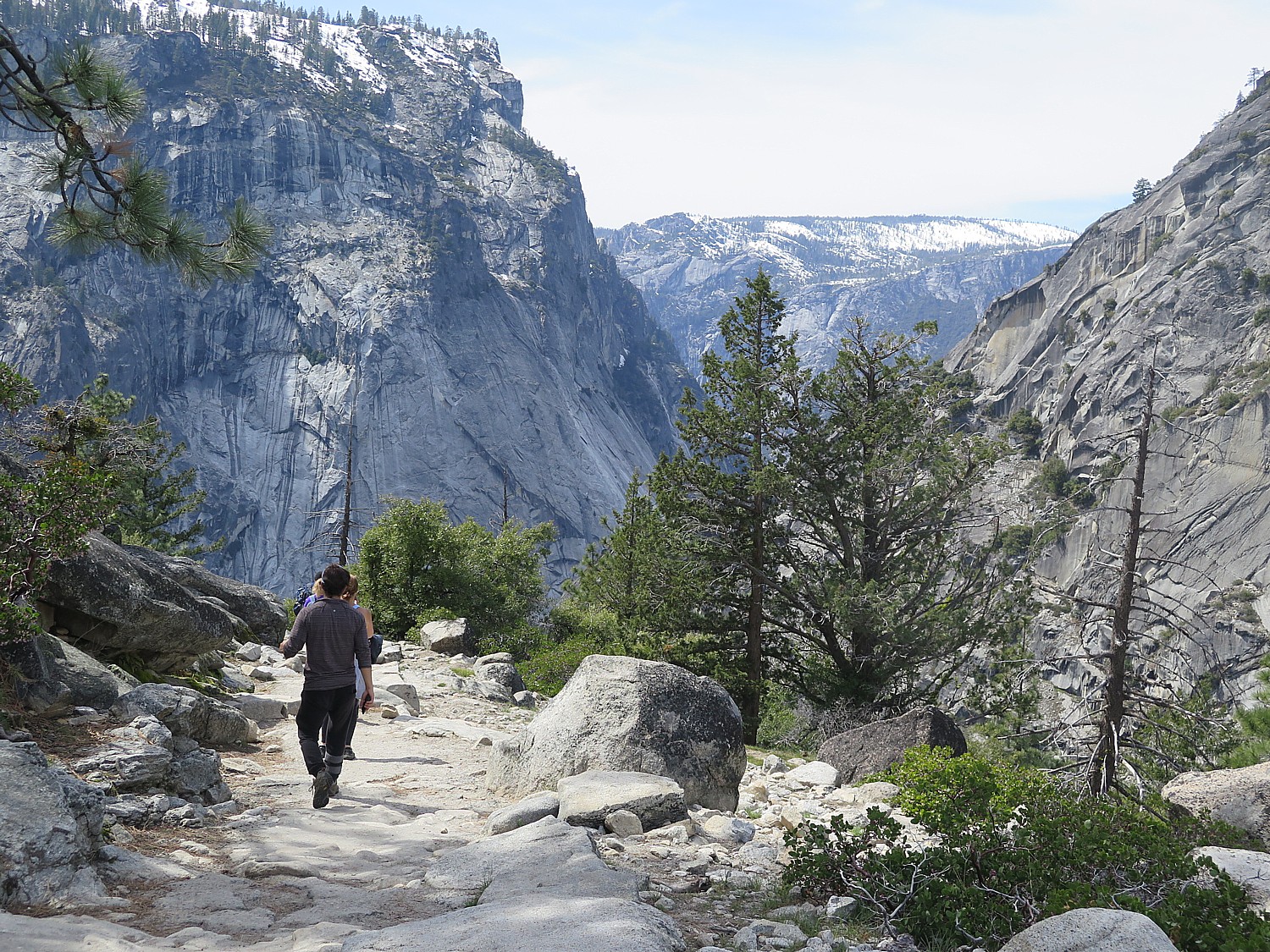 It's still early enough in the afternoon when we get back down to the base – delighted with how perfect the Vernal Fall hike was (altogether, we've hiked six miles, and climbed 1885 ft. in elevation) that we are excited to try another. We look over the list we have been given for a shorter, easy hike and set out for Mirror Lake.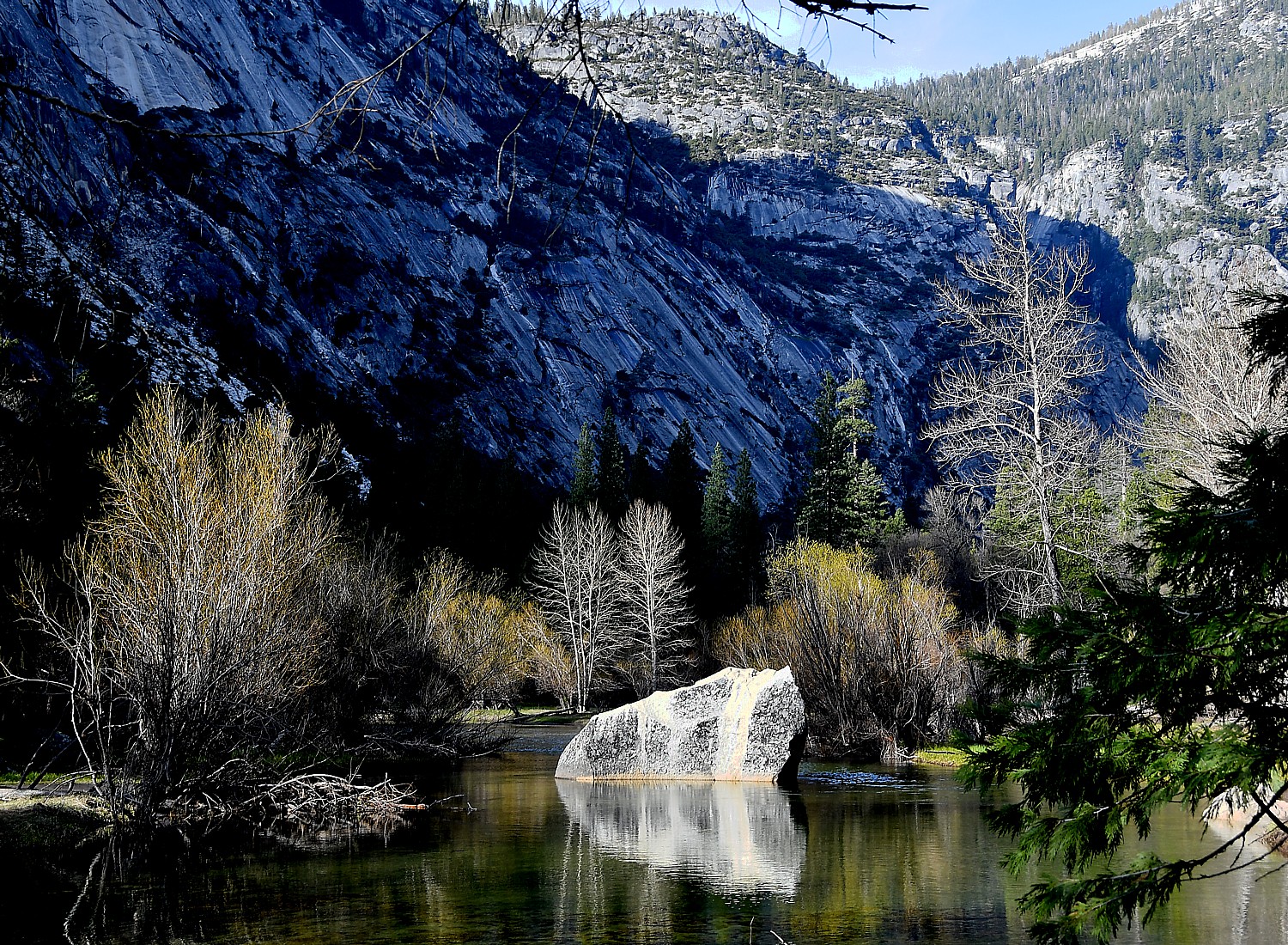 The Mirror Lake hike is supposed to be two miles round trip (taking one hour), but this is apparently if you just walk along the road. Instead, we take the trail that is apparently part of a five-mile loop around the lake which has more obstacles than I had bargained for. But there are some dazzling scenes along the way, and a stunning scene of the lake, so flat and still that it is literally a mirror reflecting back the stunning backdrop, and affords a closer view of the face of Half Dome.
To walk back by the road, Eric and Sarah scurry on a log across a narrow point which they imagine is a short cut to a road (the option is to hike around the lake). I'm not the scurrying-across-a-fallen-tree type, so I opt to backtrack along the same trial, which turns out to be fun, now that I know what the obstacles are (and that I can do them).
Finally meeting up with everybody in the car (after a MUCH longer walk back from the trailhead toward the parking lot, without seeing a single shuttle bus), which turns out to be a feat because cars are restricted, we set out to return to the Tenaya Lodge.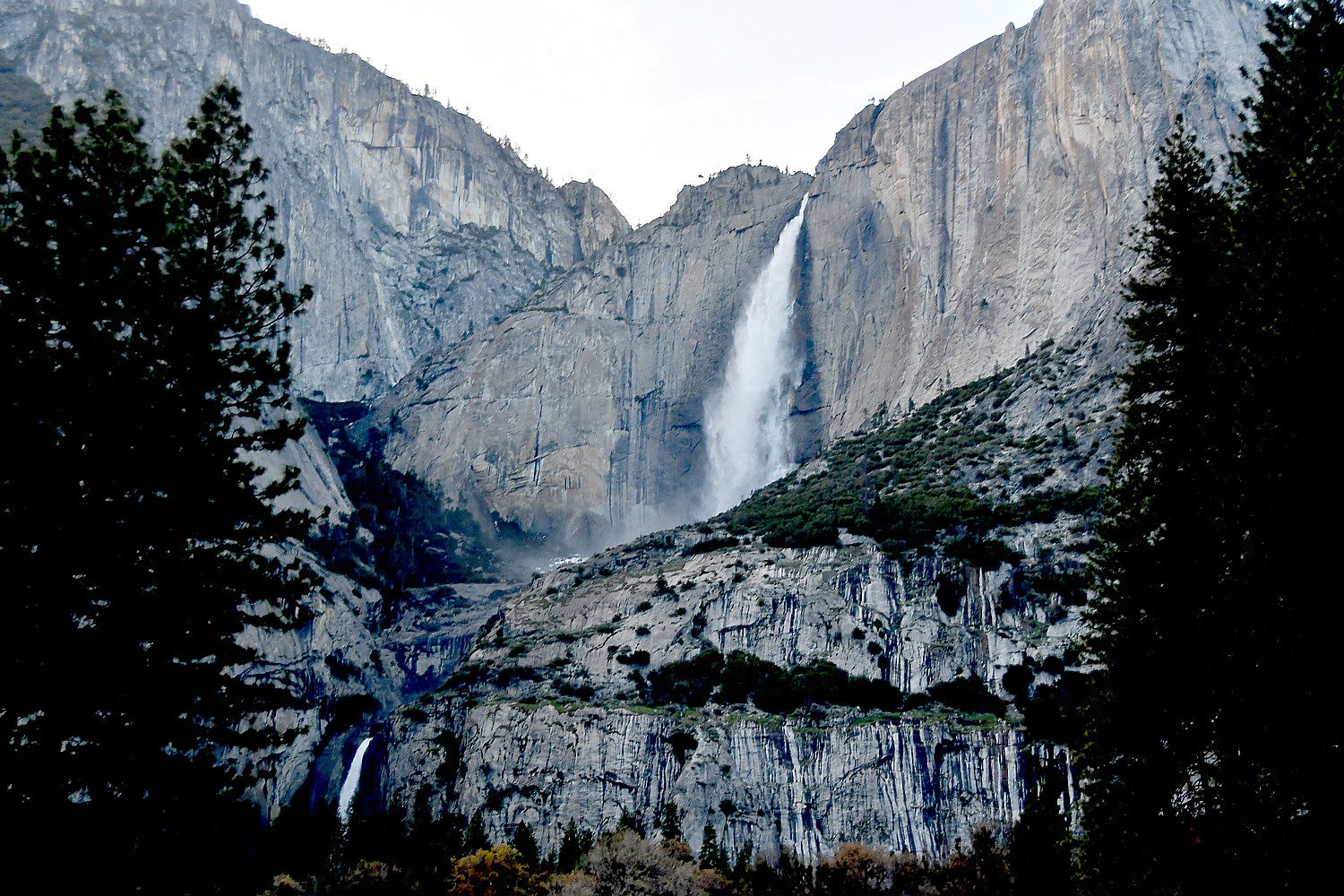 On the way out of Yosemite, we find ourselves crossing Sentinel Bridge which is supposed to be one of the best photo spots to capture Half Dome over the Merced River (the dusky light doesn't cooperate, but that's the element of serendipity that comes with every visit).
Then, the one-way road back to the South Gate passes by Yosemite Falls, agonizingly close (just a quarter of a mile), but it is too late to hike up to it in the fading light. We get a fleeting shot – I am surprised that it is so "exposed" to the access road – I imagined it was tucked inside.See https://www.nps.gov/yose/planyourvisit/valleyhikes.htm
Preparation: bring enough water (2 water bottles) and prepare for changes in weather: bring rain poncho and plastic bags to cover cameras from rain or mist; rain poncho; snacks, moleskin for blisters, hat, sunglasses and sunscreen, camera, extra memory card and battery, cell phone, an extra layer in case it gets cool. I have also found hiking sticks extremely helpful.
For non-hikers, non-DIYers, Tenaya Lodge offers a Yosemite Tour Package, via mini-bus, that includes lunch and narration, and guarantees waterfalls and wildlife and seeing the most popular sights of Yosemite. (Offered May 1-Nov. 30; from $575 spring, $685 summer, $555 fall; call 888-514-2167 or Tenaya Reservations directly at 559-692-8916).
Tenaya also offers an itinerary you can take on your own to hit Yosemite's highlights in a single day: Half Dome, El Capitan, Yosemite Falls, Bridalveil Fall, Mariposa Grove, Glacier Point, Wawona, Royal Arches, Turtleback Dome, Three Brothers, Leaning Tower, Ribbon Fall, Cathedral Spires, Yosemite Chapel, Vernal and Nevada Falls. In summer, you have to park and use shuttle buses to get around.
Tenaya Lodge, 1122 Highway 41, Fish Camp, CA 93623, 800-722-8584, tenayalodge.com.
To plan your visit to Yosemite National Park, https://www.nps.gov/yose/planyourvisit/basicinfo.htm, https://www.nps.gov/yose/index.htm. 
Great information for planning your hike at these sites: http://yosemiteexplorer.com/trails
https://outsidehow.com/yosemite-hiking-tips.html
Next:
Yosemite National Park: Surprising Diversity, Dramatic Scenes Hiking Chilnualna Falls Trail, Wawona
See also:
Tenaya Lodge Provides Luxury Lodging Resort Experience at Gateway to Yosemite National Park
____________________
© 2017 Travel Features Syndicate, a division of Workstyles, Inc. All rights reserved. Visit goingplacesfarandnear.com,  www.huffingtonpost.com/author/karen-rubin , and travelwritersmagazine.com/TravelFeaturesSyndicate/. Blogging at goingplacesnearandfar.wordpress.com and moralcompasstravel.info. Send comments or questions to [email protected]. Tweet @TravelFeatures. 'Like' us at facebook.com/NewsPhotoFeatures