By Karen Rubin, David Leiberman, Laini Nemett, Eric Leiberman
Travel Features Syndicate, goingplacesfarandnear.com
Summer is a magical time in New York City, with a burst of the finest cultural institutions opening their doors, coming outdoors and letting all the world in.
Public Theater's Shakespeare in the Park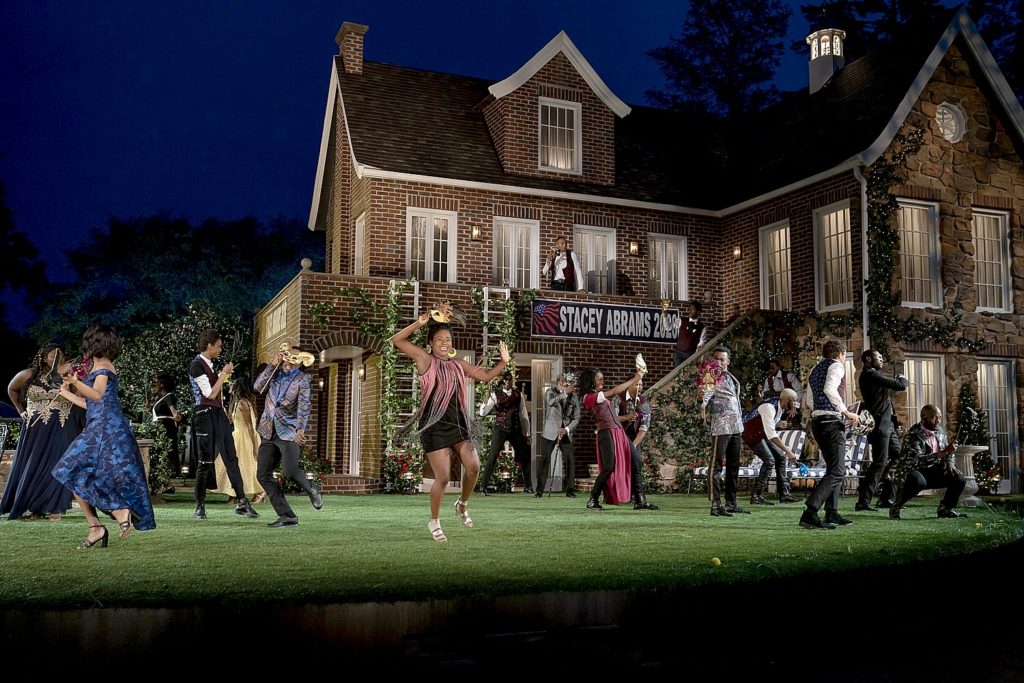 The Public Theater (Artistic Director, Oskar Eustis; Executive Director, Patrick Willingham) has begun performances of the 2019 Free Shakespeare in the Park production of MUCH ADO ABOUT NOTHING at the Delacorte Theater, continuing a 57-year tradition of free theater in Central Park. Directed by Tony Award winner Kenny Leon, the all-black staging of this beloved comedy will run through Sunday, June 23.
Then, for the first time since 1979, Free Shakespeare in the Park will present CORIOLANUS, the Bard's blistering drama about a general voted into power by a populace hungry for change, and the unraveling that follows. Tony Award winner Daniel Sullivan (Proof, Shakespeare In The Park's Troilus and Cressida) directs a modern-day version of this riveting epic of democracy and demagoguery, July 16-August 11.
This year, there will be voucher or ticket distributions over the course of the summer in all five boroughs for almost every public performance of Free Shakespeare in the Park, continuing The Public's mission of making great theater accessible to all. This summer's distributions at libraries, recreation centers, and community partners throughout New York City, will have more locations and dates than ever to provide New Yorkers even more opportunities to obtain free tickets. To see a complete borough distribution schedule, visit publictheater.org/borough.
Kenny Leon directs a bold new take on Shakespeare's cherished comedy of romantic retribution and miscommunication, MUCH ADO ABOUT NOTHING. In this modern production, we find the community of Messina celebrating a break from an ongoing war. But not all is peaceful amid the revelry, as old rivals engage in a battle of wits, unexpected foes plot revenge, and young lovers are caught in a tumultuous courtship – until love proves the ultimate trickster, and undoes them all.
The all-black cast of MUCH ADO ABOUT NOTHING includes Jamar Brathwaite (Ensemble), Danielle Brooks (Beatrice), Grantham Coleman (Benedick), Chuck Cooper (Leonato), Javen K. Crosby (Ensemble), Denzel DeAngelo Fields (Ensemble), Jeremie Harris (Claudio), Tayler Harris (Ensemble), Erik Laray Harvey (Antonio/Verges), Kai Heath (Messenger), Daniel Croix Henderson (Balthasar), Tyrone Mitchell Henderson (Friar Francis/Sexton), Tiffany Denise Hobbs (Ursula), Lateefah Holder (Dogberry), LaWanda Hopkins (Dancer), Billy Eugene Jones (Don Pedro), Margaret Odette (Hero), Hubert Point-Du Jour (Don John), William Roberson (Ensemble), Jaime Lincoln Smith (Borachio), Jazmine Stewart (Ensemble), Khiry Walker (Conrade/Ensemble), Olivia Washington (Margaret), and Latra A. Wilson (Dancer).
To enable as many New Yorkers as possible the opportunity to experience Free Shakespeare in the Park there will be an open caption performance of MUCH ADO ABOUT NOTHING on Friday, June 14; an ASL performance on Saturday, June 15; and an ADA audio described performance on Thursday, June 13.
Since 1962, over five million people have enjoyed more than 150 free productions of Shakespeare and other classical works and musicals at the Delacorte Theater. Conceived by founder Joseph Papp as a way to make great theater accessible to all, The Public's Free Shakespeare in the Park continues to be the bedrock of the Company's mission to increase access and engage the community.
This season, The Public proudly welcomes the return of Jerome L. Greene Foundation and Bank of America as season sponsors.
The Public continues the work of its visionary founder Joe Papp as a civic institution engaging, both on-stage and off, with some of the most important ideas and social issues of today. Conceived over 60 years ago as one of the nation's first nonprofit theaters, The Public has long operated on the principles that theater is an essential cultural force and that art and culture belong to everyone. Under the leadership of Artistic Director Oskar Eustis and Executive Director Patrick Willingham, The Public's wide breadth of programming includes an annual season of new work at its landmark home at Astor Place, Free Shakespeare in the Park at the Delacorte Theater in Central Park, The Mobile Unit touring throughout New York City's five boroughs, Public Forum, Under the Radar, Public Studio, Public Works, Public Shakespeare Initiative, and Joe's Pub. Since premiering HAIR in 1967, The Public continues to create the canon of American Theater and is currently represented on Broadway by the Tony Award-winning musical Hamilton by Lin-Manuel Miranda. Their programs and productions can also be seen regionally across the country and around the world. The Public has received 59 Tony Awards, 170 Obie Awards, 53 Drama Desk Awards, 56 Lortel Awards, 34 Outer Critic Circle Awards, 13 New York Drama Critics' Circle Awards, and 6 Pulitzer Prizes.
Tickets to The Public Theater's Free Shakespeare in the Park are distributed in a number of ways. On the day of each public performance, free tickets may be acquired in person at The Delacorte Theater, through a digital lottery via the TodayTix website or mobile app, in person at a borough distribution site, and via an in person lottery in the lobby of The Public Theater at 425 Lafayette Street. All tickets are subject to availability. A performance calendar and complete ticket distribution details can be found at PublicTheater.org. A limited number of tickets are also available via advance reservation by making a contribution in support of Free Shakespeare in the Park. To learn more, or to make a contribution, call 212.967.7555, or visit PublicTheater.org. The Delacorte Theater in Central Park is accessible by entering at 81st Street and Central Park West or at 79th Street and Fifth Avenue (publictheater.org).
Metropolitan Opera Summer Recital Series Features 6 Free Concerts
The Metropolitan Opera's 2019 Summer Recital Series once again brings free outdoor recitals, featuring established artists and young talents of the opera world, to New Yorkers in all five boroughs. The series, now in its 11th year, features six free concerts embracing all five boroughs, and has become an operatic summer tradition.
Presented in collaboration with City Parks Foundation's SummerStage Festival, the first two concerts, on Monday, June 10 at 8 p.m. at Central Park SummerStage (Manhattan) and Wednesday, June 12 at 7 p.m. at Brooklyn Bridge Park (Brooklyn), will feature soprano Ying Fang,who sang a featured role in Mozart's La Clemenza di Tito this season,and tenor Ben Bliss and baritone Nathan Gunn,who sang together this season in Mozart's The Magic Flute. They will be joined by Met pianist Dan Saunders.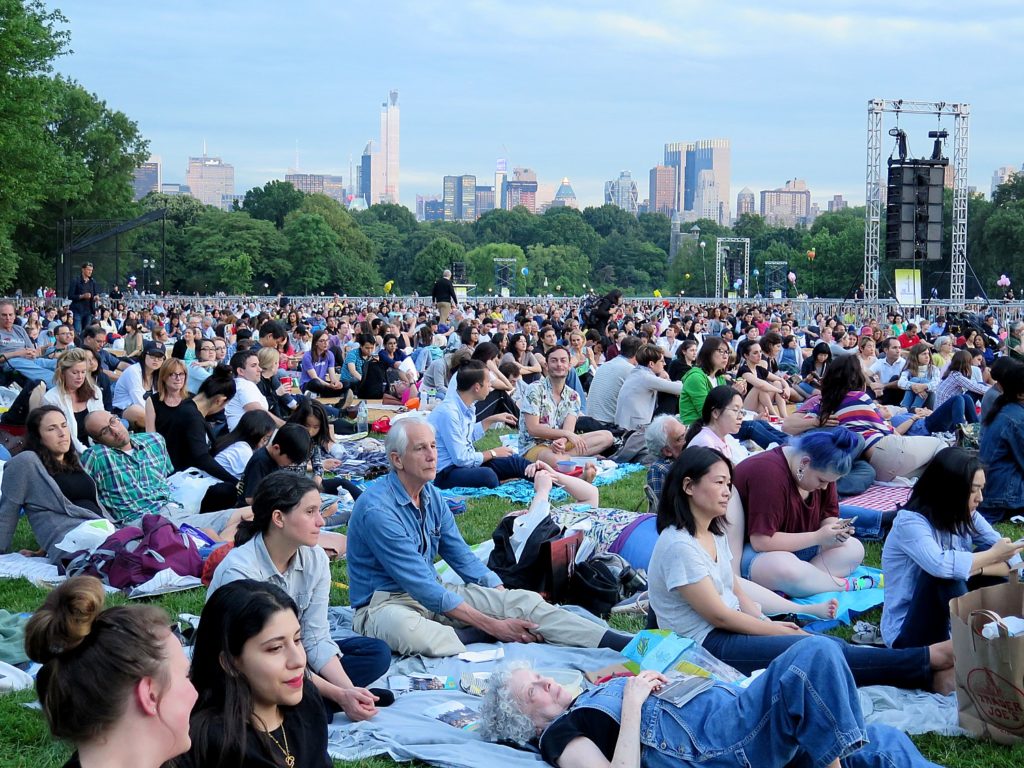 Four additional recitals feature soprano Leah Hawkins and tenor Mario Bahg, current members of the Met's Lindemann Young Artist Development Program, and baritone Joseph Lim, a winner of the Met's National Council Auditions. They will be accompanied by Met pianist Dimitri Dover. Their concerts will take place on Thursday, June 13 at 7 p.m. in Jackie Robinson Park (Manhattan); Saturday, June 15 at 4 p.m. in Williamsbridge Oval (Bronx); Monday, June 17 at 7 p.m. in Socrates Sculpture Park (Queens); and Wednesday, June 19 at 7 p.m. in Clove Lakes Park (Staten Island).
The Met's Summer Recital Series will feature arias and duets, as well as Broadway standards and other classical favorites.
The Met's Summer Recital Series is supported, in part, by public funds from the New York City Department of Cultural Affairs, in partnership with the City Council, and in collaboration with the Department of Parks and Recreation. Major funding has also been provided by The Elizabeth B. McGraw Foundation, in honor of Mrs. McGraw.
No tickets are required for any of the performances. There are no rain dates for any of the park recitals. For more information visit metopera.org/season/summer-2019/recitals/
New York Philharmonic Concerts in the Parks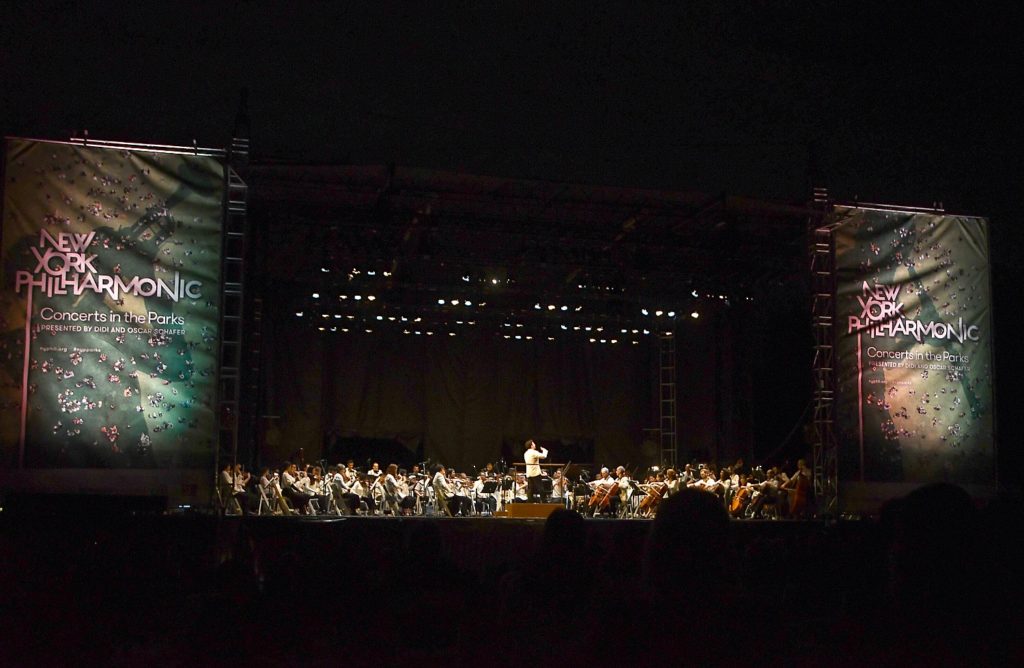 The New York Philharmonic Concerts in the Parks, Presented by Didi and Oscar Schafer, have become an iconic New York summer experience since they began in 1965, transforming parks throughout the city into a patchwork of picnickers and providing music lovers with an opportunity to hear the best classical music under the stars.
The concerts will take place Tuesday June 11 in Van Cortlandt Park, Bronx; Wednesday, June 12 in Central Park, Manhattan, Thursday, June 13 in Cunningham Park in Queens, Friday, June 14 in Prospect Park, Brooklyn and Sunday, June 16 in Staten Island.

All performances begin at 8 PM except the Free Indoor Concert in Staten Island, which begins at 4 PM.
The scheduled program includes Rossini, Overture to La Gazza Ladra; Works by Very Young Composers of New York City; and Copland's Hoe-Down, from Rodeo.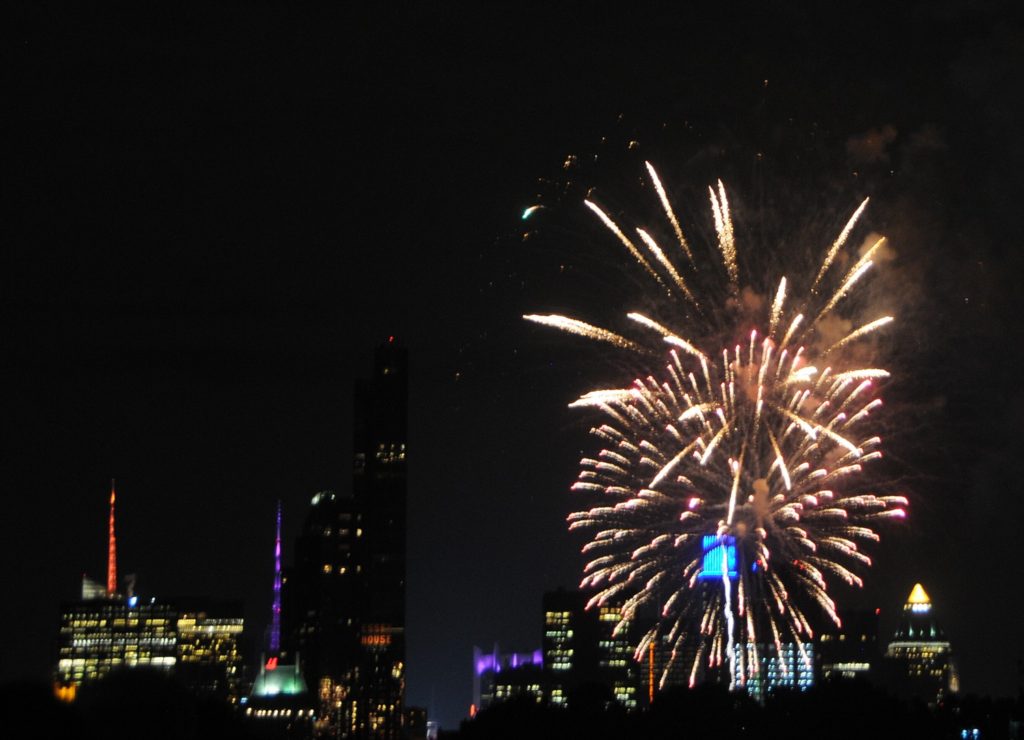 There will be fireworks by Volt Live following the performances in the Bronx, Manhattan, Queens, and Brooklyn.

For weather and other updates, call the Concert Information Hotline at 212-875-5709 (https://nyphil.org/parks).
Museum Mile Festival, June 11
Now celebrating its 41st year, the annual Museum Mile Festival takes place rain or shine on Tuesday, June 11, from 6 to 9 pm. Walk the Mile on Fifth Avenue between 82nd Street and 110th Street while visiting some of New York City's finest cultural institutions, which are open free to the public throughout the evening. Special exhibitions and works from permanent collections are on view inside the museums' galleries, with live music and art-making workshops on Fifth Avenue at selected museums.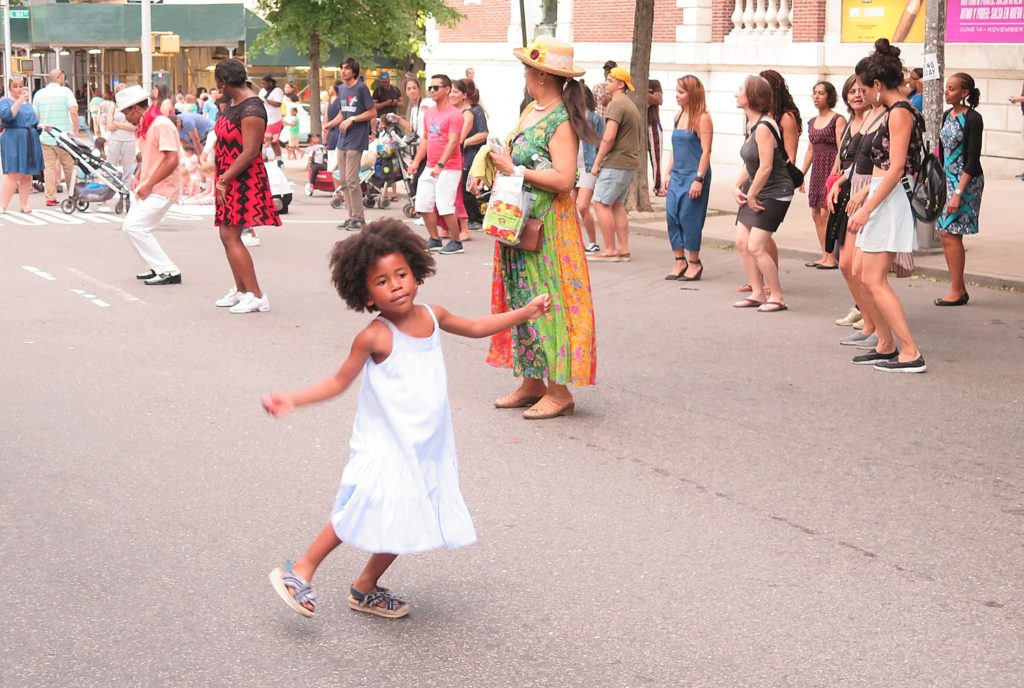 The 23-block stretch of Fifth Avenue is home to seven participating institutions—El Museo del Barrio, the Solomon R. Guggenheim Museum, the Metropolitan Museum of Art, the Cooper Hewitt Smithsonian Design Museum, the Jewish Museum, Neue Galerie and the Museum of the City of New York. In addition to all the art to see inside, there are plenty of outdoor festivities: face painting, chalk drawing, live music and other block-party-type events. (http://museummilefestival.org/)
Jazz Age Lawn Party, Governors Island
Nostalgia doesn't begin to describe the feeling that permeates Governors Island for the two weekends (June 15 & 16, August 24 & 25) each summer that thousands of people, many decked out in 1920s regalia, elaborate picnic baskets in hand, disembark from ferries from lower Manhattan and Brooklyn.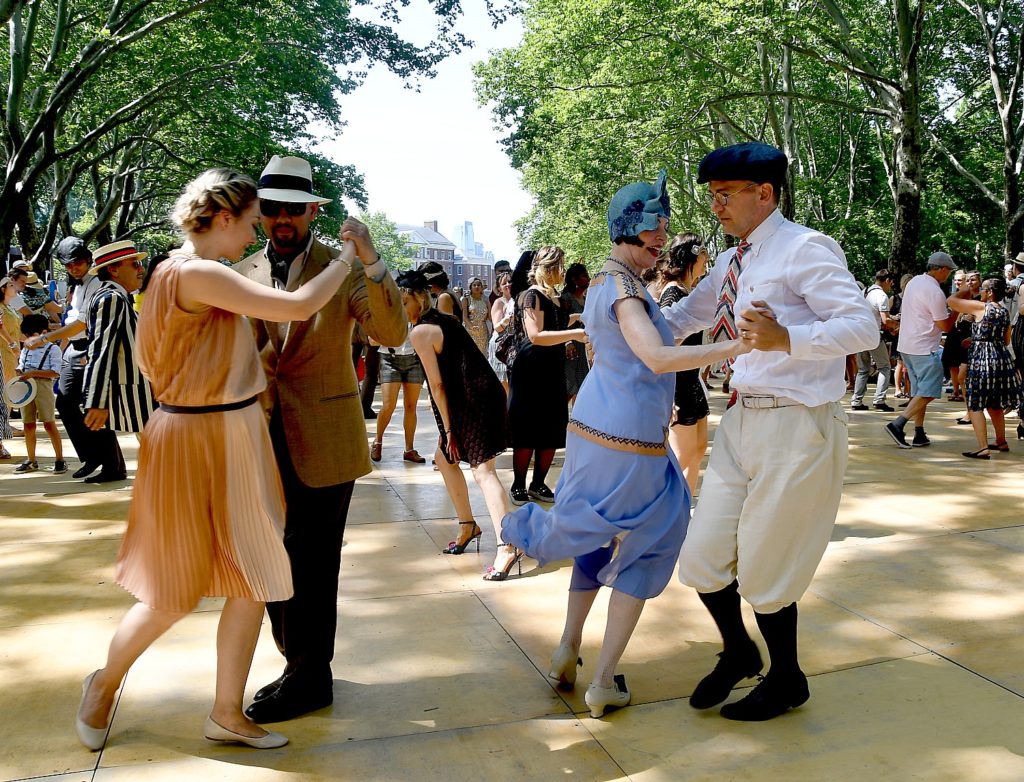 This, the 14th year of the festival, is especially poignant because it is also the 100th anniversary of Prohibition and all that the counter-culture (women's rights!) Jazz Age triggered.
It is also one of New York City's most glamorous and entertaining events of the summer.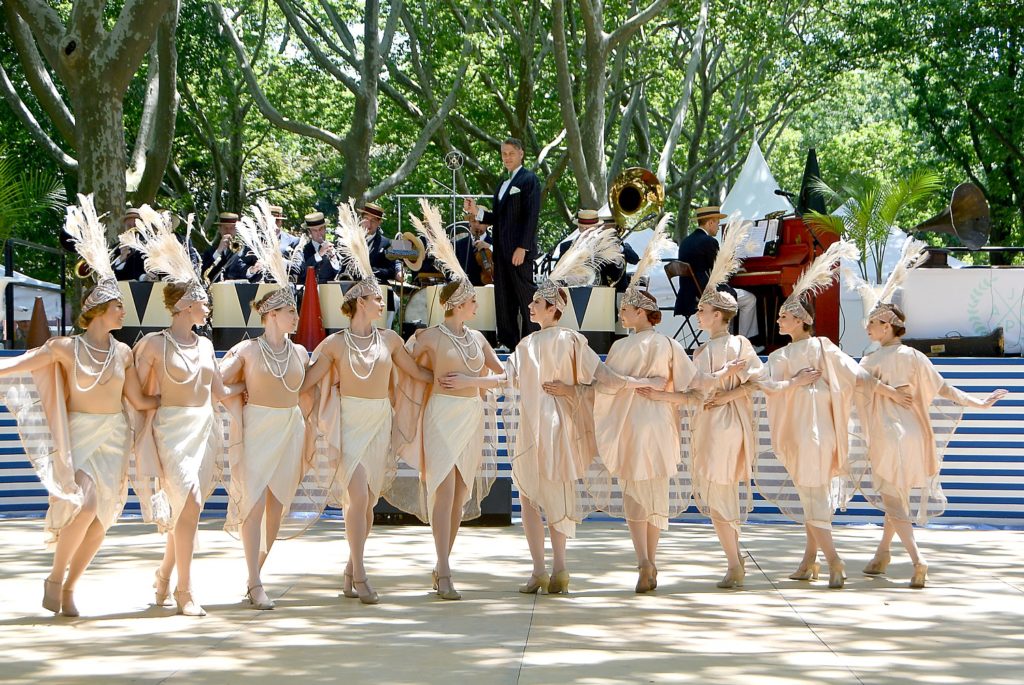 The Jazz Age Lawn Party started in 2005 as a small gathering on NYC's Governors Island, and has since grown into one of New York City's most beloved events. This historically sold out event attracts thousands of time travelers each year, who come together to discover the music and zeitgeist of the 1920s. Consistently selected by the New York Times as one of the year's most memorable events, Jazz Age Lawn Party offers a unique, interactive opportunity to relive one of the most colorful and formative epochs in American history.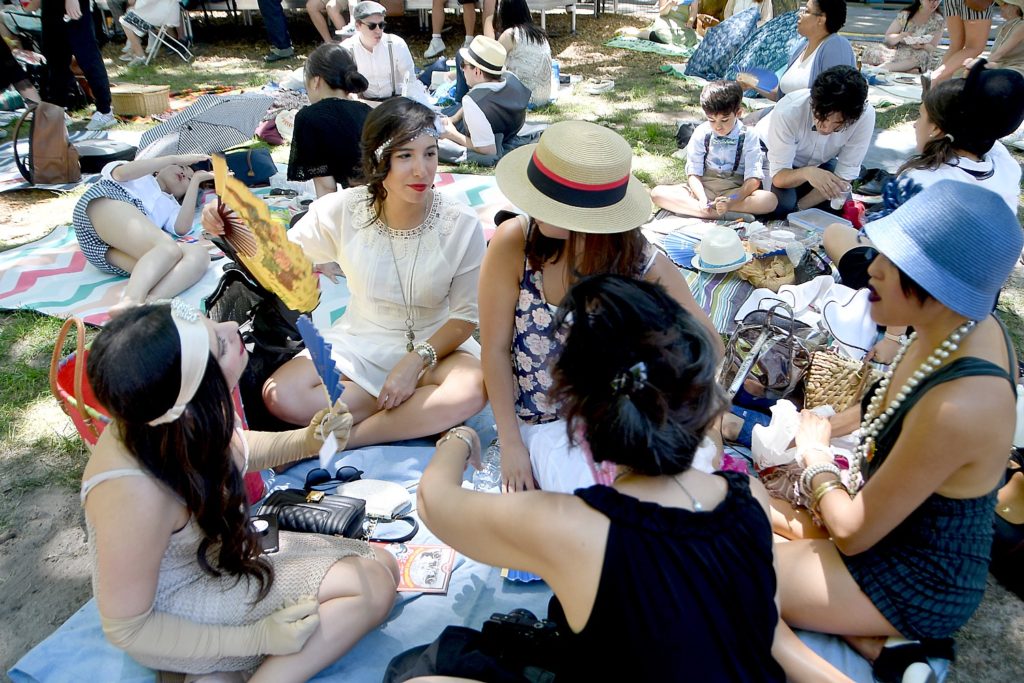 The event is held rain or shine; food is available for sale but people love to bring their own picnics (outside alcohol is prohibited, but there is alcohol, including Prohibition-era inspired cocktails, for sale).
Though enjoying Governor's Island is free (and there are fascinating historic sites as well as art and cultural and recreational activities on the island, and you can hear the music, admission to the festivities is by ticket (which cost up to $175). Purchase tickets in advance https://www.eventbrite.com/o/jazz-age-lawn-party-18523813336 (no charge for children 12 and under).
_____________________________
© 2019 Travel Features Syndicate, a division of Workstyles, Inc. All rights reserved. Visit goingplacesfarandnear.com, www.huffingtonpost.com/author/karen-rubin, and travelwritersmagazine.com/TravelFeaturesSyndicate/. Blogging at goingplacesnearandfar.wordpress.com and moralcompasstravel.info. Send comments or questions to [email protected]. Tweet @TravelFeatures. 'Like' us at facebook.com/NewsPhotoFeatures